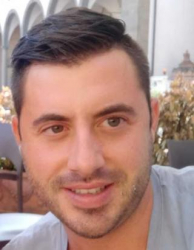 Latest posts by David Borgogni
(see all)
Last Updated on November 23, 2021 by DMEditor
If you're looking for the best eCommerce platform but you can't decide which one to go for, our SamCart vs UltraCart comparison could help you out. SamCart vs UltraCart is great for eCommerce. They offer a lot of features, including marketing tools like upsells and coupons, great reporting, good customer support, and more. The question is – which one is better?
The bottom line up front: we like SamCart the best, but it was a close one – both are great platforms, but it depends on what you're looking for. If you're new to eCommerce or you're a small business, we'd recommend checking out SamCart. If you're a larger business or you want more advanced shopping cart customization options, we'd go with UltraCart.
Read on to find out more – we've tested both platforms so you can see which one suits you best!
Main Differences between SamCart vs UltraCart
The Main Differences between SamCart vs Ultracart are:
SamCart is not as customizable, whereas UltraCart is highly customizable.
SamCart has a fairly easy learning curve, whereas UltraCart requires a little more technical knowledge.
SamCart doesn't offer a free plan for developers, whereas UltraCart does.
SamCart is generally a bit easier to navigate, whereas UltraCart can be a little overwhelming.
SamCart is better for those new to using an eCommerce platform, whereas UltraCart is better suited for larger, more established businesses with a developer on their team.
The main thing to consider is whether you want advanced customization or not. SamCart does offer customization, but UltraCart is more flexible. Developers will appreciate the free plan, as well as the freedom that comes with being able to dive into CSS and HTML.
However, it has to be said, UltraCart is more confusing to navigate, less visually pleasing, and has a higher learning curve. If you don't care about being able to play around with code and you just want to get going quickly, you may prefer SamCart.
SamCart vs UltraCart – the Similarities
There are a lot of similarities here, including:
Both offer a lot of help and support
They are similarly priced
They both offer a free trial
They both offer similar marketing features including upsells
Let's take a look at them both in more detail.
What is SamCart?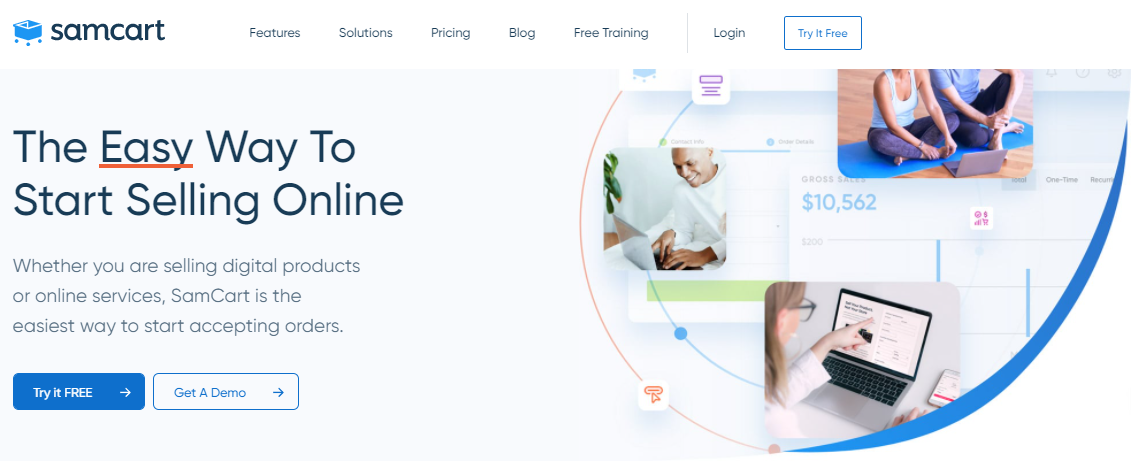 SamCart is an online shopping cart platform. Users can create product pages using customizable templates. It offers a lot of payment options for customers, including payment installations and monthly subscriptions.
What is UltraCart?
UltraCart is a shopping cart platform. It is incredibly customizable and will work well if you have a developer on your team to deal with some of the more advanced features it has to offer.
SamCart – the Main Features
So, how does SamCart work?
User Experience
You can sign up for a free trial of SamCart. While we had technical problems in starting a free trial, these were dealt with quickly with some help from the support team.
There were a couple of moments when some tools and pages took a long time to load, which is a shame. However, generally, the platform is easy to navigate and is fairly beginner-friendly.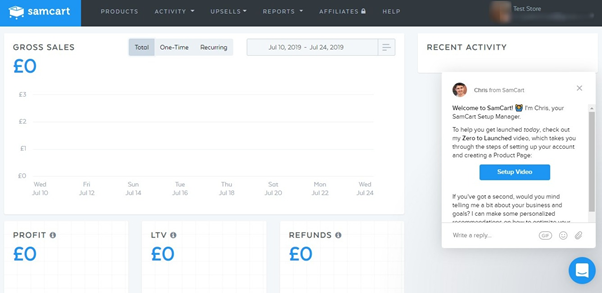 You can see an overview of your gross sales straight away, as well as recent activity on the right-hand side.
Product Pages
Product pages are easy to set up. You can quickly add basic information – product URL, product name, images, tags, etc – and you can upload your digital products to be downloaded.
Each product has a checkout page. You can choose from SamCart's templates: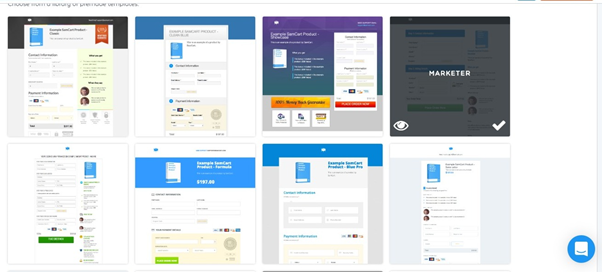 The templates are pretty basic, we will say that. They don't look as stylish or up-to-date as UltraCart's templates. They can be customized, but again, the level of customization is fairly limited in comparison to UltraCart. You can change font colors and add logos, bullet-point lists, and custom sections using a basic text editor.
Shopping Cart
SamCart uses Stripe and PayPal, which is great, as it allows customers to choose from a range of payment types, including credit and debit cards. They can also pay using Apple or Google Pay.
You can add upsells to each product, attaching products as part of a 'deal' to increase the value of each order. You can even design an upsell funnel, allowing you to visualize the process your customer will take to get to the checkout. You can also offer 'downsells' to tempt customers who may be on the cusp of backing out of an order.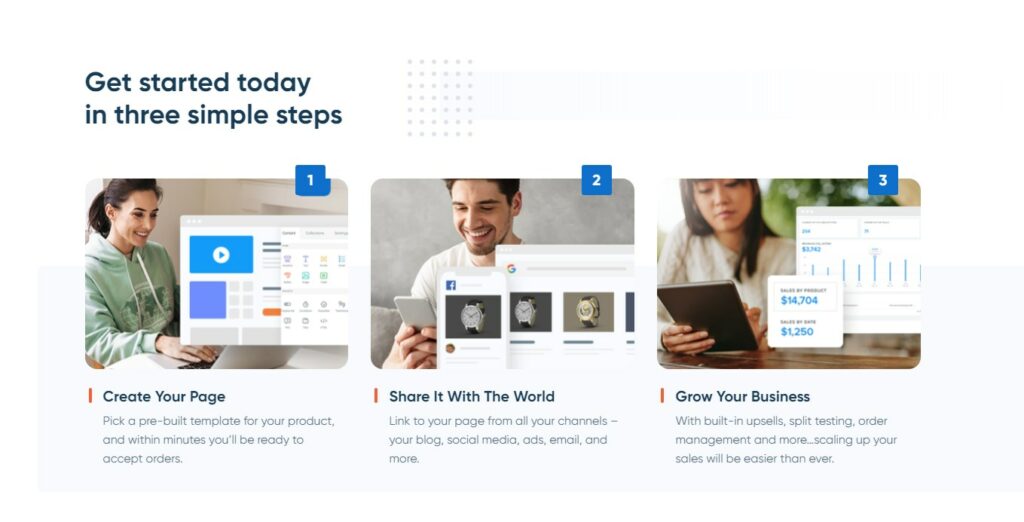 You can run split tests using SamCart, allowing you to design two product pages to see which version performs the best. This can boost conversion rates, allowing you to optimize your product pages to improve their performance.
SamCart allows you to sell subscription-based products, which can be customized (for example you can offer free trials).
They also have a subscription saver tool, designed to recover payments from your customers if their card expires. This is done automatically, so you won't have to think about it. SamCart will send out an email to your customer, with a secure link. This will enable them to quickly input their card information, saving them (and you) time and hassle. This is locked behind a higher payment plan, which is worth bearing in mind.
Activity
You can view orders in the 'Activity' area, which allows you to access information about orders, subscriptions, and customers. If you need to process a refund or manually input an order, this is the place to go.
Reports
SamCart has pretty good reporting, breaking down sales, refunded products, upsell funnel sales, subscriptions, and more. You can also view how well the Subscription Saver feature is performing.
There is also the handy 'Prospects' section, holding information about customers who did not complete the checkout process. You can view the product they were going to buy, the date of their potential purchase, and their contact details. You can follow up with this customer yourself if you want to, for example, by offering a discount or coupon for that product or letting them know about a similar product at a lower price.
Affiliates
SamCart has an affiliate center if you choose the Premium Plan. You can create a sign-up page for new affiliates, set up automatic approvals for new affiliates, and set cookie length and commission rates. This is super easy to do, even if you're unfamiliar with using affiliates.
You can view how well your new affiliates are performing on the Affiliate Dashboard. This makes it easy to keep an eye on things.
Integrations
SamCart has a lot of integrations, including:
Klaviyo
WordPress
Zapier
Stripe
PayPal
Thinkific
MailChimp
ActiveCampaign
UltraCart – the Main Features
Let's see what UltraCart has to offer.
User Experience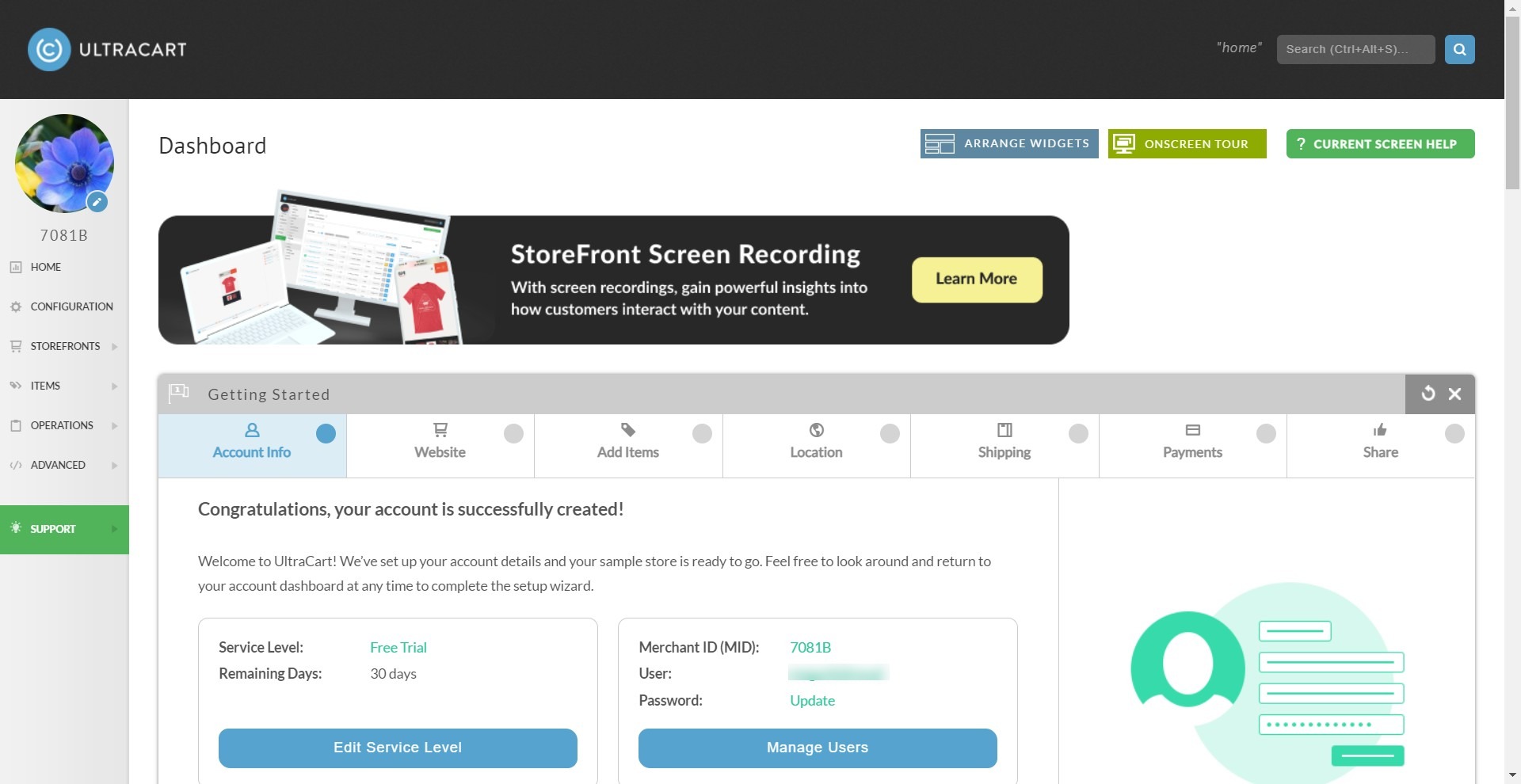 It's very easy to sign up for a free trial of UltraCart, and you don't need to input any card details to get going.
The dashboard itself is fairly intuitive. It's easy to navigate, and it has a 'Getting Started' guide that helps you to get going quickly. You can also arrange widgets on the Dashboard, so you can find all the information you need at a glance every time you log in.
UltraCart has a moderate learning curve. It's not particularly beginner-friendly, and you may find using the platform to be a bit of a pain at times. It's highly customizable, which is great, but it may feel a bit overwhelming if you'd rather keep things simple.
Storefront

There are three options available: you can choose a full storefront, a checkout page, or a checkout page for WordPress.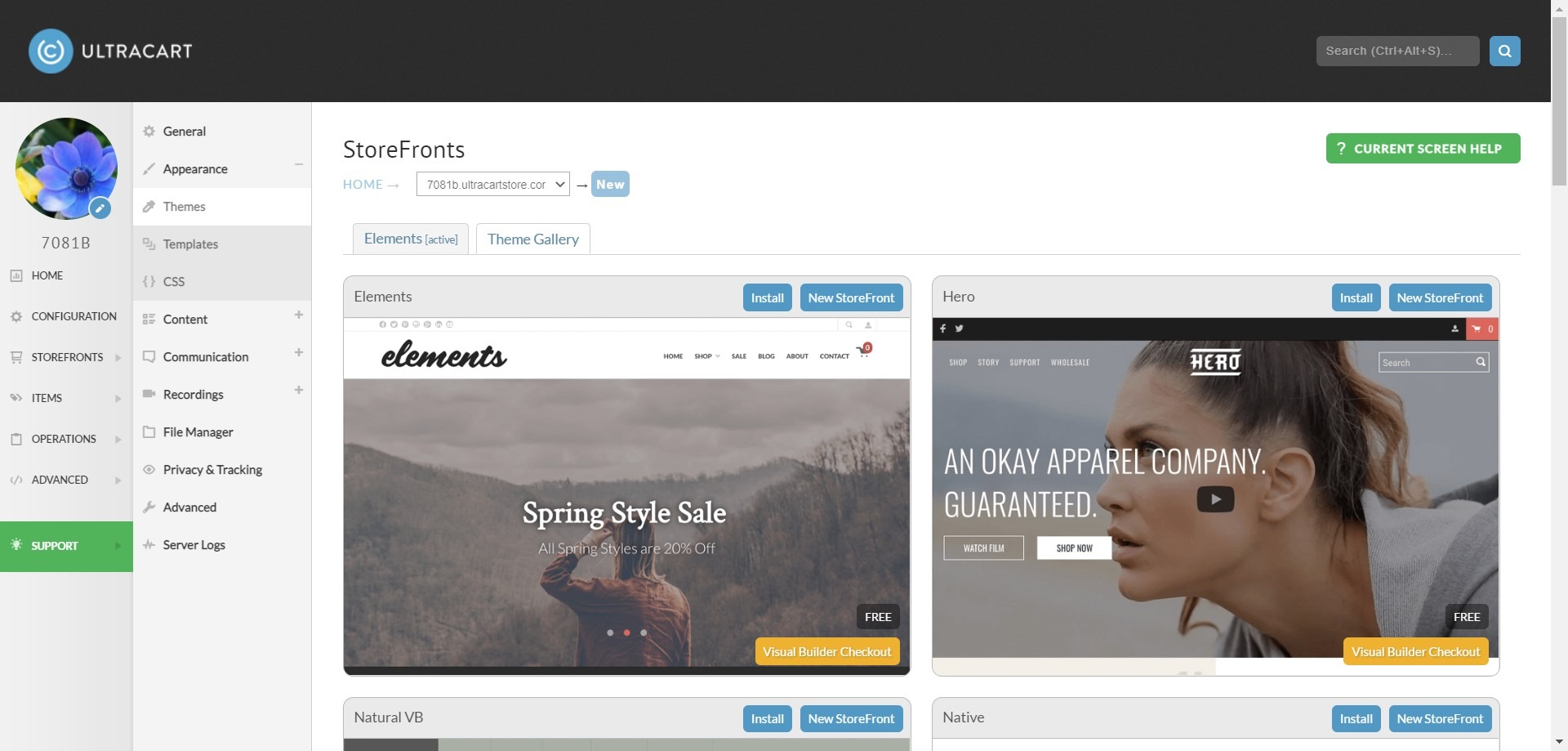 There are several themes to choose from. The themes are highly customizable – you can change almost everything, and you can even edit the CSS if you want to. If you want the ability to create a unique storefront, you'll get that with UltraCart. The downside of this level of customization is that it can feel a bit overwhelming if you're not into HTML or CSS, but you don't need to know this to change things up – and the templates look great before customization anyway.
The page builder is not that intuitive. Rather than having a drag-and-drop builder, you have to edit each page using the menu above. It feels a bit cluttered and confusing, and not particularly nice to look at – it feels a bit like a chore going through each page to add content. The good news is, you can easily add meta titles and descriptions, and you can save and preview your pages at any time.
You can add embeddable 'buy buttons' onto your existing website. This allows your customers to quickly jump to a checkout page, and it makes it really easy for them to complete the process. If you already have a website set up and you just need a checkout page that will integrate with it, UltraCart could work well for you.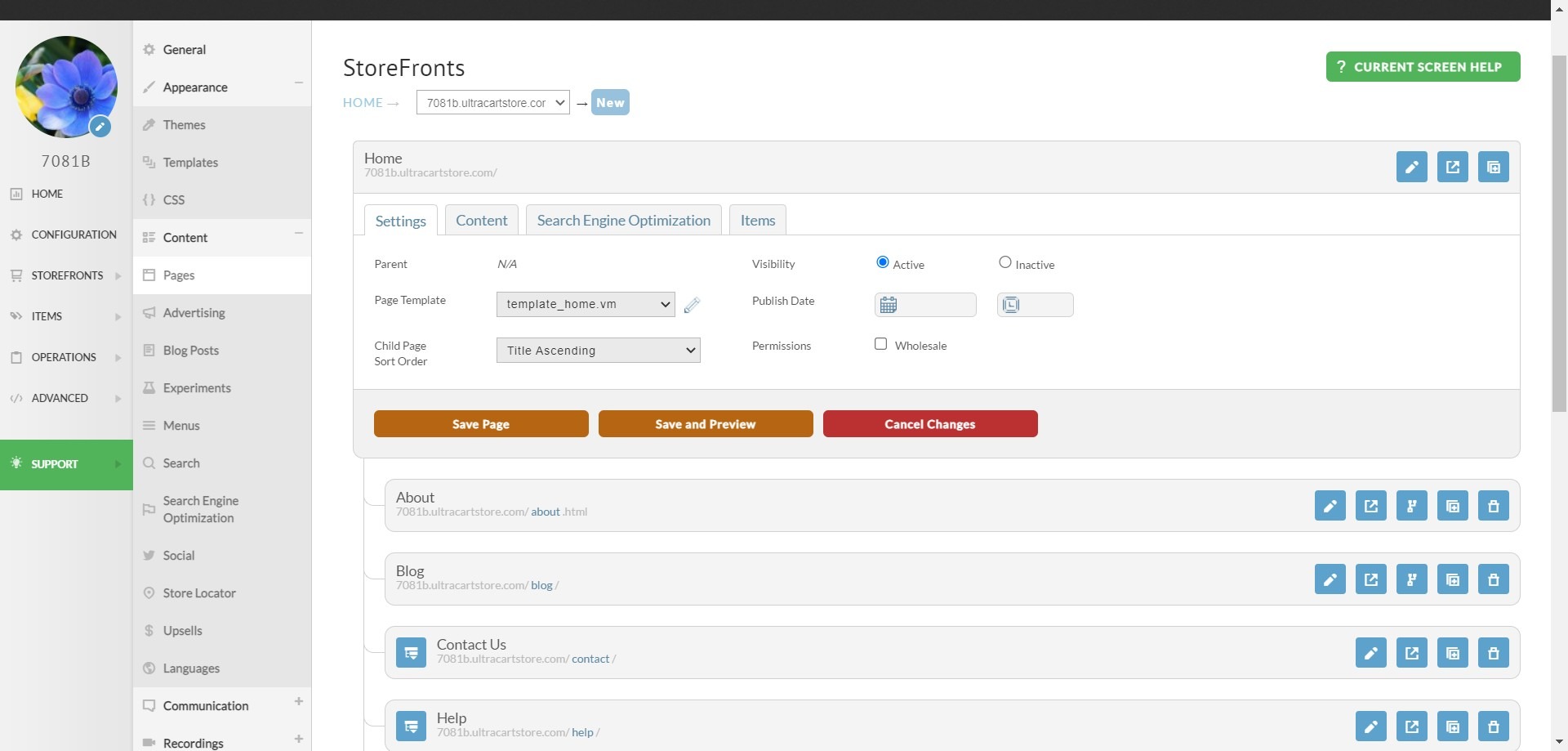 Products
You can add products within the 'Getting Started' section of the Dashboard, or you can go to the 'Items' section.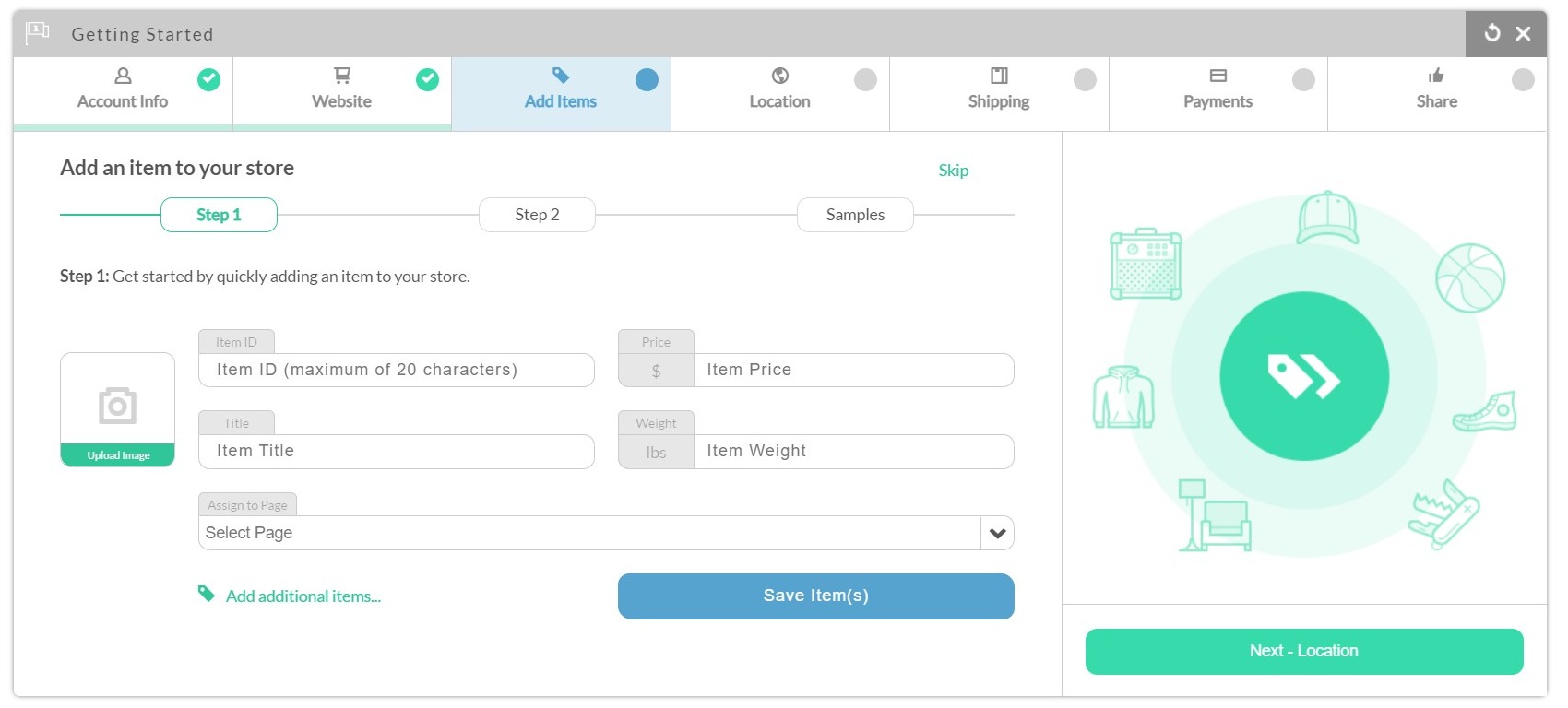 It's easy to add products. You can upload images, give each item an ID number, set the pricing, weight, title, etc.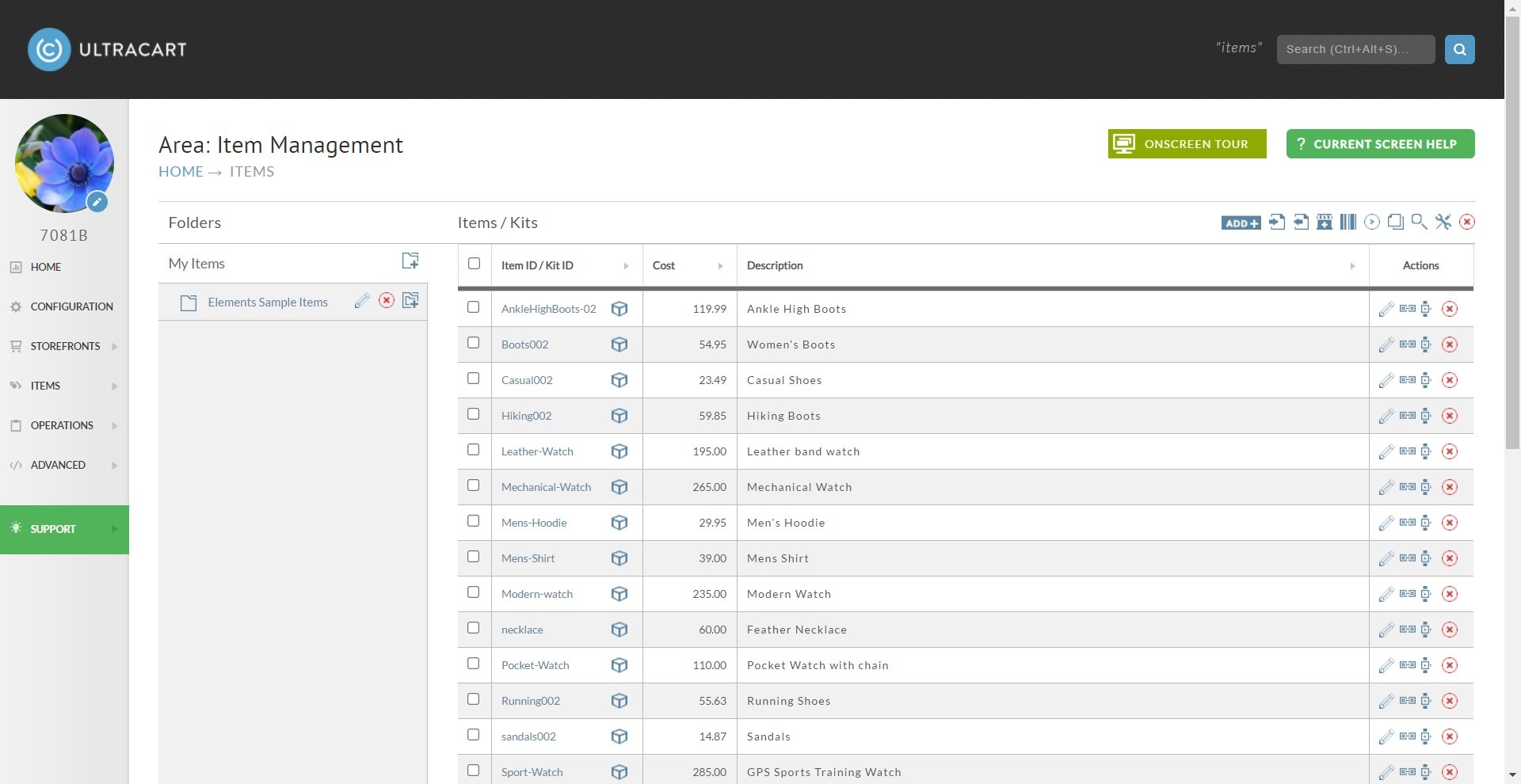 The item manager allows you to see an overview of your products. You can also use the search bar to find an item quickly, which is helpful if you have a lot of products to look through.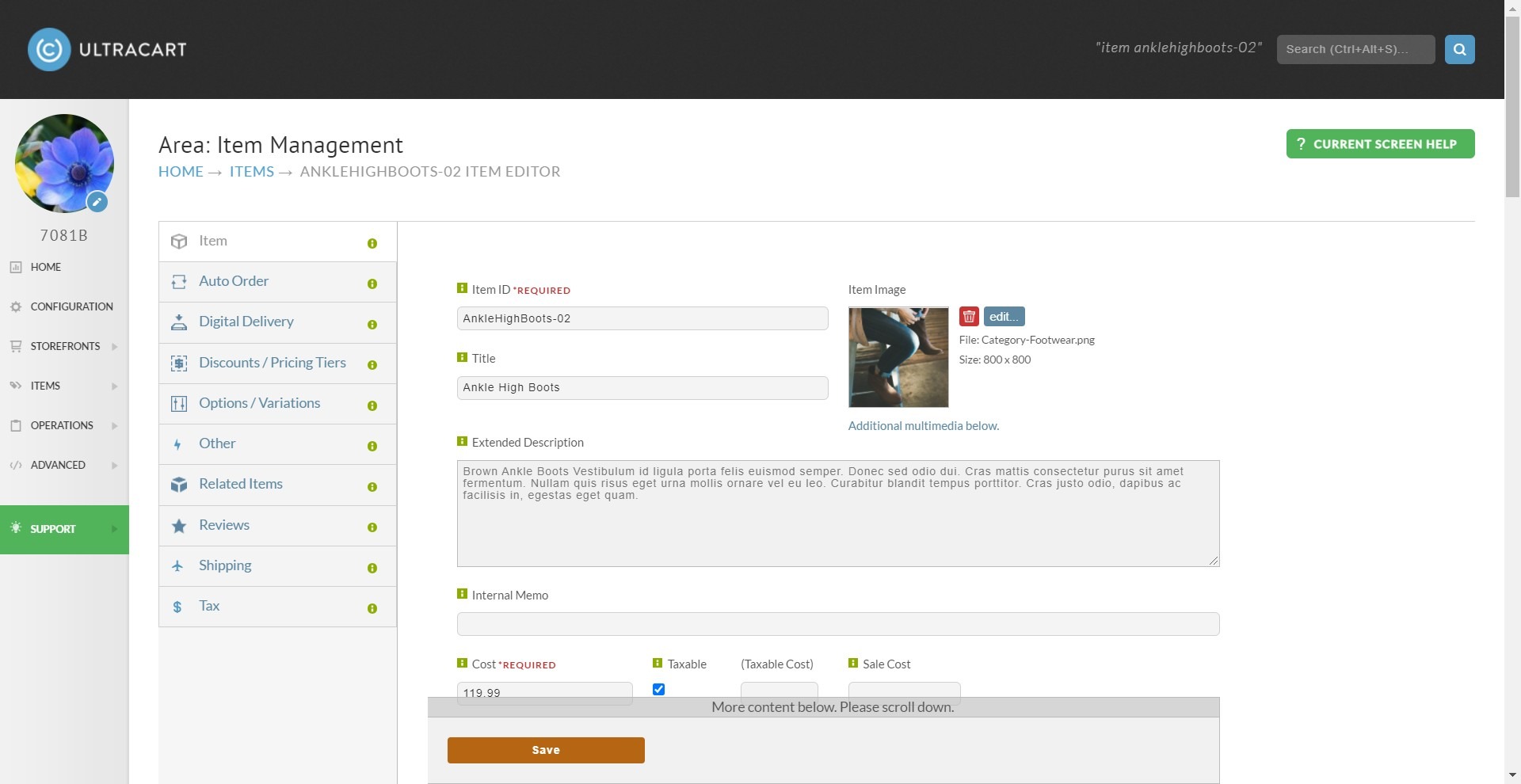 You can sort digital delivery settings here (if you sell digital products), add discounts or pricing tiers, add other options or variants, and set related items, which will show similar products to your customers as they browse.
Customers can leave reviews for products, which you can have displayed on your product page. This is a great way to encourage new customers to buy.
Shopping Cart
Customers can pay using PayPal, Apple Pay, Google Pay, credit card, debit card, and more.
You can set up gift certificates and discounts, set up shipping options, and enable single-page checkout. This makes it really easy for customers to complete their purchases. It has an abandoned cart recovery tool to chase up abandoned orders, too.
Customers can set up a profile if they want to enable this. This allows them to view their purchases, leave reviews, and store their credit card information for the next time.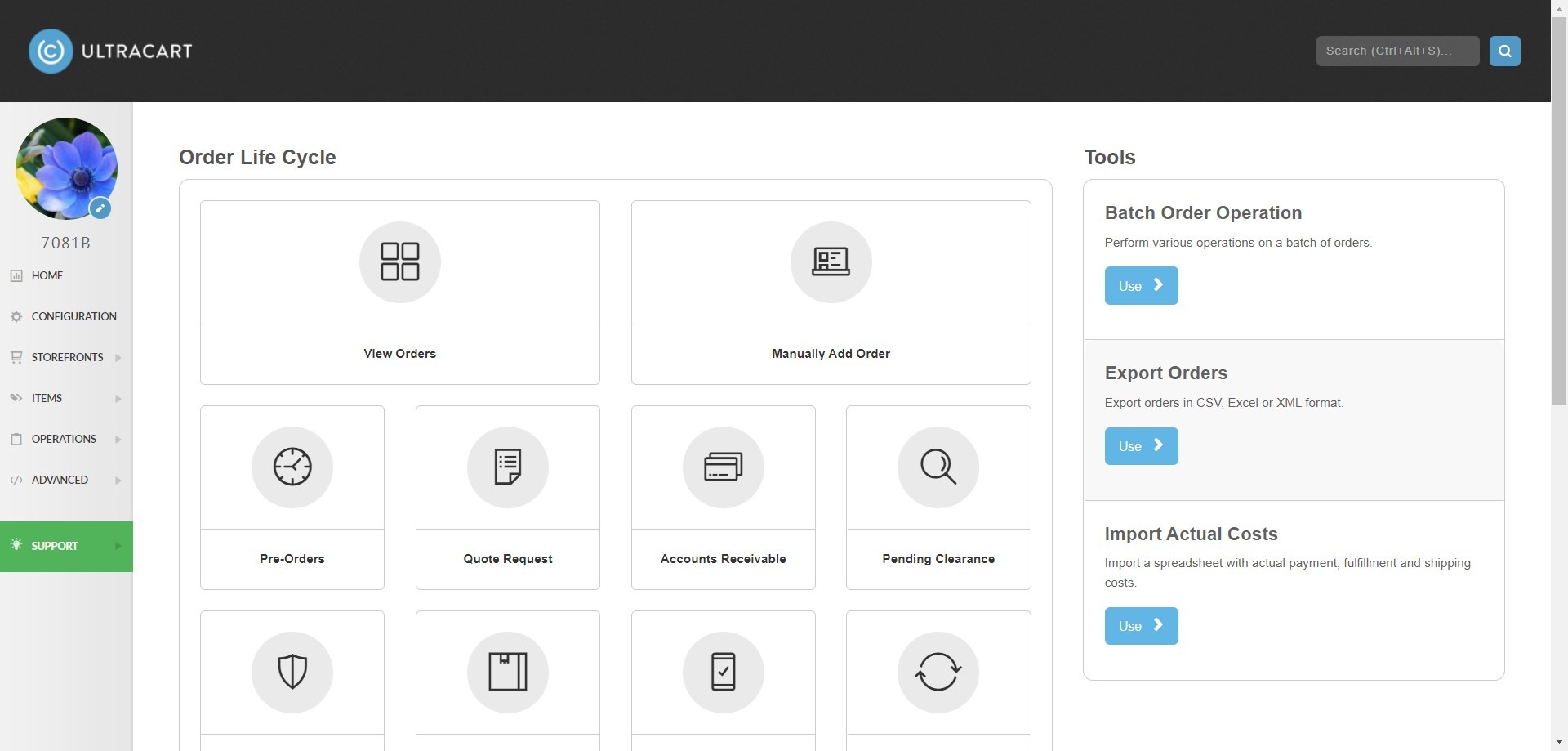 Orders can be viewed in the 'order life cycle' section. This allows you to view current orders and pre-orders, manually add orders, manage refunds and shipping, and more.
Reporting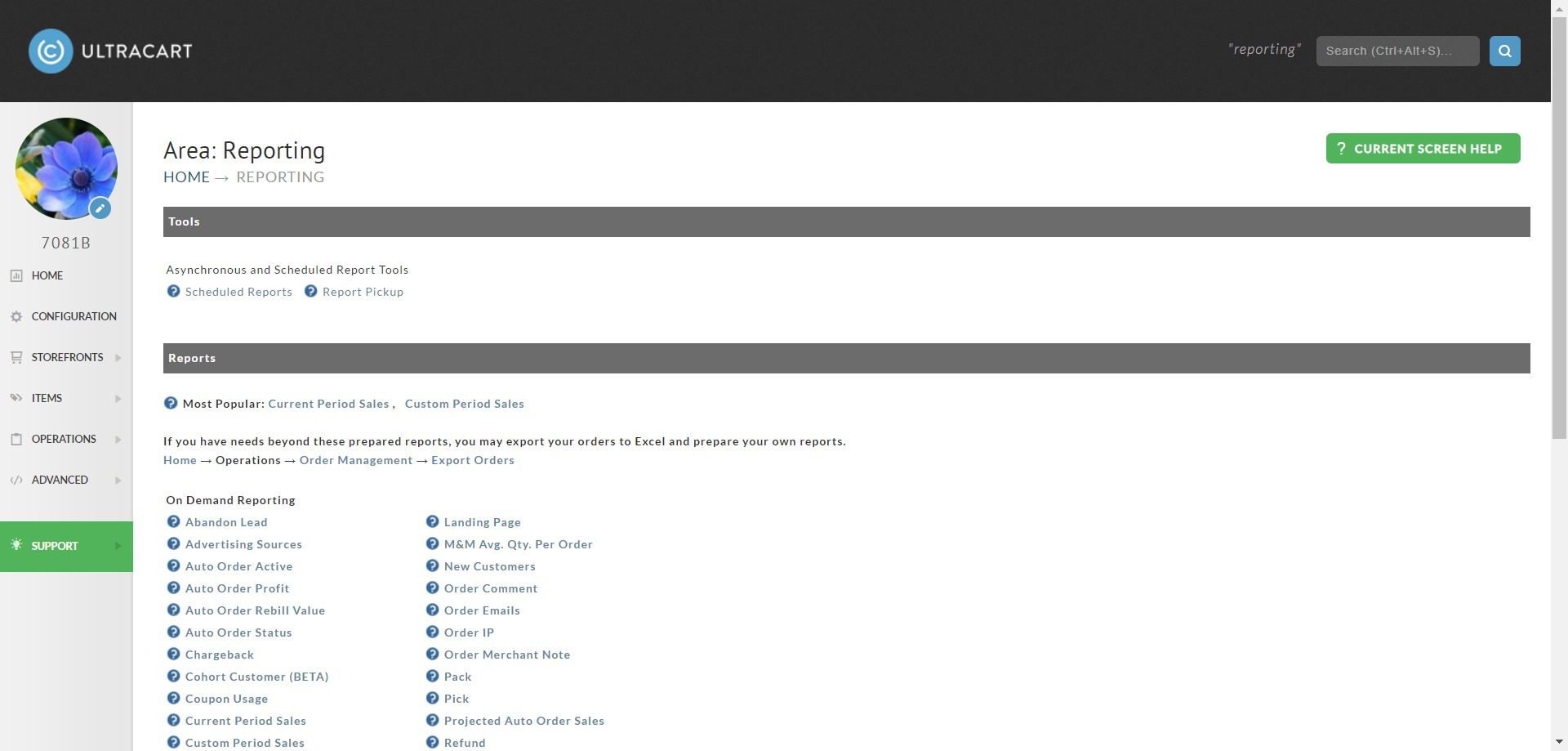 You can run reports for any time period in a variety of categories, including abandoned leads, email campaigns, item sales, landing page hits, upsells, coupon usage, and more. The report automatically converts to an Excel spreadsheet, which you can download and share.
The dashboard offers you a good overview of your sales, expenses, and more. This is a nice visual guide, and it makes it easy to track vital information.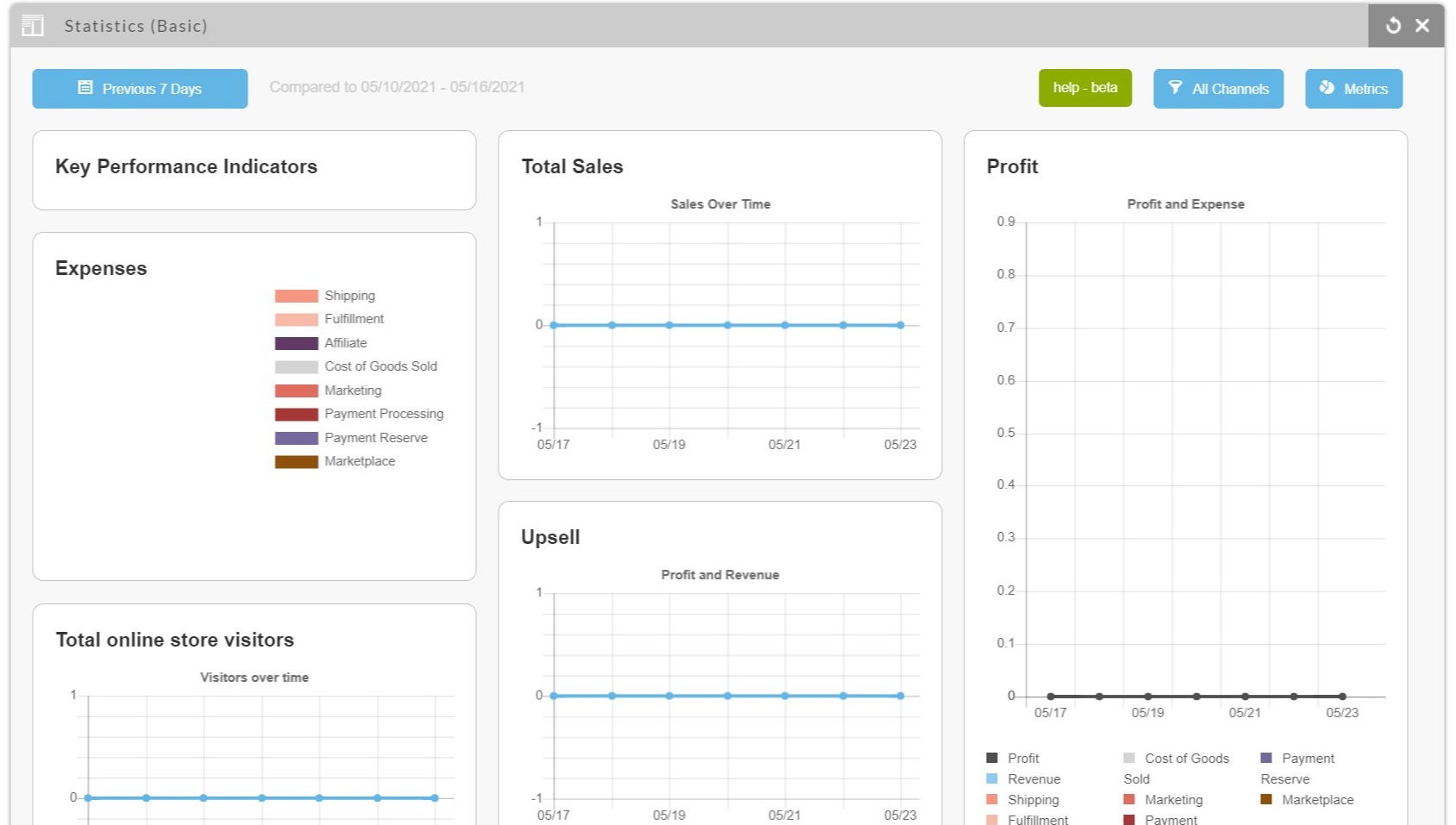 Affiliates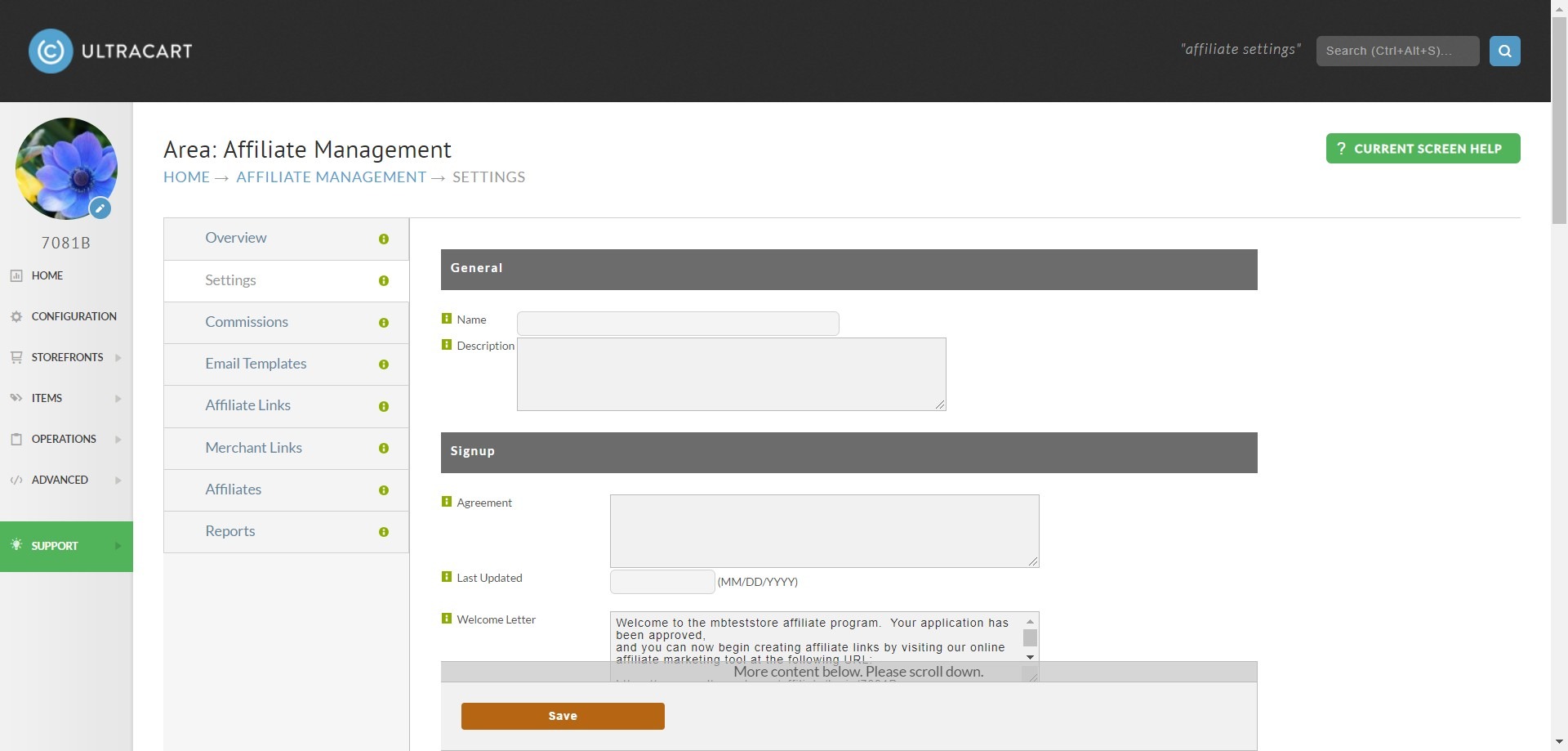 If you want to have affiliated for your store, you can do this with UltraCart. Again, this is highly customizable. You can set up welcome messages for new affiliates, set cookie lengths, set pay dates for commissions, and choose to automatically approve new affiliates. There's a lot to do here, and you can run reports on your affiliates at any time.
Integrations
There are a lot of integrations available for UltraCart, including:
Intuit Quickbooks
HubSpot
Ontraport
SalesForce
Amazon
eBay
Authorize.net
SamCart vs UltraCart – Support
Let's see how they compare in terms of support.
SamCart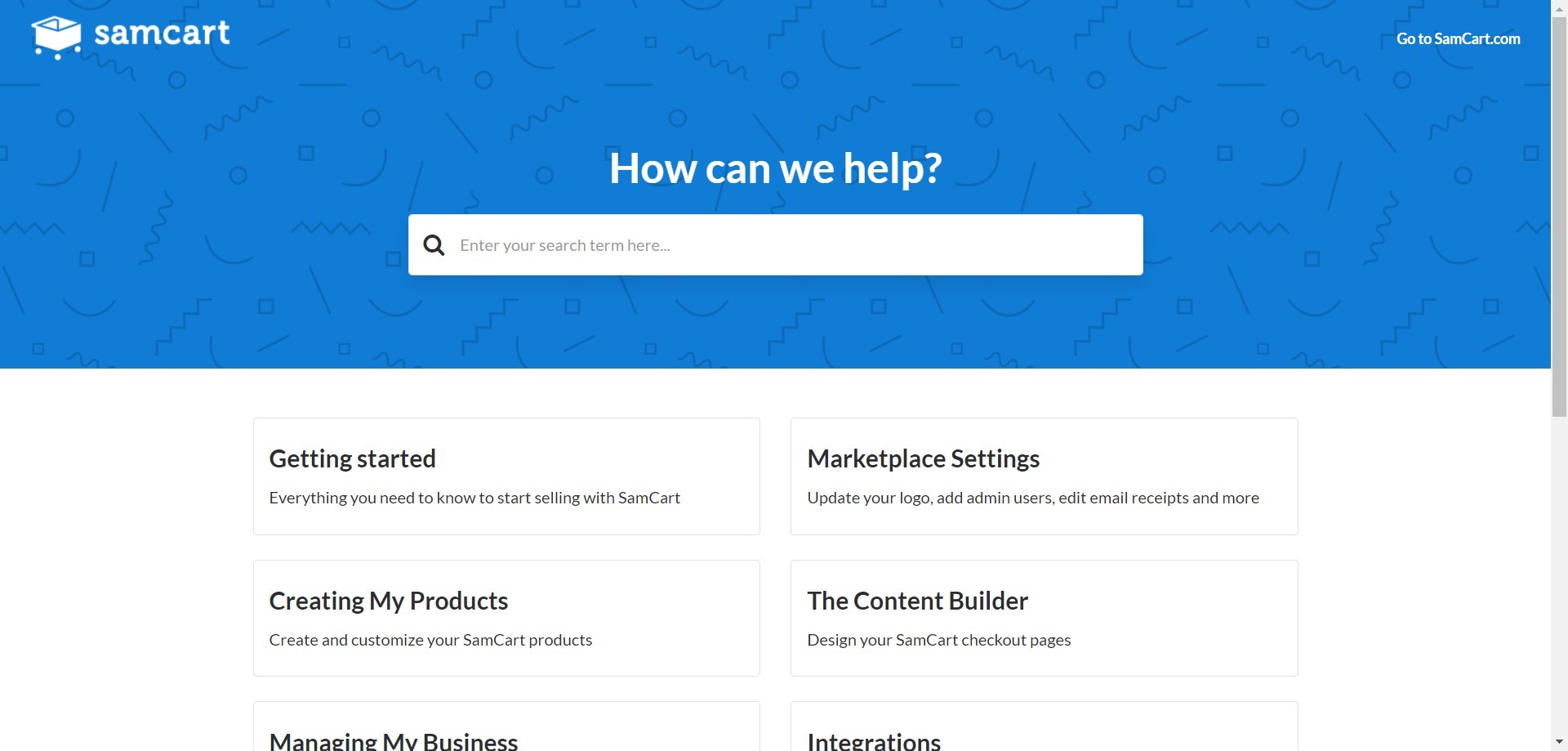 SamCart offers a knowledge base with some basic tutorials and articles about products, the checkout process, integrations, settings, etc.
The support team is friendly and helpful – in the past when I have contacted them, they have replied within the same working day despite me not qualifying for priority support. They were very helpful and resolved my issues quickly.
UltraCart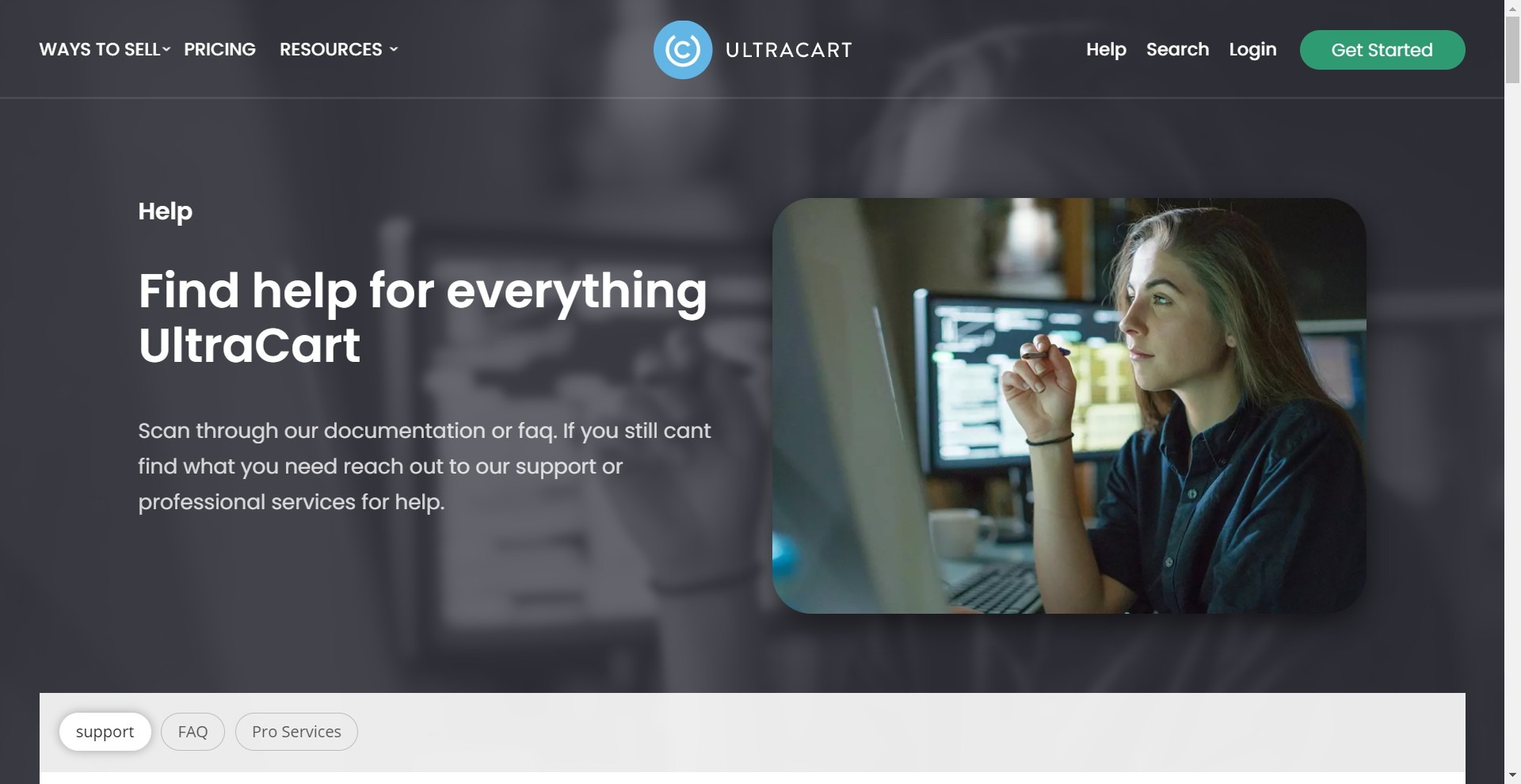 UltraCart has a lot of help and documentation, especially for developers. If you want to take advantage of some of the Pro Services, including advanced customization, you'll find a lot of tutorials and FAQs to help.
If you need further support, you can contact UltraCart by sending a request from their website, call their phone support team, email them, or contact them on Skype. The support team is helpful and friendly.
SamCart vs UltraCart – Pricing
How do they compare in terms of pricing?
SamCart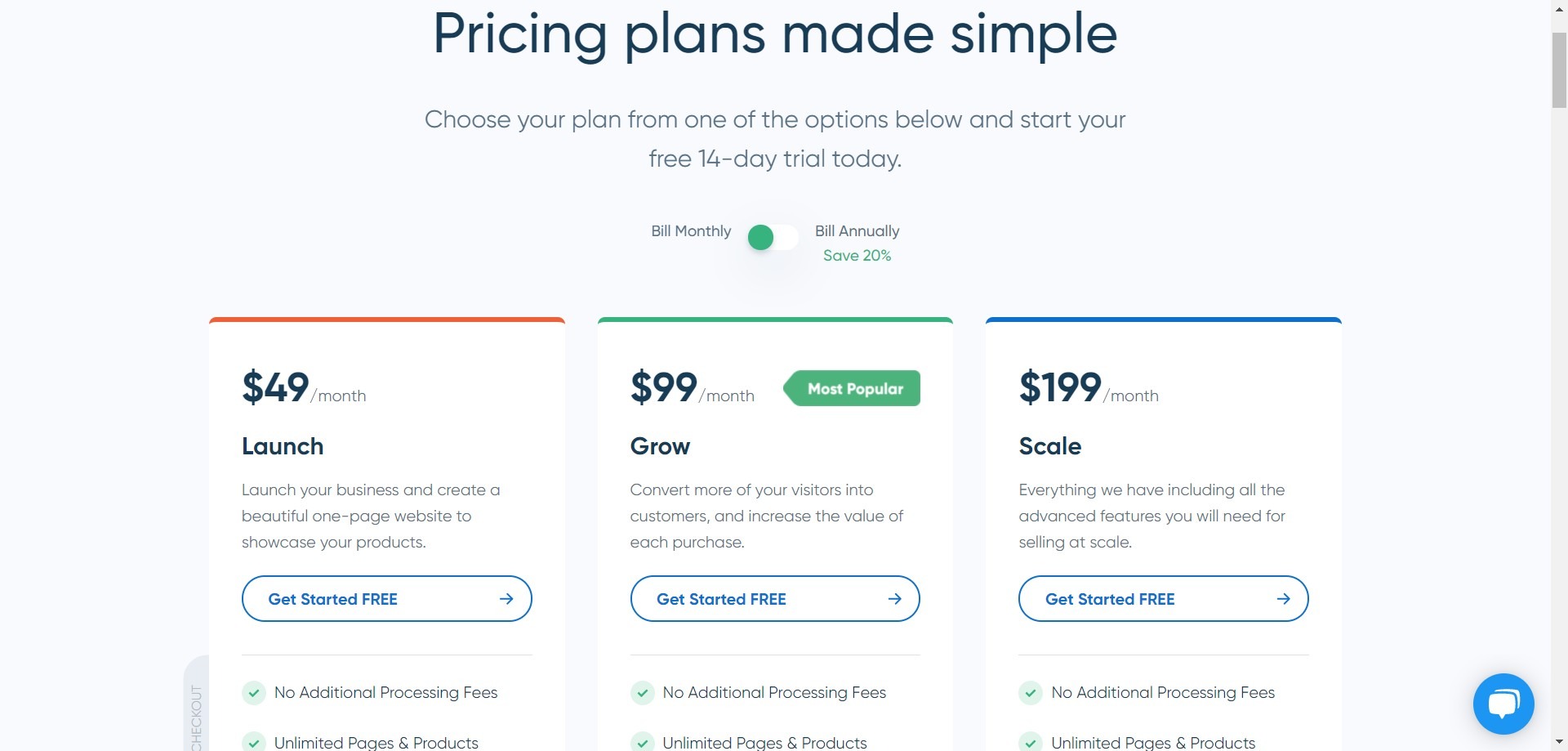 There are three payment plans for SamCart.
Launch – $49/month
This includes:
Unlimited pages and products
Unlimited templates
Drag and drop template builder
Full template library
Advanced subscriptions
Email customizations
Custom domains
Digital product delivery
Smart pixel tracking
'Pay What You Want
Sales and VAT Tax Support
Free SSL Certificate
Apple and Google Pay
Custom Thank You Pages
SamCart Branding
Free and Paid Trials
1 Admin User
Dashboard and Sales Report
Email Support (2-Day Response Time)
Grow – $99/month
This includes everything in the Launch plan, plus:
Custom Checkout Fields
Order Bump Collections
Post-Purchase Upsells
Multiple Payment Methods
3 Admin Users
UTM Tracking and Marketing Reporting
Advanced Reporting
Customer Management
Subscription Charge Reminder
Advanced Subscription Cancellations
SamCart Onboarding
Email Support (1 Day Response)
Scale – $199/month
This includes everything in the Grow plan, plus:
10 Admin Users
Admin User Roles
Cart Abandonment
Built-in AB Testing
Affiliate Center
Subscription Saver
CRM Integrations
Custom Integrations
Email Support (Priority Response)
They offer a 14-day free trial. You can find out more on their pricing page.
UltraCart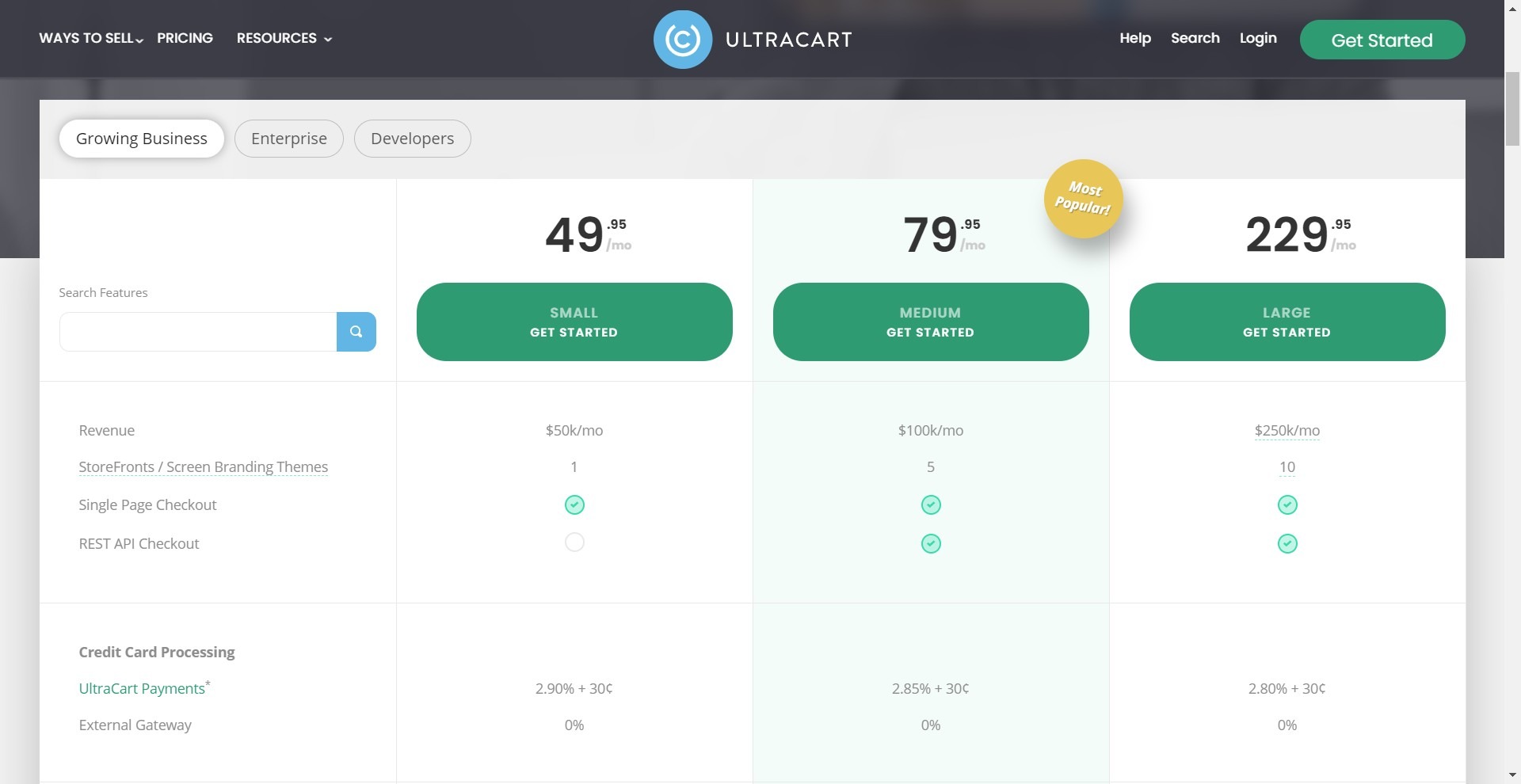 UltraCart has three tiers, each with different price plans.
The Growing Business Plans are:
Small – $49.95/month
Up to $50k revenue per month
1 Storefront
Single Page Checkout
UltraCard payment rates at 2.90% + 0.30c
Up to 250 products
Many features including upsells, coupons, and customer profiles
Email and phone support
Medium – $79.95/month
Up to $100k revenue per month
5 Storefronts
Single Page Checkouts
REST API Checkout
UltraCard payment rates at 2.85% + 0.30c
Up to 1000 products
Many features including upsells, coupons, and customer profiles
Email, phone, and priority support
Large – $229.95/month
Up to $250k revenue per month
10 Storefronts
Single Page Checkouts
REST API Checkout
UltraCard payment rates at 2.80% + 0.30c
Up to 10000 products
Many features including upsells, coupons, and customer profiles
Email, phone, and priority support
Then there are the Enterprise and Developer plans.
Enterprise – $499.95/month
Up to $500k revenue per month
25 Storefronts
UltraCard payment rates 2.70% + 30c
Up to 250000 products
All marketing and product features
All integrations
Developers – Free
If you're a developer looking to create storefronts for your clients, you can use UltraCart's platform for free. If your client likes it, they can pay the standard UltraCart fees to gain access to their new store.
You can try out UltraCart's free trial if you want to test it first – find out more on their pricing page.
SamCart vs UltraCart – Pros and Cons
Let's take a look at the best and worst bits of each platform:
SamCart
Pros
Beginner-friendly
Easy to navigate
Create products easily
Lots of payment configurations available
Useful marketing features
Cons
Can be a little slow to load at times
UltraCart
Pros
Highly customizable
Many payment options for customers
Marketing features including upsells and abandoned cart recovery
Attractive storefront templates
Plenty of integrations with other platforms
Cons
Steeper learning curve
Not that attractive to look at – can feel overwhelming at times
SamCart vs UltraCart – Alternatives to Try
If you want to keep looking, there are a lot of other great platforms out there:
Shopify – We'd recommend checking out Shopify, especially if you're new to eCommerce or you want to get up and running quickly. You can customize your Shopify store using integrations and plugins. Read more about it in our OpenCart vs Shopify comparison.
Kartra – Kartra has a secure shopping cart, and it has a pretty easy learning curve. The storefront templates are attractive and stylish. Check out our Kartra review for more info.
Cratejoy – aimed at subscription-based businesses, Cratejoy allows you to sell subscriptions and advertise them in Cratejoy's marketplace. It's a simple platform if you want to focus just on subscription boxes – find out more in our Cratejoy vs Shopify comparison.
FAQs
Question: Does SamCart vs UltraCart have mobile apps?
Answer: At the time of writing, neither platform has a mobile app.
Question: Are SamCart vs UltraCart secure?
Answer: Yes. Both have great security credentials, with PCI (Payment Card Industry) compliance.
Question: What currencies do SamCart and UltraCart support?
Answer: At the time of writing, SamCart supports multiple currencies – you can find out more on their FAQ page.
UltraCart doesn't state the currencies it supports, but you can find out more information for international merchants on their FAQ page.
To Sum Up – Which is the Winner?
It's a tricky one because it depends on what you want. But, if we had to pick one, we'd go with SamCart today. We like SamCart because it's fairly easy to use. The marketing tools are easy to understand but could make a real difference in your sales. We like that you can access potential leads, and we think that the customer support team is very responsive and helpful.
However, UltraCart is also great. It has so much to offer in terms of customization, and would particularly suit medium-to-large eCommerce businesses. If you want to slot new checkout pages into your existing website, UltraCart is excellent.
If you've tried either one, let us know in the comments – do you like it? What could be improved? We'd love to hear your thoughts.
Our Recommendation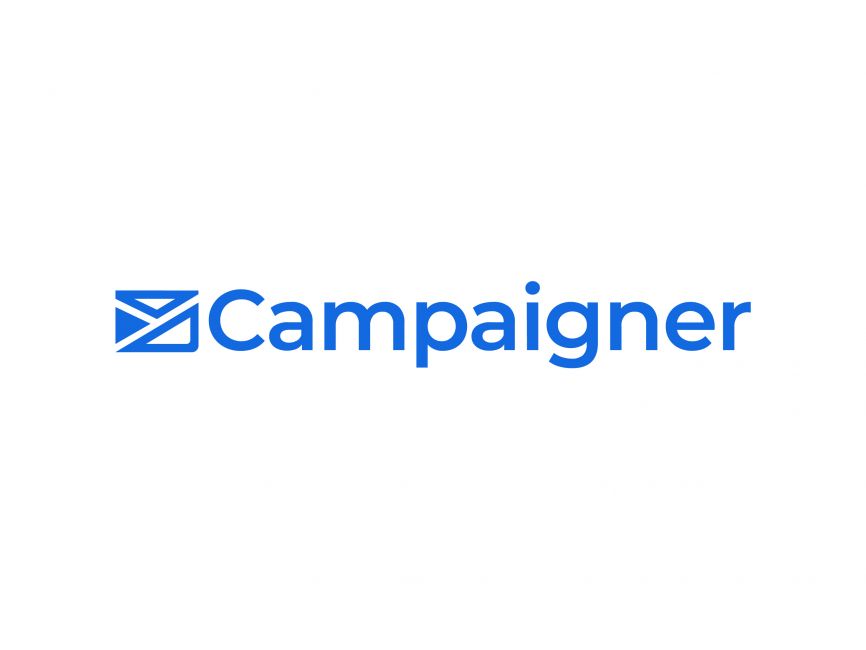 Have Your Heard of Campaigner?
Drive sales and revenue using advanced marketing automation, intuitive reporting and powerful personalization through email and SMS. Try Campaigner for free!
Start Your FREE Trial
We earn a commission if you click this link and make a purchase at no additional cost to you.