Last Updated on January 16, 2023 by Ewen Finser
By the time you think about comparing SamCart vs Shopify, you've probably sampled quite a large number of online selling options already.
And that, sadly, is the dark side of digital commerce software.
Bottom Line Up Front: You can read the full article, but here's my ultimate conclusion…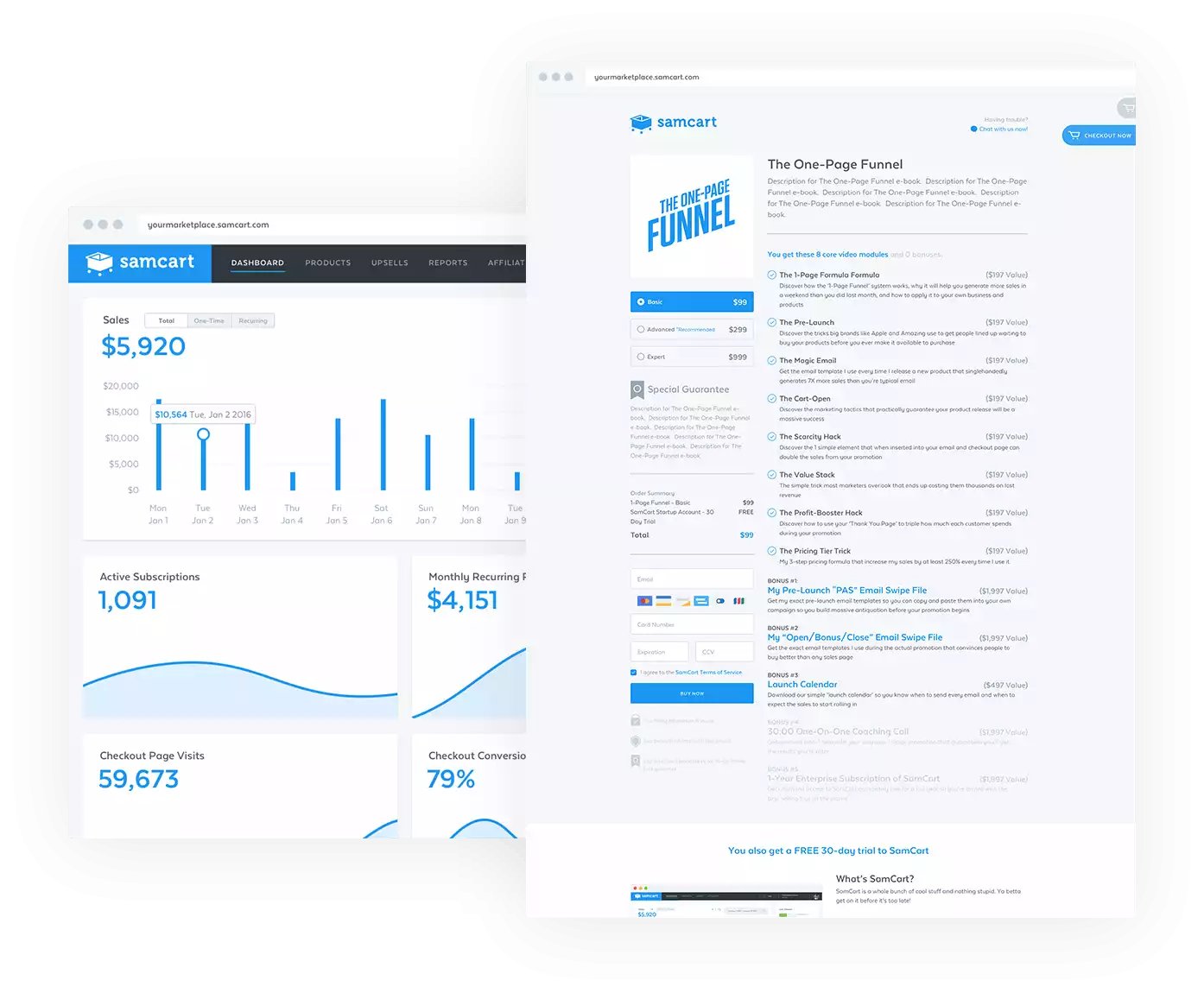 I Personally Prefer SamCart
Personally, I find SamCart to be the BETTER overall checkout page builder with one of the best abandoned cart features in the business. PLUS, it's just less expensive than the competition. There's a free 7-day trial here if you'd like to just see what it looks like on the inside.
GO With SamCart
We earn a commission if you click this link and make a purchase at no additional cost to you.
Ecommerce tools are fundamentally built to make online selling conveniently easy for all types of businesses. And while the competition that comes with more platform options is great for merchants, choosing between them could turn out to be a nightmare.
Now, the problem is, there are way too many e-commerce solutions, and the numbers are still growing. That essentially complicates the selection process because things can get pretty overwhelming for typical online merchants.
Fortunately, we understand starting and running a business is already hard enough. So, we've made things very simple for you by critically comparing two particularly outstanding software options- SamCart vs Shopify, which happen to be very similar yet very different e-commerce tools.
Well, the similarity here is simple. They are both software solutions for online selling. But then again, it turns out they use varying approaches to achieve that.
Shopify, to begin with, is basically an all-in-one e-commerce platform. In other words, it offers a full-stack of all the tools you'd need to not only set up an online store but also manage and track all the subsequent selling processes.
SamCart, on the other hand, is a shopping cart solution that's essentially optimized for sales funnels. You can use it to build checkout pages, before embedding them onto your emails or website for quick and convenient selling. As a result, it's popular among both marketers and online merchants.
Not that popular though. Because SamCart is still new in the e-commerce space. Quite the contrast compared to Shopify, which has been around for ages now and has even established itself as one of the most dominant e-commerce platforms.
Speaking of which, one of the primary reasons behind Shopify's success is its overall simplicity. It has always been recognized as one of the simplest platforms for online selling.
Well, at least until the likes of SamCart showed up. According to its founders, SamCart is possibly the simplest digital selling tool at the moment. And it reportedly achieves that without compromising your sales funnel capabilities.
OK, fair enough. But, does it have what it takes to challenge the big old Shopify store? Could SamCart possibly be a better selling solution for you?
Well, let's find out through this ultimate SamCart vs Shopify store builder showdown. It's a brutally honest battle of multiple rounds, seeking to evaluate the two solutions based on their individual features as well as pricing.
So, without further ado, I present to you…SamCart vs Shopify.
SamCart vs Shopify – Overview
SamCart is seemingly the new kid on the block, as it was founded in 2004 as a shopping cart solution for sales funnels.
Don't get me wrong though. SamCart is not one of those new e-commerce applications that struggle to make a name for themselves. It's quite the opposite actually.
In essence, SamCart hit the ground running in 2014 and has managed to attract more than 65,000 active users so far. That's a fairly impressive figure for an online selling platform that has only been around for 5 years.
Then get this. As a result of that tremendous growth, the SamCart Company currently makes over $100 million a year.
How?
Well, SamCart is principally a system for setting up online sales funnels. While you can use it for basic funnels, it's much more effective when it comes to the advanced ones. More specifically, it avails all the critical components for building dynamic sales funnels, complete with downsells, upsells, and order bumps.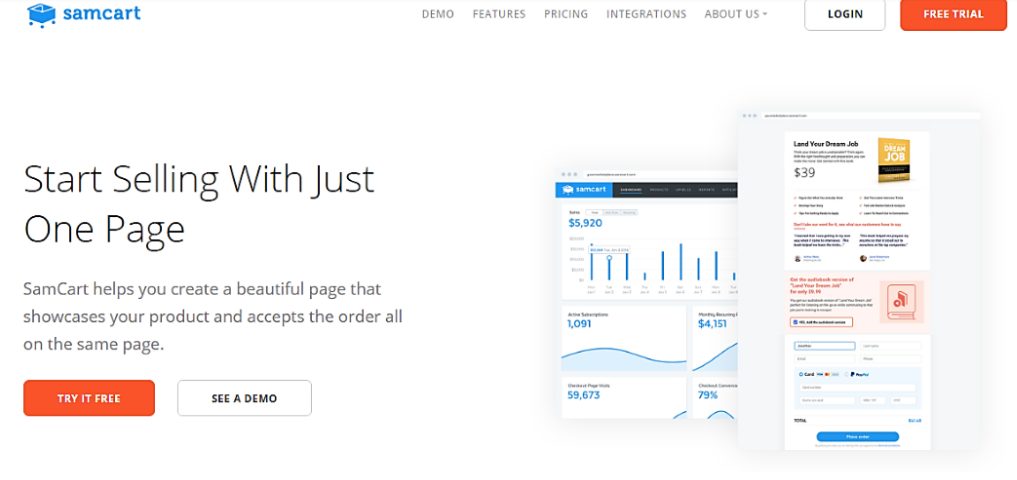 But, that's not all it can create. Digital merchants are also leveraging SamCart for building membership sites, webinars, squeeze pages, and landing pages.
That said, the best thing about SamCart is its overall simplicity. Selling both physical and digital items is as easy as adding them to SamCart, choosing a relevant payment structure, picking an ideal template, customizing it accordingly, defining funnel elements, and voila!
Just that and you have yourself a fully functional checkout page. And since the funnels here are specifically optimized for conversion, you should be able to sell much faster in any major currency.
Then to help you review your sales funnels before launching, SamCart comes with an A/B testing environment called Sandbox.
Other notable features include sales reports, in-depth dashboard, zero sales faces, affiliate center, unlimited products, and support for subscription products. SamCart also supports a wide array of thrid-party SaaS integrations, including Zapier integration.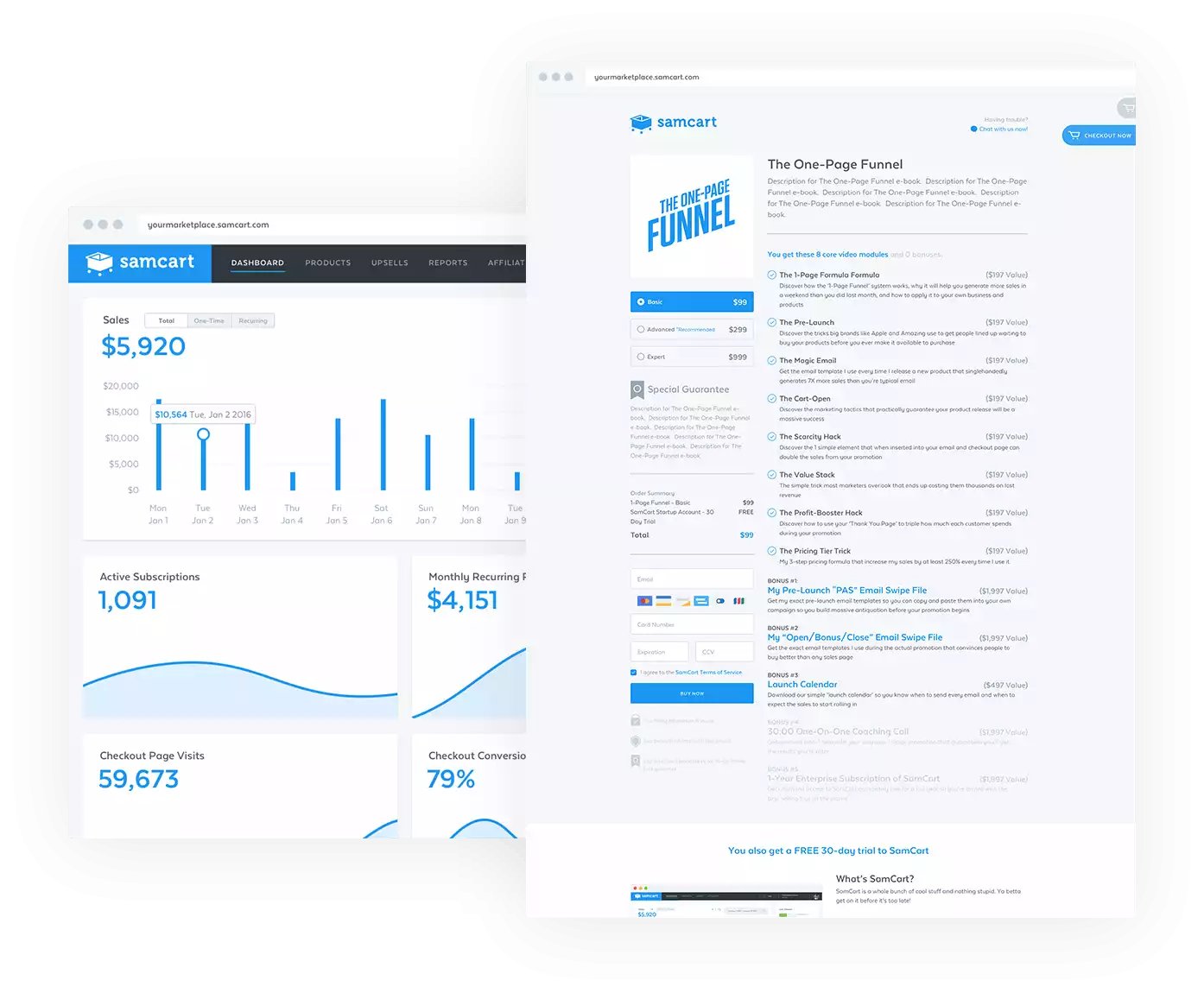 I Personally Prefer SamCart
Personally, I find SamCart to be the BETTER overall checkout page builder with one of the best abandoned cart features in the business. PLUS, it's just less expensive than the competition. There's a free 7-day trial here if you'd like to just see what it looks like on the inside.
GO With SamCart
We earn a commission if you click this link and make a purchase at no additional cost to you.
Unlike SamCart, Shopify has been a fully-fledged e-commerce platform since 2004. That means it's not specific to a certain business category, approach or activity. Rather, the Shopify store platform is built for everyone who wants to sell. It serves all types of businesses, and it's flexible enough to facilitate pretty much any eCommerce activity or system, including sales funnels.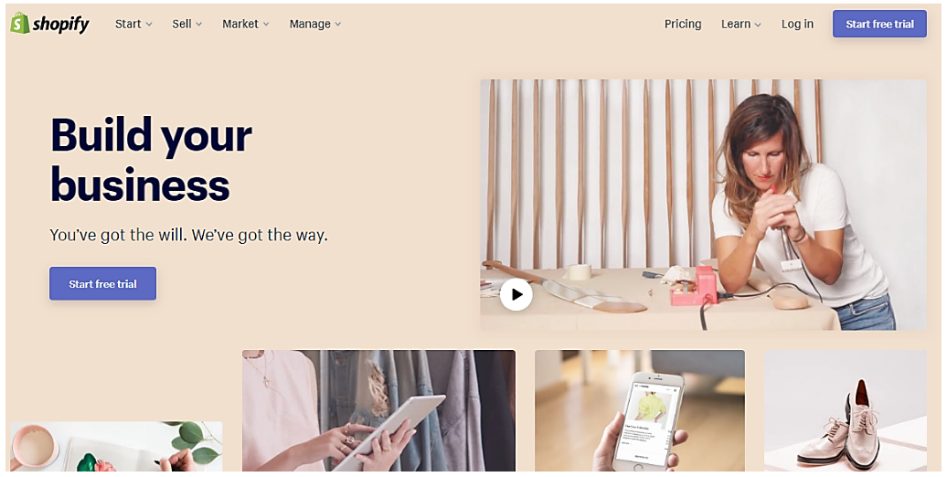 Therefore, it's pretty obvious that Shopify is much larger than SamCart. The platform itself combines web hosting, web design, CMS and selling tools to offer the complete e-commerce stack. You can register a domain, build a complete website, and then sell different types of products both online and offline.
For site building, Shopify provides a wide range of attractive storefront templates that can be edited to suit your preferences. And yes, you can also take advantage of them to build your own checkout page or sales funnel.
The subsequent customization process itself doesn't require any technical skills. Shopify offers a drag and drop website builder that uses a WYSIWYG (What You See Is What You Get) interface for smooth and seamless editing.
It doesn't leave out developers though. If you're good at coding, Shopify allows you to dive into its templates code, and with a bit of HTML and CSS tweaks, you can edit the layouts quite extensively.
Then when it comes to e-commerce functionalities, there's a host of integrations on Shopify's app store. They cover all the digital business processes you can think of – marketing, payment processing, store designs, order management, inventory management, customer support, product research, accounting, you name it. There are multiple apps for each of them.
So, while the default Shopify dashboard comes with its own set of tools for inventory management, order handling, payment processing, marketing, tracking, and design, you're free to expand your capabilities by simply embedding compatible apps.
But, make no mistake about it. Although there's a wide array of sales and conversion apps on the App Store, you don't need any of them to get started with the funnel builder. You can set up a decent checkout page using the default functionalities on the platform.
And to make things much easier for beginners, the platform avails a simple Shopify Lite package with solid integration capabilities. It comes in handy when you need to create a simple checkout page on social media sites, as well as third-party blogs and websites. That means you can survive over the long haul without actually building your own website.
You might also be interested: Shopify vs Shopify Plus – Everything You Need to Know (2020)
SamCart vs Shopify – Main Features
Ease of Use
At first, SamCart was introduced to serve as a much better alternative to the then bland checkout page on PayPal. It was extremely simple. And interestingly, despite its subsequent evolution, it still managed to retain that same old simple approach when it comes to online selling.
Currently, SamCart has established itself as a shopping cart application for merchants who are not great at coding. You should be able to set up your account pretty easily and proceed to sell your stuff without any technical help.
The interface here is admirably neat and intuitive. Nothing too flashy or confusing. All the functions and their corresponding options have been laid out to help even novices find their way around instantly.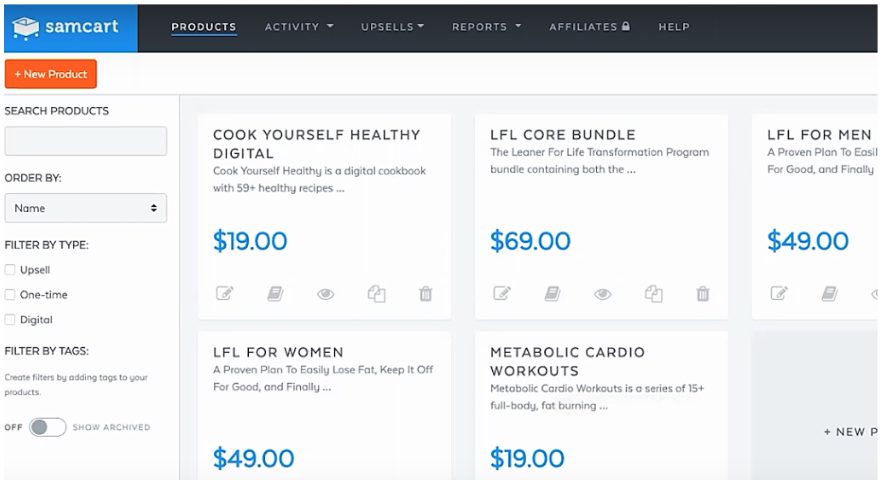 But, in the event you actually need some form of assistance, SamCart has still got you covered. It comes with an extensive collection of guides and tutorials, plus a super responsive customer support team. Essentially everything a typical beginner would need.
That said, the process of creating a checkout page after you've signed up begins with SamCart's "New Product" function. By clicking on it, SamCart allows you to enter your product name as well as its accompanying information.
Once you're done, the only things left are selecting a payment price and structure, picking a checkout page, then finally integrating the page with your PayPal or Stripe account. It's that simple and straightforward.
But, make no mistake. Although beginners and novice coders are increasingly enjoying this convenience, SamCart doesn't cater to them alone. It also supports advanced online businesses that sell millions of products annually. And the good thing is, the platform manages this without overcomplicating stuff.
If you're thinking about setting up an affiliate program, for instance, SamCart helps you launch in one of the simplest ways possible. Quite a sharp contrast compared to most of the affiliate tools on the web, which seemingly make the whole process of tracking and managing affiliates a bit difficult.
SamCart basically grants you unrestricted control of your affiliate programs without the extra complications. You can regulate not only the products you'd want to promote but also the members of the affiliate programs.
This level of flexibility applies to their compensation structure too, as SamCart allows you to specify your own commission system for every single product. And just in case you'd prefer a different set of rules for some of the members, it's possible to create a separate "VIP Affiliate" payment framework.
Now, the only problem with the simplicity here is that it compromises customization. While SamCart integrates with a number of third-party applications, you can only do so much in the end. It's not a full-fledged e-commerce platform like Shopify. So, don't expect to find the same level of functionalities.
But, if simple and fast-selling is a priority for you, SamCart has got your back.
When it comes to ease of use, the fact about Shopify is, it often elicits mixed reactions. While most people consider it to be a very user-friendly platform, there are a couple of individuals who see the whole thing as another cumbersome way to sell online.
Well, it turns out both groups are right. Shopify can be simple and complex at the same time. It all depends on how you want to use it.
If a fully-functional online store is your kind of thing, then Shopify should seem perfectly simple. It's one of the easiest e-commerce platforms to use for all types of e-commerce sites.
As we've established already, you don't need technical skills to operate it. Shopify even helps you avoid the whole process of designing a website from the ground up by providing an array of attractive predesigned templates.
And since most of them offer the full online shop structure with all the key components, you only need a couple of tweaks to set up your own unique website. The templates are pretty responsive, and they come ready for both PCs and mobile devices.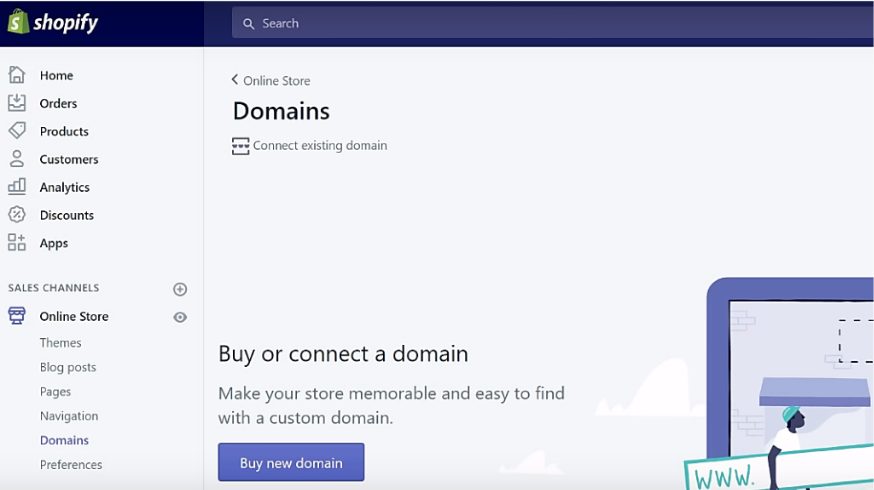 Shopify also goes ahead and provides a payment solution by default. So, although it always advisable to provide multiple payment options on your store, you don't have to look for a third-party gateway. Shopify Payments can handle all the major debit and credit cards.
Then when your site ultimately goes live, you'll find Shopify's store management processes to be pleasantly straightforward. You can easily switch between products, customers, orders, analytics, etc. Regardless of your type of business, the interface here provides an intuitive and seamless store management experience.
So far so good. But then again, it seems it's not all roses when we switch over to sales funnels. The problem with Shopify is that the processes of creating and managing sales funnels are not as direct as we've seen with SamCart.
One option you have is creating your own landing page sales funnel from the "Pages" area on Shopify. But sadly, you don't get a lot of sales to funnel functionalities by default.
And that brings us to the alternative option of building the funnel through an integrated third-party application. Fair enough. But, your capabilities at the end of the day depending on the app's features. Then to make matters worse, acquiring the app might cost you some extra money.
SamCart vs Shopify Ease of Use Verdict (Winner- SamCart)
One of Shopify's most outstanding features is its user-friendly system. No doubt about it. It offers a simple way of creating a complete online store as well as managing the subsequent e-commerce operations.
But, while Shopify is a good balance between flexibility and user-friendliness, it can't outshine SamCart's ease of use. The latter is exactly what it principally claims to be- a sales funnel solution. So, although it might not exactly offer the features you get on Shopify, SamCart manages to provide a very simple online selling system.
Overall, merchants can easily leverage SamCart for all sorts of sales funnels. Shopify, on the other hand, is a platform for bonafide online shops.
Templates
and
Web
Design
To help you get your sales funnel up and running in no time, SamCart comes with 18 professionally designed templates in the funnel builder. They are all considerably attractive and you can choose any without paying extra.
Then guess what? Every single template has been tested repeatedly by a wide range of marketers. They have applied them on their sales pages to analyze the results. So, in short, all SamCart templates haven't only been optimized for conversion but also proven to be effective.
In fact, they even come with supplementary elements to increase your credibility. Some of them include security assurance, guarantees, and testimonials.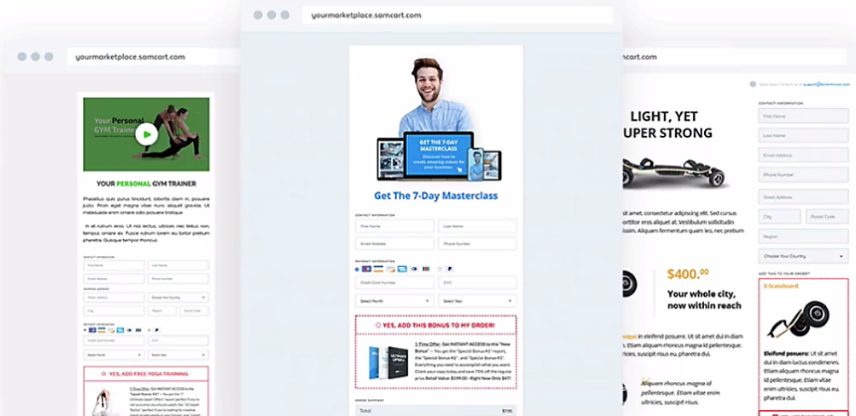 If you'd want to change these or any other layout element, SamCart avails a very simple customization process. After selecting a template, you can proceed to adjust its layout colors or edit fields and text, as well as tweak sections, buttons, etc.
It's also worth noting that since 2014, all the templates here have been mobile-ready. They respond well to both PCs and mobile devices.
Shopify also happens to offer a smart collection of beautiful pre-designed templates. And yes, they all look professional and modern.
One thing though. You'll notice that Shopify's templates are not for checkout pages. But rather, this eCommerce platform comes with online store themes. In other words, you'll have yourself different online shop options, each with its own set of webpages.
Their precise number is 74. However, only 10 of them are free. The rest are premium e-commerce themes that will cost you between $140 and $180.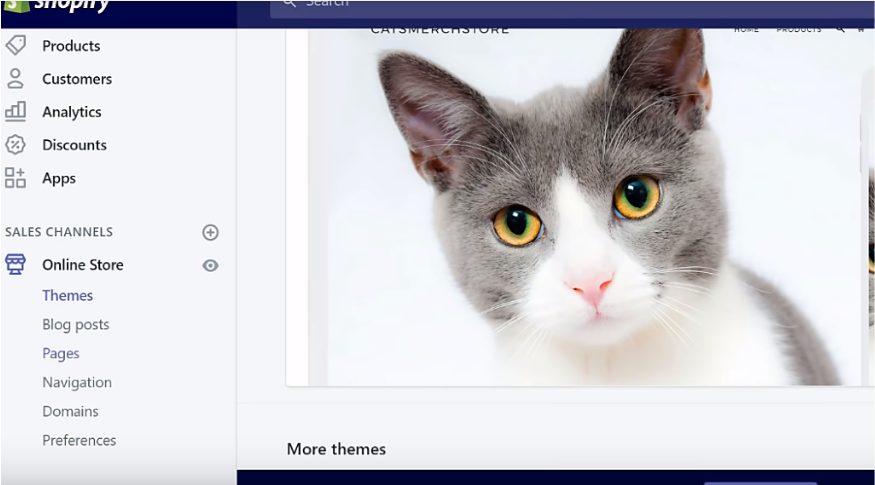 But that's not all. It just so happens that Shopify has an in-house team of developers and designers on standby. They can design an entirely unique theme for your site if you don't mind the price.
Come to think of it though, I guess that wouldn't be necessary because Shopify has a very decent editor. You can take advantage of its intuitive drag-and-drop interface to customize any random theme, and consequently turn it into a unique site.
The editing options here exceed what SamCart provides. And if you happen to be good in web development, Shopify allows you to dive deep into its templates' underlying code for more extensive tweaks.
SamCart vs Shopify
Templates and Design Verdict (Winner- Shopify)
It's admirable that both SamCart and Shopify avail a range of templates to help you hit the ground running. But, here's the obvious difference the two- while SamCart is all about checkout pages, Shopify tends to focus its themes on fully-fledged online stores.
That said, the great thing with SamCart's templates is that they are all free. Shopify, on the other hand, charges a premium price for the bulk of its themes. However, that doesn't hide the fact that Shopify provides a wider range of theme options along with more customization capabilities.
And that makes it the winner of the SamCart vs Shopify Templates and Web Design round.
Ecommerce Features
SamCart might be a simple sales funnel application alright, but it also happens to come with a range of e-commerce features.
It can, for starters, accommodate not only physical products but also digital and subscription-based items. So, you should be able to upload sell pretty much anything here.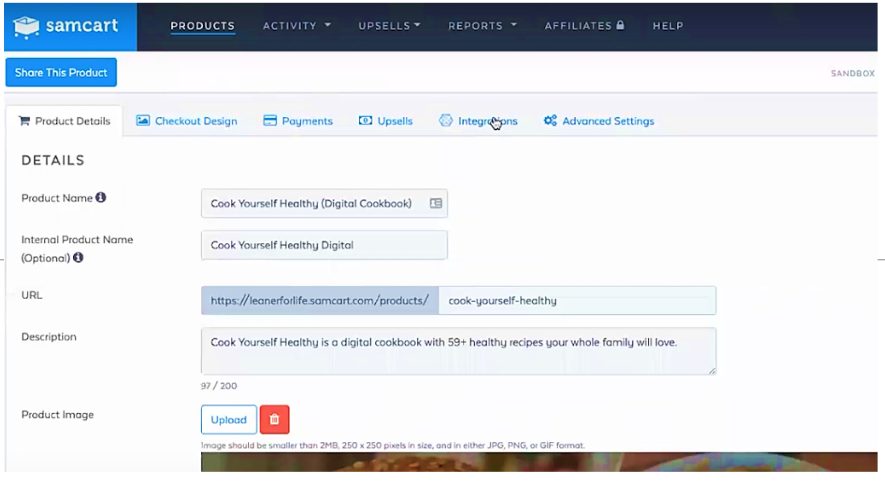 But before you roll out a campaign, consider taking advantage of SamCart's A/B split testing tool. It's built to take the guesswork out of the way by helping you assess the conversion potential of your checkout pages. All it does is basically comparing results from two different versions of the same page.
To use it, therefore, apply varying designs or elements on your page versions, and then distribute them in a single link to some of your target leads. SamCart will subsequently track and analyze how the customers respond to each page version. So, in the end, you should be able to make an informed decision on the best campaign strategy for your business.
Another solid marketing feature is the affiliate system. SamCart gives you the power to leverage other marketers on the web through its strategic affiliate programs.
You essentially introduce them to your products, and then offer commissions for each successful conversion they refer. But that, of course, comes after they've signed up to your program as affiliates.
Now, once buyers start pouring in, you'll find features like the one-click upsell to be quite handy for boosting your potential earnings during checkout. It basically tempts customers to purchase more items by adding them to their cart through a single click.
Closely related to that is the cross-selling bump, which happens to be another prominent provision on SamCart. With it, you can bundle products with their related extras to convince customers to buy them all together.
And when they ultimately proceed to the actual payment process, there are two gateways you could process your transactions through. If PayPal doesn't seem to be good enough, you can opt for Stripe. Or better yet, use both options simultaneously.
Sadly, that's all there is. SamCart is yet to offer additional payment processor integrations. But then again, in all fairness, PayPal and Stripe are two of the most widely used gateways. So, you'll be just fine.
As a matter of fact, you don't even have to redirect your buyers away from your page during checkout. SamCart allows you to minimize your cart abandonment rate by keeping buyers on the same page. Consequently, they end up paying via popup.
Well, if you're dealing with physical products, shipping has to proceed smoothly if you intend to maintain a favorable fulfillment rate. Thankfully, SamCart does a great job at automating most of the functions at this stage.
Shipping charges, for instance, are automatically applied to your customers' orders based on the rates you set for various geographical locations. But if you prefer otherwise, you can alternatively use a standard flat rate on every single order. Whichever you choose, SamCart will do the honors of charging your customers accordingly.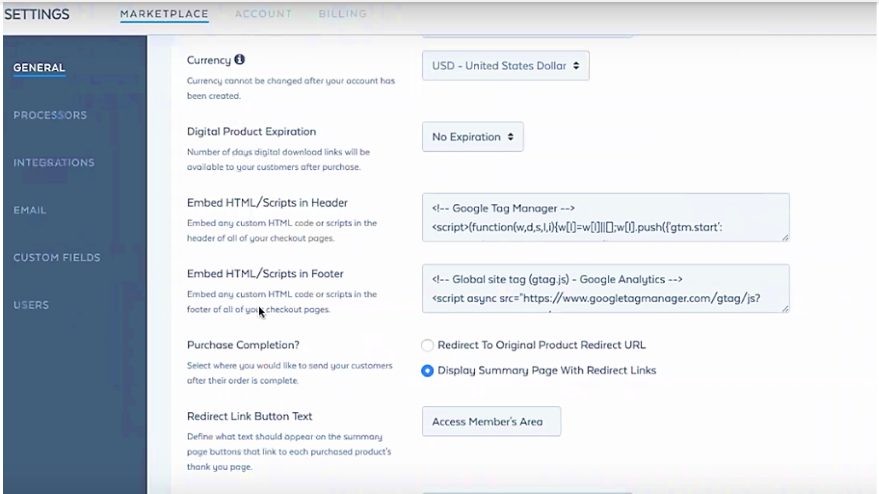 Now, when it comes to subscription-based packages, one of the smartest features you can use is the subscription Saver. And it's precisely what the name suggests. In essence, you get to automatically remind subscription customers to update payment details once their credit cards expire.
Considering it's one of the most established e-commerce platforms today, you'd certainly expect Shopify to provide all the core online selling functionalities. And, as it turns out, this platform doesn't disappoint at all.
Product management itself, to begin with, is pretty comprehensive on Shopify. You can easily add numerous products and categories since there are no restrictions. Shopify supports an unlimited number of item entries as well as product categories.
You're also free to choose what you want to sell. By default, Shopify facilitates both digital and physical products.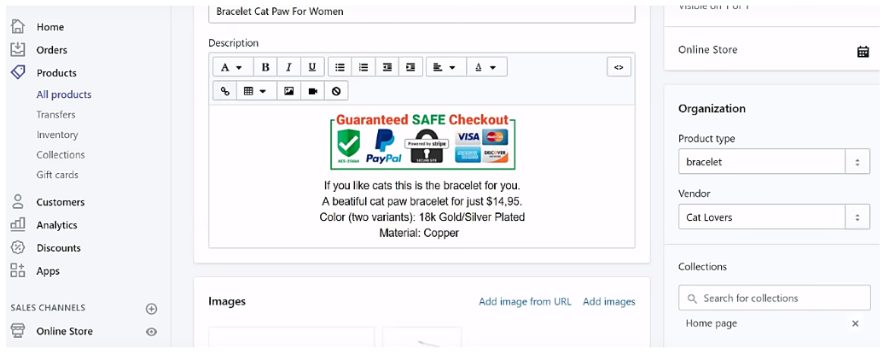 However, if you're planning to build a subscription-based business, you might be forced to incur extra costs. The sad bit is, Shopify doesn't come with this feature on its default system. So, you can either pay a developer to work on the underlying code or simply integrate a compatible app that supports recurrent packages.
Whichever product type choose, you should be able to sell them on not only your site, but also third-party websites, as well as social media platforms like Facebook, Pinterest, and Instagram, plus Marketplaces like eBay and Amazon.
Then to grow your business even further, Shopify offers an array of tools for marketing and boosting sales. You can, for instance, set automatic discount codes to keep your customers shopping. Or perhaps create loyalty programs for the few that keep coming back for more.
Well, cross-selling and upselling is also possible. But, these two are extra features that will require you to first embed relevant apps from Shopify's App Store.
And speaking of which, you'll also need to check out the App Store options when you begin customizing your payment systems. The only payment processor you'll find on the default platform is Shopify Payments. But, the rest are available on the App Store in large numbers- more than 100 to be specific.
The only problem with the second option is, straying away from Shopify Payments means additional transaction processing fees. But, on the bright side, using alternative gateways allows you to accept payments from a wide range of customers.
And that's not all. Shopify manages to apply such a dynamic approach in all its e-commerce processes, including order fulfillment and customer management.
The shipping process, for example, allows you to define all the automation parameters. Subsequently, you can set the rates based on regions and countries, or instead, proceed with free shipping, flat rates, etc.
Now get this. Although Shopify is a renowned e-commerce platform, it doesn't restrict itself to online selling. It goes above and beyond standard eCommerce rules to facilitate even brick-and-mortar stores, through its parallel but synced Shopify POS system.
SamCart vs Shopify
Ecommerce Features Verdict (Winner- Shopify)
Going by the e-commerce features we've covered, we can agree that SamCart comes with just the right tools for quick and easy selling via checkout pages. Apart from running A/B conversion tests, you should be able to introduce different types of products, and then use affiliate programs, up-selling plus cross-selling promotion tools, PayPal and Stripe payment processors, as well as various shipping parameters.
Well and good. However, that's nothing compared to what Shopify is capable of. Shopify is built to provide all the essential e-commerce features- not just checkout page tools. Then for the few functionalities that have been excluded from its default system, Shopify provides a host of solid third-party integrations.
Therefore, overall, Shopify is the undisputed e-commerce champion when it comes to Shopify vs SamCart.
SamCart vs Shopify – Pricing
SamCart
Priority support

A/

B

split testing

One

-click upsells

Webhooks

Cart abandonment

Advanced statistics and re

ports

One-time pa

yments, subscriptions, trials, and

payment plans

Built

–

in credit card process

Use checkout pages

anywhere

Unlimited products

18

checkout templates
Priority support

A/B split testing

One-click upsells

Webhooks

Cart abandonment

Advanced statistics and reports

One-time payments, subscriptions, trials, and payment plans

Built-in credit card process

Use checkout pages anywhere

Unlimited products

18 checkout templates

Dedicated training and

support

The Affiliate C

enter

The Subscription S

aver

Shopify
Sell on Facebook

Add products to any site
Third-party POS apps

Shopify POS app

2.0%

Additional

transaction

fees

on all processors

other than Shopify Payments

2.7% + 0¢

In-person credit card

transaction fee

rates

2.9% + 30¢

Online credit card

transaction fee

rates

Abandoned cart recovery

Free SSL certificate

Sell on online marketplaces and social media

24/7 support

2

Staff accounts

Unlimited products
Third-party POS apps

Shopify POS app

1

.0%

Additional

transaction

fees

on all processors

other than Shopify Payments

2.5

% + 0¢

In-person credit card

transaction fee

rates

2.6

% + 30¢

Online credit card

transaction fee

rates

Professional reports

Gift cards

Abandoned cart recovery

Free SSL certificate

Sell on online marketplaces and social media

24/7 support

5

Staff accounts

Unlimited products
Third-party POS apps

Shopify POS app

0.5

%

Additional

transaction

fees

on all processors

other than Shopify Payments

2.4

% + 0¢

In-person credit card

transaction fee

rates

2.4

% + 30¢

Online credit card

transaction fee

rates

Third-party calculated shipping rates

Advanced report builder

Professional reports

Gift cards

Abandoned cart recovery

Free SSL certificate

Sell on online marketplaces and social media

24/7 support

15

Staff accounts

Unlimited products
For enterprises and large businesses

Both Shopify and SamCart operate on a monthly recurring payment system, unlike some options like ThriveCart which offer a larger one-time payment for lifetime use.
SamCart vs Shopify
–
Conclusion
All things considered, the bottom line is, SamCart is indeed a smart and pleasantly simple application for building and managing sales funnels. It's the type of tool that digital marketers and typical online merchants would consider since it can effectively convert shoppers on the checkout page.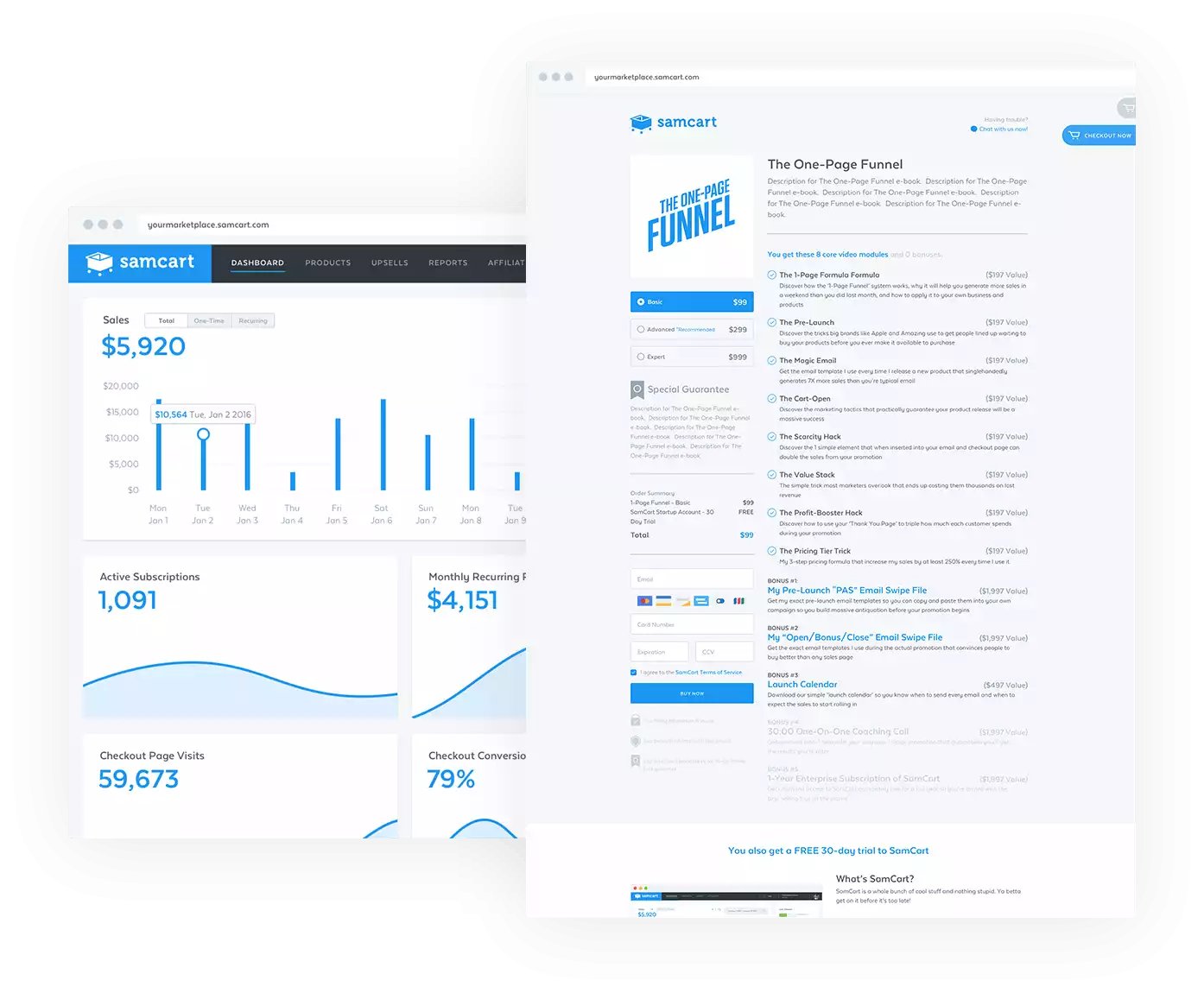 I Personally Prefer SamCart
Personally, I find SamCart to be the BETTER overall checkout page builder with one of the best abandoned cart features in the business. PLUS, it's just less expensive than the competition. There's a free 7-day trial here if you'd like to just see what it looks like on the inside.
GO With SamCart
We earn a commission if you click this link and make a purchase at no additional cost to you.
Shopify, on the other hand, is a jack of all trades. It's an expansive eCommerce platform that continues to offer businesses simple but flexible tools for setting up fully-fledged online stores, as well as growing their subsequent businesses.
So, whichever way you look at SamCart vs Shopify, the truth of the matter is, they are both reliable platforms in their own unique ways. What you end up choosing between the two depends on where you lie- a digital marketer, a merchant, a growing business, or an enterprise.
Here's the bottom line:
Which one do you think would suit you?
Here are other related articles you may be interested in: