Last Updated on January 16, 2023 by DMEditor
In this post, we learn what factors you should consider when deciding on a BigCartel Alternative. Save time and effort researching with our online comparison of the best Big Cartel store alternatives to consider.
BigCartel is one of the most notable brands in the ecommerce platform space today. No doubt about it.
Started in 2005, it has grown to host thousands of artists, who have cumulatively sold over $2.5 billion worth of products. Quite, impressive, right?
Well, come to think of it, that should come as no surprise since the solution has been built by artists, for artists to sell their work easily.
Besides, it's not every day we see an ecommerce platform optimized specifically for creatives. Most of the services we have around the web attempt to go for the long ball by targeting all types of stores.
And you've got to admit that while it has worked for some, this strategy has turned out to be a blunder for other service providers.
The best BigCartel alternatives compared in this article are:
Shopify – Best overall ecommerce store and top rated e-commerce platform
BigCommerce – Best multi-channel alternative
3dcart – Best SEO optimized platform
Ecwid – Easiest to get started with, quickly for small business
Oracle Commerce – Best multi-site architecture
IBM Watson Commerce – Best AI powered platform
Salesforce Commerce Cloud – Best POS integration for stores with offline presence
Paddle – Best for e-commerce store for digital products and subscriptions
So, what exactly attracts artists to BigCartel?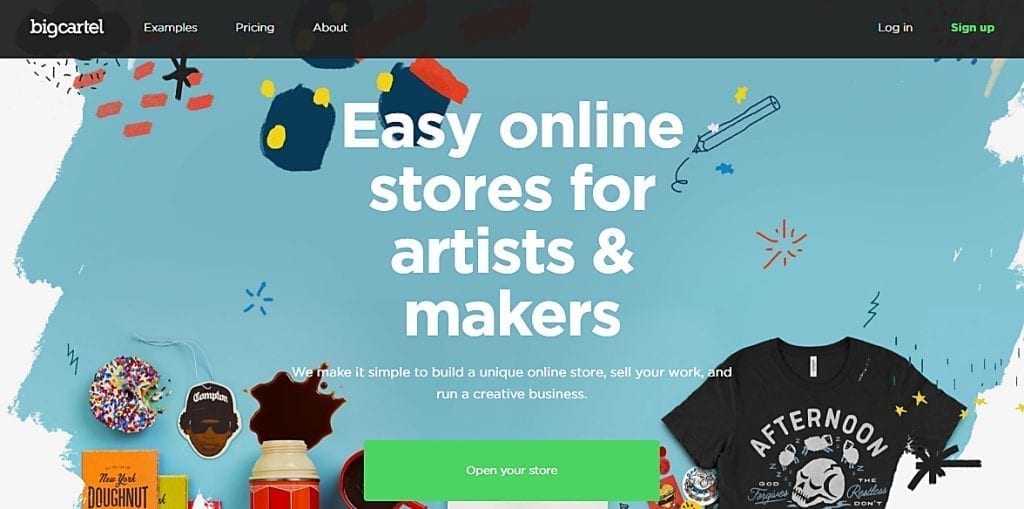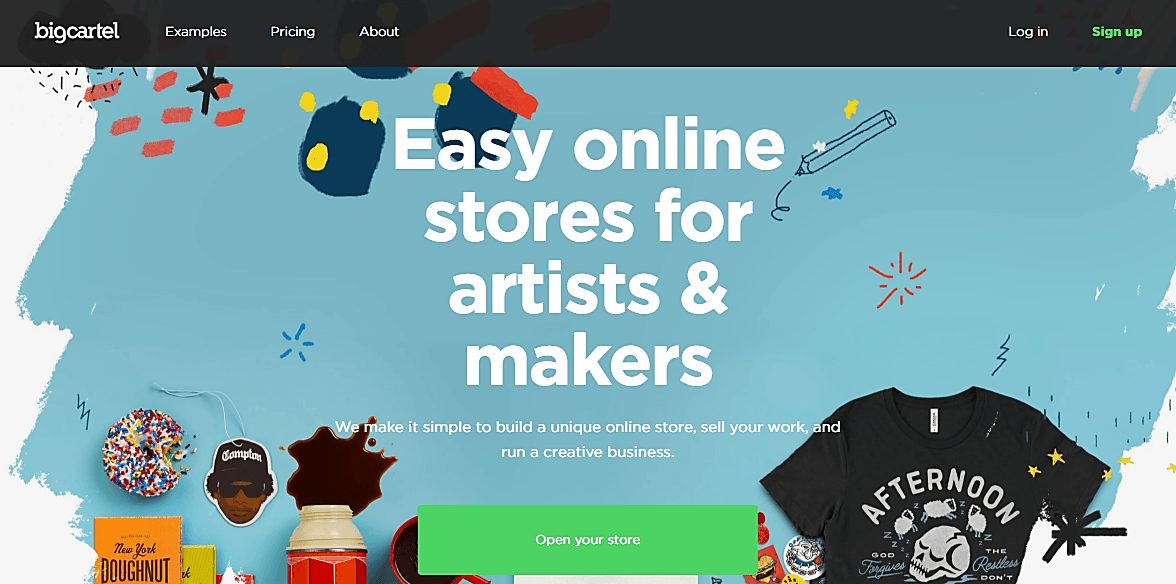 Quite simply, the software offers straightforward tools and resources to facilitate creatives in not only building exceptional online stores, but also coordinating the retail process holistically.
One of BigCartel's fundamental strong points is the fact that it powers universal customization. At the top, you can easily adjust elements like themes, fonts, images, and colors to create a unique site.
However, that's not all. You can still go deeper into its underlying framework to code the HTML, JavaScript, and CSS directly. The end result is usually a holistically customized Big Cartel website that goes beyond what the platform provides for standard users.
Then, when it comes to buying, Big Cartel handles the entire process from item selection, to carting, then checkout, transactions, and ultimately delivery. And somewhere in between, you can throw in a couple of discount codes to speed up the lead conversion process.
Now, speaking of leads, Big Cartel is also helping creatives hunt for them on Google through its basic search engine optimization tools. And as they access the store, the underlying framework adjusts the entire site to their individual devices. As a result, you're able to capitalize on both PC and mobile phone buyers.
To top it off, you're able to track your store's overall progress in real time through BigCartel's analytics and subsequent reports.
Why You Would Consider BigCartel Alternatives
So far so good. However, needless to say, every great thing also comes with its dark side. And one of BigCartel's weak points is the fact that it offers limited third-party integrations.
Some creatives have argued that this should be negligible to artists, and I completely understand their point of view. But, hold on for a moment and think this through.
Take shopping, for instance. The third-party shipping integrations available only support a handful of shippers. Basically, the biggest shipping companies in the U.S like USPS, FedEx, and UPS. So, what happens when you need to process multiple orders to numerous foreign countries?
Catch my drift? Well, it seems international markets isn't much of a priority for BigCartel right now. Because oddly enough, it also doesn't support multiple languages.
To make matters worse, you'd have no one to call if you faced any challenge. It turns out BigCartel doesn't offer phone or chat support (customer support). And that's a real bummer since we're talking about stores that essentially conduct business 24/7. Imagine what even an hour's delay in technical support or customer service could potentially cost you on a busy market day.
That said, please note that I'm not necessarily trying to discourage you from adopting BigCartel. I'm only laying down the facts here.
If you can work your way around these challenges like 250,000 other stores, that's fine with me. For what it's worth, I wish you all the best.
However, if you feel a bit uncomfortable about the whole things, and you'd wish to see what else is available out there, here are the best BigCartel alternatives to consider in 2020:
Best Overall Big Cartel Alternative: #1 Shopify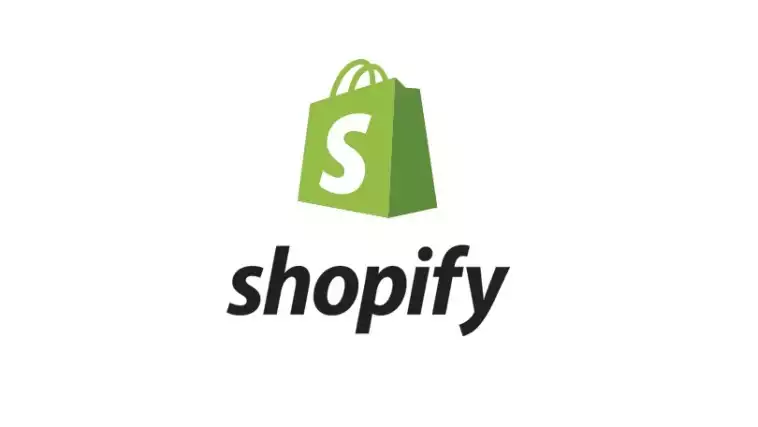 Why Shopify Wins
There are PLENTY of ecom platforms out there. Only one has a true NETWORK effect that can catapult your growth. Shopify has thousands of developers building apps and a robust ecosystem of integrations. This cannot be ignored. #ShopifyWins
Try Shopify First
We earn a commission if you click this link and make a purchase at no additional cost to you.
Just as BigCommerce, Shopify is a jack of all trades. An e-commerce solution built for pretty much all types of online businesses. So, you may never see it marketed as a tool for artists, but it sure has quite a lot to offer creatives.
Above everything else, Shopify is known for its wide range of third-party integrations. Its app store probably has all the business apps you've heard of. And perhaps unsurprisingly, the numbers are still growing.
Shopify also supports unlimited customer data, product inventory, and bandwidth. Plus multiple sales channels and online marketplace integrations including Facebook, Amazon, Pinterest and other social media venues.
In short, you'll enjoy numerous payment processing options, powerful business management tools, seamless workflow, synced inventory, sales tracking, and universal customization, among other ecommerce features.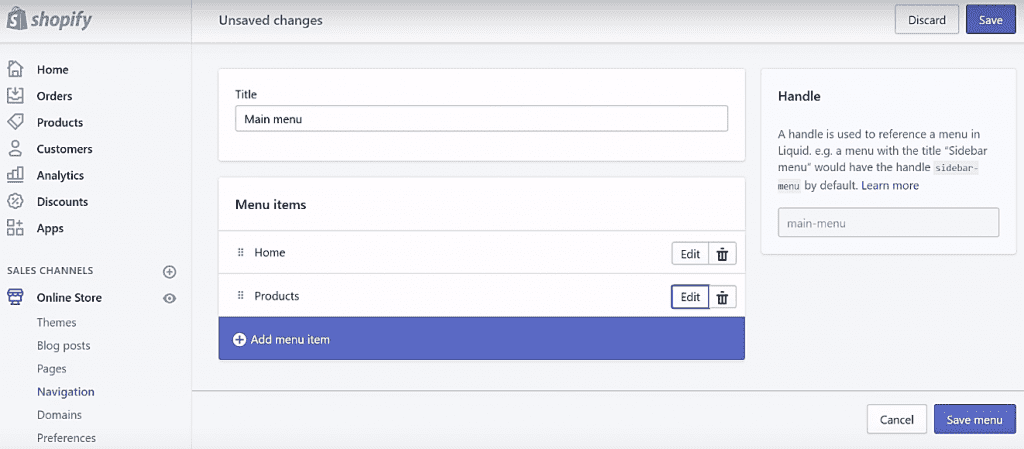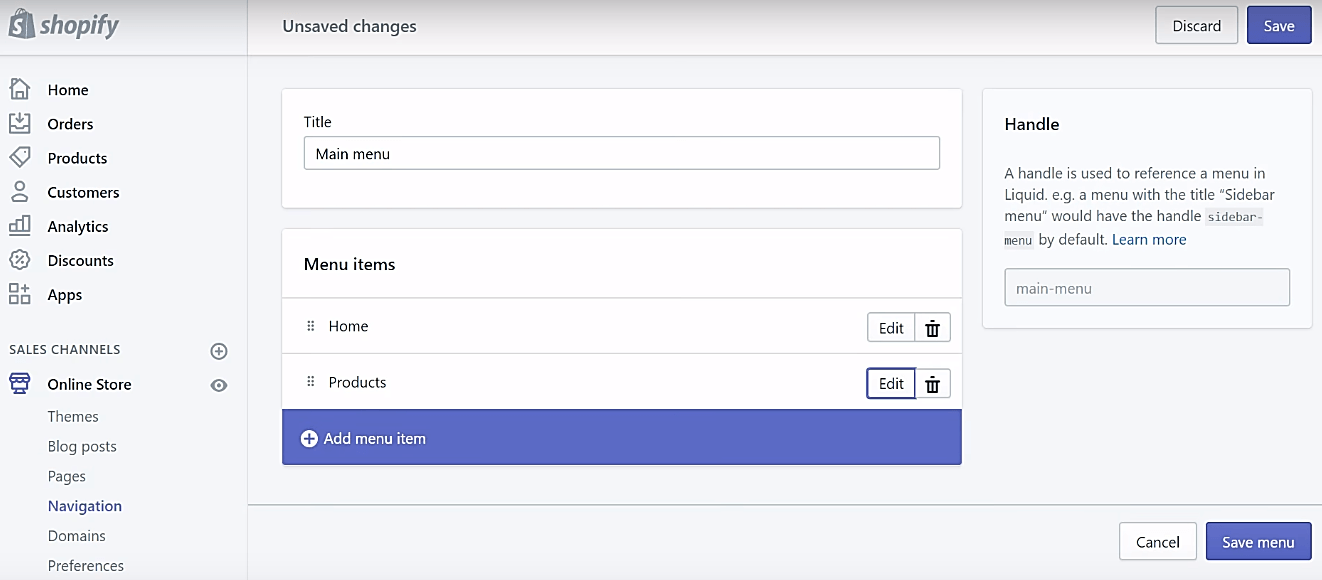 What does this mean, you ask?
The seamless workflow, for starters, allows customers to shop through your art gallery easily. It's as simple as tap then add to cart. After a sale is completed successfully, the entire inventory updates automatically to keep everything synced in real-time.
Now, here's the most interesting bit about Shopify. Its system is not limited to online sales. It also extends to point of sale terminals, consequently enabling users to manage and coordinate even the in-store sales. So, of course, it might be a good idea to consider this if you have a local art gallery supplementing your site's sales.
And you know what? Everything is well synced to help you keep tabs on both sets of inventories, cash flow, and customer orders.
An art dealership operating a website and a local store probably has several employees taking care of business. So, thankfully, Shopify makes subsequent management process much easier by providing multiple staff accounts, all linked to a central admin account. As a result, you're able to track your individual employees and their respective performance levels.
In general, if Shopify doesn't provide a specific functionality, chances are that you'll find it in some app in the app store. Marketing, upselling, cross-selling, page building, custom domain, you name it- they are all accessible through third-party integrations. And that's principally what makes this service one of the most dominant players in the ecommerce industry.
Here's the kicker though. You'll be forced to pay through the nose to continue using Shopify. The monthly fee cost plus platform transaction fees, credit card fees, and add-on fees add up to a heck of a lot of money.
Then, if you finally plan to migrate from Shopify to a different platform (Shopify alternative or Shopify competitor), you might want to reconsider because the process won't be smooth at all. The best you can do is salvaging your product information as a CSV export. Then you'll have to forget about everything else. Sorry, but it is what it is.
Still, Shopify IS the most popular and fastest growing e-commerce platform for a reason. Whether you are a small business or established brand, Shopify is scalable for everyone with it's best in class app marketplace.
Check Out Shopify Pricing Plan Here
Further Reading on Shopify:
Yes, you're right. That this is one of the mainstream ecommerce platforms. And I admit that it's not particularly optimized for creatives.
But, get this. BigCommerce is an engine built for all types of online stores. Its target demographic is every type of business, including art.
That said, BigCommerce is essentially an ecommerce platform built to facilitate the listing of products on your main site, Amazon, eBay, and Facebook, online store customization, plus management of payments and shipping. In addition to that, it comes with a website builder optimized for non-coders.
All things considered, BigCommerce's principal functionalities include integration with numerous third-party applications, lead conversion, order shipping and fulfillment, web design, and payment processing.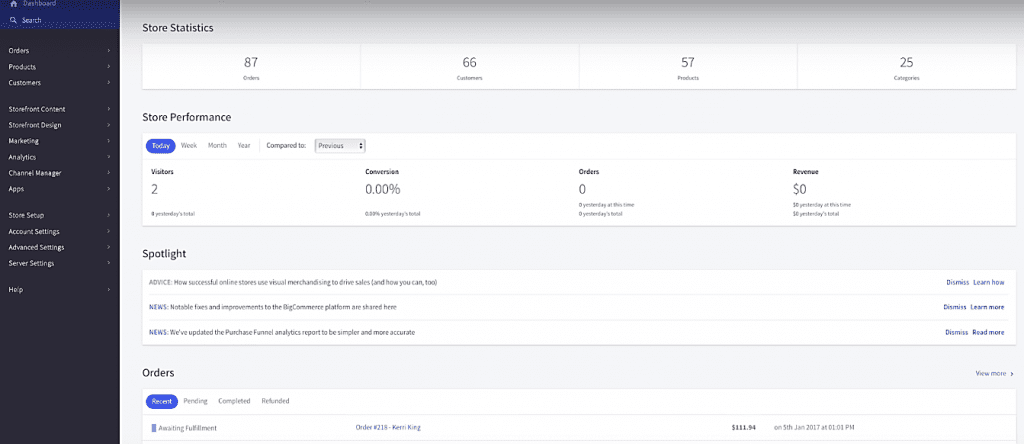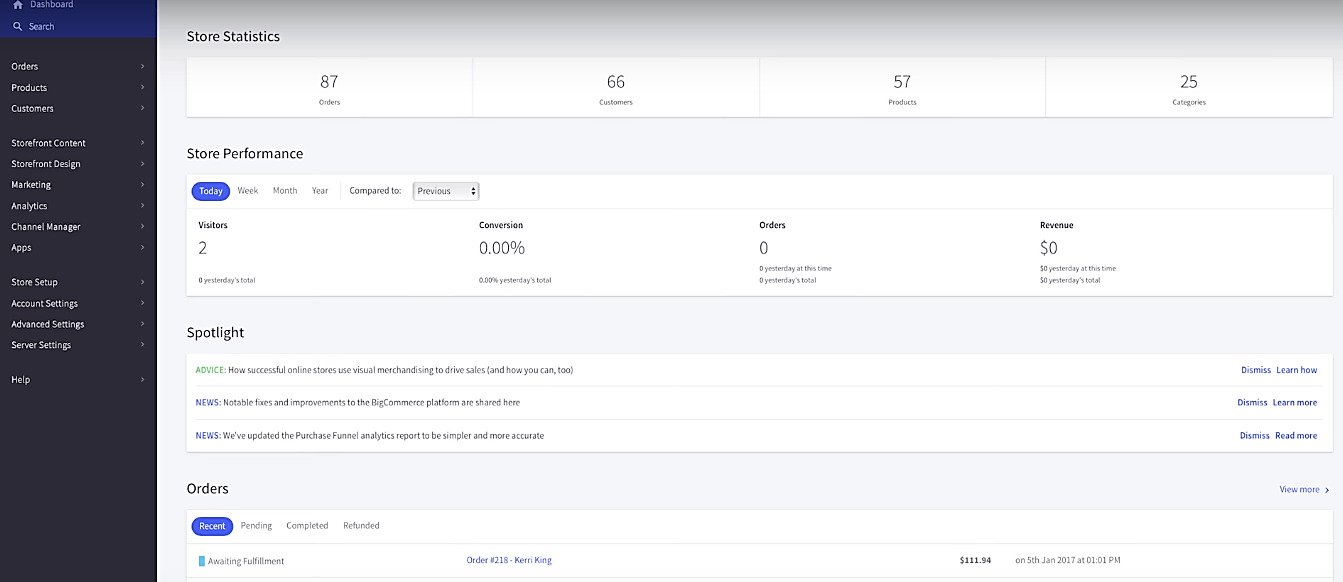 So, what exactly can it do for creatives?
One thing you'll probably like here is the ecommerce website design process. In addition to a wide range of professionally designed templates, it comes with powerful editing tools for tweaking your themes based on your specific needs. Ultimately, you're able to create an artsy website (great for handmade products) with considerably fast page loading speeds across multiple devices.
Although BigCommerce is predominantly known for its physical products, its templates are also optimized for digital products. That consequently caters to all types of artists, including musicians, and video composers.
When it comes to running your business, this ecommerce platform, to begin with, guarantees 99.9% average uptime. Additionally, it provides state of the art security features, which should help you prevent attacks, and maintain optimal compliance standards.
The control panel itself is considerably comprehensive with just the right set of features for running and managing an art business. Through inventory management, for example, you're able to comfortably coordinate and streamline your products. Then, as your customers start buying, you'll notice that you're able to process and fulfill orders from a central location.
Customers will also enjoy the convenience of dynamic multi-channel selling. They can basically purchase what, how, and when they want.
BigCommerce is also considerably SEO-friendly, making it an ideal platform to combine with other third-party apps for a holistic marketing framework.
Fair enough. But, what about the other side?
Unfortunately, BigCommerce's pricing is not only on the higher side, but it's also quite complicated.
From the overall pricing schedule, it's evident that the ecommerce solution is comparatively costly for freelancers like artists.
Even worse, that's only the beginning of the whole problem. It turns out that in addition to the monthly listing fee, you'll also incur credit card fees on transactions, plus add-on fees for selected components.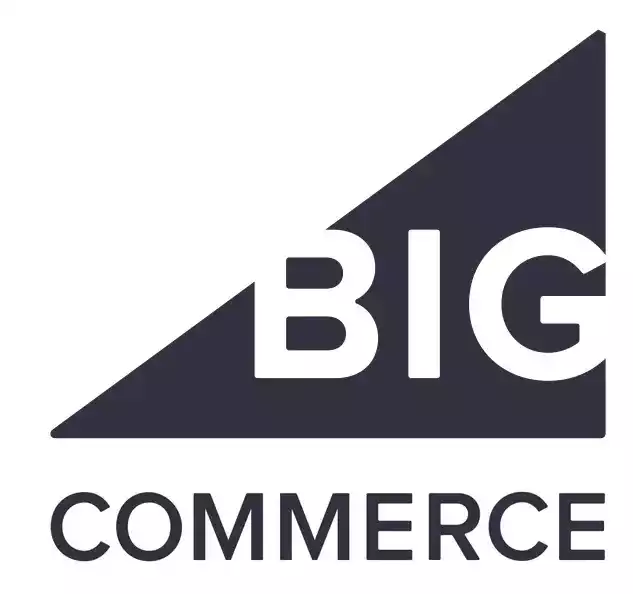 Why do I prefer BigCommerce?
Seamlessly list, optimize, advertise, sell and fulfill products across 100+ channels. All the capabilities of enterprise ecommerce—without the cost or complexity.
Request your Demo
We earn a commission if you click this link and make a purchase at no additional cost to you.
3dcart is a full-stack e-commerce platform serving a wide array of online businesses. First off, it offers tools for creating an online store. Then it powers the subsequent management of shopping, payment, and marketing processes.
In addition to a shopping cart, some of its prominent provisions include SEO, product syncing on Google Shopping, Facebook, Amazon and eBay, numerous customizable store themes, plus multiple third-party integrations.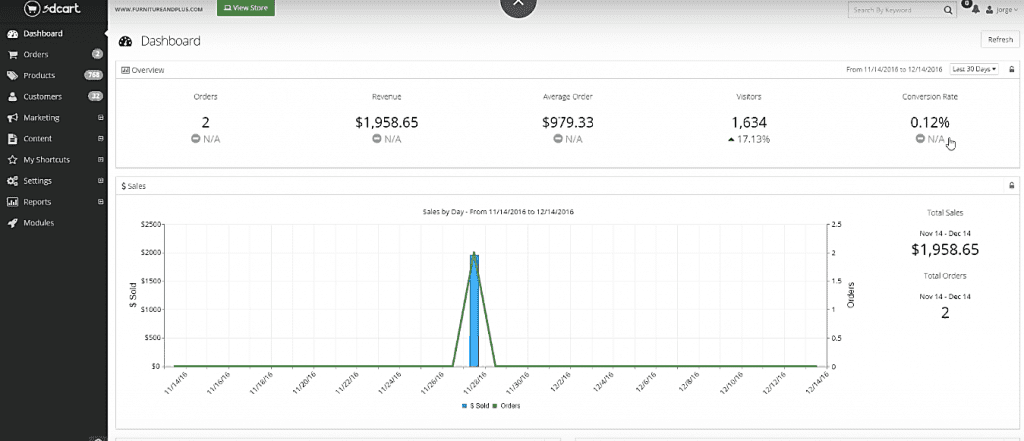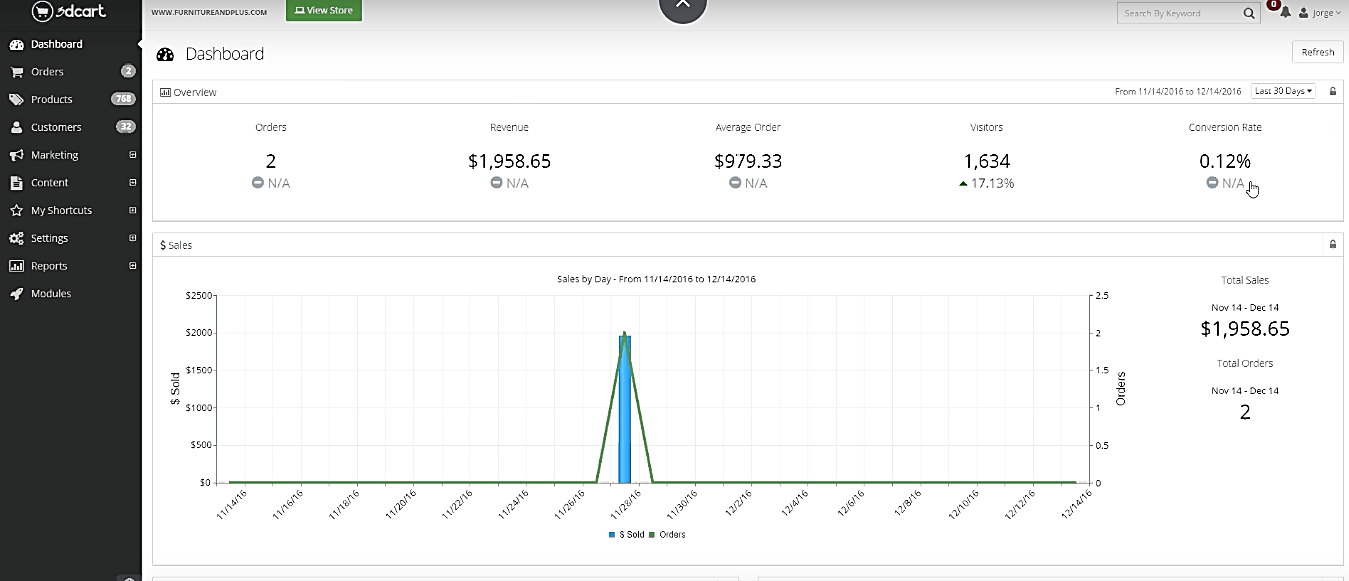 To sum it up, 3dcart achieves four critical elements. After helping you launch a mobile-friendly website, it powers the subsequent marketing structures- then it optimizes the entire site for search engines- plus, of course, it enables management of unlimited products, customers, and the consequent orders.
Now, as a creative, you'll certainly enjoy the store building process. It's not only simple and intuitive, but also rich in professionally designed themes that can adapt to both PC and mobile.
And when you start rolling out your products, you'll notice that the admin panel is ideally designed to facilitate quick and efficient management of sales, customers, and inventory. Printing numerous orders simultaneously, for example, has been narrowed down to a single click.
Apart from that, it simplifies the whole shipment tracking process- including product returns, from the moment an issue is raised to the corresponding time the item is delivered back.
And speaking of shipping, 3dcart is also quite handy when it comes to dropshipping. It automatically coordinates the process by notifying drop shippers immediately customers make orders. So, of course, you can capitalize on other artist's compositions to make money.
Then, to maintain a steady flow of customers, you can consider rewarding return customers with discounts based on their loyalty points accumulated from previous purchases.
But, here's the problem. It might take you some time to learn the ropes to be able to use the entire platform effortlessly.
Another major drawback is the lack of extensive customization for its web templates. And to make matters worse, the template editing process is not for the faint-hearted. You must have some coding skills to tweak your online store accordingly.
Ecwid is a web-based ecommerce platform built to power existing sites with business functionalities. It's also embedded onto third-party sites like social networks to set up online stores.
Ecwid is seemingly attempting to make shopping as smooth as possible. As customers check into your store, for instance, they'll be able to shop in their native language- since the platform can automatically translate your site to 45 different global languages. And that essentially means you might as well start drafting your business expansion plans.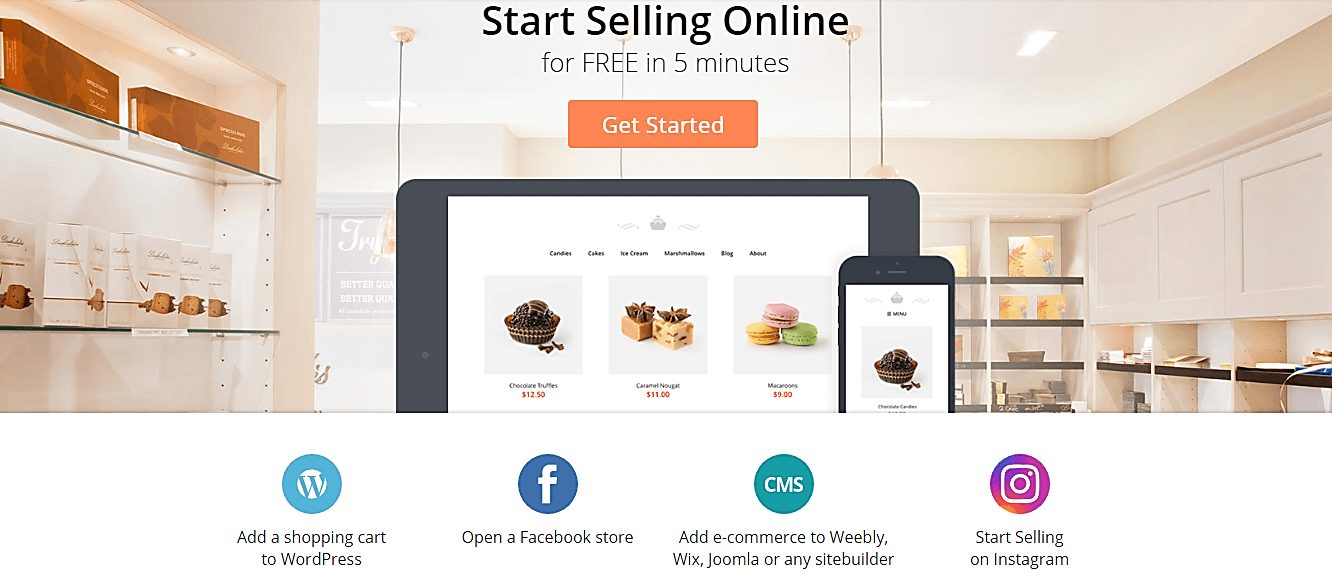 If you're considering to expand in the near future, for instance, you might be pleased to learn that it supports a holistic business setup with multiple shops across several online platforms.
You can start a parallel site to complement your primary store, or maybe open up a smaller branch on Facebook to take advantage of the extensive social network audience base.
Further Reading: Ecwid vs WooCommerce Compared
Oracle Commerce is an ecommerce platform built to offer a flexible personalization engine, cohesive multi-site architecture, data anywhere architecture, plus performance and scale.
All in all, this solution is mostly known for sharing commerce and personalization resources, targeting prospects with specific products and offers, accelerating integration while minimizing the corresponding costs, extending to multicurrency, multisite, multibrand, and multichannel frameworks, plus processing data dynamically at a large scale.
Oracle is particularly ideal for creatives seeking to invent and extend to new geographies or environments. In addition to both B2B and B2C modules, it provides a flexible and modern foundation for managing multiple brands plus markets.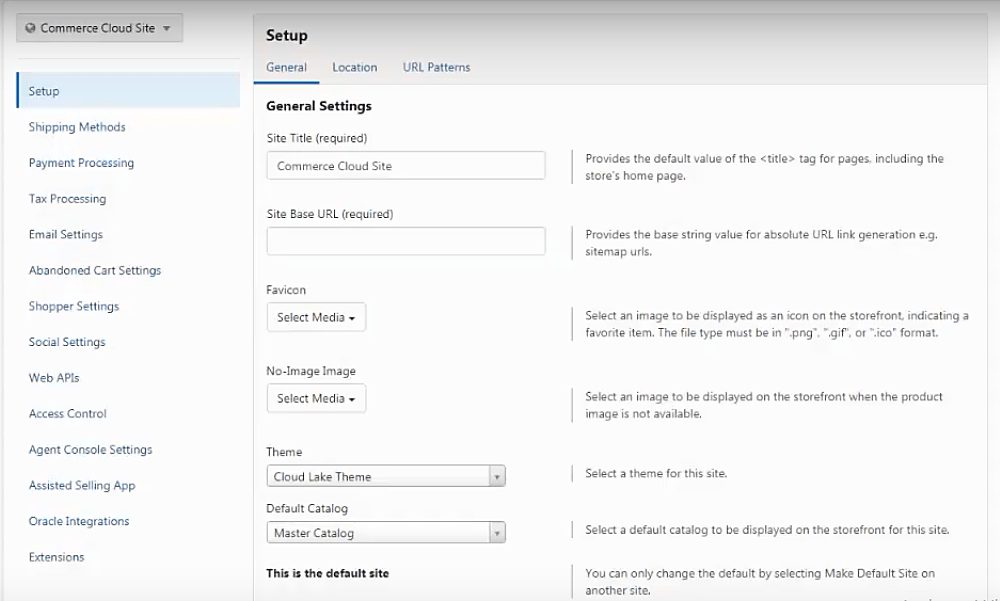 If you're dealing with different sets of clients, you can leverage Oracle's advanced segment function to single out and go for valuable prospects with offers and products that they best respond to.
And when new interactions start rolling in, you can capitalize on the adaptive personalization engine to set favorable parameters for varying customer profiles. Then, to get your artwork moving, the same system provides you with just the right platform for content personalization, aimed at selected segments, organizations, and individuals.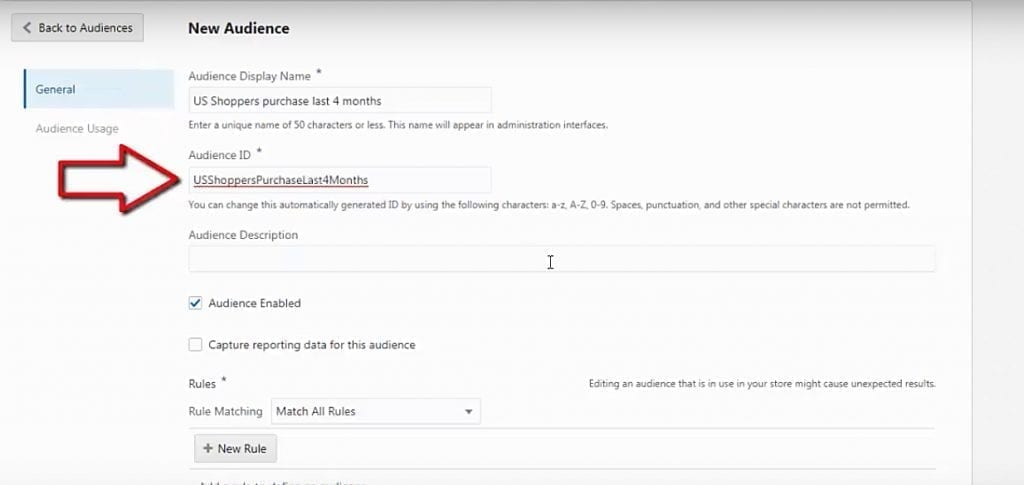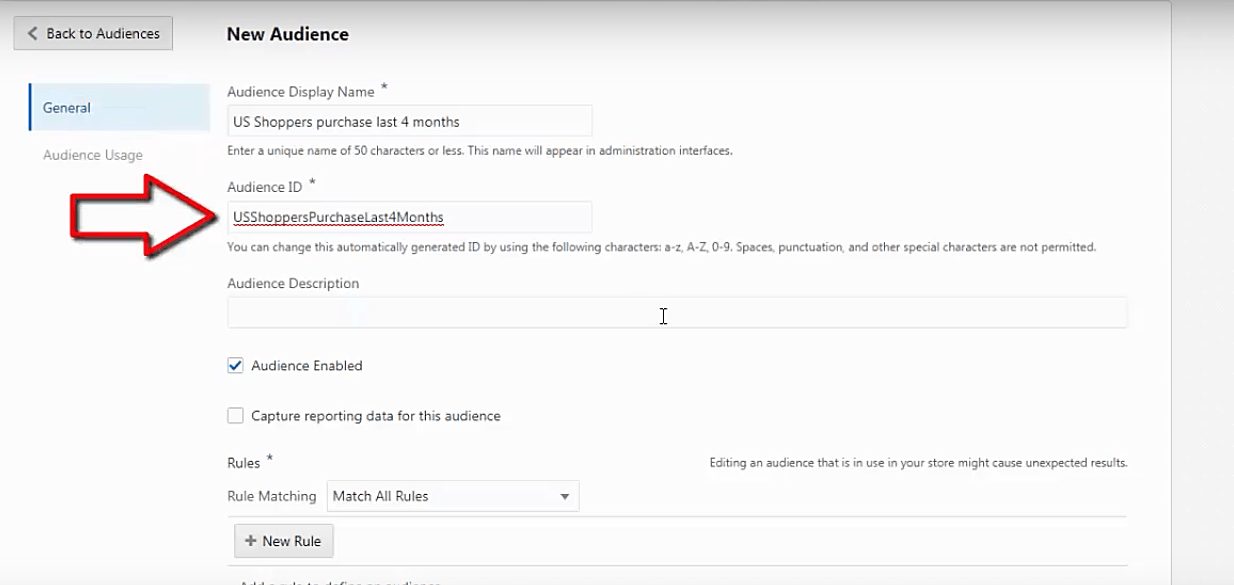 Another interesting fact here is that you can comfortably share these personalization parameters across multiple sites, thanks to Oracle's cohesive multisite architecture. Most importantly, you'll be able to share even business components and critical content pieces between interconnected websites.
All things considered, the bottom line is that Oracle Commerce is perfect for a dynamic creative with multiple income fields, each with its own separate ecommerce website. Consider, for example, an artist who not only does paintings, but also deals in sculptures, ornaments, and ancient collectibles. They'd work well on one central platform with multiple sites sharing underlying resources.
Now, when it comes to the drawbacks, one of the first problems you'll notice right off the bat is a comparatively slow interface. And you might find the functionality set up a bit too technical for a regular artist who can't code.
Then, your customers might have a problem with the search tool. Its results, unfortunately, only cover the products. Any other content won't show up unless it's classified as an independent product.
IBM Watson Commerce is best known for intelligent sequencing, struggle detection, digital experiences, customer insights, order management and fulfillment, and omnichannel ecommerce.
These aspects collectively help users implement strategies in all customer interactions, take advantage of the AI-powered advisor to boost delivery, provide persistent and streamlined omnichannel environments, capitalize on intelligent omnichannel fulfillment to achieve seamless delivery, plus generate critical insights with each interaction for informed decision-making.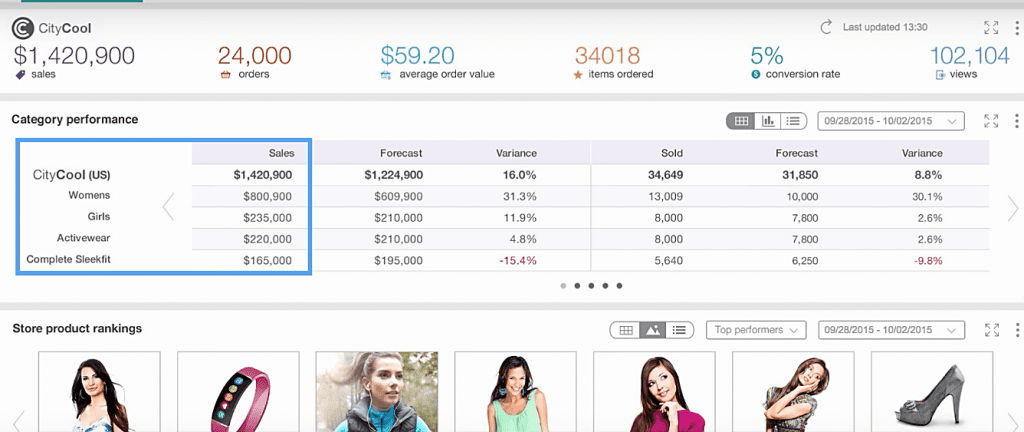 My point?
Well, quite simply, IBM Watson Commerce is what you turn to when you need a powerful artificial intelligence engine to streamline your entire art business. It essentially tracks your site's visitors as soon as they check in, through their entire experiences, then establishes individual patterns and trends.
That's how you get ahead of customers to make informed decisions intended to boost your overall conversion rate.
And get this. You don't even have to scratch your head at all. The engine is attached to an advisor that fundamentally provides smart suggestions to help you maintain a constant lead over your customers.
And speaking of customers, they'll be able to conveniently shift between various sales channels with the same shopping pipeline. Consequently, they end up browsing from one device, select products from another, then shift to a different platform later to complete the purchase.
Combine that with intelligent omnichannel fulfillment and you have yourself a smooth order delivery process. Then, for additional fulfillment optimization, IBM Watson also supports cognitive sourcing, which also handy when it comes to real-time inventory utilization.
And finally, after the whole shopping process, IBM Watson generates relevant customer insights from the cumulative data collected. This is particularly useful in establishing accurate product recommendations that your customers will likely go for.
Now, evidently, IBM Watson Commerce is ideal for the artist who needs to learn more about his customers, then combine that with an AI engine for insights and decision making. Think of it as a thoughtful way to beat your competitors.
Sadly, this solution might feel a bit rigid when it comes to store customization. Plus, its prices are a bit high for a standard freelance artist.
Salesforce Commerce Cloud combines predictive intelligence, order management, mobile-first point of sale (POS) and store operations, and digital commerce. It prides itself on facilitating central customer management, channel management, inventory management, seamless customer-product connections, content marketing, and continuous innovation.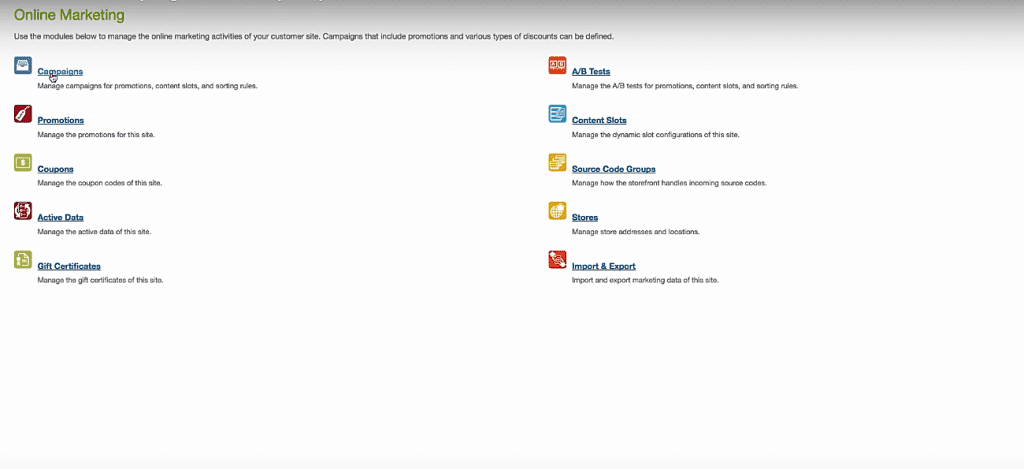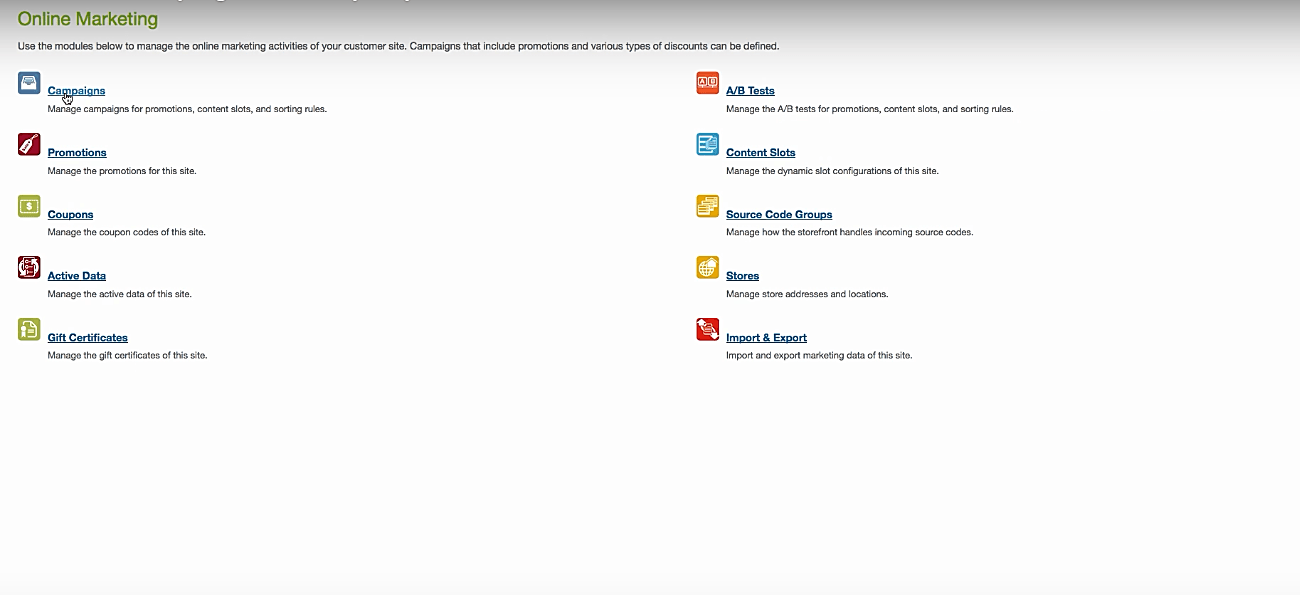 And yes- Salesforce Commerce Cloud is quite powerful. That's why it's already popular among large enterprises with over 1,000 employees. However, since it's scalable, you can still comfortably leverage it in a small art business with less than 50 employees.
So, what does it help you accomplish?
Salesforce Commerce Cloud operates on the principles of unifying customer experience and streamlining ecommerce from buying to delivery. To achieve this, its core functions are grouped into operations, intelligence, and experience.
Operations, for starters, is all about spreading all the critical elements across all channels, plus linking back-office processes with order fulfillment.
Intelligence functions, on the other hand, deal with the whole process of collecting relevant data to generate effective business insights and optimize customer personalization.
Then experience provisions help you coordinate promotions, manage products, set up the prices, and publish relevant content.
Well, there are many interesting features on offer here. That notwithstanding, I bet creatives would particularly appreciate the fact that Salesforce Commerce Cloud can cover all possible channels- website, art store, warehouse, you name it.
And we are not just talking about inventory management here. It systematically connects all of them to create a well-streamlined shopping experience both online and offline.
Unfortunately, you might not fall in love with its relatively poor user interface. Several users have complained about numerous inconsistencies affecting the overall layout and intuitiveness.
Additionally, while Salesforce Commerce Cloud has been built to optimize loading speeds, some of its API integrations do the opposite- they slow down the loading process.
Let's face it. Not all creatives deal with physical products. Some distribute digital products like ebooks, music, and videos.
Then we have a category of artists who set up subscription-based businesses, providing their products and services to customers who pay periodically. Now, this is the type of businesses that Paddle is built for.
Basically, Paddle is an e-commerce site that facilitates selling ecommerce software and managing licenses, subscriptions, checkouts, analytics (including Google Analytics integration), plus promotions. It helps you customize your entire store, boost global conversion rates, control the checkout framework, prevent fraud, improve order values with upsells and bundles, provide free trials, implement flexible pricing models, take cross-platform and in-app payments, plus delegate taxes and VAT.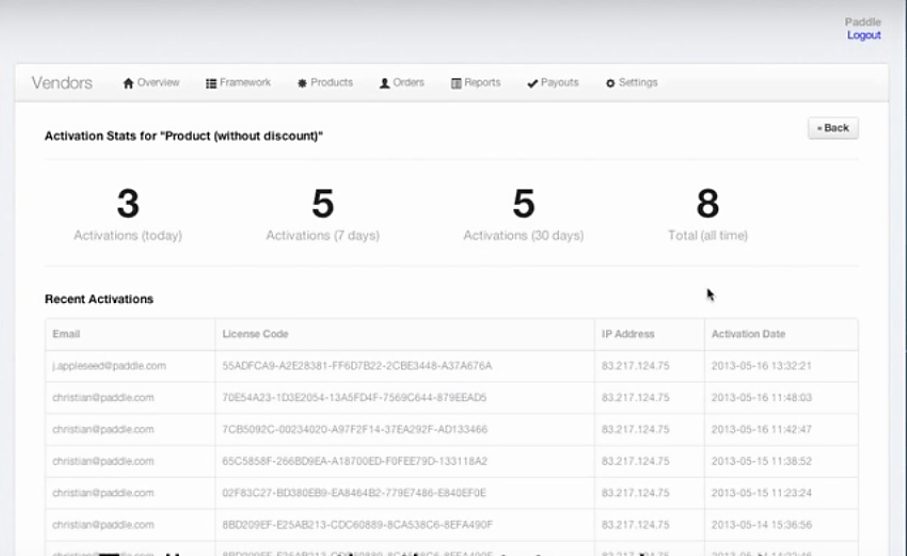 Quite simply, Paddle attempts to unify, grow, and optimize your business.
Unifying is essentially about leveraging an intuitive central dashboard to control and manage your entire subscription-based business.
The grow aspect, on the other hand, provides a wide range of features affecting customer experience, pricing, and promotions.
Then to optimize your business, Paddle offers features for boosting your conversion and customer satisfaction rates, facilitating customer personalization, plus testing all the elements your entire software business is based on.
But, here's the kicker. Some users complain that the admin panel is not well organized. Apart from that, the transfer of users and admin rights is seemingly cumbersome.
Some Other Honorable Mentions to Consider
There are a few other e-commerce software and cloud-based storefronts that we didn't specifically review, but are worth mentioning here.
SquareSpace: Great to get something up quickly and for limited SKUs. Not great for scaling beyond.
AmeriCommerce: Offers the ability to manage multiple storefronts from one login and dashboard. Best for multi-channel sellers.
Volusion: Affordable and comparable, although not as advanced an ecosystem for apps as Shopify or BigCommerce.
CoreCommerce: Higher priced alternative, but offers best in class multi-linguage support. Good for brands selling in multiple countries.
PrestaShop: A solid – if unspectacular – self-hosted e-commerce store that offers a good FREE starting point.
Magento: Long track record with large ecosystem of developers (magento open source). Great for customized solutions, but steeper learning curve (not ideal for solopreneurs or small teams).
So What's the Best BigCartel Alternative?
As you can see there are plenty of Big Cartel alternatives for you to pick and choose from with various pros and cons. I hope you will find a match for your requirements from the list above. The best route you should take depends on the type of business you have and what functionality is most important to you.
Before making a final decision remember to ask yourself the following questions:
Does it have a simple, easy to use interface?
Can you easily manage your products?
Does it have a template that fits your brand?
Is it scalable platform? Can it grow with your company?
Is there support available? If so when and does it work for your timezone.
Does it make your business operations more efficient?
How much does it cost?
If you've tried any of these e-commerce software solutions and payment gateway options, feel free to fill us in on your overall experience. What tools were you able to leverage?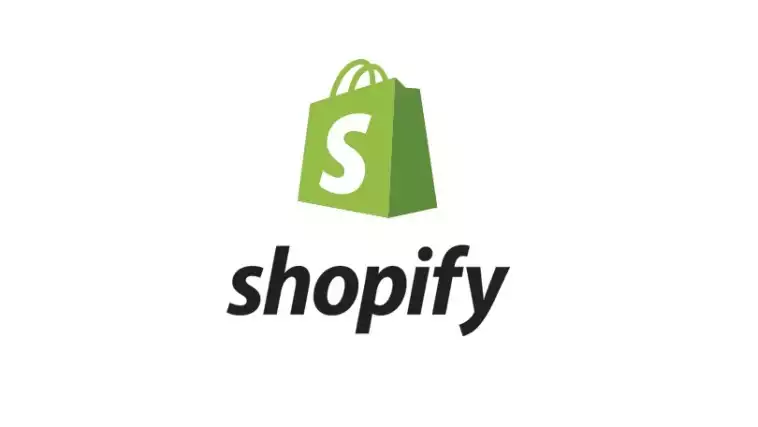 Why Shopify Wins
There are PLENTY of ecom platforms out there. Only one has a true NETWORK effect that can catapult your growth. Shopify has thousands of developers building apps and a robust ecosystem of integrations. This cannot be ignored. #ShopifyWins
Try Shopify First
We earn a commission if you click this link and make a purchase at no additional cost to you.
Further Reading on e-Commerce Software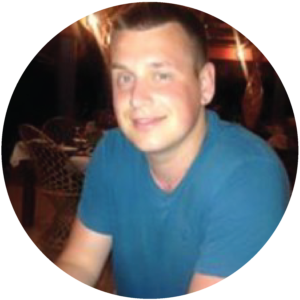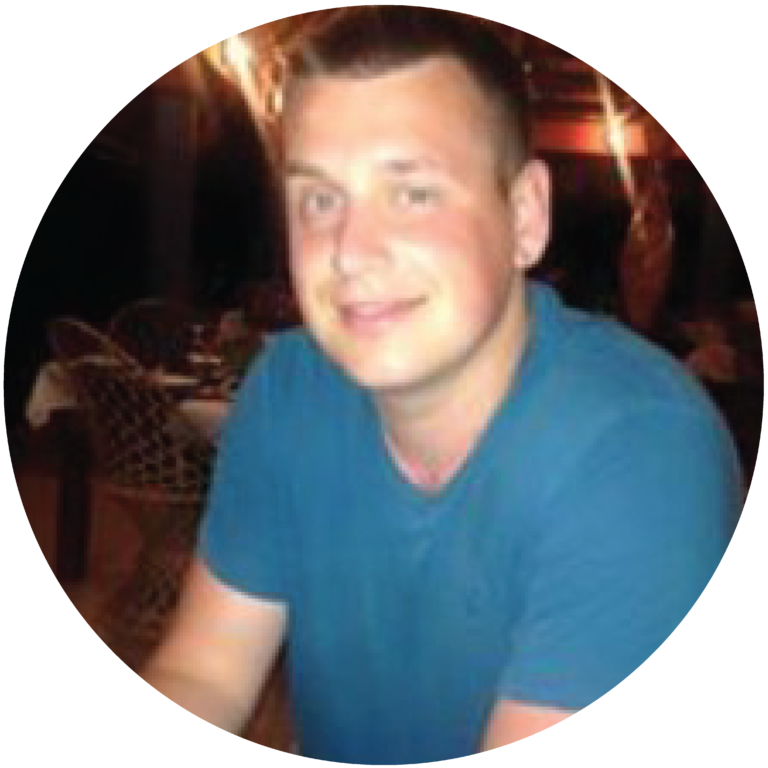 Latest posts by Ewen Finser
(see all)