I bet you've noticed the trend by now. That many ecommerce entrepreneurs are increasingly joining the dropshipping bandwagon.
So far, about a third of online stores are using dropshipping as the principal fulfillment method. As a result, 23% of online sales in 2017 were completed through dropshipping- amounting to about $85.1 billion.
TL;DR….

The reason we love this model is pretty obvious. It's conveniently cheap to run since your store essentially serves as the network connecting buyers directly with manufacturers. And that means one thing- you only get to handle the logistics between the two parties.
Speaking of which, it turns out manufacturers are enjoying this too. On average, the few who participate in dropshipping end up making about 18.33% more profit compared to their counterparts who rely on conventional channels. The primary reason being- they have broader networks, extending beyond the limited inventory space of retailers.
And that makes dropshipping a win-win framework for all. But then again, can you guess who might not be so excited about it? Yes, you're right- the customer.
In this age of Amazon Prime and the likes, many online consumers are seeking instant gratification. They don't want to wait three to four weeks to have their items delivered. And that only complicates the whole logistics structure for store owners.
However, that's nothing compared to the challenge of finding and securing reliable suppliers. 84% of ecommerce business owners agree that this alone is the biggest problem when it comes to establishing their online businesses.
Now, add competitors to that list and you'll have yourself a set of several obstacles to deal with. And these are just the basic complications commonly shared by most dropshippers. It gets worse as we narrow down to individual businesses.
And what does this mean for a dropship store?
The bottom line is- although it's fairly attractive, dropshipping is just as complicated as other business models. Establishing a successful store takes much more than a supplier and a website. You need to implement a solid dynamic framework for running every little aspect of your business.
Thankfully, there are many people who've been there, tried it all, and learned their lessons. They've consequently prepared courses to help people like you.
That said, I admit that most of the courses on the web might not be as informative and comprehensive as they claim. You might have stumbled on a few of them already. In fact, bet you can even smell them from a mile away, with their loud hard-sell pitches that promise to make you a millionaire in about a month or two.
Well, there's no denying that such a goal would be a remarkably good motivator. But, let's be realistic here. While it's indeed very possible to achieve ultimate business success within a relatively short period of time, your best shot is with a proven dropshipping course.
So, how about we check out the best ones to take in 2020 of you are looking to start a dropshipping business?
Dropship Blueprint is a relatively new player, but we REALLY found it to be well done and actionable.
So what does it offer?
The one time fee of $497 (now discounted to $397 here) get's you:
13-Chapter Comprehensive Training Course
Helpful Worksheets and Downloadables
Access to PRIVATE FACEBOOK GROUP
Legal Business Entity setup guide (also a new guide for Non-US residents)
Lifetime Email Support
Store building checklists
Recommended software tools and integrations
Video Replays of training and tutorials
Here's an overview of how the course material is laid out: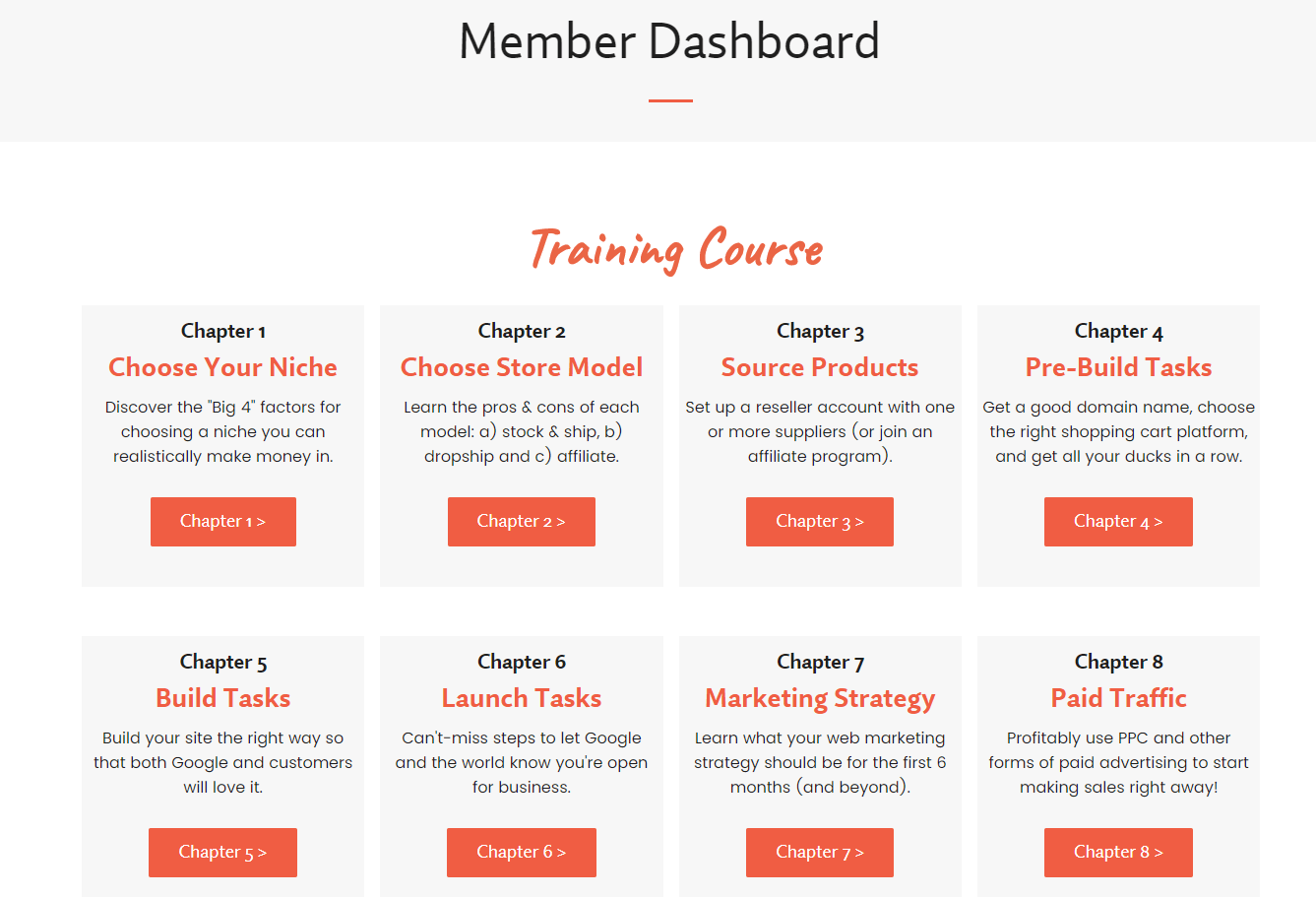 And here is an example of what the individual chapters look like: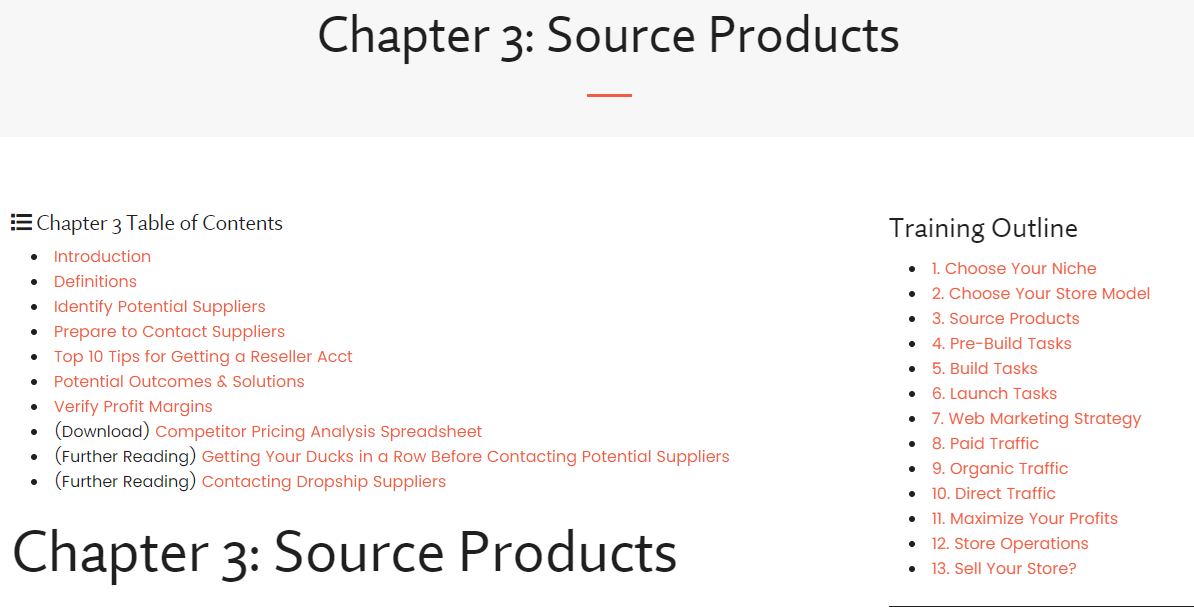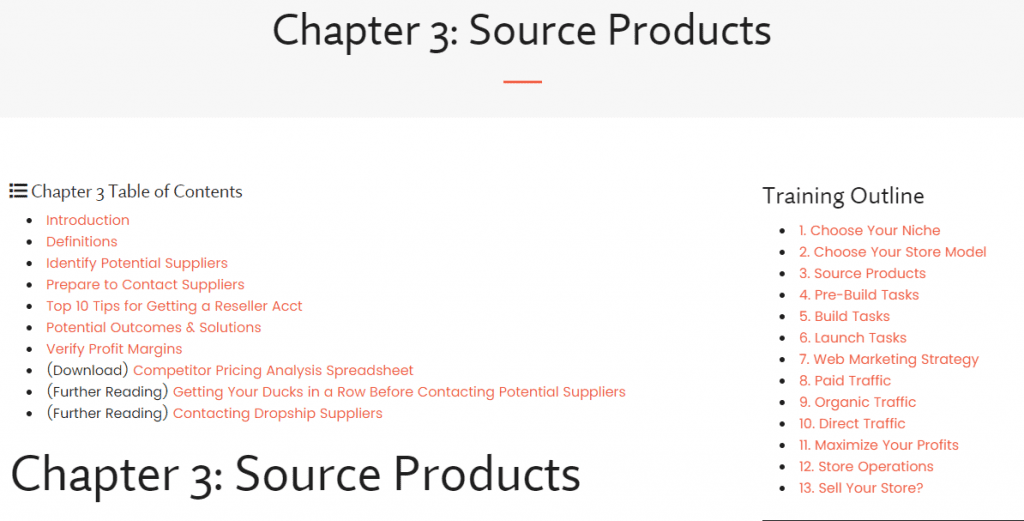 And then you have the additional training and video tutorials:


All in all, Dropship Blueprint is one of the BEST dropshipping courses that I've personally tried.
It's laid out well, easy to follow and digest
It's constantly being improved and updated
It's not going to break the bank at $397 here (has all the information you need, but not the over the top marketing)

#2 Product Winner Blueprint By Tristan Broughton
Starting us off is the Product Winner Blueprint by Tristan Broughton, a paid traffic an ecommerce expert. The first thing you'll notice about this course is that it's not actually marketed as a dropshipping course. However, and rather interestingly, most of its content is consistently relevant to this type of business.
So, what exactly does it offer?
Well, paying a one-off fee of $497 for the course grants you the following:
Seven modules with more than 50 videos for training
Lifetime access to subsequently updated videos
Access to Tristan Broughton through a group on Facebook
An extra module for improving AOV
Customer community access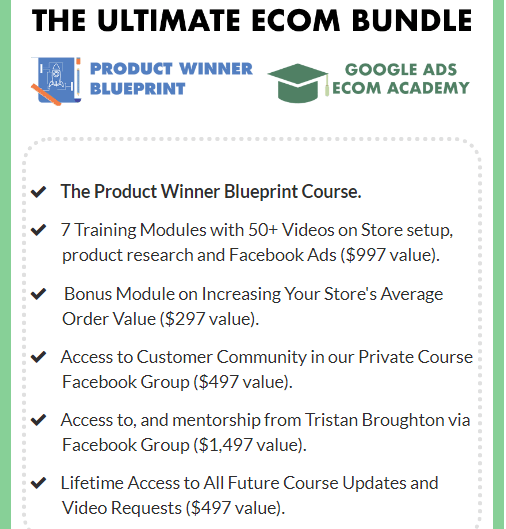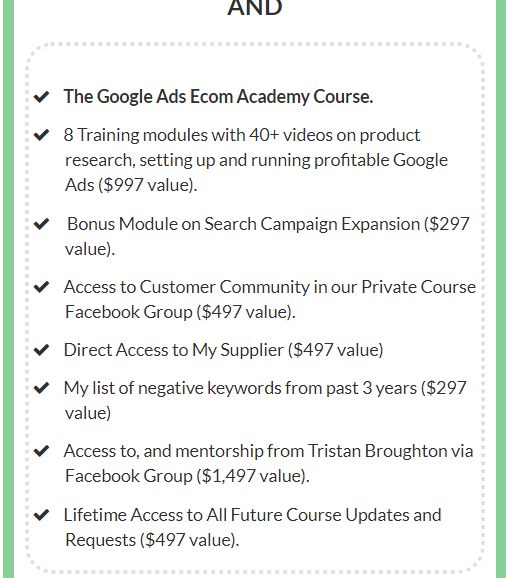 Tristan then goes ahead to offer a 7-day money back guarantee period to encourage you to try out the course. If you don't like it, the money is yours. It's as simple as that.
Now, let's get to the most important part- the course modules. This is essentially what you get to learn:
Store Setup: This part of the course teaches you how to create an online store that will attract a relatively high number of conversions. It covers the general site design, store layout, product descriptions, pricing, and customer psychology.
Winning Product Research: This coaches you how to select the best possible products. Tristan walks you through products you should not sell, then goes ahead to explore the ideal parameters for choosing suitable products and supplier targeting.
Facebook Pixel: This provides crucial pointers for establishing your Facebook Ad account, plus supplementing it with a fresh pixel. It also provides videos on building custom conversion events on both Shopify and Facebook, which come in handy for boosting sales.
Facebook Ad Targeting: This teaches you how to identify the most promising audiences and the consequent processes of targeting them with appropriate ads. Tristan also shows you how to leverage Facebook's ads manager, before exploring targeting formulas he's seen working for his sales.
Facebook Ad Testing: This covers techniques for testing out your Facebook ads right before you roll them out. It also discusses cheap campaign approaches that can effectively reach out to various audiences for optimal results.
Facebook Ad Scaling: This part covers the process of publishing Facebook ads in a way that heavily capitalizes on multiple scaling techniques. Tristan even indicates that the goal here is pushing your store to about $10,000 worth of sales a day.
Facebook Ad Retargeting: This introduces you to the concept of Facebook retargeting, then goes ahead to show you how to take advantage of retargeted ads to reach out to warm prospects. It also covers various product and audience variables.
AOV Scaling Secrets: After discussing the relevance of average order value, this part of the course explores various structures for boosting your store's AOV. It covers one-click upsells, limespot setup, cross-sell conversions, order confirmations, bundling, product page hacks, and shipping incentives.
Email Marketing: Tristan then goes beyond Facebook to teach you how to effectively leverage email marketing to generate sales, and consequently boost your overall income.
Automation and Team Building: This part shows you how you can make everything much easier by automating various aspects of your business. The goal is to get you to spend less time running the business, and instead spend more doing other stuff you love.
#3 eCom Inner-Circle By Arie Scherson
If you haven't heard of him yet, Arie Scherson is an ecommerce guru who's admired for his exceptional teaching approach. He doesn't waste time flaunting Lambos and Ferraris like many fake coaches on Youtube. Instead, he focuses on genuine content, with actionable tricks to help his audience get their stores up and running.
His eCom inner circle program is a full course on building a solid ecommerce business, plus capitalizing on Facebook advertising. And in case you're wondering, the answer is yes- it's completely relevant to dropshipping too.
The standard course will cost you $497 to enroll. But, if you have some extra change to spare, you can opt for the Full VIP version- which is only open to 200 people at $997 per person. In addition to the course, it grants you access to more than 400 mentors in the VIP Private Mastermind Group, plus direct live calls with Arie on a weekly basis for Q&A sessions.
The course itself contains 8 modules:
Warm Welcome: Arie welcomes you to the program with tips on how to take advantage of it accordingly, plus what you should look forward to achieve by the end of it all. He also advises you to pay close attention to everything while taking notes and following up with relevant actions- as opposed to rushing through the entire program.

Creating a High Converting Store: This is where the juicy parts begin. The course goes into detail about building a fully functional high converting store for different types of businesses. It covers all the critical ecommerce elements and apps you should consider adopting.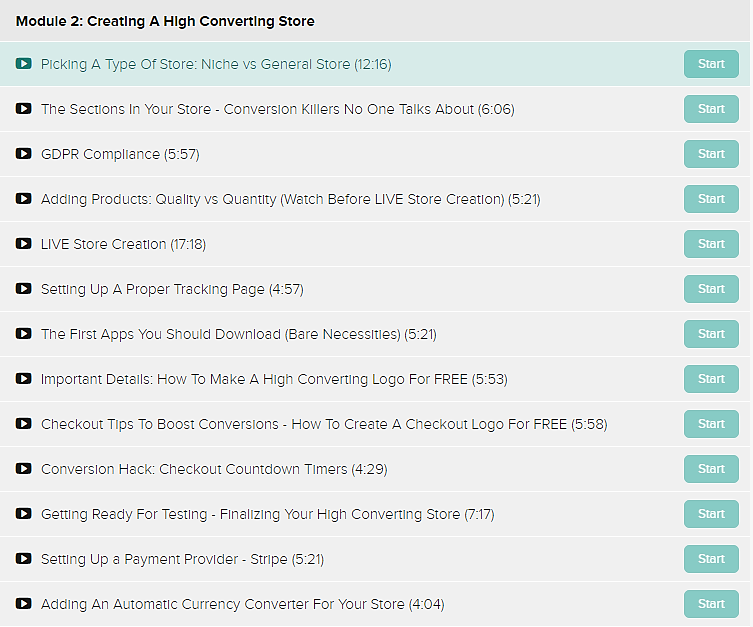 Product Research- Finding Your 6 & 7 Figure Products: You'll learn how to analyze various parameters to find the best possible products for your online store. It covers different research methods- from the most basic ones for beginners to more advanced approaches for established businesses.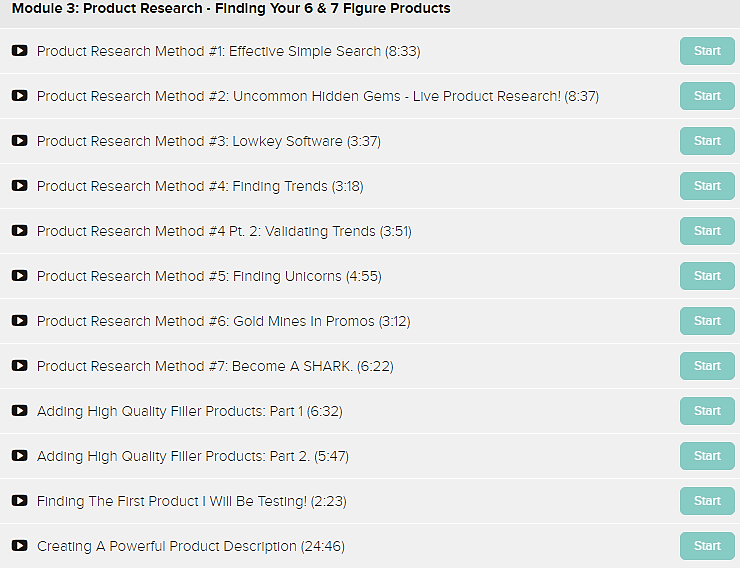 Conceptually Understanding Facebook Ads: Arie discusses the relevance of Facebook Ads and the corresponding parameters. You also get to understand the concept of product cost percentage, and how to attract persistent results with your Facebook ad strategy.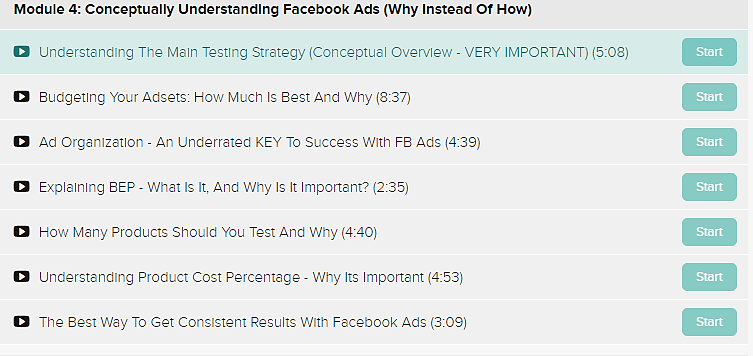 Facebook Ads: This part then gets down to the nitty-gritty of Facebook Ads. It teaches how to build a Facebook Business Manager account, FB pixel installation, setting up an effective ad campaign, and tracking the consequent process.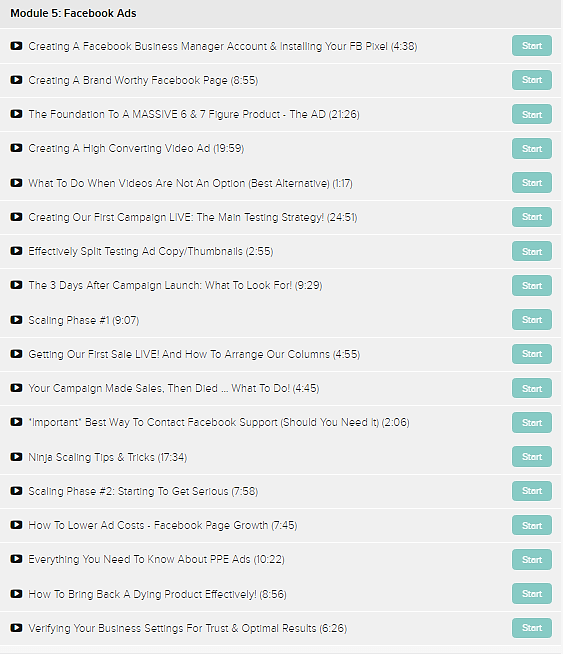 Advanced Facebook Ads– Going from 5 Figures to 6 Figures: This shows you how to tweak your ads for various audiences. It covers the processes of setting up custom audiences, retargeting, plus scaling the Ad campaigns to push your success rate further.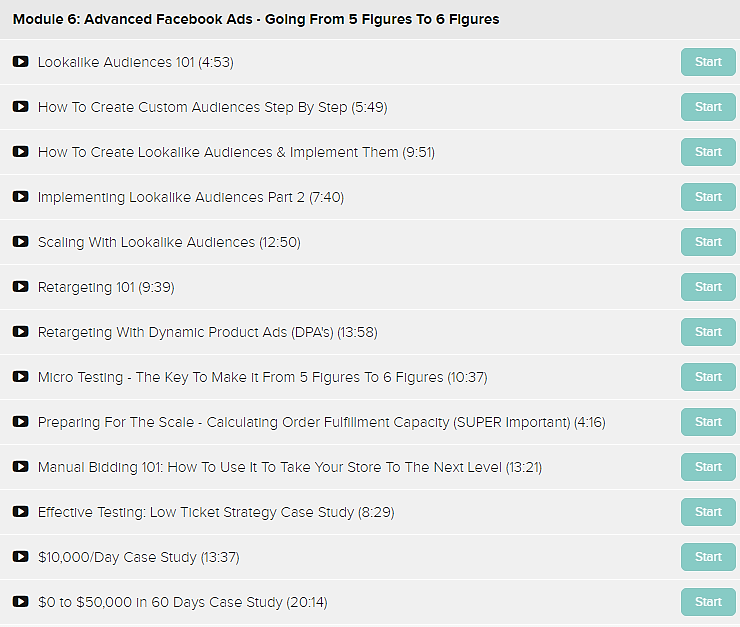 Maximizing Profits with Back-End Systems: This takes you back to the online store to coach you the overall management process. In addition to setting up an effective abandoned cart sequence, you'll learn how to customize and automate your marketing emails.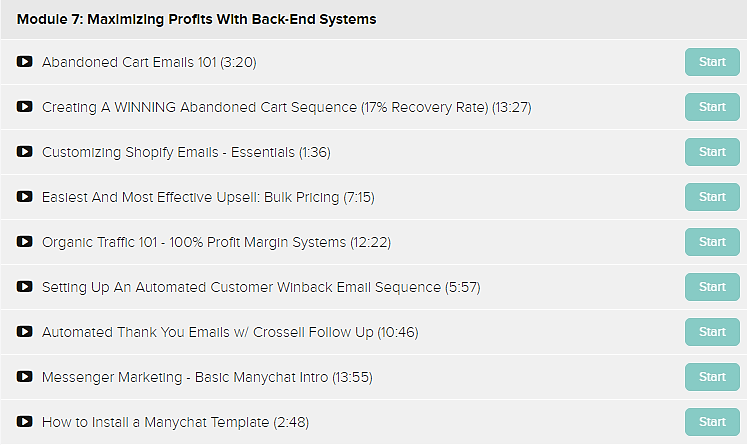 Building a Long Term Brand: The last part teaches you how to sustain your store's profitability for the long haul. You'll understand the branding process, and get pointers on setting up your own unique brand with a solid organic following.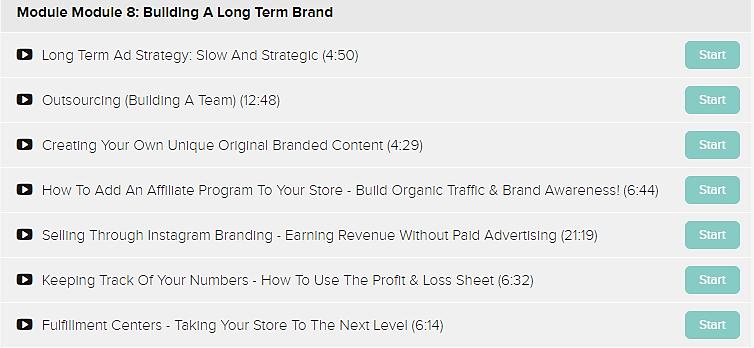 #4 Build a Shopify Dropshipping Business from Scratch By Adam Reed
If you're looking for something cheaper, you might want to check out "Build a Shopify Dropshipping Business from Scratch" on Udemy. It's usually priced between $10.99 and $199.99, depending on the offer you manage to secure.
The course itself comes with about 9.5 hours of on-demand videos, 7 articles, and 4 downloadable resources. Thankfully, you also get a 30-day money-back guarantee period.
Its creator, Adam Reed, is a formidable ecommerce entrepreneur, to say the least. At just 15 years old, he jumped right into the dropshipping space and he's never looked back.
He'll teach you how to:
Manage a dropshipping e-commerce store from anywhere in the globe
Get additional leisure time while running an ecommerce business
Create a reputable store on Shopify
Tweak your Shopify store for optimal conversion potential
Embed critical apps to your site
Build automated abandoned cart email sequences
Set up and manage various retargeting processes
Leverage automation for fulfilling repetitive processes
Maintain regular records for profits and losses
Become a digital nomad who manages the entire store from a laptop
Take advantage of free Google tools to research product ideas and niche
Register domains and subsequently connect them with Shopify
Connect your Shopify store with social media accounts
Strategize and execute email marketing campaigns
Create and manage deeply targeted Facebook Ad campaigns
Tweak basic SEO parameters on Shopify to boost search engine ranking
Outsource secondary tasks to virtual assistants
All this is delivered via 88 lectures, which are grouped into the following modules:
Introduction to the Course: You get to know all about Adam, the course, and its corresponding goals.
Introduction to eCommerce: Discusses the concept of ecommerce and dropshipping.
Niche and Product Selection: This part teaches you how to conduct comprehensive research on various products, and how to choose an appropriate niche or theme.
Signing Up For the Essentials: Coaches about setting up a Shopify store, domain name registration, and the subsequent linking process.
Shopify- Settings, Pages & Navigation: Learn about the process of customizing Shopify store pages, and creating an ideal navigation structure.
Setting Up a Professional Email Address: This part shows you how to secure a suitable email for your store, plus the resultant connection process.
An Introduction to Oberlo: Covers the basics of Oberlo, then goes ahead to explain how to link it to your Shopify store. You also get to learn how to leverage Oberlo for importing products from AliExpress to Shopify.
Editing the Store and Optimizing It for Conversions: Covers the overall website customization process.
Introduction to Social Media and Graphics: Provides a brief overview of social media then explains its relevance to dropshipping.
Apps to Increase Conversions: Adam mentions the primary apps you should embed into your Shopify store to boost conversions.
Setting Up Shipment Tracking: You get to learn how to track various shipments.
Google Analytics, Facebook Pixel, Trust Seals, Checkout Timers and More: Explains the role of these tools and how to use them accordingly.
Increase Your Profit Margins with this Secret Method: Adam suggests a business framework that could boost your store's profitability.
Introduction to Print on Demand Dropshipping: Explains the concept of print on demand dropshipping.
Adding an App for Retargeting Campaigns: Discusses the process of retargeting, and how to embed a suitable app.
Lead Capture and Email Marketing Systems: This section teaches you about capturing leads, recovering abandoned carts, plus automating the processes accordingly.
Final Edits to the Store: Covers the last stages of customizing your Shopify store.
Facebook Ads: Provides a guide for setting up, testing and running Facebook Ad campaigns.
Collecting Air Miles through Your Store: Adam shows you how to capitalize on your dropshipping store to earn air miles.
Tracking Profit and Loss: Explores ways of maintaining regular profit and loss records.
Further Facebook Ads Training: You get to learn how to analyze your ad data and upscale the corresponding campaigns.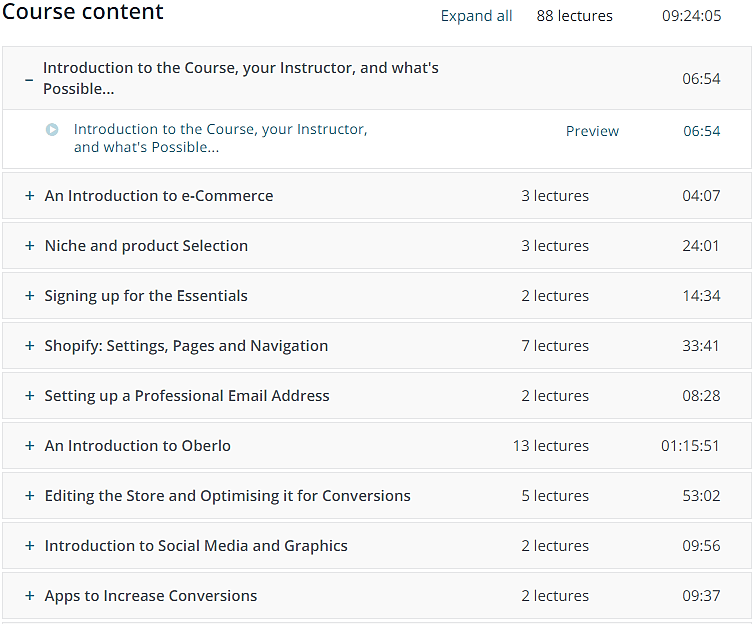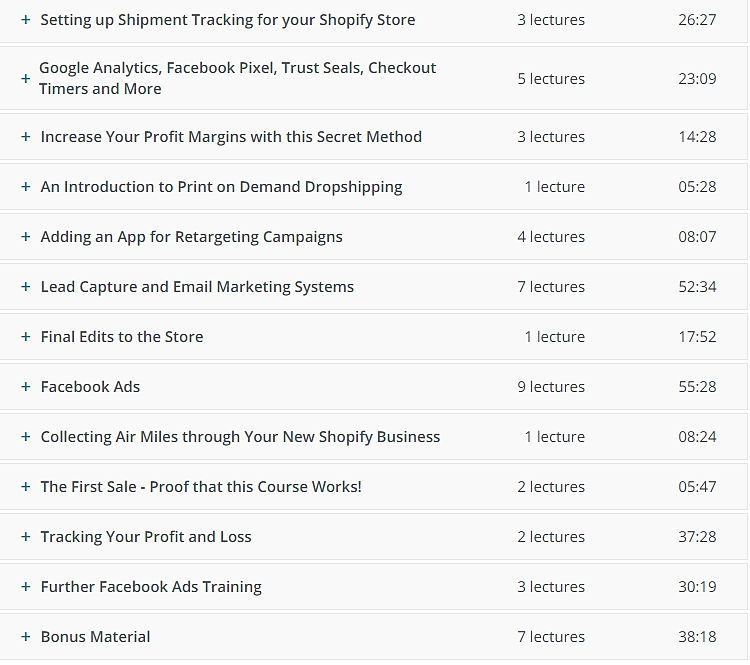 #5 The Complete Shopify AliExpress Dropship Course By Tim Sharp
And finally, here's an ideal one if you're planning to capitalize on AliExpress to facilitate your Shopify dropshipping online store.
The Complete Shopify AliExpress Dropship Course is available on Udemy for $10.99 to $199.99, and it provides 6 hours on-demand videos, 6 articles, plus 1 downloadable resource.
Its creator, Tim Sharp, has been a successful online entrepreneur for close to 15 years now. This has seen him establish reputable businesses in web and database development, affiliate marketing, WordPress, plus general ecommerce. So, of course, you can bet he knows his way around much of the ecommerce ecosystem, including dropshipping.
That said, his course seeks to empower even beginners who've never tried out ecommerce before, by helping them set up and manage highly profitable dropshipping stores on Shopify through AliExpress.
The first few lectures are basically about creating a fully functional store. Then it delves into the subsequent stages of discovering profitable markets, establishing the most promising items, defining your target customers, and ultimately, driving them into your store for conversion.
The precise modules are:
The Essentials: After introducing you to the course, Tim shows you how to create a free Shopify account, then he discusses the basics of such accounts.
Building Out Your Shopify Store: You get to learn how to build and customize an ecommerce website on Shopify. It covers the processes of creating pages, sourcing images, adding themes, etc.
Choosing Your Market and Deciding What To Sell: Tim walks you through the rules of product selection, plus the process of identifying a perfect market with great profit potential.
Adding Products From AliExpress: This section teaches you how to integrate both simple and variable AliExpress products into your Shopify store. It discusses the whole structure, including adding product reviews and scarcity.
Understanding Your Target Audience: After exploring the process of creating a Facebook page, Time goes ahead to explain how to use the audience insights tool to explore various buyers and communities.
Time To Build a Real Business: This is the most extensive part of the course. It provides a step by step procedure for creating an actual online store on Shopify and the subsequent customization process. You begin with lessons about selecting a Shopify plan, then you proceed to the domain registration stage, followed by setting an email, linking Shopify with the domain name, adding various pages and meta-data, then finally, the process embedding relevant resources.
Driving Traffic To Your Store: You get to learn about Facebook Ads, Facebook Pixel, and how to manage the corresponding campaigns.
Retargeting: This part discusses the concept of retargeting and its principal parameters. It also explores retargeting techniques for recovering abandoned carts, plus using Facebook, direct mail and other software for such campaigns.
Order Fulfillment: In addition to managing customer complaints, returns, and refunds, this section covers manual fulfillment methods, plus automatic fulfillment with Oberlo.
Oberlo Supply: Explains what Oberlo Supply/Verified is all about and its consequent benefits.
Adding Credibility: Tim coaches you how to capitalize on live chat and contact numbers, the process of safeguarding your store's security, and other tactics for establishing business credibility.
Housekeeping: This part covers secondary tasks like business registration, tracking sales and expenses, plus implementing relevant site backup measures.
Building a Niche Store: Tim gives you pointers about developing progressively to establish yourself as an authority in your niche. You also get to learn about reputable alternatives for AliExpress.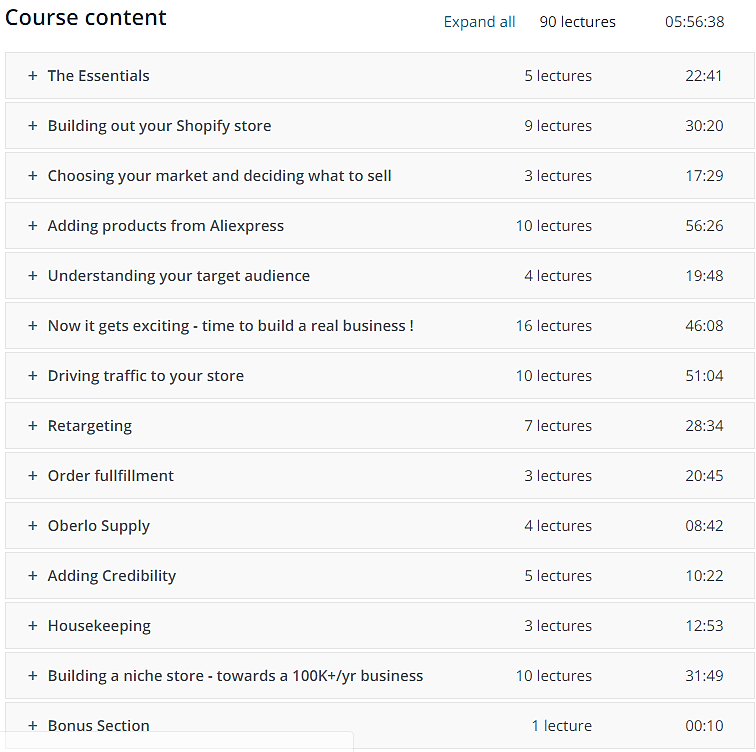 Other Runner's Up
eCom Elites
Drop Ship Lifestyle
Best Dropshipping Courses for Shopify
If you have narrowed it down specifically to dropshipping on Shopify, the following courses make our cut:
Shopify Ninja Masterclass by Kevin David: This course is very much VIDEO based, if you prefer this learning medium. There are also plenty of bonuses + LIVE weekly training sessions, which help justify the higher initial price point.
Dropship Blueprint Course by StoreCoach: They highly RECOMMEND using Shopify, so I've added it as my recommended course here, too.
Shopify Academy
Summary of the Best Dropshipping Courses
Product Winner Blueprint By Tristan Broughton modules: Store Setup, Product Research, Facebook Pixel, Facebook Ad Targeting, Facebook Ad Testing, Facebook Ad Scaling, Facebook Ad Retargeting, AOV Scaling Secrets, Email Marketing, Automation & Team Building
eCom Inner-Circle By Arie Scherson modules: Warm Welcome, Creating a High Converting Store, Product Research- Finding Your 6 & 7 Figure Products, Conceptually Understanding Facebook Ads, Facebook Ads, Advanced Facebook Ads- Going from 5 Figures to 6 Figures, Maximizing Profits with Back-End Systems, Building a Long Term Brand
Build a Shopify Dropshipping Business from Scratch By Adam Reed modules: Course Introduction, eCommerce, Niche and Product Selection, Signing Up For the Essentials, Shopify Settings, Setting Up Email Address, Oberlo, Editing the Store, Social Media and Graphics, Apps to Increase Conversions, Shipment Tracking, Google Analytics, Facebook Pixel, Trust Seals, Checkout Timers, Increase Profit Margins, Print on Demand Dropshipping, App For Retargeting, Lead Capture and Email Marketing Systems, Final Store Edits, Facebook Ads, Collecting Air Miles, Tracking Profit and Loss, Facebook Ads Training
The Complete Shopify AliExpress Dropship Course By Tim Sharp modules: The Essentials, Building Out Your Shopify Store, Choosing Your Market and Deciding What To Sell, Adding Products From AliExpress, Understanding Your Target Audience, Time To Build a Real Business, Driving Traffic To Your Store, Retargeting, Order Fulfillment, Oberlo Supply, Adding Credibility, Housekeeping, Building a Niche Store

Any additional notable courses you've heard about? Feel free to drop suggestions.
FAQs
Question: Is dropshipping still profitable?
Answer: Yes, dropshipping is still profitable and it becomes more and more with all the activities worldwide and all the new shops opening up. It has actually grown by 7 percent from last year and it will definitely continue this way in 2021 and on as well.
Question: Where can I learn dropshipping?
Answer: Dropshipping is not something you can learn overnight, so you will need to invest in good courses that will cover all the basics and show you tricks you can implement to make your business thrive. A great place to start is Udemy or Coursera as well.
Question: How much money do I need to start dropshipping?
Answer: To start dropshipping you definitely need to invest more than $5000 before you notice a revenue coming in, but of course, this also depends on the business you have decided to open and the audience you are targeting from the beginning.
Further Reading: