Last Updated on January 11, 2023 by Ewen Finser
Wave and QuickBooks are small business cloud-based accounting solutions that make it easy for owners to manage the financial health of their business.
You have probably arrived at this article because you want to know which solution is best for your business. Welcome! I'm an owner as well, and I was once just like you—doing my homework to make sure I make the best choice for my bottom line.
I have used QuickBooks desktop for three years now for our content marketing business, but I am now considering switching to Wave.
This means I have a unique QuickBooks user experience to share with you, and I have vested interested in finding out if Wave is the real deal as an online accounting software.
Wave vs Quickbooks – Main Differences
The main differences between Wave vs Quickbooks are:
Quickbooks offers an Android and iOS app, whereas Wave just offers an iOS app
Quickbooks always includes a monthly bookkeeping charge, whereas Wave has a free basic pricing plan for accounting and makes money on transaction fees
Quickbooks offers inventory management features, whereas Wave does not have inventory tracking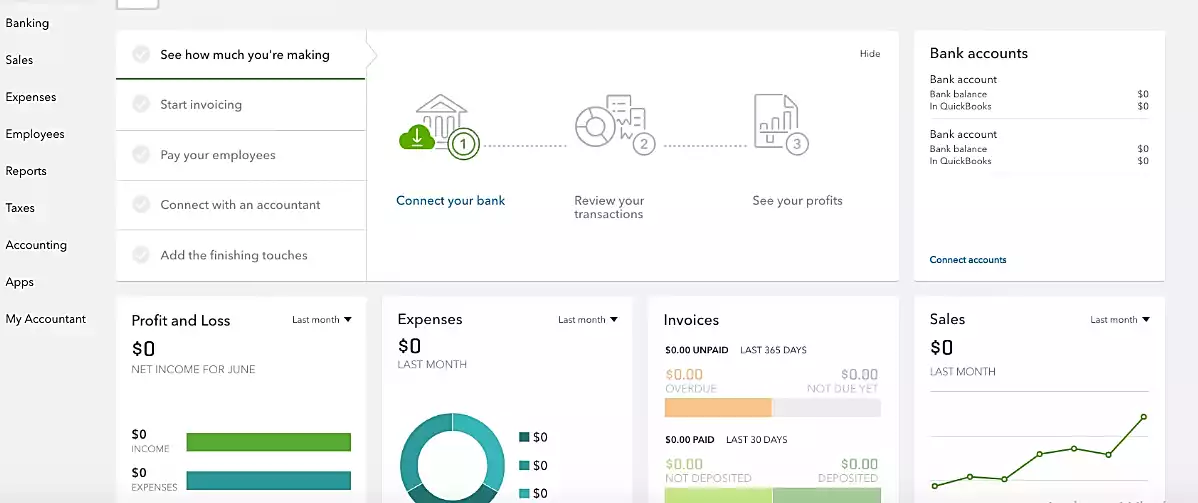 Selling Physical Products? Go With Quickbooks
If you are a freelancer or marketer with no permanent staff or inventory, other accounting tools work just fine (and are cheaper). BUT if you have a built-out team AND/OR sell physical products, Quickbooks starts to pay off BIG time.
Try Quickbooks First
We earn a commission if you click this link and make a purchase at no additional cost to you.
A Different Kind of Wave vs Quickbooks Comparison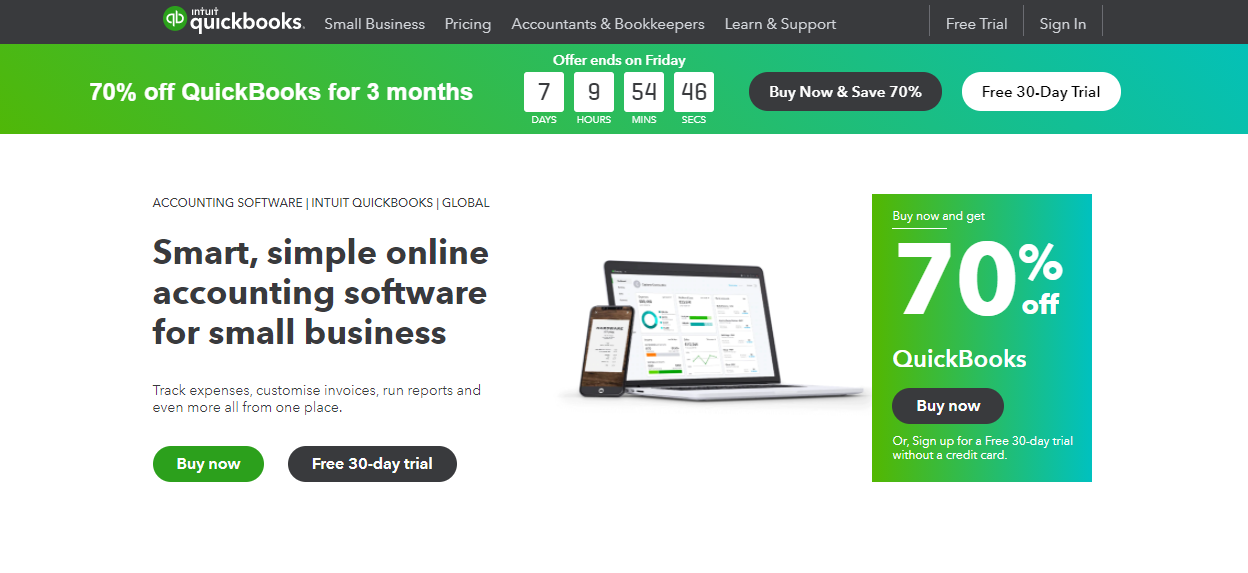 This comparison piece is going to be different because while doing my research I realized there is a fundamental difference to these accounting software options: functionality.
It's important for you to know your needs before you start shopping around for an accounting platform. Are you a well-established business that is booming? QuickBooks online might be better, and I'll tell you why. Are you unsure about what you need? You might want to ride the Wave for now and hop on the QuickBooks train later.
What's great about these solutions is they both can be custom-tailored to fit and act as a large or small business accounting software. Today I will go through each separately, then provide a side-by-side comparison, and by the end, you'll have an answer for your business.
I'll rely on both my experience as a QuickBooks user and small business owners, and I'll provide some accounting background from verified online users I call my Tech Troop who know and love all things technology and only care enough to recommend the very best.
Sound good? Let's get started!
Intuit QuickBooks, or QuickBooks accounting, is arguably the most popular online accounting solution today with over 2.2 million users worldwide.
Why is it so popular? Because it offers the functionality for both the small business owner sending out their first batch of invoices to the CFOs of larger businesses that rely on its advanced reporting features.
Before I begin to talk about specific features, it may help to see QuickBooks in action. This short video gives a good glimpse of what it's like to use QuickBooks to manage your business.
Wave vs QuickBooks Pricing
I don't usually lead with pricing because I think you should know what you're paying for first before talking about how much it costs, however, QuickBooks varies its pricing structure by feature, so it's best we start there.
Here's how they break it down: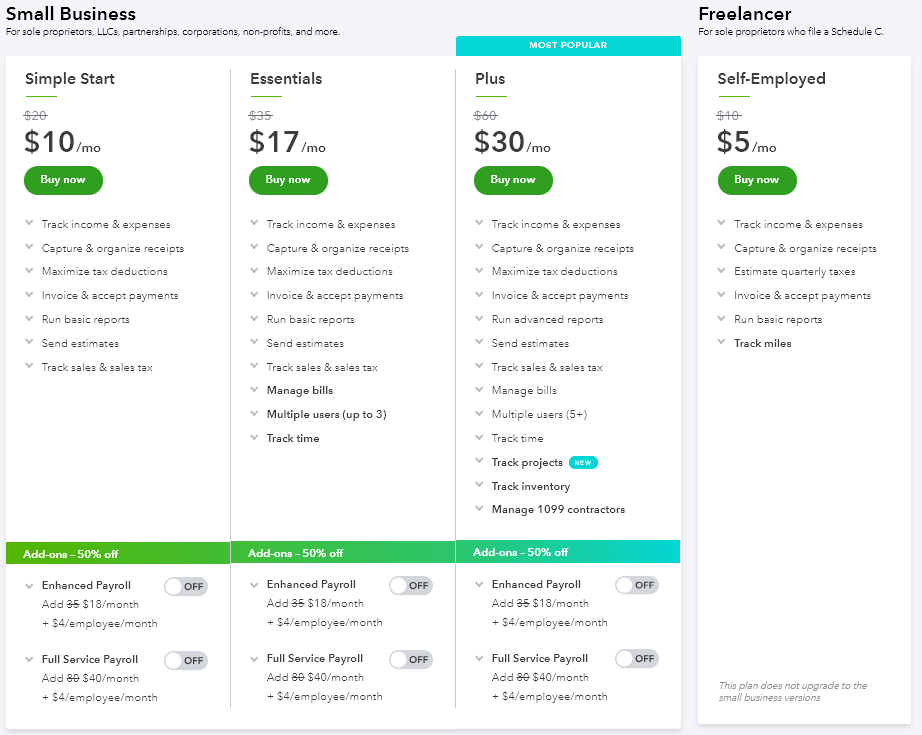 Do you see what I mean?
Don't get me wrong; I know this is the way most online services sell but, in this case, there are so many features it can get muddled if you aren't aware of the packages first before we start talking about the features.
If you can, decide from this list which plan fits your business right now. Trust your gut; your first guess is probably right. Also, be aware that QuickBooks online frequently changes their prices with promotions, so it's worth keeping an eye on their sales throughout the year.
QuickBooks Features
Now that you've seen the pricing structure and had a sneak peek at what it looks like in action let's talk features, of which there are many. This is where it can get confusing, so I'll try to keep it simple by providing a scannable list, followed by a brief explanation. If you have more questions about specific features, QuickBooks' website is filled with data, videos, and narrative to help explain their services.
For owners like us with better things to do than click around, here is the brief rundown:
With QuickBooks, you can:
Manage bills
Track miles
Monitor income and expense tracking
Create and send invoices
Receive payments
Allow multiple users access
Manage contractors
Pay workers
Track time
Account for inventory
Create customized financial reports
Track sales and sales tax
Send estimates
Maximize tax deductions
Get capital
Track projects [Project Management]
Manage Bills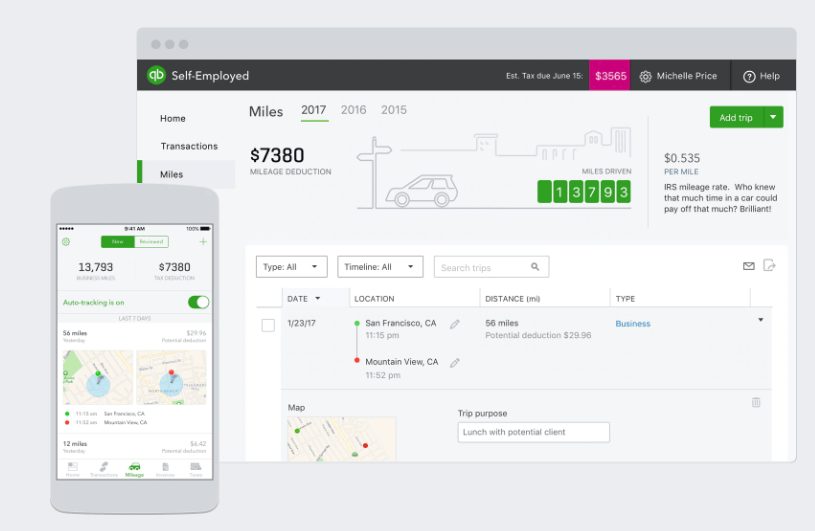 QuickBooks online offers great ease of use and ability to track, and record your bills with a dashboard that offers great ease of use. Like online banking, this service is available anywhere, and you can pay multiple vendors and bills at the same time.
Track Miles
Since each mile is worth about 54 cents in tax deduction or mileage reimbursement to the IRS, it's important to keep track! QuickBooks gives you the platform to make tracking these miles easy, and the data is logged accurately and automatically.
Monitor Income and Expenses
Managing multiple streams of income and expenses can hard to monitor which is why I love QB's income and expense tracking feature. It automatically imports transactions from bank and credit card accounts and will integrate other platforms like PayPal, Square, and more. You can sort these transactions automatically or customize your data.
The only caveat to this feature is you have to watch how QuickBooks categorizes each expense. It is usually correct, but sometimes the accounting software guesses and files it away incorrectly. It's not a big deal, but something to keep in mind, especially during tax season.
Invoicing and Payments
This is my favorite feature of QuickBooks online. Who doesn't love to get paid, right?
Aside from that, I also love how easy this is to use. I simply create an invoice, customize a note to my customer, and hit send. Since my QuickBooks account is linked to my ACH bank, my clients pay, and the money is deposited directly into my account.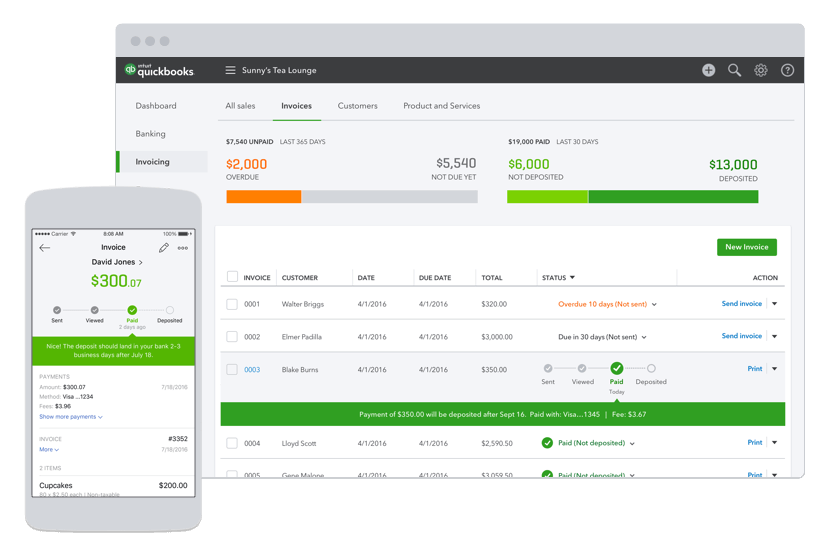 Just a word to the wise penny-pinching owner like me: while the bank transfer option is free, the credit card option will charge per transaction: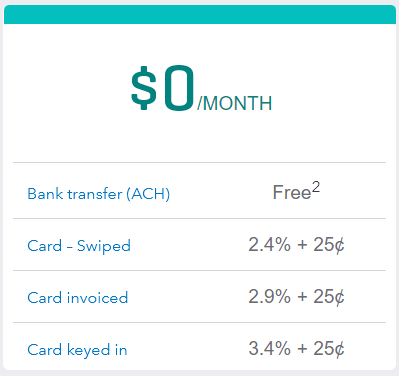 So, if you bill $100 and your customer keys a card in, you'll be charged $3.65 for that transaction. It may not seem like a lot of money, but unless you anticipate that charge by adding it into the billable amount, it will add up over time.
Multi-User Capabilities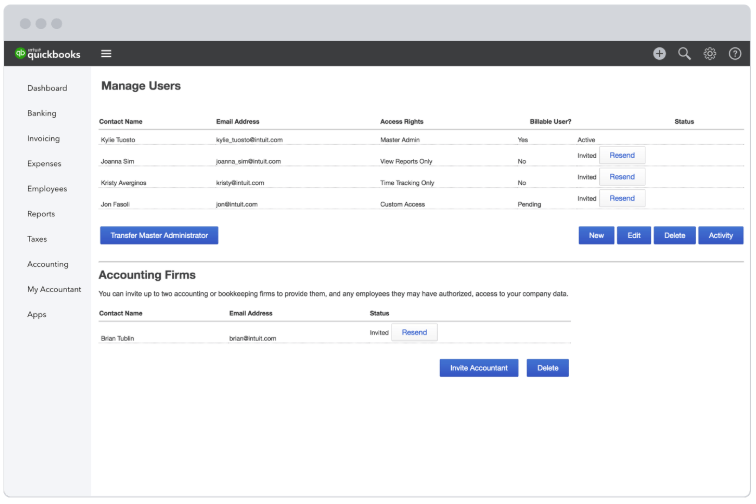 As your business grows, you will need more users on your QuickBooks account. In an ideal world, it would be great if you could be the only one to manage your business, but you know it takes a village if you want to be successful.
QuickBooks allows the custom access you need when managing your business. You can create specific access for sales reps, employees, managers, and partners by setting the parameters of their username, so your information is secure. You can also allow employees to use QuickBooks online to track time and record billable hours ensuring your expenses are in line and creating a culture of accountability for your business.
Manage Contractors
If you regularly work with contractors, QuickBooks online makes it easy to account for it. It provides a 1099 form to fill out with each payment so you're ready come tax time.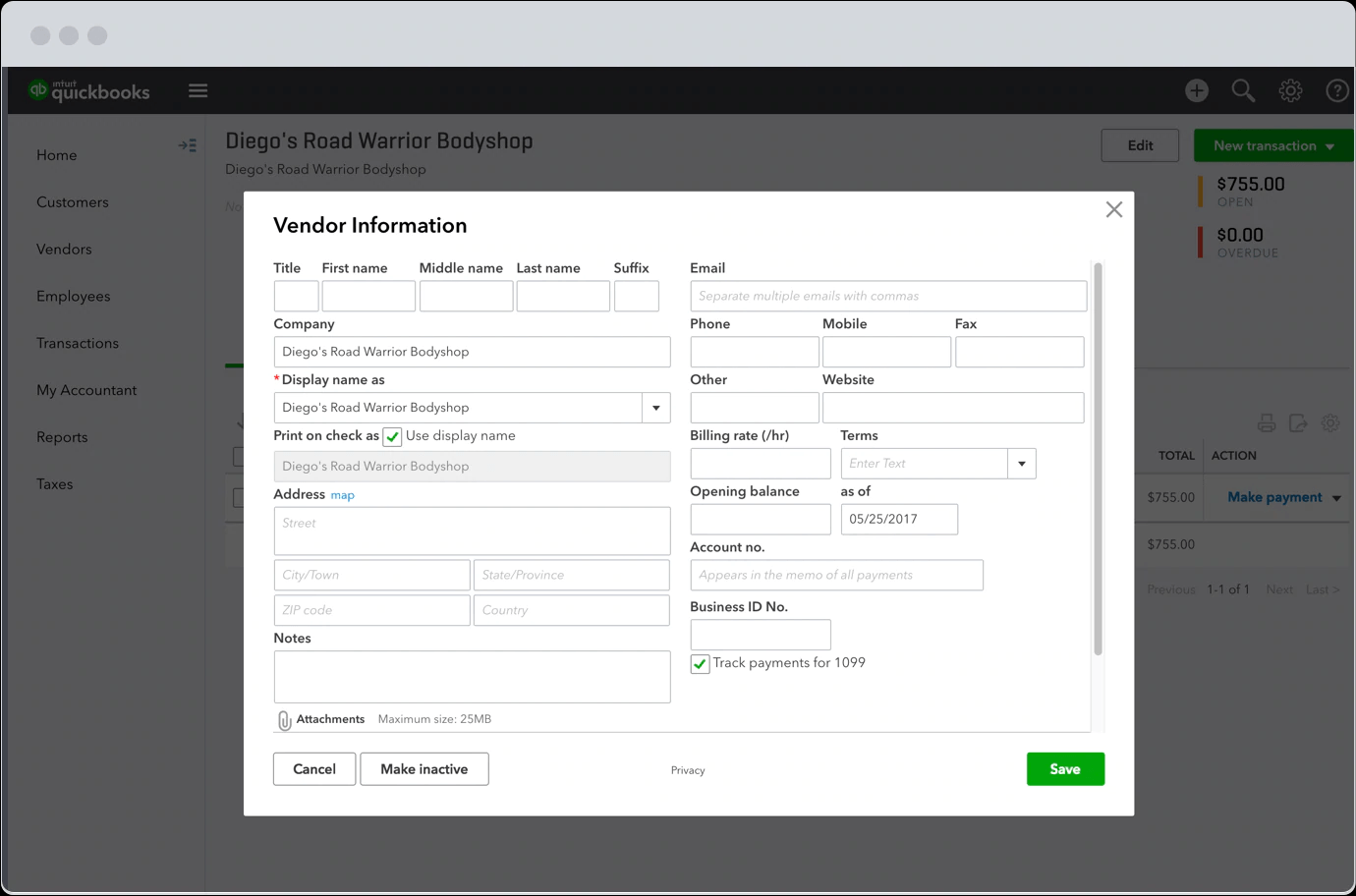 Pay Workers
Paying your workers is easier thanks to the QuickBooks online accounting features of time tracking and 24-hour free direct deposit. There is also an app that offers to pay your employees from anywhere.
QuickBooks online offers premium plans that will provide a 100% penalty-free guarantee to guard against filing errors, US-based payroll experts to provide customer support for your payroll and same day direct deposit.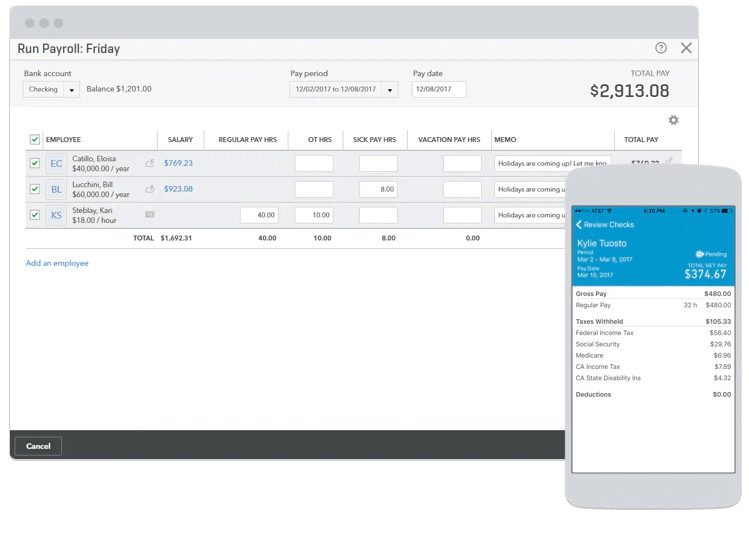 Track Time
Creating a culture of accountability can be difficult without having the right technology to support your efforts. That's why my Tech Troop loves the time tracking app called "T Sheets" that tracks billable hours, gives a real-time account of where your employees are working and when with GPS tracking, and eliminates manual entry to avoid any reporting errors.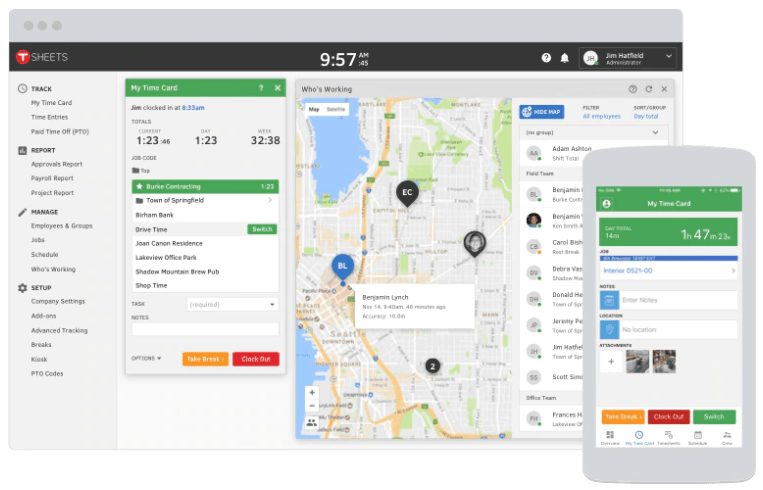 Inventory Management
How much do you have in stock? Should you order more? When will it arrive?
These are all questions that can be answered in seconds thanks to the QuickBooks online Inventory feature that allows real-time inventory, low stock alerts, and the ability to track taxable and non-taxable goods instantly. From a management standpoint, you can also keep tabs on vendor orders, view bestsellers, and run a quick report to view sales.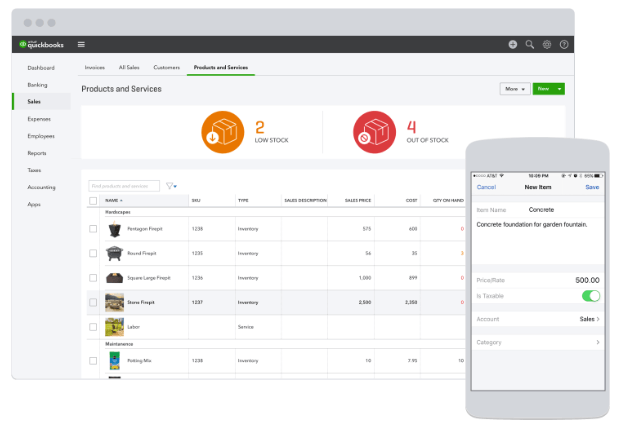 Reporting
In an instant, you can view the health of your business using QuickBooks. I love how easy it is to customize reports to view how my business is performing.
The dashboard features ease of use and gives me the glance I need to see where my accounts stand, and I like how I can view which invoices are closed and how much is overdue.
When it's tax time, this reporting feature has been huge for my business. With a few clicks, I send my accountant what he needs without sorting through receipts or crunching numbers. These reports have also helped me track trends within my business and have given me the data I need to anticipate revenue.
Sales and Sales Tax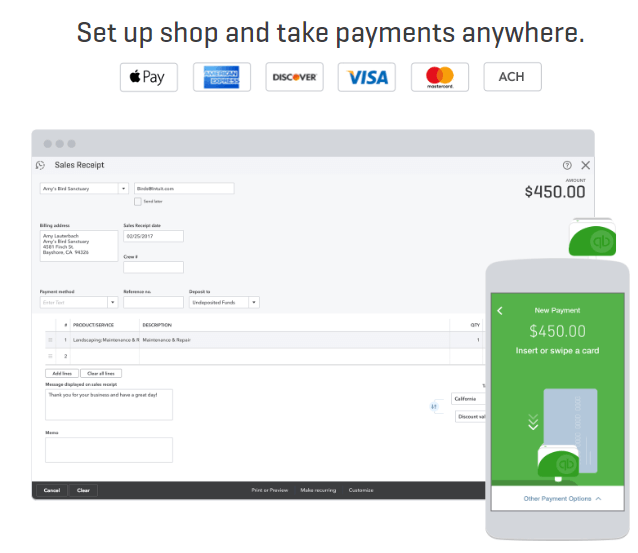 The QuickBooks mobile card reader allows you to complete a sale anywhere, at any time. Their mobile app also allows you to record cash and check payments and you can see your inventory in real-time.
As for sales tax, say goodbye to manually calculating it with each sale, QuickBooks will customize the tax rate automatically based on what you sell, where you are, and where you ship.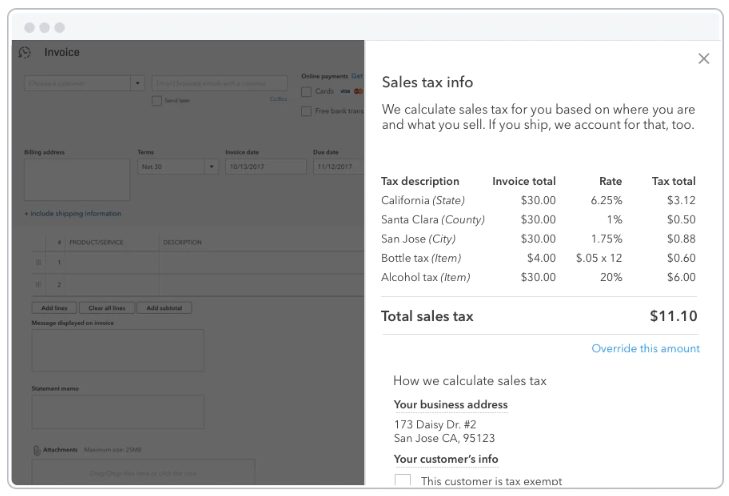 QuickBooks Estimates
When customers request an estimate, they want it immediately. Thanks to the QuickBooks Estimate feature you can quickly create an estimate and close the sale without leaving the conversation. It looks like this: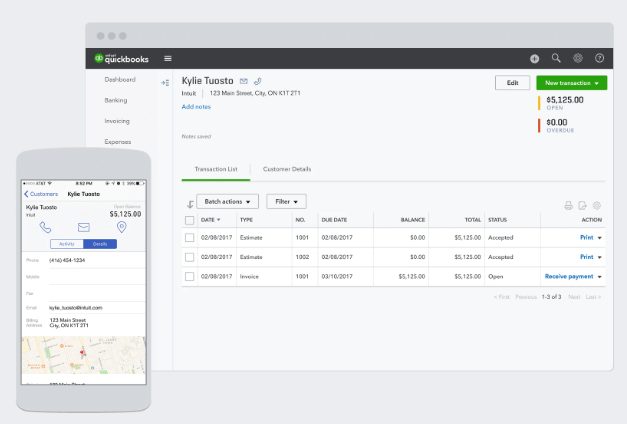 Using a smart device, you can capture a signature, take photos of receipts and other information, and convert the estimate into an invoice to start the job immediately.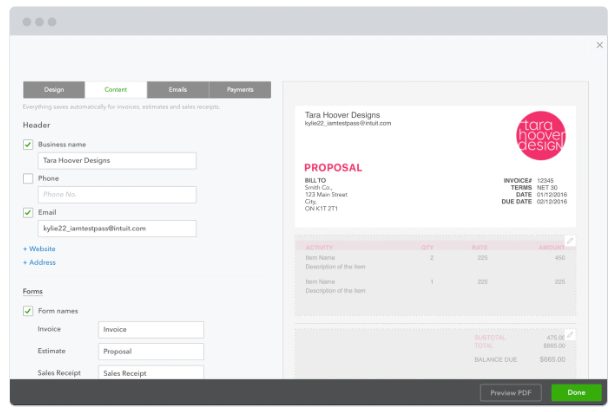 These estimates are fully customizable, so you and your client agree to a full, partial or custom payment plan. Once the estimate is an invoice, you can track the payment process based on this estimate receiving payment notifications as soon as they happen. This helps keep everyone on the same page and avoids confusion as the job progresses.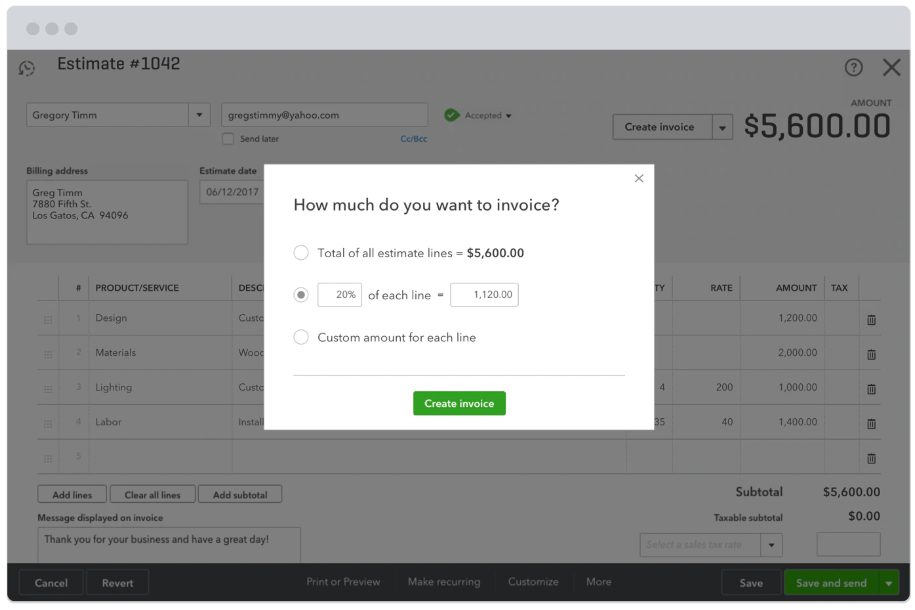 Tax Deductions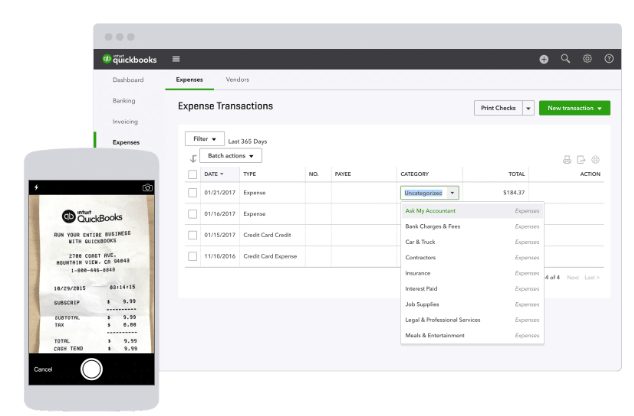 The QuickBooks Tax Deduction feature automatically sorts your business expenses into categories, helps track your mileage, and stores your receipts with a quick snap of a photo.
QuickBooks also offers "TurboTax bundle" which instantly exports your financial data to TurboTax for easy filing of state and federal taxes.
Get Capital
Do you need money? What new business owner doesn't, right? Well, QuickBooks wants to help.
Quickbooks Capital is a service offered by Intuit Financing, Inc., a subsidiary of Intuit Inc., that can help get you the capital you need to grow your business.
Using the "Get Capital" feature of Quickbooks Online, you can apply for loans, compare costs of loan options, and once approved; the money from the loan will appear in your bank account in 1-2 days.
Here's how it works: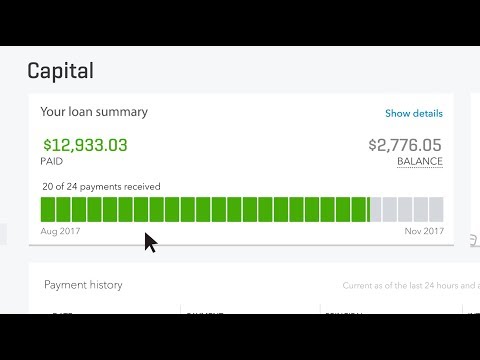 I like how it assists you to apply and how it provides the up-front costs of the loans.
Track Projects
This feature, available in the QuickBooks Online Plus package, allows you to create projects, track costs, and manage your workload.
My Tech Troop loves how you can project profitability, manage expense, and view unbilled versus billable time using this feature. They believe it helps them better manage their business, and keeps their daily resources adequately aligned.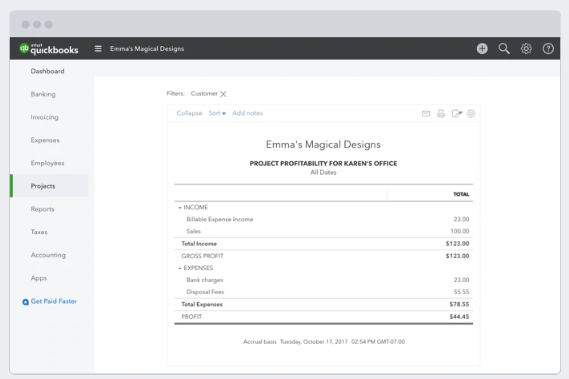 What Users Think About QuickBooks
The Tech Troop likes the app and the many integrations QuickBooks online offers its customers. Since it's cloud-based, customers loved being able to access their secured data from anywhere and do things like check inventory on the fly.
Some people complained that there is a learning curve to use QuickBooks which I would have to agree. Unless you are IT-savvy or know someone who is, you might need to watch a few tutorials before you feel comfortable using QuickBooks.
After a moderate learning curve, I feel confident using QuickBooks, but I think the starting price is high for the return I'm getting merely as accounting software for freelancers, and I don't use many of the features due to the nature of my business. As a writer, I don't have any inventory to track, no employees to manage, and my billing is straightforward, so the advanced features aren't worth the additional cost.
Which is why I'm excited to learn more about Wave accounting software!
To create a fair comparison, I'll do the same overview of Wave following the same format as I did above for QuickBooks and end the piece with a side-by-side comparison from a third-party reviewer.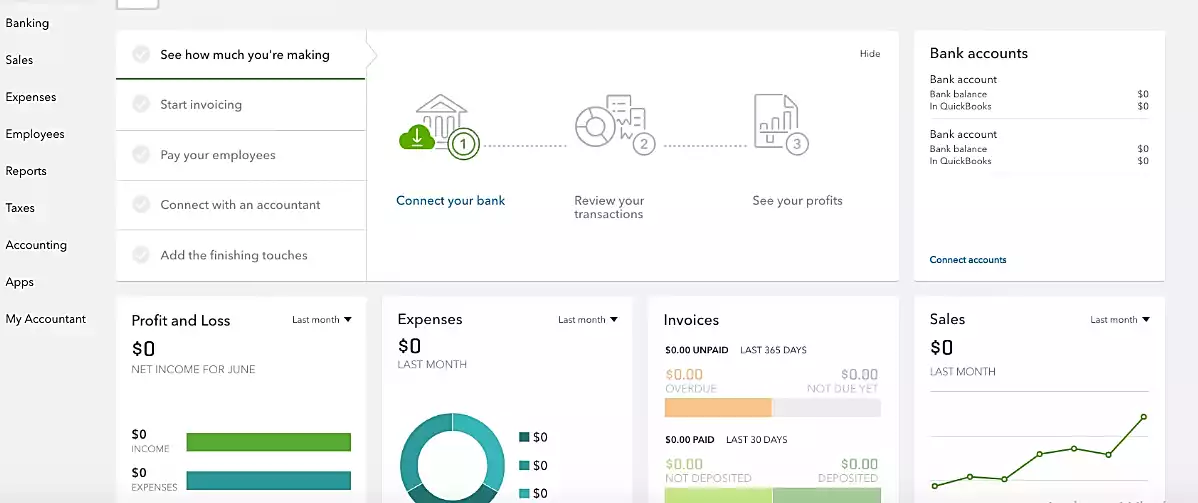 Selling Physical Products? Go With Quickbooks
If you are a freelancer or marketer with no permanent staff or inventory, other accounting tools work just fine (and are cheaper). BUT if you have a built-out team AND/OR sell physical products, Quickbooks starts to pay off BIG time.
Try Quickbooks First
We earn a commission if you click this link and make a purchase at no additional cost to you.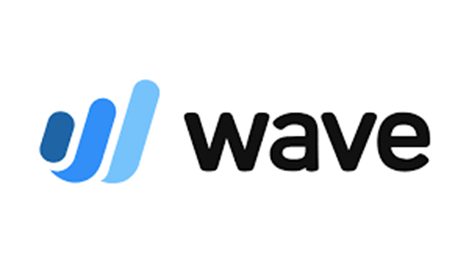 Wave Pricing
Wave Accounting offers a full suite of award-winning financial services and software and provides free cloud-based accounting solutions for small business owners.
Yes, free.
So, what's the catch? Let's find out.

Wave accounting says their business accounting software is simple, reliable, and secure and may be accessed online anytime. They offer free accounting and invoicing services and pay-per-use payment plans and subscriptions per month to payroll services.
Now it makes sense; instead of offering free trial options or packages varied by price and feature, they hook you with accounting and invoicing free options to convince you to upgrade.
Well played, Wave. They know if you like the free service, there's a good chance you will be willing to pay for their customer service to receive the money as well. I mean, you've already created the account, why not go for the upgrade?
Wave Accounting
Wave believes in supporting entrepreneurs with "powerful and free accounting software." Wave cloud-based accounting software can be accessed online at any time, and my Tech Troop says it's simple and easy to use.
It looks like this: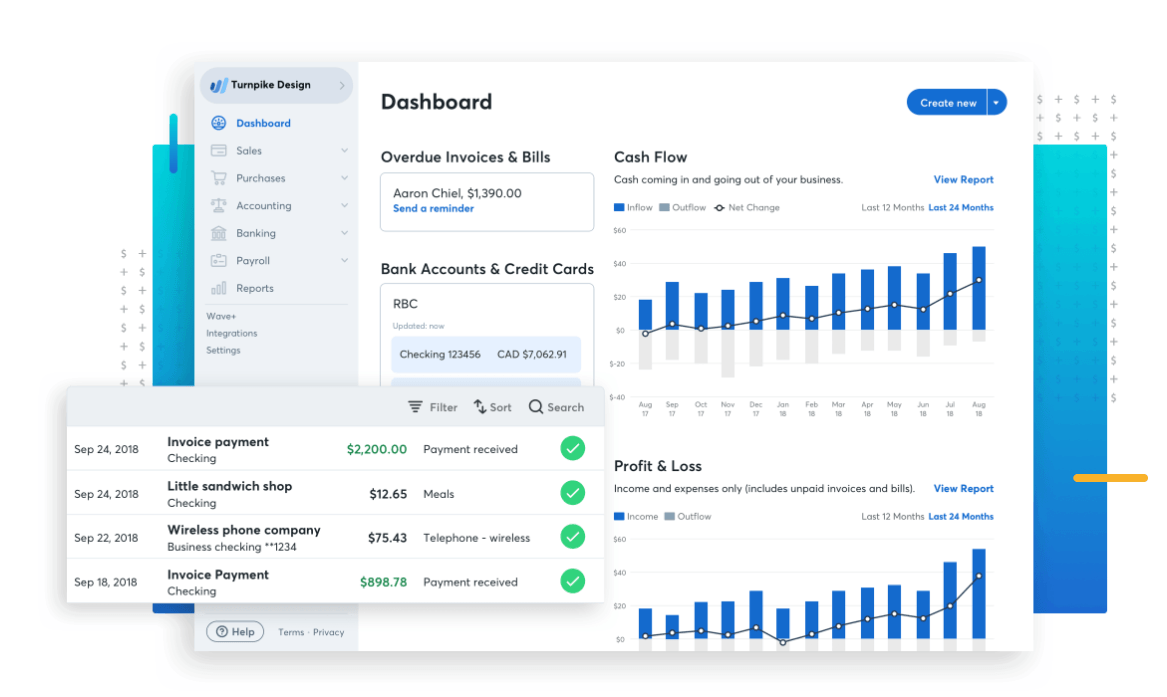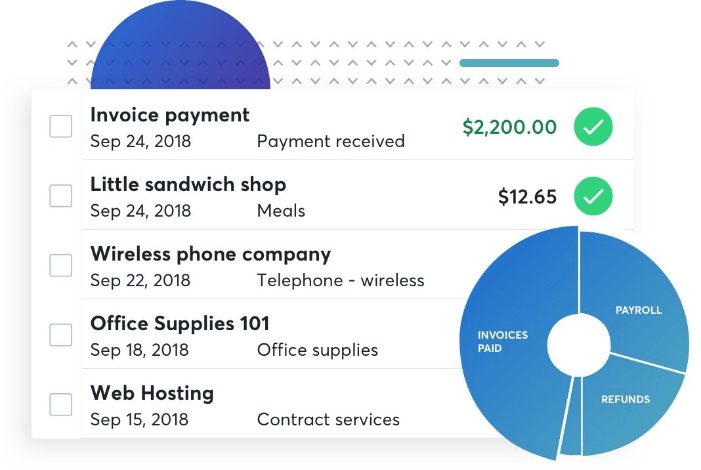 Here are a few things you can do with this accountingsoftware:
Keep track of your business health with monthly reports
Organize your income, track expenses, payments, and invoices so when tax time comes, you're prepared
Control the access to your information but allow people you trust like partners to view your data through collaboration features
Specially designed for small businesses, Wave's mission is to make accounting easy to use and for their accounting software to be intuitive. Their website claims you can get started in seconds, your data is always protected, and it's backed up automatically. Wave uses real, double-entry accounting and has many reporting options that are customizable to fit your needs.
Wave's Features
Here is a quick look at all the features this free accounting software offers:
You can find more information about a specific feature by visiting the Wave Accounting page.
Wave Invoicing
The other free service offered by Wave is invoicing. Wave offers customizable templates to create unlimited professional looking invoices, so you can add your logo and color scheme to reflect your brand.
Here is an example of a Wave invoice: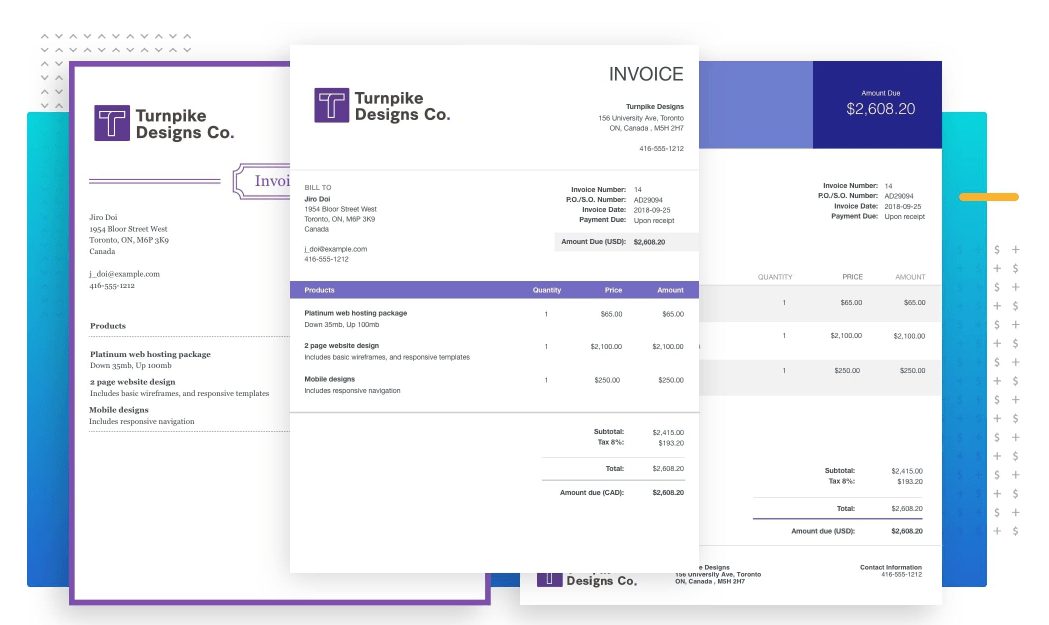 Invoicing perks include:
Customization options to create the color and language you want for your business
Recurring invoicing and recurring billing options for repeat customers
Automatic synching of invoicing and payment information in your Wave account
Wave's free apps for iOS and Android
Notification system and invoice payment reminders for your customers
When paired with Wave payments, receive payments as fast as two business days
Here's a glance at all the features of Wave Invoicing: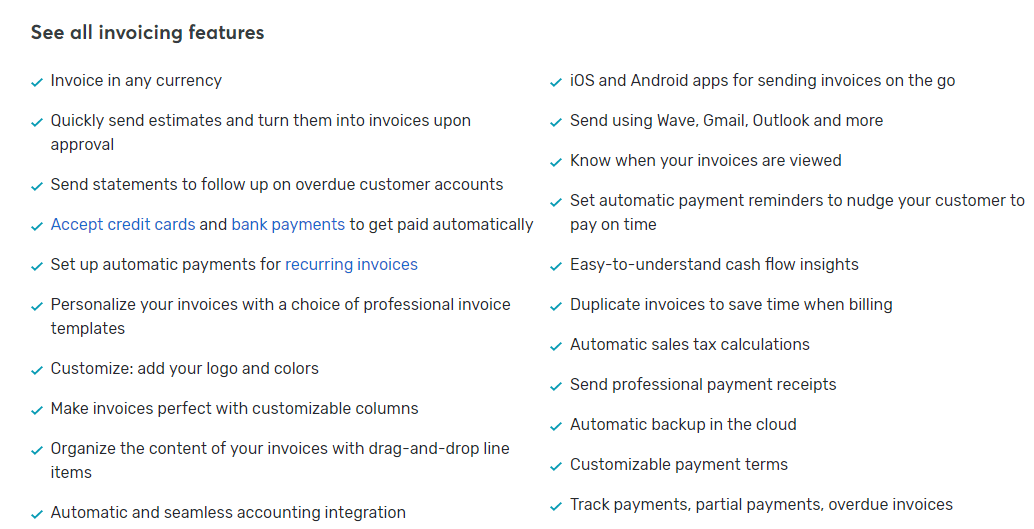 Up to this point, I'm impressed. The accounting software is 100% free, and there are no trials, limitations, or hidden fees. It includes invoices, accounting, and receipt scanning and your data is secured by 256-bit SSL encryption.
I also like that you don't need to enter your credit card number to use Wave. You can create an account on a Mac or PC, download the free app on your iOS and Android device, and get started. They also offer an import QuickBooks data option for people like me considering leaving QuickBooks for another accounting solution. I think I'm sold.
First, let me see how much it will cost me to get paid.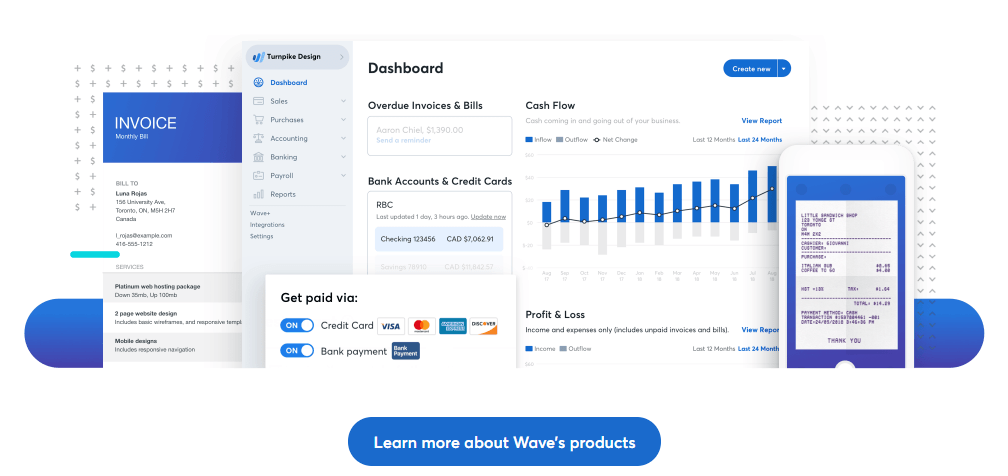 While the accounting and invoicing services are free, receiving your payments via Wave is not. This is not surprising; Wave has to make money somehow!
Let's find out how much.
Here is the pricing structure: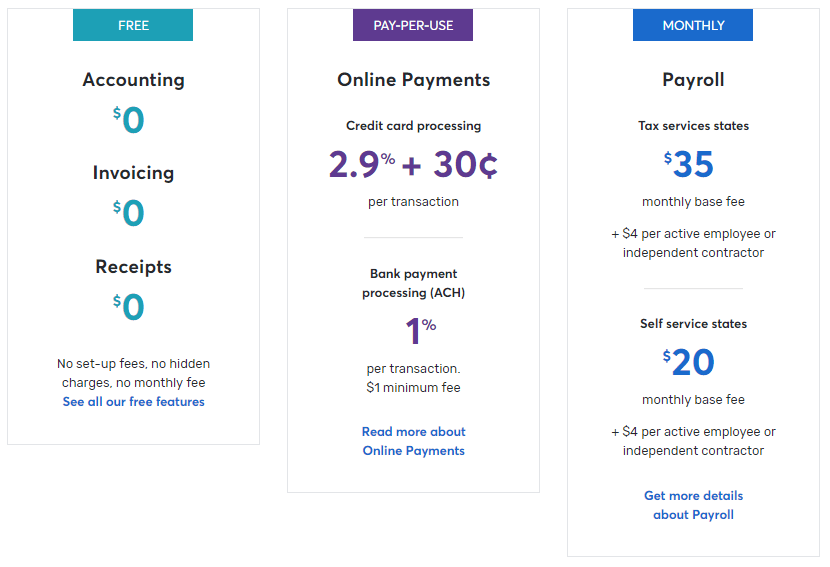 Just like when we reviewed QuickBooks, I want you to think about where your business fits regarding these three choices. Do you just need to keep your books and send out invoices? The free option might be best for you. If you want to receive payments using Wave, that will cost you per transaction. For larger businesses that need to use Wave for payroll processing and tax purposes, you need to consider the monthly plan.
Starting with Wave Payments, let's see how much riding with Wave will cost your business.
Wave Payments
The best part of sending an invoice is getting paid, right? Wave Payments makes it easy to monitor, receive, and track payments. You can get paid in as little as two business days, with fees as low as 1% of the transaction.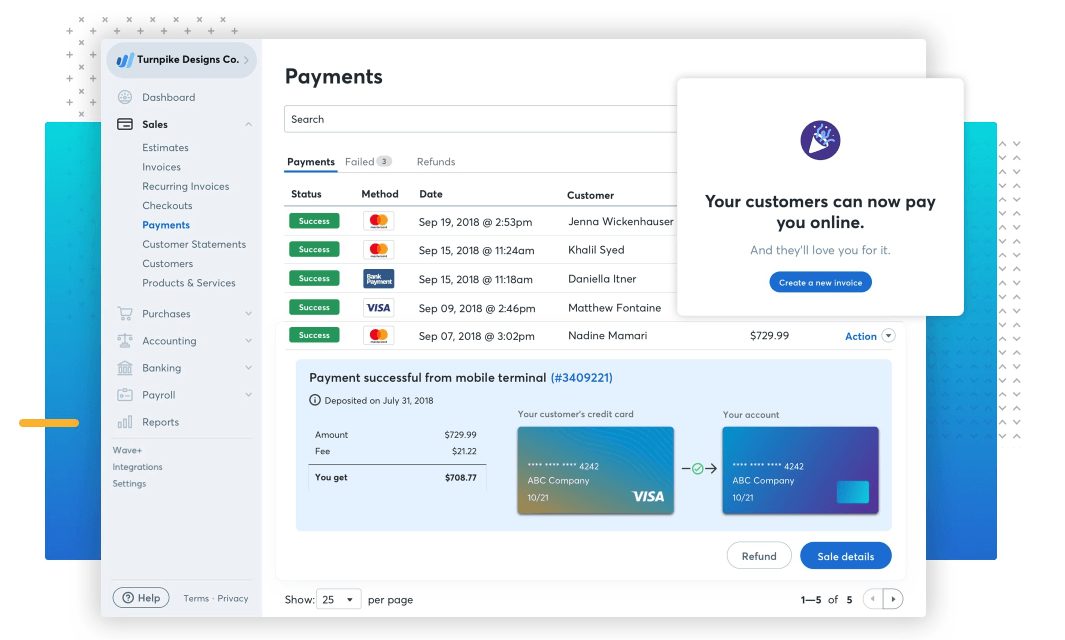 With Wave Payments you give your customers the option of securely paying online in minutes with a "Pay Now" button on your invoice. Your invoices and payments seamlessly cash flow into your accounting records making it easy during tax time or when you have questions about a job or customer.
Here's how it works:

Pretty great, right?
Wave Payments
Now the cost comes into play; the accounting and invoicing services are free, but the payment feature comes at a price.
For credit card payments: 2.9% + .30 per transaction
You will get paid out in 2 business days
Customers pay using any major credit card right from the invoice
For bank payments: 1% per transaction ($1 minimal fee)
Get paid out in 2-7 business days
Customers pay right from their bank account
What do these rates mean for your small business accounting? Let's use a $1,000 invoice as an example.
If your customer uses a credit card to pay, it will cost your business $29.30 for that transaction:
.029 * 1,000 + .30 = $29.30
If you customer pays right from their bank account, it will cost your business $10:
.01 * 1,000 = $10
Clearly, it would be better for you if your clients paid straight from their bank account. Of course, you can always work in this cost to your invoice so, your services cover the payment cost.
Here are the features included in Wave Payments:

When considering the cost of payroll, keep in mind the free accounting and invoicing software. Most companies charge for that service as well, so the cost of the payment option is relative in light of these freebies.
If you're sold on the first three features of Wave (accounting, invoicing, and payments), then you might want to continue riding the Wave with their Payroll and Receipt features.
Wave Payroll
Wave Payroll makes it easy to pay independent contractors and regular employees.
Payroll by Wave will:
Generate the proper 1099 forms for tax purposes
Deposit payments directly into employee bank accounts
Pay and file your state and federal payroll taxes for those that reside in New York, California, Florida, Texas, Illinois, and Washington
Reduce manual bookkeeping time through Wave account integration bookkeeping accounting software
Provide employee access to pay stubs and W2s
Here is what the pricing structure looks like, based on your location: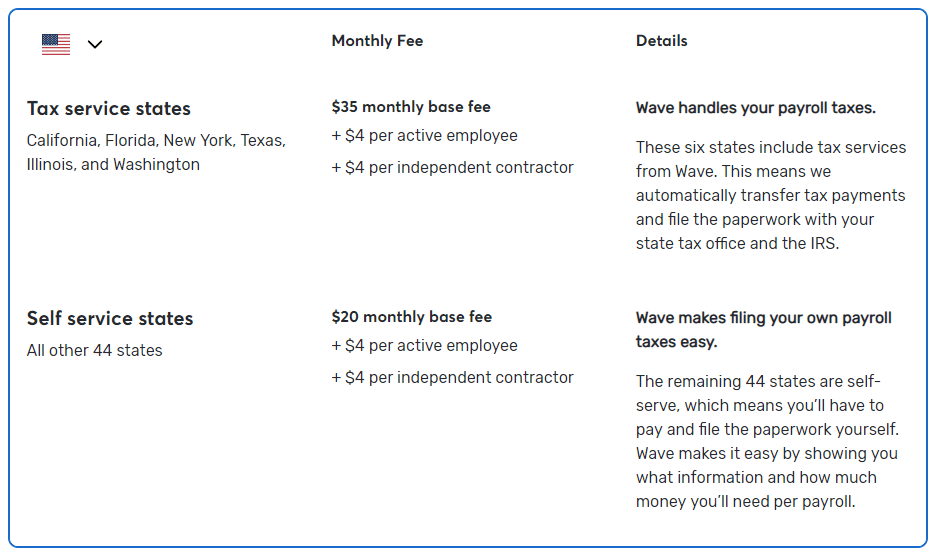 The Wave accounting software guarantees no set-up or hidden charges.
Other payroll features include:

Wave Receipts
Last but certainly not least, Wave Receipts allows you to scan receipts on-the-go to account for your business. It syncs with your Wave account and eliminates the need to keep, record, and track paper receipts. Hooray!
Here's how it works:

You can also scan receipts when offline, so your account will never be out of sync; once you are online, the app will automatically update and add in that new receipt.
If you have an electronic receipt sitting in your inbox, forward it to Wave, and they will add it for you.
What the Tech Troop Thinks
Online verified users love that Wave is free. Who wouldn't? They say it's easy to use, like that it's cloud-based, and says the invoice templates are attractive.
Many users commented on the attractive professional templates for invoicing, they praised Wave for the receipt scanner and easy expense tracking, and they liked how the dashboard is easy to navigate.
What they weren't too excited about were the mobile app options to choose from. Users are quick to criticize how there are multiple Wave mobile app options instead of one, and they report multiple bugs within the apps. They also feel the third-party integrations are lacking, and some reported issues with slow servers and downtime.
We've come to the end of our overview of Wave! For more information on Wave products or features, visit www.waveapps.com.
Wave vs QuickBooks Accounting Comparison
So, which cloud-based accounting software is the best option for your small business?
Here's a quick side-by-side comparison of everything we discussed, courtesy of GetApp.com: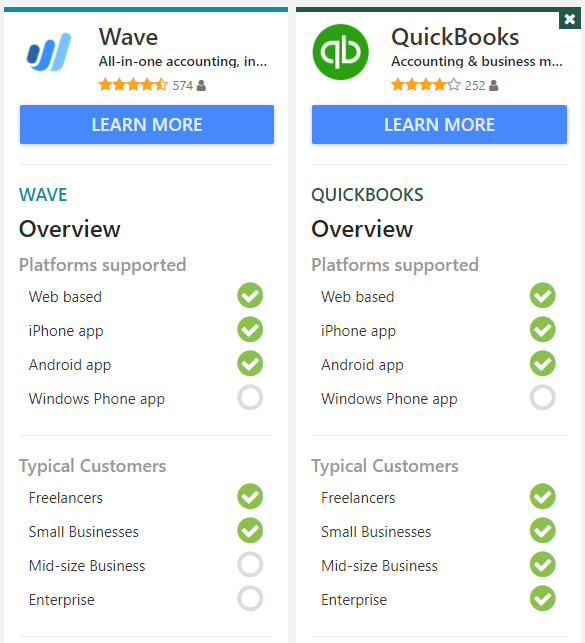 Wave vs QuickBooks FAQs
Question: Can I get QuickBooks for free?
Answer: You can't get QuickBooks for free unless you want to go the illegal way and find torrents that consist of the software. You can try it for free, or cheat the system by adding different emails and credit card options and use it for 30 days free for each account.
Question: Is QuickBooks easy to learn?
Answer: Not really, Quickbooks is not very easy to learn, so you might need to get professional help to do it, or you will need to watch lots of tutorials and read about how it works, and you can also put to work the CDs that the company has put which have a certain starting price, but might get you a certificate.
Question: Which is better between Wave and QuickBooks?
Answer: Wave is not better than QuickBooks, but Wave is free, and it is very easy to learn, unlike QuickBooks which might take you months to start implementing it.
Question: Are Wave and QuickBooks Accounting safe?
Answer: Yes, Both Wave vs QuickBooks online are safe, and protected with 256-bit SSL encryption, which means all the data you have and all the transactions will be between you and your bank/ credit card company.
Why I'm Switching from QuickBooks to Wave
This Wave and Quickbooks comparison took a long time to write. The hours I've spent researching the facts, comparing the features, and consulting with my Tech Troop have been worth it though because I know now that Wave is a better fit for my writing business. Why?
2 Reasons:
The user experience—it's easier for me, a non-technical kind of gal, to navigate and use this software
The cost—yes, I'll pay for the payment feature, but the overall cost of using Wave versus QuickBooks will be less annual for the small business owners with zero W2 employees and inventory to manage.
That said, IF you sell physical "things" online, QuickBooks online is a much better option here.
Have you decided which accounting solution between Wave vs QuickBooks online is right for you? Let me know in the comments. Thanks for reading!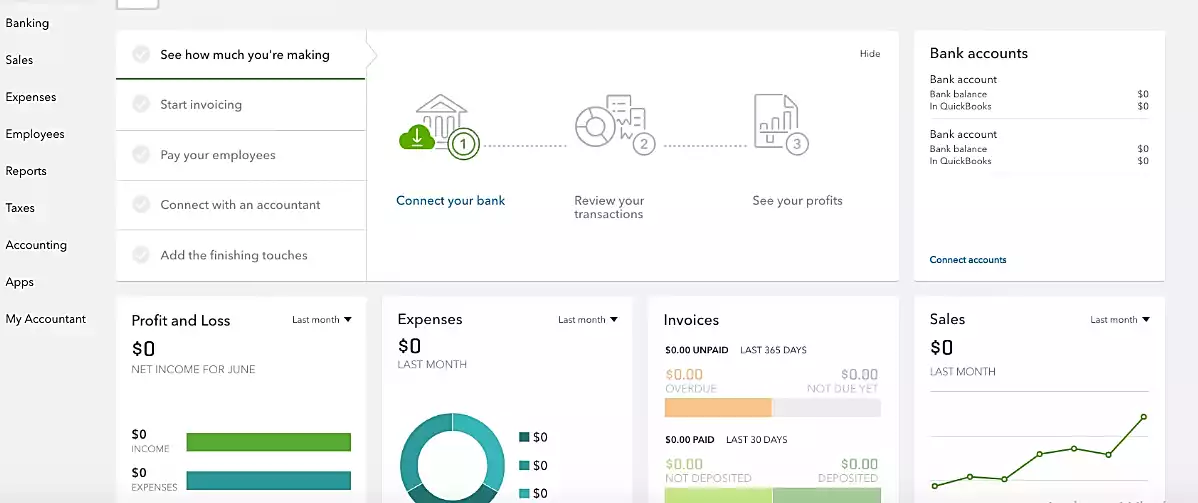 Selling Physical Products? Go With Quickbooks
If you are a freelancer or marketer with no permanent staff or inventory, other accounting tools work just fine (and are cheaper). BUT if you have a built-out team AND/OR sell physical products, Quickbooks starts to pay off BIG time.
Try Quickbooks First
We earn a commission if you click this link and make a purchase at no additional cost to you.
Here are a few related articles (Wave and Quickbooks alternative accounting software options) you may be interested in: