Last Updated on April 24, 2023 by Ewen Finser
In our post, we will be comparing the top payroll platforms Square Payroll vs Gusto. Find out which one is better for your business.
HR can be a tricky business. Your employees make the company, and whether they're new hires or senior members of staff, their details must be handled smoothly.
That means paying everyone correctly, on time, and keeping organized records, so they're accessible whenever they're needed.
Bottom Line Up Front Summary: IF you are running a primarily ONLINE business, the best payroll software fit is definitely Gusto here. HOWEVER, if you have any sort of physical presence or on-premise hourly W-2s, Square Payroll has the edge with a mobile app & better customer service.
Main Differences Between Square Payroll vs Gusto
The main differences between Gusto vs Square Payroll are:
Gusto is best for digital small business owners and entrepreneurs, whereas Square Payroll is more suitable for all kinds of businesses
Gusto makes your scheduling tasks easier with very intuitive software, whereas Square Payroll lets you pay your customers from a mobile app
Gusto comes with a lot of integration options, whereas Payroll offers a free guide called The Employer LaunchPad to help you start
Our Pick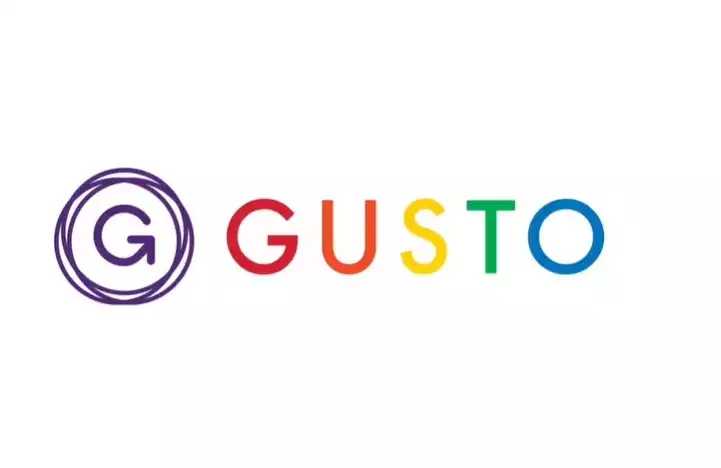 Why I Personally Prefer Gusto
Easier to use, cheaper, and much more scalable than the competition. Gusto WORKS better, particularly for small to mid-sized companies. We went with Gusto for our business and are incredibly happy with the support and integrations with our other accounting tools.
TRY GUSTO FIRST HERE
We earn a commission if you click this link and make a purchase at no additional cost to you.
And don't even get us started about planning and executing a seamless onboarding experience for new hires…
So, handling all your human resource tasks and payroll services in-house can be difficult. Small teams might not have the capacity to dedicate somebody to HR alone. In contrast, large organizations often have lots of other things they have to prioritize.
So, no matter the size of your company, keeping HR organized can quickly get overwhelming withotu a good workforce management systems.
Luckily, there are online tools out there that can help you manage human resources. Both Gusto and Square Payroll are fabulous examples of these kinds of services.
They're worth their weight in gold when it comes to ensuring employees are paid on time. It's easy to add new employees onto these systems, set payment schedules (pay period) for hourly and salary-based employees, and handle sick and holiday pay, as well as benefits.
But, choosing the right toolkit and software options are essential when it comes to something as sensitive as HR. So, we've compared Gusto, and Square Payroll to help you get a better feel for which (if any) of these solutions best suit your needs.
So, without further ado, let's dive straight into this review!
Gusto Online Payroll Provider
Founded back in 2012 as Zen Payroll, Gusto is now used by over 100,000 small business operations and their teams for payroll service. Their online payroll service platform is explicitly designed to help smaller businesses and entrepreneurs take care of their hardworking employees.
Their values are firmly based around transparency, doing the right thing for your team, and optimizing your small business for long term success. So, if these align with your beliefs, you might be onto a winner…
Square Payroll Software
Funnily enough, Square Payroll is true, built by Square. Where Gusto proudly focuses on small businesses, Square Payroll claims to work with all types of companies to provide an all-in-one payroll solution. In fact, they've already processed over $1 billion in payroll, so this is somewhat of a 'tried and tested' solution.
Square was co-founded by Jack Dorsey, who's also a co-founder of Twitter. As an established company that first focused on card readers, Square has since expanded and now has offices all over the world. So, it's safe to say this enterprise knows a thing or two about business!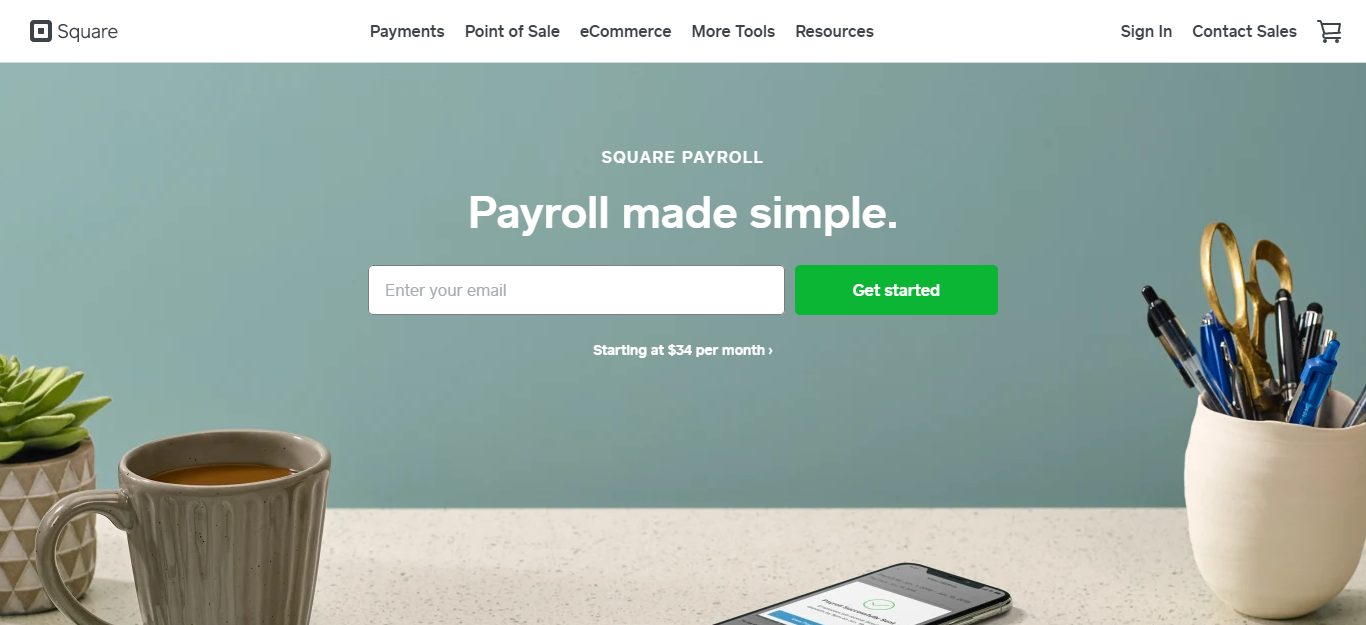 Payroll Software Features
Both Gusto and Square Payroll are, of course, primarily payroll management tools. But, as we've already alluded to in the intro, they can also help you:
Register new employees onto your payroll system
Handle employee benefits
Ensure everyone's paid on time
Manage sick and holiday pay
Amongst other things. But, let's take a more specific look at what each online payroll software has to offer. We'll start with Gusto…
Gusto
Gusto breaks its features down into a few sections, some of which, we've explored below:
Payroll Software
Gusto is a user-friendly software that makes payroll easy as an outsourced payroll company. Its dashboard is nothing short of intuitive. From here, you can review your team's hours, additional earnings, and any reimbursements they're owed.
You can pay your staff manually within minutes or set up an autopilot system to handle payroll for you. With the click of a button, you can pay your whole team in an instant.
Yes, it really is that simple.
Gusto also files your payroll taxes automatically and syncs up with other software, like Quickbook, Xero, TSheets, and Trainual. So, if you're already using these sorts of programs, never fear, you can continue doing so while reaping the additional perks that come with Gusto.
Gusto's payroll tools boast loads of other features, including that:
You'll never forget those all-important forms or signatures again. How? All your employee I-9s, W-2s, and contractor 1099s can be safely signed and stored online with Gusto. Keeping everything securely stored in one place makes organizing these necessary forms so much easier.
You can harness the power of Gusto's automation to minimize the likelihood of common mistakes. Gusto always keeps an eye on the ever-changing tax laws and automatically calculates the necessary taxes to ensure you remain fully compliant. You'll also receive 'law alerts' and 'HR guides.' With these resources in your HR toolkit, keeping your finger on the pulse is easy – which is a relief. Of course, actioning HR regulations ensure compliance and avoids nasty fines (phew!).
You can track lunches, breaks, hours, etc. Other than coming in handy for scheduling and productivity purposes, this info also makes sure your hourly workers don't overexert themselves past the legal limits.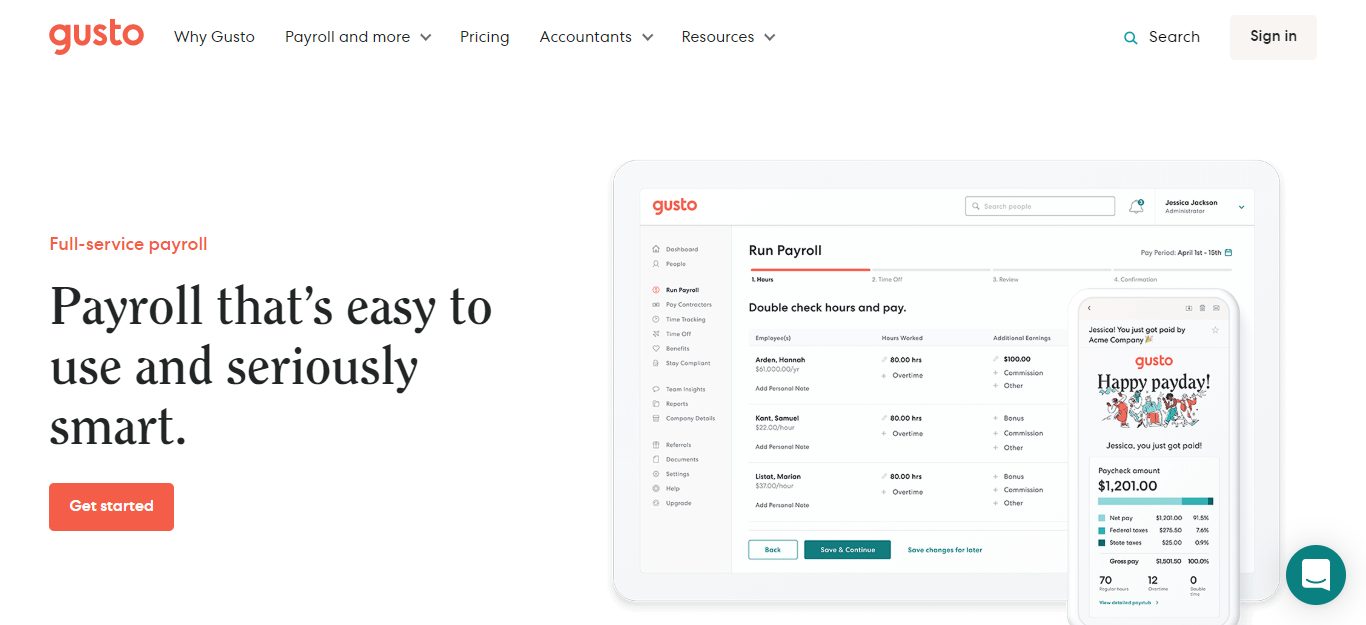 Team and Onboarding Tools
Gusto also has some nifty features to help you take care of your team. You can send offer letters, track PTO, building org charts, and ensure your onboarding is compliant with HR law. When you set up your HR processes correctly from the get-go, you'll drastically reduce the chances of a hefty fine or lawsuit.
Needless to say, the onboarding process can be tedious and complicated. There's so much bureaucracy involved. But, never fear, you can rely on Gusto's team of experts. They pride themselves on providing customers with quick answers and handy resources to help guide you every step of the way. Just give them a ring or ping Gusto an email, and you'll receive tailored advice from one of Gusto's certified HR pros.
As we hinted at in the previous section, all of your employee's onboarding forms can be accessed, filled out, and signed online with Gusto. This makes it incredibly easy for your staff to view their payslips, W-2 forms, and even your employee handbook. You can also send new employees a welcome message when they first join the team, which is a nice touch!
As we've already said, Gusto takes the welfare of your workers seriously. One of the many ways they demonstrate this is by providing a tool where you can launch anonymous surveys. So if you want to see how your team is doing or gain honest feedback from your employees, this comes in useful – especially if you want a fresh way to check-in with new hires.
Managing Employee Benefits and Plans
Gusto is fully capable of adjusting to the advanced needs of your business. It stands to reason, as your company grows, so will the benefits you offer your workers. This is why Gusto enables you to track college saving plans, bonuses, 401(k)s, and medical and dental plans. Gusto monitors anything and everything that might affect your employee's salary and keeps all this info securely stashed away in the employee vault.
Over on Gusto's website, there's also a helpful employer tax calculator, burn calculator hourly paycheck calculator, and salary comparison tool, as well as a new-hire checklist. Needless to say, all these resources come in incredibly handy.
General HR Tools
Gusto provides you with hundreds of professional templates and guides, all of which are designed and built by HR experts. So, you'll never have to start an HR process from scratch ever again! Gusto provides step by step resources for all the following topics:
Hiring best practices
Performance evaluations
Job descriptions
Offer letters
Termination requirements
Labour law policy templates
An employee handbook builder
Harassment prevention training
So How Does Square Payroll Work?
Square Payroll, as we've already established, is part of Square, a company that runs a whole family of products aimed at helping entrepreneurs start and run their businesses. Similar to Gusto, Square Payroll also focuses on tools that help you manage your employee salaries and payments. As well as onboarding features and access to an array of employer resources.
With Square Payroll, you can pay your whole team by taking just a few simple steps.
Side note: There's also no need to worry about payroll taxes as Square handles that automatically for you.
Okay, let's circle back to what you need to do to get your workers paid. First things first, enter your business info (just the basic stuff). If you're switching from another payroll provider, Square will handle all the paperwork for you (phew!).
Then you'll need to add your team's info. Or, you can invite them to set up their own accounts (which might be an easier option for you). Last but not least, your team then gets paid. Square handles all your payroll tax filings (tax forms) and withholdings (general tax compliance), so again, there's no need to worry about that! Pretty simple, right?
Now, let's take a look at some of Square Payroll's features in greater depth…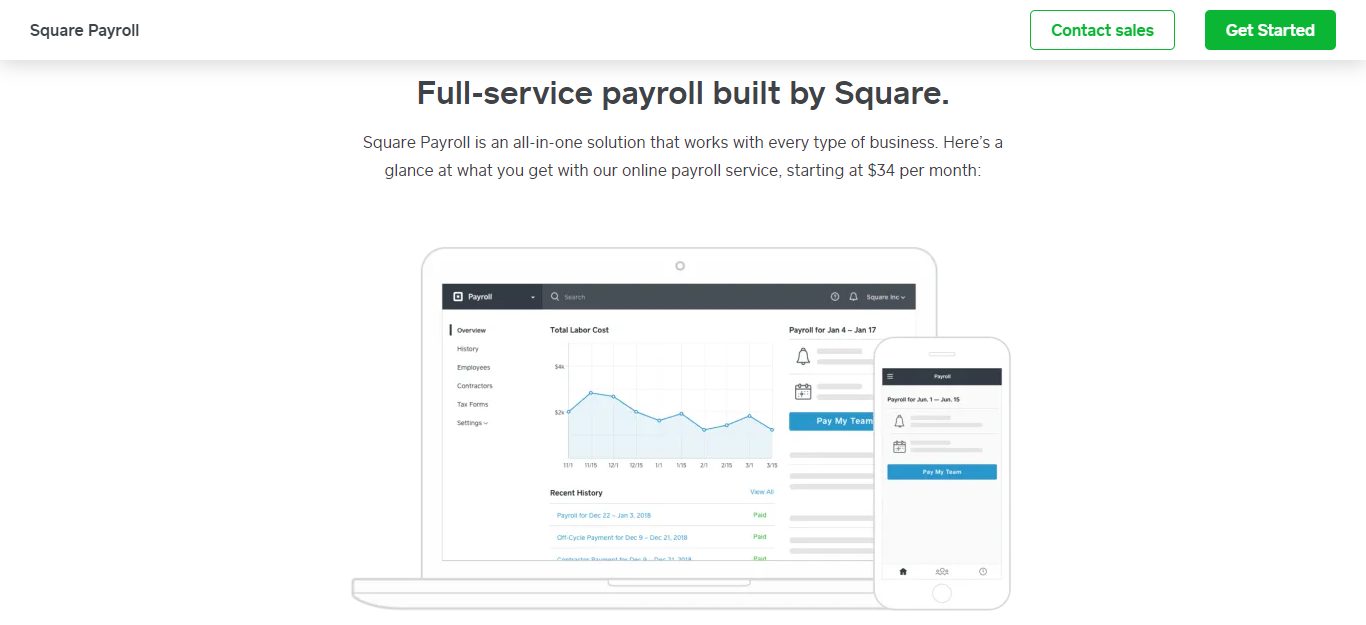 The Employer LaunchPad
As its name suggests, the Employer LaunchPad is all about getting employers started. This resource walks you through registering your business, managing it, staying on top of your finances, and staying compliant with HR regulations.
From registration to choosing a business structure, selecting a payroll and accounting system/accounting software, to sorting out business finances and income tax – The Employer LaunchPad provides a helping hand. The best thing about it? It's a free guide on their website, so any startup can have a browse!
Payroll Tools
The Square payroll tool is similar to Gustos. You can offer and handle your employee's health benefits (and other benefits) and pay salaried and hourly employees (as well as contractors).
As we've already hinted at, you can even create individual online accounts for each of your employees. Here they can import their timecards (time and attendance tracking), tips and manage all their other payment and personal details.
Lastly, all payroll tax filings and withholdings are done through Square Payroll. Plus, you have the option of running payroll multiple times a month without incurring any extra costs.
Fun Fact: If you're a busy small business owner who's always on the run, you'll be glad to hear you can pay your team from anywhere using Square's mobile app. Employees can even receive digital paystubs (payslip), which makes storing and accessing these documents so much easier for your workers.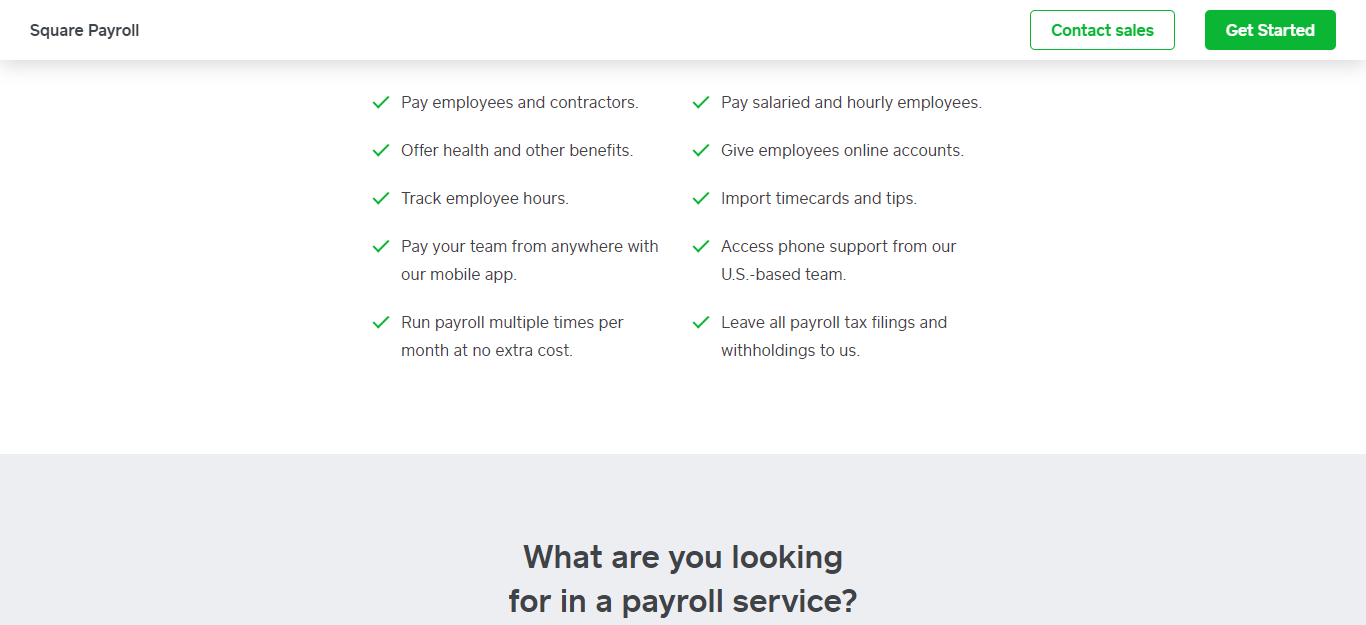 Access to the Square Dashboard
If you're using any of Square's other products, Square Payroll provides a full overview dashboard. Here you can integrate payroll into your other workflows smoothly.
Reports
Knowledge is power, and Square Payroll understands that. You can run several different types of reports.
But, if you're looking for a more sophisticated reporting tool, you'll be disappointed…there aren't tons of options at your disposal.
Still, it's ideal for meeting all your basic payroll needs. For instance, you can launch reports on:
Paycheck details
Employee payroll totals
Company tax totals
Paystubs
You get the idea.
Benefits Administration
With Square, you can manage your company's benefits from the convenience of one place. This comes in especially handy if you're utilizing multiple benefit(s) options through their providers.
From their dashboard, you can view all of the following info with just a click:
The benefits you're currently offering
The benefits you're not providing
The benefits you've enrolled for
The coverage dates for your employee benefits.
If you decide to offer benefits from a provider outside of one of Square's pre-approved partners, there's an area where you can calculate any outside benefit deductions. Yes, this is a bore – but at least there's the option!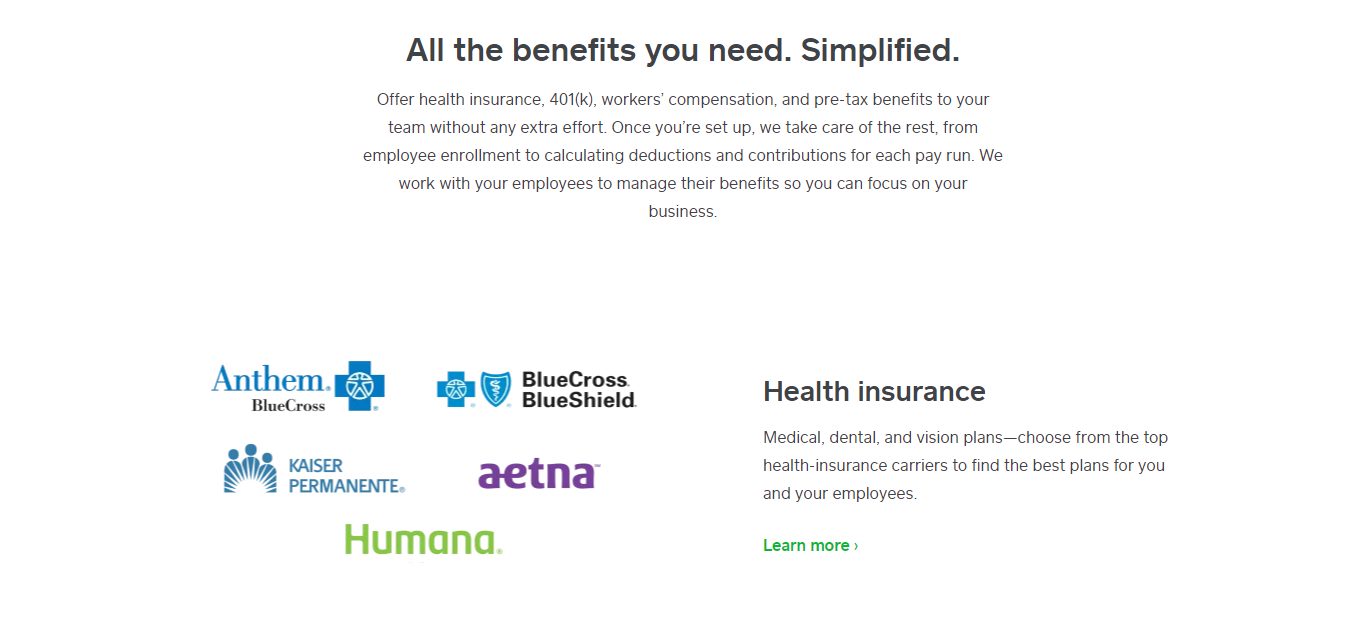 Payment Methods
Not only can you pay employees via direct deposit, but you can also use a cash card. The choice is yours.
Team Management
Square has tons of team management tools suitable for both employees and contractors. As we've already mentioned, you can give each team member their own online profile, which displays info like their:
Job title
Payment information
Time off
Tax documents
Benefits
Square also provides you with tools for managing your employee's additional earnings, deductions, and garnishments.
It's also worth noting: For an additional $35 a month per location, you can have a 'Team Management' portal. This gives you access to even more team management integrations.
Our Pick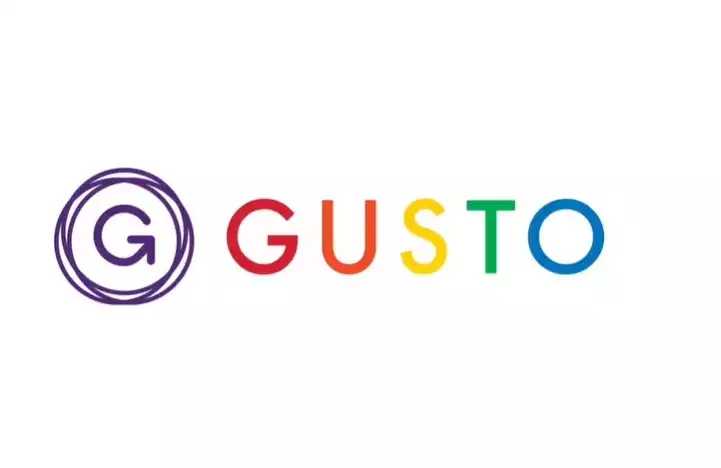 Why I Personally Prefer Gusto
Easier to use, cheaper, and much more scalable than the competition. Gusto WORKS better, particularly for small to mid-sized companies. We went with Gusto for our business and are incredibly happy with the support and integrations with our other accounting tools.
TRY GUSTO FIRST HERE
We earn a commission if you click this link and make a purchase at no additional cost to you.
Pricing Comparison
As with most things in life, nothing good ever comes free. So, let's see how much these two payroll management tools cost, starting with Gusto…
Gusto Pricing Plans
Gusto offers three different pricing tiers that each unlock new features.
This costs $39 a month, with an additional $6 for every person you need to pay. This provides full-service payroll run, employee self service tools and profiles, health benefits administration, worker's compensation insurance administration, customer support, and paid-time-off policies.
This is also $39 a month (including all of the workers compensation insurance admin, benefits tracking, etc…), but you pay $12 for every person you pay. This unlocks account permissions, employee offers and employee onboarding, simple time tracking, PTO policies, time-off requests, an employee directory, and surveys.
This starts at $149 a month, with an extra $12 for each person paid. You'll get everything in the prior two plans, as well as: admin permissions, dedicated support, and the HR Resource Center. In other words, with this plan, you receive additional support to help manage all your HR software needs.
Please note: If you're only paying contractors (no W-2 employees), then you only pay $6 a month for each person you pay, with no base subscription fee.
You can also unlock additional premium features for extra charges. For example, a $200 annual service charge covers health savings accounts, flexible spending accounts, and commuter benefits. Other premia you can opt for are college savings accounts and 401(k) retirements.
Gusto offers a one-month free trial to test out its service. Plus, you pay month to month, so you don't have to sign any long term contracts that lock you in.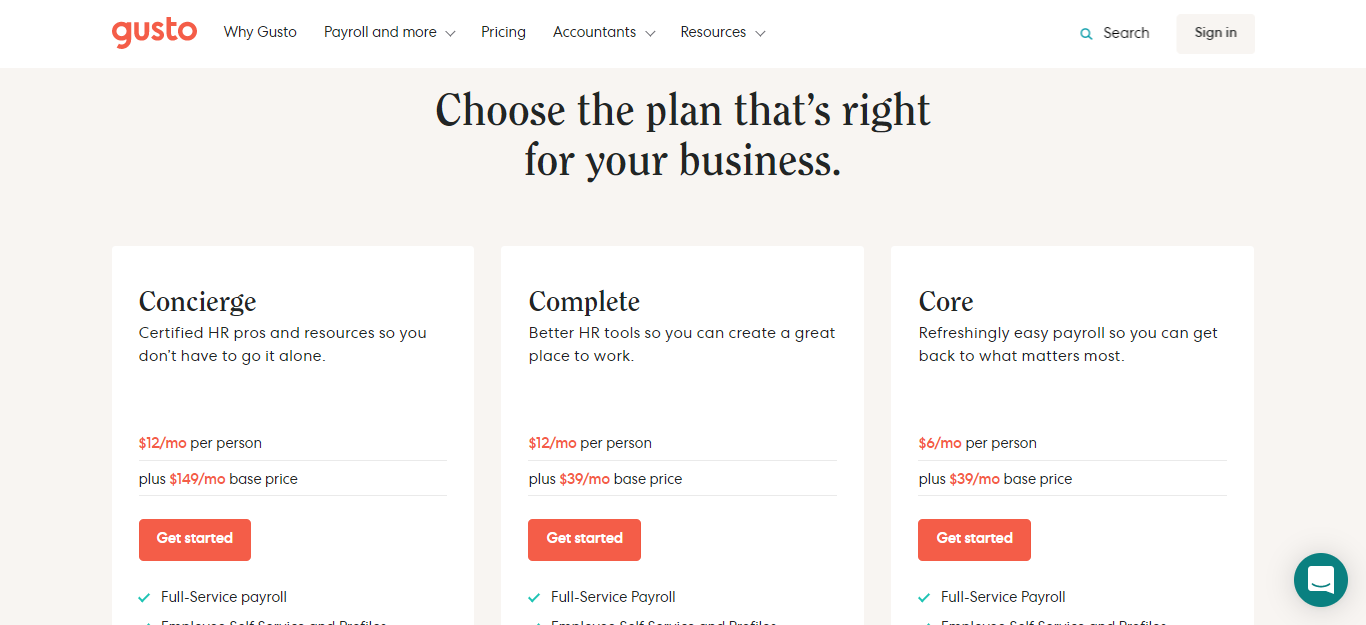 The Square Payroll pricing also scales with the number of people you employ and pay. The base price for their software options is $29 a month plus $5 per paid employee.
Below are some examples of what this could add up to:
You get the idea.
Please note: Square Payroll doesn't charge you until you pay your team, and there's no annual contract required. As such, you only use Square Payroll for the number of months you need them for. Tax filing comes at no extra cost, and Square payroll promises no hidden fees – win-win!
If you're only paying 1099 contractors, there's no subscription fee. You just pay $5 for every contract you pay per month.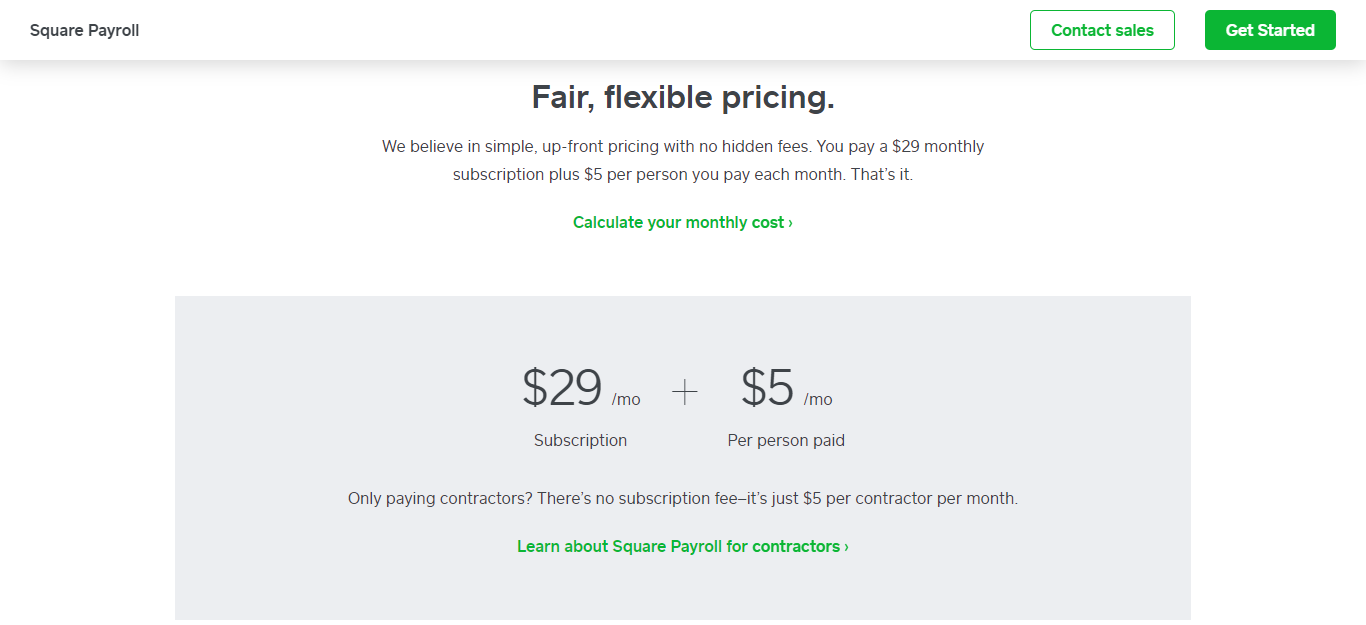 Integrations
Both Gusto vs Square Payroll integrate with other accounting and business management software. So, in theory, you should be able to run your existing programs alongside these payroll solutions like a well-oiled machine.
Here are some of the native integrations each solution has to offer:
Square Payroll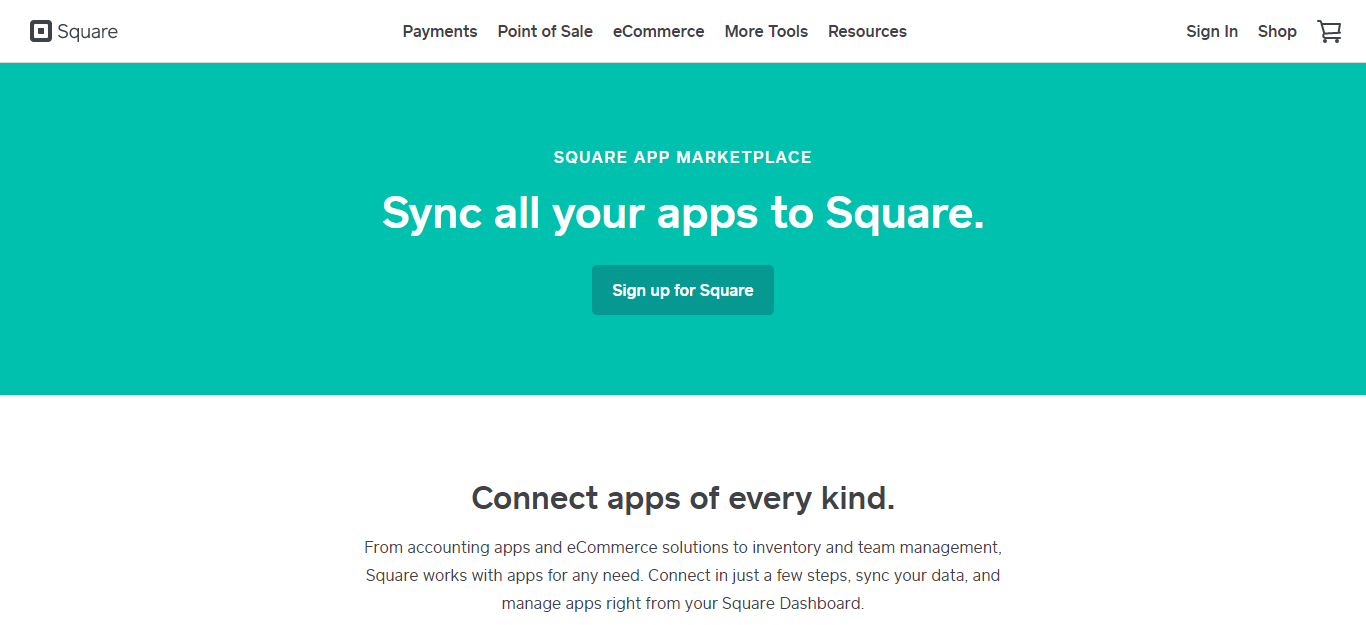 All Square products, including their points of sale app
Pre-tax benefits software: Alice
Health insurance: SimplyInsured
401k plans: Guideline
Accounting software: QuickBooks
Business operations software: Homebase
Worker's comp insurance: AP Intego
Gusto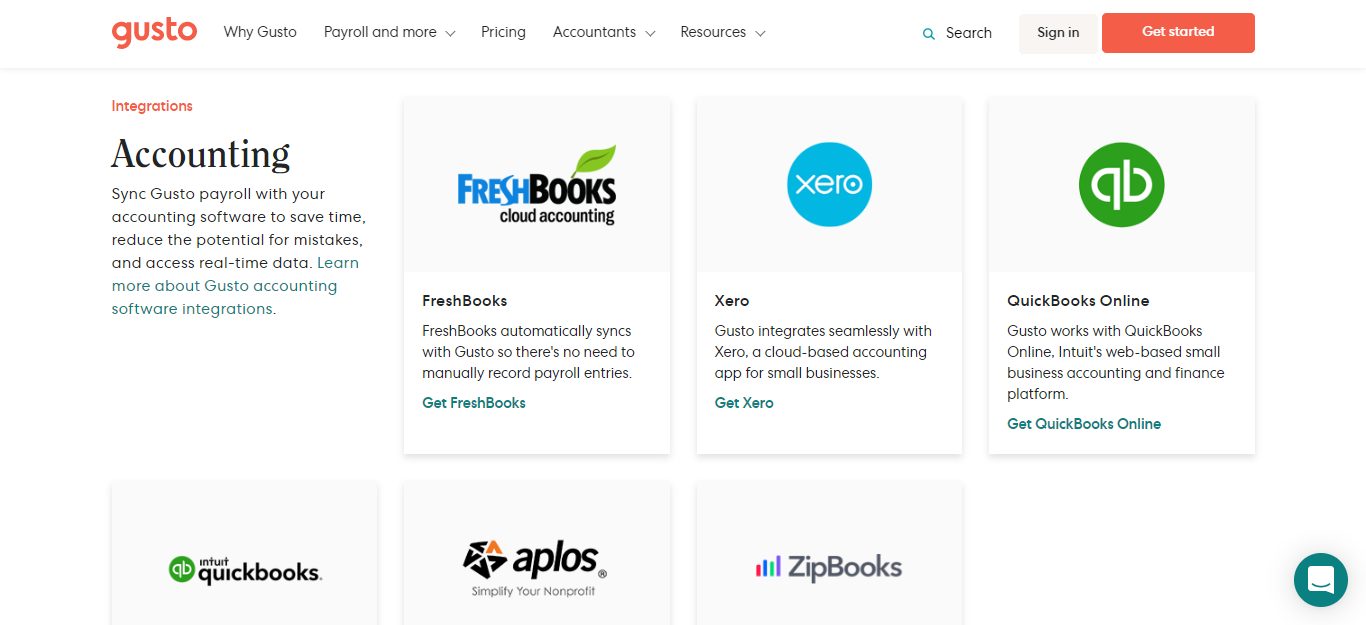 Accounting software: FreshBooks, Xero, Quickbooks, ZIpBooks, and Aplos
Time tracking tools: Homebase, TSheets, WhenIWork, Deputy, Ximble, Boomr, and TimeTracker
Point of sale apps: Clover and spotOn
Business operations software: Hubstaff, Accelo, Veryfi, Trainual, Kinderlime, and Vagaro
Expense management software: Expensify and Receiptbank
Gusto: What Users Have to Say About Them
The stats are pretty glowing. However, these were retrieved from Gusto's own website, so they might be a tad biased. But even so, it's still very impressive:
85% of customers say Gusto's easier to use than their previous payroll provider.
3/4 customers say Gusto makes compliance more manageable.
90% of customers say switching to Gusto is easy.
But, a quick scan of Gusto's online review shows that recently, they've come under fire. For instance, some customers have complained about suspending their Gusto accounts and still being charged for the service. While others say, the quality of Gusto's customer support has declined.
One Gusto user said they've been a client of theirs for years, and to begin with, they were incredible. But, since they've expanded, their customer service has gotten worse. For instance, one user says Gusto mailed an employee's local withholding to the wrong city, which was then cashed in. Consequently, the city that should have received the check still wants their money, and apparently, Gusto has been little help.
Square Payroll: What Their Users Say About Them
A quick scan of the internet tells us that Square Payroll customers love how easy and fast it is to set up and add new employees (best in calse ease of use).
They also like that they can offer employees an online portal where they can edit info like their – direct deposit details, address, withholdings, etc.
Lots of payroll administrators like how simple it is for them to import their team's hours from third party programs. Even the deadlines for submitting payroll are clearly displayed, as is the window for cancelling and/or editing a proposed payment. This sort of open communication makes the whole payroll processing that much smoother.
But, there are several complaints that the software isn't sufficient for bigger businesses, especially those boasting vast numbers of employees and complex payroll schedules.
Square also doesn't have an option for deducting things like union dues, which is just another payroll feature larger companies need access to.
Square Payroll vs Gusto: The Pros and Cons Compared
Now we've reviewed all there is to know about Gusto and Square Payroll, let's summarize the key takeaways. Here are the main pros and cons of using these two pieces of software (Gusto vs Square Payroll).
Square Payroll Pros and Cons
Let's start with the perks…
The Pros
Intended for online payroll for all business sizes'
Direct deposit is easy to setup for small business
Intuitive and time-efficient software, including an excellent user interface and navigation system.

Cheaper and simpler pricing schemes than Gusto

. There are no premium features that cost extra, and everything is accessible from the get-go for the same price.
Integrates well with other Square products and accounting software
You can keep flexible and thorough employee records.
Fantastic automation tools
You can create a separate payroll for contractors
Good preview options.
Comes with a robust reporting tool
The Cons
Now for the drawbacks…
Fewer features for onboarding and instructing new employees
This software might not be as good as a standalone service when used without other members of the Square product family
Not as in-depth or versatile as its competitor, Gusto.
You're limited to four pre-scheduled payrolls.
Gusto Pros and Cons
Over to Gusto…
The Pros
Perfect for startups, small businesses (and small business payroll), and finance and accounting departments
Plenty of integrations (including other accounting software)
It's a robust standalone tool
You get access to a varied set of features, including extensive onboarding and employer resources for introducing new hires to your company (offer letters and welcome packs included).
It's intuitive and easy to use
Unlimited payroll runs (full service payroll)
The Cons
Gusto doesn't scale well for more substantial businesses
Steep pricing schemes, with premium features costing more.
Gusto's Customer Service
Until relatively recently, Gusto customers loved the level of customer support provided. But as we've already established, there's been a few complaints over the last few weeks (written Feb 2019).
But credit where credit is due, Gusto provides plenty of easy-to-follow self-help resources. That's in addition to several ways you can contact a human customer care agent, including in-software support. By this, we mean you can access Gusto's Help Center and live chat option from inside of their dashboard.
In fact, if you've opted for Gusto's swanky Concierge Plan, you'll even get access to a dedicated support team, HR, and compliance support.
Customer support is available from Monday to Friday from 6:00 AM – 5:00 PM (PST).
Let's circle back to Gusto's Resource Centre for a sec. This is called the 'Framework' and is available to Concierge customers. Here you'll find plenty of fo advice on things like:
How to run payroll
Manage your HR tasks
Offering benefits to employees
How to establish a healthy company culture
You get the idea.
There's also an 'Ask Gusto' resource, where you can type in your questions, and helpful how-to articles pop up. Usually, these are pretty good at answering FAQs.
Not to mention, Gusto is also active across the following social media networks: Twitter, Facebook, Instagrams, and LinkedIn. So, if you want to stay informed about all the latest Gusto updates, these are well-worth following.
Last but not least, Gusto provides all sorts of other tools, including:
An hourly paycheck calculator (California)
A salary paycheck calculator (California)
A payroll tax calculator
An employee tax calculator
A salary comparison tool
A new hire checklist
Just to name a few.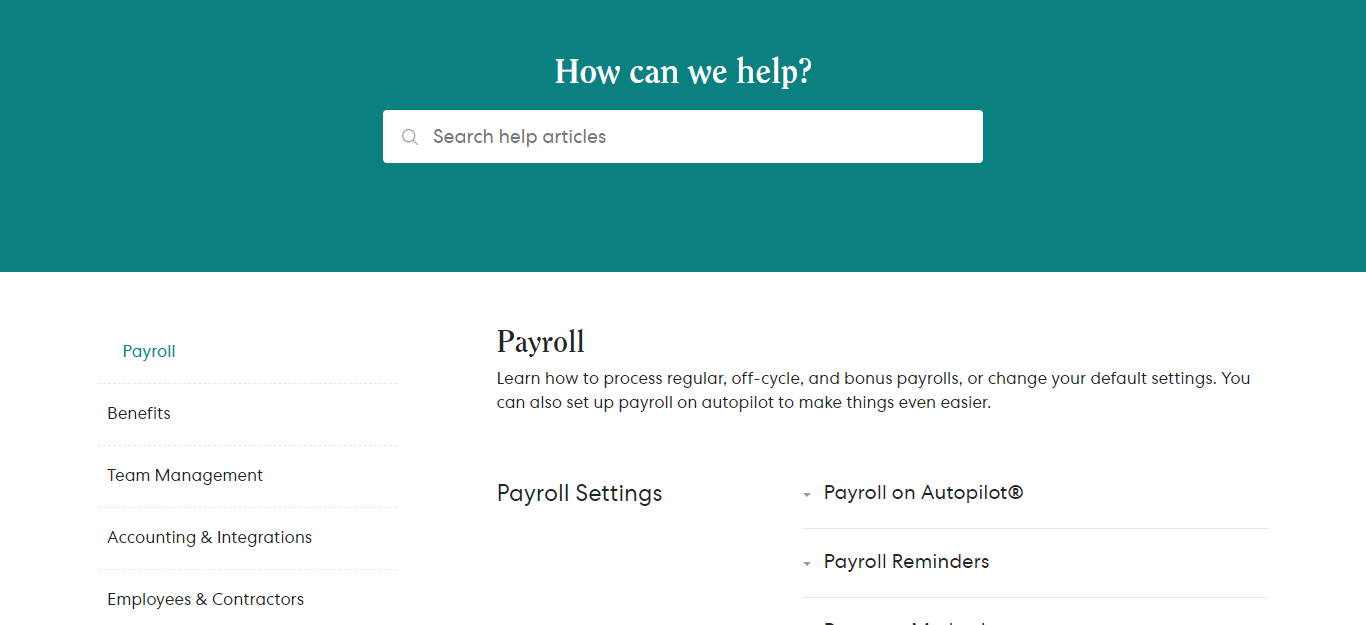 Square Payroll Customer Service
WARNING: Square's customer service seems to be a bit of a sticking point for some users.
Why?
Well, some of Square's customers claim that not all of their call centre agents are payroll experts. Plus, there are reports of having to wait for ages before speaking to someone who could actually answer their specific payroll questions and queries.
But, you rest assured, you can access customer support from a real-life human, Monday through Friday, from 6:00 AM until 6:00 PM (PST). You can either call their support line or send an email.
Top Tip: Have your customer code number at the ready because they'll ask for it.
There's also in-software support in the form of chat rooms and forums. These come in handy for conversing with other HR reps and getting a feel for how they tackle the same problems you face.
But, if you prefer the self-help route, be sure to check out Square's Help Center. Here you'll find plenty of articles and how-to guides explaining how to make the most out of Square's software. More specifically, you'll find advice on the following topics:
Employee benefits
Square's features and settings
State-specific payroll info
App info
Just to name a few.
There's even a Square YouTube channel, which is definitely worth browsing if you're a visual learner. There are plenty of videos that explain each of Square's payroll functions.
Last but not least, Square Payroll is also very active across the following social media platforms: Twitter, Facebook, Instagram, and LinkedIn. Not only are they worth following to stay up-to-date with all the latest Square news, but they're also quick to respond to customers via these channels – win-win!
Our Pick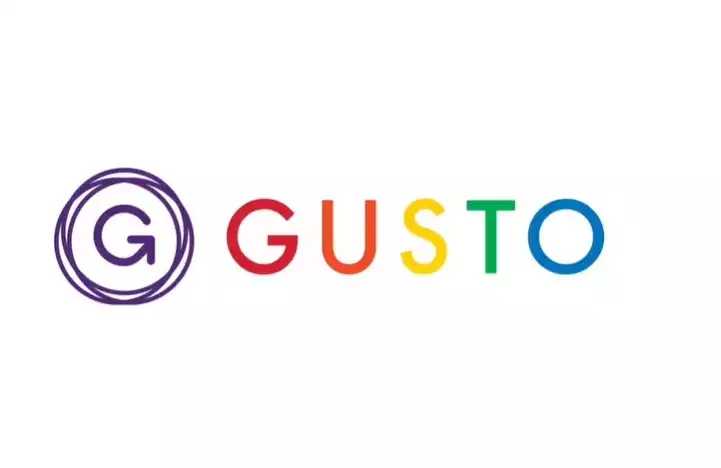 Why I Personally Prefer Gusto
Easier to use, cheaper, and much more scalable than the competition. Gusto WORKS better, particularly for small to mid-sized companies. We went with Gusto for our business and are incredibly happy with the support and integrations with our other accounting tools.
TRY GUSTO FIRST HERE
We earn a commission if you click this link and make a purchase at no additional cost to you.
Frequently Asked Questions:
How much does Square charge for payroll?
How much does Square Payroll cost? Square's Employee and Contractor payroll is $29 per month plus $5 per employee or contractor paid that month. This price includes all Square Payroll features. Square's Contractor Only Payroll has no base subscription fee and is just $5 per month per contractor paid.
Is gusto payroll safe?
Payroll software that's secure and private. Gusto's payroll was designed with security, accuracy, and compliance in mind. That's regardless of whether you run the payroll on your laptop, smartphone, or tablet. Gusto leverages industry-standard encryption to secure all of your data.
How is gusto different?
Unlike some payroll services that don't offer multiple service plan options, Gusto gives businesses a choice of three different plans to choose from. While each plan includes payroll processing and payroll tax services, they differ in the number of human resources features and tools they include.
Which Payroll Tool is Best Suited to You?
We hope you've enjoyed this review of Square Payroll and Gusto compared. But, before we bid you adieu, let's a recap…
If you're a digital small business or startup looking for a substantial HR toolkit that takes care of tasks for you, Gusto will make your life easier. It includes features not just for payroll but also for onboarding, training, and monitoring employee satisfaction.
It's an incredible platform for streamlining processes across the board. With its many integrations, Gusto fits into your pre-established workflows with ease. It is, however, steeply-priced, especially if you want to make use of its more sophisticated features or need Gusto to support a larger company.
Whereas, Square Payroll is one tool out of many in the Square product family. It can be used for payroll process alongside other Square tools to process payments or create accurate timestamps. On its own, it isn't as comprehensive when compared to what Gusto has to offer.
Still, its pricing is much more budget-friendly and more scalable across slightly more substantial companies. We recommend using this software if you're already utilizing other Square tools. Or if you're looking for a wallet-friendly payroll management service that focuses only on this part of your company's needs.
Bottom Line Summary: IF you are running a primarily ONLINE business, the best payroll software fit is definitely Gusto here. HOWEVER, if you have any sort of physical presence or on-premise hourly W-2s, the best payroll software is Square Payroll here with a mobile app & better customer service.
Whichever one you go with, a payroll tool is an excellent way of simplifying what's otherwise a complicated and time-consuming process. We hope this article has helped you deliberate on which solution is best for your company, and we wish you a stress-free payday!
Let us know which payroll tool you use (or are considering) in the comments box below, and why. Is it Square Payroll, Gusto, or some other payroll service provider? We look forward to hearing from you soon!
Further Reading on Payroll Companies & Payment Processors: