Last Updated on April 24, 2023 by Ewen Finser
In our Zenefits vs Gusto comparison, we'll be looking at two of the best HR and payroll services out there.
If you run a business, you're probably very familiar with the difficulties that come with managing people, and you might be thinking about finding a service that can help you out.
They're both great platforms, allowing you to easily keep track of employees and automate a lot of the tedious paperwork that comes with employing a new starter. They both give your employees clear information about their pay stubs and benefits – in fact, there's a whole host of processes that become easier by using Zenefits or Gusto.
So, how are they different from each other, and which one is the best? We'll be looking at the main differences and similarities between them, followed by a detailed look at both platforms before deciding which one is better.
Main Differences Between Zenefits vs Gusto
The main differences between Zenefits vs Gusto are:
Zenefits has a mobile app, whereas Gusto has to be accessed using a browser
Zenefits offers integration with Thrive to focus on employee well being, whereas Gusto doesn't
Zenefits doesn't allow employees to withdraw money between pay stubs, whereas Gusto allows employees to do so using their Cashout feature
Zenefits offers employee management tools like performance reviews, whereas Gusto doesn't have these tools
Zenefits doesn't have as much of an emphasis on the future plans and financial security of employees, whereas Gusto doesn't
Zenefits doesn't charge a base price per month, whereas Gusto charges a base price and a monthly charge per person
The main thing to focus on is that Zenefits has a bit more to offer in terms of managing employee performance. You can create performance reviews and align team goals with individual goals, which is very useful. The focus on employee wellbeing is notable, too.
However, Gusto has more to offer in terms of financial support for employees, including the ability to withdraw money between pay dates.
Zenefits vs Gusto – The Similarities
They have a lot in common, too:
They both make the onboarding process much more simple
They both allow you to view employees' details quickly
They both sync with calendars, allowing your employees to manage their paid time off and federal holiday dates easily
They both make pay stubs easy to understand for employees
They both offer detailed reporting in all areas of the platform
They both make it easy to stay legally compliant
Now, we'll look at each vendor in more detail.
Zenefits vs Gusto – What is Zenefits?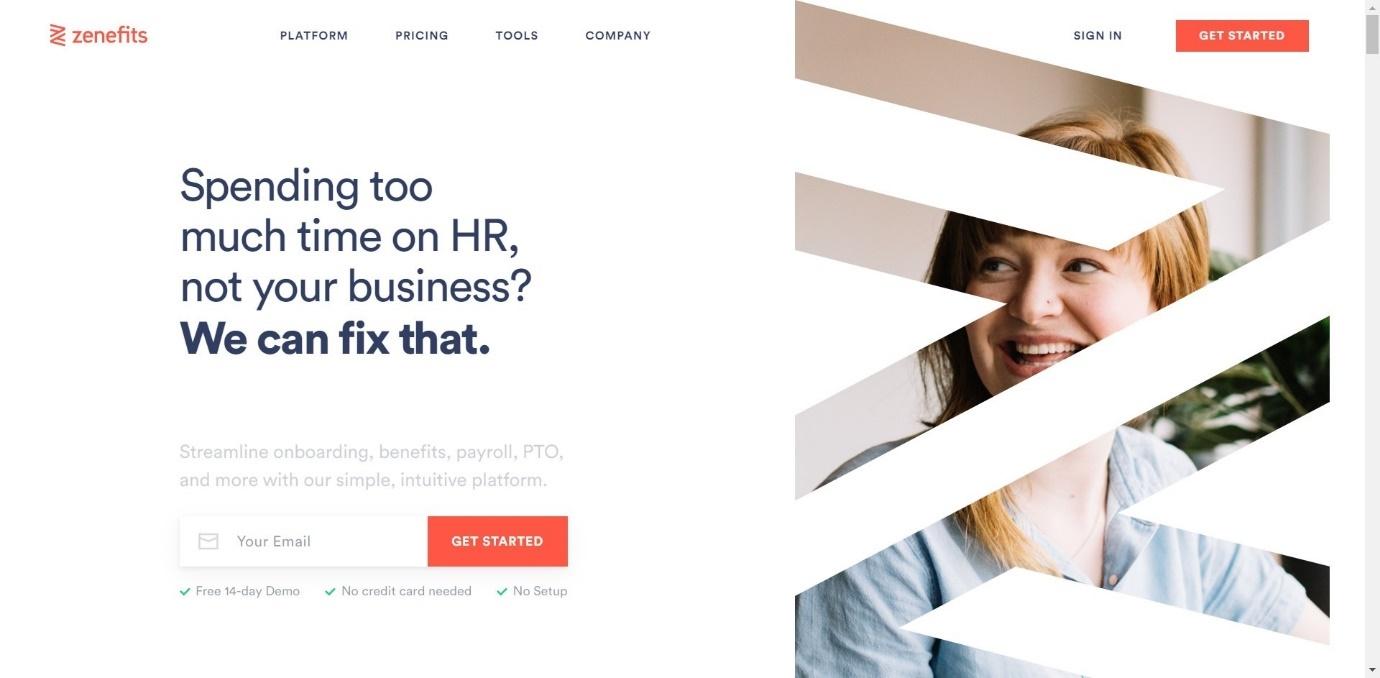 Zenefits aims to make managing your employees much simpler. With a mobile app, all employees can access their documents, complete their onboarding process, view their pay stubs, and more. Employees can track their working hours wherever they are, and Zenefits works to keep users compliant in every area, automating some of the processes that are required when you hire a new recruit.
The Zenefits vendor has a focus on employee well-being with its integration with Thrive.
Zenefits is aimed at any-sized business (small business to large enterprise), even businesses that rely on tips (like the service industry).
Zenefits vs Gusto – What is Gusto?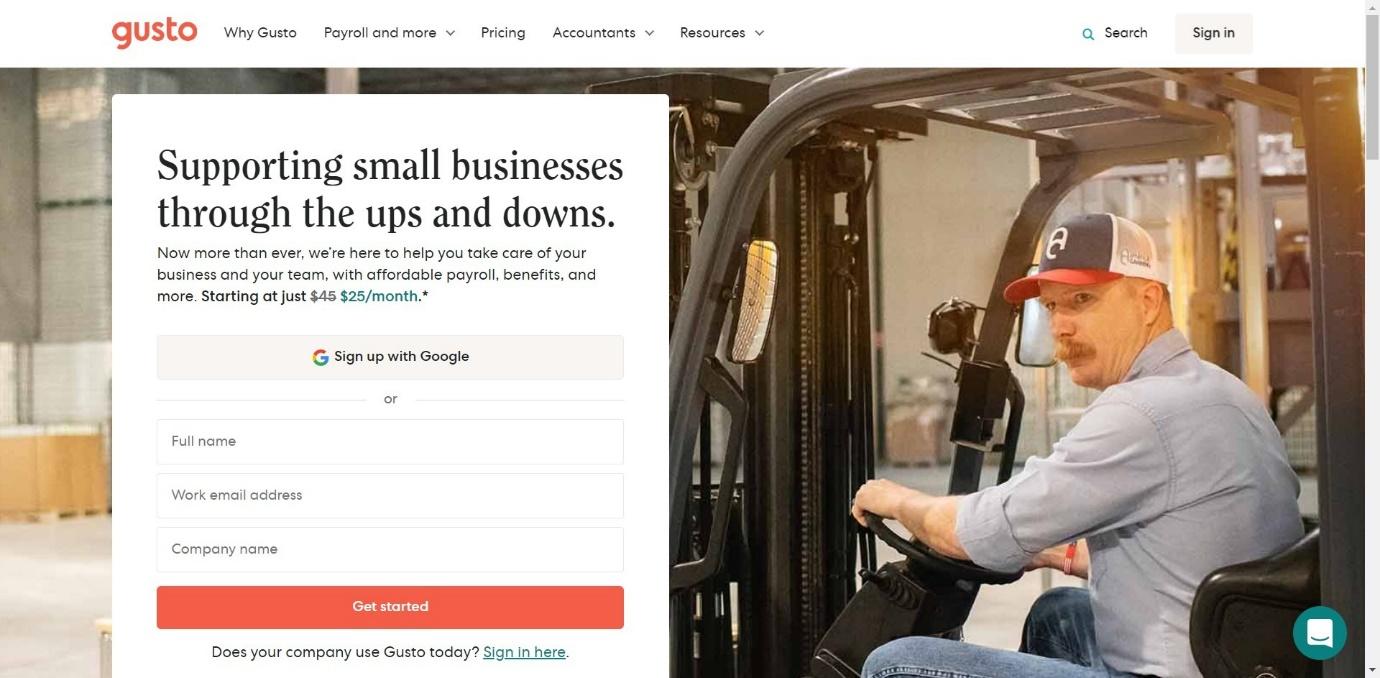 Gusto is a platform that allows you to manage your employees simply. Employees can use the platform to complete their onboarding process, view their pay stubs, and more. You can track working hours, and Gusto helps users to stay compliant, automating processes, and flagging up any forms or tasks that need to be completed.
Gusto has a focus on employee benefits, including encouraging savings plans. They also offer employees the ability to withdraw cash between pay stubs.
Gusto is aimed at any-sized business (although perhaps with better options for Small Business and freelancer businesses).
Zenefits – the Main Features
HR Software
There are multiple HR software tools available using Zenefits, right from the early stages of employing a new recruit, right through to the exit process.
If you want to offer a job, you can use a pre-made letter template, or create your own – this is really simple to do. You can also run background checks using their partner software, Checkr – if you choose Checkr, you can run the checks right from the Zenefits platform, making things much simpler.
The human resource onboarding process can be made much simpler for employees with this HR platform. Using the website or mobile app, they can access information about their benefits and payroll management instantly online.
Tax documents (like W-4's and I-9's) are digitally created, based on the employee data input during the onboarding process. Employees can use digital signatures, too, making the whole process paperless.
You can also manage employees using Zenefits software. Their dynamic organization charts allow you to see every employee with their contact details easily within reach. Employees can manage their own contact information, accessing it at any time (which then syncs across the whole platform). This includes freelancers, consultants, and independent contractors.
They offer some vendor workplace automation, too. This allows you to automate key events (promotions, team transfers, and terminations) – saving your HR team a ton of time. This also ensures that procedures are followed consistently and correctly.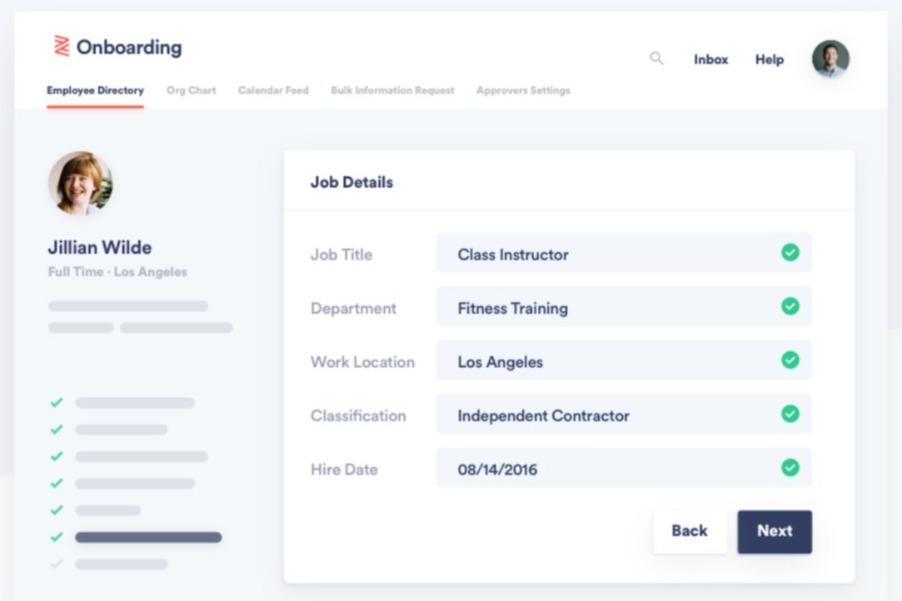 You can manage your paid time off policies through Zenefits. This can be made available for your employees to view. Through the platform, you can manage and approve requests for time off, with employees making requests via the Zenefits app or website. You can blackout certain dates for key events, too.
Payroll Software
The moment an employee completes the onboarding process, they are connected to the payroll system. If you choose to use the time and scheduling tools (more on those later), all hours worked, breaks, and time off are automatically synced to the payroll software. Immediately, they can see when they will be paid.
You can update salary changes to an employee's account, and it will sync across the whole platform straight away.
Zenefits payroll has an automated reminder system. This is great because it ensures that nobody will forget important tasks.
Pay stubs are dynamic based on processing payroll – this means that employees can access these employee records anywhere using the mobile app or cloud app. They can view detailed breakdowns of deductions – this is useful because it gives them clear information and prevents your HR team from having to deal with extra queries. You can add messages to pay stubs, too – so if there are any special payments or bonuses, you can let your employee know exactly what the payment is for.
Actions can be done in bulk – this is helpful if you've got a large team of employees. Bonuses and commissions, for example, can be actioned all at once – saving you time and ensuring everybody gets the same amount.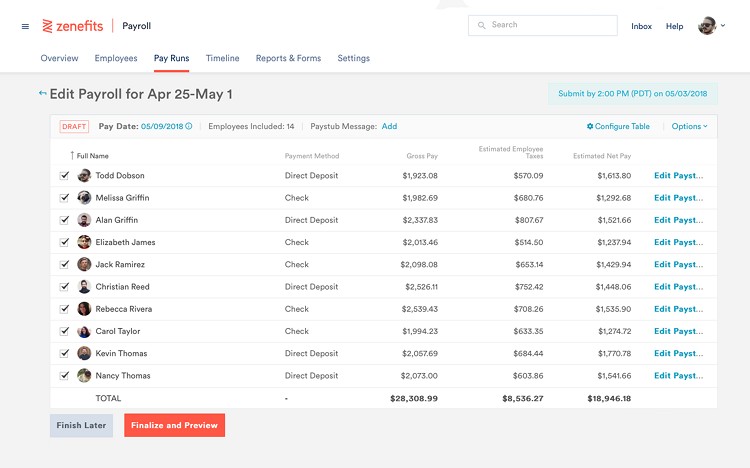 Other features include:
Direct deposit for employees
Reported tips for restaurants and other businesses
Manage multiple deductions
Custom earning codes
Assign multiple pay rates based on role
Supports remitting payments to Child Support agencies
When it comes to taxes, automatic filing and withholding ensures that you stay compliant (compliance functionality) without any of the headaches. The most common forms at federal, state, and local levels are taken care of, as well as 1099 filings to the IRS. The right state is automatically noted when new employees start, too.
Employee Management
There are several tools to manage your employees.
To help your employees – and your business – to thrive, Zenefits offers a goal management system. You can create, update, and track goals, aligning employee goals to wider goals within the company. Goals can be integrated into performance reviews.
You can set performance review cycles, with pre-built templates for managers and employees (or even executrive team / CEO). These forms are fully customizable and allow your employees to reflect upon their performance on a regular basis.
A useful feature is the one-to-one meetings tool – this facilitates meetings by allowing you to share agendas, create shared action items, and use private notes to write down your thoughts and ideas.
They also integrate with Thrive to help you to improve the working environment for your workers. This integration allows you to track any issues your employees may have relating to their wellbeing (for example – are your employees getting enough sleep?).
It's great that Zenefits have identified the need to work with employees to improve their wellbeing. You can track certain problems (for example, employees not getting enough sleep at night), and then the Zenefits/Thrive integration will automatically generate tools and ideas for employees to use.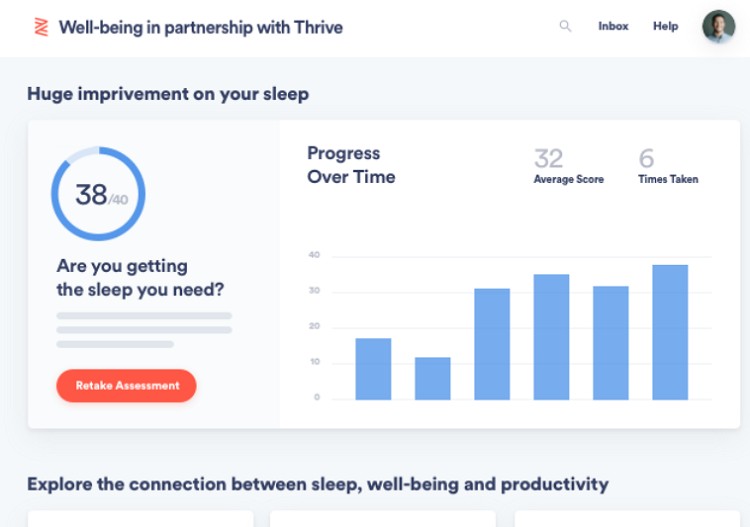 Benefits Administration
Employee benefits can be a bit of a headache. Zenefits helps to make this simpler by allowing you to work with your current broker or partnering you with one of their approved brokers. This service is available in 49 states.
Once you're up and running with a benefits broker, employees can enroll using the Zenefits platform. This gives your employees the full lowdown on their options when it comes to benefits. Employees can access balances, plans, and claims – and they can connect their benefits to other mobile apps like Uber and Lyft.
Scheduling and Time Management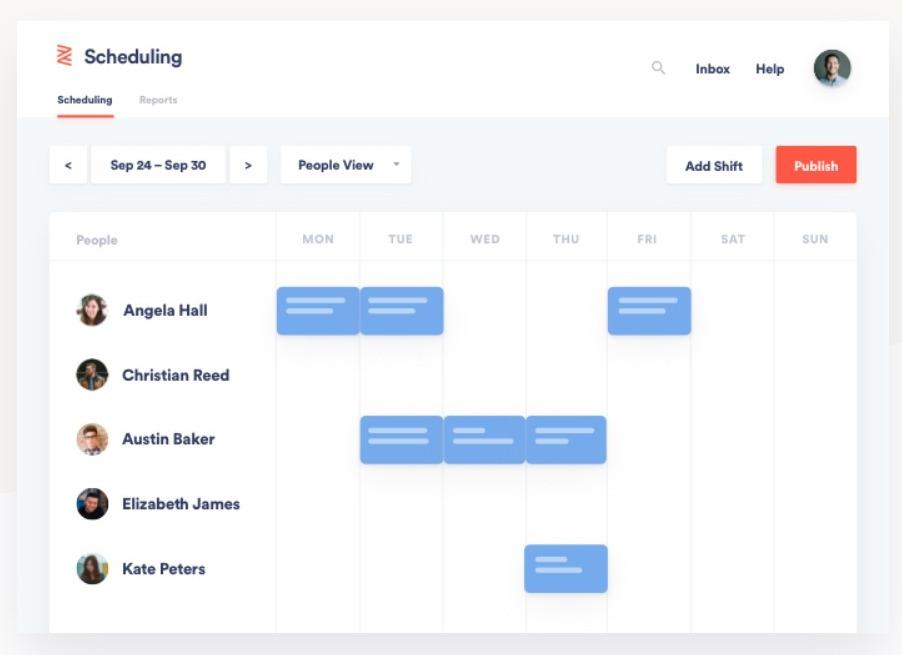 Time management can be a bit of a nightmare, but Zenefits allows you to keep on top of things easily. You can create and edit shifts for all workers, automatically notifying them when a new schedule is created. You can block out dates to work around each person's schedule, building customized timetables that suit everyone.
You can also monitor employee activity in real time, for freelancers, contractors, and employees. They can use the mobile app to track their activity wherever they are, meaning no time is lost. Employees can 'punch in' using the app, and with time card fraud protection, you won't have to worry about anyone cheating the system – for example, you can make it a requirement for pictures to be taken at clock in.
Reporting
The reporting in Zenefits is great. You can get a real idea of what is happening in your business, with reporting tools that cover:
Compensation summaries
Equal opportunity statistics
Headcount activities
Stock options granted
Turnover rates
The reporting when it comes to payroll software is extensive. You can generate reports for the following:
Payroll reports
Payroll register reports
Deductions and contributions reports
Wage and tax summaries
Garnishment reports
Contractors payments report
Employee details reports
Tax payments summaries
Tax liability reports
Comprehensive 'all-in-one' reports
Integrations
Zenefits has a lot of useful integrations, covering the following categories:
Productivity
Applicant tracking
Retirement savings
Accounting softare (Xero, Quickbooks, etc…)
Financial
Travel
Employee management
Performance management
Mobile App
Zenefits has a mobile app, incorporating all of the features your employees will need access to. Employees can:
Connect with other employees, viewing roles and departments
Clock in and out
Schedule time off (pending approval from a manager)
Track benefits
Review pay stubs
You can see how the mobile app benefits employees – particularly brand-new employees. It's an easy way for them to get to know the team as well as keep on top of their paid time off and anything relating to their pay and benefits.
Gusto – the Main Features
HR Software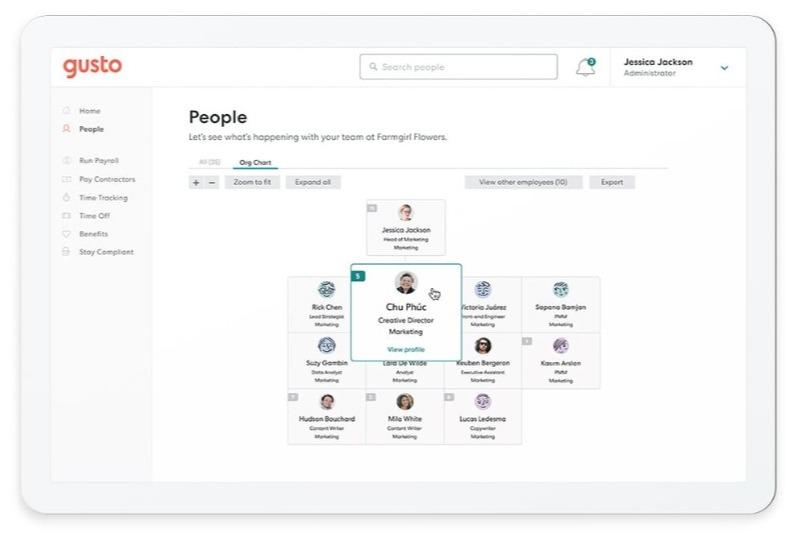 Managing your employees is simple with Gusto. Just like Zenefits, they offer self-onboarding, with custom welcome messages, and sign-up forms. It's simple for employees to set themselves up on Gusto.
They offer a secure employee document vault for an HR manager to facilitate. Everything involving an employee – from forms to contracts to NDAs – is secured in a vault with 2560bit SSL encryption. Employees can use electronic signatures to sign documents, so you can go completely paperless. New hires can be sent offer letters using their templates (which can be customized).
You can create anonymous surveys for your employees. This allows you to get honest feedback on how your team is doing, giving you an insight into their needs.
You can automate certain tasks, too – for example, staying compliant is made much easier as they automatically send new hire reports to the state, and they assist your employees to complete their required paperwork (like I-9s, W-4s, etc).
They have templates for your company to use, including best practices for hiring, performance evaluations, job descriptions and offer letters, termination requirements, labor law policy templates, employee handbook builder, and harassment prevention training.
They also offer access to HR solution experts on their Concierge plan, allowing you email or phone access to experts who can help you to navigate any tricky HR situations.
Payroll Software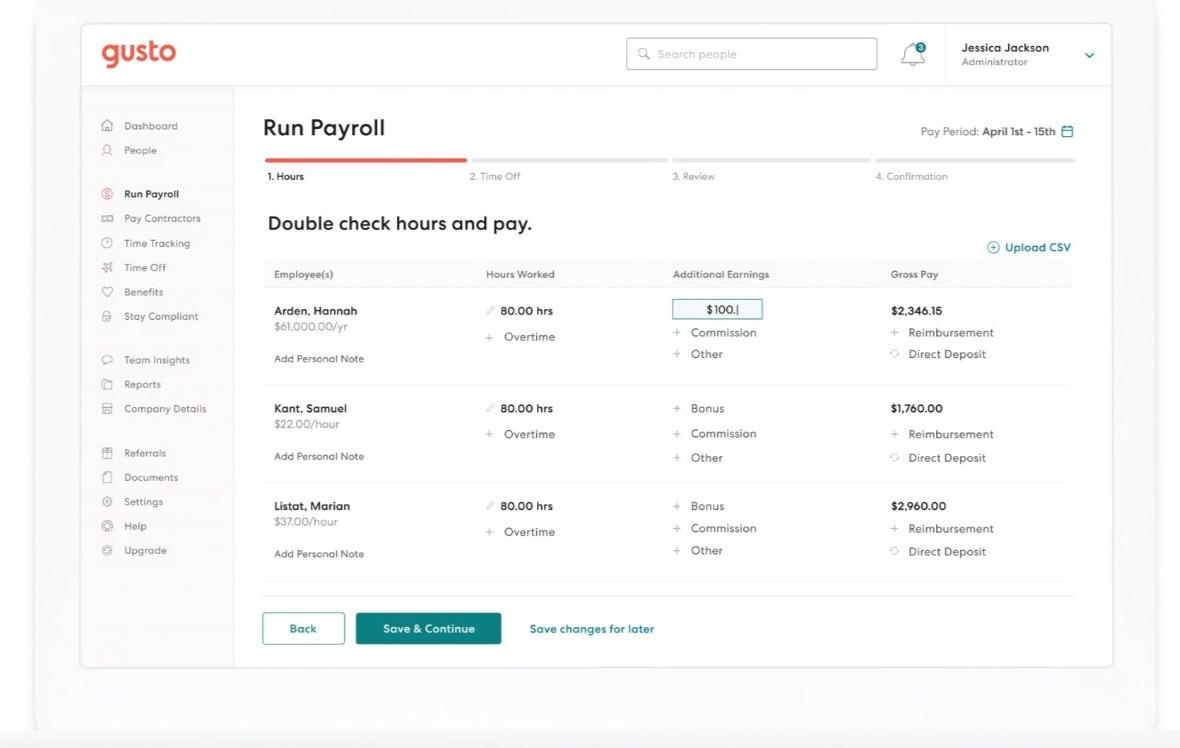 Gusto payroll taxes are filed automatically with the right agencies – this is incredibly useful and ensures that you stay compliant when it comes to taxes.
In terms of staying compliant, they do offer a lot of services that will take the headache out of payroll service for you. You'll be alerted to forgotten forms or signatures, and taxes are automatically calculated. Gusto stays on top of tax laws, so if they change, you won't be left with outdated information.
You can use Gusto to track your employees' working hours. Using the web version of Gusto, they can track their working hours wherever they go. They can access their paystubs and W-2s online, and you can send out payday emails automatically. Plus, your employees can access funds between paydays if they need it using Gusto Cashout.
Benefits Administration
You can use your current benefits broker, or team up with an expert from Gusto. They help you to stay on top of medical, dental, and vision administration, with over 3,500 health insurance plans to choose from. These health insurance options include:
BlueCross BlueShield
United Healthcare
Humana
Oscar
Kaiser Permanente
They also have a focus on helping employees to plan for the future. They have guidance for your team to save, including 401(k) retirement plans built into the payroll provider system, life and disability insurance, flexible spending amount, health savings account, and commuter benefits, and other employee benefit functions.
In terms of staying benefit compliant, Gusto covers:
ACA
ERISA
Dept. of Labor
IRS
HIPAA
COBRA
Scheduling and Time Management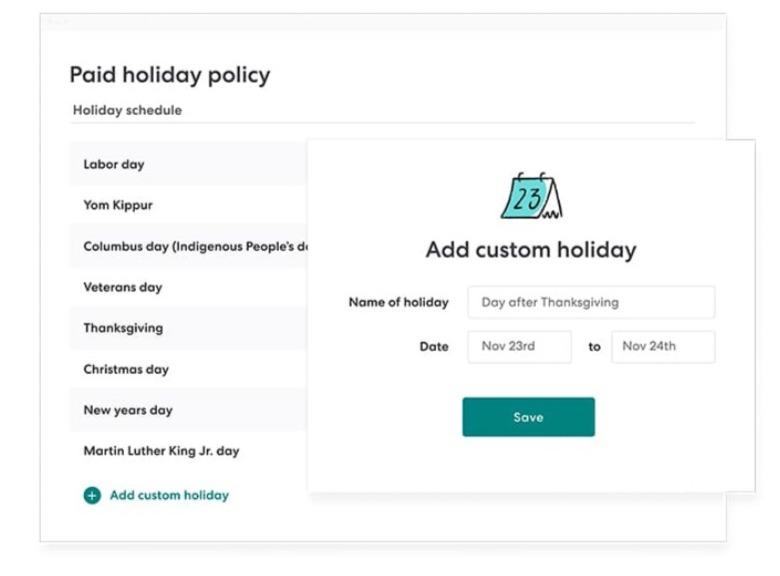 You can customize your time-off policies to suit your needs – including blacking out important days for your business. PTO is calculated automatically, saving you the headache of working out who needs time off. Employees can automatically submit vacation and sick days for approval by managers. If approved, it automatically syncs to the calendar and payroll.
You can pick from federal holidays or create your own custom holidays. You can also schedule in key dates, which will appear in everybody's calendar – they integrate with Google, Outlook, and iCal.
Reporting
You can create and download reports in a variety of areas.
The Payroll Journal shows detailed payroll information for each pay period. So, if you have an accountant that needs information, you can easily send it over to them
The Benefits Report shows employee deduction amounts and company contribution amounts
Agency Payments shows all federal, state, and local tax deposits
Bank Transactions shows all payroll-related bank transactions
Year-to-Date report that shows total earnings, tax withholdings, and pays for each employee
Contractor Payments shows the payment method, date of payment, hours worked and additional earnings for each contractor
Employee Summaries shows information about each employee including personal details, employment dates, compensation, etc.
Contractor Information shows information about your contractors
Time off Balances shows employees' accruals
Time off Requests shows your employees' department
Payrolls Prior to Gusto shows all the payrolls you added to the account before joining Gusto
Integrations
Gusto integrates with a lot of other platforms, including:
Time Tracking
Point of Sale
Business Operations
Expense Management
Zenefits vs Gusto – Customer Support
Zenefits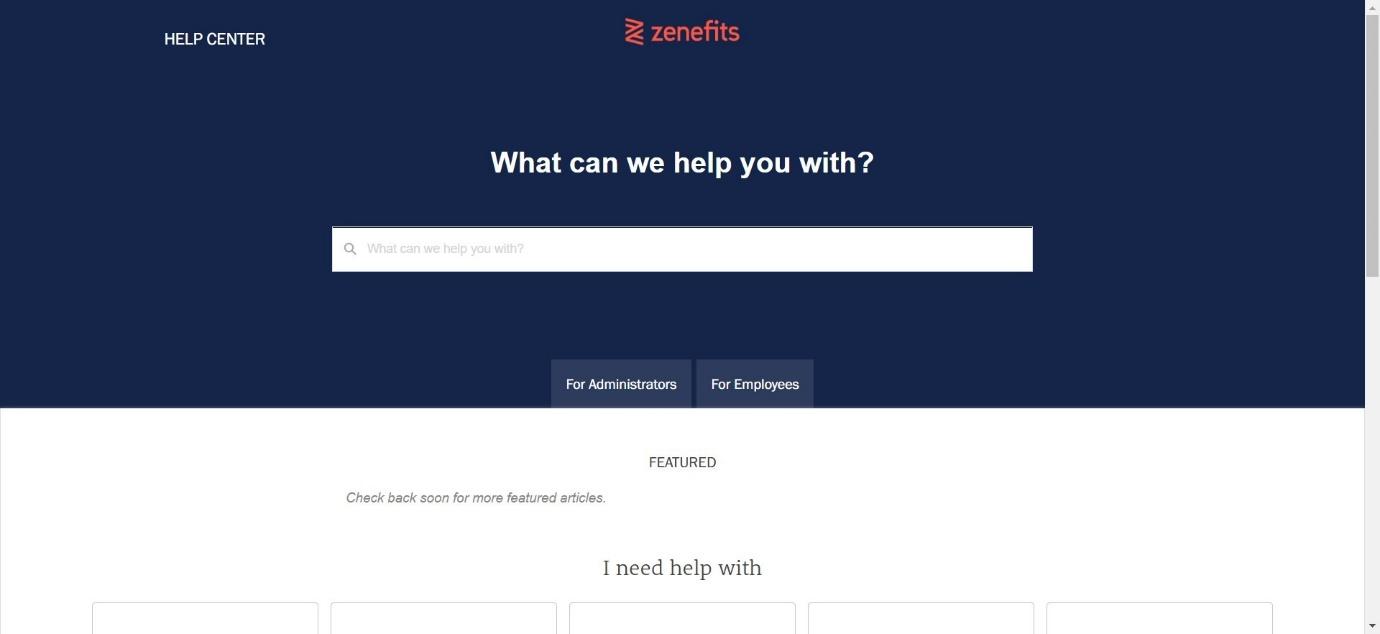 Zenefits has a knowledge base with a few articles relating to different areas of the platform. If you require support, you have to have an account with them to log into their support dashboard. Users say that the customer support team are not very quick to respond, which is a shame if you have a pressing issue.
Gusto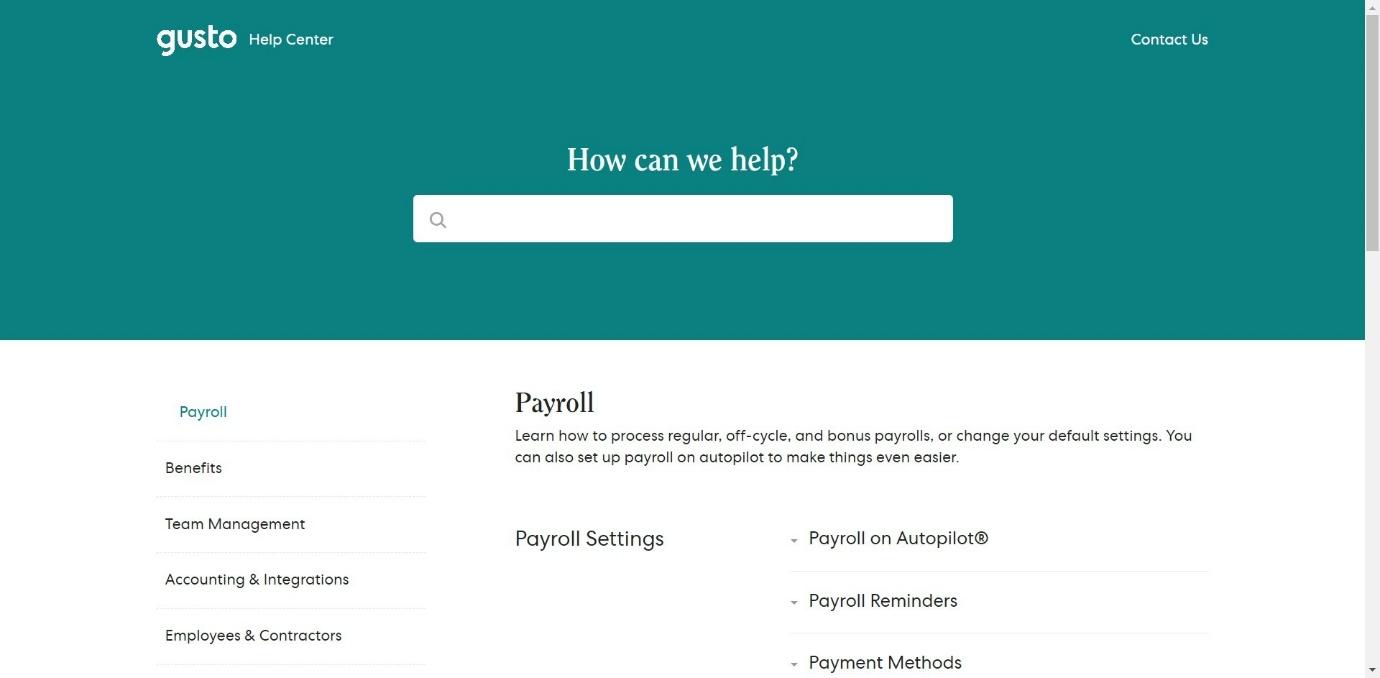 Gusto has a support center with articles assisting users with each area of the platform. They also have a blog with posts aimed at HR specialists and managers.
Like Zenefits, you need to have an account with Gusto to contact them. Users say that they can sometimes be slow to respond, but they are helpful when they do get back to you.
Zenefits vs Gusto – Pricing
Zenefits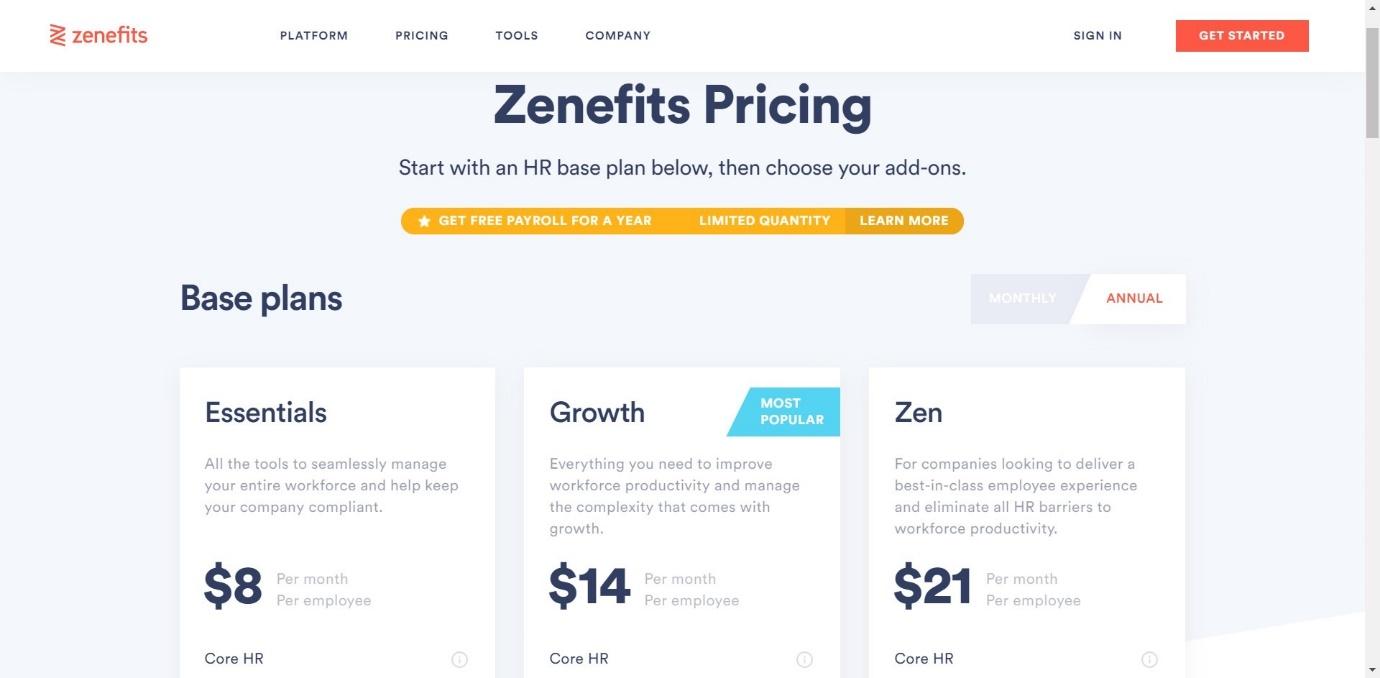 Zenefits has three pricing plans.
Essentials – $8 per month per employee
This includes:
Core HR tools
Core time management tools
Integrations
Mobile app
Growth – $14 per month per employee
This includes:
Everything in the Essentials plan
Compensation management
Performance management
Zen – $21 per month per employee
This includes:
Everything in the Essentials plan
Wellbeing tools
You can find out more about Zenefit's price plans here.
Gusto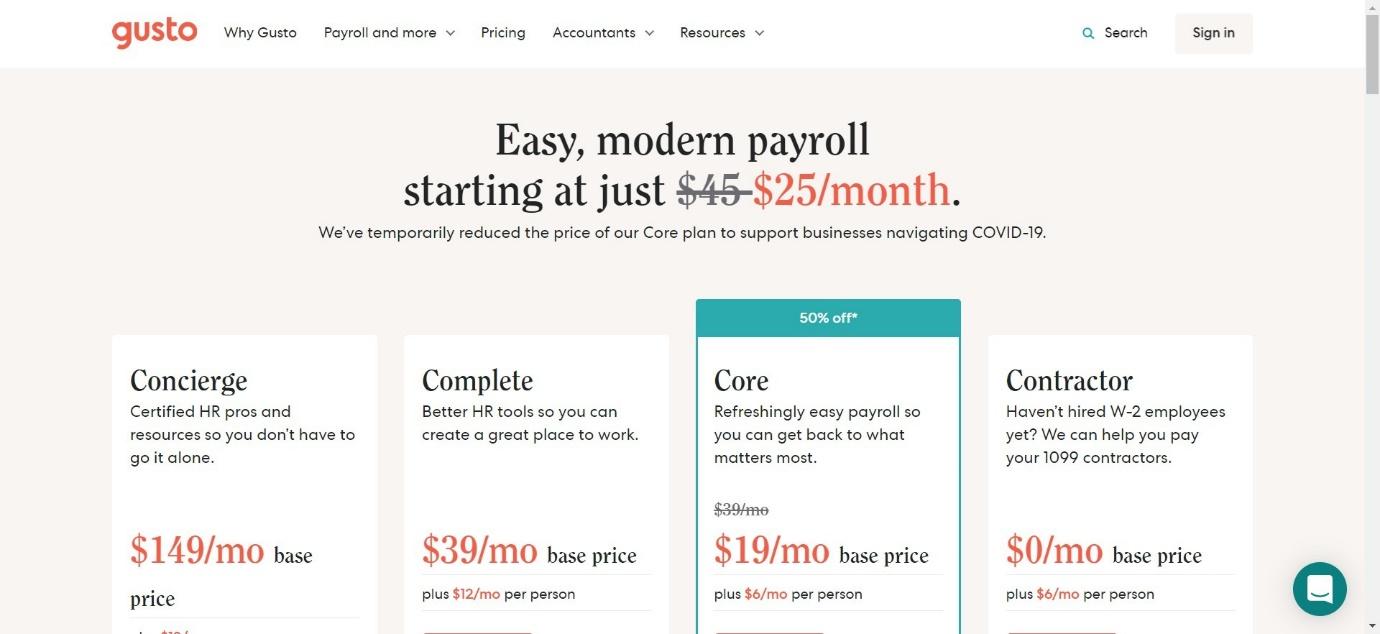 There are four pricing plans for Gusto. The above image shows a temporary discount on the Core plan – we'll list the normal price here instead.
Contractor – $0 per month base price + £6 per month per person
If you just want to pay contractors, this is a good option. It includes:
Unlimited contractor payments
Contractor self-service
Form 1099 creation and filings
Core – $39 per month base price + $6 per month per person
This includes:
Full-service payroll
Employee self-service and profiles
Health insurance and health benefits administration
Workers' comp administration
Best-in-class support
Paid time-off policies
Employee access to Gusto Cashout
Complete – $39 per month base price + $12 per month per person
This includes:
Everything in the Core plan
Permissions
Employee offers and onboarding
Simple time tracking
PTO policies and time-off requests
Employee directory and surveys
Concierge – $149 per month base price + $12 per month per person
This includes:
Everything in the Complete plan
Dedicated best-in-class support
Certified HR Pros
HR Resource Center
You can find out more about Gusto's pricing plans here.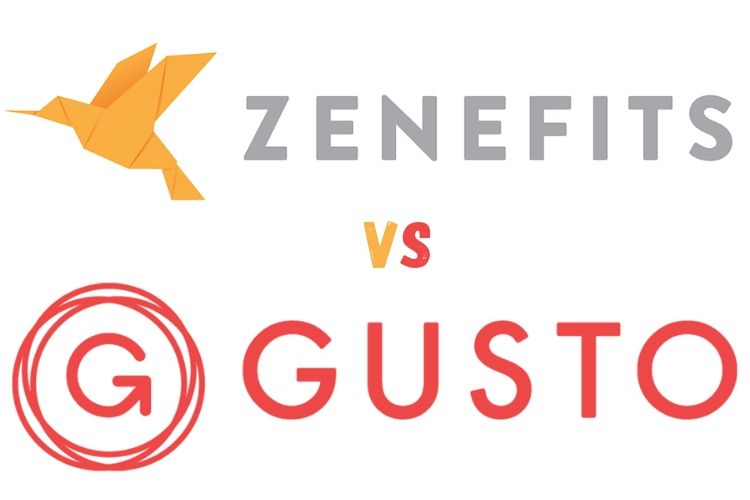 Zenefits vs Gusto – Pros and Cons
Zenefits Pros
A mobile app that allows your employees to track their working hours no matter where they are
Zenefits makes everything very clear – from onboarding to payroll, your employees can access everything they need to know
The focus on wellbeing is great for employees
With reminders, your HR team will never forget important tasks
Zenefits Cons
Their customer service could be improved – you may be waiting around for a response from their team if you have a problem that needs to be solved
Gusto Pros
There is a real focus on benefits for employees, including savings plans and Gusto Checkout which allows employees to withdraw money between paychecks
It's easy to manage the onboarding process
They are dedicated to helping you stay compliant in every area of the platform
Integration with other calendar providers helps everyone to stay organised
Gusto Cons
It lacks the employee wellbeing services that Zenefits has
It doesn't have a mobile app
Customer service can be slow to respond
Zenefits vs Gusto Frequently Asked Questions
Does Gusto support tip credits?
Gusto can automatically adjust wages to comply with the FLSA Tip Credit and wage adjustment requirements.
How will employees receive their pay stubs with Gusto?
They will receive an email with a link to their pay stub each month.
Does Gusto allow you to manage international payroll?
No – it only supports payroll in the US.
Can I hire and pay international workers using Zenefits?
You can hire and manage international workers on Zenefits, but you cannot pay them through the platform.
Do I have to pay the same amount to Zenefits for part-time employees?
Yes, you have to pay the same amount for each employee.
Does Zenefits charge for employees who are on leave?
Yes, you still have to pay Zenefits to manage employees on leave.
Zenefits vs Gusto – Alternatives to Try
There are a few alternatives for HR and payroll you can check out:
Paychex is an all-in-one HR and payroll solution with plenty of features incorporating timekeeping, onboarding, compliance, and benefits – you can see how it compares to Gusto in our article here
SurePayroll is focused on payroll-related services and is particularly great for small employers, for example, if you employ a nanny or other household staff – you can see how it compares to Gusto here
Conclusion – Which One is Better?
They're both great platforms, so it's hard to see a clear 'winner' here.
Gusto is excellent in a lot of ways – it's simple to manage every area of the platform, and the focus on promoting savings and financial security for employees could make a real difference to the individual members of the team. However, it lacks a mobile app – it still works well on a browser, but many people find having an app more convenient.
We have to pick Zenefits as our top choice today. They offer more features when it comes to employee management, and the mobile app is great. Plus, their focus on employee wellbeing is great. The pricing may be more per month per employee, but we think it's worth it for all the tools and services you get for the price – it packs in a lot of features.
Despite this, on a side note, if you run a small business or a startup, we'd recommend Gusto over Zenefits.
If you have less than a hundred employees, it's pretty affordable, as it gives you access to payroll processing in the base price (whereas Zenefits only has HR features in the 'Essentials' plan – you'd have to spring for the 'Growth' plan to manage payroll). You could save yourself some money as a smaller business by choosing Gusto and seeing how it works out for you.
Have you used Gusto or Zenefits? We'd love to hear your experiences in the comments.
Further readings: