Last Updated on April 24, 2023 by Ewen Finser
No matter what size your business is, managing employees can be a bit of a headache – which is where our Justworks vs Zenefits comparison may be able to help you out.
Both platforms make it much easier (and quicker) to complete some of the more headache-inducing tasks when it comes to employee management, including managing HR, payroll, benefits, and staying legally compliant – but which one is better?
We'll be looking at both platforms, first looking at their differences and similarities, and then looking at each one in more detail.
Let's start with the differences between the two.
Main Differences between Justworks vs Zenefits
The main differences between Justworks and Zenefits are:
Justworks offers a competitive rate when it comes to medical, dental, and vision insurance, whereas Zenefits doesn't
Justworks is a lot more expensive per month per employee, whereas Zenefits is cheaper
Justworks has a focus on anti-harassment training, whereas Zenefits focuses more on employee well being
Justworks doesn't have a mobile app, whereas Zenefits does
Justworks doesn't offer as many features for performance management, whereas Zenefits has a lot to offer in this area
The main point to consider here is that Zenefits gives your employees access to much better rates when it comes to insurance and other benefits. However, this comes at a cost – the monthly rate is much higher than Zenefits, which may price out smaller businesses.
Zenefits has a few features that Justworks doesn't. They focus more on employee wellbeing, but they don't offer the harassment training that Justworks provides via their platform. Zenefits has a mobile app, which is a great bonus for employees. They also offer more features when it comes to performance management.
Justworks vs Zenefits: The Similarities
They have a few things in common, too:
They both offer a calendar that can be customized to include your own important dates
They both make it easier to manage payroll
They both automate some of the onboarding process, making it much quicker and easier
They both help you to stay compliant at every level
They both make it much simpler to manage paid time off requests
Now let's look into each platform in more detail.
Justworks vs Zenefits: What is Justworks?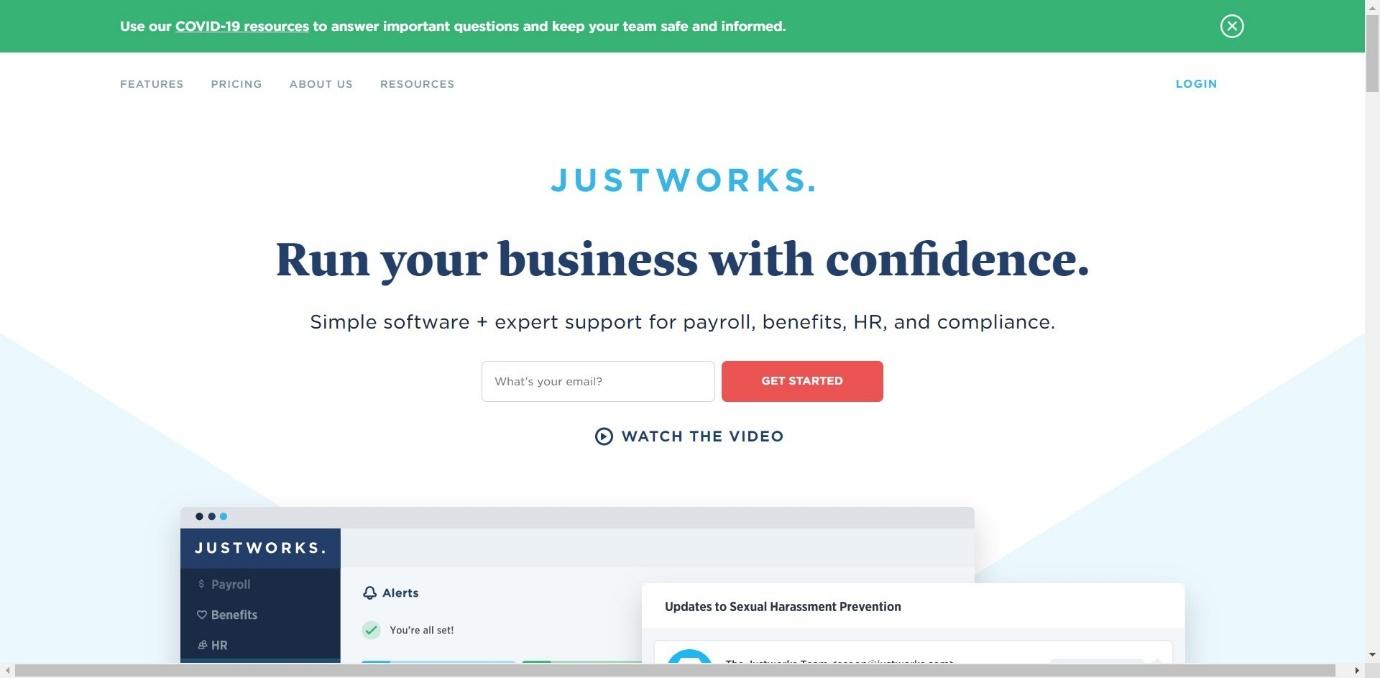 Justworks is a professional employer organization and payroll provider. They offer access to payroll, HR, compliance, and some time management tools, but also provide access to cheaper rates for health insurance and other benefits – rates that are normally only accessible by big corporations.
They're particularly well suited for medium-to-large sized companies wanting to offer better benefits for their employees.
What is Zenefits?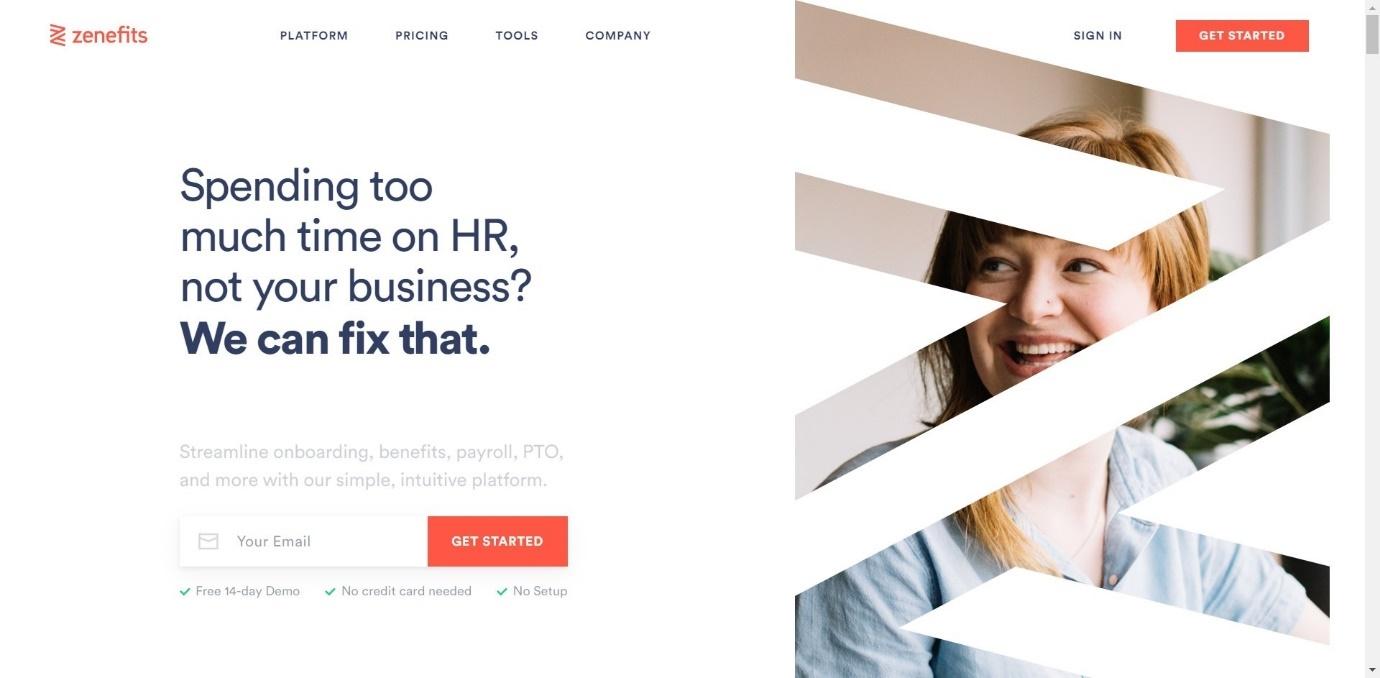 Zenefits is a platform with many benefits, payroll, and HR tools. Employees can complete their onboarding process, view their documents and pay stubs, and track their own working hours wherever they are using the mobile app. Processes can be automated, saving HR teams time and money.
It's aimed at any-sized business wanting to make managing employees easier.
Justworks – the Main Features
HR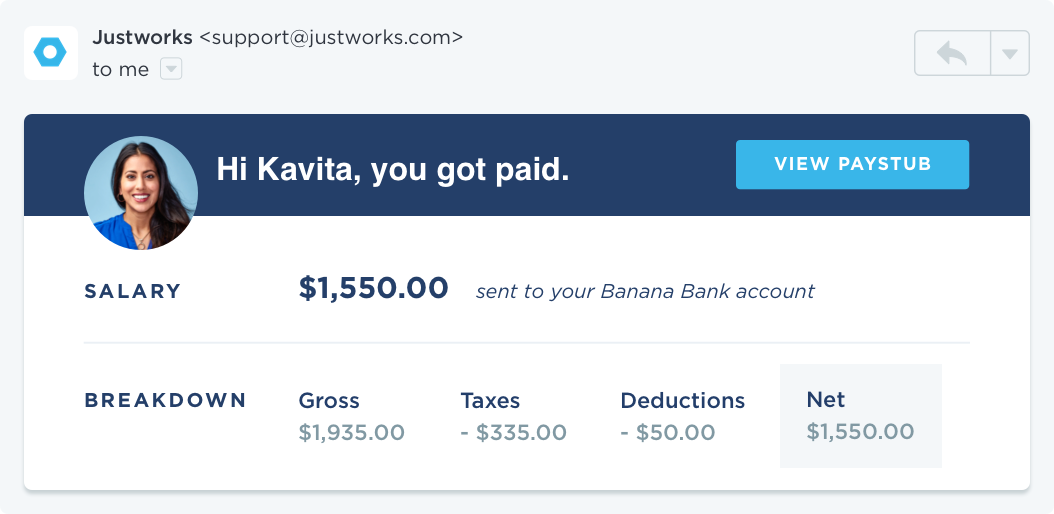 Justworks has a lot of features to make the hiring and onboarding process easier. Everything is done online using the dashboard, and it is simple for employees to input information like direct deposit details.
Once the onboarding process is complete, employees have full access to their information. They can view their W-2s, performance reviews, and stock option grants easily using the dashboard. Managers can view employee histories, too.
You can manage paid time off using Justworks. Vacation and sick leave policies can be made available to all employees, and management can track accruals and approve requests. Employees can sync the work calendar with their own personal calendars, and they can view other people's paid time off.
The permissions system is a good feature, as it allows you to be flexible with who can see what information. For example, you can allow your accountant access to expense reimbursements.
There's also the company directory – this is a place to store policies and includes a calendar with notable dates. It's a great idea to have all this information easily accessible to every employee.
Employee Management
Justworks offers a range of templates and guidance for performance improvement. On their blog, they have recommendations for performance reviews, and you can use their calendar to book in these dates at regular intervals.
In terms of protecting employees, they have a focus on creating a harassment-free workplace. Users will receive free access to online training (facilitated by EVERFI), available in the Justworks platform. This training will protect your employees from harassment and help to encourage an inclusive working environment.
You can also offer wellness perks for your employees – including fitness memberships, bike-sharing, and mental and physical well-being support.
Payroll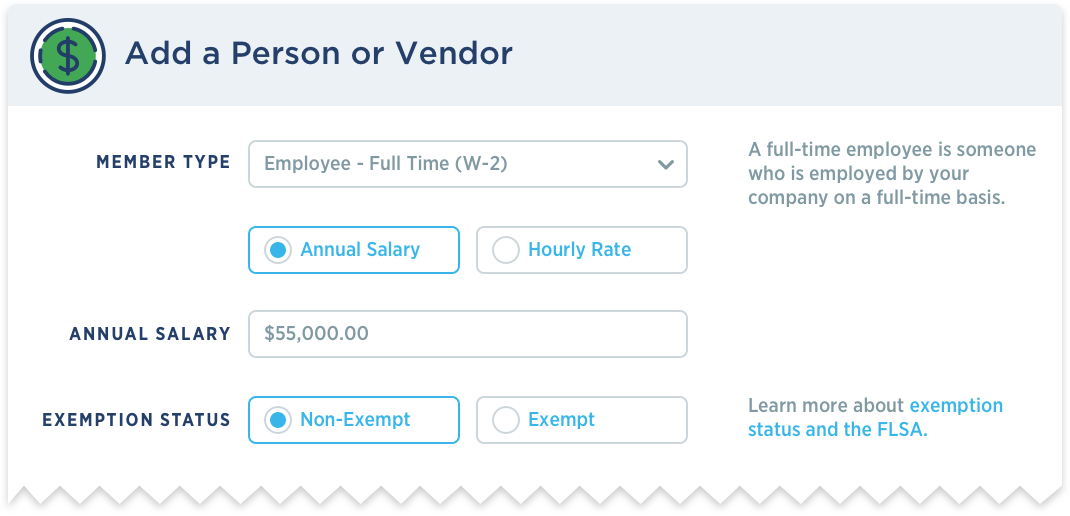 Justworks makes it simple to manage payroll, even for remote employees or freelancers. It can automate direct deposits for full and part-time employees, and it even supports bi-weekly pay for hourly and salaried staff. You can also pay contractors and freelancers directly on the platform.
Justworks will send out emails automatically to notify employees when they've been paid. They can even get paid across different bank accounts, and their payment details are easy to access using online paystubs.
In terms of compliance, they offer what they call the 'Justworks Shield'. This protects you by ensuring you are compliant at a local, state, and federal level. Everything from withholding, reporting, and remitting payroll taxes is done for you (along with filing W-2s and 1099s). Essentially, Justworks can save you a ton of headaches by taking care of everything you need to stay compliant.
You can also stay on top of workers' compensation and state unemployment insurance, too. Plus, they encourage you to stay up to date by reporting on changes to regulations on their blog and in their newsletter.
Benefits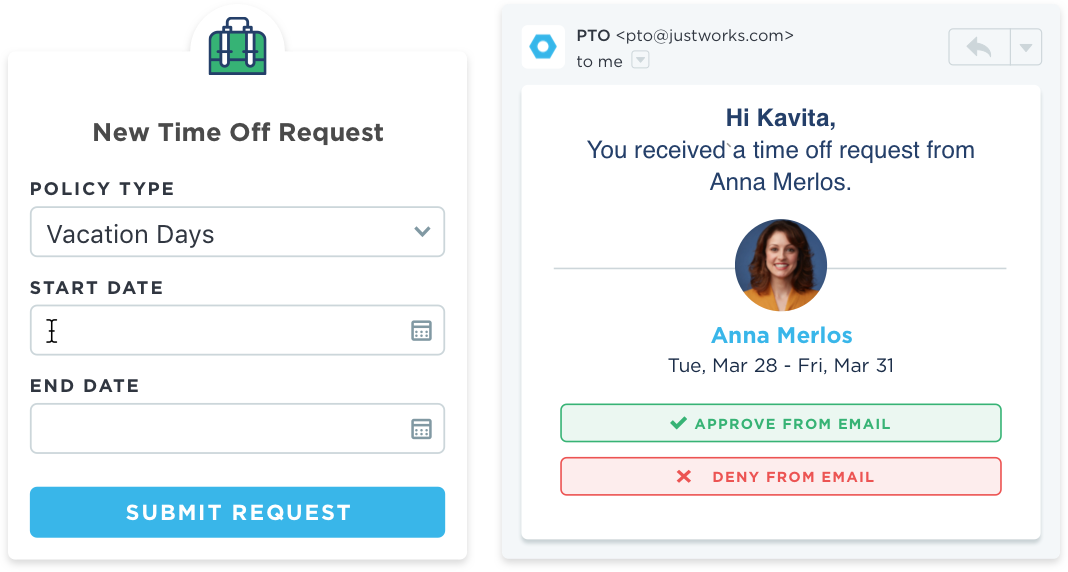 A real strength of the Justworks platform is what they can offer you in terms of employee benefits. They work with selected providers to get better prices for essentials such as medical, dental, and vision insurance. They provide you with prices that are usually only available to larger corporations.
This could be a real money saver for your company. Employees will also have access to One Medical's on-demand primary care services, and Health Advocate's personal advocacy services, with no extra charge.
When it comes to retirement, Justworks makes it simple to connect payroll to 401(k) retirement plans. This is all done through the platform, making it easier to manage. You can use one of their providers or use your current provider instead.
Scheduling and Time Management
Justworks makes it simple to track the time of hourly employees. They offer timecards to cut down on payroll mistakes – it's simple to record hours and to manage and track attendance using their TSheets or Boomr integrations.
There is also the calendar management which we mentioned earlier – which allows you to record paid time off, important business events, and employee birthdays. This helps everyone to stay on track.
Reporting
Justworks offers customized reports. Using the most relevant data, it creates reports with useful information, which can be viewed instantly.
They offer reports in a variety of categories:
Training status report
PTO balance
Onboarding status
Work history
Last pay change
Headcount
Company census
PTO requests
Payroll
Benefits usage
Retirement
Timecard usage
You can export the data from these reports to a .CSV file for your records.
Integrations
Justworks offers a few integrations with accounting platforms, including QuickBooks, QuickBooks Online, and Xero. They don't have many integrations at the time of writing, but this may change in the future.
Zenefits – the Main Features
HR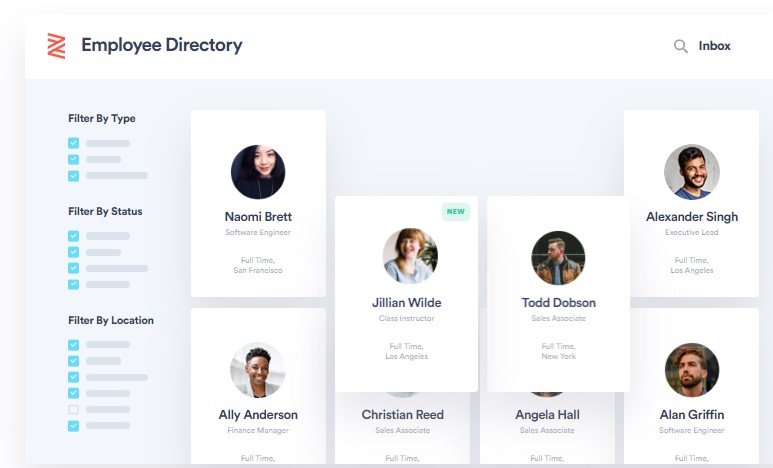 Zenefits offers HR tools right from the start of an employee's journey, beginning with the recruitment process. They offer pre-made job offer templates, or you can save your own to use for all new employees. You can also run checks using their partner company Checkr.
One of the main features is the onboarding process. Employees can use the desktop app or download the mobile app to complete any forms that need to be filled in, and because they allow e-signatures, this will allow you to go paperless if you wish to. Tax documents are digitally created based on the information given by employees during the onboarding stage.
Employee management is made easier with the dynamic organization charts. These allow you to see each employee (and their contact details) simply, with employees able to input or edit their own contact information at any time. The same goes for consultants, freelancers, and independent contractors – and any new information is automatically synced across the whole platform.
There is a level of automation with Zenefits. For example, you can automate certain events like promotions, transfers, and terminations, allowing you to save time and ensuring that procedures are followed consistently each time.
You can also manage paid time off policies which can be made available to all employees. They can request time off via the app, which you can manage and approve. You can also blackout certain dates, for key company events.
Employee Management
Thrive offers a lot of ways to help manage the productivity and wellbeing of your employees. There is a goal management system, which allows you to create, update, and track goals for individual employees (these can be aligned to wider company goals). Goals can then be integrated into performance reviews, which again, are easily managed with Zenefits. You can set up a performance review cycle, with Zenefits informing you when reviews need to be completed. Forms for performance reviews (for managers and employees) come in the form of customizable templates.
The one-to-one meetings tool ties into this nicely. This allows you to easily share agendas, create action items, and take private notes.
They also promote wellbeing, in partnership with Thrive. This helps you to improve the working environment, tracking issues that employees might have and then providing them with tools and ideas for them to follow. It's a small feature but could make a big difference to the happiness of your workers – which is really important.
Payroll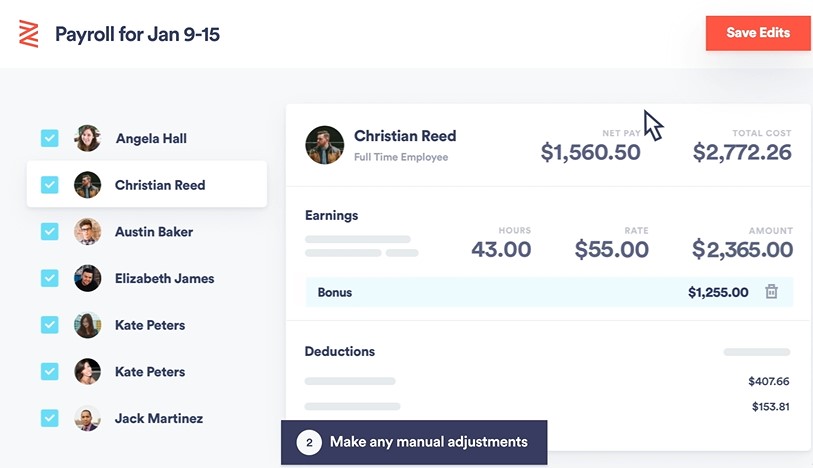 If employees use the time tracking and scheduling tools, these will automatically be connected to the payroll system. Employees can see all the hours they've worked, what they will be paid, and when. You can update your employees' salaries easily, which will sync across the platform. They also have a reminder system, which is great for ensuring that important tasks are completed on time.
Employees can access their pay stubs via the app. They can view detailed breakdowns of deductions, and you can add messages to their pay stubs to explain any extra payments or bonuses.
Certain actions, like bonuses and commissions, can be actioned in bulk – saving your HR team tons of time.
You can do a whole host of other things with Zenefits, too. You can direct deposits for employees, report tips for those working in the service industry, create custom earning codes, assign multiple pay rates based on roles, and support payments to Child Support agencies.
Taxes are taken care of easily using Zenefits, with automatic filing and withholding. They work to make sure that you stay compliant at all times (with common forms at local, state, and federal levels being taken care of). When a new employee starts at your company, the State will automatically be notified. This will save your HR team a lot of headaches when it comes to staying compliant, giving you peace of mind that nothing will be forgotten.
Benefits
You can also stay up to date with employee benefits using Zenefits. You can work with your current broker or use one of their approved brokers instead (available in 49 states). Employees can enroll, giving them clear information about all their options when it comes to benefits. They can access plans, balances, and claims at any time using the app. They can also connect their benefits to other apps and services. Being able to quickly and simply access this information is incredibly useful for employees.
Scheduling and Time Management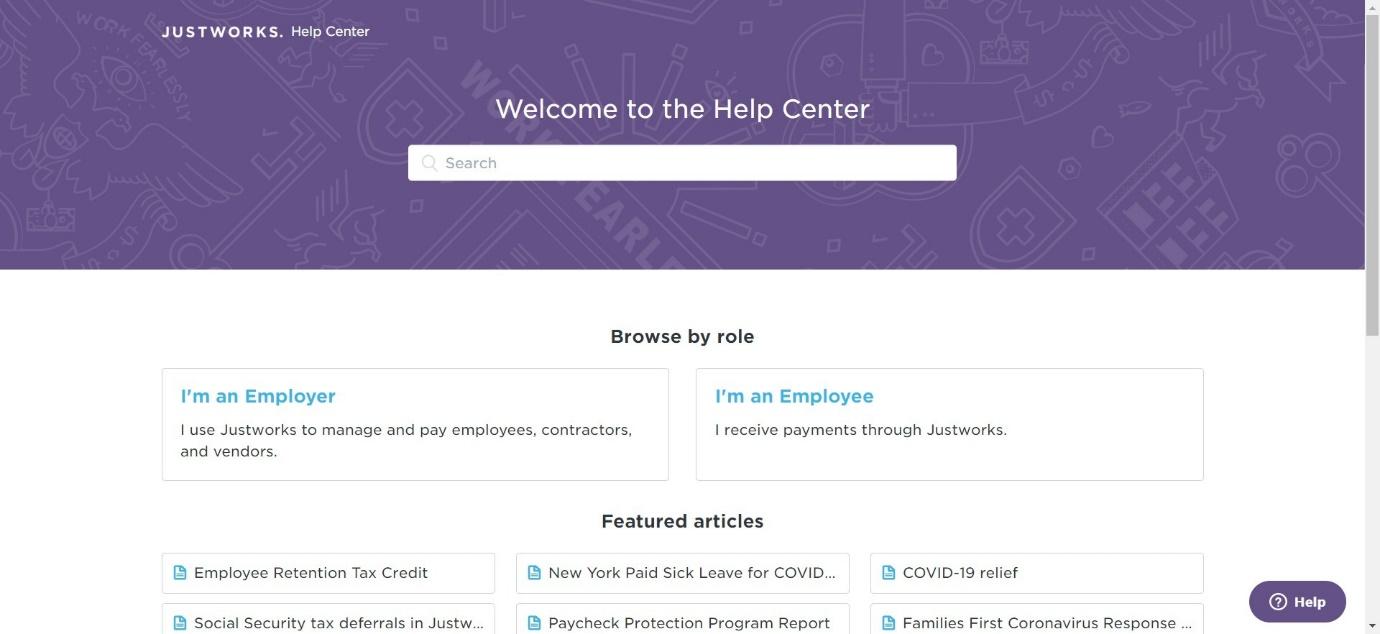 Zenefits makes it easier for employees to track their time. This is useful for them and for you, as it allows you to pay them the correct amount with no headaches when it comes to working out how much they're owed for the hours they've clocked up. Freelancers, contractors, and employees can virtually punch in using their app, with fraud protection built-in (for example, you can ask them to take a picture at clock-in).
You can create and edit shifts for your workers, viewing their activities on a calendar – and it will automatically notify them when a new schedule is created. You can block out dates, allowing you to build a customizable calendar that works for your business.
Reporting
You can quickly view reports in the following areas:
Compensation summaries
Equal opportunity statistics
Headcount activities
Stock options granted
Turnover rates
You can also generate reports for a whole range of things, including payroll, deductions and contributions, wage and taxes, garnishment reports, contractor payments, tax payments, tax liabilities, and more. You can also create 'all-in-one' reports that are comprehensive and can be shared with other team members.
Integrations
Zenefits offers integrations with other platforms in the following categories:
Productivity
Applicant tracking
Retirement savings
Accounting
Financial
Travel
Employee management
Performance management
Justworks vs Zenefits – Support
Justworks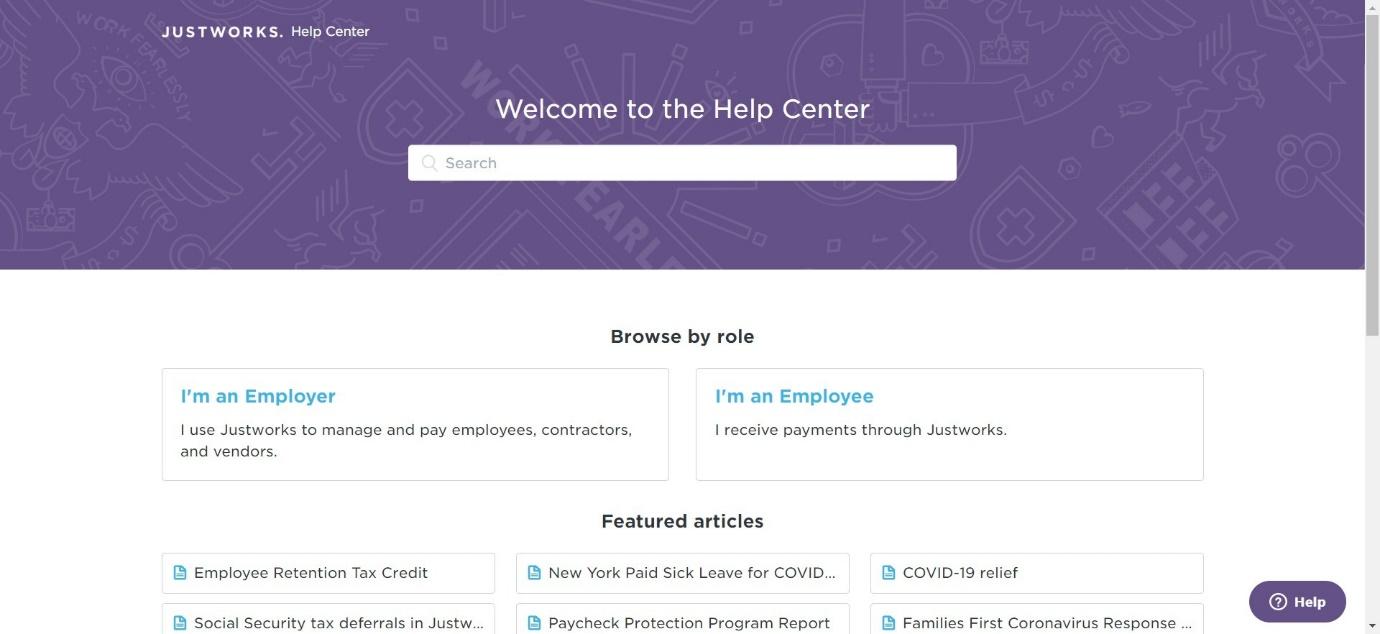 The Justworks help center is split into two sections – employers and employees. It's easy to navigate, giving you articles and guidance on how to use the platform. They also have a regularly updated blog.
They also make it very clear how you can contact them, with support offered via phone, email, Twitter, Slack, and SMS. They have a 24/7 support team available – which is a great plus.
Zenefits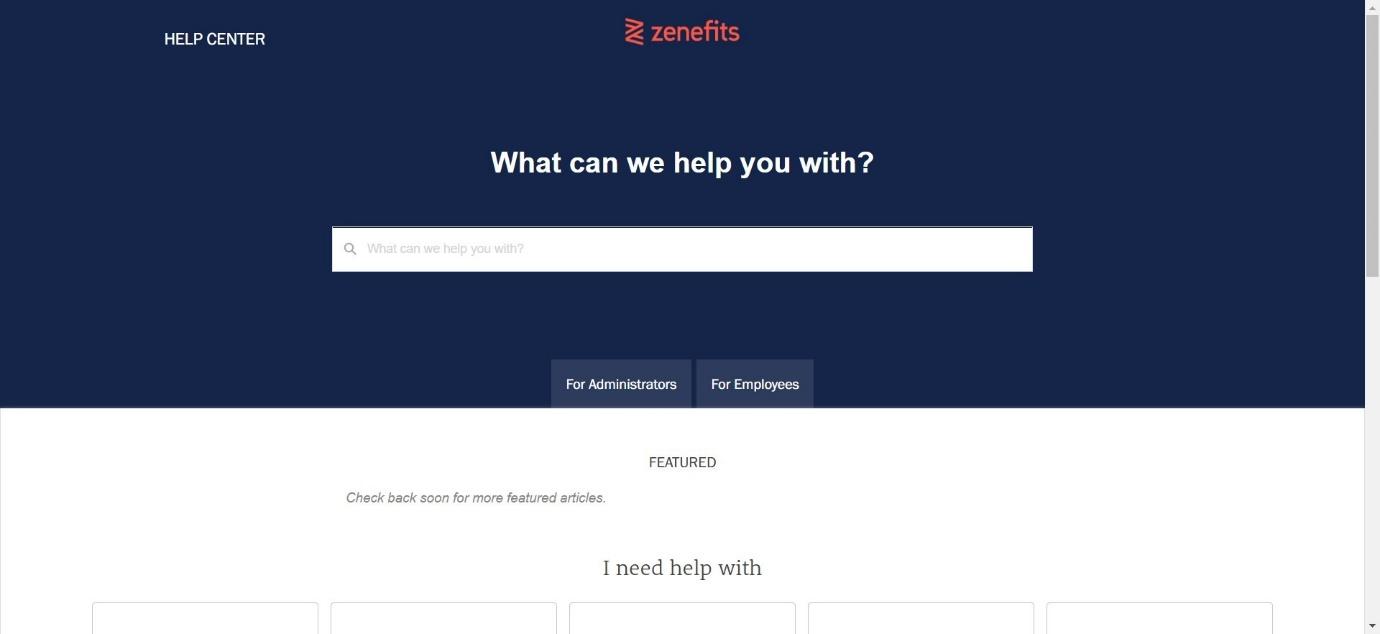 The knowledge base has some articles to help you navigate the platform, with FAQs and tutorials to help you learn the basics. You will require an account to get support if you have an issue, but users report that they can be slow to respond, which is a real shame.
Justworks vs Zenefits – Pricing
Justworks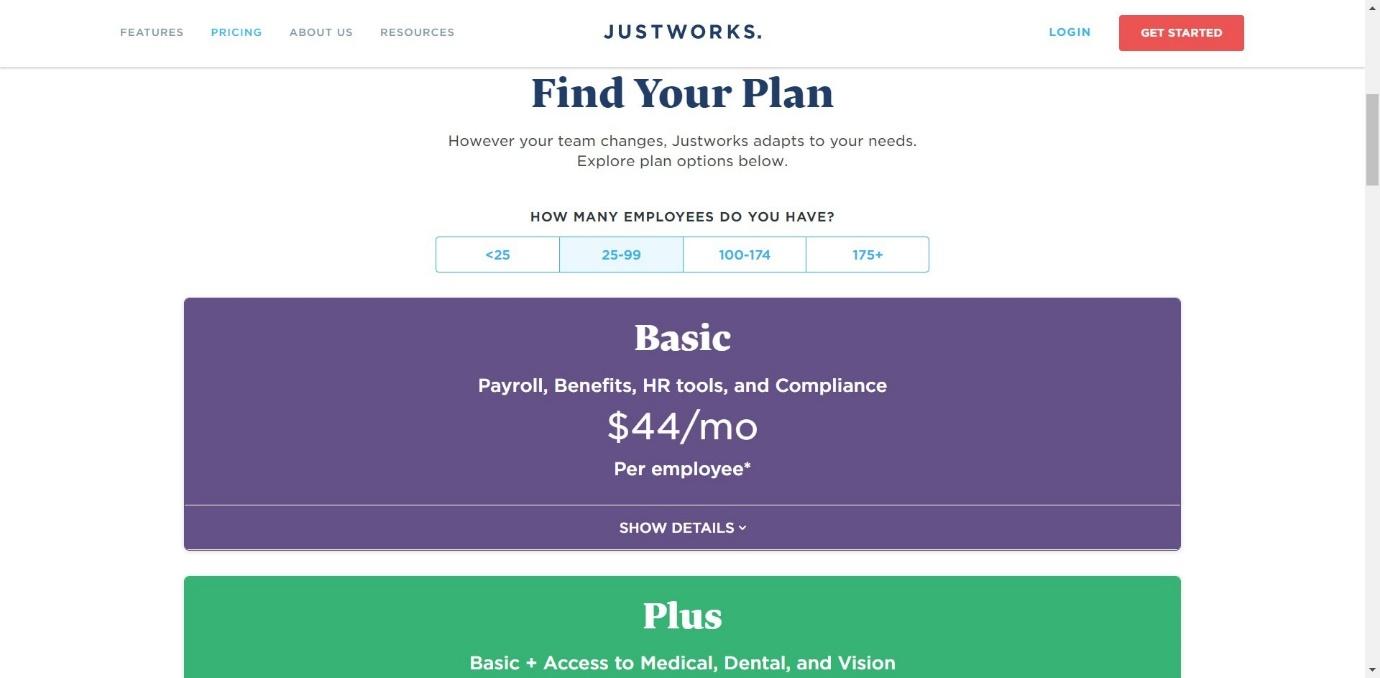 Justworks has two price plans: Basic and Plus. The prices vary – it gets a little cheaper per employee the more employees you have.
Basic
<25 employees – $49 per month per employee
25-99 employees – $44 per month per employee
100-174 employees – $39 per month per employee
175+ employees – Price on request
The Basic plan includes:
Payroll features including off-cycle payments and vendor and contractor payments
Employer payroll tax filings, W-2 and 1099 filings, and unemployment insurance filings
Employment practices liability insurance
HR consulting
Harassment prevention and inclusion training
Online employee onboarding
PTO management
Calendar, doc center, and directory
Accounting software integrations
Reporting
Commuter benefits
Plan setup
Access to benefits at large corporation rates – including workers comp, life and disability insurance, health and wellness perks, fitness memberships, and 401(k)s
Plus
<25 employees – $99 per month per employee
25-99 employees – $89 per month per employee
100-174 employees – $79 per month per employee
175+ employees – Price on request
This includes everything in the Basic plan, plus
COBRA Administration
Health Advocacy Services
One Medical
Access to benefits at corporation rates, including medical insurance, dental and vision insurance, and HSA/FSA accounts
You can view their pricing plans in more detail here.
Zenefits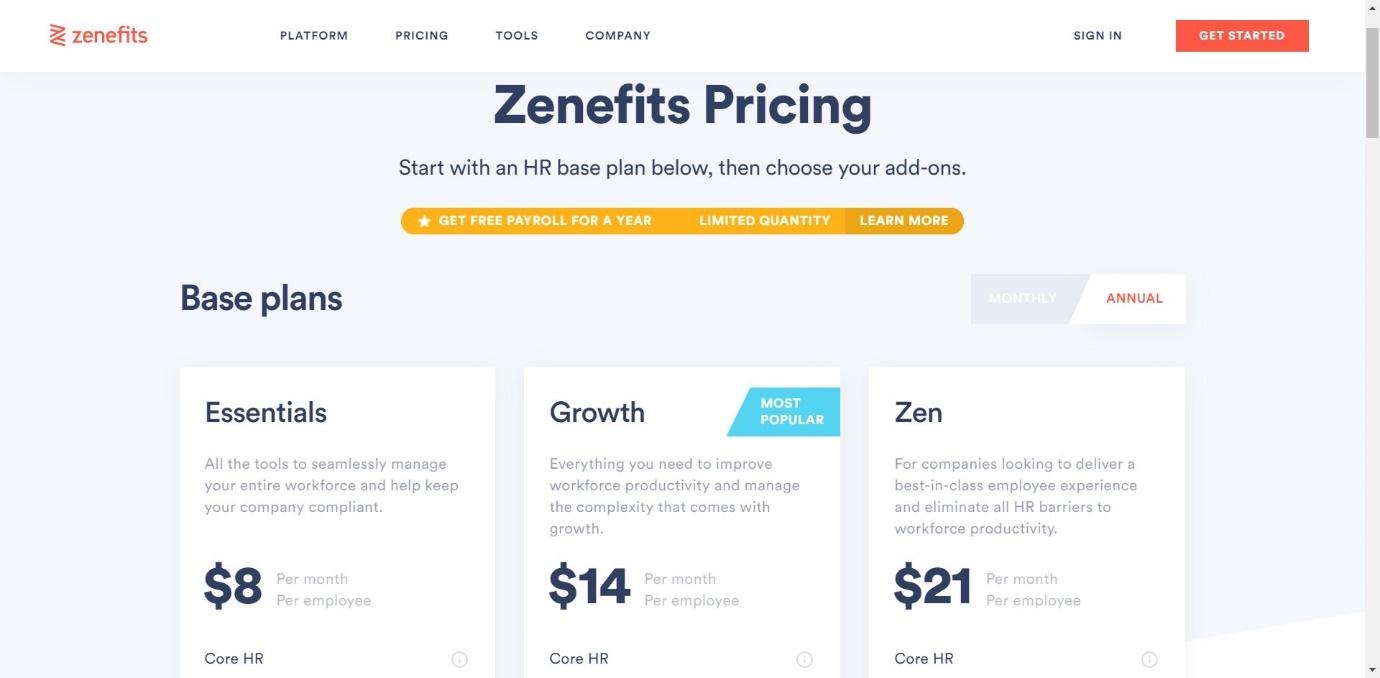 There are three pricing plans available on Zenefits.
Essentials – $8 per month per employee
Core HR tools
Core time management tools
Integrations
Mobile app
Growth – $14 per month per employee
Everything in the Essentials plan
Compensation management
Performance management
Zen – $21 per month per employee
Everything in the Essentials plan
Wellbeing tools
You can find out more about Zenefit's price plans here.
Justworks vs Zenefits – Pros and Cons
Justworks
Pros
Everything is done within the Justworks platform, including managing benefits and taxes
There are tons of perks for employees – including access to a better rate for medical, dental, and vision insurance
Health and wellbeing perks and harassment training are great for improving working conditions
Reports are detailed and quick to generate
24/7 customer service through a variety of channels
Cons
Far pricier than Zenefits – and it charges more per employee for smaller businesses
Zenefits
Pros
The mobile app is easy to use
Everything is made clear and easy for employees, from onboarding to paystubs to benefits
The focus on wellbeing with their Thrive partnership is a definite plus
Reminders help your HR team to complete important tasks on time
Cons
The customer service team is slow to respond to queries, which is no good if you have an urgent issue that you need a response to
Justworks vs Zenefits – Alternatives to Try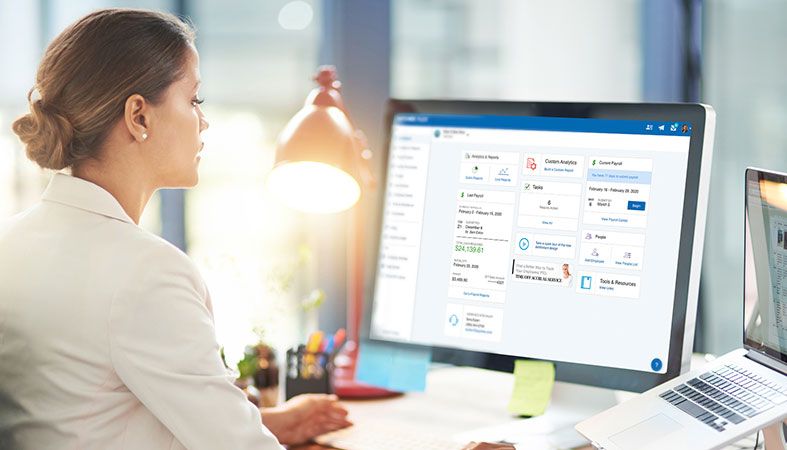 If neither of these platforms appeals to you, there are a few similar ones you can look into.
Paychex is an HR and payroll solution. It has features including timekeeping, onb`oarding, compliance, and benefits. You can find out more about it here
SurePayroll is great for smaller employers (for example, if you hire a nanny or a cleaner). It's focused on payroll services. You can read more about it here
Gusto is a platform that allows you to manage your employees using onboarding, payroll, and compliance tools. You can find out more details about it while being compared to Zenefits, and also while Gusto being compared to Justworks.
FAQs About Justworks vs Zenefits
Does Zenefits charge me for employees who are on leave?
Yes – they still count as an employee, so you have to pay for them.
Can I hire international workers using Zenefits?
You can hire and manage them, but you can't pay them through the platform or manage their benefits, etc – so that will need to be done outside of Zenefits.
Does Zenefits charge me the same for all employees?
Yes – you have to pay a flat rate for each employee, even if they're part-time.
Does Justworks have any hidden charges (for example, to pay bonuses)?
No. They don't have hidden charges – just the standard monthly rate with everything included.
Does Justworks have a minimum number of employees for enrollment or payroll?
They require a minimum of two employees to run payroll (although one can be an unpaid owner).
Does Justworks have a mobile app?
Justworks vs Zenefits Conclusion – Which One is Better?
In a nutshell: we think Justworks is the better platform in terms of what it can offer employees.
Being able to access better rates for medical, dental, and vision insurance is a huge bonus – this is something that could make a hugely positive impact on your employees' lives.
That, plus the harassment training and all the other features that will save your HR team tons of time (like automating the onboarding process and managing PTO requests) make it a truly great platform. But there's a caveat – it's more expensive.
For that reason, we'd recommend Zenefits for smaller businesses. Firstly, it's cheaper, making it much more accessible. Secondly, it offers a great array of features. While it may not have access to cheaper benefits and insurance, it does make it easy for you as an employer to manage payroll and stay compliant.
If you're a very small business, having this taken care of could be a huge relief – and it comes at a pretty decent price. Plus, on the employee side, the mobile app is really useful, and the wellbeing partnership with Thrive is a good plus point.
So, to sum up: we'd recommend Justworks for bigger employers, and Zenefits for smaller businesses.
If you've used either platform, we'd love to know your thoughts in the comments!
Further reading: