Last Updated on April 24, 2023 by Ewen Finser
If the payroll function is something you want to automate, you might have heard of tools like Gusto and SurePayroll. So, in this review, we'll compare SurePayroll vs Gusto service providers to give you all the info you need to make an educated decision about which (if either) is best for your business.
Urgh. Payroll. It creeps around every month and takes a good chunk out of your day. This is especially true if you're a small business owner without a dedicated HR department.
If that sounds like you, you're probably responsible for tracking your staff's leave and sick days, bonuses, payment schedules, etc. Needless to say, that's a lot to handle!
Bottom Line Up Front Summary:
Our Pick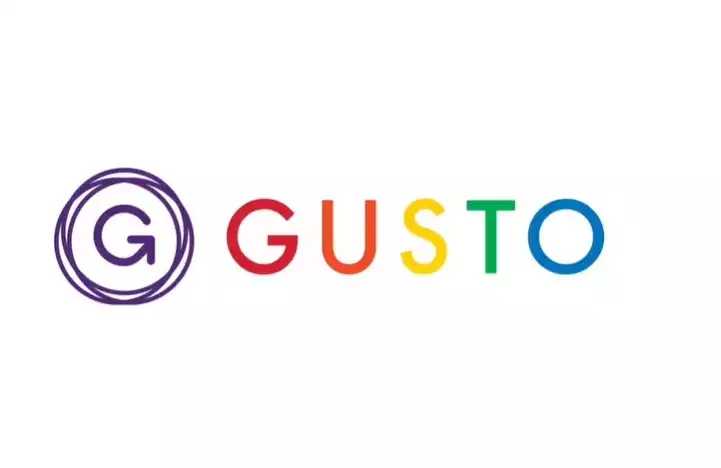 Why I Personally Prefer Gusto
Easier to use, cheaper, and much more scalable than the competition. Gusto WORKS better, particularly for small to mid-sized companies. We went with Gusto for our business and are incredibly happy with the support and integrations with our other accounting tools.
TRY GUSTO FIRST HERE
We earn a commission if you click this link and make a purchase at no additional cost to you.
Are you here for a quick overview? That's no problem! Here are the most noteworthy similarities and differences between the two tools:
Main Differences Between SurePayroll vs Gusto
The main differences between SurePayroll vs Gusto are:
SurePayroll doesn't list its pricing on its website so you'll need to get in touch to receive a customized quote, whereas Gusto charges on a per-employee, per-month, basis on top of a monthly flat fee and pricing can be found on their website.

SurePayroll offers a mobile app (Android and IOS), whereas Gusto suggests that you launch their software from inside of your device's browser.

SurePayroll offers a three-month free trial, whereas Gusto doesn't.

SurePayroll provides a service called 'Nanny Payroll' for those managing household employment, whereas Gusto doesn't offer the equivalent of SurePayroll's Nanny Payroll.
SurePayroll vs Gusto The Similarities
Both offer telephone support.

Direct deposit integrations.

Both Gusto and SurePayroll boast a similar suite of core payroll features.

Gusto and SurePayroll both provide the tools you need to handle additional benefits, workers comp, and retirement plans.

Both operate in all 50 US states.

Both provide unlimited payroll (i.e., you can pay staff several times a month and process payments whenever necessary).

Both Gusto and SurePayroll enable you to create employee profiles. These can be organized by team or department (i.e., you can create 'folders' of employees and group them together in your employee records, so if you want to pay one team at a time, you have all the right individuals assembled in one place).

Both Gusto and SurePayroll provide employees with access to self-service features. For example, viewing and printing payslips, filling out time-off requests and other essential forms, and tracking time.
Luckily, there are tons of solutions on the market that can streamline your business's payroll. These platforms work wonders for ensuring staff get paid on time without any hassle.
Let's dive in!
About SurePayroll
SurePayroll's mission is to help small business owners in the US succeed. How?
By providing innovative payroll services and other related tools.
SurePayroll has been operating since 2000. Initially, they specialized in providing payroll services for businesses between one and 100 employees. But, in 2011, SurePayroll joined the Paychex Inc group, which empowered them to expand their company and offer more resources to customers.
Fast forward to today, and SurePayroll runs more than ten million payrolls and has won the Stevie Award for Service for ten consecutive years! Impressive, right?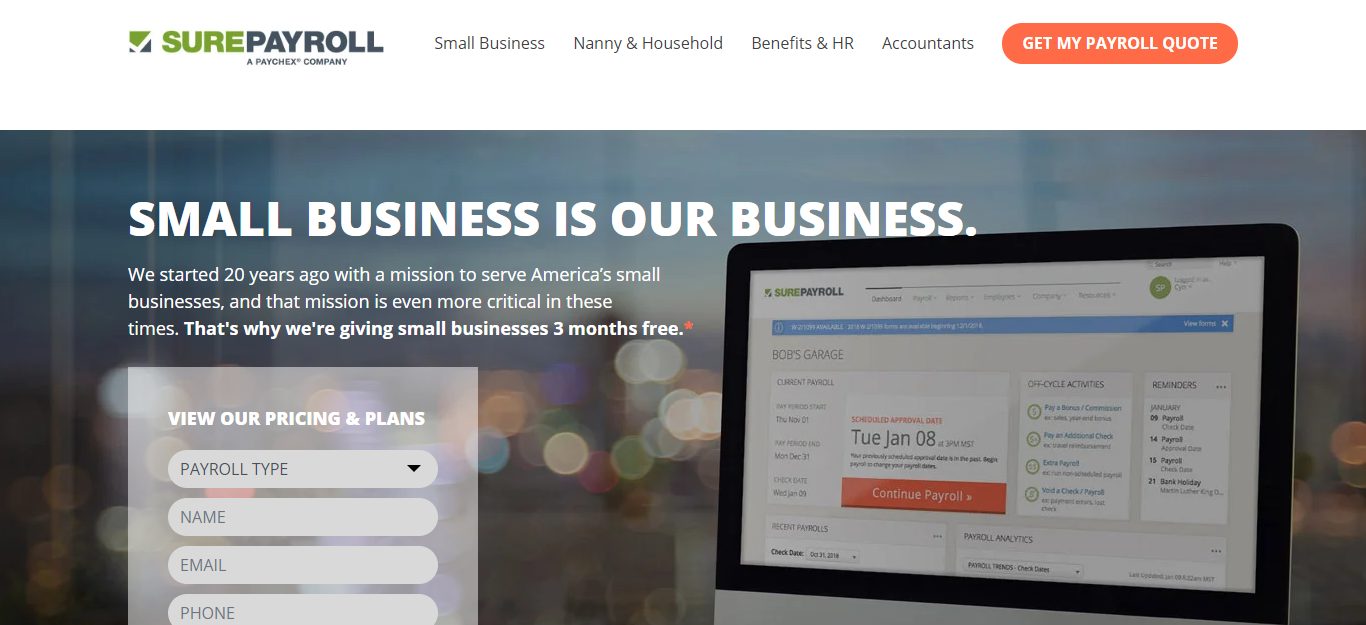 About Gusto Online Payroll Service
Gusto payroll software is explicitly designed to help small business operators take care of their hardworking employees. The software aims to make your HR easier by going beyond offering just payroll features. With Gusto, you'll also get access to plenty of team management tools – including employee surveys, directories, and whole HR resource centers. Gusto provides everything you need to manage hiring, onboarding, payroll setup, and employee satisfaction.
For those of you wondering what an HR resource center incorporates, it provides resources like:
A customized employee handbook
HR guides
Policy template
Job description templates
Harassment prevention training
Compliance updates
It mainly helps HR managers cover all their bases where core HR practices are concerned.
Founded in 2012 as Zen Payroll, Gusto is now used by over 100,000 small businesses and teams. The company prides itself on its transparency and aims always to do the right thing for your organization. So, rest assured, your business is in safe hands with Gusto.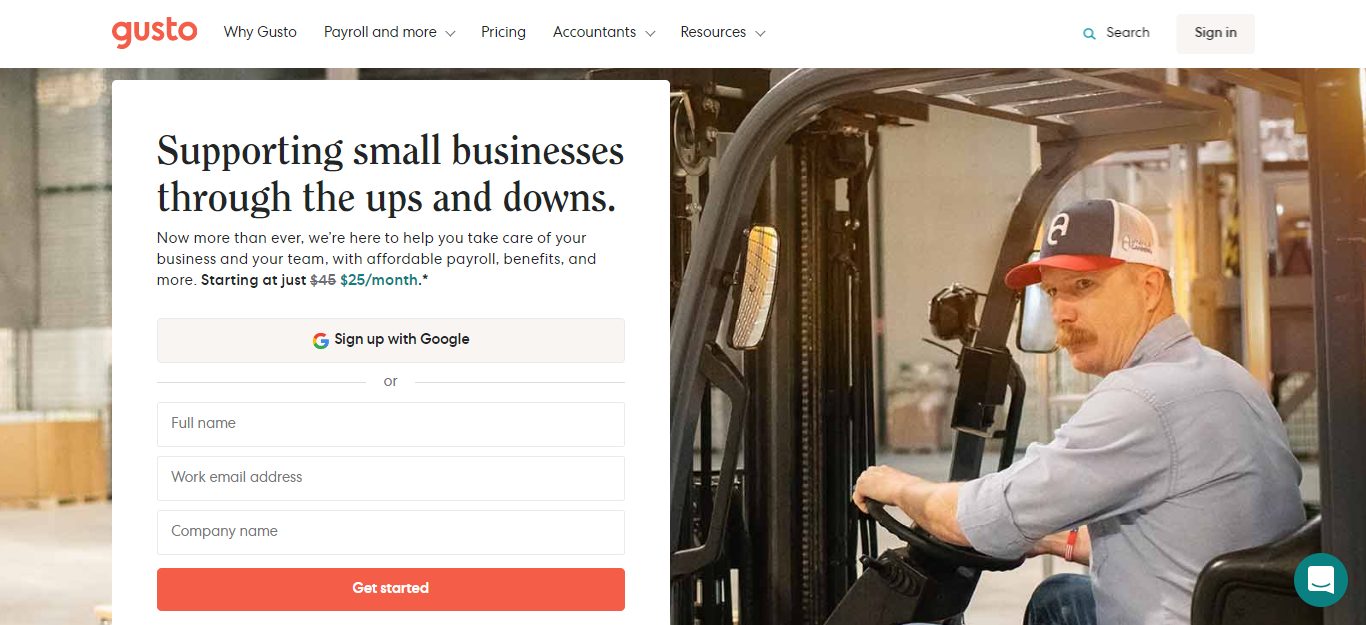 SurePayroll vs Gusto Features: Which Payroll Tool Has More to Offer?
Let's take a look at SurePayroll first…
SurePayroll
SurePayroll's online payroll services cover the needs of small businesses. Namely, by calculating and filing payroll tax, handling deductions, and much more. Their core features include payroll processing, which they promise to get done in as little as two days! The platform grants you online and mobile access to your account, and provides quarterly and end-of-year reports for W-2 and 1099 forms.
The service also reports new hires to the government on your behalf and provides all the necessary documents you need to remain compliant with state laws.
You can even print labor law posters using one of SurePayroll's templates. These come in handy if you need an inexpensive and straightforward way of hammering home your company's HR policies.
Not only that, but you can also set custom alerts and reminders for any deadlines, milestones, tax-due dates, payment dates, etc. Needless to say, this works wonders for helping you keep on top of things!
SurePayroll's full-service payroll features allow you to:
Run unlimited payrolls

Process payments within two days

Operate in all 50 US states

Set automatic payroll schedules

Handle same-day or next-day payroll

Generate payroll reports

Pay individual 1099 contractors.

Calculate multiple pay-rates and bonuses
Your employees can also receive payday emails, mobile access to HR-related matters, and they can handle paystubs and tax forms themselves.
Surepayroll also includes employee profiles through which you can set calendar reminders for birthdays and anniversaries, organize employees by team or department and track time as well as attendance.
Surepayroll also integrates with your bookkeeping and time clock software to make your accounting easier. This includes companies and accounting software like – NOVAtime, Shift2Work, EasyTimeClock, Timesheet, BuddyPunch, timeforge, Time Trex, Intacct, QuickBooks, Sage 50, kashoo, LessAccounting, Xero Accounting Software, AccountEdge, and many others.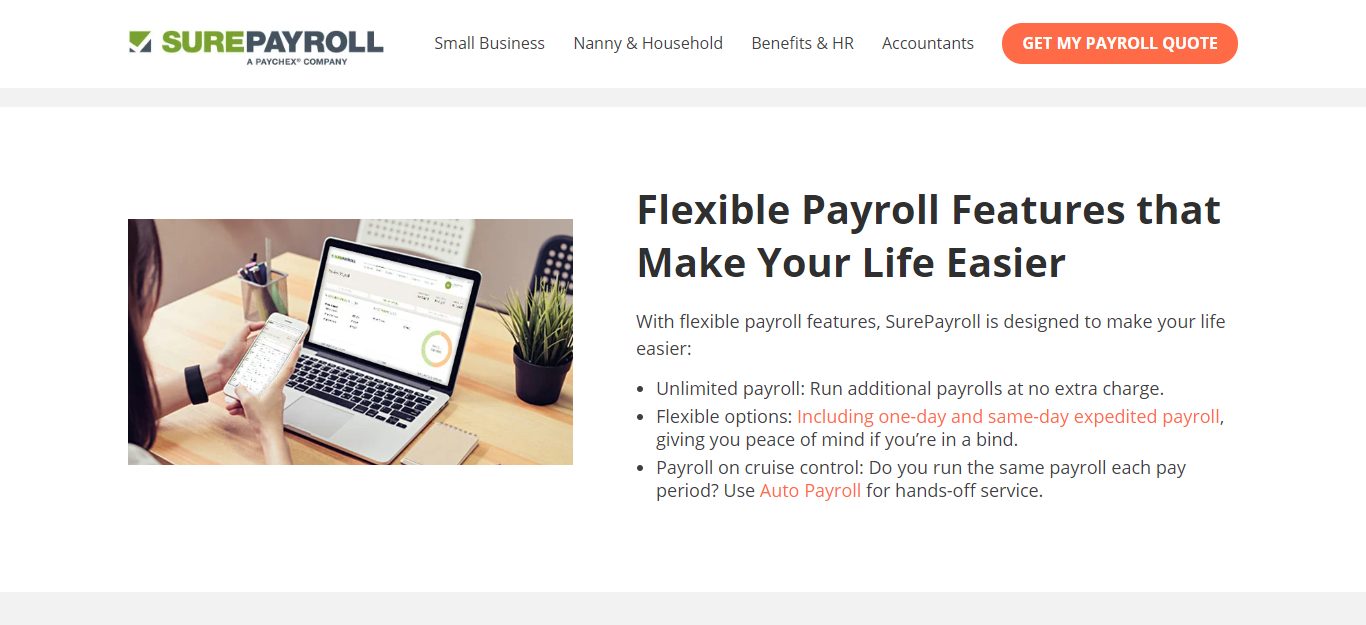 Nanny Payroll Software
If you employ a nanny, SurePayroll provides an easy way for you to outsource payroll as a private employer. You simply enter your employee's hours or salary, preview the taxes, and set up an automatic schedule to get them paid – all while complying IRS tax regulations.
How simple is that?!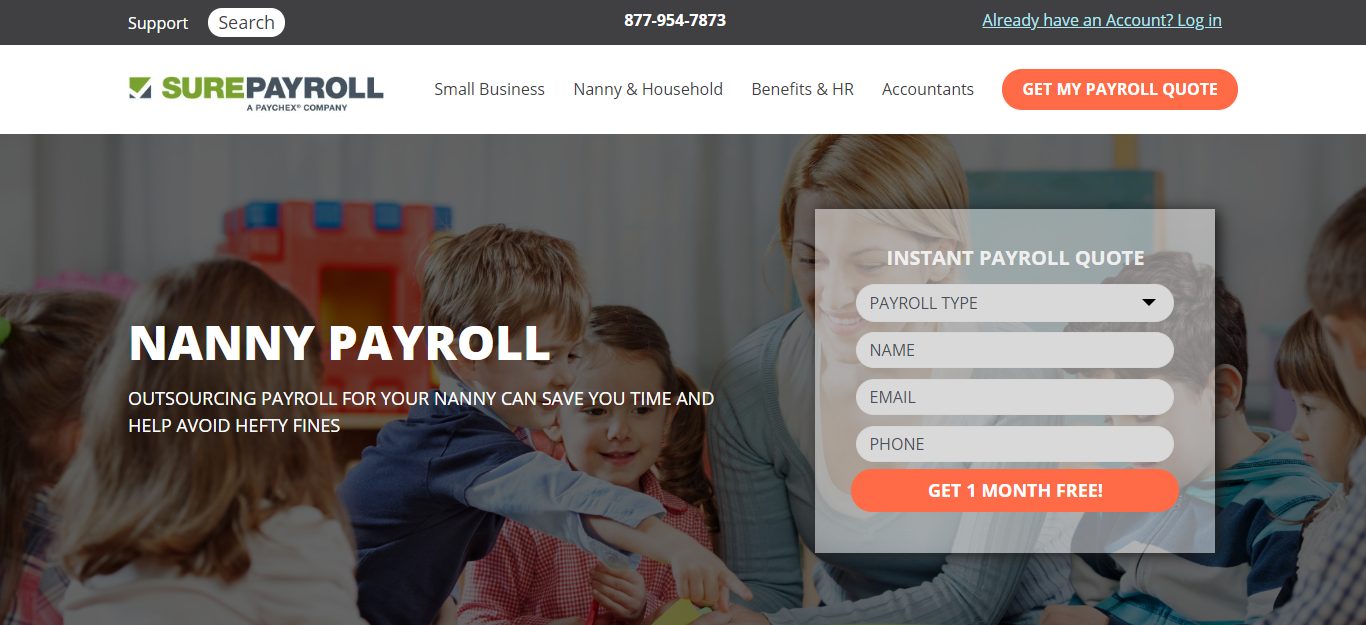 Benefits and HR
SurePayroll also helps you navigate regulations surrounding mandated benefits. For instance, worker's compensation and retirement planning.
Through SurePayroll, you can opt for worker's compensation pay-as-you-go coverage, choose a 401(k) plan, and provide affordable health insurance for your employees.
SurePayroll also facilitates pre-employment screening with on-demand background and drug checks. So, if you're about to launch a hiring campaign, this will undoubtedly come in handy!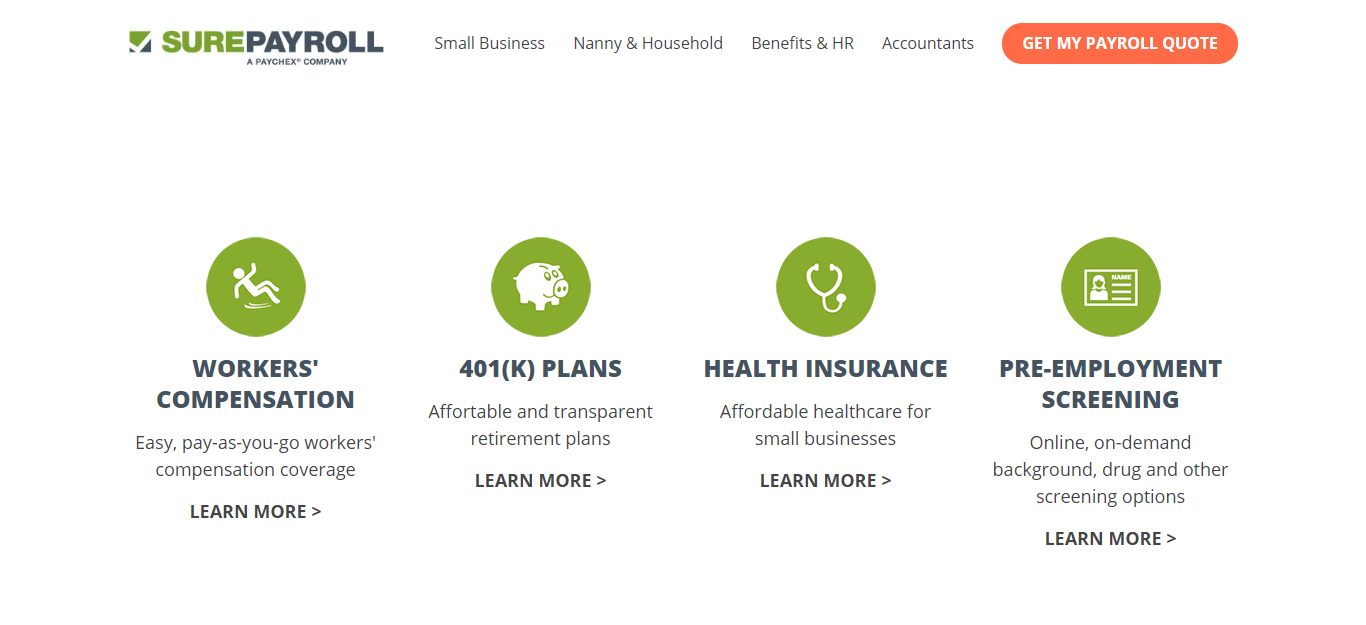 Gusto
As we've already said, Gusto's more than just a payroll tool. Instead, this platform aims to provide a more comprehensive HR experience for small businesses without a dedicated HR department.
At this point, we also want to highlight that on Gusto's website, there are tons of nifty resources like their employer tax calculator, burn calculator, and salary comparison tool! There's even a new-hire checklist.
Our Pick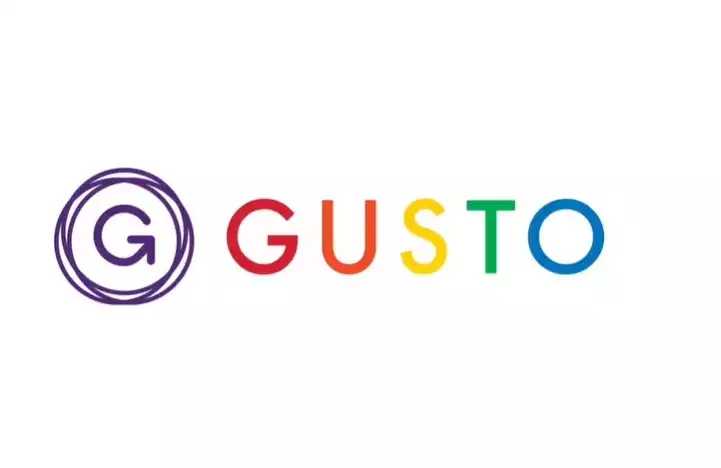 Why I Personally Prefer Gusto
Easier to use, cheaper, and much more scalable than the competition. Gusto WORKS better, particularly for small to mid-sized companies. We went with Gusto for our business and are incredibly happy with the support and integrations with our other accounting tools.
TRY GUSTO FIRST HERE
We earn a commission if you click this link and make a purchase at no additional cost to you.
That aside, their most notable features include:
Payroll Software
Gusto's intuitive dashboard makes it easy to handle payroll each month. Payroll is available in all 50 states and handles both W-2 and 1099 contractor forms. Through Gusto, you can review your team's hours, additional earnings, reimbursements, taxes, benefits, and any sick or leave pay.
It does so with the following features:
Simple time tracking: This function makes it easy for employees to log their hours.

You can integrate with accounting software like Xero, Quickbooks, Tsheets, and Trainual.

You can pay staff manually or set up automatic schedules.

Handle garnishments (i.e., any debts or deductions are taken off payroll automatically, including child support payments for all states except South-Carolina).


Manage paid time off and holiday pay

View and export payroll reports

Automatically file and pay federal, state, and local payroll taxes.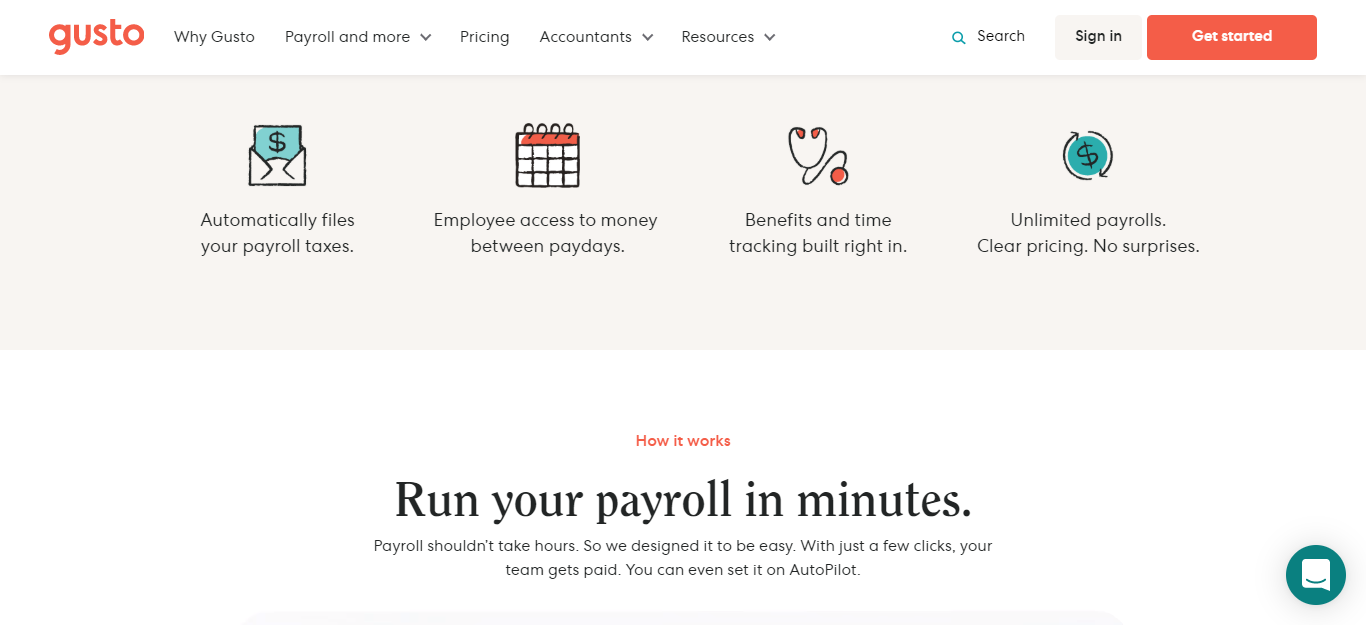 Team and Onboarding
You can manage your team and handle onboarding elegantly with Gusto's more advanced HR features. The HR center allows you to create an employee directory and send private surveys. This comes in useful for determining your team's workplace satisfaction, gauging morale, and seeking advice on how to improve.
You can also create a dashboard for your team members. This is a bit like an employee directory employees can visit. You can include whatever custom info you want about each employee (for instance, names, job roles, fun facts, etc.), so it's great for introducing new people to the team.
Advanced payment plans also unlock an employee handbook, as well as help setting up company policies, and creating an onboarding plan. You can access easily adaptable templates and policy sheets that you can modify and share with your employees.
To summarize, Gusto's team and onboarding features include:
An employee directory

The ability to create and send anonymous employee Surveys

Access to job offer templates

Access to onboarding tools. These help employees get set up with payroll and encourage them to sign and submit all necessary forms.

You can organize employee profiles into teams, departments, and managers.

You can set calendar reminders to remember birthdays and workplace anniversaries.

Welcome new hires: Gusto makes it easy to send automated welcome emails and e-cards to new hires. You can use this opportunity to introduce them to other team members and furnish them with helpful company info. For instance, you could direct them to the aforementioned employee directory.

You can add custom fields to your employee profiles to record personal info like t-shirt sizes, coffee orders, etc.

Access to job description templates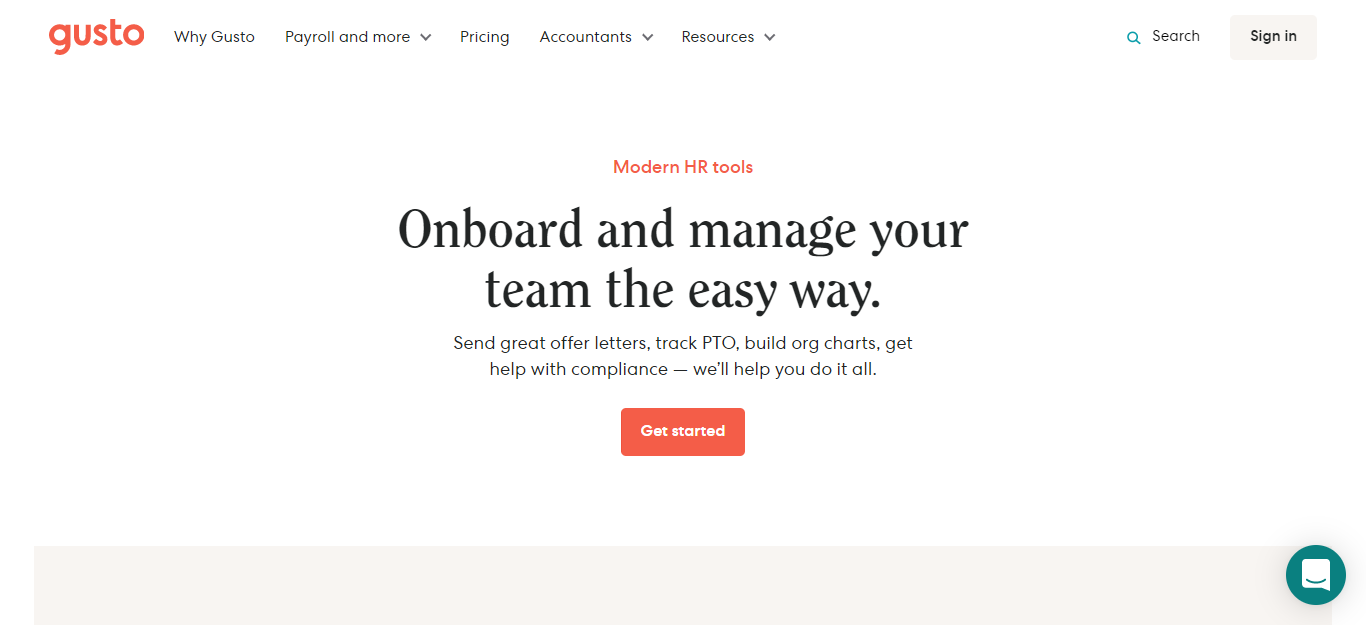 Benefits and Plans
Gusto also enables you to track college saving plans, benefits, 401(k) plans, and medical and dental plans. In short, Gusto can monitor anything affecting your employee's salary and keeps all this info inside a secure digital 'employee vault.'
SurePayroll vs Gusto: Pricing
So, how much will these payroll tools set you back? First, let's take a look at Surepayroll's fees…
As we said at the beginning of this review, SurePayroll doesn't specify it's pricing online. To get a quote, you need to get in touch with their sales team to discuss your requirements. The software does, however, over a three-month free trial to check out its services! So head over there to see if the tool is for you.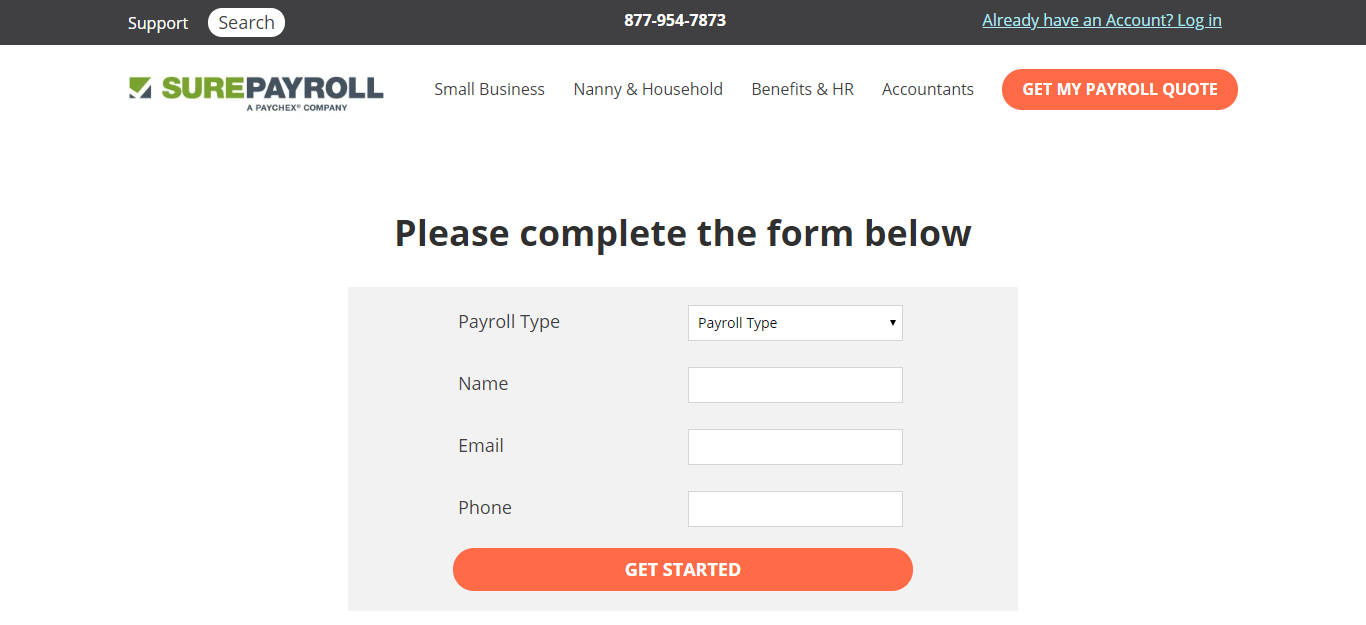 Gusto is more conventional with its flat monthly fees, on top of its monthly per-employee, per-month expense.
If you only work with contractors…
If you haven't hired any W-2 employees, and just 1099 contractors, Gusto can help you pay them. Its contractor plan is available for $6 per month per person, with no additional fees.
You can make unlimited contractor payments and offer self-service options to contractors (like being able to view their payments and year-end 1099 forms). With this package, Gusto also makes it easy for you to create and file 1099 Forms.
Otherwise, Gusto has three different pricing plans available. All of them offer full, unlimited payroll handling in all 50 US states and handle tax filings and payments. They cover both W-2 and 1099 forms. Gusto automatically pays your state and federal unemployment insurance and deducts garnishments.
On all plans, you also have access to unlimited customer support via phone, email, and chat.
With all that being said, let's look at each plan in more detail…
The Core Plan ($39 a month, plus $6 per person, per month)
The Core plan provides full-service payroll tools, and employee self-service, and profiles, alongside these features:
Health benefits administration

Worker's comp administration

Paid-time-off policies

Employee access to Gusto Cashout (This system provides financial security to employees who need to cover emergency bills. They can essentially borrow money against their next paychecks interest-free to cover unexpected expenses. However, as the employer, you can set smart limits, so they don't draw out too much cash).
The Complete Plan ($39 a month, plus $12 per person, per month)
In addition to all the Core plan features, you get access to the following:
Job offers templates

Onboarding tools that enable you to introduce new hires quickly and efficiently to your workplace.

Simple time tracking where employees can log their hours

Help managing paid-time-off policies and time-off requests

You can set up and manage an employee directory and surveys.

Manager permissions: You can allow managers access to employee details that report to them directly.

You'll get access to Gusto's 'secure document vault,' where employee documents and details can be stored safely.

You can e-sign custom documents to simplify internal communications and contracts.

You can set custom paid holidays as part of your company policy.

Automatically sink time off and holiday requests with the calendar, so you can view who's in the office, and when.
The Concierge Plan ($149 a month, plus $12 per person, per month)
This plan is intended for HR pros, providing resources that streamline their work. On top of the features of the previous packages, Concierge also unlocks:
Access to Gusto's certified HR pros (these are SHRM and HRCI-certified experts)

Access to an HR resource center (including a custom employee handbook, job description templates, HR guides, and policy templates, harassment prevention training and proactive compliance updates)

You can set admin permissions.

Dedicated support, including an exclusive phone line so you'll get assistance whenever you need it.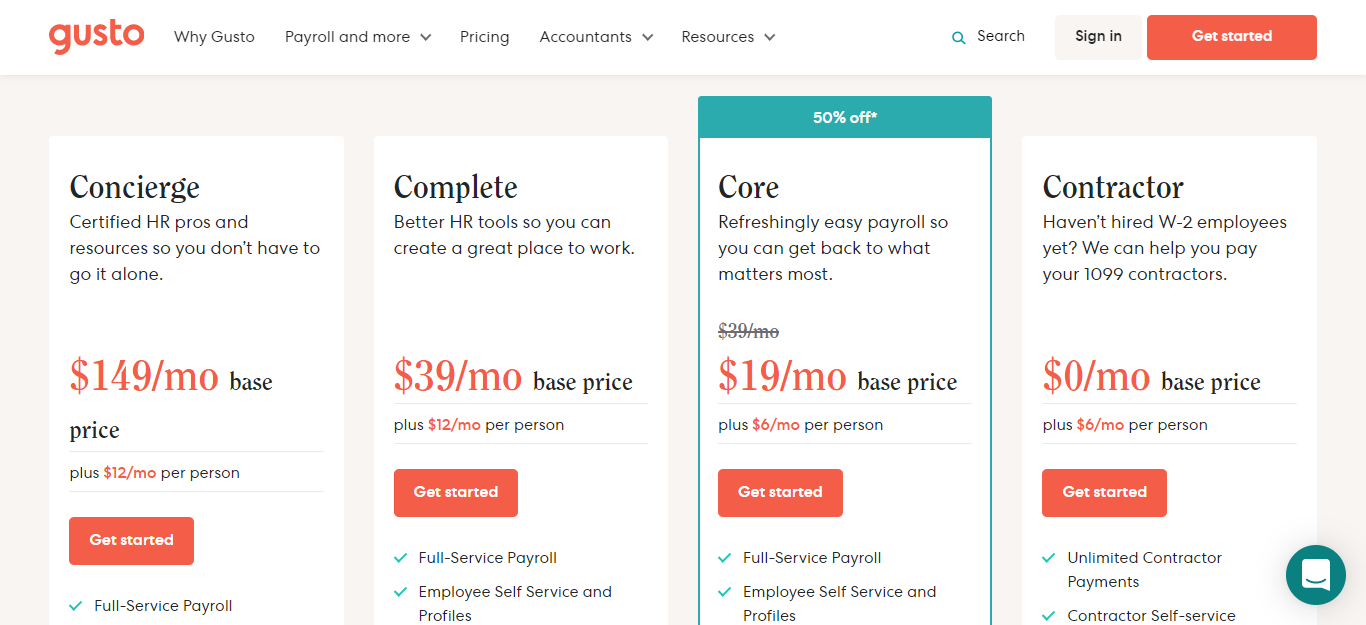 Surepayroll vs Gusto: Customer Support
When it comes to HR and handling the well-earnt salaries of your staff, you don't want to mess about. This makes high-quality support all the more critical.
So, between Surepayroll vs Gusto, who provides better and more convenient customer support?
SurePayroll
You can reach SurePayroll via live webchat or phone (877-956-7873)
0, from Monday to Friday 7 am – 8 pm (Central time). On Saturdays, their team is available 9 am – 1 pm Central. You can also fax SurePayroll on 847-676-515.
At this point, it's worth noting that they offer support in both English and Spanish.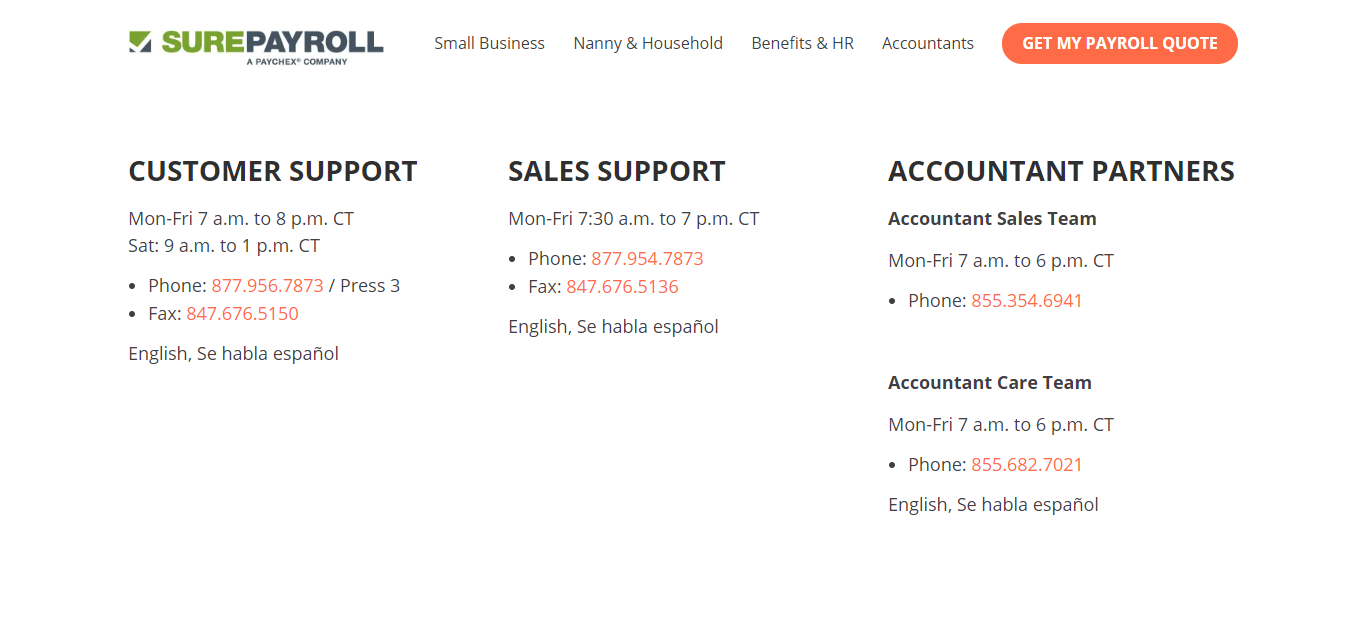 Gusto
Gusto's team is available via phone, email, and live chat. Unlimited support is available from friendly and experienced representatives. The phone lines are open from 6 am – 5 pm PT, Monday to Friday.
But, if you're on their Concierge plan, you'll get a direct line for phone support, so there's no waiting around.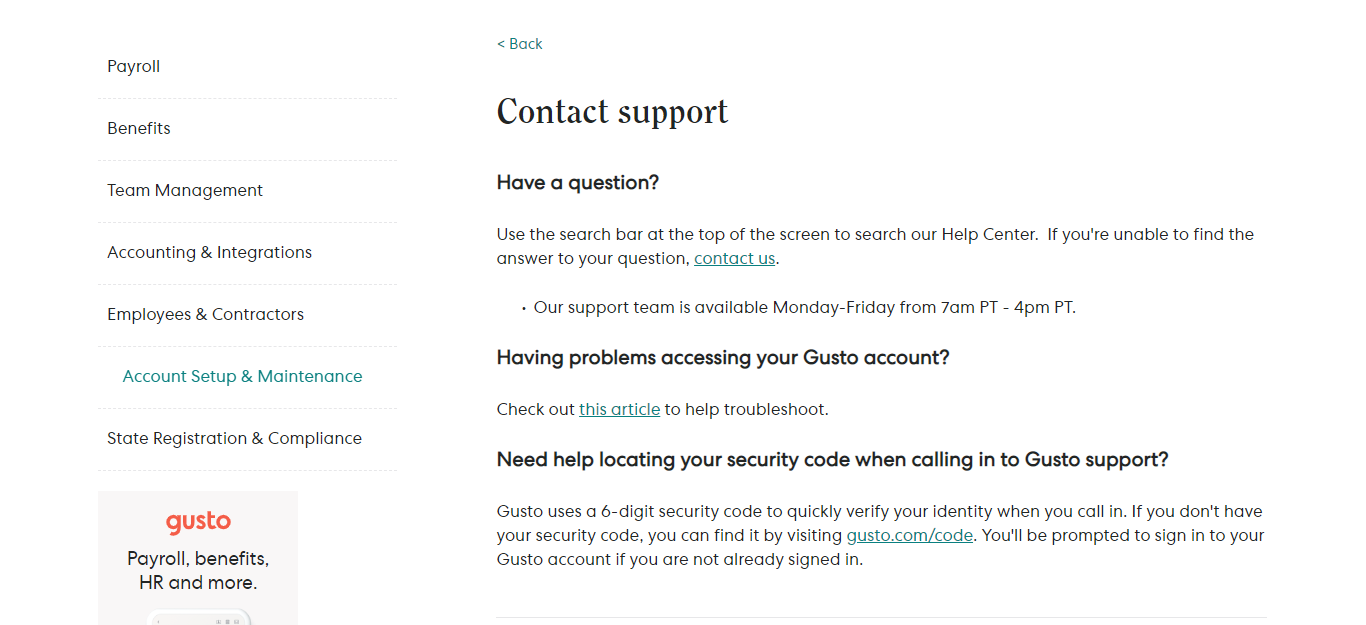 SurePayroll vs Gusto – The Pros and Cons
Now you know the bulk of what these two providers offer, it's time to evaluate which might be better for you. To help make that decision more straightforward, we've compiled a simple pro-con list for you to peruse…
SurePayroll
Let's start with the upsides of using SurePayroll:
The Pros:
SurePayroll takes care of tax filings for you

You can handle mandatory and voluntary benefits, worker comp, and savings and/or retirement plans

Access to flexible, tailored-to-your-business pricing

You'll benefit from SurePayroll's long-standing industry experience

Nanny Payroll is available for household employers

You can download and use their mobile app for free

SurePayroll offers a generous three-month trial

Access to a no penalty tax and tax calculation guarantee
The Cons:
You have to get in touch for a quote

SurePayroll centers on payroll, i.e., it doesn't offer much in the way of HR or team management tools.
Gusto
Now, let's take a look at Gusto's pros and cons:
The Pros:
Transparent pricing

They provide a flexible option for paying contractors (with no monthly flat fee)

Access to hiring and onboarding features

Tools for creating and conducting surveys, employee profiles, and reminders. You can also craft a custom employment handbook to help manage HR beyond just payroll-related tasks.

The interface is designed to be modern, fun, and friendly for both employers and staff.
The Cons:
While you can log into Gusto from your mobile browser, there isn't a dedicated mobile app you can use.

Pricing can quickly ramp up if you have lots of employees.

Access to Gusto's more advanced HR center is only available on a much higher pricing plan.

Gusto offers additional features like tax-advantaged spending accounts, but these come at a higher cost. To unlock Gusto's full potential, you'll need a heftier budget.
Surepayroll vs Gusto: FAQs
How Secure is Gusto?
Gusto operates a secure, cloud-based platform. The provider actively tests its software to nip any security problems in the bud before they become a significant issue. They also use industry-standard encryption for added data security. Plus, Gusto has an on-site security team that's ready to step in, should any issues arise.
What Guarantees Does SurePayroll Offer?
SurePayroll comes with a no penalty tax guarantee as well as a tax calculation guarantee. So, should you be contacted by the IRS over any mistake, SurePayroll guarantees to handle the interaction and correct any errors. They'll also pay any penalties or charges incurred as a result.
Please note: SurePayroll's tax calculation guarantee is dependant on receiving accurate and timely information from you.
Can I Run More Than One Payroll Through These Providers?
Yes! Both SurePayroll and Gusto offer unlimited payroll processing as one of their core features.
SurePayroll vs Gusto – Which Payroll Service Might You Enlist?
It's time to close the review and recap what we've learned!
Both SurePayroll and Gusto provide users with a suite of payroll features that make this aspect of HR much more accessible. This is especially true where tax filing and calculating additional benefits are concerned.
If the price is a decisive factor, it's worth getting in touch with SurePayroll to get a quote. That way, you can weigh up your options more thoroughly.
Both providers market themselves primarily at small businesses. But if we had to choose, here's who we would recommend them for:
Gusto is best suited to modern-minded freelancers and small to medium-sized businesses. The software is an excellent tool for anyone that doesn't have a dedicated HR team but wants to improve their employee experience while streamlining their payroll-related jobs.
With its intuitive interface and plenty of team management features, Gusto is an all-round HR management pack that helps with so much more than just payroll. You can use Gusto to help handle hiring, job offers, and onboarding – just to name a few! This platform may come with an additional price tag, but it's an HR powerhouse that's certainly worth investing in.
Our Pick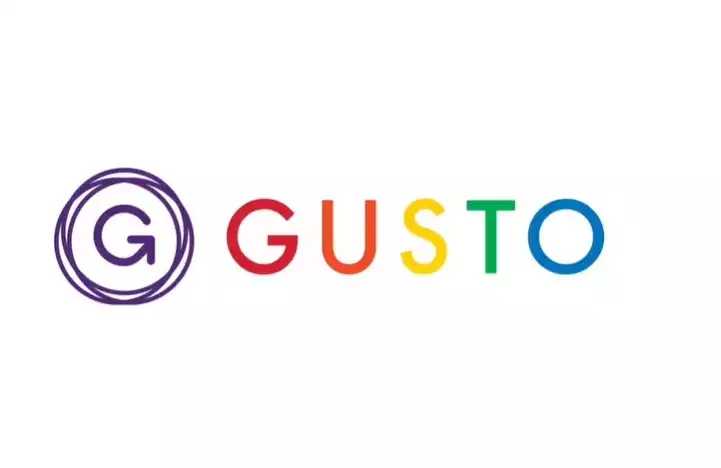 Why I Personally Prefer Gusto
Easier to use, cheaper, and much more scalable than the competition. Gusto WORKS better, particularly for small to mid-sized companies. We went with Gusto for our business and are incredibly happy with the support and integrations with our other accounting tools.
TRY GUSTO FIRST HERE
We earn a commission if you click this link and make a purchase at no additional cost to you.
Whereas, SurePayroll primarily markets itself towards just small companies, (especially those under ten employees). This provider focuses on payroll more than team management and doesn't have as many employee-friendly features to play with. But if you're after an efficient, proven-to-work payroll system, SurePayroll's got you covered.
Bottom Line Summary:
Do you have experience with payroll services like SurePayroll and Gusto? Let us know in the comments below why you might choose one over the other. Speak soon!
Further Reading on Full Service Payroll Options for Your Business Payroll Needs: