Last Updated on June 1, 2023 by Ewen Finser
Is running a small or mid-sized business keeping you busy? Between organizing your marketing campaigns, sales strategies, and answering customer service queries, you probably have your hands full.
Chances are you're looking to lessen your workload by streamlining and automating as much of your business as possible…including HR-related tasks.
HR is a big time-sink – especially processing payroll. This is a massive hassle when you employ several staff members, all with their own benefits and bonuses.
You could spend hours each month ensuring employees get paid…
…or you could invest in a payroll tool to automate these actions for you!
Cue, Paychex, and SurePayroll.
Bottom Line Up Front Summary: My high-level take is that SurePayroll is best if you have 10 or fewer employees, while Paycheck is better if you are above 10 employees. Of course, there are more nuances to consider in this comparison, but for 90% of businesses, that's where you'll fall…
Main Differences Between Paychex vs Surepayroll
The main differences between Paychex vs Surepayroll are:
SurePayroll's services are primarily for smaller companies, whereas Paychex also offers solutions for midsize to enterprise-level organizations

SurePayroll offers 'Nanny Payroll' for household employers, whereas Paychex doesn't provide a similar service

Paychex offers hiring, onboarding, business insurance, and start-up services, whereas SurePayroll doesn't provide any services like this other than new-hire reporting to the state
These are two leading companies offering such a service. By investing in a high-quality payroll platform, you'll never have to worry about paying employees on time ever again.
If this sounds like a good investment to you, read on!
We've outlined the core aspects of both Paychex payroll process solution and Surepayroll online payroll service to help you determine which provider best suits your business.
If it's a quick comparison you're after, never fear. We've listed the key similarities and differences between Paychex and SurePayroll below.
Afterward, we'll take a more in-depth look at how the two providers compare.
Let's dive in!
Paychex vs Surepayroll: The Similarities
Both providers offer three-month free trials.

SurePayroll and Paychex both have mobile apps and 100% online payroll

They're both US-based companies

Paychex and SurePayroll only offer quotes upon request.
About SurePayroll
SurePayroll prides itself on helping small business owners succeed with an online payroll solution. They've assisted companies since 2000, but in 2011 SurePayroll joined the Paychex Inc. group and now offers a broader range of resources to its customers.
However, despite the merger, SurePayroll still specializes in payroll for smaller businesses (between one and 100 employees). As of today, they've processed more than ten million payrolls and received the Stevie Award of Service ten years in a row. That's impressive stuff!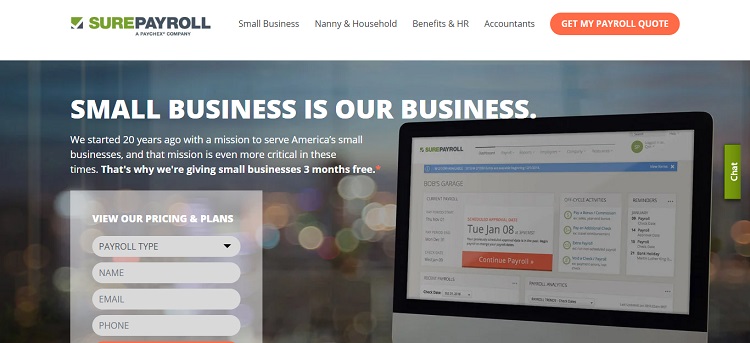 About Paychex Payroll Software
Paychex is one of the longest standing payroll service providers in the industry. The company was founded in 1971 on a budget of just $3,000, and a mission to make outsourcing affordable payroll solutions for small businesses easy.
Now, Paychex has more than 14,000 employees and supports over 670,000 payroll clients across more than 100 locations in the US.
Their variety of HR services is continually growing – of course, this includes payroll processing, but they also offer retirement services, health insurance, onboarding help, etc.
Customization Pick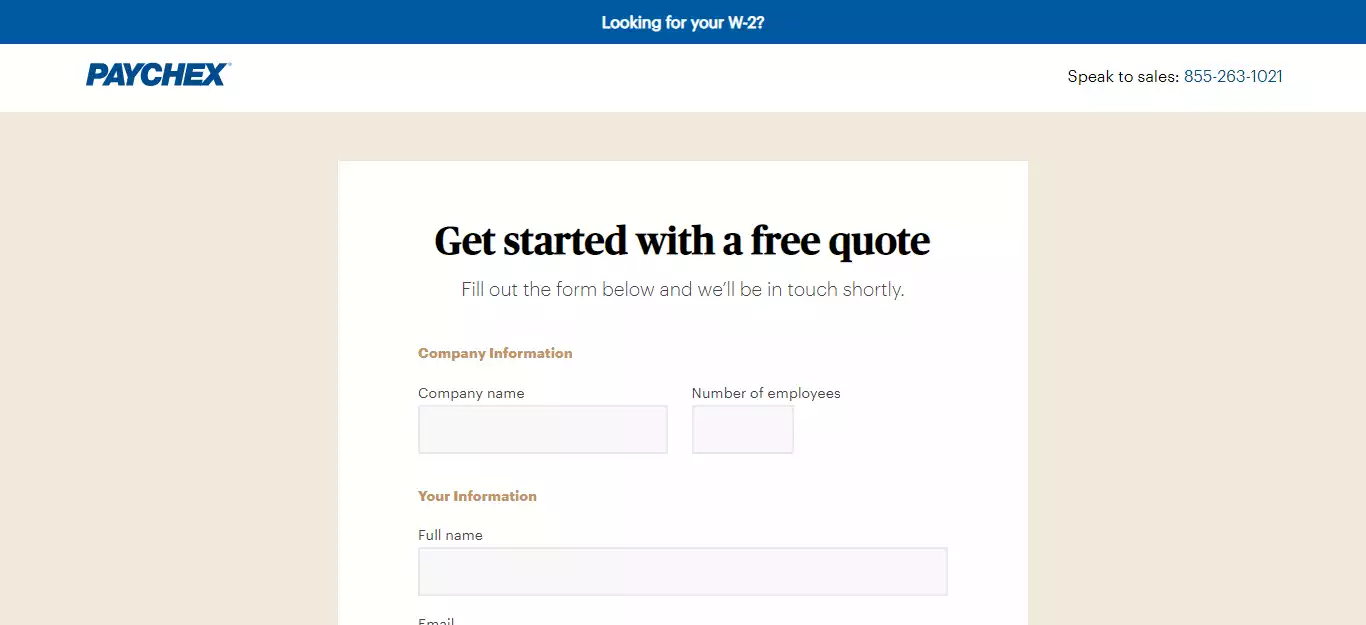 Why Go With Paychex?
Paychex just has MORE experience handling business payroll needs. They also have a modular, with specific addons for other common HR functions. a FULL PEO suite (if and when you need it).
Customize with Paychex
We earn a commission if you click this link and make a purchase at no additional cost to you.
More specifically, Paychex's retirement and 401(k) services help employees save for the future. Paychex can handle bundled record keeping and administration services, including retirement plan documentation, form preparation, and compliance testing. They also help businesses customize and design benefits and retirement packages, including investment options.
Where insurance is concerned, Paychex's Insurance Agency is a one-stop service for business insurance. They'll help you select the right coverage and manage deductions, compliance, and billing. They'll also assist you with integrating small business insurance policies to work alongside Paychex's payroll services.
In terms of coverage, they offer general liability, employment practices liability, commercial auto, cyber liability, business owner's policies, worker's compensation, and commercial property insurance, as well as umbrella coverage.
At this point, we also want to highlight, when it comes to onboarding tools, with Paychex Flex, it's easy for recruits to complete new hire documentation, set up a direct deposit, and fill out tax forms for tax filing.
As you can see, Paychex offers tons of different features. This company provides customers with customized packages that meet the needs of their individual business, whatever its size or complexity.

Features – Paychex vs SurePayroll Payroll Software
Between Paychex and SurePayroll, which provides the best set of features for your workflows?
Paychex
Paychex is a powerhouse when it comes to HR solutions, but we'll try and keep things brief. Below we've noted Paychex's most notable services:
Payroll Services
From small teams to mid-sized companies and even enterprises, Paychex's payroll services come in handy.
For small companies between one and 49 employees, Paychex offers secure payroll processing. You can access your payroll online, via the mobile app, or call Paychex's customer service, and they'll get it done for you. Federal, state, and local payroll taxes are automatically calculated, applied, and filed – so there's no need to worry about that!
This same solution includes a few employee self-service options. For example, Paychex's onboarding tools enable recruits to access and change their personal info.
Similarly, employees can locate and fill out their own tax forms for tax filing and view their payroll data. By giving workers the independence to handle this themselves, you'll free up some of your precious time to focus on more important things.
Small business payroll with Paychex also includes:
A free mobile app for you and your employees to use.

A labor compliance poster kit.

You can generate reports and use custom analytics (you can produce over 160 different types of reports and set custom parameters to analyze specific metrics). This includes live reports that provide immediate on-screen results. Other examples of report templates include payroll labor costs, HR analytics, turnover trends, recruitment and applicant tracking, attendance, etc.

Access to 24/7 customer service and technical support

Garnishment payments: i.e., deductions for debts or investments that apply to individual employees. These are automatically remitted to the appropriate agency.

Access to an event calendar that reminds you of any workplace anniversaries and birthdays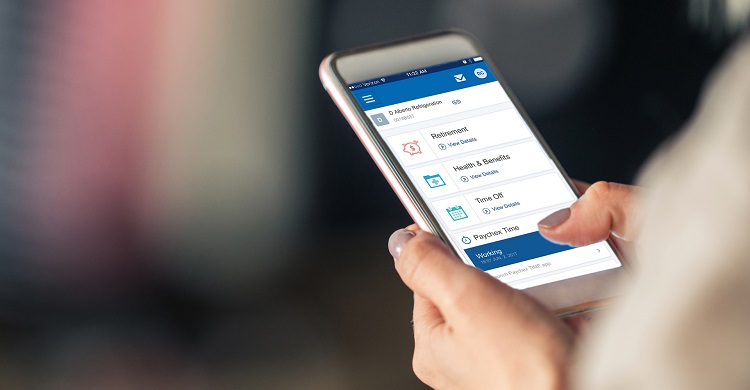 For mid-sized to enterprise-level companies comprising 50 – 1000+ employees, Paychex offers a separate solution – Paychex Flex.
Needless to say, the more complex the business, the more cautious you need to be about wage and hour tax penalties (for hourly employees) – namely because inaccurate data can interfere with the company's bottom line.

Paychex provides better risk management with its Paychex Flex solution. This provides scalable business support for companies of any size while streamlining payroll and keeping up-to-date with the latest tax rates.
Paychex Flex offers:
Automatic payroll tax calculation, payment, and filing

Cloud-based, easy-to-use online payroll software, where you can carry out s

ecure payroll processing in just two clicks

Built-in safeguards to avoid payroll issues and compliance mistake

Recruitment and onboarding tools, including:

Employee screening and background checks

Recruitment and applicant tracking

Tools that assist new hires with completing the necessary forms and learning company policies and culture.

An in-built learning management system (LMS): You receive eight free courses outright, with the option of adding more. You can also upgrade to customize your current training and build your own courses, videos, quizzes, etc., to help train your staff.

Access to real-time analytics
This solution provides the same employee self-service tools we've already mentioned. But, employees can also enroll in health benefits, check their time off balances, and more, from both their desktop and mobile devices.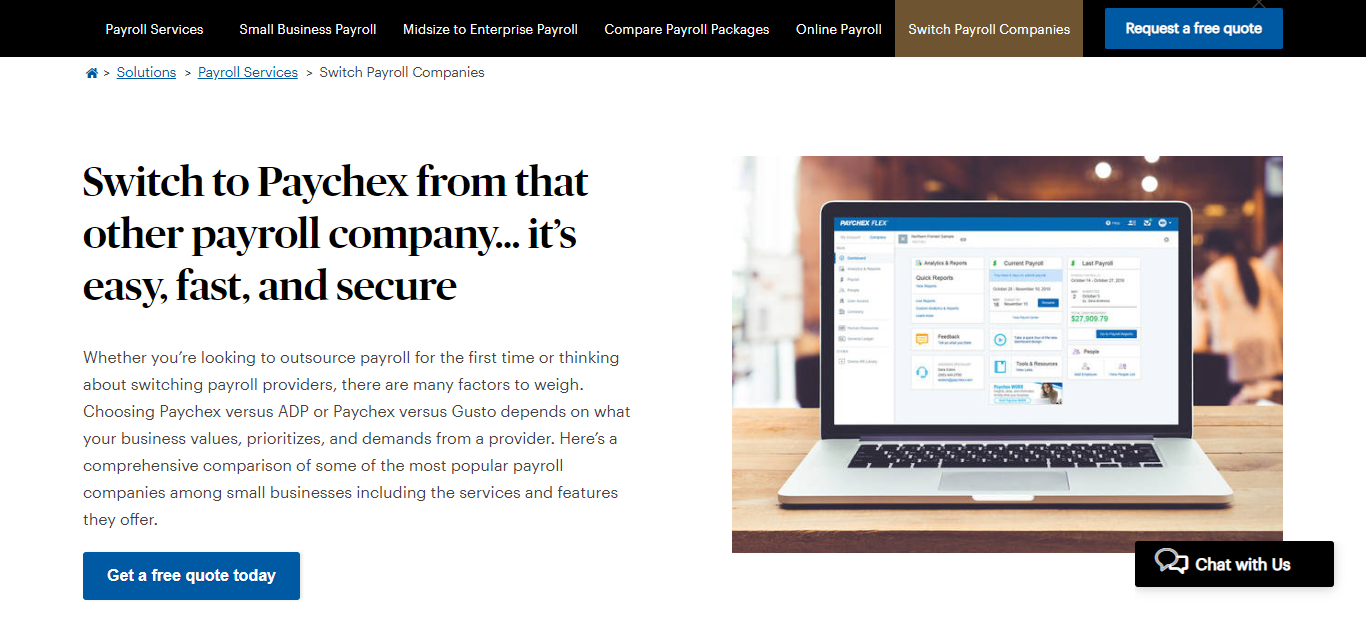 SurePayroll
SurePayroll ensures all your small business payroll needs are met. Their core service is providing unlimited payroll processing, which handles payment and tax filings, calculates deductions, and keeps track of employee benefits.
Whether you're paying 1099 contractors or W-2 employees, SurePayroll helps you monitor the finer details to ensure everyone gets paid on time. You can set this process up to run automatically, or run payroll manually whenever you need to. The choice is yours.
SurePayroll also reports new hires to the government and double-checks you have all the vital employee documents to meet state-imposed compliance standards.
To assist with compliance, SurePayroll provides printable policy templates to help keep your staff in the know. You can also set custom alerts and reminders to stay on track of any changes and responsibilities you and your team should note.
SurePayroll's full-service toolset includes the following features:
Unlimited payrolls

Payment processing within two days (the industry average is four)

Cover for all 50 states

You can set automatic or manual payroll schedules.

You can generate payroll reports, including 1099, W-2 end-of-year, and quarterly reports.

You can pay individual 1099 contractors.

It's easy to calculate multiple pay-rates and bonuses.
SurePayroll also offers employee self-service features, including:
Payday emails

The ability to access their own paystubs and tax forms

Mobile access via the SurePayroll app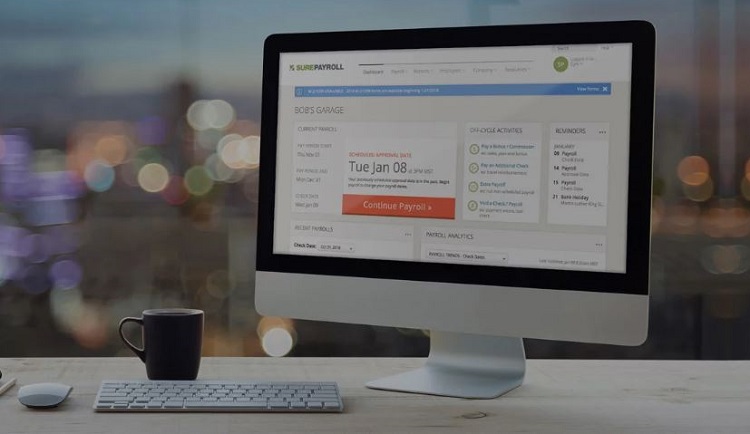 Managing Your Team
SurePayroll integrates with bookkeeping and timekeeping software so that this info seamlessly communicates with payroll.
In terms of other 'team management' features, SurePayroll enables you to create employee profiles. These give you greater visibility over the structure of your organization, which makes dividing staff into teams and departments much easier. You can also use employee profiles to synch birthdays and anniversaries with your calendar, so you never forget an important date.
Benefits and HR
Where benefits are concerned, mandatory regulations are continually changing. Your business might have to cover a lot – from worker's compensation to mandated benefits and retirement plans; it's a fair amount to manage!
SurePayroll offers pay-as-you-go services for worker's compensation insurance, as well as affordable 401(k) plans. Pricing options are flexible to suit your needs, and you can expand the benefits you offer employees as you see fit.
SurePayroll also furnishes managers with pre-employment screening and new hire reporting. This means every new employee is reported to the government for you. And on-demand online screening allows you to perform background checks and drug screenings, including behavioral assessments and skills testing.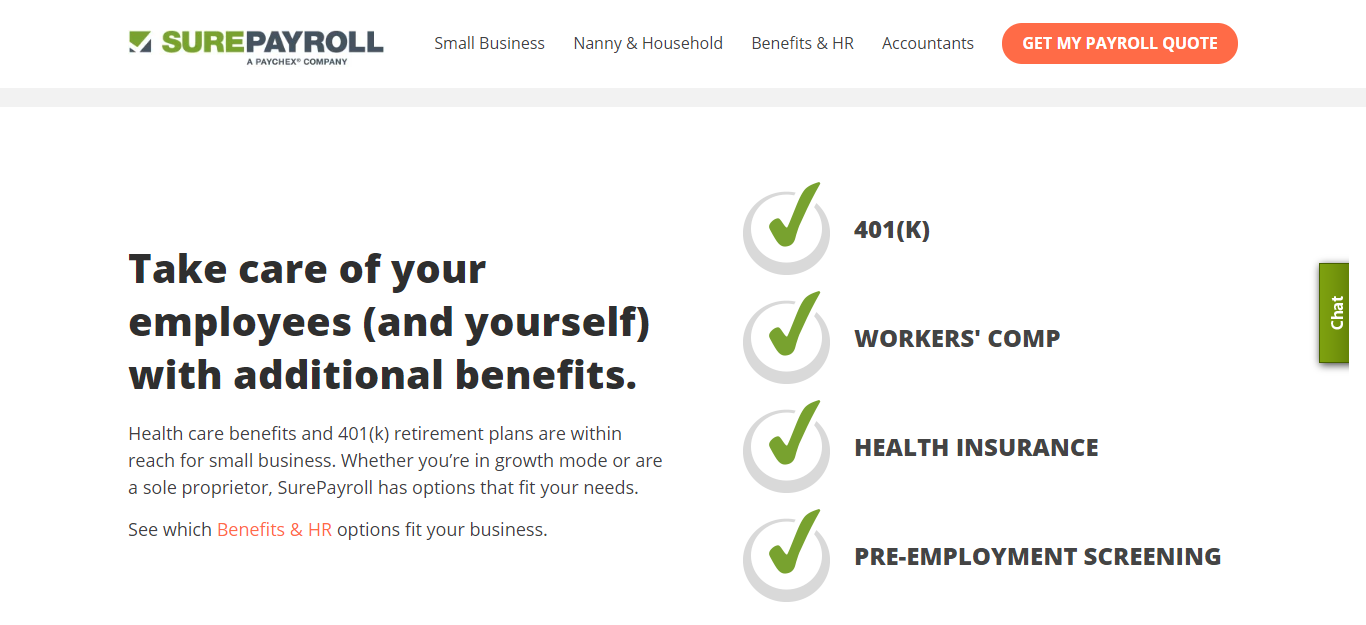 Aside from serving small businesses, SurePayroll also dips into household employment. For instance, if you're employing a nanny at home, you can use Nanny Payroll to pay them on time, while complying with tax regulations.
Simply plug in their salary and hours, and the nanny payroll service deducts taxes and files them for you. This saves private employers lots of hassle, ensuring they never run into issues with the IRS.
Customization Pick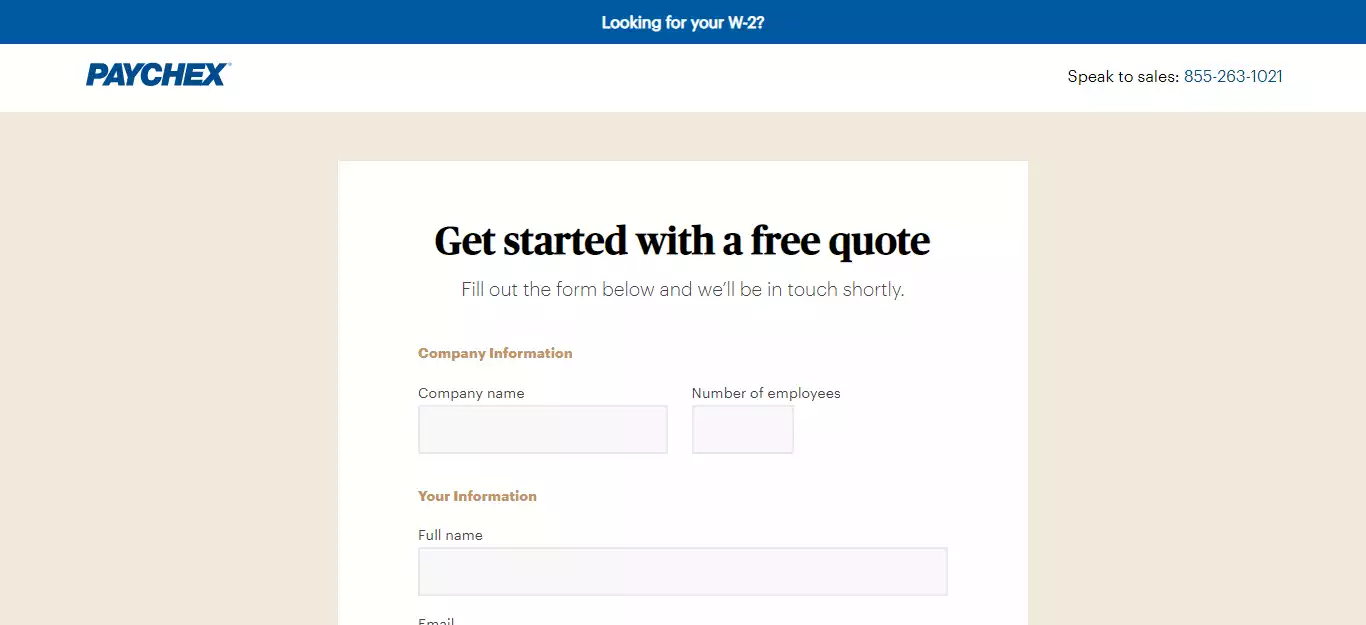 Why Go With Paychex?
Paychex just has MORE experience handling business payroll needs. They also have a modular, with specific addons for other common HR functions. a FULL PEO suite (if and when you need it).
Customize with Paychex
We earn a commission if you click this link and make a purchase at no additional cost to you.
Paychex vs Surepayroll: Pricing
Both SurePayroll and Paychex are well-established companies with decades of experience behind them. Each provides custom-suited solutions with dedicated support (dedicated payroll specialist on call). Consequently, neither payroll service offers simple SaaS plans.
To get a quote, you have to get in touch with their sales team. They'll advise you on the features your company needs, and the costs you can expect to pay per employee per month.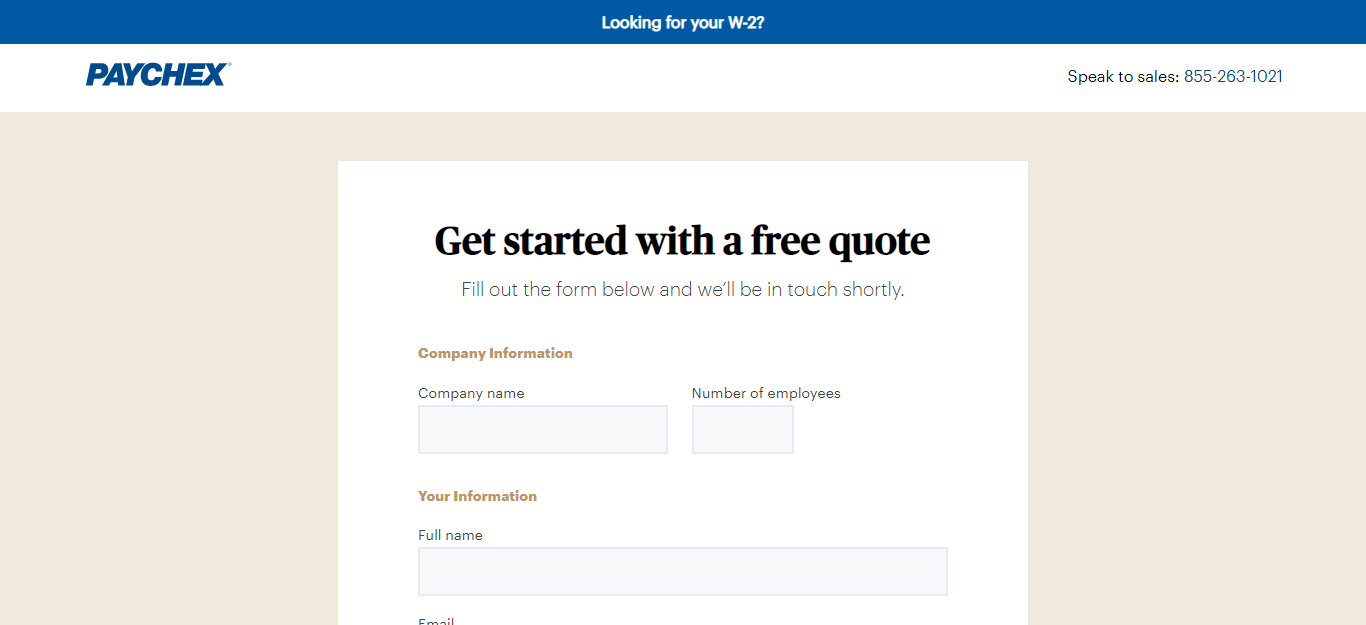 While researching this article, we found a few of Paychex's customers discussing their monthly fees online. So, you can expect a quote in this region – but get in touch with Paychex's sales team for more accurate pricing.
Their Express payroll boasts a base price of $60 a month. This comes with automatic payroll and tax filing, new-hire reporting, and access to the mobile app, and the employee portal.
Their Paychex Flex service with only select features for mid-sized businesses comes in at $90 per month, with an additional $3 per payee.
Paychex Flex Pro, unlocks employee background checks, reporting, and wage garnishment, and costs $158 a month, with an additional $3.65 per employee.
You might find, upon calling for a quote, that SurePayroll's pricing is much more affordable for smaller companies. Users report pricing starts at $29 a month plus $4 per additional employee.
In comparison to other payroll services like Square, Gusto, and Paychex, SurePayroll is one of the most affordable options on the market.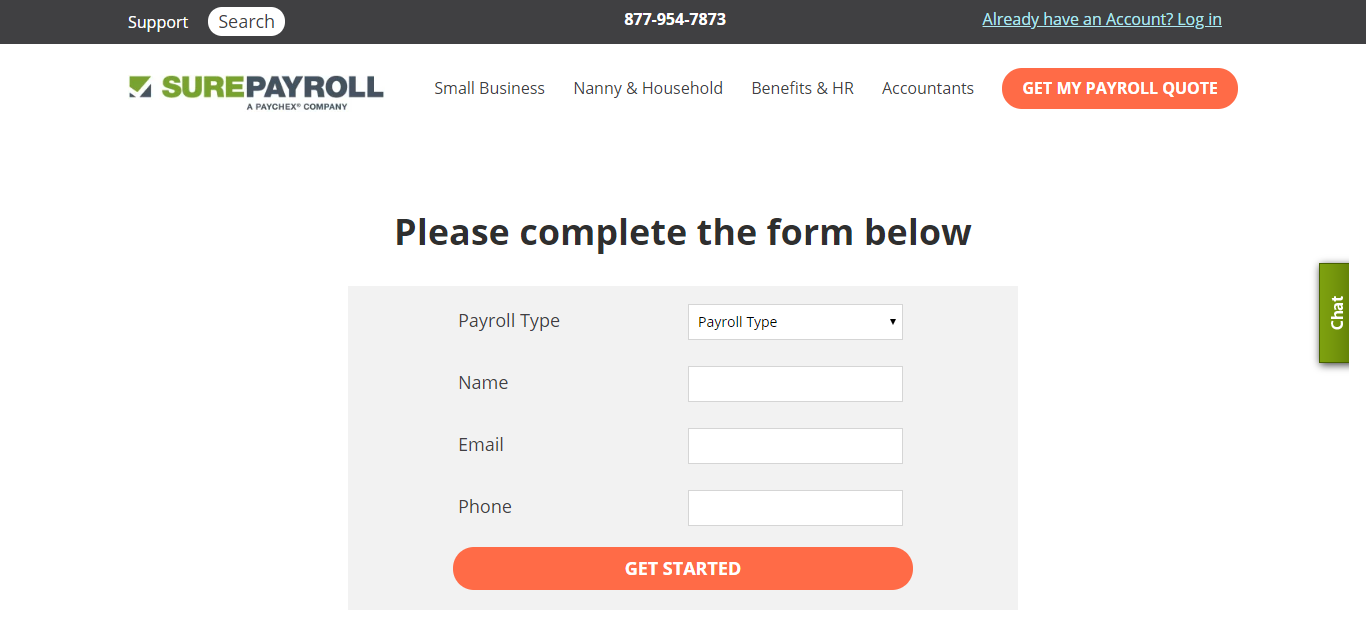 Paychex vs SurePayroll: Customer Service
Paychex provides 24/7 support with all of its services. Log in to the online client portal to find the right contact info for your specific question. Experts are accessible in each area.
SurePayroll can be reached through live chat on their website or via phone from Monday to Friday, 7 am – 8 pm Central time. On Saturdays, they're available from 9 am – 1 pm Central. SurePayroll provides support in English and Spanish. Their website also features comprehensive support documentation with an extensive FAQ section.
Paychex vs SurePayroll: Their Pros and Cons
Paychex
The Pros:
Paychex boasts over 45 years of industry experience.

Paychex offers a varied set of features, including hiring, onboarding, and extensive HR management tools.

Paychex provides solutions for small businesses and mid-sized companies alike.

You get access to 24/7 support.

You can manage payroll on the go with Paychex's

free mobile app.

Full direct deposit support
Payroll tax accounting
The Cons:
Paychex's pricing isn't as transparent as modern SaaS solutions, making it harder to compare quotes.

Tailored solutions can quickly become more expensive than more straightforward monthly plans.

Some users report that Paychex's interface is somewhat outdated, slow, and not very user-friendly.

Some users complain that employees can't print off their own paychecks, a feature that many of Paychex's competitors offer.
SurePayroll
The Pros:
SurePayroll provides payroll solutions for businesses with teams as small as one to ten employees.

You get access to a mobile app that grants easy access to payroll details.

Unlimited payroll processing with a fast 2-day processing time

SurePayroll offers its 'Nanny Payroll' service for household employers.

Access to a fully-featured, three-month-long trial.

Full direct deposit support
End of year payroll tax accounting
The Cons:
SurePayroll doesn't include a suite of comprehensive HR management tools.

The service doesn't cater to mid-sized or larger businesses.

Its non-transparent pricing makes it difficult to compare with more straightforward SaaS solutions.

Some users report SurePayroll's interface is 'clunky.'
Paychex vs SurePayroll: FAQs
What's a PEO?
PEO stands for a professional employer organization. This kind of company takes care of all aspects of HR, including hiring and payroll. In a sense, the company becomes your co-employer.
Paychex offers PEO services alongside its HR solutions and payroll services. PEOs are useful for enterprise-sized companies that no longer wish to rely on software but instead, a fully-fledged HR partner.
Do Paychex and SurePayroll Offer Money-Back Guarantees?
Paychex offers a guarantee against any errors caused by them, providing they're brought to Paychex's attention immediately. They aim to fix any flaws within two weeks. This guarantee lasts for one year after delivery of the performed service.
SurePayroll offers both a 'No-penalty tax guarantee' as well as a 'tax calculation guarantee.' The provider promises to file your taxes each time correctly and will pay any charges or penalties incurred as a result of their mistake. For this to be applicable, the client must report any issues in an accurate and timely fashion.
How Secure is Paychex?
Paychex protects against unauthorized access through the use of malware detection and prevention, as well as firewalls and other industry-standard technologies.
All sensitive information is encrypted and advanced tech is used to back up data and aid recovery. The company provides employee security training and multi-factor authentication with Paychex Flex.
How Secure is SurePayroll?
SurePayroll's data center is monitored by on-site security all day. It's equipped with redundant power, networking, and other systems to ensure availability at all times.
The provider's info is backed up consistently, and web servers use the most robust security available with 129 bit SSL. The network is protected by layered firewalls, intrusion-detection, and antivirus systems. For added protection, third-parties also monitor SurePayroll's security systems.
Paychex vs Surepayroll: Which Service Suits Your Business Better?
Now we've taken a look at both providers; we hope you have a clearer idea of which (if either) of these services suits your business.
Both Surepayroll and Paychex have decades of industry experience and are fantastic options for anyone with specific needs and the desire for a more tailored and personal experience.
Small Business? SurePayroll is best suited for small businesses between 1 and 10 employees. For these smaller companies, SurePayroll offers a catered and affordable service that handles all its core payroll needs.
In short, if you are a smaller business with 10 or fewer employees, go with SurePayroll here.
If you're after a more comprehensive HR solution, or your company has grown beyond what SurePayroll can offer, this isn't the right service for you.
Whereas Paychex is a long-standing industry giant with almost half a century of experience in payroll outsourcing! For small businesses, their services might be too expensive. However, mid to enterprise-level clients will undoubtedly enjoy a comprehensive set of features and functions within Paychex's solutions. They provide scalable services that grow with your company.
Bottom Line: IF – however – you have more than 10 employees (or plans to soon grow above 10), definitely opt for Paychex here.
Customization Pick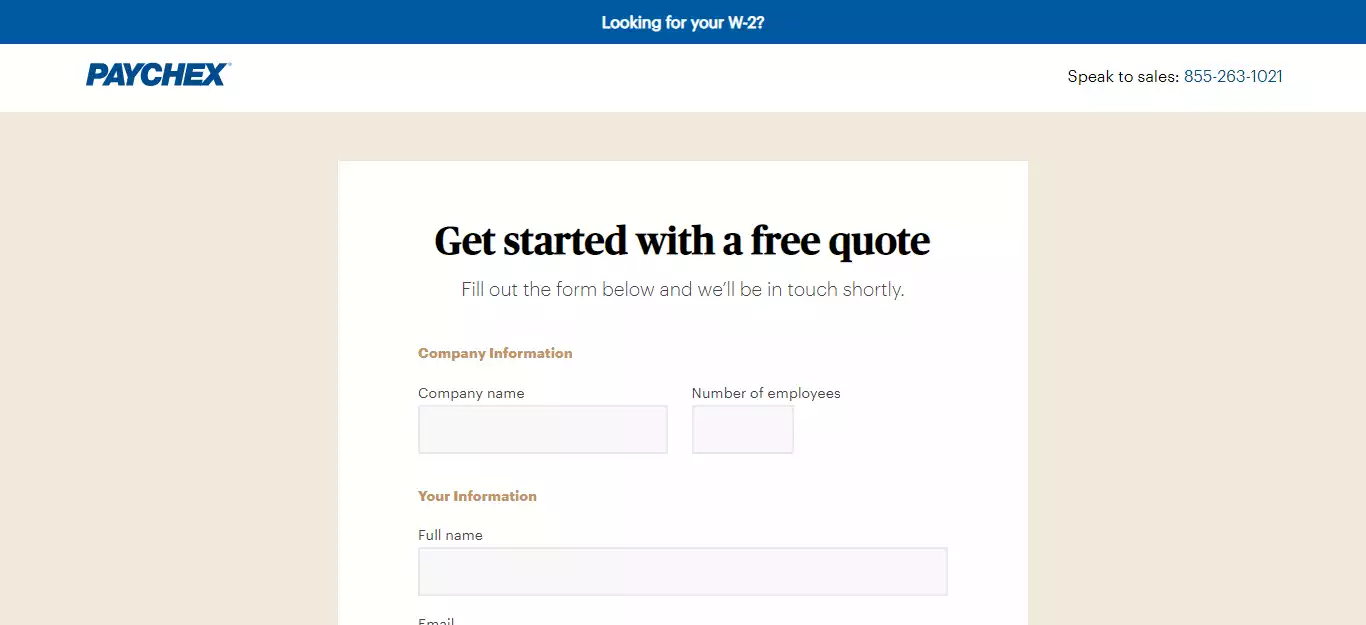 Why Go With Paychex?
Paychex just has MORE experience handling business payroll needs. They also have a modular, with specific addons for other common HR functions. a FULL PEO suite (if and when you need it).
Customize with Paychex
We earn a commission if you click this link and make a purchase at no additional cost to you.
The choice between the two depends very clearly on the size of your company and your budget. If pricing is a concern, and you want a compromise between payroll and other HR features, consider other SaaS payroll solutions. There are plenty of other payroll tools on the market, offering a more comprehensive set of features at a more transparent monthly price.
Do you have experience using either one of these services? Let us know what you think about them in the comments below. Speak soon!
Further Reading on Payroll Provider Software & Payroll Services: