Last Updated on April 21, 2023 by Ewen Finser
Sure, we've heard about numerous ecommerce solutions. We've even tried out a couple.
Conversely, we've also seen quite a number of solid solutions for brick-and-mortar stores. And I bet you've used them on countless occasions.
What am I getting at?
Quite simply, two sides of the small business world – online and offline brick-and-mortar. You certainly belong to at least one of these two categories.
But then we have another group of entrepreneurs. I'm talking about the special class of individuals who prefer to go for the long ball through a hybrid strategy. Instead of setting up either an online store or a brick-and-mortar shop, they go for both.
In other words, while most individuals choose either A or B, hybrid entrepreneurs play the system against itself by finding ways to settle for AB. And it makes sense because, in essence, 51% of US shoppers prefer online stores while 49% would rather go to an actual brick-and-mortar store.
But here's the problem- building and coordinating such a business framework is no walk in the park. Finding an ideal commerce solution itself is a headache because most of the business software is either ecommerce-based or built to facilitate point of sale systems.
Thankfully, we have several notable ones that apply both sides- they support both ecommerce and POS system simultaneously. And today we'll look into two of the most dominant ones in this space in our Shopify vs Square discussion
Square vs Shopify Bottom Line Up Front:
If you are doing business online, the advantages favor the market leader with Shopify here. Put simply, Shopify is trusted by more shoppers leverages their best in class third-party app marketplace meaning you can get Shopify to do almost anything you want. That said, if you have a PRIMARILY brick and mortar store-front POS system with a small digital footprint, Square is still the safer bet.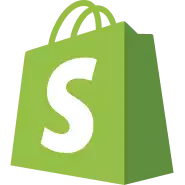 Shopify vs Square – Main Differences
The main differences between Shopify vs Square are:
Shopify requires a monthly subscription with lower processing fees, whereas Square is free to use with processing fees
Shopify is exclusively an online POS system, whereas Square is a hybrid offline and online service
Shopify has a large ecosystem of third-party apps, whereas Square has a smaller tightly controlled universe of integrations
Shopify vs Square: Overview
Shopify's journey can be traced as far back as 2006 when it started out as an eCommerce solution. It has since developed tremendously, and even managed to branch out with a holistic point of sale software.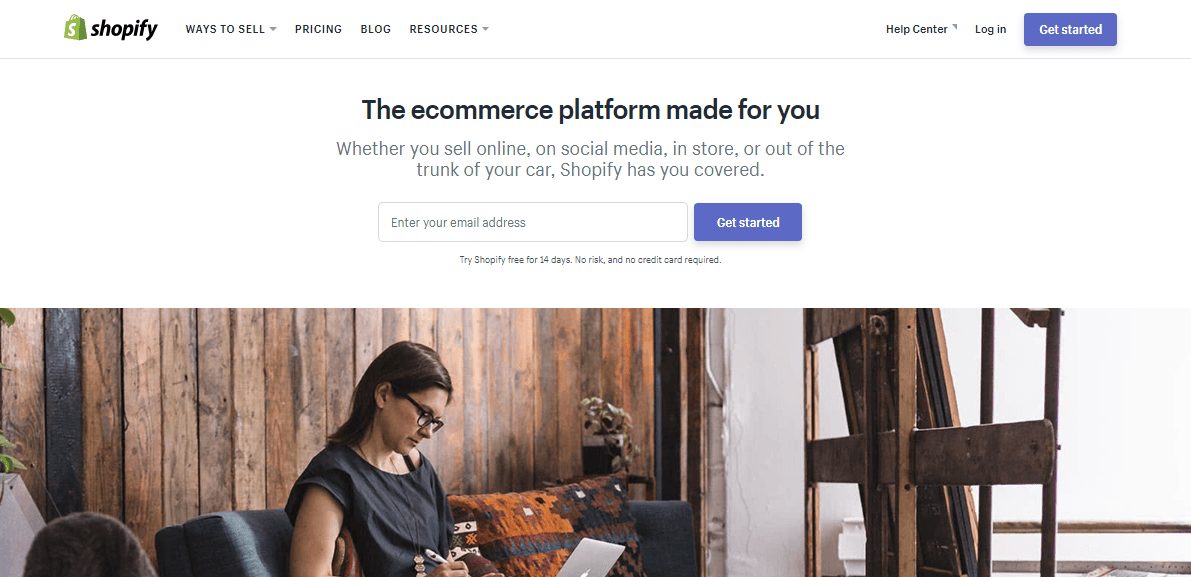 Currently, Shopify offers a complete suite of commerce tools for entrepreneurs who seek to conduct business online, in-store, and on the go.
Contrastingly, Square was launched in 2009 as a point of sale system. It subsequently became the first solution to widely avail card processing through a smartphone and a free card reader.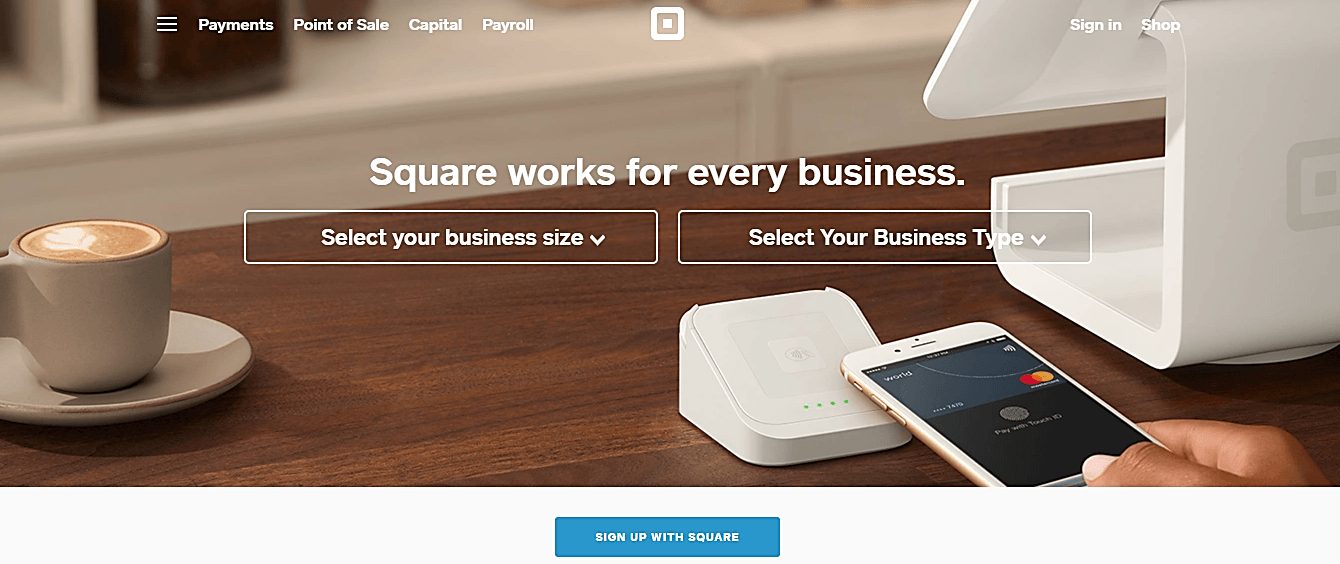 At the moment, Square is not just a mobile point of sale system. It has extended its platform to facilitate merchants who expand their businesses to the web.
Shopify vs Square: Features
Ecommerce
Let's be honest. Comparing these two directly by their ecommerce features is not that simple because of the varying approaches. While one is a shopping cart solution, the other is more of a payment processor.
But, here's the thing- you can embed various solutions to complement Square Payments and the limited online store capabilities that come with it.
Then voila!
That's how Square is able to compete fairly against ecommerce giants like Shopify, even if their Square online ecommerce store templates are less customizable.
So, let's see how they compare…
Shopify
Although we know Shopify as a jack of all trades, ecommerce has always been its principal focus. It started off in this space, then other products in its business suite came in as secondary ventures.
The ecommerce functionalities here begin at the top with site hosting capabilities. And you know what? You get unlimited bandwidth on a E commerce platform where you can sell an infinite number of items and products.
In case you don't have a domain to migrate, you can buy one through Shopify, or proceed to acquire it from other sources. It's your call.
Then comes the site design stage. Thankfully, Shopify offers numerous e-commerce website themes suited for various industries. And the best thing about them is the fact that they can all be customized extensively, especially if you have coding skills.
However, don't be worried if you're a novice. The default ecommerce theme options (Shopify theme designs) are professionally designed, and will still look attractive even with minor tweaks.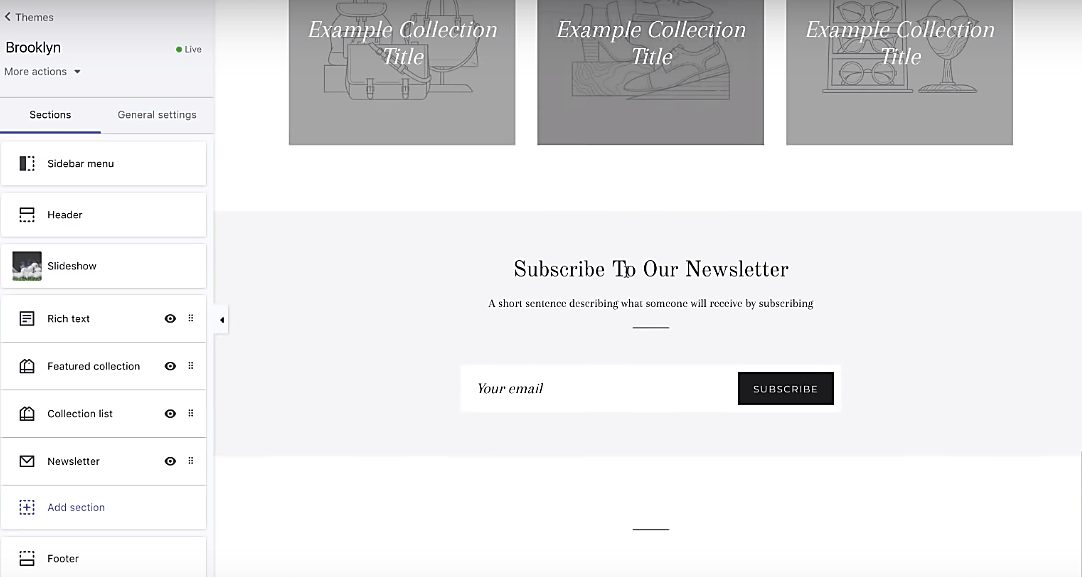 As you begin running the online store, you can take advantage of Shopify's order management features. They apply comprehensively to all sales levels- inventory, order processing and shipping. And these provisions are accessible from the dashboard as well as Shopify's supplementary apps.
The entire order chain here is largely supported by automatic data syncing processes that run continuously in the background. All the order and inventory data is exchanged in real time between your sales channels to keep the whole business structure streamlined and up to date.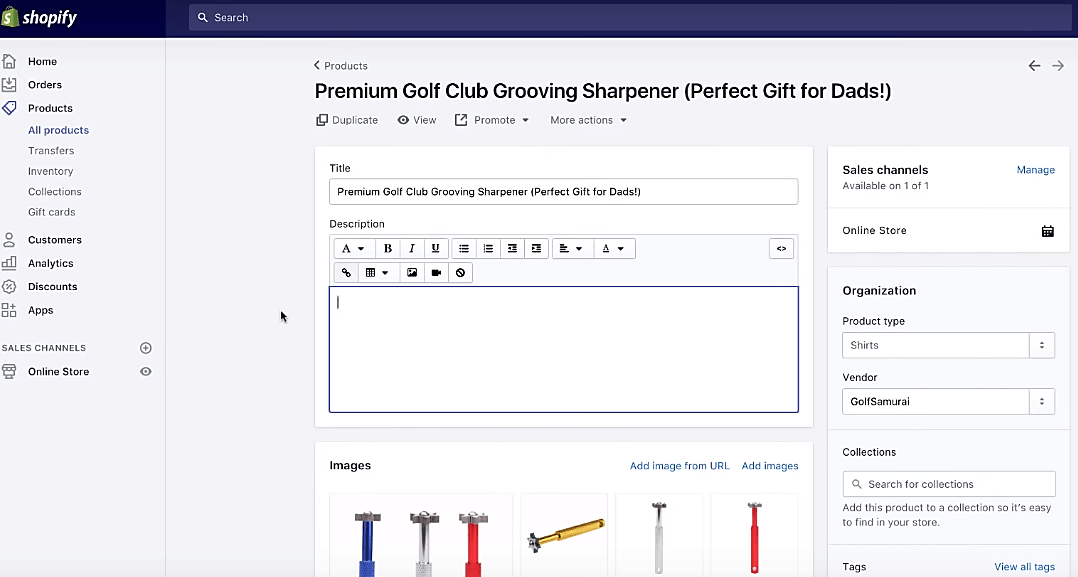 Come to think of it, one thing you're bound to like when you start processing orders is the Shopify's abandoned cart recovery tools. They'll help you reach out to leads who suddenly bow out right before checkout, and consequently compel them to recommit to their buying procedures.
And speaking of leads, you'll be able to keep tabs on even the unconverted ones through Shopify's reporting features. The platform employs a powerful tracking engine which monitors all the aspects of your store, then subsequently analyzes them accordingly, before ultimately reporting about the critical metrics in real time.
And the subsequent reports can be adopted in a number of ways. You can even export and import data through CSV files.
Interestingly, it turns out you don't even have to build your online store on Shopify. This should be a relief to digital merchants with sites that have already gained traction on other platforms, and might not be willing to migrate.
Simply integrate Shopify's buy buttons anywhere on the web (for Shopify merchants), including emails and apps- then proceed to sell anywhere at any time.
As a matter of fact, Shopify can even extend to social media. Through its Facebook extension, you can build your primary online store directly on the social site. Think of it as a way of selling your stuff right where your prospects spend their time- very much like an ice cream vendor in a stadium.
All in all, the one thing that sets Shopify apart from the rest is its third-party integrations. It has one heck of an app market with pretty much any ecommerce feature you can think of. And they come in handy when you need to expand or adjust your store in line with your business goals and market trends.
Although some of these apps are free (Shopify app store), the bad news is – the best often comes at a price. To see more options check out Shopify vs Cratejoy.
You might also be interested: Shopify vs Shopify Plus – Everything You Need to Know.
Square
If you're a startup, you might want to capitalize on Square's offer to host your store within its domain. But, you can still proceed to source an independent one for your online store.
Whatever you choose, Square presents you with an array of attractive templates to adapt to your site. I found them to be suitable for ecommerce stores, and the integration procedure is pleasantly straightforward. Sadly, you cannot customize them extensively.
On the flip side, I presume that tweaking various site features would not be a coding novice's primary concern. So, it should serve you well if programming has never been your forte.
In fact, the bulk of the setup procedure is mostly about importing products, arranging them accordingly, and editing the shipping options. Get that done and you can pretty much start selling. It really is that simple.
As the orders subsequently start streaming in, you'll be able to coordinate the corresponding processes from Square's web dashboard. Unfortunately, this order management functionality does not extend to Square's mobile app.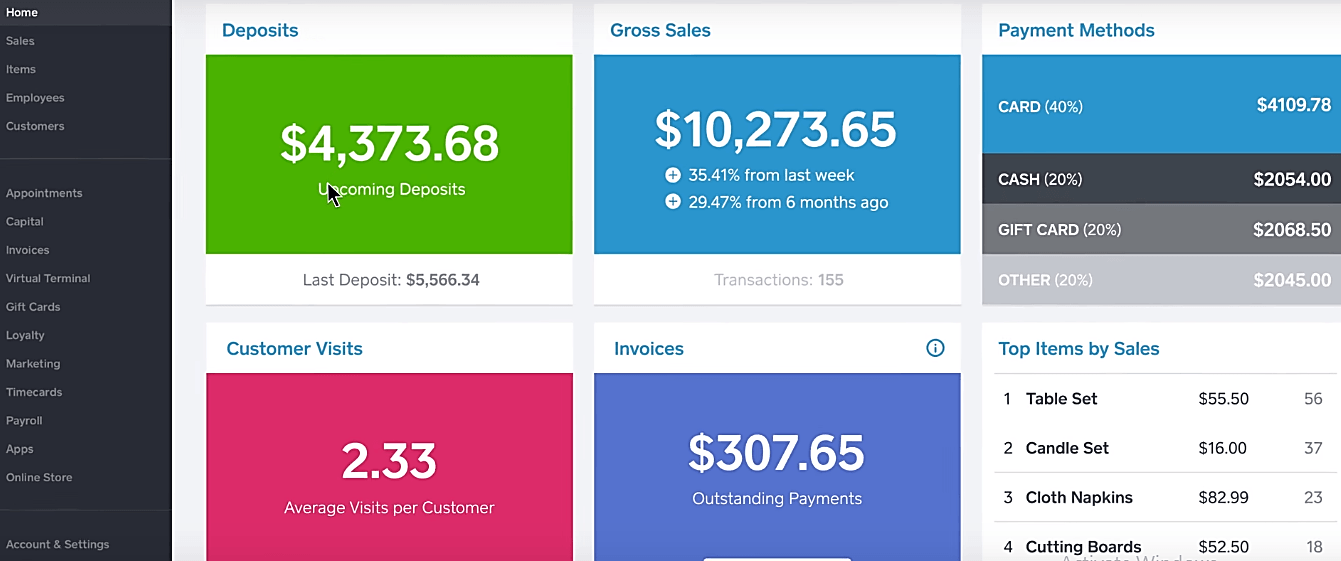 On the bright side, even when you're not managing the orders, you'll be pleased that Square comes with automatic data syncing. It monitors all your items to update the inventory the moment a change or sale occurs. Any resultant update usually reflects across the board, even on your Square POS system.
When the inventory is depleted, you may wish to upload numerous products as fast as possible. In such a case, capitalizing on Square's CSV support will help you save time by importing all of them simultaneously. And yes, the vice versa also applies- by exporting through CSV.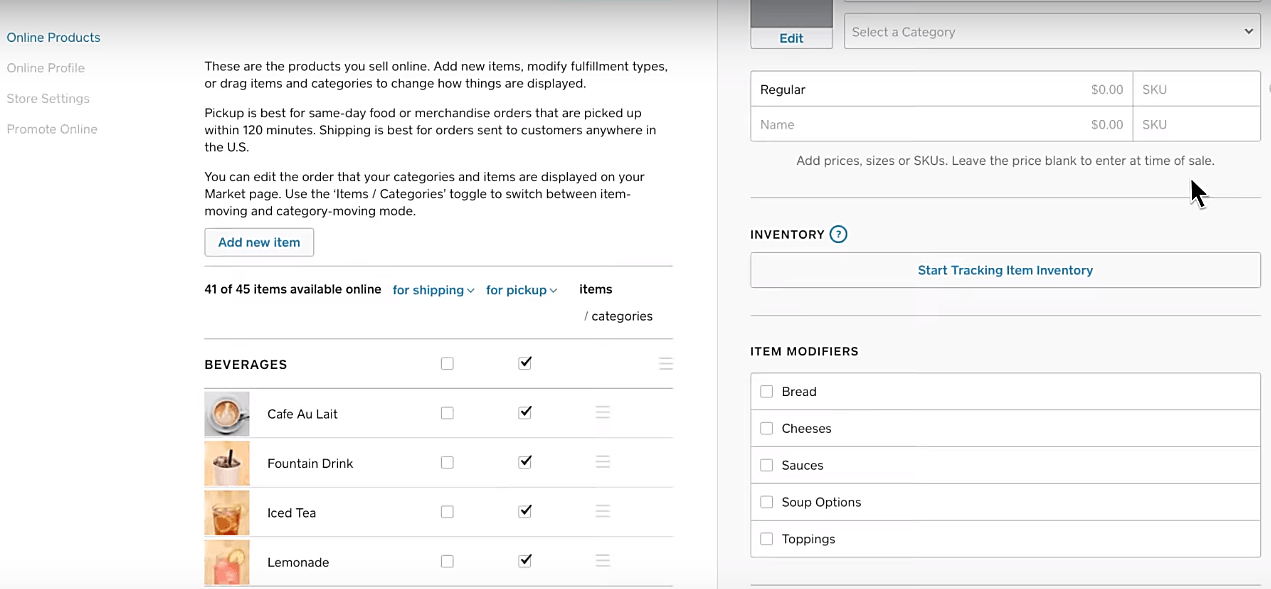 At the end of the day, all business owner types want to review sales numbers and the corresponding customer details. And for that, Square generates business reports with the relevant online store information. All that can be accessed right from the primary dashboard.
Fair enough. But, how far can you extend the store by embedding other features?
Although Square does not offer as many integrations as Shopify, it still boasts of a decent array of solid third-party tools. Some of the store management functionalities we get here can boost your business quite significantly. And in case you fail to find a good fit, you can leverage Square's custom API to build your own integration.
All things considered, Square's ecommerce strength lies in its ability to embed with other ecommerce platforms. Some notable ready-to-go options include Ecwid, OpenCart, ZenCart, Drupal, 3dCart, Magento, GoCentral, BigCommerce, WooCommerce, Wix, and Weebly.
That's a robust array of tools, you've got to admit. More importantly, you'll still be able to come up with your own ecommerce integration through the API. And that's only if you have the relevant coding expertise.
Verdict
It goes without saying that the Shopify app has built a name for itself when it comes to e commerce store functionality. It would have completely annihilated Square if we held this contest a while back.
Oddly enough, Square has improved its ecommerce game recently and can manage to score some points off Shopify.
If you're looking for the easiest site building process, for instance, you should go with Square. It can comfortably support typical simple online stores, and its ecommerce platform integrations will be useful when you start expanding beyond Square's capabilities.
Shopify, on the other hand, was built for the dynamic ecommerce seller. It's flexible enough to support all types of online stores and can extend whichever way you want it to.
You can even sell on social media and other existing platforms without necessarily setting up a store on Shopify. And most importantly, it comes with a wide range of third-party integrations to progressively facilitate holistic ecommerce.
So, in short, Shopify app is a much better at ecommerce compared to Square.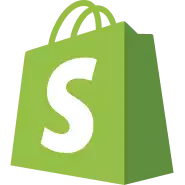 POS System
Certainly the chief contest here. Shopify vs Square continue to compete quite aggressively in this space because it just so happens that both come with robust POS software features.
So, what are their individual capabilities?
Shopify
Previously, Shopify only supported POS system on iOS. Then after realizing the sheer size of the Android market, the company rolled out an additional app at the beginning of 2016. Currently, Shopify's POS app is compatible with both iOS and Android devices, including tablets.
Sounds good. But, here the interesting thing- Shopify's POS app is not exactly the same with all these devices. The best approach has always been adopting the iPad version since it has superior functionalities compared to the rest.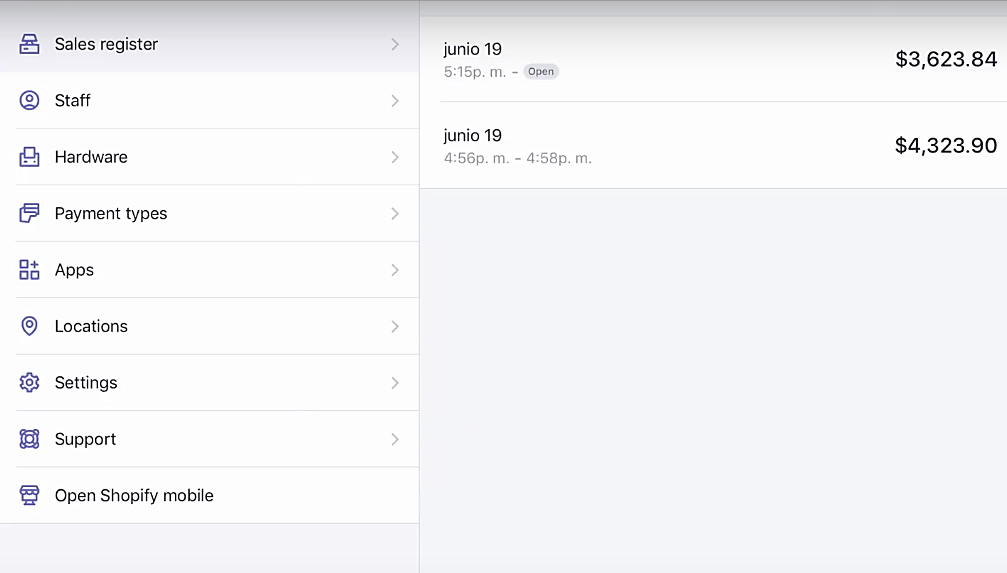 Now, when you're set and ready to go, you'll notice that the app can process all types of payments (including contactless payments). Your customers predominantly prefer credit and debit cards? No problem. The shop prefers dealing with checks and cash? It can handle that too. Or maybe you have a different idea altogether- still acceptable because the Shopify POS systemalso supports custom payment processing options.
As a matter of fact, you can set up a framework that deals with multiple payment processing forms. Shopify even goes further to facilitate split tender, where customers can actually pay through two or more methods in a single transaction.
That said, the default method here is Shopify Payments. But, you're free to jump ship and opt for other external payment processors with superior capabilities.
Unfortunately, you're going to be forced to remit extra monthly fee payments (transaction fee or other) to Shopify for each transaction. So much for disloyalty.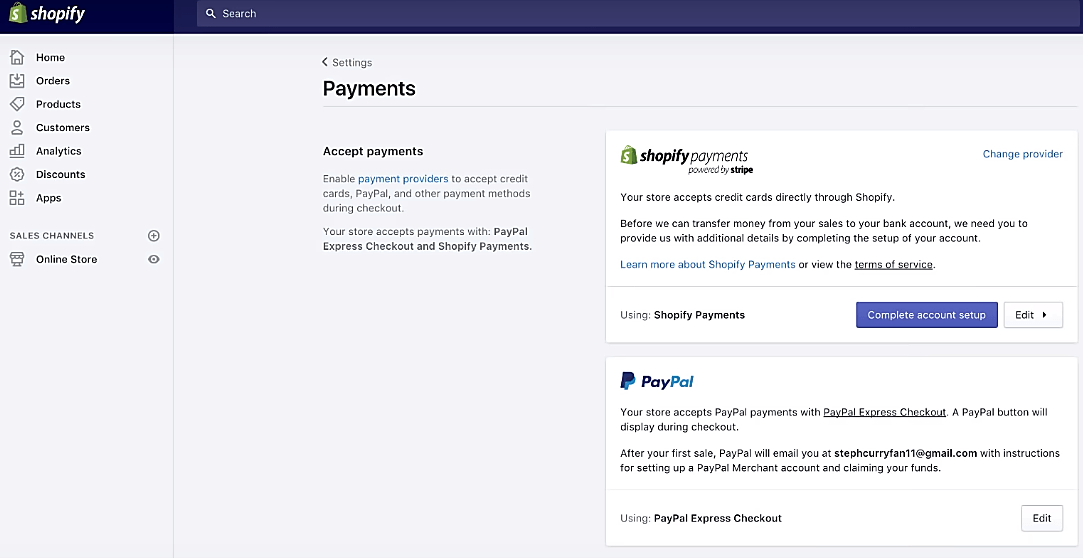 Well, at least Shopify still attempts to streamline payment procedures even after you've integrated third-party processors. When it comes to tax, for instance, the system will automatically charge the local tax rate for each transaction. If you prefer otherwise, it's possible to adjust overrides for selected items in your inventory.
But get this- Shopify does not process tax for international purchases. And that makes sense because taxation becomes an increasingly complicated web of legislation with each additional country your business expands to.
Nevertheless, some features on Shopify POS are flexible enough to accommodate even international orders. Gift cards, for example, can be used by both domestic and international customers. It's worth noting, however, that only the iPad version of Shopify supports this function.
If a sale is not completed successfully after payment processing, you can issue either a full or partial refund to both local and international clients. And a strategic approach here would be issuing it in form of store credit, which is also provided on Shopify POS.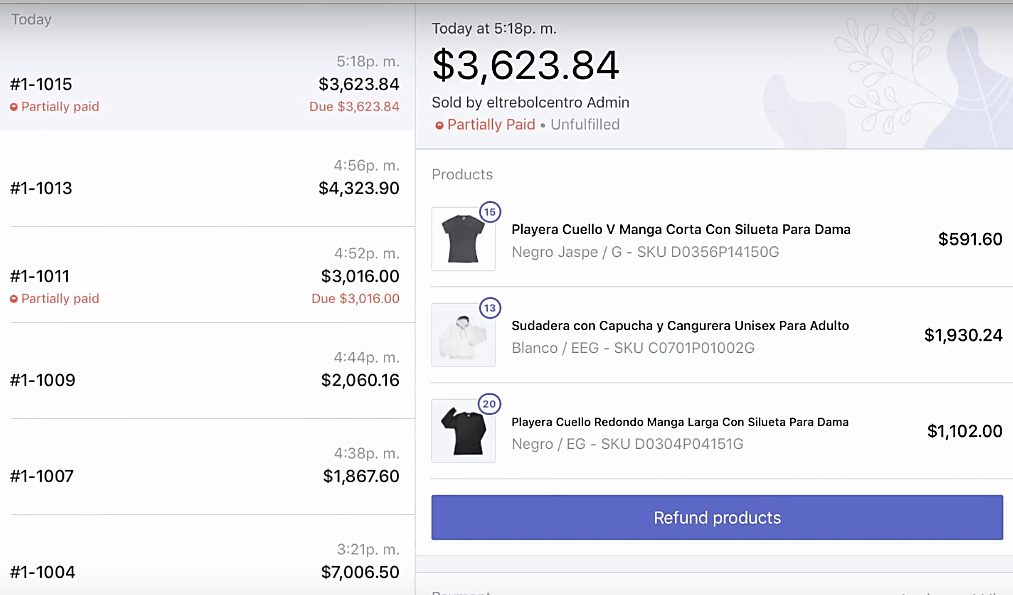 Another feature that will help you retain customers here is discounts, which can be applied to single or multiple products at the same time. And yes, you can offer them as percentages or simply static amounts deducted from the original prices.
If that fails to impress some of your customers, they might think otherwise when they realize that the system can still process their payments when it's offline. But, don't stretch your store too much during an outage because it turns out that credit card processing is not supported offline.
As you complete a sale, the system produces receipts that are then printed through Shopify's retail package or the iPad app. Alternatively, you can send digital copies to your customers via email.
And speaking of printing, another element you'll be able to generate from the system is barcodes (and barcode scanner tools) for various products.
This is offered as part of Shopify's inventory management, which has a range of powerful features. It can track stock progress and sync corresponding information across all channels just like its ecommerce sibling.
The resultant numbers are then combined with data from other elements in your business to generate detailed reports. From that, you can monitor how sales are progressing, review your store's traffic, profile your customers, and ultimately use that info to make informed decisions. If that doesn't cut it, you can build your own custom reports from the system.
Square
Square is also amazingly effective at managing sales in offline stores. Its free Point of Sale app is available in both Android and iOS versions, which run comfortably on smartphones and tablets.
Square for Retail, on the other hand, which is a premium version built exclusively for retailers, is only compatible with iPads. And it's well-optimized for that specific demographic.
That said, the former remains the most popular POS app version for obvious reasons.
For starters, it's quite flexible when it comes to payment options. Apart from credit and debit card payments, it facilitates check plus cash transactions. But sadly, Square fails to match up to Shopify's increasingly advanced payment provisions.
Now, don't get me wrong. Square might be slightly weaker on that, but it makes up for the loss in other ways. Its split tender function, for instance, supports check and card, cash and check, or cash and card transactions. This should especially come in handy when you're trying to convince customers to spend more through cross-selling or up-selling.
If that strategy fails to work effectually, you can rely on Square's discounts feature to trigger additional sales and customer retention. Just like Shopify, you can introduce discounts on both single and bundled products- based on percentages or fixed reductions.
Closely related to this is Square's loyalty program. It only kicks in when you proceed beyond a free account, and the feature cost begins at $25 per month. Your customers, on the other hand, are only required to accept a digital receipt. The system then evaluates their rewards according to the qualification criteria you've set.
And that's not all. You also get gift cards to attract customers further. As a matter of fact, there are no redemption fees or subscription charges. Simply cater for the card cost and voila! You can then tweak their redeemable values and issue them online or as physical cards to offline customers.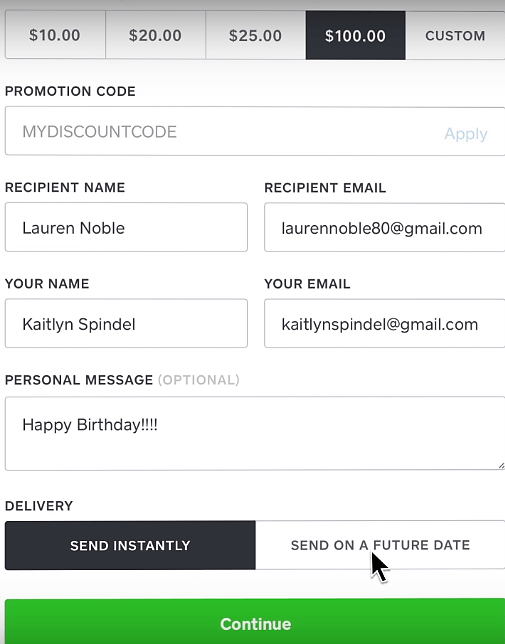 Speaking of offline, here's the most intriguing thing overall. It turns out that Square POS can effortlessly handle credit card payments when it's offline. You only need to ensure that the outage is sorted out within 72 hours to regain full functionality.
Here's the kicker though- you're responsible for all offline payments. Therefore, if a credit card payment fails to sail through successfully, the consequences rest squarely on your shoulders.
And yes, you can also issue refunds- both partial and full. And you know what? Square will even refund you the processing costs.
When it comes to successfully processed transactions, the Square POS solution generates receipts that can either be printed physically, sent via email, or forwarded to SMS.
Ok, what about taxes?
Well, the corresponding tax charges apply based on your preferences. Unlike Shopify, Square allows you to enable or disable tax. If you choose the former, you can proceed to charge it separately or embed it directly into the item cost.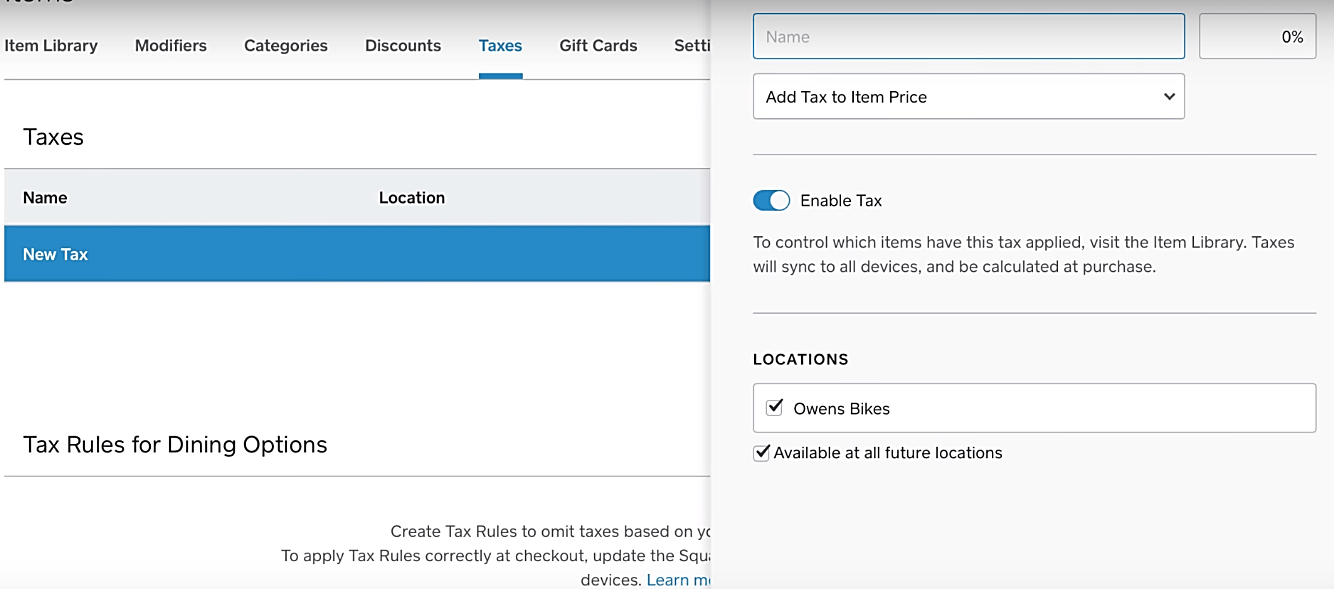 Then as the transaction is being processed, Square's automatic syncing system will update the entire inventory across all your stores. Any item sold is deducted immediately even on the online store.
With time, of course, such sales progressively eat into your product stocks. Thankfully, any item that diminishes substantially or goes out-of-stock is flagged by the system- which then sends alerts directly to your email. The entire process is conducted automatically according to the threshold you've set for alerts about low stocks.
Replenishing your product list is fairly simple and straightforward. Square POS allows you to determine pricing, styles and colors differently for all your products.
Plus, the corresponding inventory management system is adequately robust, and it tracks all items concurrently. However, if you need additional features, you can either upscale to Square for Retail or embed third-party inventory solutions like Shopventory.
Finally, all these features combined contribute to Square's reporting system. The subsequent reports are fairly decent, and they essentially cover the basic analytics.
Unfortunately, you don't get customization capabilities and advanced filters as we've seen with a Shopify store.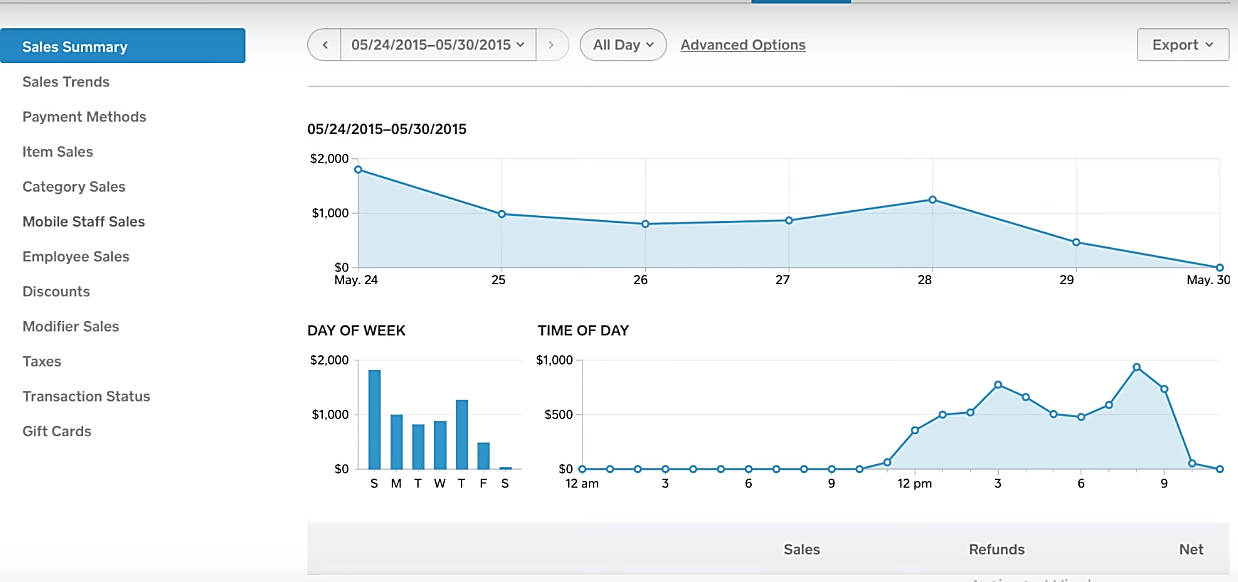 Verdict
Compared to ecommerce, Point of Sale admittedly makes a much cooler showdown between these two.
That said, it's interesting that the bulk of the features here apply to both Shopify POS and Square POS. When it comes to compatibility, for instance, Shopify vs Square have developed both Android and iOS apps for smartphones and tablets- although iPad versions are the clear favorites.
Shopify POS and Square POS also provide extensive inventory management tools which can track and sync in real time across all stores. Then when it comes to payments, they both support multiple payment modes, split tender and tax charges. However, Shopify is more flexible at this thanks to its custom payment options.
But then again, Square makes a comeback when it comes to offline transactions. Although Shopify facilitates this too, it cannot process credit cards. Square, on the other hand, goes ahead to facilitate even credit cards during outages.
Overall, I'd say that they are both extremely effective at facilitating in-store sales. While Shopify is better at customization, Square comes with more POS features all round.
Shopify vs Square: Pricing
Shopify Pricing Plan Options
Shopify has four principal plans, which are based on functionalities. The higher you go, the more the features you'll get to power your business.
That said, here are your options:
Shopify Lite Pricing Plan – Costs $9 per month.
Sell on Facebook
Sell on an existing third-party website
2.7% + $0.00 transaction fees for in-person credit card swiping
2.9% + $0.30 transaction fees for payments made online
Basic Shopify Pricing Plan – Costs $29 per month
Free SSL certificate
Blog and ecommerce website
Discount codes
Manual order creation
Fraud assessment
24/7 customer support
Unlimited file storage
Unlimited number of items
Two staff accounts
2.7% + $0.00 transaction fees for in-person credit card swiping
2.9% + $0.30 transaction fees for payments made online
Shopify Plan – Costs $79 per month.
All features from Basic Shopify
Abandoned cart recovery
Professional reports
Gift cards
Five staff accounts
2.5% + $0.00 transaction fees for in-person credit card swiping
2.6% + $0.30 transaction fees for payments made online
Advanced Shopify Plan – Costs $299 per month.
All features from Shopify
Real-time carrier shipping
Advanced report builder
15 staff accounts
2.4% + $0.00 transaction fees for in-person credit card swiping
Square's pricing structure is much simpler than the Shopify plan options.
First off, there are no monthly subscription fees here for ecommerce and POS. You won't even pay for PCI compliance.
Strange? Well, here's the deal- as long as you've adopted Square POS on your tablet or smartphone, the only costs you'll incur are the credit card transaction fees. Unless, of course, you choose to supplement your framework with secondary POS hardware solutions like Square Register, Square Reader, and Square Stand.
So, what's the scale of the transaction fees as a payment provider?
2.9% + $0.30 for ecommerce online payments
3.5% + $0.15 for keyed-in card transactions
2.75% for in-person swiped, inserted, or tapped card transactions
If you were interested in viewing another POS try comparing Square vs Stripe to see the head to head comparison of these two payment processors.
2.5% + $0.10 for in-person swiped, inserted, or tapped card transactions
2.5% + $0.10 for in-person swiped, inserted, or tapped card transactions
Verdict
Shopify and Square have more or less identical transaction fees for in-person and online card payments. But, let's face it- Shopify is much more expensive when we consider its additional monthly fees.
Come to think of it, Shopify is only feasible to merchants who've prioritized on their online selling, while their offline stores only come in to supplement that.
Square, on the other hand, is perfectly ideal for merchants who focus primarily on offline selling, while their ecommerce sites serve as supplementary stores.
FAQs about Shopify vs Square
Question: Are all e-commerce platforms charging transaction fees?
Answer: No, not all e-commerce platforms are charging transaction fees, but most of them do that and also charge for putting a new product for sale, besides the chosen monthly plan. Some of the best platforms that don't charge transaction fees is 3Dcart, which only requires a monthly plan that starts from $19.
Question: Is Shopify bad to start a business with?
Answer: No, Shopify is not bad to start a business with, but most people avoid using transaction fees, which is why they go with other e-commerce platforms.
Question: How safe is Shopify?
Answer: Shopify is very safe for your business, so you don't have to worry about anything when starting your business, and since they have a backup system, they can always restore your online shop in case anything happens.
Question: Is Square a good company?
Answer: Yes, Square is a good company that helps customers create their inventory list, they help with making your campaign for the Social Media channels you are on, manage your funds and there is a time card reporting so you can check when your employees have logged in and how much you need to pay them. Basically, you have everything in one place.
Final Verdict: Square vs Shopify
So which one is better, Shopify or Square?
It's difficult to pick a clear winner because it really depends on your business and what works best for your business model. One thing we know for sure is both have there own vast e-commerce features and benefits.
That said, Shopify selling does have a few more advantages over Square. Here are just a few to sum it up:
Shopify provides unlimited bandwidth with unlimited items.
Offers multiple website builder templates (ecommerce builder) that can be customized with coding.
Inventory is coordinated by automatic data syncing processes.
Abandoned cart recovery tools
Vast array of merchant third-party integrations.
A deep and diverse app store universe of ever-expanding app add-ons
Deep bench of Shopify developers and specialists for advanced customer support and customization
On the other hand Square has many advantages too.
Square can host your site on its domain.
Provides automatic data syncing across the board.
It produces analytical reports with critical online store information.
Square's ecommerce strong suit is its ability to integrate with other ecommerce platforms.
You can establish your own unique Square integration through its API.
If you want the simplest online store building procedure, choose Square here.
Shopify, on the other hand, is ideal for the dynamic ecommerce seller or digital merchant because of its extensive flexibility and deep pool of apps and talent (Shopify experts) to pull on for customer support.
Also the Shopify POS system has much more customization capabilities whereas, Square POS provides vast number of features.
So, what's your take as a merchant? Which of these two do you think would best address your needs?
Related Research on e-Commerce Store Tools