Last Updated on April 22, 2023 by Ewen Finser
When it comes to setting up an online store, there are many different platforms to choose from. Shopify and Squarespace are two of the most popular options, so you might wonder which one is right for you.
To help you decide, I've taken a closer look at how Shopify vs Squarespace compare, especially in terms of features, ease of use, and price. Read on to see what I recommend as the best platform for you.
My Bottom Line Up Front
Shopify vs Squarespace are great choices for setting up an online store. However, I believe that Shopify is the better option for most business people. It is more expensive than Squarespace, but it also has more features for online stores.
If you are looking for a simple way to set up a website, then Squarespace might be a good option for you. Its expansive but simple editing tools make it easy for anyone to set up an online presence.
Main Differences Between Shopify vs Squarespace
The main difference between Shopify vs Squarespace are:
Shopify is a platform for building an e-commerce store, whereas Squarespace is mainly a platform for creating a website.
Squarespace has multiple paid plans that do not include e-commerce capabilities, whereas all of Shopify's paid plans allow e-commerce functions.
Shopify's paid plans are billed monthly, whereas Squarespace's plans can be billed monthly or annually and are cheaper.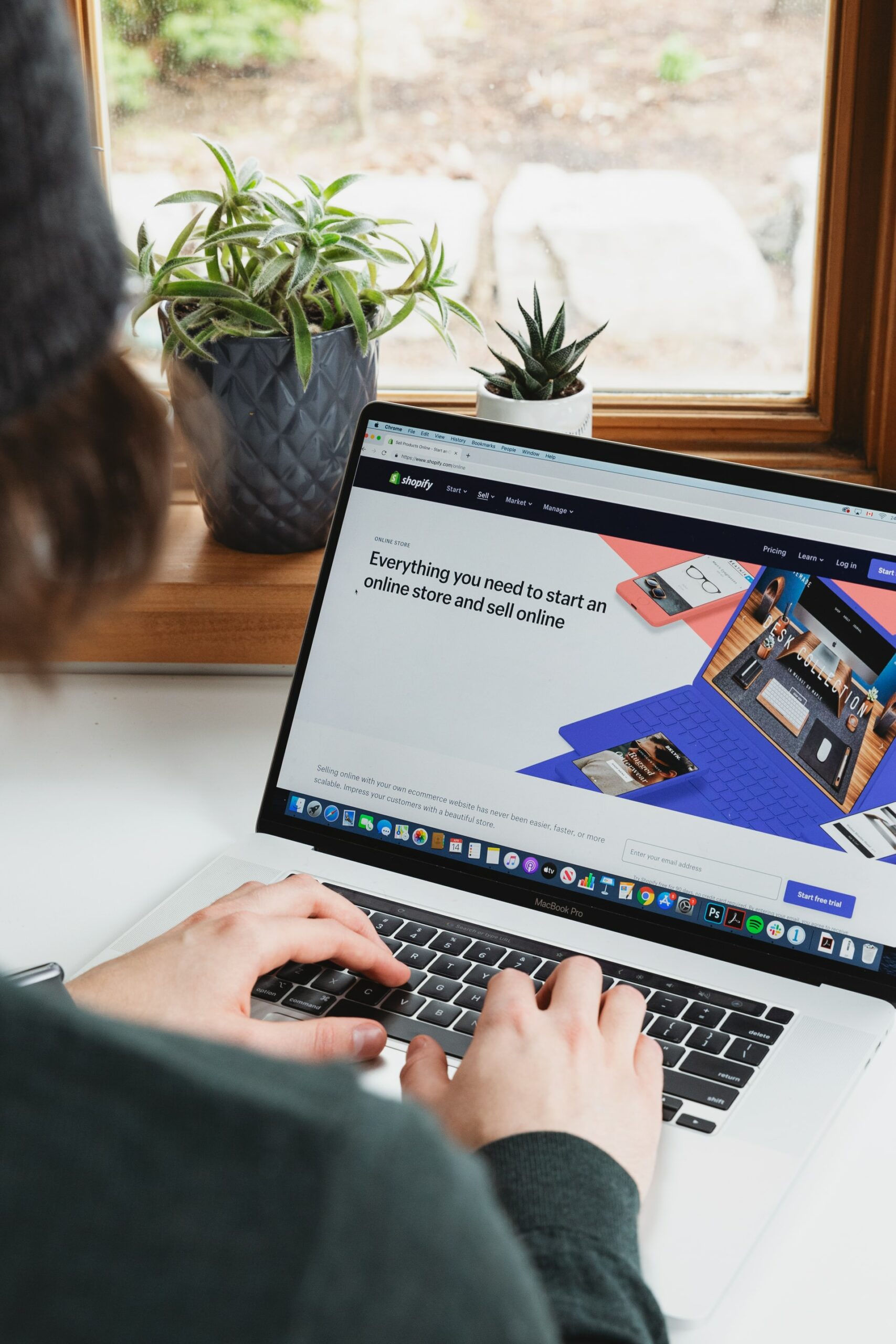 Shopify is a platform that allows you to create an online store. It is an all-in-one platform that includes everything you need to run your store, from hosting to payments to shipping. You can use Shopify to sell physical goods, digital products, or services.
What is Squarespace?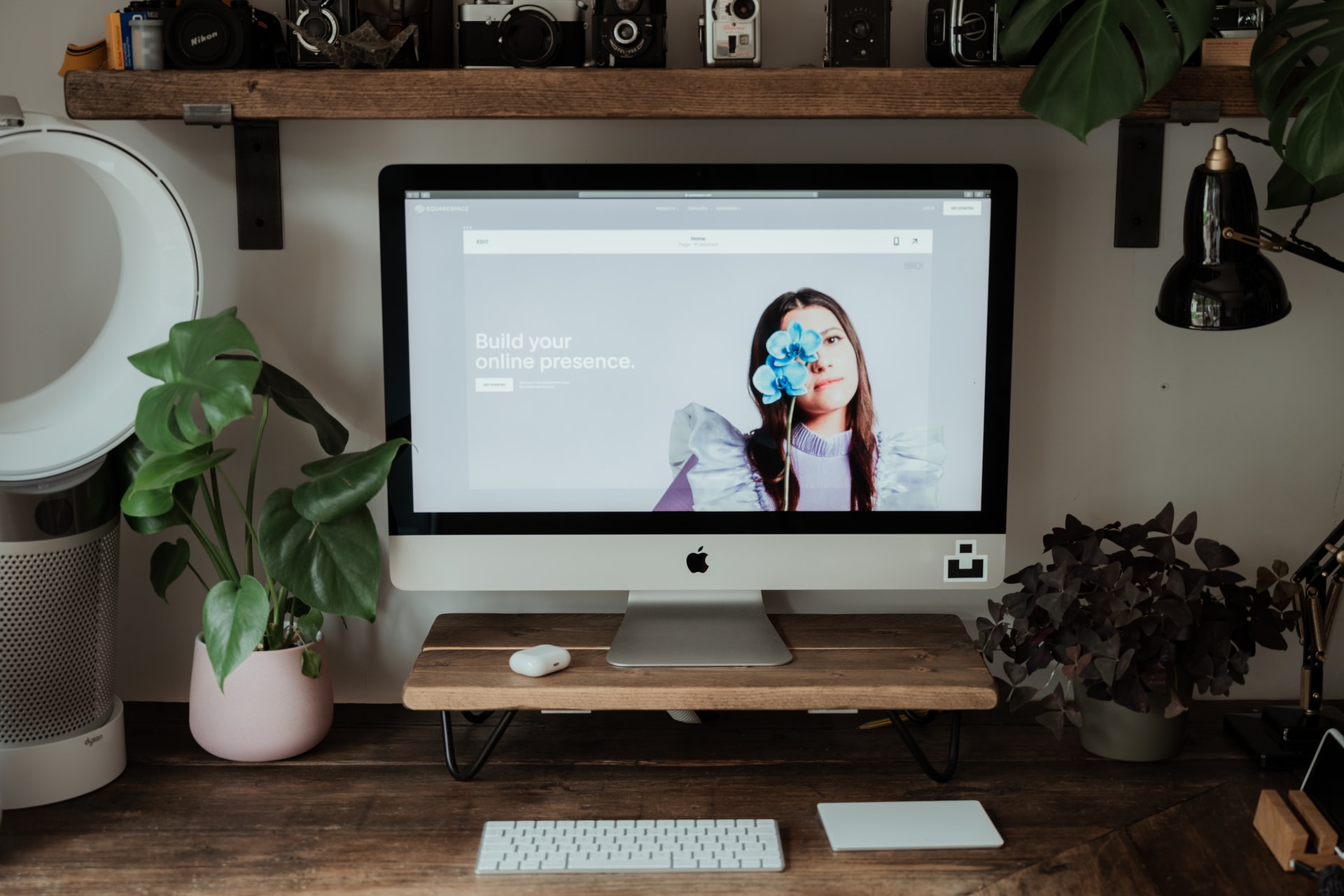 Squarespace is a website builder that allows you to create a website or online store. It is a do-it-yourself platform that includes everything you need to create your website, from web design and hosting to payment processing.
The functionalities of Squarespace aren't limited to just creating a site for a business. The platform can be used to promote a physical business, sell virtual products like videos and courses, or even as a sharable portfolio of your work.
Shopify – Main Features
Ease of Use
To create a store with Shopify, you first need to create an account using an email. You can use either a personal email or a business email to jumpstart the process.
Once your account is set up, you will be asked to provide a few details to set up your store.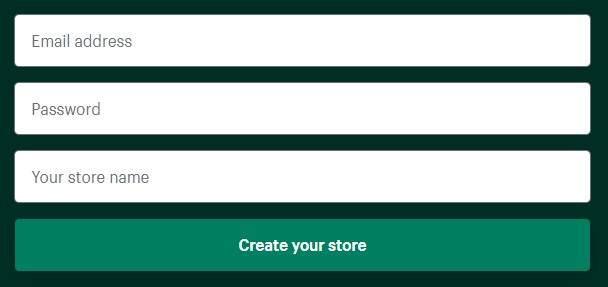 If you already have a store, then the platform has an import option that uploads all the information to set up your Shopify shop. You can also add products manually to your store, add product videos and images, prices, and information about quantity and factors like size and color.
I liked the fact that Shopify guides you through store setup using a short but effective checklist. This makes it easier to get the basics out of the way quickly.
Store Builder
Shopify makes it possible for you to customize your store, so it is appealing to shoppers. The platform has a theme editor with tens of theme suggestions based on your business type. Both free and paid themes are fully customizable.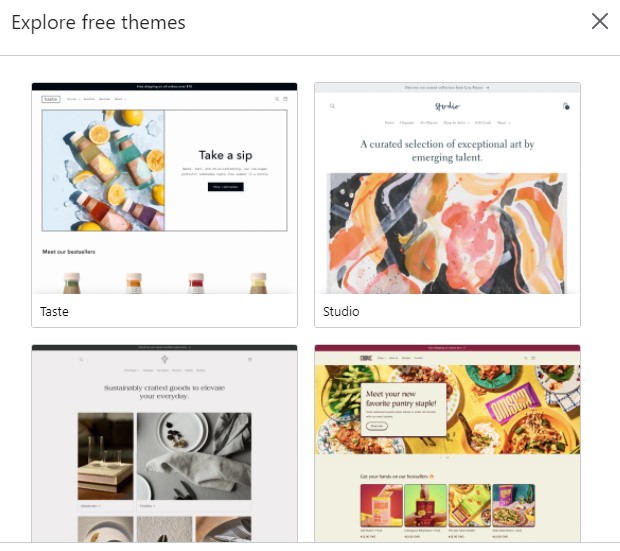 I liked the fact that the theme editor has a preview pane so you can track the changes you make. You can change themes even when your store is active without losing any data in your store.
Order Management
The order management system makes it easy to keep track of customer information, product details, and shipping information. It's also possible to connect Shopify to a POS system, so physical store orders reflect on the dashboard. Shopify has a handy order management dashboard where you can see all orders made in your store in one place. You can keep track of all active orders to ensure they're promptly fulfilled.
You can also create draft orders from the dashboard and use them to take phone orders. Canceled orders are moved to a separate section, so they don't clutter up your main view. The Abandoned checkouts section of the dashboard lets you keep track of customers who didn't complete their orders, so you can issue email prompts to encourage them to finish the process.
Customer Management
Shopify gives you total control over your customers. For example, if you already have a store with a list of customers, you can upload it on Shopify to build your subscriber list. You can also add customers one by one, adding information about their location and taxation status, making it easy to keep track of customers with tax exemptions.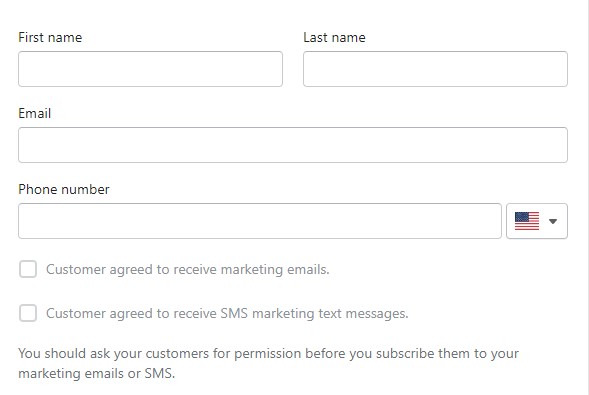 Once customers are added, you can easily update their details and see each customer's full order history. You can also add tags and create customer segments so you can create targeted promotional messages.
Marketing Management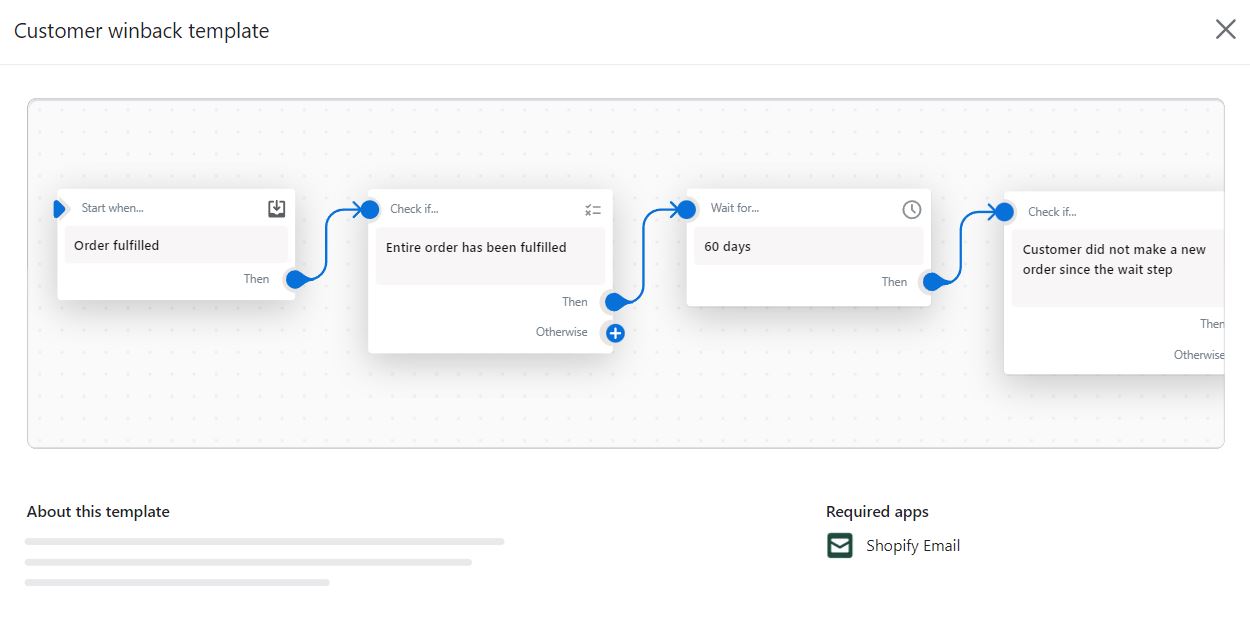 Shopify has advanced marketing automation that sends marketing information directly to your customers at the optimum times through channels that are most convenient for your clients. Email campaigns are made easy on the platform, with 10,000 emails offered for free each month. You reach your subscribers with targeted messages multiple times at no extra cost.
The platform also leads you through the creation of social media ads and messages for SMS marketing. Supported social media sites include Facebook, Snapchat, and Pinterest. Shopify also makes it easy to offer coupons and discounts to your customers. You can create coupon codes that can be applied at checkout, or you can set up automatic discounts based on certain conditions.
Financial Management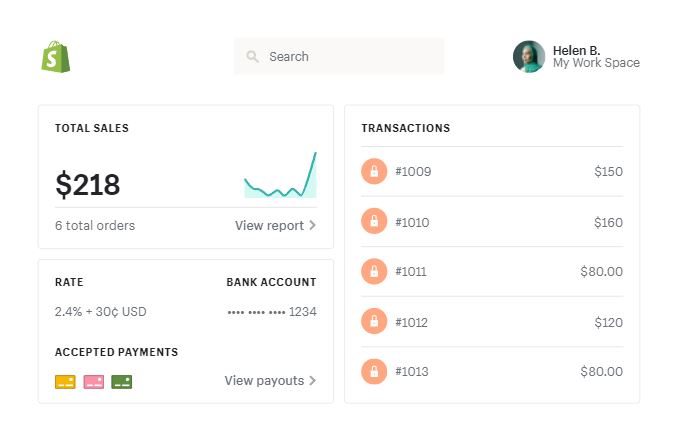 Shopify makes it easy to manage your revenue as your store makes sales. You get a Finances dashboard that lets you see the number of sales you've made. You can filter the amount displayed so you can see your full sales history.
You can provide your customers with multiple payment options during Checkout. Shopify Payments is the default payment provider. However, the platform can be integrated with Apple Pay, Google Pay, PayPal, among other providers.
I liked the Gross profit and margin section of the dashboard. By adding the cost of the product, the software compared it to the selling price and provided a profit breakdown. This makes it easy to see if the prices you set for your products are enough to make your business viable.
Another useful feature is the Payouts section of the Finances dashboard. You can see all your transactions here, with the logging capabilities allowing you to keep track of all transactions for bookkeeping and auditing purposes.
Squarespace – Main Features
Ease of Use
It is incredibly easy to start using Squarespace. The signup process is easy and doesn't require a credit card, which is great if you don't want to immediately commit to the platform. I was led through a series of questions that helped the software decide how best to set me up.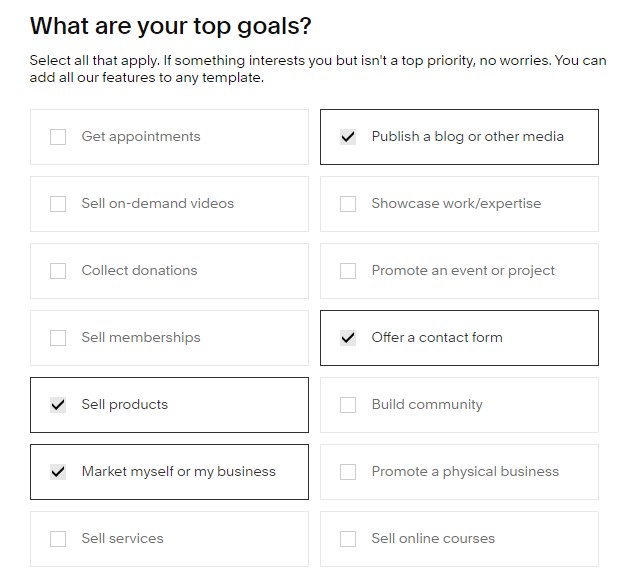 After this, the platform will recommend website templates that are best fitted to the goals you have. Tens of templates are offered, and you can customize them to match your business. If you can't decide on a prebuilt one, then there is a blank template that you can start with from scratch.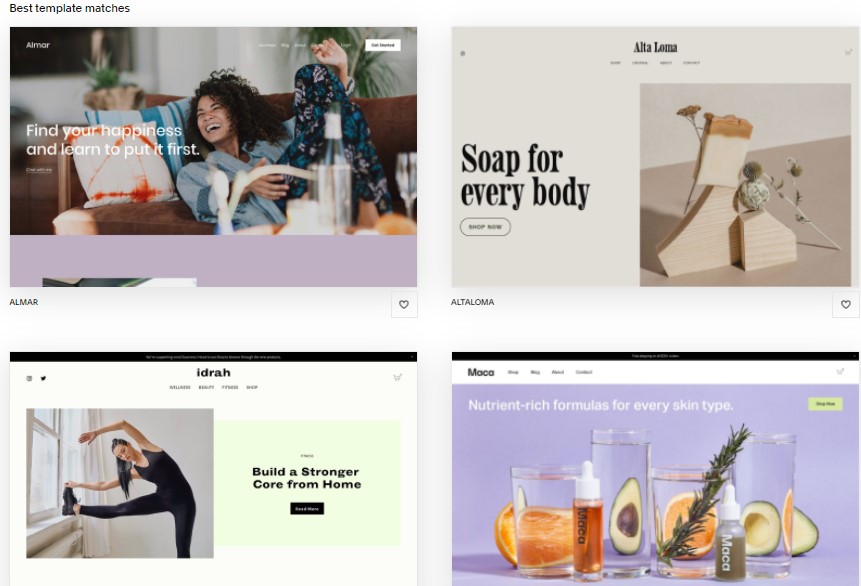 I enjoyed the ease of creating a site on Squarespace because it means you don't need to know how to code or be a graphic designer to make an attractive, functional site for your business.
Website Builder
Squarespace has a functional site-building tool. You don't need any professional expertise to use it. The platform's Edit mode lets you see all the changes you make, so you have an appealing website.
The Site Styles Editor lets you change each aspect, including fonts, colors, and animations displayed on your site. You can also add other site elements like browser icon, checkout page if you have a store, customize an error page, and decide on social media sharing options.
Depending on the purpose of your site, you can edit page details. For example, I used Squarespace to build an online store site, so I got the option of editing the Home, Shop, Journal, About, and Contact pages.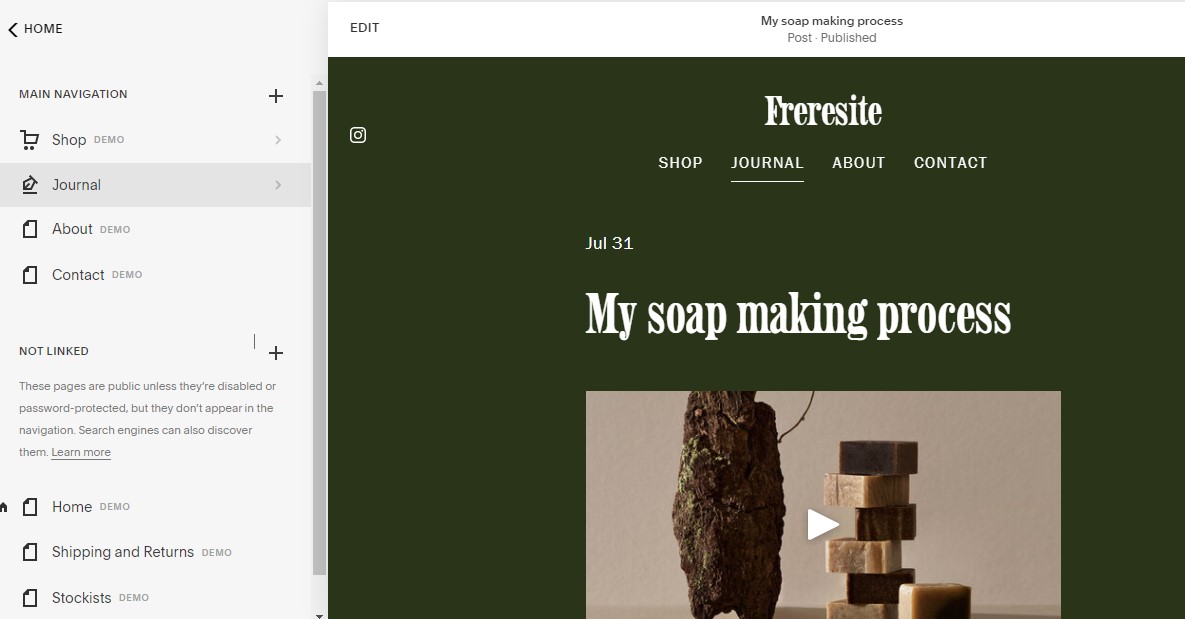 The platform allows CSS editing for people who have coding knowledge. And regardless of the editing mode you use, the platform allows you to see a mobile version of your site, so it is mobile-ready when it goes live.
Audience Profiles
Squarespace lets you maintain total control over the people who access your website. Whether you use your site for e-commerce or just to share your thoughts with a group of fans, the platform allows you to manage audience profiles.
You can create segments for site visitors and subscribers. Filtering capabilities let you decide how subscribers will be grouped, e.g., high-value groups. This makes creating messages for a specific group of subscribers a much faster process.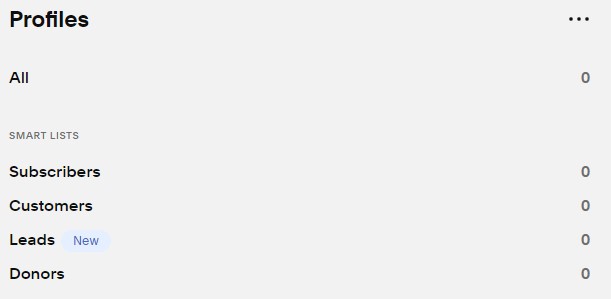 Scheduling
This is a new feature on Squarespace that basically provides you with an automated personal assistant. I find this feature ideal for people who create a site to advertise or offer services. Clients can make bookings online, including canceling and rescheduling their bookings. You can set up automatic reminders for clients, so they are notified when their appointment dates are near.
Part of scheduling includes creating online forms for clients where they can securely fill out personal information relevant to your services. So if you run a clinic or any business that requires personal details, you can avail the form feature for clients and reduce admin work.
Squarespace's scheduling feature is charged separately. It has a 14-day free trial, so you can test it out to see if it's something that works for your business.
Marketing Campaigns
You can easily launch promotional campaigns for your business off the Squarespace platform.
If you want to create an email campaign, Squarespace will lead you through a step-by-step process, providing you with email ideas based on the goal of your email campaign. You can choose any goal, from selling products and services to audience engagement and community building.
Since I wanted to start a campaign for an e-commerce site, I was offered the choice of engaging subscribers and customers, including saying 'thank you' and offering rewards. Tens of templates were put at my disposal so I could select and edit those most reflective of my business.
The platform also has SEO capabilities, letting you optimize your site. This includes an editor so you can create the perfect meta description for your site. There's also integrated Google Keywords capabilities, so you can find the right terms to use on your site and blogs.
Other marketing features include the creation of pop-ups and announcements to engage site visitors. You can edit each of these features, so they display relevant messages to site browsers depending on the pages they are browsing.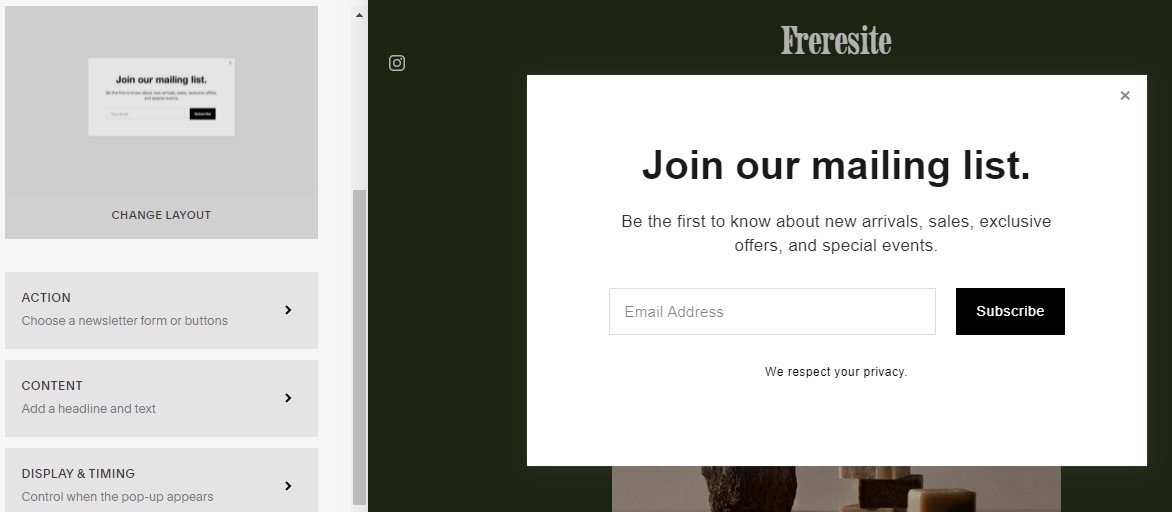 Shopify vs Squarespace – Analytics
Shopify
Shopify has multiple analytics capabilities, all of which you can filter to focus on the metrics you truly need. The Analytics dashboard gives you access to historical revenue information, the number of product units sold traffic sources and conversion rates for each source. You can also see metrics for any physical stores you run.
A Reports dashboard provides you with a more expansive look into your store. You can generate reports for profits, customer behavior, and marketing insights. Custom reports let you create reports based on metrics most important to your business.
I liked the Live View dashboard because it lets you see real-time store information.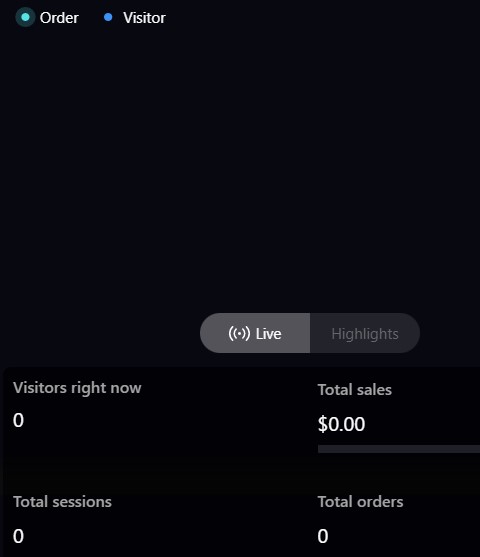 Squarespace
Squarespace provides you with an array of analytics options for your website. Traffic Analytics shows you the size of your audience and its growth. Traffic Sources information helps you create content that attracts a bigger audience from channels where your target audience is concentrated.
If you're running a business, Sales Analytics shows you how your store is faring, including best-selling products and Abandoned Cart information. Geography Analytics is another useful feature that shows you where your audience comes from down to the city. You can gauge the reach of your site and make concentrated efforts to reach areas where your audience growth is subpar.
Shopify vs Squarespace – Integrations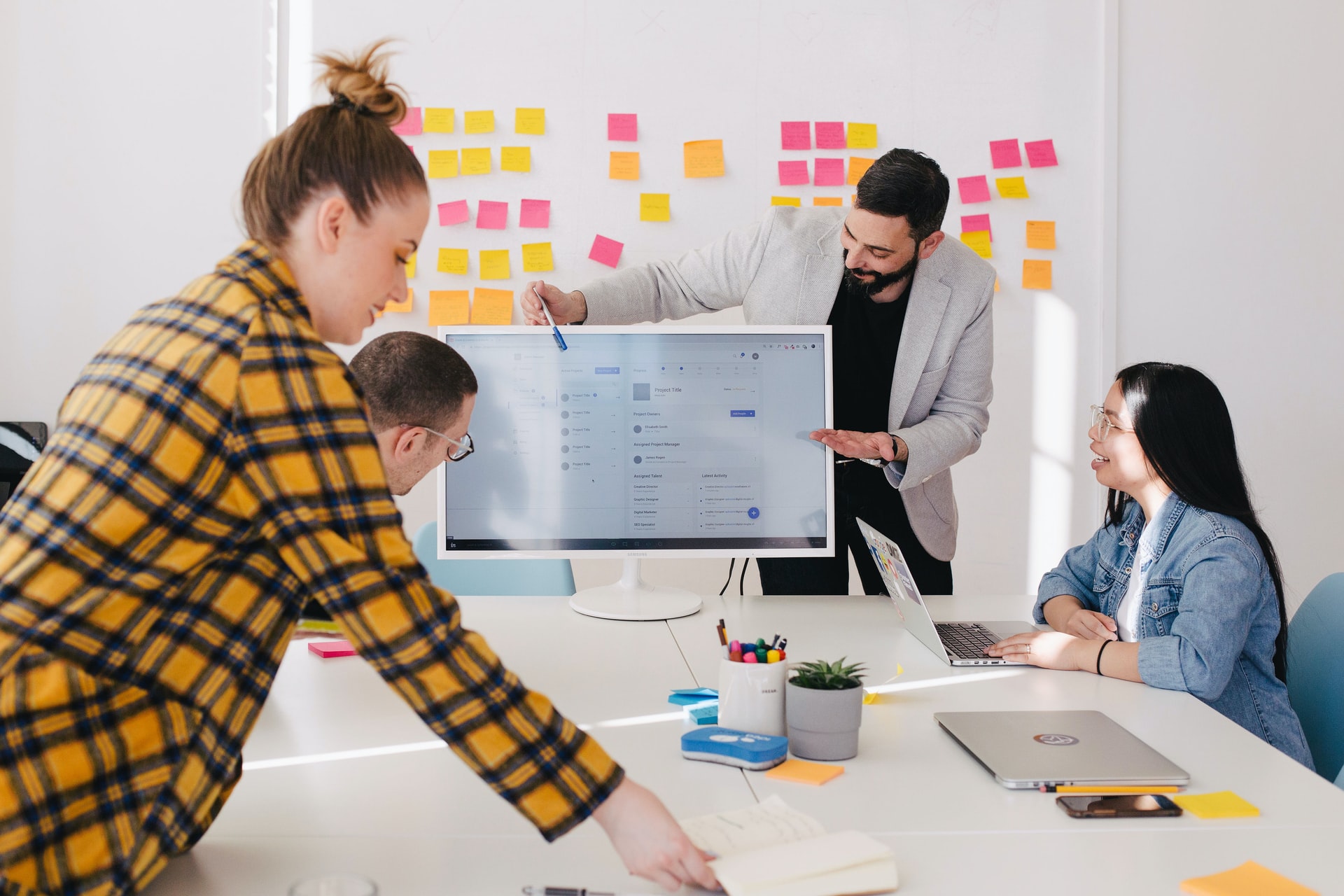 Shopify
Shopify's list of integrations is impressive. The apps that can be onboarded are grouped by function, e.g., apps that can help you get customers, find products for your store, and those that can help your store stand out. This gives you access to popular shipping, marketing, and site-building platforms.
If the list of Shopify integrations does not satisfy you, you can develop your own apps and integrate them onto the platform. This lets you customize the platform so it can properly serve your business, no matter how unique it is.
Squarespace
Squarespace has basic integration options beyond sites that make your website more attractive, e.g., Flickr and Getty images. The platform can be easily linked to an array of social media platforms. Other integration options depend on the type of site you're building, e.g., payment platforms for e-commerce sites. You get premium extensions and integrations with more advanced payment plans.
Shopify vs Squarespace – Customer Support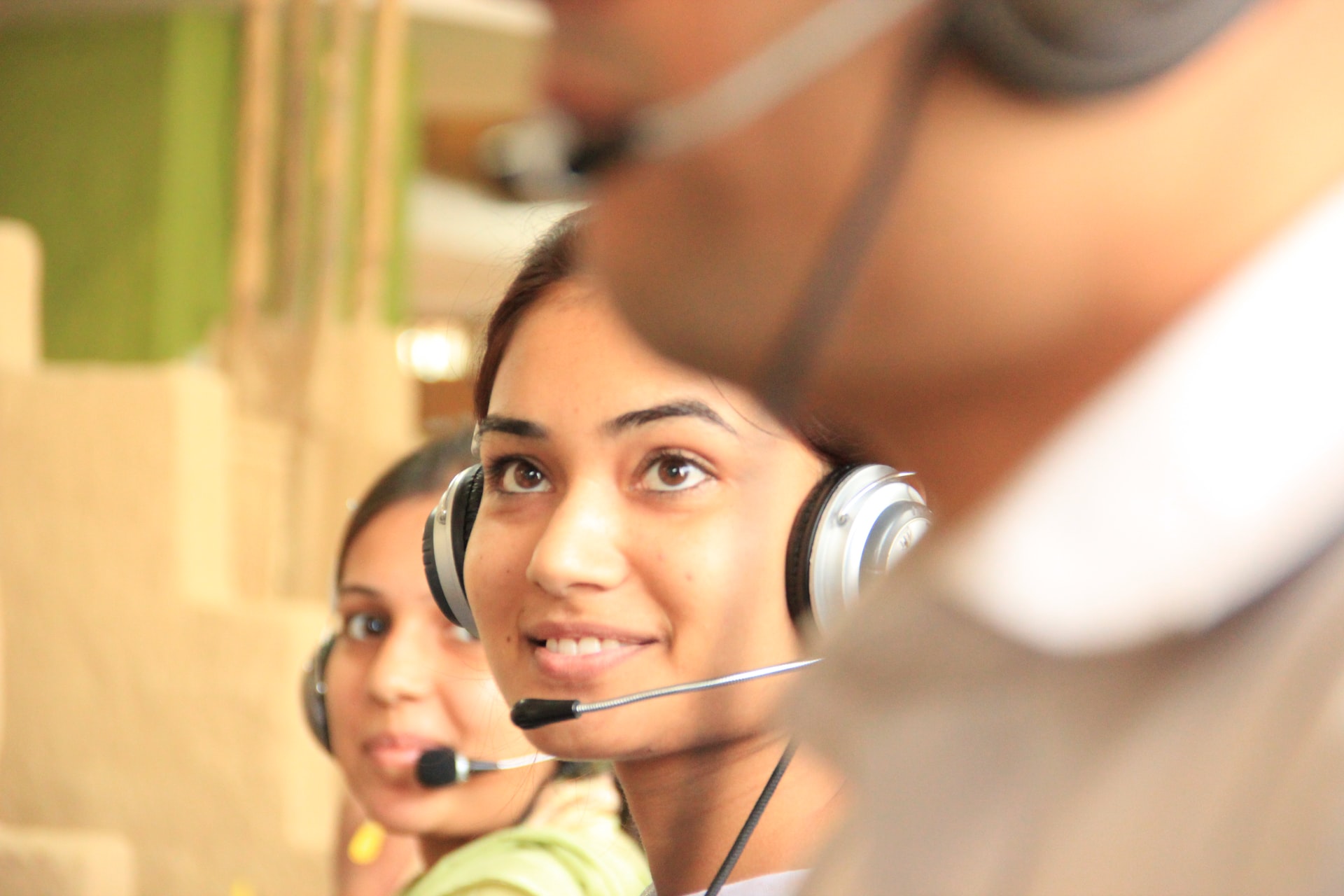 Shopify
Shopify has multiple support options for its clients. The Help Center provides detailed guides on setting up a store and improving its functionality. 21 languages are supported, so you can get help in terms you understand best.
There is also a community forum with over 900,000 members who are ready to answer any questions you might have. You can join Community Groups where you interact with business owners with similar stores or who are closer to you in location or growth.
For more immediate help, you can contact Shopify's customer support via phone, live chat, and email.
Squarespace
Squarespace provides various avenues for assistance. The Knowledge Base has articles, videos, and webinars that help you set up your site, market it, and troubleshoot common problems. Once you're on a payment plan, you are provided with 24/7 customer support from Squarespace agents. However, the extent of help will depend on how much CSS or JavaScript customization you did on your site.
Shopify vs Squarespace – Pricing
Shopify

Shopify has 3 payment plans, all of which are billed monthly.
Basic Plan
This plan costs $29 a month. It is designed for new business owners and avails the following benefits:
2 staff members
4 store locations
2% transaction fees for 3rd party payment platforms
Up to 77% discount with leading shippers
Shopify Plan
This is a plan made for growing businesses. It costs $79 a month and offers these benefits:
5 staff members
5 store locations
Fraud analysis
Advanced reporting
1% transaction fees for 3rd party payment platforms
Up to 88% shipping discounts
Advanced Shopify Plan
This plan is designed for growing, expanding businesses and costs $299 a month. These are some of the benefits the plan offers:
Online store capabilities
Unlimited product listing
24/7 customer support
Over 4,000 apps
Multiple sales channels
Abandoned cart recovery
Checkout capabilities
Support for over 100 currencies
Free SSL certificate
Marketing capabilities
Squarespace

Squarespace has monthly and annual billing options for each of its 4 payment plans. The annual billing provides substantial discounts to the monthly billing.
Personal Plan
This plan costs $19 if billed monthly and $14 per month if billed annually. Features offered here include:
Free custom domain
Unlimited bandwidth
SEO features
Extensions
24/7 customer support
2 active members
SSL Security
Mobile-ready sites
30-minute video storage
Business Plan
This plan costs $33 if billed monthly and $23 per month if billed annually. In addition to all the features in the Personal Plan, you get the following benefits:
Unlimited contributors
Professional Google email
Premium integrations
Complete CSS and JavaScript customization
Limited commerce & Marketing options
Commerce Basic
This plan costs $36 if billed monthly and $27 per month if billed annually. It includes all the benefits from the previous plans and some of the following features:
Full e-commerce options
Donation capabilities
Gift cards
Customer accounts
Merchandising tools
Labels
0% transaction fees
Point of sale
Advanced web analytics
Google Ads credits
Promotional pop-ups
Commerce Advanced
This plan costs $65 per month and $49 a month if billed annually. Some additional features to those of the previous plans include:
Abandoned cart recovery
Advanced shipping
Advanced discounts
APIs
Sell subscriptions
Shopify vs Squarespace – Alternatives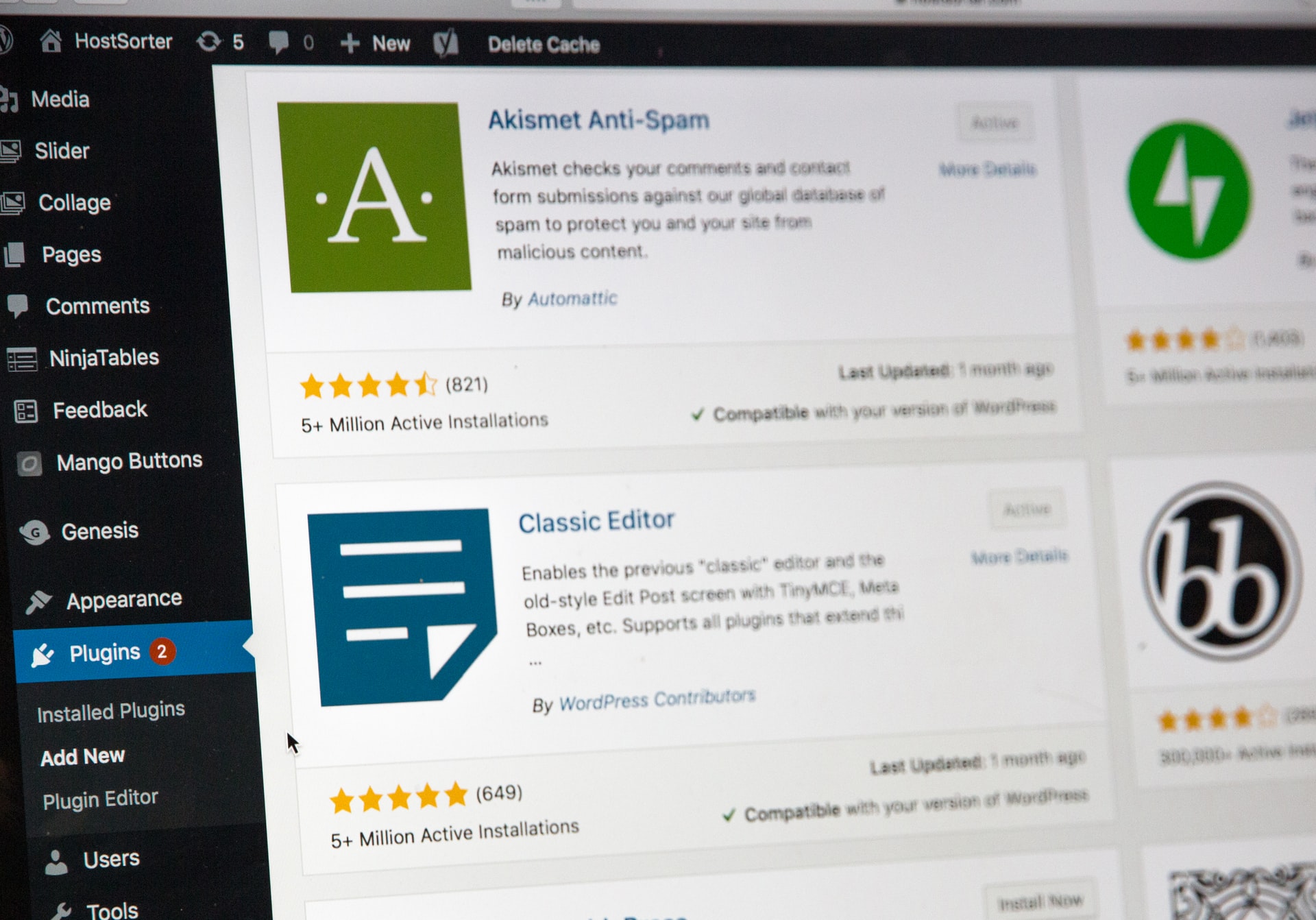 WordPress
WordPress is a platform that lets you build and manage a website. It has a wide range of customizable themes, plugins, and integrations. You can use the integrations to create an e-commerce store on your WordPress site, which is why we did a Shopify vs. WordPress comparison to see which offers the best functionality.
Shift4Shop
Shift4Shop is a platform that lets you create an online presence for your business within minutes. See this Shift4Shop vs Shopify piece for a closer look at the platform.
Wix
Wix is a web development platform with hundreds of templates and SEO tools that let you create functional websites. Our Wix vs Squarespace comparison will help you decide which platform will best suit your needs.
FAQs
Conclusion
Shopify and Squarespace are two of the most popular platforms for creating online stores. They're both easy to use, have great designs, and offer a wide range of features.
Shopify is the better option if you're looking to quickly start an online store and use extensive e-commerce features. However, Squarespace's ability to host a site without monetizing it makes it an appealing option for people looking to create an online presence for their hobbies or physical businesses.