Last Updated on April 22, 2023 by DMEditor
Some estimates say that up to 30% of all products ordered online are returned. While some eCommerce store owners dread the return of products, an effective return system can actually be an opportunity for your business to profit. After all, 92% of customers say they'll buy from an eCommerce shop again if the product return process is easy.
The bottom line
Managing returns isn't just about offering good customer service; it's integral to the overall customer experience. With this in mind, let's discuss the best Shopify returns apps on the market.
Bottom Line Upfront
There are tons of Shopify returns apps on the market, but we've narrowed our picks to our favorite seven. Our top choice is the Returnly app. Returnly makes self-service returns intuitive and straightforward for you and your customers while providing plenty of control over your returns management. Read on to find out why Returnly is our best pick. Plus some other recommendations that are well worth considering.
Returnly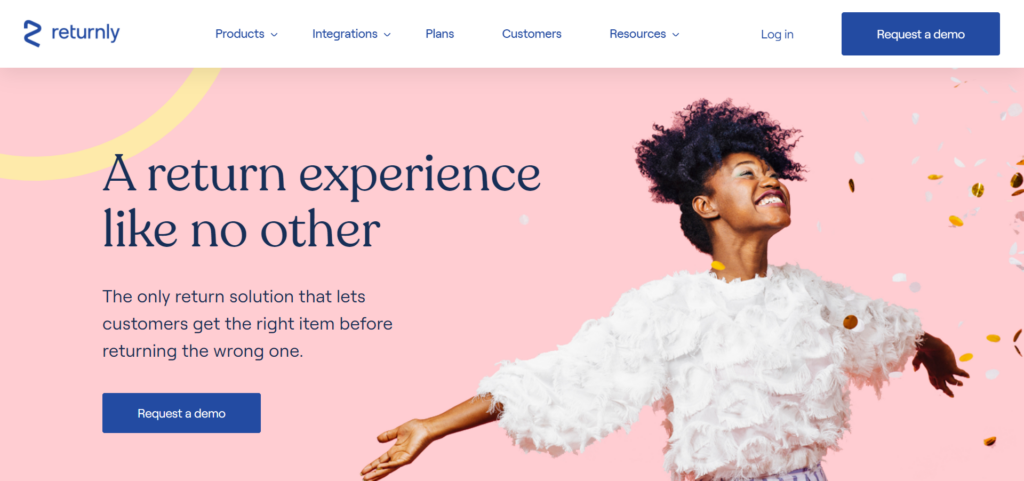 Returnly is a fintech solution that lets you track and manage your returns. The app provides a customer dashboard so that shoppers can manage their own returns. From here, customers can also tell you the problem with their items. For example, customers can indicate whether it's the wrong size, color, material, etc.
In addition, the software uses AI technology to determine which products can and can't be returned. Needless to say, this saves you and your team heaps of time that otherwise would have been spent on returns-related queries.
On top of that, Returnly emphasizes its exchange system. As you've probably guessed, this arrangement offers customers different options to exchange items they wish to return. Alternatively, Returnly provides a credit system that reimburses customers with store credit for their returned items.
Lastly, when an item is sent back or exchanged, customers receive automatic tracking notifications, which, again, reduces the number of customer service calls you have to manage.
Pros
You can track and manage international and local returns and exchanges in real-time.

Customers get access to a self-service dashboard from which they can manage their returns.

You can offer customers instant store credit in their local currency.

Returnly quickly identifies items that can't be resold.
Cons
Returnly only works for new orders – so if a customer wants to return an order made before installing Returnly, you'll have to do this manually.

You need to contact the Returnly team to set up advanced shipping integrations.

Returnly doesn't offer return labels on the free plan; you'll have to make these yourself.
Pricing
Returnly has a freemium plan and a premium version with more features. Here's what you can expect:
The Free Plan
A customer return center

You can generate in-app return labels and access return reasons – such as wrong size, wrong color, etc.

Analytics on the number of returns authorized and processed.

Basic international return capability – customers receive messages telling them where to return their product (no return labels).
Premium Plan – From $29 a Month (Enquire for Custom Pricing)
You can award customers instant store credit.

You can process physical in-store returns.

Set up custom return policies.

Custom integration with different shipping providers.
AfterShip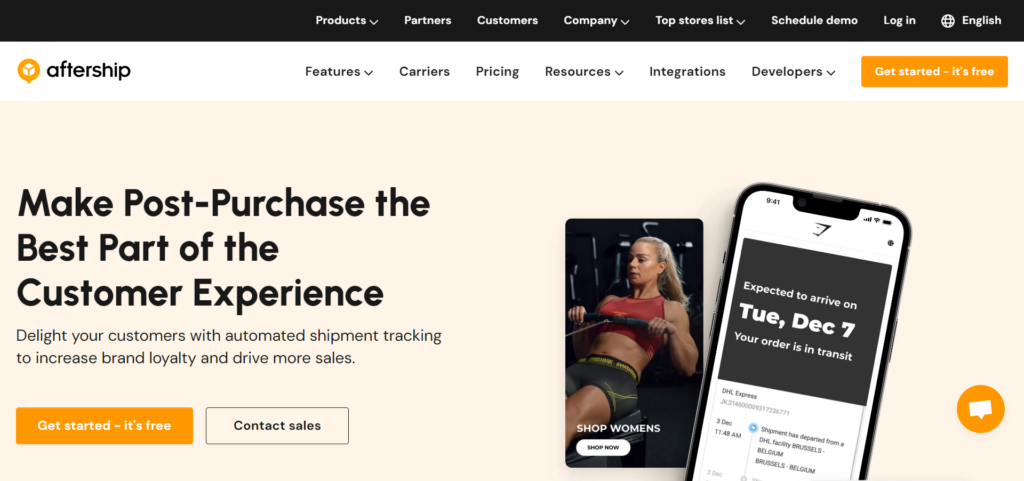 AfterShip is an automated shipping tracking service. It supports over 900 shipping couriers worldwide to ensure you automatically receive all the latest updates from your couriers. For example, you can see which products are in transit, have been delivered, or if delivery failed – all from one centralized dashboard.
AfterShip also generates a branded returns page for your customers. Shoppers can see their order history, estimated arrival dates and track their shipments.
You have control over how your delivery and return information is presented. For example, your email notifications and returns page can be branded with your logo, colors, and fonts. You can also embed marketing features, such as product recommendations, into these correspondences and track how often customers engage with your promotions and notifications.
Pros
Easily track orders across multiple shipping couriers.

Customers benefit from a self-service returns system via your branded tracking page.

Access order and marketing engagement analytics

Great customer support.
Cons
The free plan's features are minimal – for example, no email support is provided.

AfterShip's pricing plans are on the more expensive side.

Due to delays on behalf of the couriers, customer tracking details are sometimes out of sync with real-time information.
Pricing
AfterShip's pricing plans are based on how many orders you receive monthly and yearly. However, once you've chosen a plan, if necessary, you can add additional shipments for $0.08 per shipment.
You get access to over 30 integrations, security certification and compliance, and developer support with all plans. The paid plans also come with some additional features you might find helpful.
You can choose from monthly or yearly billing – yearly billing boasts an 18% discount.
Quotes below are based on monthly prices:
Free – up to 50 Shipments Per Month
Access to a branded tracking page for customers.

Access to over 900 couriers.

A shipment dashboard for business owners.
Essential $11 – up to 100 shipments per month
Email and SMS notifications

You can export shipping data in CSV files.

Access to shipping and engagement performance analytics.

24/7 email support.
Pro $239 – up to 5,000 Shipments per Month
Marketing features – for example, with the Klaviyo integration, you can automate post-purchase promotions

Multi-lingual tracking pages.

24/7 live chat support.

Tracking API and webhooks
Enterprise- Custom Price – 25,000+ Shipments per Month
A dedicated accounts manager

Custom integrations

A quarterly account review
Return Prime
Return Prime provides users with a customer return page on your site, which you can brand using your company's logo and colors. From here, shoppers can submit their return or exchange requests with just a click.
These details are then sent to a centralized dashboard where you and your team can either authorize returns manually or automatically. Local language translations are also available to ensure one-click returns remain just as simple for international customers.
Return Prime works with over 25 logistics partners. When you receive a return request, you can choose from one of Return Prime's partners to manage the shipping for you. You can also dictate how refunds and exchanges are handled – money back, store credit, or even a gift card!
You can see all your return analytics from the same dashboard and export reports concerning returns, exchanges, and team performance data.
Pros
Easy installation.

Great customer service

Affordable pricing structure

Branding your returns process is easy
Cons
You can only connect with one logistics service on the free plan.

Customers have to make separate return requests for each order.

Autocrediting doesn't deduct return costs for multiple items.
Pricing
Return Prime plans are billed monthly and are based on how many return requests you receive a month. However, with the premium plans, you can process additional returns at $0.49 per request. Also, email and chat support are available on all programs.
Free
Process up to five return requests per month.

Access for one user.

You can connect with one logistics partner

You can refund via store credit.
Growth – Starts at $9.99 a Month
Process up to 30 requests per month.

Access for up to two users.

Connect with up to two logistics partners

Refund via gift card or exchange.
Scale – Enquire for Custom Pricing
Process up to 450 requests per month

Access to a merchant account manager

Return automation
ShippyPro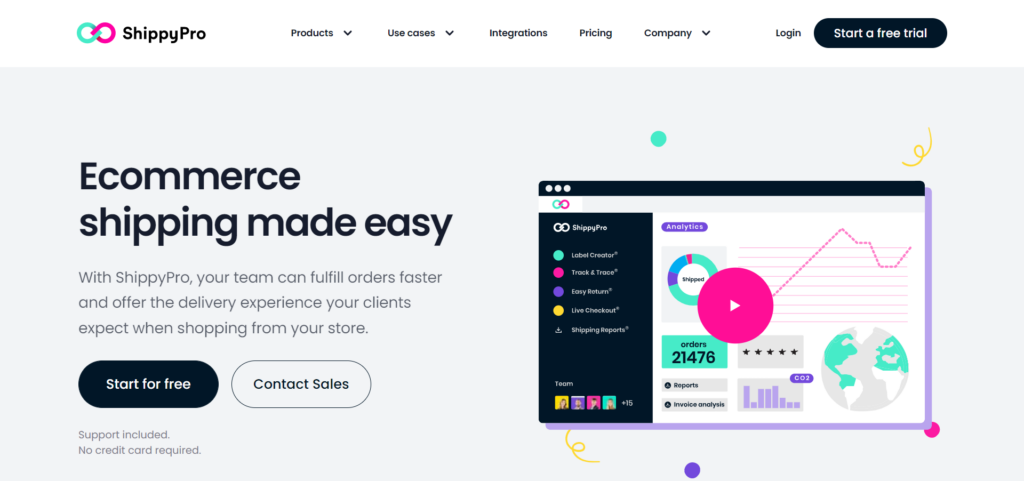 ShippyPro is a shipping management software explicitly designed to help you optimize your returns and shipping processes. It has over 160 courier options and over 70 sales channel integration. For example, you can integrate your Amazon, eBay, and WooCommerce accounts with ShippyPro to ship, track and return orders from the convenience of one place.
With ShippyPro, you can set up a branded customer returns portal that shoppers can access on your site or via a link sent through email. According to your prerequisites, you can also set up an automated returns policy that rejects or authorizes returns on your behalf.
In addition, once a return request is authorized, you can send a custom email with a return label, tracking information, specific return instructions, and your company banner. You can also embed alternative product recommendations.
With the ShippyPro label creator, you simply select the return orders and your courier to print shipping labels in bulk. Also, when you choose a courier, you'll receive real-time shipping rates so you can compare tariffs to select the best option.
The ShippyPro tracking system sends customers automated email notifications to update them on the progress of their returns. In addition, they'll receive an email giving them access to the return portal to see when their return is received.
Lastly, it's worth noting that you can see all your customer metrics from your ShippyPro dashboard, including insights on sales, return data, and order statuses.
Pros
Integrate with Amazon, eBay, wooCommerce, and more.

There are over 160 courier options

Access to a custom label creator and real-time shipping rates.

A returns portal for you and your customers.
Cons
You can only process returns on the Professional plan (and onwards).

Reportedly poor customer support.

Apparently, there's somewhat of a learning curve when using this software.

It's Costly for small businesses as there's no returns functionality on the basic program.*
Pricing
*One thing to note is that returns functionality isn't available on the basic plan (Fast-growing – $29 a month). For this reason, below, we've only listed the programs that include this service.
All plans are billed monthly and come with a label creator, order shipment tracking, and real-time shipping rates from your courier of choice. However, you can opt for yearly billing to benefit from a 12% discount.
Professional – $79 a Month for 250 Monthly Orders
For which you get:
A customizable returns dashboard.

You can upsell and promote products through embedded website widgets and emails.

You can embed a tracking page directly into your website.

Connect unlimited sales channels.
Enterprise – Custom Price
You get everything in the Professional plan, plus:
A dedicated account manager and tech support.

API access
ClickSit Return Center
ClickSit is an automated returns management software offering a branded portal from which customers can manage their returns. Using your Shopify theme and company logo, you can set up a unique domain to handle customer returns. In addition, you can set rules to quickly reject or approve customer returns requests.
If a return request is granted, an automatic email is sent to the customer, updating them on their order progress. The email templates are customizable with your logo, the customer's name, and tracking information. In addition, a label is automatically generated for the customer. They can make their return via USPS, Collect+, or InPost using exclusive flat-fee shipping rates. This includes shipping to multiple locations in the US and UK (limited international return capability).
You can offer store credit, money refund, or product exchanges. When a return is processed, you can also access real-time return analytics, including return reason and order status, which you can then export for your records.
Pros
Access to a branded customer returns portal and notification emails.

Access a wide variety of customization options – ClickSit creates your customer portal using the same themes, colors, and fonts as your Shopify store. Or you can manually change your theme, text, and logo.

Easy setup

A user-friendly dashboard

You can set customizable return rules.
Cons
There are limited shipping and return options for customers outside the UK and USA. (Their site says there are heavy delays for these services).

Only three returns are allowed on the free plan.

Limited courier options -only three available (USPS, Collect+, or InPost).
Pricing
All plans are billed monthly. However, there's a $0.20 fee per additional return if you go over your plan quota:
Free – Three Returns per Month
Customizable returns portal for customers.

Email templates for tracking notifications.

Customer support within 24 hours.

Custom returns policy and rules.
Silver $20 – 100 Returns per Month
Portal translation for global customers.

Real-time returns timeline for your team.

Automated shipping labels.

Same day customer support.
Gold $150 – 100 Returns per Month
Get design assistance for customizing your returns portal.

Auto-approve returns

Editable HTML email templates.

Branded shipping labels

One-click refunds.
Platinum $500 – 3000 Returns per Month
Custom email response templates are explicitly designed for different customer inquiries.

Receive customer support within the hour

Tech support
Enterprise – Custom Pricing
Set your own courier rates

API access

A dedicated account manager
Automated RMAs and Returns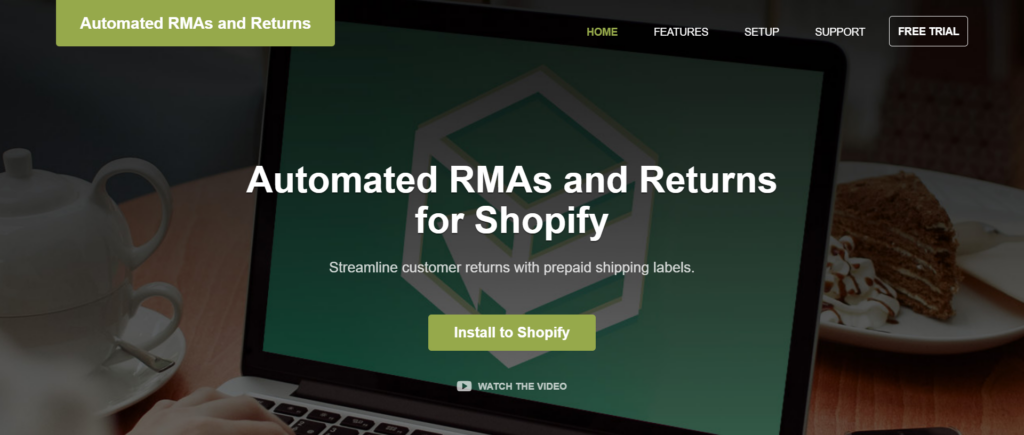 Automated RMAs and Returns allow you to create a returns management portal for your customers. Shoppers can request their own returns, generate a label for their order, and select their local drop-off point. In addition, customers receive automatic email notifications regarding the status of their returns.
When a return is submitted, you and your team can track it from your dashboard. One of the benefits of this app is the AI logistics features that help reduce delays. You can set up conditional policies based on the circumstances and location of the return request.
For instance, if a customer receives a faulty product, you might want to simply refund the customer their money in full. But if a customer orders the wrong size, you could set up an exchange instead.
With the help of AI, you can also route returns requests to save you money on internal logistics. Lastly, you get access to a reporting and analytics dashboard that displays the reasons and status of requests. Your team can also leave comments on orders if needed. Then this data can be exported as an excel file for your convenience.
Pros
You can set comprehensive rules for customer returns.

Customers benefit from a returns portal and automatic email notifications.

There's an extensive range of courier options.

You benefit from a set price that doesn't increase with your shipping numbers.
Cons
This app currently only works for stores in the US and Canada.

Its UI is reportedly not very user-friendly, and it isn't as easy as others to set up – it requires HTML encoding for different features.

There's no free plan.
Pricing
There's only one plan available for this software, billed at $19.95 a month. The actual shipping logistics are handled by EasyPost, which sets its own prices for its courier network. Over 40 couriers to choose from, including UPS, FedEx, and DHL Express. The software uses the product's weight and the dimensions of the shipping box you've configured in the app to calculate the cost of the label. Then each label is be billed by EasyPost.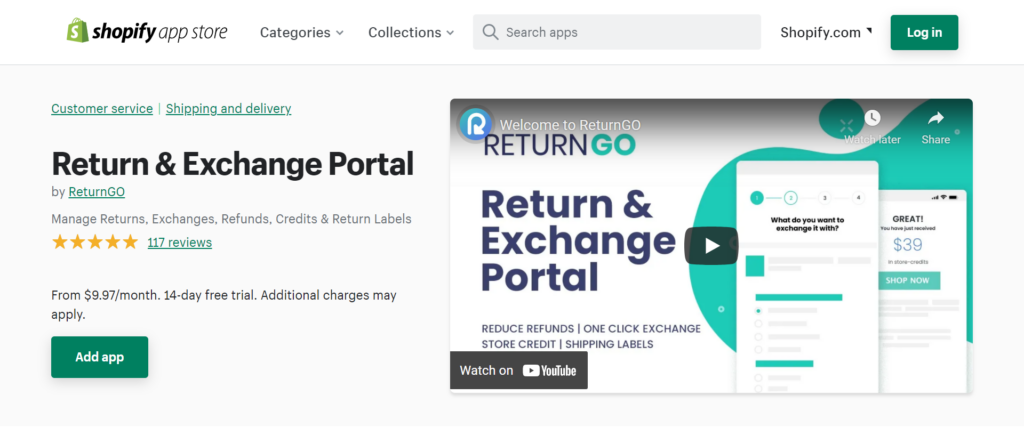 ReturnGo is an automated returns management platform that enables you to offer customers a branded returns portal. You can customize the portal with a unique layout, logo, colors, etc. From here, you and customers can manage options for refunds, store credit, donations, and exchanges.
Thanks to AI, ReturnGo can manage multiple returns and automate shipping notifications. It also encourages exchanges over refunds by giving customers the option to exchange products for different sizes or colors. It even automatically adapts to the customer's language and currency.
Moreover, you can set a clear returns policy that reacts to various customer requests. This clarifies which items can be returned, exchanged, or refunded.
In addition to integration with Shopify, ReturnGo partners with different courier providers such as FedEx, UPS, and DHL to get the best shipping rates for returns. As well as automating return order shipping labels, it also provides return analytics, including returns status, sales, and customer details. The software also uses these tags to send automatic email notifications to your customers as they move through the different stages of the returns process.
Pros
Affordable pricing plans – you can access most key features even on their most basic plan.

You can set flexible returns policies.

It's easy to use and set up.

There are multiple language options.
Cons
Integrations are only available on the Advanced plan.

Limited language options are available on the Standard plan.

There's no free version.
Pricing
ReturnGo is billed monthly. All plans include 24/7 customer support. You can opt for an additional $0.50 per extra return if necessary.
The key features of each plan include:
Standard $9.97 – for 50 Returns per Month
You can add as many returns policies as you want.

Automate return request approvals and generate automatic shipping labels.

Two language options for your customers.

You can offer exchanges and store credit.
Advanced $49.97 – for 100 Returns per Month
You can offer gift returns and item donations.

Access integrations

You can process order cancellations.

Automatic store credit adjustment – based on shipping and other requirements specified.
Pro $174.97 – for 350 Returns per Month
Auto-refund and exchange features.

Five different language options.

You can validate returned stock on your system.

Generate packing slips
FAQs
Question: What are the Benefits of a Return App?
Answer: An excellent product return system is integral to any business. It sets a clear standard for both your customers and your team. As mentioned with some of the apps featured here, many focus on an exchange or upselling strategy to enhance revenue.
On top of that, there are several key benefits to using such an app:
• You create transparency about your returns process, gaining customer trust.
• You can save money by reselling returned items.
• Cut down on miscommunications between customers and your team with clear returns policies.
Save time by automating the majority of the returns process.
Question: How do Returns Work in Shopify if I Don't Have a Returns App?
Answer: If you don't have a return app installed on your Shopify store, you'll have to manage these returns manually. Visit your orders page, select the relevant order, and create a return for it. You can choose either a return shipping option or just refund the order from here.
Next, contact your courier to generate a shipping label or create one yourself (only available in the US). Lastly, you'll have to manually send this to the customer and mark the order as returned in your dashboard.
Question: Does Shopify Charge for Refunds?
Answer: As of 2020, Shopify no longer charges transaction fees on returned sales.
Verdict – Who's the Best?
So, there you go – our favorite Shopify Returns Apps. To help summarize our findings, we've divided our top picks into different categories based on the use case and stand-out features:
Best Overall – Returnly
Returnly is an industry leader. It offers a free plan, a beginner-friendly user interface, and it's easy to automate returns. Plus, you can scale up to meet your business's growing needs. With AI email tracking and the self-service portal, customers can easily manage their own returns. This enhances the customer experience, but it also cuts down on the number of customer queries you'll receive – win-win!
Best for Small Stores – ReturnGo
ReturnGo offers an affordable and inclusive price plan. In addition, it's easy to use, and the features on the basic plan provide everything you need to handle simple returns.
Best for Customer Experience and Upselling – AfterShip
The sheer customization options make AfterShip a great choice if branding your returns content/interfaces is essential to you. In addition, with AfterShip's automated and customizable email notifications, it's easy to push your promotions.
Well, that's it. We hope this article has been informative. So, over to you – what's your favorite Shopify returns app? Tell us all about it in the comments box below!