Last Updated on April 22, 2023 by Ewen Finser
While bookkeeping is one of the most important processes in a business, it can be quite hectic and annoying, even if you're a professional bookkeeper. Any software that automates the process is welcome. Bench.co vs FreshBooks are two of the most popular options, with each offering a wide range of features.
However, which platform has features that are ideal for your business? I took a close look at each platform, using them to automate accounting for my e-commerce business. This article explains my experience, with recommendations for the type of business that will benefit from each platform.
My Bottom Line Up Front
I found both Bench vs FreshBooks to be great platforms that do exactly what they say they do and even more. If you want your bookkeeping to be done by someone you can put a face to, then go with Bench. However, if you want to automate your accounting, bookkeeping, and team management tasks, go with FreshBooks. The number of features the platform offers at such a low price point is quite astounding.
Main Differences Between Bench.co vs FreshBooks
The main differences between Bench.co vs FreshBooks are:
Bench is mainly a bookkeeping and tax compliance platform, whereas FreshBooks is a platform that automates most administrative tasks.
Bench assigns actual bookkeepers and tax experts to do the job, whereas FreshBooks uses cloud-based software to handle accounting and bookkeeping
Bench is capable of addressing bookkeeping going back years, whereas FreshBooks focuses on current and future bookkeeping needs.
Bench is restricted to accounting and tax analytics, whereas FreshBooks provides analytics for a wide range of activities
FreshBooks has a mobile app, whereas Bench does not.
What Is Bench.co?
Bench.co (or Bench) is a platform that offers bookkeeping and tax filing features for individuals and businesses. The platform connects entities in need of these services to industry experts using one of the most affordable pricing models in the market.
What Is FreshBooks?
FreshBooks is accounting software that helps businesses manage invoices, expenses, and payments. The platform's goal is to automate as much of a business's tedious processes as possible. The platform is designed for all types of businesses, with a specific focus on small businesses with a rapidly expanding client base.
Bench.co – Main Features
Ease of Use
Bench is designed for both individual and business use, so the platform does not ask for a lot of information during the signup process. Aside from your name and email, this is the extent of personal details you will be asked to register an account.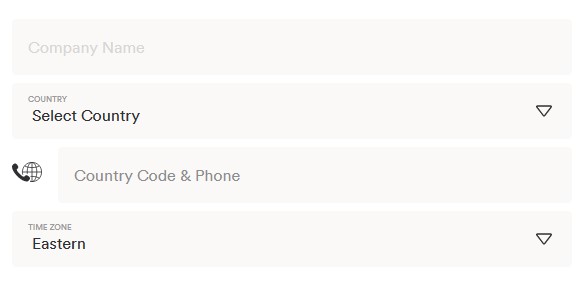 Once your sign-up is complete, you will be redirected to a dashboard. I really liked the simple layout of the dashboard, which puts everything within easy reach.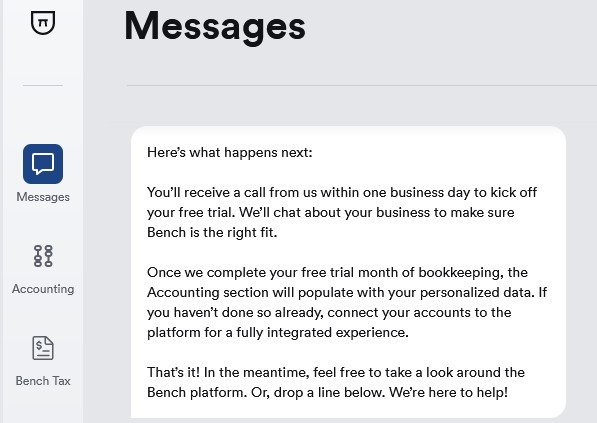 I also liked the fact that you don't need a credit card to use the platform. The speed at which the customer service team gets in touch to help you integrate your business with the platform is really impressive too.
Bookkeeping Services
Bench offers comprehensive bookkeeping services, with a bookkeeper allocated to personally manage your account. The bookkeeper will thoroughly familiarize themselves with your business, determining and meeting its bookkeeping needs.
The platform's monthly bookkeeping ensures you have an accurate, continuous record of your transactions. You will also get professional financial statements, e.g., balance sheets and income statements. These provide insight into your business processes so that you can make necessary changes and grow your business.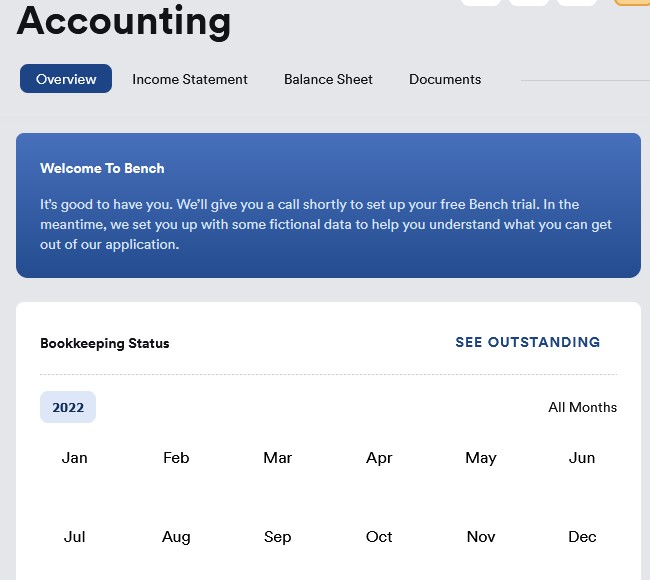 Bench also has Catch Up bookkeeping for businesses that have overdue accounting needs. This service avails you of expert bookkeepers who will quickly clean up your finances and provide you with relevant financial statements for the overdue period.
Another useful feature Bench offers is Bench Retro for bookkeeping that's two or more years overdue. This is necessary for businesses with disorganized or missing financials and those incurring fines for missing taxes. Bench Catch Up and Bench Retro are priced separately to ensure your bookkeeping is back on track within record time.
Tax Services
Bench offers both tax advisory and tax filing services, so your business is always tax compliant. The tax support team is attached to your business throughout the year to ensure that all deadlines are met. The platform offers you tax services based on your business type, whether it's a sole proprietorship, a partnership, an S or C corporation.
Expert tax agents keep track of every tax regulation for your business at the local, state, and federal levels, so you never incur fines and penalties. An expert Tax Advisor will be provided to answer your questions about all the taxes your business faces, advice about incorporation, and ways to reduce your tax obligations.
Bench also helps your business file taxes. A Tax Coordinator will be assigned to your business to collect all documents necessary for tax filing, and a Tax Professional will submit your taxes well before the deadline. Bench's Year-End Financial Package provides you with accurate records of your journals, general ledger, balance sheet, income statement, and trial balance.
These documents are annotated so you can gain further insight into your business. They also ensure you have a seamless tax season.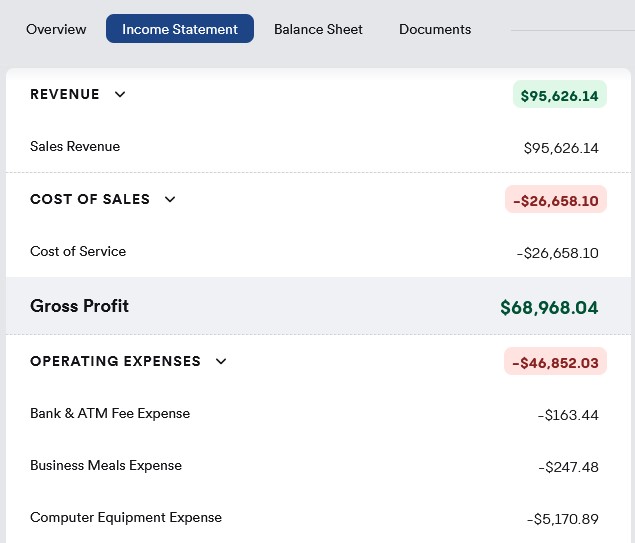 FreshBooks – Main Features
Ease of Use
You can sign up for FreshBooks using email, Google, or Apple. After verification, you will be asked to provide some basic details about your business.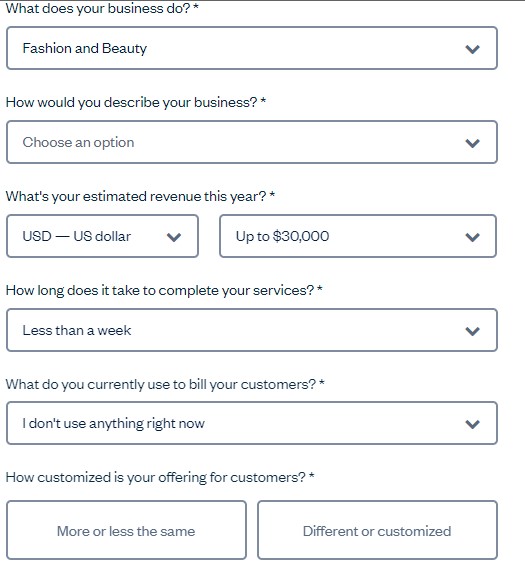 Then you will be led to your dashboard. I liked the layout of the dashboard since it's neatly arranged and very easy to navigate. Some prompts will help you fully set up your account.

FreshBooks has one of the most straightforward signup processes, and you don't need to use a credit card to enjoy most of the features.
Accounting
FreshBook was built as an accounting platform that helps both bookkeepers and people without bookkeeping knowledge to maintain accurate financial records. The Double-Entry feature accurately identifies and logs revenues against expenses. This makes it easy to create profit and loss statements for further decision-making.
It also helps to create accurate balance sheets and general ledger entries by ensuring debit and credit columns are properly filled and balanced. This helps reduce inaccuracies when filing taxes.
FreshBooks allows team access so you can add your accountants to the platform to manage the accounting side of the business. You will have access to the activity so you can use the insights generated to make important business decisions.
The accounting feature also allows for automatic bank reconciliation. The software records all transactions, categorizing them for easier identification and retrieval. It also provides a summary report for all transfers, refunds, and equity activities happening within your bank account.
Invoice Management
Creating detailed, professional invoices for each of your clients can be quite a boring and annoying process. FreshBooks understands this and automates invoice creation. The platform's invoice generator creates professional invoices that can be easily customized to reflect each charged element of a job, including adding billable hours for each project.
You can also add your logo to complete the professional look of the invoices you send. The invoices have inventory tracking features, so you always know what's remaining in stock. Some of the edits you can do on automatically generated invoices include adding requests for upfront payment, charging a retainer, offering discounts, and establishing invoice due dates.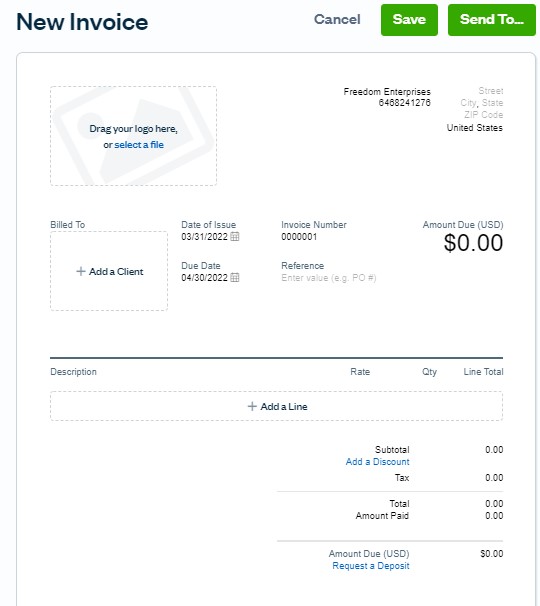 I liked that the invoice generator could automatically calculate taxes, so I didn't have to.
Expense Management
Once you connect your bank account to FreshBooks, you will get a daily report on transactions so you are always aware of where your money is going. This way, you have better control over spending so you can keep within the budget.

I enjoyed using the Receipt Capture feature on FreshBooks. You can simply take a picture of a receipt and upload it to the platform, where information on the seller, taxes, and the total is extracted and stored. FreshBooks provides expense reports that are created with tax season in mind. The reports are easy to file and use when filling out tax forms, whether you do it yourself or use a tax professional during the process.
You can also make edits to the expenses, taking note of those that are billable to clients or adding a markup before adding them to a client's invoice.
Time Management
FreshBooks uses its Time management features to optimize your productivity and ensure you know when you can do your best work. The software uses your activities log to estimate the amount of time you'll need to complete tasks sufficiently.
You will love this feature If your compensation depends on the hours you work. It makes it easy for you to do your tasks well without worrying about timing them. It also lets you create an invoice with billable hours that will not undervalue your work.
Time management also helps in the management of employees or project teams. You can use it alongside the work breakdown structure to see if activities are completed properly and whether or not you're adhering to the overall schedule.
Anyone can benefit from FreshBook's time management feature. Freelancers, employees, employers, and project managers will enjoy its capability to enhance time management and the daily breakdown of working hours.
Project Management
FreshBooks has a host of project management features built onto the platform. It is easy to communicate with clients to get authorization and feedback for many of the project deliverables. All communication is saved in the Cloud so you have a record to back any changes made to the project.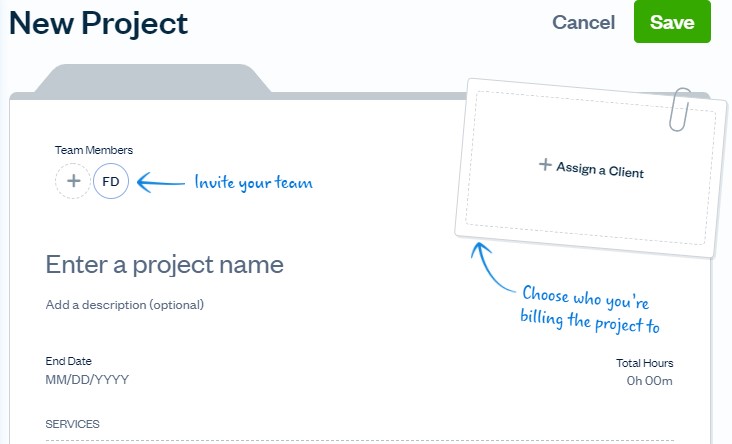 The project management features also help you gauge the profitability of a project. You can log in costs as they are incurred and see with just a glance if you're hitting your profitability markers. This feature also helps you make cost-cutting decisions without reducing the quality of the project.
A profitability summary is also provided on the platform, giving you a long-term view of your most profitable clients and projects. You also get profitability details that help you see the cost decisions that affected the project's overall profitability.
The platform also makes it easier to manage employees and project teams. An interactive dashboard, chat features, and file-sharing capabilities go a long way in enhancing collaboration throughout a project's lifetime.
Bench.co vs FreshBooks – Analytics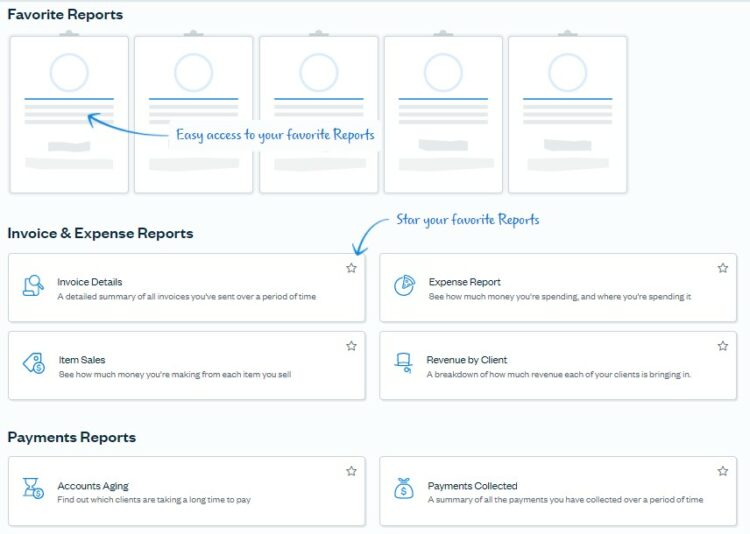 Bench
Bench offers intensive business insights for all aspects of accounting and tax. The agents assigned to your business provide you with year-end reports on your financials, including annotations on areas where you're doing well and how you can do better.
You can also access these documents through your dashboard so you can make the relevant decisions and changes.
FreshBooks
FreshBooks has an analytics dashboard where you can access all kinds of reports for your business. These include expense reports, invoice reports, payments reports, and project reports. You can even create a list of 'favorites' so the reports you feel are most pertinent to your business are displayed at the very top for easy access.
Bench.co vs FreshBooks – Integrations
Bench
Bench can be integrated with other platforms to automate bookkeeping, whether you run a physical or e-commerce business. The platform has partnerships with platforms like BigCommerce, Stripe, Shopify, and FreshBooks. You can talk to a customer support agent to find out how Bench can be integrated with your customized business platform.
FreshBooks
FreshBooks has native integrations with over 100 apps. It can be integrated with e-commerce sites like Squarespace, CRM platforms like HubSpot, and shipping management platforms like 2Ship. The platform also has add-ons that help automate different functions, like Gusto for payroll, FreshBooks Payments for automating invoices settled online, and FreshBooks Select for customized plans for a growing business.
You can find a full list of FreshBooks integrations here. The platform also has an API in case you need to further modify it to suit your business needs.
Bench.co vs. FreshBooks – Customer Support
Bench
When it comes to customer support, Bench.co really shines. All of the customer support options are listed on one page, and all of the contact information is up-to-date. There's even a phone number that you can use to schedule a call with a support agent.
The platform also has a lot of useful guides, so you can find help easily. TheBench Blog is designed for easy navigation so you can find articles that address what you need to know.
Bench Resources provides tax checklists, accounting checklists, and on-demand webinars to help you handle bookkeeping and tax compliance. Subscribers can also join the Bench Community to interact with businesses and individuals using the platform's services.
FreshBooks
FreshBooks has 3 customer support options. The fastest is through the chatbot, where you can get quick guidance on problems. You can also email them, and an agent will get back to you with a more detailed response. You can get direct customer support through the toll-free number. However, this option is only available during the workweek and up to 8 PM.
TheHelp Center is a good place to find detailed articles on how to use the platform. There are hundreds of guides that can help you through using the different features and show you how to integrate other apps into FreshBooks.
Bench.co vs FreshBooks – Pricing
Bench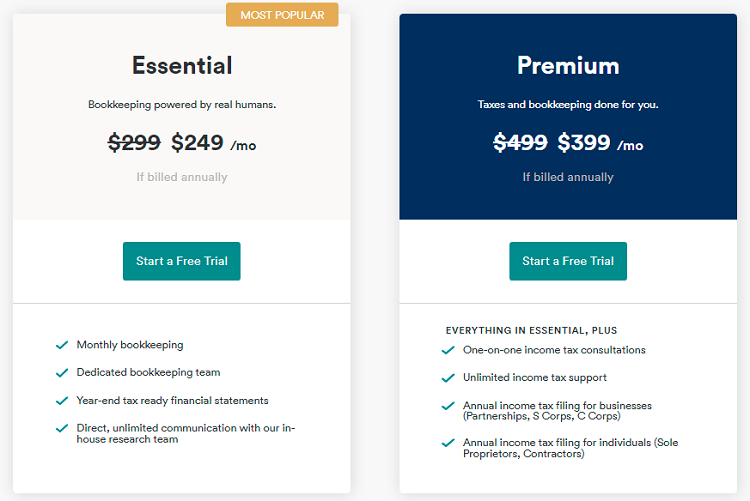 Bench has 2 pricing tiers, billed either monthly or annually. Each package has a 1 month's free trial.
Essential Plan
This tier contains all of the basic bookkeeping services needed by a business. It costs $299 if billed monthly, and $249 per month if billed annually.
It offers:
Monthly bookkeepingDedicated bookkeepers
Year End Financial Package
24/7 bookkeeping support
Premium Plan
This package offers both bookkeeping and tax services. It costs $499 if billed monthly and $399 per month if billed annually.
This plan offers:
All Essential Plan benefits
Tax consultants
Annual income tax filing for businesses & individuals
24/7 tax support
Bench also has several services that are priced separately:
Specialized bookkeeping: from $100
Catch Up Bookkeeping: from $299
Bench Retro: from $299
FreshBooks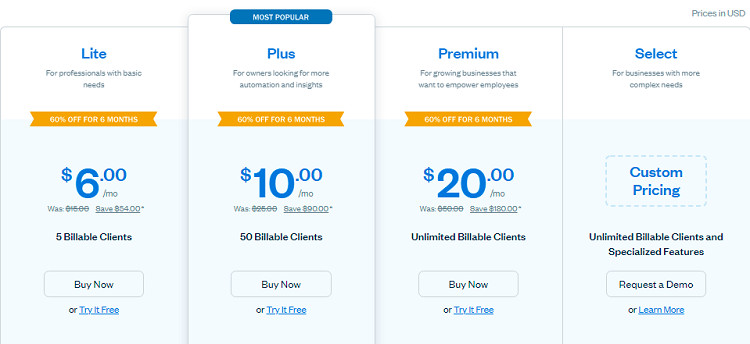 FreshBooks has 4 pricing plans, billed either monthly or annually. Each plan has a 30-day free trial and provides these benefits:
FreshBooks dashboard
Invoice generation
Online payments
Expense tracking
Time tracking
Project budgeting
Reports & insights
Lite Plan
This plan costs $15 if billed monthly and $6 a month if billed yearly. These are some of the benefits of this plan:
Up to 5 clients
Unlimited invoices
Customer support
Plus Plan
The Plus plan costs $25 if billed monthly and $10 a month if billed annually. It has some of the following benefits in addition to all the ones in the Lite plan:
Payment reminders
Recurring invoice scheduling
E-signatures
Double-entry accounting
Accountant collaboration
Digital receipt scanner
Premium Plan
The Premium plan costs $50 if billed monthly and $20 if billed annually. It has all the benefits of the Lite and Plus plans and these additional perks:
Unlimited clients
Accounts payable
Profitability tracking
Custom email templates & signature
Dynamic fields
Select Plan
This is a fully customizable plan suitable for all types of businesses. You can pick out FreshBooks features that your business needs instead of getting pre-packaged benefits. Some of the perks include:
All Premium plan features
Reduced credit card processing fees
Dedicated account manager
Team training
Custom email and invoice branding
Premium add-ons
Bench vs FreshBooks – Alternatives
Honeybook
Honeybook is a cloud-based platform that offers small businesses accounting services. Its features are pitted against FreshBooks' in this FreshBook vs Honeybook comparison article.
Pilot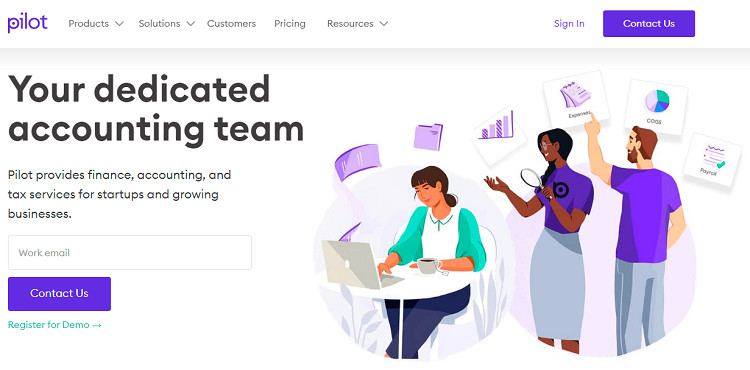 Pilot is a bookkeeping platform that connects your business to expert bookkeepers who will help you with all your accounting needs. Take a look at this Bench.co vs Pilot tax service comparison to see which is the best fit for your business.
Harvest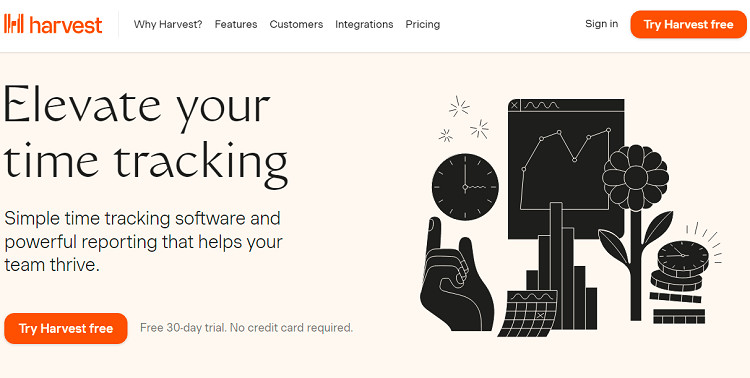 Harvest is a time management and activity tracking software designed to enhance project management efforts. It has features close to that of FreshBooks, as you can see in this Harvest vs FreshBooks accounting software comparison.
FAQs
Question: Do Bench.co and FreshBooks Have Mobile Apps?
Answer: FreshBooks has an iOS and Android app that can be used to track expenses, create invoices, record receipts, and communicate with clients while you're on the go.
Bench provides more personal solutions and so the platform does not have a mobile app. However, you can access its utility on a mobile app depending on which platforms you've integrated it with.
Question: What are my Cancellation Options for Bench and FreshBooks?
Answer: You can downgrade and upgrade your Bench subscription based on your business needs. You can also cancel your subscription whenever you want. Bench allows you access to your past data for as long as you need, and you can export all the information. The data will only be deleted if you ask the company to do so.
FreshBooks also allows you to move up and down the payment plans whenever you want to. Keep in mind that moving to a lower plan will erase some of the benefits of the plan you were on. You can also pause an account and retain all the data until you reactivate it. If you cancel your plan, however, you will not have any access to your business' past data so make sure you export it before taking this step.
Question: Can I Use Both Bench and FreshBooks?
Answer: Yes, you can! The platforms have native integrations with each other to make it easier for you to use both at the same time and get a holistic view of your business finances.
If you want all the benefits of FreshBooks without actually having to personally do bookkeeping or hire an accountant, Bench's team of professionals will do a great job of tidying up the information recorded provided on your FreshBooks dashboard.
My Verdict: Bench.co vs FreshBooks
I thoroughly enjoyed experimenting with both platforms and think that they both have great utility. FreshBooks has a wide range of features that can benefit freelance businesses, small businesses, and expanding businesses. All the features are provided at a very affordable price that any business can easily afford.
Bench lends a personal touch to your finances, with the agents annotating your financial reports so you can make all the important decisions without having to take an accounting class. While FreshBooks is better for a do-it-yourself business model, and for businesses that already have an accounting department, I think using the two platforms together will provide the most value to most businesses.