Last Updated on June 6, 2022 by DMEditor
In this Shopify POS review, you'll discover how this tool can help you translate your digital store into the real world. Indeed, with the proper POS (Point Of Sale) solution, you will be able to very easily sell to physical customers standing in front of you.
But how does Shopify POS compare to its competitors?
In this article, you'll find:
the must-have features in a great Point Of Sale tool;

a deeper look at how Shopify POS Pro gets the job done;

interesting alternatives you might find worth considering;

frequently asked questions about Shopify POS Pro;

a straight verdict on whether Shopify POS Pro is what you need;
How To Choose The Best Retail POS System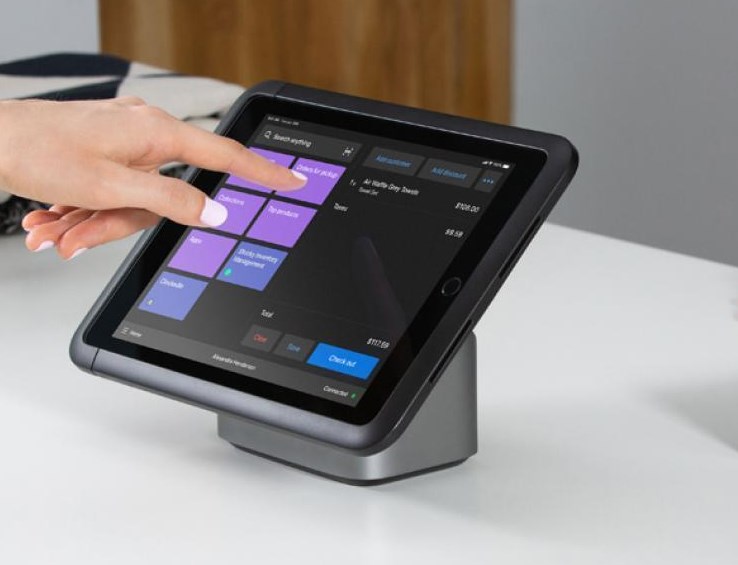 There are many ways to keep track of your customers' behavior in person. Local PDAs tend to be a little outdated nowadays, especially with the rise of many new, intuitive and ever-connected modern point of sale systems.
Here's a close look at what you want to get in a proper POS system.
Hardware compatibility
The point of sale system you'll go for might not work with every machine. Some POS only work with dedicated hardware that's made just for the software. Some others can work on any tablet or phone. It's important to consider what hardware you're going to work with when selecting your point of sale system.
Features range
A POS system can be used for many different things. From operating in a gym or a cafe to an art gallery or even a shoe store. The range of fields in which you could use a POS is quite large, and so is the difference in proposed features.
The most commonly proposed features are usually sales processing, inventory management, accounting, employee management, customer management, and sales analytics. But you might, for example, require more exotic features such as memberships management. Make sure that the software you go for specifically caters to your needs.
Ease of use
You'll need software that's easy to use, not only for you but also for your staff. Time wasted in mistakes or training new employees means less profit. You'll also want to avoid dealing with a complex tool during rush hours. If you choose software with a clear interface that's easy to pick up, you'll save yourself some headaches.
Scalability
Although you might be satisfied with a simple, on-site POS system, you may want to scale when your business does. It often comes down to having a cloud-based POS system instead of one based on a local server or a single machine. You'll also need the ability to set up the same sales channel on multiple machines in different places.
Tracking
If you're holding a physical inventory, you know the hassle associated with keeping track of everything. A great POS system will help you automate staying on top of your inventory game. The best POS systems will offer additional options such as purchase order creation, re-stock reminders, and stock transfer between locations. Make sure to go for software that caters to your inventory-tracking needs.
Integrations
If you're using other software to coordinate your sales channels, you need to know how your POS system will integrate with them. Integrations can save a lot of time. Instead of double or triple entries among different tools, you could get everything in the same place at once.
For example, if your POS system integrates with your marketing software, that's as much copy and paste as you won't have to do manually. Make sure the POS system you go for integrates well with the rest of your resources.
Analytics
If you want your business to grow, you need to know where it's going as well as possible. That means getting access to relevant data on what's going on so that you can make the best decisions.
The more reporting options your software offers, the deeper you will understand your business, and the more you will be able to get the specific information you need to scale. Using this, you will do more of what's effective and less of what isn't helpful. Find software with relevant analytics to your business.
Customer support
Choosing a POS system is nothing mundane. You will use it every day. You're not just choosing software. You're entering a relationship with a company that will become your partner in creating a successful business. You want to make sure that you can reach out to that company and that the customer support is up to snuff. Because when problems arise, you need to solve them as quickly and efficiently as possible to get back to work fast.
Price
Finally, if you're selling life, that means hardware and costs. On top of the possible subscriptions and fees that come with a particular POS system, you will also have to consider additional pieces of software or hardware that you will have to invest in (like a card reader, for example). Make sure that you've accounted for everything before going for the buy.
Shopify POS Key Features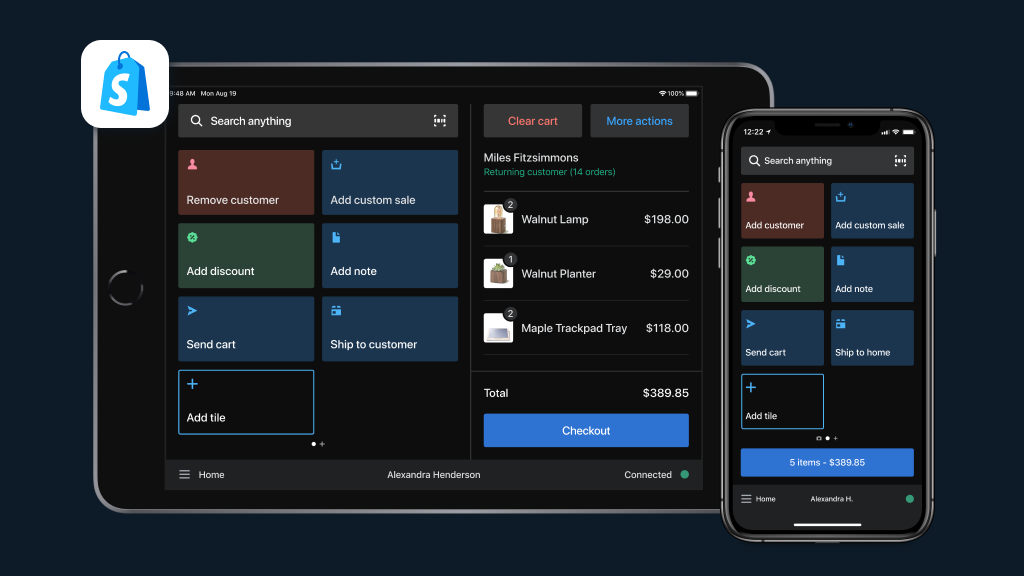 Let's have a look at how Shopify POS Pro handles all those things in detail.
Shopify POS Pro Comes With All The Necessary Hardware
Shopify POS works with a card reader, barcode scanner, cash drawer, and receipt printer, so it's ideal for a brick-and-mortar shop. It's important to note that those pieces of hardware are all additional purchases.
Among the Shopify POS Pro hardware, you will find a lot of different bundles for all your in-person sales needs. Card readers, barcode scanners, receipt printers, cash drawers, and more, Bluetooth, wired, or contactless, they have it all. Plus, if you're not sure you want to commit, you can rent them at first. Naturally, if you want to use your own hardware, you can do so. The Shopify POS app is available for both your Android and Apple tablets, phones, and PDAs.
Shopify POS Pro Has Plenty Of Features
Shopify POS Pro is the premium version of the Shopify POS Lite system included in every Shopify membership. The Shopify POS Lite version already has a very long list of features – and that's what makes the whole Shopify POS system stand out.
Among those features, you will be pleased to find are: product-specific QR codes, email cart add-ons, compatibility with external card readers, pre-made gift cards and discounts, partial and split payments, custom payment systems, integrations with dedicated Shopify hardware, and other POS hardware, free return and shipping for POS tools, customized checkout process, mobile checkout, taxes, and custom discounts.
The software runs through the Shopify POS app which is available on both the Apple and Google store. One noteworthy problem is that Android users won't have access to the most updated version. At the time of writing, there are two Shopify POS apps available, and the Android one, while it works, is not updated anymore by Shopify.
The majority of the most notable payment methods are accepted and supported: credit card, debit card, cash, gift cards, third-party integrated loyalty programs, etc.
Those looking for a more advanced experience will then move on to Shopify POS Pro and get access to all the features that come with Lite, plus the following:
Picking up in-store purchases

Custom receipts

Save/retrieve cart options

Unlimited staff support

Stock adjustments

Shipping support

Purchase orders

Inventory tracking and count

Sales suggestions

Staff management

Unlimited staff slots

Advanced e-commerce management

Advanced inventory management

Exchanges

Detailed inventory reports

Cash tracking and sales reports

Demand forecasting

Low stock reports

And a lot more minor features
Shopify POS Pro Is Easy to Use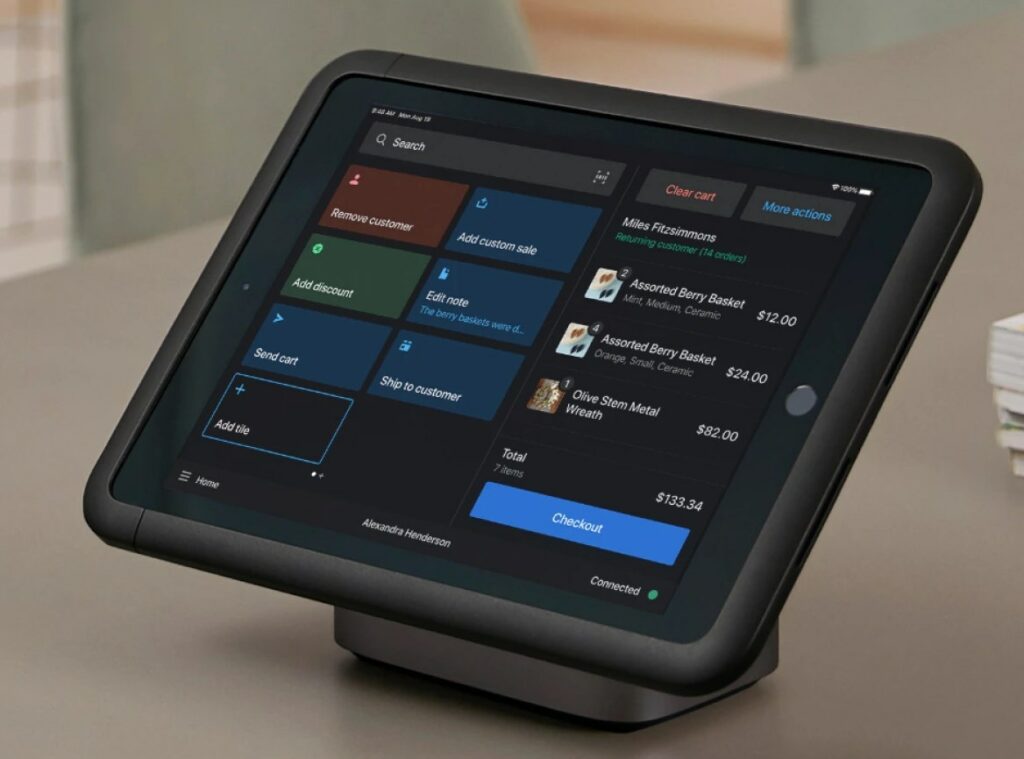 To set up your Shopify POS dashboard, you do not even need to have a Shopify store. And the process of creating the required Shopify profile just takes a few minutes. Although, if you're using it, you most likely already have a Shopify store and profile. This makes things even easier as your current products will automatically be imported on the Shopify POS app.
Shopify is known for its ease of use, and it shows. Your Shopify profile will act as the app dashboard, and everything is easy enough to navigate. The app in itself has a minimalist feel and is intuitive enough.
Shopify POS Pro Is Highly Scalable
Shopify POS, especially the Pro version, gives you a lot of breathing room. There are no limits on the number of users, simultaneous users, number of in-use devices, staff, etc. You could be using one or 20. It will still be as easy and seamless. Naturally, the price won't be the same. But you can start small and scale high with Shopify POS.
The system also works even offline. Since it's cloud-based, any new data will be added and synchronized as soon as your devices are back online.
Shopify POS Pro Has a Lot of Integrations Available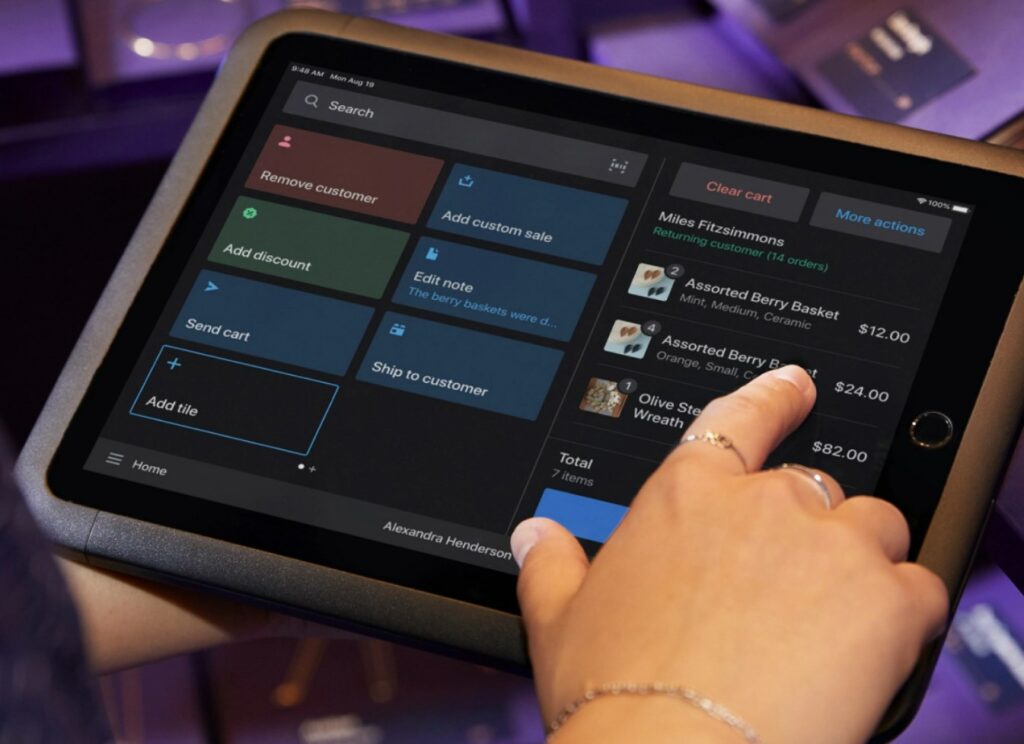 There currently are over 72 apps that integrate with Shopify POS Pro. You can find the complete list on their website. This includes accounting apps like Xero for inventory management, invoice generators, loyalty apps, and more. So, you can be sure to find what you need to really top off your setup.
Shopify POS Pro Offers Satisfying Analytics and Tracking
The quality of the analytics you will get out of your Shopify subscription entirely depends on the subscription plan you go for.
You get a snapshot of your transactions (more analytics are available on your online dashboard). Cash that is reported through the app and put in the drawer is tracked so that you can count against it at the end of the day. You also have general analytics that reports sales by-products, types of products, types of payments, etc.
If you're on the Shopify mid-range subscription, you get detailed product reports, cash flow reports, discount reports, and retail sales reports. Those analytics consolidate both online and offline sales. This makes Shopify POS Pro a great omnichannel sales tool as you can create complete customer journeys.
For example, a customer could find one of your products on your web store, order to pick it up in person and pay on the spot. The Shopify POS analytics would track this transaction from beginning to end.
With the POS Pro subscription itself, you also get access to automatically generated daily sales reports, cash tracking from the online dashboard, local order delivery management, online ordering for local pickup, exchanging items bought online in-store, product recommendations based on customer's online preferences, online and in-store synchronization for discounts, and more.
Shopify POS Pro Has Okay-ish Customer Support
We can find many mixed reviews online when it comes to Shopify support. Most of the time, Shopify works great as a product. The problem is that the support, while reportedly friendly and knowledgeable, isn't always so responsive.
You can reach Shopify customer care service through live chat, email, and phone support 24/7 (but with reportedly annoying and long wait times) for every plan above Shopify Lite.
Shopify POS Pro Has A Complex Pricing System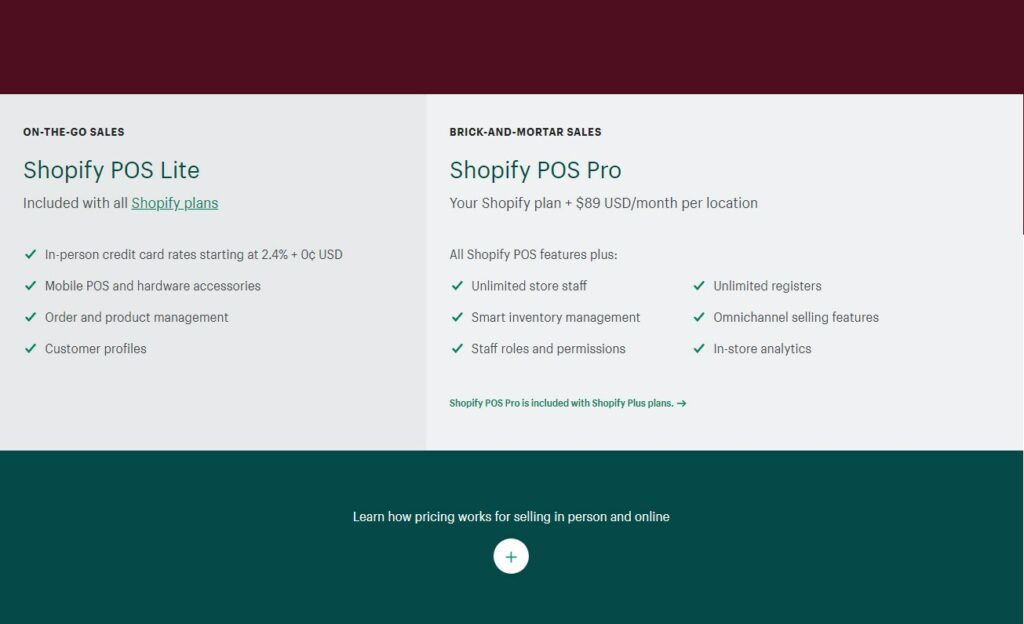 Shopify POS Pro comes with its own line of hardware. You will have to pay extra to get the hardware. You can use your own, buy it, or even rent some at the Shopify retail store.
The rental costs for the hardware vary depending on the duration of the rental, and you will need to ask for a quote. The smallest, most basic bundle is available at $219 for sale and includes a retail stand and a card reader. The cheapest complete bundle (stands, card reader, cash drawer, receipt printer, barcode reader) is available at $839 for sale. And you will need a mobile device of your own to run the app. This can raise the entry cost to over $1,000 easily.
On top of investing in hardware, you will need to invest in a Shopify plan. As a result, if you're not interested in having an online Shopify store at all, you're better off going for other alternatives because you would be paying for features you don't use.
To be able to use the Shopify POS app at all, you need to purchase one of the tiered e-commerce plans proposed by Shopify. Those plans are monthly, annual, or biennial subscriptions.
Shopify Lite

starts at $9 per month to simply embed a Shopify button on your website. You get a single staff account for up to three locations. You can't process transactions.

Basic Shopify

starts at $29 per month with basic digital store features. You get up to two staff accounts for up to four locations. The transaction fees are 2.2% + $0.30.

Shopify

starts at $79 per month with more advanced features. You get up to five staff accounts for up to five locations. The transaction fees are 1.9% + $0.30.

Advanced Shopify plans

start at $299 per month for well-established merchants. You get up to 15 staff accounts for up to 8 locations. The transaction fees are 1.6% + $0.30.
There is also a Shopify Plus plan that's available after requesting a quote (for very large companies).
On top of that, you'll also need to purchase the Shopify POS Pro plan. If you don't, you will be locked with the more basic features of the Shopify POS Lite plan. This plan is available at $89 per month and per location.
Shopify POS Pro Pros and Cons
Here is a rundown of the biggest pros and cons of Shopify POS Pro.
Pros
Easy to set up and easy to use

Amazing integration with online Shopify stores

Omnichannel selling

Satisfying integrations
Cons
Cumbersome pricing

No point getting it if you don't have a Shopify store

Android app updated less frequently

Awkward customer support
Alternatives We'd Recommend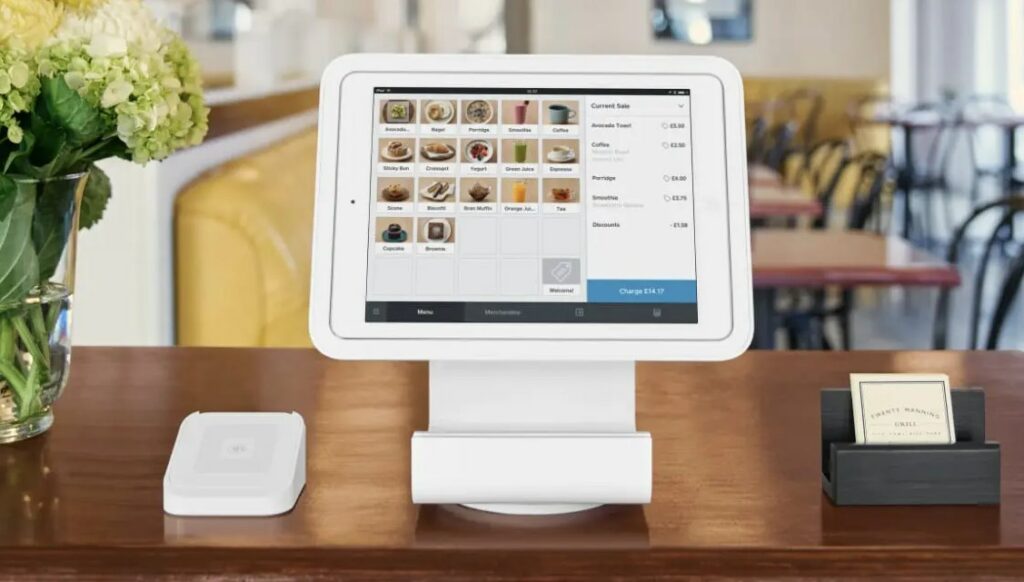 Here are some alternatives to Shopify POS Pro that you might want to consider.
Square POS.

If you're not the happy owner of a flourishing digital store yet, but still need a POS system, Square POS might be just what you need. Less expensive, less complicated, but with less eCommerce functionality, Square still does the job very well. It's a great option to track all your in-store sales through its app. Perfect for smaller businesses.

Lightspeed.

If you're a brick-and-mortar store looking to develop its online offer, you might want to consider Lightspeed. It caters heavily to industry-specific businesses (namely, golfing enterprises, restaurants, and retail stores) as it offers some very niche features. It's a bit more complex and expensive than Shopify POS, though.

Heartland Retail.

POS systems designed by retailers for retailers will be a great option if you're managing a retail store. It's very similar to Shopify POS (since Shopify does pretty much everything well anyways) but with some added retail-specific features.
Conclusion
The Shopify POS Pro will help you in the most seamless way possible to bring your eStore to your brick and mortar store. It's a great extension of the already great digital stores proposed by Shopify.
Everything has been thought out to make the transition from digital to in-person as smooth as possible, and it shows.
Shopify POS Pro clearly has some awkward moments, but none of them get in the way of the sale. Overall, it's very complete and easy to use. Paired with an online Shopify store, it's amazing.
If you're looking to add a real-life dimension to your Shopify store, then Shopify POS Pro is a no-brainer.
In short:
If you're not using Shopify's online store features at all, you're better off using other POS systems.

Shopify POS Pro is a good and complete option if you're a market stall, pop-up, or mobile merchant, but it may be overkill. You will prefer the Lite over the Pro version.

If you're a brick-and-mortar shop with an online Shopify store, Shopify POS Pro is likely to be the best choice on the market for you.