Last Updated on April 24, 2023 by Ewen Finser
Running a small business can be challenging and complicated work… especially without the right tools to help you expand.
Suppose you're a small business owner with employees you need to pay on time. In that case, you'll know that running and managing an efficient monthly or weekly payroll system and employee benefits scheme takes time and great attention to detail.
This is where we thank our lucky stars for the advent of integrated software platforms so that we don't have to spend hour upon hour making this happen manually.
An effective all-in-one solution that handles these meticulous details gifts you and your team more time to focus on other areas of your business. Plus, it ensures everyone gets what they're owed on time -win-win!
With that in mind, we're looking at one such integrated platform today: Gusto. We're exploring everything it offers to help you decide whether it's the right fit for your business.
Our Pick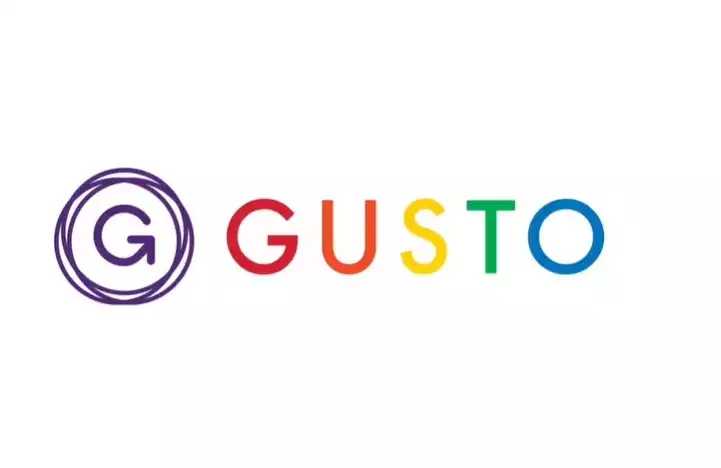 Why I Personally Prefer Gusto
Easier to use, cheaper, and much more scalable than the competition. Gusto WORKS better, particularly for small to mid-sized companies. We went with Gusto for our business and are incredibly happy with the support and integrations with our other accounting tools.
TRY GUSTO FIRST HERE
We earn a commission if you click this link and make a purchase at no additional cost to you.
About Gusto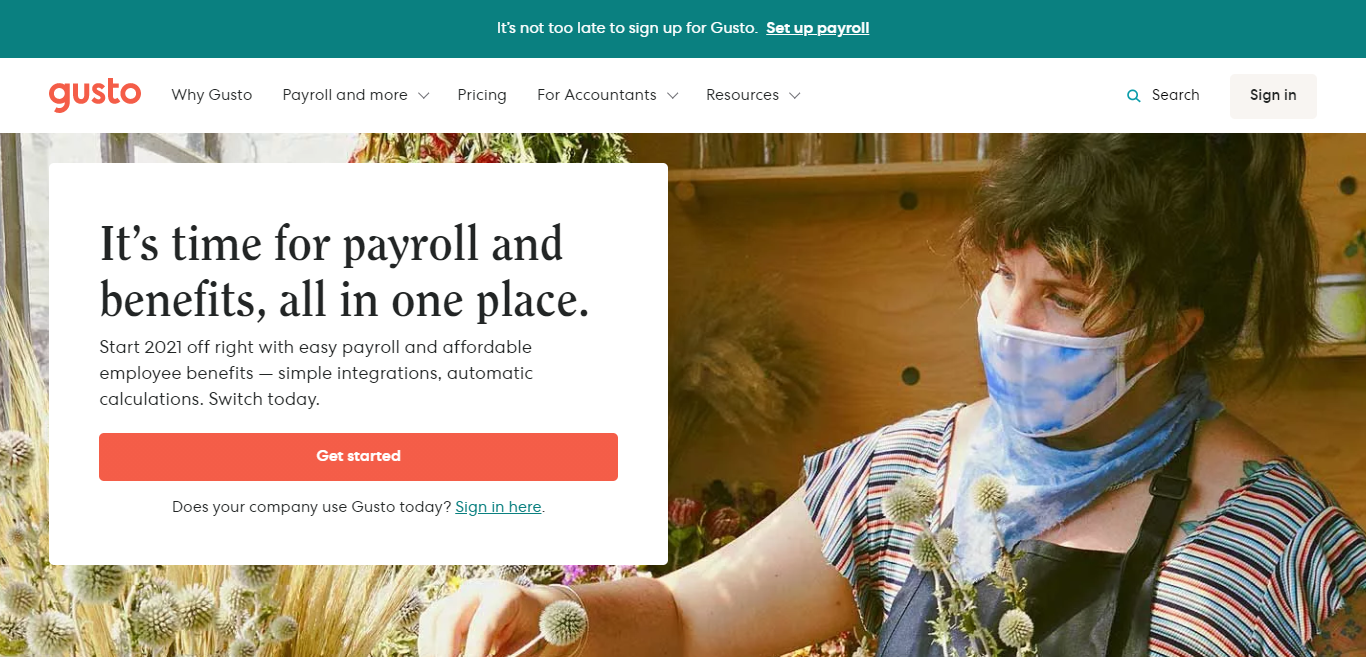 Gusto describes itself as a "people platform" that allows small businesses to take care of employees through an efficient and automated payroll and benefits system.
Launched back in 2012, it was known as ZenPayroll. Fast forward to today, and Gusto payroll software boasts more than 100,000 small businesses on its books and has processed tens of billions of payroll dollars.
It also provides employee benefits management such as 401(k) accounts and health insurance – all from the convenience of one platform.
In short, Gusto aims to simplify payroll, employee benefits, and HR, and seems to be doing a pretty good job of it! The company boasts multiple press reviews resulting from surveys it's conducted on topics such as Covid-19 layoffs and the future of work.
That's as well as coverage of its notable successes, including accolades like PC Magazine's Editors' Choice, Best Payroll Software, Editors' Choice Best Payroll Administration Software, and Forbes Fintech 50 awards.
Gusto Payroll Software Key Features
Gusto separates its features into the following six categories:
Payroll

Hiring and onboarding

HR experts

Employee benefits

Time tools

Gusto wallet
Let's check out each one in turn:
Gusto Payroll
As you've probably already guessed, Gusto's payroll features aim to reduce the time it takes for you to run your payroll.
Gone are the days when this would take hours and hours of work. Instead, from Gusto's payroll dashboard, you can conveniently view all your employee information, including:
Names

Annual salary

Hours worked

Overtime

Time off

Commissions

Bonuses
You can add salaried and an hourly employee as well as contractors to Gusto's payroll functionality.
The Gusto time tracking tool automatically adds hours completed (more on that in a sec). Or, if you already use a time tracking service, you can sync that with Gusto's payroll feature.
Gusto also provides users with a review page. Here you can see taxes that need deducting, and you'll receive automated reminders if tax laws change in your state.
Overall, the Gusto payroll feature handles all aspects of regular payroll tasks. This includes syncing employee hours automatically and summarizing everything you need to check before submitting your payroll.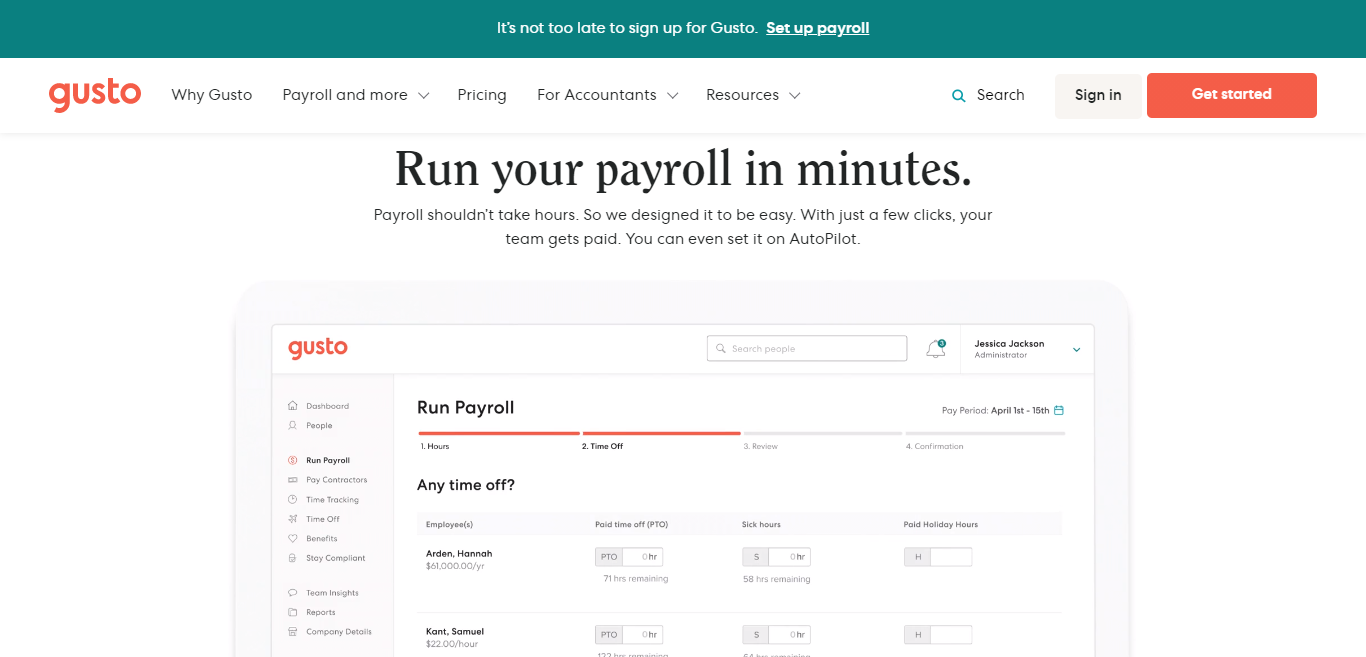 Gusto Hiring & Gusto Onboarding
The purpose of Gusto's hiring and onboarding features is, again, to save you and your time when you're bringing new people into your workforce.
For instance, you can customize job offer letters to reflect your company's style using one of Gusto's handy templates.
But more impressively, like Gusto's payroll feature, you get access to a centralized checklist of everything that needs doing to onboard a new recruit. As you complete these tasks, you can check them off. This ensures you and your team know exactly what's been achieved so that no one accidentally doubles up on jobs!
Things on your onboarding checklist may include: sending offer letters, adding the recruit to payroll, handling health insurance, etc., (you can add other benefits your company offers to the checklist too).
You can also store all employee-related documents in one place, such as employee handbooks, confidentiality agreements, tax withholding forms, company policies, and direct deposit authorization. From here, you can send out documents with just a click and request electronic signatures from your new recruits.
Last but not least, Gusto's hiring and onboarding functionality offer what they call "software provisioning and de-provisioning." In plain English, this just means help with setting employees up with the software they need to do their jobs justice, including GSuite, Slack, Zoom, and Microsoft 365.
Gusto HR Experts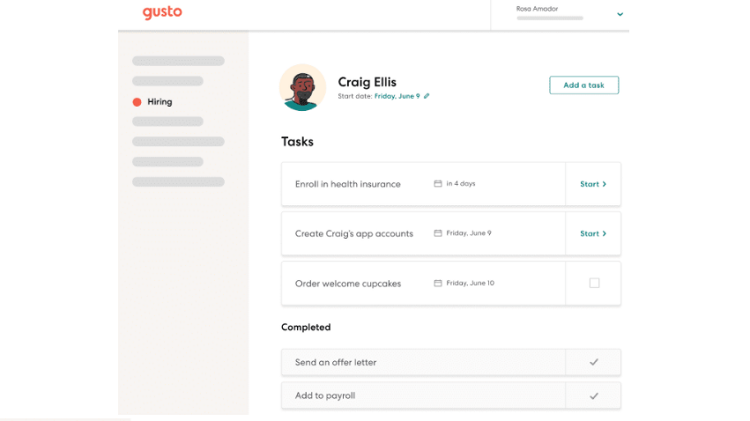 This is available for anyone on the higher paid plans (we'll cover this further down in this Gusto review).
This feature gives you access to personal HR support from experts in the field. A sort of on demand customer service. Broadly speaking, this means you can safeguard your business using their handy HR guides and law alerts to avoid incurring fines.
With these resources at your disposal, you can rest easy knowing that you're compliant with the law and that you have access to a real-life team should you need them.
Specifically, you'll get advice on areas such as:
Best hiring practices

Job descriptions and offer letters

Labor law policies

Performance evaluations

Advice on avoiding expensive compliance mistakes, including employee lawsuits, violating health and safety legislation, and being issued with an ACA penalty.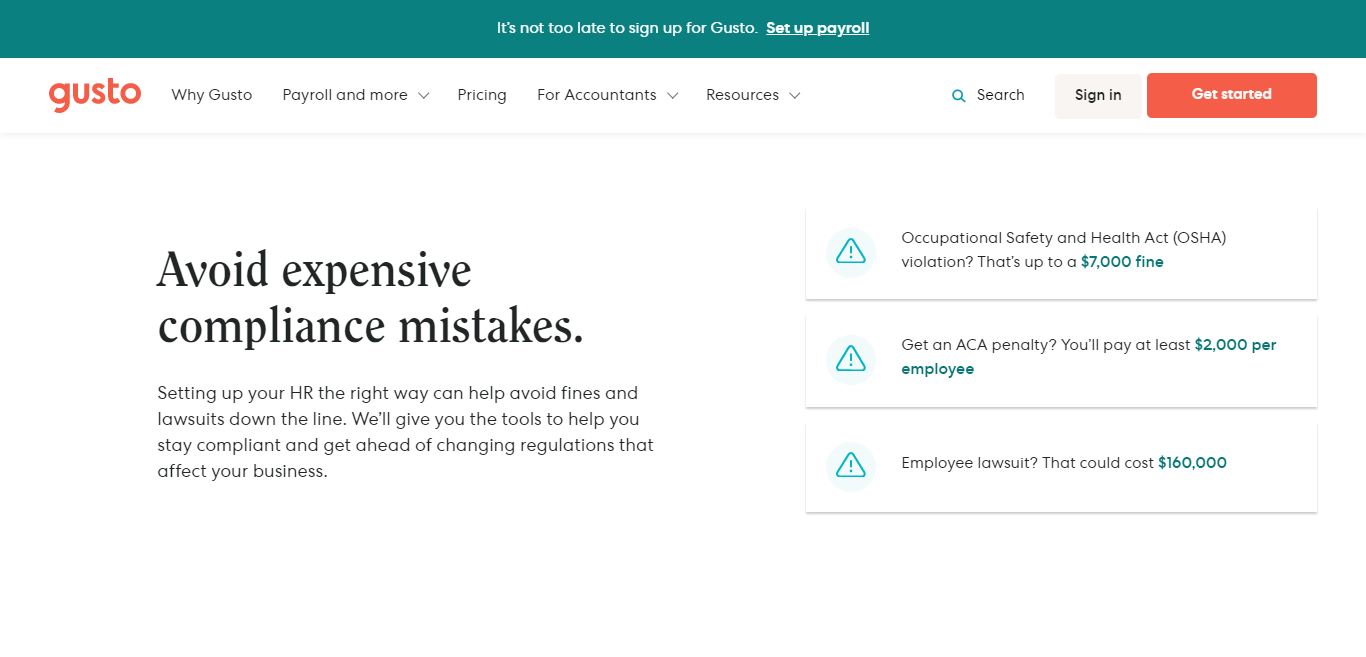 Gusto Employee Benefits Administration
Although we've touched briefly on employee benefits further up in this Gusto review, this feature warrants further explanation. It works in tandem with Gusto's payroll and Gusto Wallet features.
You can build an employee benefits administration system that suits both your business and its employees by offering and managing the following benefits from Gusto's platform:
Health insurance (choose from 3,500 plans)

Dental and vision plans

Health reimbursement benefits

Workers' comp plans

Commuter benefits

Paycheck splitter

401(k)
...to name a few!
Likewise, your employees can manage all their benefits in one place via the Gusto Wallet feature, which leads us nicely onto the…
Gusto Wallet
This is a free app for employees whose employers use Gusto. The Gusto Wallet empowers workers to track their paychecks, benefits, and savings from the convenience of their smartphones.
Not only that, but employees also have the option of setting financial goals, change their employee contribution amounts anytime, and access instant cash for emergencies (Gusto cashout).
Employees can also apply for a Gusto VISA ATM debit card.
*To be clear, Gusto isn't a bank; it partners with nbkc bank to provide this service.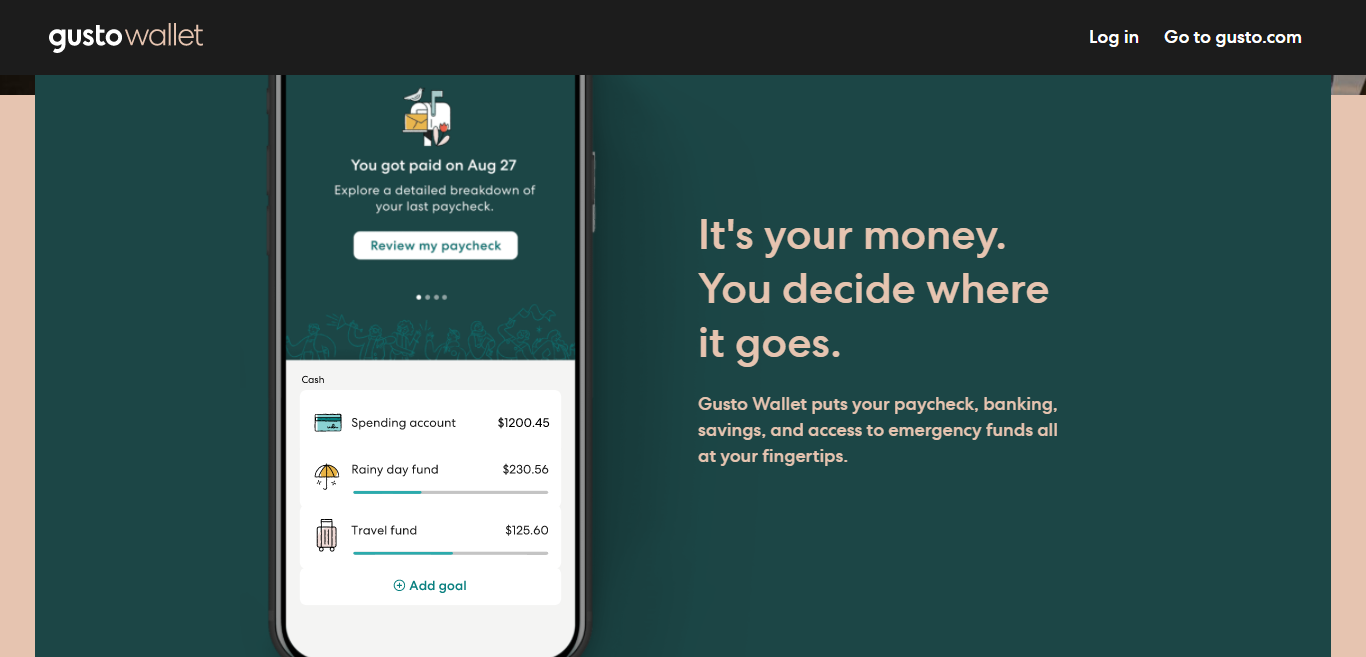 Gusto Time Tools
Here's another feature that works hand in hand with Gusto's payroll feature. Gusto's Time Tools makes it easy to factor in any time off employees use that may affect their weekly or monthly paycheck.
If you have paid-time-off policies, you can customize these and run reports by date, employee, and the department to see how much time off employees are taking.
Time Tools also enable employees and their managers to request time off via Gusto, which you can either authorize or refuse. When you do this via Gusto, the platform automatically syncs time off to all calendars and payroll.
Also, if you're running deadline-driven projects, Time Tools allows you to track the hours spent on the project and how much it's costing your business. Handy, right?
How Much Does Gusto Cost?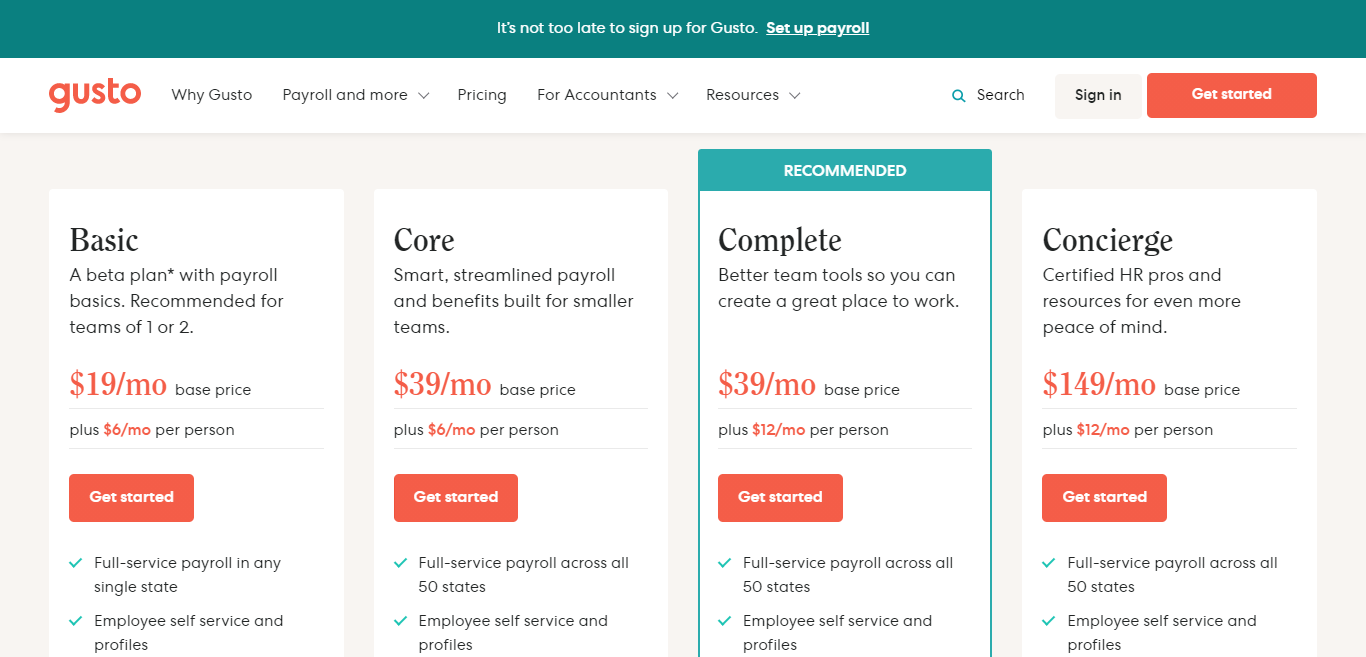 Gusto has a simple to understand pricing structure, with four price plans for companies hiring employees and a separate plan for those hiring contractors, which we'll touch upon at the end of this section.
The four Gusto pricing plans are:
Although Gusto recommends its Complete plan for most payroll processing needs, let's look more in-depth at what each program actually offers:
This is best for teams of one or two, starting at $19/mo plus $6 per person, and for that, you get:
Full-service payroll in any single state

Employee self-service tools and profiles

Worker's comp administration

4-day direct deposit

Access to paid-time-off policies

Best-in-class support

& customer service
This is designed for smaller teams and starts at $39/mo plus $6 per person. For that, you get everything in the Basic Plan and:
Employee onboarding tools

Accounting and time tracking integrations

Payroll on Autopilot®

Health insurance administration

Employee access to Gusto Wallet

Employee offers and document management features
This is best suited to businesses wanting to add more employee benefits into the mix. Starting from $39/mo plus $12 per person, and for that, you get everything in the Basic and Core plans plus:
User permissions

An employee directory and surveys

Time tracking tools

Project tracking and workforce costing
This is ideal for businesses who want HR expertise at their fingertips. It starts at $149/mo plus $12 per person. For that, you get everything in the previous three plans as well as access to certified HR pros and the online HR resource center.
One thing worth noting is that the Basic Plan is a Beta program. As such, Gusto suggests anyone wanting to invest in this plan should check out its terms and conditions.
At first glance, it seems there's a price plan to suit most business sizes and budgets. However, if you don't have an in-house HR pro or team, the Concierge Plan (in our opinion) is the most comprehensive package, but it comes at a price.
There's also a payment plan available if your business uses contractors, and prices for this start at $6/mo per person.
Although Gusto doesn't support employees outside of the US, it does support domestic and international contractors. However, international contractors can only work in Canada. If, however, they can provide the following, you're good to go:
A US work address

A US home address

A US bank account (if being paid via direct deposit)

A valid Social Security Number
Our Pick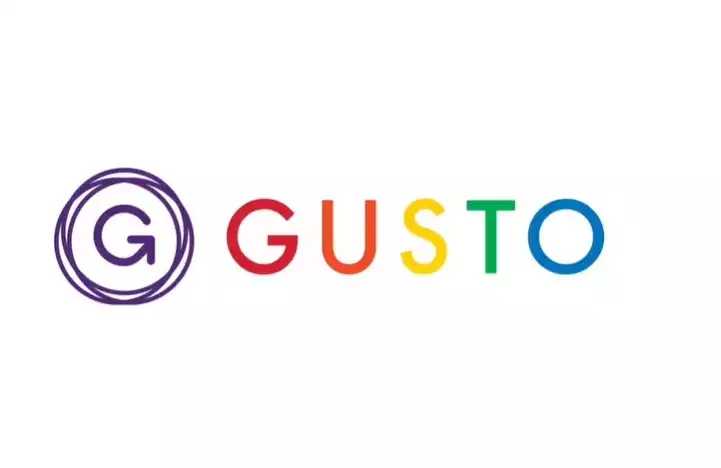 Why I Personally Prefer Gusto
Easier to use, cheaper, and much more scalable than the competition. Gusto WORKS better, particularly for small to mid-sized companies. We went with Gusto for our business and are incredibly happy with the support and integrations with our other accounting tools.
TRY GUSTO FIRST HERE
We earn a commission if you click this link and make a purchase at no additional cost to you.
Gusto's Integrations
At the time of writing, Gusto offered the following integrations, which are helpfully split into categories. We've pulled out the integrations that Gusto highlights and listed them below:
Accounting

: Xero, FreshBooks, QuickBooks Online and Desktop (but in lieu of Quickbooks Payroll), Aplos, Zipbooks, Synder, Autobooks, Bookkeeper 360, Jirav, and Sunrise.

Point of Sale

: Shopify, SpotOn, Upserve, and Clover

Time Tracking

: TSheets, WhenIWork, Homebase, Sling, Boomr, Deputy, 7Shifts, OnTheCLock, ClockShark, TimeTracker, and Timeero.

Tax Preparation

: Arius, Boast.Al, yearEnd Inc., and Clarus R+D.

Business Operations

: Housecall Pro, Vagara, Hubstaff, Procare Connect, ClienTrak!, Veryfi, Trainual, allGeo, Workyard, and Accelo.

Business Analytics

: Pave

Hiring

: Applicant Pro

Banking

: FreshBooks

Performance Management

: GoalSpan and Performyard

Legal and Compliance

: Capbase

Expense Management

: Expensify and Receipt Bank

Learning and Development

: EasyLlama
There's a handy table on Gusto's website that lists all the integrations as well as links to a setup guide for each one. However, what isn't immediately apparent is whether these integrations are free or if you have to pay extra for them.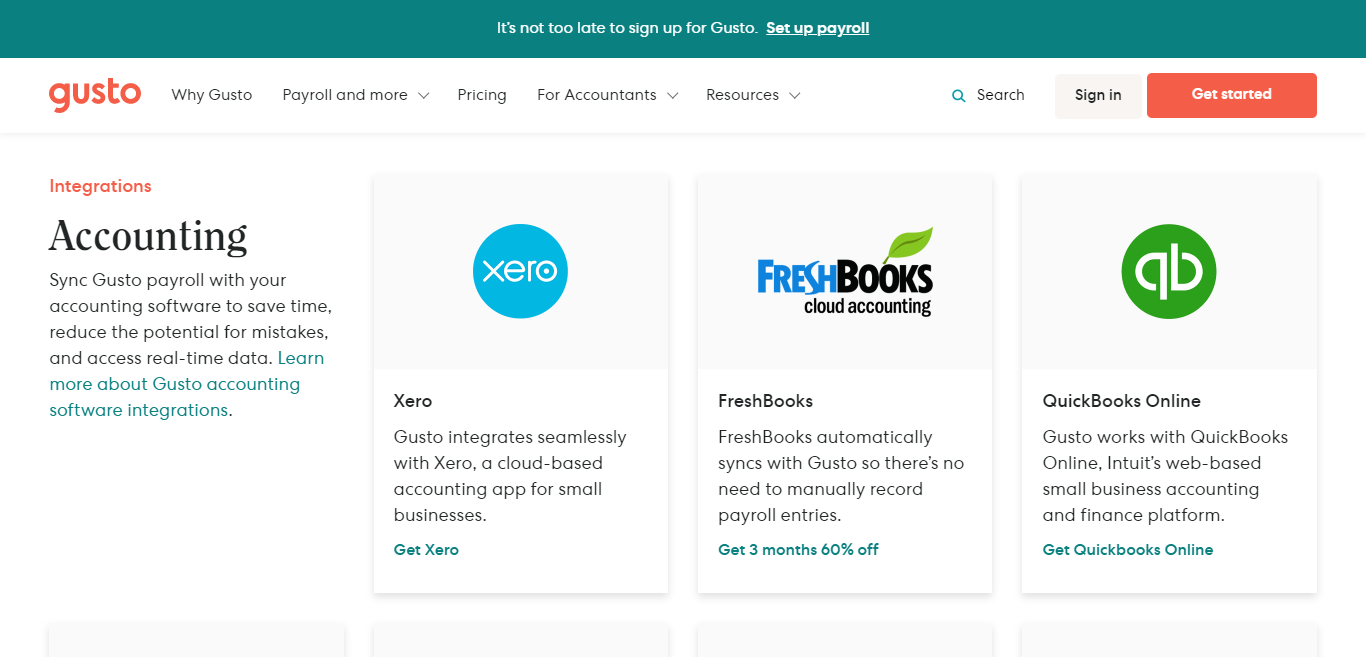 Gusto's Pros and Cons
Like all software plans, Gusto comes with its own unique set of pros and cons, so here's our take on what those are:
Pros
There are plenty of Gusto integrations to choose from

A quick check tells us it's generally well reviewed online

It's easy to set up

full service payroll

Gusto's easy-view dashboards enable you to see all payroll and HR info from one place

It's user friendly even for absolute beginners

Gusto provides you with tons of useful resources, especially in its Covid-19 Resource Hub
Cons
You get very little with the Basic Plan, and it's still in Beta

There's no free trial to run payroll (at the time of writing)

It only processes payroll for US employees

The Concierge Plan is very expensive, so it might be unaffordable for smaller businesses working on tight budgets
FAQs
Here are a few other areas you may want to cover before deciding whether Gusto is the right payroll and HR platform for your business.
Question: What kind of customer support does Gusto offer?
Answer: Gusto splits its Resource Hub into five separate areas pf customer service: Help Center, Find an Accountant, Talk Shop Blog, Calculators and Tools, and the Covid-19 Resource Hub.
With the online Help Center, you can type in your question to populate a list of relevant articles that will hopefully provide the answer. here, there are the following covered:
• Run Payroll
• Benefits Administration
• Team management
• Account setup and maintenance
• Accounting and integrations
• State registration and compliance
The 'Find an Accountant' resource is simply Gusto's partner list of accountants close to where your business operates. Whereas the 'Talk The Shop Blog' has articles on relevant topics such as cashflow, Covid-19 Related Lawsuits, and workplace discrimination.
'Calculators and Tools' do just what it says on the tin; they help you calculate payroll and employer tax state by state (payroll tax), hourly and salary paychecks, and more.
Lastly, the Covid-19 resource hub is where businesses navigating the pandemic and its impact upon their company can go for advice and support. Here, you'll find the latest updates on Covid-19, a resource library, the newest legislation, information on small business relief, and more.
Question: I already use a payroll platform; how easy is it to switch to Gusto?
Answer: Yes, you can switch to Gusto if you're already using a payroll platform.
Although some payroll platforms prefer year-end migrations, Gusto users can switch anytime. That said, Gusto recommends transitioning at the end of the year because, that way, you don't have to move any historical payroll data. Instead, you can just start running a new payroll on January 1.
If you use a PEO (Professional Employer Organization) that files and pays payroll taxes on your behalf in lieu of full-time HR professionals, you can also switch mid-year. Conversely, if you use a CPEO (a certified version of a PEO), Gusto can't handle a mid-year transfer.
If you already use a payroll provider or PEO, Gusto has produced a step-by-step guide that walks you through how to go about switching. This helps make the experience feel far less daunting.
Question: I want to offer health benefits. Does gusto offer them in my state?
Answer: Suppose you want to offer health benefits such as dental, vision, medical, FSA, and HSA health plans. In that case, you can do so using Gusto across many, but not all US states.
Here are some of the states that gusto offers health benefits in:
• Arizona
• Arkansas
• California
• Colorado
• Connecticut
• Delaware
• Florida
• Idaho
• Illinois
• Indiana
• Iowa
• Kansas
• Kentucky
• Maine
• Maryland
• Massachusets
• Michigan
• Minnesota
• Missouri
• Nevada
• New Hampshire
• New Jersey
• New Mexico
• New York
• North Carolina
• Ohio
• Oklahoma
• Oregon
• Pennsylvania
• South Carolina
• Tennessee
• Texas
• Utah
• Vermont
• Virginia
• Washington DC
• Wisconsin
Question: How secure is my data on Gusto?
Answer: Gusto is a cloud-based platform that uses encryption firewalls and other technology to ensure all data is kept secure and safe. Gusto also conducts internal and third-party tests on its software regularly to ensure there are no bugs. Plus, there's an on-site security team on hand to tackle any issues should they arise. On top of that, all Gusto employees have to undertake security training.
Where data is concerned, production data is hosted in AWS, and information is backed up and encrypted daily. Data at rest is encrypted using AES-256. Conversely, data in transit is encrypted using TLS 1.2.
Lastly, Gusto has introduced multi-factor authentication for account sign-in security. However, you can still benefit from single sign-on if speed is more important to you. The choice is yours!
Are You Ready to Start Using Gusto?
Overall, we think Gusto stands up to scrutiny pretty well. Many of its features appear to make life a lot simpler for growing businesses. This is particularly true of smaller firms, who may not necessarily want to take time away from expanding to deal with the nitty-gritty of manual payroll each month.
We think Gusto is an ideal option for smaller businesses with an eye on expansion (with the budget to stretch to subscription costs). Its customer support looks great. Plus, you get access to all the Gusto payroll and employee benefits management features you need to recruit, onboard, engage, and retain employees past onboarding.
Our Pick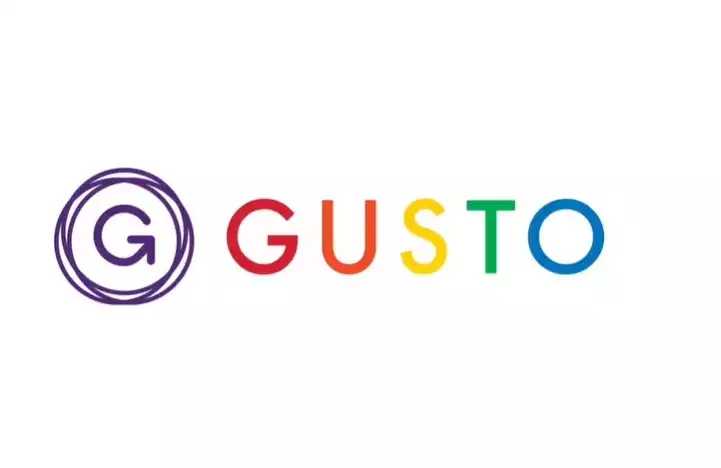 Why I Personally Prefer Gusto
Easier to use, cheaper, and much more scalable than the competition. Gusto WORKS better, particularly for small to mid-sized companies. We went with Gusto for our business and are incredibly happy with the support and integrations with our other accounting tools.
TRY GUSTO FIRST HERE
We earn a commission if you click this link and make a purchase at no additional cost to you.
If you're thinking about running payroll with Gusto, let us know how you get on! Post your comments below; we'd love to hear from you!
Recommended Reads on Gusto Alternatives & HR Tools: