Last Updated on March 8, 2023 by Ewen Finser
They say that customer experience is, by far, the most important aspect of digital shopping for an online store.
Well, that's right. You can say that again. All things considered, customer experience is what ultimately decides the size of the corresponding customer base.
Fair enough. But, here's the kicker. We all know that digital customer experience goes beyond the standard interface. It's a broad field with numerous elements that are holistically connected to define a shopper's overall experience.
The final result of the customer experience optimization process, therefore, depends on how well you respond to each specific element.
[mv_video doNotAutoplayNorOptimizePlacement="false" doNotOptimizePlacement="false" jsonLd="true" key="jkyosgonhqwzezzuragl" ratio="16:9″ thumbnail="https://mediavine-res.cloudinary.com/v1639944237/psm3ysnyivhhdlr1nhte.jpg" title="Best Shipping Apps for Shopify to Increase Sales" volume="70″]
Best Shopify Shipping Apps – Quick Summary
ShippingEasy: Best Overall (USPS, FedEx, and DHL)
Shippo: Best Pay As You Go and UPS Option
ShipStation: Best to Increase Customer Reviews
EasyShip: Best for Niche Carriers and International Shipping (250+)
ShipTarget
Ordoro
AfterShip
Tracktor
Now, it's pretty obvious that shoppers prefer interacting with a comprehensive, user-friendly system- it should be simple, and intuitive. And, they like it when your customer support team is responsive and helpful.
What makes them happiest, however, is that one final element that completes the shopping journey. Take a look at this graph, highlighting what U.S digital shoppers feel makes them happy.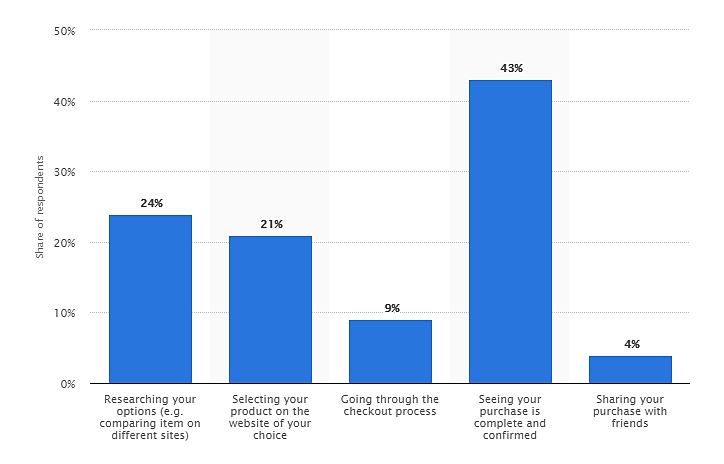 All in all, an overwhelming number of shoppers agreed that the final stage is what puts the biggest smiles on their faces- seeing the purchase complete and confirmed. And this is the part where logistics and shipping fit in.
Conversely, this means that they would be most agitated by an imperfect order confirmation and completion process.
So, make no mistake about it. If you thought shoppers hate an unresponsive system, try messing around with the shipping process.
Think about it. It is, by far, the last thing they would be willing to compromise on.
As a matter of fact, shipping features quite prominently when it comes to cart abandonment. In 2016, 63% of cart abandoners in the U.S dropped everything and took off because they found the shipping rates to be too expensive. Then in 2017, its rate dropped overall but it still remained the primary reason for cart abandonment at 54%.
Oddly enough, even when you go with cheaper shipping rates, you might still lose a considerable number of shoppers right before checkout. 39% of the abandoners leave because shipping is simply not free.
And if you tried the well-known trick of hiding the Shopify shipping rates, you'll end up losing about 24% of potential cart abandoners.
The rest? Well, 26% bow out of the shopping process due to slow shipping method.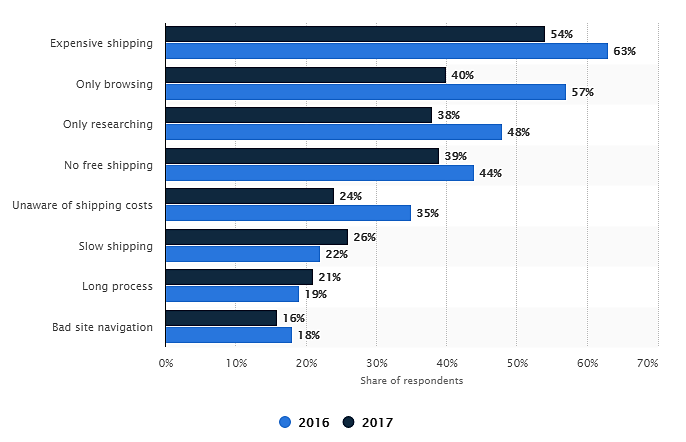 The bottom line?
Quite simply, optimizing your shipping processes could ultimately save you a substantial amount of sales.
Sounds easy enough. But, here's the problem. There's a lot that goes into the whole shipping process. If you decided to take off your gloves and get dirty handling it yourself, you'd gradually lose touch with the principal business. Shipping would ultimately replace it as your fundamental operation.
Besides, setting up an entire logistics framework would be costly and time-consuming. Even large enterprises do not attempt to venture there. Instead, they entrust their deliveries to the experts- the real shipping companies.
Now that's a smart move. And you know what's even better? Connecting the customers directly to the shipping companies by integrating the relevant apps into your online shop.
Well, if your ecommerce store is Shopify-based, luck is on your side since its app store provides numerous options. Of course, that's a great thing overall, but it makes the selection process overwhelmingly cumbersome.
But, I'll save you the trouble and make it much simpler. By outlining the best shipping apps for Shopify.
And for starters, I'll let you in on all the factors we assessed the apps on to comprehensively compare them.
Top Shipping Apps For Shopify
Developed primarily for small businesses, ShippingEasy is a full order management and shipping system offering added value marketing tools, free subscription for less than 50 orders, flat green rates, low shipping rates, and fast shipment delivery.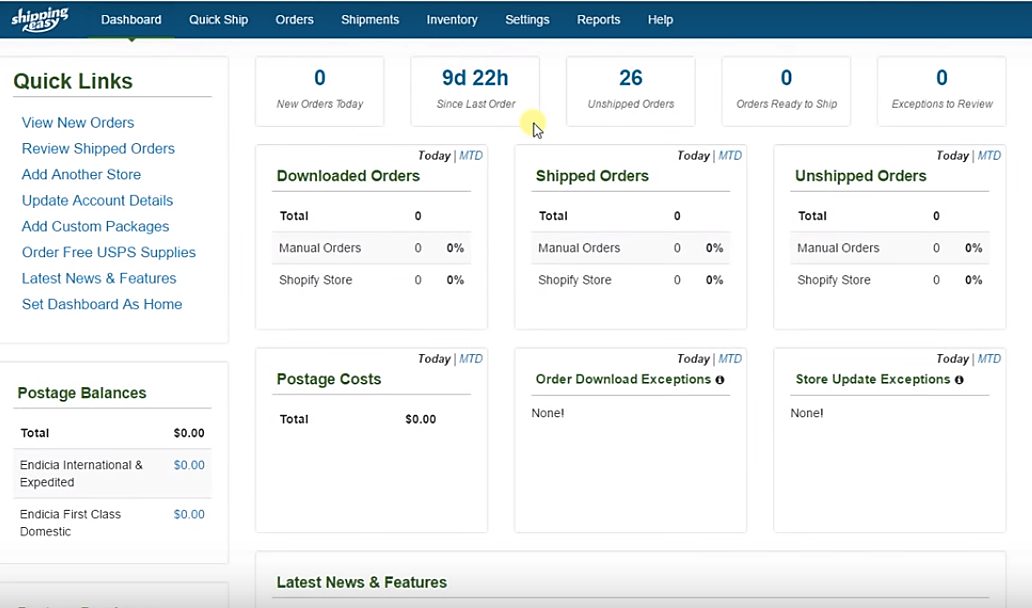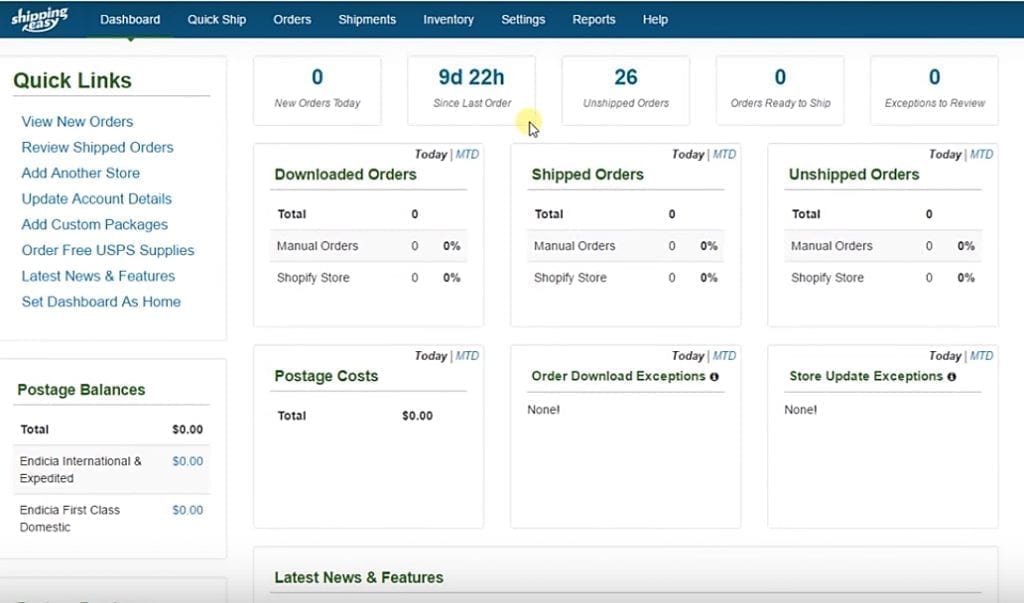 The one thing that stood out for me right from the start is the free package, which is only applicable to 50 or fewer orders each month. It sure sounds like a great place for startups to kick-start their operations before they eventually upscale.
It's also an ideal plan for a complete assessment of the app's actual capabilities. Alternatively, you could still capitalize on a 30-day free trial offer, before proceeding with the paid subscription packages.
Now payment, of course, starts when your orders exceed 50 per month. The corresponding monthly bill is then priced according to the number of shipments per month.
You have the option of settling for either:
Seems quite fair. But, what exactly should you expect here from this Shopify shipping app?
For starters, you can bet that ShippingEasy will live up to its reputation. A perfect 5-star rating after 369 user reviews is a good indication of its efficacy levels and overall reliability.
However, if you prefer working with a broad range of shipping services, you might not be comfortable on this platform. It turns out ShippingEasy only supports 3 carriers- USPS, FedEx, and DHL.
Besides that, the app is not as universal as you might hope. Although shipments can be delivered anywhere in the world, all the orders should come from the U.S, through US-based businesses only.
Well, that alone makes ShippingEasy unsuitable for brands shipping externally, plus businesses seeking to expand beyond the US border in the near future.
Check Out the Latest ShippingEasy Pricing Plans Here
Shippo is basically a shipping dashboard and API with multiple carriers. In addition to returns facilitation, it comes with package tracking, shipment insurance options, order splitting, paperwork automation for international orders, and shipping label printing.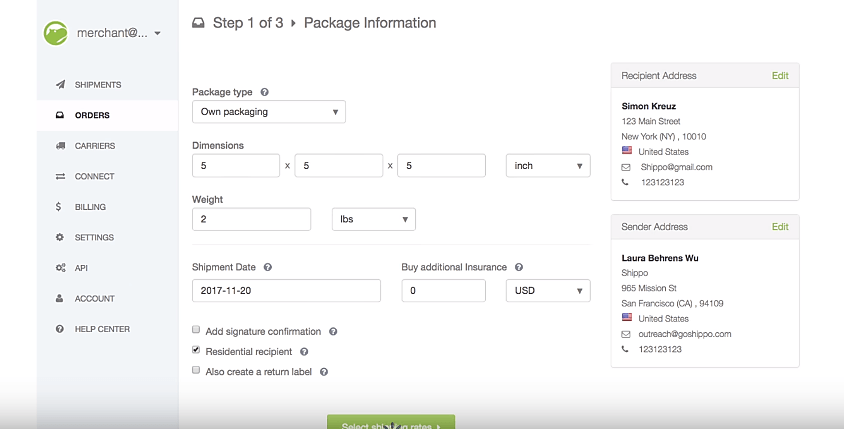 On shipping services, some of the renowned ones it works with include OnTrac, Newgistics, Deutsche Post, Canada Post, USPS, FedEx, UPS, and DHL. This, in fact, is one of Shippo's strongpoints since it often provides discounted rates for some of these services.
Another particularly attractive provision is free signups, which allows new users to get onboard without paying any subscription costs. Payment only comes up as you leverage Shippo services, and it follows two optional pricing structures. You can choose either:
Volume Based
You can bill sellers and manufacturers directly upon fulfullment
Real-time date via real-time analytics and reports
Custom fulfullment integrations
Access via single sign-on
Personalized account management
Dedicated support for implementation
Negotiable costs
Pay As You Go
Zero charges for cancelations
No annual or monthly subscription fees
6¢ per shipment for address validation
1¢ per shipment for API powered tracking
5¢ per shipment to print shipping labels
Going by over 400 user reviews it has received so far, Shippo seems like a pretty decent service. An overwhelming majority of reviews give it a five star, consequently adding up to a perfect cumulative rating of five stars.
Like everything else, however, Shippo also has its set of weaknesses. A couple of users have already identified compatibility problems with selected Shopify themes and third-party plugins.
Needless to say, this is something you can work around quite easily. Since signing up is free, simply install the app and test it comprehensively for any possible issues with your store's plugins.
Check Out the Latest Shippo Pricing Plans
Check Out Our Complete Shippo Review Here!
ShipStation is built to optimize shipping management automation. Apart from integration with over 90 ecommerce platforms, this service offers order syncing from all selling channels, order processing automation, free Android and iOS apps, free USPS accounts, customer communication, plus shipping label printing.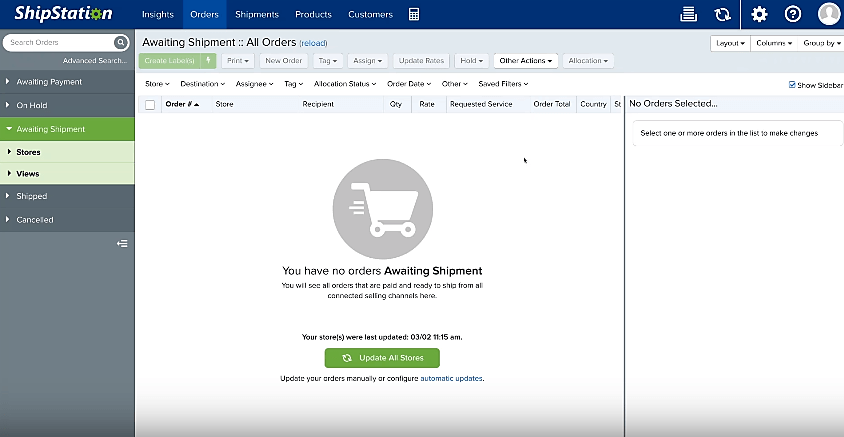 As a new user, you can take advantage of the free trial offer, which is generally valid for 30 days. After that, you're can subscribe to any of its six pricing packages, which are billed on a monthly basis.
Well, fortunately, each package grants you full access to all the features. Instead of restricting functionalities for various plans, ShipStation has based its pricing strategy on the number of orders processed.
So, here's the breakdown:
Going by the reviews posted on the Shopify App Store, ShipStation's users are seemingly satisfied with its functionality all-round. 371 of its 416 reviews give it a solid 5-star rating, while only 15 consider it underwhelming enough for a 1-star rating. The consequent general rating is 5 stars, which is quite impressive overall.
That said, the chief issue raised by some of Shipping Station's users is its rather complex interface, which they found to be quite overwhelming at first. And to make matters worse, customer support might not be readily available to help you figure it all out. Check out an in-depth comparison of Shippo vs ShipStation that highlights the main differences between these two popular shipping management systems.
View ShipStation Prices and Rates in Detail
Sounds familiar?
Well, the name EasyShip is seemingly a reverse of ShippingEasy. And oddly enough, some of the app's features are a sharp contrast to the latter's functionalities.
While ShippingEasy supports only three carriers, for instance, EasyShip will grant you access to more than 100 companies from around the globe. And that's the first of many features that make it an ideal solution for international Shopify merchants.
In addition to streamlining and simplifying international shipping, EasyShip provides automatic tax and duty calculation, automatic updates of orders, automatic syncing of orders with Shopify stores, one-click label printing, USPS discounts, plus free subscription.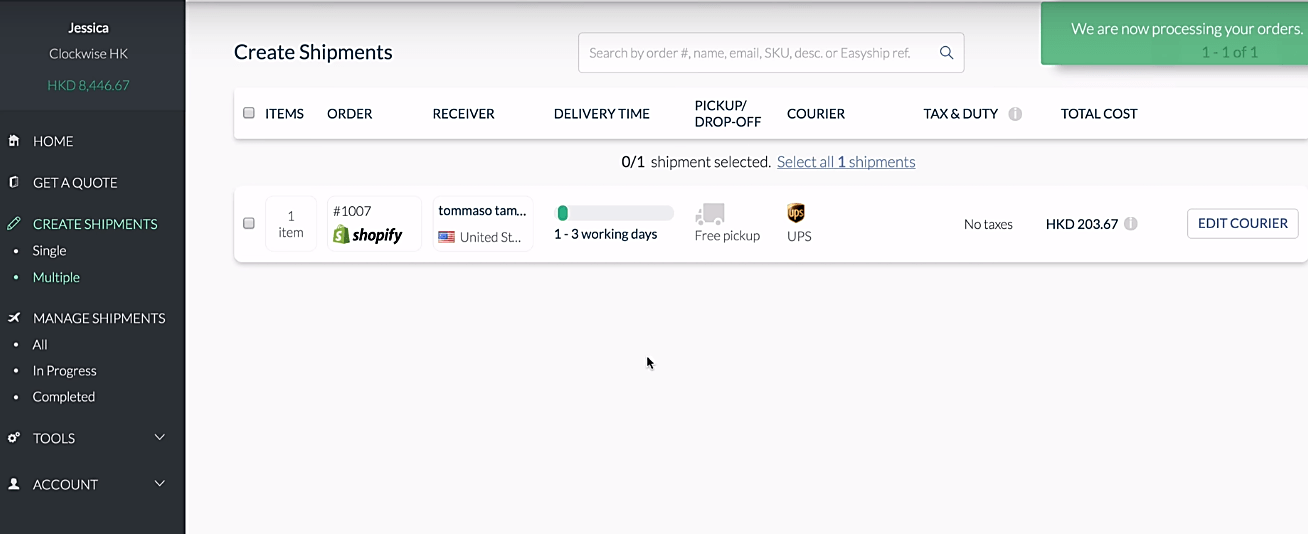 Now hang on for a moment there. What level of free are we talking about?
We've seen a couple of other apps offer free subscriptions with a caveat. Such plans always come with limited functionalities.
Well, it looks like EasyShip has decided to play a different ballgame with this one. Free here means just that. Completely free (up to 100 shipments per month). There are no subscription or signup fees to start.
But how does it generate revenue?
I guess the team behind it has some sort of commission arrangement with shipping carriers. Because the only thing you'll pay for is the shipping costs.
Come to think of it, you won't actually incur anything here. Since shipping costs are always transferred to customers.
If you move beyond 100 shipments (or need access to more team members), the Plus Plan starts at $29/month (up to 500 shipments), then the Premier Plan at $49/month (up to 2500 shipments), and finally Enterprise pricing available on request.
Understandably, current users of EasyShip are loving this model. It's rated a 5-stars overall, with 120 of its 128 reviews giving it a clean bill of health.
Users who've rated it poorly complain about support problems, and shipping costs that might be on the higher side.
Check Out Our Complete EasyShip Review Here!
What is ShipTarget? In short, it's a Shipping App that Ensures No More Pick and Pack Mistakes!
By requiring your team members to quickly scan each item for each shipment providing confirmation that the correct item has been packed it eliminates the costly wrong item shipped customer compliant.
While ShipTarget isn't the largest app by market share, it is a simple to use, affordable solution that is ideal for small to mid-size Shopify stores. If you are a larger player with 100+ SKUs, check out some of the other options further down.
6. AfterShip Returns Center
Shipping is a very cumbersome process, to say the least. But, it's still nothing compared to product returns. Now that's a real headache. And, sadly, the current return rate across all industries is as high as 30% of all products delivered.
Astonishing, isn't it?
So, guess what? As we continued seeking effective ways to deal with this problem once and for all, a team of developers ultimately came up with an app called AfterShip Returns Center.
As you've probably worked out by now, this app seeks to streamline the product return process through automation. In addition to sending out notifications on return status, it facilitates management and tracking of returns, provides for the creation of a central returns center on your online store, plus it simplifies the whole process for buyers by making it a one-click operation.
And you know what? You can process as many returns as possible. But, there's a catch. The higher the number of returns each month, the more you're likely to pay to leverage the solution.
However, it's free for users who process 5 or fewer returns per month. But then again, there's another caveat. Once the limit is reached, each additional return in a particular month will cost you $2.
And the trend continues even when you switch to any of the paid packages. The only difference here, so to speak, is the cost. You'll only have to pay half a dollar for each extra return above your store's monthly limit.
Confusing?
Well, at least you can learn how everything works through a 14-day free trial period. And to use the app beyond that, you'll have to subscribe to one of the following plans:
Starter– Free for up to 5 returns each month. Beyond that, each extra return costs $2.
Essential– $9 per month for up to 20 returns each month. Beyond that, each extra return costs $0.5.
Growth– $29 per month for up to 100 returns each month. Beyond that, each extra return costs $0.5.
Pro– $99 per month for up to 400 returns each month. Beyond that, each extra return costs $0.5
Advanced– $199 per month for up to 1,000 returns each month. Beyond that, each extra return costs $0.5
Enterprise– Negotiable, with custom limits that can extend past 2,000 returns per month.
So far, AfterShip Returns Center has attracted quite a decent following. As a result, it boasts of an impeccable 5-star rating from 833 reviews, 702 of which are solid fives. Most of the positive reviews highlight the app's ability to simplify returns management through an intuitive interface.
The bulk of the negative reviews, on the other hand, were seemingly triggered by the app's shift from a free lite version to a paid subscription service. But, I guess that's always expected when a new solution finally moves on to the next stage.
7. Ordoro
Ordoro is a comprehensive system for multichannel inventory management, complete with shipping functionalities. The app has been developed for the entire logistics pipeline, with relevant features to provide advanced enterprise analytics, best possible USPS rates, a fully adjustable open API, dropshipping apps abilities, plus an extensive console supporting order, inventory, and shipping management.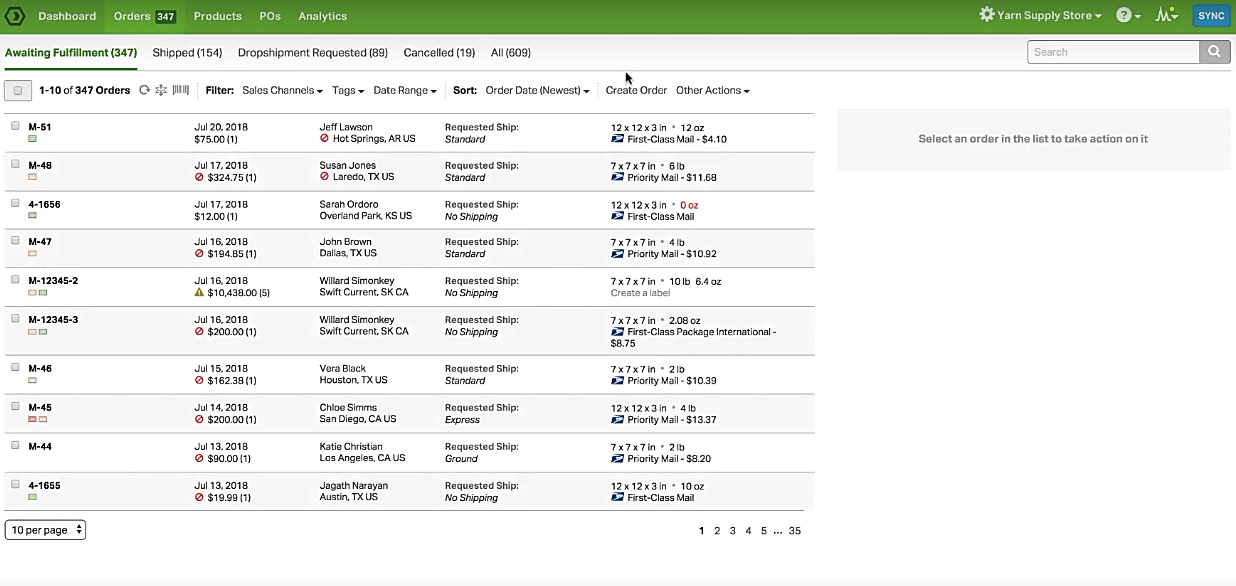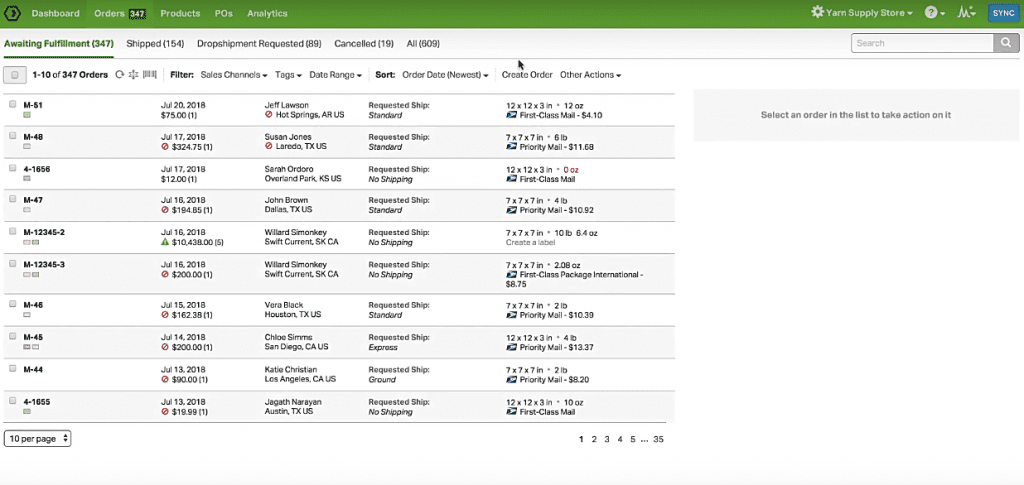 At the moment, shipments on Ordoro are handled by Seller Fulfillment Prime by Amazon, Canada Post, UPS, FedEx, and USPS. Now, combine that with integrations for numerous ecommerce platforms, and you have yourself an app that can fit pretty much anywhere.
When it comes to pricing, offering a comprehensive inventory management framework means one thing. That Ordoro has all intentions of supporting different types of businesses.
So, it's not surprising to see a rather complicated pricing structure, with 7 subscription packages altogether. The plans have been principally divided into 2 separate groups based on features, then further broken down according to the number of shipments handled.
After a 15-day free trial period, you can choose one of the following:
Pro Features
Plan 1– $199 for up to 700 shipments each month.
Plan 2– $299 for up to 1,500 shipments each month.
Plan 3– $499 for up to 4,000 shipments each month.
Plan 4– Unlimited shipments at a negotiable price.
Basic Features
Plan 1– $25 for up to 700 shipments each month.
Plan 2– $49 for up to 3,000 shipments each month.
Plan 3– $129 for unlimited shipments each month.
As a relatively new app, Ordoro has only attracted 85 reviews. Well, admittedly, that might be a comparatively small number, but it should be just enough to make an informed judgment.
So far, 78 users give it a solid 5-star rating, and continue to praise it for impeccable all round functionalities. The few who've not been impressed complain about Ordoro's costly subscription packages and individual order processing.
All in all, this app has managed to maintain a perfect 5-star rating.
8. Tracktor
Quite an interesting name we have here. And ShopPad Inc, the app's developers, have a good reason why they chose to brand it so.
Now, I bet you've probably guessed it by now. That Tracktor is optimized for package tracking. It's a simple and intuitive solution built to offer real-time order tracking for both store owners and their customers. Among its features is OrderlyEmails integration, inclusion of tracking URLs in automated emails, mobile optimization, Shipment follow-up by order number and email, plus integration with more than 500 shipping carriers across the globe.
With it, therefore, you should expect fewer emails from customers concerned about the status of their shipments. They can comfortably track them in real-time directly from the main site. There's no need to create or log into customer accounts.
So, what will it cost you?
The first 100 lookups by your customers are completely free of charge. Unfortunately, this is a one-off thing. The numbers do not reset on a monthly basis, consequently forcing you to pay to continue leveraging the app.
And this is the point where another complication exists. Sadly, the pricing info is not readily available on ShopPad's main site. You can only get it from the dashboard after signing up for the service.
That said, there are three principal subscriptions options:
Enterprise– Negotiable for more than 5,000 order tracking lookups each month.
Business– $29.99 per month for up to 5,000 order tracking lookups each month.
Professional– $14.99 per month for up to 2,000 order tracking lookups each month.
Well, it seems some of its users are not happy about this pricing strategy. Instead of billing on per customer basis, EasyShip will charge you for each individual search conducted by the same customer.
Thankfully, it makes up for this when it comes to the actual service delivery. 217 of its 238 customer reviews award a perfect 5-star for effective tracking and responsive customer support.
Factors to Consider When Choosing Shopify Apps for Shopify
Compatibility
We're dealing with Shopify here. So, of course, the service should be compatible with Shopify right off the bat.
A reliable way of checking for this is proceeding straight to the Shopify app store. As long as it's listed there, you can bet that it can be integrated into your Shopify store.
Well, that pretty much covers the base. Compatibility, however, extends past this to the actual markets and zones (shipping zone) your orders are coming from.
If the store is processing eBay and Amazon orders, for instance, you should focus only on shipping apps that have been built to accommodate them.
Functionality
This is where we get into the specifics.
What features does the shipping app come with? How exactly does it optimize the entire process? And, do its provisions fit seamlessly into your store's operational framework?
The speed at which the app facilitates shipping, for example, should be a critical functionality to consider. It's no secret that digital shoppers hate waiting. 18% of them are already selecting their favorite stores based on the speed of delivery.
If it was possible, they'd very much prefer having their purchases jump right off the screen immediately after payment. That's why 61% of them wouldn't have a problem digging deeper into their wallets to pay more for same-day delivery.
That aside, other important provisions you should asses include the number of operators, tracking procedures, types of shipping labels, management framework, number of users, mailing accounts supported, etc.
A clever way to approach this would be preparing a list of all the store's and customers' needs, then matching them up with the features offered by the respective apps.
Price
The price, more often than not, is directly proportional to the corresponding set of functionalities. But not always. In some cases, apps with fewer functionalities are costlier than their counterparts with superior features.
So, of course, you have to be extremely keen when you're comparing the price schedules of different services. The lower the comparative cost, the less you'll be able to charge your customers for shipping. This is particularly critical to digital consumers, with 87% of them stating that product price is the most crucial shopping factor, followed by shipping cost and price.
A strategic approach here will also help you zero in on specific apps that could go well with free-shipping offers. This alone could substantially boost your sales, considering the fact that 58% of digital shoppers are willing to throw more items into their carts to qualify for free shipping.
That said, don't be quick to get into the free app bandwagon. They, of course, have an attractive pricing strategy, but there's always a catch. Now that's precisely what you should be concerned about. If you can work around it, well and good.
Support
Imagine dealing in perishable products like flowers. The trick is to deliver them to your customers long before they start showing signs of decay.
Then, it turns out that on the day you process many orders- perhaps on Valentine's Day eve- the tracking system goes offline moments after a collective dispatch. And you can't seem to trace them.
What do you do?
The first response, of course, would be getting in touch with your service's customer support team. Their subsequent efficacy levels would eventually determine how and when you regain the system's functions, plus the fate of the flowers.
By now, you're probably aware that shipping has got to be the riskiest element of an online business. Plenty of things could potentially go wrong even on a reliable shipping service.
If you asked around, you'd certainly hear many horror stories on shipping from both business owners and consumers. That's why shipping insurance exists in the first place. And most importantly, that's essentially why 30% of shipments are returned– 20% due to damages, and 23% for wrong deliveries.
How you manage this depends greatly on the customer support services offered by the handlers.
Reviews
Apart from personal recommendations, nothing beats online reviews when it comes to establishing the truth from the lies. As a matter of fact, 84% of individuals believe in online reviews as much as personal recommendations.
When a shipping app promises you all the best features you can get, you can always confirm the truth from its reviews.
And Shopify is quite a reliable e-commerce platform when it comes to this. Its users often leave comments about their experiences with various apps.
And the best thing is? The reviews are both positive and negative. Consequently making it easy to establish weaknesses that might not have been revealed previously.
With online reviews impacting 67.7% of buying decisions, the average ratings Shopify apps get from their users significantly affects the corresponding installation rate. As a result, the best-rated apps usually experience the highest growth rates. And that's the safest category of applications.
All in all, the higher the number of ratings on an app, the more accurate the average overall grade.
After analyzing multiple shipping apps according to these factors, the following came out on top (in no specific order):
What to Do Next?
All in all, most of these shipping apps are similar in capabilities. Shippo, Tracktor, and EasyShip grants access to multiple international carriers along with the others.
Some stand out like Ordoro with its comprehensive multichannel inventory system. Where other apps like ShippingEasy cater to small businesses offering free subscriptions for less than 50 orders.
Whether you are looking for an app that streamlines the return process like AfterShip Returns Center's one-click operation or numerous integrations options like ShipStation's 90 ecommerce platforms. Make sure you determine what your business shipping needs are today as well as in the future.
Other Shopify & e-Commerce Store Guides