Last Updated on April 22, 2023 by Ewen Finser
Here's one thing I already know about you. Your search for the ultimate review is sufficient proof that you're pretty familiar with the concept of dropshipping.
In fact, I bet you're probably a seasoned drop shipper by now. And if not, then I guess you've at least done your homework about dropshipping, and you understand how competitive the industry is increasingly becoming.
Hence, you might be thinking about leveraging tools like Wholesale2b to gain an extra edge over your competitors.
Ok, fair enough. And yes, you're certainly right about one thing. Dropshipping is not for the faint-hearted anymore. It has grown tremendously over the last couple of years, and now close to a third of e-commerce merchants are doing dropshipping. That's a heck of a lot of businesses competing against each other.
In short, therefore, it seems the kitchen is getting hotter by the day.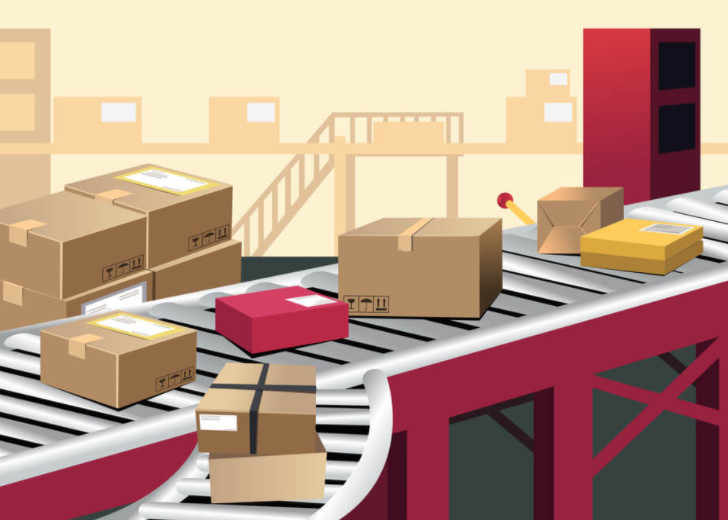 So, to cope with the consequent demands, we now have a wide range of specialized ecommerce tools for dropshippers. I'm talking about the type of solutions you'd consider if you want to streamline your businesses, automate repetitive tasks, and enhance your selling capabilities.
Well, I've sampled quite an array of them by now, and from the look of things, it seems not many tools apply the same approach as Wholesale2b.
Yes, that's right. Wholesale2b happens to be one of the most exceptional platforms for dropshippers. You can think of it as an extensive all-in-one suite that integrates numerous dropshipping tools, which are reportedly optimized for possibly all the types of dropshippers you can think of.
More specifically, its tools cater to dropshippers who'd like to sell from their own websites, dropshippers who predominantly use marketplaces such as Amazon and eBay, as well as dropshippers running their stores on popular ecommerce platforms. There's something for pretty much everyone.
But, here's the million-dollar question. How reliable is Wholesale2b though, especially when it comes to dropshipping? Does it have what it takes to support and grow your dropshipping business for the long haul?
Well, this comprehensive Wholesale2b review uncovers it all. It analyzes the entire Wholesale2b platform to give you a comprehensive and unbiased report on what it's all about, the type of features you should expect, its corresponding customer support capabilities, plus the full scale of fees it charges for its services.
Therefore, by the end of our Wholesale2b review, you should have identified its principal strengths and weakness, as well as established if it's indeed a solid dropshipping tool, or just another regular software solution your business can comfortably survive without.
Come to think of it, Wholesale2b can, understandably, be somewhat confusing to beginners.
On paper, it describes itself as a comprehensive solution for dropshipping businesses that want to easily streamline their operations, and boost their corresponding revenue without any technical knowledge.
So, at first, you might think of it as more of an automated suite that offers dropshippers centralized business management capabilities.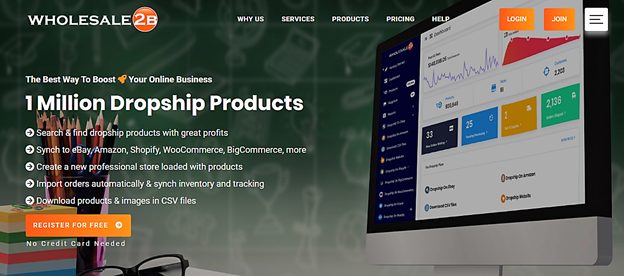 But then again, Wholesale2b apparently turns into a completely different animal when you land on its site. You suddenly start seeing dropshipping products strewn all over, plus links to a range of dropshipping services (supplier directory access, dropship order processing, etc), and numerous drop shipping products for different online store platforms and marketplaces.
Not exactly the combination of stuff you'd typically expect to see right off the bat.
So, what the heck is Wholesale2b all about?
Well, in simple terms, Wholesale2b happens to be some sort of a one-stop-shop for all your core wholesale dropshipping needs.
For starters, this is where you come when you need to find reliable suppliers for various cheap products that you can easily resell for a an easy way to make money.
Additionally, Wholesale2b boasts of a software suite that offers business management tools, order, and inventory automation capabilities, as well as web hosting services. What's more, all these are specifically optimized for dropshipping businesses.
You can, for instance, start your dropshipping business by simply creating a free account with Wholesale2b. This allows you to explore its large catalog of more than 1.5 million products across numerous categories, all of which are available for dropshipping.
You get to choose from automotive accessories, paintings, musical instruments, grocery products, fragrances, home and living products, collectibles, computers, mobile phones, pet supplies, baby products, electronics, apparel, etc.
Once you identify products with promising profit margins to make money, as well as the verified suppliers you'd like to work with, you can go ahead and launch your dropshipping business.
Then with time, you can further leverage additional Wholesale2b features such as order fulfillment, inventory sync, and product integration automation.
Combined, all these assets work hand in hand to enhance your order processing capabilities, streamline product deliveries, improve the overall customer experience, expand your wholesale inventory, as well as automate repetitive tasks.
It doesn't end there though. You'll also notice that Wholesale2b groups its tools into various specialized packages, with each one targeting a specific set of users.
Therefore, apart from the free plan, you'll find premium packages for eBay dropshippers, Amazon dropshippers, dropshippers who'd prefer to set up their sites on Wholesale2b, as well as dropshippers with stores on third-party ecommerce platforms like integration with Shopify, WooCommerce, and BigCommerce store software.
Wholesale2b Review – Main Features
Ease of Use
As we've established already, the Wholesale2b website can get quite confusing before you sign up. It's not exactly as straightforward as you'd hope. Hence, you might need some time to analyze all the core packages in detail before signing up.
Thankfully, however, at least the pricing packages should help you straighten things out. Each of them comes with a specially-defined set of features that target a specific group of drop shipping businesses. So, you won't have such a hard time finding the perfect one for your needs.
You don't have to rush though. It turns out you could start off with a permanently free package before you finally make up your mind on what to settle for.
Now that's certainly a nice touch. Plus, the free website plan is perfect for browsing all the products available on the Wholesale2b platform. It allows you to explore them by their respective categories, prices, reviews, or suppliers.
Sadly, that's the furthest you can go with the free package. That means you won't be able to sell your stuff until you upgrade to a premium plan.
Now, when it comes to that, you'll notice that while the packages are specialized differently, they still manage to share a couple of features between themselves.
The main user interface, for instance, has a strikingly identical layout design across all the packages. It's elegantly built to make it easy for even beginners to leverage various advanced tools for dropshipping.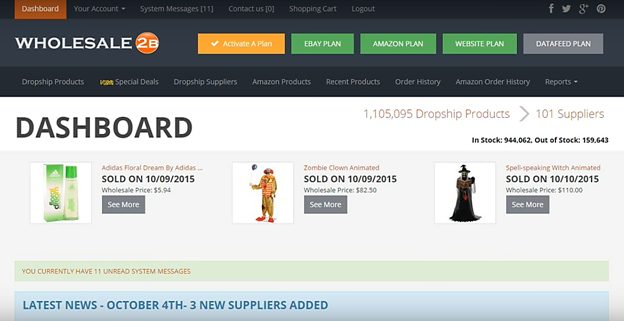 Consequently, you should be able to grasp the core functionalities right off the bat, as well as navigate different sections of the software without an onboarding guide.
It's worth noting, however, that the types of tools you'll get access to depend on the specific package you purchase.
eBay drop shippers, for example, can go ahead and bulk-import their products to their eBay accounts. Then the website package, on the other hand, comes with hosting capabilities, along with an intuitive site builder for creating websites and customizing templates without touching a line of code.
What's more, you even get to tweak your SEO settings plus integrate additional site elements, including payment gateways. And if you happen not to have a valid domain name for your dropshipping website, you could have Wholesale2b handling the registration process on your behalf.
Now, for users running their dropshipping businesses from third-party platforms, Wholesale2b offers its tools through a range of integration apps.
But, make no mistake about it. The apps here are not universally compatible. Rather, they are native apps – meaning you can only proceed with the version that's specifically developed for your online eCommerce store.
Shopify store users, for example, get an app for Shopify, while BigCommerce and WooCommerce-based sites are required to proceed with their respective app versions.
But, all in all, each of these apps comes with provisions for importing products, tracking inventory in real-time, as well as fulfilling orders in one-click.
Product Search
Product search is one of the primary functions on the Wholesale2b platform. It essentially helps you find the best products and suppliers for your dropshipping business from the extensive Wholesale2b database.
That said, the number of products here stretches beyond 1.5 million, which is quite impressive. You should find a host of product options in almost every mainstream category you can think of. Wholesale2b happens to feature dozens of industry categories.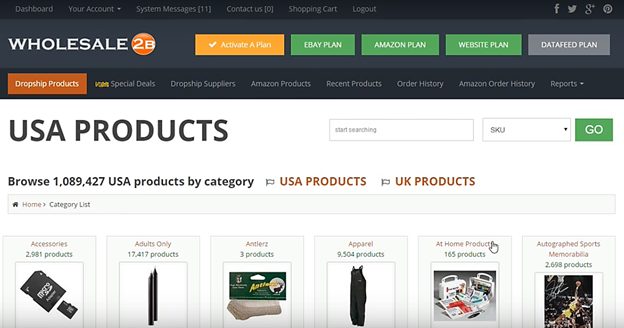 However, industry categories are not the only way to sort through the numerous products here. The Wholesale2b supplier directory makes your search process conveniently easy by facilitating several filters. You can proceed with keywords, or possibly zero-in on your items of interest using parameters such as ASIN, APC, supplier name and UPC.
But, here's the kicker. The suppliers here are not as many as you'd probably hope. It turns out Wholesale2b only supports about 100 suppliers so far.
On the bright side, however, at least these few suppliers are widely praised for their competitive product pricing and generous discounts. They leave just enough room for making decent profit margins and make money when you sell the items.
And if you're running your business via eBay or Amazon, Wholesale2b further gives you the benefit of conducting relevant price comparisons. That means you should be able to competitively position your dropshipping products.
Another asset you might want to capitalize on for increased sales is Wholesale2b's product reporting and analytics. The analytical tool here crunches the numbers on a regular basis to help you establish the best selling items you should focus on.
Then to keep your business alive, Wholesale2b will monitor your dropshipping inventory 24/7. So, in case of any changes, you can rely on the system to sync and update everything in real-time.
Selling Products
When it comes to selling stuff, Wholesale2b offers you two systems for processing your orders. You could either process the orders by coordinating directly with various suppliers or instead, save yourself the dirty work and let Wholesale2b handle everything on your behalf.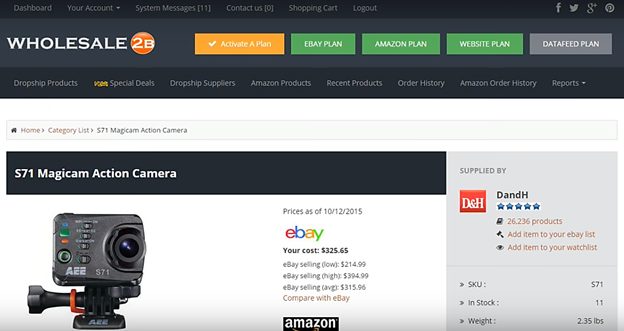 What does that mean?
Well, in simple terms, you either do it yourself, or have the Wholesale2b do it for you.
If you decide to take the first option and proceed solo, you get to communicate directly with your product suppliers. That means you'll need a reseller account, from where you'll be coordinating all your orders.
Thankfully, the process of setting up such an account is pretty simple and straightforward. Then once Wholesale2b approves your application, you should be able to transfer all your customer orders to the Wholesale2b main site.
Now, this is where the entire procedure occurs. You'll be required to link up with the respective product suppliers, and then pay for each order. It's that simple. And eventually, you get to retain all your dropshipping profit.
But, let's face it. It can be an increasingly tiresome process, especially if your store is regularly processing a comparatively large number of orders. You'll be forced to manually process and follow up on each order independently.
And that's not all. Drop shippers are further required to get the tracking codes from the product suppliers and then send them to their respective customers.
So, while this might be acceptable to startups and some small businesses, it's certainly not what you'd want to be doing when your business grows.
That's why in addition to the manual method, Wholesale2b provides automatic order handling.
And how does that go?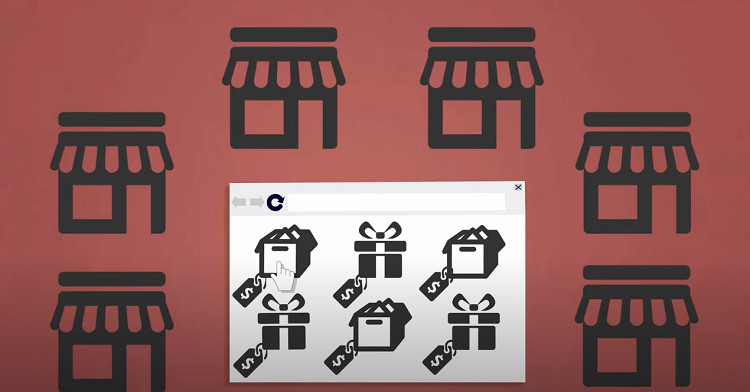 Ok, it begins when the orders you receive, regardless of their source, are placed within your order history. And since Wholesale2b marks each incoming order as "pending", you should click "Order Now" to process.
That's all it takes and WholeSale2b will handle everything on your behalf. You don't even have to include any additional information. The system will then place the order under "In Progress" to signify that it has been processed and possibly awaiting shipping.
The whole thing doesn't stop there though. Wholesale2b goes ahead and sends the subsequent tracking code to your email address, after which the order is then marked as "Shipped" on your dashboard. With that, you should be able to track the shipment until it's successfully delivered to your customer.
Now, in case you're wondering, this automatic option is also flexible enough to accommodate additional requests.
If you'd like to process a return or cancel an order, for instance, you just need to get in touch with Wholesale2b's support team. They'll take it from there and coordinate everything with the involved suppliers.
So, all things considered, having Wholesale2b handling your orders is much more convenient than doing everything on your own.
But, here's the rub. Turns out it comes at a price. And more specifically, you'll be required to pay about 3% of the total order cost.
The only consolation, however, is that the charges will only apply to wholesale orders. That means you can proceed to process the rest for free.
Dropshipping on Third-Party Marketplaces
Wholesale2b is a dog of many tricks. In addition to helping ecommerce merchants set up their own dropshipping businesses on the platform, it facilitates drop shippers on third-party platforms too.
If you're planning to sell your stuff through eBay or Amazon, for instance, Wholesale2b already has a dedicated package for each of these marketplaces. They both start at about $37.99 a month and they offer a wide range of features for pushing products to your marketplace account, as well as processing the subsequent orders.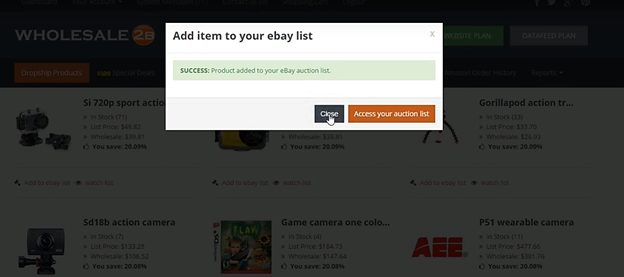 And you know what? These Wholesale2b integrations are fully certified and compliant with their respective marketplace requirements. So, you can proceed to capitalize on them without worrying about any possible compatibility issues.
In fact, you can comfortably use them for as long as you want since there's no limit on the number of orders you can process. It takes just one-click to initiate order processing, and you can sit back while Wholesale2b coordinates with product suppliers on your behalf.
Plus, in the meantime, you'll also have all the resultant tracking codes pushed to your eBay or Amazon account.
Another automatic feature here is an inventory update. After integrating with eBay or Amazon, Wholesale2b marketplace tools go ahead and track all your stock levels 24/7. This allows them to sync and update your inventory data in real-time.
Meanwhile, you still get access to the Wholesale2b product database, on which you can compare various items by their wholesale and retail prices, category, product descriptions, names, number, supplier information, etc.
And considering the entire database is usually updated on a daily basis, there's always something new to discover. So, you can keep importing additional products to your marketplace accounts to grow your sales.
That said, eBay users can also take advantage of Wholesale2b's templates to make their stores stand out from the rest. The platform offers more than 240 customizable auction templates.
Amazon users, on the other hand, should benefit greatly from Wholesale2b's item validation system.
Well, if you haven't noticed yet, Amazon has a tendency of making errors while matching its product ASIN and UPC codes. So, Wholesale2b found a way around by thoroughly pre-validating all the codes.
That said, the main problem when it comes to dropshipping on marketplaces is this- Wholesale2b doesn't support all the prominent platforms. You can only use it with eBay and Amazon.
But even then, it turns out you still won't be able to leverage it on all the eBay and Amazon versions. So far, Wholesale2b only works with eBay USA and eBay Canada, as well as Amazon USA and Amazon Canada.
Reporting and Analytics
Wholesale2b isn't only about growing your dropshipping product catalog and processing the subsequent customer orders. It also provides a range of insightful metrics that help merchants monitor and manage their businesses.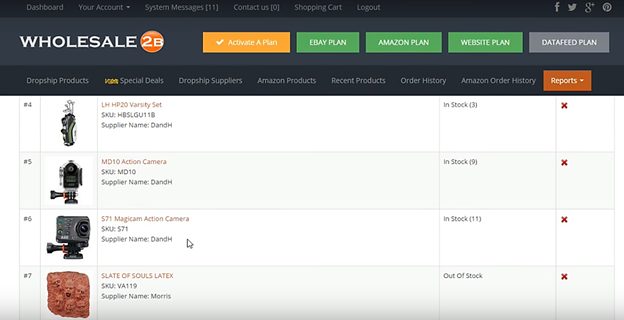 If you'd like to find the best way to make money and profitable items to sell, for instance, you could check Wholesale2b's reports on top-selling products and marketplace trends.
Then when it comes to ad targeting, you might want to pay close attention to the corresponding buyer hotspot location maps, which identify the areas where the bulk of buyers come from.
Another set of insights I found to be critically important comes in the form of supplier performance reports. In essence, Wholesale2b tries to help you select the right product suppliers by revealing their track records, plus cancellation and fulfillment ratios. So, in the end, you should be able to pick suppliers you can entrust your business to.
Wholesale2b Review – Customer Support
Since international dropshipping never goes to sleep, you'd expect Wholesale2b to offer customer support 24/7. But, sadly, that's not the case here.
Wholesale2b's tech support team is only available during the standard business hours. Then get this- apparently, you can't even call them. The best you can do is get in touch via live chat. Or, you could alternatively submit a ticket request from your account.
Well, I'd advise you to prioritize the first option since live chat queries here are answered almost instantaneously. Ticket requests, on the other hand, are typically responded to within 24 hours.
Now, apart from these two channels, the only other way you can contact Wholesale2b directly is via social media. The company happens to run official social media accounts on Pinterest, Google+, Twitter, and Facebook.
But, make no mistake about it. Wholesale2b's social media accounts are largely used for relaying the latest news and updates. So, there's no guarantee you'll get technical assistance.
However, you could still check out Wholesale2b's extensive learning center. It's quite a comprehensive resource center for articles on how the whole platform works, as well as guides on running a successful dropshipping business.



The same applies to the Weebly App, Ecwid App, and WooCommerce App packages.
Wholesale2b Review – Pros and Cons
Pros of Wholesale2b
Cons of Wholesale2b
Frequently Asked Questions:
How does dropshipping work?
In a nutshell, you basically look for a product you want to sell and create an ad to sell that product. You can sell it on eBay, on Amazon, Google and even from your very own website. When you make a sale, you send the order on to your drop shipper, who in turn sends the product to your customer. The profit that you make is the difference in the price that you charge.
Can I get some financing on the dropship plans or on the products I sell?
Yes, you can actually get a full 6 months financing on our dropship plans and on the products you sell. This financing is offered by Paypal Credit. To get more information please go to Paypal Credit.
Do I need to buy the products before I sell them?
No. You only pay for the product once you have sold it and collected payment for it. This means that you can start selling thousands of products online without even having to buy them in bulk.
Wholesale2b Review – The Ultimate Verdict
Wholesale2b is a lot of things all right, but it also has its fair share of weaknesses here and there.
For starters, it has proven to be an all-inclusive platform with a wide range of tools for different types of drop shippers. It can help you find profitable items from its large database of over 1.5 million products, link up with verified suppliers, automate product syncing and order processing, as well as streamline your dropshipping pipeline.
Then to top it off, all these features are offered via reasonably-priced packages. Both beginners and industry experts drop shippers can find affordable packages that they can leverage for the long haul.
Now, when it comes to the downsides, Wholesale2b is not the type of platform you'd want to rely on if you consider customer support available to be a priority. Plus, although the list of products here is quite impressive, the platform only comes with a handful of suppliers. Thankfully, however, at least the company is gradually expanding the number of options for drop shipping business users.
Bottom Line: That said, the final verdict is, Wholesale2b is certainly worth trying out for dropshipping startups, ecommorce store launches and small businesses that are yet to find their niche. The range of more than a million products and suppliers here allows you to explore numerous possibilities before settling for the most suitable.

Further reading: