Last Updated on January 16, 2023 by Ewen Finser
Shippo vs Easyship is a common matchup when it comes to eCommerce shipping fulfillment. People want to know that they're buying the right offering, and why wouldn't they?
Shoppers will abandon their carts in a heartbeat – especially when they feel that the cost of shipping is too high. So, you need a shipping solution that offers reasonable rates and discounts.
Otherwise, your eCommerce gig will suffer big time. Even with that in mind, however, you're still looking for software that can print shipping labels effectively.
There's no point going and purchasing a license with an online shipping company offering unrealistically low rates, only to find it has none of the features you need.
And, like it or not, you'll need a certain standard of business tools, apps and supply chain and inventory integrations, shipping features, and so on to succeed.
So, that's why it's important to read this comparison in full. And your reward for having done so?
A clear buying decision located at the foot of this page summarising why you should or should not purchase a Shippo vs Easyship license.
Bottom Line Summary: So, overall, I think Easyship offers a better solution. But, if you are a bit overwhelmed with the interface OR only ship domestic, the more accessible user-friendly option is Shippo here.
The Main Differences Between Shippo vs Easyship
Shippo's shipping rates come with discounts of up to 90%, whereas Easyship's shipping charges can be discounted by a maximum of 70%.
Shippo offers many price points to accommodate as many merchants' shipping volumes as possible, whereas Easyship offers fewer pricepoints.
Shippo offers live chat and email support on select plans, whereas Easyship offers phone support along with the other stated support channels.
Shippo provides a UPS shipping calculator, whereas Easyship has a calculator that provides shipping rates, couriers, discounts, and tracking status for not just UPS.\
Our Pick
I Prefer EasyShip Here
Overall, I found EasyShip to be a more well-rounded shipping solution. Most importantly, EasyShip has better INTERNATIONAL shipping integrations and more native 3PL partners.
Try EasyShip Here
We earn a commission if you click this link and make a purchase at no additional cost to you.
Shippo vs Easyship – Important Features Within Shipping Software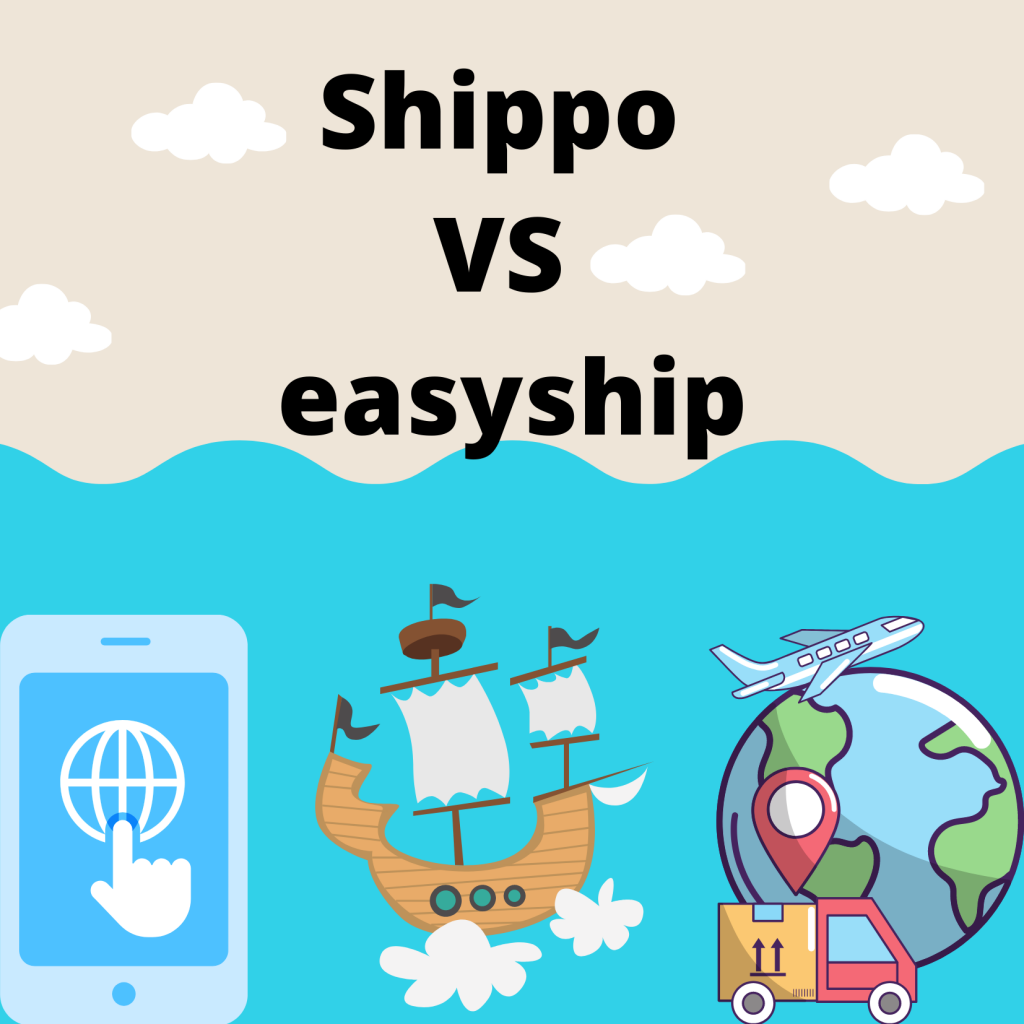 Order Management
There are a few things you should look for in a shipping software when looking to fulfil your orders for eCommerce. And these three things are:
Automation
Ability to Import Files
Option to Manually Create Orders
Automation
Shippo's app can be useful in terms of automating your workflow. For example, its app is designed to integrate seamlessly with lots of sales channels.
Meaning you can automatically synchronize your order data between Shippo and your shopping cart (or marketplace) of choice for eCommerce postage. Examples of eCommerce solutions that connect seamlessly with Shippo's delivery and fulfillment services include Shopify app (Shopify Shipping App add-on), BigCommerce, and Magento.
With the Easyship app, you also have access to this form of one-click native integration with the likes Shopify and BigCommerce.
Anyway, that's great, but EasyShip's "shipping rules" tool is what takes the biscuit in terms of its automation. The tool lets you set actions and conditions when shipping.
So, say for instance you want to ship to the US using USPS only. Well, you can automatically create a shipping rule that realizes your carrier preference within the US – saving you having to manually assign USPS with every order sent to a US-based address. You can also set rules so that all shipments contain excellent tracking, insurance, etc.
Shippo also lets you create shipping rules – see the "automation" tab! Unlike Easyship, however, you can't distinguish by "insurance" or "excellent tracking".
Check Shippo full review here!
Importing Files
Both Shippo and EasyShip enable merchants to import data from files. This action can be completed using a CSV file format. This feature is important because some sales channels may not provide order and report data natively.
Manually Creating Orders
Finally, you can manually create shipping labels with both Shippo and EasyShip. This process is quick and easy, as it should be. Meaning should there be a mistake within your shipping process, you can quickly fix the error yourself.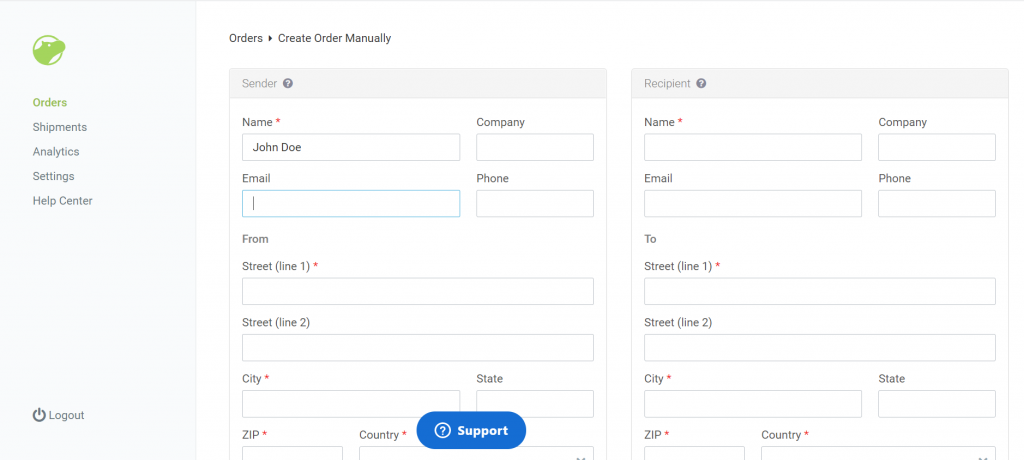 Shipping vs Easyship – Shipping
Calculating Rates
The EasyShip calculator lets you figure out how much it'll cost to ship your packages (shipping cost). It's an extremely useful feature, although it doesn't work for certain nations. For instance, shipping rates from Ireland are unavailable.
Easyship's calculator also shows you what carriers (including their rates) are available to you given your shipping circumstances (I.e where you plan on shipping from and to). VAT is visible through the calculator as a nice added bonus.
All of this is important when comparing Easyship's rates calculator to that of Shippo's. You see, Shippo's calculator is designed for USPS. Meaning Easyship has an advantage because you can receive shipping rates from points of origin worldwide. So, in other words, shippo doesn't offer an international shipping calculator.
One thing to say in defense of Shippo is this: USPS offers low shipping rates. And Shippo offers a discount to people who ship through USPS. So, Shippo is a good, cheap option for people in the US. But, most people will appreciate Easyship's calculator more when calculating rates due to its broad range of origins and destinations.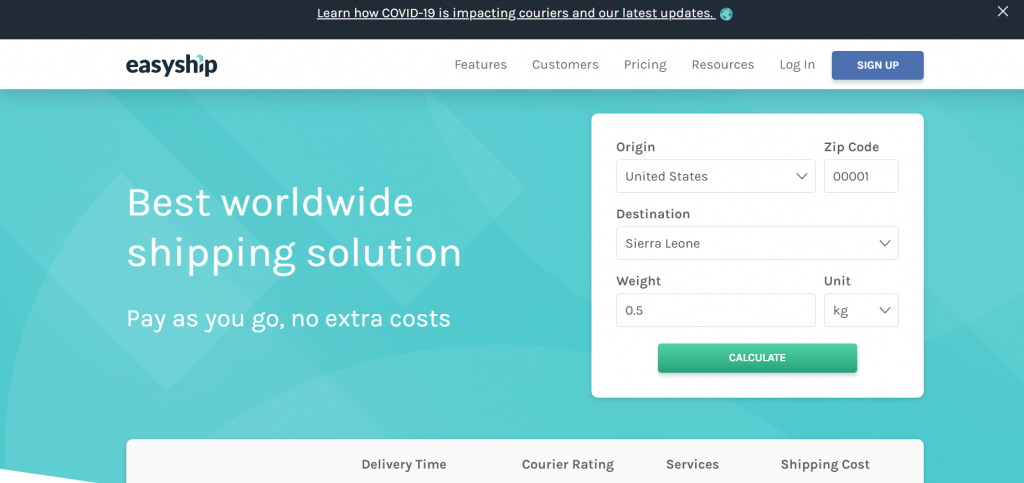 Shippo vs Easyship – Batch Shipping
Batch shipping will save you time. It does so by enabling you to create multiple labels at once in "batches". All shipping label instances can then be printed together.
*Note: Ensure dimensions are correct on shipment packages with both Shippo vs EasyShip*
Shippo
Shippo's API enables users to create up to 10,000 shipping labels through a single request. This action is performed using the Batch endpoint feature which sends a JSON request. This request won't be registered immediately. Instead, your BatchShipments will begin to generate in the background.
Once your shipping labels have been created, you'll then be required to fix any errors. The system will update you if there's a problem, so don't panic. Finally, you'll need to purchase your shipping labels. Upon doing so you'll then be able to print your shipping labels by downloading them using a pdf file format. Each PDF file can contain a maximum of 100 labels.
Then, you can use the "Orders" dashboard and Shippo's label printer to get them ready for off. If you don't wish to use Shippo's API to create and fulfill orders you can use its front end web app. You can import orders by syncing with your online store, create shipping labels manually, or import them using a CSV file.
Learn more about Shippo from my complete review!
Our Pick
I Prefer EasyShip Here
Overall, I found EasyShip to be a more well-rounded shipping solution. Most importantly, EasyShip has better INTERNATIONAL shipping integrations and more native 3PL partners.
Try EasyShip Here
We earn a commission if you click this link and make a purchase at no additional cost to you.
EasyShip
The EasyShip API documentation contains information explaining how the "Labels" resource enables shippers to print shipping labels. To do so, users must first create and list shipments using the "Shipments" API. All orders received from customers are sent to the "Shipments" API for approval.
Similar to Shippo, EasyShip saves license holders ever having to dabble with its API. And that's because, like Shippo, it boasts an intuitive user interface. Orders from your sales channels can be integrated with EasyShip's web app using the same import options as mentioned above with Shippo (sync with online stores, CSV file, etc.)
The EasyShip dashboard is equally as straightforward when it comes to the creation of shipments. To create and purchase multiple shipments, you'll need to use the "Advanced" tab's functionality. It's easy to do and EasyShip provides a useful tutorial.
Learn more about Easyship from my complete review!

International Features
Shipping internationally can be a real pain. You've got to deal with customs, varying shipping rates, etc. Luckily, shipping software is designed to simplify the process. And so we'll now take a look at some of the international shipping features Shippo vs EasyPost have to offer.
EasyShip helps you ship internationally by providing you with top international couriers. As you'd expect, the same can be said for Shippo. Both platforms provide access to popular carriers (UPS, DHL, etc.) and can be integrated with 50+ carriers (multiple carriers at once).
Both shipping fulfillment solutions offer discounted carrier rates and automatically find the best price per shipment. Shippo provides discounted rate deals of up to 90%, while EasyShip offer discounts as high as 70%. Discounts are subject to the carrier.
Shipping software should automatically take care of taxes and duties for customs. To that end, Easyship outperforms Shippo. When dealing with customs and taxes, Easyship automatically adds the fees onto your shipment at checkout. In contrast, Shippo doesn't and so customs fees are charged after the delivery has been assigned and shipped by the receiving and sending customs agencies.
Easyship's international shipping calculator is more useful than Shippo's calculator. Although, calculators aren't necessary as the platforms will automatically provide rates and duties information.
Finally, when you enter an invalid shipping address Shippo displays an error message. When there's no error with an address, Shippo will automatically complete the shipping address. This automation is also available with Easyship.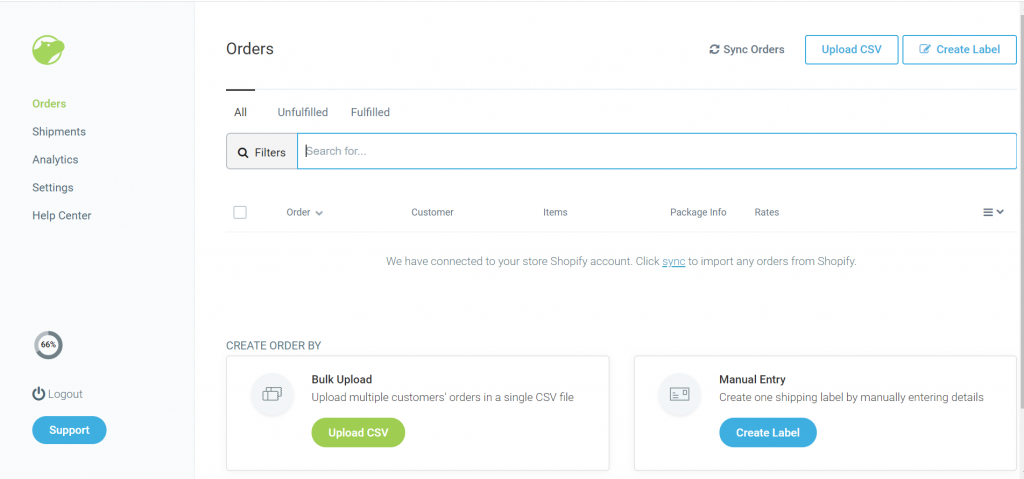 Tracking
EasyShip makes tracking easy. All shipments are assigned tracking numbers and display a tracking status. The same features are present within Shippo's tracking system.
Both platforms rely on integrations with third-party carriers for tracking information. Depending on the carrier, this information may or may not be reliable.
Shippo lets you send email tracking notifications depending on the pricing plan you've selected. EasyShip and Shippo also let you send automated messages to customers informing them on the location of their package. Some carriers even provide updates in real-time, but both shippers claim to do so to a higher standard (take that with a pinch of salt).
Overall, tracking shipments is an essential feature. People like to know where their products are to confirm that they're not being scammed. And that goes for buyers, sellers and everyone in between.
Our Pick
I Prefer EasyShip Here
Overall, I found EasyShip to be a more well-rounded shipping solution. Most importantly, EasyShip has better INTERNATIONAL shipping integrations and more native 3PL partners.
Try EasyShip Here
We earn a commission if you click this link and make a purchase at no additional cost to you.
Shippo vs Easyship – Pricing
Pricing is an important aspect of selecting your business' shipping solution. It'll affect how effectively your business can scale, shipments per months, ability to link multiple courier accounts, support channels and much more.
Your Easyship pricing plan will be built around your shipping volume. You'll notice that its four plans allow for 100, 500, 3000 and an unlimited number of shipping labels to be printed every month.
Shippo's pricing is a little different because it offers a PAYG plan. Also, Shippo's "Professional" plan offers many more price points catering to your number of shipments per month. Meaning you're much less likely to overpay with Shippo than Easyship.
Shippo vs Easyship – How Much Does Easyship Cost?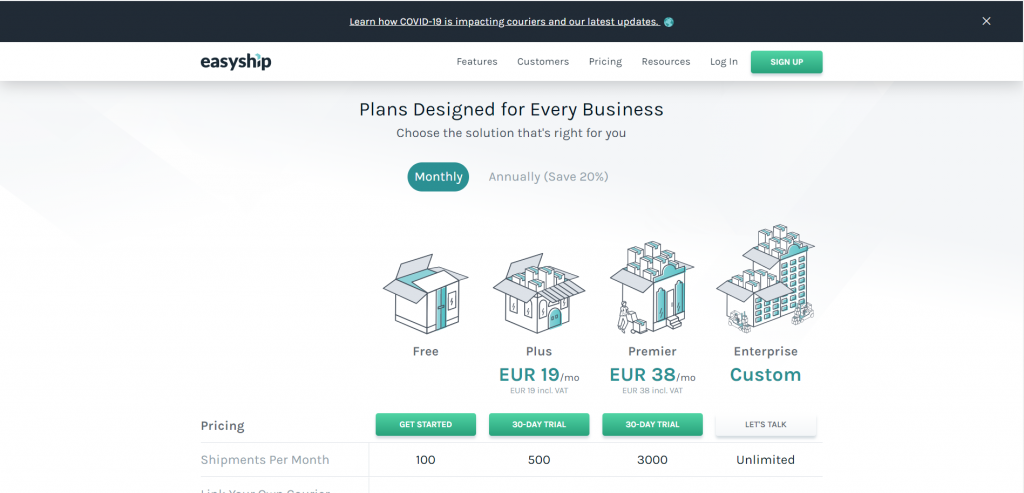 Shippo vs Easyship – How Much Does Shippo Cost?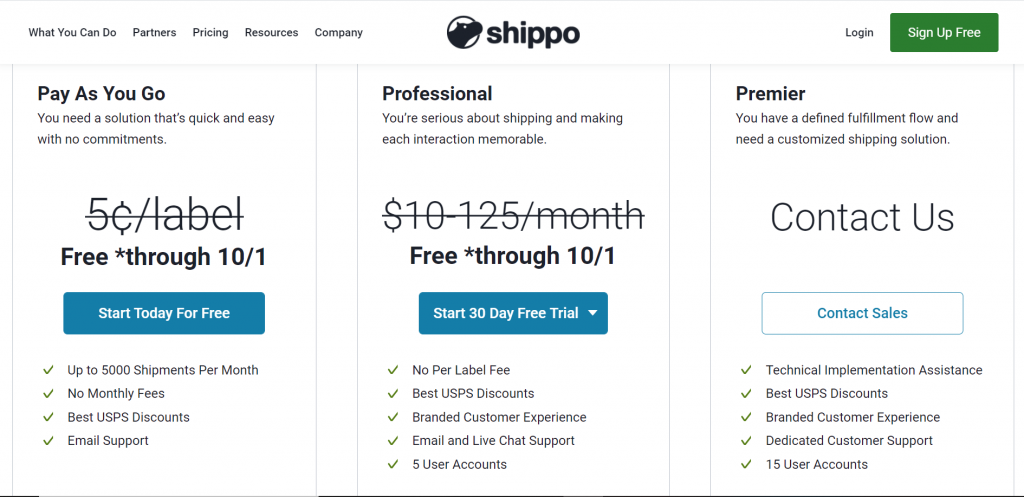 Adding Employees To Manage Shipping
It's much easier to justify Shippo's cost over that of its competitors when it comes to adding employees to manage shipping accounts. On Shippo's professional plan, which is a mere step down from its Enterprise option, you can add five team members.
That's the equivalent of Easyship's plan. Except you can send 2,000 more shipments without paying for a more expensive enterprise-grade solution. Which, is an obvious advantage to using Shippo over Easyship.
Enterprise-level plans allow for the addition of an unlimited number of users.on both Shippo vs Easyship.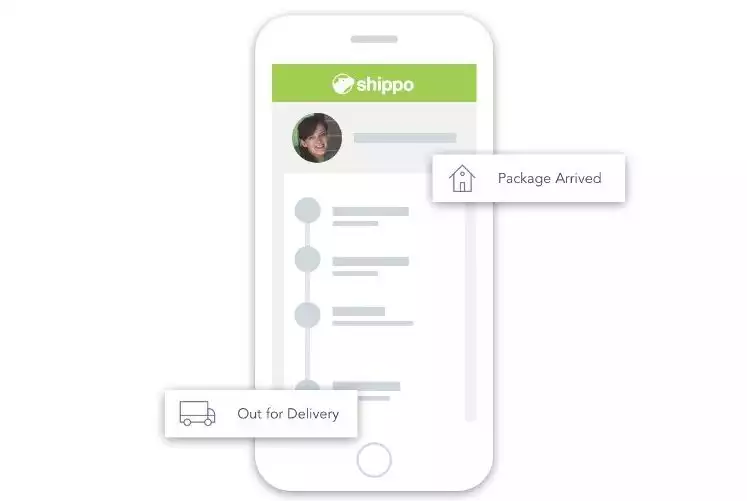 Why Did I Start with Shippo?
It's simple to use, easy to set-up and offers a unique PAY-AS-YOU-GO model to start. This means you only pay $0.05 for each package, great for smaller stores. You can scale UP with a BETTER PRICING structure.
Check Shippo Promos
We earn a commission if you click this link and make a purchase at no additional cost to you.
Insurance
Shippo offers insurance that costs 1% of your insured shipment value. Insurance is purchasable using the Shippo web app or through its API.
Easyship also offers shipping insurance through its partner InsureShip. You can insure shipments with a maximum value of 5,000$ on any shipment.
Shippo vs Easyship – Which Shipping Software Possesses Superior Support?
A good support team should be able to help you out of a pickle within a reasonable timeframe. And since your sales channels, customers, and shipping couriers are all tied to shipping, well, things can get messy. Which, isn't a bad thing – so long as you can fix the problem in a realistic timeframe.
It goes without saying, but once you stop printing labels and fulfilling invoices, your workload will begin to boom out of control. So, this is a pretty important subsection.
Support Channels
Support channels are how you can get in contact with your shipping carrier of choice. Shippo lets you contact support using phone, email, and chat. However, Shippo's phone support can be a little hard to reach at this time given the current global pandemics repercussions.
Easyship provides most of its support from its "Contact Us" page. From here you fill out a contact form. Easyship then sends that form to sales, partnerships, or customer service depending on the department you choose.
As with Shippo's support center, Easyship's customer support number isn't available over the internet company's website. You'll instead have to first reach out to a member of their support team to schedule a phone call. COVID 19, however, has made the process of connecting to eCommerce shipping businesses a headache. So, bear that in mind.
Shippo's email support (available via the customer support specialist when contacting sales) isn't as good as that of Easyship. When I contacted Shippo, I received three email-autoresponders signaling me toward support documentation and not direct support. Easyship's help center, in contrast, provided me with a real person who helped me. Which makes them appear much more dedicated and robust in terms of support.
Here's a Breakdown of Shippo's Support Channels Per Plan:
PAYG – Email
Professional – Email and Live Chat
Enterprise – Email, Live Chat and Tech Implementation Assistance
And Now a Breakdown of Easyhip's Per Plan:
Free – Email
Plus – Email and Chat
Premier – Chat and Phone
Enterprise – Email, Chat, Phone and Customer Success Manager
Dedicated Onboarding
The onboarding process when selecting a shipping software is of the utmost importance. I think good shipping software should always provide you with an expert to help you get started. This person should be the one doing the talking – I'd hope that they would listen to my business model then be the ones to suggest the next steps.
Anyway, onboarding is at its peak for members of Shippo's Premier plan. Premier license holders benefit from "Technical Implementation Assistance" and "Dedicated Customer Support" personified by the Shippo product support specialists.
Easyship's onboarding process is also much more efficient for members of its Enterprise plan. Such license holders will benefit from access to a customer success manager, live chat, email, and phone support. Which makes onboarding on lower plans much less streamlined.
Nevertheless, both support teams for either of these eCommerce multi-carrier shipping software solutions will help you during the onboarding process. They'll ask you how many orders you're shipping per month, whether you've got access to programming expertise, etc.
The only downside, and it's one you'd expect, is that you'll be waiting for support longer than those on higher-tiered plans. And that's because they've got access to more support channels to accelerate their onboarding because they can receive solutions to problems quicker.
To ensure you get the best onboarding process possible, it might be a good idea to sign up for the "Premier" and "Enterprise" plans. That way you'll 100% get to talk to a real person during the initial onboarding phase.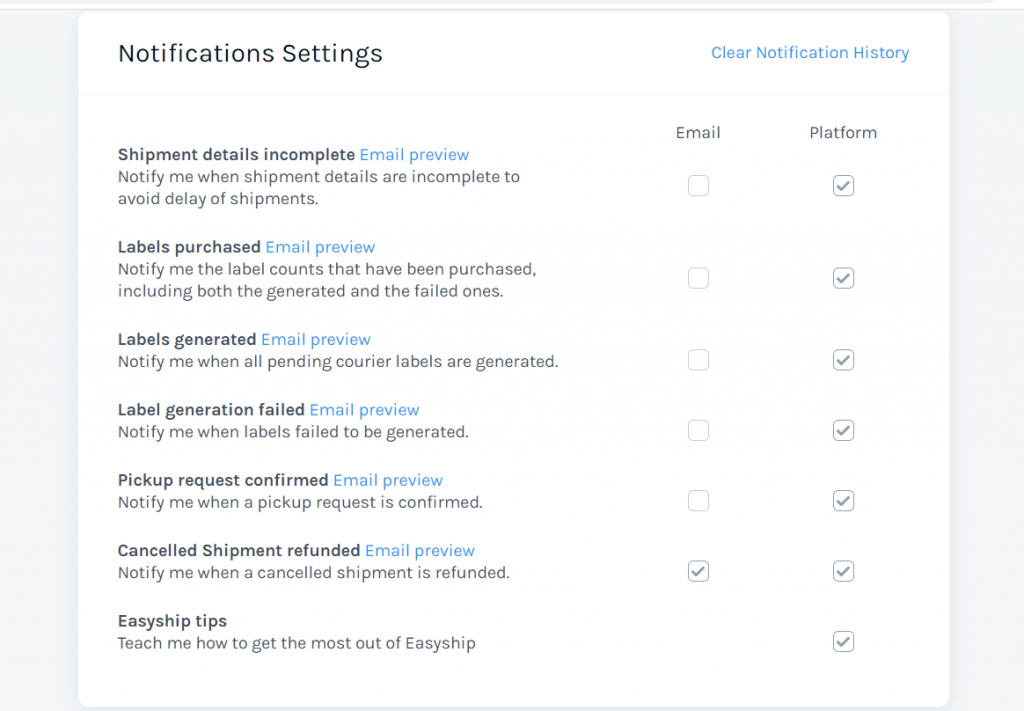 Free Trial Period
A free trial period is interconnected with the onboarding process. I would never consider myself finished "onboarding" until I'm comfortable with my shipping management software of choice. So, it's important therefore important to pay attention to the length of free trial periods.
Both Shippo and EasyShip offer free versions of their eCommerce shipping tools. So, they provide an unlimited trial period. Although Shippo's PAYG (Pay As You Go) or basic plan is normally 5 cents per label printed.
However, Shippo has decided to make its PAYG and "Professional" plans free until 10/1 due to COVID 19. Which, is a nice sentiment from the digital shipping platform.
On EasyShip's Plus and Premier plans, you'll have access to a 30-day free trial. Neither Shippo vs EasyShip provide a trial period for their Enterprise options officially – but ask and to ensure it's the best possible fit.
Support Centres
Along with onboarding, support channels and free trials – support centers have much more to offer. Shipping experts are a key example.
Both of these multiple carrier shipping software companies provide access to shipping experts. You'll find these people in both the sales and technical departments providing information relating to pricing, order volume, labels, returns, APIs, integrations, and more.
Anyway, a good support center should also be able to advise you on your eCommerce business plan. A great example of this is Easyship providing a customer success manager to Enterprise level customers. This feature demonstrates Easyship's commitment to ensuring your brand's success. Shippo developer, technical and product support are also examples.
Support Documentation
The shippo support center provides detailed documentation and tutorials on how to print shipping labels, use APIs, and much more. As does the Easyship help center. So, they're fairly even in that regard -although Shippo does do a better of fleshing out its information and explaining features.
You'll find that the goshippo blog is an excellent source of eCommerce information. And the same goes for Easyship's solution.
Overall, though I do think Easyship's support is a tad bit better than that of Shippo. Easyship's support is more responsive, as evidenced by my anecdote in the support channels section.
Shippo vs Easyship – Apps/Integrations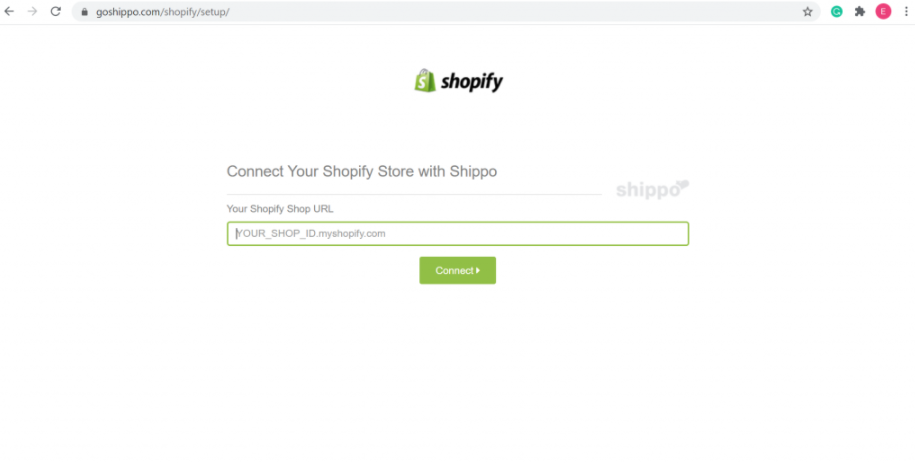 Connecting To Your Sales Channels
A multichannel eCommerce platform needs to be able to connect and integrate with apps through its various sales channels seamlessly. So, not surprisingly, Shippo and Easyship come with native integrations to eCommerce shopping carts such as Shopify shipping, BigCommerce, and Magento.
I thought it was fairly easy to connect with your sales channels using both platforms. Although I did feel Easyship made it much easier to add secondary channels, while Shippo did a better job at connecting your primary sales channel.
Order Management Systems
If you sell across multiple platforms, then you may use an Order Management System (OMS). Shippo is integratable with OMS apps such as TradeGecko. Meaning it's a great option for people with high order volumes across multiple sales channels.
Meanwhile, InfiPlex is a 3PL OMS that can be integrated with Easyship. This connection comes as part of Easyship's Warehouse Partner's Program.
Accounting Integrations for eCommerce (Bookkeeping)
When creating an online store it's a good idea to have shipping and accounting software. So, it makes sense to be able to integrate the two.
And luckily Shippo makes this process easy. The shipping company provides direct native integration with one of its partners ParagonERP. Likewise, Easyship also provides such a connection through its partnership with Bridge Connections and the Cornerstone Management group.
Neither Shippo nor Easyship provides as robust an API as SaaS shipping companies like EasyPost. So, you shouldn't need a developer to integrate with your bookkeeping software of choice. There'll be more of a front end solution in that regard.
Shipping Providers
You need a shipping software that has a strong connection to its carriers. It means that you'll have access to things like warehousing, pickups, returns, new services, discounted shipping rates, and much more. These are all things that can make your life much easier, and that you may not otherwise have.
So, you should be pleased to know that both Shippo vs Easyship is multi-carrier shipping platforms. Shippo offers integrations with 50+ carriers while Easyship can also offer integrations to the same number.
However, it's vital to note that Shippo offers shipping discounts of up to 90%. Which, is considerably higher than the 70% offered by Easyship. Note also that these discounts are only available with certain carriers. Shipping rates are also subject to shipping volume.
Overall, I think Easyship does a better job of connecting you with your shipping providers in a transparent manner.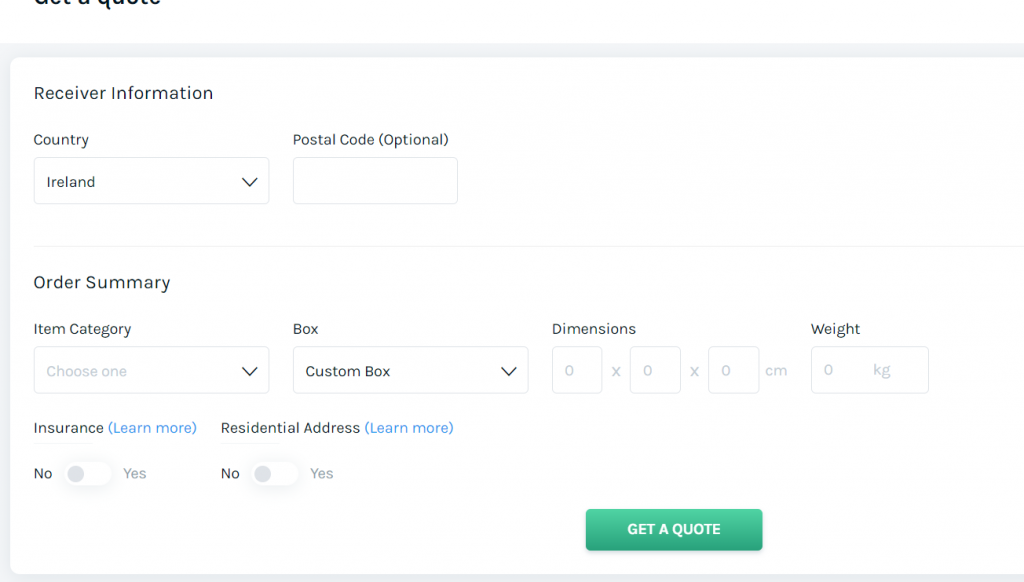 Shipping API
Shippo's API guide (located in "DOCs") makes it easy to understand how its APIs, such as its tracking and order APIs, work. You'll be able to quickly get your API access keys and begin integrating with Ruby (Or Phyton, PHP, etc.). Shippo's basic API integration with your primary sales channels takes 4-6 hours.
Easyship also has an API available for integration. Shippo and Easyship both provide easy to navigate API documentation. Easyship is also compatible with some of the programming languages of its counterparts. For example, Python and Ruby.
Overall, both Shippo and Easyship offer more frontend shipping solutions than something like EasyPost. So, API isn't as important with this pair.
FAQs About Shippo vs Easyship
Is Shippo Cheaper than USPS?
Shippo is a shipping software while USPS is a US-based courier service. So, they're two separate entities. Nevertheless, you can access discounted USPS shipping rates through Shippo of up to 40%.
Are Shippo and EasyshipFree?
Yes, there are free versions of both Shippo and Easyship available. Of course, the features and functionality of these solutions are extremely basic. You'll also experience limited order volumes, user accounts, support, and so on.
How Does Easyship Work?
Easyship works by providing you with front end as well as backend features to print shipping labels. The shipping company offers 100+ shipping solutions, discounted courier rates, and automates repetitive tasks. In a nutshell, Easyship lets you print and apply shipping labels to packages while simultaneously assisting you in the growth of your business.
Are Easyship and Shippo Legit?
Yes, both Easyship and Shippo are legitimate companies. They're partners with big-name shopping carts, couriers, 3PL partners, and run affiliate programs. Here's a link to goshippo's case studies and here's another link to Easyship's.
Shippo vs Easyship – Buying Decision
Overall, I think what it comes down to with both of these shipping solutions is what you're after.
Shippo is maybe a tad easier to use, while Easyship offers a more well-rounded solution. For example, the Easyship dashboard is intuitive and well laid out. There are great 3PL partners available providing services such as warehousing. It's just an advantage it has over Shippo.
Yet, Shippo offers amazing rates for US-based merchants shipping internationally and domestically. So, that's an advantage of Shippo over Easyship because its license holders benefit from lower shipping rates and higher discounts.
Although that argument can be squashed by highlighting that Shippo doesn't ship around the world the way Easyship does.
For instance, if you're from Ireland you'll have to directly contact a carrier and negotiate a rate with Shippo.
Which, pretty much makes buying a license with shipping software, well, a lot less meaningful. And when you consider that Easyship does offer carrier rates from countries such as Ireland it adds insult to injury.
Bottom Line Summary: So, overall, I think Easyship offers a better solution. But, if you are a bit overwhelmed with the interface OR only ship domestic, the more accessible user-friendly option is Shippo here.
Further Reading on Shipping App Software for eCommerce Merchants: