Last Updated on April 22, 2023 by Ewen Finser
An estimated 2.14 billion people worldwide will be digital shoppers by 2021.
Impressive, right?
Safe to say, that over the last few decades, online shopping has become the norm. The question is no longer whether people will buy products online, but, instead, how they'll buy them. So, now more than ever, merchants need a multi-channel sales operation to cover their bases and extend their reach.
With that in mind, we'll compare two of the leading shipping tools on the market: Shippo and EasyPost. We'll cover their main differences, similarities, pros, cons, and critical features. So, by the end of this review, you should be better positioned to decide which (if either) of these two platforms meet the needs of your business.
Let's start!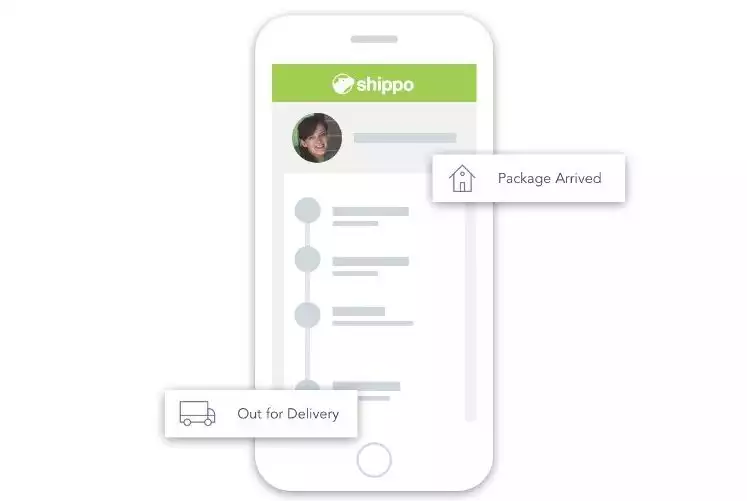 Why Did I Start with Shippo?
It's simple to use, easy to set-up and offers a unique PAY-AS-YOU-GO model to start. This means you only pay $0.05 for each package, great for smaller stores. You can scale UP with a BETTER PRICING structure.
Check Shippo Promos
We earn a commission if you click this link and make a purchase at no additional cost to you.
Shippo vs EasyPost: The Main Similarities
Let's kickstart this review with the key similarities and differences between Shippo and EasyPost.
First, the similarities:
They both assist businesses with shipping, tracking, and delivering products. They aim to make the logistics side of things as seamless and uncomplicated as possible.
You don't have to rely on other systems to complete the shipping process, with either Shippo or EasyPost- making uptime reliable.
When using either Shippo or EasyPost, you don't need to create your own shipping interface, which can be complicated and technical.
You can start shipping straight away with either platform.
Shippo and EasyPost are both APIs.
Both Shippo and EasyPost offer free trials.
As you can see, EasyPost and Shippo have many things in common.
Shippo vs EasyPost: The Differences
Even though both Shippo and EasyPost provide a similar service, there are a few differences between them.
Most notably:
EasyPost is built by web developers…and is undoubtedly best for web developers. For instance, they focus more on developer APIs and performance tools. This is unlike Shippo – a multi-carrier shipping company with a particular focus on meeting the needs of eCommerce merchants (as such, it's easier to use).
EasyPost offers a custom subscription plan if you're shipping large volumes of packages. Unlike Shippo, who only has two pricing packages: the Pro plan and the Premier plan.
Who's Shippo?
Launched in 2013, Shippo is a multi-carrier shipping platform comes in the form of a modern API. Its intuitive online interface makes it easy to get to grips with.
At the time of writing, Shippo was trusted with millions of packages sent globally (across 196 countries to be exact!) and integrates with leading eCommerce marketplaces, including eBay, Amazon, and Etsy.
Shippo empowers online sellers to import orders, purchase shipping labels, and print packaging slips – all from the convenience of one place.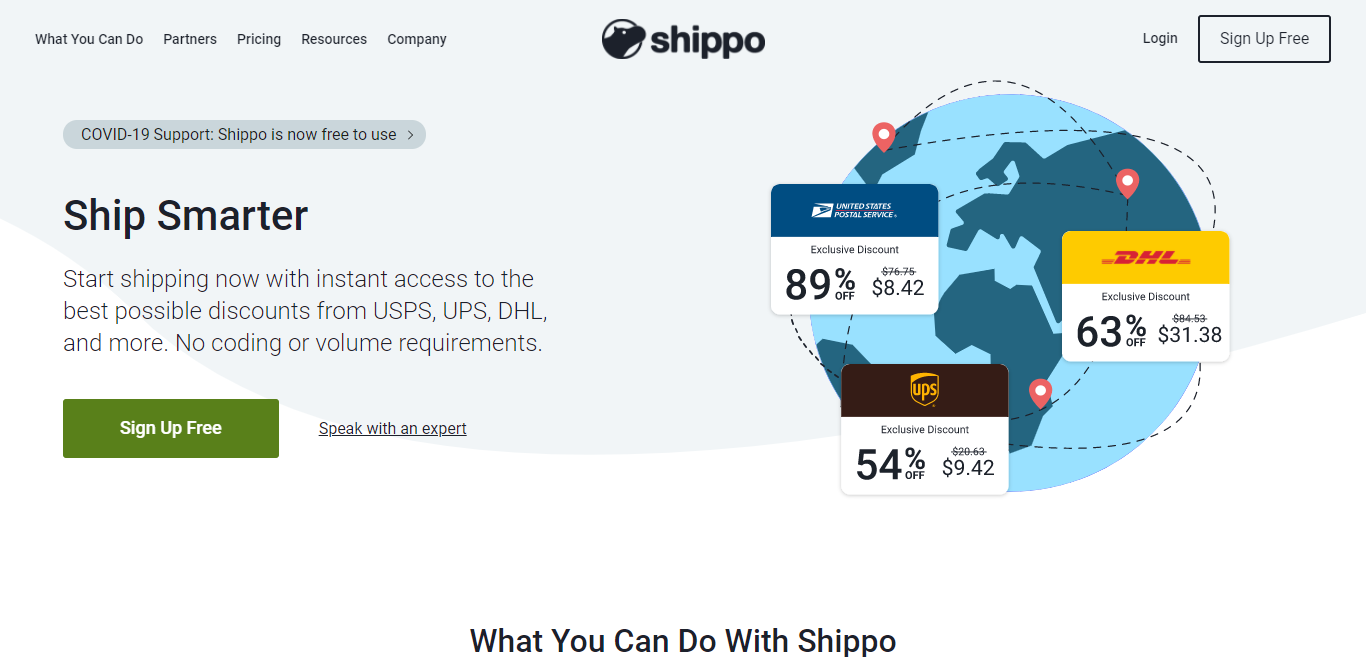 Who's EasyPost?
Back in 2012, EasyPost was the first shipping API to hit the market, and since then, it's gone from strength to strength. These days, EasyPost connects with near-on all major carriers, including:
USPS
UPS
FedEx
DHL eCommerce
DHL Express
LaserShip
OnTrac
GSO
APC
AmazonMws
EasyPost allows you to track your packages, purchase postage labels, check shipping rates, and verify customer addresses with all the major shipping companies.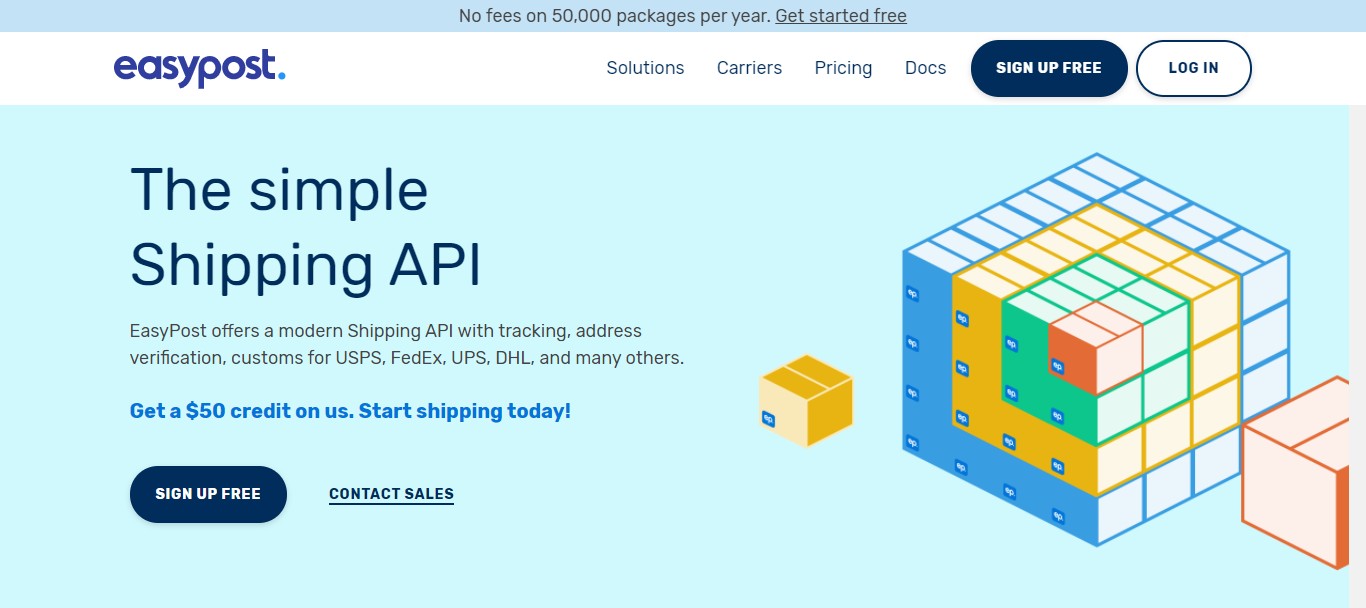 Shippo's Key Features
Shippo empowers you to ship smarter by providing some of the best discounts on the market for tons of high-quality shipping carriers. Most notably, USPS, DHL, UPS, and many more.
On top of that, Shippo lets you:
Create discounted shipping labels
Connect your sales channels
Manage your customer experience with tracking and returns tools
You can launch powerful workflows to grow your business.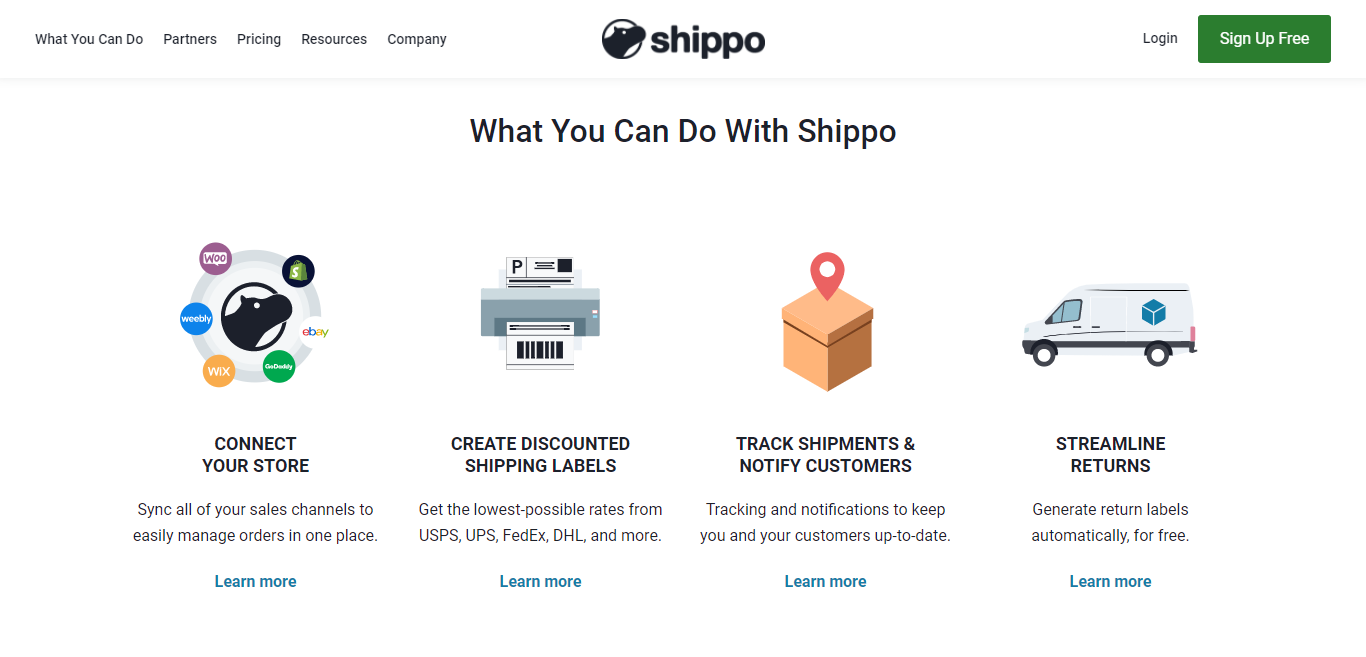 Create Shipping Labels
Shippo lets you create shipping labels for your packages within minutes. You can sync your orders across multiple sales channels and set up 'rules' to automate the creation and printing of your shipping labels. Needless to say, this saves you and your team tons of time!
Create a Customized Experience
You can customize your shipping labels, customer notifications, and more to offer your customers a truly branded experience. A variety of packing slips and label formats are available for you to customize.
Plus, you can modify the tracking pages your customers use, as well as your shipping notification emails. These small touches work wonders for exuding professionalism and strengthening your brand.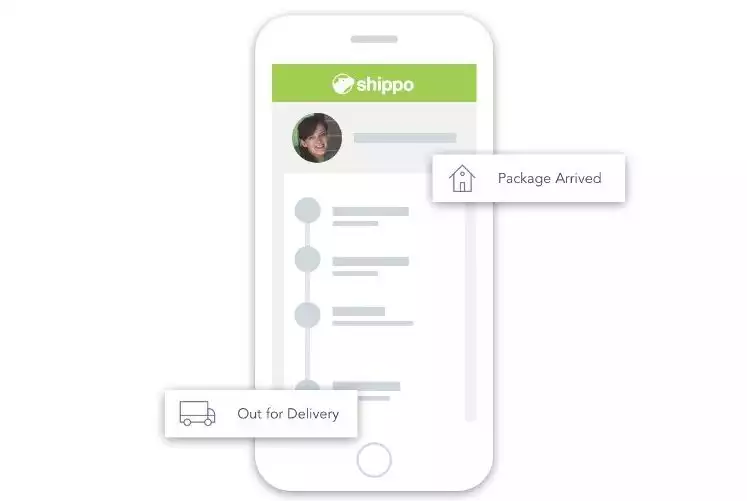 Why Did I Start with Shippo?
It's simple to use, easy to set-up and offers a unique PAY-AS-YOU-GO model to start. This means you only pay $0.05 for each package, great for smaller stores. You can scale UP with a BETTER PRICING structure.
Check Shippo Promos
We earn a commission if you click this link and make a purchase at no additional cost to you.
Become a Power Shipper
Shippo offers a range of powerful shipping tools that make managing multiple orders easier. You can print labels in batches, request refunds for unused labels, and split orders into multiple shipments for back-ordered items across different warehouses.
You can even register multiple users per account, so that team members can collaborate more efficiently. Shippo's analytics and reporting tools also enable you to see how much you spend on shipping, how efficient your processes are, and whether there's anything you can do to improve.
Integrate Your Tools
Shippo integrates with all major eCommerce platforms like Shopify, WooCommerce, Square, Wix, BigCommerce, and Magento 2. These are just some of the many digital shopping carts supported. Additionally, you can connect with leading online marketplaces: Amazon, Etsy, and eBay.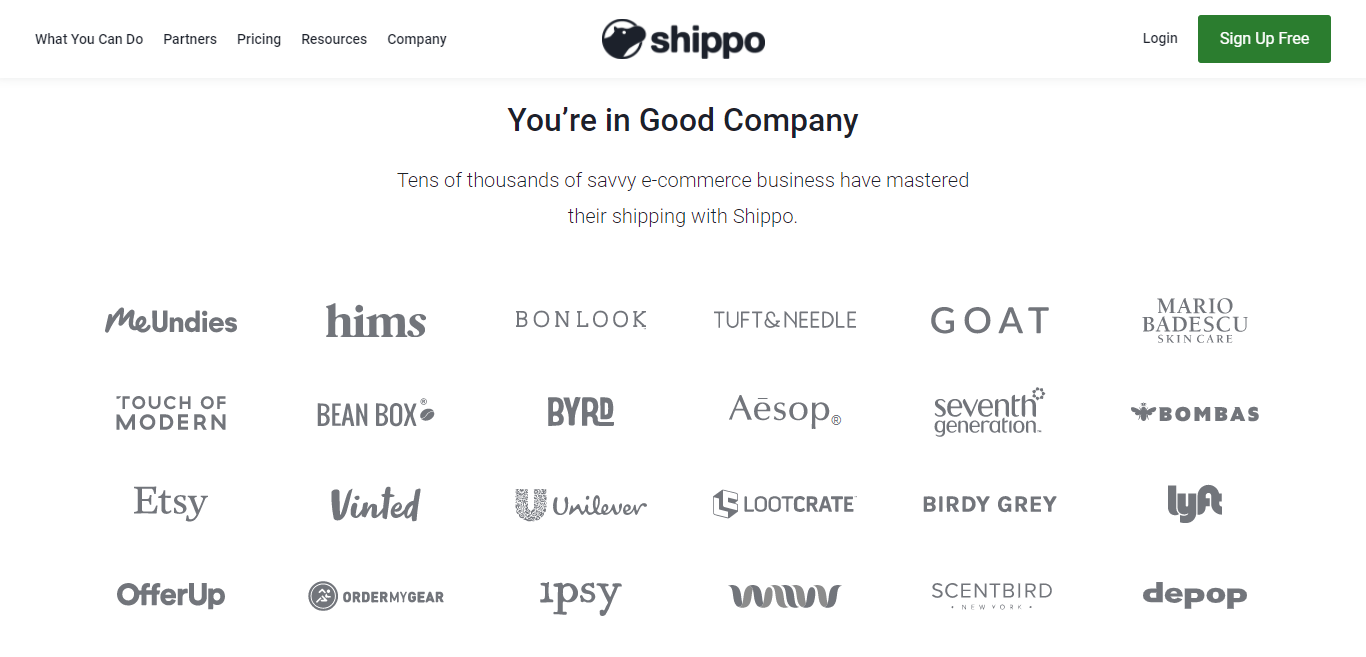 Improve the Customer Experience With Tracking and Returns
We've touched on it in part already, but Shippo allows you to manage your customer's expectations every step of the way. Namely, by keeping them updated with relevant shipment information, enabling them to track their parcels' progress, and furnishing them with up-to-the-minute ETAs.
Shippo also provides you with the original ETA of the parcel, so you can identify packages that have been delayed.
In addition to all of that, Shippo makes it easy to offer customers hassle-free returns, making a big difference to customer retention. Package information is automatically saved, which makes creating and printing return labels a breeze. You can even opt for scan-based return labels so that you only pay for the package once the label's used.
We also love that Shippo comes with built-in global address validation. This goes a long way to ensuring customers receive their order to the correct address – every time.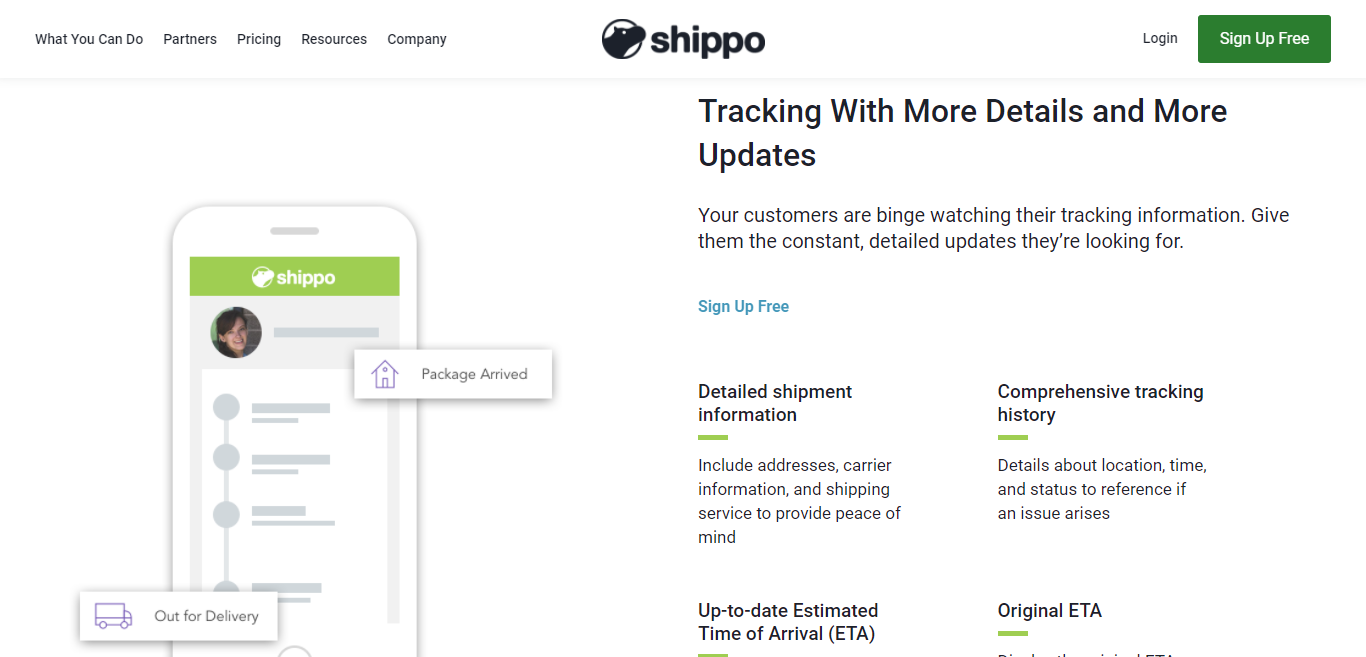 Expand Globally
You can break into the global market and expand your reach when you utilize Shippo's international network of carriers. Shippo also identifies and pre-fills delivery documentation required by couriers and/or customs abroad – making international selling even easier!
EasyPost's Core Features
Now that we've explored what Shippo has to offer, let's see how EasyPost squares up. Similar to Shippo, EasyPost also aims to make shipping and tracking packages flexible and easy!
Below we've listed EasyPost's core features, and then we'll dig into some of these in more detail below:
Shipping API
Tracking API
Shipping insurance
Address verification
Rating API
An extensive fulfillment network
Freight shipping
International shipping
Shipping API
Easypost's shipping API makes it simple to compare the rates of different carriers. From there, you can buy and print labels, verify addresses, and track your insured packages. EasyPost lets you compare rates across USPS, UPS, FedEx, and DHL, as well as dozens of other carriers.
Tracking API
Do you want to be kept up to date on where in the world your package is at any given time?
No problem; within seconds, you can retrieve this info, with EasyPost's real-time shipment updates.
This same feature permits you to send customers automatic and intelligent delivery estimates, which works wonders for managing customer expectations and boosting customer satisfaction!
You can present a cohesive, branded experience by customizing your tracking pages. It's as simple as sending a tracking link to your customers, and they'll be able to follow the progress of their package every step of the way, as every EasyPost shipment comes with a free tracker.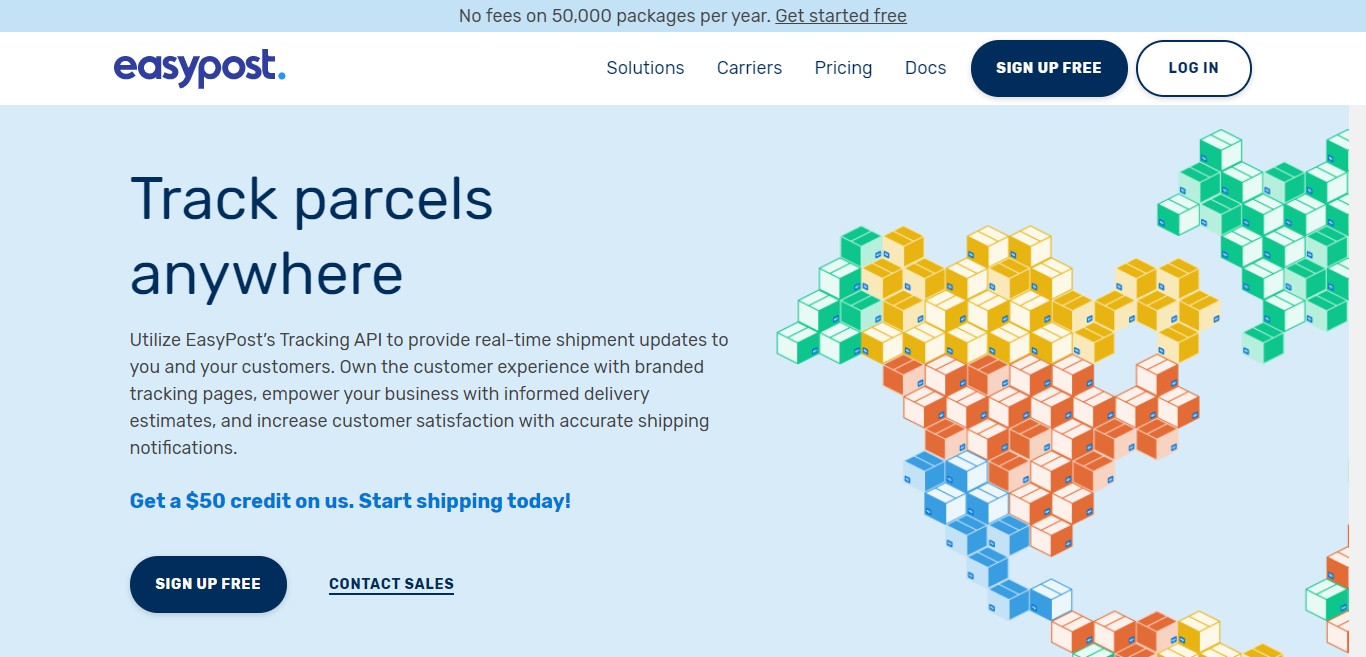 Address Verification
To avoid unnecessary complications or issues with a delivery, it's a good idea to verify the address you're sending the package to before the shipment takes place.
This is where EasyPost's address verification feature is worth its weight in gold. This double-checks whether the address is actually deliverable and spans across 240+ countries.
This is a color-coded tool that uses four colors to indicate the kind of data EasyPost has for that country. As you've probably gathered, the assigned color reveals how specific the verification process is for that area of the world.
If a country is:
Green: (The most specific form of verification), EasyPost, can validate a unit, floor, or suite number.
Dark Blue: A house address can be verified.
Light Blue: A street can be verified
Orange: (This is the least specific). EasyPost can only verify a large area like a city or zip code, not a particular house number or place.
If your country isn't mentioned in the list above, don't worry, EasyPost are always looking to widen their global coverage. If the address fails verification, it could be due to a simple typo. In this scenario, to avoid a potential mishap, it's worth asking the shopper to verify their address on the spot to double-check what they've entered.
Shipping Insurance
The facts:
15% of online packages never make it to their destination.
Daily, 90,00 parcels go missing in New York City alone.
The moral of the story?
It's wise to protect your packages in case something going wrong. This is why EasyPost gives you the option of subscribing to their shipping insurance. This covers every package sent via EasyPost for 1% of the value of the product.
This covers:
Any carrier
Any service level
It doesn't matter if the package was domestic or international.
It could be damaged, lost, or stolen.
Shippo vs EasyPost: Their Pros and Cons
Let's look at Shippo first.
Shippo: The Pros
There are many benefits to using Shippo, but here are just some of them:
It's easy to install
It's easy to use – the API is explicitly designed to be accessible to all users.
It's a highly customizable platform
It offers robust and well-documented API
There's a free trial and flexible pricing options
You get access to discounted carrier rates
Shippo doesn't hide any additional costs. There aren't any setup, cancellation, or storage fees – the only extra expense is the $0.05 charge per shipping label purchased through Shippo.
You can brand your tracking pages and shipping notifications.
Shippo helps you to manage hassle-free returns.
You get access to global carriers to reach international markets.
Shippo automatically pre-fills international carrier and/or customs documentation to speed up the process.
Shippo: The Cons
Even though Shippo has many benefits, there are a few drawbacks to bear in mind:
Shippo only integrates with 15 online marketplaces and eCommerce platforms.
If Shippo doesn't support the eCommerce platform or online marketplace you're already using, you'll have to upload a CSV file manually.
Limited customer support (more on this in a sec)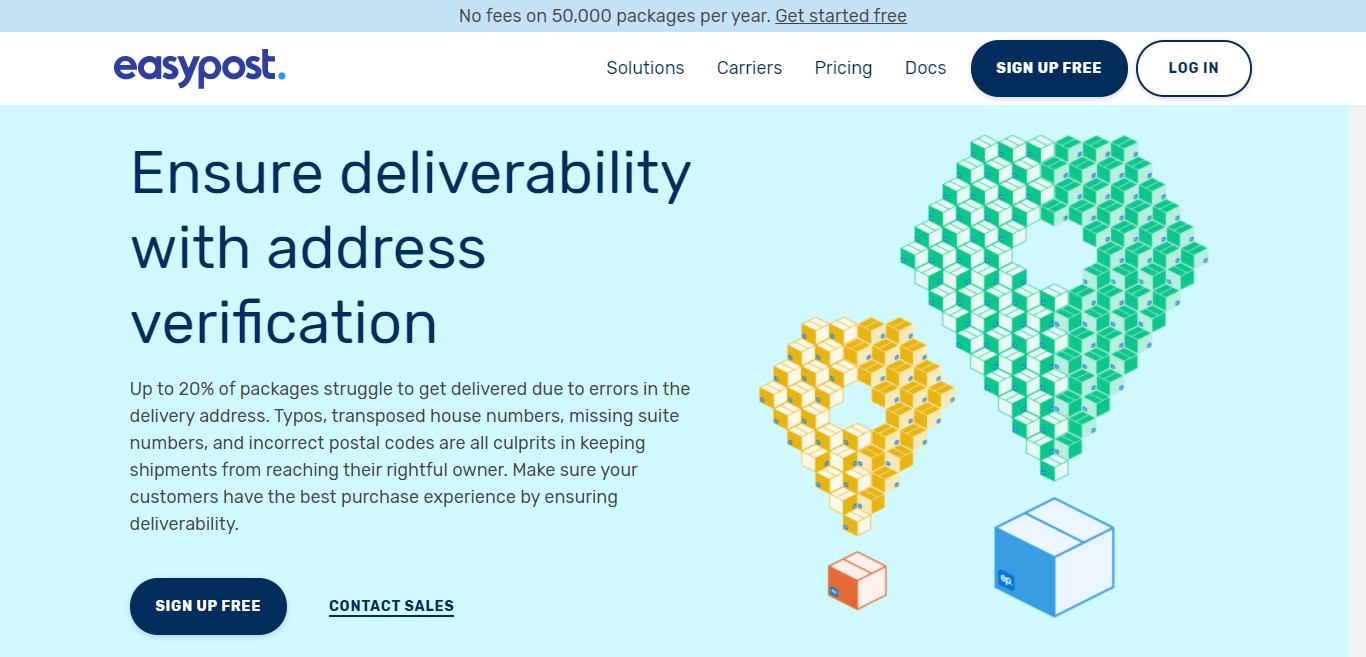 EasyPost: The Pros
Now, over to EasyPost. Let's start with the perks:
You get access to low-cost shipping rates.
The pay-as-you-go setup enables flexible and affordable pricing.
It's easy to use
EasyPost's designed by experts in the field
There's a free trial available.
Clear guidance is provided
You can brand your tracking pages.
EasyPost: The Cons
Like most things in life, there are a few drawbacks to using EasyPost:
You can only access EasyPost's customer service team via email. Or you can use one of their self-help guides. You can't call them. Customers complain about slow response times and say they'd prefer a direct number.
EasyPost focuses on integrating with loads of carriers, which is excellent if you're a broad choice of couriers. However, many of EasyPost's competitors focus on securing discounted shipping rates. So, if you want the lowest shipping rate going, this isn't the platform for you.
EasyPost was built by developers for developers. It relies on APIs, so if you boast technical know-how, you're certainly at an advantage.
EasyPost doesn't offer as many customization options (in comparison to Shippo).
There isn't a monthly pricing plan for medium-sized businesses.
Shippo vs EasyPost: Customer Support
Are you stuck? Confused? Don't worry, both Shippo and EasyPost offer customer support.
In fact, EasyPost has its engineers who created their interface on hand to assist. Just ping them an email on [email protected] to get your questions answered. They claim to provide responsive and prompt replies within the same-day (providing it's a working day).
You're probably wondering, what if they don't reply and I need help NOW? In that scenario, you can use one of EasyPost's self-help guides. These take you step-by-step through a range of issues, including:
Tracking shipments
Creating your first label
Shipping internationally
Generating a batch of label purchases
…you get the idea.
There's also an online 'knowledge base.' Here you'll find the answers to many popular questions about EasyPost's features and API.
What about Shippo?
Shippo boasts a four-prong attack to their customer service:
Contact Sales – This approach is best for those who are unsure which product plan best suits their needs. This requires you to hand over a few basic details so that Shippo can handle your query more efficiently.
Contact support – This is for those who are already customers. Here you'll need to fill out a form, and the technical team will get in touch.
API Docs – Want to be shown how to do something? Here you'll find tutorials, step-by-step examples of codes, API references, etc.
Help Center– Here, you'll find the answers to common problems and guides on how to set up and make the most out of your shipping account.
Customer reviews indicate that users are (generally speaking) happy with Shippo's customer service. However, you can only access Shippo's live chat or customer service telephone line with their monthly plan.
Shippo vs EasyPost: FAQs
Do you have to run a business to use Shippo? Or, can anyone use it?
Anyone can use Shippo for personal use. It's not exclusive to businesses. You just need to sign up and place an order. To make a shipping label, all you need is the sender and the recipient's address, and you're good to go!
How do I sign up with Shippo?
Go to Shippo's website. Then, when you're on the home page:
Press 'Sign up Free.'
Enter your name, address, and set a password.
Read and agree to Shippo's terms and conditions.
Go onto 'Get Discounted Shipping.'
Type in your business's name and phone number.
State which platform you're using to run your online store, the primary shipping carrier, and monthly shipment volume.
Press 'Finish Setup'.
Once you've completed these steps, you're ready to rock!
How can you intercept or redirect a package that's already been shipped via Shippo?
Once a parcel's in circulation, the first thing you'll need to do is contact the carrier directly. The couriers are the ones who will know whether a package can be redirected.
Rules, requirements, and regulations over this decision vary amongst carriers. So, there's no universal answer.
On Shippo, can I combine multiple orders into one shipment?
Unfortunately, if you want to combine multiple orders into one shipment, you'll have to do this manually.
To do this, you'll have to:
1. Print a shipping label for one of the orders. Here, you'll have to enter the weight and dimensions of both orders.
2, Record the second-order as fulfilled in your eCommerce store's management system.
How do I track packages using the API on EasyPost?
You need to purchase a shipping label from EasyPost; this enables you to automatically track the package via USPS API, DHL API, etc….
Is there a tracking page you can send customers to on EasyPost?
Every time you purchase a shipment, EasyPost creates a URL that can be sent to your customers.
How can I refund a shipment via EasyPost?
You can only request a refund for a shipment when it hasn't already been shipped or in transit. If the tracker states any of the following statuses, you'll be unable to get a refund:
Unknown
In transit
Out for delivery
Delivered
Available for pickup
Return to sender
In summary, you can only receive a refund during the pre-transit stage.
What do the different refund statuses mean with EasyPost?
When requesting a refund, four possible statuses could pop up in the refund string, which all have different meanings.
The possible refund statuses are:
Submitted– This means the refund request has been sent.
Refunded– This is pretty self-explanatory; the refund has been granted and given.
Rejected – The refund hasn't been granted.
Not applicable – This is where the carrier doesn't support the refund.
If you're thinking of sending a refund request, check your refund status string to see if it's been updated.
Can I request a refund using the tracking code on EasyPost rather than the shipping ID?
In short, yes.
If you've shipped the package using EasyPost, you can use the tracking code to request a refund.
Shippo vs EasyPost: Which is Better?
Now you know the critical differences between Shippo and EasyPost. To decide which platform's best for your business, you need to identify which features are a priority for shipping your parcels.
For instance, if you're interested in sending small quantities of tiny boxes and building an eCommerce website, then Shippo is probably the best option for you. Not to mention, Shippo also offers customers discounted rates for small packages, allowing customers to save up to $3 per box!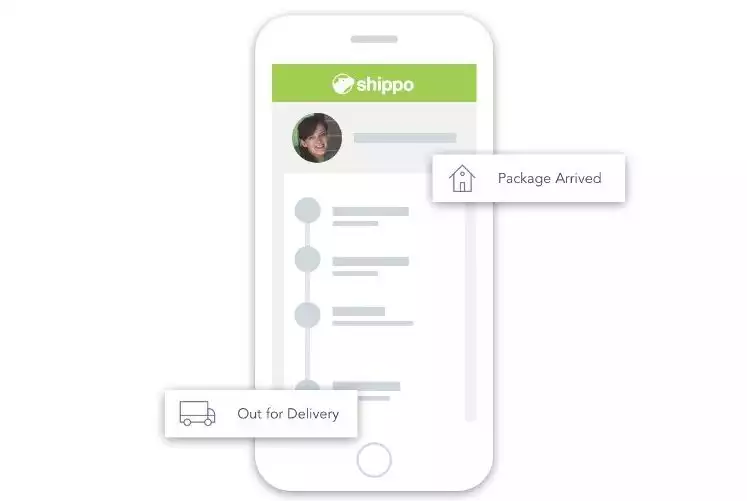 Why Did I Start with Shippo?
It's simple to use, easy to set-up and offers a unique PAY-AS-YOU-GO model to start. This means you only pay $0.05 for each package, great for smaller stores. You can scale UP with a BETTER PRICING structure.
Check Shippo Promos
We earn a commission if you click this link and make a purchase at no additional cost to you.
But, if you want a shipping platform software for large batches of parcels, with its confusing CSV file system, Shippo probably isn't the platform for you.
Whereas EasyPost software seems to be targeting developers. If you're not a small business and/or you're looking to grow and expand, then EasyPost could be the ideal solution. They provide everything you need to take your shipping game to the next level.
Which (if either) of these two shipping providers will you choose? Let us know in the comments box below!
Further Reading On Shipping Software, Shipment Tracking, and Inventory Management for eCommerce Business: