Last Updated on January 15, 2023 by DMEditor
In our Shippo review, we will take an in-depth look in Shippo platform, reviewing main features, benefits, downsides, shippo reviews, pricing, and alternatives to Shippo for any ecommerce business
The online retail industry is growing faster than ever, which is great news for ecommerce business owners. As your online store gets busier, you may have considered taking advantage of shipping software to help you streamline your process.
So today, in this Shippo review, we are going to be looking at exactly how Shippo service provider works, and how it can help you grow your business.
It's a shipping option that is very simple to use, easy to set-up and offers a unique PAY-AS-YOU-GO model to start. This means you only pay $0.05 for each package, great for smaller stores. You can scale UP with a BETTER PRICING structure.
After putting in the hard work of marketing your business, your products are finally starting to fly off the *eCommerce* shelves to the shopping carts. (Hooray!!) But when you realize you have to pack and ship each product to a different address, you might be starting to wonder what you've let yourself in for. Labels and packaging everywhere. Wait… didn't you already ship that order?
Well, don't worry, shipping management software like Shippo pricing plan and its competitors can not only help you streamline your order management and shipping process, but also save you money on your shipping. Sound good?
Fast and reliable shipping is becoming more and more important to online buyers, with around 77% of consumers having a preference for evening and weekend shipping options to fit around their busy lifestyles. Having a range of fast and affordable shipping options available for your products could potentially reduce your abandoned cart rate – winner!
So, in this article, we are going to be looking at exactly what Shippo shipping solution offers in the way of features and services, as well as its pros and cons, customer reviews (Shippo reviews from other operators), and the pricing plan so that you can decide for yourself if it's the right shipping software for your business. Let's take a look.
Shippo Review – In-Depth Look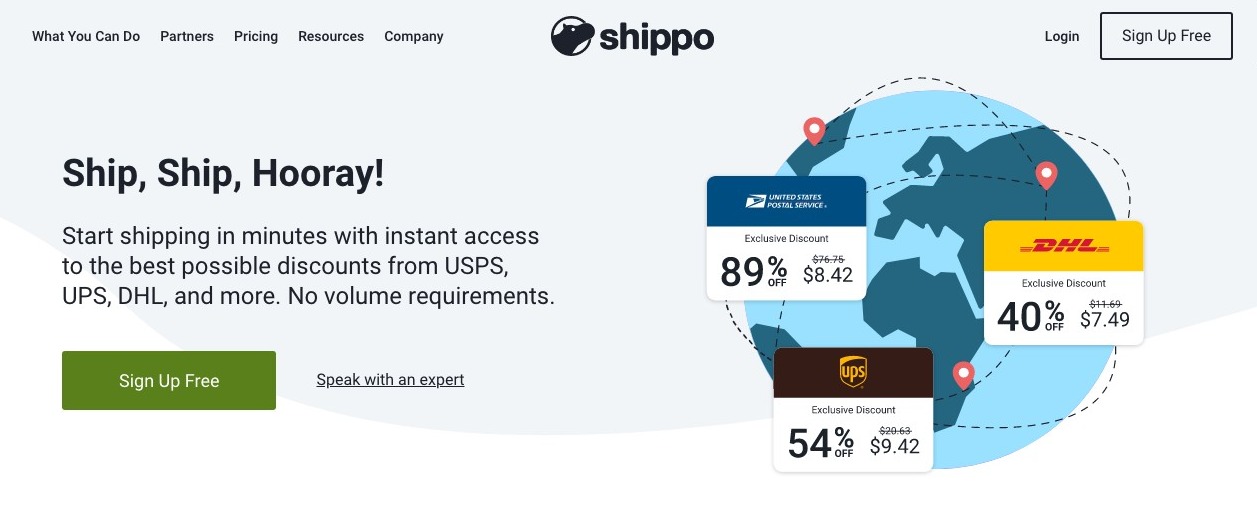 Shippo is a well-known web-based software company founded in 2013, and which you can connect to your e-commerce store to use for a shipping solution and management. The software will help you to manage your entire shipping process from order management to choosing the right multiple carriers, and even managing the shipping and returns process for your ecommerce platform.
With a head office in San Francisco, and employees in Chicago, Argentina, and other countries across the globe, Shippo is fully equipped to serve a global market, able to handle everything from the moment a customer makes a purchase until the moment their package arrives safely in their hands, and even international shipping.
The Main Features of Shippo
Connect with carriers
Save money on shipping
Compare carrier rates
Integrates with most e-commerce software
CSV uploads
Address Validation
Returns
Schedule Pickups
Create shipping labels and packing slips
Branded tracking pages for your customers
Shipping notification emails
Customs forms
Batch label printing
Analytics and Reporting
Multiple user access
Partial fulfillment options
API
How Shippo Works
Shippo ecommerce platform works by connecting your e-commerce store to all the best enhanced functionality and delivery options available, enabling you to manage everything in your order fulfillment process from one place.
This service provider integrates seamlessly with all of the most popular e-commerce platforms such as Shopify, WooCommerce , Wix, Squarespace, and even online marketplaces such as Amazon, Etsy, and eBay to streamline your fulfillment process.
Once a customer has made an order on your website, the order will automatically sync with Shippo. It's here that you can select a carrier for your order. Shippo has partnered with some of the most popular carriers such as FedEx, UPS, and DHL, as well as the US postal service to provide exclusive discounts on shipping, so you can save either save on your own costs or pass the discounts on to your customers.
As well as being able to see discounted rates for the available carriers, you can also compare the carriers side by side to ensure that you choose the best possible option for your packages.
Create Shipping Labels with Shippo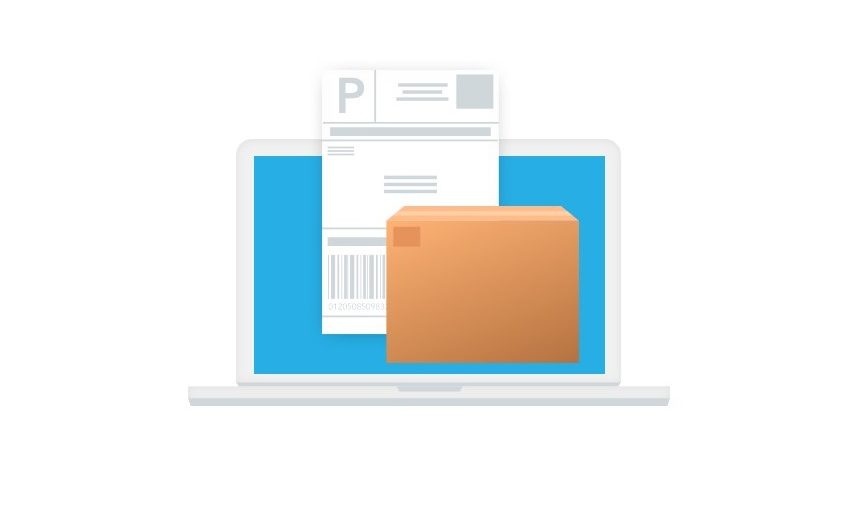 Once you have chosen the best carrier for the items you are shipping you can print your shipping labels at the click of a button. Shippo has built-in address validation software so that you will never have to worry about failed delivery due to errors in the address.
All of the print shipping labels you create and print with Shippo shipping provider can be personalized with your logo and brand colors, and there are a variety of different formats and options for you to choose from. You can even create custom-branded tracking pages for your customers to view with their order details, as well as send out branded order notification emails to give your customers seamless brand experience.
The software saves you time by automatically saving templates of the labels you create, as well as pre-filling the information on customs forms if you are shipping internationally to expedite the entire process. When you are busy you can have the option to batch print your labels, and you can also bulk upload addresses from a CSV file.
Order Tracking and Customer Experience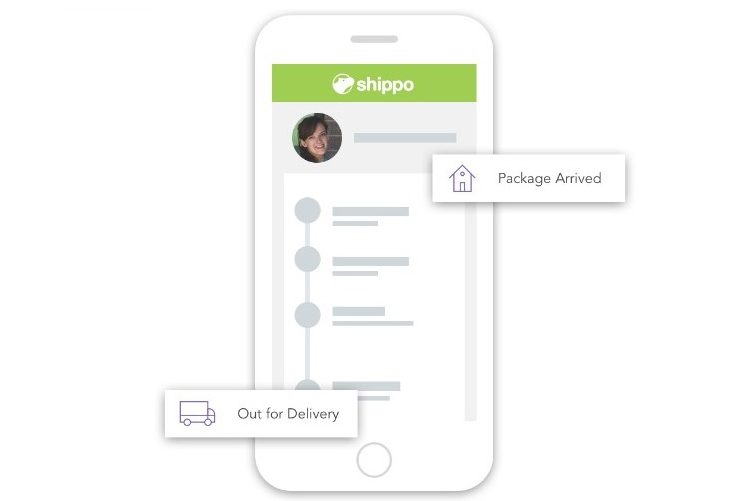 Shippo can help you manage your customer experience by providing them with all of the order tracking details so that they can view their order progress at any time. The software analyzes the data to estimate the time and date of delivery to enable the customer to plan ahead and make sure they are available to accept the delivery.
You can also view the original ETA, as well as any changes, so that you can keep track of any late deliveries and issues.
The tracking information for your customers is standardized across all carriers, so no matter which carrier you have chosen for your order, your customers will receive the same experience. This is particularly important if you have regular customers, as they will know what to expect each time. If you happen to send any packages outside of Shippo, you can still track your package within the Shippo software so that you have everything in one place, and nothing gets forgotten.
If for any reason your customer needs to return the product, they can do it hassle-free, improving the overall customer experience. All of the customers' order information is automatically saved, so you can create a return label for your customer at the click of a button. The customer will have the option to choose a different carrier for the returns process if required, depending on their location and needs.
You only need to pay for a return label once the label has been used, saving you money if your customer changes their mind. If you have shipped a package outside of Shippo, you can still create a return label with the Shippo software, so you can offer all customers the same experience.
Grow Your Business with Shippo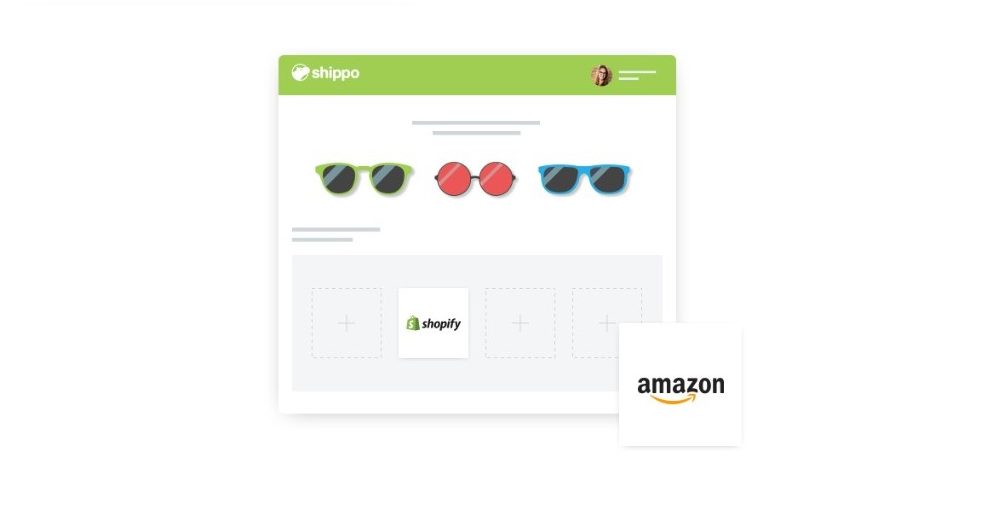 You can take advantage of Shippo's international network of carriers, so ship your products anywhere in the world, regardless of where you are based. Shippo makes it easier to ship overseas by identifying and pre-filling all the required customs documentation that is required with your packages, so everything is covered.
You can grow your customer base by selling on more marketplaces, such as Amazon, eBay, Etsy, and more. Each platform you use to sell your products can be linked to your Shippo account, so regardless of which platforms your orders are coming from, they can still all be managed from one place, saving you from constantly switching between different applications, and ensuring nothing slips through the cracks.
Reporting and Analytics
No Shippo review would be complete without discussing reporting! Shippo has analytics and reporting features that allow you to see an overview of your order fulfillment process. You can see how much you are spending on shipping over any set period of time, as well as the average price per package to enable you to ensure your shipping is as cost-effective as possible.
You can also see how many labels you are purchasing on a daily, weekly or monthly basis, and view your shipping history to understand any trends in your shipping and fulfillment process.
Shippo Customer Service and Reviews
If you need to get in touch with the customer support team at Shippo for any reason, your first port of call should be the extensive help center on their website, where you can find answers to many frequently asked questions, as well as submit a request for help. Unfortunately, there is no option to contact the support team by phone.
In general, Shippo's customer reviews are pretty good, with 4.6 stars out of 5 from over 448 Shippo reviews on the Shopify App Store, and 4.8 stars out of 5 on GetApp from 196 Shippo reviews. We did spot a few bad reviews from customers saying it was difficult to get a refund after they decided the software wasn't right for them.
The Benefits of Using Shippo
Shippo integrates easily with most e-commerce software and online marketplaces.
You can integrate more than one store or marketplace, so if you are selling your products in multiple locations all of your fulfillment can be managed from one place.
The software itself is very easy to set up and use, so it's a good option for beginners as well as more advanced sellers.
You can premake templates for any frequently used items to save time.
Easily compare rates across carriers, and find access to exclusive shipping discounts.
Create fully branded order notification emails and tracking pages for your customers to see their order details.
Easily create returns labels for your customers to return items if required.
Autofill customs forms to save time if you are shipping overseas.
Tracking information is standardized across all carriers, so no matter which carrier you have chosen for your order, your customers will receive the same experience.
Shippo has a 'pay as you go' package available which is a great option for smaller businesses with fewer orders, as there is just a small fee per shipment on top of the usual postage costs.
Shippo Review: The Downsides to Using Shippo
The main downside to Shippo is that it can be difficult to get in touch with the customer service team if you have any issues or want to cancel your account. You can submit a ticket for support, but it would be good to have an option to chat with a customer service agent on the phone as you can with most other software companies.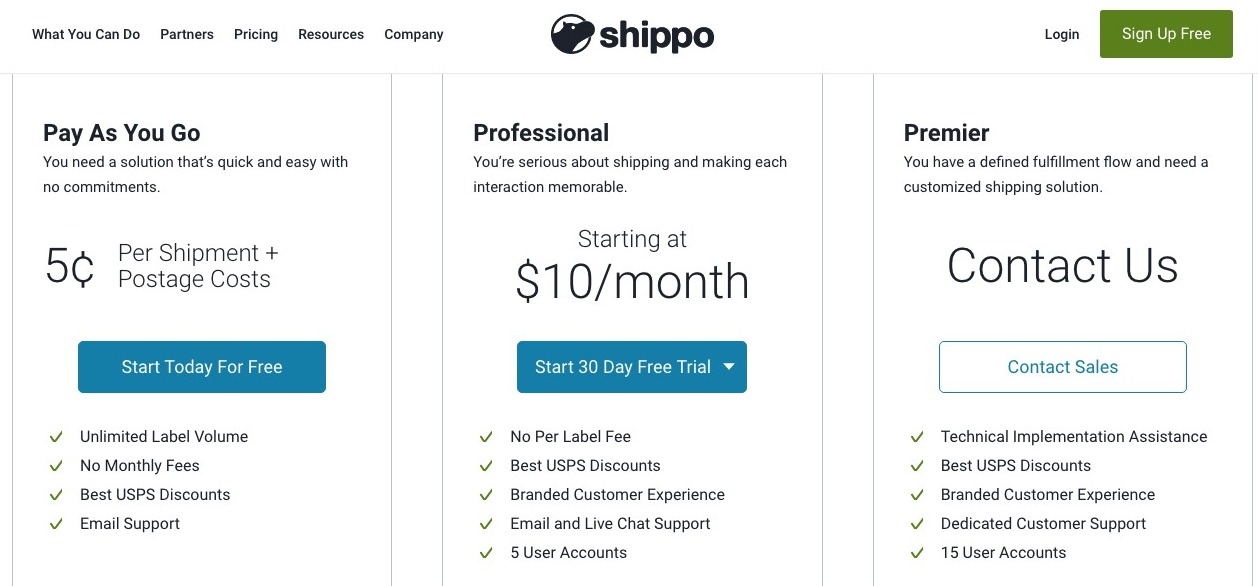 Shippo has three different pricing plans available, Pay As You Go, Professional, and Premier.
The Pay As You Go plan is a great option for smaller businesses, as there are no commitments, and you just pay a small fee of $0.05 per shipment. There is no signup fee, so you can get started with this plan for free, and it includes unlimited label volume, no monthly fees, the best USPS discounts, and email support. It also includes unlimited platform integrations, API access, unlimited carrier accounts, global carrier discounts, and one user account.
The Professional plan starts at just $10/month and includes no per label fee, the best USPS and global carrier discounts, unlimited platform integrations, API access, unlimited carrier accounts, email and live chat support, branded customer experience, and up to 5 user accounts.
There is also a Premier plan, which gives you everything from the Professional plan, as well as technical implementation assistance, dedicated customer support, and up to 15 user accounts. The pricing for this is bespoke depending on the exact needs of your business, so you will need to get in touch with the Shippo sales team for an accurate quote.
If you would like to give Shippo a test drive and see exactly how everything works, you can try out the Pay As You Go plan here for free.
Our Verdict on Shippo Review: Is it Worth the Money?
After taking an in-depth look at Shippo, and all the features it offers, it's clear that Shippo is a fantastic tool for e-commerce entrepreneurs. The software is very easy for anyone to get to grips with, and it will make your life as an e-commerce store owner much easier.
One of the main benefits of using Shippo is that you can manage your entire shipping and fulfillment process from one place, even if orders are coming from different platforms, such as Amazon and your main e-commerce store.


The Pay As You Go plan is very affordable, with just a small fee per shipment, and when you take into consideration the discounts this plan gives you access to, it's practically free! Even the professional plan is extremely good value, and for a flat monthly fee can give your customers a completely branded experience, taking your business to the next level.
Overall, this software is a no brainer if you are growing your e-commerce business, as it will not only save you time and money but probably save your sanity too. If you like the sound of Shippo and everything it has to offer, give it a try here for free.
Alternatives to Shippo: Top Shippo Competitors
Not convinced? Don't worry – there are other options available too! You might want to consider Shipstation, a similar service to Shippo, but with a few slightly different features. Check out our side by side comparison of Shippo vs ShipStation to see which one would work best for you. We also compared ShippingEasy vs ShipStation, which you might find useful too.
More Shippo Comparisons
Frequently Asked Questions About Shippo Reviews
Recommended Reads on Shipping Carrier App Options: