Last Updated on April 22, 2023 by Ewen Finser
In 2020 blog posts comparing and contrasting eCommerce platforms, such as this one – 3dCart vs Volusion, have become commonplace.
And it's no wonder considering the global eCommerce market is set to make over 2 trillion in 2020 – with China set to continue leading the way well into the middle of the next decade.
Anyway, one glance at such a mindboggling figure would tell anyone just how profitable e-commerce can be. Of course, the eCommerce game isn't an easy one to play.
It's been reported that 98% of web traffic visiting eCommerce sites fail to convert. That's a lot of people bouncing and pogoing around your page without ever filling up and checking out their digital shopping cart.
So, with that in mind, a shopping cart could make or break your online store. A shopping cart has certain aspects that, when powerful and robust, will increase your chances of succeeding tenfold.
That's why today we're pitting two of the most popular shopping carts around, 3dcart and Volusion, against each other comparing and contrasting all essential aspects. Stick around for a clear buying decision.
Main Differences Between Volusion vs 3dcart
The main differences between Volusion vs 3dcart are:
Volusion has had an alleged data breach, whereas 3dcart has not.
Volusion doesn't offer Google AMP, whereas 3dcart does meaning 3dcart stores load quicker than Volusion stores.
Volusion's dashboard is aesthetic and visually pleasing, whereas 3dcart's dashboard is less so.
Volusion doesn't provide users with an in-built blog, whereas 3dcart's CMS does.
Volusion requires you to integrate with Zapier to benefit from its app store, whereas 3dcart apps are available via its marketplace.
3dcart Features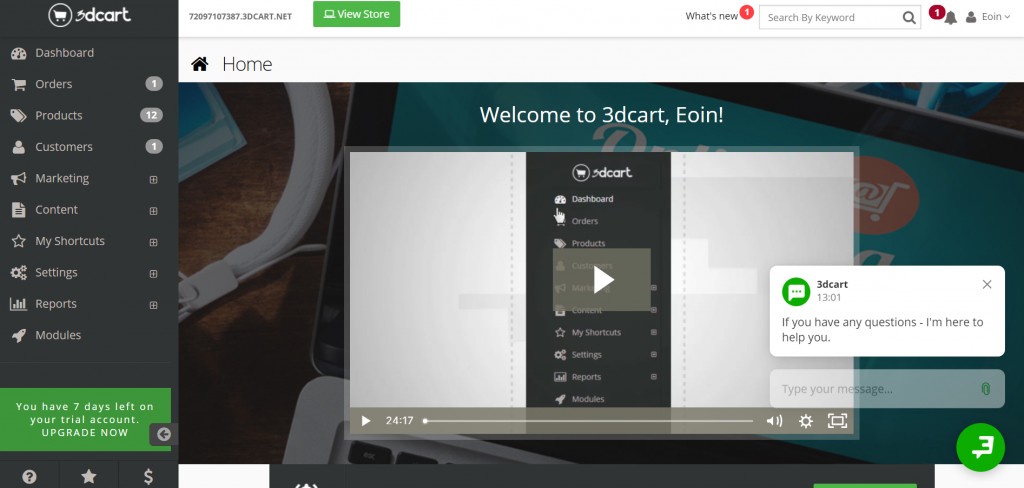 The core features of both Volusion and 3cart are similar. These two eCommerce shopping carts provide the functionality to create an online store and begin selling products online. They also supply helpful features that aid in the:
implementation of your online business's marketing strategy.
scaling of businesses.
processing of your ecommerce store payments.
Multi-currency selling
For me, being able to purchase an offering using my native currency is an attractive proposition. Having to purchase an offering by first paying a currency conversion fee (transaction fee) is annoying because I know that I'm able to find the same product elsewhere.
And, crucially, I'll be able to purchase that product or service without paying a currency conversion charge.
So, I'm going to go ahead and buy the offering available in my currency – it's more personal. Long story short, personalization is crucial within eCommerce – with 80% of shoppers more likely to purchase a product proving a personal experience.
Verdict – Draw
That's why 3dcart vs Volusion E Commerce solution alternatives such as Shopify, BigCommerce (CLICK HERE to read Shopify vs BigCommerce ecommerce software) and Magento are worth considering. Because unlike 3dcart and Volusion, they let licence holders sell using multiple currencies. Which, gives merchants using these shopping cart software options an undeniable advantage over vendors operating from 3dcart and Volusion's platforms.
3dcart vs Volusion: POS System
Unlike multi-currency selling, both 3dcart and Volusion ecommerce store platforms offer POS systems. But Volusion's is lacking when compared with 3dcart's offering.
For those unaware, POS lets online store owners sell products through one system in the "real world" as well as online. If you have a brick and mortar store, sell door to door or at a marketplace then POS will help you synchronise your inventory between online and offline sales within one integrated system.
Anyway, Volusion's POS system is lacking because it doesn't offer a front end POS app. 3dcart, in contrast, boasts a frontend app (3dcart POS). 3dcart can also be integrated with Square and Giftlogic POS.
Verdict – 3dcart wins
3dcart ecommerce software makes inventory control much easier thanks to its POS app and integrations. Volusion, on the other hand, can make managing your inventory between online and offline sales slightly more difficult.
You see, you won't be able to manage POS using a mobile device on account of Volusion having no app. You'll also need to be able to login to Volusion's web app to manage POS through the admin panel and also to checkout offerings in-person. There's a helpful guide available detailing how exactly you can use Volusion's POS system.
In conclusion, 3dcart's POS functionality is more favorable due to being able to access it using a mobile app.
3dcart vs Volusion: Marketing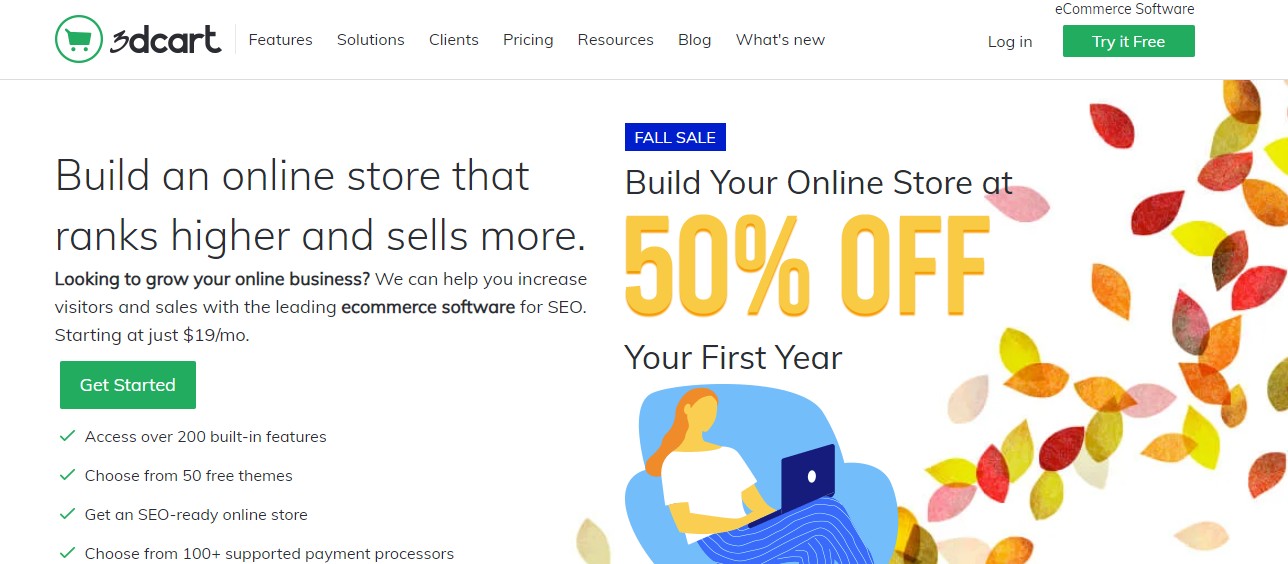 Selling online nowadays is becoming harder and harder. The top eCommerce platforms, for example, Shopify and Bigcommerce, are much more like "all-in-one" eCommerce solutions than they are shopping carts. So, it's important to look under the hood at how you can communicate your brand's offering using 3dcart and Volusion.
Anyway, one such great way of communicating your offering and increasing a brand's awareness is by turning to affiliates (affiliate marketing).
Affiliates are ideally people with a large following within your market. Bloggers and social media influencers (Facebook, etc…) with strong, trusting followers make for excellent affiliates because they've already built up a strong seller-buyer relationship.
Meaning an affiliate's followers are more likely to buy your offering if their go-to source of information recommends your product or service. So, I was pleased to learn that both 3dcart and Volusion run affiliate programs.
But, that's not all. 3dcart ecommerce software offers a coupon bar so that customers can benefit from discounted prices by manually inputting a code. Volusion also offers this function, as well as the ability to apply a discount via the admin panel within the Volusion dashboard. Shoppers love a bargain, so coupons and discounts are excellent marketing tools at the sales/retail level.
3dcart vs Volusion Marketing | Verdict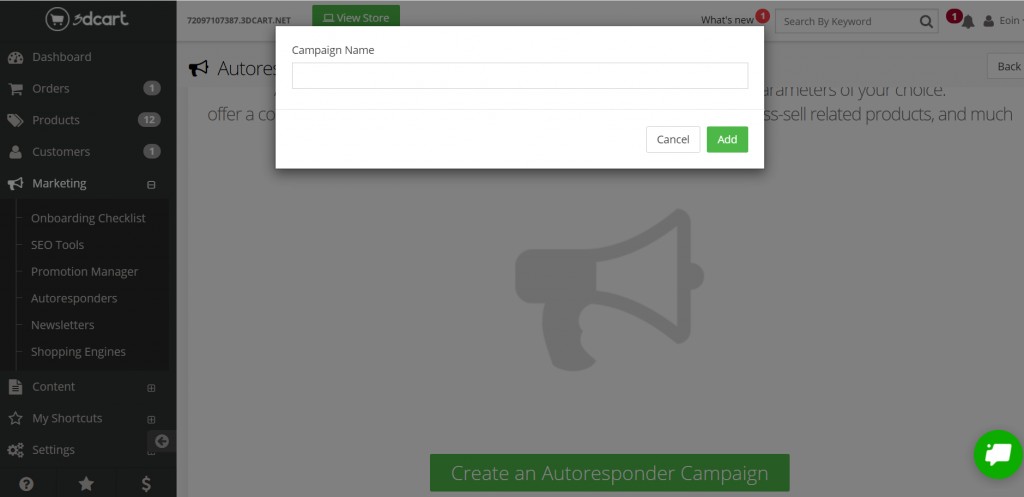 Overall I think both of these platforms have a lot to offer in terms of marketing.
However, I like the fact that 3dcart offers the ability to create autoresponder campaigns as well as newsletters. From what I can see Volusion offers newsletters but not autoresponders. Hence 3dcart wins.
Support
Support is an essential aspect of any shopping cart. Things will inevitably go wrong, so when they do, you need to be able to pick up the pieces.
Support Channels
An eCommerce platform's support channels are priceless in helping you in this regard. But, it's important to know the "ins" and "outs" of how modes of support are affected by the pricing plan you choose.
For example, Volusion's customer support department doesn't provide phone support to members of its personal plan. All other plans come with a support phone number.
Interestingly, 3dcart's similarly priced plan does offer 24/7 phone support. Starting from as low as $29.99 monthly fee – roughly the same price as Volusion's personal plan.
Both Volusion and 3dcart offer a live support chat. This feature can be useful when you're looking for an answer fast.
Volusion doesn't have a support email. The eCommerce platform instead provides direct support over "phone" and "live chat" for a more personalized experience. In contrast, you can contact 3dcart's support team via email.
Tech Support
Tech support is an important feature within eCommerce support teams. Should you need more advanced features and functionality, then this element of creating your store is vital.
Right off the bat, you may need to hire a developer if you've no idea about programming languages, APIs or writing code. Which, can be time-consuming and an added expense.
With both Volusion vs 3dcart, the plan you choose will affect the level of technical support you receive. For instance, Volusion Business plan users receive "Priority" support while its enterprise option "Prime" comes with VIP support.
3d cart's developer portal and help manual are excellent technical support features supplied by the shopping cart. Although the Volusion platform "Experts" page is useful to find developers or "certified experts" to aid in developing a store.
Volusion vs 3dcart Support | Verdict – Draw
It's difficult to pick a winner between this pair in terms of support. They both offer similar support channels, although 3dcart does have an advantage in terms of offering email support.
3dcart's developer support resources are extremely well laid out. Certainly better than Volusion's guides. Although both guides were equally as helpful.
Overall, however, both platforms make it extremely easy to avail of phone support. Which, is vital when it comes to running an online store.
So, a draw is probably a fair result.
Design

Both 3dcart vs Volusion provides you with the features you need to design your store in your brand's image.
3dcart website design is codeless with no small thanks to its intuitive eCommerce website builder. Although it's worth pointing out that I found Volusion's store design system better.
While some might rightly point out that 3dcart offers 59 free themes, which is significantly higher than Volusion's 11 free themes, bigger doesn't always equal better.
Volusion's 11 free custom design templates (Volusion themes) look cleaner in my opinion. They're less cluttered and product sales-specific with a nice landing page dynamic – I just feel 3Dcart's free templates are too sales-oriented. Nonetheless, 3Dcart offers 49 premium theme designs ($149.99 – $199.99) while Volusion only offers 34 – all themes are responsive.
Mobile Friendliness
Creating a mobile-friendly online store is vital to the success of your business. Emerging e-marketing trends have shown that customers value the speed of service more than ever.
Customers need to be able to instantly buy from your store using a mobile device. And also be able to save their shopping cart on one device and complete that purchase on another (59% of checkouts are completed in this manner.).
So, you'll be pleased to know that Volusion's responsive themes combined with Volusion Mobile Commerce allow all users to enjoy a mobile-friendly experience. Volusion also provides excellent tutorials on how to optimize your store for mobile. Volusion web design supports mobile devices with Android 4.1x iPhone iOS7 OS use Volusion Mobile Commerce.
3dcart also does an excellent job of integrating mobile responsive designs into all store templates. Doing so ensures free themes have built-in features and optimized code for mobile-first designs. Google AMP is an example of one such feature available with 3dcart that enables instant page loading. It's absent in Volusion which would explain its slower page loading speeds.
Volusion vs 3dcart Mobile Friendly/Highly Responsive Designs | 3dcart Wins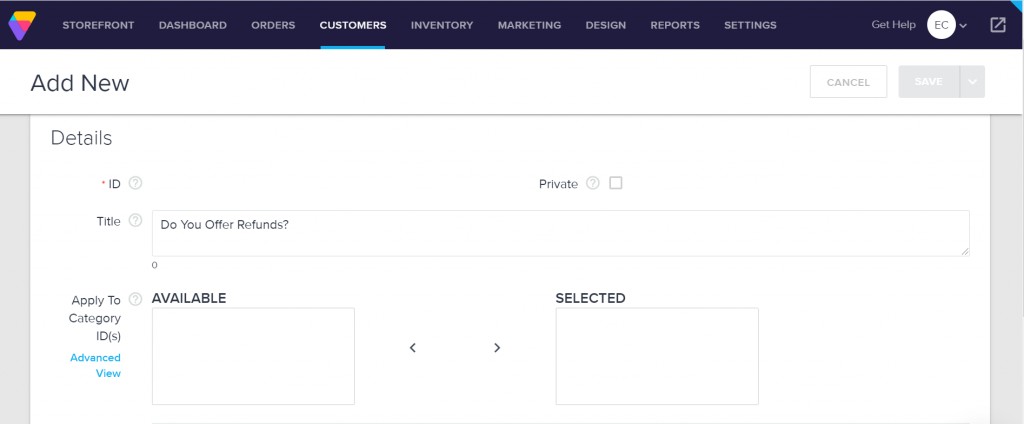 Both Volusion and 3dcart offer responsive themes to design your online store off.
These eCommerce platforms can also be Ajaxified for SEO by allowing store data to be refreshed in the background without refreshing the full page. But, 3dcart wins due to its faster loading times courtesy of Google AMP.
General UX (Ease of Use)
Being able to intuitively create an online store is something that a lot of people value greatly. An interface that's difficult to use usually results in having to pay a developer, which is a route a start-up or smaller business may not wish to travel.
Generally speaking both Volusion vs 3dcart are platforms that are classifiable as "easy to use". Although not necessarily easy in the same sense.
For instance, I thought managing returns (RMA – Return Merchandise Authorisation) was more timeconsuming with 3dcart in comparison to Volusion. 3dcart requires you to go through a process of activating its RMA feature, which is simplified by its "How To" guide in fairness. RMA is much more straightforward with Volusion, you just hover over "Orders" within Volusion's interface and click "Returns/RMA" from the dropdown menu.
3dcart though does possess a nice sidebar that allows for quick movement from one page to the next across subsections. I think 3dcart's options are much easier to navigate because the sidebar allows for more information to be contained on-page. With Volusion's topbar possessing a greater number of tabs meaning more clicking.
Both platforms provide insightful videos and tutorials that make navigating both solutions much easier. So, it's difficult to pick a winner.
Volusion vs 3dcart | Which is Easier to Use?
If I had to pick a winner I'd say that Volusion does a better job of showcasing its best features.
Which, I think makes its software feel much easier to use. Although in truth there's nothing outstanding that'd make you feel one is superior to the other in UX.
Security
eCommerce data security is crucial to the success of any online business. People want to know that they're not being scammed, have their details stolen, or be left feeling uneasy before or after making a purchase. So, security is a massive part of modern commerce both in the "real world" and online.
What you need to do before purchasing a license with either Volusion vs 3dcart, is make sure that the platforms are HTTPs compliant. This investigation can be performed by looking to see if SSL certificates are for sale or come "out of the box".
Anyway, 3dcart provides its merchants with SSL certificates for a fee or "shared" SSL certs for free. As does Volusion, although Volusion offers no free SSL certs.
A PCI verified eCommerce solution is another important security requirement. So, you'll be happy to know that 3dcart is up to spec. As is Volusion, which is also CISP verified.
Both Volusion and 3dcart offer CAPTCHA to defend against DDoS attacks. Which, will ensure you'll never lose control of your store to hackers or spammers using bots.
Volusion vs 3dcart | Verdict: 3dcart Wins!
Volusion has had a security breach in the past. Back in October 2019, Volusion released a statement highlighting the presence of malware within the eCommerce platform's software.
This malware resulted in the (possible) leaking of personal data affecting customers of "Merchant Clients". An example of the type of data thought to be exposed includes payment card details (payment gateway), addresses, contact details and so on.
In contrast, 3dcart has never had any such alleged breaches. 3dcart's security is a major bonus of using its software. So, for that reason, it's much easier to recommend 3dcart as a secure platform over its counterpart – Volusion.
Apps/Integrations

Apps/integrations can be important in running an online store. Particularly if the platform you choose offers limited out of the box eCommerce features and functionality.
With that in mind, it's important to compare and contrast Volusion and 3dcart's respective app stores. Which, is quite easy.
Volusion offers an app marketplace that requires you to integrate with Zapier. Upon doing so, you'll have access to over 2,000+ apps – giving you all the features and functionality you'll need to run your online store.
3dcart's app store is equally as stacked. You can download apps to aid in email marketing, dropshipping and so on. For example, both Volusion and 3dcart users can integrate the functionality of popular third-party apps such as Mailchimp.
Volusion vs 3dcart Apps and Integration | Verdict – Draw
The main difference between Volusion and 3dcart is the fact that Volusion requires you to access app/integrations via Zapier. Seen as Zapier is a paid service, that makes using Volusion more expensive than 3dcart. However, you'll have access to a plethora of apps so it may be worth the extra cost.
Should you fail to find the power you're after within 3dcart and Volusion's app stores, both eCommerce solutions possess APIs. 3dcart's documentation acts as a guide to using its RESTful API and makes things a lot easier to understand in terms of building connections.
Volusion also offers the possibility of API integration with documentation available to simplify the process. Overall, neither platform outperforms the other to any major degree in terms of apps and integrations.
SEO Features for SE Visibility
Search Engine Optimisation is absolutely vital when it comes to eCommerce. You want your store to attract traffic so that you can segment that traffic into leads which will hopefully enable to drive targeted marketing campaigns aimed at generating conversions. With that in mind, there are certain SEO features you'll need.
Volusion provides such SEO tools that let you optimize for Search Engine (SE) visibility. For instance, you'll be able to configure your meta tags (default values), hand select SEO friendly URLs, and perform keyword research. You can also run site audits to ensure your online store's content is up to scratch. Finally, Volusion 301 redirects is another useful feature.
3dcart to its credit does have some useful features of its own. The 3dcart blog dishes out an impressive amount of SEO advice (as does Volusion's blog). Like its competitor, 3dcart provides tools to aid in meta keyword optimization, URL optimization, and redirects. You'll also be able to mess around with your Volusion store's XML sitemap.
Volusion vs 3dcart SEO Features and Friendliness | 3dcart Wins
Overall, I think 3dcart offers more powerful SEO tools. But, it's the absence of an in-built blog within Volusion's system that weakens it the most. Unlike Volusion, one of 3dcart's featured products is a blogging function within its CMS. A blog is an integral method of content marketing and can prove invaluable in terms of drawing traffic to your site using SEO. So, for that reason, 3dcart is the victor.
3dcart vs Volusion | Pricing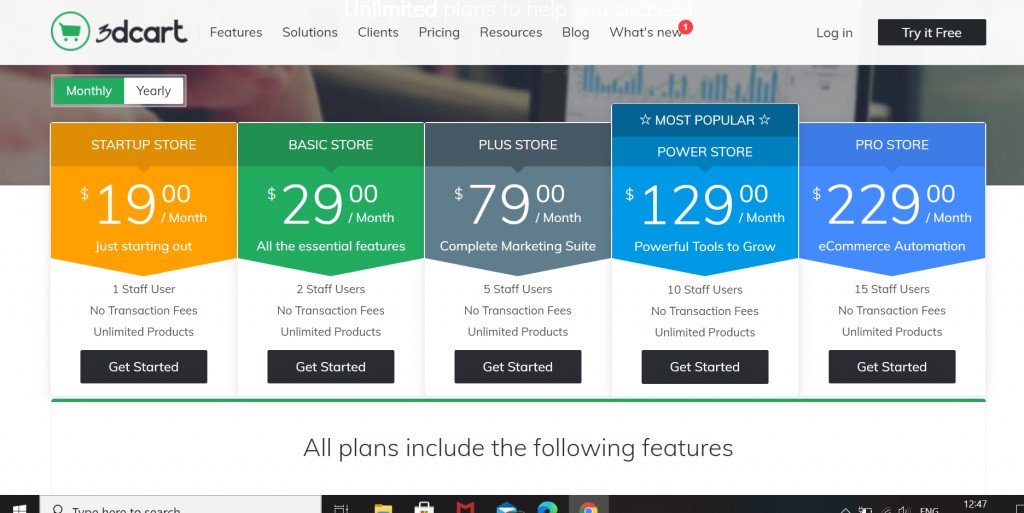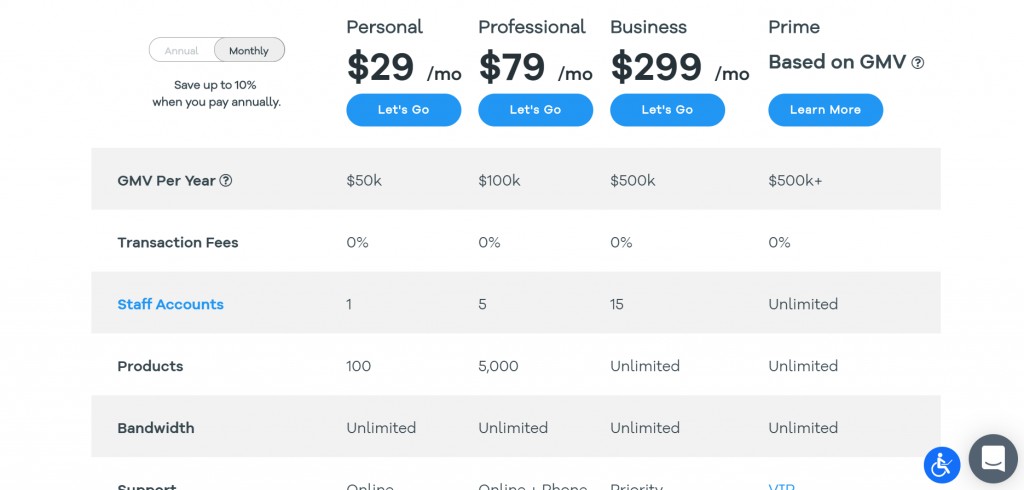 FAQs About Volusion vs 3dcart
How Does Volusion Work?
Volusion works as an E Commerce platform. It lets you create and design a hosted site, selling products and services through its shopping cart. Volusion simultaneously provides tools to enable a store owner to continuously run and market their online business'. To get started with Volusion, you'll need to purchase a licensed plan.
Is 3dcart Any Good?
3dcart is a good option for business owners looking for a cheap alternative to a more well-rounded solution like Shopify. 3dcart offers a free trial, so you could always test out 3dcart's features and functionality to see if it's the right fit. Very quicky, some of 3dcart's strong points include its straightforward UX, depth of "out of the box" features including an in depth knowledge base and active help/support.
Who Uses Volusion?
Volusion is used by 180,000+ entrepreneurs around the world. The eCommerce giant also is used by some big-name companies including:
MSLGROUP
Nortek Global HVAC LLC
CauseForce LLC
Is 3dcart Free?
3dcart isn't a free platform. You'll have to purchase a license, see 3dcart pricing, which you can choose to pay for in monthly installments or annually in one lump sum. 3dcart's free trial period is 16 days. Upon signing up you can click whether you'd like to chat with an eCommerce coach. It's a nice example of the 3dcart experts available to assist during the onboarding process.
Does Volusion Integrate with Intuit Quickbooks?
Yes, Volusion can be integrated with Quickbook's app. This integration streamlines the process of managing your online store's financial data.
Final Choice
I'd purchase 3dcart to create and run my online store. I think it's better than Volusion all-round, with perhaps design and ease of use being the one exception.
Bottom Line Summary: In terms of marketing, SEO, Security, POS, and Multi-currency selling – 3dcart is a better solution.
Further Reading :