Last Updated on January 16, 2023 by Ewen Finser
There really are an awful lot of email marketing platform out there. And what they claim to offer you for your business is always incredibly similar.
It can be easy to get confused, and even frustrated. Worst of all, there's a chance that you might start using completely the wrong email marketing tool for your organization.
It's not that it's a bad bad tool, but if you don't get it right at the start, it will make for a much more difficult project down the line when you realize that you need to change to an appropriate tool.
It's easy to get roped into the automation platforms that market themselves most aggressively, but it really is worth taking the time to dig a little deeper – you could be saving yourself a lot of time, money, and headaches later.
Here's my "conclusion" overview (up front):
Main Differences Between ActiveCampaign vs Drip
The main differences between ActiveCampaign vs Drip are:
ActiveCampaig has lots of sales CRM features, whereas Drip lacks most of these
ActiveCampaign offers built-in A/B testing (split testing), whereas Drip does not offer A/B testing (split testing) built-in
ActiveCampaign was started in 2003, whereas Drip was founded more recently in 2012
ActiveCampaign is generally less expensive at each pricing tier, whereas Drip offers more expensive subscription plans
ActiveCampaign SCALES
Take the best email automation and mix it with all the best parts of a CRM. Result: ActiveCampaign. While I call it a "lite CRM", AC is no lightweight. I've been with them for years and LOVE the endless integrations and expandability.
Try ActiveCampaign FIRST
We earn a commission if you click this link and make a purchase at no additional cost to you.
So which is better for email campaigns: ActiveCampaign vs Drip?
But how did I reach these verdicts? Continue reading for the full ActiveCampaign and Drip story…
What is Active Campaign? Say hi to ActiveCampaign
Active Campaign has been around for quite a while. Since 2003 to be exact. As tech companies who have been around that long go, they've been pretty subtle in their operations.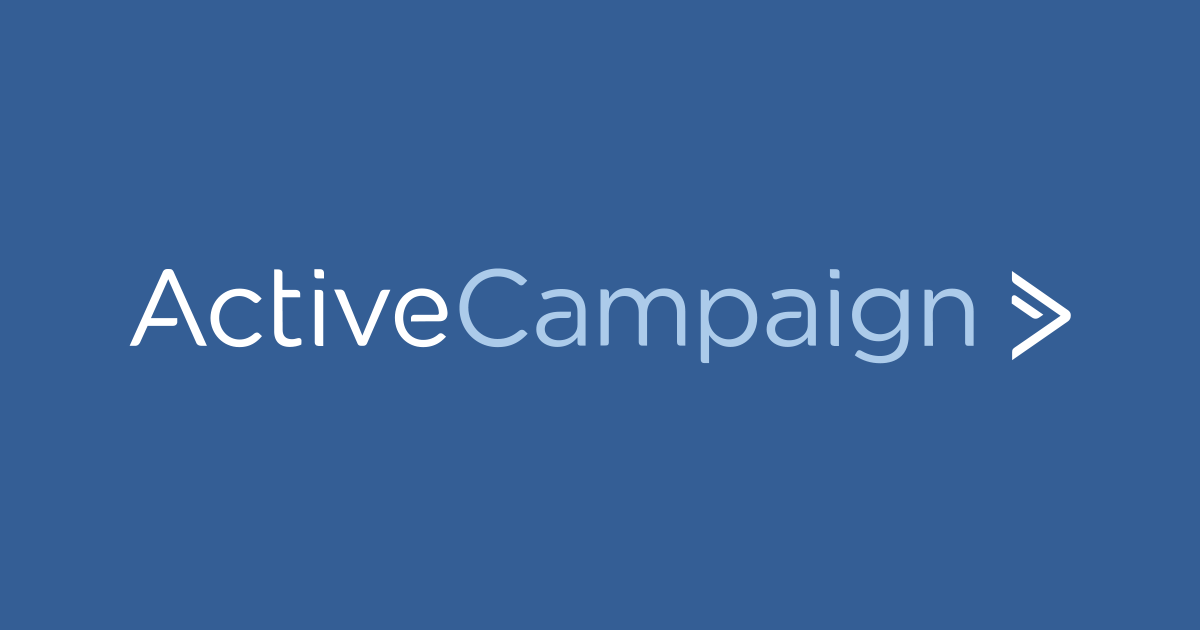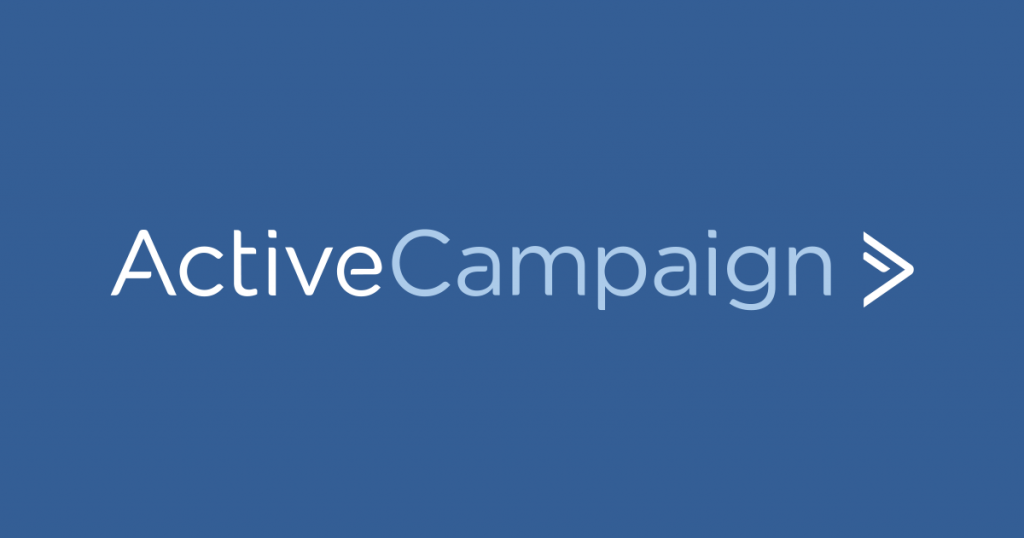 As a company, they've pretty much exploded in the past couple of years. They've expanded their office, twice; increased their userbase by 250%; and increased their number of employees by 160%. Those are some mighty fine numbers to be able to brag about!
More so than many of its competitors, ActiveCampaign seems aimed at e-commerce organizations or at least organizations who have an e-commerce aspect to their business.
Unfortunately, if that's something you're looking for your email marketing to do, you'll have to dig beneath the usual lines of every other email solutions company to find it.
ActiveCampaign have actually been on the go for quite some time, and it feels like they've been kind of tapping away in the background, getting things in order, before having an explosion of success and expansion in the past year as a marketing automation tool.
Say hi to Drip
Drip is 10 years younger than ActiveCampaign. It only started in 2013. It's a baby!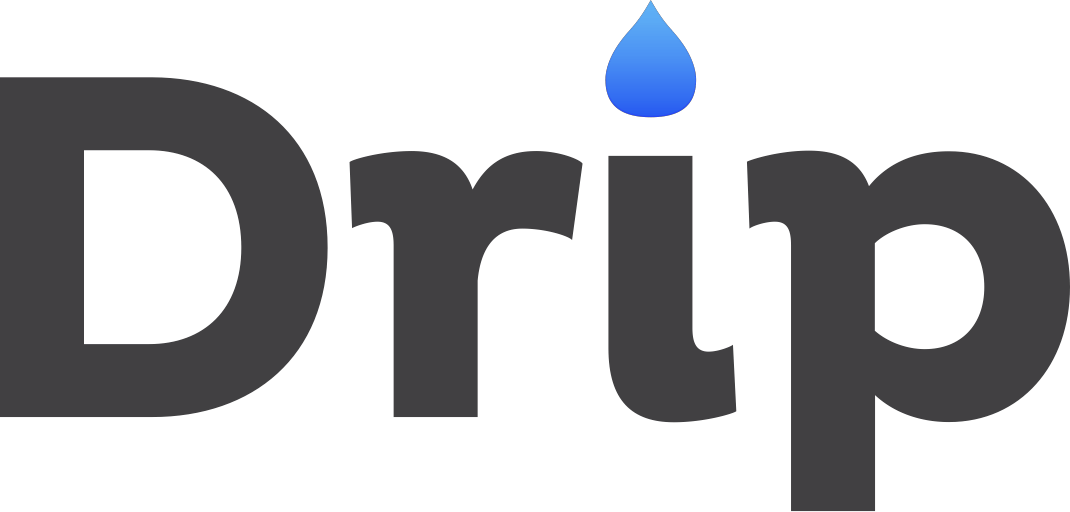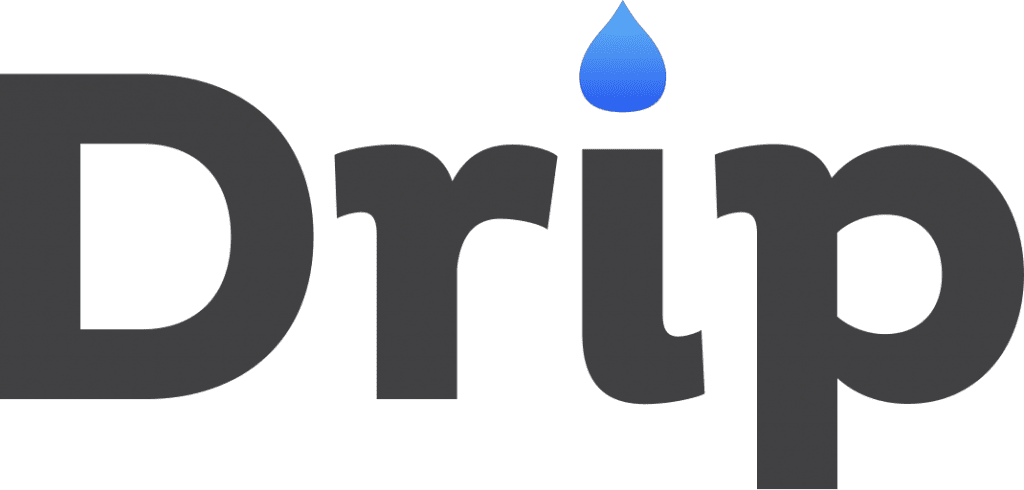 In case you're super-early into your research, the name of the business refers to a drip campaign, which is where a series of different emails are triggered to send to a user at various stages in the buyer journey (automation triggers).
You know when you've just looked at an item on Amazon, and then you get emails about it for weeks afterward? Drip campaign!
Then you buy the product, and receive a series of further emails: order confirmation, order dispatch notification, several requests to review the product you bought, and whatever else? Drip campaign!
Since launching they were experiencing double-digit annual growth, which is impressive stuff. It's so impressive, that in 2016, they were bought by Leadpages, one of the top landing page generators/landing page builders on the market (and added sending emails to their stack).
Marketing Automation Tool Pricing Options
Active Campaign
As you've probably seen throughout your research, email marketing solutions providers generally have a variable price: there isn't really a one size fits all automation solution. It makes sense: they can offer something to a range of budgets that way.
ActiveCampaign has four tiers on the go, that should cover the needs of most small business operations to larger enterprise companies with a lean mindset.
You can get an idea of how much it will cost through a handy tool on the right which you can adjust to the number of contacts you have, or aspire to have.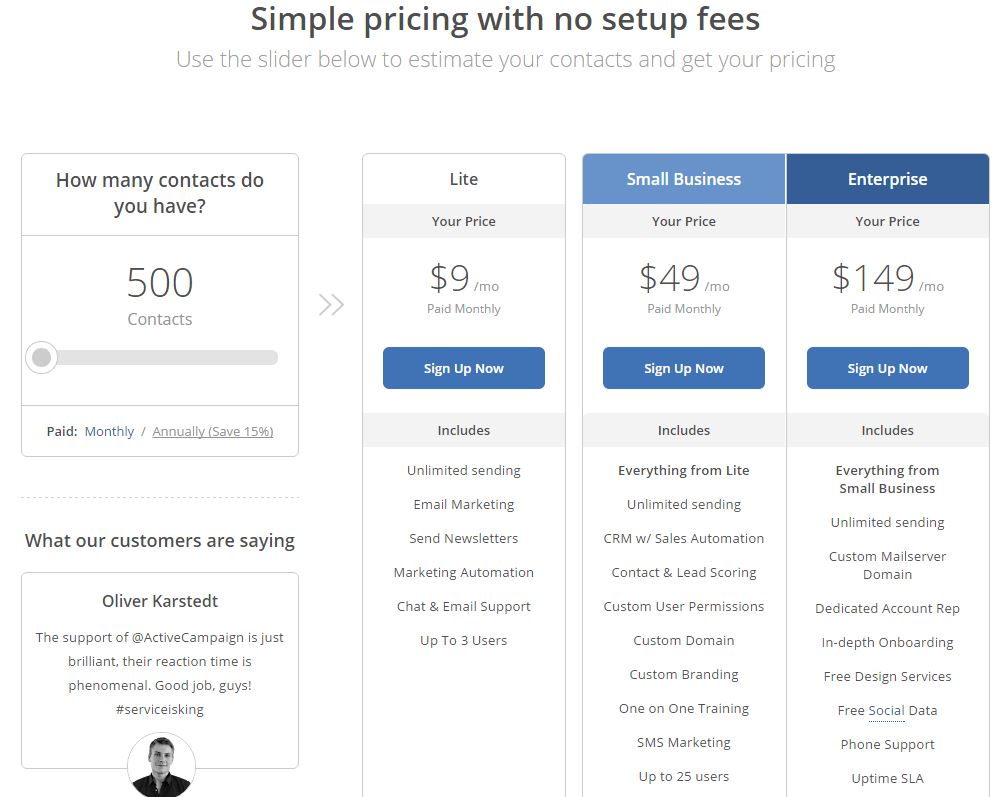 The cost will be adjusted based on the number of features you think you'll need. I think it can be tricky for those developing email marketing practices to actually determine which tier they need, strictly for email service (email marketing software).
Obviously, stuff like this is sales copy – it's meant to make you want it, all of it! I'd suggest going in at the lowest tier, finding your feet, then expanding on features as you have the capacity to do so.
With ActiveCampaign, the lowest possible option is a mere $9 per month, which will allow you to send emails to 500 contacts. The package is as basic as basic can be, but will definitely be sufficient to get a feel for the email marketing process.
Staying with 500 contacts, in order to keep our price jumps relative, the next is $49 per month, then $99 per month, and then $149 for the top-level Enterprise version.
All of these prices also come with a 15% discount if you're able to pay them annually. Personally, I think that's an attractive prospect for any business.
Drip Marketing Automation Software Pricing
Drip does things a little differently with its pricing structure. It only has two tiers: a free version and a paid version. Both of these tiers have the exact same features.
The only difference between the two is the number of contacts you're allowed to send emails to: the free version taps out at 100.
As ever though, the more contacts you have, the more dollars you'll be expected to part with. With Drip, that incremental aspect looks like this:
| | |
| --- | --- |
| 101 – 2,500 contacts | $41 per month |
| 2,501 – 5,000 contacts | $83 per month |
| 5,001 – 12,500 contacts | $124 per month |
Any of those email marketing service options come with two free months if you pay annually.
Going back to a slight dilemma that might face those looking to get started in email marketing: should you pay for how many subscribers are currently in your contact list (email list), or should you be ambitious, and pay for the amount you aspire to have?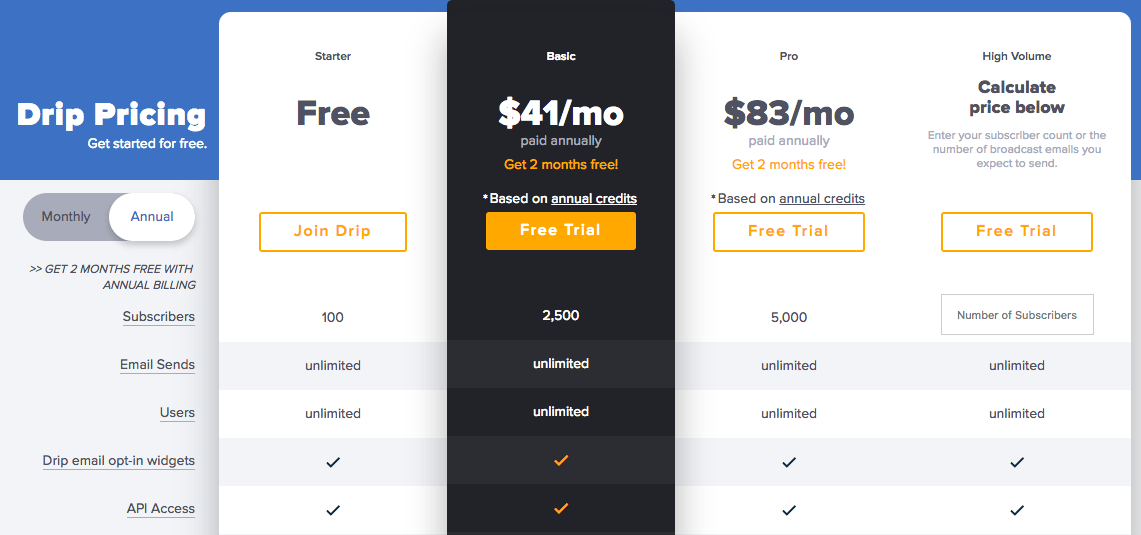 Personally, I think it makes sense to pay for what you currently have. Paying an additional $50 per month because of the number of contacts you aspire to have is fine if you can afford it, but realistically, I can't see many directors going for it!
Very few service providers will complain if you want to give them more cash to either upgrade to a higher tier, or to let you send to more subscribers.
With Drip, if your number of subscribers falls short of what you're paying for, they will provide you with credit, so you should get a few bucks off the following month's bill.
ActiveCampaign vs Drip Marketing Automation Features
ActiveCampaign App
As soon as you verify your email address with ActiveCampaign, you'll have a sufficient number of tools at your disposal to launch an email marketing campaign.
It'll be pretty limited in scope email marketing campaign automations, but it's enough to get the ball rolling, and give you a feel for how it all might work. This functionality is present right throughout all tiers.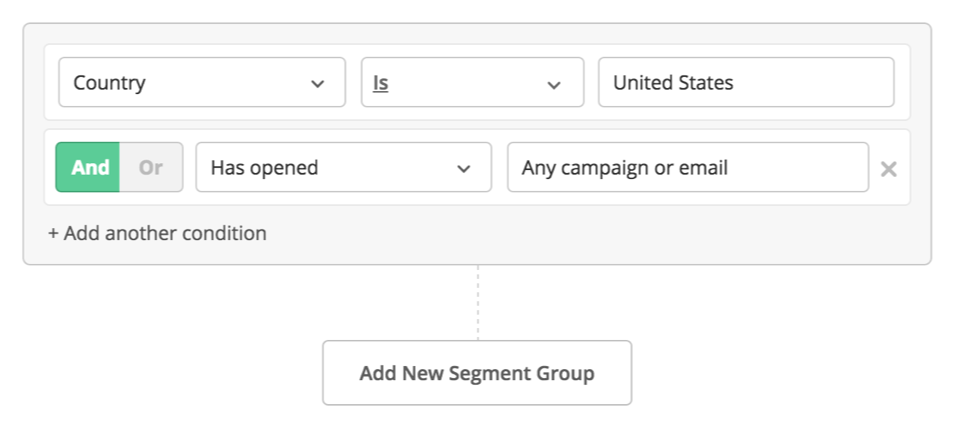 I feel like these starter features are also ideal for those taking their first step into email marketing. It covers the basics, and as long as you take the time and think about what you're doing, you'll find yourself sending out a perfectly professional looking email – nobody would be able to tell if you're a newbie!
So what is it that a newbie needs to get going? Well, firstly, you won't want to be hindered too much by coding, so the email template and drag-and-drop functionality of the email editor is useful for that. You also have an unlimited number of sends (unlimited emails), so if you have 500 contacts, you can email them as many times as you like.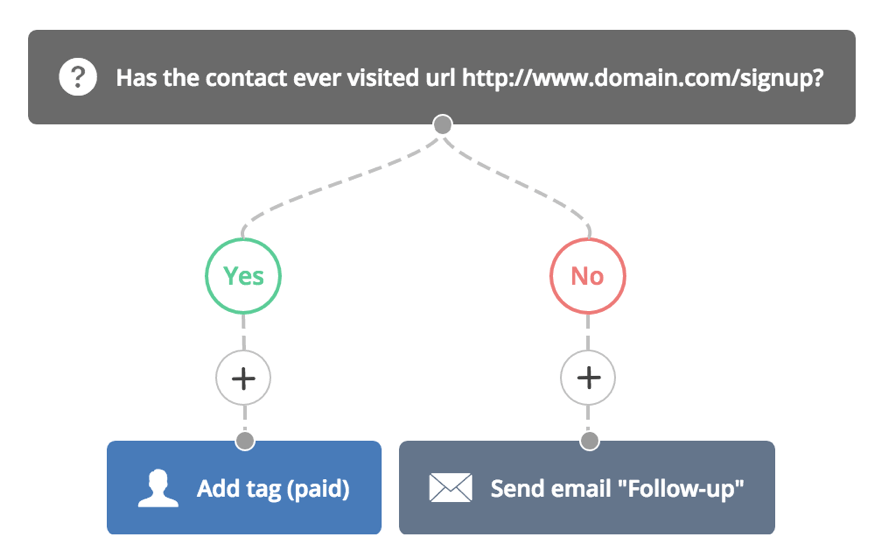 If you decide to stick with ActiveCampaign beyond the free trial and start giving them money, you'll have access to a design consultant. It's useful to know it's there, but at the same time, there are plenty of resources to find out how to optimize your marketing emails, which combined with the drag-and-drop functionality, means they shouldn't be too essential.
The main point on increasing tiers is integration with CRM tools. If your email marketing research to date has focused on actually just getting the emails out there, it worth keeping in mind how that function might work as seamlessly as possible with other aspects of digital business delivery.
Bottom line: ActiveCampaign has quite a nice email campaign learning curve with drag and drop simplicity, limiting the need to mess around with html email markups and complex logic.
Drip App
Drip have all kinds of cool-sounding things going on with the features they offer.
Front and center of the features they promote is their social media integration. That makes sense: social media is the sexiest of all marketing channels these days. There's a good chance that when you discuss marketing with somebody, it's the first thing you talk about.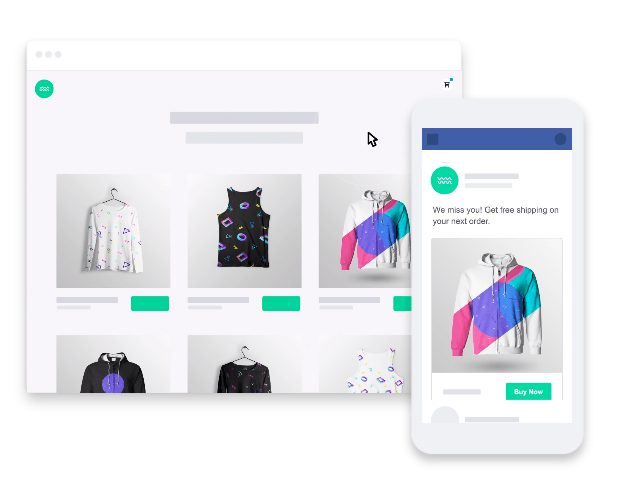 Drip actually integrates with your Facebook advertising, so you can have trigger linked relevant marketing emails to be sent relative to actions taken on your Facebook advertising. That's pretty slick.
Drip also generates automation workflows to help you work out the journey your users will take and again, what emails will be triggered when they undertake certain actions in the automated workflow.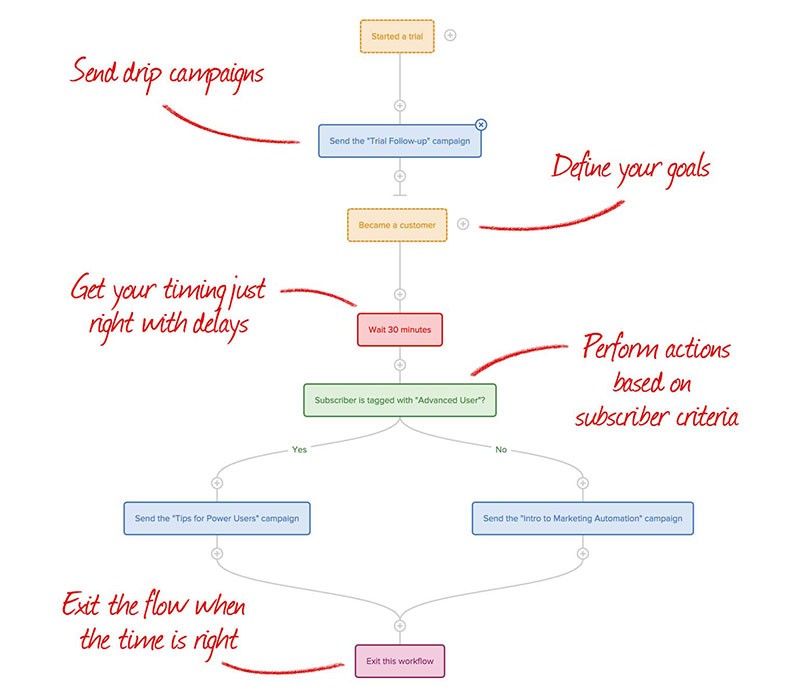 It really should do this, as that where they took the company name from! It's not something every company feels the need to do, but if you have a lot going on in terms of email marketing, it's certainly a useful and highly visual planning tool.
After that, Drip's main push is that it literally everything is automated (automated email), particularly I feel in terms of segregating your audience into appropriate actions that need to be taken to drive conversions. That's great, but don't feel like you're handing all control to the machines – you can still send whatever emails you feel the need to send manually too!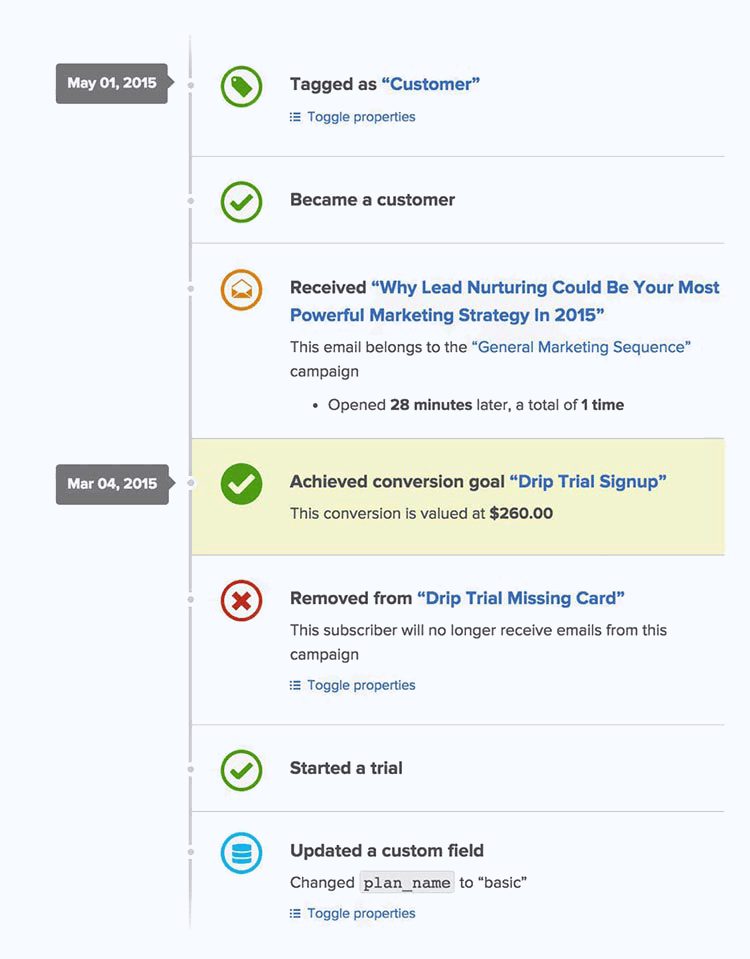 They also plug their CRM integration, and seem to have a good focus on measuring success. I'm a big fan of any product that provides a solid amount of analytics and data.
It's all very well undertaking marketing activities, but unless you know for certain if people are engaging with them, and how they're engaging with them… well, it's just nice to be 100% sure that you're not wasting your time.
One of my favorite touches is that you can send an email at a time relevant to your contact. So for example, you can schedule an email to go at 8pm regardless of time zone. That's very cool.
Usability
ActiveCampaign
ActiveCampaign comes completely without the cutesy friendliness of other email marketing platforms. This one gets straight down to business. I like it, but I do think other people would be put off by it.
I'm perfectly fine with all of that, because I've been doing email marketing for years, but total newbies might be less comfortable with it. I did feel that a least a minimal knowledge of email marketing would be beneficial to users. If you're a total newbie, I'd suggest maybe having Google on standby in another tab or window.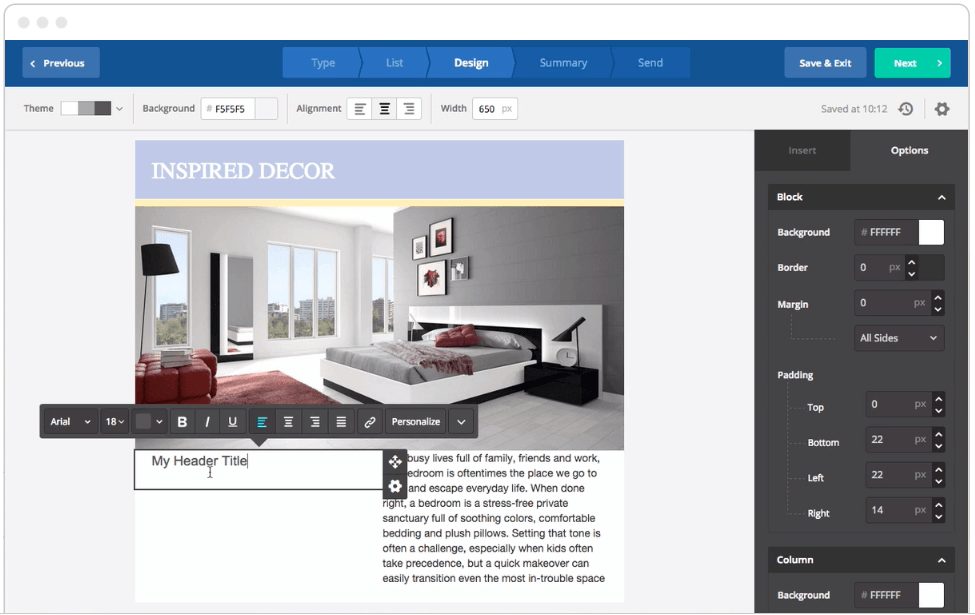 If you've ever dragged and dropped anything on a computer before, then you should manage creating an email with no problem.
Obviously, with a click you can switch to editing in HTML, which will certainly let you refine and customize what you're doing a little bit more with custom fields.
A cool feature in ActiveCampaign that I don't see in many such tools – and that's a shame, because it's incredibly useful – but you can export a list of people who have clicked specific links within your emails (so you can analyze click-through rates)
So, for example, if you send out an email with a bunch of different products, you can get the names and email address of which of your contacts clicked on that link.
I appreciate that sounds a little creepy and stalkerish, but, it means that you can follow up with some remarketing, targeting your comms at precisely those people.
I didn't have any need for ActiveCampaign's customer service and customer support, but anything I've read about them was positive.
Drip
Quite frankly, I don't feel like the usability of Drip would be well-suited to an email newbie looking to get started with smart looking email sequences.
On the other hand, certainly not somebody who refuses to get on board with the slightly more technical aspects of contemporary marketing – they do exist.
Firstly, when you head into their email editor, it's default setting is for HTML. There's no drag and drop builder feature here. I couldn't find any kind of templates either, which pretty much means that you're on you own. Newbies shouldn't write it off based on this though.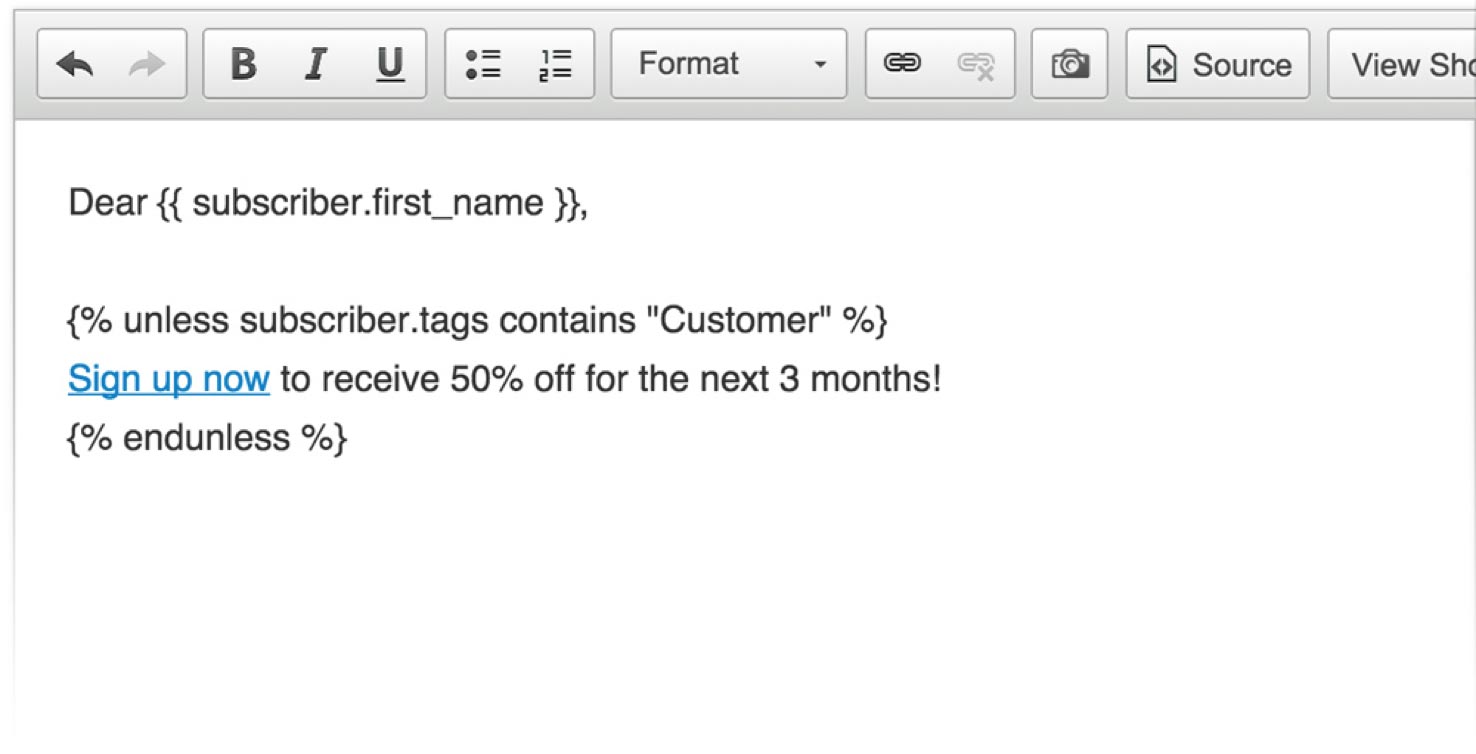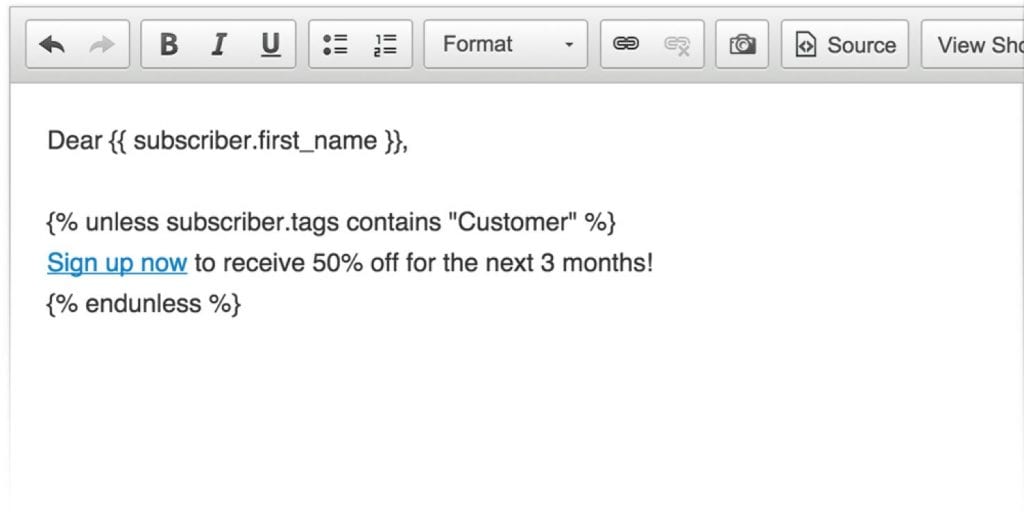 Quite frankly, if you've got some smarts, you'll be able to pick one of the hundreds of marketing emails that we receive all the time, and extract its HTML code, copying and pasting that into Drip, and editing it to your own business needs.
Apart from that, the rest of the features are very much focused on driving you e-commerce. I still feel that it's not quite as "ground-floor" as some email marketing solution offerings, and by that I mean, it doesn't feel very friendly for newbies, and those new to email marketing would need to be relatively knowledgeable in terminology to get their work done.


Each element of what Drip can do does come with an instructional video. These are useful, but I do feel a lot of people would prefer a step-by-step guide they can work through – either interactively as part of create a campaign or automation workflow, or as a page they can refer to as they go along.
As soon as you move off the free version of Drip, you'll be allowed to remove their branding. That really does seem to be the most prominent aspect of its functionality.
The Final Message about ActiveCampaign vs Drip?
ActiveCampaign
ActiveCampaign are relatively modest in marketing themselves, and when you start to look under the hood, you can't help but feel they might be selling themselves a little bit short. It's a package that really packs quite a punch! What true marketing automation platforms should have!

If sales is front and center of your organization, ActiveCampaign puts a lot of tools at your disposal to get the ball rolling on that. Perhaps this makes bulk email more of a sales channel than a marketing channel?
I'd also say that the analytical data it provides is only going to be useful if you allocate the relevant resources for somebody to take the time to interpret it, and make recommendations from them: oohing and aahing at the huge numbers is not what they're for.
Another final note is that there's an impressive list of third-party tools that ActiveCampaign integrates well with as a platform.
Drip
Like ActiveCampaign, Drip is quite squarely aimed at e-commerce marketing, and driving your organization's sales.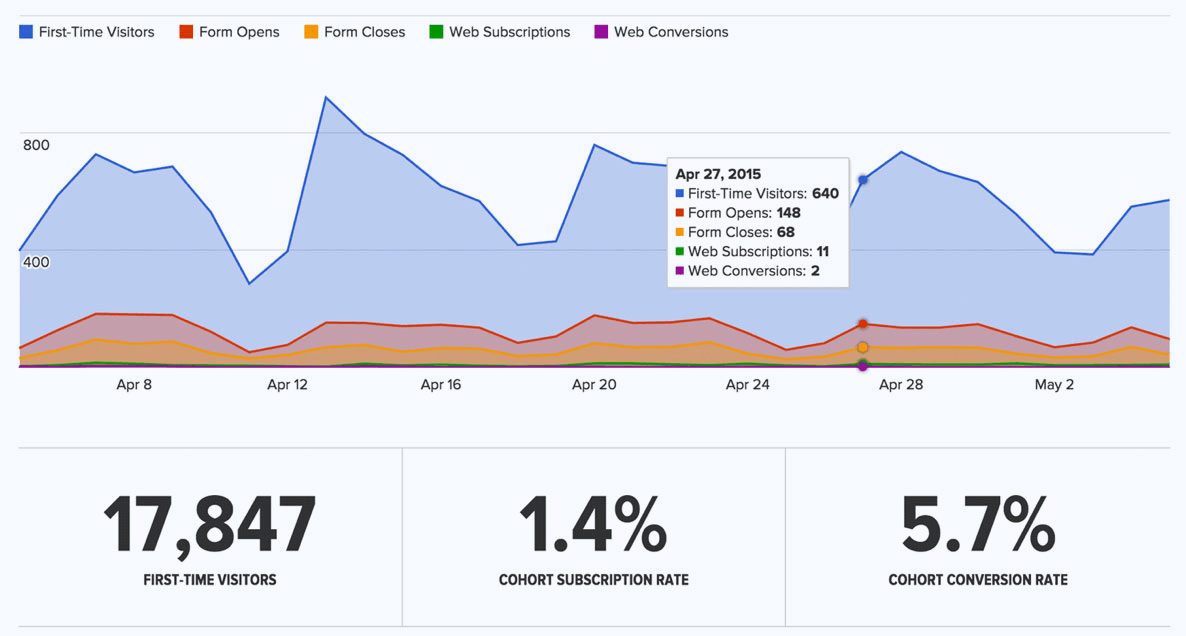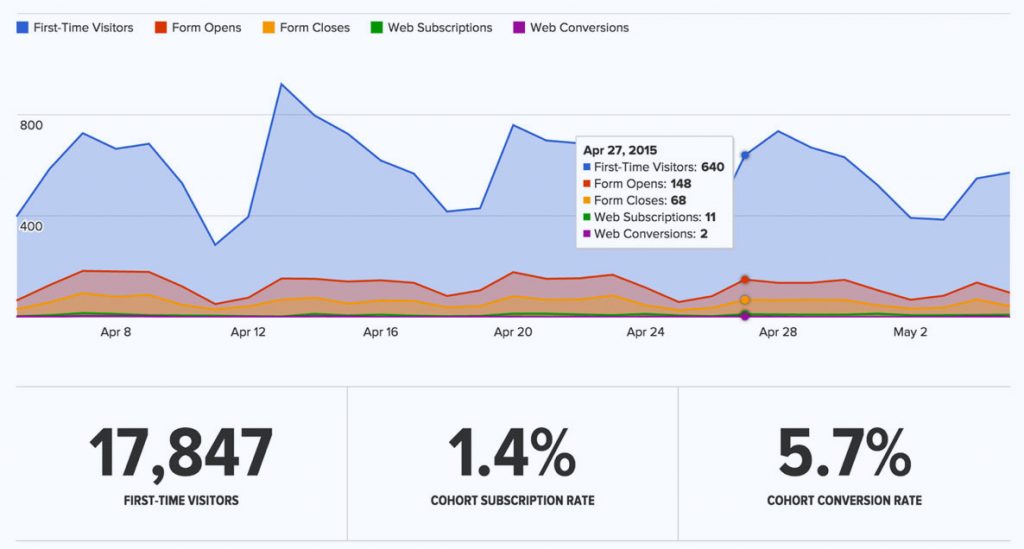 It's absolutely got all the features you'll need to get your email marketing going, but I feel like it's the integration of Facebook advertising with your email marketing campaigns that would be its real winner, and its real attraction to organizations. I'm generally a skeptic of social media advertising, but I could get on board with it being part of a wider digital marketing campaign.
Beyond that, it's all about automation, and I like its automation workflow builder (email campaign builder) function too.
ActiveCampaign
Drip
Pricing options
Three tiers, starting at $9 per month
Two tiers, starting at free; price increases are based solely on number of contacts
Features
– Standard email marketing functionality
– Unlimited sends at lowest tier
– Automation
– CRM integration
– Some branding features for your company
– Complimentary design service
– Dedicated account rep
– Integration with Facebook advertising
– Unlimited number of sends
– Automation
Usability
Straightforward, but prior digital marketing knowledge would be beneficial
Feels slightly techy and some familiarity with terminology would be useful
Conclusion
Good for salespeople
Good for salespeople
FAQs about ActiveCampaign vs Drip
Question: Will the ActiveCampaign Demo help me improve my marketing strategies?
Answer: Yes, ActiveCampaign Demo tutorials will indeed provide you with everything you need to know about improving your business strategy, the way emails should look so people would want to read them, you will find out how to reach customers successfully, and all about CRM automation.
Question: Does ActiveCampaign has good enough templates for emails?
Answer: Yes, ActiveCampaign offers more than 45,000 different templates that you can use to create successful campaigns and there are even free website templates, in case you need one.
Question: Does Drip integrate with Shopify?
Answer: Yes, Drip integrates with your Shopify store, which allows you to collect all type of data about your customer, and use it to create better campaigns in the future.
Question: Is Drip affordable software for marketing?
Answer: Drip is affordable if you have a small business and work with limited resources, so you can send around 2,000 emails per month for $40, if you run a bigger business, the budget might be a problem and it can go up to $1000 a month if you want to market to a larger crowd than 2,000.
Final Pick: Which is Better Between Drip and ActiveCampaign
ActiveCampaign SCALES
Take the best email automation and mix it with all the best parts of a CRM. Result: ActiveCampaign. While I call it a "lite CRM", AC is no lightweight. I've been with them for years and LOVE the endless integrations and expandability.
Try ActiveCampaign FIRST
We earn a commission if you click this link and make a purchase at no additional cost to you.
So what's the best email marketing platform?
I never really like to pick a winner when I'm comparing two products, but the similarities between these two are the most minimal, and I think what will work best for your company really will come down to personal preference and what you want from your email campaigns.
BOTH ActiveCampaign and Drip have plenty of API an Zapier integration options, including many of the popular opt-in forms and CTAs.
BOTH ActiveCampaign and Drip are solid options for mid-size business and small business owners looking for a lightweight marketing platform that will grow up WITH them.
In general, though:
For a Better Sales / Lead Scoring (lite CRM) Marketing Automation Experience, Split Testing, etc…

Go with ActiveCampaign Here

.
If you are an author / content blogger looking for a smooth visual user experience… Go with Drip Here.
Definitely make use of their free trials, and see what your email marketer takes to.
Further Reading on Email Marketing Tools