Last Updated on April 22, 2023 by Ewen Finser
In our post, we will take a look at several ThriveCart Reviews to give you a better idea of key product features, pros, and cons of the e-commerce platform.
Ok, I know the news surrounding ThriveCart shopping cart software might be confusing right now.
On one hand, the company reportedly claims it's still developing the cart platform and will make it available in the near future. But, on the other hand, it turns out there are several ThriveCart cart software reviews posted on the web by online merchants who claim they've used the solution already.

So, which is which? Is ThriveCart available or not? And most importantly, does this cart software come with any outstanding features that might help you boost your e-commerce business?
Well, the answer is both yes and no. ThriveCart membership platform is available, but only partly. After close to three years of development, only the pilot program version of this shopping cart solution is available.
Sadly, the main commercial version is yet to go live at full capacity. The company is currently working on the final tweaks, and they seem to be gearing up for the ultimate roll-out.
Now, don't get me wrong. Although ThriveCart is yet to run at full capacity, it has already made a significant impact on the market. One you've probably noticed by now.
If you've read our SamCart vs ThriveCart review, then you know that this is not one of those new e-commerce solutions that end up as write-offs after a few months on the market. ThriveCart means business and it's already challenging established shopping cart solutions, with SamCart being one of its principal competitors.
But, make no mistake. ThriveCart is not for every single online business. ThriveCart features have been engineered and optimized for specific types of users.
Well, if you're curious, it just so happens that we're among the few that have had the chance to try out the features. Some of our team members here at The Digital Merchant (including yours truly) have tested ThriveCart for months now while paying close attention to its e-commerce functionalities, lead conversion rate improvement capabilities, plus payment processing resources.
So, here's the truth, the whole truth, and nothing but the truth….
What is ThriveCart?
ThriveCart, to begin with, is a simplified shopping cart solution built for e-commerce businesses that intend to speed up their conversion processes.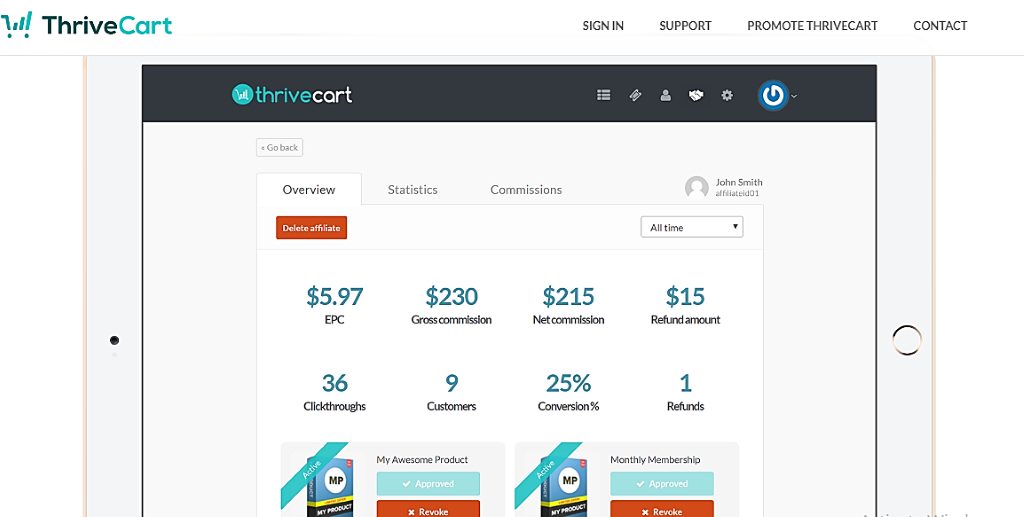 As you've probably guessed already, ThriveCart hasn't been around for long. It was launched in 2016 and has since released several versions, with each new update providing better functionalities.
This has consequently seen it grow progressively in just 3 years, to become one of the most outstanding shopping cart solutions on the market.
So far, many ThriveCart reviews have praised the software for its high-converting online sales page builder, as well as its ability to integrate various payment processors, autoresponders, email marketing systems, plus a host of other eCommerce software and third-party platforms.
It doesn't stop there. ThriveCart goes ahead and facilitates order fulfillment, affiliate program, omnichannel selling, plus much more. You can use it for physical products, digital items (digital products), services, and subscription programs.
That sounds good. But what does it offer when it comes to the actual selling process?
Well, for starters, you can leverage the ThriveCart feature set for building checkout pages that are capable of swiftly converting web visitors into customers. The platform provides a range of pre-designed templates to help you out, along with a simplified editing window.
Yes, that's right. It doesn't take much to customize your checkout pages via ThriveCart. You can go ahead and configure various options without any coding experience.
That said, ThriveCart also allows its users to enrich their sales pages further through bumps (bump offer), down-sells, and upsells. In the end, therefore, it's possible to achieve a solid conversion funnel (sales funnel) without any technical knowledge.
Ok, fair enough. But, what types of users does ThriveCart target with these features? And how does it even work?
ThriveCart Reviews – Who Should Consider Using This Shopping Cart?
From our numerous tests, we've concluded that ThriveCart's features are best suited for:
Online digital marketing agencies that manage campaigns for other businesses.
Subscription or membership-based businesses that offer recurrent physical or digital products or programs.
Creatives that deal with digital products like audio files, ebooks, online courses, etc.
Typical online sellers offering physical products that require shipping in the end.
Online-based consultants.
Typical e-commerce entrepreneurs.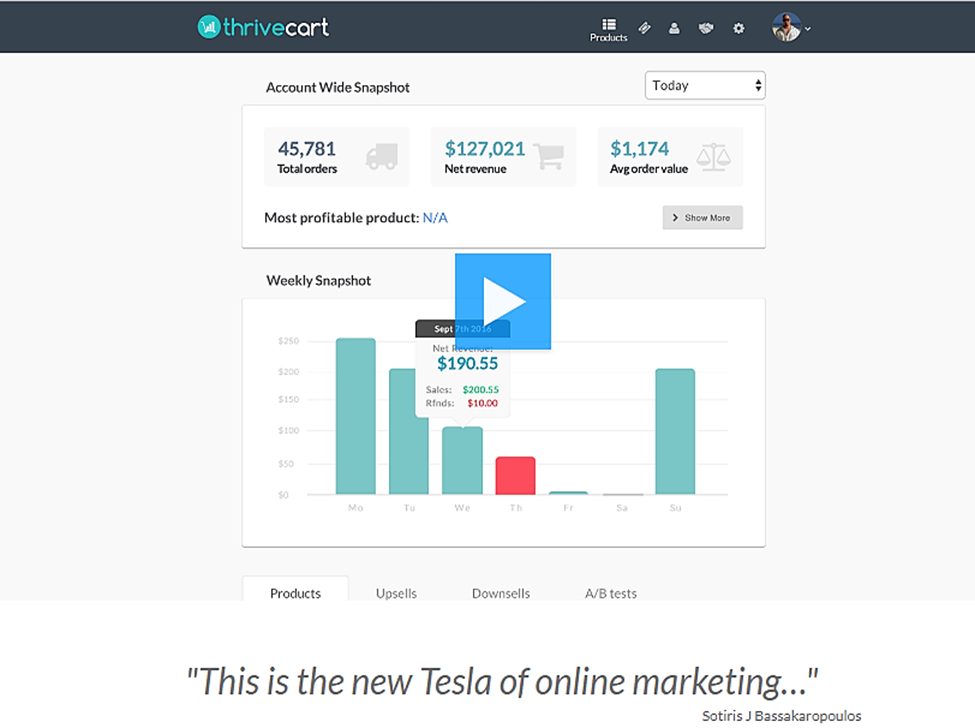 Now hang on a minute. Don't those qualities describe pretty much all the online businesses?
Well, it might seem so, but they actually don't. Not every single e-commerce business type fits these ThriveCart user profiles.
Take large enterprises, for instance. Notice we've left them out of the list?
In fact, your business doesn't have to be that expansive to be disqualified. ThriveCart is essentially not ideal for anyone whose online store deals with numerous types of products. You'd, instead, be much better off with fully-fledged e-commerce like WooCommerce or Shopify (check out their reviews here).
Another group of people that that can forget about using ThriveCart is merchants based in countries that are not supported by either PayPal, Apple Pay, Google Pay, Authorize.net or Stripe. You won't be able to sell anything via the shopping cart platform if you can't process funds through one of these payment gateways.
Fortunately, however, only a small crowd of online merchants fit that description. Combined, the number of countries supported by the payment processors exceeds 150. And that translates to a large pool of possible users.
But, how good is ThriveCart really?
Let's find out by exploring its main features…
ThriveCart Main Product Features
Conversion Templates
ThriveCart tries to make your job less cumbersome by providing a set of what it calls "high-converting templates".
Ok, they are templates all right, but are they really high-converting?
Well, I don't know about other sellers, but I've been able to use ThriveCart's pre-designed templates to boost my conversion rates. So, the answer is yes. I believe ThriveCart is right about their potential.
Once you start using them, you'll notice that ThriveCart's developers have taken their time to assess various conversion variables, and subsequently use the information to optimize their templates.
Both checkout and cart templates, for instance, are basically designed to interact intuitively with customers while converting them. They come with neat layouts that can adapt automatically to different surfing devices without compromising the user experience.
All in all, there's a decent variety of templates here. The numbers are too few for my liking though. I'd prefer a much more extensive collection of templates to work with.
But then again, I guess we can let that slide at this time, considering ThriveCart is barely three years old. At least its developers are persistently adding new templates to the default collection. So, you should be able to find yourself an ideal one based on the type of sales funnel you're trying to set up.
Now, when it comes to customization, ThriveCart provides an easy-to-use editing interface that works well with all the templates. In essence, it provides various options for tweaking your template's overall layout appearance plus the accompanying page content.
The good thing about the whole customization process is its all-round simplicity. You don't need any coding or design experience to make major edits. Expect an easy time finding your way around, as well as customizing various layout elements.
Well, as far as flexibility is concerned, I'd give ThriveCart's editor a three-star rating. It's capable of handling the basic tweaks that a typical merchant would need, and that's all. That means you won't be getting advanced editing capabilities here.
In all fairness, however, at least there's a noble reason why. You see, advanced options would ultimately complicate things for ThriveCart users. Remember the fundamental goal here is to keep everything simple for just about anyone.
Embeddable Cart Pages and Popup Checkout
Interestingly, it turns out ThriveCart is not entirely code-free.
But, that's no reason to be alarmed because you won't be writing lines of code. Not at all.
ThriveCart will only throw some code your way if you need to embed its checkout pages onto your website. Yes, that's right- you don't have to host your conversion pages on its platform.
ThriveCart is flexible enough to spread its checkout pages to other hosting platforms. The ThriveCart integration is made possible through a special code generated by ThriveCart for each page.
Therefore, you just need to can paste it onto your site's backend and voila! You can then proceed to convert leads straight from, say your WordPress website.
That's not all though. It just so happens that in addition to regular checkout pages, ThriveCart allows you to embed what it calls a "pop-up checkout cart".
Unlike the former, this one appears as a button on your site, which pops up to reveal a shopping cart immediately customers click on it.
Boosting Sales
The conversion process doesn't always have to be linear. That's way too boring and it limits your business growth potential.
So, guess what?
ThriveCart takes the whole process up a notch by providing tools for dynamic conversion. In other words, the platform gives you the chance to make the best out of every single sales opportunity.
Consider its upselling tool, for instance. With it, you should be able to convince customers to spend more by purchasing other products. The trick is to offer additional items that complement the primary product a customer is interested in.
If you've used Amazon before, then you must have seen a perfect example of an upsell offer. Amazon is particularly fond of offering "related" products that go well with stuff you want to purchase.
And that's pretty much the concept here. ThriveCart comes with a one-click upsell tool that gives you the option of specifying various product pairings. And as a result, you can expect to increase your average income per customer.
That sounds like a solid plan. But then again, let's face it. When you come to think of it, I guess you'll acknowledge that upsell offers may not work well for all customers.
The modern breed of online shoppers is not that simple. They are already used to such extras. So, chances are, quite a number might reject your upsell offers.
But get this. There's hope in the form of down-sell offers. ThriveCart seemingly anticipated this problem and chose to include down-sell tools that can help you adjust the offers accordingly.
Well, in essence, down-sell is pretty similar to upsell. The only difference is, down-sell makes the deal sweeter by providing discounts to customers who reject their upsell offers. That alone should increase the rate of positive responses.
Now, closely related to that is yet another feature on ThriveCart called "bump offer". It basically helps you throw in additional products and services to your customers' cart, right before they complete their order.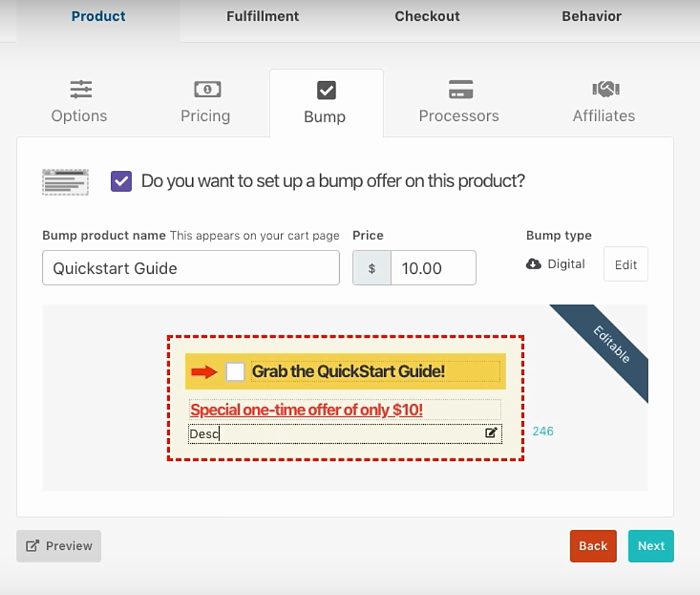 For the best possible results, you should take advantage of products that excellently complement each other. And while you're at it, ensure the bump orders (bump offer) are significantly cheaper than the main purchase.
If a customer is buying a shoe, for instance, you might want to add polish as the bump order. And since it would be substantially cheaper than the core purchase, you can bet customers wouldn't mind spending a little more.
Automatic Follow-Up Messages
Considering the current average cart abandonment rate is well above 70%, you can expect to lose some of your prospects mid-way through the conversion process, even when you've built a solid sales funnel. And yes, in case you're wondering, this also affects pages that heavily employ advanced strategies like upsells as well as discount offers.
Fortunately, while it's advisable to brace yourself beforehand, ThriveCart doesn't want you to just sit around and do nothing as a fraction of your shoppers abandon their shoping carts. It gives you the power to hunt them down through automatic follow-up messages, to compel them to resume shopping from where they previously left off.
But get this. The auto-follow-up messages don't always have to be about abandoned carts. ThriveCart is flexible enough to accommodate a variety of sales scenarios. In fact, it gives you the option of specifying the customer actions you'd want as message triggers.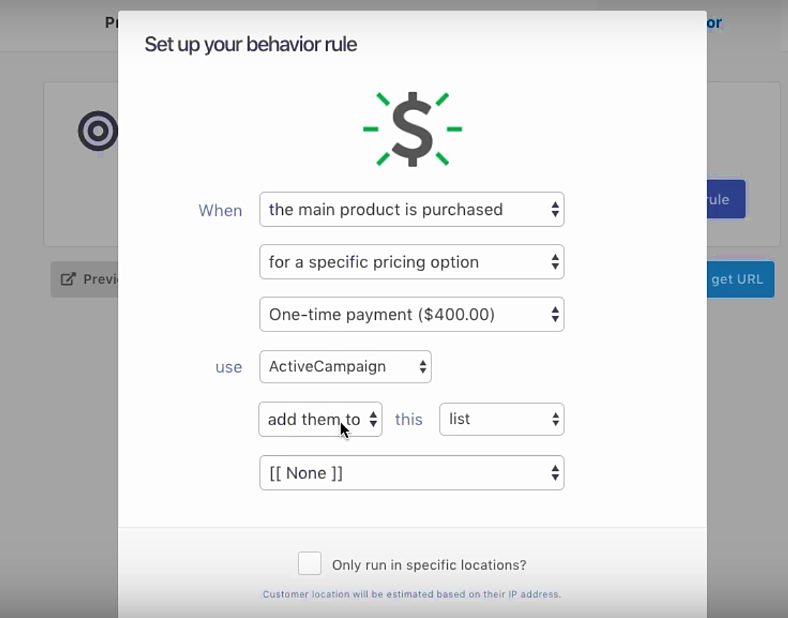 That means you can also include automatic messages for thanking customers after a successful purchase, as well as updating them regarding their order status.
A/B Testing and Split Testing
Although the templates here claim to be high-converting, the fact of the matter is, they don't guarantee anything. What has worked for other online stores before might not necessarily produce the same results with your target market?
In the end, it all comes down to how well your conversion funnel is aligned with your leads' needs. This is where things get complicated because their needs might not be that obvious. Figuring out precisely what your site visitors prefer and the sales techniques they respond best to requires a strategic approach.
And that's exactly where ThriveCart's A/B testing feature comes in. It allows you to run tests on varying sales pages to identify what works best for your target market. This simple approach should take you much less time compared to collating demographic insights over a long period of time.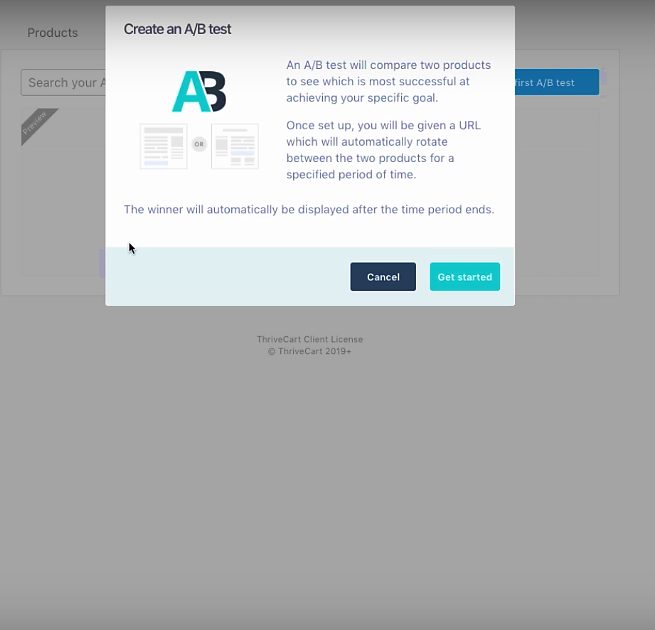 But how do you apply it?
Well, if you've done A/B testing before, the framework on ThriveCart is not that different compared to other platforms. The fundamental goal here is to assess the performance of different pages based on your customers' actions.
Then to help you get comprehensive results, ThriveCart's A/B testing doesn't restrict itself to sales pages. It goes beyond checkout pages to facilitate even cart page tests.
Now, the process itself begins by creating a duplicate page. You can do this by hovering over any product page and selecting "clone".
Then on the duplicate page, you can proceed to tweak the parameters you'd like to test. Thinkific allows you to configure various elements, including the page layout and content.
But, hold your horses at this stage. Instead of making drastic changes, be patient and start with the slightest adjustments. You can systematically introduce additional edits on the subsequent tests. This structured approach helps users find out how every single change affects their page's overall performance.
Now back to the procedure. After a couple of edits, you should click "save" and then go back to your product page, from where you can initiate the A/B split test.
Ultimately, ThriveCart will generate a link to your split pages, which you can paste on different parts of your site for live testing. And that's all it takes.
Online Payments
With ThriveCart, there are several ways to accept payments for your product sales. So far, the platform has developed integrations with Apple Pay, Stripe, PayPal, Google Pay, and Authorize.net.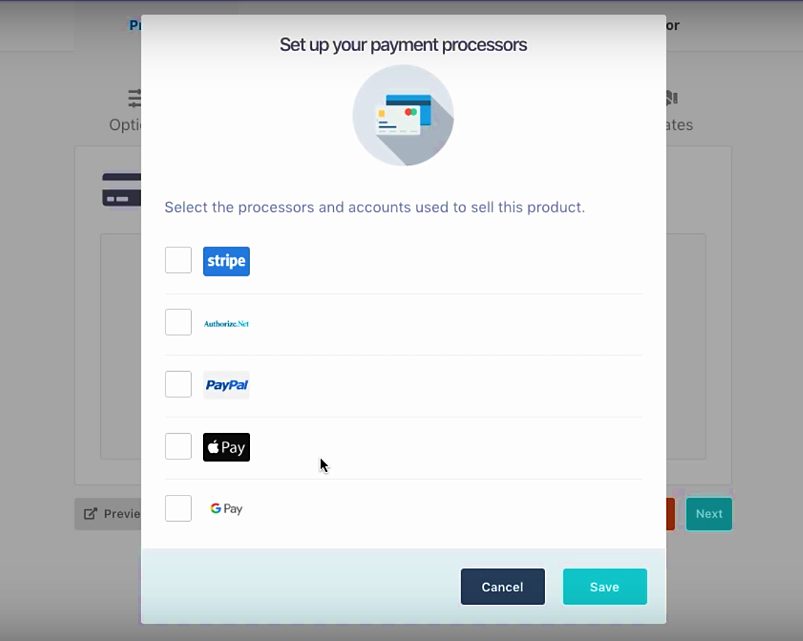 Well, I admit that 5 might seem like a very limited number of options. But, on closer scrutiny, you'll notice that all 5 of them happen to be some of the most established online payment processors in the world.
PayPal, for instance, is available in more than 200 different regions across the globe, and it supports over 25 currencies. Stripe, on the other hand, can be leveraged in 24 countries, while Google Pay is available in about 28 countries.
That should cover pretty much all the major e-commerce merchant zones in the world. Almost every single interested seller is bound to find a payment gateway that supports merchant accounts from their country.
But, whichever option you settle for, you should be able to process all the major global credit and debit cards. I'm talking about Visa, MasterCard, Capital One, and the likes.
PayPal is particularly handy because it remains to be the most popular online payment platform. Plus, it works well with ThriveCart's one-click down-sell and upsells systems.
But then again, it loses out to Stripe when it comes to Bitcoin payments. While most of the dominant online payment processors shun cryptocurrencies, Stripe is widely renowned as a reliable gateway for Bitcoin transfers.
However, and rather surprisingly, cryptocurrencies are not supported on ThriveCart. So, you can only use Stripe to handle the standard currencies.
On a brighter note though, at least ThriveCart is currently working on additional integrations with payment processors that support direct bank transfers. Therefore, it won't be long before you get the privilege to bypass online merchant accounts.
But, make no mistake about ThriveCart's payment capabilities. Although it doesn't support cryptocurrencies and direct bank transfers yet, the platform has so far managed to develop a dynamically flexible payment framework.
In other words, ThriveCart comes with a range of payment modes you can free adapt along with a compatible gateway solution.
In terms of currencies, for instance, ThriveCart supports up to 17 of the most popular ones and counting. You can go ahead and sell in dollars, euros, pounds, etc.
And speaking of which, your products are not necessarily restricted to a single price. ThriveCart allows you to provide your customers with multiple pricing options.
I guess that should come in handy when you're running a subscription-based business. In that case, you can also rely on ThriveCart to bill your customers when renewals are due. The whole thing depends on how you set up your store's billing frequency.
It's also worth noting that ThriveCart gives you the option of providing your customers with both paid plus free package trials (free trial). Then after the trial periods lapse, you can trust the system to handle the subsequent billing process for you, thanks to ThriveCart's auto-billing capabilities
Now, combined, all these payment features win ThriveCart crucial points against its competitors. It's one of few user-friendly shopping cart solutions that offer such an extensive array of payment tools.
And the best part is, they don't interfere with the platform's overall simplicity. Each option has been well laid out on ThriveCart's interface to help you configure your payment structure with ease and get the checkout system up and running in no time.
Affiliate Programs
ThriveCart gives you the power to drive your product sales further by leveraging affiliate marketers. The good thing about such an approach is its reliability in generating warm leads, plus the fact that payments are based on commissions.
Well, ThriveCart allows you to control that and many other options through its affiliate management center. In fact, this is where all the magic happens- from creating affiliate programs to tracking and managing affiliate marketers.
Although it comes with a simplified layout, ThriveCart doesn't restrict your capabilities. You can go ahead and build a robust affiliate system, as well as tweak the accompanying parameters to suit your preferred recruitment and payment structures.
When you need to customize your commission system, for instance, ThriveCart grants you a set of flexible options for adjusting the payment frequency, as well as the modes of affiliate commissions.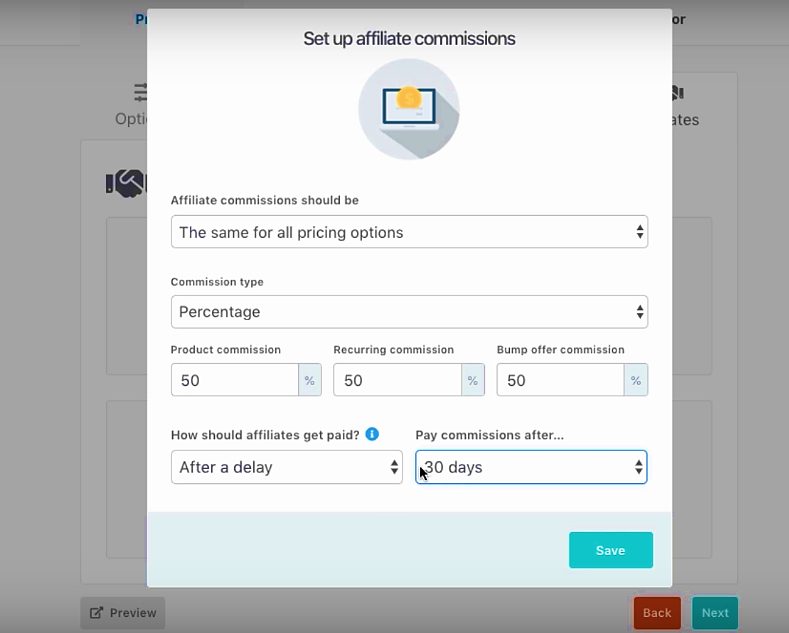 You could settle for either a fixed commission fee or a reasonable percentage rate of the product sale price. Otherwise, it's also possible to proceed with special rates for individual affiliate partners.
ThriveCart Integrations
So far, ThriveCart has managed to build integrations with a wide range of third-party e-commerce apps (including Zapier integration). Here are their respective categories:
ThriveCart Payment Gateway/Processor Integrations
Authorize .net
Google Pay
Apple Pay
Stripe
PayPal
ThriveCart Email App Integrations
GetResponse
Infusionsoft
MailChimp
Ontraport
Drip
CovertKit
ActiveCampaign
AWeber
ThriveCart Membership-Based App Integrations
WPEP Content Sales Engine
OptimizeMember
ProductDyno
EverLesson
Membersonic
MemberPress
Teachable
MemberMouse
Digital Access Pass
Wishlist Member
Paid Memberships Pro
Thinkific
Kajabi
ThriveCart Pricing & Discounts
So far, users have been able to access the ThriveCart platform after paying a one-time payment fee of $595. And with that, ThriveCart grants a Thrivecart lifetime license, which essentially translates to uninterrupted usage privileges forever (e.g. lifetime license = lifetime access). This is the stand-out ThriveCart feature that separates it from the competition.
ThriveCart Discount Note: If you use our link here, you can save additional off of a lifetime license (affiliate link).
Sounds like a pretty good deal to me. Imagine leveraging such a powerful shopping cart solution for decades without adding a dime to the initial payment. Of course, that makes ThriveCart far cheaper than its closest competitors, including SamCart.
In all fairness, however, it's only a matter of time before the status quo changes. From the look of things so far, I bet ThriveCart will be shifting to a subscription-based pricing model once the entire platform is operational. So, until then, we can only guess what this shopping cart platform is bound to charge its new users in the near future.
Some of the ThriveCart Pro features you can expect to accompany the upcoming pricing plans include:
Video shopping carts
Unlimited shopping carts
Subscription management
Digital sales tax calculation
Retargeting
Automatic receipts
Predicted sales
Modal cart
Membership integration
Two-step cart
2-factor authentication
Detailed stats
Customer hub
Coupon code functionality
Autoresponder integrations
Webhooks
Affiliate center (Affiliate Platform with affiliate link generation built-in)
A/b testing
Funnel builder
Embeddable cart
1-click upsells
1-click bump offer
Facebook pixel tracking
Conclusion – ThriveCart Reviews Pros and Cons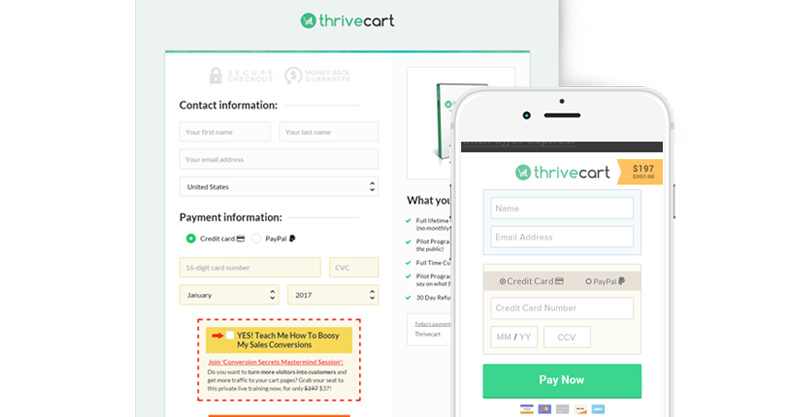 ThriveCart Marketing Automation Pros
The one-off pricing system (lifetime access) makes ThriveCart an affordable service, especially when you compare it with alternative shopping cart solutions that charge a monthly fee or subscription rates.
ThriveCart has a vibrant community forum plus a great customer support system (ThriveCart Support).
It comes with a flexible affiliate management centre.
The membership site integrations allow you to set up high-converting pages for selling subscription programs.
ThriveCart supports a host of email autoresponder integrations that come in handy for e-mail marketing conversions.
You get to easily create and run A/B split tests for assessing the relative performance of various checkout and cart page configurations.
You can increase your sales volume through upsell offers, down-sell offers, and bump offers.
ThriveCart's central dashboard provides detailed insights into your sales performance and customer purchase history.
It doesn't take much to customize and apply a digital product sales tax system.
ThriveCart's checkout process and cart pages can adapt automatically to all types of access devices- including mobile phones and tablets.
The default platform comes with a host of pre-designed high-converting templates for checkout and cart pages (checkout template). Every single one of them provides basic customization options.
ThriveCart has a simplified interface that's built to help even novices get their pages up and running in just a few minutes.
You can use either PayPal, Stripe, Authorize.net, Google Pay, or Apple Pay to accept payment plans
ThriveCart is capable of sending custom auto-follow-up messages based on specific customer actions. The rules here are set by users.
You can take advantage of coupons and discounts to win over customers.
ThriveCart offers an unlimited number of carts.
ThriveCart generates codes for embedding its sales pages onto other platforms.
ThriveCart Marketing Automation Cons
Although the interface is simple, it's not as intuitive as some of ThriveCart's competitors.
ThriveCart doesn't offer advanced drag-and-drop customization capabilities. So, you won't be able to edit your page elements extensively.
ThriveCart only provides a limited number of checkout and cart page templates.
The company is yet to roll out the main version of the platform at full capacity.
I actually have a whole article dedicating to the top ThriveCart competitors, but here's a few at a glance to consider:
Frequently Asked Questions
And there you have it, ladies and gentlemen. A detailed and unbiased review of the current ThriveCart platform.
One point you should note, though, is that we're yet to see the ultimate beast in action with lifetime access. But, thankfully, it's only a matter of time until ThriveCart starts running at full capacity.
And going by the exciting ThriveCart features we've sampled so far, we can already predict that ThriveCart is bound to be one heck of a shopping cart solution. I wonder how the likes of SamCart will cope over the long haul. Cheaper prices maybe? Or perhaps they'll try improving their functionalities?
Whichever the case, the competition here is about to escalate to a whole new level. And that, over time, should translate to lower prices and improves features for us.
What do you think overall? Does ThriveCart have what it takes to outshine its competitors? Looking for other options here are some related articles you may be interested in: