Last Updated on July 24, 2022 by Ewen Finser
Are you interested in creating online content? Do you want to start an online blog or newsletter for your business or just for personal use? Are you on the hunt for the right platform to do this on?
If so, you're in the right place. Here we're comparing two popular options: Substack vs WordPress, so that hopefully, by the end of this review, you'll have the info you need to make the right choice for your needs.
Let's get started.
The Bottom Line Upfront
You've probably heard of WordPress if you've already done some research. WordPress is one of the most widely used online content management platforms, with over 43.3% of websites using it.
Admittedly, Substack isn't as known in the online content management sphere. Still, this is changing, with over 24.57 million visits generated in September 2021 alone. Not to mention, Google searches for Substack increased by 1900% over the last two years.
When it comes to website creation, WordPress offers users lots of flexibility. However, suppose you don't have any coding smarts. In that case, you'll need to rely on integrations to extend the functionality of your site. WordPress is suitable for all kinds of online content creators, including:
Bloggers

Podcasters

Small businesses

Individuals

Online stores

Membership sites

Online course creators

Those running a marketplace
In contrast, Substack is perfect for those who want to get stuck in writing a simple blog/newsletter and potentially make a bit of money from it. It's not a website builder. It's most suitable for:
Beginners

Bloggers

Podcasters

Finance and Investing writers

Food writers
WordPress vs Substack: Their Key Differences and Similarities
If you just want a quick comparison of WordPress and Substack's key similarities and differences, we've got you covered:
The Main Similarities Between WordPress vs Substack
Both platforms enable you to post content and communicate with followers.

Both come with free plans.

Both come with built-in SEO features.

Both allow you to export and download your data to use elsewhere.

Both provide analytics on subscribers, content views, and traffic.
Main Differences Between WordPress vs Substack
The Main Differences Between WordPress vs Substack are:
WordPress is a fully-fledged website builder, whereas Substack isn't.

Substack is easier to use, whereas WordPress has a steeper learning curve.

You get more control with WordPress as you can choose your own web host and have complete ownership over your account, whereas Substack is a fully hosted platform, so you're somewhat beholden to their whims.

Substack is designed explicitly for newsletters and independent writers and podcasters looking to publish content, whereas WordPress is suitable for all manner of use cases – including larger businesses and enterprises looking to launch full-scale websites.

It's easier to monetize your newsletter with Substack and set up a simple subscription service, whereas WordPress requires you to install plugins and/or write your own code.

WordPress has a more feature-rich text editor, giving you more control over how to format your blog posts, whereas Substack is more basic.

WordPress's primary focus is on presenting content on your website, whereas Substack content is primarily meant to be read in your readers' email inbox.
About Substack
At the time of writing, Substack has over 500,000 paying subscribers. So it's safe to say it's fast becoming a popular option for those wanting to write online content and send email newsletters.
To save confusion, let's clarify what Substack means by "newsletters." It's effectively the same as a blogging platform but with built-in email newsletter features. For example, you can automatically notify subscribers when you post new content and charge subscribers a recurring subscription to access your posts.
Not only this, but Substack allows you to publish podcasts. So, if you're more of a talker than a writer, this platform could also provide the means to monetize your podcasts.
It's also worth noting that Substack is a fully hosted tool, so you don't have the hassle of securing your own web hosting. This is one of the many reasons why Substack is super simple for those getting started or new to blogging/podcasting. You have everything you need to focus on content creation rather than the technical stuff.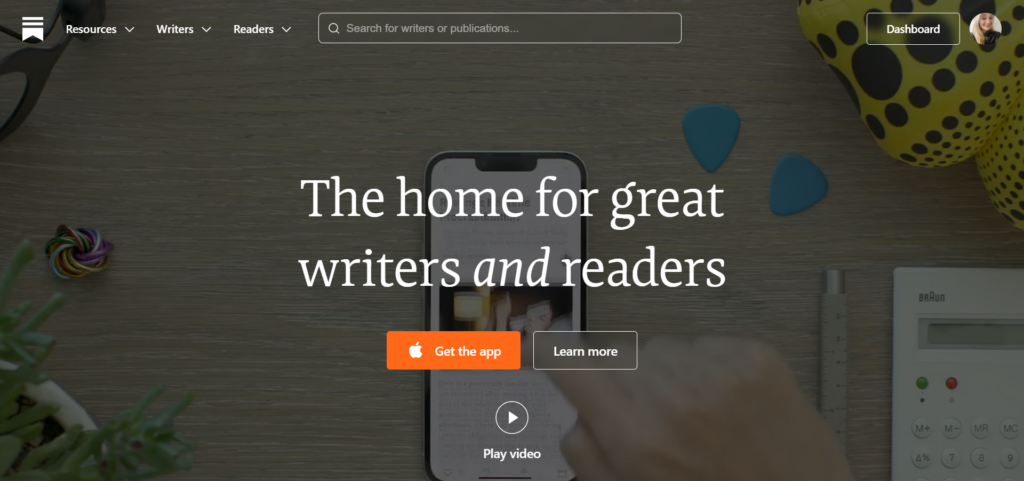 About WordPress
70 million posts each month are posted using WordPress, making it, unsurprisingly, a dominant force in the online content management world. Unlike Substack, WordPress is a complete website builder and a content management platform. With the right extensions (or coding know-how), WordPress enables you to do everything Substack does – and so much more! For instance, with WordPress, you can also create an online shop, forums, membership areas, sell online courses, etc.
But, before going any further, we need to clarify something: In this guide, we're looking at WordPress.org instead of WordPress.com. The main difference is that WordPress.org is a free, open-source framework. As such, users have to find their own hosting provider. In contrast, WordPress.com is a fully-hosted website building platform.
You don't need any coding knowledge to build your website or create an online store- some may help if you have concrete designs and/or features in mind. Still, for basic functionality, you don't need experience. For example, WordPress's website builder allows you to play with various fonts, styles, extensions, etc. In addition, you have full ownership and total control over your website – the same can't be said of hosted platforms like Substack.
However, as WordPress is an open-source framework, you'll have to source your own web hosting, domain name and handle your own website security.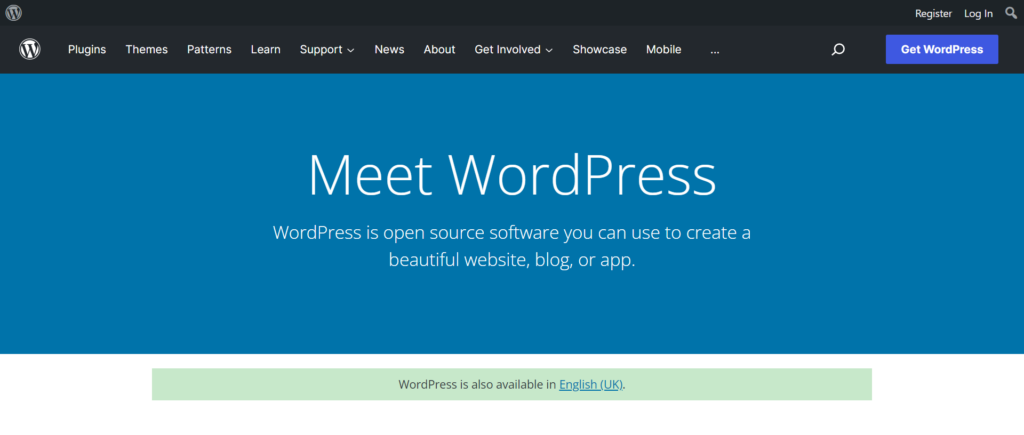 WordPress vs Substack: Ease of Use
Winner: Substack
In terms of ease of use, Substack is a clear winner, as all you need to do is create an account and start writing or recording a podcast. WordPress, on the other hand, is a bit more complex. So let's break this down a little more.
Substack
Substack is incredibly intuitive. You just register for an account and enter some basic information to get started. Then, you can import mailing lists from MailChimp, Patreon, and other sources if you already have an audience.
Content creation is just as straightforward. To create a post, you simply follow these steps:
Go to your dashboard and click 'New Post.'

Use the editor to add your content.

Select who your post is for, i.e., an audience segment, delivery method (email, blog, etc.), and set a publish date.

Then, when you're ready, hit 'Publish.'
However, with Substack, there's not much in the way of customization. That said, you have a few options in terms of fonts and colors.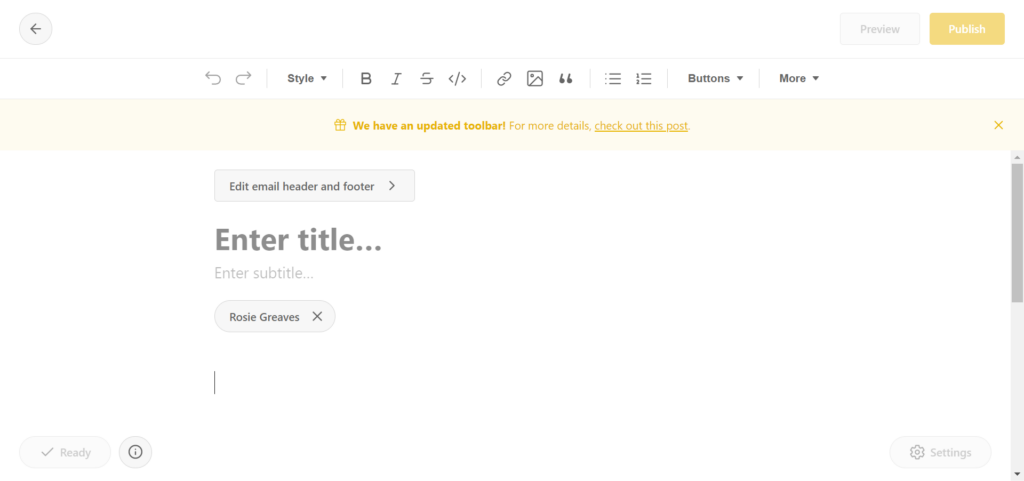 WordPress
In contrast, getting started with WordPress is much more involved – users need to:
Purchase their own web hosting

Purchase a domain name

Install WordPress onto your web hosting

Install any desired WordPress plugins. At this point, it's worth noting that if you want to mimic Substack's functionality, you'll need to download a newsletter plugin like Newsletter Glue. You'll also need a membership plugin

such as MemberPress, Restrict Content Pro, or s2Members. These enable you to restrict access to certain content to specific members and charge members a recurring membership fee or a one-off fee to access gated content.
WordPress is suitable for expert coders and beginners alike. Experts have access to WordPress's source code, enabling them to flex their coding skills. In contrast, beginners can use the drag-and-drop website builder to create their web pages. This makes it easy to include media and create your own page layouts without any coding experience.
Also, when it comes to laying your web design's groundwork, there are literally thousands of customizable themes (both free and paid-for). However, the average premium theme costs around $77, so if you're on a tight budget, a free theme might be a better choice.
WordPress vs Substack: Features
Winner: WordPress
By far, WordPress offers more features and greater scope for expert content creators. That said, let's break down the key features these two online content management platforms provide:
Substack's Core Features
As we've already hinted, if you want a platform with lots of fancy features, Substack isn't for you. That said, it does come with the following functionality:
You can add a custom domain: Substack allows users to connect a custom domain for a one-time $50 fee.
Access to valuable metrics: Substack offers useful metrics to help you better understand what your audience is doing with your content. For example, they provide in-depth statistics on things like:
Your longest subscribed readers

Which paid subscribers open the most emails

Subscribers who signed up via a social media post

Which subscribers shared and commented on your newsletters the most

Which subscribers are getting close to their subscription expiry date
And much more…
A simple text editor: In theory, Substack's simplistic text editor encourages you to focus more on your content than getting distracted with tons of options and customizations. However, the text editor does offer the following:
Underline, bold, italic text

Embeds

You can hyperlink text

Headers

Add lines such as underscores, page breaks, etc

You can insert pictures

You can add quotes

Create lists with numbers or bullet points
You can then choose who's allowed to view your content. Then, when you're happy, you just click 'publish.' It's very straightforward.
You can monetize your content:

You don't have to charge a cent for readers to access your content. Alternatively, you can request that subscribers pay a fee to access gated content. If this is something you're interested in, please note that you'll have to charge a minimum of $5 per month or $30 annually.

Data portability:

Substack makes it really easy to download your content. Simply go to the Settings page, and find 'Export Your Data .'From here, you can download your Substack data to your computer. Additionally, your newsletter email subscriber lists are stored in CSV format, making it easy to migrate subscribers to other email services.

Podcast creation:

Substack's podcast platform allows you to include relevant multimedia materials, including images, bonus audio, video content, and text. You can also build relationships with listeners via email campaigns and conversing in the comments section and community threads.

Share your content:

You can share your newsletters and podcasts via email, the Substack app, your substack page, or via RSS feed.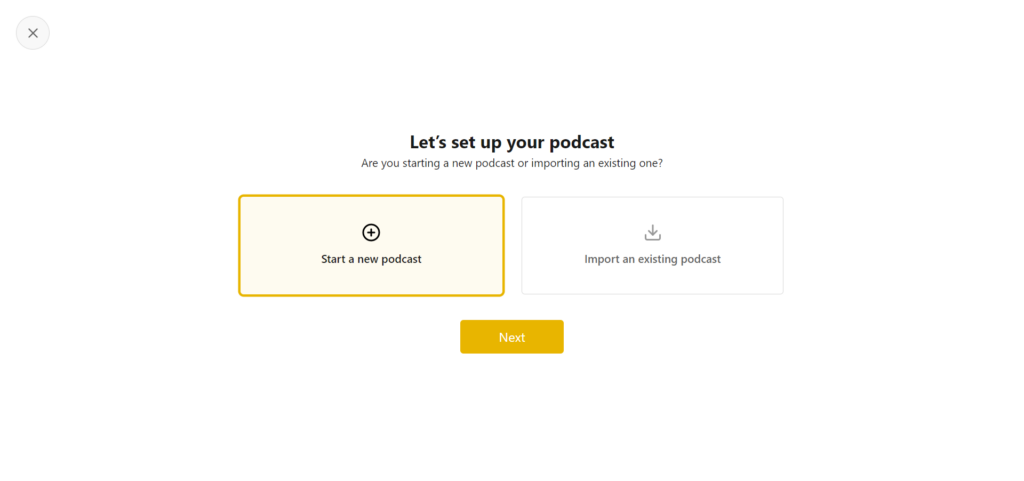 WordPress Features
WordPress has tons of in-built features and thousands of plugins that you can download and use to enhance the platform's functionality. As this is the case, below isn't an exhaustive list. That said, for those seeking minimalism and simplicity, WordPress may not be for you; however, it by no means excludes beginners.
Publishing tools: WordPress allows you to publish blog posts and entire web pages with just a few clicks of a button. To this end, it also has tons of publishing tools, including:
You can create drafts of your pages and posts.

You can schedule content.

You can track and view post revisions.

You can set your content to public or private and secure posts and pages with passwords.

Formatting pages and posts are straightforward- the same goes for inserting media.
…The list continues!
Media management:

WordPress's drag-and-drop image uploader makes importing images to add to your website a breeze. You can also add alt text and captions to your images and create galleries.

WordPress's plugin directory:

We've mentioned WordPress plugins many times already, and for a good reason. To add extra functionality to your site, WordPress plugins are the easiest way to achieve this. There are thousands to choose from, covering near-on every functionality. When you click on a plugin you're interested in, this populates information about the plugin, including price, user reviews, number of installations, when it was last updated, etc.
For example, you might want to download a plugin if you want to achieve the following:
Complex gallery of images

Forums

Social media widgets

Social networking

Forms

Spam protection
…and much, much, more.
Built-in user search:

The latest version of WordPress comes with a search box that allows users to search your site for specific content.

Automatic typesetting:

Unlike many CMSs that leave apostrophes, en dashes, and quotes as text in your code, WordPress automatically translates your characters to be HTML compatible.

Multi-site activation:

You can develop and maintain a network of sites from one WordPress installation.

Permissions and teams:

You can define different roles and permissions for those accessing your website's backend. I.e., you decide what content they can publish and what content they can access.

Search engine optimized:

WordPress is an excellent choice if SEO is essential to you. You get automatic site indexing; you can add metadata and insert image alt text. Plus, there are hundreds of SEO plugins you can add to help boost your SEO game. For instance, Yoast, Slim SEO, and many more.

Built-in comments sections:

This enables readers to comment on your content. But, you can still moderate these comments from your WordPress dashboard. I.e., approve, delete, and reply to comments. You can also choose to block specific IPs, names, or email addresses from commenting if they have proven troublesome in the past.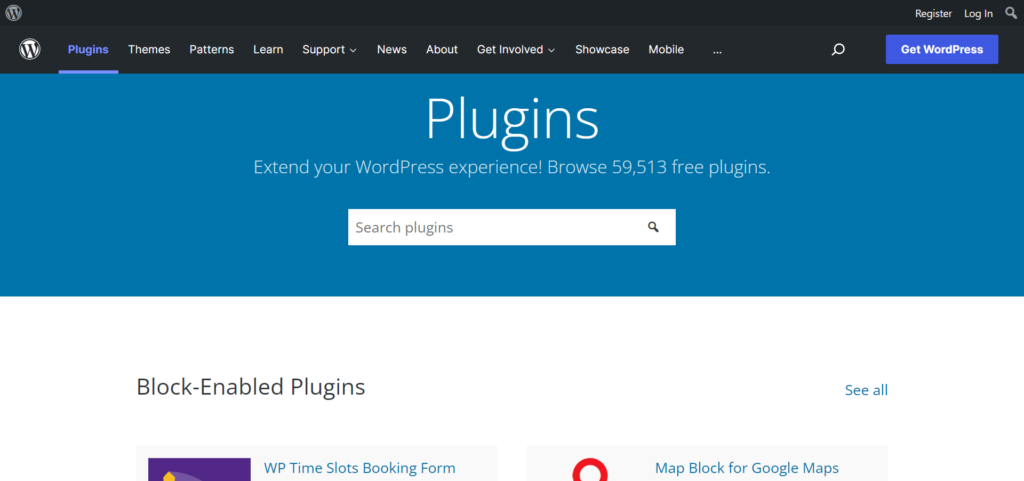 WordPress Developer Features
We thought it also necessary to briefly discuss some of WordPress's developer features. Needless to say, you'll need some web development experience to make the most out of the following:
Plugin system:

Don't see a plugin to suit your needs? Create your own! With WordPress API, you can create plugins to extend WordPress functionality.

Theme system:

For those wanting to stretch their programming capabilities, you can rejig the coding of your WordPress theme. You can do so by adding a few lines of code or creating your own custom post types, metadata, taxonomies, etc. Alternatively, you can create and use an entire theme from scratch!

Application framework:

If you want to build an application, WordPress provides you with the tools you need to create an app that includes user management, URL routing, translations, HTTP requests, etc.
WordPress vs Substack: Customer Support
When things go wrong, it's good to know you'll receive a helping hand. That said, let's take a peek at what WordPress and Substack offer in terms of customer support:
WordPress
Since WordPress.org is a free, open-source framework, you don't benefit from the same support you get with WordPress.com. For instance, there's no live chat, email, or phone number you can call if you run into trouble.
Instead, you can post your question in WordPress's community forum and hope someone replies. That said, the WordPress community is well-renowned for its dedication and knowledge, so there's a good chance you'll get an answer to your question.
However, if your issue is with a plugin or a specific WordPress template, many developers offer ways to contact them (however, you sometimes have to pay extra for the privilege!). On top of that, WordPress users benefit from tons of online tutorials, workshops, and courses. Not to mention a comprehensive support page with documentation on all of WordPress.org's features.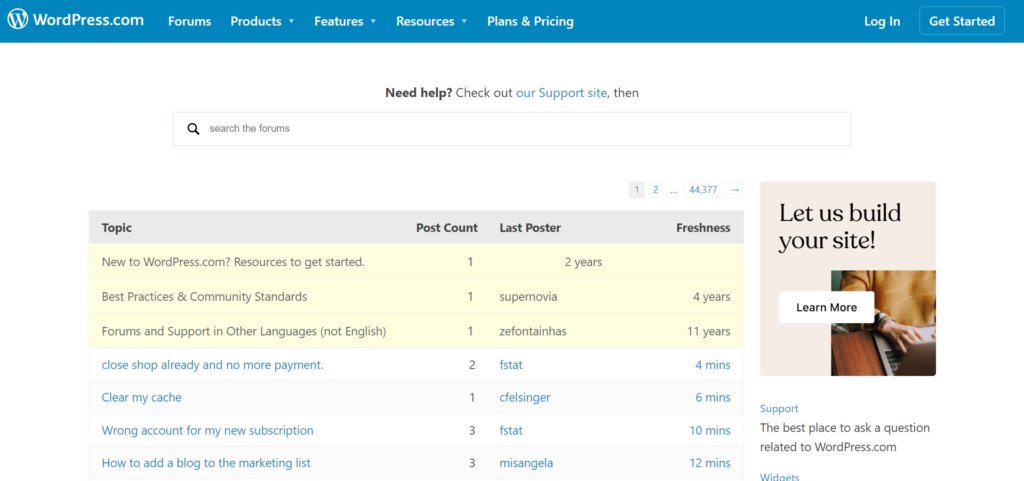 Substack
With Substack, it's a lot easier to contact their team via email and/or their ticketing service. Alternatively, suppose you prefer to go the self-help route. In that case, you'll find plenty of guides and resources on their online help center, an FAQs page, and a community forum where you can ask questions.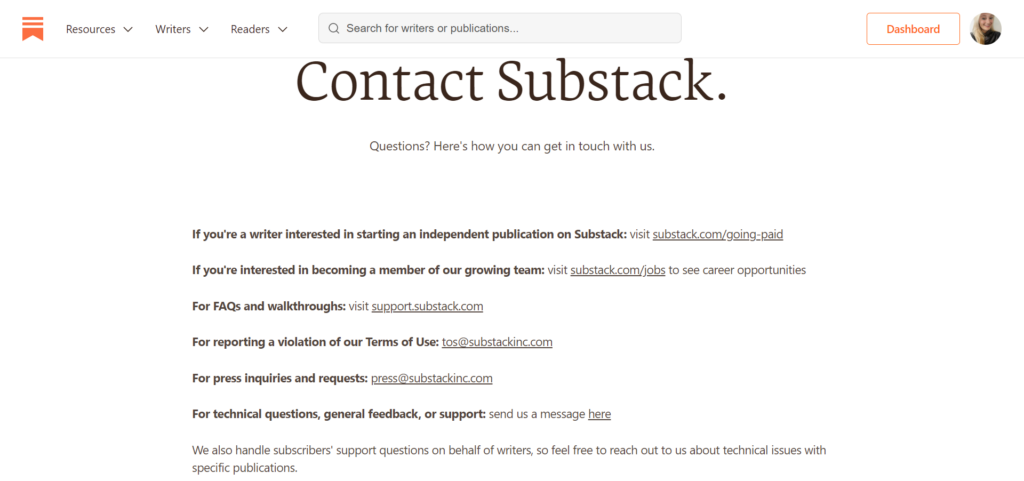 WordPress vs Substack: Pricing
Substack and WordPress's pricing is very different; let's take a closer look:
Substack
You can sign up to Substack for free and start creating content. With this, you can publish as much free content as you want, but you won't be able to earn anything with this account.
However, if you want to start earning money, you need to sell memberships. Substack will take a 10% cut off every membership, and membership starts from $5 per month. In addition to this, you'll need to pay their payment processor, Stripe, a fee of 2.9% or $0.30 per transaction.
WordPress
As we've already said, WordPress.org is free to download and use. However, there are a few associated costs. Most notably:
Web hosting:

You can get cheap, shared hosting for just $2.95 a month with a service like Bluehost. This is basic hosting for when you're just getting started. However, as your platform grows, you may want to upgrade to a better service. In which case, expect to pay around $30+ per month. Kinsta is one example of a popular managed WordPress hosting.

Domain name:

The average domain

costs between $10 and $20 a year.

(however, prices for domain names can fluctuate wildly). Top tip: Many web hosts provide domain names for free for your first year, so be on the lookout for deals!

Security:

More advanced, managed hosting often includes security features like daily automatic backups, staging grounds, and servers defended from attacks. This is why you might want to invest more than $25 per month into hosting. Alternatively, you can look to install security plugins. For instance, JetPack, developed by WordPress, offers additional security features in its pro version starting from $9.95 a month.

Plugins:

There are thousands of free plugins available in WordPress's plugin directory, but the more advanced tools often warrant additional investment. Popular choices include Yoast SEO for $99 per year, adding forms with WPforms costs $79 per year, and a fancier web page builder like Elementor might set you back $49 per year. There are plugins for every price range available, so plan the features you need ahead of time and budget accordingly.

Themes:

While there are plenty of free WordPress themes, you might want to splurge on something with extra features and/or boasting more stand-out design. The

average price for a premium theme

is $57.54, but prices can vary greatly.
The Pros and Cons of Substack
As we begin to bring this comparison review to a close, let's quickly look at some of Substack's pros and cons:
Pros:
It's easy to use

: Substack is nothing short of intuitive. Its drag-and-drop newsletter interface

makes it easy to add images and audio files. As this is the case, creating a professional-looking blog post can take moments.

It's

beginner-friendly:

You don't need any website building or coding experience. The only thing you need to concentrate on is writing good content and appealing to readers enough to convince them to subscribe.

Substack's suitable for writers and podcasters:

whether you're a writer or a spokesperson, Substack provides the means to express yourself through newsletters (blogs) or podcasts.

Data portability:

Anything you create on Substack is yours. So, you can

export your content

and use it elsewhere.

Access to

metrics

:

On your Substack dashboard, there are three pages:

Posts, Subscribers, and Stats.

Here, you'll find metrics on each page, providing insights into your subscribers, click rates, traffic, etc.
Cons:
There's a minimum subscription fee:

You don't have complete control over your rates if you want to start monetizing your content. There's a minimum charge of $5 per month – subscribers can't pay less than that.

Substack doesn't come with plugins or integrations.

Not a website builder:

This isn't necessarily a con, as for some, the hassle of building a website isn't wanted. If that's you, ignore this point. However, for those wanting more control and customization, Substack might feel quite limiting.
The Pros and Cons of WordPress
Now, let's turn our attention to WordPress's pros and cons:
Pros:
WordPress's plugin directory is extensive:

There are literally thousands of plugins, free and paid, to choose from.

Flexibility:

You can design any website you want precisely how you want, from a personal blog to a business website, to an online portfolio, to establishing an online community…the world's your oyster.

WordPress suits various skill sets:

Although WordPress can be a bit of a minefield for beginners to get their heads around, it offers simpler functionalities for novices. While, at the same time, offering ample opportunities for expert website developers.

Better SEO:

With WordPress, you can finetune your SEO strategy by optimizing your meta titles and descriptions, writing clean URLs, tags, and more to rank higher on Google.

Scalable:

Since WordPress.org is free to download and install, how much you pay to keep your site running is down to you. You can adjust the functionality of your site according to your budget to get away with a small initial investment. Likewise, if you want your site to grow, that's totally possible.
Cons:
Security and maintenance:

Because WordPress.org is an open-source framework, you're responsible for your own website security and maintenance. So, it's down to you to find hosting or services that can keep your site safe and back up your content.

Speed issues:

The more plugins you add, the more your website speed could be affected, adversely impacting your online visibility and user experience.

Overwhelming choice and customization:

though a perk for some, for others, the sheer choice and customization available are too much.

No immediate newsletters:

WordPress is first and foremost designed to help you build a website. So to set up a newsletter subscription like you can with Substack, you may have to install plugins.

It's harder to get found:

On Substack, your work can feature on their marketplace for newsletters, meaning new readers might find you while searching their database. With WordPress.org, you're on your own – you have to attract readers all by yourself.
FAQs
Last but not least, let's answer some of the most frequently asked questions we hear about Substack and WordPress:
Question: Are Substack and WordPress CMSs?
Answer: In short, WordPress is a CMS, whereas Substack isn't – at least not quite.
For the uninitiated, a CMS is a content management system, meaning users can build a website and then edit and manage its content.
While Substack allows you to create a blog, it only grants basic content management features for housing your free and paid content. Essentially, it's just a tool for publishing just blog posts and newsletters.
In contrast, WordPress is a CMS in the truest sense of the word, allowing you to manage all types of content for your website, whereby you have ownership of not just individual content pieces but everything comprising your website.
Question: How do I get started on WordPress?
Answer: So this quick guide will assume you already have web hosting:
First, log in to your web hosting provider. Most hosts will have a section called CMS installs or one-click installs.

Once you've found that, it will ask which CMS you want to use. Choose WordPress.

Enter your domain name, name your website and add your user details.

Then click 'Install .'Your host will then automatically generate log-in details for WordPress. Copy this information and head over to WordPress.

To find your site, type your URL into your browser like this:

www.yoursite.com/wp-admin

Now enter your log-in details from the hosting provider, and you're ready to start creating!
Please note: instructions vary depending on your hosting service, but you get the general gist!
Question: How do I get started on Substack?
Answer:
Head over to Substack's website and click sign-up. You can use your Twitter log-in or email.

Enter your details and confirm your email address.

You'll be brought to your profile page (it's a good idea to fill this in with as many details as possible).

Name your publication and enter details about what it is.

Import your subscriber list if you have one.

Now you're ready to start creating!
Substack vs WordPress: Our Final Thoughts
Substack and WordPress are attractive platforms for anyone looking to start an online blog or subscription-based newsletter.
However, the best way to decipher which suits your needs best is to determine what you want from your platform:
Is ease of use your priority? Substack is the option for you.

Do you want more customization options? WordPress is the option for you.

Do you want to create your own website? WordPress is the right choice in this case.

Do you create content other than blogs and/or podcasts? If so, WordPress is your best bet.
As these questions illustrate, both platforms are brilliant for meeting specific needs. In a nutshell, Substack is perfect for those wanting to get stuck in with simple writing or podcast creation and potentially make a bit of money from it. WordPress, on the other hand, offers users a lot of flexibility. You can create your own website, and it is a great choice for anyone looking to flex their coding muscles.
So, there you have it, we've ended our comparison of Substack vs. WordPress. We hope it's been helpful to you! Tell us your thoughts in the comments box below – We'd love to hear from you.