Last Updated on May 23, 2022 by Ewen Finser
While both Adobe Muse and WordPress are used to create websites, that's (basically) where the similarities end. These two providers target separate audiences; have different platforms; take separate web building approaches; and require separate skill sets. They also have different hosting requirements, which also affects how and where you can design your website.
Comparing these two tools will help you determine which one will best serve your web design needs and wants. Since there's much more contrast than similarity between the two, and since both are leaders in the industry, it shouldn't be too difficult to settle on one or the other.
In this article, we're going to introduce you to Adobe Muse and WordPress, and quickly cover what you need to know about web hosting. We'll also give you a brief overview of WordPress.com and WordPress.org so you understand the difference. Otherwise, we'll be focusing on WordPress.org for this article.
We'll then talk about the few similarities between Adobe Muse and WordPress before diving into the distinct differences, broken down by ease of use; features and flexibility; design; customer support; and pricing.
For each of those differences, we'll cover each system separately, then compare them in the "Final Verdict" sub-sections. At the end of the article, we'll give you our final thoughts.
What is Adobe Muse?
Adobe Muse is a desktop web building program that can be used with both Mac OS and Windows. It's design-centric, geared toward designers instead of more techy website builders. You'll download the Adobe Muse software to your computer and work on it there instead of having to go to your browser.
What is WordPress?
WordPress is a content management system (CMS) that you'll work with via a browser after you've setup hosting. It's best for non-designers who are comfortable with the more technical components of website building.
What is Web Hosting?
Think of web hosting as the foundation of where your website lives. You can't see it, but without it you wouldn't have anywhere to put your website.
Web hosting is the service that allows you to put your website online. Your web hosting provider will give you the services and technologies needed for the website to be viewable online.
The website is technically stored – or hosted – on a server, which is a special type of computer. When someone wants to visit your website, they'll type in the website address and then their computer will connect to the server, which will then deliver your website via the browser.
WordPress.com vs. WordPress.org
WordPress can get confusing if you don't realize there are two types of WordPress out there: WordPress.com and WordPress.org. While we'll be covering WordPress.org in this article, it's important to understand the differences between them.
WordPress.com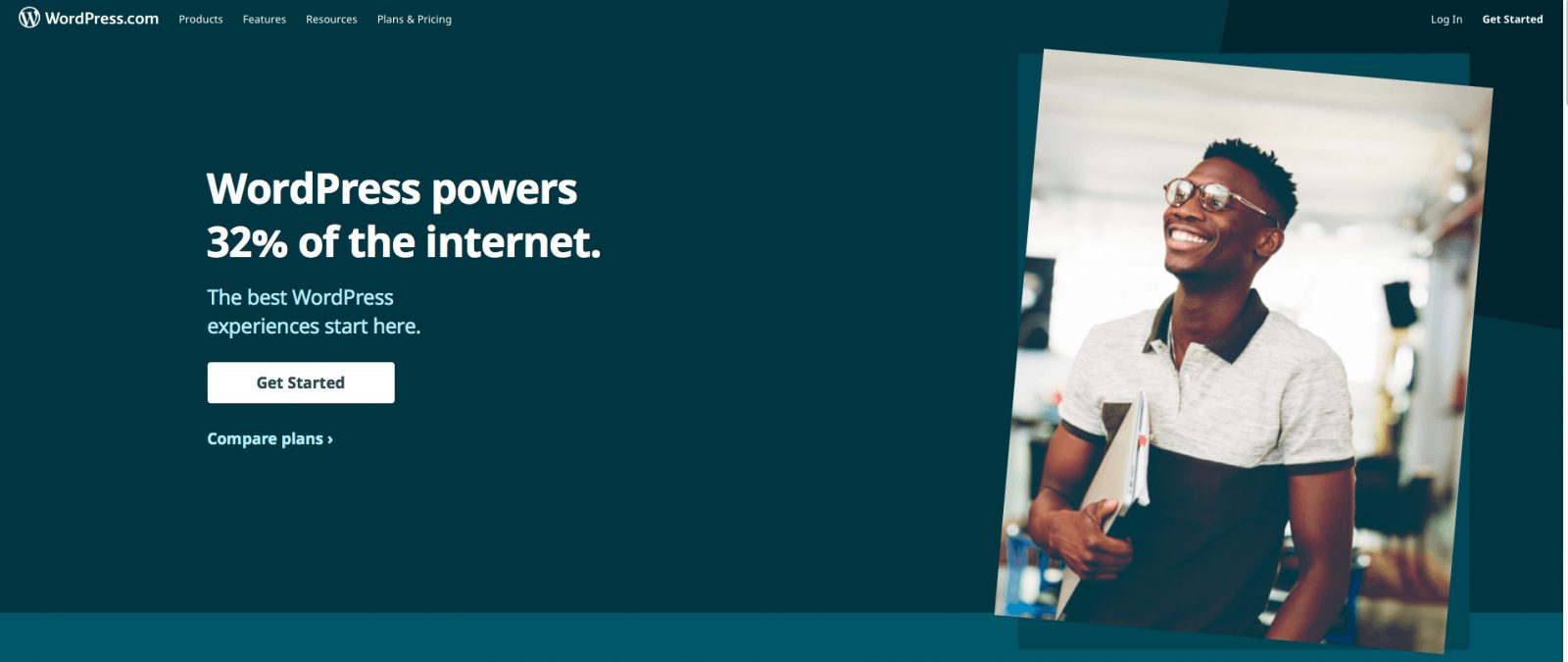 WordPress.com is a website platform based on WordPress.org software. Unlike with WordPress.org, which requires you to download and host the software yourself, you can simply sign up for a WordPress.com account and start building your website. If you need only the simplest website functionality, like for a personal blog, WordPress.com is the best choice. However, you'll be incredibly limited should you want to make any changes, which is why a lot of people end up using WordPress.org instead.
WordPress.org

WordPress.org is a free, open source CMS that requires web hosting. It has much more functionality than WordPress.com and is intended for more advanced designers who want something other than the cookie cutter, limited websites offered by WordPress.com. WordPress.org is sort of the self-hosted version of WordPress.com, which gives you a lot more flexibility.
How are Adobe Muse and WordPress Similar?
Both Adobe Muse and WordPress support the installation and updates of things like modules, plugins and templates. Also, both services have a broad range of helpful resources online, many of them for free – it's not hard to find guides, tutorials or user manuals for either service. And of course, both provide a way to build a website.
How are Adobe Muse and WordPress Different?
There are a lot of differences between Adobe Muse and WordPress. Let's break them down by category, first covering each system and then comparing the two.
Ease of Use
Ease of use is sort of a relative term. How easy these tools are to use will depend on how much experience you have with similar tools. It will also have to do with where your skills lie – designers will find Adobe Muse easier to use, while coders and developers will have an easier time navigating WordPress.
Adobe Muse
Many of Adobe's products are aimed toward the pro instead of the novice, and Muse is no different. Professional designers will feel most comfortable using Adobe Muse, and this tool is generally used to create advanced websites – if you want to create a simplistic website, there are other systems that are better geared toward this goal.
Those who already have advanced familiarity with tools like Illustrator and Photoshop will have an easier time understanding how to use Muse. Many of Adobe's tools use a similar interface, the main difference being the set of tools offered in each one. Muse closely resembles Photoshop, allowing you to draw your website layout. Users who are familiar with Adobe Muse may find that they can design an entire website in a matter of days.
Without previous Adobe experience, the user will have to ride the learning curve to simply navigate around the interface. That said, remember that there are a ton of tutorials out there, so it is possible to self-teach the techniques needed – it'll just add more time to the entire process. Make sure you have a few weeks that you can dedicate solely to learning the system from the ground up and exploring the many different options it offers. If you only learn Adobe Muse superficially, you'll be missing out on the powerful web design features it offers.
Don't let that scare you, though – Muse may take a while to explore fully, but it's pretty easy to get used to, even by a total beginner. The interface looks much more complicated than it really is. Even though there are a lot of bells and whistles, it's structured in a logical way.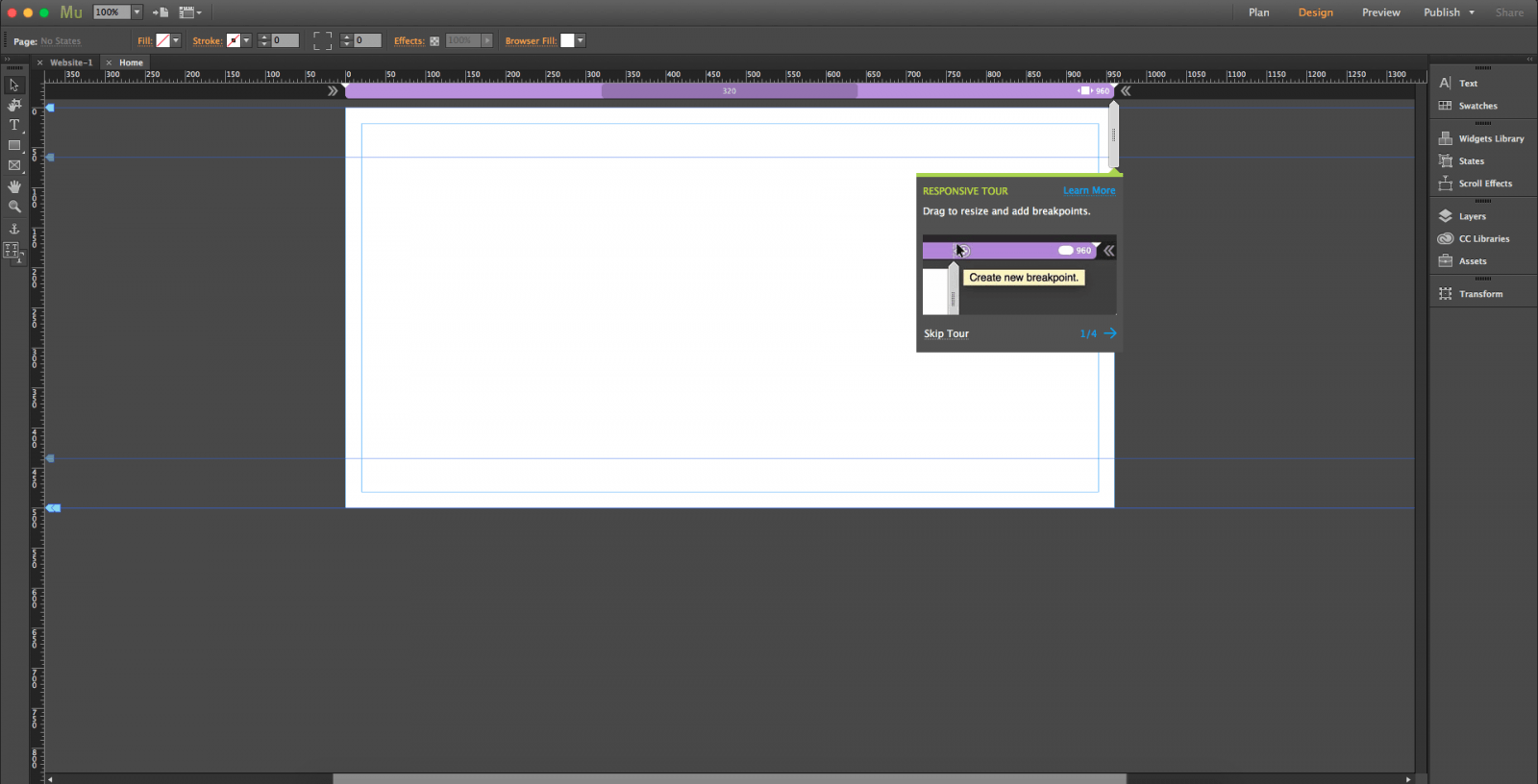 As you make changes to your website in desktop mode, the changes will be saved to the hard drive, and you can upload them to hosting later on. This also means that you don't need an Internet connection to use Muse. When you've completed your design, you'll need to upload it to the host through the FTP channel. FTP stands for file transfer protocol and it's what you'll use in order to transfer files online. Since Muse doesn't require a host upfront, you need a way to get what you designed online.
WordPress
The WordPress interface is much more simple compared to Muse. If you've ever worked with a CMS system before, you won't have difficulty navigating it. If you're a total beginner who's never seen a CMS system, you'll want to set aside time to learn it, though it won't take you as long to learn WordPress as Adobe because the system's not as robust. Again, just like with Adobe Muse, there are a huge assortment of articles and tutorials out there about designing with WordPress.
The biggest thing to get used to when working with WordPress is the assortment of plugins that are available to you. When you first start using the system, you'll have a small selection of out-of-the-box plugins that are needed to setup a website. From there, you'll add more, either from various sources online or through the WordPress store, which you can access via the dashboard.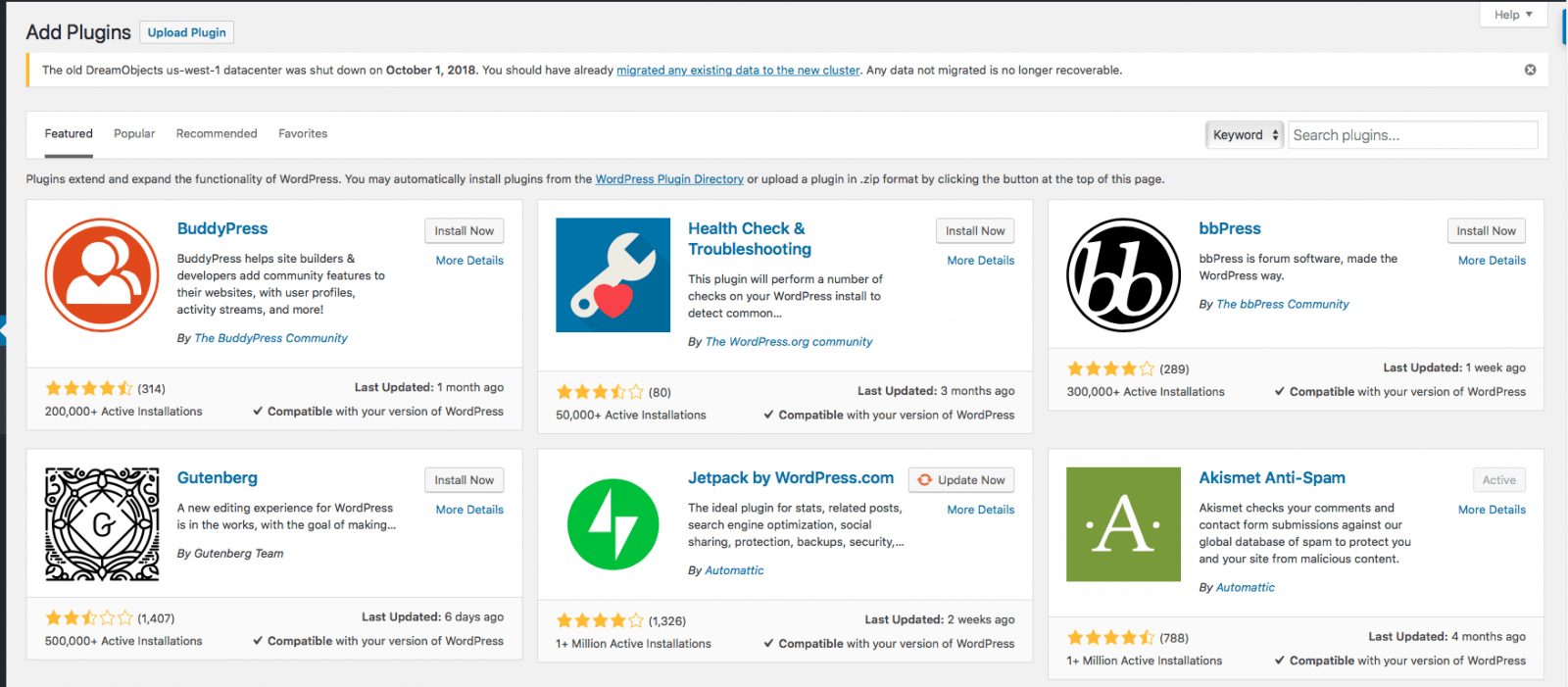 Plugins can help you do all sorts of things – on my website, I have plugins for backend functions like data backups and SEO, and frontend functions like headers and footers; social icons; and slideshows. Even though WordPress comes standard with some similar functions, plugins can help you further customize your website in exactly the right way.
Think of each plugin like a separate program with its own set of settings. These settings can be either simple or complex depending on the plugin. The more plugins you install, the more powerful your website can become, but that also means more maintenance, including updates and learning new features as they're rolled out. Also, some plugins may not be compatible with your WordPress theme or your other plugins, which can hinder website performance, such as by slowing down page loading speed.
Since WordPress requires you to have hosting before you start using it, you need an Internet connection to use WordPress and the changes will be saved to your host.
Final Verdict
Ease of use is an interesting question because Adobe Muse and WordPress are both easy and complex in their own ways. Adobe Muse is a more robust system with a sharper learning curve, but once you've mastered it, designing is actually quite flexible. The out-of-the-box WordPress system is easier to use and even easier to learn (especially if you have previous CMS experience), but because there are so many plugins and the ability to add coding, it can be more complex than Adobe Muse based on what you're designing.
In a nutshell, designers (not developers, though you do need a bit of knowhow in order to work with the FTP) will appreciate Adobe Muse more, while novices and/or tech geeks, including those with some HTML skills, will love the advancements offered in WordPress, especially if design isn't quite your area of expertise.
Features and Flexibility
In order to get most out of the features of each system, it's best to use them for what they do best. For example, while you can technically use both Adobe Muse and WordPress to setup an online shop, this isn't where either system shines. You'd get more out of a service like Shopify, which specializes in e-commerce (similarly, you wouldn't bother with Shopify if all you wanted to do was set up a blog, which is WordPress' area of expertise).
Adobe Muse
Though Muse is best for creating landing pages, you can also use it to create other types of website and web pages, including:
Portfolios
Promo websites
Fixed-width web pages
Responsive web pages
Single-page websites
Multi-page websites
Online stores that use PayPal transactions
There are a number of things you can do in the Adobe Muse interface, including:
Draw the website layout
Insert images
Add text
Add buttons
Add versatile effects
Create menus
Extra widgets
You'll also be able to access the standard web promotion options you'd find with any web design system:
Google Analytics integration
Meta tags
Sitemap
Social media buttons
Titles
WordPress
WordPress is heavily geared toward bloggers, and if that's the type of website you want to setup, you won't find a better CMS system than WordPress. WordPress can also be used to create forums, online shops and web portals, though these sort of websites will be more difficult to set up for novices – more advanced web design isn't part of the default system, so you'll need a lot of HTML knowledge and/or plugins.
As we said earlier, you probably won't be able to create a WordPress website without installing plugins. Basically, without plugins you'll only be able to write text and add images, and provide minor adjustments to each.
WordPress has similar website promotion options to Adobe, though you'll need to install a plugin in order to access social media features.
Final Verdict
Though it seems like having to upload your Muse designs to your FTP is an extra tech hoop to jump through, it has one huge benefit: you can practice as much as you want and spend as much time as you need designing your website before paying for a domain name and hosting.
Even though Adobe Muse has the capability to setup a small online store, we don't suggest using it for that purpose. You'll have to do every single thing manually, and there are much better services out there if you're interested in e-commerce.
WordPress may not be the go-to builder for creating a shop, either, though it is possible for web developers who can expertly tweak the site for performance even with several plugins and customizations.
Both services are excellent for creating promo websites and landing pages. Muse is the one to choose if you want to flex your web design skills, while WordPress is the better choice if your skills align more with the tech side of things, including installations, settings and coding. There's more design freedom with Muse, but more options with WordPress thanks to the plugins library.
Design
Before we get into the specific design features of Adobe Muse and WordPress, let's take a look at this chart, which gives a quick overview of the main design components you'll be most interested in.
| | | |
| --- | --- | --- |
| | Adobe Muse | WordPress |
| Number of Themes | Dozens | Thousands |
| Theme Cost | Free to $30 | Free to $299 |
| Custom Themes | ✓ | ✓ |
| Visual Editor | ✓ | ✓ |
| Responsive Design | ✓ | Depends |
| CSS Code Editing | ✓ | |
| Graphic Effects | ✓ | |
Adobe Muse
The Adobe Muse software can be thought of as an advanced graphic editor. It's best used when designing website layouts and creating templates from scratch.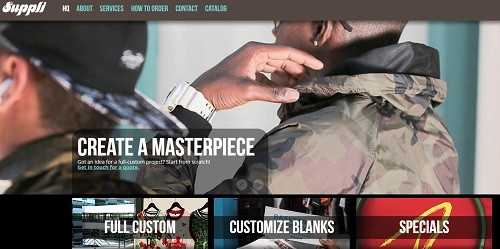 There are basically no design limits with Adobe Muse – you can choose the web page size, add whatever elements you want (including buttons, forms, menus, sliders, text boxes, etc.), then adjust them as needed.
If you're a beginner, you don't have to design pages from scratch. Instead, you can download premade templates, many of which are free, and then work with them to make them more customized.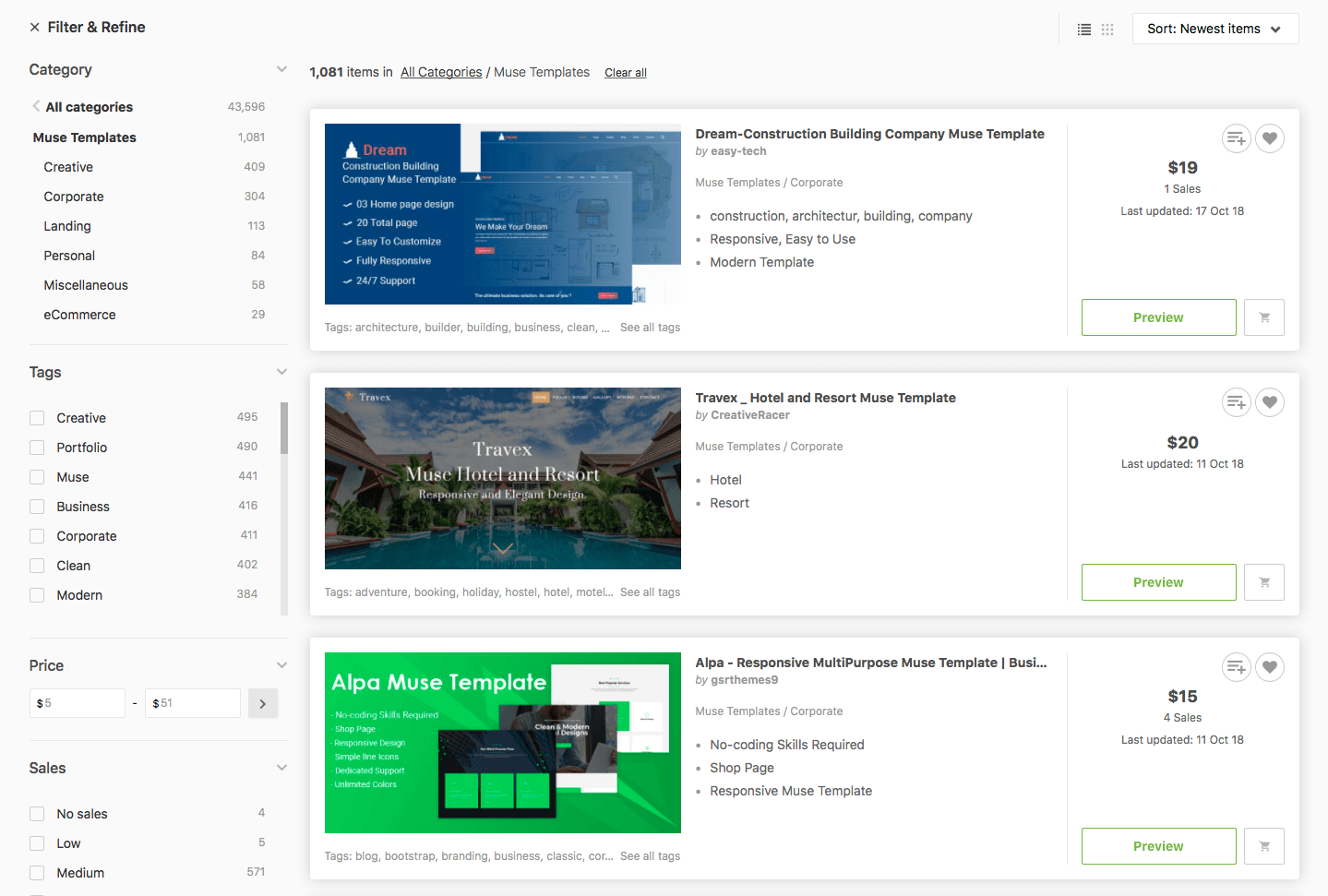 While templates are a great way to get comfortable with Muse, if you intend to make money by designing websites, you'll eventually need to start creating your own templates.
WordPress
Since WordPress is a CMS, that generally means that you'll be using ready-made templates. There's an integrated store where you can access thousands of designs and install them for free.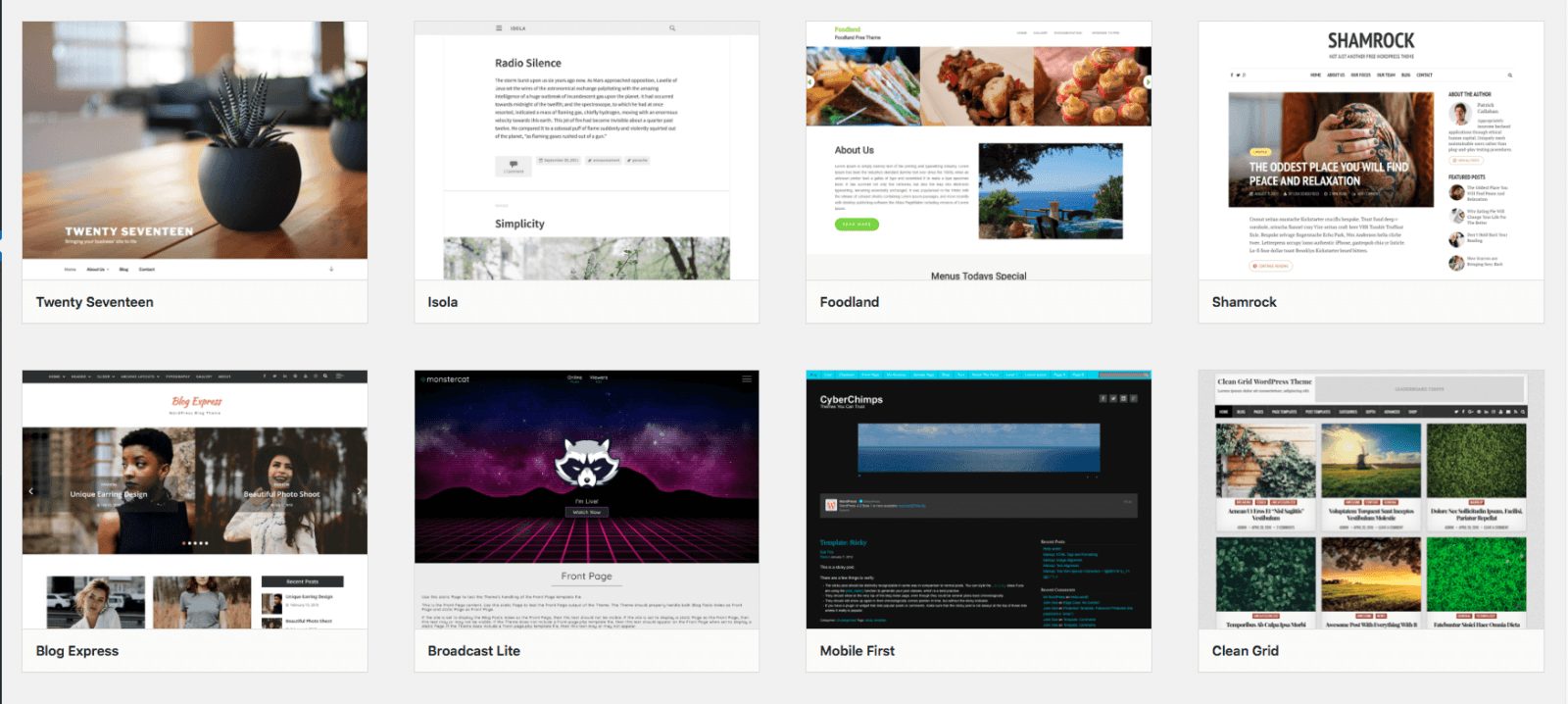 Though several WordPress themes have nice visual appeal, it's important to remember that they're not unique – other people are going to have the same exactly theme as you, even though you'll be customizing yours somewhat.
Many WordPress templates have design dashboards that let you make changes to things like background, font and positioning of elements. Changes may be made either with a drag-and-drop builder or through the theme's settings. For more advanced changes, you can edit the template code, though this should only be done if you're experienced with coding. Sometimes, the person or company that created the theme will offer tutorials for making specific changes. For example, my theme came standard with a floral background, but they had a tutorial for making changes to the code in order to remove the flowers.
Final Verdict
When it comes to designing, Muse has a lot more flexibility than WordPress, and you can create high quality websites without having to know any coding. WordPress, on the other hand, has more templates to choose from, but your design capabilities are limited, especially if you don't know coding. For advanced designers working on client projects, the best choice here is Muse, because you can create individual templates – instead of relying on cookie cutter ones – to meet client needs.
Customer Support
I've used both WordPress.com and WordPress.org for years now, and I've never met a challenge I can't solve on my own thanks to the community – it seems the same is true for Adobe Muse users, too. Where I find I need the most help is with my host, so customer support should be a larger issue when you're searching for a hosting provider.
Adobe Muse
Adobe Muse has official technical support, plus a community of users who provide support as well. There are manuals and tutorials online, many of them for free. Also, the more familiar you become with the system, the less help you'll need.
It's also important to note that I spoke with an Adobe customer service rep – which, I think, started as a bot – when exploring Adobe Muse. The help was odd, even once I was transferred to a live agent. The agent didn't really answer my questions and he had an odd way of addressing me, randomly saying "Lindsay" in the middle of our conversation, as if trying to make a point. This example is simply to point out that sometimes having "official" help isn't as helpful as it sounds at first.
WordPress
While WordPress doesn't have official support, they do have an incredibly large and varied community that includes website designers at all stages. Since WordPress is the world's most popular CMS, there's no lack of forums, tutorials and niche websites out there to help you with even the tiniest of issues.
Final Verdict
Customer support isn't a primary differentiator between the two systems. You won't need a ton of support as you become more familiar with Adobe Muse or WordPress, and if you do, there's plenty of help out there through both communities. Even though Adobe Muse offers official support, it's not something that puts it far ahead of WordPress in terms of competition.
Pricing
Adobe Muse
Though you can still download Adobe Muse and use the 7-day free trial, Muse is technically not available any longer. That's not as clear-cut as it sounds, though.
Once your free trial is finished, or if you click on the free trial button in your dashboard, you'll be brought to the Creative Cloud pricing page, which is where you can buy all sorts of plans for the different Adobe products. Muse is notably missing, though.
If you've already bought Muse, you're fine. If you haven't, you'll want to learn more about what "End of Service" for Muse means here. Either way, you can play with the free trial for a week, and I don't see why you couldn't use additional email addresses to sign up for new free trials.
WordPress
WordPress is a free download, but you have to have web hosting in order to use it. There are numerous web hosts out there at all different price points. For example, I use DreamHost and it costs me less than $11 per month for numerous websites. You'll also have to pay for your domain name, and you may end up purchasing a theme or plugins.
Final Verdict
Since Muse isn't officially available anymore, it's hard to pitch these two systems against each other in terms of price. When it comes to the cost of WordPress, it's really a question of the cost of your hosting, and then also figuring out how advanced you need the site to be. I purchased both a child and a parent theme, which was a few hundred dollars upfront, but only a one-time cost.
In Conclusion
Adobe Muse is best for web designers who need to flex their creativity without limitations. It's a great way to create customized client websites and to experiment with advanced web design. Since there are no plugins here or the need for coding, it's the best choice for anyone who doesn't want to learn or deal with the tech side of web design (FTP uploads aside).
WordPress is best for web coders and anyone who wants a personal blog or a website for business. While WordPress' functionality out-of-the-box is basic, it can gain a lot once plugins have been installed.
If you are leaning towards WordPress and are looking for page builder options, check out Beaver Builder vs Elementor these options make it alot easier to design your WordPress pages with ready made templates.
Overall, we feel like Adobe Muse is the better choice, particularly for commercial use. You can get any results you want thanks to its flexibility, and it's the best option if you're hoping to make money by designing websites.