Last Updated on April 22, 2023 by Ewen Finser
Are you an eCommerce store owner looking for a better eCommerce platform/shopping cart platform for your business? Alternatively, are you just about to set up your first online store and unsure which platform to use?
Either way, as someone who's written about the eCommerce and digital marketing space for over four years, I know firsthand the sheer wealth of options available. Unfortunately, researching them all is a time-consuming and confusing process. That's why I'm cutting through some of the noise and comparing two popular options: ThriveCart and Shopify.
Hopefully, by the end of my review, you'll have a better idea of which (if either) platform best suits your needs. There's lots to discuss, so grab a cup of java, and let's get cracking!
My Bottom Line Up Front
Although ThriveCart and Shopify are both excellent tools in their own right, it's worth mentioning that Shopify is more of an all-in-one eCommerce solution than ThriveCart. In contrast, the latter primarily focuses on the checkout page experience.
That said, I think ThriveCart best suits eCommerce sellers looking to optimize their checkout pages to reduce cart abandonment, maximize profits, and boost sales conversions. It's a reliable software that provides everything you need to produce high-converting checkout pages, affiliate campaigns, sales funnels, and more.
In addition, ThriveCart users pay a one-off lifetime payment instead of a payment plan. This makes it a better choice for more established entrepreneurs looking to save money on their tech stack in the long term. On the flip side, ThriveCart isn't as suitable for those looking to dabble in eCommerce for a few months to see how they fare.
In contrast, I think Shopify is an excellent all-in-one eCommerce solution with tons of in-built features and third-party apps. It also comes with a decent range of free and paid-for responsive templates. In addition, its staggered pricing plans ensure it caters to businesses of all sizes, making it a suitable option for newbies and enterprises.
ThriveCart vs Shopify: Their Similarities and Differences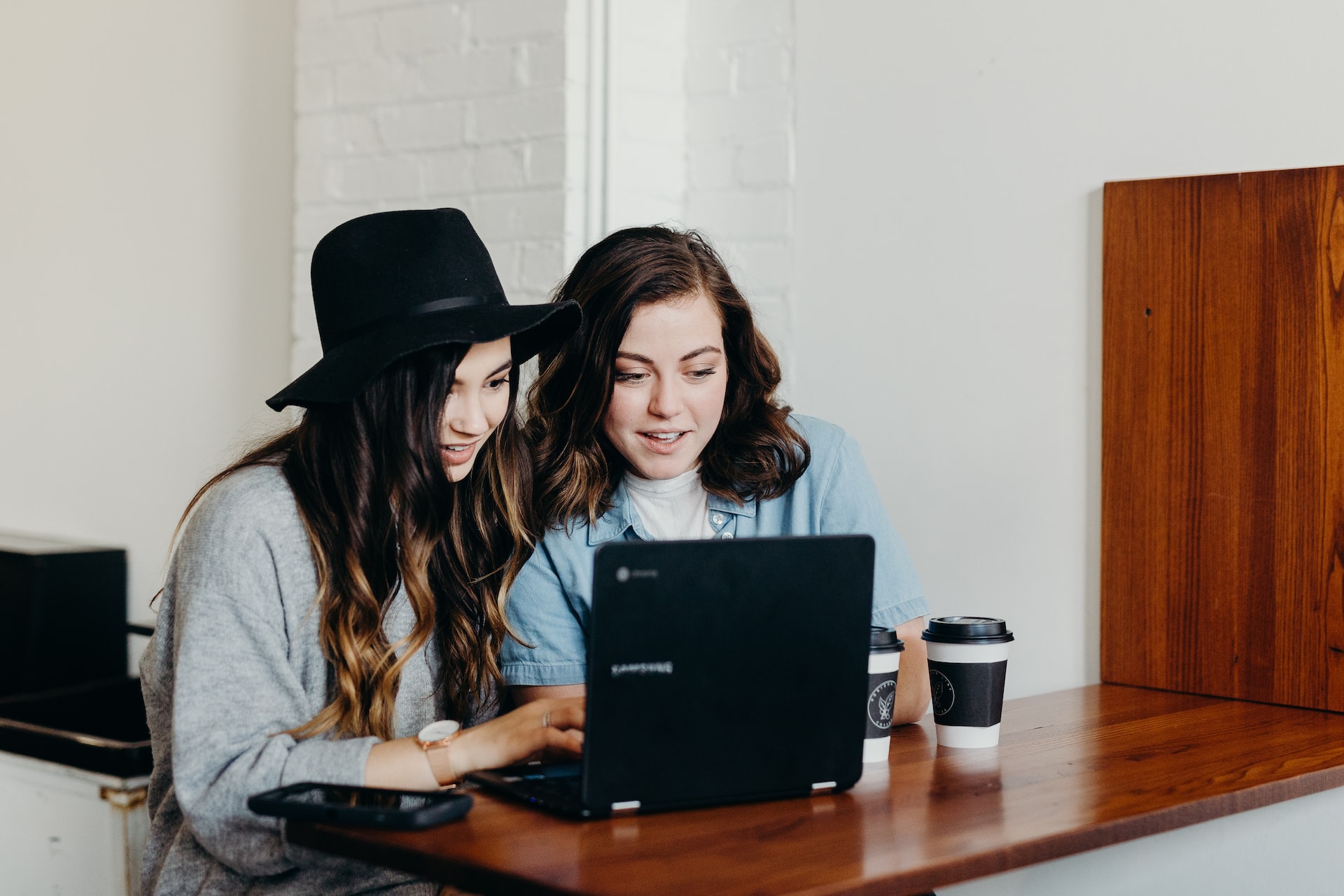 Before moving any further into the meat and potatoes of this review, let's quickly skim over the most notable similarities and differences between ThriveCart and Shopify:
Similarities
Both accept customer payments for digital and physical products.

Both enable you to offer your customers a range of payment methods, including credit card/debit card, Apple Pay, Google Pay, and others.

Both have lots of integrations.

Both platforms allow you to create and distribute coupon codes to try and boost sales and retain customers.

Both support multiple currencies.

Both offer unlimited bandwidth.
Differences
ThriveCart is available for a one-off fee, whereas Shopify users have to subscribe to monthly plans.
Shopify offers a free 14-day trial, whereas ThriveCart doesn't proffer a trial period.

Shopify focuses on empowering the user to create a comprehensive eCommerce store, including website design, SEO, and marketing features, whereas ThriveCart focuses more on increasing conversions at checkout.

If you want to create your own affiliate program with Shopify, you'll need to use a third-party integration, whereas ThriveCart has a built-in affiliate center.

Shopify offers 24/7 customer support via phone, email, and online chat.

Shopify can be used via a mobile app, whereas ThriveCart doesn't have an app (at the time of writing)

The Shopify website is much easier to navigate and understand, whereas ThriveCart is very basic, with little information without having to dig around.
What ThriveCart Is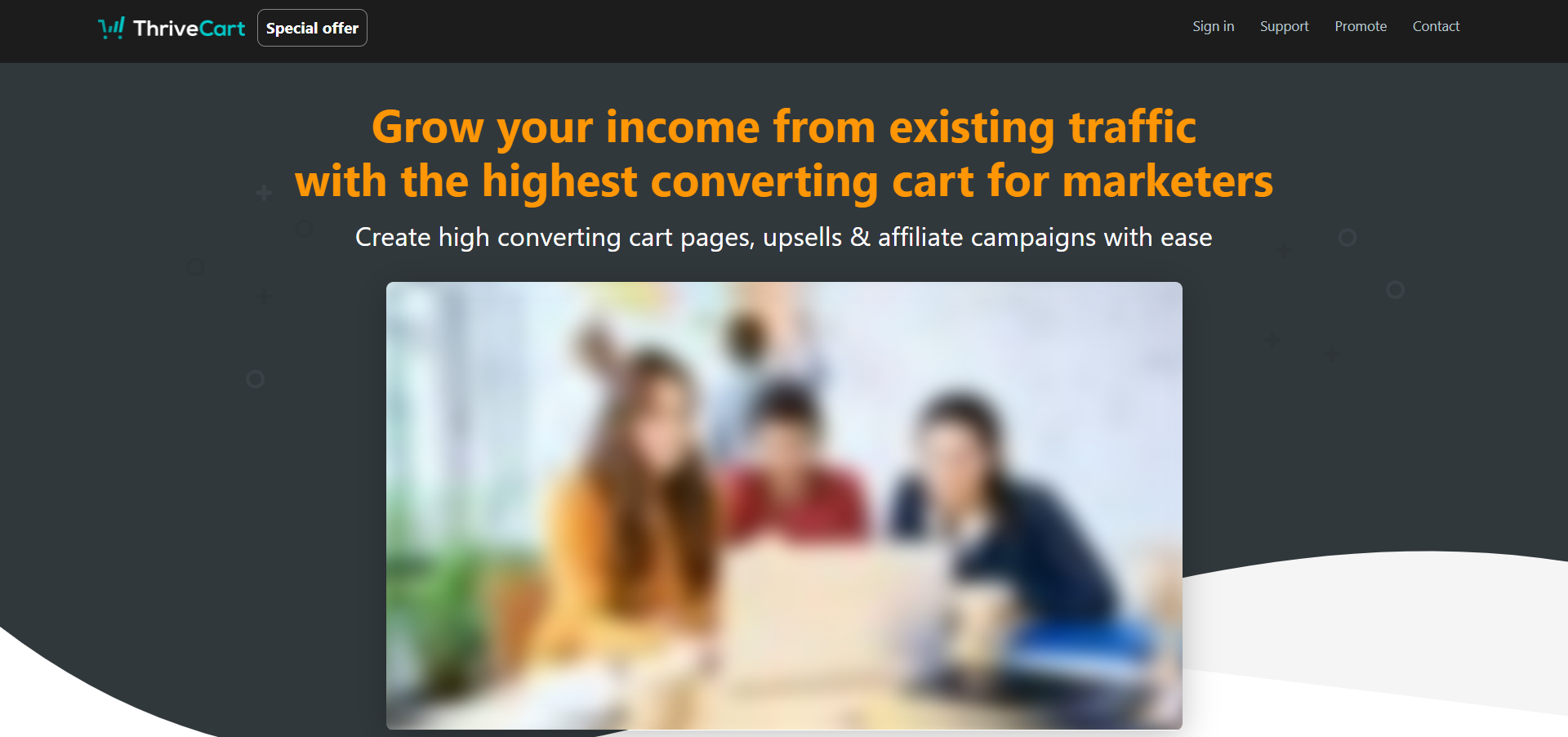 Founded in 2016 by Josh Bartlett, ThriveCart is a popular shopping cart software used by 212,000+ entrepreneurs who have collectively sold 13.6 million+ products and processed $2 billion+ in sales.
ThriveCart aims to help sellers optimize and convert their checkout pages to reduce cart abandonment and boost sales. I like that you can use ThriveCart to accept payments for both physical and digital products. Plus, it seamlessly integrates with tons of other apps, including Apple Pay, ShipStation, Zapier, AWeber, and many more.
Other notable features include:
Checkout page optimization

Profit-boosting "bump" offers

Sales funnel creation

Real-time sales, profits, clickthrough, and conversion rate tracking

Customizable checkout templates

You can send cart abandonment emails.

Access to built-in sales tax and dunning.
When it comes to ThriveCart's costs, rather than monthly or annual payment plans, you shell out a flat $495 fee for lifetime access. There are no recurring fees (at the time of writing). In addition, the platform offers customers a 30-day "pays for itself" guarantee, which I think is pretty neat!
What Shopify Is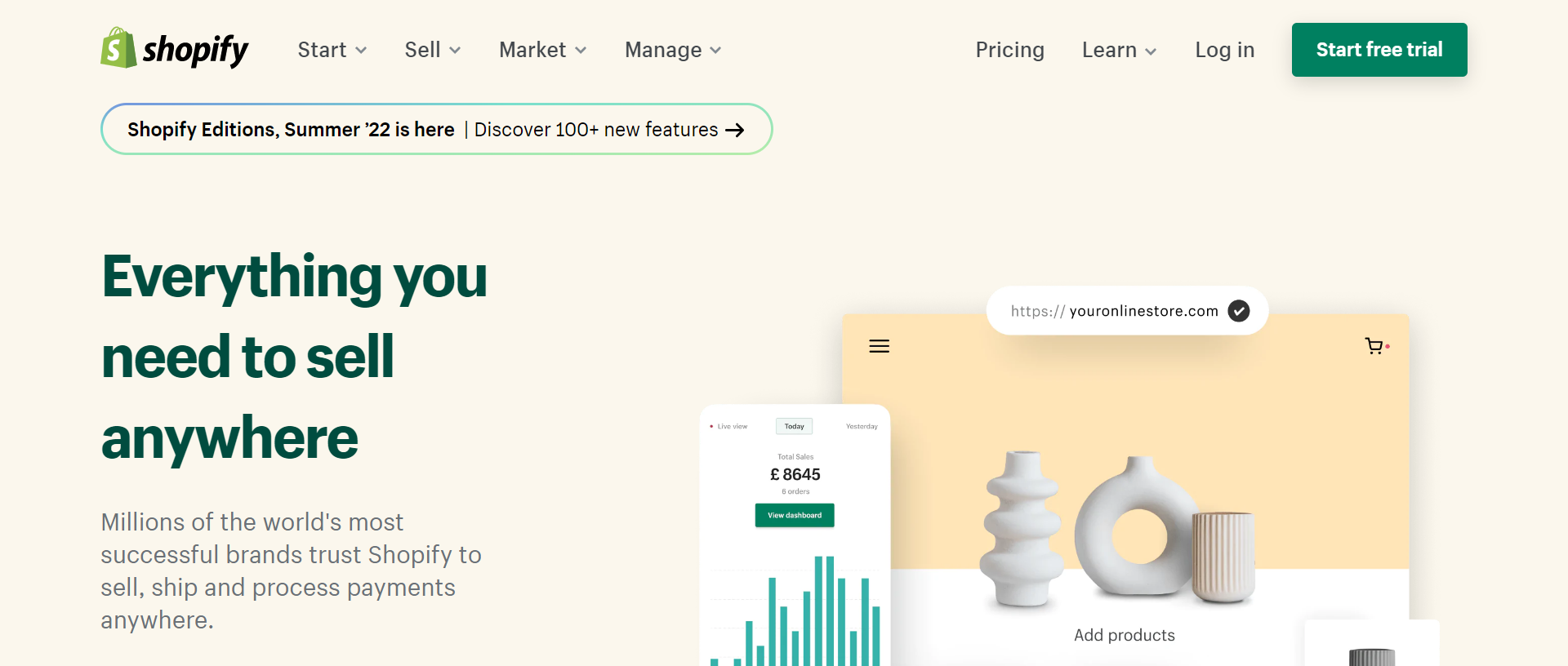 Shopify is one of the most popular eCommerce platforms on the market, with over one million businesses using it to fuel their online storefronts. Founded in 2014 by Tobias Luetke, Scott Lake, and Daniel Weinand, Shopify empowers you to build your own eCommerce store from scratch.
Users get access to a decent array of free and paid-for contemporary templates that you can customize using Shopify's easy-to-use website editor. In addition, it's a cloud-based hosted solution, so there's no need to worry about software maintenance, web hosting, etc.
*Thrivecart hosts its shopping cart features, but you'll still need to maintain your own eCommerce site.
Like ThriveCart, you can use Shopify to sell physical and digital products. Shopify users can even offer their customers a series of monthly subscription plans (more on this later). Shopify also supports an extensive range of payment gateways, but you'll incur transaction fees unless you use Shopify's native payment processor, Shopify Payments.
Other notable features include:
Analytics and reporting functionalities

An intuitive Shopify dashboard from which you can add products to your store, customize your store and see at-a-glance information about sales performance, analytics, and more.

SEO tools, like editing tags, meta descriptions, and product details

Marketing tools, including discounts and coupons, gift cards, basic transactional email marketing, and abandoned cart recovery.

A POS integration

You can create your own blog.

You can manage international markets with language translation, currency conversion, and by offering shoppers local payment methods.

24/7 support
…to name a few!
There are also hundreds of integrations available in Shopify's app store, including dropshipping apps, store management, and customer service.
Lastly, I like that there's a free 14-day trial.
ThriveCart's Features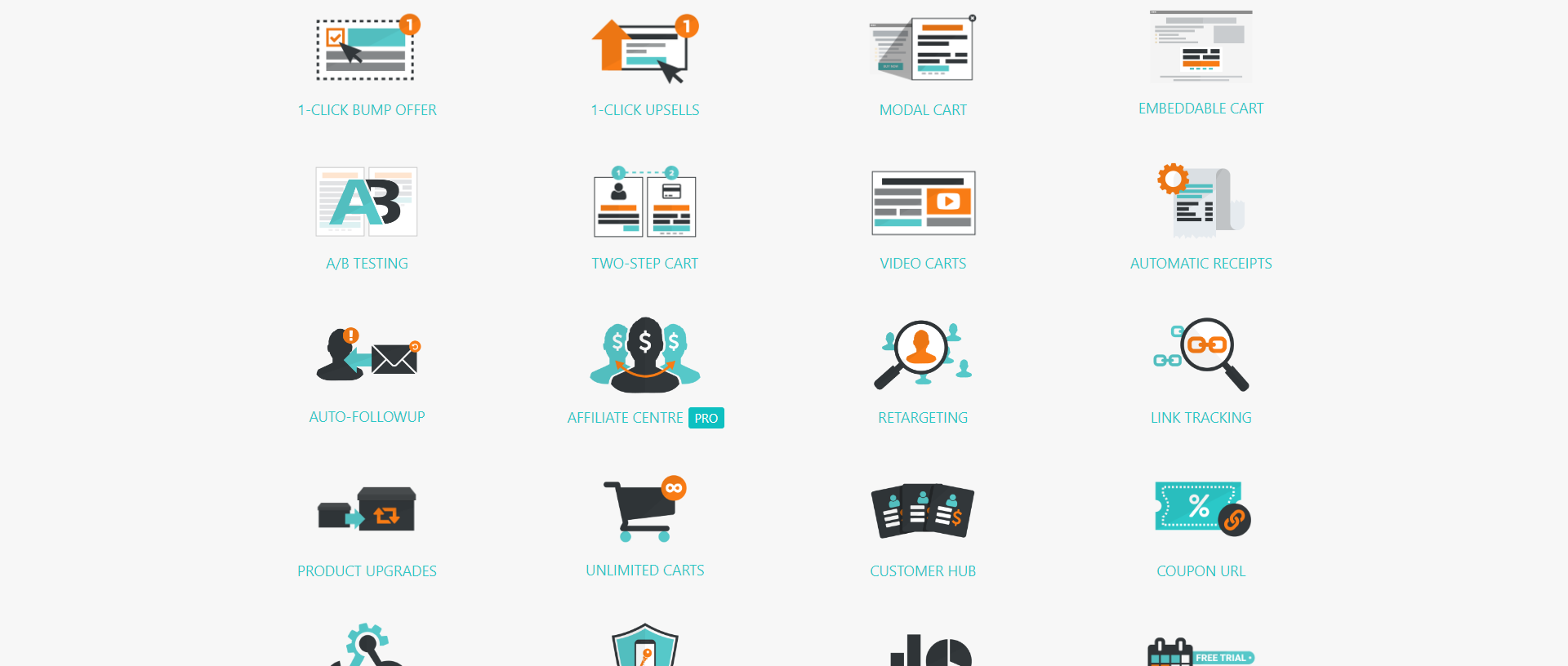 That's enough preamble; below, I'll go into more detail about the core features ThriveCart offers:
Integrations:

I like that ThriveCart works with lots of tools, many of which you might already be using, such as MailChimp, GetResponse, ActiveCampaign, and AWeber. It also integrates with Shopify, Zapier, Apple Pay, PayPal, and many more apps.

"Bump" offers:

This feature empowers you to showcase different offers on your checkout page whenever your checkout window opens. The clue is in the name: this functionality aims to bump up your profits each time a customer places an order. For instance, you can offer customers related products to the one they're buying and create trial offers to attract fee-paying customers. The latter comes in particularly handy if you're selling subscriptions or courses.

Payment options:

You can offer customers several payment options, including Stripe, PayPal, Apple Pay, and Google Pay.

Embeds:

You can embed your checkout page anywhere on your eCommerce site and social pages to attract more sales.

Cart abandonment:

Customers who add products to their digital shopping carts but fail to complete their transactions can receive cart abandonment emails reminding them to make their purchases. Inside these messages, you can offer discounts to attract them back to your site.

Templates:

You can apply customizable templates to your checkouts that have either been created by Thrivecart or its community. These are based on four basic checkout layouts and can be customized with the cart editor. You can drag and drop elements like text, buy buttons, testimonials, videos, and more into your design. In addition, elements can be customized upon selection – you can change the colors, turn off optional sections, and further customize the text

.

Sales Funnel:

You can set up one-click upsell funnels within minutes. These work by presenting customers with an upsell option after they've purchased a base product. Suppose the customer doesn't opt into the first upsell. In that case, you can offer alternative downsells or further upsells to try and catch their interest. Thrivecart currently allows you to set up five upsells and downsells for each sale funnel.

Live statistics:

ThriveCart tracks your daily sales, profits, clickthroughs, orders, and upsell rates, all in one place in real time.

Built-in sales tax and dunning

: Your sales tax is automatically calculated based on location, so you don't need to add any integrations. However, this is only available for Pro plan holders. Dunning is also built-in, so you can automatically remind customers when payment is due, when their card is about to expire, and/or chase unpaid fees.

Affiliate management

: Again, this is only available for Pro plan customers. ThriveCart enables you to create and manage your own affiliate program. More specifically, ThriveCart permits you to manually approve affiliates, set different tiered payouts, automatically schedule PayPal payouts, and more.
ThriveCart's Pricing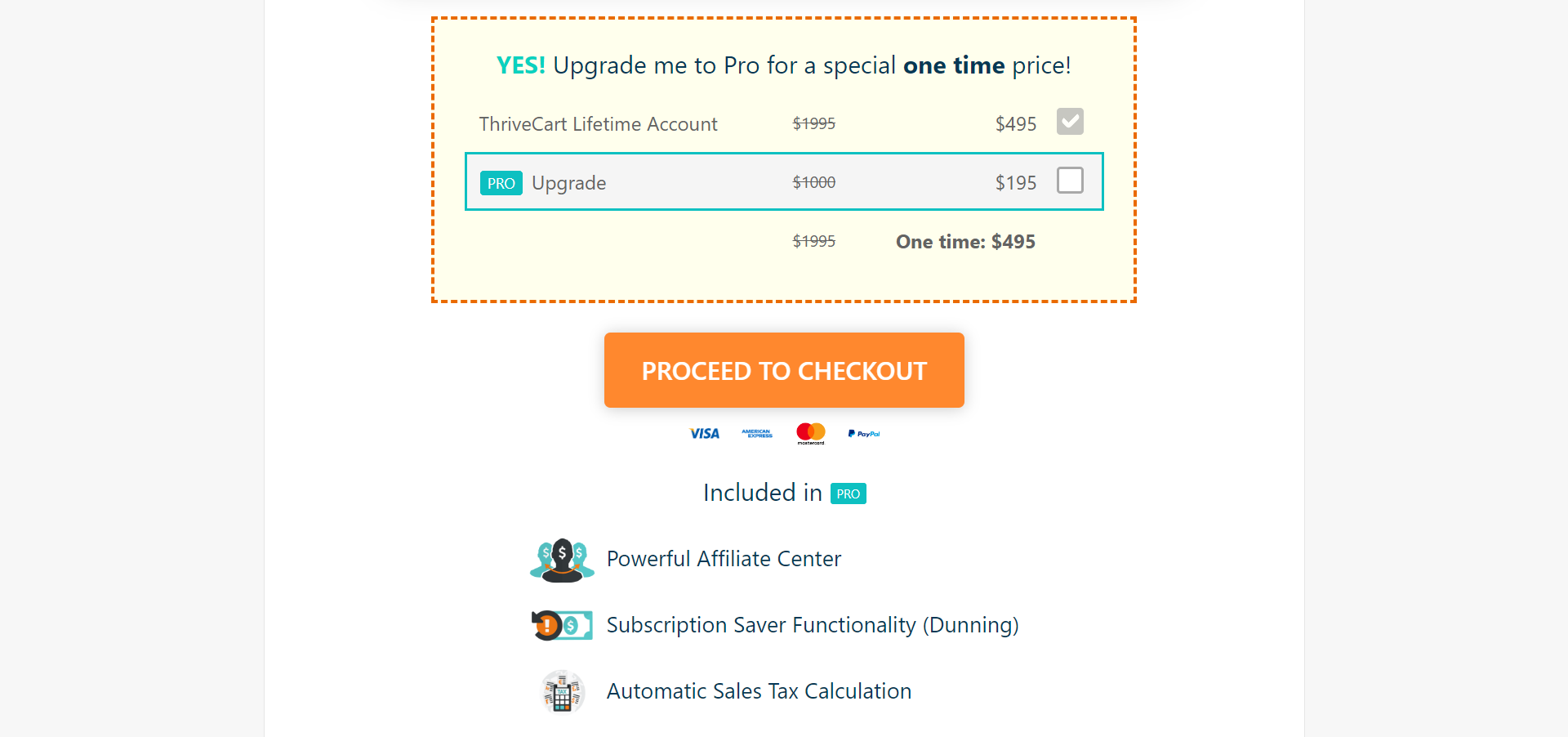 I've already mentioned that ThriveCart users pay a one-off lifetime fee of $495. However, as alluded to in the features section above, there's also a ThriveCart Pro account. This will set you back $690.
Shopify Features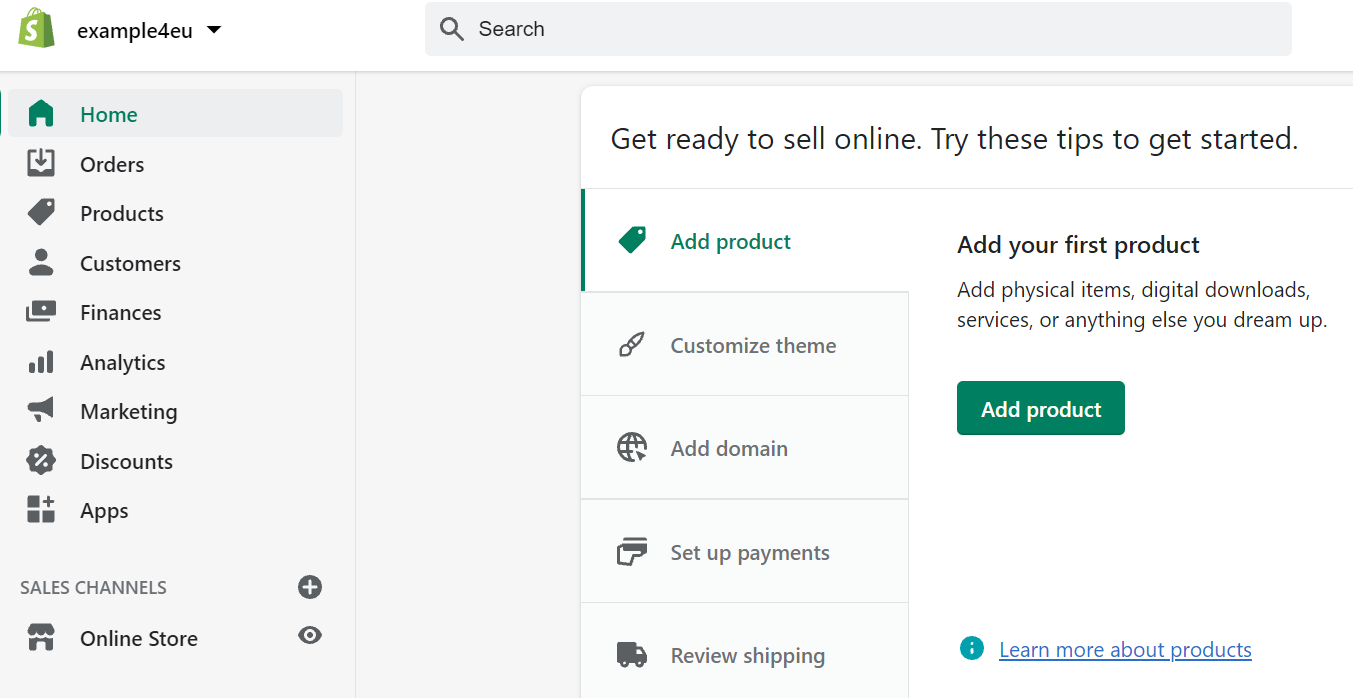 Before we turn our attention to Shopify's features, I have to say that Shopify's functionality is colossal. As such, I haven't listed all of its features – otherwise, we'd be here all day. So instead, below, I've highlighted just its core functionality.
These features come with all of Shopify's pricing plans (minus Shopify Lite). All of which can be managed via the Shopify dashboard:
Online store:

Build an online store without coding, using attractive, fully customizable templates. There are over 70 to choose from!

Sales channels

: You can promote and sell your products on multiple sales channels,

including Facebook, Instagram, eBay, Google, and YouTube – all from within Shopify.

Point of sale:

I love that

Shopify comes with an all-in-one POS system that includes inventory tracking, staff management, and more.

24/7 support

: Shopify users can access around-the-clock support via email, phone, and English live chat.

Analytics

: You can generate product reports and access sales and customer data via your Shopify dashboard. For further insights, you can also integrate with Google Analytics.

Marketing and SEO

: Edit your SEO features like tags, meta titles, and descriptions. You can also include your own blog to boost your SEO. As for other marketing features, Shopify comes with basic transactional email marketing. You can target specific customer groups based on their buying behaviors. For example, you could reward loyal customers with fixed value discounts, percentage money off discounts, or shipping discounts. You can also sell gift cards and activate abandoned cart recovery

.

Mobile app

: Thanks to its mobile app, Shopify is entirely mobile-friendly. With just a click, you can fulfill orders from the convenience of your smartphone, access the mobile dashboard, manage your inventory, etc.

List unlimited products:

You can add unlimited physical and digital products to your store and manage your inventory via your dashboard.

Shopping cart

: There are 100 payment gateways available. Users also benefit from a free SSL certificate, the capacity to accept all major credit cards, and set flexible shipping rates.

Web hosting:

Users receive unlimited bandwidth and can process an infinite number of customer orders. You also get automatic Shopify updates and Level 1 PCI-compliant security.
Shopify Pricing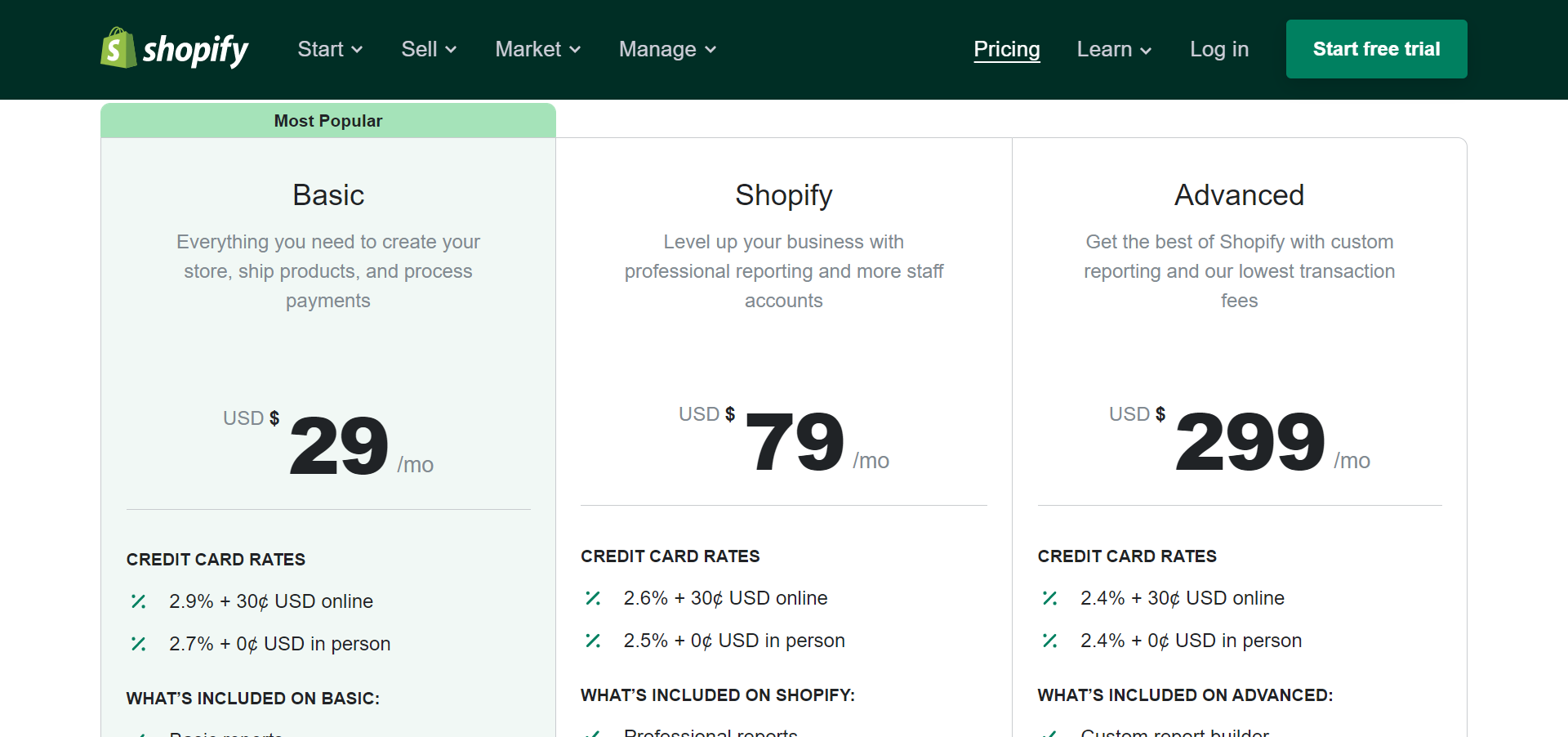 As I've already mentioned, Shopify's pricing structure differs from ThriveCart. Instead of shelling out for a one-off fee, there are five pricing plans billed monthly. All come with a free 14-day trial. Below I'll take a look at each pricing tier in turn:
Shopify Lite

: $5/month. With this package, you can't build a fully-fledged eCommerce store. Instead, you can sell on Facebook via Messenger chat or your existing blog or website by adding a Shopify "buy" button. In addition, you can accept credit card payments, create invoices for custom orders, and manage sales via the Shopify dashboard.

Basic Shopify

: $29/month. You can create a comprehensive eCommerce store, run basic reports, register two staff accounts, sell from four inventory locations, and receive up to 77% off shipping discounts. Transaction fees for credit card sales are 2.9% + 30¢ USD online or 2.7% + 0¢ USD in-person.

Shopify:

$79/month. This includes professional reports, four staff accounts, five inventory locations, and up to 88% off shipping discounts. Transaction fees for credit card sales are 2.6% + 30¢ USD online or 2.5% + 0¢ USD in-person.

Advanced Shopify

: $299/month. This includes a custom report builder, up to 15 staff accounts, and eight inventory locations. Credit card fees are 2.4% + 30¢ USD online and 2.4% + 0¢ USD in-person.

Shopify Plus (Enterprise)

: Prices reportedly start at around $2,000/mo, but you'll have to contact the sales team for a custom quote. Needless to say, this package is aimed at high-volume eCommerce stores.
ThriveCart and Shopify Pros and Cons
I think we can all agree that a comparison review wouldn't be complete without a quick pro-cons list. So let's kick things off by delving into ThriveCart's most notable perks and drawbacks:
ThriveCart's Pros:
There's a full 30-day full refund guarantee available

By not having to shell out for recurring payments, you'll save money in the long-run

You can embed checkout pages on your own websites and social media pages.

You can use ThriveCart to sell digital and physical products

There's a drag-and-drop editor alongside templates, making web design a breeze

You can create an unlimited number of checkout pages
ThriveCart's Cons:
You'll have to upgrade to the Pro plan to access more sophisticated features like built-in dunning.

The ThriveCart website is somewhat basic, without a drop-down menu to outline features more clearly.

Neither live chat nor phone support is available.
Shopify's Pros
There's a generous choice of contemporary storefront themes to choose from

Shopify is simple to use, especially if you're a beginner

24/7 customer support is available

You can manage your Shopify store from the convenience of a mobile app

Shopify supports multiple currencies

Hundreds of third-party integrations are available, including dropshipping ones.

Sales tax is calculated automatically.

For EU users, VAT is automatically calculated at checkout

Built-in email marketing features are available
Shopify's Cons:
Depending on which payment gateway you opt to use, the extra transaction fees can really add up

Multi-lingual support isn't available; only English

The number of staff accounts you can create is limited to the pricing plan you opt for

Although there are free themes, there aren't that many (9 vs. 83 paid for)
ThriveCart and Shopify Alternatives
In essence, the two platforms are different from each other, with ThriveCart focussing primarily on enhancing your customer's checkout page experience. In contrast, Shopify offers a one-stop shop for all things eCommerce. So, when it comes to viable alternatives, I've split them accordingly. I.e., below, you'll find two ThriveCart options and two Shopify alternatives that I think are worth checking out before you make any final decisions:
ThriveCart Alternatives
The two ThriveCart alternatives I've picked are:
WooCommerce

SamCart
Let's explore each in turn:
WooCommerce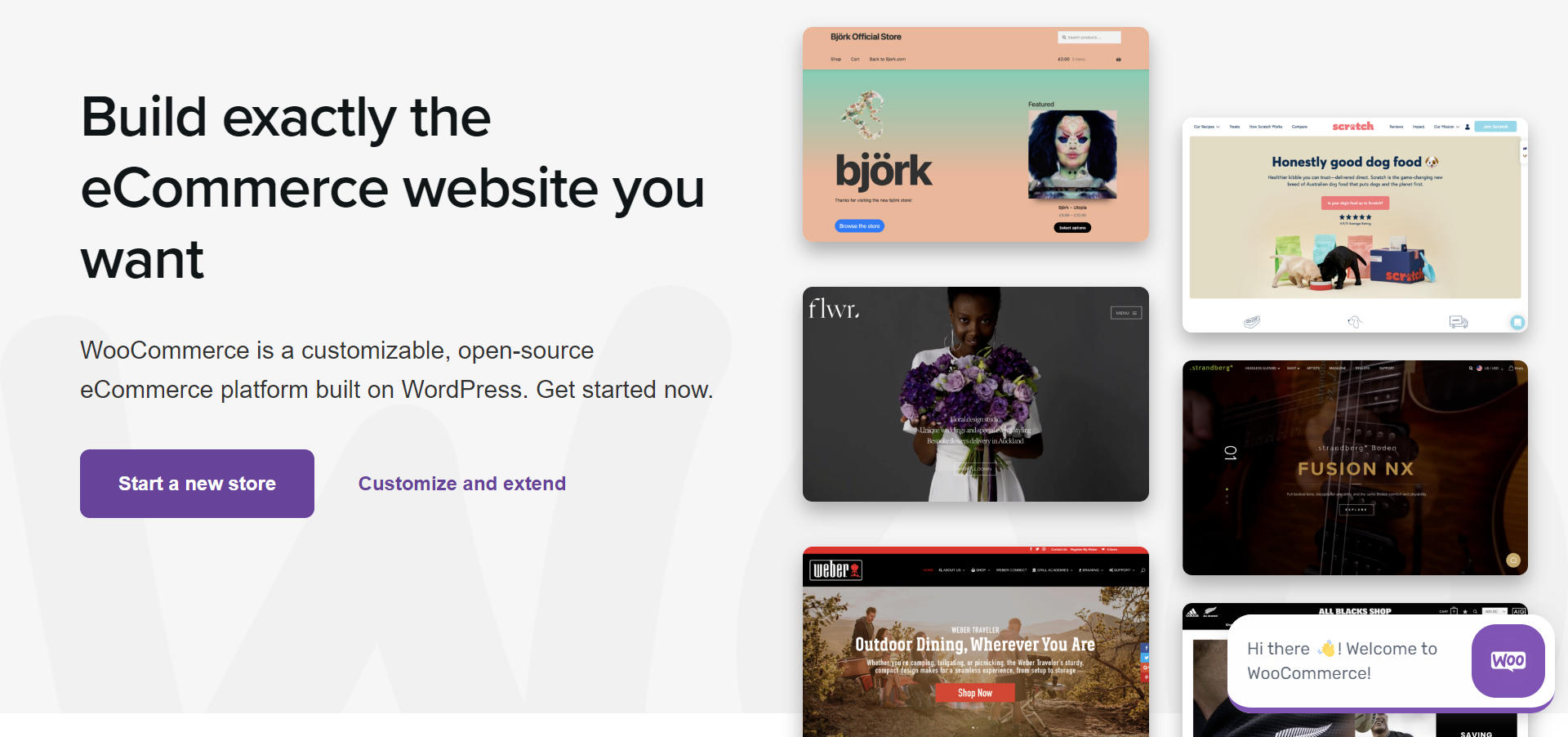 WooCommerce is a WordPress integration designed to enable you to transform your WordPress website into a fully functioning online store. It's a scalable and flexible solution with over 1,300 customizable themes available on Theme Forest alone.
Other features include:
Inventory management

SEO management

Email marketing

Built-in blogging

The ability to add shortcodes to products on blog pages

You can upload unlimited images

Create galleries
…and much, much more.
Like ThriveCart, you can also sell digital and physical products using WooCommerce and utilize WooCommerce's built-in payment processing that uses leading providers like Stripe and PayPal. On top of that, you can also accept credit card payments, direct bank transfers, checks, or cash on delivery.
Yes, WooCommerce is a free, open-source option. But is it entirely without costs? Unfortunately, prices are more complex because you need a WordPress website to operate WooCommerce. You'll have to shell out for web hosting and a custom domain name. That's as well as any premium plugins, themes, and security measures you wish to adopt.
Managed WooCommerce hosting can start from as little as $2.99 a month with Siteground. You'll also need to purchase your own domain, which usually costs around $10-$20 per year.
Of course, themes and plugins range in price, and needs will vary from business to business, so it's hard to give you an idea of exactly how much you'll pay with WooCommerce. In light of that, I urge you to do your own research into this and calculate how much WooCommerce will set you back to meet your exact needs.
SamCart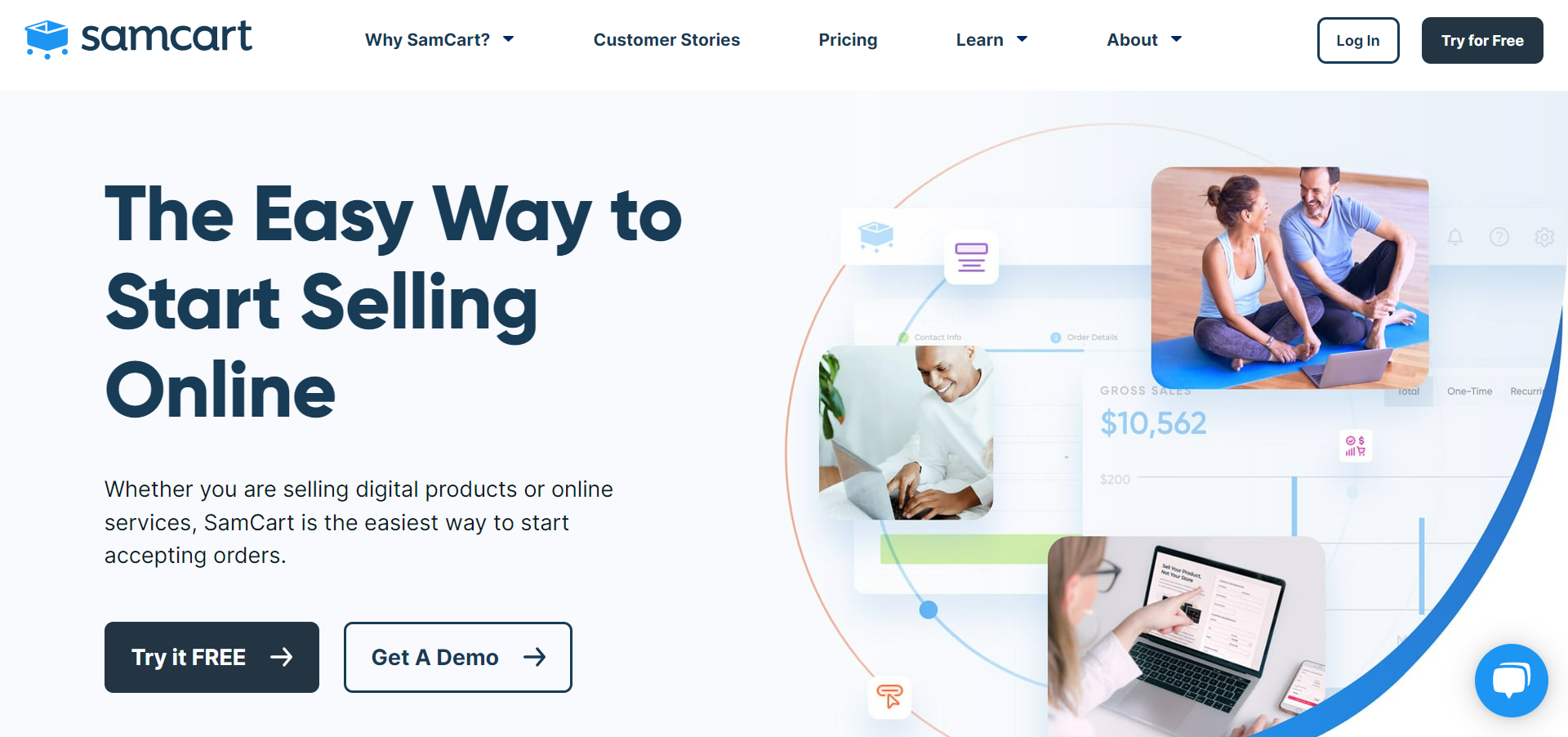 SamCart's website tells us it's helped 30,000+ businesses collectively sell 9.7 million products. SamCart primarily aims itself toward Etsy and Amazon sellers, course creators, influencers, nonprofits, authors, and product inventors.
SamCart users can showcase, promote, and sell their products using SamCart's feature set. This includes access to a library of pre-designed, mobile-friendly website templates and a drag-and-drop page builder with no coding required.
Other notable features include its revenue optimization functionality, which includes one-click upsells, pre-purchase order bumps, A/B testing, and advanced reporting. In addition, you can send cart abandonment emails to customers to encourage them to return to their cart and complete their transactions.
On top of that, you can also use SamCart to:
Calculate taxes (sales and VAT)

Collect customer data

Arrange refunds

Create coupons and discounts

Build an affiliate center to link up with promotional partners
SamCart integrates with multiple apps, including Stripe, ShipStation, Zapier, PayPal, and MailChimp.
There's a free seven-day trial and a 0% processing fee. After that, prices start at $49 a month, rising to $99 a month, $199 a month, and an Enterprise plan where prices are unlisted, so you'll have to contact SamCart directly for a custom quote.
Shopify Alternatives
Now let's look at a couple of Shopify alternatives, below I've picked:
BigCommerce

Wix
Again, I'll discuss each in turn:
BigCommerce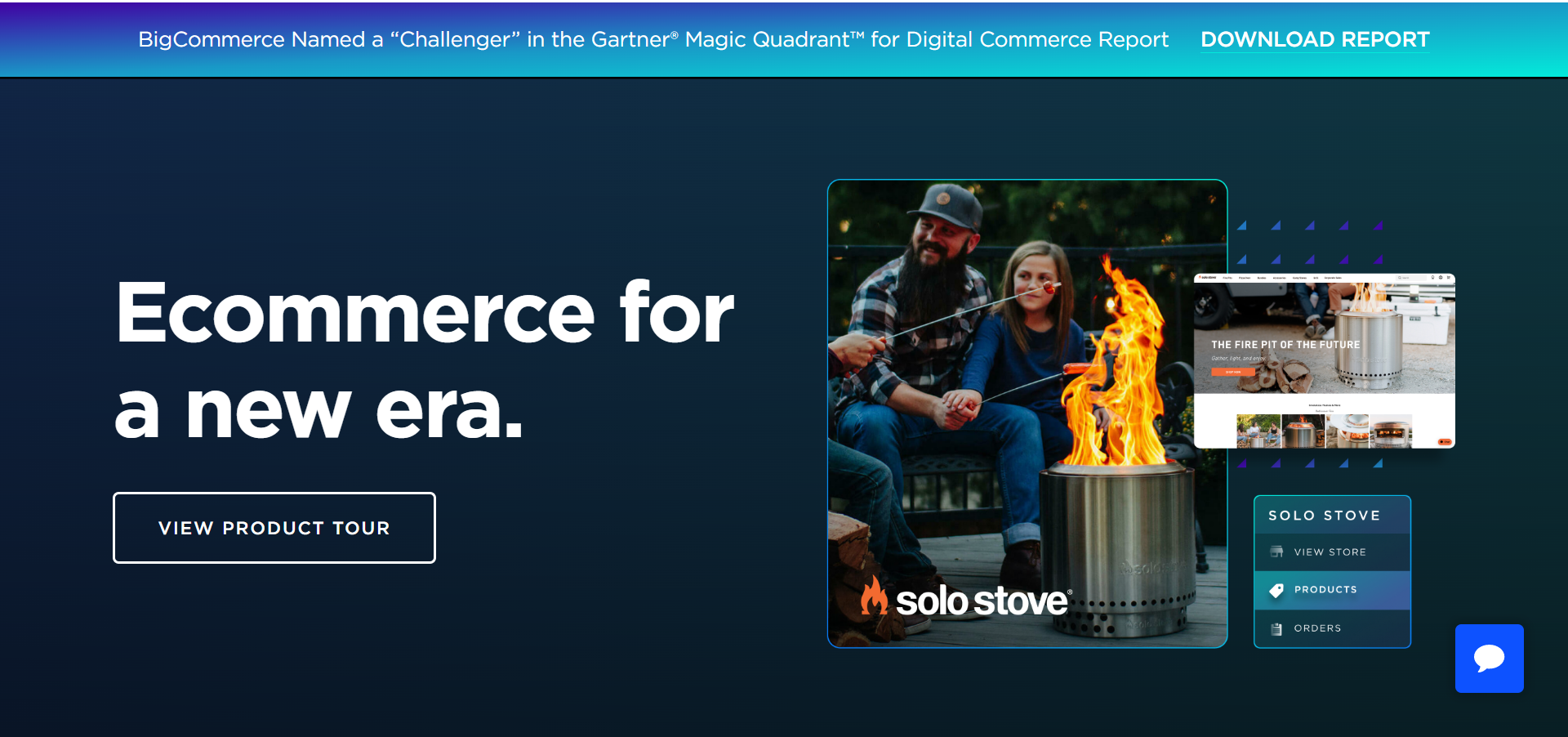 BigCommerce is a popular alternative to Shopify. It's an all-in-one hosted solution you can use to create an online store. You won't need any coding knowledge or tech experience, either.
Notable features include:
A decent selection of fully customizable themes

Built-in SEO and marketing functionalities

You can register an unlimited number of staff accounts

Access to a drag-and-drop page builder

You can customize your checkout page

A WordPress integration

Coupon and discount creation

Customers can pay using digital wallets
…and much, much more.
Thanks to BigCommerce's massive suite of built-in features, there's a good chance you won't have to spend much on different apps and extensions.
Although some themes are free, only 12 out of 295 are. Prices for premium templates start at $150.
Wix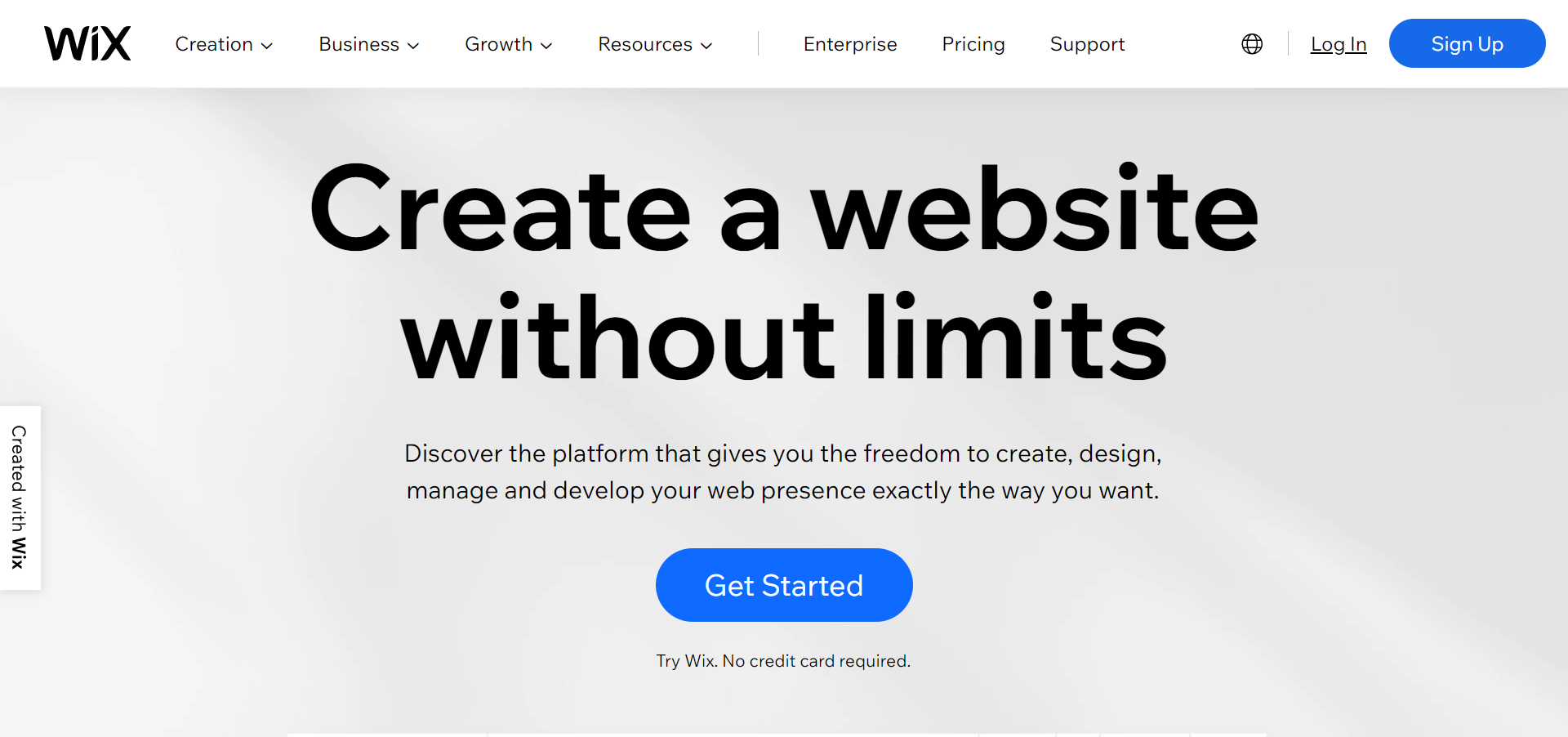 Wix is another popular website and eCommerce store builder. Like Shopify, it's easy to get going. You don't need to understand any code. Wix's interface is incredibly intuitive – it's arguably what it's most famous for! You can select hundreds of pre-designed mobile-friendly templates and customize them using Wix's simple drag-and-drop website editor. Wix's eCommerce plans also offer a range of features to help you sell products quickly.
These include:
Accepting online payments (there are over 50 payment gateways to choose from)

Shipping management

Automated sales tax calculation

Inventory management

You can sell gift cards and subscriptions
…and much more.
You can further enhance customer engagement by allowing customers to browse your store in their local currency, offer member-dependent discounts, and boost sales with free shipping once a customer spends a set price.
Lastly, you can encourage speedy purchases with express checkout. Just add "pay" buttons anywhere you want to on your Wix site to instantly send customers to your checkout page.
Wix prices start at $17 a month for the most basic of Wix eCommerce plans and range to $59 per month for the Business VIP plan.
FAQs
Question: Does the ThriveCart Pro account offer other features apart from the affiliate platform?
Answer: Yes, with the Pro account, you'll unlock ThriveCart's dunning feature, automatic sales tax calculation, intelligent business projections, advanced user management, client usage rights, and custom domain name functionality.
Question: Can I integrate ThriveCart with Shopify?
Answer: That's a tricky one – the answer is: yes and no. According to the ThriveCart help center, in early 2020, Shopify's API was "deprecated, and they removed support for 3rd parties like ourselves to create customer orders within their platform for fulfillment. This affected new integrations/accounts only, and any existing integrations will be unaffected."
Question: Do ThriveCart and Shopify have mobile apps?
Answer: Shopify comes with a fully functional mobile app from which you can manage orders, products, staff, and customers. You can even design your store on the go and grow your audience with access to SEO, social media, and marketing tools.
The app is available for both Android and iOS. At the time of writing, ThriveCart doesn't offer an equivalent mobile app. To access it on the go, you need to navigate to the browser page from your phone and log in on your device as usual.
ThriveCart vs Shopify: My Final Verdict
That brings us to the end of my ThriveCart vs. Shopify comparison – we've covered a lot of ground, so here are my final thoughts. All in all, both have advantages and disadvantages, and while they share some similarities, they're ultimately offering different propositions.
Suppose you're an existing eCommerce store owner who wants to enhance their customer's checkout experience to boost your sales. In that case, ThriveCart might be a good choice for you. If, however, you're an entrepreneur simply looking for a platform you can use to build an entire eCommerce store from scratch, then Shopify may be a better bet.
However, I also think it's worth noting that ThriveCart's one-time payment is a good bet. Although its website states this offer is time-limited, it's been around for a while. In contrast, although Shopify's initial fees are low, prices can add up over time.
Are you ready to try ThriveCart or Shopify? Let me know which you decide to use in the comments box below. Speak soon!