Last Updated on May 6, 2022 by Ewen Finser
In your search for the best WooCommerce payment gateway, it's a good idea to first look at the user journey in relation to the connection between cart abandonment and completing a purchase.
Call it what you want, but cart abandonment is fundamentally lost income.
These are leads who've essentially gone through the entire funnel and even took the time to start shopping around the site- only to end up jumping ship right at the last moment.
A 2018 SalesCycle survey places the current average rate at 75.60% while AbandonAid had established 81.40% in 2017. Then in 2016, Listrak had quoted 78%, which was a few points ahead of Adobe's 75.50%.
Are you noticing a strange pattern here? Well, the trend goes on and on, with earlier surveys publishing even lower figures- like MarketingSherpa's 59.80% back in 2006.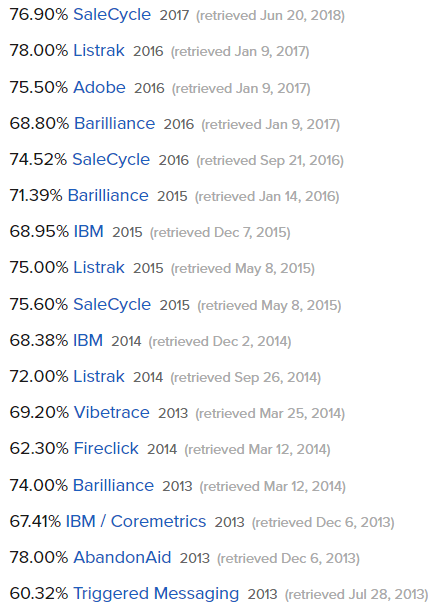 The bottom line? Quite simply, it's getting much harder to convince potential buyers to proceed to checkout.
But what does this have to do with payment gateways?
Almost everything actually. Check this out- 60% of cart abandoners blame high extra costs like fees, tax, and shipping. 28% of them cite complex checkout processes. Then 23% say that they couldn't determine the total order cost upfront, while 19% didn't trust the sites with their sensitive credit card info, and 8% believe that the payment methods were insufficient. Declined credit cards, on the other hand, is the reason behind 4% of the cases.
Well, don't get me wrong. I admit that some of these might have been triggered by a wide range of factors affecting the payment process directly or indirectly. But, let's face it- The whole shebang has payment gateways written all over.
Even when you perfectly optimize your site's CRM structure, the fact is that your payment gateway has the last say in the conversion framework. It pretty much influences everything from the checkout process and credit card security, to the extra fees charged and accounts management.
What does this mean?
Simply put, you cannot afford to settle for the second best payment gateway solution. Only the best would give you comparatively great chances of minimizing the cart abandonment rate. And of course, streamlining your entire accounts management framework.
But then again, "best" here is relative. What works for one site might be unsuitable for another online store.
So, to effectively determine the best possible payment gateways for your WooCommerce site, let's review everything from the ground up- starting with the types to payment gateways.
Types of Payment Gateways
A payment gateway, to begin with, is a tech solution that helps you accept your customers' payments. In other words, it works pretty much like a cash register in a brick-and-mortar store.
We call it a "gateway" because it systematically connects your ecommerce business with credit card providers and your customers' banks. It uses this to facilitate transmission of relevant transaction details like CVN numbers, card expiry dates, and card numbers to payment processors.
In the end, WooCommerce gets a notification about the status of the transaction- whether it has been completed or not.
That said, the type of payment gateways are:
Form-Based Payment Gateways
A form-based payment gateway normally hosts the actual payment interface away from your site. Shoppers are redirected to the payment gateway's online platform as soon as they choose to proceed to checkout.
The best thing about this structure is the simplicity that comes with it. Setting up a payment system is satisfyingly easy and straightforward. You don't even need to meet all the credit card security standards because everything is handled on a secure third-party website.
Sadly, it turns out internet users don't quite like being redirected around the web. While some might proceed with the payment process, expect to lose a fraction of them midway between your site and the payment gateway.
iFrame-Based Payment Gateways
Now that some of the shoppers consider offsite redirects inconvenient, how about keeping them onsite?
Well, that's basically what iFrame-based payment gateways entail. Instead of shifting to a separate page, they simply generate a payment form directly on your site through an iFrame.
But, make no mistake here. The form is not exactly built into your online store. It's only adopted as a third-party element that's entirely managed by the service provider.
So, in other words, this option was principally developed to address the primary drawback of form-based payment gateways.
Unfortunately, it doesn't exactly mitigate all the possible negative points. The payment gateway interface, for example, might clash with your store's structure and overall setup- subsequently putting off some of your customers.
Direct or Integrated Payment Gateways
Unlike iFrame and form-based solutions, direct payment gateways are built directly into your site as part of the online store structure. Everything ends up blending with your store's theme and design.
So, expect the consequent seamless integration to achieve a much cleaner professional outlook that many customers would consider trustworthy.
Apart from that, you also benefit from the smooth communication network between such a gateway and the underlying WooCommerce engine.
Then, of course, there's the issue of increased flexibility- thanks to the simple fact that the bulk of the payment setup process is managed by your store. But then again, this introduces a whole new level of complications because it translates to additional security responsibilities. You'd not only need an SSL certificate but also PCI compliance at the very least.
Factors To Consider When Choosing a WooCommerce Payment Gateway
Compatibility
First things first. If you're reading this, I bet you're already running your online store on WooCommerce. Consequently, it only makes sense to start off by focusing only on payment gateways that have developed extensions for WooCommerce.
Although WooCommerce is fairly dominant in the ecommerce platform space, there are many online payment gateways that are still yet to capitalize on it. Thankfully, all the biggest digital payment brands have already ventured here, and you should be able to identify some notable prospects from the word go.
But don't be quick to qualify one based on WooCommerce alone. Since each online store is essentially a network of various applications, you should also establish other services and applications that various gateways are compatible with.
A typically suitable solution is stable on WooCommerce and flexible enough to interact with a wide range of ecommerce applications.
Usability
Reviewing a payment gateway's usability entails analyzing the entire pipeline.
First comes the setup process. How easy is it to embed the gateway with your online store? Do you need extensive programming on the backend? Or do you simply acquire a plugin then attach it to your site?
If you're seeking to handle everything without hiring developers, you should consider going with a plug-and-play full-stack solution. Advanced configuration setups, on the other hand, are best handled by large enterprises.
Now, let's switch to the other side- customer usability. An ideal payment gateway should be user-friendly and holistically customizable. So pay special attention to the checkout process, the login structure, and the navigation procedure.
Then get this. Although customers prefer a secure payment environment, they also happen to hate limitations like multiple logins in one session. So keep it simple and well-structured.
Payment Methods For Consumers
By now, I bet you've noticed the pace at which digital payment trends are changing. We previously assumed that credit cards would maintain an exponential growth tempo well into the future. Then came new methods like cryptocurrencies, and it now seems like cards might be overthrown in the near future.
Regardless of your personal preference and opinion, the fact is that there are numerous digital payment methods today. While 42% of online shoppers are using credit cards, 39% go with electronic payment methods, and 28% prefer debit cards. Bank transfers, on the other hand, are considered ideal by 20%, and mobile payment is fancied by 14% of the consumers.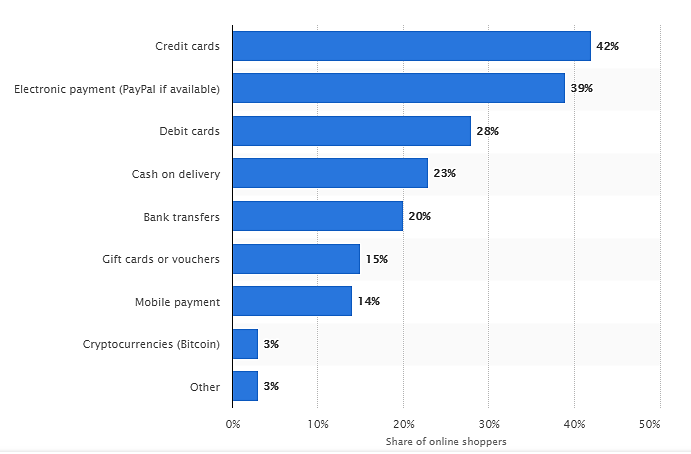 Well, you could bundle multiple payment gateways together to address all these potential payment methods. Or you could use a more strategic approach of adopting a solution that effectively provides all the options preferred by your target market.
Payment Methods for You
A payment is not technically complete until the corresponding funds have been duly remitted to the merchant's side. And the only way to facilitate this is leveraging a solution that supports your preferred remittance method.
The bulk of payment gateways require business owners to set up merchant accounts with their local banks to accept debit and credit card payments. This might cost you some fees, but it comes with the benefit of increased insurance against chargebacks and payment fraud.
And then we have gateways that are lenient enough to accommodate businesses without merchant accounts. The funds are consequently held in their internal accounts, from where you can ultimately transfer them to your selected bank account.
Locations
Sadly, they are yet to come up with a payment gateway that universally accepts and processes payments from anywhere on the globe.
But, here's the thing. While you might be able to host customers from many countries, the truth of the matter is that your business can only run from a handful of locations at once.
Consequently, you should first evaluate the payment gateways based on the supported merchant countries, before ultimately switching over to payment source locations. And that means defining your target market comprehensively to establish their respective geopositions.
It also advisable to dive deeper into the details to analyze policies that apply to various countries. Payment gateways have varying systems when it comes to the dynamics of monetary legislation on things like VAT, and tax.
Currency
Make no mistake here. Although currency often goes hand-in-hand with country, they are two different elements of payment. A payment gateway service might support a wide array of countries only to process payments in one or two currencies.
So, again, pay keen attention to your shoppers' location demographics to determine the primary currencies you should be dealing in. A good WooCommerce payment gateway should be able to seamlessly adapt to all the global currencies.
Security
Put yourself in a black-hat hacker's shoes for a moment. What would you rather hit- a popular site with a wide audience base, or a much smaller ecommerce site running on a weak payment gateway?
Well, admit it. Money always wins. It's the primary trigger behind the bulk of hacking attempts today. That's why the US, for instance, is experiencing more than 4,000 ransomware attacks on a regular basis. And to make matters worse, most of the breached businesses only discover a system infiltration after about 197 days.
Even when you're lucky enough to avoid hackers' radars, fraudsters can still capitalize on your store's payment system to conduct falsified transactions. This alone has seen both businesses and consumers exceedingly lose billions of dollars every year in just the US alone. 2018 has already recorded CNP fraud losses amounting to 6.4 billion- almost tripling the numbers in 2012- and the year is not over yet.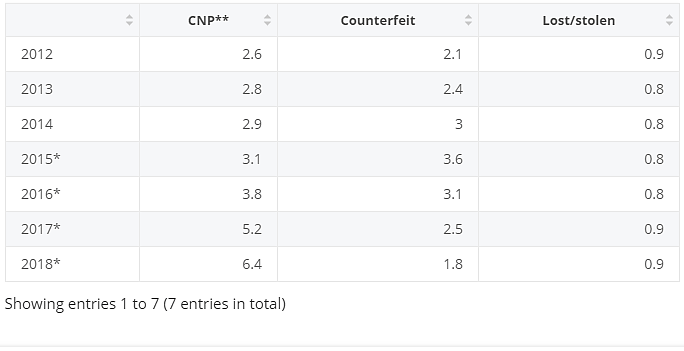 With such a trend, it's evident that digital payment security is becoming increasingly critical. You cannot afford to settle for anything less than a payment gateway that is adequately compliant with PCI standards, and heavily leverages firewalls plus encryption to protect your customers' data.
The best solutions, as a matter of fact, further employ artificial intelligence to automatically detect and prevent potential online payment fraud.
Performance
The most annoying bit about shopping, admittedly, is queuing at the cash register. Don't you just hate how a minute suddenly starts feeling like an hour?
Now, don't assume that your customers are any different. Each second's delay is an additional reason to drop everything and close your site's tab.
In fact, US cart abandonment data published by Statista blames 16% of the cases in 2017 on bad site navigation. Then 21% of the consumers were put off by a long process.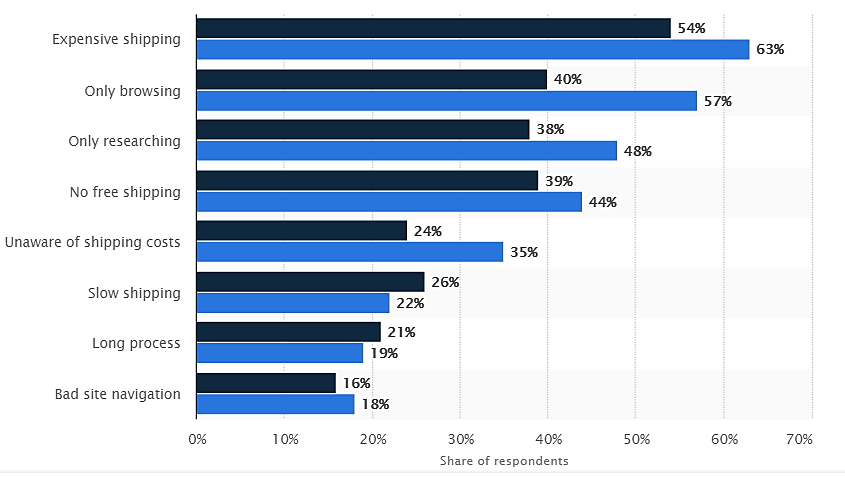 Therefore, apart from optimizing your entire store for speed, adopt a payment gateway solution with impressive performance numbers. A perfect one should provide fast page loading speeds and few payment completion steps.
Cost
Surprisingly, the bulk of WooCommerce payment gateways are free to acquire. They won't charge you even a dime to install. But you know what? That's the farthest the freebies will go.
It turns out that none of the solutions can be used for free. They've implemented different pricing approaches with correspondingly varying schedules to charge users for the services.
While some would require you to pay for a plugin, others charge a signup fee, and some prefer to bill users periodically. Most of them, however, come with fees for each transaction, which are usually levied as percentages or fixed amounts. This is usually accompanied by penalty charges for rejected transactions and other forms of disputes.
That said, you'll notice that numerous payment gateways operate with holistic pricing schedules that dynamically encompass most, if not all, of these fees. So, the only way to compare them accordingly is analyzing each solution independently based on all the possible charges you might incur over the long haul.
Then, finally, combine the rates with the gateways' respective functionalities and projected efficiency levels to make an informed decision on the most reasonably priced solution.
Top WooCommerce Payment Gateways
Best Payment Gateway And Payment Processor: PayPal
It undeniably goes without saying that PayPal is the most dominant payment gateway in the world. This year alone has seen the platform process 132 billion dollars in the first quarter, then 139 more billions in the second quarter, and 143 billion in the third quarter.
One of the fundamental reasons why it enjoys such prominence is its flexibility when it comes to ecommerce platforms. On WooCommerce alone, the service is available in multiple forms, each with its own unique set of functionalities- PayPal Standard, PayPal Powered By Braintree, PayPal Checkout, PayPal Pro Hosted, PayPal Advanced, and PayPal Pro.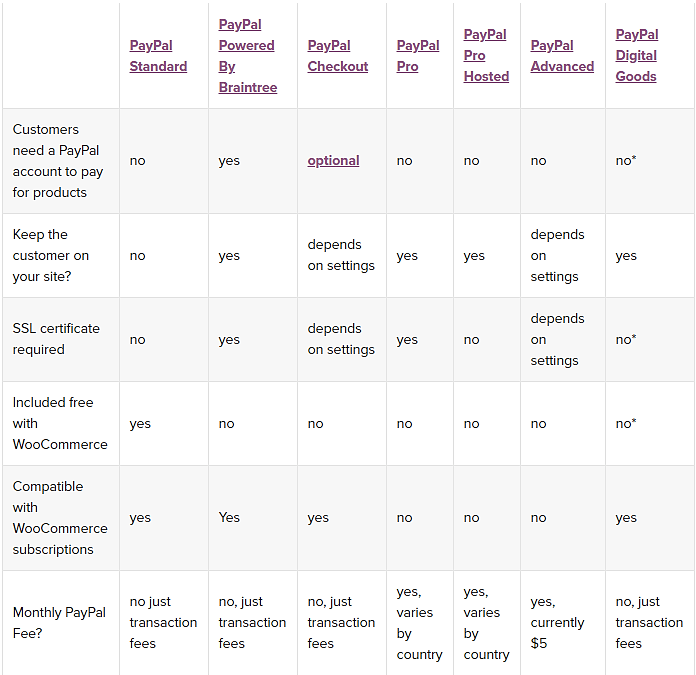 PayPal Standard, to begin with, is provided as a service embedded into WooCommerce's default framework. This subsequently saves you the trouble of seeking alternative payment plugins.
The integration process itself is satisfyingly simple and straightforward since the solution is a form-based payment gateway.
So, what features should you expect?
You can seamlessly accept debit card, credit card, and PayPal payments in just a matter of minutes.
PayPal allows you to process transactions from numerous countries around the globe. Your customers can proceed with any of its 25 supported currencies.
Non-profit organizations benefit from lower transaction processing rates. They pay only 2.2% as opposed to 2.9% of the total transaction value.
Once a payment is completed, your money is immediately remitted to your PayPal account after deducting the transaction fee.
Possible fraud is flagged and subsequently blocked by PayPal's fraud detection and prevention tools. Then PayPal Seller Protection covers you in case these happen to fail.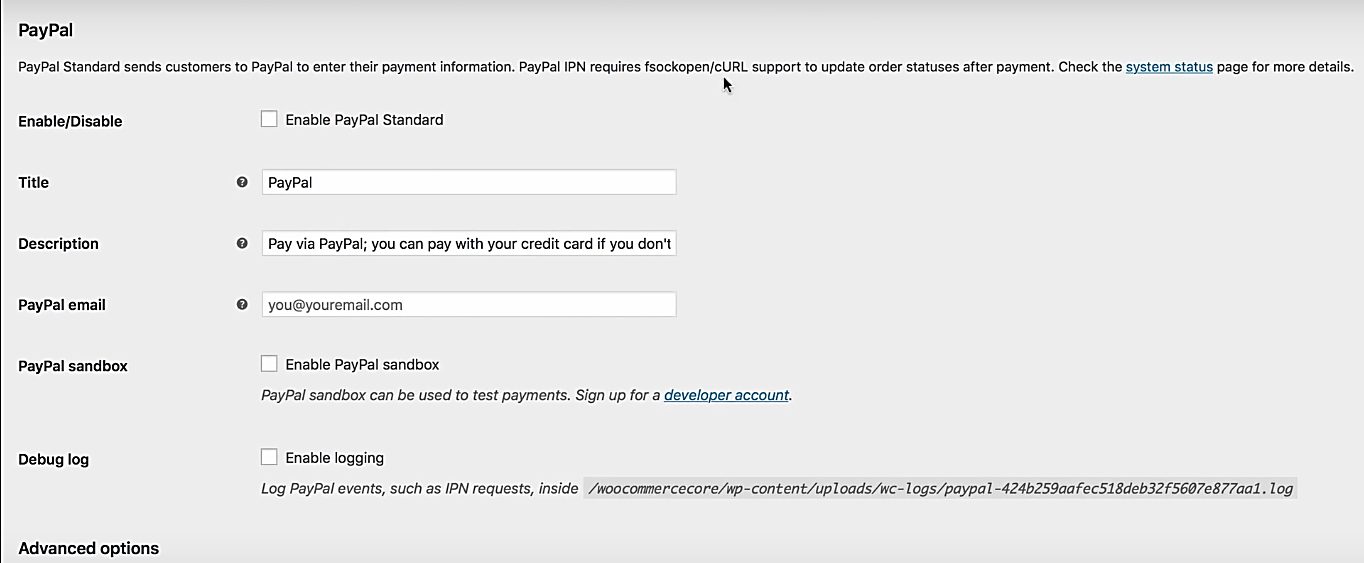 Thankfully, setting up PayPal Standard is completely free. The charges here only come up when you start selling.
Generally, PayPal Standard will take 2.9% of each transaction plus a fixed charge of 30 cents for payments made via your WooCommerce site. Then if you happen to sell in-person on mobile or in-store, PayPal will only charge you 2.7% of the transaction amount.
And guess what? There's still more if you ran into chargeback troubles. PayPal essentially deducts about $20 for each chargeback – which is refundable if the dispute is ruled in your favor.
Now, as your business continues growing, you can upgrade to PayPal Pro to get the following:
A direct payment gateway built onto your website.
A virtual terminal dashboard for feeding payments that are keyed-in.
Processing of WooCommerce marketplaces multivendor payments.
Handling of recurring subscription payments at an extra cost of $10 above your PayPal Pro subscription fee.
But, here's the kicker- PayPal Pro will cost you an additional monthly subscription fee, which varies by country. And the same applies to PayPal Pro Hosted while subscribing to PayPal Advanced costs just $5 per month.
Best Omnichannel: Square
Square is suitable for dynamic businesses seeking a holistic omnichannel payment gateway solution with a range of tools for accepting payments and managing sales.
For starters, this service grants you the ability to accept Android Pay, Apple Pay, and credit card payments on your WooCommerce store. Then it supplements that with an array of inventory, sales, and business management tools.
And you know what? Integrating all these functionalities with your WooCommerce site is completely free of charge.
Ok, that sounds good. So, what do you get from Square's payment gateway?
Square comes with an omnichannel system that handles payments across all your sales platforms- including online and POS.
Apart from popular credit cards, Square processes payments made via Android Pay and Apple Pay.
You can supplement Square by adding Amazon Pay and PayPal to set up several payment gateways on one online store.
Square accepts payments from multiple countries- consequently facilitating progressive overseas expansion.
You get a free magstripe credit card reader to process card transactions through your mobile device.
Square's system comes with automatic fraud detection and protection capabilities. And in case it fails to prevent accordingly, you can rely on the Square Chargeback Protection for $250 monthly coverage.
There are no penalty fees for chargebacks.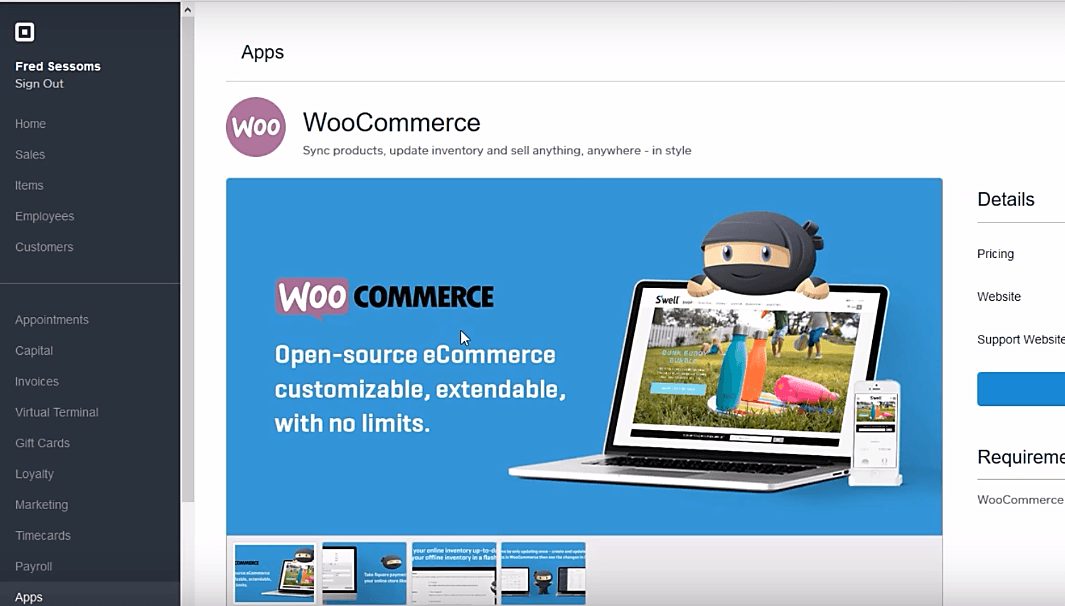 While capitalizing on Square's POS sales, inventory and business management package is free, accepting payments will cost you some money.
Transactions conducted on virtual terminals, for example, are charged 3.5% of the transaction value plus 15 cents. Then in-person transactions on mobile or in-store cost 2.75% of the transaction value. Selling through your WooCommerce site, on the other hand, will see you pay 2.9% of the transaction value plus 30 cents.
Unfortunately, you will not be able to run an online marketplace with Square. It cannot support structured parallel payouts like Stripe or PayPal.
Another significant drawback is its currency restrictions. It turns out the system is not flexible enough to convert currencies when handling international transactions.
Best For Merchant Accounts: Authorize.net
Authorize.net is essentially the go-to payment gateway for linking your WooCommerce online store with your merchant account provider. This strategy alone could help you secure a substantial amount of savings, thanks to the favorably low payment processing rates by merchant account providers.
And what else do you get?
Unlimited flexibility when it comes to choosing merchant account providers. So, of course, you end up settling for the cheapest, most versatile option.
You can accept any type of payment options supported by the merchant account provider. PayPal payments, eChecks, ACH debit payments, eWallets, plus debit cards and credit cards are all possible choices.
Authorize.net facilitates overseas sales by supporting payments from a wide range of territories.
As they venture into the ecommerce space, offline store owners can conveniently link their pre-existing merchant accounts with their WooCommerce sites. This helps them streamline their overall sales and bookkeeping.
Authorize.net comes with a robust fraud detection and prevention system. Unfortunately, it doesn't protect you from possible chargebacks. Such cases are typically handled by merchant account providers.
That said, acquiring the WooCommerce Authorize.net plugin will cost you $79 per year. The service then goes ahead to charge $25 per month as payment gateway fees.
Thankfully, the resultant gateway transaction fees are comparatively low. The system only deducts a batch fee of $10 cents on a daily basis, plus $10 cents for each transaction.
And that's pretty much all from the Authorize.net payment gateway service. Any additional processing fees beyond this level are levied at the discretion of your merchant account provider. They might include; chargeback fees, in-person mobile and in-store payment processing fees, international card processing fees, ACH direct debit processing fees, plus card and e-payment processing fees.
It might be neat, but guess what? You don't have to rely on merchant account providers for processing. If the consequent cumulative sum of all these charges turns out to be on the higher side for your business, you can opt for an alternative Authorize.net all-in-one payment processing and payment getaway structure- at just 2.9% plus $30 cents per transaction.
Now, the biggest problem with Authorize.net is its seemingly complex framework. The setup process itself is frustratingly cumbersome, considering you have to register for an Authorize.net account, integrate it with your site, and then create a merchant account before ultimately linking it accordingly.
Summary
The current average abandonment rate is 75.60% while AbandonAid had stated 81.40% in 2017.
60% of cart abandonment is triggered by high extra costs, 28% by complex checkout processes, 23% by unclear upfront order cost sums, 19% by untrustworthy sites, 8% by insufficient payment methods, and 4% by declined credit cards.
A form-based payment gateway redirects traffic to complete the actual payment process away from your site.
To avoid redirecting traffic to a third-party site, an iFrame-based payment gateway simply attaches a payment form to your site.
Direct payment gateways are developed directly into your site as part of the online store framework.
To choose a suitable WooCommerce payment gateway, compare the solutions based on their performance levels, security features, supported currencies, provided locations, merchant payment methods, customer payment methods, gateway type, ease of use, and overall compatibility.
PayPal is suitable for businesses interested in a WooCommerce payment gateway that doubles up as a payment processor. Options include; PayPal Standard, PayPal Powered By Braintree, PayPal Checkout, PayPal Pro Hosted, PayPal Advanced, and PayPal Pro.
PayPal Standard charges 2.9% plus 30 cents for online payments, then 2.7% for in-person mobile or in-store payments, and $20 for each chargeback.
Square is ideal for extensive businesses seeking a dynamic multi-channel payment gateway service, plus a suite of tools for payment processing and sales management.
Square charges 3.5% plus 15 cents for virtual terminal payments, 2.75% for in-person transactions on mobile or in-store, then 2.9% plus 30 cents for online payments.
Authorize.net is a perfect payment gateway for networking your WooCommerce ecommerce site with your merchant account provider.
Authorize.net charges $79 per year for its WooCommerce plugin, and then payment gateway fees of $25 per month, plus a batch fee of $10 cents on a daily basis and $10 cents for each transaction. Additional payment processing charges are levied by merchant account providers.
Authorize.net is also available as an all-in-one payment processing and payment getaway suite at 2.9% plus $30 cents.
Any other notable WooCommerce payment gateways you think should have featured here?
Here are some related articles you may be interested in?