Last Updated on April 22, 2023 by Ewen Finser
In our Endicia vs ShipStation comparison, we'll be looking at two different shipping software to help you decide which one will give your online business all the features you need to get your product where it needs to be.
If you are building an online e-commerce business, then you are going to be looking for a shipping solution to help you to keep track of all the packages you need to send out, especially as you scale up your business.
Despite both being subsidiaries of the Stamps.com parent company, ShipStation and Endicia have retained their own character and way of doing business, so which one is better?
The bottom line is this: We think that ShipStation is a slightly better offer. We feel that it is a more user-friendly tool for the small-business with more responsive support.
In this comparison, we will be looking at the key differences and features of Endicia and ShipStation. We will explore each tool, noting their pros and cons, support, features, and pricing. We will take a look at any alternatives on the market and answer some frequently asked questions and finally, we will summarize the tools and why we think ShipStation is the best.
Main Differences between Endicia and Shipstation
The main differences between Endicia vs ShipStation are:
Endicia allows you to print stamps and packaging labels straight from the dashboard, whereas ShipStation requires you to have an order to mail.
Endicia has a more complex dashboard, whereas ShipStation has a user-friendly set-up process and dashboard
Endicia is a bit trickier to use, whereas ShipStation has a clear analytics and reporting dashboard
Endicia has more warehousing and large business functions, whereas ShipStation is geared more towards smaller businesses.
Endicia offers the main package and the Pro version, whereas ShipStation has a lower starting price and more pricing options
Of course, there are many similarities in the offering between the two tools as well. Both offer integration with various online marketplaces. Both offer a good package of support articles, video tutorials, and webinars. Both enable printing of postage and packing label printouts, customer returns, and excellent tracking facilities.
Now, let's look at these two products in detail.
What is Endicia Shipping Service?
Endicia is a tool suitable for online retailers, warehouses, and sellers on eBay or Amazon fulfillment. You can auto-generate labels compliant with all USPS regulations, document your shipping and cleanse your addresses to ensure that packages arrive at their intended destination.
Based in California, this company will help you to become more efficient in shipping, regardless of the size of your business, and allow you discounted shipping rates with USPS shipping labels (priority mail, etc…) and other major carriers, offering real savings in your business.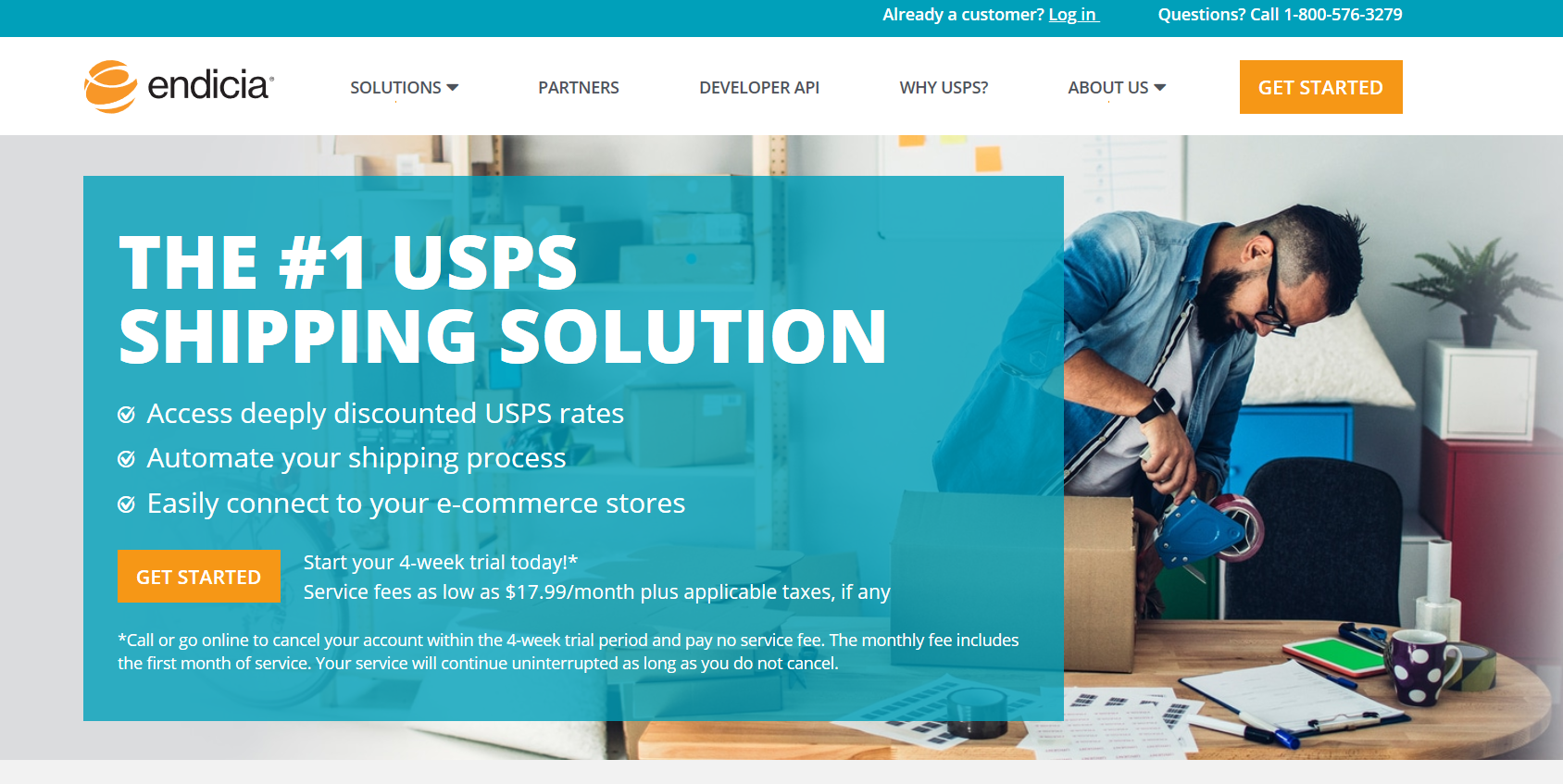 Endicia is a big business. Founded in 1982 as a partnership with the US Mail Service, it is now a subsidiary of Stamps.com and with the other businesses in the group, now deals in more than $14 billion of postage.
This kind of fulfillment services market leadership doesn't come from anywhere. Endicia has been leading the way on internet mailing innovations for several decades.
What is ShipStation?
ShipStation is a web-based shipping software designed particularly for users who sell their products across multiple platforms such as eBay and Amazon but need a unified shipper process. It's designed to help with the shipping of physical goods to save you time and money.
One of the key advantages of ShipStation is how it makes the order fulfillment process more efficient and easier to manage, allowing the small business owner or craft-seller more time to get on with the business of making and selling, rather than spending too much time on the minutiae of shipping.
ShipStation's unique selling point is its clear functions and ease of use. There are more advanced features and some great customizations available, but you can get started using this software right from the word go.
Features of Endicia
Here's an outline of the key features of this impressive tool:
Warehouse options
View different shipping options and rates
Discounted shipping rates with USPS
Print mailing labels
Schedule USPS pickup
Easy tracking
Interface and Dashboard
Once you've logged into Endicia there isn't a front page to look at. You are taken straight to one of the functions.

The menu bar across the top gives the main functions and each of these has its own menu bar on the left allowing you to show different tools and carry out different tasks.
On the right at the top are a series of useful buttons: Feedback, allowing you to comment on the software itself; export – for downloading a file to your computer; print; and a reset button to return to default settings.
The interface is fairly easy to use and understand and it's easy to explore the different tools on offer and to understand what everything does, especially with the great tutorials. However, it does look a little cluttered and dated compared to some other software on the market. I personally favor a landing page rather than going straight to the function pages.
Postage printing
Once signed in to Endicia, you go straight to the postage printing service as the first function. Here, you can select the type of postage you are printing, whether stamps or shipping labels, you can add in the address and weight, and the type of service you intend to use and then print your label, even customizing with your company logo if you wish.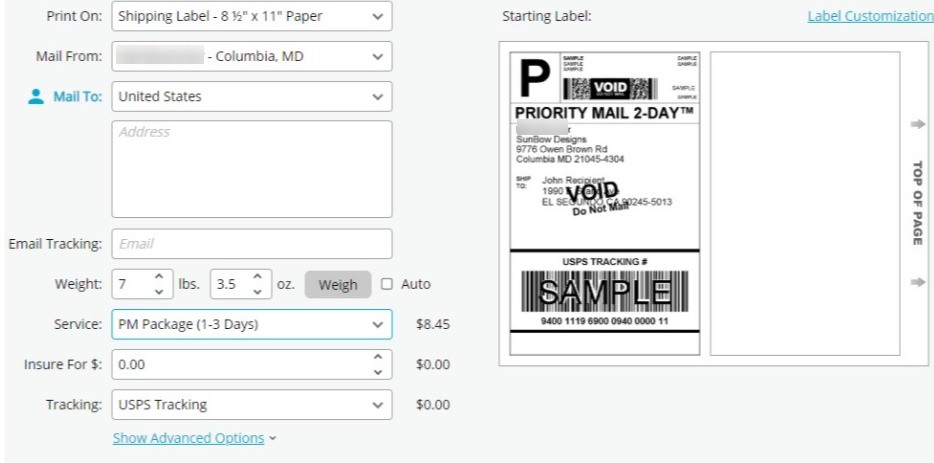 Endicia has a considerable USPS discount rate of up to 40%, making quite sizable savings for your small business.
Warehouse
If you ship from a warehouse or have a larger stock, business and staff, Endicia will help you automate tasks and set up shipping rules within and across your organization. You'll be able to choose from the most appropriate shipping services, generate labels compliant with USPS regulations, and print all the documentation you need for shipments.
The software will automatically cleanse and arrange your addresses to reduce the return of parcels due to incorrect addressing.
Online Sales
Endicia allows you to import orders from Amazon, eBay, Etsy, and other popular online marketplaces in the Orders menu. As well as linking your stores, you can set up the most appropriate USPS shipping method and can expand to international shipments if required.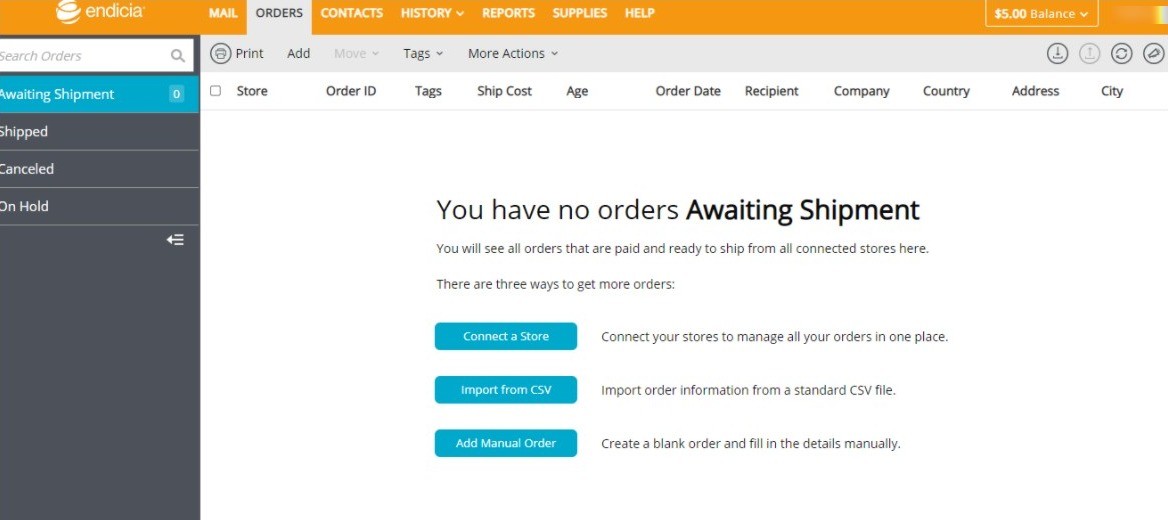 You can easily allow batch printing to print labels for multiple orders, saving you time and effort.
In addition to allowing you to ship orders for your online marketplace, you are also able to import your address book into Endicia to print labels for your regular contacts, a nice little feature that isn't present in some of the other shipping tools on the market, including ShipStation.
You can track your packages from door to door, sending tracking information directly to your store and notifying your customer. A simple dashboard within Orders or History helps you see the status of all your packages, keeping track of when they are in transit, delivered, and even returned.
The likelihood of packages being returned because of an incorrect address is minimized with automatic and built-in address cleansing and verification. However, if, for any reason, your customers need to return an item, this is managed through the History menu.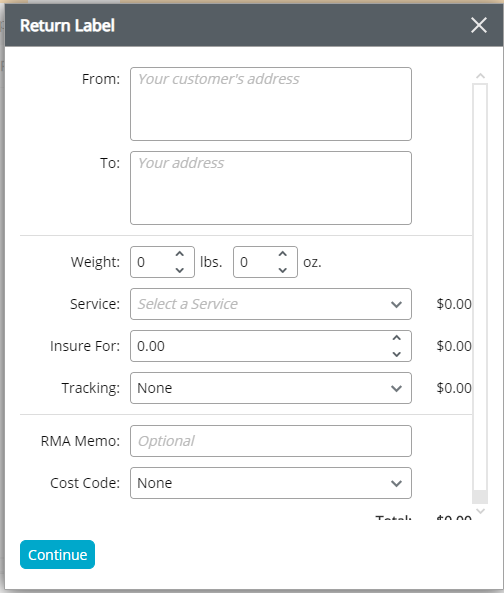 Markets
Partnered with the US Postal Service, Endicia is available across the USA. You must have a valid US Postal Address in order for the service to accurately calculate the postage required on different packages.
From the US, Endicia has a fully integrated international shipping facility, including integrated shipping labels and customs declarations and an up-to-date advice service detailing any regulations or restrictions on international shipments. You can be sure that when you are shipping internationally with Endicia, you are getting the details right.
Features of ShipStation
Over 100 different marketplaces and platforms supported
Instant price comparison for different carriers
Advanced tracking
Hassle-free customer returns portal
Inventory tracking
Business analytics
Interface and dashboard
The interface on ShipStation is pretty straightforward. Once you've completed the "Get Started" page where you set up your basic settings, your dashboard changes to show the current status of your orders.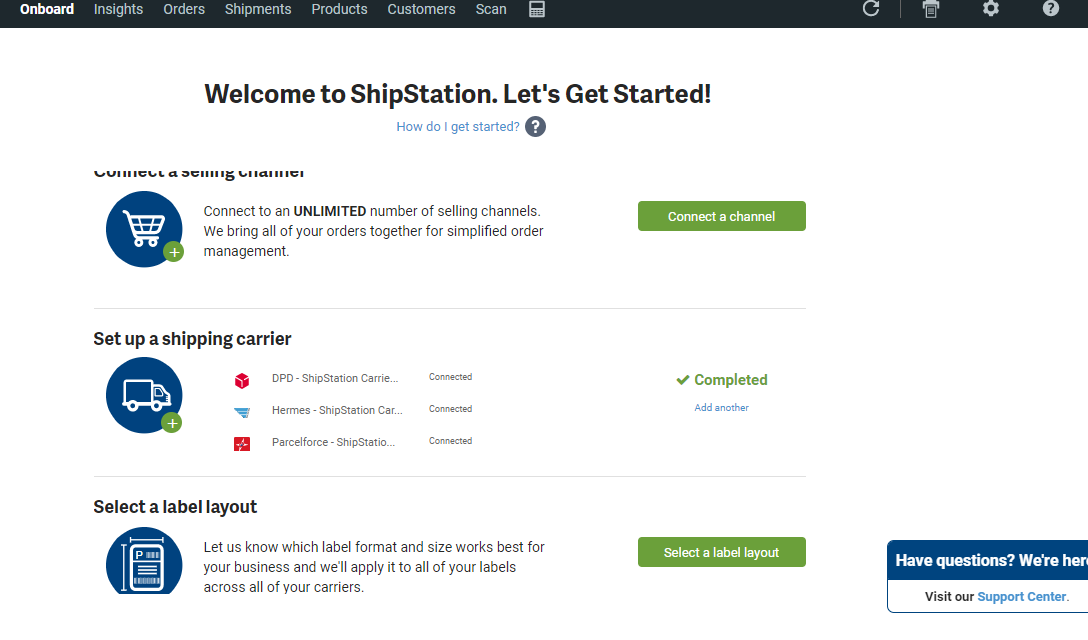 The menu at the top allows you to choose between Insights, Orders, Shipments, Products, and Customers and each of these produces a new sub-menu on the left. Again, I personally prefer a landing page, but it is quite helpful to get a quick look at the status of all your orders.
At the top right-hand side of the screen you have access to your label-printing queue, the help center, settings, and your profile.
The Insights function is a handy tool helping you to get an overview of your current status as well as the trends in your sales and orders and the time your carriers are taking to ship. This is a feature that you can really make use of as you begin to develop your business.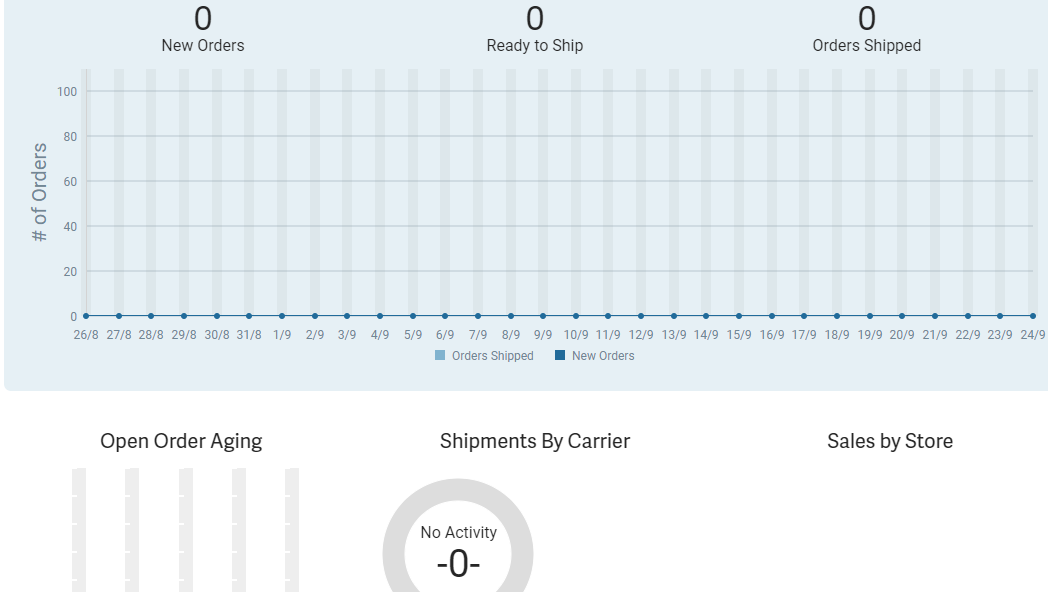 Warehouse
While it doesn't have warehouse functionality as such, ShipStation does allow you to keep track of your Inventory under the Product tab.

This function does allow you to keep track of your stock and its location, which will help you manage what is available for sale across all your different marketplaces.
Online sales
A great feature of ShipStation is the integration of several different marketplaces. When a customer buys your product on any one of these, and this includes eBay, Etsy, Amazon, WooCommerce, and many more, then the order comes straight through on ShipStation to be processed and shipped.
At a glance, you can see the status of the orders at different stages of the shipping process, including returns and canceled orders.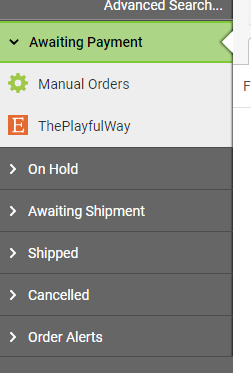 You can then select the orders that you wish to process straight away and can print the shipping labels and packing slips for them.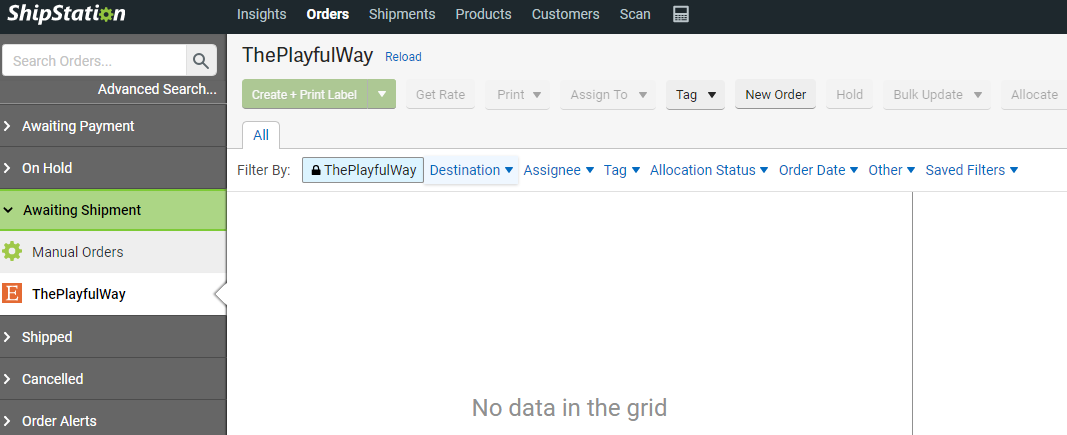 Markets
ShipStation operates in the USA, UK, Australia, and Canada. While these are the countries you can mail from, ShipStation does allow you to ship internationally. Each of the four markets listed above has their own guide to everything you need to know to ship internationally, including packaging, customs, duties and documentation, and different carrier fees.
Endicia vs ShipStation – Support
Endicia has a customer help and learning portal with a range of help topics and how-to guides including videos and a blog. If you can't find the answer you are looking for there, they have a toll-free phone line and an e-mail address for further support.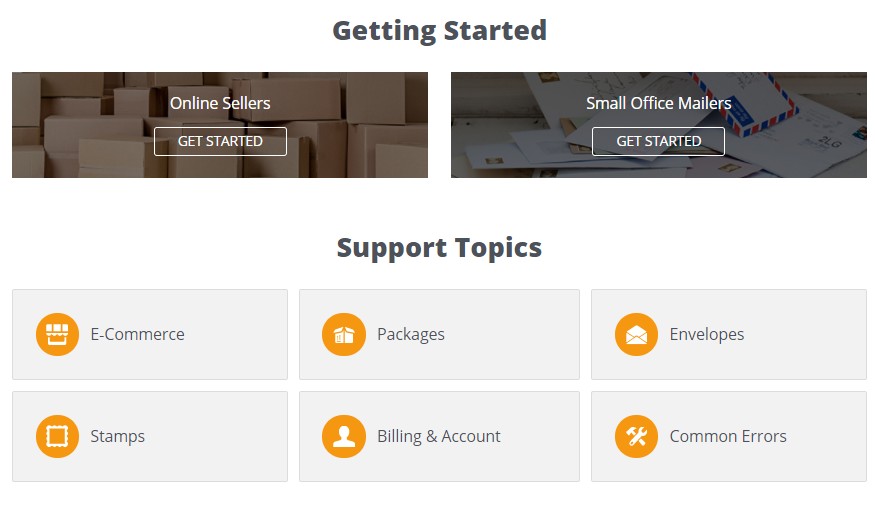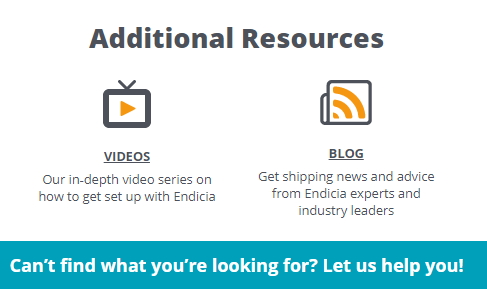 ShipStation has a wide variety of different support avenues, more of which are available the further up the pricing tiers you are. The Community Forum and E-mail are available to all packages. From Silver upwards, you get access to Live Chat Support and for the Enterprise Package, you also get Phone support.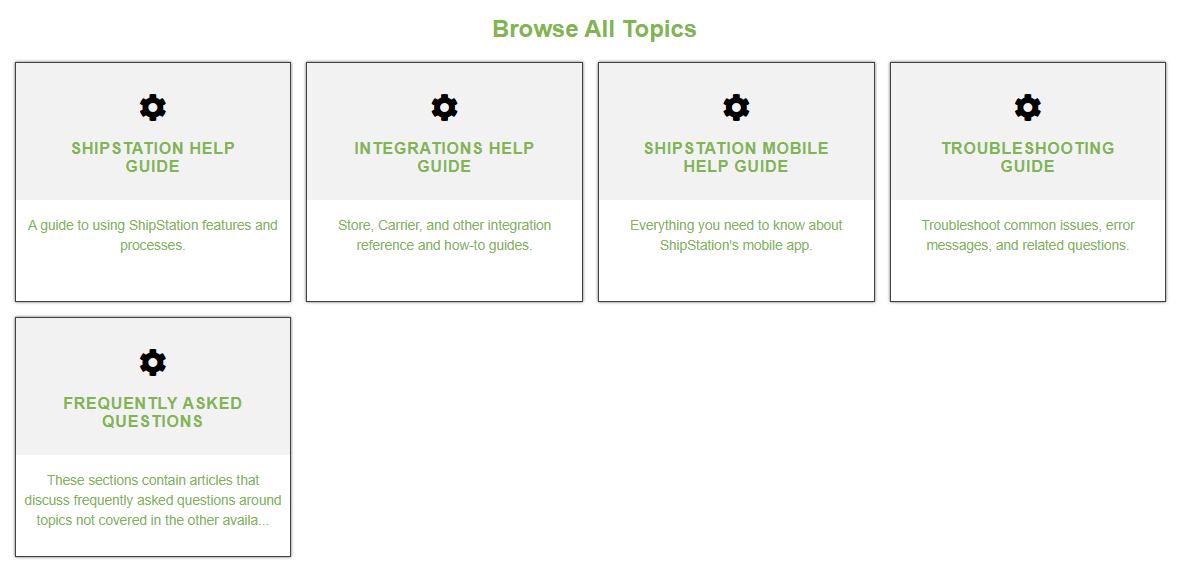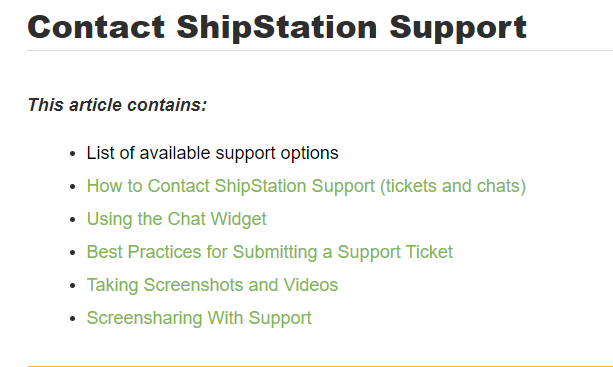 Endicia vs. ShipStation – Pros and Cons
Endicia Pros
Good integration with your website
Postage generation and queuing print jobs
Great cost savings on postage
Easy to add funds to your postage balance
Endicia Cons
Can be difficult to get through to tech support or customer service
Online reporting/insights could be more comprehensive
A complex program with functions that not everybody will need to use
ShipStation Pros
Easy to use
Adds efficiency
Great support team
Batch printing for labels
Clear and streamlined user interface
Supported on mobile devices
ShipStation Cons
Can take a bit of time to get to grips with the different functions
For a slightly larger organization as you scale up the business to >3000 shipments per day, ShipStation doesn't scale up quite so readily.
Endicia vs ShipStation – Pricing
Endicia
Endicia has a number of different packages depending on your use.
For Online or Office Sellers you can choose from Endicia Premium or Endicia for Mac, both at $15.95 per month. This gives you access to parcel insurance, printing layout technology for different types of printer and label, integration of weighing scales, address verification, label customization, return labels, and package tracking.
For warehouse users or larger online retailers, choose Endicia Pro at $34.95 per month. In addition to the above, your package includes account management such as postage and shipment history and further international shipping options.
Whichever option you choose, you can get a four-week free trial before you start paying for the service. Start your free trial here.
ShipStation has a wide range of plans depending on the volume of shipments and the number of users you want to allow to access it.
Starter– costs $9 per month, for up to 50 shipments per month and 1 user.
Bronze – at $29 per month, for one user to send up to 500 shipments per month.
Silver – costs $49 per month, for which 2 users can send up to 1,500 shipments per month.
Gold – at $69 per month, allows up to 3 users and up to 3,000 shipments per month.
Platinum – at $99 per month, allowing up to 5 users to send up to 6,000 shipments per month.
Enterprise – at $159 per month, allowing up to 10 users to send up to 10,000 shipments per month.
Free 30-day trial – find it here.
Are there any alternatives to Endicia or ShipStation?
We already mentioned that stamps.com is now a massive company in the US with several shipping concerns under their vast umbrella. There are, however, still some alternatives in the market.
Ordero
Ordero is another shipping app allowing you to organize and streamline your orders from multiple sales channels and market places. Similar to Endicia and ShipStation, this app allows batch printing of labels, a choice of carriers, and some juicy USPS discounts as well as a clean and functional tracking facility.
The difference with Ordero is the improved inventory facility allowing you to create purchase orders when you are getting low on a product, while Ordero keeps track of your inventory. Ordero also has a great analytics and insights facility.
However, Ordero doesn't come cheap, starting at $59 per month for the express package, which doesn't include the Inventory Management.
Orderhive
For those looking for more oversight and work-flow automation, Orderhive might be the solution for you. Allowing you to manage your inventory and track orders and shipments across a wide range of different markets and channels, Orderhive is there to help you develop your eCommerce.
Not only that, but Orderhive also takes the stress out of the management of your manufacturing, supporting your inventory of materials, advance orders, and stock.
Orderhive pricing starts with a free plan for Shopify users and then paid plans begin at $49.99, though with a trial period and also half price for your first three months.
Frequently Asked Questions About Endicia and ShipStation
Our Verdict: Endicia vs. ShipStation
To Sum Up …
So, why do we think that ShipStation is the better option?
Endicia is an excellent and very comprehensive software with great opportunities to upscale for larger businesses and warehouse operations. The discounts on USPS postage make it an excellent money-saving option.
However, from the perspective of a small e-commerce business, we think that ShipStation is more user friendly, easier to get set up with, and with much more accessible customer support. It's also cheaper for a small business just starting out in automating their shipping, with clear options for scaling your package as your business gets bigger.
If you've used either of these shipping tools for your business, let us know – we want to know what you think!
Now that you've sorted out your shipping, have a look at our article to make sure that you're using the best Payment Processor or information about setting up and optimizing your business website.
Further read: