Last Updated on April 22, 2023 by Ewen Finser
In this Endicia vs Stamps review, you'll discover which software is more effective for simplifying the shipping process for your online business.
Both services are the property of Stamps.com, but they used to have separate offers and marketing while still proposing the same service.
However, there are a few key differences that may inspire you to prefer one over the other.
Read on to discover:
How to choose the best shipping service

What those two services can each do for you;

The key differences between the two

Which is better for your specific situation;

The costs and associated fees;

Interesting alternatives;
Main Differences Between Endica vs Stamps
The main differences between Endica vs Stamps are:
Endicia has cheaper subscription plans, whereas Stamps is a bit pricier.

Endicia has a basic level of integrations, whereas Stamps has slightly more integrations available.

Endicia's customer support has mixed reviews, whereas Stamps customer support has a great reputation.

Endicia only offers email return labels, whereas Stamps can include a return label with the parcel.
How To Choose The Best Shipping Service
Here is a shortlist of the most important features to consider when delegating the postage of your products, and how they relate to the Stamps Endicia comparison.
Product tracking
It's imperative to retain control over your products up to the point they reach your customers. Different services offer different degrees of control. Some count on you to get your products and then deliver them. Some simply make the link between the warehouse and the carrier. Some won't do either. Look for a service that offers the right tracking for your specific needs.
Convenience
The whole point of collaborating with a third party is to save time so that you can focus on more productive elements of your business. If there is software involved, you'll want to make sure that it's easy to implement and then use.
Labels
Since you'll be printing your own labels, you'll want to make sure they are compliant with professional and USPS standards. You'll also want to make sure the software you're using to print those labels is convenient and easy enough to use.
International coverage
How well does your postage service handle overseas purchases? Are the fees even competitive with traditional USPS?
Integration
If you're using other online services within your business, it'll help if your shipping app integrates well with those. This allows you to streamline the whole process instead of manually entering the same data into multiple software.
Returns
How does the postage service handle returns? Some companies charge for it, while others propose a custom return label.
Pricing
Some postage services offer discounts on the USPS rates, and these are well worth investigating. On top of that, you'll probably have to pay a subscription fee for using the service itself. Make sure that you consider and compare all costs before committing to a service.
Customer service
Since you're dealing with a third party to handle shipping, you'll have to go through them whenever problems happen. Make sure that the service you go for shows satisfying customer care.
Endicia Key Features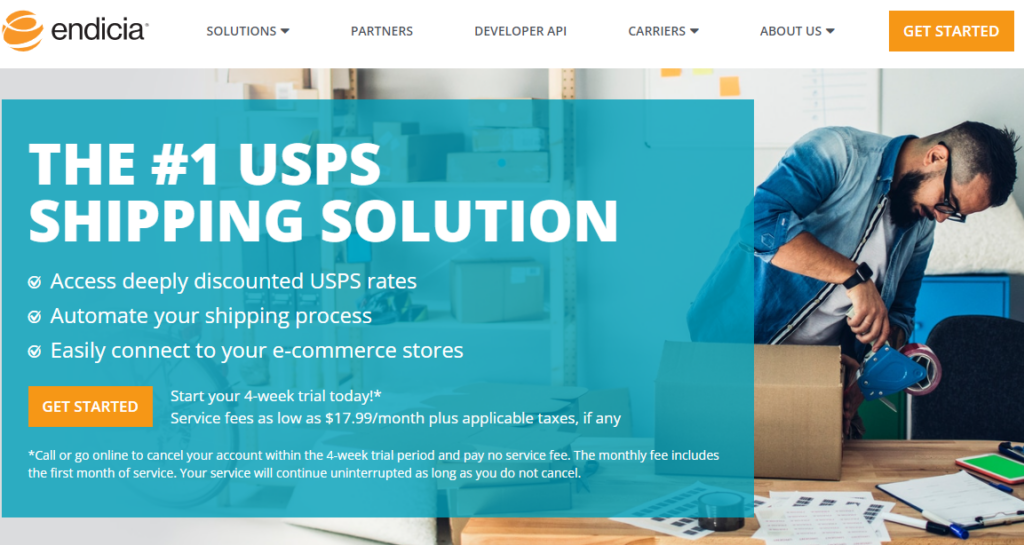 Endicia has been a reliable shipping solution since the 1980s and remains one of the top contenders on the market. Let's explore the key features.
Product Tracking
Through the Endicia dashboard, you'll be able to track your packages. You'll also have access to an array of analytics to gather different data, including how much you saved over classic USPS, how much you spend on shipping, etc.
You can also set up customized customer emails about their package's delivery status.
Convenience
This is where Endicia really shines. It is extremely convenient. You only need a computer and printer to use Endicia. With the computer, you connect to your dashboard, enter the relevant shipping information and pay. With the printer, you print the shipping labels. From there, simply drop your letters or parcels in the mail.
Even better, you can directly import your orders from any marketplace you might be using (there are many integrations available), using a CSV file or a choice of others.
Other features that will make your life easier include: built-in address validation, one-click batch printing for multiple orders, presets to automatically apply shipping preferences to multiple orders.
Labels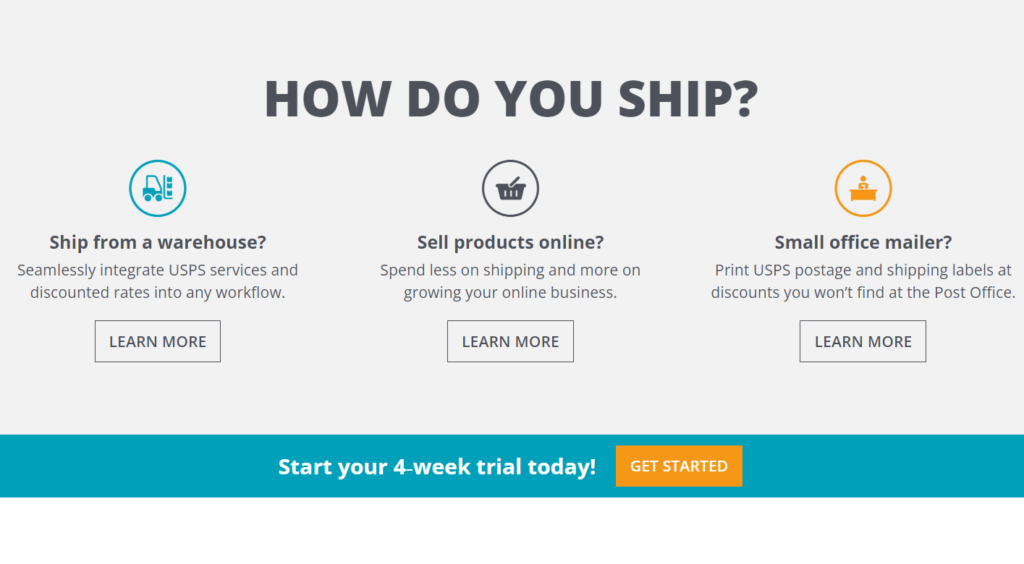 Endicia simplifies the process of dealing with labels. Enter your info on the dashboard and print as many as you'd like. There are many options to customize your labels so they stay neat and professional. You can also add some personalized branding to the labels and select the color of the stamps. You then can edit and print them alone, in bulk, or pretty much any way in between.
International Coverage
Endicia does not take care of shipping globally. It delegates this to GlobalPost. That said, on your end, you'll be able to do everything through the Endicia dashboard, and it will still be as seamless.
It has a bunch of advantages over classic USPS: digitized custom forms, lower rates, global address verification, free end-of-day pick-up, etc.
Integrations
Endicia integrates with different marketplaces and shopping cart software. Amazon, eBay, Etsy, PayPal, Shopify, Volusion, WooCommerce, 3DCart, Magento, and Yahoo are among those integrations. The beauty of the software is how it streamlines everything.
For example, you can connect your digital store to a shopping cart management third-party. From there, you can connect to your shipping service, which is itself connected to your weighing scale, so that you just have to click and print labels.
In case you do not find your desired integration, or if you need to integrate with TMS, WMS, ERP or other order management systems, you can contact the service and be proposed further alternatives.
Returns
Endicia has pre-made return labels. The service gives you the possibility to email those labels to your customers so that they can themselves print them and return faulty items to you. This is quite basic, but it gets the job done.
Pricing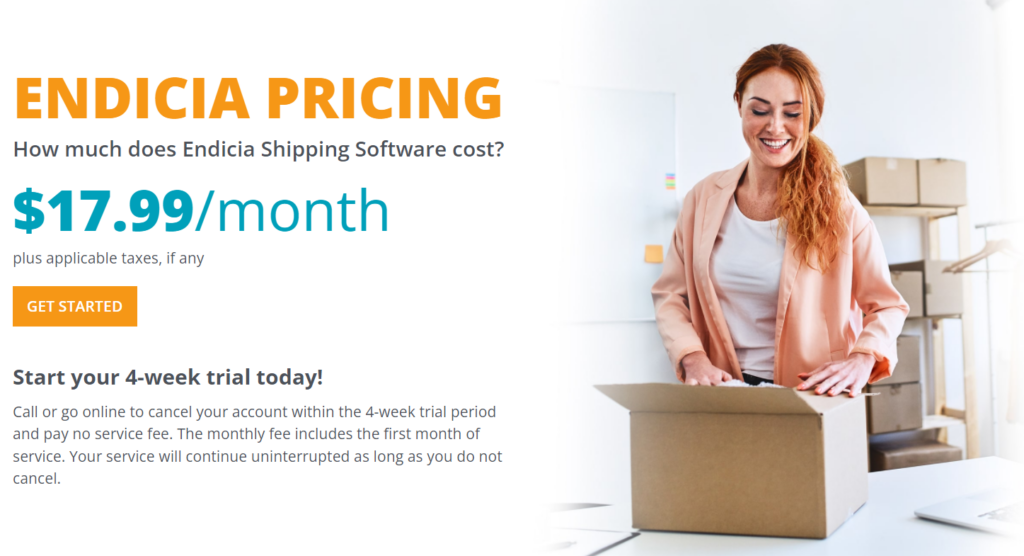 One of the main advantages of Endicia comes through the postage fees that you'll pay. Expect serious discounts :
Up to 18% off First Class Package Service

Up to 40% off Priority Mail

Up to 13% off Priority Mail Express

Up to 5% off international shipments

Up to 40% off package insurance
In practice, while retail USPS has a $0.58 fee on letters, for example, with Endicia you would pay $0.53 per letter only. That said, you'll also have to pay a subscription fee when it comes to using Endicia and having access to all the features it provides.
To get access to this service, you'll have to purchase a subscription. You have several types of available subscriptions, each with its own perks and privileges.
For online sellers, you have Endicia Premium and Endicia Professional, available respectively at $15.95 per month and $34.95 per month.

The Endicia Professional plan is recommended for warehouses, as it offers more options to deal with shipping in bulk.

For office mailers, you'll prefer Endicia Standard at $9.95 per month.
As a side note, there is currently a four-week free trial, giving you $5 credit on your postage fees.
Customer service
Customer service is available through phone Monday to Friday, from 6 am to 6 pm P.T. You can also contact the support through email and the forms available on the Endicia website.
Pros and Cons
Pros
Easy import from Amazon, eBay, and Etsy

International shipping

Better rates than USPS

4-week free trial
Cons
Mac-compatible subscription costs more and has less features.
Stamps Key Features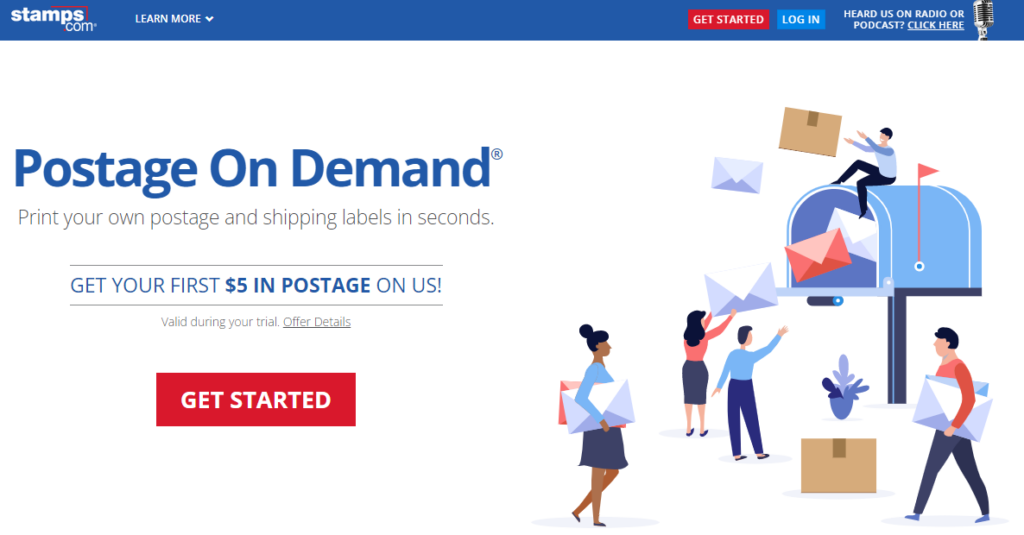 Stamps is a well-known company – it is publicly traded on the stock exchange (NASDAQ). It is a trusted postage provider all across the U.S. Stamps acquired ShipWorks (in 2014) and Endicia (in 2015), and also acquired Stamps in 2015 and ShippingEasy in July 2016. They all continue to be operated as separate companies, however. So, let's see what makes Stamps a better or worse option for you.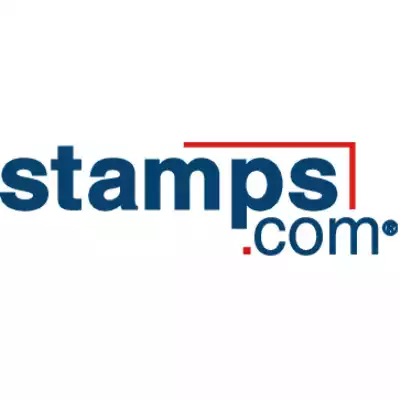 Postage on Demand | Stamps.com
Print your own postage and shipping labels in seconds. Sign Up and Get a Special Postage Offer of $100 Value at Stamps.com! Use Code STAMPS100
Get Started
We earn a commission if you click this link and make a purchase at no additional cost to you.
Product Tracking
Through the Stamps dashboard, you'll be able to track your products and let your customers track their product is in real-time. Stamps also keep track of all that is shipping-related, so that you have a real-time overview of what's happening.
Convenience
Everything has been thought out to integrate and streamline the shipping process. From your computer, you'll be able to import sales, select your products, and print labels one by one or in bulk,
You then just have to drop your parcel at the mail, and it's in the bag. Be it from home, your office, or a warehouse, the process is made hassle-free, especially compared to traditional postage.
Labels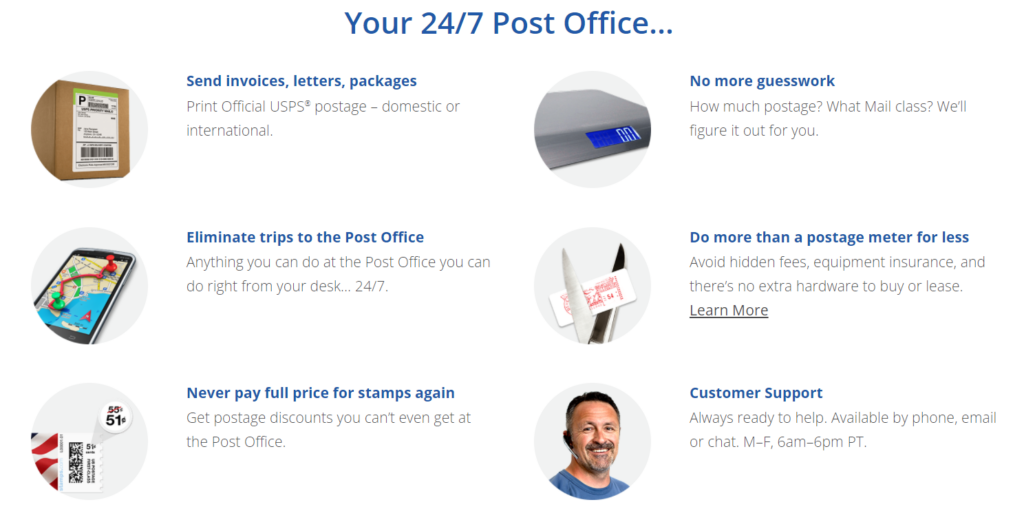 With Stamps, you can really deliver professional-looking letters and parcels. You can customize the stamp itself and add your own logo for more impactful branding. The software also lets your print return and delivery addresses in one step to save even more time.
International Coverage
Stamps also handle international coverage through a third-party service provider. Once again, you won't notice it as everything is integrated into the service to make it as seamless as possible.
Integrations
All integrations have clearly been thought out to simplify the shipping process as much as possible. No more long and awkward trips to the Post Office.
Among the integrations are notable e-commerce tools such as Shopify, Amazon, eBay, Etsy, PayPal, Volusion, BigCommerce, 3DCart, Magento, Yahoo, ZenCart, XCart, etc.
In case you do not find your desired integration, or if you need to integrate with TMS, WMS, ERP or other order management systems, you can contact the service and be proposed further alternatives.
Returns
Stamps.com offers three great ways to send a Return Shipping Label: Drop-Off No Label, Pre-Paid, and Pay-on-Use. In other words, you'll have the option to email your customers a (prepaid or not) return label that they can print themselves or to directly include a return label that will be shipped with your parcel.
Pricing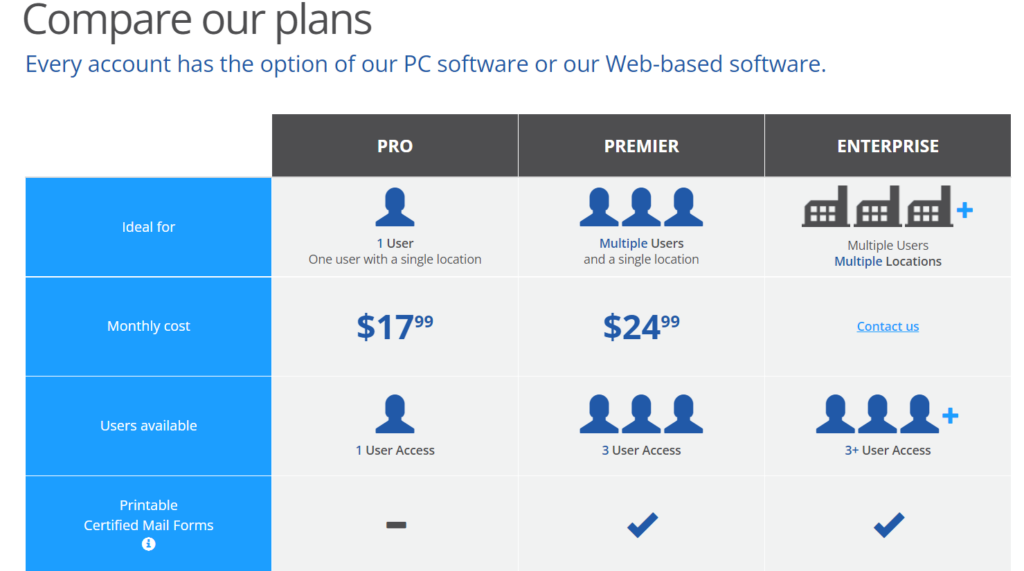 Stamps offer the same discounts as Endicia when compared to the U.S. Post Service.
Up to 18% off First-Class Package Service

Up to 40% off Priority Mail

Up to 13% off Priority Mail Express

Up to 5% off international shipments

Up to 40% off package insurance
Similar to Endicia, instead of paying $0.58 for first-class mail at your local post office, you'll pay $0.53 with Stamps.
That said, you'll have to pay a monthly subscription to enjoy those reduced fees. Those subscription plans are broken down into three tiers.
A Pro tier, available at $17.99 for a single user in a single location.

A Premier tier, available at $24.99 for up to 3 users in a single location.

An Enterprise plan for more users and multiple locations and a dedicated account manager, the price being available after asking for a more specific quotation.
Customer service
All subscription plans offer the same level of customer support: Monday to Friday, from 6 am to 6 pm P.T. through phone calls. You can also contact the support through email or chat. The customer service is reportedly friendly, diligent, and helpful.
Pros and Cons
Pros
Many integrations and easy import

International shipping

Better rates than USPS

4-week free trial

Great customer support
Cons
Mac-compatible subscription is more expensive and is less developed
Price Comparison: Endicia vs Stamps
At the time of writing, these companies still operate separately, but they seem to have aligned their offers and marketing.
Both services propose basically the same service, with the same discounts and benefits. For slightly cheaper with Endicia, though, you'll get access to the same preferential pricing on USPS fees. Additionally, both services give out a 4-week free trial with a $5 bonus credit.
Traditionally, Stamps was more geared towards warehouses and Endicia towards office mailers and online retailers. That said, as of now, the differences are not really noticeable.
Recommended Alternatives To Endicia and Stamps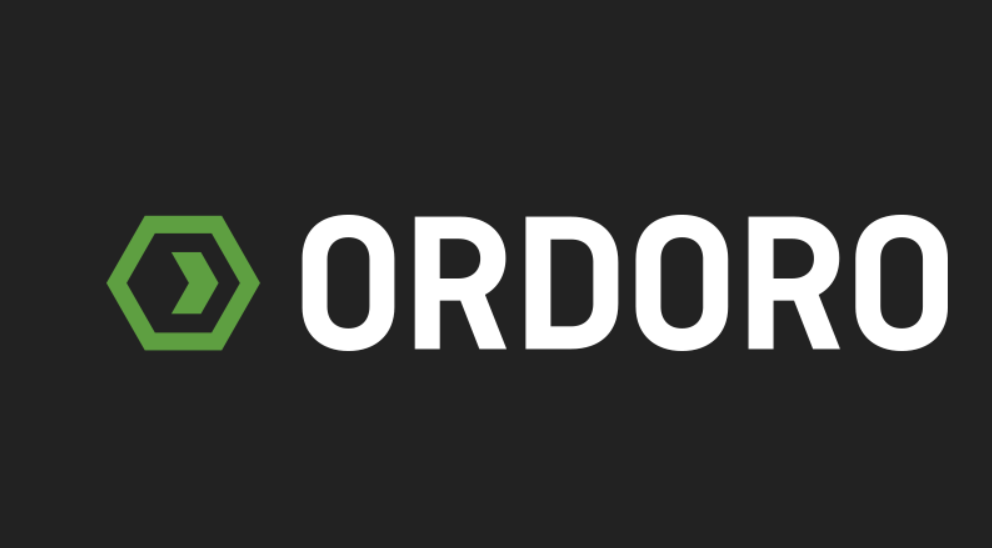 Let's quickly summarise a handful of other very good shipping and postal software services.
Ordoro.

Very similar to Endicia and Stamps, Ordoro adds more features, more integrations and better support, but at a steeper subscription cost. It also gathers way more positive reviews online.

Pitney Bowes.

Different in the sense that it is not a subscription service but a rental agreement, with the hardware that comes with it. It is overall less versatile, convenient, and useful than both Endicia and Stamps. The main appeal of such a system is that it does not need to be attached to a computer to allow you to process postage yourself.

Pirateship.com

. A lesser-known alternative, Pirateship.com proposes even cheaper fees than Endicia or Stamps, no subscription fee, and a very clean interface. Its aim is to fetch the cheapest possible option for you when it comes to shipping. The service will look through all available options when it comes to shipping fees, insurance, customs, etc, and get back to you with the best prices. Not the most convenient to scale up, but definitely the cheapest.
FAQs
Question: Are Endicia and Stamps the same?
Answer: Endicia has been a subsidiary of Stamps.com since 2015. Both propose different services, and their marketing is separated. That said, there are only slight differences in the way Endicia and Stamps.com operate.
Question: Is Endicia cheaper than USPS?
Answer: Yes. Generally speaking, customers who print using Endicia save on average $0.05 per letter. The standard Post Office rate is $0.58 per letter, while Endicia's standard rate is $0.53. You're therefore saving 9% going with Endicia.
Question: Is Endicia a USPS?
Answer: Endicia is an independent service. It integrates USPS into your sales channel in a way that wasn't possible before since USPS doesn't have any public API. With Endicia, you'll print shipping labels as the USPS would, effectively streamlining the process, so you don't have to wait in line at the Post Office.
Endicia vs Stamps: The Bottom Line
Once your store starts selling 10-15 products per day, it makes sense to look into a shipping solution to save time and streamline the process. Both Endicia and Stamps integrate USPS into your sales channel in a very convenient way.
One might ask: why use traditional postage at all anymore? The answer lies in the subscription fees for both services. If you're only rarely sending letters or parcels, the discounts won't make up for the price of the subscription. If you're sending a lot of items or if you simply love the convenience of not having to go to the Post Office, Endicia and Stamps are both very interesting services.
But, how do choose between the two? They are both services owned by the same company and they both propose the same services, discounts, and advantages.
However, based on our experience, Endicia seems to be slightly more user-friendly. Plus, the subscriptions are slightly more affordable.
Stamps Endicia In Summary:
In most cases, both services offer the same thing.
Endicia is slightly cheaper and, therefore, the most cost-efficient choice.
Stamps seem slightly better if you're dealing with huge amounts of shipped parcels.