In the United States alone, the eCommerce sale of physical products was over 300 billion dollars in 2019. By 2024, sales are expected to increase to nearly 500 billion dollars. While it's true starting an online business can be profitable, there are many links in the chain to generate real wealth.
One of the most critical is shipping. You have to successfully get the product and send it out to the correct buyer. While small businesses may take a more manual approach to ensure accuracy, once your business begins to grow you will need automation software to meet demand.
Shipping platforms can print labels, compare prices, and seamlessly integrate into existing eCommerce software. Two popular platforms ShipRush vs ShipStation both have free trials, mobile apps, and hundreds of integrations. However, there are key differences that can easily cancel out one over the other. Check out our in-depth comparison to see which one has the right features, pricing, and customer service for your shipping needs.
The‌ ‌Main‌ ‌Differences‌ ‌Between‌ ShipRush vs ShipStation
The Main Differences Between ShipRush vs ShipStation are:
ShipRush offers unlimited shipping labels on all plans, whereas ShipStation caps shipping labels on each tier plan.
ShipRush caps its users at 3 for its main plans, whereas ShipStation allows up to 10 users.
ShipRush has an LTL Freight add-on, whereas ShipStation does not.
ShipRush features all carrier rates on a single screen, whereas ShipStation does not.
ShipStation only offers phone support on its Enterprise tier, whereas ShipRush offers phone, email, and chat support with all of its plans.
ShipRush supports Square as a payment processor, whereas ShipStation does not.
The‌ ‌Similarities‌ ‌
Free trial
Email support (all plans)
Branded labels and packing slips
Mobile app
Shipping discounts
PayPal and Stripe
Custom API
International shipping
Automation rules
ShipRush vs ShipStation: What is ShipRush?
ShipRush is primarily a web-based (desktop version available until the end of 2020) shipping software that helps businesses streamline orders and get the cheapest shipping rate. Founded in 1992, it has grown to connect with over 100 integrations including business services, carriers, eCommerce, and payment processors. The platform offers a less-than-truckload (LTL) shipping add-on, FedEx Advantage Program (FedEx One Rate), and print unlimited shipping labels.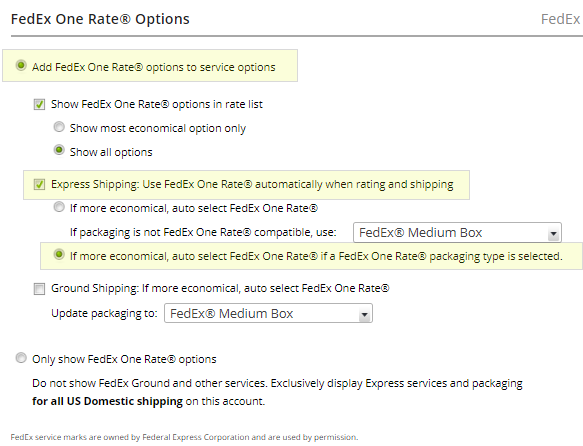 ShipRush vs ShipStation: What is ShipStation?
Founded in 2011, ShipStation is an industry-leading shipping solution for eCommerce retailers. With a paid plan as low as $9, popular features available on all plans, inventory and order management, and 10 automation rules, ShipStation can scale as quickly as your business does.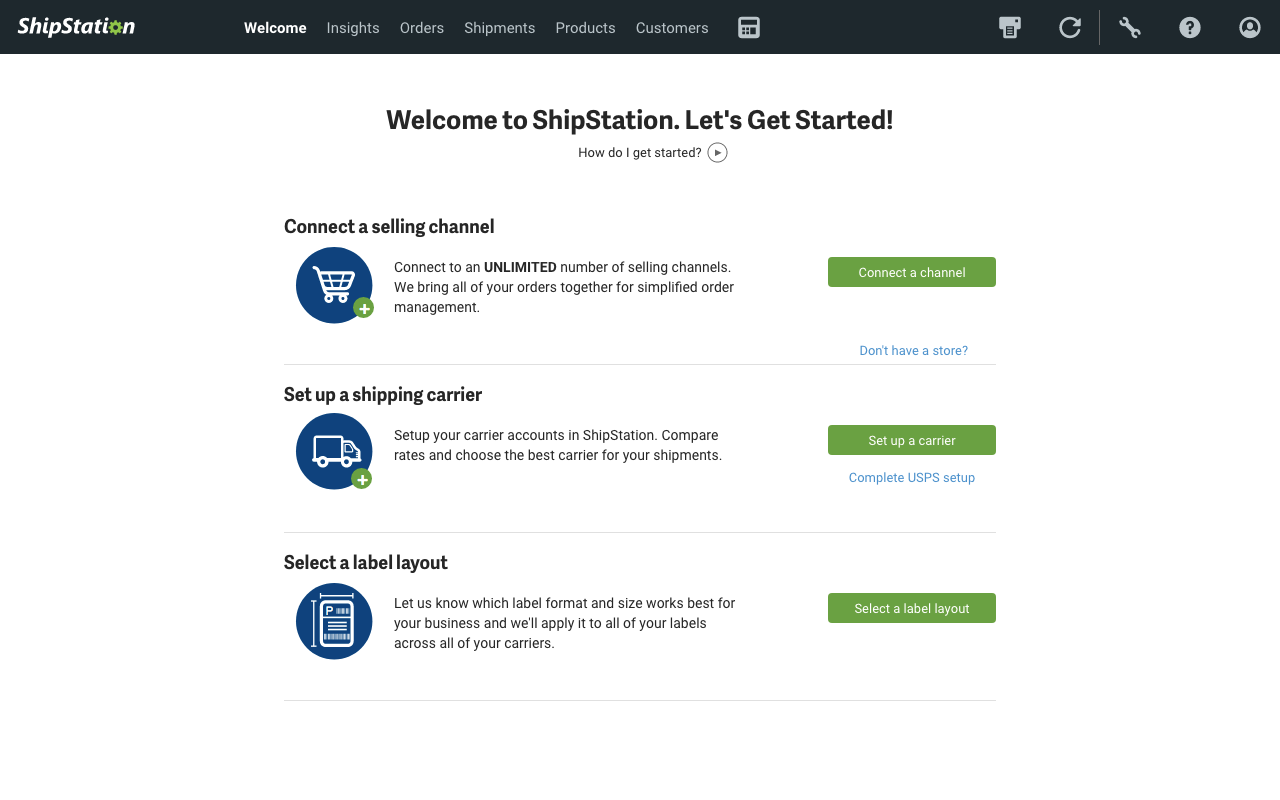 The Main Features of ShipRush
Customization
With ShipRush, you can customize packing lists depending on your integration and aesthetics. Here are some of the default options you have to choose from:
Modern Packing Lists
ClosedClassic Packing Lists
ClosedGroupon Packing List
ClosedIntegrated – Web Shipping
ClosedSimple – Web Shipping
ClosedThermal Packing Lists
ClosedDoc-Tab Packing Lists
You can also add a custom logo to your packing list. Upload multiple logos to professional personalize each packing list template.
Automation Rules
ShipRush has the following pre-set automation rules in place.
Set shipment weight
Set shipment service
Set shipment packaging
Set shipment SKU
Pick the cheapest shipping carrier
Pick the fastest shipping carrier
Apply templates
Automation rules can be used to define any unshipped orders, whether those orders are entered manually, from an eCommerce shop, or Excel.
If you are a large business, ShipRush may not be for you. You are required to manually create shipping rules for each product that has a different dimension and weight. Depending on the scope of your product line, this could be a deal-breaker.
Reporting
Easily view or download detailed reports containing shipments and orders. Choose from PDF, Excel or XML formats.
You can access the report module within settings. Reports are segmented in the following options:
Order date range
Shipment date range
Web Store(s)
Shipping account
Discount Postage
USPS: Up to 60% off the base rate
FedEx: Up to 21% off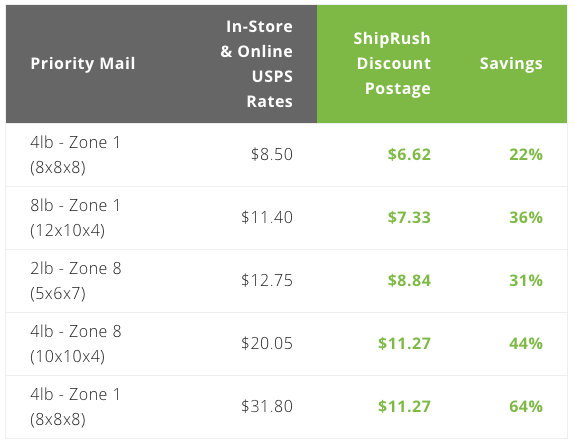 ShipRush features a rate dashboard that compares rates from multiple carriers on one screen. ShipRush claims they are the only shipping software to provide this service.
ShipRush even provides a shipping savings calculator to show you how much your online business can save annually by utilizing ShipRush shipping discounts.
Integrations
ShipRush has over 100 integrations so no matter what software you are currently using or need to add in the future, it will work seamlessly with its web platform.
Business Services
QuickBooks
Salesforce
NetSuite
Oracle
Carriers
eCommerce
Amazon
Shopify
BigCommerce
3dcart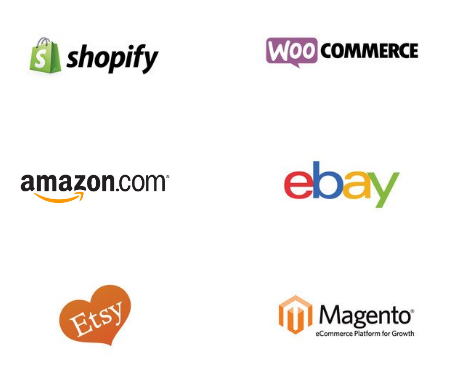 Payment Processors
The Main Features of ShipStation
Customization
The following custom branding options are available with ShipStation:
Branded email notifications
Branded packing slips
Branded shipping labels
Branded tracking page
Branded returns portal
eCom labels
Branded fields
Company Name
Phone
Email
Store Logo
Website
Social Links
Branded Tracking Page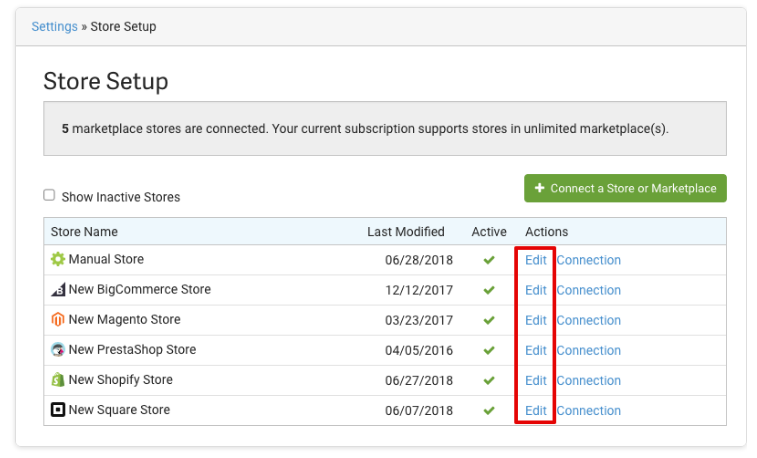 Automation Rules
ShipStation has over 40 pre-built automation rules. Notable options include Enable Saturday Delivery, Include a Return Label with the Outbound Label, Use a specific Packing Slip, and Email Notifications.
You can also customize your own rules by following the steps here.
Reporting
Insight Pages
View visual business trend reports, charts, and graphs. Helps you keep up to date with shipping volume.
Insights Reports
Customize your report by sell date, selling channel, carrier, account, SKU, and more. Then view the report in the app or export the data to PDF, CSV, Excel, or text.
Other reports include Static Reports, Custom Orders, Custom Shipments, and Data Archives (compiled monthly).
Discount Postage
USPS discounts
40% off Priority Mail
18% off First Class Mail Package
13% off Priority Mail Express
5% off International First Class, Priority Mail, and Priority Mail Express
40% off USPS Package Insurance Rate
Plus free PC Postage account (Stamps.com) with the ShipStation Pro Plan
UPS discounts
UPS discounts up to 62% off Daily Rates (48% off UPS Ground)
No minimum shipping volume requirements
Avoid certain surcharges and have others discounted, saving you even more money
Guaranteed delivery services
Updated UPS tracking and delivery alerts
Domestic and international delivery services
FedEx discounts (through the FedEx Advantage Program)
Express US services – Up to 29% off
Express international services – Up to 25% off
Ground services – Up to 20% off
Office services – Up to 20% off
DHL
Up to 66% on DHL Express postage with ShipStation Carrier Services
Integrations
Like ShipRush, ShipStation has a wide variety of integrations to link existing business software for a seamless logistics experience.
Business Services
QuickBooks
Oracle
SAP Business One and SAP Business ByDesign
VATGlobal
Carriers
USPS
UPS
FedEx
DHL
Amazon FBA
ShipStation has a larger variety of international mail integrations than ShipRush. Partners include Royal Mail, Hermes UK, DPD UK, Canada Post, RR Donnelley, and Landmark Global just to name a few.
eCommerce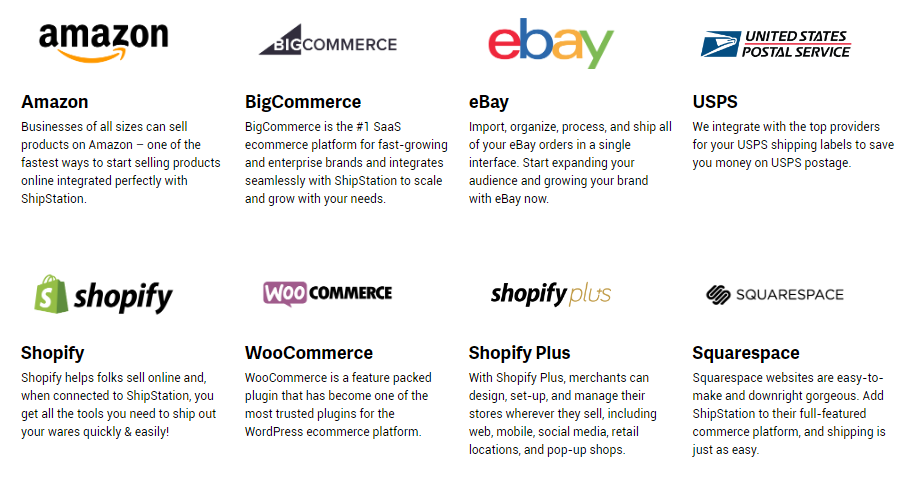 Payment Processors
ShipRush vs ShipStation – Pricing
ShipRush
ShipRush has three main plans for its Web plans, Speedy, Turbo, and Warehouse. You can also add LTL Freight starting at $100, or use the desktop version starting at $195 and up for a 1-year license.
ShipRush offers a 60-day free trial. A credit card is needed to sign up. While there are no monthly fees for the first 60 days, you will need a credit card on file to pay for shipping, insurance, postage, etc.
Speedy
$29.95 per month
3 users
Multi-Carrier
Discount Postage
UPS
FedEx
OnTrac
Amazon
DHL Express
Ecommerce Integrations (eBay, Amazon, …)
Turbo
$59.95 per month
Everything in Speedy, Plus
DHL eCommerce
FedEx LTL Freight (rate and tender/dispatch)
Warehouse
$99.95 per month
Everything in Turbo, Plus
NetSuite – Connector
Netsuite – Button
SQL web store
LTL Freight add-on
(3 tiers, starting at $100 per month)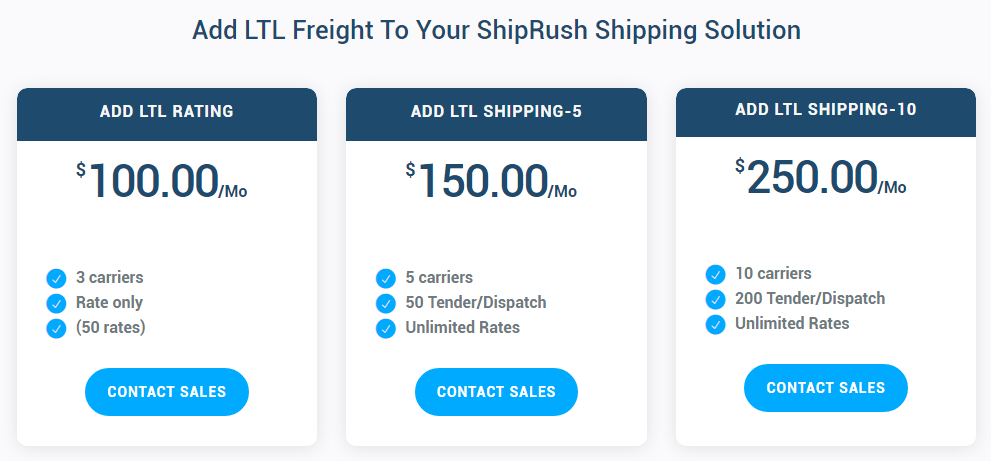 ShipRush Desktop
(1-year license)
Available with FedEx, UPS, and UPS Pro
Pricing starts at $195 and up
New customers will be steered toward a web-based plan, desktop is set to discontinue at the end of this year.
ShipStation
ShipStation offers 6 main plans, Starter, Bronze, Silver, Gold, Platinum, and Enterprise. The platform also offers a 30-day free trial.
Plus, add a user for only $5 a month (each) to any plan.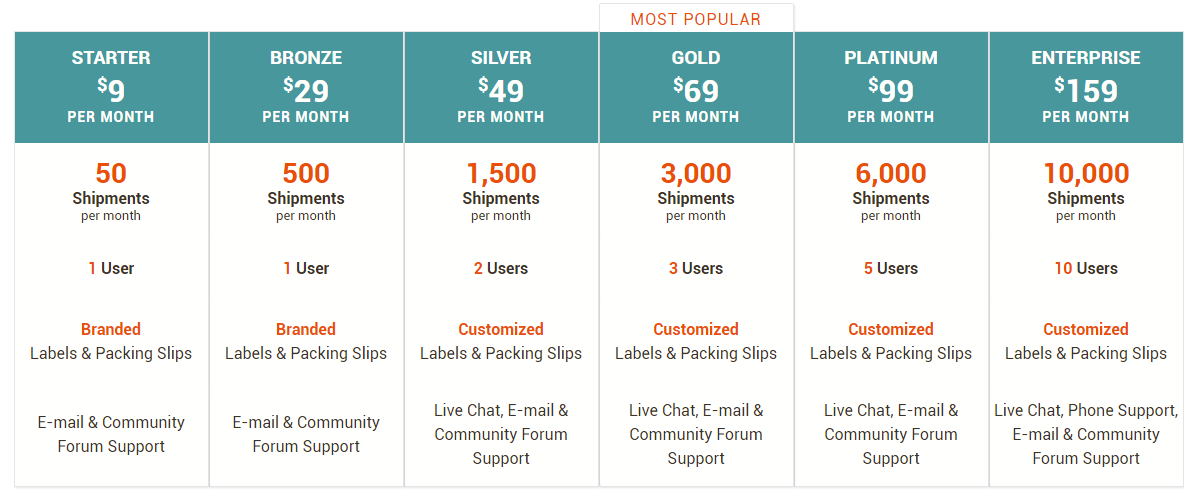 Starter
$9 per month
50 shipments per month
1 User
Branded Labels & Packing Slips
E-mail & Community Forum Support
Bronze
$29 per month
500 shipments per month
1 User
Branded Labels & Packing Slips
E-mail & Community Forum Support
Silver
$49 per month
1,500 shipments per month
2 Users
Customized Labels & Packing Slips
Live Chat, E-mail & Community Forum Support
Gold
$69 per month
3,000 shipments per month
3 Users
Customized Labels & Packing Slips
Live Chat, E-mail & Community Forum Support
Platinum
$99 per month
6,000 shipments per month
5 Users
Customized Labels & Packing Slips
Live Chat, E-mail & Community Forum Support
Enterprise
$159 per month
10,000 shipments per month
10 Users
Customized Labels & Packing Slips
Live Chat, Phone Support, E-mail & Community Forum Support
ShipRush vs ShipStation – Support
ShipRush
ShipRush provides email, phone, and chat support on all tier plans. All modes of communication are answered during specific business hours.
Phone support – M-F 8:30 am – 5:00 pm (Pacific Time)
Email support – M-F (typical response time is 2 hours during business hours)
Chat support – M-F 5:00 am – 5:00 pm (Pacific Time)
Additional support includes an FAQ knowledge base, documentation to cover the advanced features of ShipRush, and a support forum manned by ShipRush product specialists.
ShipStation
ShipStation offers an online help center (for product, features, integrations, and troubleshooting), community forum, and email support on all plans. Email response time is typically four to twenty-four hours M-F.
Chat support is for the Bronze plan or higher. Live chat is available for logged-in users only.
Phone support is exclusive to Enterprise plans. Support by phone is available between 8 am and 8 pm CST. This is a significant difference compared to ShipRush which offers phone support to all tiers during business hours.
ShipRush vs ShipStation – Pros and Cons
ShipRush
Pros
Easy to set up and use
Over 100 integrations
Affordable monthly cost
Unlimited shipping labels
Shipping rate comparisons on one screen
Can print labels on the go
Free trial
Phone, email, and chat support available on all plans
Mobile app
PayPal, Stripe, and Square payment processors
Cons
Cater to small and medium businesses, doesn't scale well for large businesses
Support is only available during business hours
ShipStation
Pros
Nearly 100 integrations
Easy to set up and use
Free trial
Mobile app
Add a user for only $5 per month, regardless of the plan tier
Cons
Phone support is only offered with Enterprise plan
Customer support can be slow to respond
ShipRush vs ShipStation – FAQs
Does ShipStation save you money?
ShipStation provides automatic order fulfillment, rate calculators, and batch shipping. All of the features can save you significant time and money depending on how many orders you process.
How much do you save with ShipStation?
Along with the time and money saved automating your shipping logistics, you can also save the following off regular shipping rates:
USPS: Up to 40% off (40% off Priority Mail, 18% off First Class)
UPS: Up to 62% off Daily Rates (48% off UPS Ground)
FedEx: Up to 29% off (29% off Express, 20% off Ground)
DHL: Up to 66% off
Is ShipStation free with Squarespace?
ShipStation is a paid service starting at $9 a month. If you want to try before you begin a monthly plan, the platform has a 30-day trial. If you would like to integrate ShipStation with SquareSpace, you can do so through SquareSpace extensions. However, all billing is through ShipStation and not through the SquareSpace platform.
ShipRush vs ShipStation – Which One is Best?
If you are just starting, ShipStation makes more sense in terms of monthly payment and features. With a $9 a month plan that supports 50 shipments, this should be sufficient for most new eCommerce. ShipStation also allows you to easily scale as your shipments increase and add users for only $5 per user per month. However, if customer service is important to you, ShipStation offers very limited support and only provides a phone option if you are on their highest tier at $159+ per month.
If you are already over the 500 shipment label limit, ShipRush offers a $29.95 plan (ShipStation is $29) that features unlimited shipping labels, 3 users (ShipStation supports 1), discount postage, DHL support, and over 100 integrations. ShipRush also has a 60-day trial (twice as long as ShipStation) and affordable LTL support (not offered with ShipStation). Plus, ShipRush has phone, email, and chat support on ALL of its plans.
Overall, we prefer the interface and features of ShipStation. But if you need LTL and quick customer service, ShipRush is a worthy competitor.
Further read: