Last Updated on April 22, 2023 by Ewen Finser
In this post, we will be comparing Selz vs Shopify. We will explore its features, and highlight who the builders are going to be best suited for.
Main Differences Between Selz vs Shopify
The main differences between Selz vs Shopify are:
Selz's pricing ranges between $26 per month and $599 per month, whereas Shopify costs as low as $9 per month and as high as $299 per month.
Shopify has its own integrated Shopify POS system for merchants, whereas Selz relies on the Square Point of Sale System.
Selz offers 25 free pre-built themes for building an ecommerce site, whereas Shopify comes with more than 100 options which feature both paid and free themes.
Shopify boasts of an incredibly expansive app store, whereas Selz supports only a handful of third-party apps and integrations.
Selz has three payment processing options, whereas Shopify comes with more than 100 popular payment gateway integrations.
Shopify by default can be integrated with Amazon for marketplace selling, whereas Selz allows you to sell your product on Google Shopping.
The default Selz platform comes with a PWYW (Pay What You Want) payment option, whereas Shopify can only provide that through an embedded third-party app.
Shopify has a specialized package (Shopify Life) for social selling and integrating Buy Now buttons, whereas Selz combines all the available selling channels in every single package.

Why Shopify Wins

There are PLENTY of ecom platforms out there. Only one has a true NETWORK effect that can catapult your growth. Shopify has thousands of developers building apps and a robust ecosystem of integrations. This cannot be ignored. #ShopifyWins

Try Shopify First

We earn a commission if you click this link and make a purchase at no additional cost to you.

I get it. You're torn between these two shopping carts and as it turns out, the more you seek opinions about them, the further your dilemma grows.
Am I right?
Well, I know because I've been there too. Deciding between Shopify and Selz is now more difficult than ever because the two have developed quite considerably over the past couple of years.
Shopify is much more popular than Selz all right, but as things stand now, there's no clear favorite between the two. Both Selz and Shopify continue to attract a myriad of praises from all sorts of digital merchants.
Each of them provides a simple way to not only build an online business but also manage all the core operations, including marketing and payment processing. Then to top it off, Selz and Shopify are both capable of omnichannel commerce. That means you get to sell from multiple online channels at a go.
So, all in all, it's understandable that Shopify and Selz are considered to be two of the best ecommerce platform solutions.
That's cute. But if there's one important thing I've learned in my experience with business applications, it's that popular opinion is never enough when it comes to comparing your software options. What turned out perfectly for some businesses might eventually prove to be a disaster for your online store. Hence, you might not want to rush your Selz vs Shopify decision.
Instead, I want you to forget everything they've been saying about Shopify and Selz for now, and then pay very close attention to this unbiased Selz vs Shopify comparative review. It goes beyond the basics to accurately compare the two platforms by their user experience, pricing, as well as the business creation tools, business management features, plus online payment processing capabilities.
And to start us off, allow me to address the elephant in the room. What are the main differences between Shopify vs Selz?
Selz vs Shopify: Overview
Selz Overview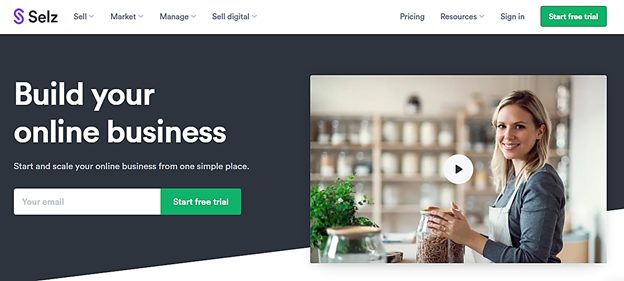 By now, I guess it's pretty obvious that Selz is not as huge and established as Shopify. It has only been around since 2013, which translates to 7-8 years of experience in the industry.
Don't let that fool you though. Selz is not one of those newcomers that you write off as soon as they make a debut. Not at all. It's here to challenge the likes of Shopify and has managed to do a fairly neat job so far.
What does that mean?
Well, for starters, a glance into its user base reveals that Selz services more than 125,000 online businesses. And while most of them are based in the US, the platform has a global footprint already. All that in a span of only 7 years.
And why are merchants increasingly joining the Selz bandwagon?
The simple reason is, Selz provides an all-in-one tool suite for building, managing, marketing, expanding, and promoting online stores. You can think of it as a fully-featured ecommerce platform, complete with hosting services, a website builder, unlimited products and storage, pre-built customizable themes, built-in card processing, abandoned cart recovery, third-party apps and integrations, plus business analytics.
In a nutshell, therefore, Selz basically offers everything a small business would need to set up as well as run a fully-functional online store. What's more, you're bound to have one heck of a good time since the whole interface comes optimized for great user experience plus ease-of-use.
And speaking of which, Selz fundamentally prides itself on facilitating simple omnichannel selling. The platform hands you tools for setting up not only an ecommerce website, but also online stores on social media sites, blogs, and third-party sites.
Hence, you get to display and sell your products directly from Facebook, Instagram, or WordPress (WordPress Plugin), without redirecting shoppers to external checkout sites. A strategically-embedded widget or button is enough to kickstart the checkout process.
And since there's no limit to the number or type of products you can sell, Selz is capable of supporting different levels of businesses across all industries.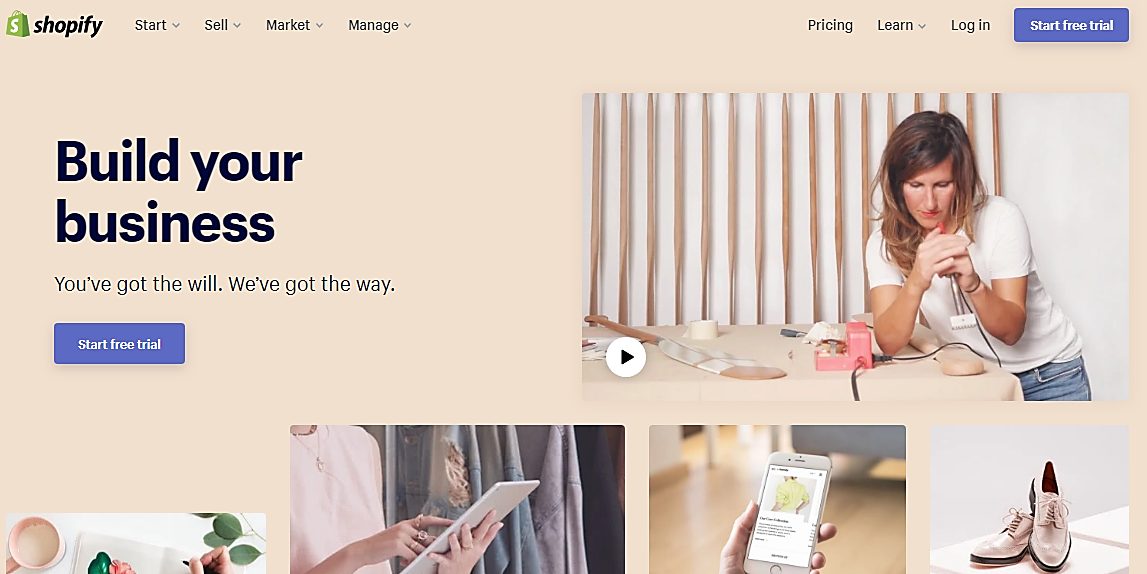 With a user base that reportedly stretches beyond 1 million merchants, Shopify is undoubtedly one of the biggest ecommerce platforms in the world. A number of industry reports, as a matter of fact, place its global ecommerce market share within the 20-25% range.
Well, this journey to the top started in 2004, when Shopify was founded by a group of friends who needed a reliable platform for selling their snowboards on the web. Then with time, Shopify managed to expand its functionalities quite substantially, as it adapted to the exceedingly-demanding needs of online businesses.
Today, Shopify isn't just an ecommerce solution. It's more of a holistic platform with a vast array of powerful tools that support both online and offline selling.
Now, as far as online selling is concerned, Shopify has pretty much everything that most digital merchants would need to create fully-functional stores, and then manage, market, plus grow them over the long haul.
Some of the most notable capabilities include; uninterrupted web hosting, unlimited products, multiple staff accounts, a wide range of customizable site themes, a user-friendly site builder, abandoned cart recovery, SEO configurations, etc.
Then when it comes to offline operations, the platform offers a well-integrated Shopify POS application, which gives you the power to set up a supplementary brick-and-mortar store.
You could even sell your stuff while you're on the move as the POS system principally runs on mobile devices. And in the meantime, Shopify will keep everything organized and synced accordingly in real-time.
Now, when you combine this setup with all the digital selling channels that Shopify supports, you have yourself one heck of a commerce platform. That's why Shopify is widely considered to be a perfect solution for growing businesses.
Needless to say, the most exclusive privilege that merchants continue to enjoy on Shopify is the platform's unlimited flexibility. And more specifically, it happens to come with one of the most extensive app marketplaces for ecommerce platforms. This is where you find pretty much all the popular app integrations you can think of.
Overall, therefore, Shopify sounds very promising. But, does it have the potential of turning your business into a success? Or would you rather proceed with Selz's tools?
Let's finally settle the debate once and for all by exploring both platforms at a much deeper level.
Selz vs Shopify: Main Features
Ease of Use
Selz Ease of Use
The process of signing up on Selz, to begin with, is pretty straightforward.
But, don't get me wrong. It doesn't follow the same old structure we've seen on other cloud-based applications. Instead, Selz hits you with a couple of questions as it tries to learn more about your business needs. The findings are then used to customize the platform's features accordingly.
That said, the dashboard itself comes with a neat, minimalistic design and a pleasantly-straightforward layout. The whole system is easy-to-use and it grants you direct access to the core tools right off the bat. So, in the long run, you should be able to hit the ground running.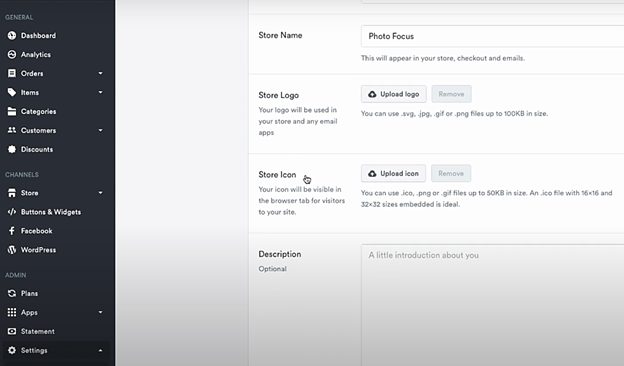 Selz even tries to get you started on the store building process as soon as the account is up and running. You'll find about four different selling options for your online store.
For starters, you could use Selz's intuitive site builder to create a fully-fledged ecommerce store. But if you prefer to start small, you could alternatively choose to sell your stuff from a social media site, or perhaps integrate the Selz buy buttons with a pre-existing blog or site.
And that's not all. It turns out you could also embed a store onto your blog or website.
Whichever you settle for, you're bound to have an easy time with Selz tools. You don't need any technical coding knowledge or skills to configure the options. Plus, the overall learning curve is fairly gentle, and you should be able to figure your way around without any difficulties.
Shopify Ease Of Use
While Shopify is an extensive ecommerce platform, it doesn't let that interfere with its overall usability. The numerous tools and options here have been organized neatly to give you a seamless experience as you build and manage your online business.
All in all, it only takes a couple of seconds to sign up, and the system will automatically direct you to a clean, well-designed and intuitive dashboard.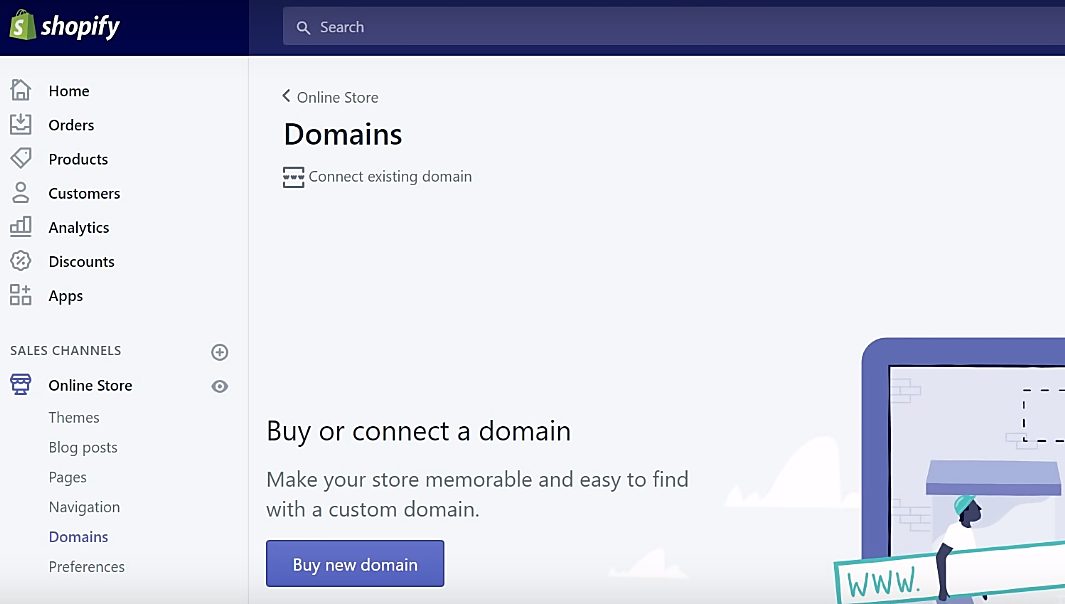 Apart from providing an overview of your primary business metrics in real-time, Shopify's interface allows you to conveniently customize and manage your store.
Adding products, for example, can begin immediately when you land on the dashboard. Shopify keeps it as simple as possible so you tweak multiple options without getting overwhelmed. It only takes a few keystrokes plus clicks here and there to import inventory data and maybe edit the product variants.
Well, that's pretty much the same principle that Shopify applies in all the other areas within its system. Consequently, you don't need any specialized skills to work with its tools.
Verdict: Shopify vs Selz Ease of Use (Draw)
In all fairness, there is no clear winner in the Selz vs Shopify ease of use contest. Both platforms are built with simplicity in mind, and you should be able to comfortably leverage them without any technical skills.
So, let's call it a draw.
Building Your Ecommerce Business
Selz Business Creation
Selz applies a dynamic approach when it comes to building an ecommerce business.
In essence, it gives you the privilege of choosing between these online selling channels:
You could sell your products from a standard Selz ecommerce website.
You could engage in social selling by setting up a store on Facebook or Instagram.
If you have a website or blog already, you can go ahead and embed Selz "Buy Now" widgets that link directly to your inventory.
You could capitalize on marketplaces by selling via Google Shopping
It's also possible to place online store widgets on Tumblr, Squarespace, Wix, Blogger, and WordPress-based sites.
Now get this. While Selz allows you to proceed with either of these options, the best strategy would be leveraging multiple channels at a go. Selz is capable of powering several fully-functional storefronts across different channels.
That means you can, for instance, combine online store selling with a Facebook store, and maybe Google Shopping.
If that sounds like a plan, you might want to set up an ecommerce website before embarking on the rest of the channels. None of that should be challenging as Selz comes with all the basic tools for domain registration and site-building.
The site builder itself offers a visual drag-and-drop layout for customizing Selz's pre-built theme templates. And yes, you don't need any programming skills to proceed as all the configurations are pretty straightforward.
Sadly, however, the template options here are very limited. While Selz has done a good design job on its pre-built themes, it only provides 25 options.
But, on the brighter side, at least all of them are completely free of charge. Plus, they are all compatible with Selz's drag-and-drop website editor.
If that doesn't work out for you, it's possible to dive deeper and customize the themes directly from their source code. Selz offers experienced programmers HTML and CSS editors for tweaking the technical stuff.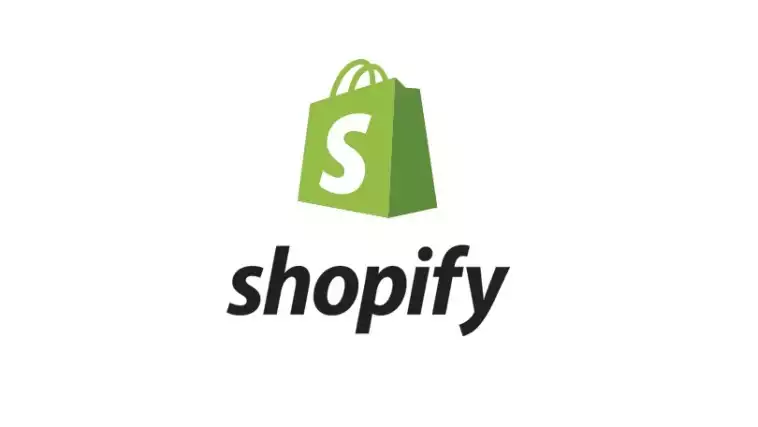 Why Shopify Wins
There are PLENTY of ecom platforms out there. Only one has a true NETWORK effect that can catapult your growth. Shopify has thousands of developers building apps and a robust ecosystem of integrations. This cannot be ignored. #ShopifyWins
Try Shopify First
We earn a commission if you click this link and make a purchase at no additional cost to you.
Shopify Business Creation
Just like Selz, Shopify happens to pride itself on powering sales across different channels. You should be able to:
Build your Shopify online store from scratch
Integrate Shopify with Amazon for marketplace selling.
Capitalize on social selling by setting up stores on social media sites like Facebook.
Sell your products from third-party websites and blogs via Shopify "Buy Now" buttons.
Embed just a single product, collection, or shopping cart, and then sell from any pre-existing site.
Take advantage of Shopify selling on SquareSpace, Blogger, Weebly, Wix, Tumblr, Drupal, Joomla, and WordPress.
Sell items physically while you're on the move via the Shopify POS app.
From the look of things, Shopify supports pretty much all the selling channels that Selz offers. Then to top it off, it throws in extras like the Amazon integration, as well as the renowned Shopify POS app.
Another thing that you'll love about Shopify is its wide range of theme options. You'll find more than 100 attractive pre-built templates on the Shopify Theme Store. It offers a range of different options for varying industry categories.
The only problem, however, is that only a fraction of them are free of charge. The most elegant options that come packed with extra features will cost you between $140 and $180.
Don't get me wrong though. You don't necessarily need a premium theme to create an attractive online store. Even the free options are good enough for creating unique and strikingly-beautiful site designs.
Now, speaking of which, the process of designing websites can be approached from two different angles. You could either proceed with the Shopify Theme Editor or configure your store's design using what Shopify calls "Liquid".
Well, in case you're wondering, the former is the easiest of the two, as it entails the visual configuration of the templates. The Theme Editor is simply an intuitive WYSIWYG site builder, whose tweaks don't require any programming knowledge.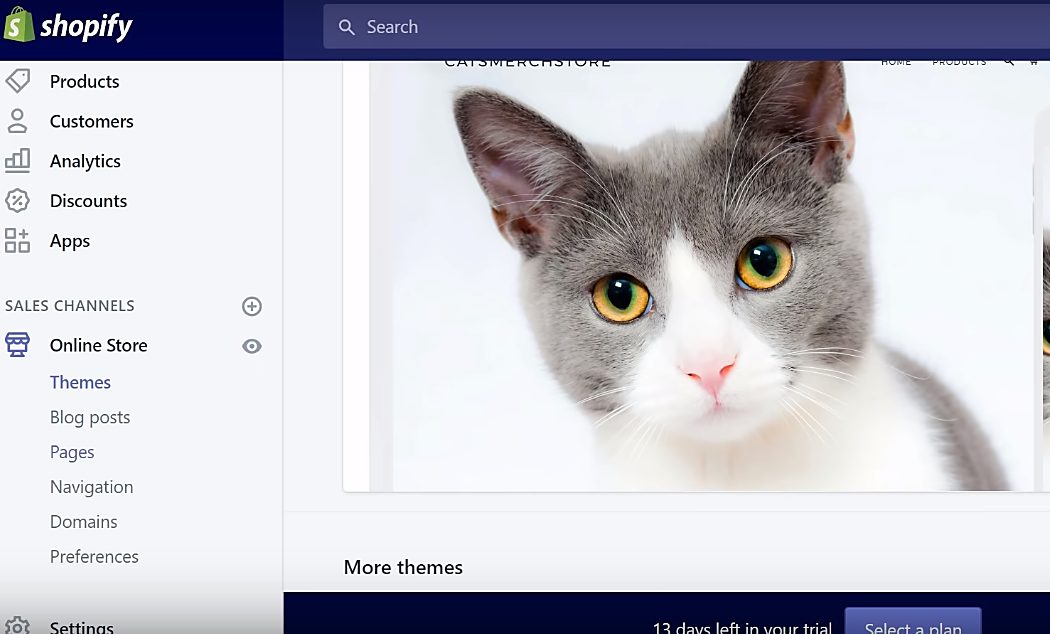 However, if coding is your thing, you might want to check out Shopify's code editor. It gives you the chance of working on the themes' HTML and CSS codes using a Shopify templating language called "Liquid".
That said, the best thing about Shopify's customization framework is its vast array of integrations. You get to conveniently add supplementary functionalities to your new store by simply installing applications from the Shopify App Store.
Verdict: Shopify vs Selz Building a Business (Winner: Shopify)
Both Shopify and Selz offer a set of robust tools for building a business. They combine omnichannel selling with professionally-designed theme templates, intuitive visual editors, and flexible code-based customization.
It's worth noting, however, that Shopify comes with slightly more selling channels than Selz. Plus, Selz is no match for Shopify's extensive App Store, which essentially provides unlimited store customization capabilities.
Managing Your Ecommerce Business
Selz Business Management
When it comes to managing your ecommerce business, you can rely on Selz for SEO, inventory management, digital marketing, promotions, abandoned cart recovery, tax processing, order fulfillment, customer management, payment processing, and so much more.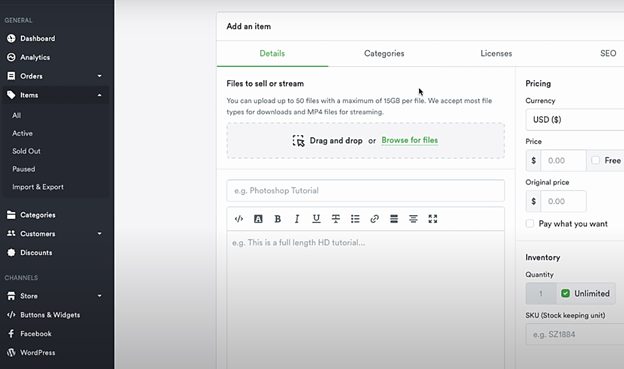 In short, therefore, Selz covers the bulk of the standard ecommerce operations. You can count on it to help you sustain and expand your business over the long haul.
The most notable features that might interest you here include:
Inventory Management: Selz accommodates an unlimited number of both physical and digital product offerings (including digital download support), as well as services. You also get to edit the corresponding categories, variants, subcategories, and product images, plus track the subsequent inventory levels in real-time.
Search Engine Optimization: Selz allows you to customize your product and category URLs, titles, meta tags etc.
Customer Management: Selz saves your customers' data, generates accurate analytics about their buying patterns, allows you to integrate Disqus comments for customer feedback, and exports your customer information to marketing applications like Mailchimp.
Abandoned Cart Recovery: Selz can automatically send emails to customers who leave the site before completing their shopping procedure leveraging email marketing techniques.
Staff Management: Selz allows you to add up to 15 employees, as well as manage their individual account privileges.
Promotions: You can offer discounts or coupon codes that cover selected prices, products, or categories. Then to top it all off, Selz provides tools for running and managing customer loyalty reward programs.
Taxes: Selz is capable of automatically calculating taxes during checkout. You could also apply custom tax rates, tax overrides, as well as issue tax invoices.
Payment Processing: For transaction handling, Selz comes with a built-in payment processor called Selz Pay. Alternatively, you could embed PayPal or 2Checkout, and then perhaps even give your customers the freedom to pay for their orders using a PWYW (Pay What You Want) model.
Shopify Business Management
Online store management is the area where Shopify truly shines since it packs a host of powerful tools for inventory management, digital marketing, customer management, payment processing, multi-store management, order processing, analytics, and order fulfillment.

Here are the specifics:
Multi-Store Management: The main Shopify dashboard combined with the Shopify app gives you the privilege to set up multiple stores, and then manage them from one centralized system.
Customer Management: Shopify stores your customers' information in their respective profiles, and then proceeds to track their activities. In the meantime, shoppers get to checkout via their accounts and guest accounts.
Search Engine Optimization: Shopify automatically generates your store's sitemap.xml file and proceeds to facilitate product tags, meta tags, titles, and URL configurations.
Inventory Management: Shopify gives you the privilege of adding as many products as you want, and working with an unlimited number of product variants. The items supported here include physical product and digital products, plus services, on which customers even get to drop reviews.
Staff Management: Shopify can accommodate up to 15 staff accounts, whose privileges and roles are managed directly from the main admin account.
Promotions: You can issue discounts and gift cards to reward loyal customers and promote your online store among prospective shoppers.
Abandoned Cart Recovery: You can choose to have the system send out recovery emails to shoppers who happen to drop everything before checking out.
Taxes: Shopify is capable of evaluating the tax amounts due based on the custom rates you set for each location.
Payment Processing: While Shopify Payments is the default built-in payment gateway, the Shopify platform supports more than 100 alternative payment processors.
Verdict: Shopify vs Selz Business Management (Winner: Shopify)
Evidently, Selz and Shopify pack a lot of raw power when it comes to business management. They both have what it takes to effectively support a fast-growing ecommerce business for the long haul.
But, while there are a couple of noticeable similarities between them, Shopify stretches beyond the limits of Selz's toolset. It's more flexible and can comfortably serve a wider range of businesses.
Pricing Comparison


Shopify Lite Plan – $9 per month
Process credit card payments
Embed items to any site or blog
Sell directly through Facebook
Basic Shopify Plan – $29 per month
Shopify Point of Sale
Fraud assessment
Discount codes
Abandoned cart recovery
Free SSL certificate
Manual order setup
Sell through social media
Sell through online marketplaces
Full-time customer support
2 user accounts
Unlimited products
Online store
Shopify Standard Plan – $79 per month
All the features available on the Basic Shopify plan
Professional reports
Gift cards
5 user accounts
Advanced Shopify Plan – 299 per month
All the features available on the Shopify Plan.
Advanced analytics
15 user accounts
Shopify Plus Plan – Custom rates
Personalized features for large enterprises

You might also be interested: Shopify vs Shopify Plus – Everything You Need to Know (2020)

Why Shopify Wins

There are PLENTY of ecom platforms out there. Only one has a true NETWORK effect that can catapult your growth. Shopify has thousands of developers building apps and a robust ecosystem of integrations. This cannot be ignored. #ShopifyWins

Try Shopify First

We earn a commission if you click this link and make a purchase at no additional cost to you.
Frequently Asked Questions
What kind of products can you sell on Selz?
You can sell a wide range of digital and physical products, including ebooks, apps, courses, and videos. Selz also offers the option of selling licensing keys so you can protect your products from being illegally used.
What exactly does Shopify do?
Shopify is a subscription to a software service that offers you to create a website and use their shopping cart solution to sell, ship, and manage your products.
Is Shopify hard to learn?
In our opinion, Shopify is relatively easy to learn, especially if running a fairly standard ecommerce store. Don't confuse an easy setup process as meaning Shopify is simple. With thousands of apps, it's quite powerful and customizable. Knowing which apps to use is probably one of the hardest things.
Selz vs Shopify: The Ultimate Verdict
Interestingly, when you compare the features offered across their pricing plans, it turns out Selz is cheaper than Shopify. And while the cost difference between the two might not be significant for Basic starters, it starts to become more pronounced as you move up the subsequent packages.
I guess that should be good news for users on the Selz Advanced package. They get to save about $100 a month by settling for Selz as opposed to Shopify.
Not bad, not bad at all. But then again, let's face it- price isn't everything. If you want a perfect platform for your business, then you have to look beyond just the price factor, and ultimately, consider the overall value that each option provides.
So, which of the two would you say offers better value? Selz or Shopify?
Established Store Looking to Migrate? Well, the truth is, it depends. If you're looking for a robust feature-set that can support an increasingly growing business, then I'd advise you to go for Shopify. Its mid and advanced level packages offer more power than the corresponding plans on Selz's side.
Just Starting Your Online Store? Things, however, change slightly when it comes to startups and beginners. It turns out Selz's Basic plan packs more features and tools than Shopify's equivalent offering. Plus, considering Selz is lighter than Shopify, then it makes sense for beginners to choose it.
Hence, the final verdict in the Selz vs Shopify case is rather mixed. It all depends on how you intend to set up your business.
Further Reading on eCommerce Store Tools, Payment Gateway Platforms, and Software: