Last Updated on May 6, 2022 by Ewen Finser
Looking to find some of the best BigCommerce themes on the market?
Creating a great-looking, professional Bigcommerce store is pretty much impossible for those of us who aren't tech-savvy graphic designers. Luckily for us, there are some amazing BigCommerce themes to choose from. But as always there's a catch – not all of these themes are created equal.
For instance, some of the best-looking themes are "BigCommerce Premium Themes" that you've got to pay to use while others are free. Naturally, choosing a paid or free theme will depend on the functionality you require as well as the design of your store. And we all know that the best themes containing supremely valuable eCommerce features and aesthetic design will always cost that bit extra.
And that brings me to why I'm writing this post. I'm looking to help you choose the right BigCommerce theme by compiling a list of what are arguably the best templates within the BigCommerce theme marketplace.
Continue reading if you're looking for some juicy content to help you select the right theme for your eCommerce store the first time around.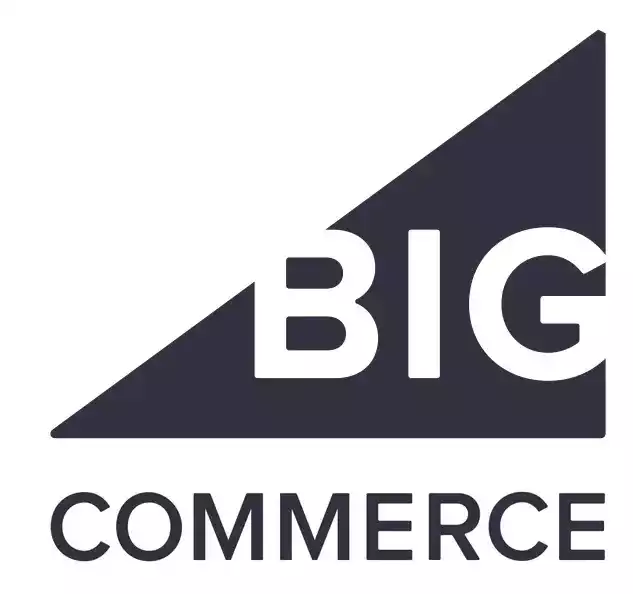 Why do I prefer BigCommerce?
Seamlessly list, optimize, advertise, sell and fulfill products across 100+ channels. All the capabilities of enterprise ecommerce—without the cost or complexity.
Request your Demo
We earn a commission if you click this link and make a purchase at no additional cost to you.
Enjoy!
Here are the Best BigCommerce Themes of 2021
1. Cornerstone
The first BigCommerce theme I'd like to mention is Cornerstone. This theme was developed using the eCommerce shopping cart's stencil platform and is the eCommerce functionality provider's most popular choice.
What I like about this theme is the different theme templates available:
The cornerstone theme is optimised for sellers needing a large catalogue. Further, selling features such as sales and discounts are also available to boost online store owners' revenue. Cornerstone is also highly responsive supporting mobile, tablet and desktop. A responsive theme is extremely important as shoppers now view web sites using a range of digital devices. Ensuring that your online store works regardless of the device traffic visits your store on, means that you're giving yourself the best possible chance to make a sale.

I like Cornerstone light's theme design the most. I think the front page slideshow would be a useful feature to promote products on sale or catch a customer's eye with unique offerings.
Other things I like about Cornerstone Light:
Google AMP enabled
Provides a one-page checkout
CSFR protected
Ability to alternate between a grid and list layout on product pages
The "Cornerstone Light Documentation" is informative
2. Atelier ($225)
The first time I laid eyes upon this theme I couldn't help but feel that it was out of my price range!
There are three different Atelier theme templates:
Minimal
Bright
Classic
Modern
High-end sellers should consider using Atelier. The theme's design screams professionalism.
Personally, Atelier's minimal template is my favourite version of the theme. I like the full-width images and the grid layout. It makes for a clean design and the list navigation utility is certainly unique.
As with Cornerstone, Atelier's Bigcommerce theme documentation is quite useful. For anyone interested in customisation it's worth reading just to gain a better understanding of how to maximise Atelier's potential.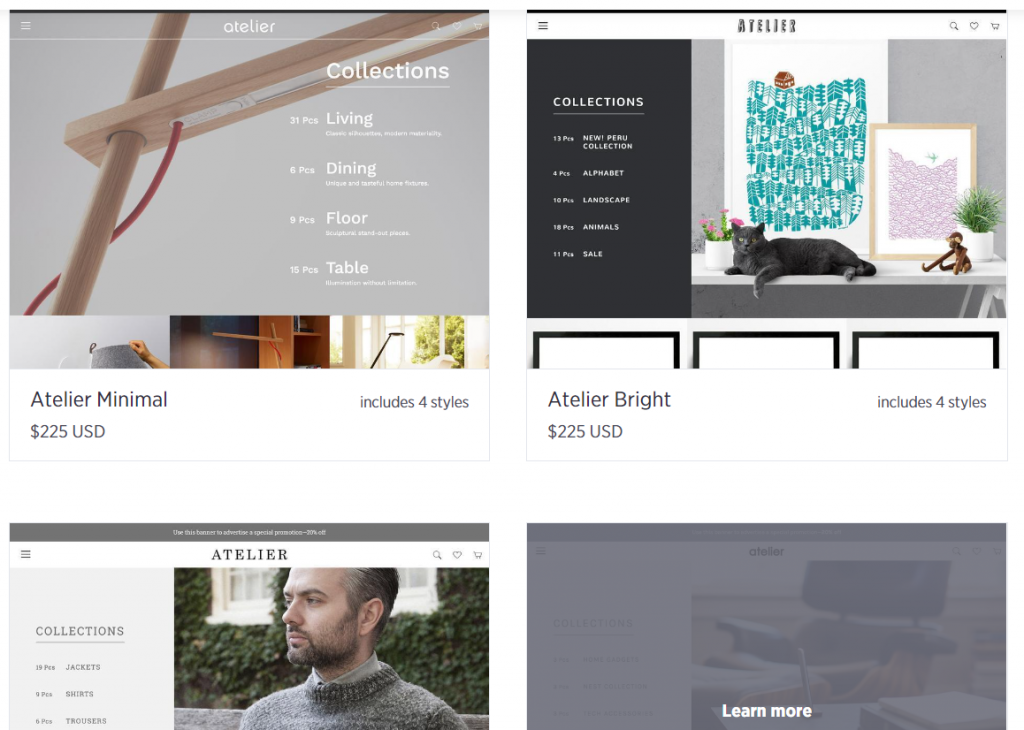 Small catalogue online stores benefit from using Atelier. Meaning it's a great fit for any low volume sellers commanding premium prices to make their fortunes.
One drawback of this theme is that it has been optimised for home furnishings, so the majority of you will have to make alterations to suit your industry.
Other things I like about Atelier minimal include:
It's optimised to be highly responsive for digital devices as well as search engines
Optimised for PixelPop, which is extremely useful for digital sales & marketing purposes
3. Orbit ($300)
My next best BigCommerce theme is Orbit.
There are four design templates available:
Orbit is suitable for any industry and an excellent eCommerce shop theme. So straight away its versatility makes it stand out. From what I can see, there are storefronts using the theme within industries ranging from fast food to jewellery. And they all look great visually.
Orbit's full-width image carousel slideshow also caught my eye, well that's at least the way Orbit bright is designed. Another template of the design, "dark", doesn't use slide shows. I think that these large image slideshows are a great way of captivating visitors thus minimising bounce.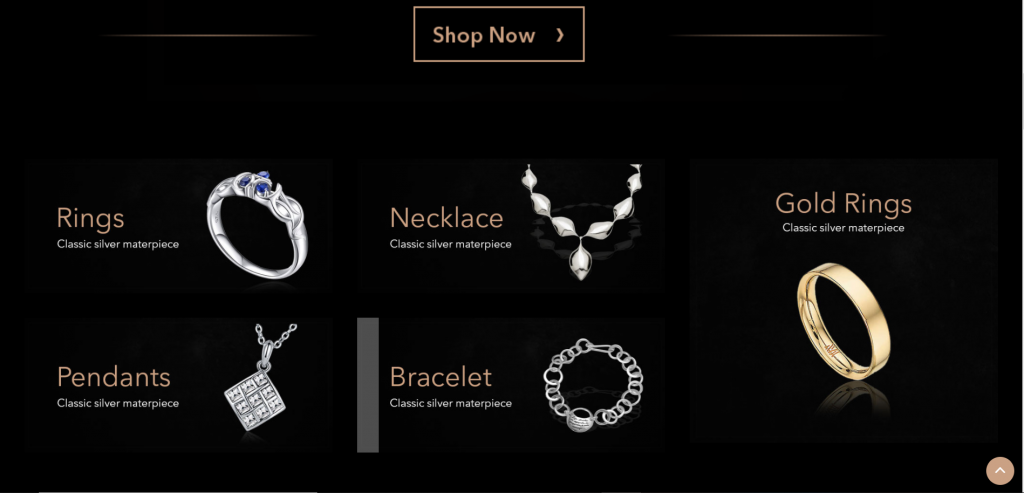 I also like the level of product features available to store owners. BigCommerce merchants can showcase products across their storefronts using high-resolution images that add to the professionalism of their stores. They can also create tables to compare products and upload product videos to better market their offerings. Product filtering is also available as well as suggested cart products. Overall, it's just a great theme for anyone looking to optimise their eCommerce site for conversions.
Probably what I liked most was the ability to feature front page product testimonials. This feature enables sellers to social proof their online stores. Which may be particularly useful for dropshippers looking to create a positive brand image and generate some awareness surrounding their offerings. In summary, everyone stands to gain from social proof because it proves that your online store is legit.
Even More of the Best BigCommerce Themes
4. Geneva
What I like about Geneva is the full-width image carousel that makes it extremely easy to focus customers' attention on premium products. The high-resolution images also add impetus and create an aura of professionalism surrounding offerings. For anyone with those higher-end products that they desperately want to show off, Geneva is one of the best.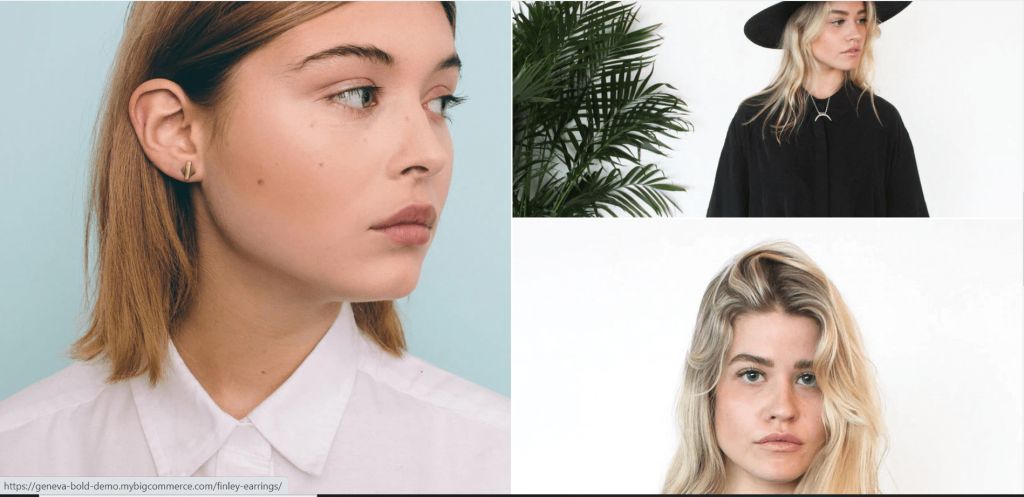 Finally, I also decided to include Geneva because it's priced fairly reasonably at $175.
Geneva is available in the following templates:
Bold
Grey
Pastel
Colourful
5. Portobello
This premium BigCommerce theme costs $195 and is one of the eCommerce functionality provider's staff picks. It has been optimised for online stores with small catalogues. The theme is well suited to stores looking to feature products in a vast array of industries such as cosmetics, fashion & jewellery and sports & recreation.

I like the flexibility of the tool and think it's priced fairly considering its features. For example, the theme is Google AMP-enabled, boasts the same useful product display features as Orbit and is a fully responsive, multi-purpose theme. Finally, Portobello is somewhat unique in that it possesses five distinct divider styles.
There are four styles available displayed in the above screenshot.
6. Luna ($300)
Luna is another one of the best BigCommerce themes. It's well suited to all industries and in terms of BigCommerce customisation, it's one of the best themes around. Luna lets you integrate with Google Translate, which creates a superior customer experience. Further, the eCommerce theme has an interactive header that's great for anyone looking to promote and sell a product using their storefront. One product vendors may benefit by considering a theme possessing such functionality.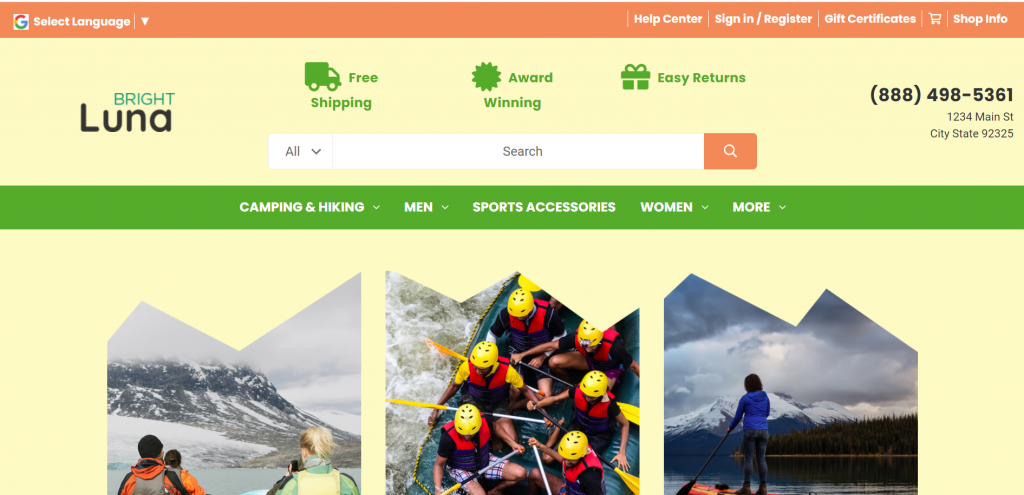 Another thing I like is the option to create a custom help centre for customers, this option could prove invaluable when it comes to ensuring customer satisfaction. Keeping customers happy is so important to minimising churn and fostering a culture of brand loyalty and ultimately ensuring revenues are continuously beefed up by repeat customers.
And all this talk may sound so obvious, but if you fail to keep customers happy your profitability will suffer.
Luna is available in four design templates;
7. Elevate ($295)
Product customization with this BigCommerce theme is a major strong point. For example, you can take your products and show different versions by adding clickable colourful fields that enable shoppers to see multiple versions of the same products. It's great for vendors looking to mix a product customiser with a BigCommerce theme.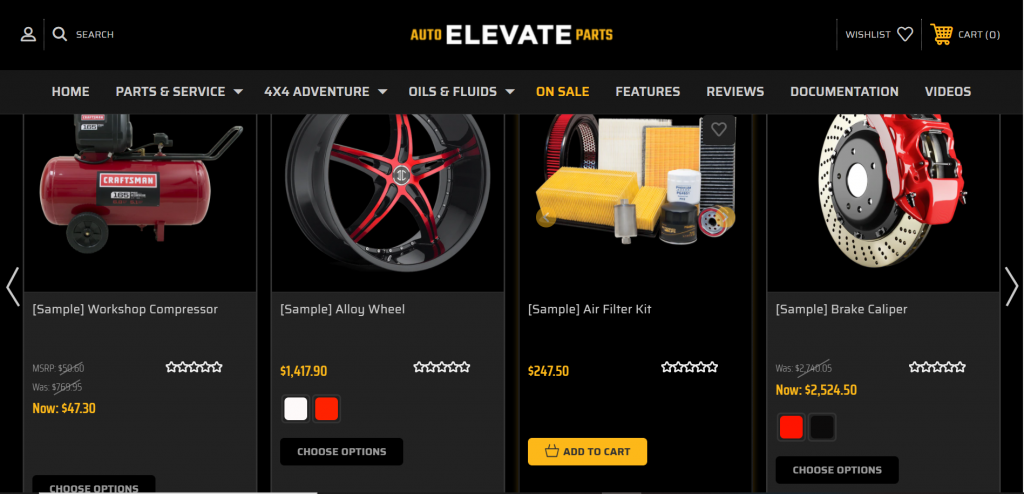 I also like that there are templates of Elevate that have been optimised for both large and small catalogues. All of the themes mentioned in this post are compatible with BigCommerce and Google analytics, and Elevate is no different – that's another plus.
Here's a video that some of you may find useful.
8. Essence Pro ($129.95)
This is an eCommerce theme for WordPress which you can access via the Envato marketplace. Don't be alarmed when you notice that it's for "WooCommerce" because it can also be integrated with BigCommerce. The theme has been optimised for online stores operating within the health, wellness and lifestyle industries.
I love the clean design that lets your store's imagery do the talking, meaning you should certainly consider sticking products within its image carousels. Essense pro was constructed using the Genesis Framework for WordPress. I like the security and SEO boost store owners enjoy provided courtesy of such a strong, reliable coding framework. Finally, I love how blog posts are displayed on your storefront as well as the presence of a bottom of the page CTA. Overall, a great theme for WordPress.
9. Vault
This theme is exceptional considering it costs absolutely nothing – it's up there with Cornerstone for being the best free BigCommerce theme. Designed by Lonestar, vault comes out of the box with nearly all the features you'll find in its paid alternatives. I like Vault because it possesses well designed yet easy to set up templates.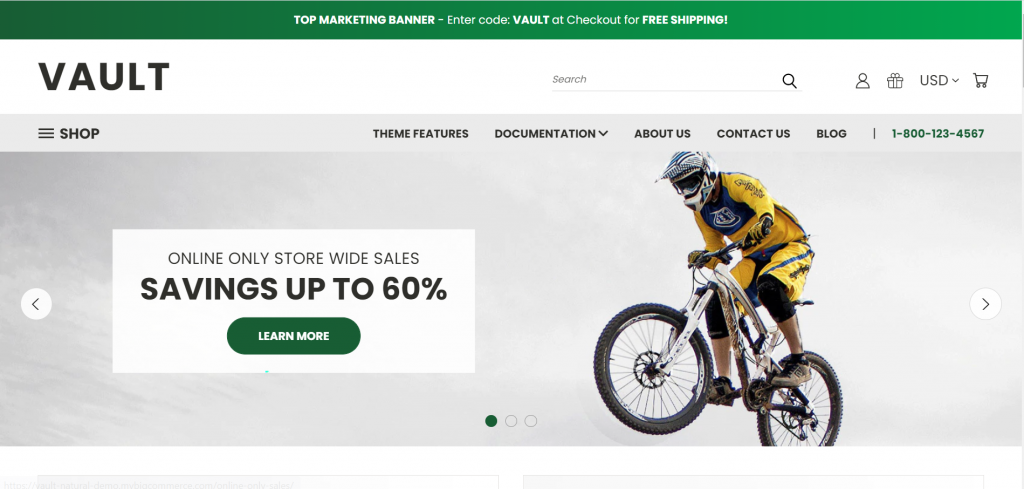 The ability to save payment methods also makes Vault an attractive proposition. Further, Vault is optimised for digital downloads and selling wholesale and that combination is somewhat unique compared to all the other BigCommerce themes mentioned here. If you're looking for a theme that looks great and provides eCommerce functionality free of cost, then Vault is worth considering.
10. Camden ($235)
For anyone looking for a B2B eCommerce theme, Camden by Flair Themes is worth considering. It's rather easy to set everything up, and there's some great documentation over at Flair Themes.

You're probably wondering what the eCommerce themes B2B features include, so here's a quick list:
Price Ranges
Primary Price Display
Tax Labels
Purchasing Restrictions
Set a Minimum Value Order
Add Multiple SKUs
Home Page Login
Mini Side Cart
And more (Click HERE for more info)
I'd say Camden is a great theme for anyone looking to sell in a B2B setting using a personalised template. Finally, anyone looking for an eCommerce marketplace theme should consider using the Camden Marketplace template.
11. Milano
This is an eCommerce theme with a great design template for bloggers. Granted, it's not cost-free at $150. But, it's a small price to pay for a solid eCommerce template within a theme that's responsive and was created using BigCommerce's Stencil platform. Milano default is the eCommerce template you need to access the blogging functionality.
Best BigCommerce Themes: Using the Themes Marketplace
Ok so this section is slightly offbeat from the core purpose of this blog, but I felt the need to mention the option to choose themes by industry. Here's a quick screenshot so that you can see what I mean:
In the example above, you can see that I've selected Automotive & Industrial and some of the designs available to you. What I like most about navigating the BigCommerce themes marketplace has to be the filtering and segmentation.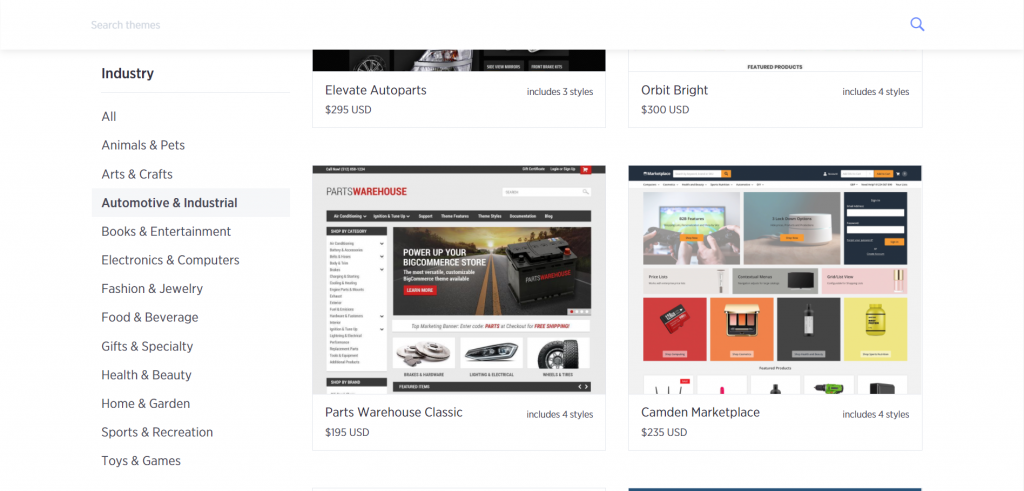 You can decide to view based on free and paid themes. I like this feature because the larger volume and higher-end sellers don't have to sift through free themes that are unlikely to fulfil their needs. Likewise, for merchants seeking basic functionality and a professional design on a budget they can get straight to deciding upon themes that fit their specs.
I also like how you can sort by pricing from either ascending to descending order. Another basic yet convenient feature.
Something I most certainly like is the collections section. Here's an image to illustrate:
Google AMP is enabled out of the box with BigCommerce. AMP stands for Accelerated Mobile Pages. In a nutshell, AMP results in your BigCommerce theme's design becoming more responsive via faster load times. The longer customers have to wait for your online store to load the less likely they become to stick around. They will instead go to an online store that loads faster. Meaning you stand to gain a competitive edge from using BigCommerce's Google AMP enabled themes.
Best BigCommerce Themes | Frequently Asked Questions
Question: How do I customise my BigCommerce theme?
Answer: You can customise your theme using the BigCommerce website builder. The builder works in a drag and drop format, so you don't need to possess any coding skills. However, for those of us who are more tech-savvy, there's also the option of making customisations and connections via BigCommerce's API. Alternatively, vendors may wish to hire a third party BigCommerce web design company.
Question: Is BigCommerce Easy to Use?
Answer: I don't think that BigCommerce is the easiest eCommerce platform to use, but it's pretty close. So, if you're looking for an easy to use eCommerce platform then you can't go too far wrong with BigCommerce.
Question: Best BigCommerce Themes: What is BigCommerce?
Answer: BigCommerce is an eCommerce platform. An eCommerce platform is a software that provides the following functionality: marketing, shopping cart, analytics, website, sales and overall control of your virtual store.
Question: Best BigCommerce Themes: Is BigCommerce Free?
Answer: BigCommerce isn't free to the best of my knowledge, but the eCommerce platform does provide a 15-day free trial.
Question: Best BigCommerce Themes: Is BigCommerce Safe?
Answer: Yes – BigCommerce is one of the many reputable, safe eCommerce solutions platforms. Some BigCommerce security features include firewalls, intruder detection and file integrity scanners. These features should add multiple layers of security to your online store. A free BigCommerce SSL certificate is available along with three more premium versions. Standards such as ISO/IEC 27001:2013 & PCI DSS 3.2 are available to ensure security management systems are up to spec and cardholders information respectively.
This section will answer some frequently asked questions regarding BigCommerce themes generally.
Best BigCommerce Themes – Buying Decision
The best BigCommerce theme is the one that accommodates your needs.
Some of us will need a free theme that's super simple to set up and looks professional. Others will want a paid version that's unique enough to set their eCommerce site apart from that of the competition. Other store owners will want robust eCommerce features out of the box, while others may settle for a front-page slideshow to showcase their products.
Regardless of the BigCommerce theme you choose, be careful that it possesses the design and features you'll need to make your store pop. A good way to ensure that your eCommerce site converts is to keep in mind each stage of your customer's journey during its design.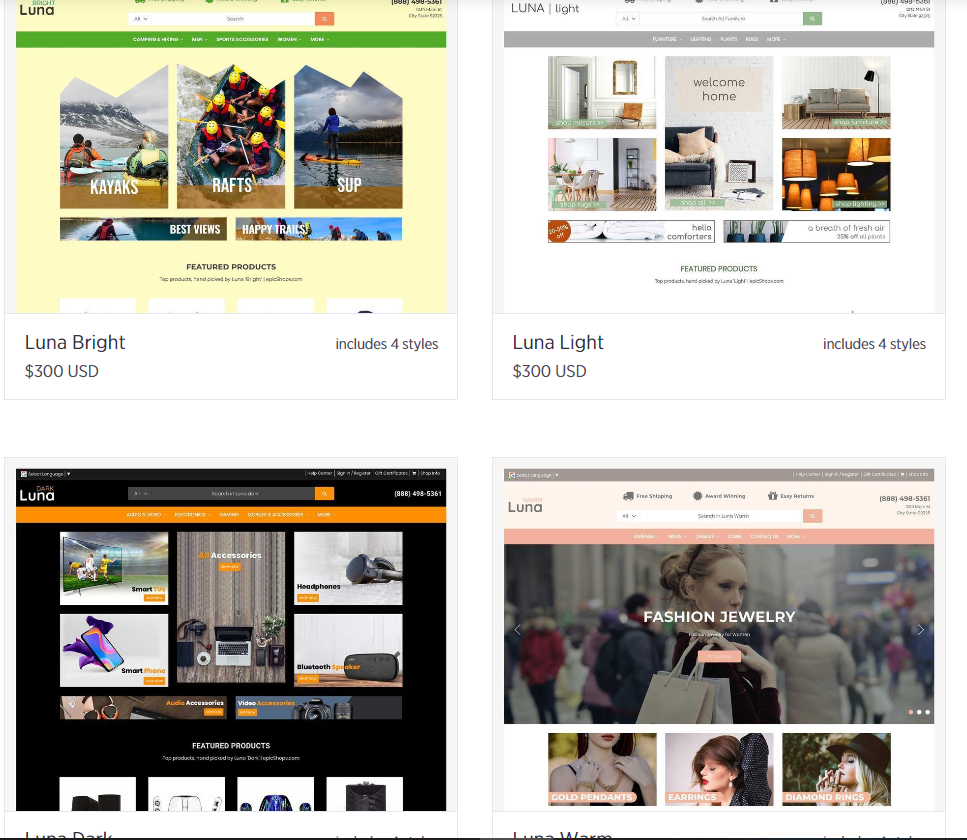 The themes you choose, their templates, and everything else must function to satisfy your customers' expectations. Doing so will positively impact your customers' perceptions of service quality, and that can only be good for business.
So What is the Best BigCommerce Theme? Well, Luna is Difficult to Overlook
However, if I had to choose one I'd go with Luna. This eCommerce theme is incredibly versatile and can be adapted to suit any industry. Out of the box, Luna has all the features you'll need to be successful at eCommerce. It's extremely customisable and possesses some standout features such as the ability to create a custom help centre for your online store's visitors. Not to mention, Luna is responsive and its theme templates look trustworthy and professional. Overall, a great theme.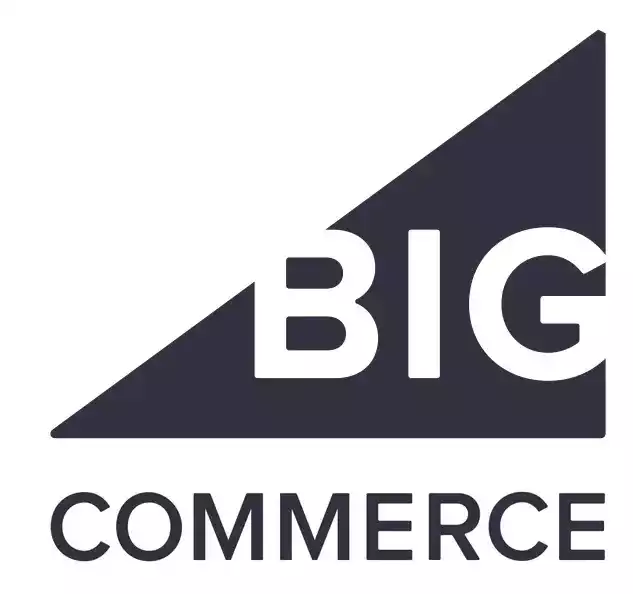 Why do I prefer BigCommerce?
Seamlessly list, optimize, advertise, sell and fulfill products across 100+ channels. All the capabilities of enterprise ecommerce—without the cost or complexity.
Request your Demo
We earn a commission if you click this link and make a purchase at no additional cost to you.
Further read: