Last Updated on April 22, 2023 by Ewen Finser
When taking your hobby and turning it into a business, there are more responsibilities than just designing and making your product. Selling on Etsy requires marketing, bookkeeping, and inventory management. While you can send a few emails and track your store using an Excel spreadsheet, at some point in your success, this manual routine will become inefficient. Fortunately, there are several inventory management software options to automate business processes and get you back to the tasks you love.
Check out our in-depth look at the eight best Etsy inventory management software options so you can decide which platform is best for your niche, business size, and budget.
What is Etsy?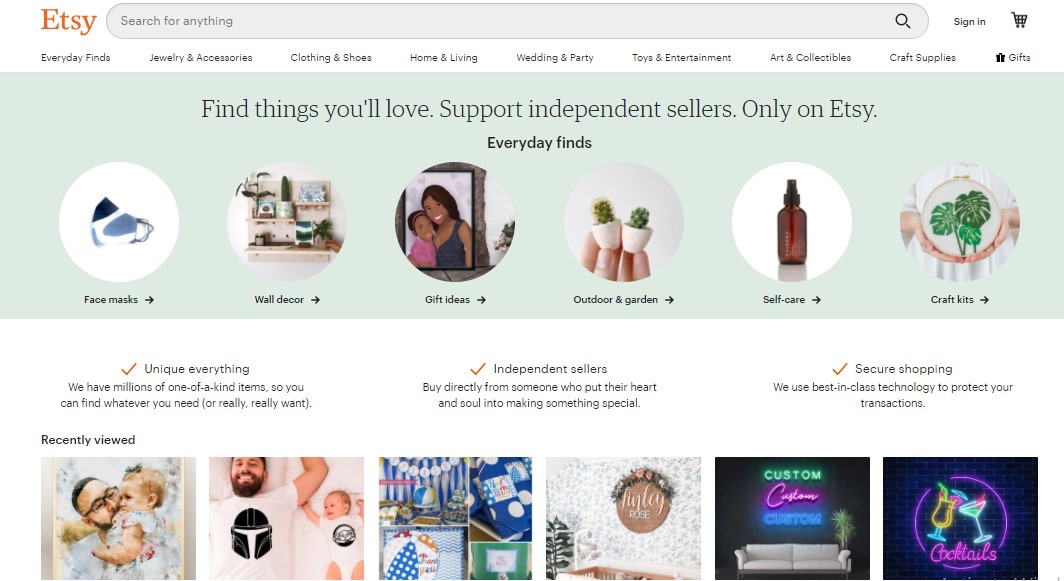 Etsy is a global online marketplace that specializes in connecting buyers and sellers in an eCommerce setting. You can find handmade items, custom art, clothing, crafts, supplies, gourmet food, jewelry, beauty, and vintage items (at least 20 years old to qualify).
A large section of Etsy contains digital art that can be downloaded instantly after purchase. This includes categories such as wall art, stationery, and planners.
Sellers on Etsy usually have a product that they specialize in such as personalized jewelry, SVG files, or homemade fudge. As with other online marketplaces, once you open a store, you will need to acquire a business name, logo, shop banner, and SEO optimize your shop listings so buyers can easily find your shop.
Sellers price their listings high enough to cover the cost of materials and labor. Items are shipped quickly to maintain a 5-star rating.
There is no cost to open up a shop on Etsy and the platform doesn't require you to have a business license. (However, your city, state, or country might so don't skimp on your research or you may be subject to back taxes.) Etsy earns money by charging you a $0.20 fee each time you list an item and a 5% fee when the item sells (the 5% includes any shipping or add-ons). Additional fees may be assessed depending on which country you reside in.
Etsy is a great option for selling handmade items and digital downloads, especially if you are new and trying to drum up a customer base. The platform is affordable, easy to manage, and provides an online store, payment processing, shipping, and feedback to scale your business.
1. Craftybase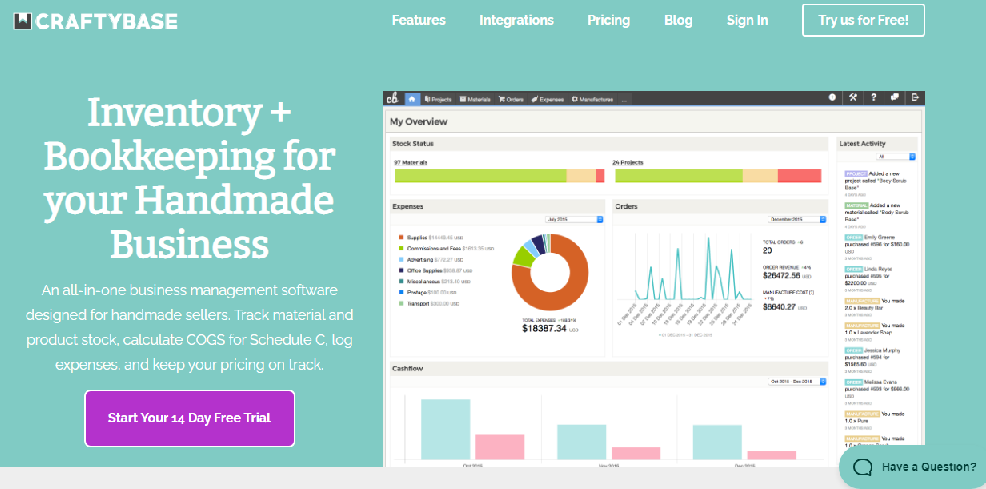 Craftybase was created to get you away from Excel and into a user-friendly sales tracker. It can help you price your items based on material cost and labor estimates, expense reports, and inventory management from several marketplaces including Etsy, Amazon, Shopify, and WooCommerce.
You can estimate how much you would have to raise your prices if you switched suppliers or upgraded your materials. Stay in compliance with GMP and CPSC traceability so you are confident in your material choices. Generate reports to list lot batches to quickly take care of material defects and product recalls.
Sell at consignment shops? Easily enter each shop in Craftybase so you can keep track of how much stock you have at each location, transfer stock, and assign sales to the correct consignment shop.
Pros
Expense tracking (materials, repair costs, travel, utilities)
Pricing guidance
Powerful reporting (profit/loss, sales, tax, inventory)
Multiple marketplace integrations
Cons
Tedious to enter material costs
Learning curve upon setup
Doesn't sync with external bookkeeping or shipping software
Pricing
Starter
$9 per month
Unlimited orders, materials, and products
1 user account
Manual entry only
Basic reports
Pro
$15 per month
Unlimited orders, materials, and products
1 user account
1 integrated sales channel
Advanced reports
Expense importing
Component assemblies
Stocktaking
Studio1
$25 per month
Unlimited orders, materials, and products
2 user accounts
3 integrated sales channels
Advanced reports
Expense importing
Multi-level component assemblies
Stocktaking
Consignment tracking
Multiple product price points
The material lot and BIN tracking
2. RunInventory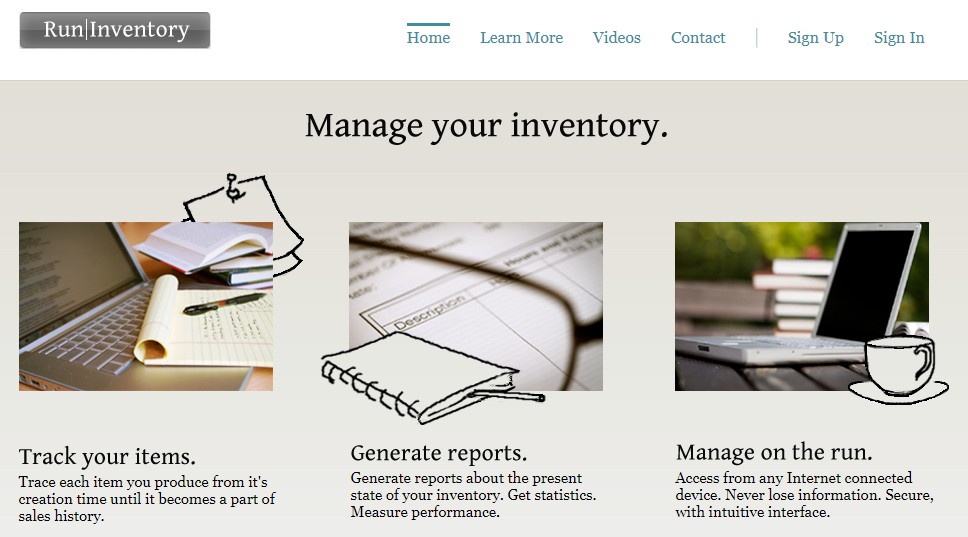 RunInventory is a free, cloud-based service that integrates with your Etsy store. It works on desktop, mobile, and tablets. The platform can track item location and sales history.
Run custom reports for different periods to track sales history to improve sales consistency and see which items sell the most and have the highest profit margin. Organize items by category with store detailed information so you can search when you need to find a specific item quickly.
Supports reseller contact information, personalized reports based on resellers' performance, and even compare resellers to see which ones are providing you with the most revenue.
Pros
Free to use
Provides demo to see if its right for you
Imports Etsy listings automatically by just providing your Etsy ID
Etsy sellers who prefer cloud software over traditional lists
Reseller support
No software to download
Cons
No shipping support
Not an all-in-one solution
Pricing
Free
3. Ordoro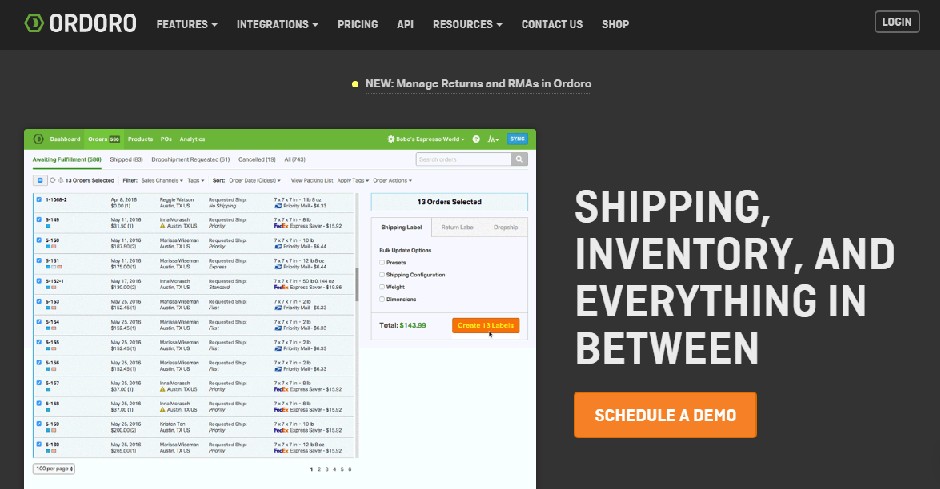 Ordoro focuses on both inventory management and shipping. Its powerful features follow an order after it is been placed and can automate shipping, inventory, and dropshipping. It integrates with popular eCommerce platforms such as Etsy, Amazon, Shopify, eBay, WooCommerce, Bigcommerce, and more.
Sync your inventory across multiple sales channels to prevent overselling. Unlimited warehouses can be utilized and SKUs can be bundled for combo products.
Use Ordoro's discounted shipping or import your negotiated shipping rates. Picking lists, batch packing slips, and purchase orders save time and render error-free when processing multiple orders.
You can also designate specific products as dropship SKUs to keep your items organized. Adding dropship suppliers to Ordoro is a straight-forward process.
Pros
A large variety of integrations
A good option for dropshipping
Cons
Basic plans have limited features
You might have to wait a few weeks to get a trial to test it out
Pricing
Express
$59+ per month
Heavily-Discounted USPS Shipping Rates
Automation Rules and Shipping Presets
Barcode Scanning
No SFP fees
Pro
$499 per month (discount if paid annually)
All Express Features
Inventory Management
Dropshipping
Kitting
Purchasing
Enterprise
Call for custom pricing
All-Pro Features
Dedicated Account Manager
Custom Workflows and Integrations
Vendor Portals
Supplier Management
4. Listing Mirror
Listing Mirror can help you list on multiple marketplaces, fulfill orders, manage, and sync inventory.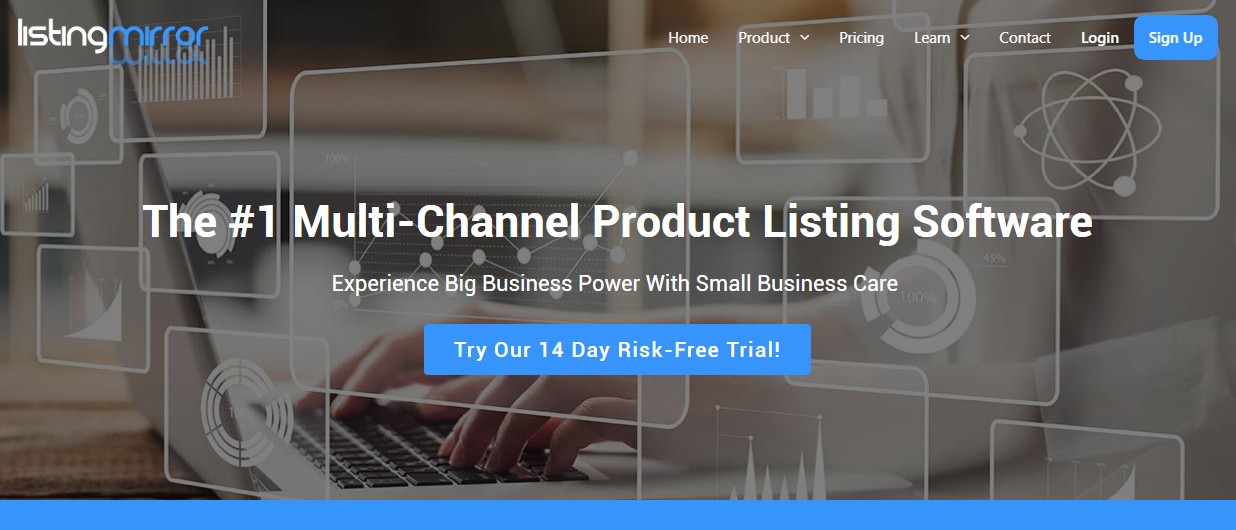 The platform supports several eCommerce integrations like Etsy, eBay, Walmart, Amazon, Shopify, Overstock, and more. Simply copy and paste your listings (descriptions, photos, variations, and pricing) to each channel to multiple your chance of sales success. No more logging in to each sales platform to complete your listings.
Additional features include API access, FTP syncing, eBay image hosting, custom eBay templates, backups of all listing data, automatic order routing to FBA, and marketplace fee reporting.
Pros
14-day trial
24/7 customer service
Bulk edit listings
Simplified cross-posting
Unlimited orders and sales channels
All plans include Amazon FBA
Cons
Sales reports lack detail
Pricing is based on the number of SKUs
Pricing
Bronze
$85 per month ($69 billed annually)
Silver
$199 per month ($159 billed annually)
Up to 5k SKUs
Up to 3 users
Gold
$299 per month ($249 billed annually)
Up to 25K SKUs
Up to 5 users
Platinum
$449 per month ($369 billed annually)
Up to 100K SKUs
Up to 10 Users
Ruby
$499 per month
Unlimited SKUs & Users
Includes all Platinum features
PLUS API Access & Assistance
Sapphire
$649 per month
Unlimited SKUs and Users
Includes all Ruby features
PLUS Forecasting, Web Receiving, Replenishments & more
Diamond
$1,299 per month
Unlimited SKUs & Users
Includes all Sapphire features
Full EDI Support
5. Ecomdash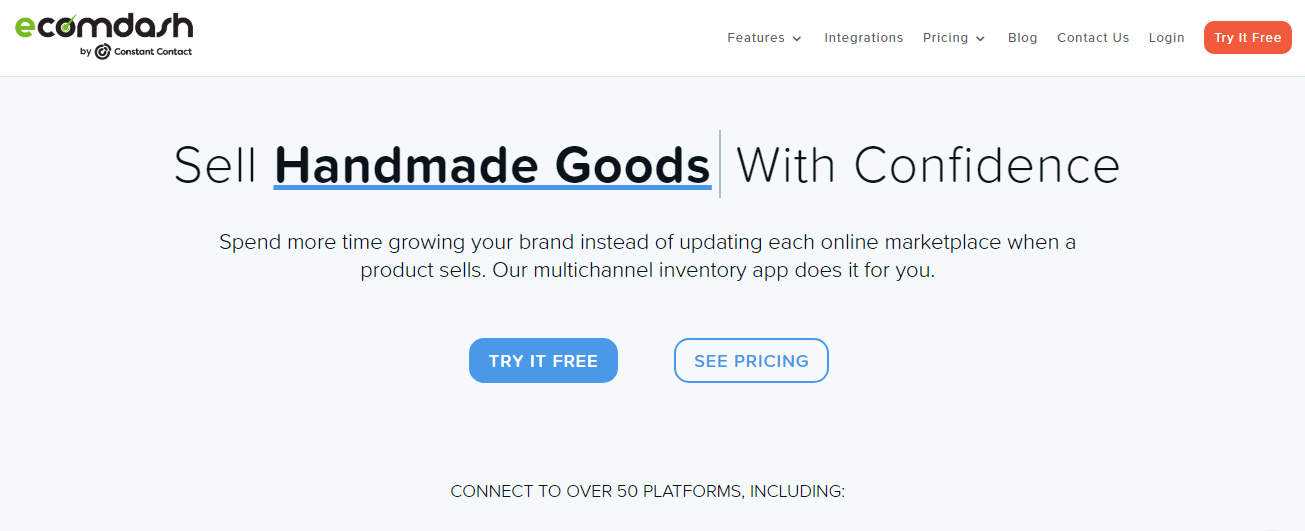 Ecomdash (by Constant Contact) was built with small businesses, creative entrepreneurs, and hobbyists in mind. As most online sellers are selling on multiple platforms, Ecomdash can automatically sync inventory across sales channels by using a unique mapping ID system (i.e. it can recognize an eBay SKU and Etsy listing ID as the same product).
Plus, you can check all of your orders (no matter what platform) in one list on Ecomdash, creating a central dashboard that identifies all of your sales in one place.
Create custom packing slips and shipping labels. Once items are shipped, Ecomdash will mark it as shipped in the coordinating eCommerce marketplace and notify the buyer with tracking.
Pros
Free trial
Unlimited users and channels
Online chat, email, phone support
Free onboarding session
Manage pre-orders and backorders
Scan barcodes
API access
Cons
Steep learning curve
Not mobile-friendly
Limited on orders per month
Pricing
Less than 100 sales per month
$60 per month (20% off when paying annually)
101 to 500 sales per month
$90 per month (20% off when paying annually)
501 to 1K sales per month
$135 per month (20% off when paying annually)
1001 to 3K sales per month
$190 per month (20% off when paying annually)
3001 to 6K sales per month
$250 per month (20% off when paying annually)
6001 to 10K sales per month
$350 per month (20% off when paying annually)
10K sales per month
6. Multiorders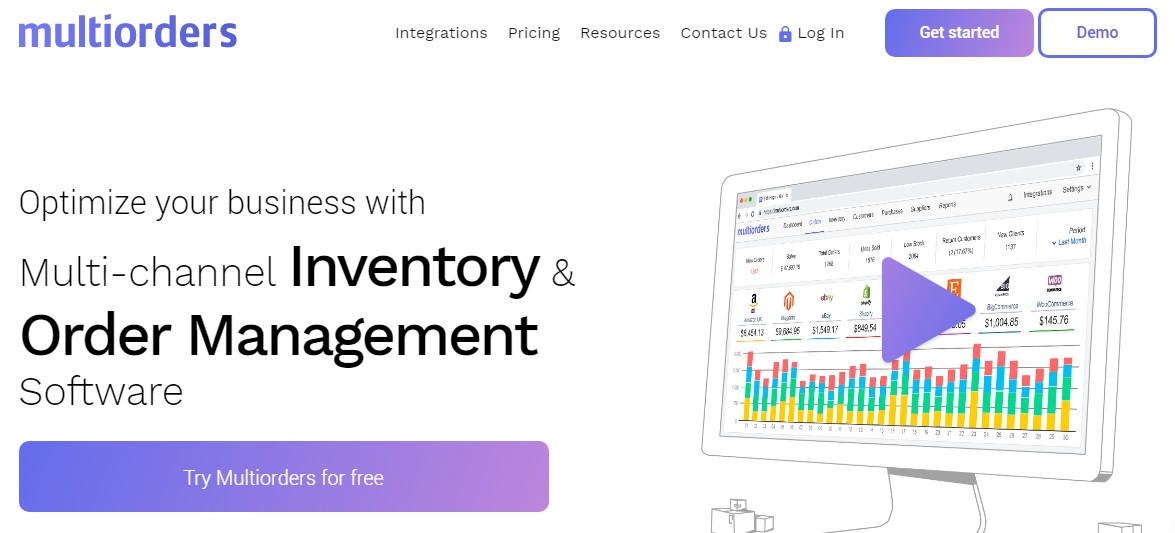 Multiorders can handle your Etsy fulfillment in just a few clicks. The platform features pick lists, shipping labels, delivery notes, invoices, and return forms, all pre-filled for your convenience.
If you own multiple Etsy stores you can combine the store within Multiorders. No log-ins, no manually updating, control all of your Etsy shops on a single dashboard. Get real-time notifications when supplies or a product is running out so you can send a purchase order ASAP.
Powerful reporting allows you to customize reports so you can keep on top of your business. Quickly see which stores are top performers, reward your most loyal customers, and download low stock reports.
Pros
Free trial
The smallest plan contains all features
Phone and online support
Free onboarding
Supports Bonanza, Houzz, NewEgg
Cons
Over-selling glitches
The only payment integration is Stripe
No accounting integration
Pricing
Small
$49 per month (25% off when billed annually)
Up to 500 orders
Up to 2,000 products
Free 14 day trial
All features unlocked
Medium
$149 per month (25% off when billed annually)
Up to 2,000 orders
Up to 10,000 products
Free 14 day trial
All features unlocked
Large
$249 per month (25% off when billed annually)
Up to 5,000 orders
Up to 50,000 products
Free 14 day trial
All features unlocked
Enterprise
Custom pricing
Unlimited orders
Unlimited products
All features unlocked
7. eChannelHub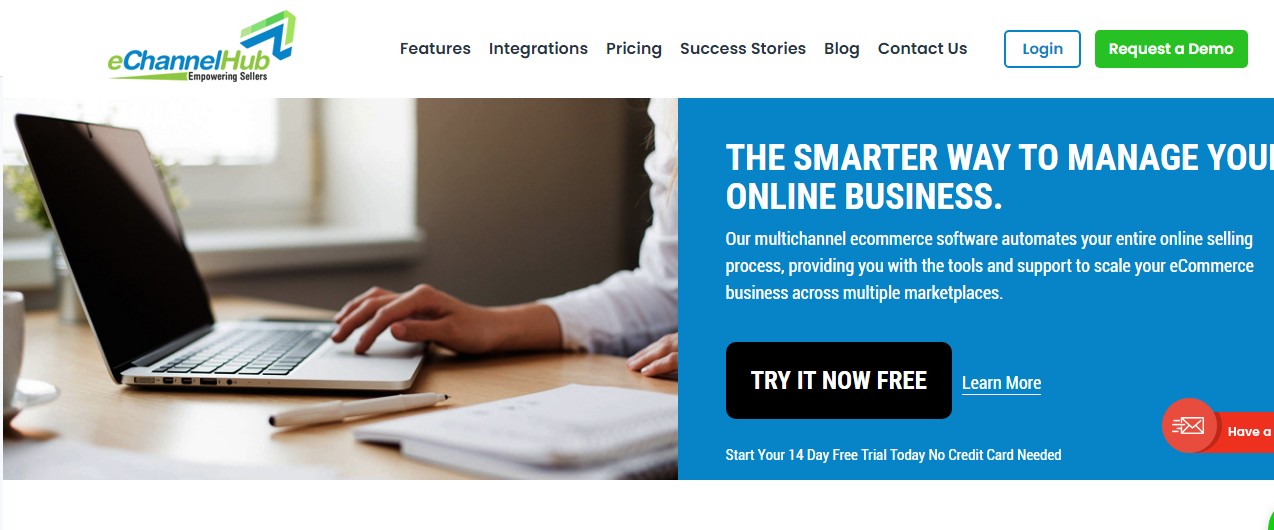 eChannelHub supports multiple eCommerce sites including Etsy, Shopify, BigCommerce, Magento, and more. Data is synced between the marketplaces so you can easily sell on multiple outlets.
Have multi-variation products? eChannelHub takes care of that too. Use the platform's business rules to tag certain products so they only appear in a single marketplace such as Etsy. Other features include restock forecasting, shipping discounts, and calculation and tracking of project materials.
Pros
Free trial
Supports multi-variation SKUs
Decide which products sell where
Shipping discounts
Restock forecasting
Cons
Limited SKUs
Limited support for Starter plan
Lower plans have limited features
Pricing
Starter
$169 per month
1 user
100 SKU's
2 Sales Channels
Unlimited Orders
2 CSE
Print shipping labels
Basic Support
Advanced
$269 per month
2 users
3K SKU's
4 Sales Channels
Unlimited Orders
Standard Features
FBA Inventory Integration
24/7 Full Support
Pro
$469 per month
4 users
5K SKU's
6 Sales Channels
Unlimited Orders
Unlimited CSE
Standard Features
Print shipping labels
FBA Inventory Integration
24/7 Full Support
Dedicated Product Specialist
Guided training
Prioritized queue
Enterprise
Request a quote
Unlimited Users
Unlimited SKU's
Unlimited Sales Channels
Unlimited Orders
Unlimited CSE
Full Implementation
Print shipping labels
FBA Inventory Integration
24/7 Full Support
System Customization
Open Ecommerce API access
All Features
Unlimited Category mapping at no additional cost
Dedicated Account Team
Guided training
Prioritized queue
24/7 WhatsApp Support
8. Zoho Inventory

With Zoho Inventory, you can manage your inventory on the cloud. Ideal for small to midsize businesses, it allows users to use purchase orders, backorders, and drop shipping. The platform also includes powerful reports to keep up to date with the warehouse(s). Automated workflows save time and improve order fulfillment.
Zoho comes with its in-house integrated Finance Suite. This type of integration is rare with inventory software systems we have reviewed. Take advantage of the bookkeeping option so you don't get behind on your monthly bills and taxes.
Pros
Free trial
Free plan (all features, only limited by order count)
Warehouse support
A high number of users
Cons
Can only integrate 1 Shopify store on lower plans
Automated workflows are limited on lower plans
Pricing
Free
20 online orders/month
20 offline orders/month
20 shipping labels/month
20 shipment tracking/month
1 Warehouse
2 Users
Composite items
Ecommerce Integrations
Integrate 1 Shopify store
5 Automated Workflows/Module
Basic
$49 per month ($39 billed annually)
1500 online orders/month
1500 offline orders/month
150 shipping labels/month
150 shipment tracking/month
2 Warehouses
10 Users
Composite items
Ecommerce Integrations
Integrate 1 Shopify store
10 Automated Workflows/Module
Standard
$99 per month ($79 billed annually)
10000 online orders/month
10000 offline orders/month
1000 shipping labels/month
1000 shipment tracking/month
5 Warehouses
15 Users
Composite items
Ecommerce Integrations
Integrate 2 Shopify stores
10 Automated Workflows/Module
Serial Number Tracking
Batch Tracking
Professional
$249 per month ($199 billed annually)
30000 online orders/month
30000 offline orders/month
3000 shipping labels/month
3000 shipment tracking/month
10 Warehouses
20 Users
Composite items
Ecommerce Integrations
Integrate 5 Shopify stores
10 Automated Workflows/Module
Serial Number Tracking
Batch Tracking
FAQs
Question: What are best selling items on Etsy?
Answer: Although Etsy is known for its handmade goods, the 2020 top-selling category is craft and supplies. Handmade items are number 2, followed by jewelry, wedding, accessory, paper and party supplies, clothing, vintage, home and living, and art and collectibles.
Question: Does Etsy have inventory?
Answer: Etsy is a marketplace which means you need to keep track of your inventory (inventory management is not included in your free account). Etsy is best for small businesses of craft supplies and homemade items.
Question: Is Etsy a good selling platform?
Answer: Yes. It is worth selling on Etsy if you sell items in their top categories. The platform is trusted by over 44 million customers and it's free to set up a shop.
Overall fees are less than eBay and Amazon. Plus, the platform is more niche so you will have an easier time getting traffic. Narrow down your store's focus and take the time to SEO your listings to increase sales.
Question: How do Etsy sellers get paid?
Answer: There are two ways to get paid by Etsy. After you make a sale, you can get paid with Etsy Payments which can make direct deposits to your bank account. You can also choose to use PayPal, either by preference or if you live in a country where Etsy Payments is not yet available.
Choose your payment method by signing into your seller account on Etsy.com. Click on Shop Manager, Finances, and Payment settings.