Last Updated on April 27, 2022 by DMEditor
InFlow Inventory is an all-in-one inventory management solution that promises to deliver everything a product-based business could possibly need to take better control of its stock.
In an effort to make good on that promise, its developers have packed the software with a truly extensive list of useful features that provide enterprise-level stock management capabilities while ensuring a level of simplicity and ease of use that makes Inflow an ideal for new startups and tech novices.
The big question, then, is precisely how well does InFlow Inventory live up to its promise?
Is this really the only inventory tool growing product-based businesses will ever need to streamline and optimize their inventory?
To find out, I signed up and put the tool to work on one of my own businesses.
In the following InFlow Inventory review, I'll share with you what I liked about it and what I didn't, as well as outline all the information you need to know to determine whether this is the right tool for you.
What is InFlow Inventory?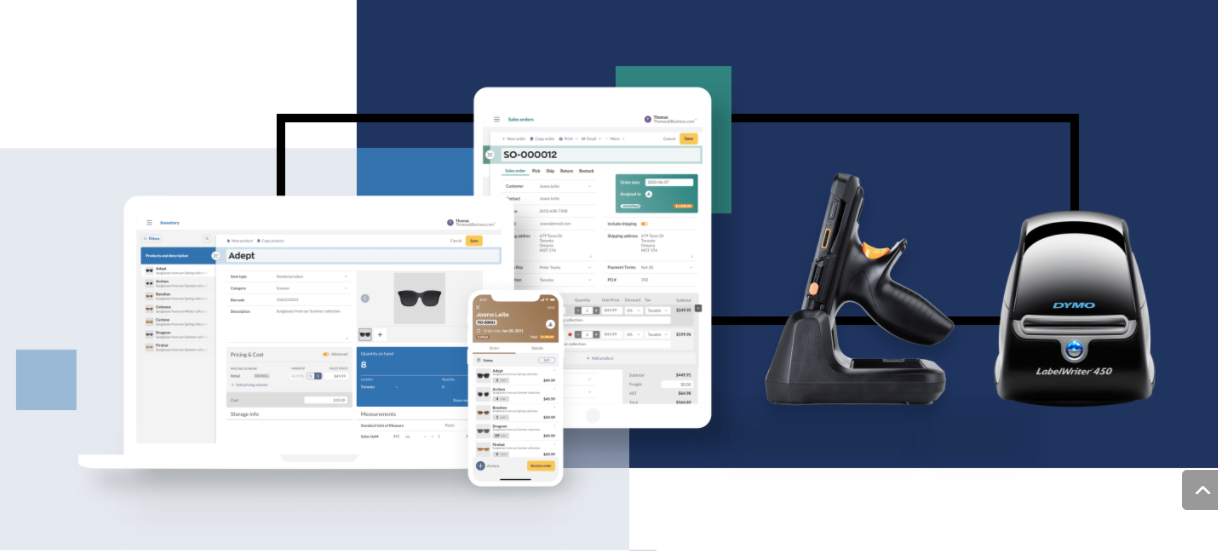 InFlow Inventory is an inventory management solution that can be accessed via your web browser, as software installed on your computer, or as a smartphone app. Whereas some tools begin and end with merely tracking your inventory levels and generating reports, this one goes much further.
Purchasing, sales, customer order tracking, manufacturing, and more can all be handled from a single intuitive dashboard.
InFlow doesn't just stop with software, either.
To help make your inventory management even easier, you can also order the brand's patented Smart Scanner, a uniquely-designed Android smartphone that comes with a built-in laser scanner that lets you scan product barcodes in order to instantly add them to your InFlow system.
Editor's Choice
Containing every feature a product-based business could possibly ask for, InFlow Inventory is a one-stop inventory management solution for retailers, wholesalers, warehouses, and more.
Who Uses InFlow Inventory?
InFlow Inventory is designed to meet the needs of any business which handles, ships, sells or otherwise manages physical products.
While online and brick-and-mortar retail stores are well taken care of here, they're not the only type of business that the software is suitable for.
InFlow can also prove an invaluable tool for:
Wholesalers
Distributors
Construction projects
Manufacturers
Office manager with a need to track internal inventory and supplies.
Like most stock management tools for business, InFlow is well-designed to cater to B2C (business-to-customer) businesses but also provides some helpful features specifically for those in the B2B (business-to-business) market.
InFlow Inventory Review – Its Main Features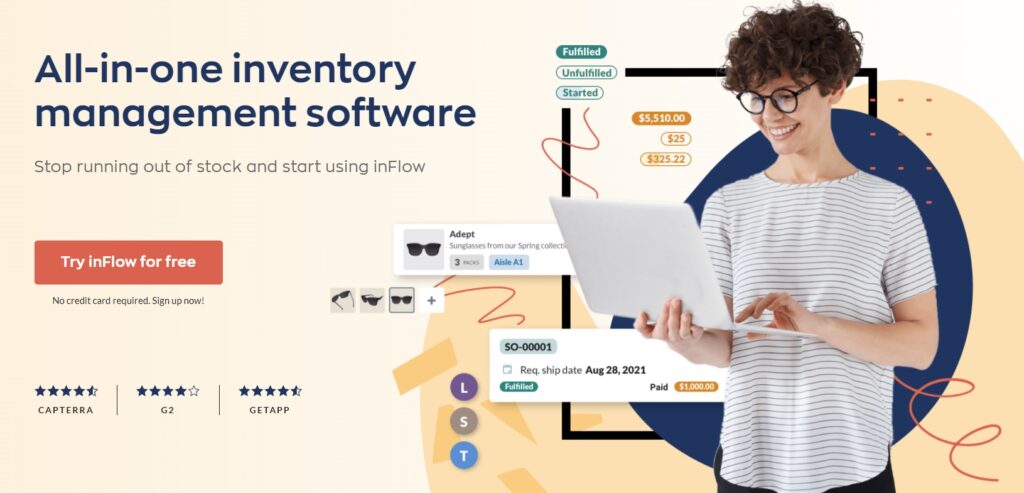 Create Portals for B2B Customers
While countless inventory management tools make it easy to track, control, and sync inventories for retail and eCommerce, few fully tailor their service to the needs of B2B businesses who still need to showcase their products without the hassle of managing a full-scale eCommerce site.
InFlow Inventory is one tool that does.
Within just a few clicks of a mouse, the platform's Online Showroom feature lets you create a specially-designed B2B portal in which you can add pictures, descriptions, and other product information for your customers to browse.
If you're in North America, you can even use the brand's Special Showrooms feature to take online orders in a simple and seamless fashion.
Complete Inventory Control
At the heart of InFlow is a comprehensive system that eliminates much of the time-consuming manual processes involved in managing your inventory.
Both stock and orders are stored in one place so that you can get real-time insights into which SKUs are selling, which aren't, and when you may need to reorder.
Inventory can be managed across multiple locations, with the option to set separate reorder points and methods so that you can better meet the demands of your customers in different areas, while one-click Purchase Order generation, bulk price changes, and more all help you improve the efficiency with which you manage stock.
Barcoding
InFlow is more than just software. It also comes with its own opt-in hardware accessories that enable you to create a simple-yet-effective barcode system. Unique barcodes can be generated for each SKU and printed on professional-quality labels.
From there, you can use the Smartscanner to scan barcodes as and when needed, with a simple scan bringing up an array of shortcuts.
Not only can you reduce inventory numbers when scanning a product you've sold, but you can also use the tool to automatically generate purchase orders, check stock availability, and more.
In-Depth Reporting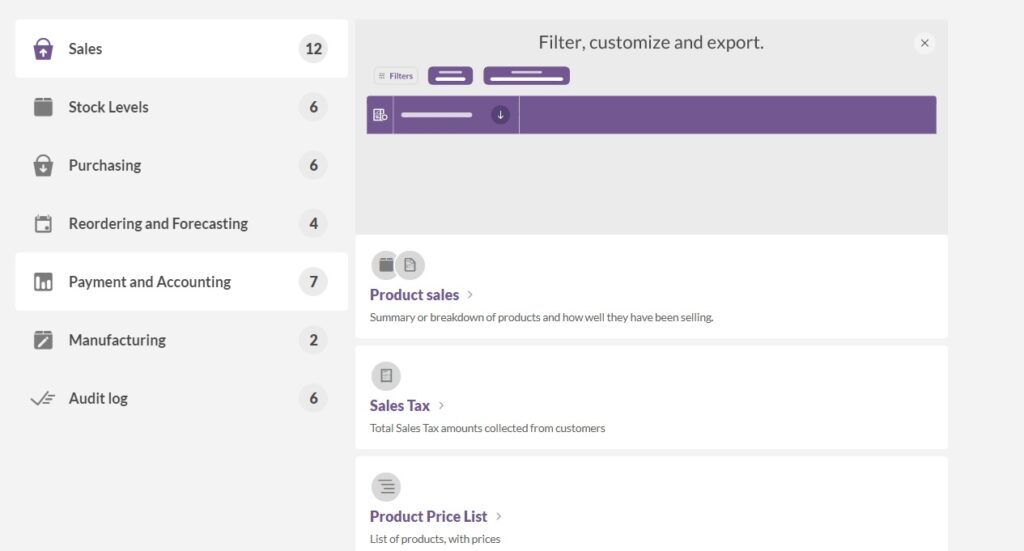 If you've been in business for even a short time, you don't need us to tell you how essential data is when it comes to making effective decisions. Again, this is something the team behind InFlow Inventory seems to understand all too well.
As such, they've gone out of their way to provide you with no less than 38 different types of sales, purchasing, and inventory reports. Sales can be organized by product, payment, or order summaries, profits, or by a whole extensive list of other categories.
Purchasing reports allow you to create vendor lists, vendor product lists, and more, while inventory can also be broken down multiple ways. All in all, this means that whatever piece of data you need to look at in order to make the best decisions for your business, it's only ever a click away.
Other Inventory Management Features
The above is just the tip of the proverbial iceberg when it comes to what InFlow has to offer.
Other important features include:
Organize products by name and SKU
Multi-level categories
Product photos for easy identification
Product deactivation
Generate quotes, orders, and invoices
Email invoices and receipts
Back ordering capability
Track stock across multiple locations
Track stock according to transit status
Pick lists
Pick, pack, and ship features
Take payments online (US & CA)
Batch payments
Track balances and credits
Track Partial payments
Purchase approvals
Approval limits
Multiple ship-to addresses
Dropshipping capabilities
Email POs and receipts.
And more.
InFlow Inventory – The Advantages
Extensive Integrations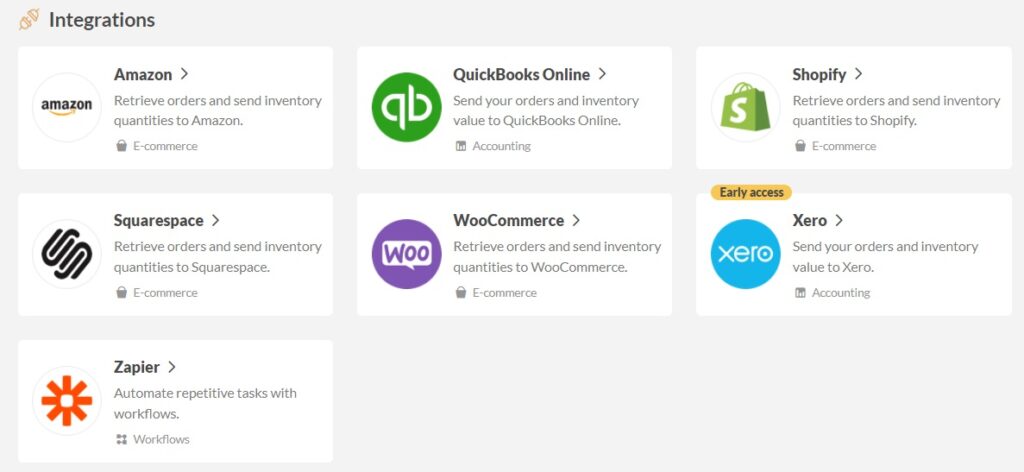 By far, one of the most significant advantages to using InFlow Inventory is that it's designed to integrate seamlessly with a whole host of third-party services to help you streamline, simplify, and automate your work.
Online retailers will love how easy it is to use InFlow to manage inventory with all of the following platforms:
Elsewhere, existing QuickBooks Online users will appreciate the ability to connect the two platforms so that you can push all data relating to sales, purchases, costs, and inventory value from InFlow to QuickBooks, eliminating the need for double data entry.
It doesn't end there either.
The company's partnership with Bambora makes it easy to take online payments with no monthly fees (a per-transaction fee still applies) and automated invoices. In contrast, their link with EasyPost makes it possible to ensure you're always getting the best shipping rates from major providers such as FedEx, DHL, USPS, and UPS.
Finally, if you currently use a DYMO, you can integrate with InFlow to create professional barcode or location labels in moments.
Hands-On Support
One thing that consistently seems to draw new users to InFlow is the user-friendliness of the platform. The dashboard is well-designed to make it a breeze to find what you're looking for, while each of the individual features can be quickly understood by newcomers.
Even still, we all need a little help from time to time, and InFlow Inventory does an exceptional job at making sure every user gets the help and support they need when they need it. That begins right from the moment you sign up.
As we'll see later, the company provides the opportunity to have a ten-minute conversation with a team member to help customize the platform to your liking. After that, the onboarding process is made as smooth and painless as possible thanks to the inclusion of two-hour setup assistance, an extensive support knowledge base, and more.
Once you're up and running, you can continue to access the knowledge base and a massive library of video tutorials. If that doesn't solve your problem, support is available via email, live chat, and a telephone callback service. Of course, it isn't just the number of support options that matter, the quality of that support also makes a huge difference, and, fortunately, InFlow tick all the right boxes there too.
Fast responses, knowledgeable experts, and a high first-call resolution rate all ensure you're in capable hands.
Can Be Customized for Manufacturing and Components
Most inventory tools deal directly with finished products, but what if you're in the business of putting those finished products together and you need an efficient way to track all of the individual costs included in your manufacturing process?
InFlow Inventory answers that question by connecting your bill of materials directly to your finished articles, meaning you can more effectively project costs and profits and improve the way you price your end product.
InFlow Inventory Review – The Disadvantages
Added Costs
On the whole, there doesn't seem to be too many downsides to using InFlow Inventory, though one of the biggest bugbears a number of users have is the additional costs involved.
On its own, the software is relatively reasonably priced considering the value you get from it, but in order to really make the most of InFlow, it's handy to opt-in to the SmartScanner. Sadly, at $999, it's not exactly what you'd call cheap.
Limited Template Designs
Another common complaint is that the template designs for items such as invoices and reports are a little basic.
To be fair, aesthetically-appealing templates are rarely going to be anyone's top priority when choosing inventory software, but it does make a difference in terms of how you present your company, especially when presenting reports in meetings with investors or stakeholders.
Difficult to Generate End-of-Year Reports
Although I praised InFlow's reporting features earlier, even I have to admit that generating end-of-year expense reports is a challenge -if not impossible- while the inability to do end-of-year inventory count resets may also be off-putting for some users.
How Much Will InFlow Inventory Set You Back?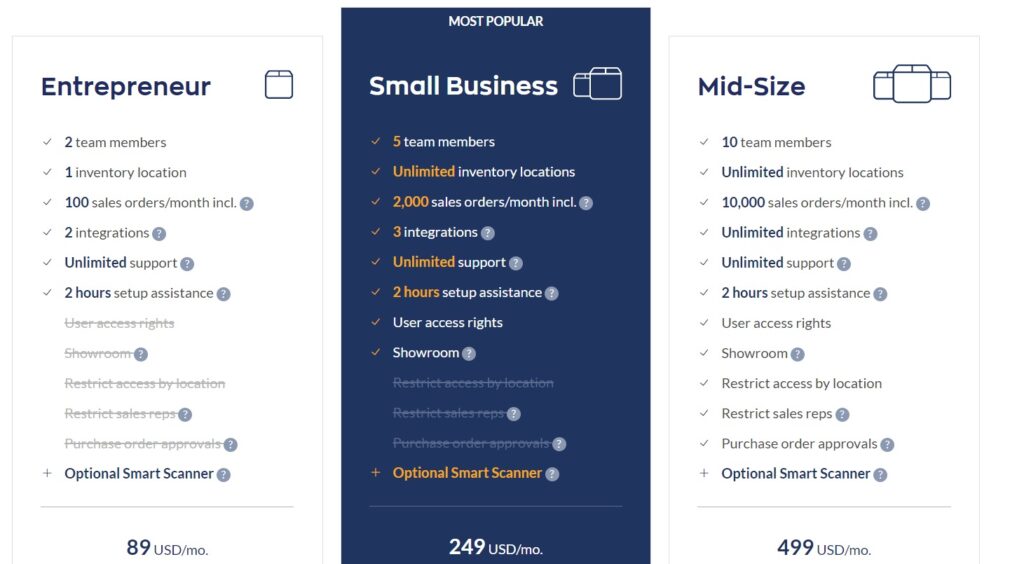 The good news is that InFlow Inventory comes with a completely unrestricted 14-day free trial so that you can give the whole thing a comprehensive test drive before deciding whether it's the right inventory management tool for you. The best part is that, unlike some tools out there, there's no need to enter your credit card details to access the trial, so you don't have to worry about being automatically charged if you forget to cancel before the trial ends.
If you decide you like the platform as much as we do and decide to keep using it, you'll need to sign up for one of the following three plans:
Entrepreneur – $89 p/m
2 x team members
1 x inventory location
2 x integrations
100 x sales orders p/m
Small Business – $249 p/m
5 x team members
Unlimited inventory locations
3 x integrations
2,000 x sales orders p/m.
Plus:
User access rights
Showroom for creating B2B portals.
Mid-Size
10 x team members
Unlimited inventory locations
Unlimited integrations
10,000 x sales orders p/m.
Plus:
All of the additional features from the Small Business plan, as well as the ability to restrict access by location, restrict sales reps to their own orders and customers, and determine whether purchase order approval is required.
Enterprise – $1,499 p/m
25 x team members
Unlimited inventory locations and integrations
30,000 sales orders p/m.
Plus:
Everything in the Mid-Size package as well as:
API
Dedicated account manager
Serial number generation and tracking
Premium database.
All plans come with unlimited customer support, 2 hours of setup assistance (enterprise has 10 hours of support), and the option to buy the company's Smart Scanner for $999.
Monthly vs Annual Costs
The prices listed are what the software will cost you if you decide to do everything upfront on an annual basis.
I've included these figures as it works out the cheapest, saving you 10% compared to what it would cost to pay on an ongoing, monthly basis.
If you do decide to pay month-by-month, InFlow Inventory will cost you:
Entrepreneur – $99 p/m
Small Business – $279 p/m
Mid-Size – $549 p/m
Enterprise – $1,649 p/m
How Do You Get Started With InFlow Inventory?
I've mentioned how easy it is to use InFlow inventory a few times, and that starts right with the sign-up process. After heading to inflowinventory.com, you simply select 'Try inFlow for free' from the homepage and enter your email address.
Once you've verified your email address, you'll be asked to enter some basic account information (name, phone number, and password) before selecting the currency your store operates in.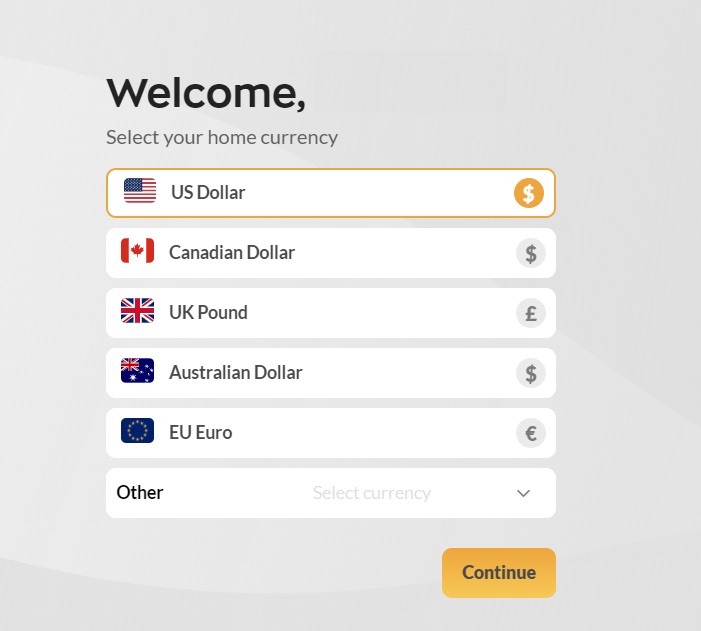 Next, you'll be asked a few questions about your business and your role within that business so that the team behind InFlow can better assess how to support you with your inventory management needs.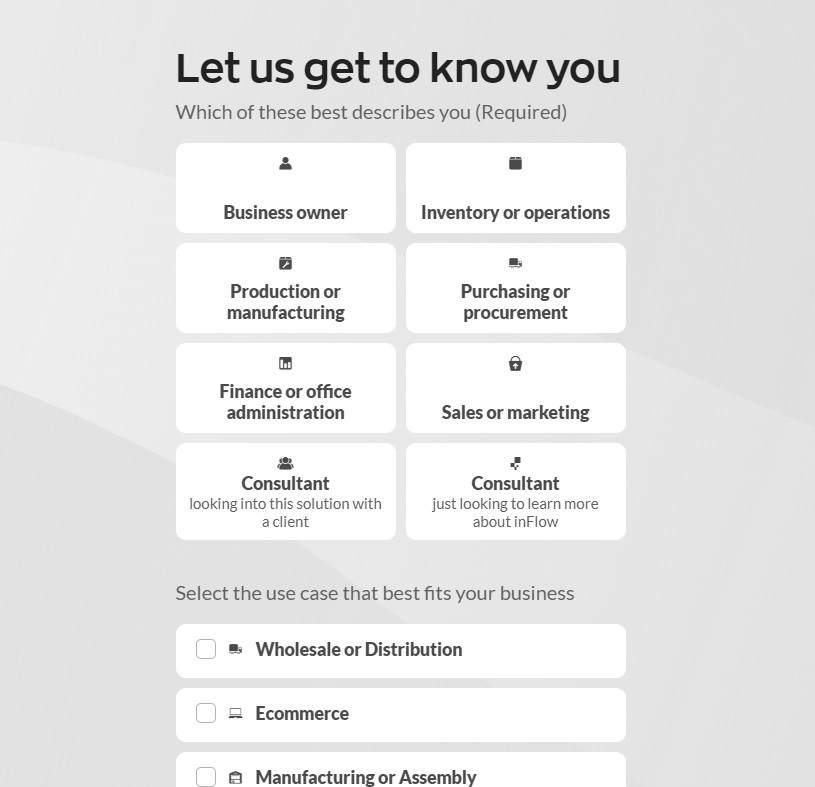 The good news here is that you're not limited to just one single option. So, if you run a brick-and-mortar retail business and sell products online, it's perfectly possible to choose both options here.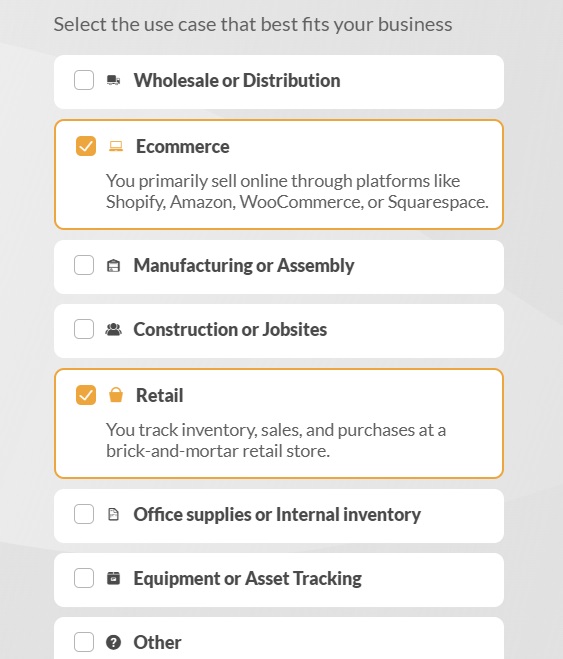 Finally, you'll be invited to book in for a ten-minute phone call so that InFlow can help customize your account in a way that ensures you're genuinely making the most of your free trial.
I'll admit, at first, I found this a little frustrating as it seemed you couldn't start the trial without waiting on a phone call, but don't worry, that's not the case at all.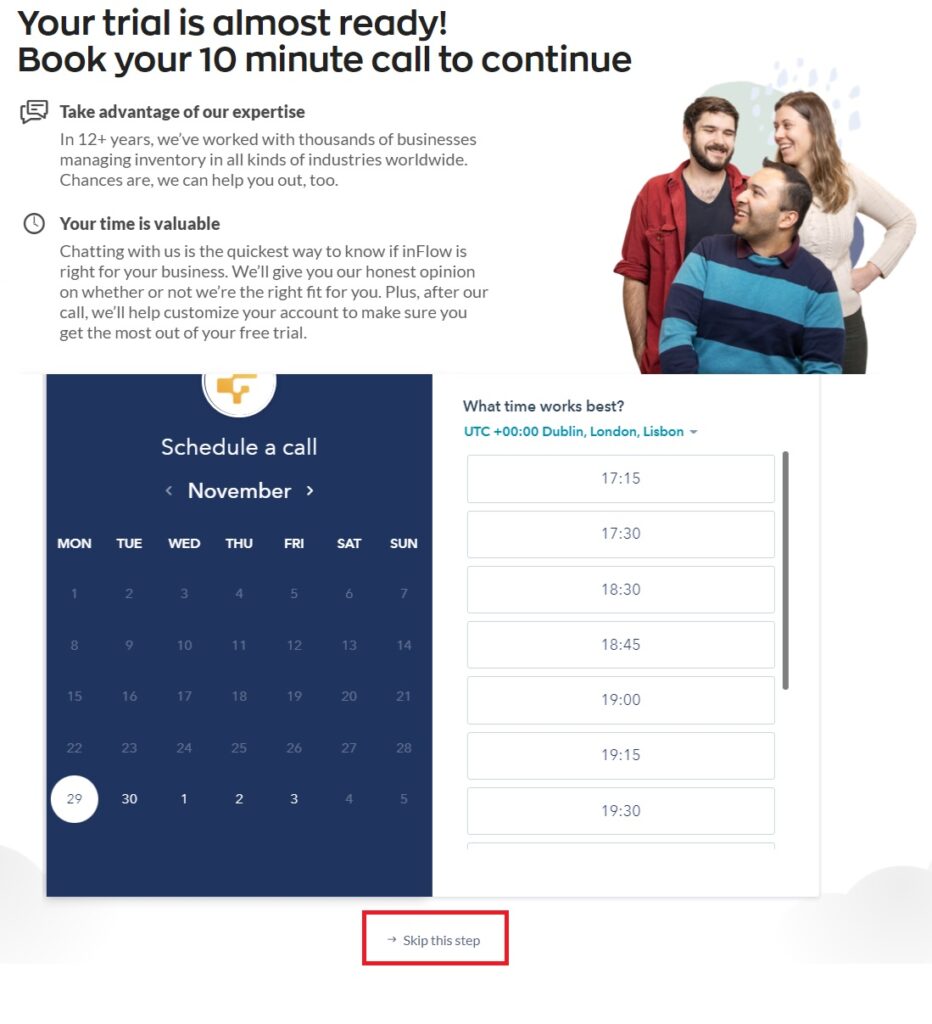 If you'd rather forgo the call altogether, you can select 'skip this step' to get right into things and go from there. Even if you do decide to book a call, you can still get started with the software while you're waiting for your appointment time.
With all that done, you'll be presented with a very clearly laid-out, user-friendly dashboard from which you can do everything from adding new products, vendors, and customers, to generating reports and more.
Alternatives to InFlow Inventory
InFlow Inventory may have a lot going for it, but not every software solution will be the right fit for every business. If you've read my review so far and decided that this may not be the one for you, here are a few InFlow Inventory alternatives to consider.
Zoho Inventory

Zoho Inventory is one of the most popular inventory management apps on the market right now. The most significant advantage is that it's much more affordable than InFlow and even comes with a basic free plan capable of processing 50 orders per month, making it a great option for smaller businesses.
Zoho also integrates with more platforms such as eBay and Etsy, though on the downside, it's much more cumbersome to use and lacks some basic features like batch uploading.
Cin7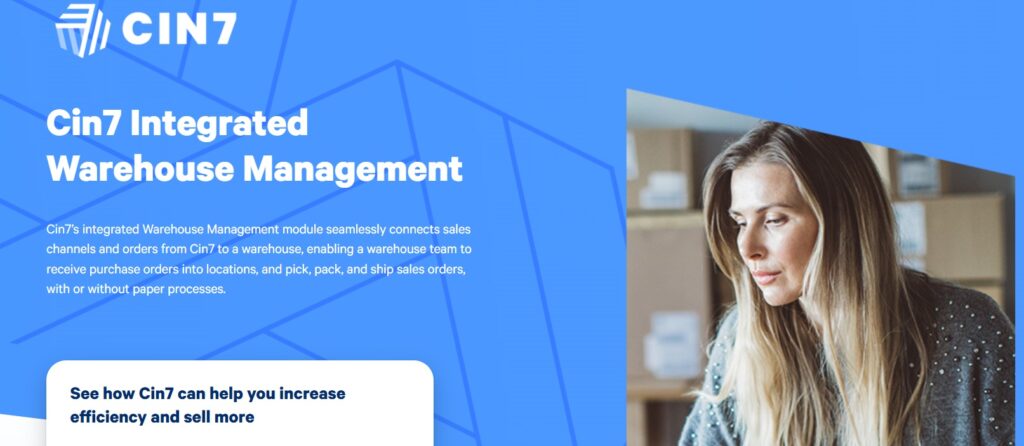 If you're only concerned with managing inventory and orders in a warehouse and find that InFlow doesn't quite meet your needs, Cin7 may be a better option. The platform is specifically designed for warehouses and offers excellent picking, packing, and shipping options.
On the downside, however, it is significantly more expensive than InFlow.
Finale Inventory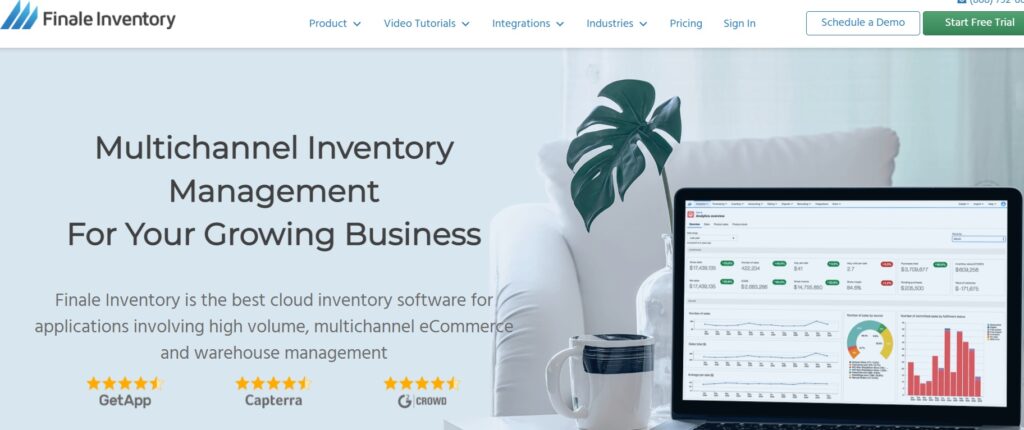 Last but not least, Finale Inventory is my pick of the best option for managing inventory across multiple channels. The software offers over 40 integrations -more than any other I've talked about today- and connects with everything from Amazon, AmeriCommerce, and BigCommerce to Etsy, eBay, Magento, QuickBooks, and countless others.
Pricing is about on a par with InFlow, though it is more difficult to use and, although documentation is provided, it can sometimes be complicated and confusing.
FAQs
Question: Is InFlow Inventory free?
Answer: InFlow inventory comes with a free 14-day trial so that you can test out all of the features. After that, plans currently start from $89 USD/mo.
Question: Does InFlow Inventory work with Etsy?
Answer: Sadly not. The software doesn't currently offer integrations with Etsy, eBay, or several other eCommerce platforms.
Question: Does InFlow Inventory offer API access/
Answer: Yes, but only as an optional add-on charged at $29 USD/mo.
InFlow Inventory Review: What's the Verdict?
I started this review by asking whether InFlow Inventory really is the only inventory management software a business might need.
For the most part, I'd say yes, albeit with a few caveats.
The pricing -particularly for the SmartScanner- may put this one out of the reach of some smaller businesses and solopreneurs. The limited template designs may not be ideal for businesses that take their branding seriously.
Beyond that, though, the extensive range of features, including those specifically designed for B2B companies, manufacturers, and warehouses, really do make this the ultimate all-in-one inventory tool.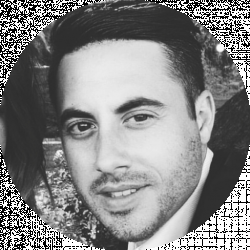 Latest posts by David Borgogni
(see all)
Get 40% OFF for 3 Months