Last Updated on April 22, 2023 by Ewen Finser
In this comprehensive Shift4Shop review, I'll be looking at the good, the not-so-good, and all the key features of this free eCommerce site builder. If there's one question that's been on my mind as of late, it's simply this: Is Shift4Shop too good to be true? The platform promises to be an enterprise-grade website builder for creating online stores which offer an industry-leading number of useful features, all free for US users.
Yes, free. As in completely. Could that really be true?
Is it really possible to use an eCommerce site builder that rivals the likes of Shopify in terms of quality and functionality without paying a penny? There was only one way to find out.
Below, I'll put Shift4Shop through its paces to look at the pros, the cons, and everything else that matters, all to determine once and for all whether the platform really is as good as its competitors say it is.
What is Shift4Shop?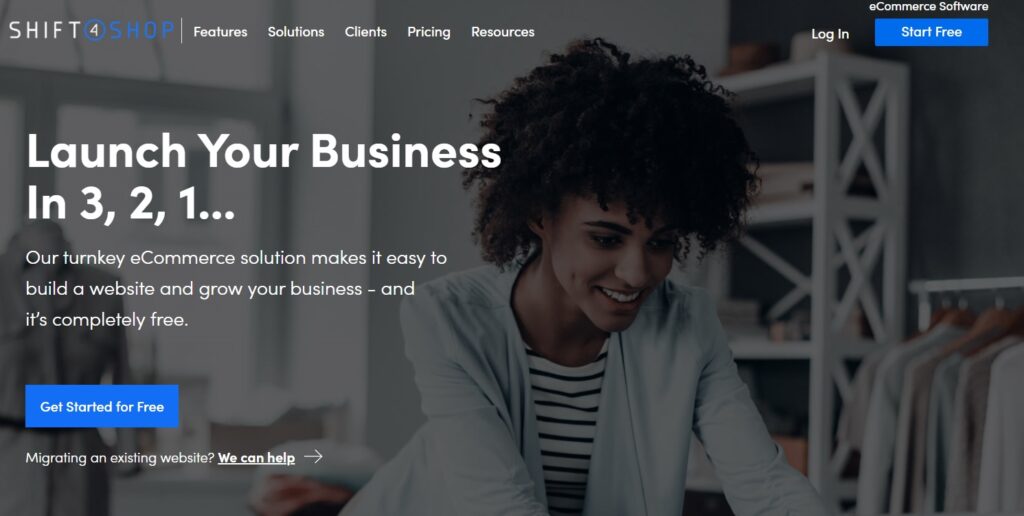 If you're not familiar with Shift4Shop, there's a chance you may know it by its former name: 3DCart.
The platform had long established itself as a popular eCommerce builder until Allentown, Pennsylvania-based brand Shift4 Payments came along and purchased it back in November 2020.
Since then, the tool has been rebranded as Shift4Shop and allowed free access to all of its tools for eCommerce entrepreneurs in the United States.
Who Uses Shift4Shop?
Anyone looking for a free alternative to Shopify, AmeriCommerce, Wix eCommerce, or WooCommerce will find a lot to like about Shift4Shop, as that's exactly what it is.
According to the company's website, the platform proves popular with entrepreneurs and small business owners from a broad cross-section of industries, including:
Arts and crafts
Auto parts
B2B (Business to Business)
Clothing and fashion
Food and beverage
Sporting goods
Wine.
Along with scores more.
One thing I really like about the platform is that it's very easy to get to grips with.
The learning curve -what there is of one- is not all that steep, which means that despite Shift4Shop's promise of enterprise-grade quality, it's very well equipped to meet the needs of those building a website for the first time.
Shift4Shop Review – its Main Features
So far, so god then, but what can you actually do with Shift4Shop?
The answer is 'quite a lot.'
The platform proudly proclaims itself to be 'the most feature-rich eCommerce software in the industry,' and while I can't necessarily vouch for that 100%, I can confirm that almost everything you could need to start a successful online store is presently accounted for.
Among the sheer wealth of available features, the highlights include:
100s of Mobile-Optimized Themes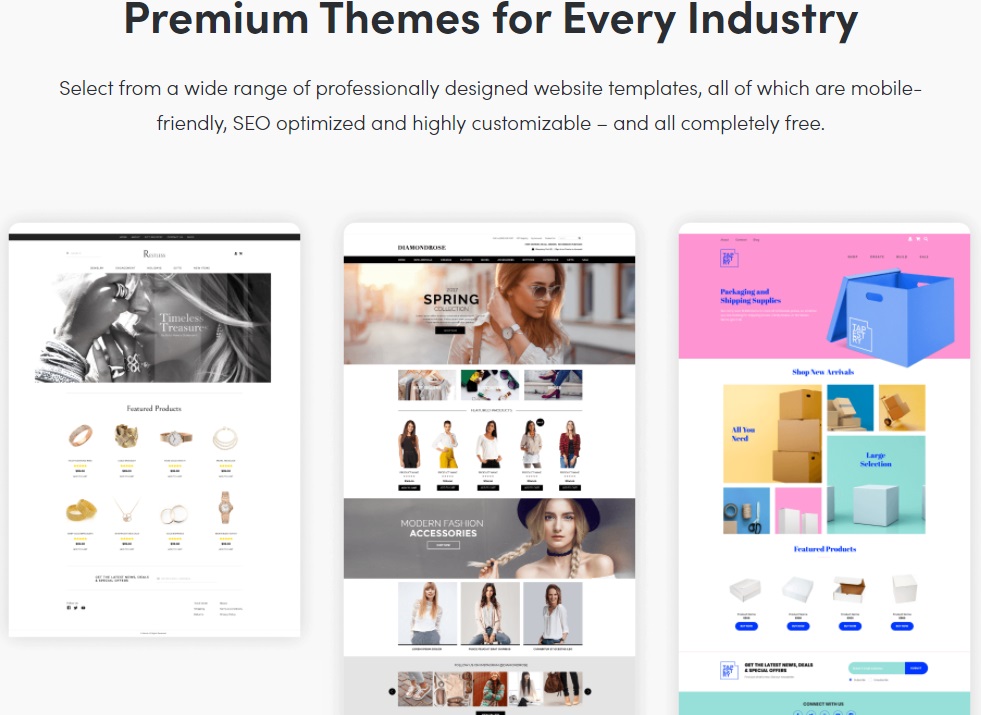 Whether it's Shopify, BigCommerce, or any other web store creator you can think of, the most fundamental component is a set of good-quality themes that you can customize so that your store looks exactly the way you want it.
Thankfully, Shift4Shop more than has you covered with this one. The platform offers 100+ premium-grade themes, each one pre-designed to suit a wide range of niches and industries.
While very few of the themes are especially outstanding, they are at least on a par with the kind of options you'd get with other platforms and, more importantly, are search engine optimized and responsively designed to ensure they work on any type of device.
Intuitive Drag-and-Drop Builder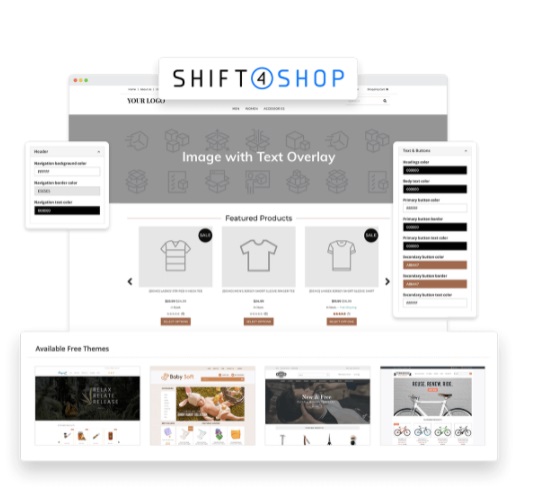 Of course, once you've chosen your theme, you'll need something to customize with, and that's where Shift4Shop really comes into its own. The main website builder offers multiple ways to tweak and fine-tune your website to exactly how you like it.
First of all, the Core Theme Editor gives the freedom to adjust fonts, colors, menu layouts, and more. Then the intuitive drag-and-drop website builder allows you to pull elements into place before clicking on them to edit or add content.
Finally, if you need even more customization and you know what you're doing, you'll be able to go in and edit the HTML and CSS at the click of a button.
Core Template Engine
Unique to Shift4Shop is their Core Template Engine. This is a framework upon which all of their themes are built and which ensures that pages load quickly, function smoothly, and look impressive no matter what device they're used on.
Good Quality Inventory Management and Order Processing Tools
As an eCommerce business owner, your inventory is the very lifeforce of your entire operation. The good news is that Shift4Shop offers an impressive array of features to help you monitor and manage that inventory quickly and effectively.
Along with giving you a clear overview of your existing stock levels, it comes with a number of cool features that give you more flexibility over how you manage out-of-stock items. When stock levels hit zero for a particular product, you can choose to either hide the page entirely or keep the page up but display an "Out of Stock" message and switch off the Add to Cart button.
From there, you can also give customers the option to purchase the item as a backorder or sign up to a waiting list to be notified when your product is back in stock.
Elsewhere, I really like that the platform gives you the freedom to choose whether to update single or multiple products and offers great order management features such as new order notifications, a clear, searchable order management dashboard, status updates to keep customers informed, phone and manual order processing tools and more.
Other Website Building Features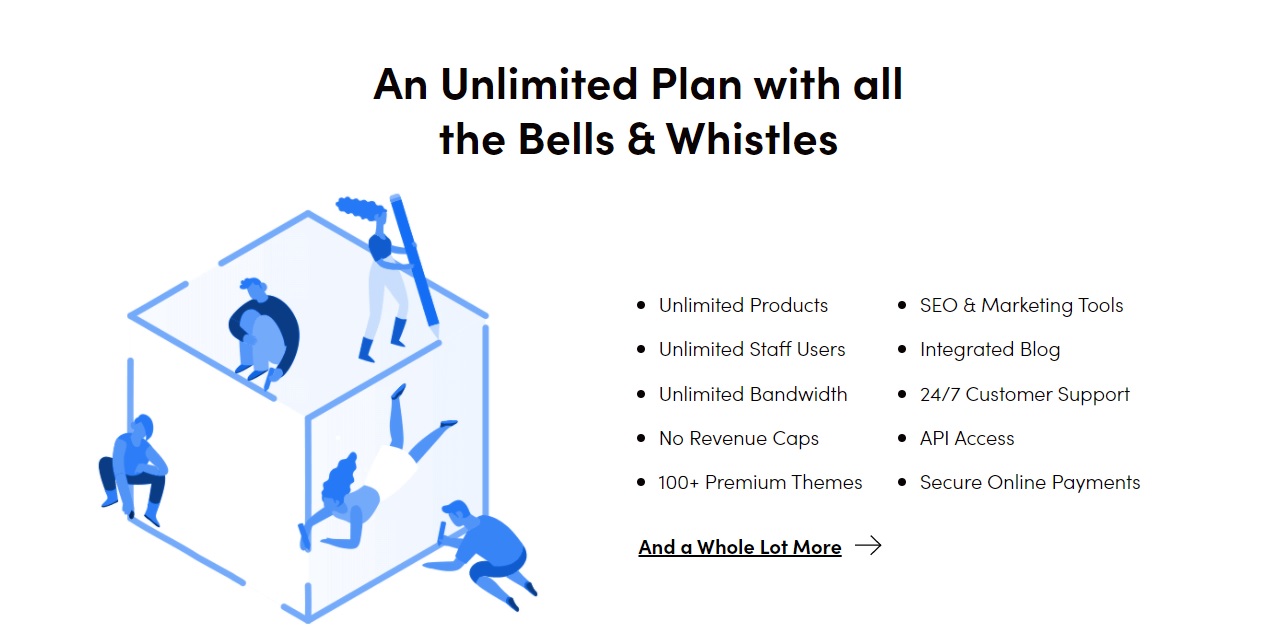 The three things listed above may be Shift4Shop's most impressive features, but they're far from the only things you'll get with this one.
Other key features include:
24/7/365 customer support
Add unlimited products
Add unlimited product categories
Add unlimited content pages
Allows for both customer account creation and guest checkouts
Automatic Google AMP (Accelerated Mobile Pages) for product pages
Blogging tools
Customizable URLs
Customizable Wish Lists that customers can share
Discounts and promotions tools
Digital gift certificates
Display real-time shipping rates
Dynamic XML sitemap generation
Easy-to-configure shopping cart
Free SSL certificate
Google Analytics integration
Image carousels and slide shows
Import/Export products via CSV
Integrated order management tools
Integrated email marketing system
Options to choose what happens when customers add a product to their cart
Options to choose a 1,2, or 3-page checkout process
Secure, reliable web hosting with a 99.9% uptime guarantee
Store Language settings that let you alter the text to match the tone of your brand
Social media shopping tools
Themes optimized using proven effective eCommerce formulas
QuickCart for better customer checkout experiences
Website security features
Shift4Shop Review: The Advantages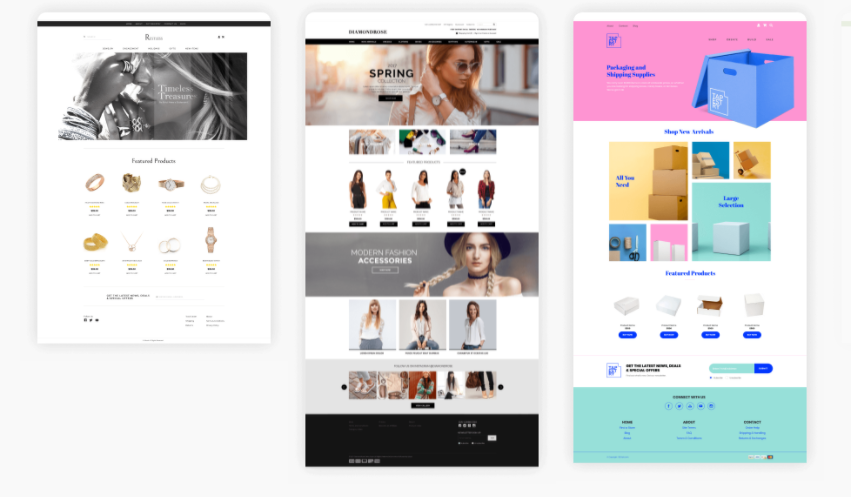 So, we've seen what Shift4Shop can do, but why use this particular platform rather than Shopify or a similar eCommerce website builder?
For me, the answer all lies in the tool's five main advantages:
In-Built Abandon Cart Prevention
Abandoned carts are one of the biggest problems facing any eCommerce owner. Shift4Shop understands this all too well and features purpose-made features to help reduce the number of customers leaving their cart before checkout.
Displaying the shipping costs upfront in the shopping cart so that customers aren't put off by cost discrepancies, allowing for guest checkouts, and ensuring secure payments are just some of the ways that the platform helps you get more customers all the way through the checkout process.
Beyond that, the platform also offers a useful app called 3Dboost, which gives you customizable models you can use to draw customers back to your site when they're ready to leave, as well as integrations with a number of specialist abandon cart apps.
Integration with 100+ Payment Providers
PayPal, Stripe, Amazon, Visa Checkout, Masterpass, Klarna, and scores more payment gateways can all be fully integrated into your website so that you and your customers have more choice and flexibility when it comes to those all-important transactions.
Built With SEO In Mind
Whichever way you look at it, good SEO is going to make a major difference to the success of your online store. Again, this is something Shift4Shop seems to truly understand, and they have designed their themes and templates to help you turbocharge your Search Engine Optimization efforts.
The use of the aforementioned Core Template Engine and Google AMP integration ensures that pages load quickly, with the most important elements appearing first so that customers can get straight into shopping, a feature which in itself is going to help boost your Search Engine Results Page (SERP) rankings.
Elsewhere, mobile-optimized design, SEO-friendly navigation, and the inclusion of customizable URLs, meta tags, and page titles are just some of the additional features Shift4Shop includes to help you turbocharge your SEO performance.
Social Media Exporting
One of the coolest features of Shift4Shop is that you can sync your new online store with your existing Facebook shop via Facebook Pixel. This allows you to sell products directly from your store via social media, with inventory automatically updated across both platforms when a sale is made.
Customizable Options to Boost Conversions
Shift4Shop isn't just concerned with helping you build an eCommerce site. And it's also built to help you really make the most of that site and boost conversions.
To that end, the platform includes a number of exciting features designed to increase conversions and upsells.
Along with the aforementioned guest checkout, the eCommerce builder also offers:
Daily deals complete with a countdown timer to create a sense of urgency
Group deals which encourage customers to share with friends in order to meet the threshold to unlock the deal
Digital gift certificates
Customizable gift-wrapping options
Gift registries for special occasions
Customer loyalty programs.
Shift4Shop Review: The Disadvantages
Of course, no platform is perfect, and Shift4Shop certainly isn't. While it certainly has a lot to offer, the following drawbacks should all be taken into consideration before signing up.
Lack of Transparency Around Costs
For US users, the all-inclusive free End-to-End plan is ideal, but it's perhaps fair to say that the company could do a better job of letting our international friends know that they'll need to pay. Shift4Shop does a great job in promoting its free plan, but if you're outside the United States, then it's only when you go to sign up that you'll find yourself forced to enter your credit card details.
On a similar note, the company makes a big deal out of offering a "free domain name." While it's true that the company does cover your domain registration for the first year, Shift4Shop does a less than stellar job of letting you know that you'll need to pay for it after that.
What's more frustrating is that the platform doesn't give you any information about how much that domain is going to cost after the first year.
Limited Add-Ons and Extensions
Many of the best eCommerce website builders offer a whole range of add-ons, plugins, and extensions that allow you to add extra functionality to your website. Shift4Shop is lacking in this area. While there is the option to add some functionality, the number of additional tools you can use is fairly limited.
Frustrating Customer Service
Read any number of Ship4Shop reviews written by users, and you'll find that customer service is often a top complaint.
To give them credit, the platform does offer an extensive library of video tutorials, webinars, and documentation to help you troubleshoot many common problems, while the support forum can also be useful for getting tips from fellow store owners.
Yet if you run into a problem that you can't fix yourself, you may find the customer support options frustrating, to say the least. This is mainly because support agents seem to take an excruciatingly long-time to respond, something which is hardly ideal if you run into an emergency.
How Much Will Shift4Shop Set You Back?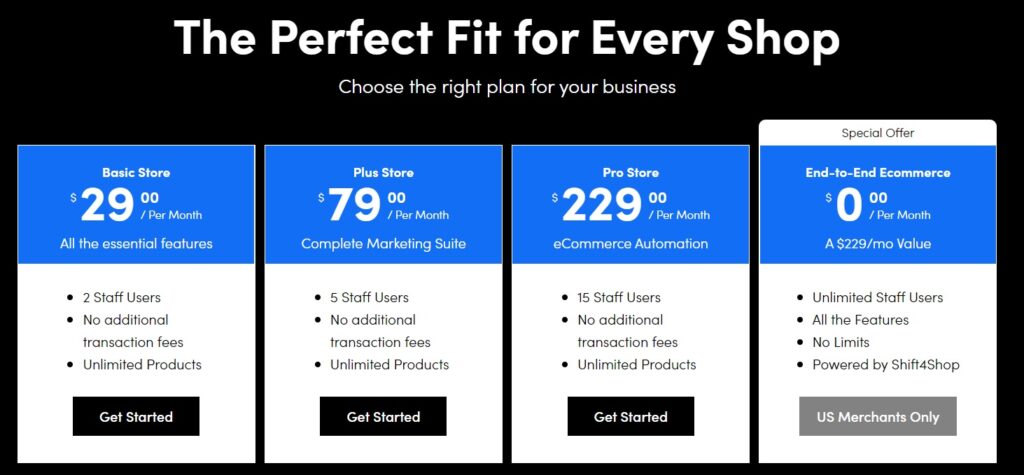 If you're in the United States, Ship4Shop won't cost you anything. The company's End-to-End eCommerce features provide you completely unencumbered access to every single feature, with zero limits on the number of staff users or anything else.
However, the company will make its money by charging per-transaction fees, something which, again, it's less than transparent about.
If you prefer not to pay transaction fees or outside the US, you can opt for one of the following key plans.
Basic Store – $29 p/m
For up to 2 staff users
Plus Store – $79 p/m
For up to 5 staff users
Pro Store – $229 p/m
For up to 15 staff users.
All of the premium plans come with no additional transaction fees and the ability to upload unlimited products.
How do you Get Started With Shift4Shop?
One thing I like about Shift4Shop is that it's very easy to get started. After choosing either the free plan or one of the premium plans, you'll first need to add in some contact and account information. Next, you can choose to either use a domain name you already have or use Shift4Shop as your domain registrar before entering payment details and signing up.
From there, it's simply a case of selecting your favorite theme and getting to work on building your store, using the drag-and-drop editor to tweak your template, add pages, and more. Alternatively, you might prefer to use the simple product manager to upload your products first before designing your site.
Either way, when you're done, you'll also want to spend time configuring your payment processing and other settings before finally making your website live to the world.
Top 3 Alternatives to Ship4Shop
Shopify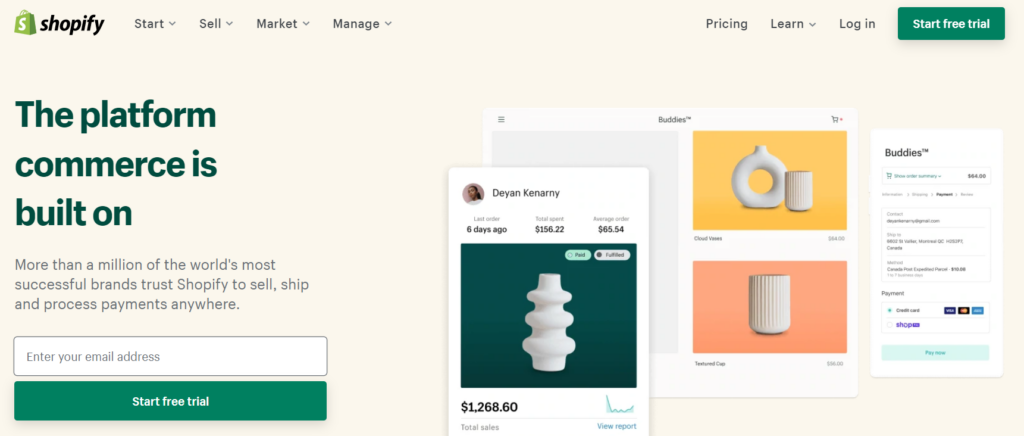 Ship4Shop is often touted as a Shopify alternative, so it simply makes sense to include the web's most well-known eCommerce website creator here. Shopify not only contains the tools to build the customer-facing components of your website but also offers features for managing inventory and orders, processing payments, and calculating shipping rates.
The platform is known for its user-friendliness, but sadly for its high pricing, with per-transaction fees, credit card processing fees, and the cost of third-party apps significantly increasing the cost of running your business.
Sellfy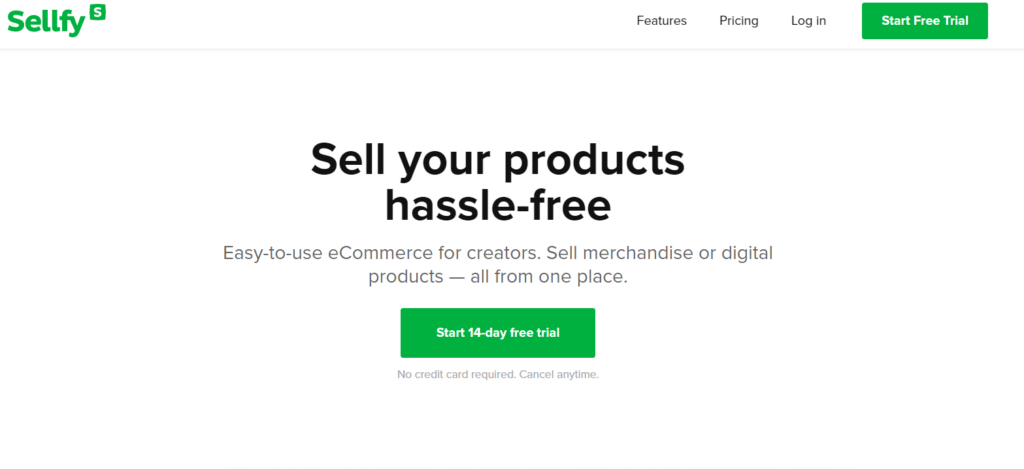 If you specialize in digital and print-on-demand (POD) products, Sellfy may be the one for you as it was created specifically for businesses like yours. The platform was originally created purely for selling digital products before adding its own in-house POD service to help you create physical products from your digital designs.
Like Ship4Shop, Sellfy only has a free plan, albeit one that is limited to just 10 products.
PrestaShop

PrestaShop is an open-source eCommerce solution that functions in a similar way to WordPress in that you download it and run it on your own web hosting server.
Since it's open-source, advanced users can access the code to enjoy limitless customization, though some users may find that the whole process of installing, configuring, and customizing an open-source solution proves to be too time-consuming and/or complicated.
FAQs
Question: What's the catch with Shift4Shop?
Answer: Shift4Shop may seem like a completely free eCommerce website builder, but the company makes its money on the back-end by charging you for payment processing. One way to eliminate this is to sign up for one of their premium plans.
Question: What happened to 3DCart?
Answer: 3DCart was acquired by payment processing specialists Shift4 in November 2020. The company rebranded the 3DCart platform to shift4Shop.
Question: Is Shift4Shop safe?
Answer: Yes, I'm happy to say that the in-built security features help ensure that your site is safe from hackers and that payments are processed securely.
Shift4Shop Review: What's the Verdict?
I started this review by asking whether or not Shift4Shop was really too good to be true. Having put the platform through its paces, I've reached the verdict that yes, yes, it is. Aside from the slow customer service, the biggest bugbear was the lack of transparency around pricing and how the company makes its money from the free plan.
Of course, it makes sense that they'd generate their revenue this way since Shift4 is a well-known and respected payment processor, so at least you know that, if you do sign up, you've got top-quality payment processing capabilities at your fingertips.
Still, when you take that into consideration, Shift4Shop's boast that it is "completely free – for life" seems a little disingenuous.
That said, it's not all bad. Depending on the number of sales, small businesses and new entrepreneurs may well find that paying per transaction fee actually works out to be much more cost-effective than paying for a per-month premium plan. What's more, in terms of actually building an eCommerce website, Shift4Shop is still very, very good.
Good quality templates, an intuitive website builder, and an extensive array of features designed to help your new web store succeed are all perfectly present and accounted for here.
Ultimately then, if you're looking for a quick and easy way to get your new eCommerce site up and running which may prove to be less expensive than Shopify while still offering the same kind of quality, Shift4Shop may be the site for you.