Last Updated on June 1, 2023 by Ewen Finser
Both Stripe and PayPal are payment gateway services that allow you to collect payments and/or donations through your website. There are other ways to accept and send money online with these services, too, like by invoicing a client and collecting payment or sending money to a friend, fee-free.
While both services are popular, you may find that more of your pals or clients use PayPal – practically everyone has a PayPal account today. Overall, though, there are all sorts of people and businesses using both Stripe and PayPal, including:
Brick-and-mortar stores
Entrepreneurs
Freelancers
Nonprofits
Online shops and e-commerce
Furthermore, you can use both payment gateways for personal financing, like sending money to a friend after going out to dinner. By transferring to a friend instead of a business associate, you can avoid fees (fixed fee and variable transaction fee), too (so long as they're in the same country as you).
In this article, we're going to cover the similarities and differences between Stripe and PayPal. We'll also explain which service is best for you based on your specific needs. To get started, let's quickly cover the main differences between the services.
Main Differences Between Stripe vs PayPal
The main differences Between Stripe vs PayPal are:
Stripe has the ability to customize tools with advanced coding, whereas PayPal has out-of-the-box functionality that's best for beginners.
Stripe is available in around 32 countries, whereas PayPal is available in over 200 countries.
Stripe processes payments entirely on your website, whereas PayPal temporarily redirects users to their website to complete payment.
Stripe has data portability support for safely transferring credit card payment information to a different payment gateway provider, whereas PayPal does not make this process easy (or even possible).
Stripe has a two-day fund transfer timeline, whereas PayPal has immediate access to funds. However, PayPal can take up to four days when transferring money to your bank account.
Pricing: Stripe vs PayPal Payment Provider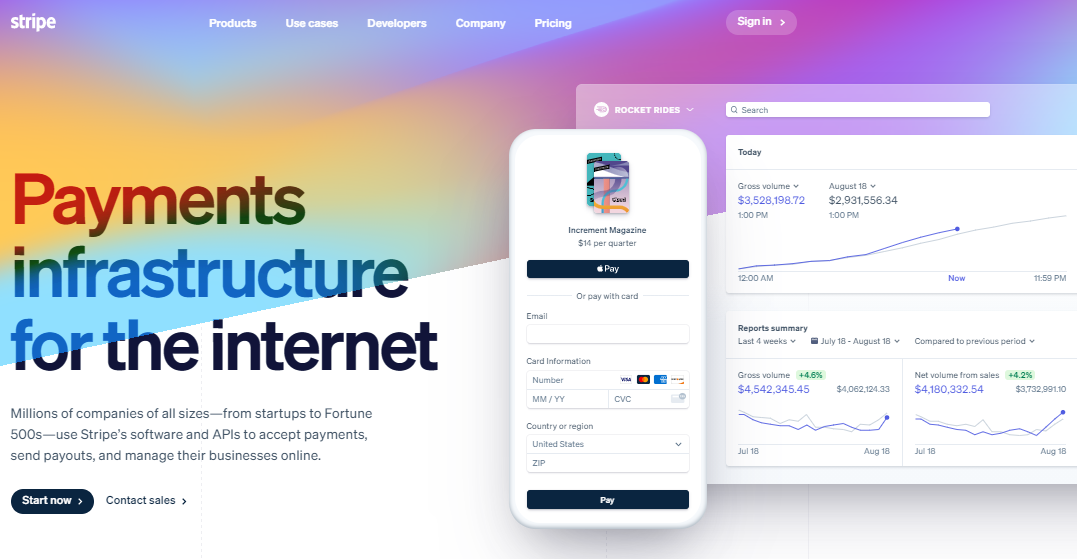 Stripe and PayPal are equally transparent about their fees (though it may not always be easy to tally them up and figure out how much will be charged – the services don't do that automatically for you).
Both Stripe and PayPal charge a percentage plus an additional fee per transaction – you'll pay 2.9% plus 30 cents per transaction with each service. Nonprofit discounts are about the same: 2.2% and 35 cents for Stripe and 2.2% and 30 cents for PayPal. For micropayments (which is a payment less than $10), the fees are 5% and 10 cents for Stripe and 5% and .05 cents for PayPal.
Note that if you meet a certain amount of sales per month, your monthly fee average may drop, whether you use Stripe or PayPal. The thresholds are very different, though.
With Stripe, you have to sell $80,000 or more per month to lower those fees. With PayPal, you only need to sell $3,000 or more per month. This makes Stripe better for high growth small business or mid-sized enterprises with sky-high sales, while PayPal is best for a small business with lower sales goals.
Neither service has setup or a true monthly fee, and you don't need a contract to use either one. And with both services, you can customize invoices. Stripe may start to charge for invoicing after your first million in sales – but at that point, your budget may be just fine having to pay for invoicing fees.

There are chargeback fees of $15 for Stripe and $20 for PayPal, regardless of payment types. A chargeback occurs when you process a transaction, and the person who was charged gets in touch with their bank to dispute the charge.
While chargeback policies are in place to protect people against fraudulent charges, some customers will take advantage of them and report a charge as fraudulent even if they agreed to it.
It's not uncommon for the bank to side with the consumers, so you could be forced to refund the customer even if you can defend the charge. As the seller, you'll be charged a fee for every chargeback that's granted, and you won't get a refund for the processing fees you paid, either.
Something else to keep in mind is that Stripe charges what they call a RADAR fee of .05 cents for every transaction – even if a payment fails. Standard accounts waive this fee, but nonprofits and micropayments will be charged.
Payments: Stripe vs. PayPal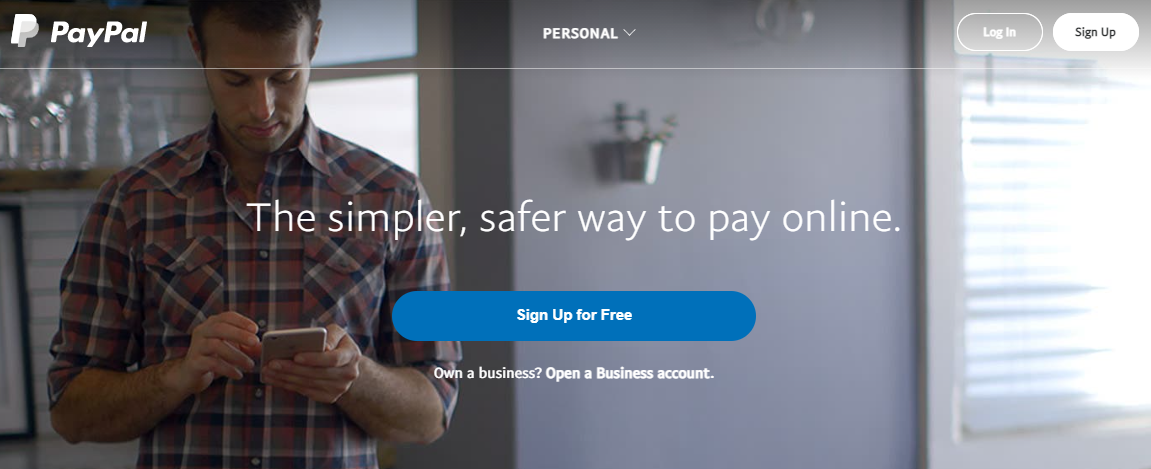 With Stripe, payments are completely processed right through your website – visitors don't have to head over to the Stripe site to process the payment or different payment types.
With PayPal, they do – but they don't need to have a PayPal account in order to pay with a credit card. Some businesses don't like the customer being redirected to PayPal in order to pay because it can impact company branding and the overall user experience.
If you need an in-person card reader to collect payments at a brick-and-mortar store or, say, an event, you can get one from either service for these payment types. Stripe only offers paid card readers, while PayPal has both paid and free card reader options.
Funds Availability: Stripe vs. PayPal
When Stripe auto-deposits your money into your bank account, the payout time is an average of two days. With PayPal, your funds are available immediately.
However, note that PayPal's average transfer time – when you move funds from PayPal (or your PayPal merchant account) to a connected bank account – is two to four days. That transfer time may be faster, though (as quick as one business day, in some cases), and certain banks also offer instant transfers (for a small fee).
Customer Service: Stripe vs. PayPal
Stripe offers several options for customer support: Email, a help center, and 24-hour phone and chat every day of the week.
You can also get in touch with Stripe via social media. Also note that both customer service reps and developpers are available to offer support, so if you need advanced help with something coding-related, you can chat with a developer for guidance.
PayPal has similar customer service / customer support, with email support, a help center, and phone and chat support (though it's not necessarily 24 hours, like with Stripe). There's also a community forum, where you're likely to find answers and solutions to common issues. And like Stripe, you can also connect with PayPal via social media.
Both Stripe and PayPal seem to have varying degrees of customer service, with some customers reporting poor support (with both services), and others being very satisfied with the help they received.
It also seems that, sometimes, the longer you're with the provider of your choice, the better you'll be treated by customer service & customer support, as you'll be treated as a sort of VIP customer.
Data Portability: Stripe vs. PayPal

As your business grows or changes, you may have a need to move to a different payment gateway provider to support different payment types or fee structures. When that need arises, you'll need to know about data portability.
Stripe lets you move credit card data easily and in a way that's compliant with PCI standards (PCI compliance). PayPal, on the other hand, won't release credit card data should you need to switch to a new processor. For some entrepreneurs and businesses, this alone can mean choosing Stripe over PayPal.
The Pros and Cons of Stripe and PayPal
In this section, we're going to cover the pros and cons of both services. First, here are benefits that both services share:
Stripe and PayPal are easy to set up and use, making them good options for beginners who haven't used billing or payment gateways in the past.
Several third-party services integrate with Stripe and PayPal because both payment gateways are so popular. That means that you'll be able to add Stripe and PayPal buttons to your website, and additional functionality may be able to be integrated with plugins.
Both payment gateways are PCI-compliant, which means they meet all of the necessary standards to secure cardholder data.
Stripe Payment Processor Pros
Better for coders or programmers, thanks to customizable tools. They have support from professional developers, too.
Payments are handled 100% on your website, no diverting the visitor necessary. This keeps branding cohesive and the customer journey tighter.
Stripe supports data portability, allowing you to move credit card data to a new payment gateway in a safe, compliant way.
A little easier to setup recurring payments (recurring billing) with Stripe billing API hooks
Stripe Cons
Stripe is only available in approximately 32 countries, which makes it a poor option if you have a lot of international transaction sales, clients or friends.
It can take about two days, on average, to gain access to funds. This seems small, but compared to PayPal's immediacy, it may be too long for some users.
The sales threshold to lower your processing fees is high at $80,000 per month.
PayPal Payment Processor Pros
Better for beginners and non-coders who want an out-of-the-box tool that's ready to use.
PayPal is available in over 200 countries, making it the better option for international payments and transfers or for growing businesses.
The sales threshold to lower your processing fees is low at $3,000 per month. Many businesses will be able to hit this quickly, thus lowering their fees from the get-go.
Get immediate access to funds instead of having to wait; some bank transfers are lightning-fast, too.
PayPal Cons
PayPal directs users away from your site to process a payment, which some people may find jarring if they don't trust PayPal for some reason. This also impedes branding and the flow of the customer journey.
It can take up to four days when transferring money from PayPal into a connected bank account.
PayPal's customer support is accessible in several ways, but phone and chat help aren't available around-the-clock (Stripe has 24-7 support).
PayPal does not support data portability, so if you need to change providers, you won't be able to access and move over credit card information.
FAQs
Question: Is Stripe better than PayPal?
Answer: Both Stripe and Paypal are leading payment gateway providers, offering much-needed invoicing and payment processing services to businesses of all sizes.
Stripe edges out Paypal a bit when it comes to customization, though – the service has more developer tools and support than Paypal, making it the better choice for companies that need to personalize features.
Question: Do I need both Stripe and Paypal?
Answer: You don't need both services, necessarily – they essentially do and charge the same thing – but you may want both services if you customers seem to feel strongly about one or the other.
Both services easily integrate with websites, so you can add both payment options to your checkout page and let visitors decide which they want to use.
Most often, they'll choose the one they're used to or that they have an account with. And since both services have almost-identical processing fees, it won't make much of a difference to you which one people choose. They only consideration is the paperwork – you'll be getting payments from two companies instead of one, so you'll have to keep track of it all.
Question: What is Paypal's biggest competitor?
Answer: Paypal is among the tip-top when it comes to payment gateway providers, but that doesn't mean it doesn't have competitors. Stripe is definitely among PayPal's top competitors, along with Google Pay Send, Payoneer and Skrill.
Question: Can you pay with Paypal on Stripe?
Answer: Stripe collects credit and debit card payments, but it doesn't integrate specifically with PayPal. However, if a visitor has a PayPal debit card (which is processed with a number like a regular credit or debit card).
Conclusion on PayPal vs Stripe Payments
Stripe is better for coders or programmers, whereas PayPal is best for people without programming savvy. Stripe is highly customizable – if you know what you're doing – while PayPal is ready to use out-of-the-box and doesn't require tweaking.
Overall, PayPal Standard is better for beginners, as well as individuals and professionals with basic financing needs, while Stripe is great for professionals and companies that want to customize their payment gateway tool.
The payment gateway provider you choose will depend on your business' needs, particularly how much you sell (or plan to make in sales), whether or not you need a card reader (and are okay with paying for one versus getting one for free) and if you plan to use a different provider in the future (which is where data portability comes in).
And again, consider if you need to customize the service you use – if so, Stripe is the better option, plus they offer developer support from experts.
If you make a high amount in sales, Stripe is a good option, and they offer perks once you reach a certain (high) sales threshold. If you're just starting out or happen to make a smaller amount in sales per month, PayPal is the more cost-effective option.
When it comes to the card reader, you'll have to pay for one if you opt for Stripe, while PayPal offers both free and paid options. But the biggest differentiator for some professionals will be data portability – if there's a chance you'll need to move credit card data to a different provider in the future, Stripe is the only option that makes that possible and safe.
Consider this option, too: setting up both Stripe and PayPal. Since they're both essentially free to set up and use, and they have very similar processing fees, you can plan out how much you'll be charged regardless of the payment option your customers choose.
You can then offer your customers both options and let them pick the one they're more comfortable with. The only drawback to this option is that you'll get deposits from two different payment services, which could make your paperwork a bit more complex to keep up with.
Further Reading on Online Payment & Payment Processor Solutions:
Further Reading on PayPal Checkout and PayPal Cash Transfer Alternatives:
Further Reading on Stripe Small Business Alternatives: