Last Updated on June 1, 2023 by Ewen Finser
How often do you pay for goods and services with a check? And if you own a business, do you even accept checks anymore? Probably never, and that's thanks to payment service providers.
As a business owner, how do you keep up with the trend? It's best to invest in payment services. Payment gateway services let you accept payments via your website and even in-person.
PayPal is obviously the head honcho — they make up 60% of payment gateway use. But businesses should also consider Braintree since their platform is tailored for businesses.
Which option is best for your business? Here, we compare the two and will decide on the best option.
Main Differences Between PayPal vs Braintree
The Main Differences Between PayPal vs Braintree include:
PayPal is for individuals and businesses, whereas Braintree is only for businesses
PayPal charges $30/month for their Pro-service, whereas Brainfree has no monthly fee
PayPal charges $20/chargeback, whereas Braintree charges $15/chargeback
PayPal's currency conversion fees are between 1%-4%, whereas Braintree's currency conversion fees are 1%
PayPal doesn't support any integrations with other payment service providers, whereas Braintree can team up with different payment service providers including PayPal (they also offer competitors such as Venmo).
PayPal payment is available in over 200 countries, whereas Braintree is only available in 46 countries
PayPal will give you partial refund if needed, whereas Braintree only refunds the transaction fee
Things to Keep in Mind
Both platforms come with transaction fees. They're the same — 2.9% + 0.30 for each transaction
Both platforms accept a variety of credit cards
Both platforms offer discounts. PayPal offers discounts for high-ranking clients while Braintree charges no fees for the first $50,000 you earn.
You can expect a payout for two days with both platforms
Both platforms offer support for recurring billing and fraud protection
Both are PCI compliant
Braintree Pros and Cons
Let's first cover Braintree.
Braintree is a payment platform designed for commerce businesses. They help businesses accept payments through any method and on any device. They currently support 130 currencies. Since they were bought by PayPal, they now operate globally.
While Braintree offers many benefits, they're not perfect. Here are the pros and cons that businesses should know.
Pros
One of the ways that Braintree stands out is they provide a dedicated merchant account. This provides a stable and safer solution, safeguarding your data. In addition, you don't have to worry about frozen accounts, fraud, and withheld funds.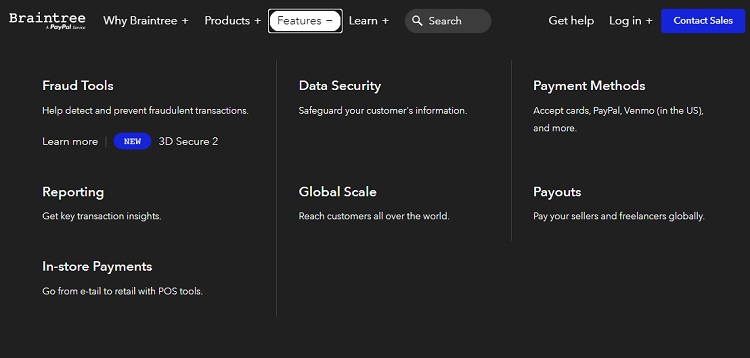 If you prefer a customized experience, you'll appreciate Braintree. They offer a myriad of developer tools to create a customized checkout experience.
Braintree also offers other benefits. This includes a payment gateway, merchant account, third-party integrations, fraud tools, recurring billing, and reporting.
We will discuss pricing later, but we like how completely transparent Braintree is with their pricing. You'll know any fees that you need to pay and how much.
Cons
Braintree's system is pretty complex. You'll likely have to be an experienced seller in order to work Braintree's system and utilize their developer tools. PayPal has a simple interface and is an ideal option for new sellers or ones who aren't tech-savvy.
Braintree offers a POS system; however, it's limited. There's no countertop register and they only offer mobile card readers.
Braintree offers many benefits for sellers. Your account is safer, you can use their different developer tools for a personalized checkout experience, and they're transparent. They also offer some impressive features. However, Braintree is pretty complex, so new businesses will benefit from PayPal's easy interface.
PayPal Pros and Cons
PayPal has become a well-known name. The mecca of payment platforms is used by individuals and businesses worldwide. While PayPal is popular for many reasons, it also comes with certain drawbacks where competitors such as Braintree may reign.
PayPal Pros
First, let's go over some of the benefits that PayPal offers.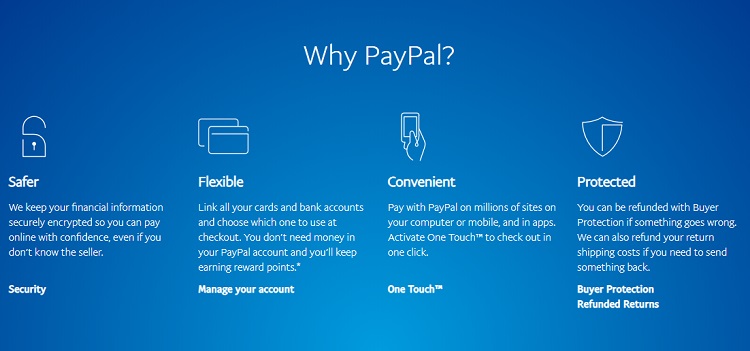 PayPal is extremely easy to use. We mentioned that in the previous section and we're mentioning it again. Setting up an account is simple and you can integrate PayPal into just about all websites. When your business earns money, all you have to do is transfer it into your bank account.
PayPal Cons
Unlike Braintree, PayPal only offers an aggregated account. Unlike a dedicated merchant account, an aggregated account is privately held by PayPal. There are no industry standards, so they set up their own rules. This decreases your security.
Like Braintree, PayPal's POS system is limited. If you need a POS, you're better off trusting a competitor such as Stripe.
PayPal is the industry leader for many reasons, but mainly because its platform is so easy to use. However, PayPal has some downfalls. It offers less security and their POS system is limited.
Pricing
While both systems are powerful, they're not free. PayPal and Braintree have fees, which may include monthly and transaction fees. Here's a breakdown of the costs.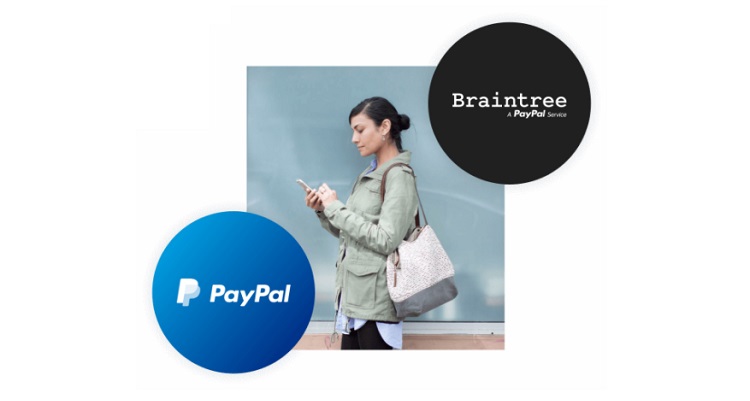 Braintree
Braintree charges a transaction fee of 2.9% plus an additional 30 cents. However, PayPal deposits have no fees and ACH deposits cost 0.75% per transaction. In addition, charities receive discounted rates.
In short, you only pay for what you need with Braintree. You'll also get powerful features, such as fraud protection, for free.
Braintree does come with additional fees, depending on your business and your customers. These include a 1% fee for non-US credit cards, a 1% fee for non-US currency, and a $15 chargeback fee. In addition, large-scale businesses may also receive a custom pricing model.
Last but not least, Braintree offers a free trial.
PayPal
While PayPal is free for individuals, you'll have to pay a monthly fee for a Business account. This fee is $30/month. Keep in mind, nonprofits and high-profile businesses can receive a discount. Otherwise, PayPal has the same transaction fee as Braintree — 2.9% + 30 cents.
The only exception is if your customers use an American Express credit card, which has a 3.5% transaction fee. There's also a fixed 4.4% currency fee for non-US customers, though it depends on the currency.
While most of Braintree's features are free, you'll have to pay extra for PayPal's features. There's a $10 charge plus an added 0.05% transaction fee for both fraud protection and recurring billing.
Even though PayPal has a simpler platform, they come with more fees. Braintree wins in pricing, based on price and what's included.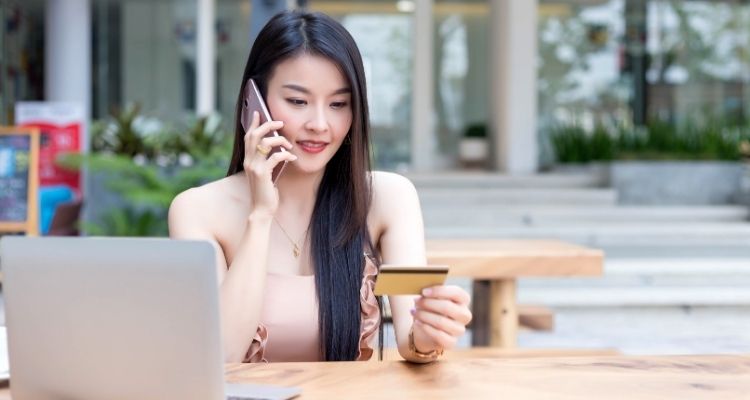 FAQs
Have you made your decision? Before choosing one of these platforms, take a look at some of these questions that other sellers commonly ask.
Question: What's the Difference Between PayPal Personal and Business?
Answer: First, it's important to know that there are multiple PayPal accounts. But for this example, we will focus on three specific accounts: Personal, Premier, and Business.
Most people are familiar with a personal Paypal account. This is ideal for those who shop online. You can easily send money to different merchants and individuals, as well as receive money from friends and family members.
PayPal Business (also called PayPal Pro) is what we covered in this article. This is the best solution for companies since it offers benefits such as Express PayPal Checkouts. You can also grant access to up to 200 employees.
Premier is also an account type that's in between a Personal and Business account. It's ideal for a one-person operation, such as a hobbyist or a part-time business owner, who accepts and spends money via PayPal.
Premier offers more than a Personal PayPal account. You can integrate your account with other third-party platforms, such as eBay. You can also receive a PayPal debit card.
Question: How is Braintree different from PayPal?
Answer: PayPal and Braintree have many similarities. The main difference is the cost and the features that both systems offer.
Question: Can you integrate PayPal checkout into Braintree?
Answer: Yes, you can. For easier integration, you can use the Braintree SDK integration. This prevents you from navigating Paypal's REST APIs. This source explains how to achieve this integration.
Question: What companies use PayPal Business and Braintree?
Answer: Both PayPal Business and Braintree dominate the market, namely because of the big players that use both plaforms.
These businesses use Braintree for their transactions:
– Airbnb
– Uber
– Coursera
– Accenture
– Patreon
– Stack Overflow
– Lime
– Twilio
These businesses use Paypal Business:
– Insight Performance
– Versa Products
– MSL Group
– Sourcebooks
– Field Nation
In addition, many businesses accept PayPal for payments. These businesses include ASOS, Airbnb, Beauty.com, and Aquatalia.
Question: How do I transfer money from PayPal and Braintree?
Answer: Paypal is popular for its user-friendliness, specifically when you're trying to transfer PayPal funds into your bank account. PayPal now offers Instant Transfer, where your funds will immediately land in your business debit account for a fee (1% and up to $10)
Braintree works similarly. After a transaction is finalized, the funds will transfer from your merchant account to your business bank account. The time it takes to receive the funds depends on the type of Braintree account and your bank account.
Braintree vs PayPal: The Final Verdict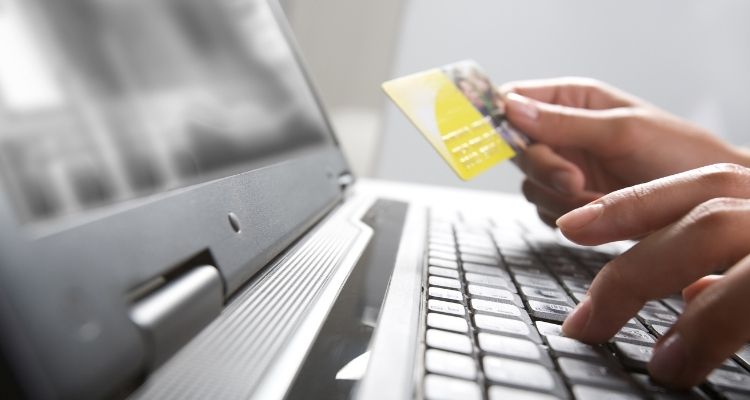 PayPal is a great solution for individuals and those who run a small operation. But if your business needs a powerful payment gateway, we recommend going for Braintree.
Braintree comes with fewer fees than PayPal and with more features. With a dedicated merchant account, you'll also have more security. While PayPal is more user-friendly than Braintree, serious businesses and sellers will benefit more from Braintree than PayPal in every other aspect.
Do you need more help processing payments? We offer a whole guide to e-commerce payment processing.
Further read: