Last Updated on August 5, 2022 by Ewen Finser
Wix is certainly one of the more popular website builders, but is it really the best (or only) option?
Wix controversially is a closed ecosystem, unlike WordPress. This means users are basically stuck in a walled garden.
Despite all of the new features and improvements the Wix team has made (and there are many), it's still difficult to get away from the disadvantages of having your business live in their ecosystem completely.
So what are the best Wix alternatives?
Some of the following site builders are "stand alone" options (similar to Wix), but we've also included a couple popular WordPress site builders (rather than just recommending WordPress – the most popular CMS).
Best Wix Alternatives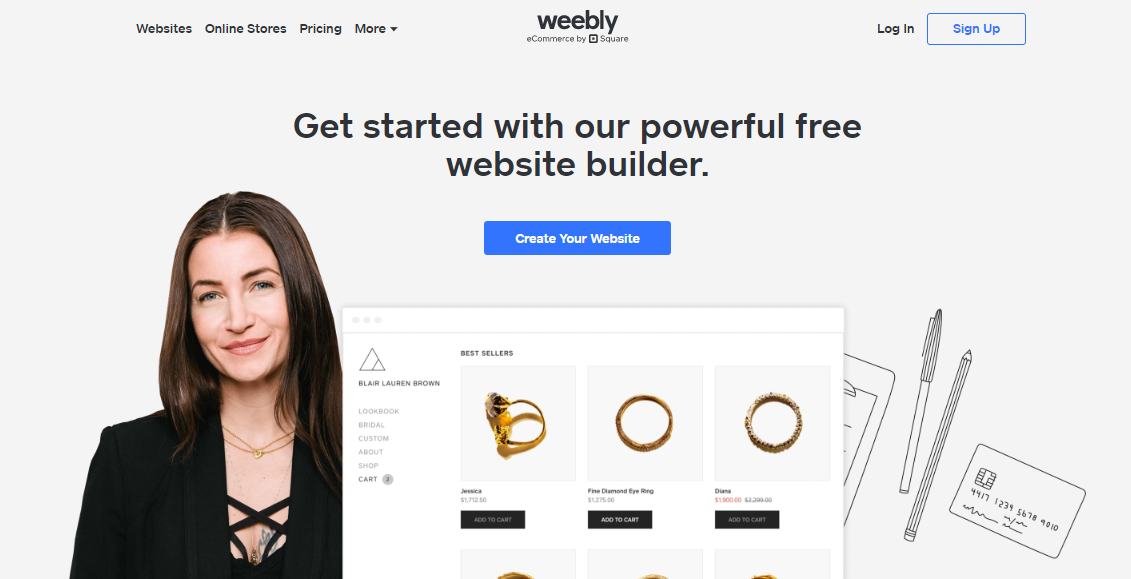 Summary: Weebly is perhaps THE most similar CMS and website builder relative to Wix. Recently acquired by payments giant Square, Weebly now boasts a closer e-Commerce integration compared to Wix.
Weebly Advantages
Intuitive, easy-to-use drag-and-drop website builder (very similar to Wix)
Also offers a free website plan if you are willing to let Weebly run advertising
Offers 40 pre-built templates and themes
Slightly stronger eCommerce builder compared to Wix
Owned by Square (payments), with seamless integration
Weebly Disadvantages
While similar to Wix, Weebly has considerably less marketshare
Note as many theme tamplates compared to Wix
Weebly Prices: Free Basic plan (with advertising), then $5/month for Connect Plan (if you already own a domain), $12/month for Pro Plan (free domain, no Weebly ads, Square payments and cart), and $25/month for Business Plan (inventory management, tax calculator, etc…).
Further Reading: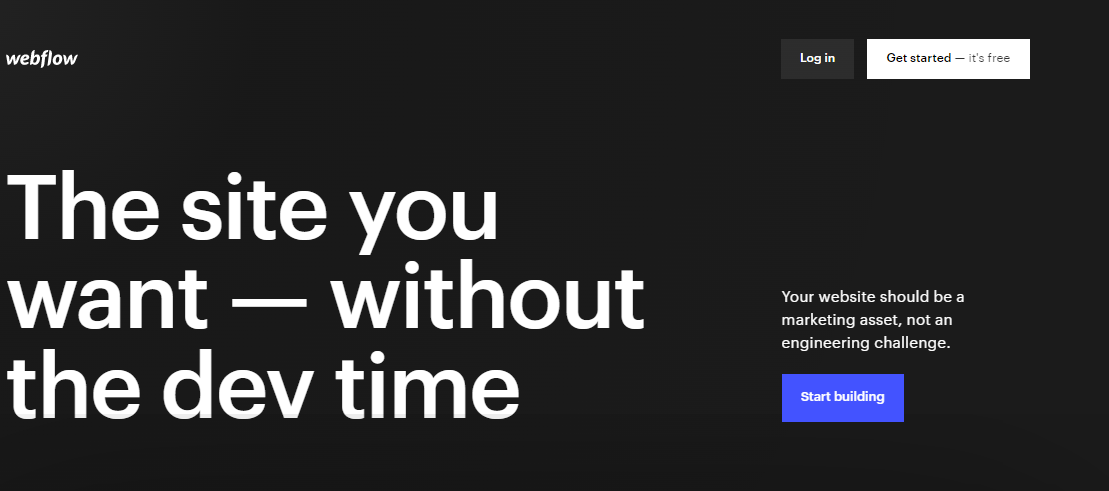 Summary: Webflow is one of the newest's CMS upstarts, promising a revolutionary way to design high-end websites even with just a base level of technical jobs. Offering much more capability and functionality compared to Wix, Webflow has a slightly steeper learning curve.
Webflow Advantages
Offers the most functionality relative to skills required
One of the fastest growing new CMS platforms online
Small investment in learning the system yields BIG capability improvements
Lightning fast, modern tech stack
Planty of tutorials (will make you a better website designer)
No bloated (or unsecure) plugins or themes to deal with
Webflow Disadvantages
Not nearly as simple as Wix to use (some design chops requried / willingness to learn)
Pricing structure (two tracks) is a bit more complicated than Wix
No plugin ecosystem like WordPress
Webflow Prices: Webflow has a two-track pricing system, one for Website Plans (think content CMS) and one for Ecommerce Plans (with checkout cart functionality). Website plans start at $12/month and Ecommerce plans start at $29/month.
Further Reading: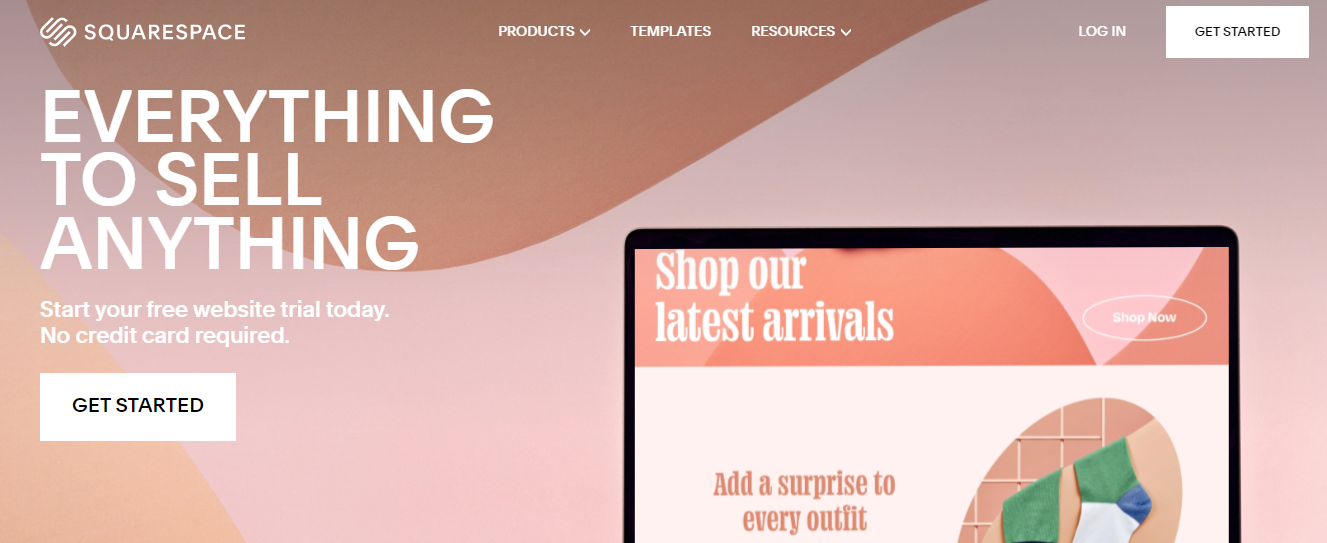 Summary: Squarespace is an elegant site builder, known as a favorite for creatives (who are definitely picky when it comes to presentation)! It's also one of the longest standing site builders, meaning they've worked out a lot of the kinks and have EXCELLENT support staff and knowledge base documentation. Not a fly by night operation.
Squarespace Advantages
More & varied design options and customizable templates for more elegant websites
Flexible templates for content blogging, writers, artists, or eCommerce stores
Similarly easy to use compared to Wix
Excellent customer support and wiki documentation
Friendlier than Wix for 3rd party tool & data integrations
Transparent pricing (Squarespace gives you true monthly pricing options)
All Squarespace plans come with unlimited bandwidth (Wix caps cheapest plan at 2GB)
Squarespace Disadvantages
Fewer overall features compared to Wix
Squarespace Prices: Squarespace offers a 4-tier pricing plan (monthly or annual), starting with a $16/month Personal Plan (just the basics), then $26/month for the Business Plan (unlimited contributors, email, more integrations), then $35/month for Basic Commerce (if you are selling products), and $54/month for Advanced Commerce (advanced features like abandoned cart).
Further Reading on Squarespace:
4. Best for eCommerce: Shopify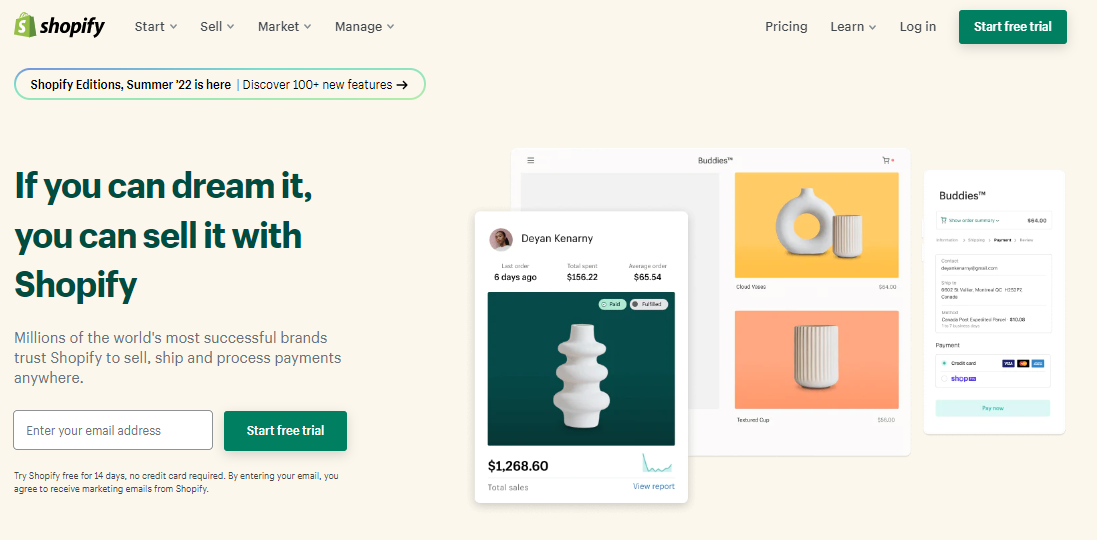 Summary: If you are selling physical products, Shopify is the first choice to evaluate. As the market leader, Shopify has made starting an eCommerce store as easy as WordPress made it to start a blog.
Shopify Advantages
Integrates with virtually every major third-party sales and marketing tool
The easiest way to create a functional e-commerce store in the shortest amount of time
Large ecosystem of Shopify developers and specialists
Massive Shopify app store for free and paid add-ons
Mobile optimized stores, working out of the box
Market leader in e-commerce
Excellent customer support
Shopify Disadvantages
Charges between 1-3% transaction fee + flat fees, in addition to monthly fee
Fees make it harder to sell low-priced / high-volume items
Native SEO is somewhat lacking
Will they follow the Amazon model of knocking off brands for themselves?
Basic Shopify: $29 per month, 30 cent transaction flat fee, and 2.9% transaction fee
Shopify (Standard): $79 per month, 30 cent transaction flat fee, and 2.6% transaction fee
Advanced Shopify: $299 per month, 30 cent transaction flat fee, and 2.4% transaction fee
Further Reading:

Summary: Elementor is not a CMS per se, it's actually a streamlined WordPress theme framework. In short, it makes creating high-end looking multi-functional websites incredibly easy with WordPress.
Elementor Advantages
Easy to use, drag and drop theme and page builder
Works with WordPress, so compatible with the entire WordPress ecosystem of plugins and functionality
Ability to save custom built templates for future use
Growing ecosystem of Elementor Developers and Front-End Designers
Elementor Disadvantages
Some learning curve to get used to
Relatively new to the market
Elementor Prices: Pricing starts at $49 per year (1 site), then $99 per year (3 sites) and caps out at $199 per year (1000 sites).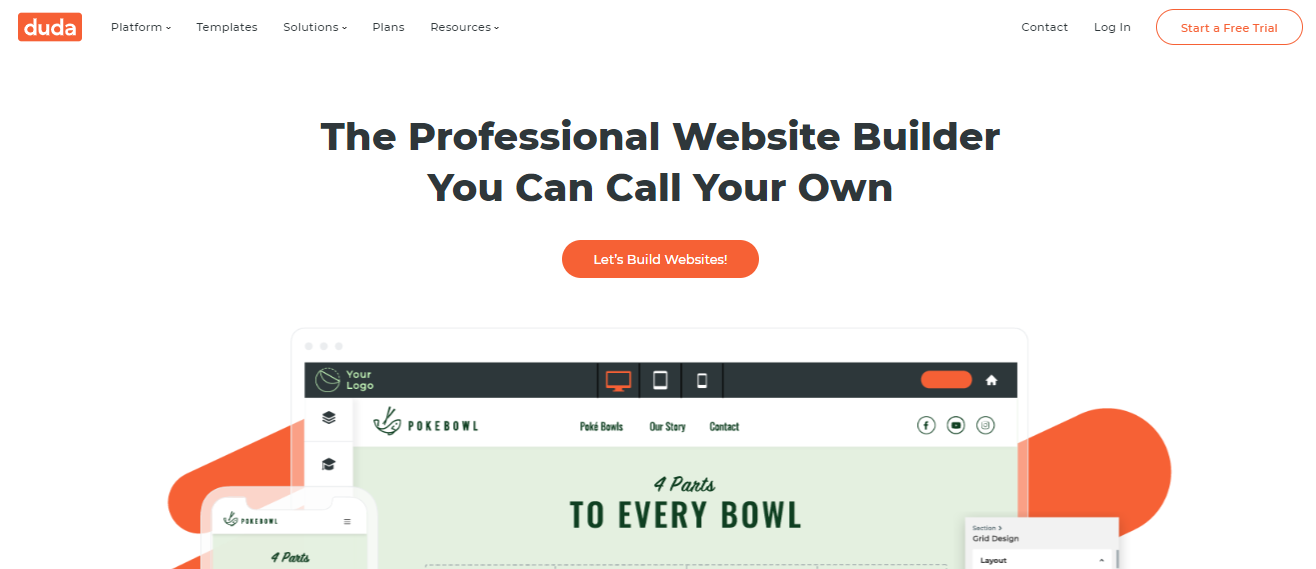 Summary: Duda is another rapidly growing drag and drop website builder. Similar to Wix, it's relatively limited in terms of advanced functionality, but perhaps easier to build with as an all-in-one website builder.
Duda Advantages
Hosting, domain name, and site security all included
Ability to white label stats and analytics dashboard
Deeper collaboration tools for client managementa and team delegation
Ability to export site code and content, Wix does not allow this
Better real-time customer support and agency support
Edit any site element, including HTML, CSS, and JavaScript
Scores higher on Google Lighthouse speed tests (compared to most Wix instances)
mobile responsive templates (versus just "mobile friendly" on Wix)
Extended 30-day free trial available (fully featured)
Better for eCommerce with the ability to have up to 100 products for less than Wix charges
Duda Disadvantages
More limited third-party "app" ecosystem, comapared to Wix
Fewer templates (around 100 vs 600+ on Wix)
No completely free plan
Duda Pricing: Duda features a 3 tier pricing structure, starting at 14 per month for 1 site license, $22 per month for exanded "Team" access, and $74 per month for Agency access (8 sites included).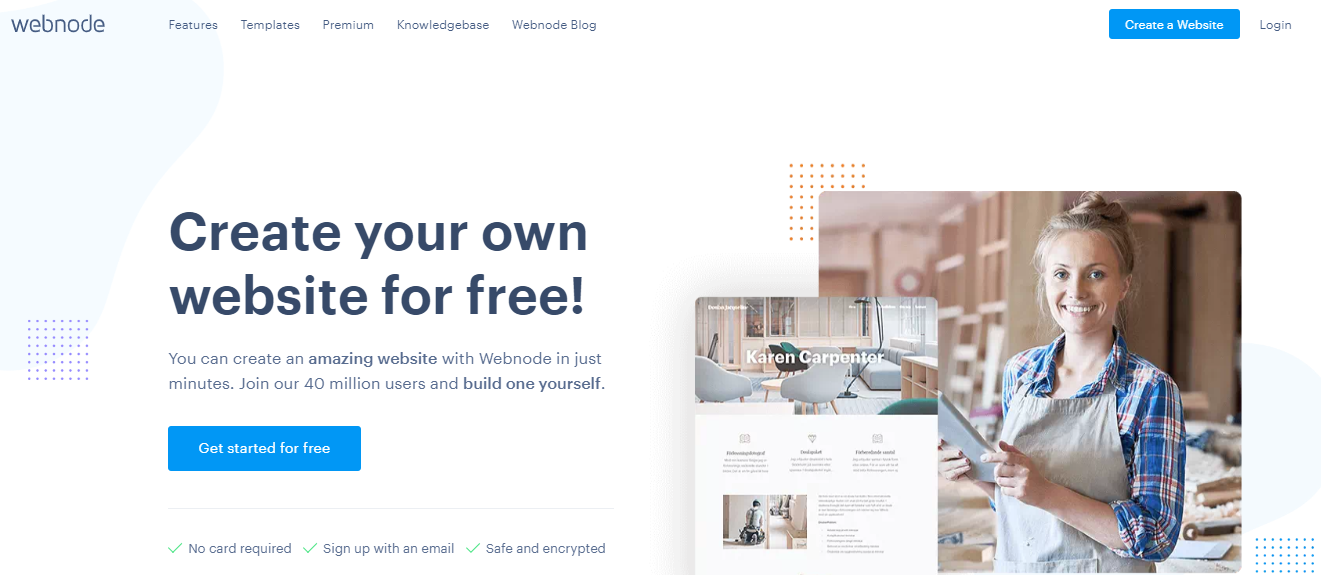 Summary: Webnode is a lesser-known site builder, but it offers some interesting features including outstanding multilingual support for both stores and marketing blogs.
Webnode Advantages
Great for starter storefronts and marketing presence
Excellent multilingual capability (easy to toggle between languages in backend)
Includes email accounts
Cheaper entry level plans compared to Wix
Webnode Disadvantages
Struggles with very large information architecture (not as scalable)
Fewer out of the box features compared to Wix
Smaller user base, so may be a bit more of a gamble
Fewer guides and resources for beginners to learn
Webnode Prices: Webnode HEAVILY pushes getting folks in the door on the FREE PLAN here. Then, you can choose your own adventure depending on if you are eCommerce oriented here, OR sticking to a standard website (with premium features) here. Either way, the Standard Plan on both is $12.50 per month, with the high end plans capping out at around $30 and some lower tier offerings for "just the website, no ecom" plans.
8. Webydo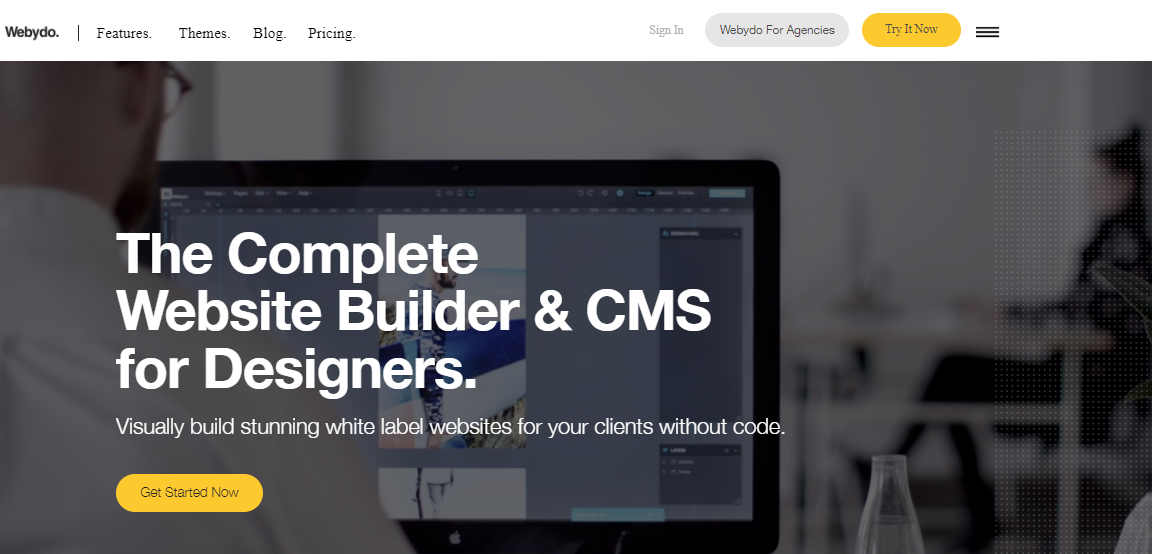 Summary: Webydo is a more recent player in the CMS space, with a third-party app/plugin ecosystem (unlike the walled garden with Wix) and
Webydo Advantages
More design capability and customization compared to Wix
Third-party plugin ecosystem (although not up to the level of WordPress, for example)
Great for agencies and design shops (with built-in support & enablement)
Built as a CMS for content marketing
Hosting included
Faster responsive design (faster and more advanced UX for mobile)
Webydo Disadvantages
Takes a bit more getting used to (steeper learning curve)
Much more expensive base plans compared to Wix (see below)
Webydo Prices: $90/month Pro Plan, $180 Team Plan, and $400 Agency Plan. Enterprise pricing available on request.
9. Beaver Builder (WordPress)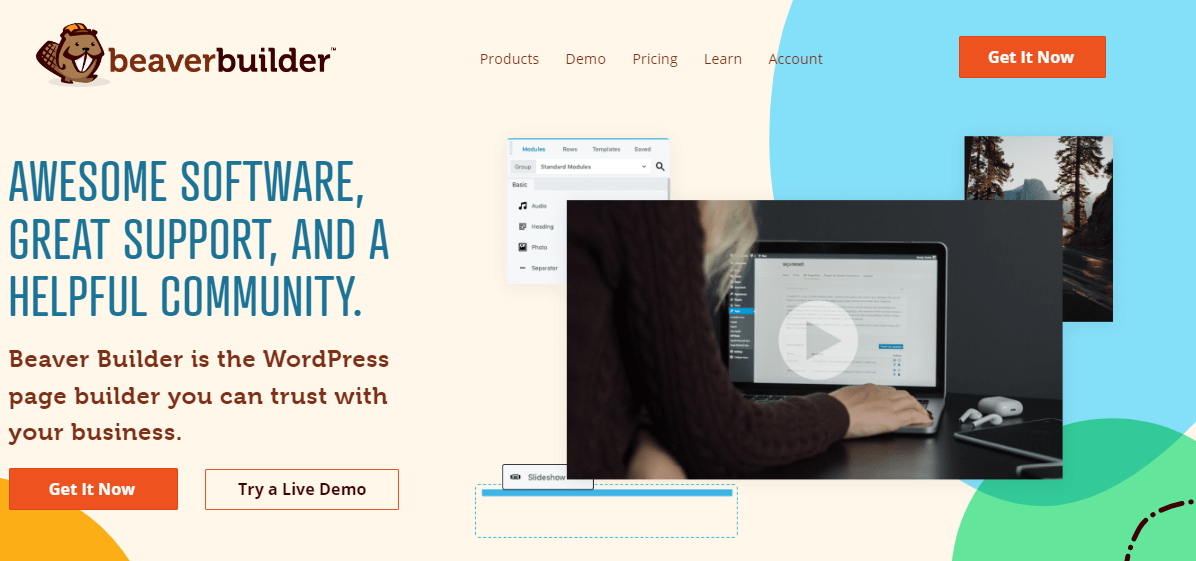 Summary: Another framework built on top of WordPress, Beaver Builder makes it easy to create enterprise level designs and functionality without having to know any code. Unlike vanilla WordPress, there's drag and drop tools that give it a feel of a Wix-like solution, while still getting all the benefits of a WordPress open source network.
Beaver Builder Advantages
You get the benefit of WordPress (open source, plugins, affordable), without the price or wall-garden of Wix
Easily build elegant design features (normally costing dozens of dev hours), with point and click & drag and drop simplicity
Annual payment structure, no monthly fees
Unlimited site licenses with no restrictions (all plans)
You can opt to just used the page builder functionality with your current theme (or other third party theme)
Solid white labeling plan, ideal for selling services to local businesses (for example)
Beaver Builder Disadvantages
Can impact page speed, especially if using many other plugins
Not a true eCommerce solution like Wix
Beaver Builder Prices: Annual pricing starts at $99 (just the page builder), then $199 Pro Plan (includes the Beaver themes), then $399 Agency Plan (white labeling), and finally $546 for the Ultimate Plan (renews every year for 40% discount).
Further Reading on Beaver Builder:

Summary: Sitejet is a solution gear more directly towards agencies and freelance designers, looking for a streamlined framework for winning site designs for various clients.
Sitejet Advantages
Built-in project management workflow to easily streamline client management, specifically for web design projects
Great to kick-start a freelance business or small agency with minimal setup
More live training programs and onboarding support than Wix
Sitejet Disadvantages
Owned by web hosting services company Plesk, so you might get some upsells and the builder itself might not be their top priority long-term
Not really designed for end users, although it certainly could be useful
Much less user adoption than Wix, smaller ecosystem
Sitejet Prices: Solo Plans start at $19/month, then the Team Plans escalate to $34/month (up to 3 users, site export functionality, white label branding), and finally the Agency Plan at $59/month (up to 10 users + API functionality).
11. Visual Composer (WordPress)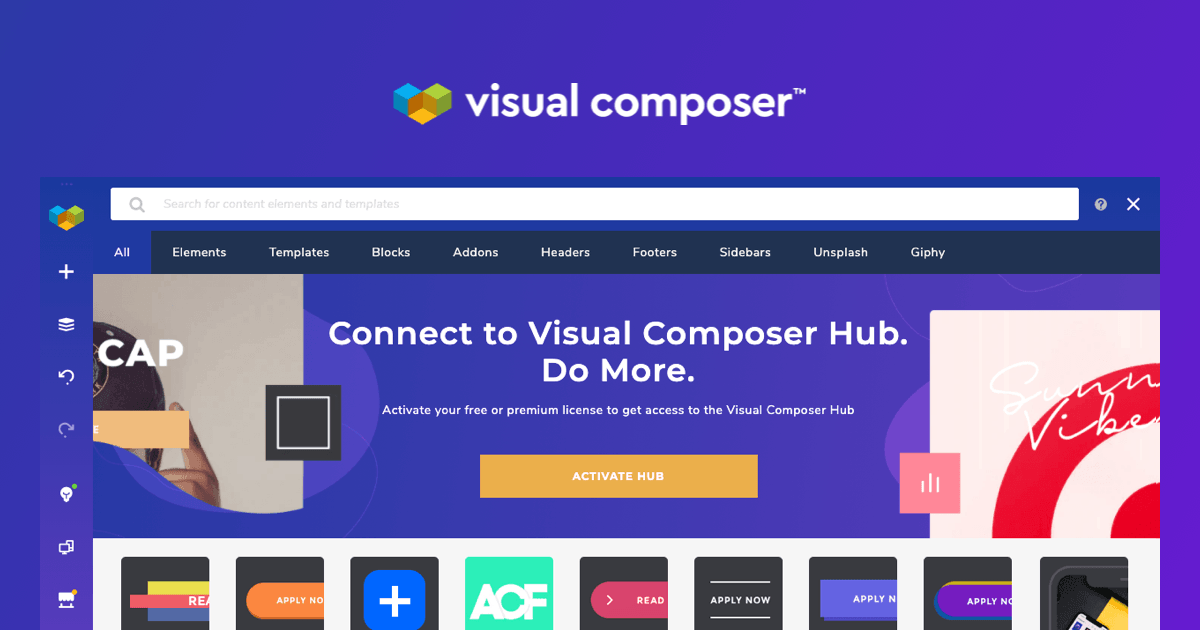 Summary: Visual Composer is another site builder built on top of the WordPress framework, featuring fully responsive drag and drop site building. If you still want the optionality of WordPress, Visual Composer is an excellent bridge tool.
Visual Composer Advantages
Better pure landing page software functionality compared to Wix
A truly free unlimited pricing tier to get started (more design elements, templates, tools and theme builder)
A fairly open ecosystem, plays well with other WordPress tools (unlike Wix's closed garden)
Yearly pricing means Visual Composer is cheaper over the long run (but not if you have to switch)
Offers WooCommerce support
Visual Composer Disadvantages
Still requires WordPress, less of a seamless process compared to Wix
Paid pricing tiers are more expensive up front than comparable Wix tiers
Visual Composer Prices: Visual Composer gets you with the Free plan, but then escalates to $49/year (single website plan), then $99/year (3 site plan), and $349/year for 1000 sites.
12. MotoCMS

Summary: MotoCMS promises more themes than Wix, outstanding support, and a fully exportable API if you change your mind.
MotoCMS Advantages
More unique themes out of the box (2500+ vs 500+ for Wix)
Outstanding support (goes well outside the lines of typical customer support)
Fully exportable data API (so you can easily switch to another CMS), unlike Wix
More payment integrations and options compared to Wix
Easy to white-label for agency or client work
MotoCMS Disadvantages
Shorter track record compared to Wix
Less polish compared to Wix, likely due to fewer Dev resources
MotoCMS Prices: 2 simple pricing structures, either $9.90/month (billed annually) or $329 one-time lifetime license.
13. Mozello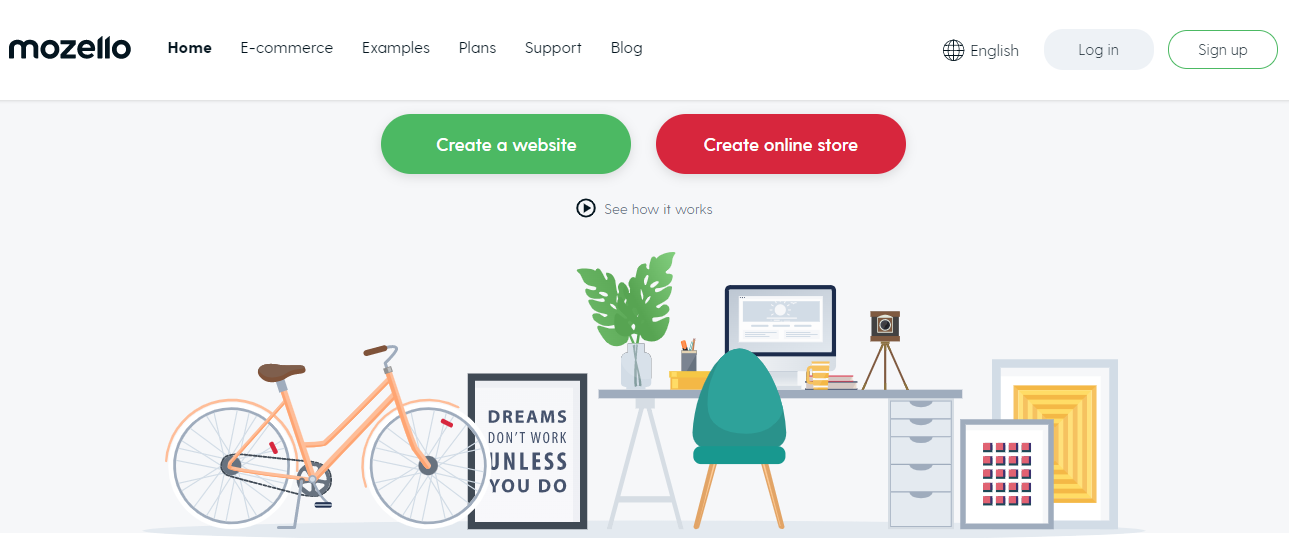 Summary: Mozello is another upstart trying to compete with the likes of Wix, more specifically on eCommerce.
Mozello Advantages
Developer friendly CMS, unlike the closed-end system with Wix
Newbie friendly, no design chops or tech skills required
Completely free plan options (ad-supported)
eCommerce centric store builder
Great for testing out a store concept for free
Mozello Disadvantages
Not as much market share or track record as Wix
Fewer live support resources & training aids
Website editor isn't very flexible
Mozello Prices: Free Plan (with ads), then $7/month (for no ads, but limit of 30 store items), and finally $14/month for unlimited store items.
Final Code: SO, Which is the Best Wix Alternative?
So which Wix competitor should you choose? When & why?
Here's a summary based on your business use case: