Last Updated on April 22, 2023 by Ewen Finser
Webydo vs Webflow are two website services that follow the WYSIWYG website-building principle. Those solutions prioritize drag-and-dropping ahead of coding to make building your website as easy and straightforward as possible.
But which is better?
In this article, you will learn:
what to look for when choosing a web-building tool

their unique key features

which is better for your specific situation

and more…
Main Differences Between Webydo vs Webflow

The Main Differences between Webydo vs Webflow are:
Webydo doesn't require you to know any code, whereas Webflow requires some basic coding knowledge.
Webydo offers online tutorials and resources to explain how the tool works, whereas Webflow has a full-blown training academy to really master the tool.
Webydo has advanced web design features, whereas Webflow has seriously advanced web design features.
How To Choose The Best Website Building Service
Ease of use
How much coding do you need to know? How user-friendly is the user dashboard? Is dragging and dropping even an option? If you're designing a website with a tool instead of coding everything from scratch, those are questions that you want to ask yourself.
Some tools have a learning curve but offer more possibilities in the end. If you're using a web-building tool to make your life easier, you naturally want to figure out exactly how convenient, straightforward, and time-saving the service you're about to use is.
Features and flexibility
You want to be able to do what you want to do with the design of your website, all while limiting the amount of coding required. Most website building tools include very convenient features such as pre-made templates, drag-and-drop functions, buttons, forms, animations, designs, etc.
The features can be deep and highly customizable depending on the tool that you use. You want to make sure that the service you're going for is flexible enough in its features to allow you to design without limitations.
Designs and themes
Website building tools have pre-made themes and templates that will give a general first look to your new website. Those are great as they save you a lot of time (and can help when the inspiration is lacking). Naturally, the more themes a website builder gives you access to, the better.
Pricing
Most website building tools offer different things and therefore different plans. Whether you're building a blog, an eCommerce store, a CMS, or a mix of everything, alone or with other partners, you will have access to different tools and options that will come at a different price. You want to choose the best pricing plan for your situation.
Customer support
In case you'd have difficulties using the tool you want to be able to get in touch with someone who can explain how to make proper use of what you purchased. Some tools being very complex and features-heavy, you want to make sure you're not left alone in the dark may problems arise. Some services provide their own online tutorials and knowledge resources and this is a detail you want to take into consideration.
Webydo Key Features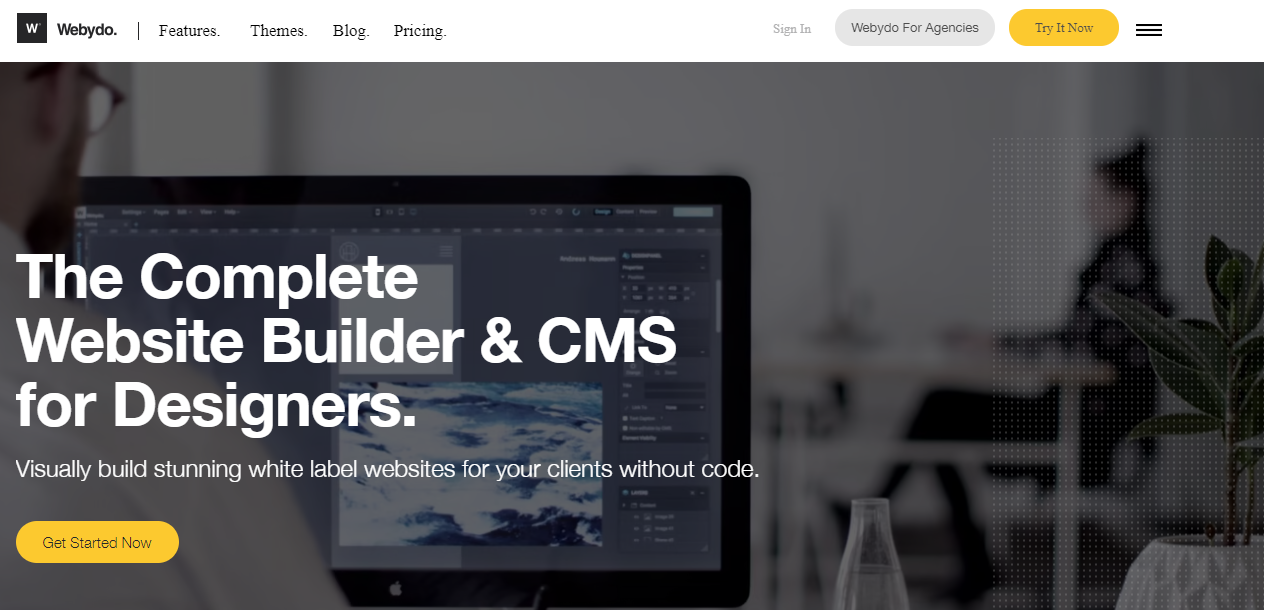 As a well-known website building tool, Webydo supports drag-and-drop visual editing in a very professional way. The goal here is to make sure as little coding skills are necessary and that's why Webydo branded itself "the complete website builder & CMS for designers". This service is therefore a strong option to create white-label websites for web design agencies.
Ease of use
The Webydo tool has two main parts: a dashboard section and a Design Studio section.
In the Design Studio section, you will be able to use the three website building modes: Design mode, Content mode, and Preview mode. Those modes let you do exactly what's on the tin. In Design mode, you'll be able to add new pages, edit existing ones, rearrange objects on the canvas, edit text styles, and more. In content mode, you'll be able to write, edit and upload content. The Preview mode has you look at your website as web visitors would before having your content go live.
Features and flexibility
The sexiest feature you will find in most web-building tools is the ability to simply drag and drop the elements that you want from a list to your page. Once you've found the element that you need, you can directly place it where you want it to appear on your page. This is the core of the WYSIWYG ("what you see is what you get") systems so that you can see your website as you would see it as an external viewer, all along the page building process.
With that in mind, Webydo proposes a few pre-made elements that let you set up blogs, eCommerce stores or anything in between without having to write a single line of code. However, those widgets and apps are regarded as not as versatile as the competition.
Designs and themes
With Webydo you can choose from a range of 20 pre-made templates (that you can further modify with its CSS editing options).
Pricing
Webydo offers plans that are a range higher than what most of the competition proposes, effectively targeting design professionals and agencies. It's important to note that a free plan is not offered.
The starting offer is the

Pro plan

at $75 per month, it gives access to one Designer Account, free hosting & CMS for 10 sites, email support, and client billing.

The Team plan

is available at $150 per month and gives access to three Designer Accounts, free hosting & CMS for 30 sites, full onboarding & setup, client billing, white-label CMS & branding, and the ability to add code to your site.

The Agency plan

is available at $400 per month and gives access to 10 Designer Accounts, free hosting & CMS for 100 sites, dedicated Account Manager, client billing, full white label & site code, the ability to add code to your site, a customer template generator and up to 100 site exports.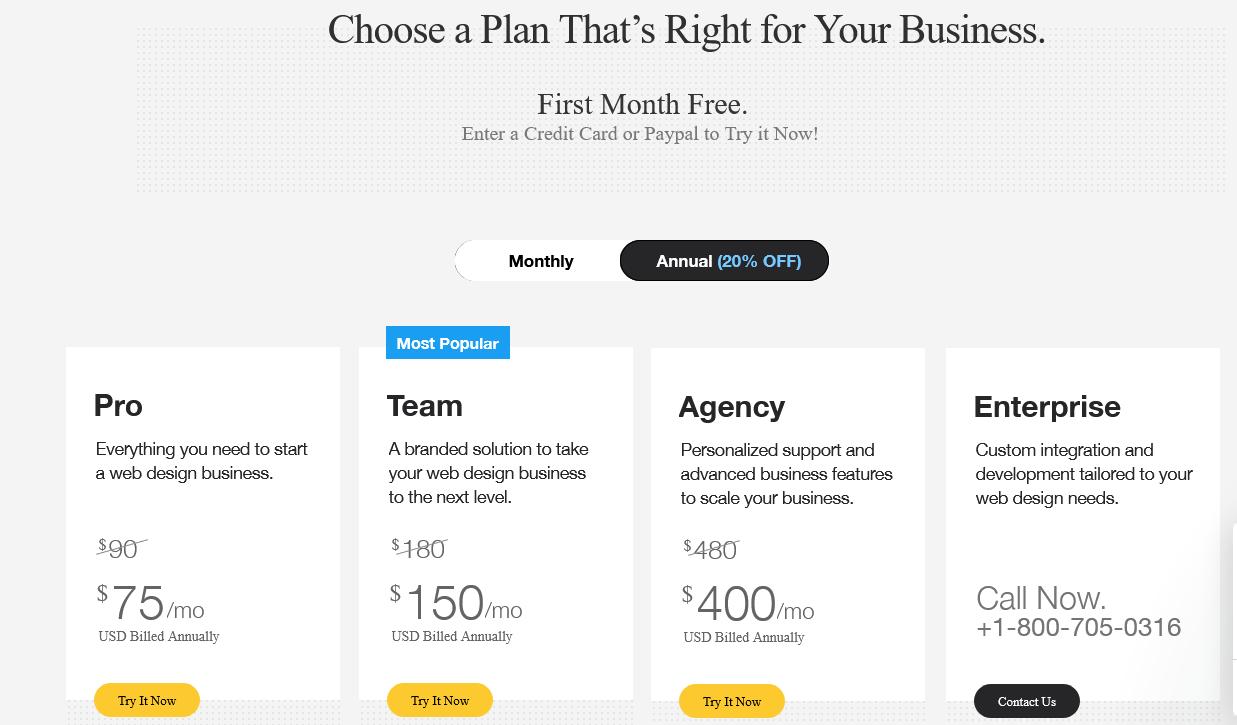 Customer support
Webydo's customer support can be reached through live chat or phone if you live in the U.S. The service has an extensive knowledge base comprising video and text tutorials that will help you figure out how to do things on your own as well.
Pros
A Revision History feature to go back to a previous version of your website

White label websites

Good for eCommerce stores, blogs and everything in between.

Ability to export code to another platform

Simple pricing structure
Cons
No free plan

Not the most versatile widgets and apps
Webflow Key Features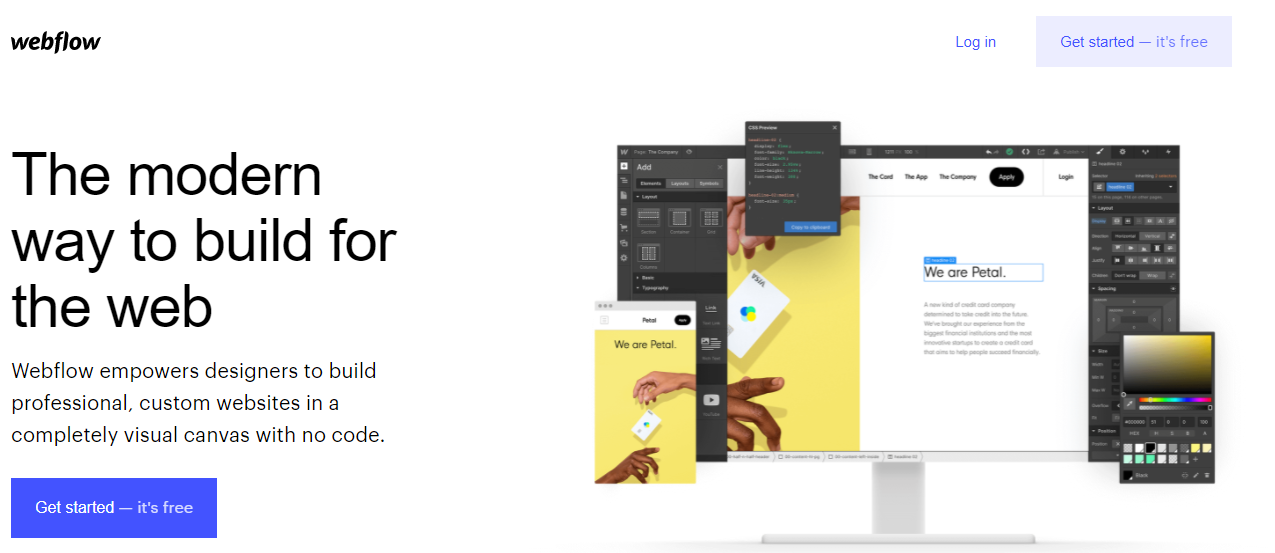 Webflow, a cloud-based CMS and website building tool, is aimed to help freelancers, agencies and experienced web designers do their job better, faster, and in a more streamlined way. Through this service, you can build and manage beautiful and interactive websites for your clients. Webflow is quite in-depth, but you will find the range of features and customizable options relevant if you can go through the initially steep learning curve of the tool.
Ease of use
The main appeal of Webflow is probably its straightforward drag-and-drop interface. This website builder is heavily geared towards professional web designers and agencies. While not the easiest tool to use, it is justified by the control it gives you over the design of your website.
With a lot of customizable features and pre-made templates, you'll be able to fill pages quickly with your own content.
Features and flexibility
Webflow provides the classic drag-and-drop system, as well as the possibility to customize your website even more by adding custom HTML/CSS code. Webflow also integrates with Zapier and you will find it very relevant as a combination of a CMS, eCommerce, and blogging platform. In other terms, Webflow is flexible enough.
This tool is geared towards professional web designers and it shows. You have the possibility to export the code you've generated to further transfer it to another platform, which may be relevant if you're building a website for someone else.
Among the available widgets, here are a few: div-block, captcha, section, container, background video, columns, list, button, abstract, title, link, social networks, complex text, form, entry field, checkbox, code integration, standard and pop-up windows, and more.
Designs and themes
You get access to over 200 different premade themes (that you can further customize as well). Not all of them are free though, just 30 of them. The paid themes can be purchased from $24 to $79.
Pricing
Webflow proposes a wide range of different plans depending on whether you need to give access to multiple users, integrate a CMS, integrate your website into an eCommerce business, etc.
Paid plans are subdivided into "Site" and "Account" plans, but each of these subscription types also falls into groups.
You can find details of all of the plans in detail on its website, but here is the big picture of how much you will pay with Webflow :
Free – To get started with Webflow

Basic – $12/month

Lite – $16/month (allows handling more projects at once)

CMS – $16/month (includes CMS tools)

Standard – $29/month (perfect for new businesses getting some sales)

Pro – $35 (includes more premium features for professional web designers)

Team – $35/person (Pro plan but allows shared access)

Business – $36/month (best for a high traffic website)

Plus – $74/month (great for higher volume businesses)

Advanced – $212/month (best for those intending to scale)

Enterprise – (includes all features, quotes on demand)
Webflow's pricing structure can be a bit confusing. In exchange, you will be able to pinpoint exactly the kind of service that works for you so you don't pay extra for things you don't need. Whether you're a freelance designer, a web design agency, or simply would like to create a high-performing site for your business with lots of integrations, CMS, and analytics, Webflow has a plan for you.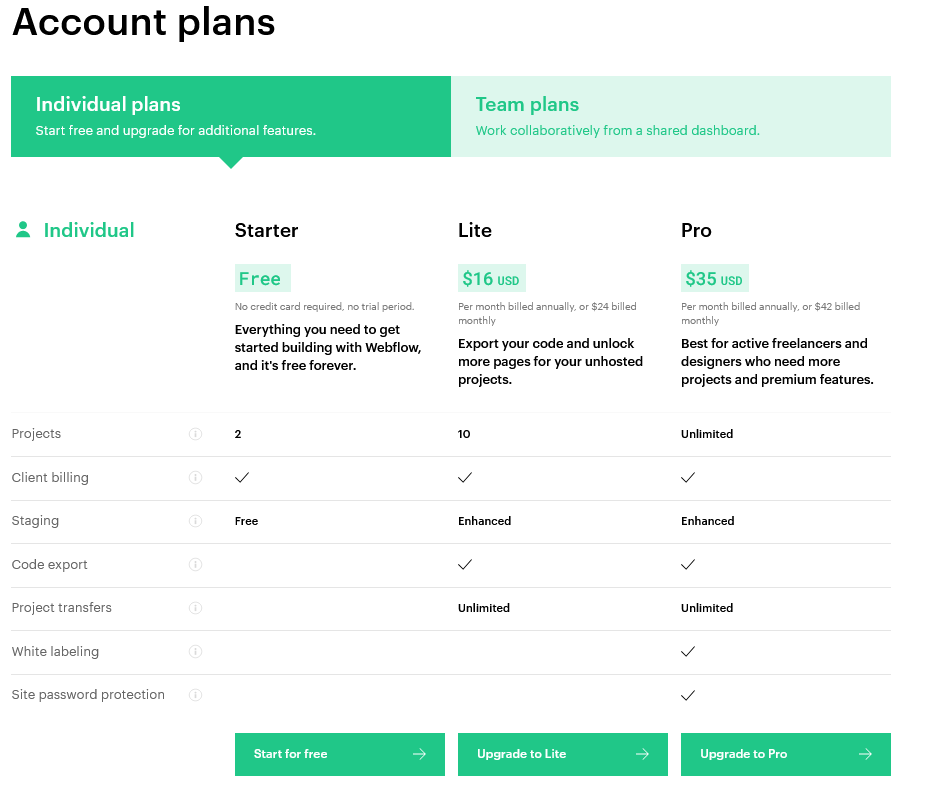 Customer support
Webflow provides quality customer support through online chat and email. They are available 24/7. They've got generally positive reviews online and there doesn't seem to be any major problem there.
What really makes the difference here is the Webflow University. You can find on their website a large number of videos, tutorials, and resources that will teach you how to effectively use the platform to its full potential. This is something that Webydo lacks and a nice touch that is really appreciated here.
Pros
White label websites

Ability to export code to another platform

Free plan and free trials

Huge range of widgets and tools for extreme customization

Many different paid plans for every needs
Cons
Quite complex for first-time users

Overkill for non-professionals who want to build their own website
Price Comparison: Webydo vs Webflow
Both services propose different things and their respective pricings vary wildly. That said, you will find Webflow to be overall more cost-efficient.
If you're not a web designer or a web design agency, you won't find much relevance in paying for the steep entry cost with Webydo at $75 per month. You'll most likely prefer one of the entry plans that Webflow offers, as they range from free to $36 per month.
Webflow also has more pricing options which allow you to specialize your use of the tool and therefore save more money.
Recommended Alternatives To Webydo vs Webflow
Wix
If you're not a professional web designer or agency, you will most likely prefer simpler alternatives than Webydo or Webflow. That's what Wix offers. There are fewer customization options with Wix, but a wide range of templates, buttons, themes, and widgets. These can integrate drag-and-drop style very easily in your websites.
WordPress
WordPress started out as a blogging platform and evolved into a full-blown website builder. Today, it powers over 40% of all websites. The main reason: its ease of use coupled with its depth, for those willing to invest enough effort and time. It is both easy to get into and hard to master, as you can browse through a huge library of various plugins and tools (some free, some paid) to really customize your WordPress website to your liking.
Squarespace
If you were looking for an option between simple tools like Wix and professional software like Webydo, you might want to consider Squarespace. Squarespace has four plans and a 14-day trial, and is often viewed as a good value for money alternative. It focuses on completely erasing the need to know anything about coding while still retaining high customization features (although it is still more limiting than Webydo).
FAQs
Question: Is Wix or Webflow better?
Answer: Wix works better for smaller or mid-sized projects. Webflow offers more customization and generally offers more complicated features, which is often required when running large eCommerce stores.
Question: Is Webflow good for beginners?
Answer: Because of its more complex nature and numerous customizable features, Webflow is not suitable for beginners. It is not the most intuitive web-building solution and therefore should be reserved to those who know what they are doing and what they are looking for when building a website.
Question: Do developers use Webydo?
Answer: Webydo is built for professional web designers. In fact, the starting subscription plan is actually called a Pro plan. You will find many customizable features and variables that are suited for those who have a precise design goal. Although the tool is more complex than other alternatives, Webydo has the power and control to create whatever design idea you have in mind.
Webydo vs Webflow: Bottom Line
Both services focus strongly on the specific needs of proficient web designers. You can expect both to create strong websites that will lead to a better online experience for customers.
But you're here to know which one is best, aren't you? It's Webflow.
Webflow does everything that Webydo does, only slightly better. You get more customization options, more premade themes and widgets, better customer service, and a better ability to pinpoint the exact subscription plan your business needs.
To summarize:
If you're a professional web designer, an agency or a very determined individual with basic coding knowledge, you will probably want to prefer Webflow, as it does the job slightly better than Webydo.
If you're after a more hands-off approach to website building, we recommend simpler alternatives like Wix.
If you enjoyed this review, please consider sharing with someone who you think would find it useful.