Last Updated on April 22, 2023 by Ewen Finser
It can be challenging for professional website designers to find a website builder that isn't aimed at individuals or smaller businesses that removes the need to understand code. After all, I'm the first to attest that coding isn't everyone's skill set (it certainly isn't mine!), and it could slow you down if you're a designer without that knowledge.
That's why today, I'm looking at a platform called Webydo. This is one such platform presenting a potential solution. I've been reviewing digital marketing software for years. However, until recently, I hadn't come across Webydo, so I'm intrigued to see what it offers.
So, without further ado, let's jump to it!
Bottom Line Up Front
I think it's safe to say that Webydo is aimed at designers looking for advanced features and the freedom to build websites without the hassle of code. I like that some of its more sophisticated functionality includes responsive breakpoints and a parallax scrolling animator to animate any website element.
However, I have to point out that its prices aren't low, and the learning curve looks a tad steep. On top of that, I'm not a fan that you have to go outside Webydo if you're looking for eCommerce functionality. Still, suppose you're looking for a powerful site builder that gives you plenty of room to create professional-looking websites. In that case, Webydo may be your go-to drag-and-drop tool.
Webydo: The Background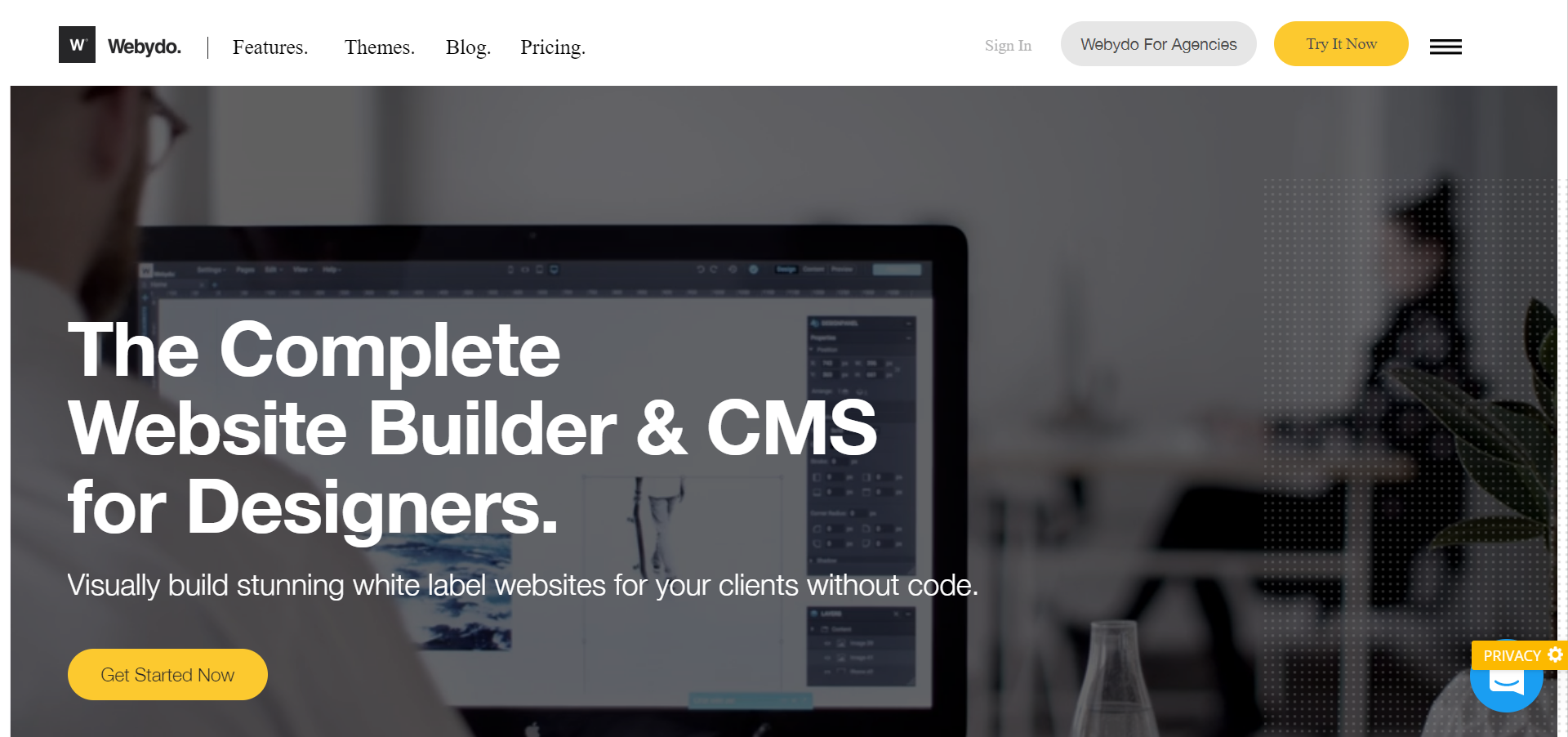 Founded in 2012, it aims to 'empower every designer with the right tools and best technology' to build robust and responsive websites. To date, 294,050 designers and agencies use this cloud-based SaaS platform to create, host, and manage responsive websites for their clients.
Best of all, Webydo is entirely code-free and comes with a custom CMS that enables designers to build sites for clients without needing to employ a developer.
The Webydo software converts your design into web code and hosts the published site. Any asset you use, like designs, images, and other media, can be imported onto Webydo's blank online canvas. Then, you can adapt them via a drag-and-drop interface to create your finished product. You can also add blogs, Google maps, and forms and make as many web pages as you want.
Now you have an overview of some Webydo background, let's dive into the features a bit more.
Features
Webydo's features are split into three categories:
Design

Manage

Publish
Below I'll take a look at each in turn:
Design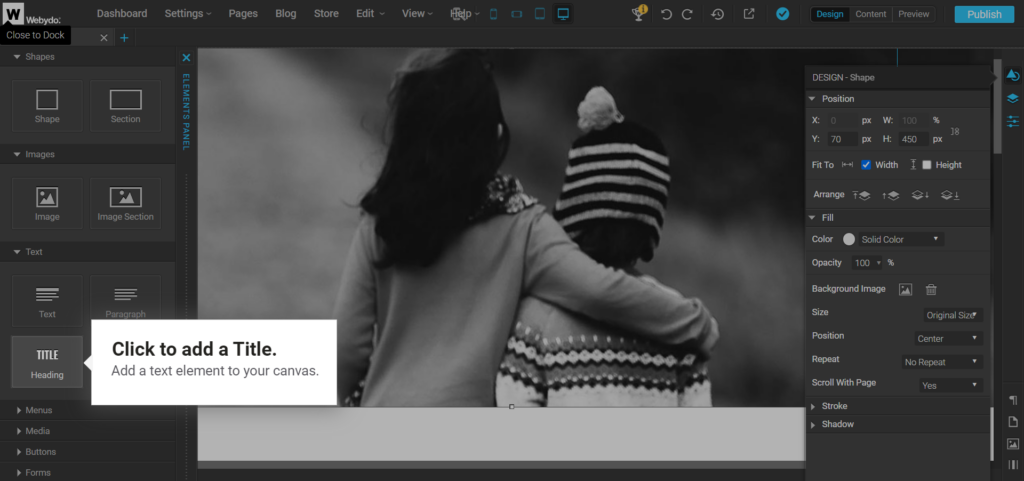 Design without code: Webydo automatically converts your design into HTML code and stores it in your CMS (Content Management System). You can create websites using Webdyo's blank canvas and design panel.
More specifically, you can change colors, font, and text sizes. You can also add images, forms, widgets, and text over images, such as headlines, sub-heads, etc. You also have access to modern responsive templates.
Responsive breakpoints: Create pixel-perfect responsive and custom-designed websites – all without code. You can manage all the versions of the sites you're working on from one dashboard by creating breakpoints for screens and devices to adapt your design to different devices.
Parallax scrolling animator: This feature allows you to animate any part of your website using unique motion paths, transitions, and speed – again, without having to write a single line of code.
Web fonts: Get access to hundreds of web-optimized open-source fonts that you can use to make your website design as attractive and contemporary as you like.
Smart guides and snapping: When an element approaches the edge of another element, it snaps to it, like it would to a magnet. This ensures everything on your website is positioned precisely, giving you total control over your design.
Video: Upload videos and adjust their size, positioning, give them a title, optimize SEO, set button colors, and more.
Articles: When you create a site for a client, they can add new articles directly from the CMS or update existing content. All newly created content will follow your design format.
Ecommerce: Integrate with Ecwid ecommerce for a mobile-friendly eCommerce payment solution. The widget boasts several valuable features, such as stock control and different payment types.
Advanced Features: There are three advanced design features: Layers window, control opacity and fill, and set corner radius. These allow you to layer elements such as images with text.
Manage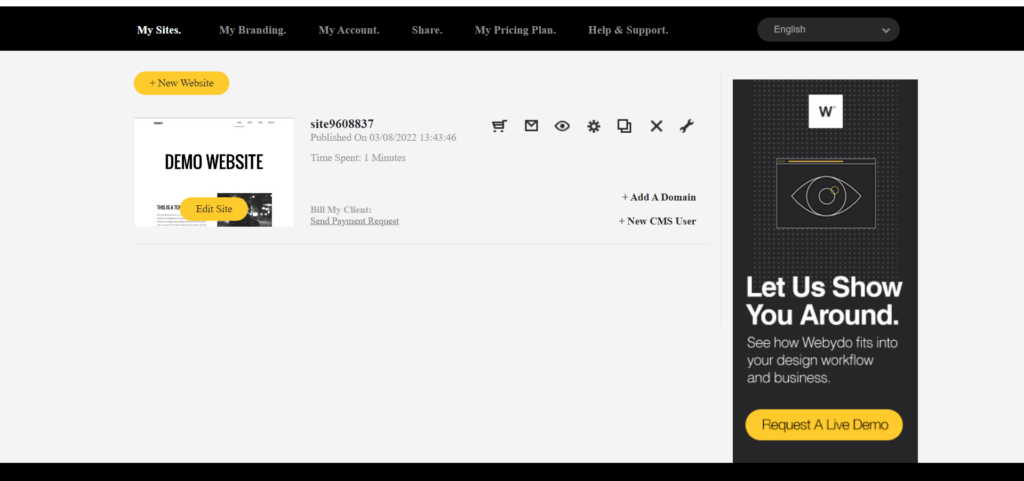 These features are designed to help you run websites on behalf of your clients:
Content Management System: You and your clients can alter, add, update, or delete any elements from the websites you've created. You can also 'lock' specific elements so that no one but you can alter them.
WYSIWYG: Thanks to the 'what you see is what you get' interface, any changes you make on the CMS canvas will look the same when you publish.
Dashboard: Here's where you oversee all the websites you design. You don't have to log in and out of different accounts or install third-party plugins. Instead, you can manage a limitless number of sites from one centralized dashboard.
Site permissions: You can set client and site settings and provide clients with a direct login page to access the CMS. With the correct settings, you can ensure they can make content changes without compromising your design.
White labeling: You can add your logo to your client's login screen, to your dashboard, and onto your client's CMS.
Client billing: Bill clients without having to use a third-party provider. Just bill via the Webydo dashboard.
Publish and Hosting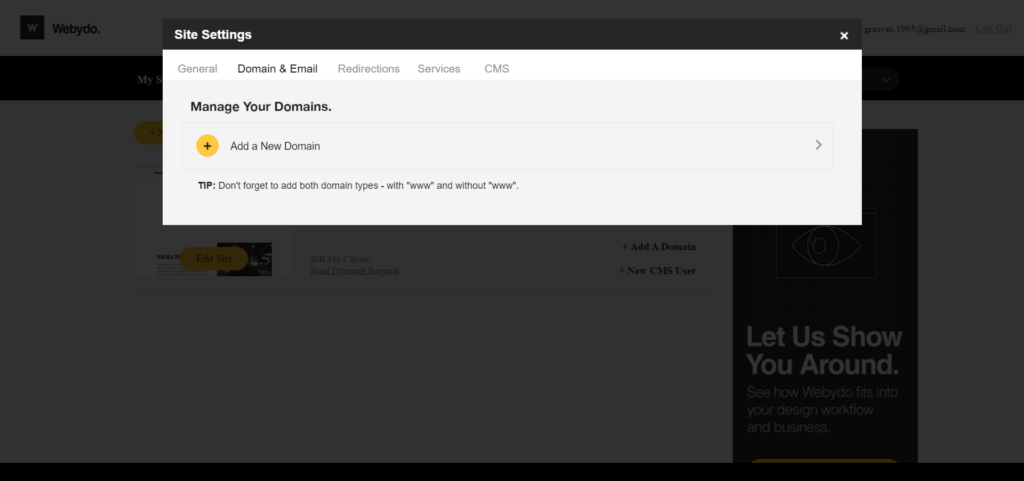 Custom domain: Once you're ready to go live on a domain, you and your client can head to Webydo's pricing page to decide which hosting and management tools you need. If you don't have a domain name, you can buy one from Webydo. Alternatively, you can transfer one you already have across to the website builder or redirect it, so users land on your new Webydo site.
Revision history: You can recover older versions of websites and revert to something you prefer without eliminating other site versions. You can also see who's made changes to the site and when.
Publish independently: When you're finished designing, you can publish your website on a Webydo subdomain. This is a temporary site you can use for testing and reviewing the finished product with your client.
Advanced hosting: Its team monitors Webydo's cloud hosting 24/7 to ensure your site stays live and secure even at the busiest times.
Security: Webydo's enterprise-level database security extends across the entire hosting platform to help prevent hacker disruption.
Fast servers: Thanks to its partnership with Google Cloud, Webydo users enjoy access to fast, stable, and reliable servers.
Auto backups: Webydo runs automatic backups, so you'll never lose your work.
Content delivery network: Again, thanks to its partnership with Google Cloud, any website you build using Webydo is delivered through a worldwide content delivery network, which works wonders for boosting your website load times.
Webydo Themes
Rather than designing a website from scratch, you can choose from an attractive (albeit limited) number of Webydo templates and color palettes. There are 12 themes in total. All are professionally designed, customizable, and typically come with a choice of layouts, interactive buttons, and mobile optimized layout.
Prices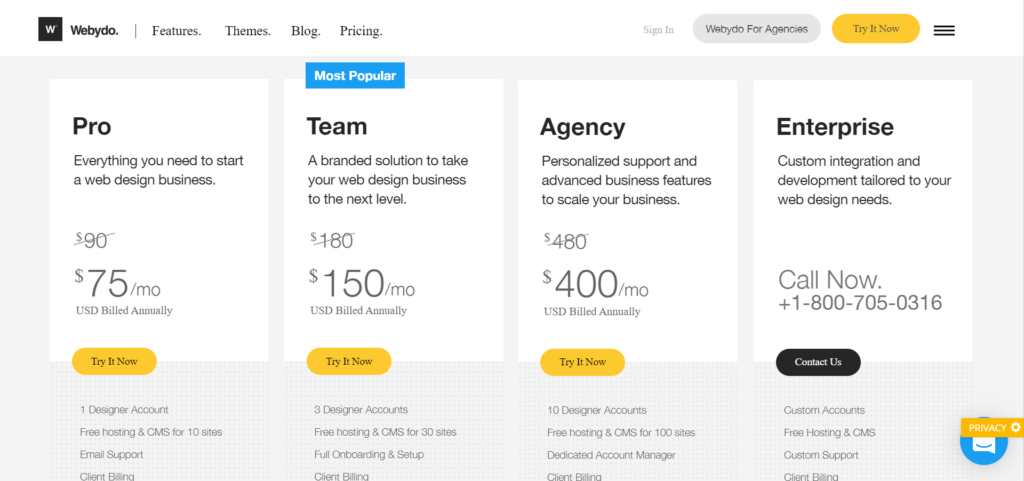 Webydo has four pricing plans. You can either pay monthly (more expensive) or annually, for which you receive a 20% discount. In addition, I like that each plan has a generous 30-day free trial.
The plans are as follows:
Pro:

From $75 a month, this plan provides everything a designer needs to run a small business

Team:

From $150 a month, this plan is aimed at designers with a growing business (incidentally, it's also Webydo's most popular program)

Agency:

From $400 a month, this plan is aimed at larger businesses who want access to personalized support and more advanced features

Enterprise:

This is a bespoke plan with no prices quoted. You'll have to contact Webydo for a custom price. This package is best for larger businesses needing custom integrations and site development.
Other than $US, you can also pay in LDC (Leadcoin) tokens.
All the plans offer the following design, management, and publish features:
Design
Access to the drag and drop builder to design your website, blog, and online store design

Parallax animations

Unlimited access to web and custom fonts

You can add custom code (HTML, CSS & JS)
Management
Access to the website content management system

Access to store inventory and order management features using Ecwid. You can offer a variety of payment methods, take control of your stock, create media-rich categories and add product descriptions.

Blog post management features – create posts, collections and news feeds. All new posts will follow the same design format as your previous post.

A branded interface and white labeling

A client billing system

Advanced SEO options – add keywords and meta descriptions to every page.

You can create password-protected pages.
Publish
Access to continuous automatic backups and unlimited revision history

Access to the Google Cloud hosting platform

24/7 infrastructure monitoring

W3C-validated site code (All of your site's code will follow formatting standards, ensuring search engines will not overlook it)

Branded sub-domains for testing purposes

Access to a global content delivery network
On top of the above, you also get the following in each plan:
Pro
One designer account

Free hosting and CMS for ten sites

Email support
Team
You get everything in the Pro plan and:
Three designer accounts

Free hosting and CMS for 30 sites

Complete onboarding and setup support

A white-labeled CMS

You can add code to your sites
Agency
You get everything in the Team and Pro plans, as well as:
Ten designer accounts

Free hosting and CMS for 100 sites

A dedicated account manager

Customer template generator

100 site exports​
Enterprise
Last but not least, with the Enterprise plan, you get everything in the above plans and:
Set user permissions and restrictions

Free hosting and CMS

Custom Support

A custom number of site exports​
Webydo Pros and Cons
All website builders have positives and negatives, and Webydo is no different. So below, I've outlined a quick pro-cons list:
Pros
You get a lot for your money; Webydo is feature rich

It's code-free, so there's no need to learn it or work with developers to create professional-looking results

The drag and drop editor is well designed

You can create pixel-perfect designs

You can use advanced design features like parallax animations, layers and opacity, and more.

You can add code to your site if you want to customize it further.
Cons
It's expensive and may prove a stumbling block for smaller operations.

It seems like a steep learning curve for anyone new to the design game

Some reviewers would like to see more templates/themes, as there are only 12 currently available
Webydo Alternatives
Suppose you're considering Webydo as a viable option. In that case, it's always wise to compare it against some popular alternatives. So below, I've listed three such alternatives and a brief summary of each:
WordPress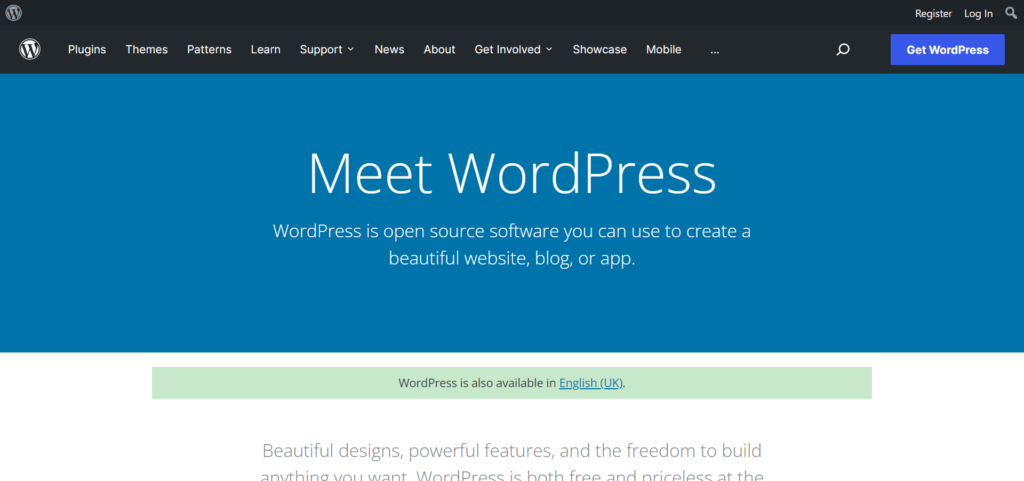 WordPress is a natural choice for web designers because it's 100% open source, giving you complete control over the functionality and design of your website. With a 43% market share of all websites, it's safe to say that WordPress is a popular option.
It's a good proposition for anyone who wants to build a website for free with lots of themes and plugins. I love that in this regard, WordPress literally has thousands to choose from! However, like Webydo, the learning curve can be steep.
The major downside is that if you want to benefit from everything WordPress offers, you need coding experience or will need to work with someone who does.
Webflow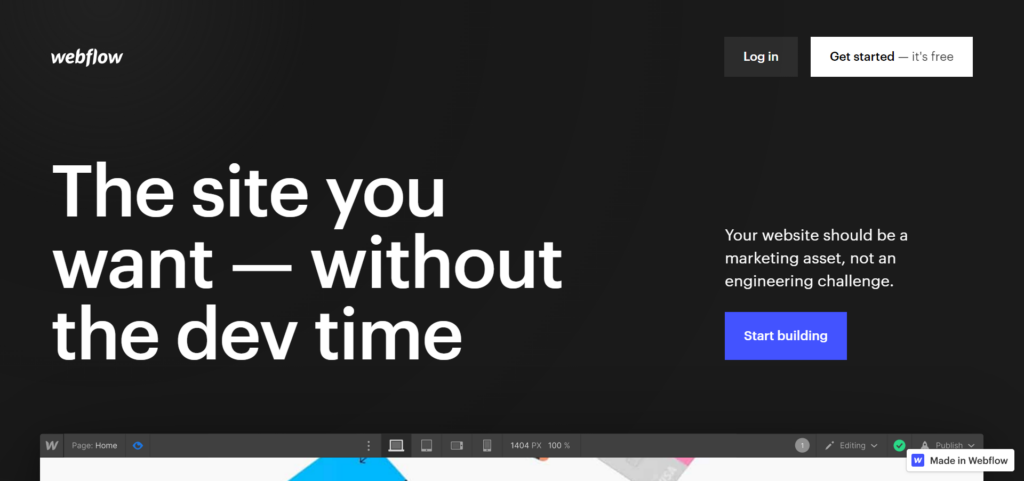 Webflow has many advanced web design features, including fully customizable templates. Like Webydo, it offers pixel-perfect design, enabling you to place elements wherever you want. In addition, you can set blend modes for design elements, adjust padding and margin, and add shadows or borders to any element.
The editor boasts a drag-and-drop interface and is very intuitive to use. However, to adjust the exact parameters of each element, users would benefit from some knowledge of web design terminology.
Webflow has a freemium plan if you want to try the editor at your leisure. Beyond this, it has flexible plans for personal website projects and agencies who wish to create websites on behalf of their clients.
Squarespace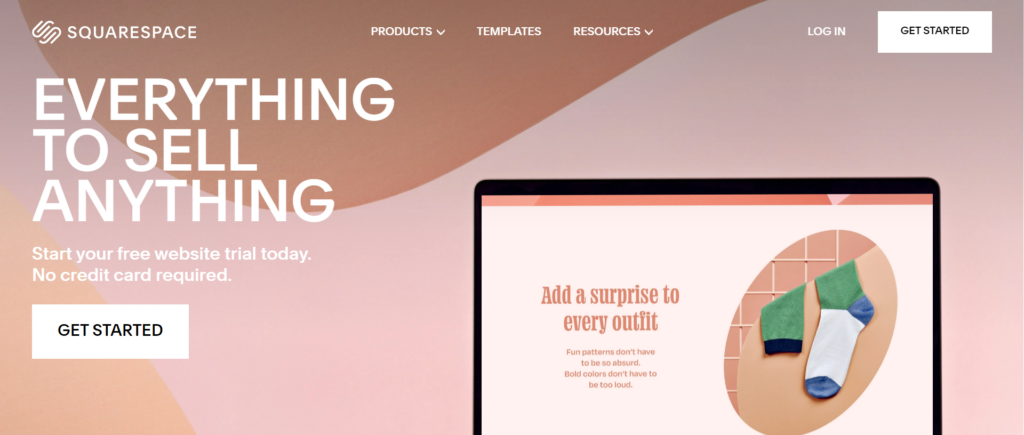 Suppose you're looking for a website builder with mobile responsive, great-looking contemporary templates. In that case, Squarespace may well be your go-to Webydo alternative.
There's no need to understand code; it has a simple-to-use interface and web building editor.
Four premium plans are available, catering to the needs of different creators. However, if you want access to advanced website analytics and fully integrated eCommerce, your best bet is the $40 per month Advanced Commerce plan.
FAQs
Question: Does Webydo Offer Support?
Answer: Yes, it does. There are video tutorials, an FAQ, a community forum, and an online knowledge base and help center. The video tutorials include films on getting started, creating a site without code, and a full training session on how to use Webydo.
The FAQs address (in logical order) all the questions you may have, such as can you add an online store? (yes), can you fully customize a Webydo site? (yes), and so on. In addition, the community forum is where you can connect with other designers, ask questions, start discussions, and so on. Whereas the knowledge base is where you can read various articles, including how to connect your domain, add Facebook "like" and "share" buttons, add anchor links and Google analytics, and much more.
You can also suggest features Webydo should add to its platform via the "Vote" button on the Support page, but at the time of writing, this wasn't working.
Lastly, you can reach the support team via a contact form on Webydo's website and grade the severity level of your query from low to urgent.
Question: What if I Subscribe and then Want to Cancel?
Answer: Webydo has a cancellation policy, where you can request a cancellation and/or a refund. Simply fill out a cancellation form, or email the billing department at [email protected].
Please note: If you want to cancel your subscription, you need to give 30 days' notice, but there are no refunds.
Question: Is Webydo Secure?
Answer: It's important you feel your information and that of your clients are safe and protected. Here's what we learned from its Privacy Policy: All personal data transmissions are encrypted, so personal information is protected.
Webydo also uses SSL (Secure Sockets Layer), the industry standard for encrypting information such as credit card numbers, addresses, names, and so on. Webydo also states it won't pass on any personal information to third parties, except affiliates/associates who work on behalf of or in connection with Webydo.
Webydo: My Final Thoughts
Hopefully, my review has provided you with enough information to decide whether Webydo is for you. All in all, I think It's a powerful tool for designers looking for a cloud-based code-free solution. Although it's expensive, I think you definitely get a lot for your money.
It likely won't be the go-to choice for tiny businesses and solopreneurs looking to kickstart their online presence. Still, for designers who already either have a client list or intend to grow their customer base, Webydo could be a professional option worth considering.
I think it's wise to take advantage of its 30-day free trial first and see for yourself whether this is the right platform while comparing it to several alternatives.
Do you think you might sign up with Webydo? Let me know in the comments box below!