Last Updated on April 22, 2023 by Ewen Finser
Business owners understand the importance of their online collateral standing above the crowd. After all, there's no point being online if no one can find or remember you, right? This is where SEO keyword research tools come into their own. There are tons of options on the market, all of which promise results, so how do you know which is best? I've been reviewing digital software for years, and keyword research is something I get asked about a lot. That's why today, I'm comparing two such platforms: Ahrefs vs Ubersuggest.
Spoiler alert: There's lots of info to get through, so let's get cracking!
Bottom Line Upfront
Both Ahrefs vs Ubersuggest are well-known keyword research tools. However, Ahrefs is arguably the more popular and powerful of the two. It's ideal for larger scale, more complex SEO needs; as a result, it's used by some big names, including Netflix and Facebook. But, unfortunately, it's also the more expensive option.
That said, I like that you can sign up for its free webmaster tools account to try out some of its more basic features to see if Ahrefs is the right fit.
In contrast, Ubersuggest is cheaper yet still powerful. Of the two, I think it's the better choice if you just need the fundamental SEO basics. For example, if you want something more than just Google Search Console and need to keep an eye on your bottom line. In this instance, Ubersuggest is undoubtedly worth exploring.
Ahrefs vs. Ubersuggest: Key Differences and Similarities
Before I dig into the meat and potatoes of this comparison review, let's look at what Ahrefs and Ubersuggest have in common and how they differ:
Ahrefs vs. Ubersuggest: Their Key Differences
Ahrefs is aimed at larger companies and in-house marketers, whereas Ubersuggest is aimed more at entrepreneurs, small agencies, and solopreneurs.

Ubersuggest has a helpful AI rewriter tool, whereas Ahrefs doesn't.

Ahrefs offers a free Webmaster tool account, whereas Ubersuggest offers a free trial.

Ahrefs offers a greater range of tools than Ubersuggest, but the prices it charges reflect that.

Ahrefs covers Amazon, YouTube, Bing, or Yahoo searches, whereas Ubersuggest doesn't.
Ahrefs vs. Ubersuggest: Their Key Similarities
Both offer keyword searches and SEO-related tools

Both offer price plans that scale to suit your needs, although Ubersuggest's Lifetime plan is more generous and less costly.

Both offer limited free tools, Ahrefs in the form of a webmaster tool account and Ubersuggests' limited keyword searches, free access, but first, you need a Google account.

Both offer customer support and training.

Both offer competitor analysis tools.
About Ahrefs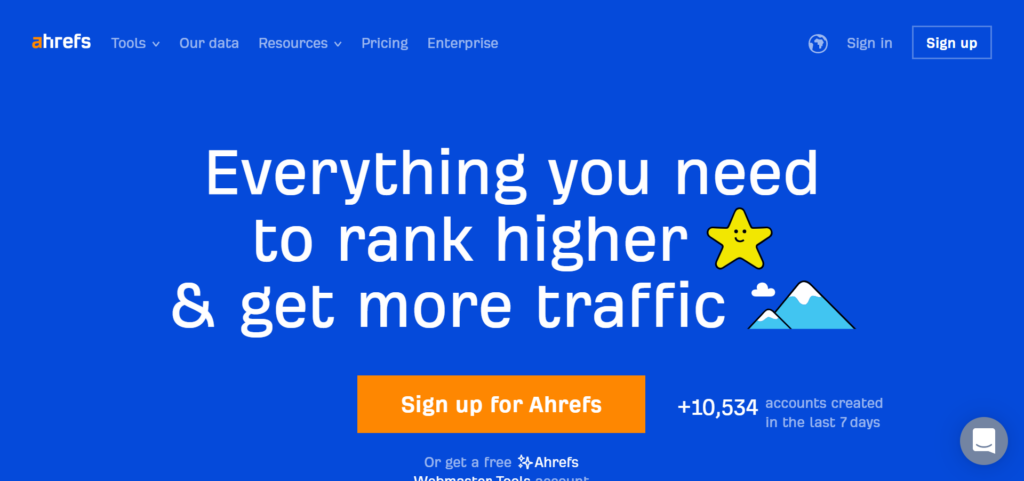 Ahrefs' genesis dates back to 2010, when its founder and CEO, Dmitry Gerasimenko, created its first backlink index. Based in Singapore, Ahrefs is a software company that develops SEO tools and free educational materials for marketing professionals.
Ahrefs is most famous for its all-in-one SEO software. Some big names use it. Aside from those mentioned above, eBay, LinkedIn, Shopify, Uber, and many others also use it.
Customers can use Ahrefs to:
Audit and optimize their website's SEO

Analyze competitor performance

Find keywords customers use to find products and information

Explore keywords to discover your industry's best-performing content

Track your website's ranking progress
Ahrefs is aimed at a range of customers, including content marketers, agencies, bloggers, ecommerce owners, and more.
Importantly, I like that it has a 4-5-star rating across many review sites, including Trustpilot, Capterra, G2, and TrustRadius. So, you know that you can trust Ahrefs to deliver the goods!
About Ubersuggest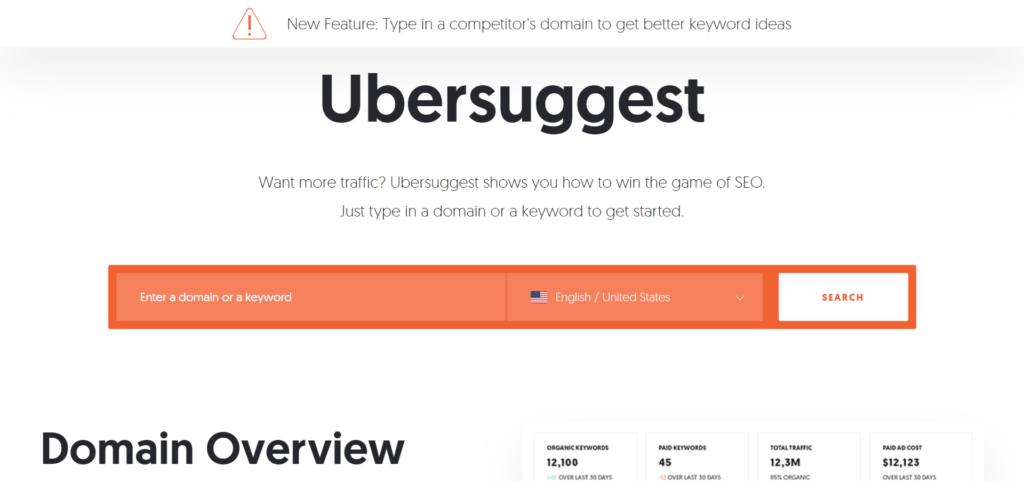 Ubersuggest is a partly free SEO keyword research tool that also offers additional tools that are paid for. It offers:
Competitor website traffic monitoring

Keyword ideas

Keyword tracking

Website auditing tools
…and more.
It hails from writer, entrepreneur, and founder of NP digital, Crazy Egg, and Hello Bar, Neil Patel, who bought the tool in 2017. Its core features are free, so it's ideal for smaller businesses or startups with no budget. However, it can be used by anyone, including smaller agencies managing multiple clients.
Aside from the tools listed above, it also offers a free AI writer (currently in BETA). That's as well as a keyword visualization tool that helps you find profitable SEO keywords, see which words perform the best, see how search volumes for particular terms have changed, and which are the best keywords to improve your search engine rankings.
Like Ahrefs, I like that on TrustPilot, TrustRadius, GetApp, and Capterra, Ubersuggest boasts lots of 4-5 star user reviews.
Ahrefs Features
Ahrefs software is split into six key features:
Dashboard

Site Explorer

Keyword Explorer

Site Audit

Rank Tracker

Content Explorer
Let's take a look at each in turn:
Dashboard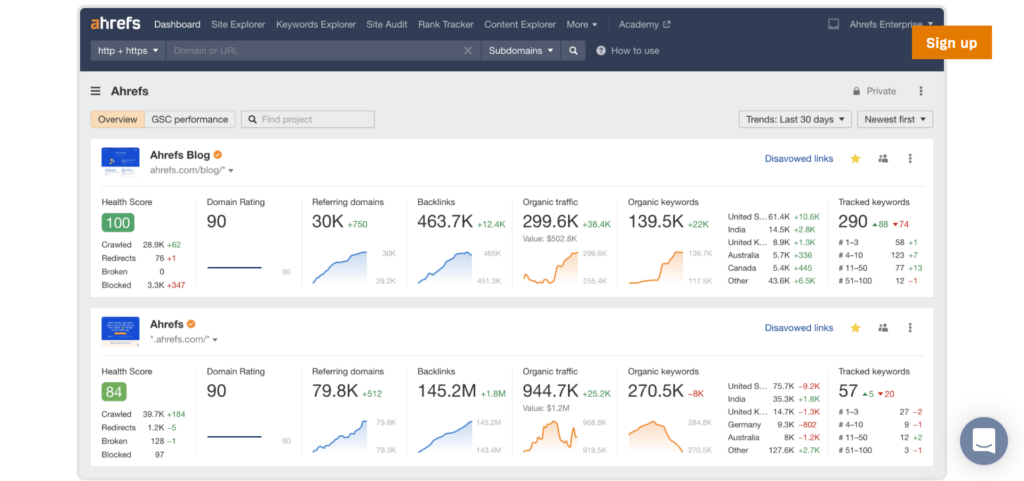 This is where you'll get an overview of all your SEO projects. You can monitor as many projects as you want via your dashboard and instantly identify essential changes to your SEO metrics. For instance, your domain rating, organic traffic, backlinks, tracked keywords, etc.
You can also connect your Google Search Console. Once you've done this, you can toggle between your Ahrefs and GSC data, which I think is pretty neat!
Not only because it's more convenient than continually logging in and out of different platforms but also because Google Search Console only shows you 26 months' worth of data; however, Ahrefs can store it for longer once you've connected your GSC account.
Site Explorer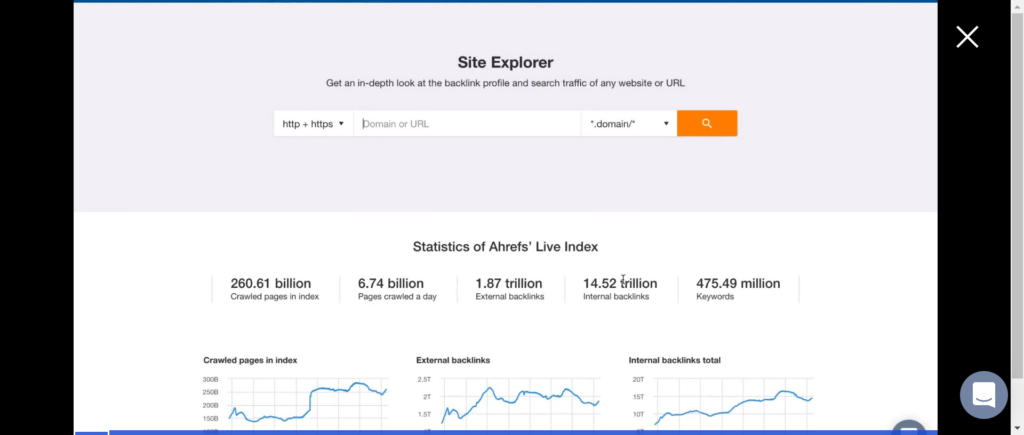 The Site Explorer provides an in-depth view of your organic search traffic and any website or URL's backlink profile. This feature has three powerful tools.
First, the backlink checker tells you which websites link to your competitors' sites and tests the quality of their backlink profiles.

Second, the paid traffic research tells you if your competitors are doing paid search ads and, if they are, where they're sending paid traffic.

Lastly, organic traffic research explains which keywords competitors are ranking for and which pages drive the most search engine traffic.
This is valuable information because, with this data, you can adapt your own strategies to get better rankings.
Keyword Explorer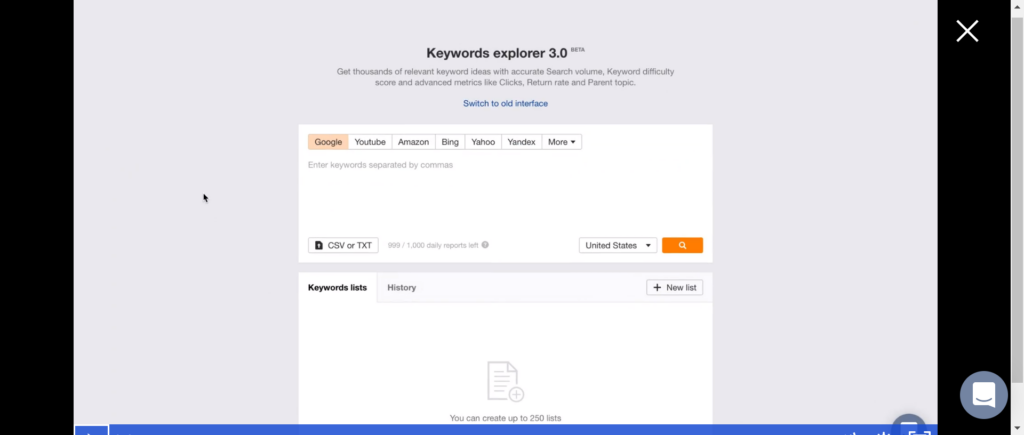 Ahrefs bills its Keyword Explorer as one of the most complete of its kind. You can enter up to 10,000 keywords in one go and view search volumes for all those keywords. It offers up to seven billion keyword suggestions, with fresh monthly search data for 171 countries. It uses not just Google but nine other search engines, including Amazon, Bing, YouTube, and more.
Other aspects of Keyword Explorer include using clickstream data to refine search volumes for keywords. Ahrefs also shows the estimated number of clicks keywords receive. I also like that you'll also get access to more advanced metrics like:
Return rate

Clicks per search

Percentage of clicks

Percentage of paid clicks
…and more.
Site Audit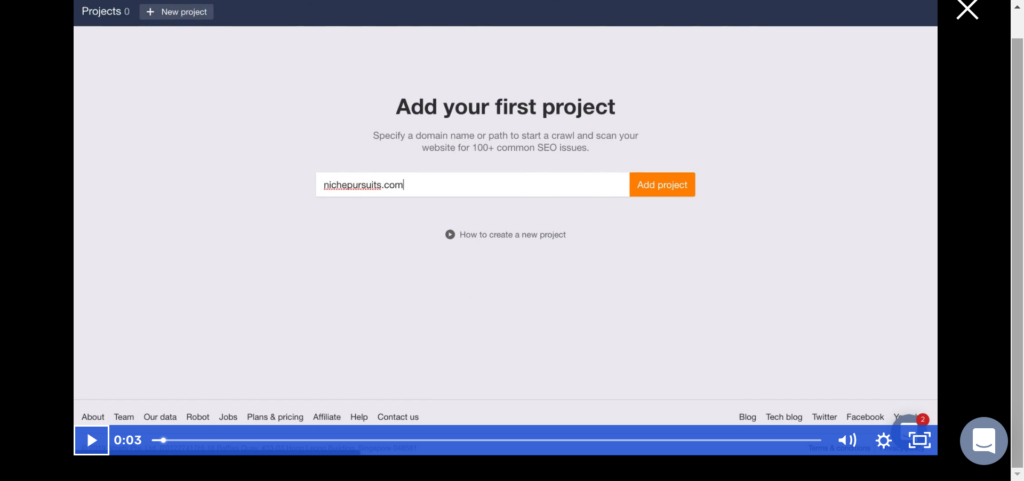 This feature automatically scans your website for its SEO performance. It crawls all your website pages to provide an overall SEO health check presented to you in easy-to-read charts. You'll see possible issues such as site performance, missing HTML tags, image and Javascript problems, duplicate pages, etc., and receive recommendations on how to repair those issues.
Rank Tracker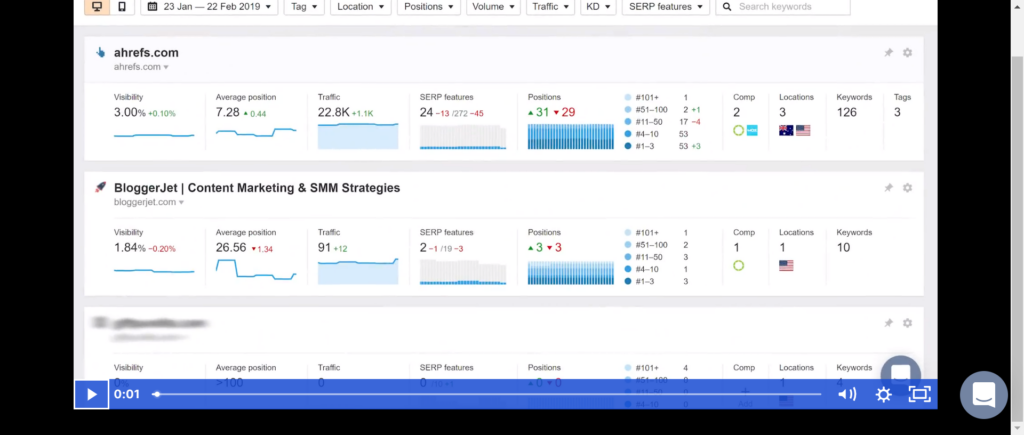 Monitor your site's Google ranking progress and receive reports on your site's performance in 170 countries. You can also see the percentage of clicks you get from organic search traffic, your average position in the rankings, and track your rankings over time.
Content Explorer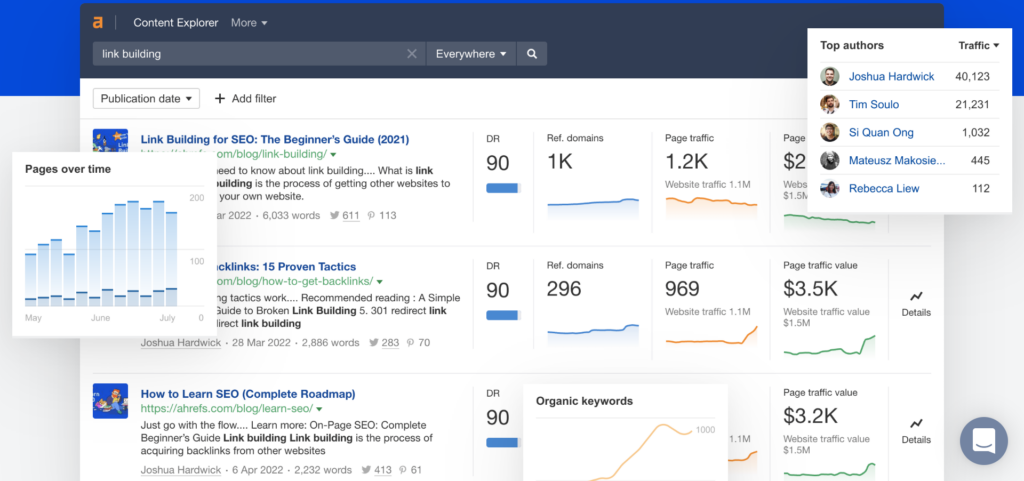 Using Content Explorer, you can find top-performing content in your niche. For example, see which articles are most popular, and view results by categories, including organic traffic, social shares, and domain ratings. In other words, you can see which pages are consistently popular, which are shared most, and why.
Ahrefs Pricing
Now that I've covered what Ahrefs offers let's see how much its features will set you back.
There are four price plans, and you can either pay monthly (more expensive) or annually and receive free two months' worth of access.
The prices below are based on annual billing:
Lite

: $99 a month, aimed at small businesses and hobby projects

Standard:

$199 a month, aimed at in-house marketers and SEO professionals

Advanced:

$399 a month, aimed at growing companies

Enterprise:

$999 a month, aimed at big agencies and enterprises
The Lite plan gives you access to Ahrefs':
SEO dashboard

Site Explorer

Keywords Explorer

Site Audit

Rank Tracker

Email alerts for keyword ranking changes and new and lost backlinks
The Standard plan gives you all the above and:
Six months of backlink and ranking data

A position history chart of all your pages ranking organically

SERPS update

Access to Content Explorer

Domain comparisons

Batch analysis (review SEO metrics for up to 200 URLs)
Plus, two new features are coming soon: report sharing and content master (to optimize your page content and compare its success with that of your competitors). So, keep an eye out for that!
The Advanced plan gives you all the above and:
Two years of backlink history and ranking data

A Site Structure

–

here, you get a breakdown of the parts of your website that contribute to its SEO performance for traffic and backlinks data.

Access to a Google Data Studio integration

Dashboard folders-

you can organize projects on your dashboard to make them easier to find and share
Upcoming features: Ahrefs Search – this will provide exclusive access to data from the Ahrefs search project. Ahrefs also plans to enable you to access the HTML source text of any page.
The Enterprise plan gives you all the above and:
Unlimited history

Access management – I.e., you can manage your team's access permissions.

Pay by invoice

Ahrefs users can see your agency in the directory and potentially use you for their project. Currently, there are 30 SEO agencies listed in the directory.
Upcoming features: SSO (single sign-on), access to API, and an audit log of user activity in your workspace
Ubersuggest
Features
Now I've covered Ahrefs' features and prices, let's turn our attention to Ubersuggest:
Domain Overview
This feature provides an insight into how your competitors are doing. In other words, you can check out how many organic keywords they're using, how many paid keywords they're using, how much they've spent on paid ads, and how much traffic they receive each month.
This information means you can adapt your marketing accordingly to stay ahead.
Top SEO Pages
If you've devoted hours to creating content that doesn't appear to get any traction (don't worry, we've all been there!), then this feature is worth a second glance.
You'll receive reports on which of your competitor's pages rank for popular organic searches and which receive likes and loves on social media sites. Then, with this information, you can start creating content that you know your audience will engage with!
Keyword Suggestions
Use this feature to get ideas for keywords you can optimize your content – from one word to longer phrases. This feature generates a list of keywords based on what people are typing into Google and what's working for your competitors. You can also use Keyword Suggestions to get a feel for the search volume these keywords receive.
Backlink Data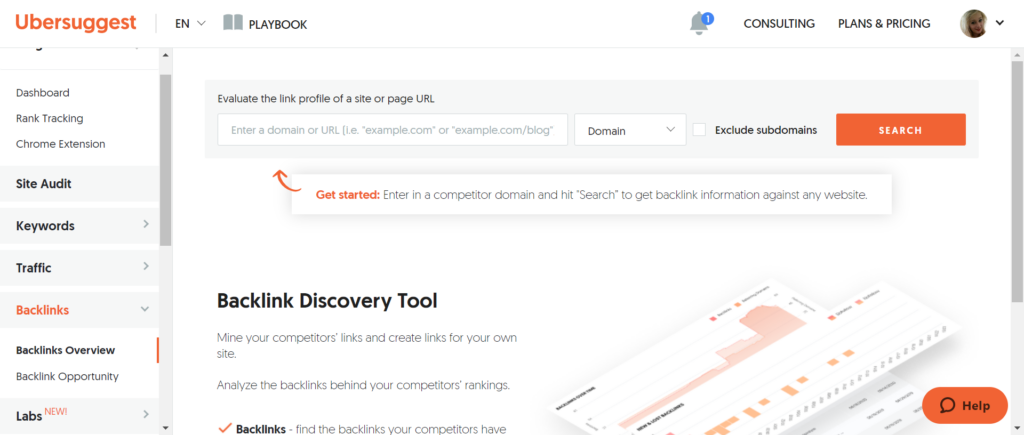 Using this feature, you can view which content people are linking to in your space (over the last three years).
The more backlinks a website has, the greater its authority. Then, when a high authority website links back to your site, it boosts your authority in turn. This is why doing some backlink research is helpful. Once you've identified high authority websites, you can approach them to see whether they would link back to your website.
Pro Tip: Be prepared to offer these websites some incentive to drop you a backlink. Perhaps a link on your website? Payment? A freebie? Etc.
AI Rewriting Tools
I love this feature – I think it's really neat! Just tell Ubersuggest which keyword you want to rank for, and its AI rewriting tool will create content with the biggest SEO impact. This includes page headings, sentences, and paragraphs, which you can edit to suit your brand.
Fear not; the content is plagiarism free; you can save it, share it, or copy-paste it into another document you're writing.
Ubersuggest Pricing
Now that I've covered Ubersuggest's core functionality let's see how much this keyword research tool costs. There are limited free features and a free 7-day trial, but after that, prices fall into three plans. You can pay either monthly (you save 70%) or opt for a one-time payment for a lifetime membership, with a saving of 90%.
The prices quoted below are based on monthly billing:
Individual:

This is the most popular plan and costs $29 a month; it's aimed at entrepreneurs and small businesses managing one website.

Business:

Aimed at entrepreneurs and small companies managing 2-5 websites, this plan costs $49 a month.

Enterprise:

This plan is for larger businesses and entrepreneurs managing 6-10 websites and comes in at $99 a month.
Before digging into the nitty gritty of what each pricing plan entails, we need to cover what Ubersuggest means by projects:
The Ubersuggest website refers to each individual piece of SEO work as a "project." With a project, you can:
Track and improve your rankings

Get daily status updates on how you are doing

Get alerts about critical issues on your website

Monitor your SEO health
The Individual plan gives you:
100 Chrome extension searches a day

You can track up to 100 keywords per domain across 20 locations.

Monitor and track up to three competitors' domains

1,000 page scans for SEO errors per domain

You can register one user.

SEO training and support, including a step-by-step SEO training course, templates and worksheets designed to help you implement Ubersuggest's SEO methods, biweekly coaching, a Q and A call from an Ubersuggest team member, and 24/7 email support

20,000 keyword suggestions per month

Export 2,000 backlinks in a report
The Business plan gives you all the above and:
400 Chrome extension searches a day

Manage up to seven domains

150 tracked keywords in your account

You can monitor and track up to five competitors' domains

5,000 page scans for SEO errors per domain

You can register two users

50,000 keyword suggestions per month

Export up to 5,000 backlinks in a report
The Enterprise plan gives you:
Lastly, you can add any of the following features for an additional $5 per month each:
Additional 500 daily Chrome extension searches to help you explore more competitors, keywords, and content ideas.

Additional domains so you can manage additional projects, including 125 keywords and three competitors for each additional project.

Additional 250 tracked keywords for the project of your choice.

Additional competitor domains to gain more competitor insights with additional competitor tracking to the project of your choice.

Additional users to add to your account.
FAQs
Question: Can you tell me more about Ahrefs' free Webmaster tools?
Answer: This tool is free for website owners. First, you have to verify you own your website by connecting your website with Google Search Console. After that, you can scan your website for 100+ common SEO issues that may impact your site's performance in search engines and get advice on how to fix them.
You can also browse your website's backlink data and see which keywords it ranks for, comparing them to your competitors. You'll also receive automated email alerts about your website's SEO health, new and lost backlinks, and keyword rankings.
Question: What do people say about Ubersuggest?
Answer: It has an overall 4.5 out of 5-star rating on Getapp and 4.2 out of 5-star reviews on G2. Users praise its value for money, customer support, ease of use, and features. However, negative comments include the server speed being slower than Ahrefs and that there's a learning curve to using it.
Question: Do both platforms offer self-help resources and customer support?
Answer: Yes. In Ahrefs' case, customers can access its online Help Center. Here they'll find tutorials and helpful articles on the practicalities of using the site, a blog, a beginner's guide to SEO, and free online video digital marketing courses.
You can also contact the support team via live chat and email.
Ubersuggest's support includes step-by-step training courses, templates and worksheets, Q and A calls, biweekly coaching, and 24/7 email support.
Question: Can I get a refund?
Answer: If Ahrefs subscribers pay monthly, you have 48 hours after the transaction to ask for a refund. Still, Ahrefs reserves the right to say no if you've used your account in this same period.
For Ubersuggest users, the site offers a 30-day no questions asked money-back guarantee.
Ahrefs or Ubersuggest: My Final Verdict
I hope you now have a solid sense of both platforms. So, which do you think you'll go with?
I think it's clear that these platforms boast some key similarities and differences. Suppose you're a small business owner with just one site or a few sites to manage. In that case, you may be better off with a more affordable option such as Ubersuggest. I like that Ubersuggest's Lifetime plans offer good value, so if you're a regular user of the platform, you'll get value for money.
However, if you think you'll need more, Ahrefs may be worth the investment once you start growing your business. You could start with Ahrefs' Lite plan and see how it suits you.
That's all, folks! So, which will you go for? Or are you opting for another platform? Let us know in the comments below.