Last Updated on April 22, 2023 by Ewen Finser
Did you know that there are 67,000 Google searches every second? If your business isn't utilizing Google to increase website traffic and attract customers, you're missing a major opportunity. But how do you improve your SEO results? There are many tactics that will increase your visibility, such as backlinking and keyword optimization.
In order to truly reap the benefits, you'll want to use an SEO tool to ensure your efforts are working. Especially if you're doing SEO DIY.
Two of the leading SEO platforms are SEMrush and Ubersuggest. But which one should you choose? Here, we compare both platforms and offer an unbiased suggestion.
Main Differences Between Ubersuggest vs SEMrush
The main differences between Ubersuggest vs SEMrush are:
Ubersuggest is a budget-friendly, whereas SEMrush is a bit more expensive option.
Ubersuggest offers more features, whereas SEMrush is more in-dept.
Ubersuggest is mainly an SEO tool, whereas SEMrush offers more marketing features.
Ubersuggest doesn't support integrations, whereas SEMrush does
Things to Keep in Mind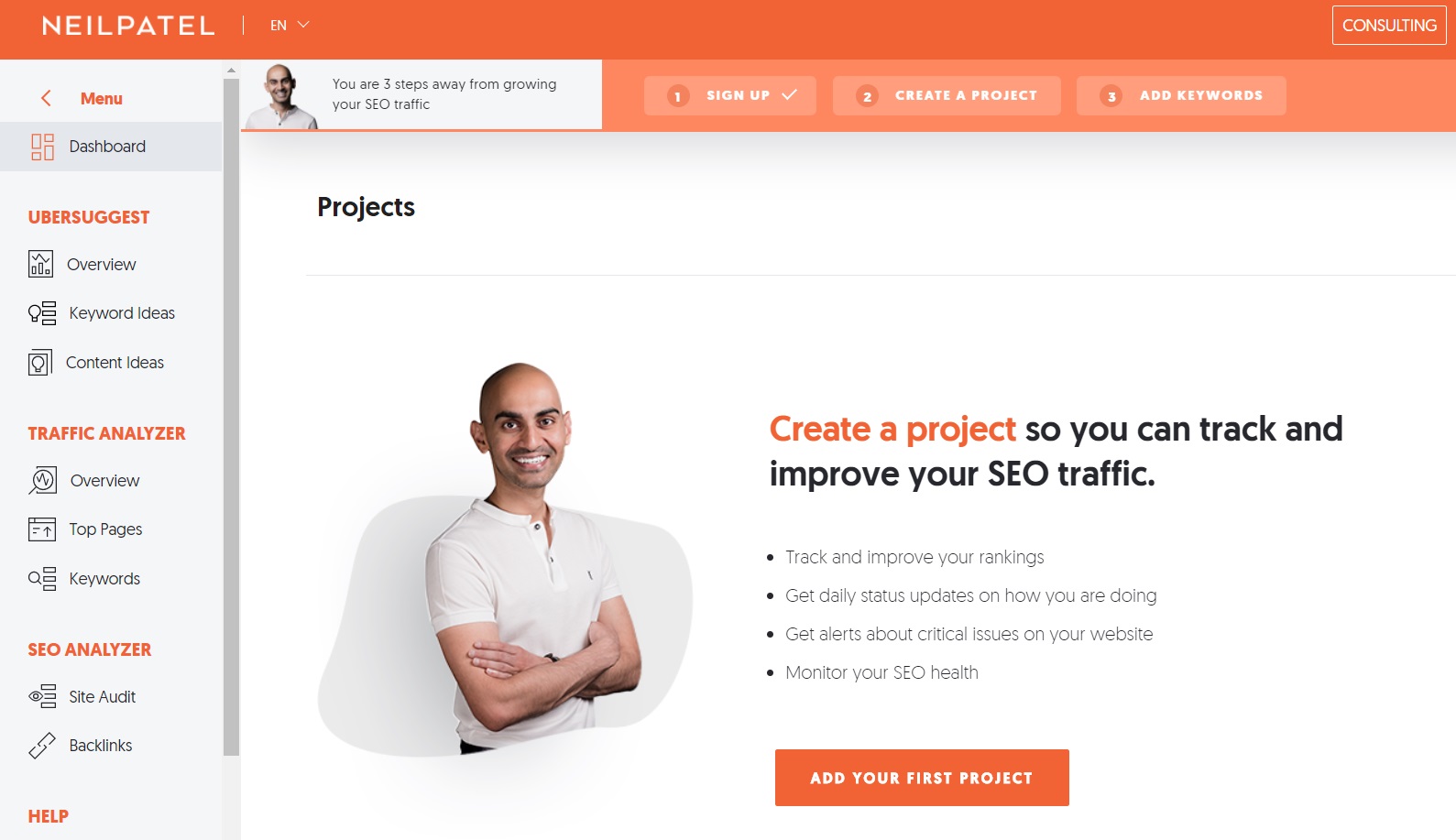 Here's some helpful information to know about Ubersuggest and SEMrush:
SEO juggernaut Neil Patel acquired Ubersuggest, giving the website new features and a complete facelift
SEMrush is an all-in-one marketing tool and offers more capabilities than just SEO
Both platforms don't offer all the SEO solutions. For example, neither can fix website bugs that could destroy your SEO results.
These aren't the only two SEO tools on the market. For example, Ahrefs, Moz, and HubSpot are also popular options.
Using the Tools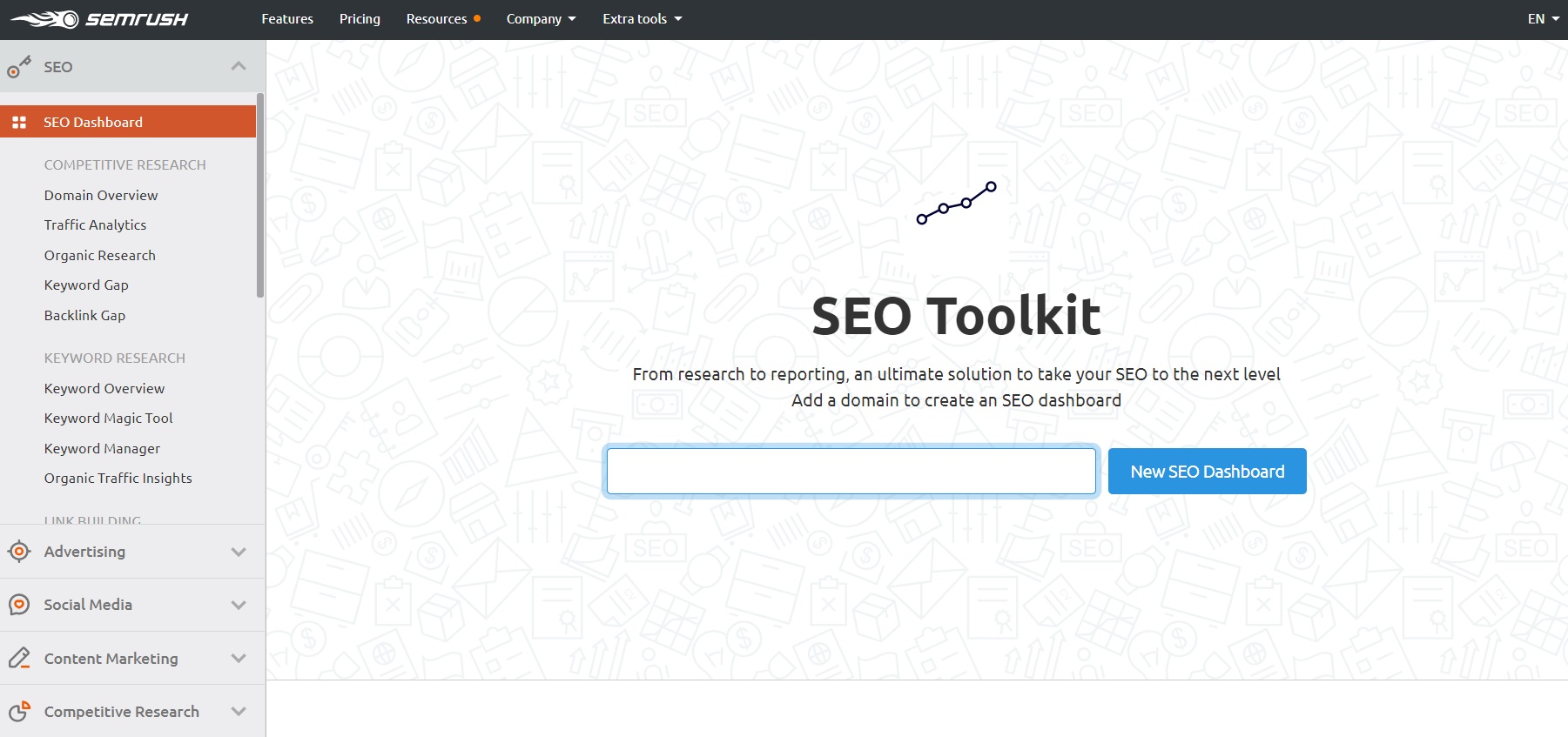 Both Ubersuggest and SEMrush have a similar interface. You create a project (all you have to do is enter your website URL) and both platforms offer an overview of your traffic, keywords, and backlinks. SEMrush also lets you choose an interest. I selected SEO. You can also opt to not select anything. Either way, SEMrush provides all tools for users.
After you enter your URL, both tools provide an overview of your website.


We will discuss this in the FAQs, but the accuracy of these tools is questionable. While Ubersuggest's algorithms are closely aligned with Google's, SEMrush uses their own machine learning technology. We're not sure which is the most accurate, but SEMrush has been criticized for this reason. I used my personal website for this example. As you can see, Ubersuggest and SEMrush have different metrics.
Either way, both platforms have similar interfaces. The tool you're using appears in the center with the navigation bar to the left.
Features
Both Ubersuggest and SEMrush are feature-rich and their tools can monitor and improve your SEO results.
Let's start with Ubersuggest. You can separate their features into these categories:
Keywords and keyword ideas
Traffic analyzer
Content and content ideas
SEO analyzer
The traffic analyzer includes tools such as the keywords you rank for as well as your top pages. The SEO analyzer takes a look at any backlinks you received and also audits your website.
SEMrush is one of the dominating SEO platforms because of its wide range of features. SEMrush offers these capabilities:
Keyword research
Backlink analysis
Domain comparisons
Traffic analysis
SEO writing assistant
On-page SEO checker
Site audits
Ubersuggest offers the core features that SEMrush also has, but SEMrush offers way more.
Does that mean Ubersuggest lags behind? Their features are powerful and effective. They also offer the integral features that all websites need to track, such as keywords and website traffic. SEMrush offers more but may be too technical for most websites.
This one is a tie. SEMrush offers more features but their platform is also complex. Ubersuggest offers the basic features that all websites need to rank. This ultimately depends on the size of your business and what you need.
Comparisons by Features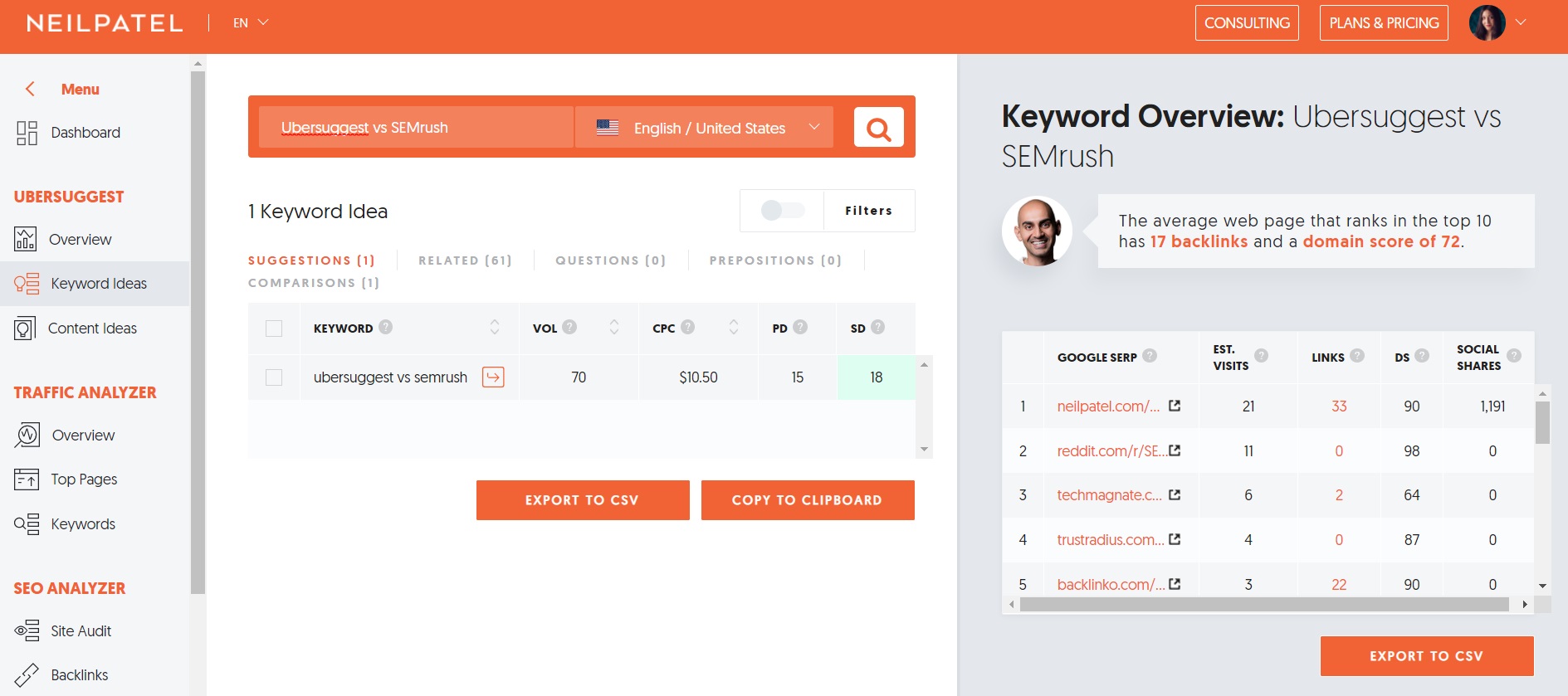 All SEO professionals know it's not about what features they offer but the quality of these tools. Here's an in-depth look at the tools that Ubersuggest and SEMrush offers.
Keyword Research
Keyword optimization is the cornerstone of every successful SEO strategy. In order to rank in Google searches, brands will have to conduct thorough keyword research. So, does Ubersuggest or SEMrush offer the best keyword research tools?
Ubersuggest offers essential keyword data, such as traffic volume and cost-per-click (CPC). This tool also suggests similar keywords to use. Not only that, but you can see the SERP for each keyword. This shows you the websites that rank for that keyword.

SEMrush's Keyword Magic tool is one of the most renowned in the industry. Like Ubersuggest, Keyword Magic shows you traffic volume and SERP results. You'll also see keyword difficulty and competitive density, knowing if you have any competition with that keyword.
Keyword Magic also offers more features. This includes filters and auto-grouping. Both tools let you search for ranking keywords in different countries as well as different languages.
SEMrush wins this round. Keyword Magic has more necessary features that will help brands choose the best keywords.
Backlinks
While more brands are focusing more on creating quality content rather than trying to get backlinks, tracking your backlinks is crucial to SEO success. You also don't want harmful websites linking to your content, hurting your SEO results.
Ubersuggest's backlink analysis shows any new and lost backlinks you received, as well as letting you view your historical backlink data. You'll also see do-follow and no-follow data (no-follow links don't pass Google's PageRank).
SEMrush's Backlink Analysis also tracks your backlinks and conducts a deep link analysis. You'll see more information, such as the type of backlink and the backlink's authority score.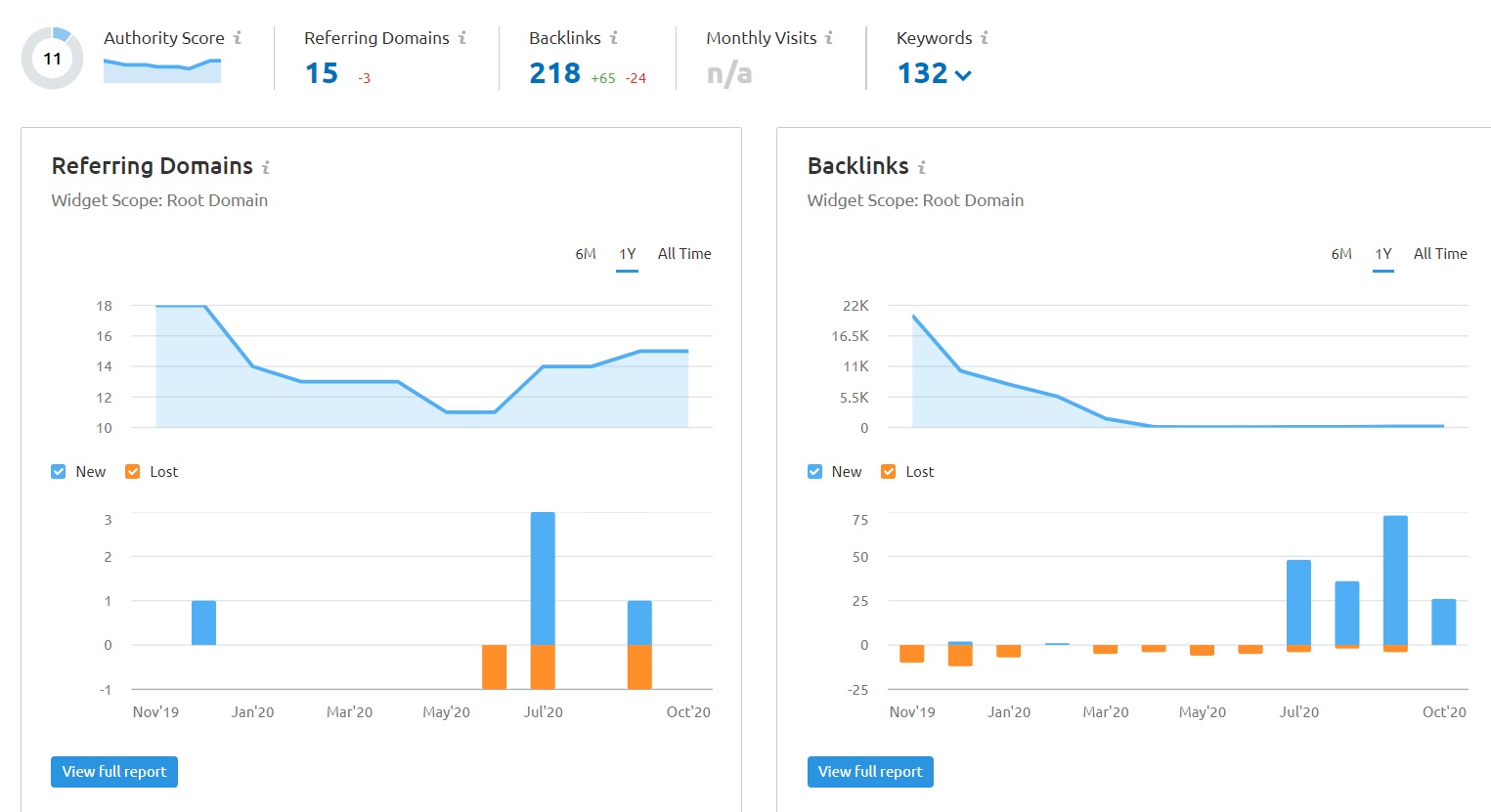 You can also use the Backlink Gap tool, which takes a look at your competitor's backlinks, identifying new backlinking opportunities.
SEMrush's backlink tool is a more advanced tool than Ubersuggest's. But as with all other features on this list, the one you choose ultimately depends on what you need.
Competitor Analysis
You can look into your competitor's SEO results with both types of software.
All you have to do is plug your competitor's URL into the tool. You can view their monthly traffic, keywords, number of backlinks, and domain score. You can also gain insight into their individual pages. All of this data will help you improve your SEO efforts and you can keep up with the competition.
SEMrush's competitor analysis tool goes a step further. You not only see your competitor's traffic but where that traffic is coming from, either from direct, search traffic, referrals, paid, or social. You can also view their audience type and can analyze their regional presence.
The competitor tool has a section called "organic research." You can see the websites you're directly competing against, their SEO strategies, and their keyword strategies. You can also view their content topics, improving your content research.
SEMrush also lets you view market trends and how you stand next to the competition. You can also use this research to identify other competitors.
This competitor tool also identifies competitor success across various other platforms, such as advertising, PR, e-commerce listings, and social media marketing.
While not all websites will need SEMrush's robust platform, this tool is useful for all businesses. SEMrush offers a complete view of their competitor's success while Ubersuggest only gives you a limited view of your competition.
Site Audit
Both platforms offer a powerful site audit tool that crawls your website to identify any good and bad technical factors that affect your search engine ranking.
Ubersuggest rates your site audit by a score. These scores are separated into different categories: your website health check, on-page SEO score, and more. They will also identify any errors, warnings, and recommendations.
All you have to do is enter your URL and the tool will crawl your website. It's very simple and the interface is easy to read.
SEMrush offers similar results but offers a more detailed chart. The information in the chart includes:
Crawlability
Loading speed
Meta tags
Content issues
Internal linking
HTTPS security
AMP implementation
JS and CSS errors
SEMrush also lets you automate your reports. You can use multiple site audit widgets and can schedule your audits. SEMrush will send your report via email.
Like Ubersuggest, SEMrush also shows the top issues that need to be fixed. If the website errors include individual pages, you can integrate your Google Analytics account to prioritize your high-traffic pages.
SEMrush can crawl just about any website, including websites with robots.txt as well as crawl password-protected websites.
This one is a tie and the tool you use depends on your needs. SEMrush is advanced, offering websites more features that can ensure your website performs well. But not all websites need in-depth reports and automated features. For simple blogs and small business websites, Ubersuggest's site audit tool is also powerful and comprehensive, while offering a simple interface.
SEO Writing Assistant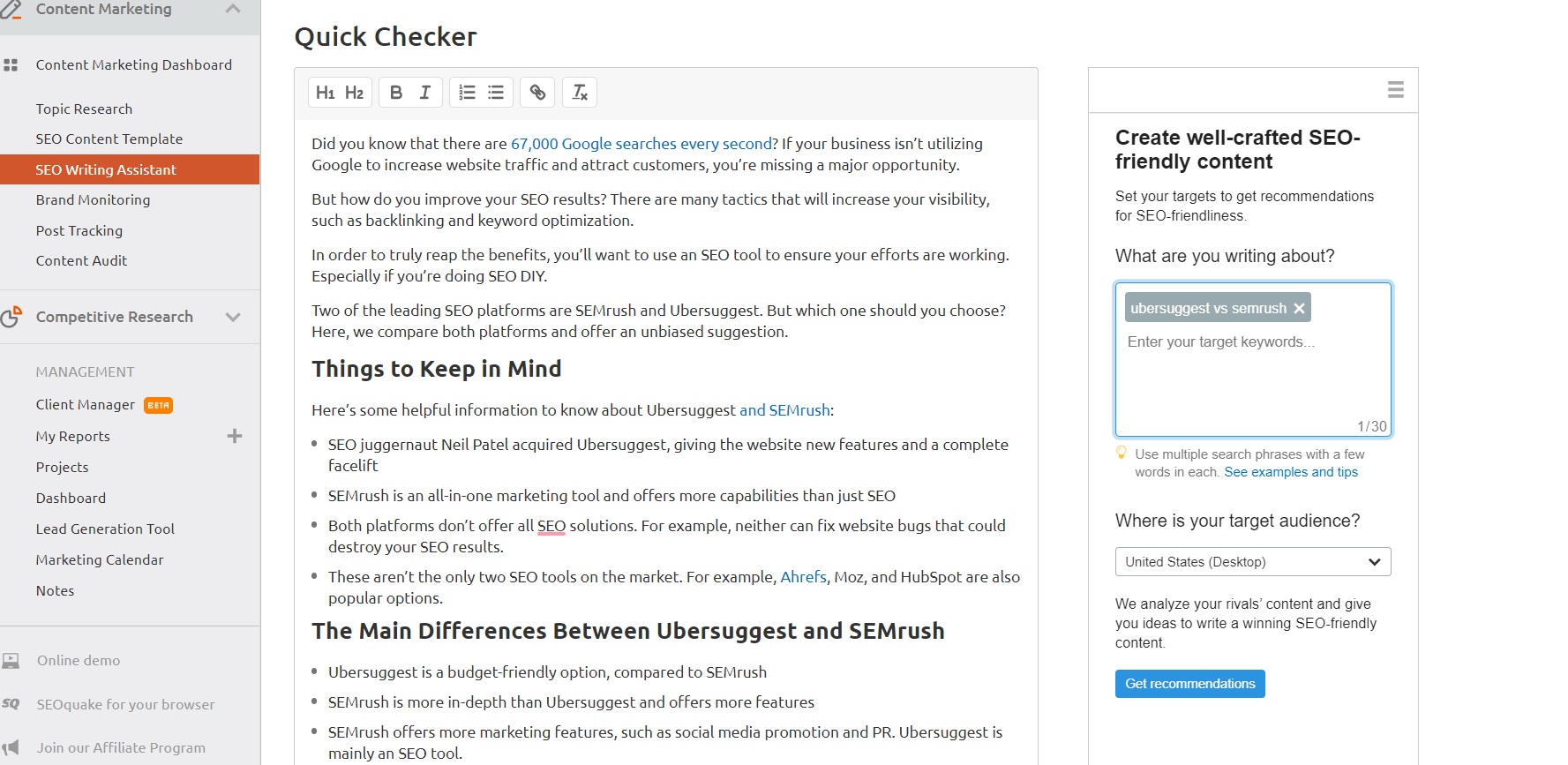 This is a SEMrush tool I was familiar with before trying their free trial. I don't think Ubersuggest has a comparable tool, so I'll focus on SEMrush here. I pasted this article into the Writing Assistant.
After entering your keyword and title, click "Get recommendations" to the right. I was given plenty of recommendations to improve my content as well as additional keyword suggestions, ensuring I write content for a web-based audience that's also SEO-friendly.
Pricing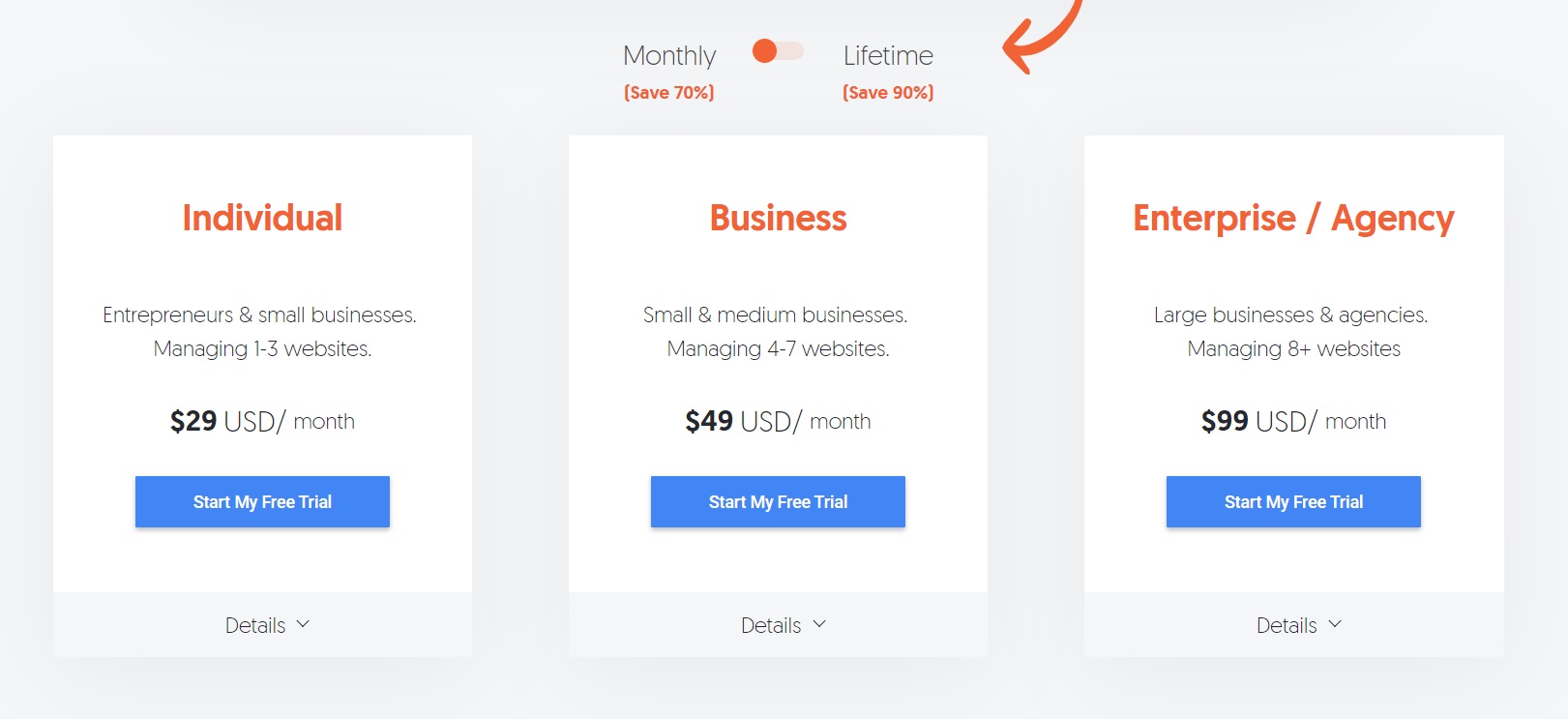 Ubersuggest is one of the most affordable and powerful SEO tools on the market. Ubersuggest offers three plans:
Individual: $29/month
Business: $49/month
Enterprise: $99/month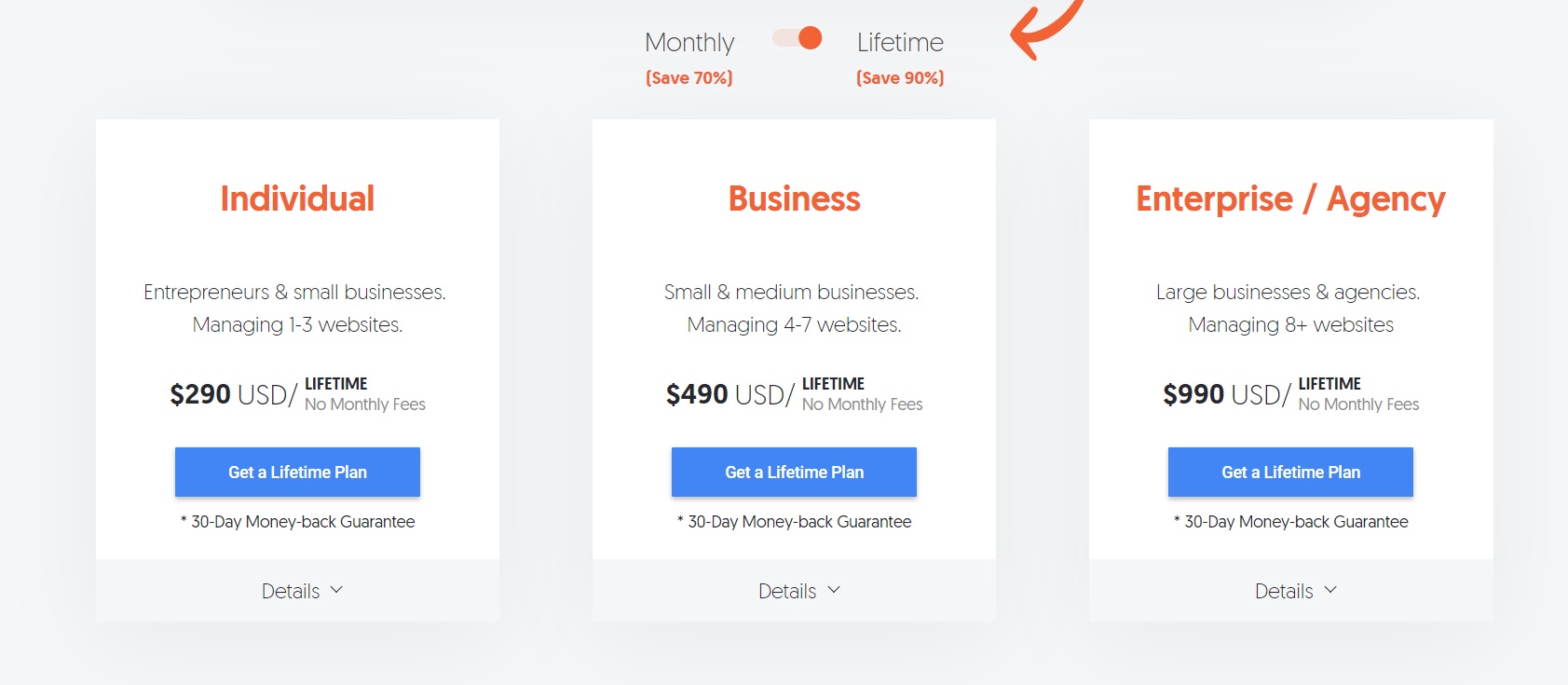 Users can also opt to purchase a lifetime plan. You're not charged a monthly fee and you still receive all of the new features.
Here are the lifetime prices:
Individual: $290
Business: $490
Enterprise: $990
Which plan is right for you? The individual plan is ideal for those managing 1 – 3 websites. It's an ideal solution for solopreneurs, freelancers, and small businesses.
The Business plan is ideal for small and medium-sized businesses managing 4 – 7 websites. The Enterprise plan is ideal for large businesses and agencies managing over eight websites.
Do you only have a small website for your hobby? You can also use Ubersuggest for free and access many of their powerful features! This is the option that I used for my research.
How does SEMrush compare? SEMrush is significantly more expensive and they don't offer a lifetime plan (though they offer annually billing which comes with savings).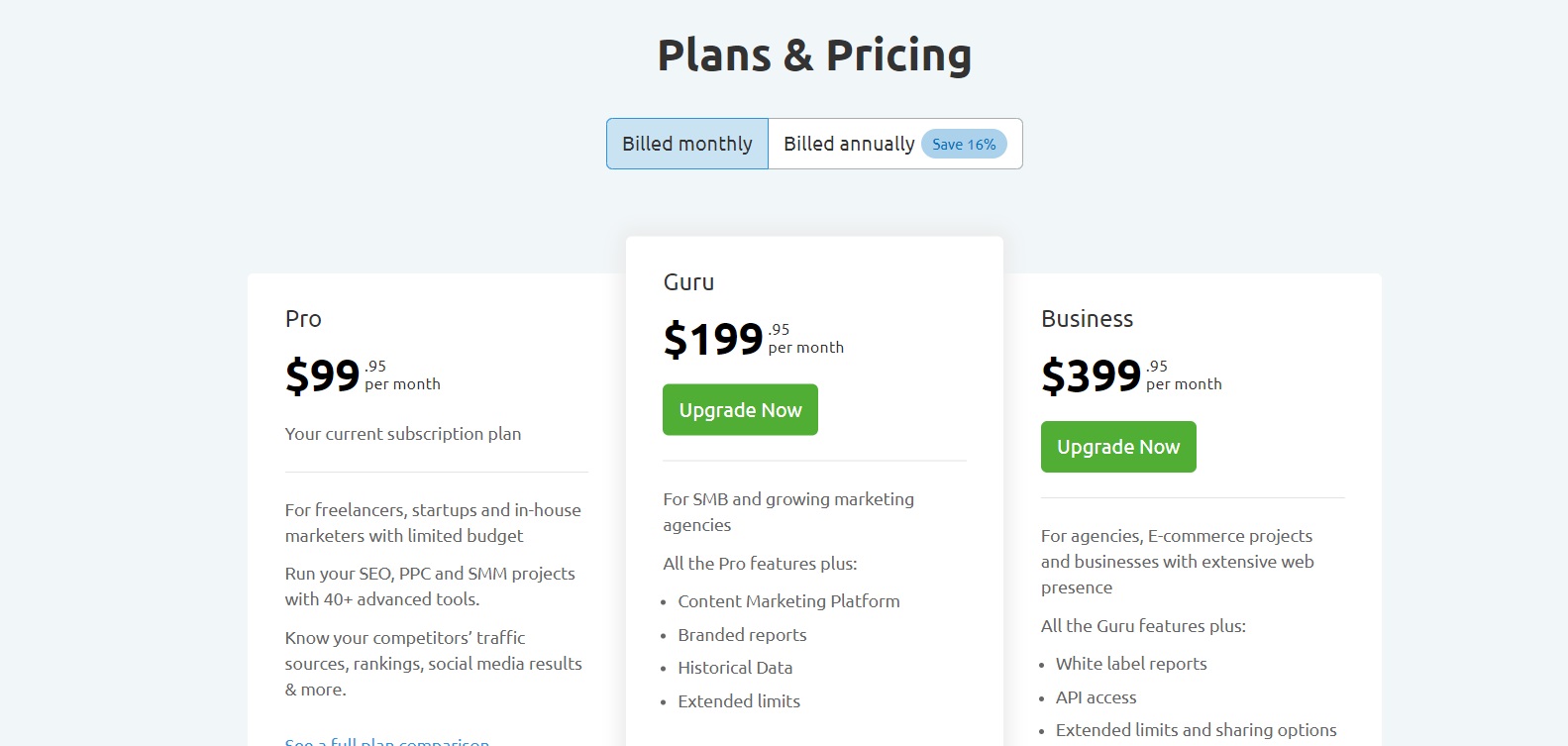 Pro: $99.95/month ($83.28/month for annual billing)
Guru: $199.95/month ($166.62/month for annual billing)
Business: $399.95/month ($333.28/month for annual billing)
Both brands offer prices in US dollars. SEMrush plan types are similar to Ubersuggest's.
The Pro plan is ideal for freelancers, startups, small marketing agencies, and in-house marketers. The Guru plan is ideal for small businesses and growing marketing agencies. The Business plan is recommended for large marketing agencies, e-commerce businesses, and businesses that require extensive marketing capabilities.
SEMrush also offers an enterprise plan. Businesses will have to contact SEMrush for a quote. SEMrush and Ubersuggest offer a free seven-day trial.
Overall, Ubersuggest wins this round. For freelancers and small businesses only managing a handful of websites, Ubersuggest offers a powerful yet affordable solution. For businesses that manage their SEO in-house, Ubersuggest has all core features that can work with any budget.
SEMrush is powerful but their tools may be too technical for the average business. Marketing experts are the only ones who may understand and know how to use some tools. That's why large marketing agencies are the ones who may use SEMrush to its full extent and will get their money's worth.
FAQs
Ubersuggest vs SEMrush: The Final Verdict
Ultimately, SEMrush wins. Even though you pay a pretty penny for their software, businesses get a complete view of their SEO and marketing results. SEMrush's tools go a step further than the competition, so businesses only need this one software for all of their marketing needs.
Does this mean Ubersuggest is bad? Not at all. For the price, you receive some of the most accurate and powerful SEO tools on the market. While they're limited, this is an ideal solution for website owners, small businesses, or any marketing agencies or teams that have a limited budget.
In addition, we recommend looking into more SEO platforms. Ahrefs, Moz, and HubSpot are a few examples, but the options are endless. If you still don't know what to look for, read our guide on finding the best SEO tools.
Further read: