Last Updated on April 22, 2023 by Ewen Finser
It's tough to call which SEO tool is better in the battle of Serpstat vs Ahrefs, but we've got the answer!
If you're an SEO professional, a freelancer, or part of a marketing team, you'll need a good set of SEO tools that will enable you to do all the research you need in one place. Serpstat and Ahrefs are two excellent platforms with tons of benefits.
The question is, which one is better?
The bottom line up front: Ahrefs is our favorite. It's comprehensive, searching through a wider array of search engines, and it performs well from a competitor analysis perspective.
In this article, we'll look at each platform in-depth, including the tools that they have to offer, the pros and cons, the support and training they provide, and their pricing. But first, we'll start with the main differences between them, so you can see what sets them apart.
Main Differences Between Serpstat vs Ahrefs
The main differences between Serpstat vs Ahrefs are:
Serpstat has a limited version that allows you to test the platform for free, whereas Ahrefs requires you to pay $7 for a 7-day trial.
Serpstat searches through 2 main search engines, whereas Ahrefs searches through 10.
Serpstat's backlink tool could be more comprehensive, whereas Ahrefs has a very comprehensive backlink tool
Serpstat is a little more affordable, whereas Ahrefs is more expensive.
Serpstat doesn't have a busy online community of users, whereas Ahrefs has a helpful Facebook group to connect with others
To sum it up, Ahrefs is more comprehensive, but you'll have to be willing to pay more for it. Those are the basic differences in a nutshell!
The Similarities
There are a lot of similarities too:
They both have keyword research tools
They both have advertising analytics
They both have rank tracking
They both have in-depth page audits
They both have a user-friendly interface
They both have good training for new users
They both have helpful, friendly customer service reps
Now, let's take a look at them both in more detail.
What is Serpstat?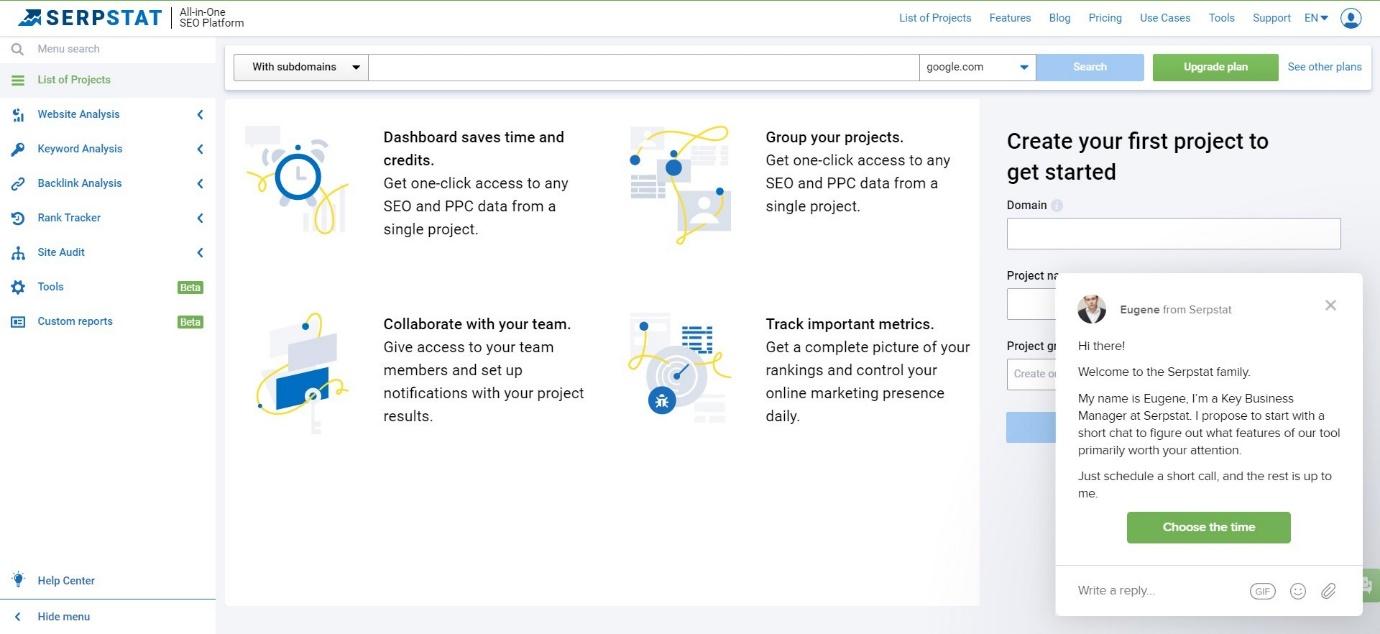 Serpstat describes itself as a 'growth hacking tool for SEO', offering positions tracking, backlink analysis, keywords research, site audits, and competitor research. They have some high-profile clients, including Shopify, L'Oreal, Lenovo, and more.
What is Ahrefs?
Ahrefs says that you don't have to be an SEO professional to get more traffic, and with its focus on free learning materials and community support, it's designed for all levels of experience. It offers a site explorer, keywords explorer, site audits, rank tracking, and a content explorer.
They also have some high-profile clients, including Facebook, Adobe, LinkedIn, Netflix, and more.
Serpstat – the Main Tools
Serpstat has a lot of tools to offer SEO professionals. We've broken it down into five main features, but first, a quick word about the user interface.
It's actually very simple to navigate Serpstat. Signing up (using their free limited plan) is very simple, and everything you need to navigate the site is on your left. Once you get into using the platform, it becomes a bit trickier to navigate if you're new to SEO, but the learning curve is pretty good considering how in-depth it is.
Keyword Research
One of the main features you'll be looking for in SEO software is decent keyword research, and Serpstat has a lot to offer here. You can collect keywords that are proven to give good results, and you can easily compare them using their research tool. You can compare them by volume, cost-per-click, competition level, or a total number of search results.
For each keyword, Serpstat will also display organic keywords, the number of Facebook shares, and a potential traffic score for each page.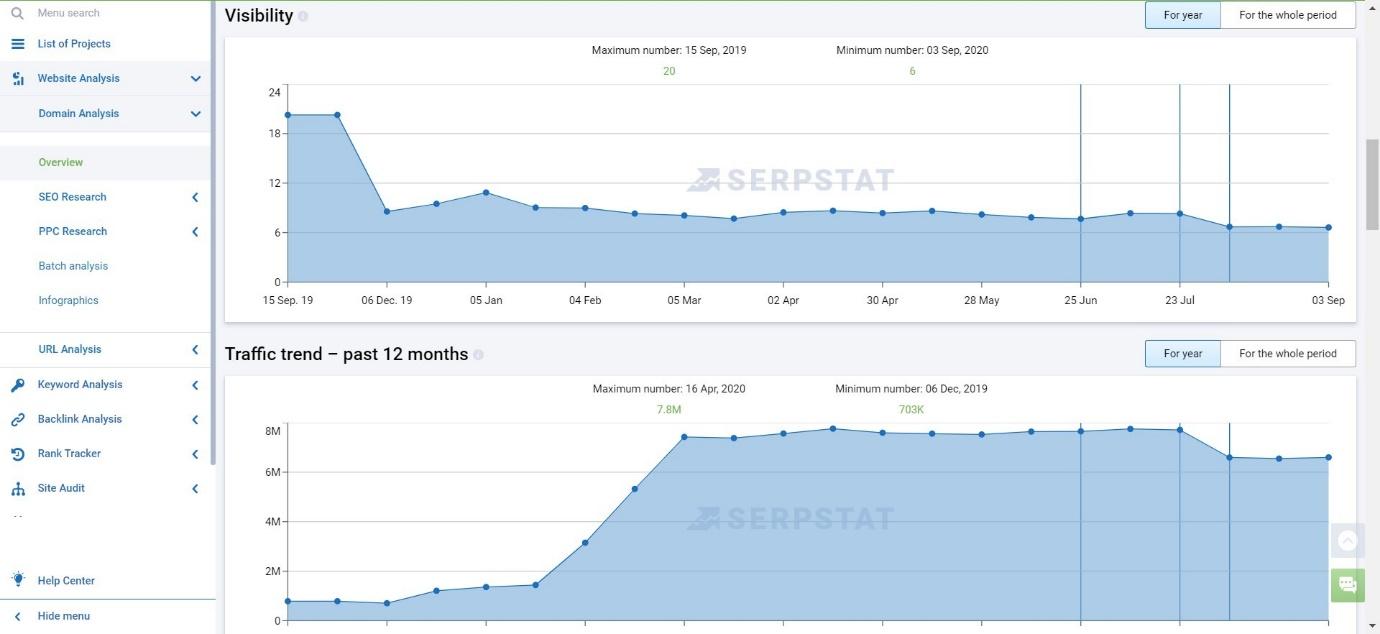 Serpstat offers you suggestions for variations, to expand on those results. They also offer long-tail keyword research, and you can even adapt keywords to target countries in all major languages spoken.
You can also analyze keyword popularity, using a simple graph. This makes it easy to see at a glance how popular a keyword is, which is useful for spotting fluctuations and trends.
They calculate keyword difficulty (KD) by analysing the top 10 ranking pages for a given keyword. The score is based on external backlinks, Serpstat page ranking, Serpstat Trust ranking (which measures how many trustworthy URLs are linking to the domain in question), the number of domains with the keyword in the page title, and the number of URLs with the keyword in the title.
Search and Advertising Analytics
Serpstat has strong search analytics, which will allow you to figure out which keywords are working well for your competitors. Landscape analysis allows you to identify your competitors, see their strengths and weaknesses, and form a plan for how you can improve.
Your competitors will be shown on a Competitor's Graph, which will show you an overview of your main competitors and how they are performing.
You can compare the visibility of your domain and the domain of a competitor, to see if your current campaign is working well or if you need to tweak it. You can find out about your competitor's advertising budgets, ad positions in search results, and cost-per-click in AdWords.
A very useful feature is their search queries section. It will show you every keyword that your competitor is ranking in, in the top 100 Google search results.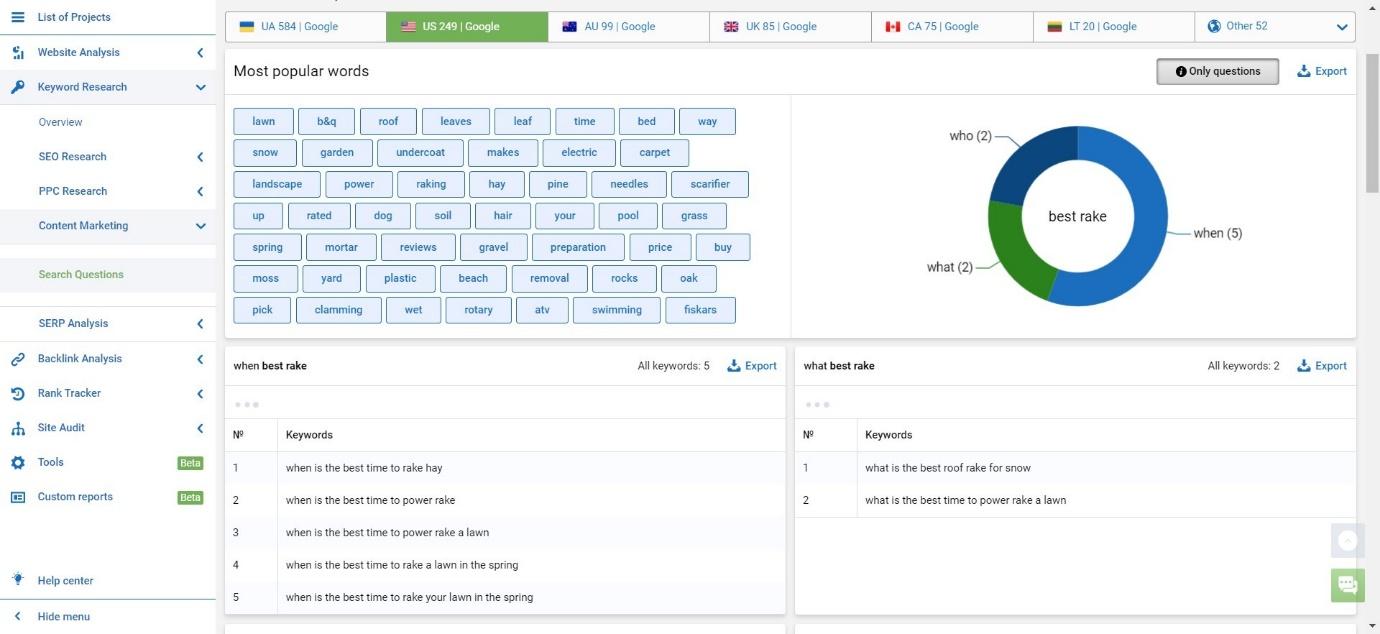 You can set up email alerts, which will give you updates on any tracked domains. If your domain – or the domain of a competitor – changes ranking, you will be automatically notified.
Serpstat offers advanced filtering. This allows you to see your SEO performance in terms of images, videos, and news articles.
Content Marketing Ideation
If you need to generate ideas for content, you can use their content marketing ideation tools. You can find out questions your target audience has in mind and create content that will be relevant to them.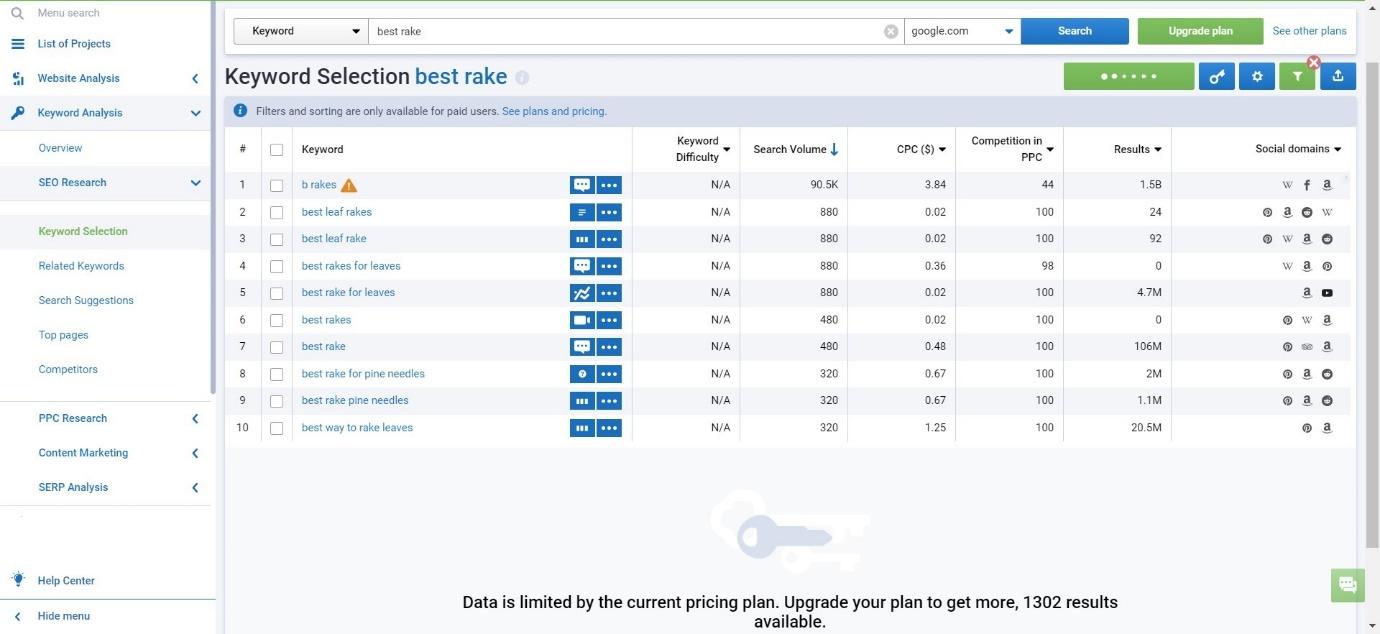 You can use the related keywords database, which can give you an insight into the keywords that users are actually searching for. You can also track the number of shares your finished content receives on Facebook.
Rank Tracking
Rank tracking is easy to do with Serpstat. They have developed an algorithm that saves and analyzes data about top-100 domains for every keyword. You can find out how your keywords are ranking in Google and Yandex, in any location or language you want. You can track unlimited keywords each day. Plus, you can add unlimited users at no extra cost, making sharing reports much simpler.
Market Intelligence
Market intelligence allows you to look at the domain leaders in your particular niche, so you can look closely at their strategies. You can research regional or global data, tracking the performance of top leaders in your chosen niche. This will give you an eye-opening insight into their strategies.
On-Page Audit
The on-site audit tool will give you an in-depth look at your pages and how well they are performing. You can analyse separate areas of your website, identify any weak areas, and fix them accordingly. You can:
Discover gaps in a domain's optimization
Find, and repair, on and off-site issues
Improve crawl rates
Backlink Analysis
Backlink analysis is vital, and you can get one-click reports with Serpstat. You can receive a list of anchors, with referring pages and monitor the backlinks of your own website and the websites of your competitors.
Serpstat enables you to see which sites will become a source of trusted, quality backlinks to avoid penalties.
However, users report that Serpstat's backlink game could be improved – it's not as comprehensive as other SEO tools (including AHRef).
Ahrefs – the Main Features
Let's take a look at the main features of Ahrefs, starting with user-friendliness.
It's really easy to sign up with Ahrefs, and once you're in, you can navigate through the five main tools using the bar at the top.
It's easy enough to navigate, with a nice clear interface – it's quite similar to Serpstat in terms of being able to get around.
Site Explorer
AHRef's Site Explorer tool actually combines three tools – organic traffic research, backlink checkers, and paid traffic research. It's really simple to use, too – just enter their websites in Site Explorer and browse 'organic search'. They monitor over 150 million keywords in the US alone.
It's easy to look at the backlink profile of any website. Just put the URL into Site Explorer, and look at the 'backlink profile' section. Type the URL into the Site Explorer and go to the 'backlink profile' section. Ahrefs say they have the fastest backlink checker in the industry and the world's biggest index of live backlinks (with over 14 trillion links).
You can research paid keywords, see which pages on your competitor's websites have the most backlinks and social shares, and research paid ad keywords, to gain an insight into your competitor's advertising strategy.
Keywords Explorer
The keyword explorer is, in our opinion, one of the core strengths of Ahrefs. Their database contains more than 7 billion keywords from 171 countries. It searches through ten 10 search engines, so you can get an insight into keyword volumes for other sources like YouTube and Amazon. You can refine these searches by:
Phrase match – see which phrases contain the keyword
Having the same terms – see ideas that use all the terms in your target keyword
Also, rank for – see keywords which the top-ranking pages rank for too
Search suggestions – see queries which are suggested by autocompleting (like the 'people also ask' section on Google)
Newly discovered – newly added search queries
Questions – see keywords that are phrased as a question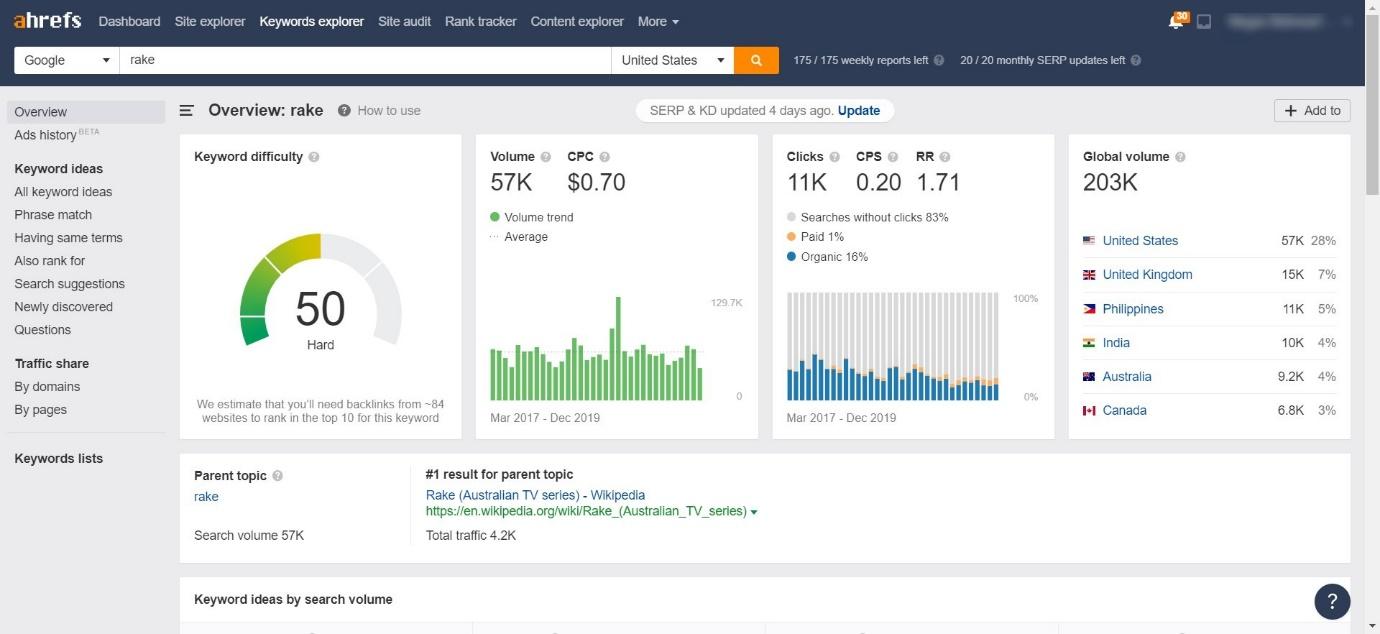 You can use their KD scoring method, which calculates how difficult it will be for a particular keyword to rank. Ahrefs calculates this by taking an average of the number of linking domains to the current top-10 ranking pages, and then plotting the result on a scale from 0 to 100.
In comparison to Serpstat, their method for calculating KD is simple. However, Ahrefs has the world's biggest index of live backlinks, so you can trust the accuracy from that perspective.
Plus, what's unique about Ahrefs is that it will tell you (roughly) how many backlinks you'll need to appear on the first page of the search results, which gives you a specific number to aim for.
If you want to explore more keyword or content-creating opportunities, you can click on the 'parent topic' of each keyword.
They also have an array of advanced SEO metrics, including:
Clicks – shows the average monthly number of clicks
Clicks per search – shows how many search results people click after searching for the keyword
% of clicks – shows what percentage of searches result in a click
% of paid clicks vs organic clicks – shows a breakdown of how results are distributed between paid and organic search results
Return rate – compare which keywords get more repeat searches
Site Audit
The Site Audit tool is cloud-based, which means you won't have to bother with the installation. You can schedule daily, weekly, or monthly crawls for your websites, which will automatically run without you needing to do anything.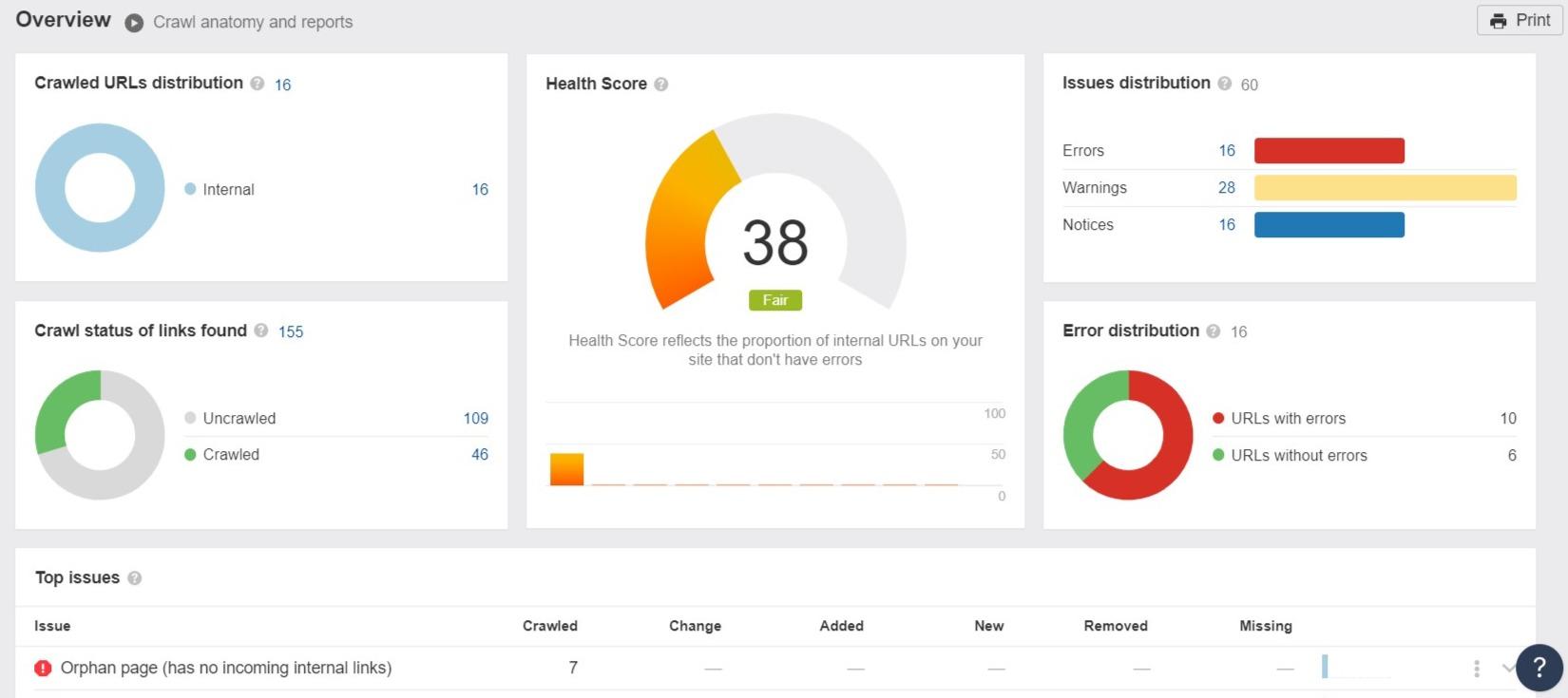 It crawls each page on your website, checking for the following:
Performance issues – like slow pages or files that are too large
HTML tags – missing or duplicate tags and meta descriptions
Social tags – like incomplete Twitter cards or Open Graph tags
Content quality – low word counts, duplicate pages
Incoming links – like issues with nofollow links
Outgoing links – like links to broken pages
Resources – issues with images, Javascript, etc
Rank Tracker
The rank tracking tool allows you to monitor your Google rankings on desktop or mobile. You can input a list of keywords, add your competitor's URLs, and see how you rank.
It will give you an insight into your visibility – it will show you, over time, what percentage of clicks from organic search traffic lead to your own website, as well as how you have progressed.
You can also find out which websites are fighting for search traffic using your list of tracked keywords. This will show you how traffic is divided amongst your top competitors. You can have ranking movements emailed to you automatically, as well as regular reports about your performance.
Content Explorer
If you want to research content relating to your niche but you don't know where to start, it's made a little easier with the content explorer tool.
You can research over a billion web pages, sorting results by organic traffic, referring domains, domain rating, traffic value, and social shares. You can filter this further, allowing you to research topics in more depth. For example, you can research the amount of words used for each page, or search by author.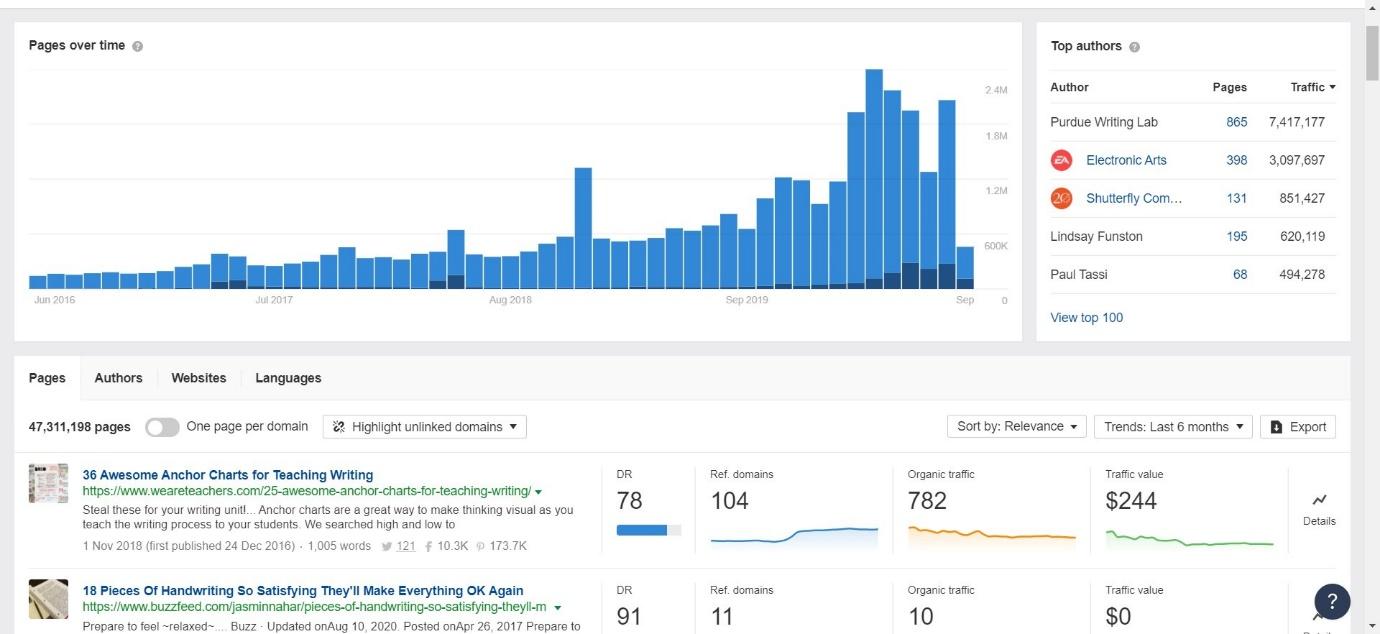 Using an easy-to-read chart, you can see how specific content trends over time, allowing you to create content that will perform well at certain times.
Competitor Analysis
If you want to analyze what your competitors are doing, Ahrefs provides a few tools to do so. You can use the keyword explorer to identify your main competitors, and then use the Batch Analysis tool to quickly see useful stats for each domain, including their DR (domain rating), a number of referring domains, estimated organic search traffic, and more.
You can then go on to use the Site Explorer tool to study the backlink growth of each domain, so you can see the rate at which they are acquiring new referring domains.
You can also find broken pages on other domains that have backlinks. You can then analyze these broken links to figure out what would have been on the dead page, so you can create a better version of that page yourself.
For a more detailed guide on how Ahrefs undertakes competitor analysis, check out their blog article.
Serpstat vs Ahrefs – Pros and Cons
Serpstat Pros
Limited free plan for you to test
Includes all the SEO tools you'll need
Good training in their knowledge base
Finds new keywords with regular updates
Customer service is good
Serpstat Cons
Doesn't include as many search engines as Ahrefs
Backlink tool could be more comprehensive
Doesn't have a lot of information on low-volume searches
Ahrefs Pros
Clear interface
All the tools you'll need for SEO
Searches through a wider variety of search engines and websites
Facebook community is very useful
Good customer service
Huge backlink database
Ahrefs Cons
The pricing is quite high
No free trial available
There are restrictions on the lowest price plan, which may be frustrating if you reach the limit quickly
Serpstat vs Ahrefs – Support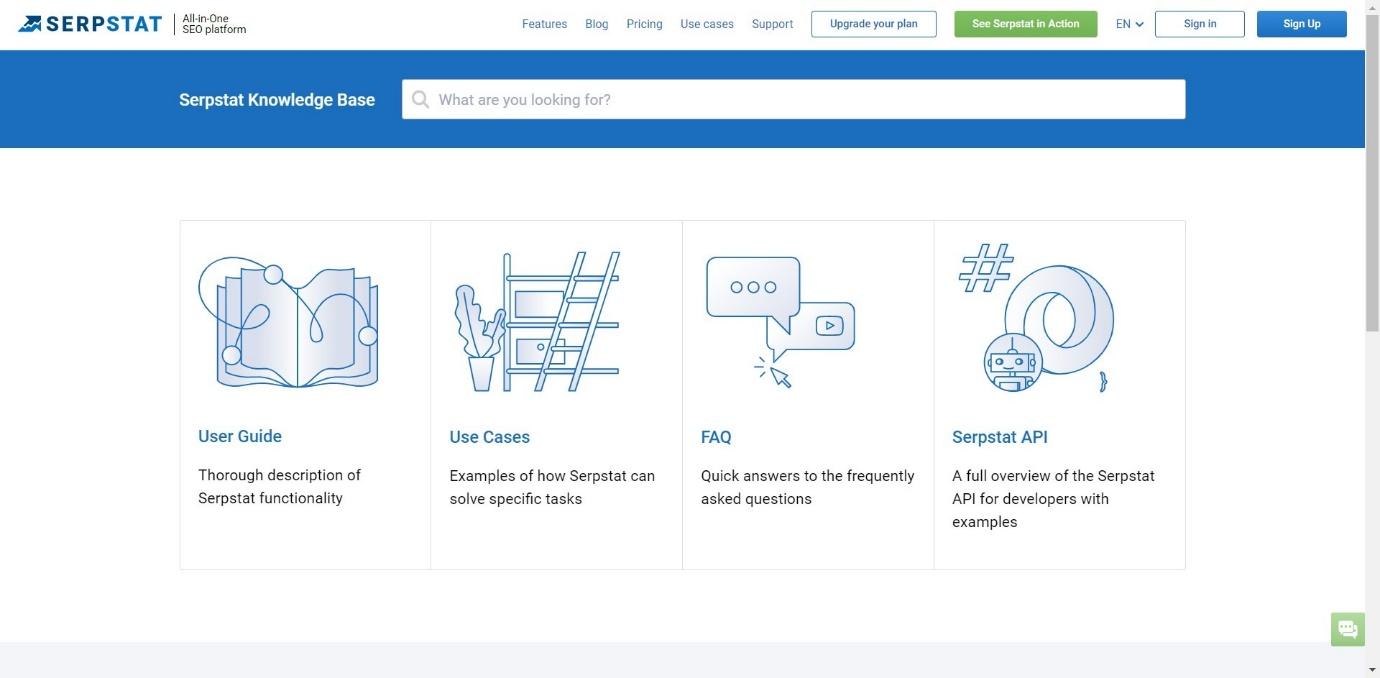 Serpstat
How does Serpstat's reporting stack up?
Well, firstly, they've got an extensive knowledge base:
The user guide is really useful, as it guides you through how Serpstat works. You can contact them via a ticketing system. Users describe the customer support team as being extremely helpful and responsive, which is great.
Ahrefs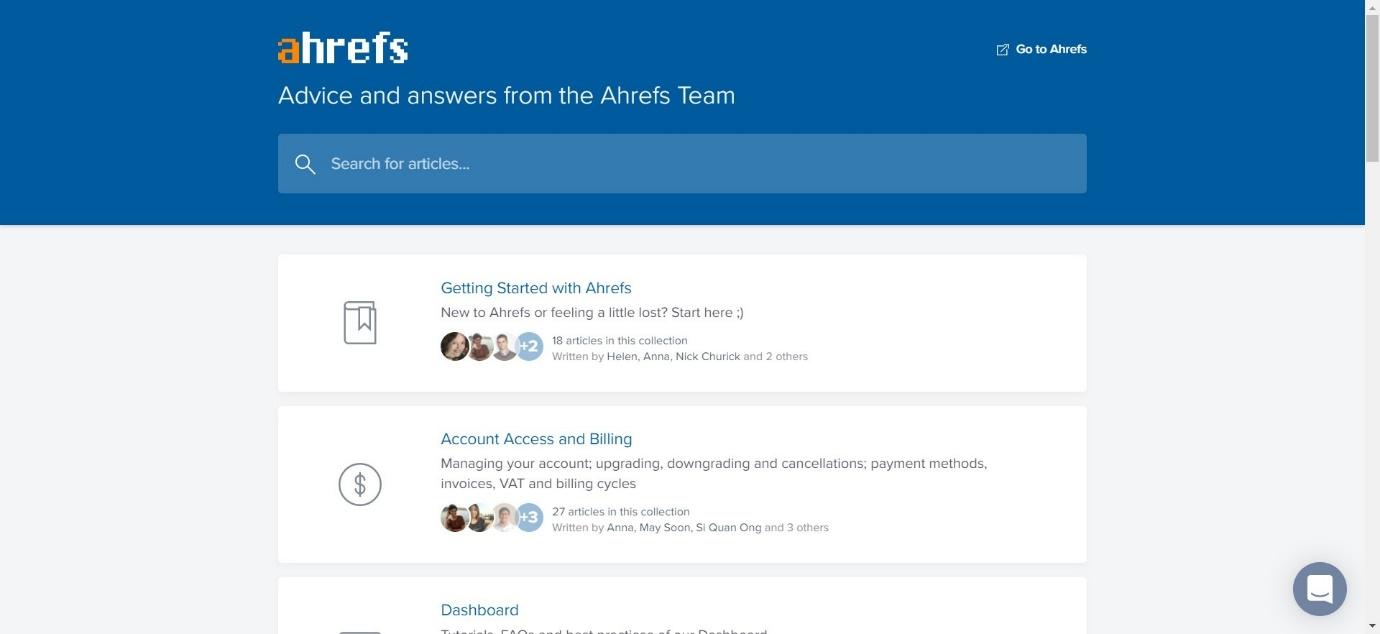 Ahrefs has a good knowledge base, with a selection of help articles, including a guide to getting started. They also have a YouTube channel and a blog with lots of helpful tips, for both beginners and experienced SEO professionals.
They have a private Facebook community called Ahrefs Insider, which allows you to connect with other users. This is a great way to get support and come up with new ideas and strategies.
Just like Serpstat, Ahrefs has a ticketing system for queries, and users report that they are helpful and responsive. You can also send them a tweet if you have a query.
Serpstat vs Ahrefs – Pricing
Serpstat
Serpstat has four main pricing plans:
Lite
At $69 per month, this gives you access to 20 tools and is aimed at freelancers or those with a smaller budget.
Standard
For $149 per month, this includes all features on the Lite plan plus 3 users, branded reports, extended interface and API credits. It's aimed at in-house teams and marketing agencies.
Advanced
At $299 per month, the Advanced plan is aimed at larger companies. It includes all the features of the previous plan, plus 5 users.
Enterprise
For $499 per month, industry leaders can enjoy all features, plus 7 users. You can also contact them if you need more data for a custom quote.
You can gain limited access to Serpstat, so you can test out the platform before you commit to a paid plan. You can check their full comparison list for more details.
Ahrefs
There are four pricing plans available:
Lite
For $99 per month, you can gain access for one user, with five different projects. It gives you a limited amount of access to each tool, but it's ideal for freelancers or small companies. The downside is that you may hit the limit for searches quite quickly.
Standard
For $179 per month, one user can have 10 projects on the go at once, with greater access to tracked keywords and site audits. This works well for smaller in-house teams.
Advanced
For $399, 3 users can have 25 projects ongoing, with access to thousands of tracked keywords and sites to explore. This is ideal for medium-to-large sized marketing teams.
Agency
For $999, 5 users can have 100 projects between them. This gives you access to the top level of searches, keywords, and content reports. Ideal for big businesses with large marketing teams.
They offer a 7-day trial for $7 – you can find out more here.
FAQs About Serpstat vs Ahrefs
Here are some of the most commonly asked questions:
Do either Serpstat or Ahrefs have mobile apps?
No, neither of them have a mobile app, but they do run on mobile browsers.
How can I learn about basic SEO if I'm new?
Is it worth paying for SEO tools when there are free tools out there?
Yes, we think so! If you want to take SEO seriously, it's worth signing up with a platform that can enable you to search in much more depth. You'll gain insights that free tools may not be able to offer you. It's worth trying free tools and free trials, just so you can figure out what you need from an SEO platform.
Are Serpstat and Ahrefs cloud-based or downloadable?
Yes – both tools are cloud-based, so you won't have to download or install anything.
Alternatives to Try
There are a few alternatives you can try:
SEMRush is a popular platform with very similar tools, with some slightly more affordable pricing options – you can see our Ahrefs vs SEMRush comparison and our Serpstat vs SEMRush comparison for more information.

Exclusive Offer

Get 14 Days of FREE SEMrush

SEMrush has generously offered our readers a double extended fully featured FREE TRIAL. Play around with the suite for 2 full weeks to see if it's what you need!

Activate FREE SEMrush

We earn a commission if you click this link and make a purchase at no additional cost to you.

If you want a couple of tools to get started, SpyFu is an affordable option that can help you find your feet in SEO – see our Ahrefs vs SpyFu comparison for more information.
SEO PowerSuite is comparable to SEMRush, with a variety of tools to help you out – you can find out more about it in our SEO PowerSuite vs SEMRush comparison.
Serpstat vs Ahrefs – Which One is the Winner?
We think that Serpstat has a ton of good things to offer. The tools are in-depth, the user interface is simple enough, and there are lots to work with here whether you're a freelancer or part of a wider marketing team.
However, we think that Ahrefs just about wins this battle. Yes, it's more expensive, but it's more comprehensive, searching from a wider array of search engines. The tools provided to run in-depth competitor analysis are very useful. Plus, it has the user forum, which is especially useful for freelancers wanting to connect with others or get ideas for marketing strategies.
Have you used Serpstat or Ahrefs? Let us know what you thought of them in the comments.