Last Updated on April 22, 2023 by Ewen Finser
Modern businesses have a lot to balance. With so many different revenue streams, internal processes, and jobs that need doing, it can be challenging to keep track of everything. Between invoicing clients, accounting, and client management, there are a lot of tasks associated with running a company. The need to stay on top of many jobs at once makes the right software invaluable. Two of the most popular are QuickBooks vs HoneyBook. Both help businesses manage clients, invoices, payment processing, tracking hours worked, etc.
This article will compare and contrast HoneyBook vs QuickBooks as they pertain to the needs of a growing business. Read on for more information.
Bottomline Upfront: The main difference between HoneyBook vs QuickBooks is that HoneyBook focuses entirely on client relations management. It's great for creative companies that work with engagements, events, or any other type of project. QuickBooks is primarily an accounting software that has some client management tools added. It's great for bookkeeping, reporting, and accounting, but is also more complex than HoneyBook.
Main Differences Between HoneyBook vs QuickBooks
The main differences between Honeybook vs QuickBooks are:
HoneyBook Overview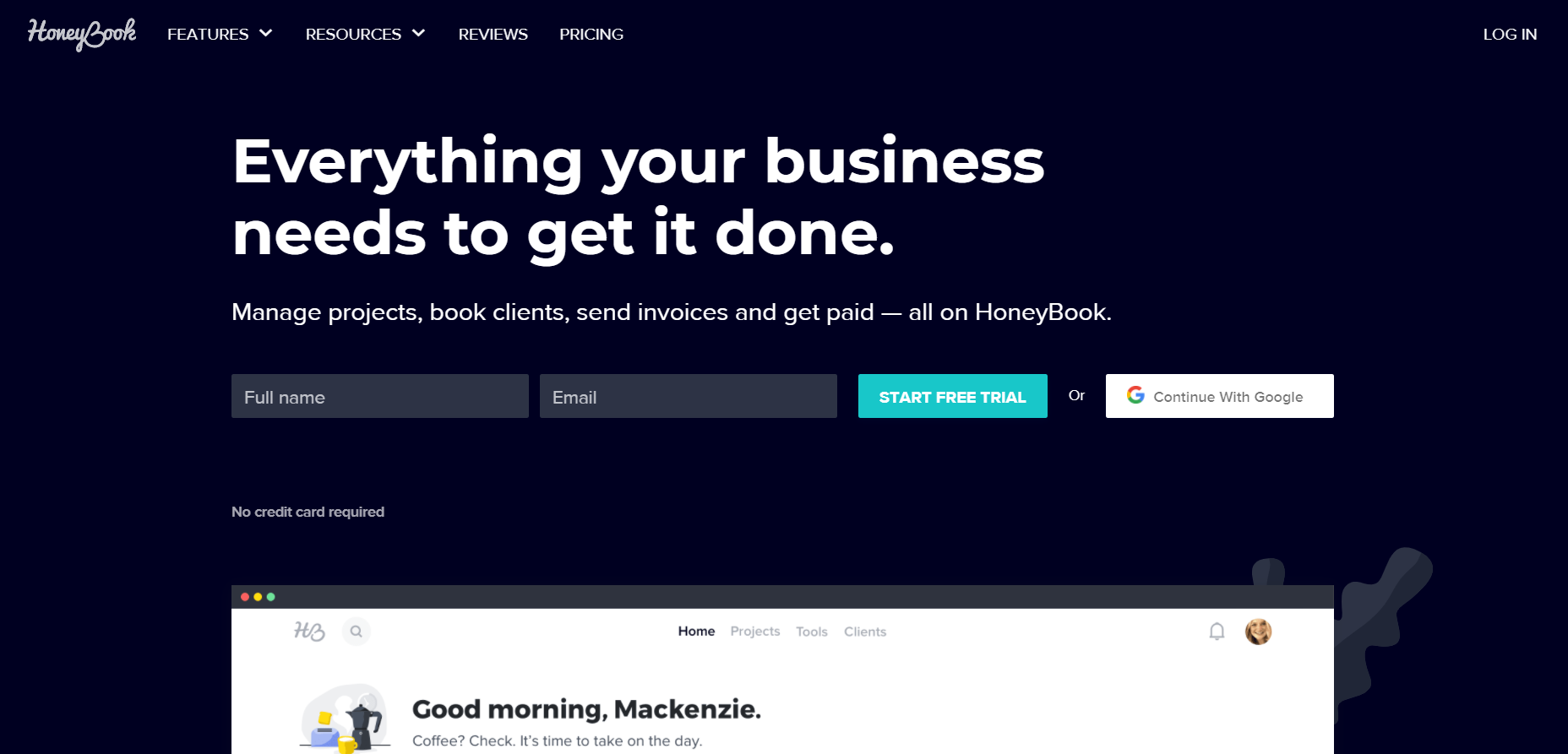 HoneyBook is an all-in-one client management and invoicing software. You can well describe it as a business management solution with all the hooks of a customer relations management (CRM) platform. HoneyBook integrates CRM with scheduling, lead management, invoicing, automated workflows, contracts, and project tracking, among many other features.
HoneyBook focuses more on freelancers and self-employed entrepreneurs than on larger businesses. Still, those in the creative industry who want to manage their business more efficiently will benefit most from using HoneyBook. Its focus on freelancers and entrepreneurs fosters the continued development of its Android and iOS apps.
It also offers integrations with other applications like Slack, Google Drive, and Zapier, allowing further customization and ease of use.
HoneyBook Pros
Intuitive user interface

Comprehensive features

User-focused system

Customizable integrations and onboarding features

Pipeline focused
HoneyBook Cons
Time tracking limitations

Few integrations

Not ideal for large businesses
HoneyBook Features
Below are features that make HoneyBook a valuable asset for its users.
Scheduling
HoneyBook's scheduling feature allows you to quickly and easily create schedules for projects, book meetings with clients two times faster, and set a time block schedule for projects and meetings. You can define your availability in days, hours, or minutes, making it possible to schedule appointments even weeks in advance.
Invoicing
HoneyBook allows you to track and monitor your time and expenses. You can easily organize your invoicing and accounting needs and generate one-click quotes, statements, and invoices with your logo. The invoicing feature makes it possible to create billing cycles for clients, accept credit payments and bank transfers, and also provides the ability to pay invoices in the future automatically.
Proposal Generation
HoneyBook allows you to generate smart, personalized proposals in seconds. The account comes with preloaded proposal templates but will enable you to edit the design, fonts, and colors to create customized templates for your clients. The whole process is online and automated.
Online Contracts
HoneyBook creates professional-looking contracts in minutes. It allows you to edit and tweak the contract to suit your needs. Insert the necessary information and get a legally binding agreement for both you and your client.
QuickBooks Overview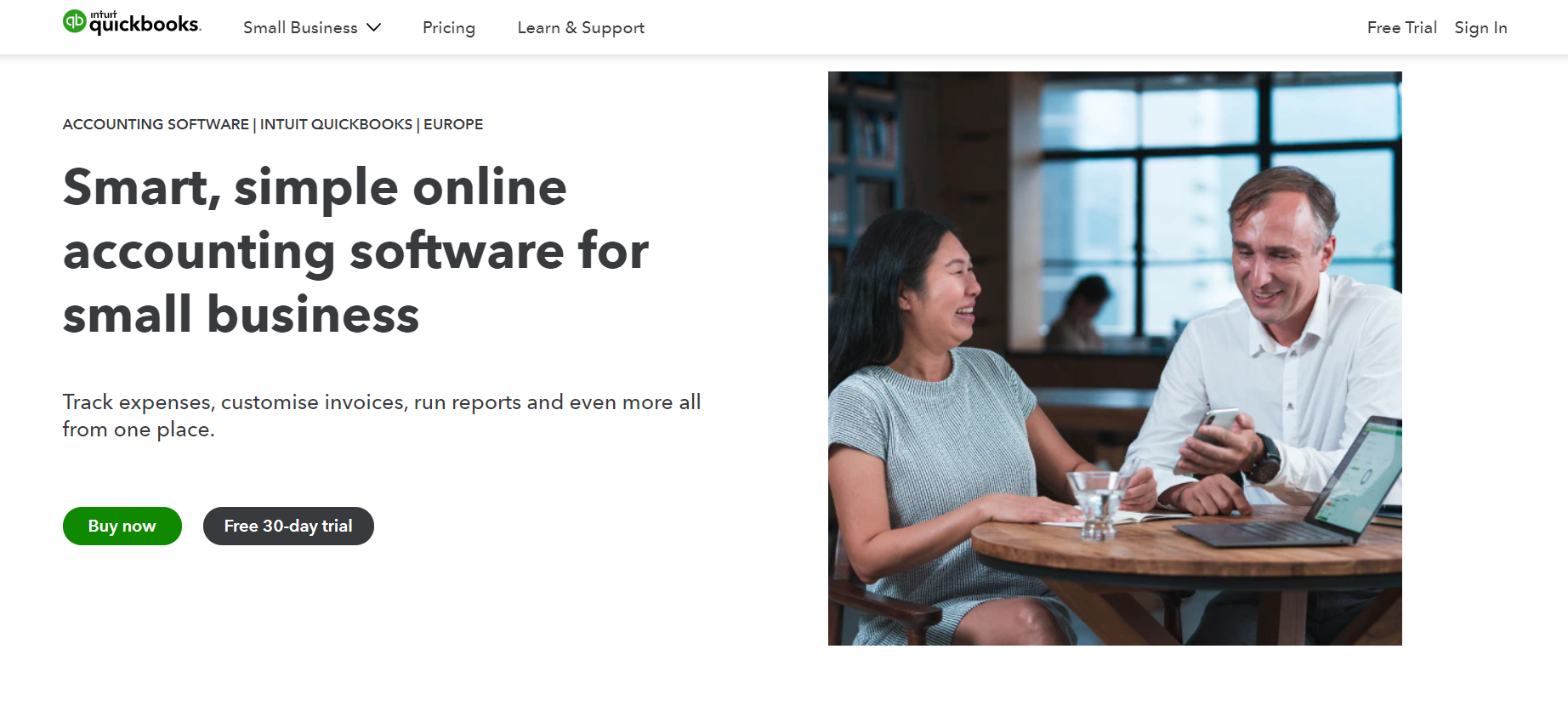 Intuit's QuickBooks is accounting software that not only tackles the topics of invoicing but also tracks revenue and expenses. More than just a business management application, QuickBooks boasts flexible and easy-to-use features with a well-designed user interface. It focuses more on accounting than other business management software.
Recently, the company added a new feature called project profitability. This feature allows users to track costs and compare them with revenue. Knowing how profitable your business is at any given time is invaluable in helping you stay up-to-date with your financials. It gives users a complete look at their business by showing them the big picture and detail on all aspects of accounting.
Moreover, the integration with iOS and Android devices allows you to access your data on the go. The mobile versions may not be as comprehensive as the full version, but they give you the crucial information needed to make business decisions.
QuickBooks Pros
In-depth accounting reports

Improved user interface

Powerful mobile apps

Overtime monitoring

Continuous feature improvements

Enhanced onboarding
QuickBooks Cons
Quite pricey

Instability/system crashes

A limited number of users

The support could be better
QuickBooks Features
Below are the most notable features that come with Intuit's QuickBooks:
Invoices
QuickBooks allows users to send quotes, invoices, and statements for billing efficiently. You can create custom invoices to suit your client's needs and automate invoice reminders via email and SMS.
Users can set up recurring invoices for their everyday customers and include discounts, taxes, and shipping fees. QuickBooks also allows you to select a language, currency, payment period, etc.
Expenses
QuickBooks connects to your bank accounts to automatically import and categorize your business expenses. You can generate reports to see exactly where your money is going and which accounts generate the most revenue. The expenses feature allows you to stay ready for the tax season while managing your cash flow and profitability.
Inventory Tracking
If your business requires inventory, QuickBooks allows you to track the stock value in real-time. You can adjust the prices, reorder stock when it's running low, and create sales orders for future sales. By staying on top of your inventory, you can see what sells and what doesn't and make necessary changes in your business to keep revenue coming.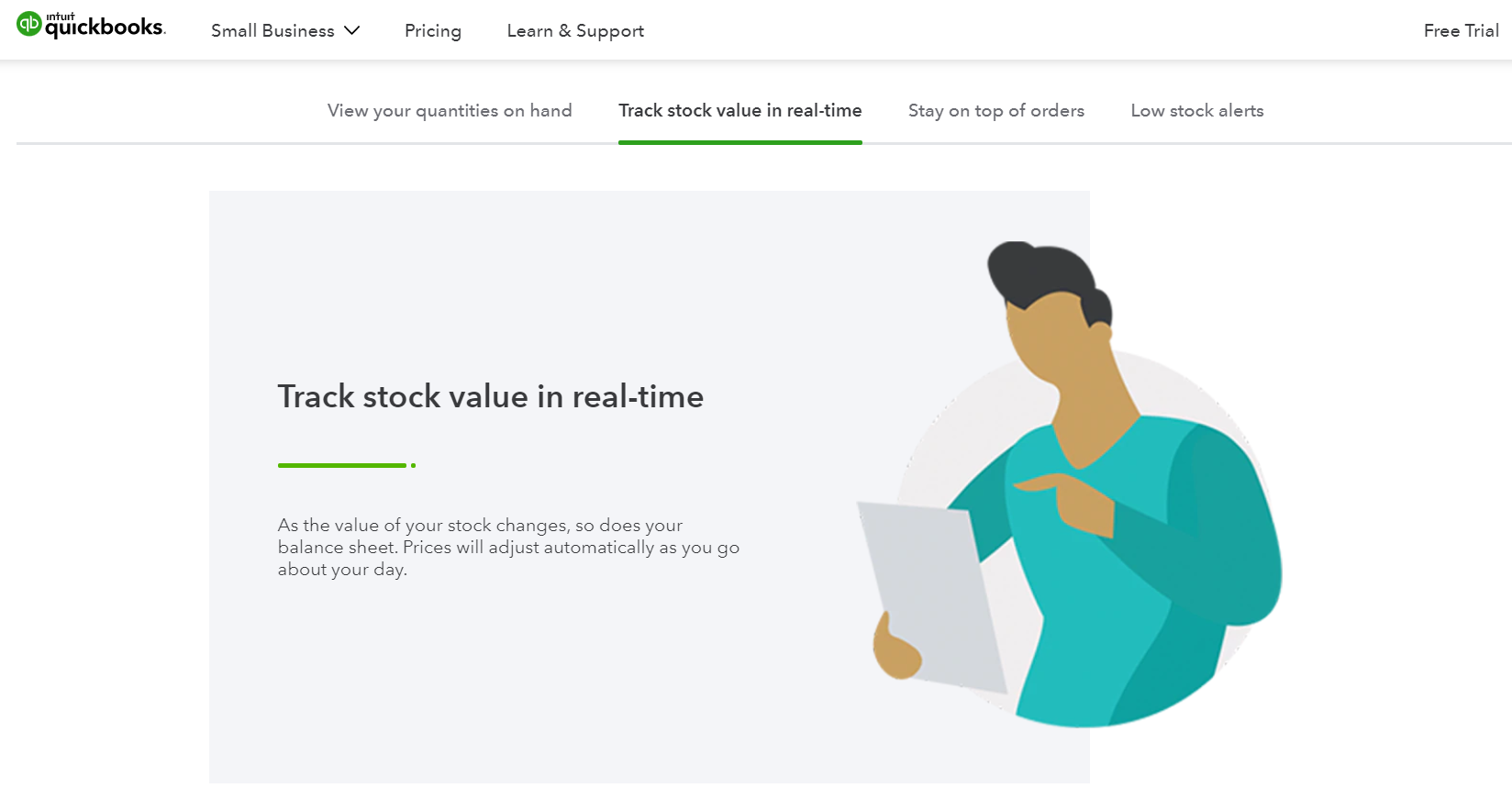 Reports and Insights
The QuickBooks financial reports software allows you to access your financial statements and information at any given time. You can create custom reports, access up-to-date financial reports, P&L reports, and reports for specific clients, etc.
Customized reporting enables users to add detailed reports that suit their needs and preferences, allowing them to control the financials of their businesses. Businesses can easily track overdue invoices and overdue payments and analyze their company performance using QuickBooks reports.
Cloud Accounting
No other accounting software comes close to matching the flexibility and simplicity of QuickBooks online. Using the cloud-based design, users can access their data anywhere at any time. Using state-of-the-art security protocols, Cloud accounting with QuickBooks keeps your information safe and secure from hackers.
GST and VAT Tracking
Taxes are a part of doing business, and QuickBooks makes life easier by automatically tracking your GST and VAT. You can manage multiple tax rates for different locations and countries to ensure compliance with local laws. You can create a tax summary report, review, reconcile, and file your GST/VAT returns.
HoneyBook vs. QuickBooks: How Do They Compare?
Below are the highlights of how HoneyBook stacks up against Intuit's QuickBooks:
1. Pricing and Plans
Pricing is crucial when determining which accounting or CRM software is best for your business. While both services offer different plans at different prices, both strive to provide a full range of budget options.
HoneyBook Pricing
HoneyBook offers three pricing plans:
Starter plan: $9 per month

Unlimited monthly: $39 per month

Unlimited annual: $390 per year
HoneyBook comes with a 7-day free trial for all the plans. The starter plan offers access to all features with six months of concierge support but only $10,000 in total transactions. The unlimited monthly plan has no limit on transactions, plus you can add unlimited team members.
At $390 for the unlimited annual, you get to save up to 17% in costs. The yearly plan also has no transaction limits, unlimited users, and boasts unlimited concierge support. During the free trial period, HoneyBook grants access to a product specialist who guides you through the features and gives personalized advice on optimizing your service.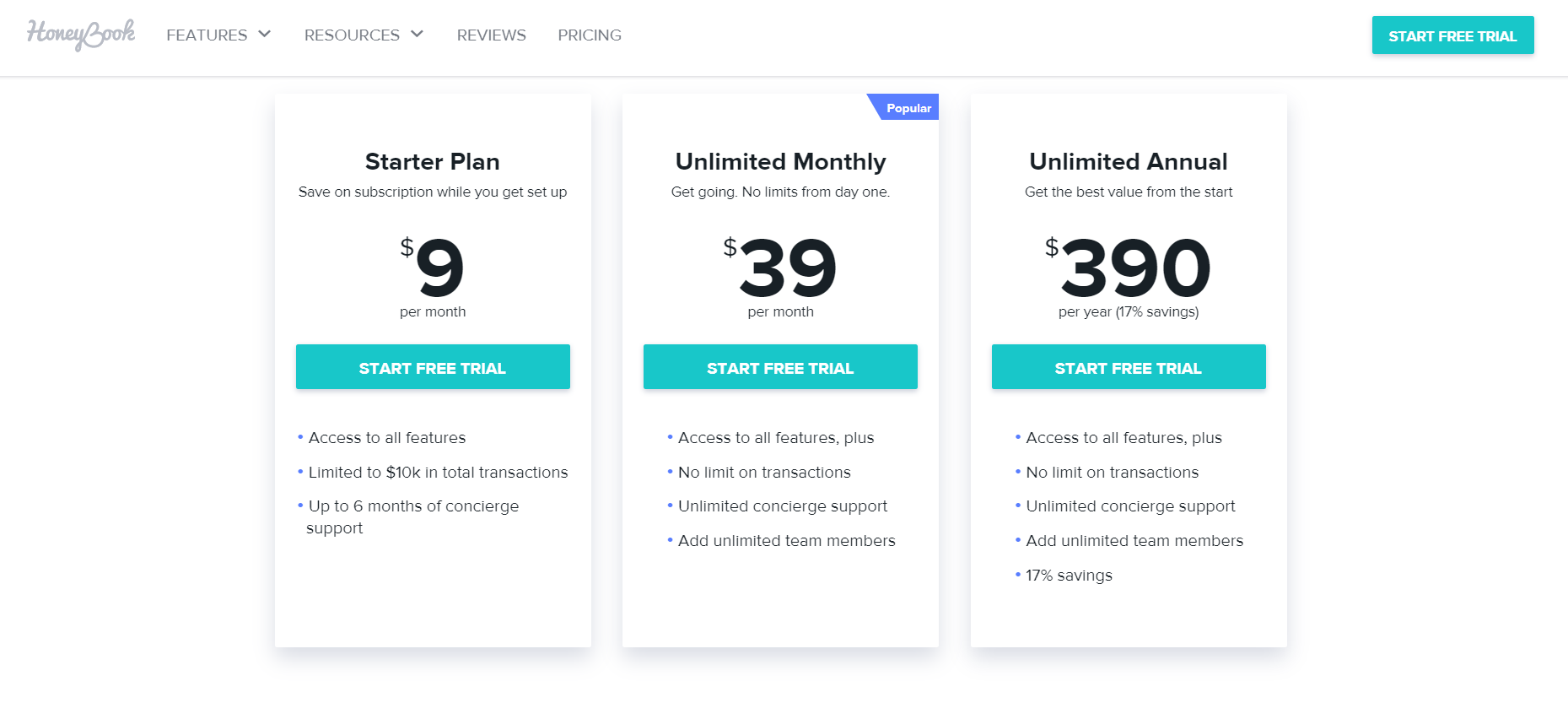 QuickBooks Online Pricing
QuickBooks has three pricing plans:
Simple start: $4.80 per month ($142.76 per year)

Essentials: $7.50 per month ($224.10 per year)

Plus: $10.20 per month ($304.61 per year)
All the QuickBooks plans include a 30-day free trial. The simple start plans allow you to track your income and expenses, send invoices, track taxes, and connect to your bank account. However, it only supports one user and your accountant.
The essentials plan has all the features of the simple start plan but also includes insights and reports, employee management, and a multi-currency feature. The plan supports three users plus an additional seat for your accountant.
For $10.20 per month, the plus plan is more robust and provides all the features of the previous plans. You can also track inventory, manage budgets, process recurring transactions, and track projects. The plan only supports five users plus your accountant.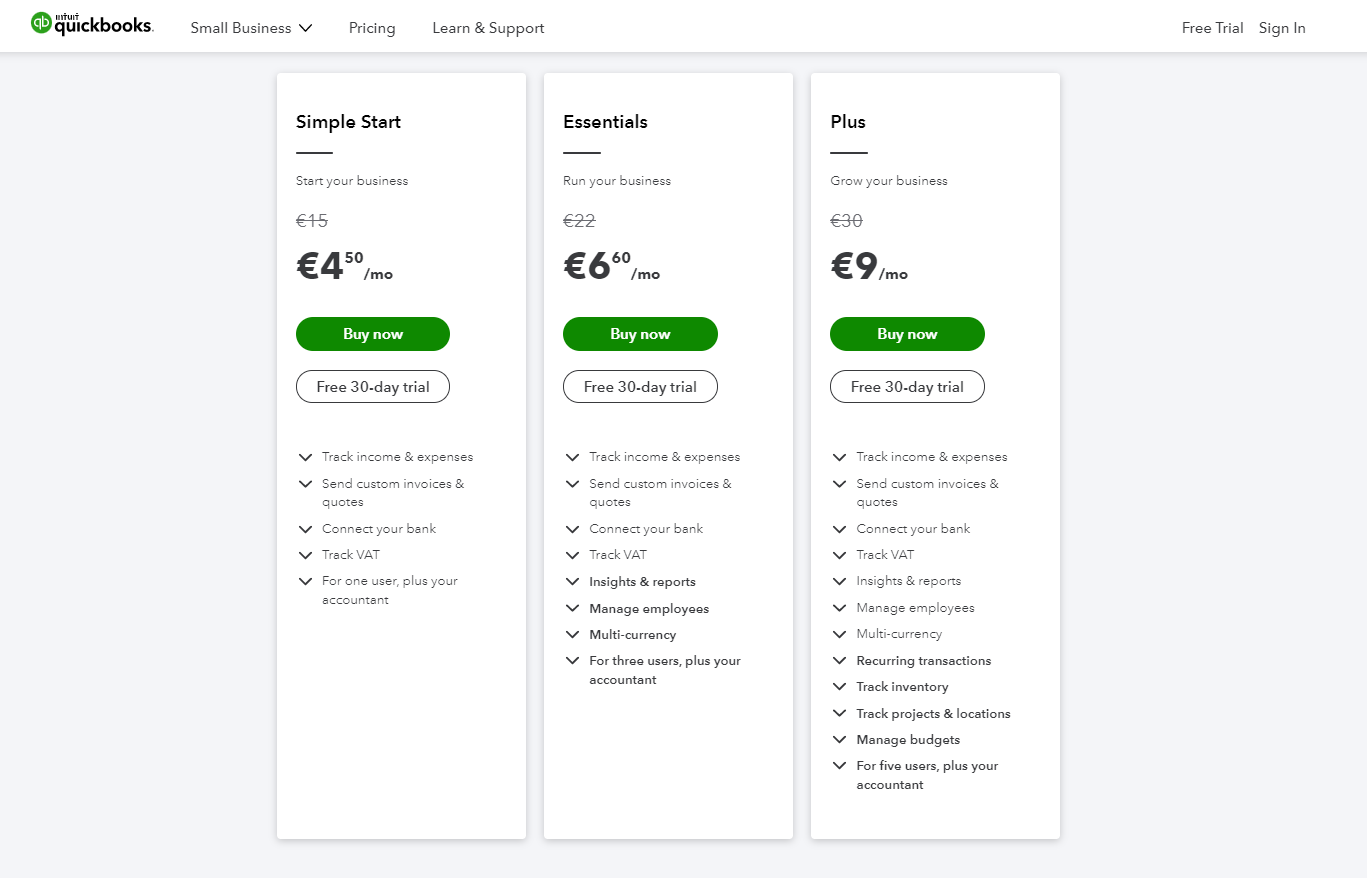 Verdict: Both plans are expensive in their own right. However, HoneyBook wins because of its unlimited number of users and the flexibility of its pricing plans.
2. Ease of Use
Both services are relatively easy to use. HoneyBook presents a straightforward dashboard with personal touches across the tool. It takes a conversational approach with catchy messages that keep you engaged. While other tools offer daily email updates on every task, HoneyBook places hints and tips on footnotes and pop-ups to help you master the tool.
QuickBooks has a slightly steeper learning curve. Its extensive feature set could justify the increased level of complexity. However, veterans will appreciate its many tools and customization options.
Verdict: It's a tie. Depending on your learning style, you'll either appreciate HoneyBook's simplicity or the depth of QuickBooks.
3. Invoicing and Payments
Both services offer a wide range of features to meet your billing and payment requirements. HoneyBook offers invoicing templates that you can customize to reflect your brand. While QuickBooks offers similar features, HoneyBook's tighter integration to the service's payment processing options gives it a slight edge.
QuickBooks offers several payment options, with fees starting at about 1% for bank transfers. It also allows you to accept recurring payments, send recurring invoices, and accept credit card payments. Although its payment processing fees are higher, QuickBooks provides a more comprehensive payments solution.
Verdict: HoneyBook. Its more customizable invoice features and better payment processing options make it a better fit for freelancers.
4. Bookkeeping and Accounting
HoneyBook falls under the CRM software category and isn't really an accounting tool. It has dashboards, calendars, and simple reporting features that make it easy to manage relationships with clients.
However, users can also track expenses and transactions, making it simple to transfer data into your accounting software or for manual accounting purposes.
QuickBooks falls in the accounting category, and it's a much more robust option for handling bookkeeping tasks. You can track all your invoices, income, inventory, expenses, and revenue all in one place.
Verdict: While both services are simple to use, only QuickBooks provides a complete accounting package for automating your bookkeeping process.
5. Cashflow, Income, and Expenses Tracking
HoneyBook is an excellent tool because it allows you to maintain a positive cash flow by tracking invoices and payments. You can set payment reminders and receive alerts on instant deposits from your customers.
QuickBooks does provide similar services but with a more extensive feature set. You can connect your bank accounts to import transactions, track expenses, and automate tax calculations. Not only will QuickBooks simplify your bookkeeping process, but it also compares your income to expenses and generates a comprehensive P&L report.
Verdict: I recommend QuickBooks because it offers more features for managing your business finances.
6. Ecommerce Integration
With the evolving ecommerce state of today's market, ecommerce integration is an important feature that any bookkeeping solution should provide. HoneyBook doesn't have any ecommerce features because it's a CRM tool. You can, however, integrate Shopify using Zapier.
Although ecommerce integration is possible with QuickBooks, it's not just for bookkeeping purposes. You can, however, manage your inventory, display products, and accept payments all in one place. QuickBooks makes it possible to set up a B2B service and manage orders in one platform.
Verdict: QuickBooks is a complete solution for handling your business finances and ecommerce needs.
7. Customer Service and Support
Both services provide fantastic support. HoneyBook offers live chat and email support. The support team is available 24/7, and They're happy to answer any of your questions. You can also access a knowledge base that provides valuable tutorials and documentation.
QuickBooks offers similar support channels, including phone and email. Even better, you can access a wealth of knowledge through its extensive help site. Its online community is one of the most active, and you'll find answers to almost any question.
Verdict: It's a tie as both services offer excellent support and knowledge resources.
HoneyBook and QuickBooks Alternatives
The following are excellent alternatives for HoneyBook and QuickBooks.
FreshBooks
FreshBooks is a particularly excellent alternative to QuickBooks because it's more of an accounting software than a CRM. You can manage your invoices, expenses, time tracking, and record customer payments. All this information makes it easy to generate P&L reports and prepare taxes. Pricing starts at $6.00 for five clients.
Zoho CRM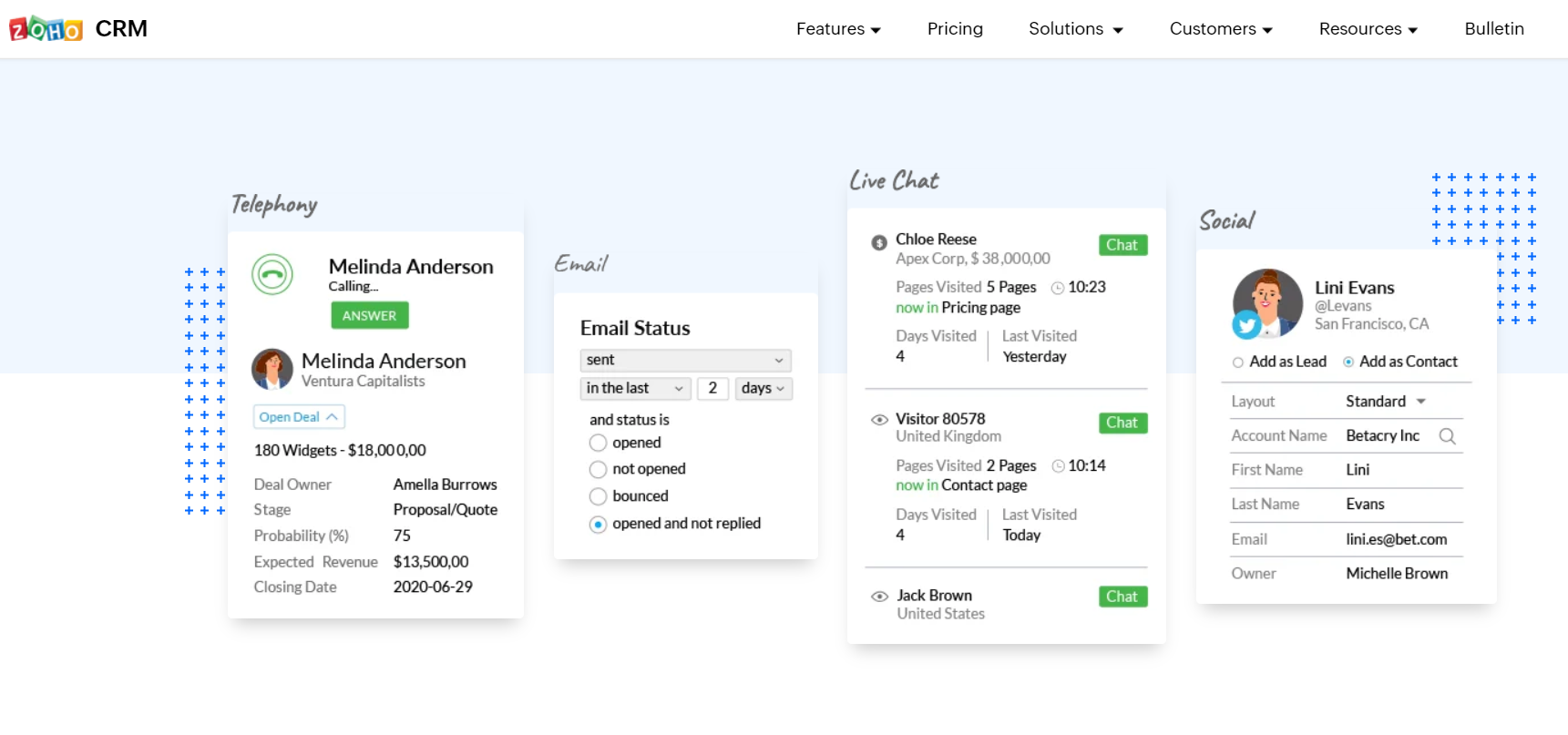 Zoho CRM is a robust customer relationship management software better suited for small businesses. You can track sales, contacts, and activities through a single dashboard. Zoho is an excellent alternative to HoneyBook because it provides powerful marketing automation features for your website.
Xero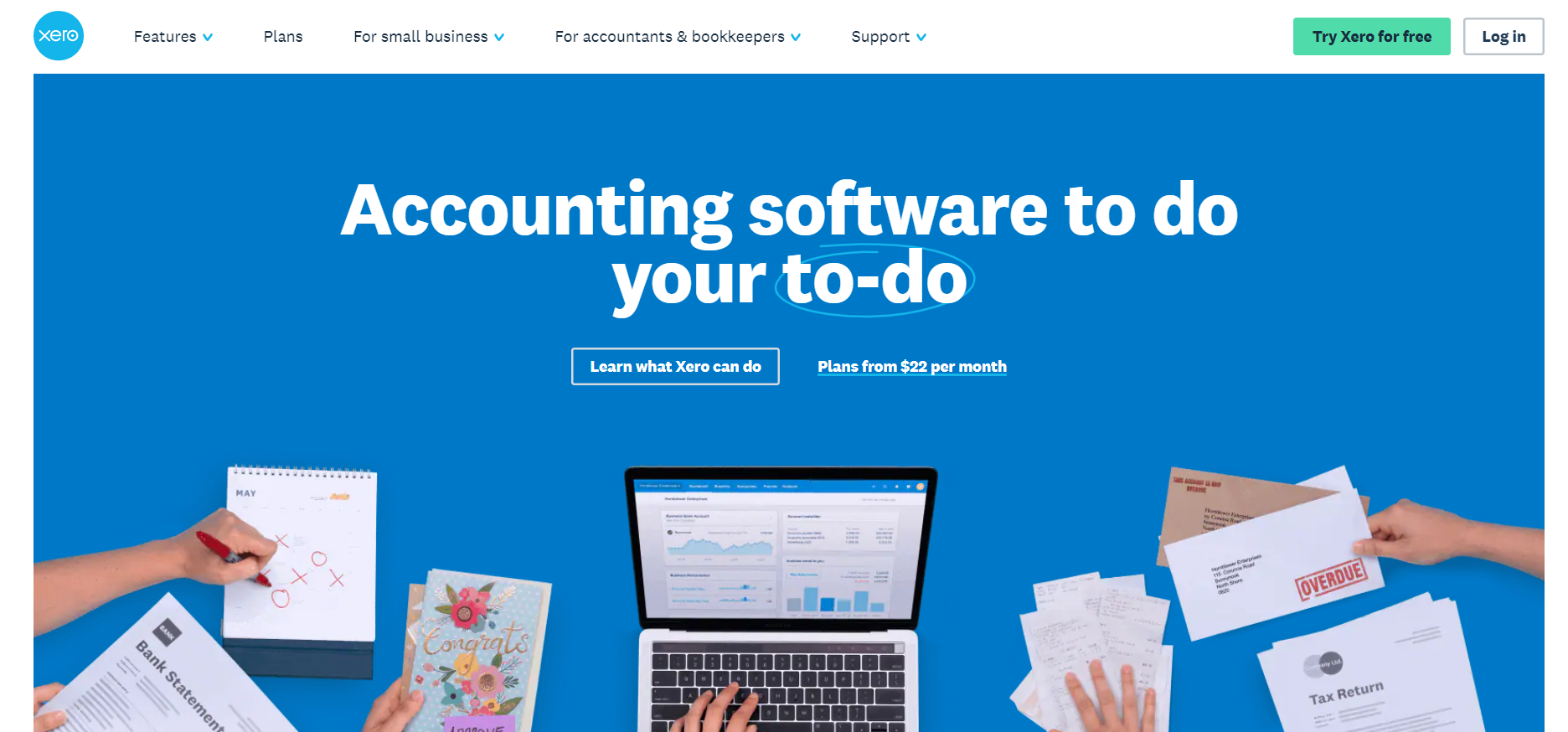 Xero is a comprehensive accounting software that provides you with all the tools needed to manage your business finances. It has features for tracking invoices, expenses, inventory, payroll, and even time for your employees. Pricing starts at $9.00 per month for the starter package.
Acuity Scheduling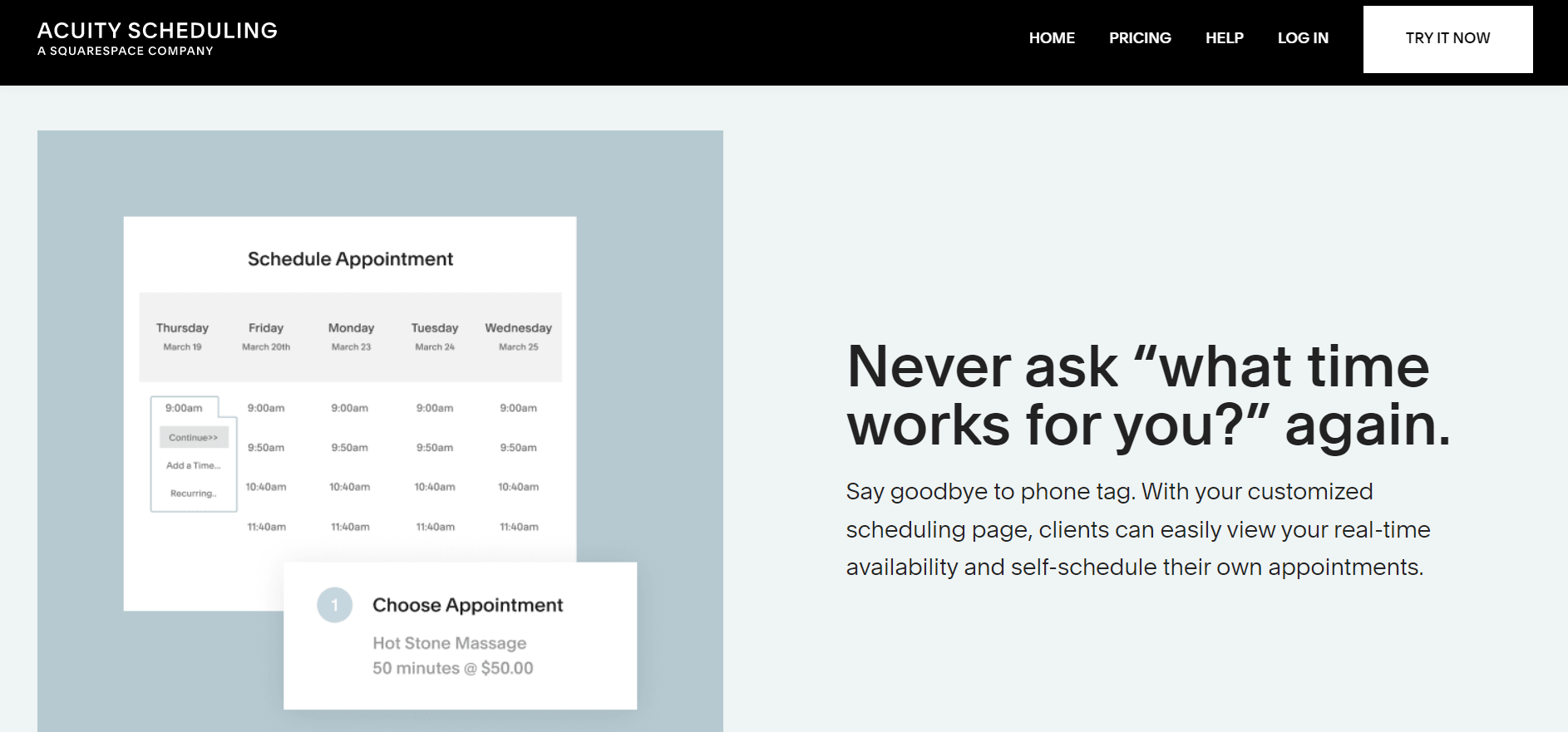 Perhaps you're looking for a more straightforward solution than the robust features offered by QuickBooks and HoneyBook. Acuity Scheduling is an online appointment scheduling tool that provides a simple way to schedule appointments and integrates with accounting tools such as QuickBooks and Freshdesk. Pricing starts at $14.00 per month.
FAQs
Question: Is HoneyBook the same as QuickBooks?
Answer: HoneyBook and QuickBooks are not the same. HoneyBook is a customer relationship management tool, while QuickBooks is more of accounting software. You can, however, integrate HoneyBook with QuickBooks to manage your invoices, expenses, and customer payments.
Question: Is HoneyBook a bookkeeping software?
Answer: HoneyBook is not a bookkeeping software. However, it helps manage your business finances by providing an all-in-one solution for tracking invoices, expenses, and payments. The software also integrates with other accounting software such as QuickBooks.
Question: Do I need both HoneyBook and QuickBooks?
Answer: If you are using QuickBooks, you don't need to use HoneyBook. However, if you started with HoneyBook and want to integrate your CRM with your accounting software, you can incorporate HoneyBook with QuickBooks.
Honeybook vs Quickbooks: Conclusion
HoneyBook and QuickBooks are both excellent options for managing your business finances and online sales. The difference lies in their specialty: while HoneyBook is better for managing client relationships, QuickBooks is more suitable for tracking your expenses and inventory. When choosing between the two, ask yourself what you really need to manage in your business.
I recommend using QuickBooks. It provides you with excellent tools for tracking your invoices, expenses, inventory, and payroll. It's also an all-in-one accounting solution that can help you generate P&L reports and prepare taxes.