Last Updated on June 21, 2023 by Ewen Finser
Nurturing customer relationships is crucial for boosting sales, converting prospects into clients, and increasing the likelihood of securing repeat purchases.
Cold calls are almost a thing of the past. Today, it's all about making an effort to stay in touch with your audience, predicting their buying needs, providing valuable content, and crafting engaging sales pitches.
Sounds like a lot to handle? It is. That's why effective customer relationship management systems (CRM) are worth their weight in gold.
A good one will help track all the customer information you need. Keeping your customer's contact details and prospects in easily accessible lists.
In short, with a high-quality CRM in your arsenal of business tools, you're better positioned to stay in tune with your audience. Namely by using email marketing and the power of well-timed follow-ups.
In light of that, we're going to review two noteworthy CRM's: Prosperworks and Pipedrive. Hopefully, by the end of this review, you'll have a better idea of which (if either) of these platforms best suits your business.
Let's hop to it!
TL;DR: These are both capable CRMs, but I prefer the more capable CRM specific features & better overall support offered by Pipedrive here.
Main Differences Between Prosperworks vs Pipedrive
The main differences between Prosperworks vs Pipedrive are:
Prosperworks or now Copper is a CRM that is Google-based, whereas Pipedrive is not.
Prosperworks has a limited leads and contracts plan, whereas with Pipedrive you are not limited.
Prosperworks provides project management features on top of its core CRM tools with a Kanban-style project board, whereas Pipedrive doesn't have any project management features.
Prosperworks doesn't have great customer support, whereas Pipedrive has an add-on that offers help desk features, including a chatbot, live chat, and web forms
The Similarities:
Both tools offer workflow automation.

Copper and Pipedrive both come with priority visibility and alerts. These help you understand which deals are the most urgent to follow up on and alert you to upcoming events, deadlines, and important dates.

Both platforms make it easy to create rich customer profiles.

The pricing of both CRM's hinges on how many users need access to the platform each month.

Both Copper and Pipedrive offer a free trial.

It's easy to schedule meetings with either software using calendar integrations. Customers simply need to choose from your predetermined availability, and the app handles the rest.

Both tools come with mobile apps with automatic voice recording for notes.
Our Pick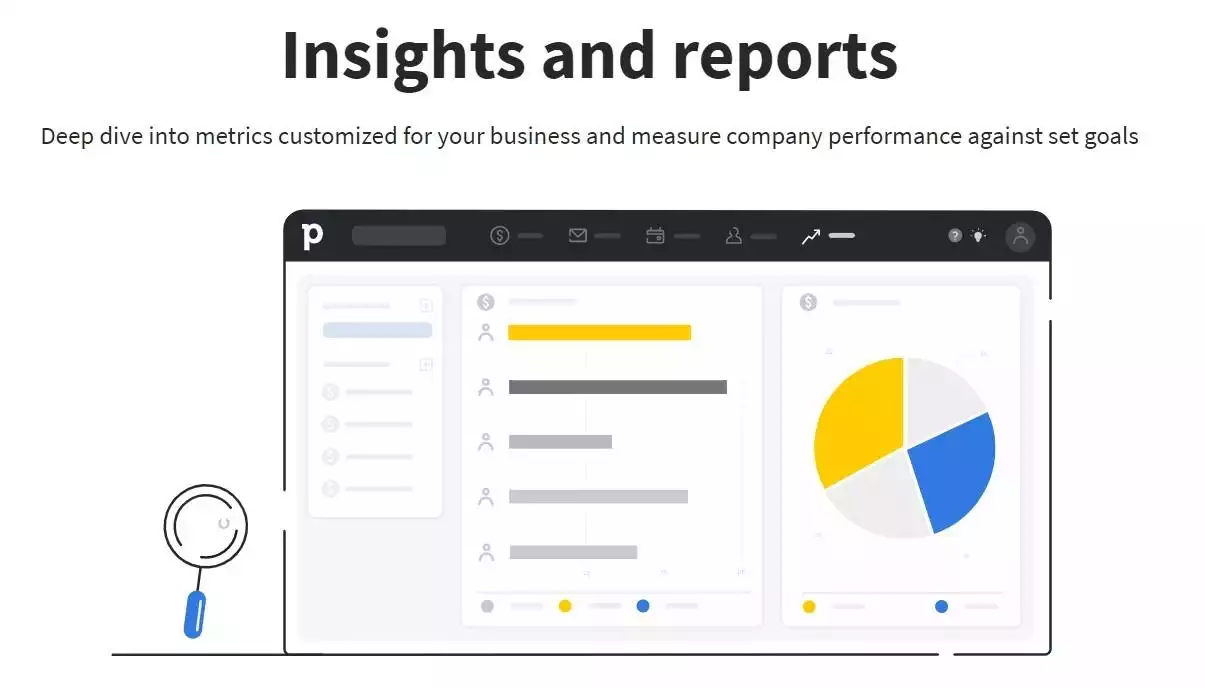 Why I Prefer Pipedrive
Pipedrive has mastered the art of a CLEAN INTERFACE while still having DEEP FUNCTIONALITY. For a pure CRM, I personally went with Pipedrive here.
Try Now
We earn a commission if you click this link and make a purchase at no additional cost to you.
About Copper

CRM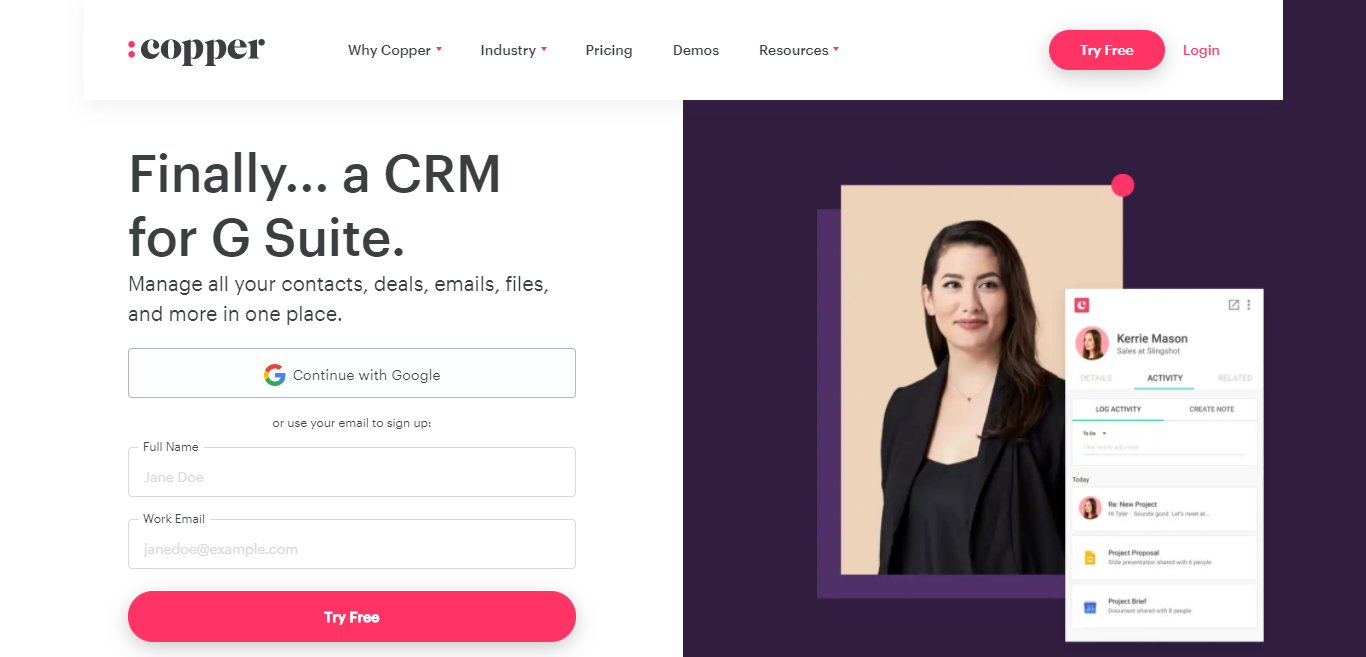 This CRM started out as a Chrome extension in 2013 and has rapidly developed since then.
In 2018 Prosperworks rebranded itself as Copper. From the get-go, this platform's leaned into its Google integration. It works seamlessly with Google Workspace Suite (Google Apps), including Drive, Hangouts, Gmail, the Google Calendar, etc.
Fast forward to today and Copper's application has moved to Google's cloud hosting platform and even participates in Google's SaaS Sales Alignment program. Needless to say, Copper's an excellent choice for anyone who's a fan of Google!
About Pipedrive
Pipedrive has been around a little longer. Founded in 2010, Pipedrive is driven by activity-based selling – i.e., scheduling, completing, and tracking activities.
Pipedrive helps companies achieve this with its visual pipelines. These allow you (and your team) to see precisely where your deals stand with just a glance. Used by over 90,000 companies across 170 countries, it's safe to say Pipedrive's a tried and tested CRM.
Copper vs. Pipedrive – Their Core Features Compared
Now that we've covered the basics, let's take a more detailed look at the functionality each CRM has to offer:
Copper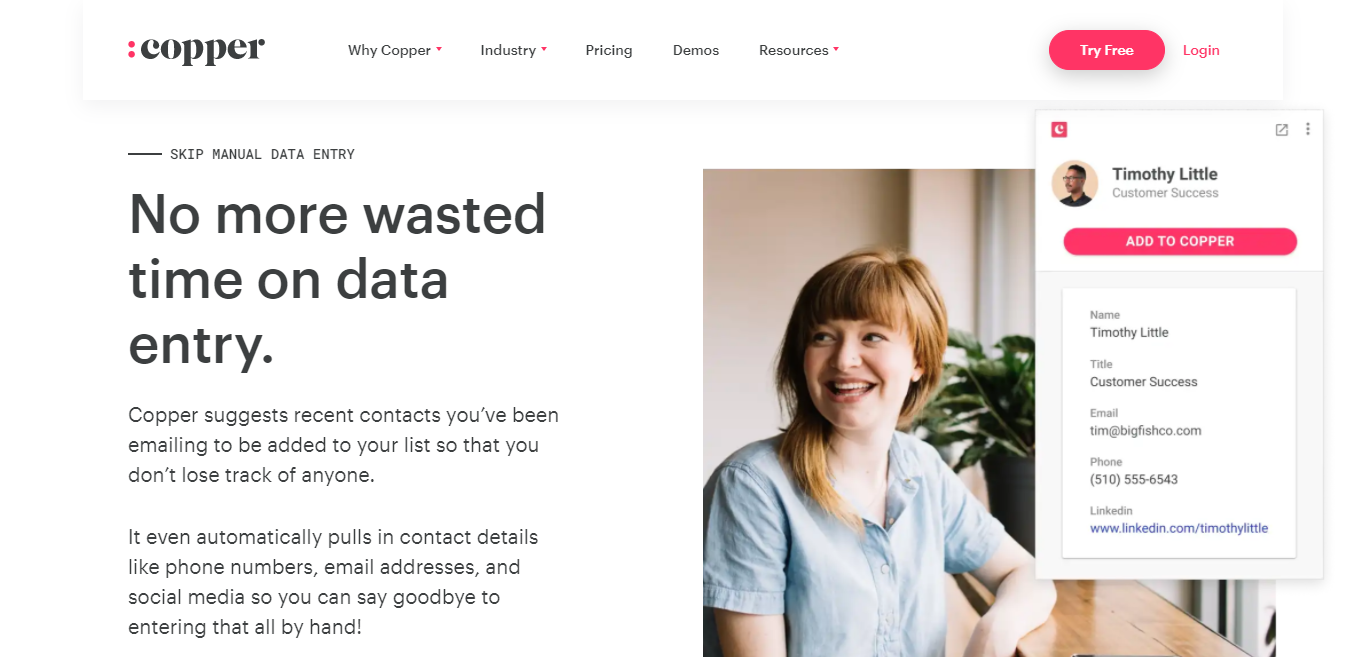 Contact Organization
Copper provides a full history of each of your contacts. I.e., it organizes all your emails, calls, files, and notes associated with each of your leads. On top of that, things like phone numbers, email addresses, company info, and social media handles are automatically pulled from the web to create even richer contact profiles.
Copper CRM also suggests recent contacts you've been emailing from your Gmail account to add to your CRM's contact list, so it's hard to forget new leads.
You can tag, filter, and sort leads and customers by any criteria and saves them as contact lists. This helps you target specific customers with tailored communications based on their industry, geography, company size, etc. Simultaneously, you can use this same functionality to make it easier to analyze your sales team's activity. You can filter actions based on which agent took on the task and keep an eye to see if patterns arise.
You also get access to a customizable real-time feed, which makes tracking your most essential data much more straightforward. You'll also receive alerts when contacts need your attention, and you can star vital contacts as favorites.
Track Deals
Copper CRM speeds up the creation of follow-up emails with their professional-looking email templates. You can also set automatic reminders based on any trigger of your choosing.
For example, for deadlines, birthdays, milestones, etc. On top of that, you can assign time-based tasks automatically. Suppose an assignment comes with a tight deadline. In that case, the system will hand it straight over to an available agent to ensure time-based tasks get seen and completed.
On top of that, you can make the status of potential sales and deals more visual with Copper's drag-and-drop pipeline editor. With just a glance, you can see where each lead's at in your sales process and track and sort deals by their value amounts.
There's also an inactivity monitor to help ensure leads don't go cold. This comes in handy for measuring how long potential sales have been going on, so you can pick out which ones are dragging and do something about it!
Manage Projects
This is somewhat of a new feature. Copper doesn't stop working for you after a deal's closed. Instead, it aims to create a smoother transition between project acquisition and project management.
For instance, you can create flexible, fully customizable Kanban-style project boards deeply integrated with G-Suite. Thanks to Copper's Google-based design, it's easy to attach files and see pending tasks inside your Gmail account and use @mentions to collaborate with your team.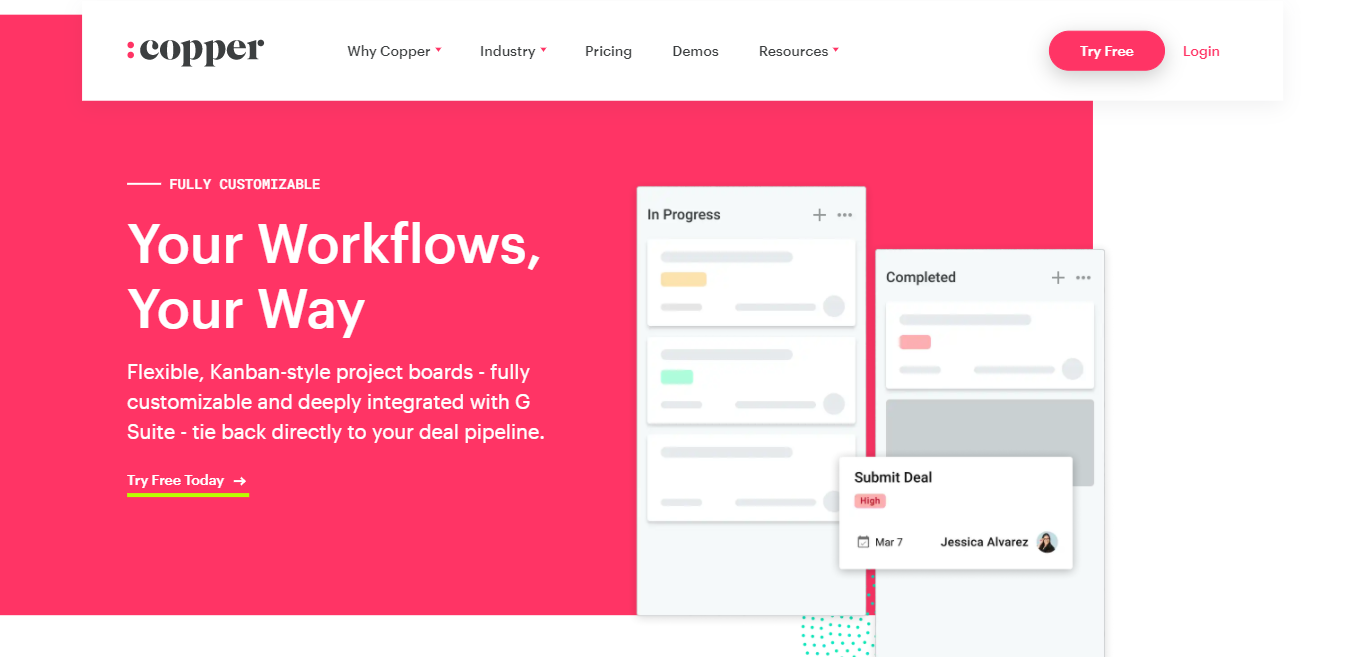 Automate Tasks
Remove repetitive admin work from your schedule with Copper's automations. For instance, you can automate tedious tasks like logging calls, meetings, and activities.
You can also create new workflows controlled by a simple set of rules and automate recurring jobs that need executing regularly.
Take email automation, for example. Automated email workflows empower you to send personalized messages with fewer efforts. You can use Copper's email templates that are automatically customized to suit your chosen customer segment.
Copper can even book meetings for you. Just send an automated message that contains a link with a calendar displaying your availability and let the recipient book themselves in. Simple, right?
Get Reports
Copper provides real-time insights into your sales performance and lead management.
It shows the best lead sources, your top-performing sales agents, and tracks sales forecasts with your overarching business objectives in mind.
On top of that, you can also generate reports on your:
Lead conversion rates

Leads by source

Sales history trends

Sales forecasts

Rep leaderboards

Revenue goals

Loss reasons
You can easily filter data by pipeline, ownership, lead source, etc., and gain insights into your team's productivity at any stage of the sales process.
With a few clicks, you'll get a feel for who's doing what – and when. With this info to hand, you're better positioned to analyze which actions lead to closed deals.
Plus, you can set trackable goals and observe trends from your sales dashboard. Lastly, suppose you want to get more from your analytics. In that case, you can integrate with Google's Data Studio to build and share reports using data from multiple sources.
Integrations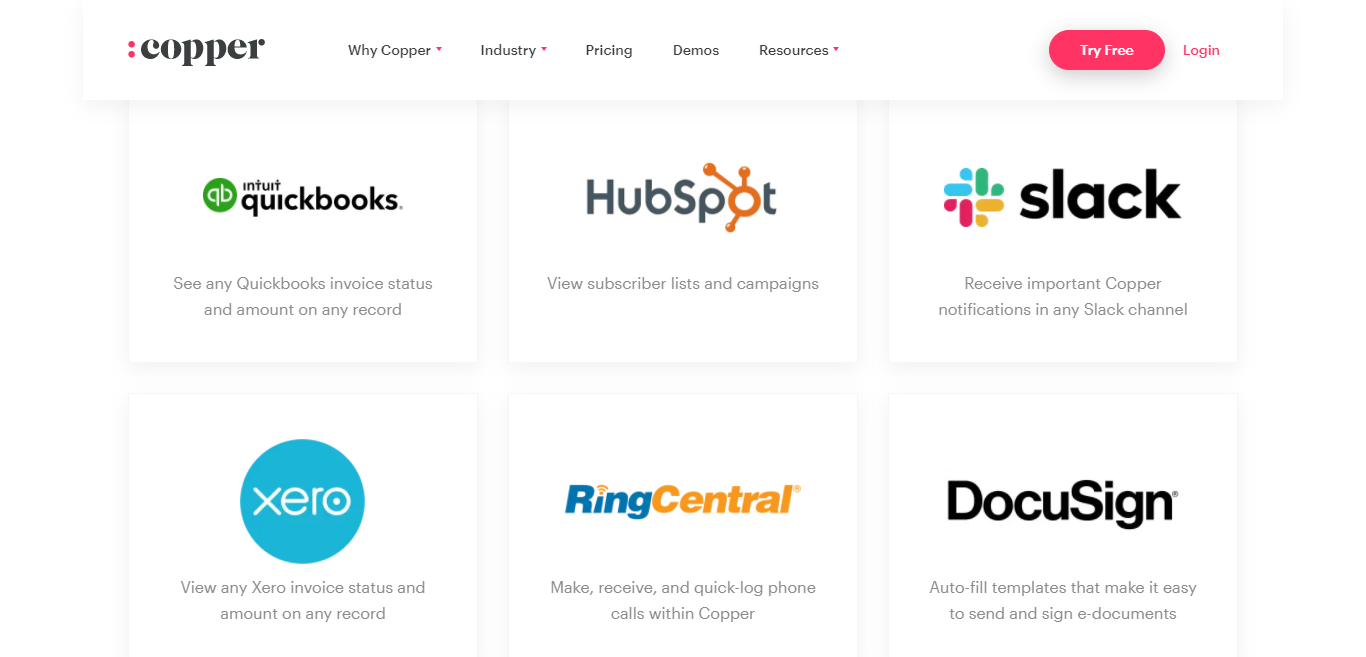 Copper comes with an open API, so if you boast the coding smarts, you can quickly develop your own custom integrations. On top of that, Copper comes with a Zapier integration, enabling you to connect with loads of apps.
That said, Copper doesn't offer as many native integrations as Pipedrive. Some of Copper's most popular integrations include Mailchimp, Zendesk, Outfunnel, airCall, Reply, Slack, Hubspot, and QuickBooks.
Pipedrive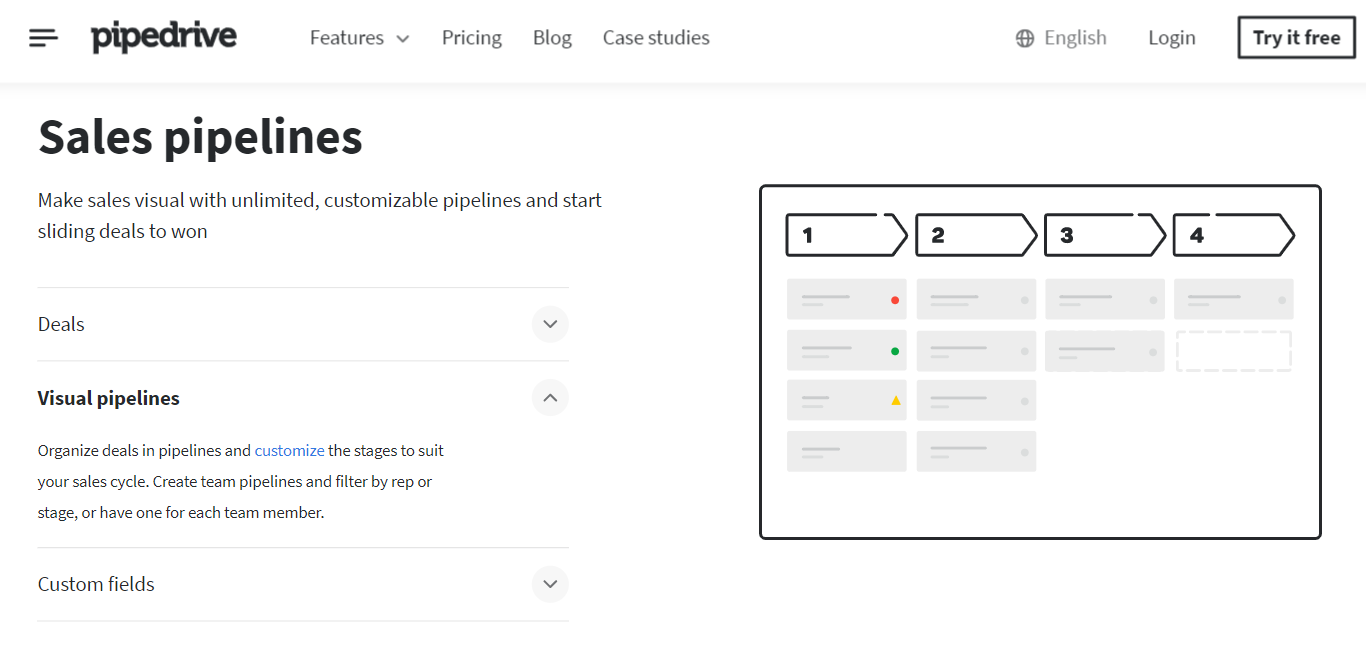 As we mentioned earlier, Pipedrive is all about activity-based selling. They believe that while you can't control results, you can control the actions that drive deals towards your desired outcome.
Pipedrive's features are plentiful, so let's take a look:
Manage Leads and Deals
Pipedrive's customizable pipelines make the sales process very visual. You can add deals, including their value, win probability, and expected close date, then track them through all your pipeline stages. You can also customize these 'stages' to suit your sales cycle.
It's also worth noting; you can create team pipelines that you can filter by rep or stage. Alternatively, you can build pipelines for each team member. The choice is yours. With unlimited custom fields, you can collect and organize the sales data that's more important to your business.
Pipedrive also provides users with a 'Leads Inbox.' This pools all your leads into one place so that your pipelines remain uncluttered. You can add leads manually, import them in bulk from a spreadsheet, or integrate with another source, so they flow in automatically. Keep track of prospects with 'hot' or 'cold' labels (or a custom label of your choosing).
On top of that, you can determine a deal's rotting time; colored cues indicate whether a deal's sat idly for too long. This info works wonders for helping you prioritize your workload. Unread messages and overdue activities are also automatically highlighted, so you're not likely to fall behind on anything.
Lastly, if you opt for Pipedrive's LeadBooster add-on, you can also engage website visitors using chatbots and a live chat widget. The bot is entirely customizable in terms of its aesthetic and the questions it asks/responds to. Plus, your reps can seamlessly pick up conversations from their desktops or via the mobile app where live chat is concerned. Handy, right?
Track Communications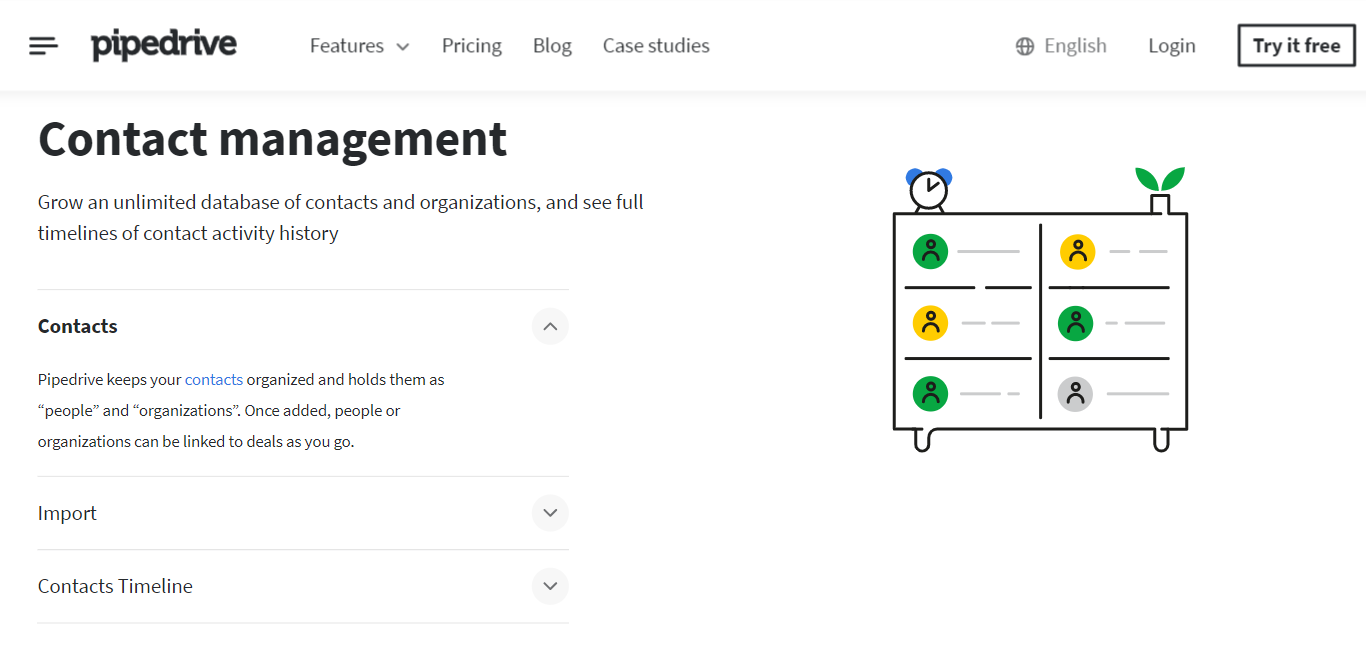 Pipedrive manages your contacts by categorizing them as "people" and/or "organizations." Each contact profile displays a visual history of their calls, emails, and activities, making it easy for reps to check their last conversation before following up.
Pipedrive manages sale conversations from your preferred email provider and automatically links any inbound emails, deals, and contacts to your 'leads inbox.' You'll also benefit from email open and clicks tracking, so you'll know with certainty which communications your recipients engage with.
You can also send more emails in less time by utilizing Pipedrive's customizable email templates.
Automate and Grow
Pipedrive comes with an AI sales assistant that provides personalized tips for what your sales reps should do next. For instance, automation recommendations, performance tips, and notifications when changes are made to your account settings.
You can also automate near-on any step of your sales pipeline by setting triggers and desired actions to create a more streamlined sales process. This comes in handy for eliminating tediously repetitive tasks. For example, you can ping automated emails when a deal is completed or moved along your pipeline. This helps to ensure leads are kept warm while you focus on other tasks.
Pipedrive also automatically draws contact data from Google, LinkedIn, and Twitter without you painstakingly searching the internet. On top of that, you can schedule meetings by sharing your availability and letting your invitee book a time that works for you both.
Lastly, sales communications are made easier with 'Sales Docs.' This feature auto-fill documents using Pipedrive's data, making it quicker and easier to send quotes and proposals. You'll see when the recipient opens these documents so that you can follow up at the right time. Then, finally, you can close the deal with a convenient eSignature.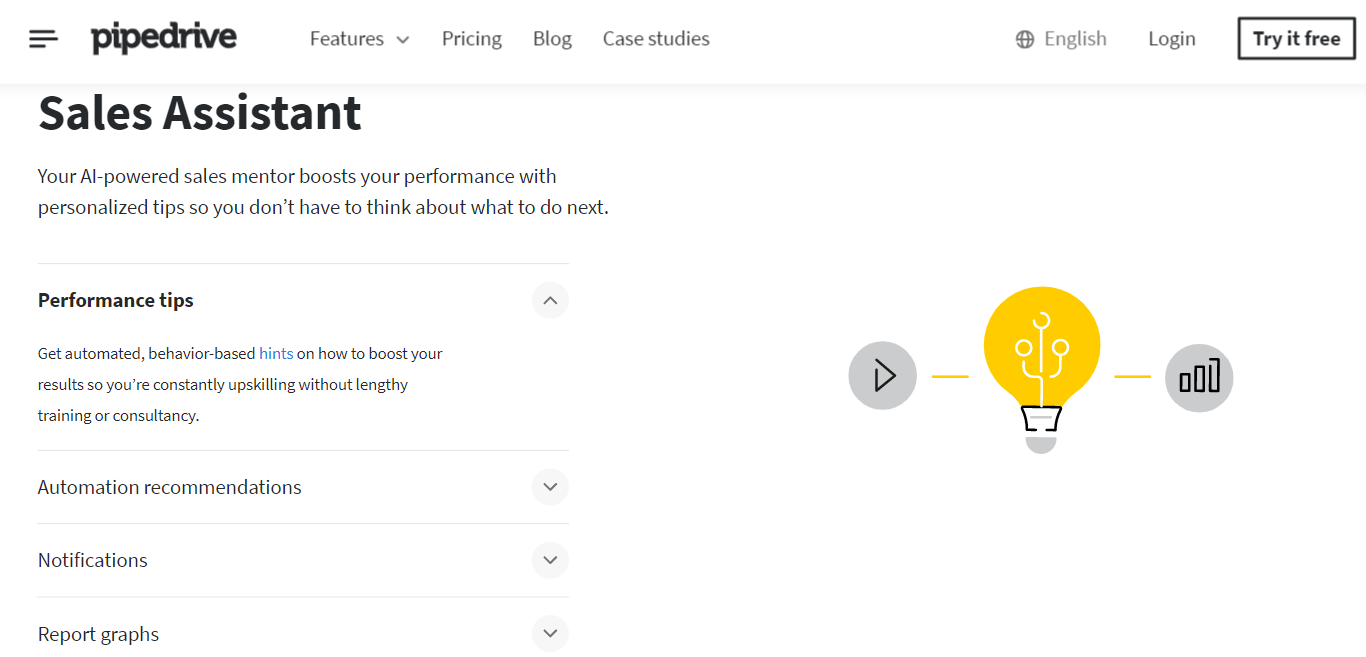 Insights and Reports
You can analyze your performance with the help of Pipedrive's customizable reports and graphs across your:
Deals

Revenue

Activities

Leads
You can also get a feel for your overall progress with Pipedrive's interactive dashboards. Here, you can track your most important KPIs and reports in one place, rearrange them to reflect your priorities, and collaborate with your team with just the share of a link.
As well as that, Pipedrive's graphs work wonders for highlighting your performance failures and victories. These graphs clarify where you're doing well and, likewise, where you need to make changes.
Pipedrive's 'contact map' additionally makes it easy to locate all your contacts, so you know where they're from and when they might be in the area.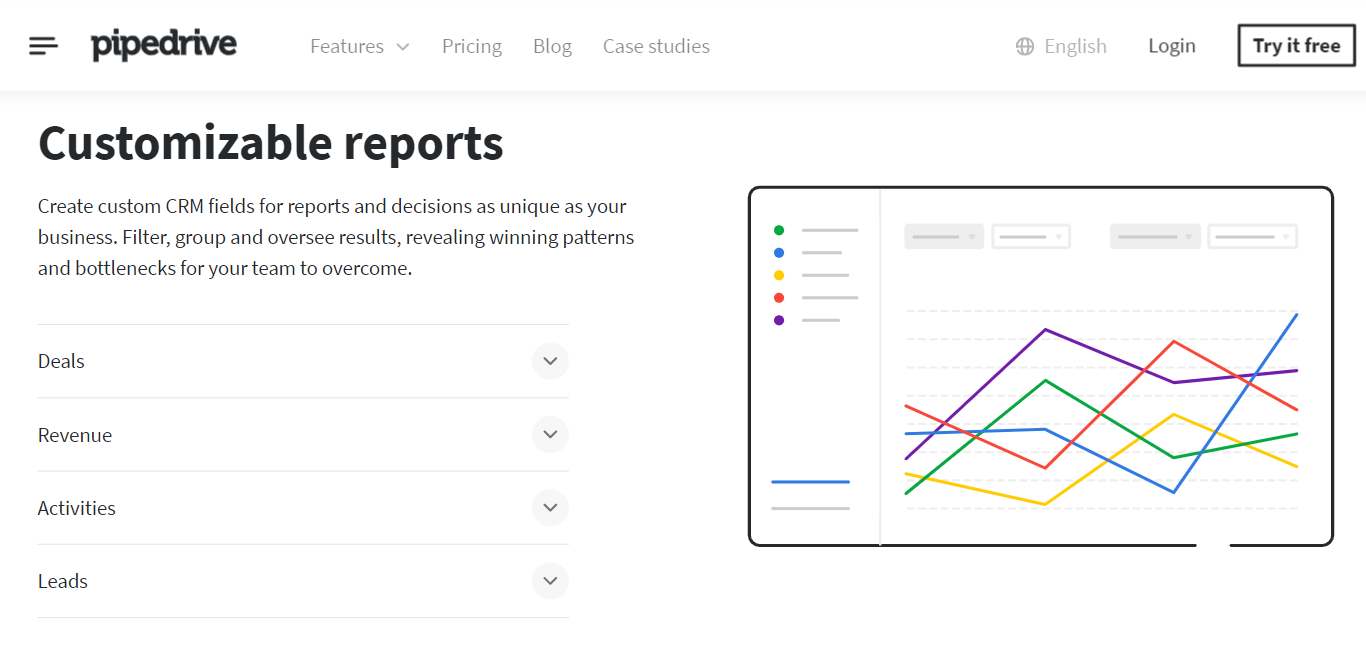 Pipedrive's Mobile App and Integrations
Pipedrive comes with a mobile app that's compatible with both Android and iOS devices. From here, you can access a summary of tasks and upcoming activities for the day and make changes to deals, activities, and contacts while you're on the go.
Pipedrive's open API allows you to connect with other software and/or develop custom features. Plus, Pipedrive comes with a vast marketplace of apps that you can download and use – most notably, Google and Microsoft.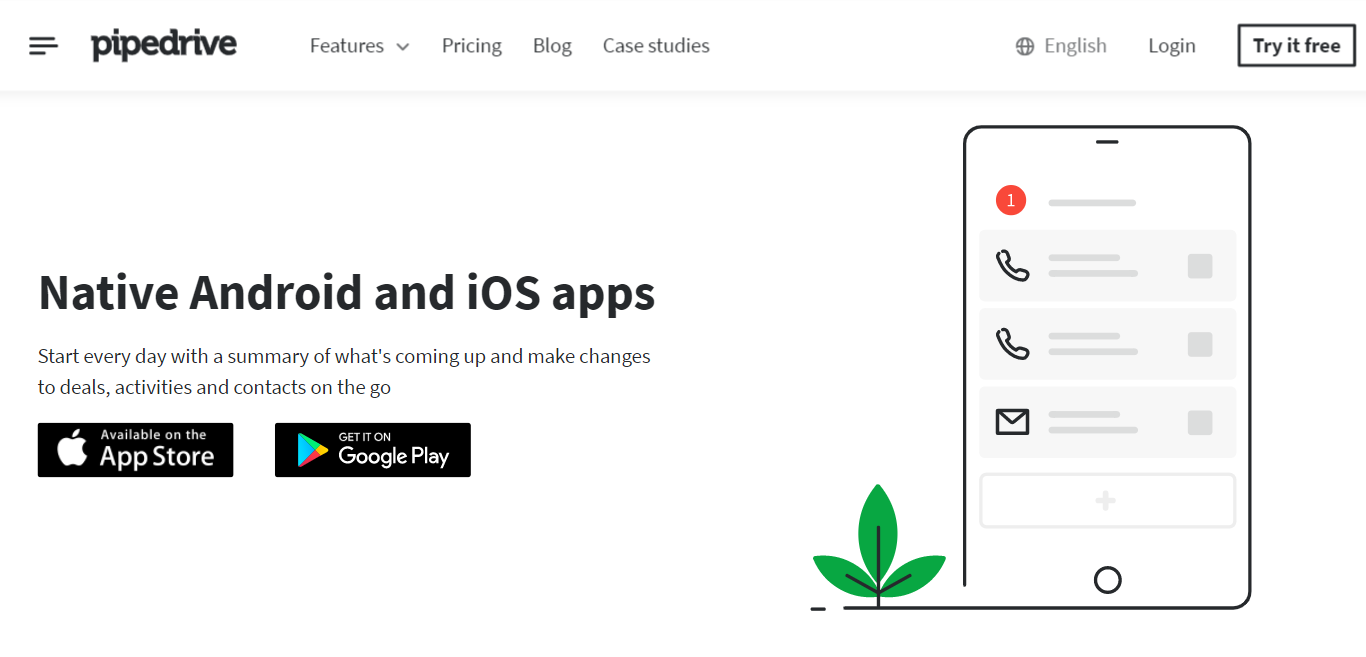 Copper vs Pipedrive: Pricing
How much will Copper and Pipedrive set you back? Let's see how these CRM's compare where cost is concerned…
Copper

CRM Pricing

The Copper CRM system has three pricing plans you can opt to pay either annually or monthly per user per month. There's a 14-day free trial available, where no credit card info is required.

The following prices are based on annual billing:

The Basic plan is available for $25 per user per month. This plan comes with full G Suite integration, presenting an excellent light-weight solution with a three-seat limit.

You're limited to a max of 2,500 leads and contacts. But, you get access to all of Copper's basic features, including:
Multiple pipelines. These outline the different steps of the sales journey and can be customized to suit different client types.

Team collaboration tools. Easily communicate with your team inside Copper, attach files, and reassign tasks.

Project management features. Present tasks on a kanban-style project management board and discuss projects inside the software.

Contact enrichment

Single sign-on

Basic reporting

Sales forecasting

Unlimited custom fields
The Professional Plan costs $59 per user per month. Copper advertises this plan as best for growing teams. The contact limit rises to 15,000, and you get an unlimited number of seats.
Additionally, you unlock:
Workflow automation

Bulk email sending and templates

Integrations with various software, developer API, and Zapier

Activity reporting (These are reports on all the completed, overdue or uncompleted activities)

Multi-currency support

Team permissions
The Business Plan is for those enterprises already scaling their business. This will set you back $119 per user per month. With this package, you gain access to unlimited contacts and full customization of the platform.
In addition to the features included in the previous plans, you'll also unlock:
The ability to build your own embedded integrations

A leaderboard for sales reps, where you can monitor your team's performance and encourage them to compete against one another.

Goal tracking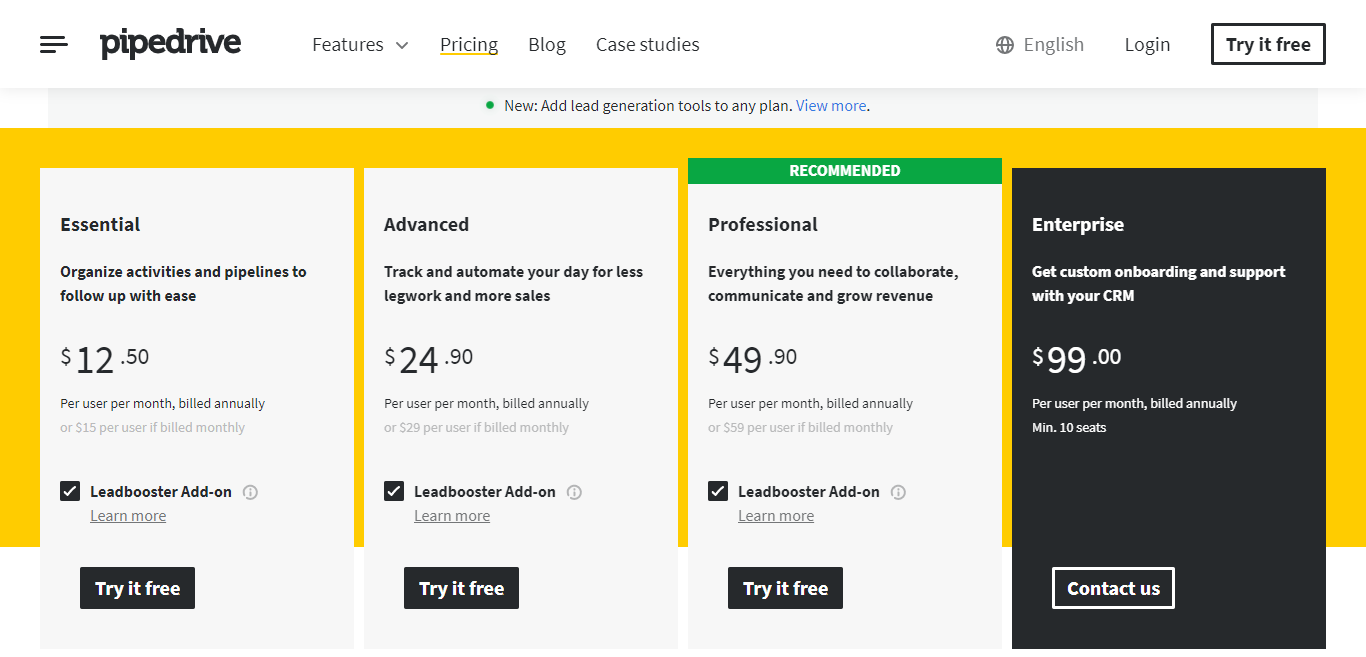 Pipedrive's pricing is also calculated per user per month and has a few different CRM tool tiers available.
Similarly, you can pay either monthly or annually. But, overall, this tool works out a little cheaper. You can also test its features for free for fourteen days.
Same as with Copper, the prices below are based on annual billing:
All plans come with:
GDPR compliance

24/7 chat and email support

An open API for developers

US and EU data centers

Over 150 apps and integrations

iOS and Android Mobile apps
The Essential Plan is available for $12.50 and helps small teams organize their activities and follow up on leads. The feature list is vast so that we won't list all of them here. Head over to Pipedrive's pricing page to compare their plans in detail.
That said, here are some of the most noteworthy features included with the Essential Plan:
Activity and deal reports

Visual dashboards (limited to one). Here, your report metrics are transformed into visual displays.

An AI sales assistant that determines what you should focus on next.

A contact map

You can attach files to emails, deals, contacts, and inventory products.

Calendar view and activity management

A basic meeting scheduler

Contact and organization management. For instance, you can organize your contacts into lists of people and organizations, make notes, and keep their details organized.

An email inbox

Customizable pipelines

Custom fields

Deal rotting (I.e., you'll be notified when a deal is idle for longer than a pre-defined period)
The Advanced Plan costs $24.90 per user per month and lets you track and automate your day to optimize operations.
In addition to everything listed in the Essential plan, you can also:
Create a product catalog of your goods, including costs and notes. This is handy to have to hand when customers inquire about particular items.

Customize email templates

Send trackable quotes, proposals, and contracts through your CRM.

Integrate with Google Drive and OneDrive

Customize your email signatures

Automate your workflows

Get access to recurring revenue reports.
The Professional Plan is priced at $49.90 per user per month. It includes everything you need to collaborate with your team and grow your revenue, building upon the previous plans with the following features:
Group emailing

Unlimited eSignatures

The Caller (This functionality makes sales calls directly from the web for fast-tracking, recording, and insights)

Custom fields and reports. Generate custom metrics to track them and analyze them in reports.

Leads reports: See where your leads come from and which converts into deals.

Revenue forecast reports

Team management features (You can organize your salespeople into trackable teams to measure their performance)

A security dashboard, security alerts, and security rules. These let you, for example, set a required password strength that can be enforced across your team.

Advanced deal and contact visibility settings, so you can control which members of your team see which contacts and deals.
Finally, Pipedrive offers an Enterprise Plan for $99 a month, unlocking custom onboarding, additional support, and increases your limits on workflow automation. A minimum of ten seats is required for this plan.
For an additional $32.50 per month per company (billed annually), you can also add Pipedrive's LeadBooster to any of these plans.
This add-on allows you to integrate a Chatbot, live chat, and web forms to improve your lead generation. It also comes with a Prospector tool that identifies your leads from a global database comprising more than 400 million profiles.
You can also add the Web Visitor add-on for $41.00 per company per month to identify which organizations are browsing your website. This add-on highlights how they found you, what they engaged with, and how much time they spent on your site.
Copper vs. Pipedrive – Customer Service
Your CRM should be with you through thick and thin, which is why high-quality customer service is imperative when an issue arises:
Copper
There's an in-app chat where you can talk with an agent as and when you need to. Alternatively, if you need to consult an expert, you can book a one-to-one office hour via their website. Alternatively, you can submit a traditional support ticket.
Or, if you prefer to take the self-help route, Copper comes with a bunch of resources, including several handbooks and guides that provide detailed information on how to handle sales and deals. Also, every now and then, Copper hosts webinars covering various topics you can sign up for.
The Helpcenter features its knowledge base, including basic tutorials and frequently asked questions. This is often a practical first go-to if any issues arise!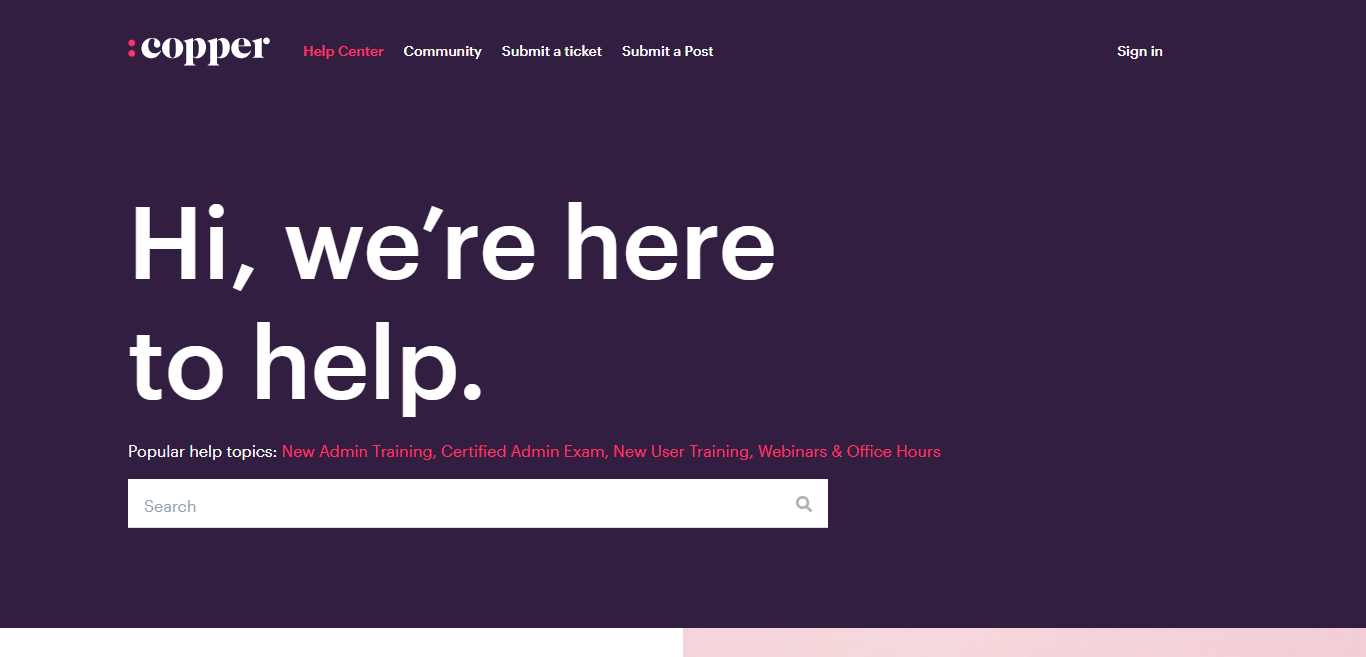 Pipedrive
Pipedrive makes customer service accessible and affordable. On all of its plans, you get 24/7 live chat and email support. On its website, you'll also find numerous resources for salespeople.
There's an online knowledgebase that provides lots of advice on how to use a CRM efficiently, sales techniques, and management.
Whereas, over on the HelpDesk, there's another online knowledgebase detailing every feature Pipedrive has to offer and solutions to common issues. From here, you can access the community forum to discuss Pipedrive with your peers.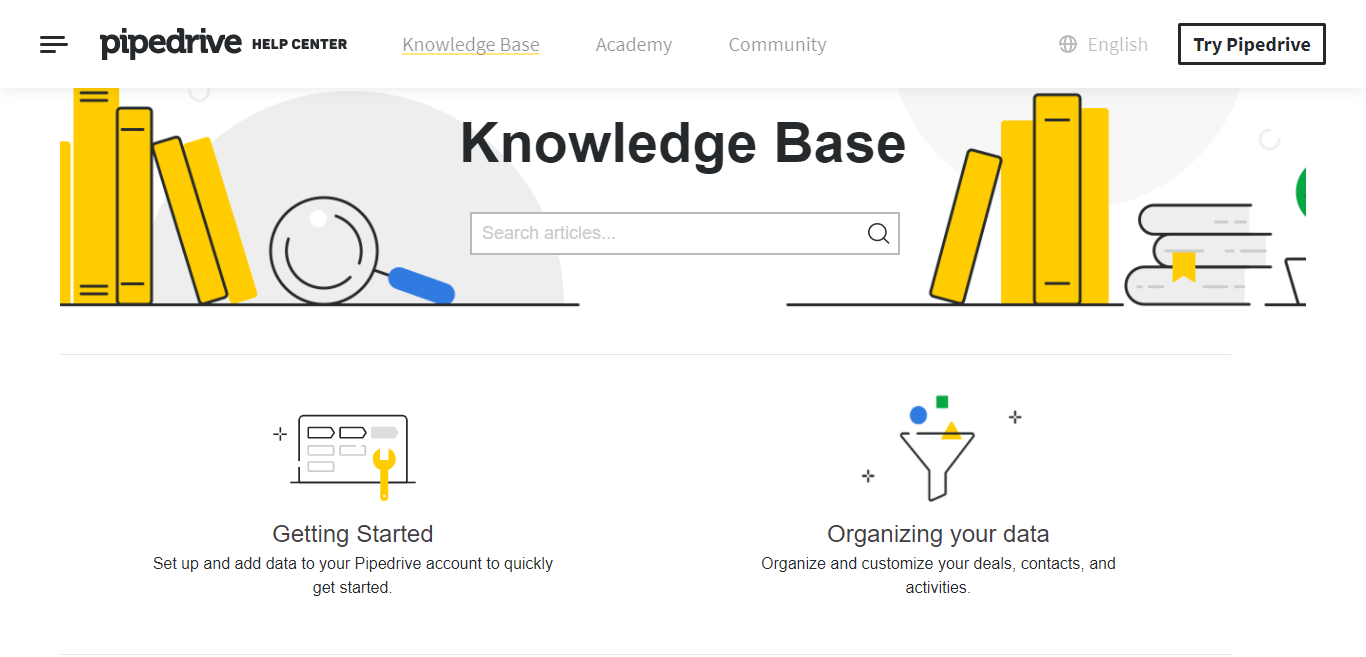 Copper's Pros and Cons
For a quick, final comparison of what we've learned, let's review the pros and cons of both tools. We'll start with Copper's perks…
The Pros:
Copper's fluent Google integration makes it an excellent choice for anyone where GSuite is the cornerstone of their business. Users don't have to switch between apps, which will save you tons of time!

Copper's customer support is excellent. You can book office hour appointments for one-on-one consultations or use their in-app live chat to get in touch with an agent near-on instantly.

Open API is available for developers.

Copper comes with project management features like organizing your tasks in Kanban-like project boards and communicating on each job within the software.
The Cons:
There's a limit on the number of leads/contacts you can store that only lifts when you choose a higher plan.

The number of native integrations available is relatively limited compared to Pipedrive.

Copper is more expensive when you compare the features that are available for the price.

Copper doesn't come with any webhook receiver URLs. So, to effectively integrate with other platforms, you'll need to shell out for a paid-for Zapier or Tray.io account.
Pipedrive
Now, let's take a look at Pipedrive…
The Pros:
Pipedrive doesn't limit your leads or contacts on any of its plans, allowing you to grow while keeping your costs down.

Pipedrive is the more affordable option, unlocking more features for the same value.

Pipedrive offers a marketplace of apps and integrations on its website. Some of these come with generous discounts and special offers.

You have access to 24/7 live chat and email support on any plan.

The open API allows developers to make custom additions.

You can easily add on a chatbot and live chat functionality to engage your visitors better.
The Cons:
Workflow automation is limited (30 on the Advanced plan, 60 on Professional)

The visual dashboards are limited to one, only becoming unlimited on the professional plan.

There are no project management features, so you'll need another app for this functionality.

You can't send your audience SMS messages.
FAQs
Question: Can I add custom integrations and add-ons to these tools?
Answer: Yes! Both Copper and Pipedrive come with an open API. This means your developers can add in any functionality you desire.
Question: Can I try Copper or Pipedrive for free?
Answer: Both providers offer a fourteen-day free trial. With Copper, you'll be on the Business plan during the trial. Whereas Pipedrive gives you a choice of which plan to try, and you can switch between these quite easily.
No credit card details are required for either trial.
Question: Why should I use a CRM rather than managing my contacts myself?
Answer: CRM systems like Pipedrive and Copper offer many handy tools. While you can probably keep track of all your contacts in spreadsheets of your own, this can cause confusion.
Whereas a CRM eliminates lots of tedious tasks and helps keep you focused on urgent jobs, reminding you of upcoming activities. You can also track client details from the convenience of one place and keep deal-related documents organized.
Question: What other software will I need to perfect my client communications?
Answer: While Pipedrive and Copper are useful CRMs, there are other tools you'll want to look at. For instance, marketing automation software for more advanced email marketing. You might also look towards project management software or help desk tools.
If you choose Copper, you might not require additional project management software as it touches on this with its Kanban-like project boards.
Pipedrive, on the other hand, can easily integrate with its own help desk providing Live Chat and Chatbot features.
Getting a feel for the software you need before purchasing a CRM will save you time and money in the long-run. You'll soon see where the gaps in your tech stack are. Then you can pick the most appropriate CRM for filling them.
Question: How do Pipedrive and Copper keep my customer data safe?
Answer: Both Copper and Pipedrive take security and privacy very seriously. Pipedrive offers a full security dashboard so you can monitor security-related issues from one place. You can also see who's accessing company data and when and tackle suspect user activities in real-time. It also comes with rules you can enforce to strengthen security and limit user access, including features like two-factor authentication, whitelisting IPs, and single sign-on.
The same goes for Copper, which has also been validated by the Service Organization Control. Copper participates in vulnerability testing and provides data security training to all its employees. Data encryption and two-factor authentication are also a couple of Copper's standout features.
Copper vs Pipedrive: Our Final Verdict
Both Copper and Pipedrive are impressive CRM systems that offer a wealth of features. It's tough to pick a winner between the two, as they share many of the same strengths and weaknesses.
Suppose you're already heavily relying on the GSuite. In that case, Copper is the right choice for you simply based on how well it integrates with all of Google's services.
Copper is also a good choice if you want project management tools incorporated with your CRM. While Copper's project management functionality may not be the most advanced, it's still an excellent addition.
Pipedrive, on the other hand, is ultimately a little more affordable, offering a plethora of features with a focus on a visual representation that many find immensely intuitive. It boasts plenty of integrations and a handy AI sales assistant. Integrating with Google and Microsoft OneDrive is also possible.
On top of that, if you're also looking for help desk features, you can add this to any Pipedrive subscription for a reasonable monthly price.
With the two tools so closely tied, the best solution is to give each a go! Sign up for their free trials and see which one you like better. And, don't forget to let us know in the comments box below how you get on!
Our Pick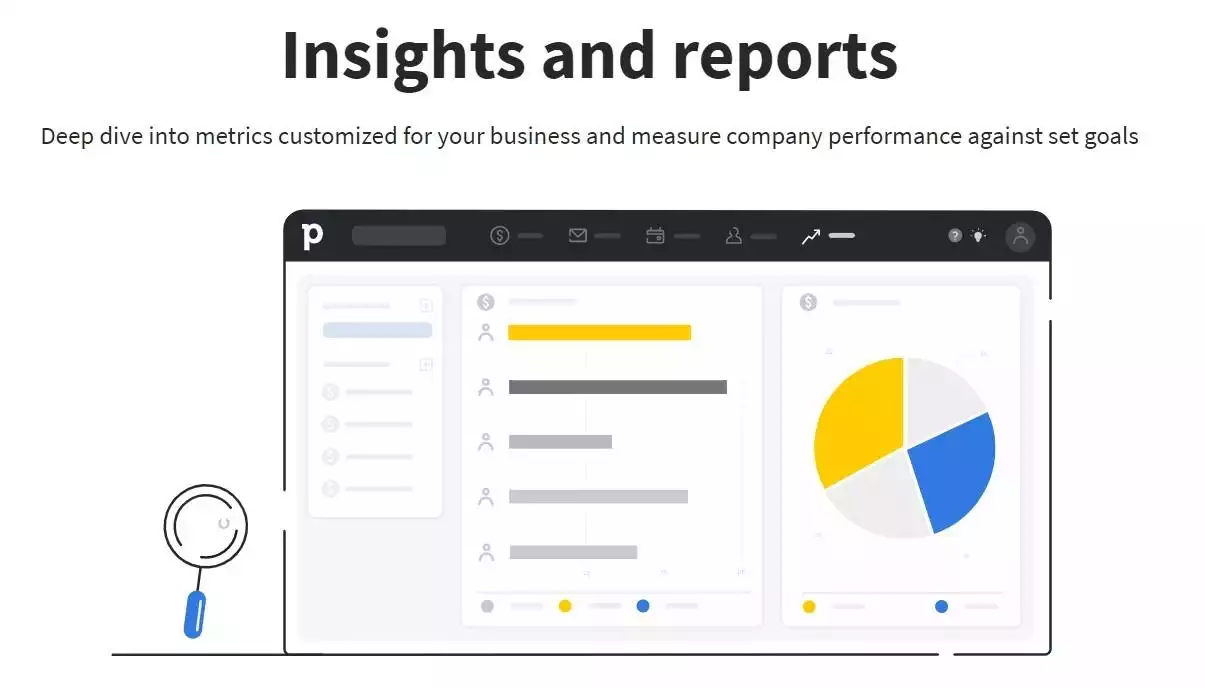 Why I Prefer Pipedrive
Pipedrive has mastered the art of a CLEAN INTERFACE while still having DEEP FUNCTIONALITY. For a pure CRM, I personally went with Pipedrive here.
Try Now
We earn a commission if you click this link and make a purchase at no additional cost to you.
Further read: