Last Updated on April 24, 2023 by Ewen Finser
In our Pipedrive vs Zoho comparison, we'll be looking at two of the most popular platforms out there for CRM software.
Bottom Line Up Front Summary: I would definitely lean towards Pipedrive here. It's easier to use, has a cleaner interface, and plays well with other software and systems. The only time I'd recommend Zoho CRM here is if you are tied into any of their other products already. If you are used to the interface, the "cons" are less important (mostly UX / design issues).
Main Differences Between Pipedrive vs Zoho
The main differences between Pipedrive vs Zoho are:
Pipedrive has a clear platform, whereas Zoho's platform is a bit cluttered.
Pipedrive offers some automation to speed things up, whereas Zoho automates lots of processes using their A.I.
Pipedrive has one mobile app, whereas Zoho has three mobile apps.
Pipedrive has great customer service, whereas Zoho can be a bit slower to respond.
Pipedrive doesn't offer extra features like gamification, whereas Zoho does.
Pipedrive doesn't have as many options to capture leads, whereas Zoho does.

Our Pick

Why I Prefer Pipedrive

Pipedrive has mastered the art of a CLEAN INTERFACE while still having DEEP FUNCTIONALITY. For a pure CRM, I personally went with Pipedrive here.

Try Now

We earn a commission if you click this link and make a purchase at no additional cost to you.
Those are the differences – let's look at the similarities.
The Similarities
Both platforms offer a drag-and-drop tool to create pipelines/blueprints for sales
Both platforms offer great contact management
Both platforms have an in-built calendar system
Both platforms allow you to make calls and email tracking, logging them automatically
Both platforms offer great reporting and forecasting
Both platforms have an Academy for new users
As you can see, they both have a lot to offer. Now, we'll take a look at each of them in more detail.
CRM platforms are endlessly useful for sales teams as a sales solution – they can keep you organized, create a uniformed sales process to make sure every team member follows the steps that your company requires, they can capture leads and organize them for you, and they can organize your team member's schedules and communications – essentially bringing everything under one roof that would have otherwise required a lot of separate admin.
Plus, CRM platforms are great for automating a lot of tedious processes – enabling your sales team to focus on what they do best, building relationships with customers and closing sales.
Pipedrive and Zoho CRM are both excellent platforms with a lot to offer for sales teams. But how do you know which one is best? In our unbiased comparison, we'll look at the differences and similarities, and compare their features head-on, so you can decide which one is best for you.
What is Pipedrive CRM Software?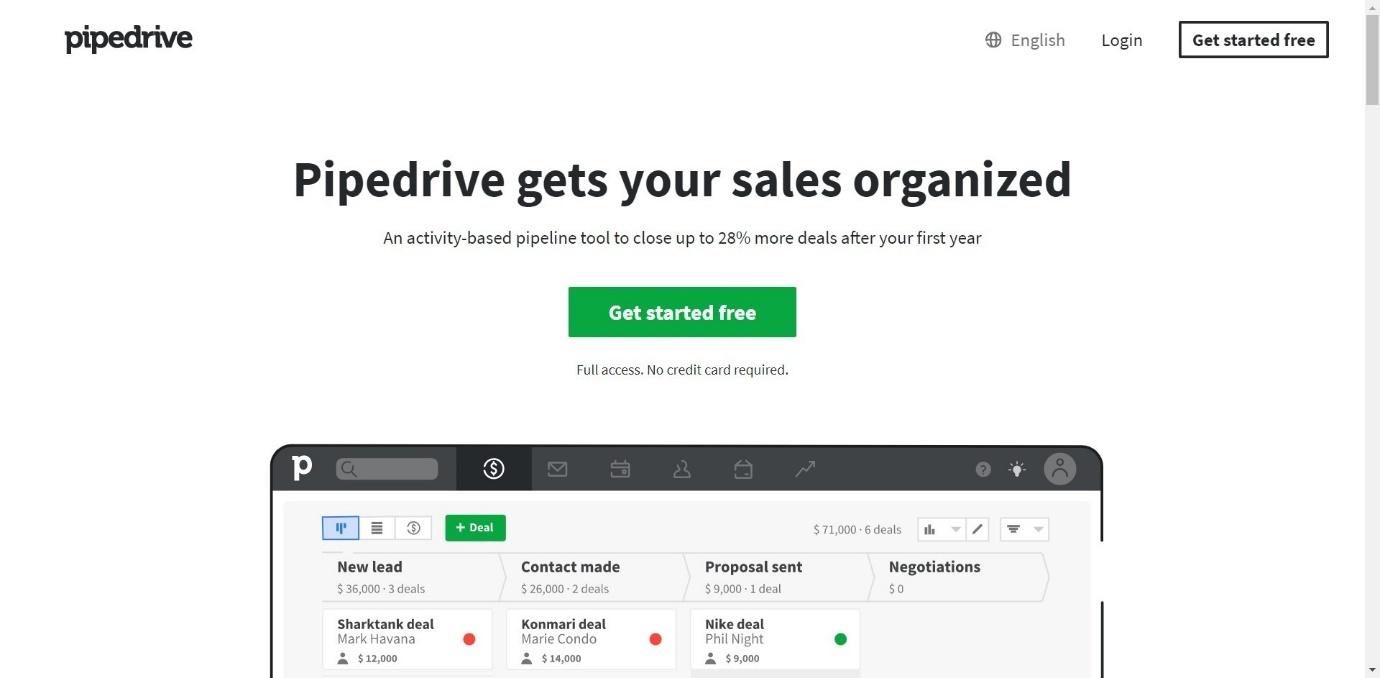 Pipedrive was founded in 2010. It is a Pipeline tool designed to be simple and easy to use. It's used by 90,000 sales teams worldwide – it's a popular and growing platform.
It enables users to set up fully customizable pipelines, creating actions and tracking goals. It's designed to eliminate time that would otherwise be wasted on repetitive admin tasks, using automation to fill out the information, book phone calls and meetings, and more.
Pipedrive is ideally suited to small-to-medium sized businesses wanting to have a clear platform for their sales team to work with.
What is Zoho CRM?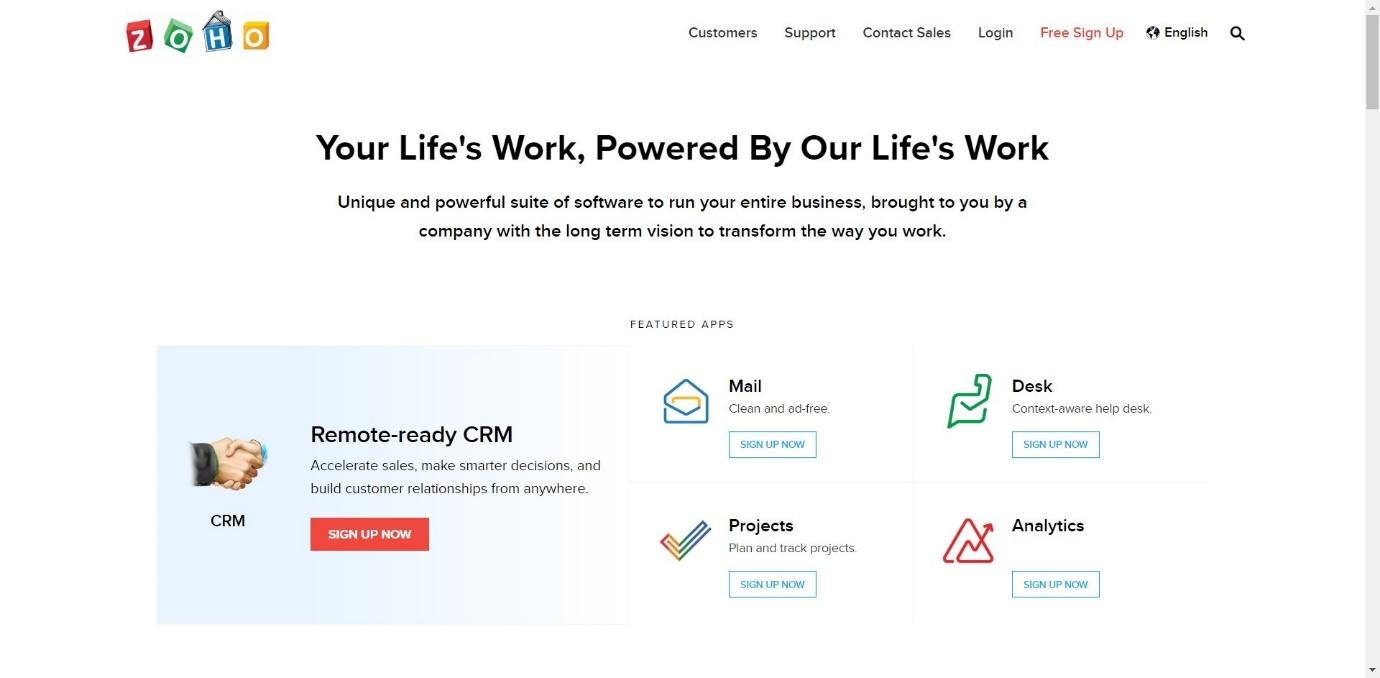 Zoho is comprised of a range of services, including ZohoMail, ZohoDesk, ZohoProjects, and Zoho CRM.
Their CRM platform allows users to manage leads, deals, and contacts, and offers a range of communication tools including email, phone, and live chat. Their lead capturing tools are impressive, and they have an A.I system named Zia that can automate some processes.
Zoho CRM is great for medium-to-large businesses who want to capture a lot of leads quickly.
Pipedrive Main Features
Lead and Deal Management

Pipedrive makes building pipelines very simple. You can use a drag-and-drop tool to create customizable pipelines, only using the features that your team will need.
You can see the health of your pipeline easily, with Pipedrive alerting you to areas that are being neglected, allowing you to efficiently deploy your sales team to the most necessary tasks.
They offer deal probability, too. This allows you to see which sales are most likely to be won, which again is great for efficiency.
If a deal stays idle for a set amount of time, your team will be alerted to this – so no deals can fall through the cracks and be forgotten.
The product catalogue is useful too. You can input each individual product, which can then be linked directly to clients and deals.
Communication and Contact Management
In terms of communication channels, Pipedrive offers both email and phone calls.
The email platform is simple to use and can be synced with your work email address. You can then send and receive emails through Pipedrive. You'll get live notifications when contacts open emails, and they also offer email templates, which is great for saving time.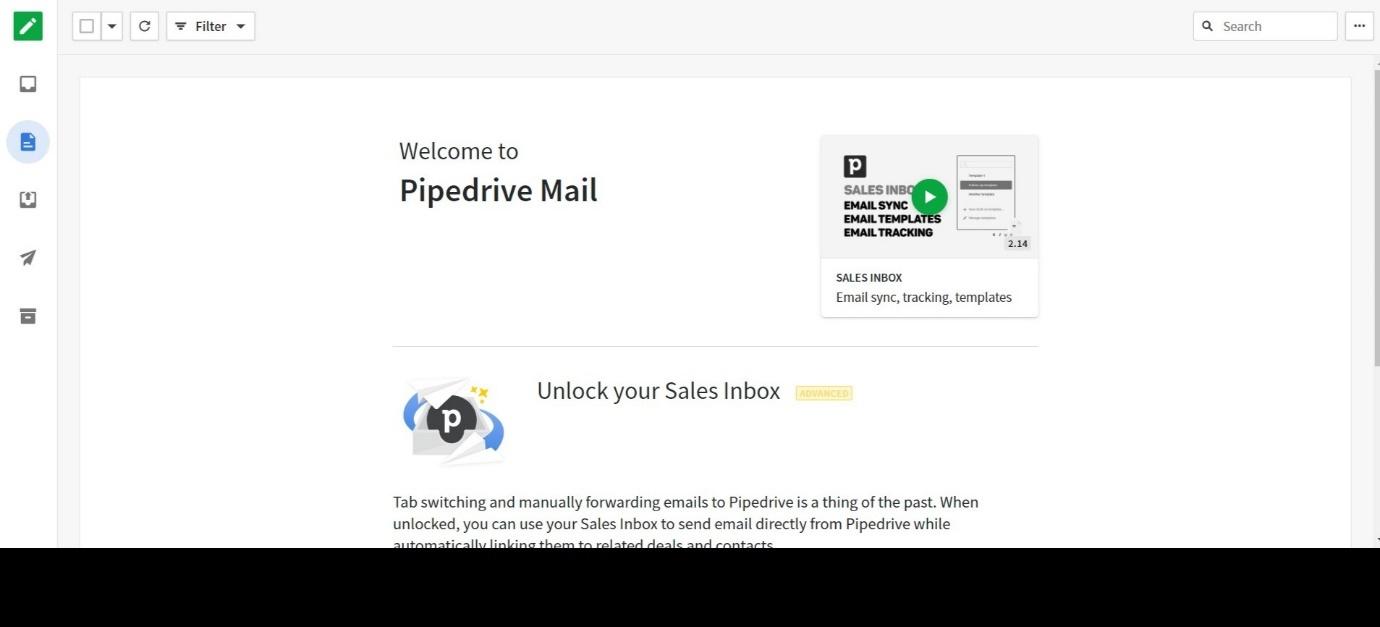 You can also make calls from Pipedrive. Hands-free calling allows you to take notes as you go, and call logs are automatically created and added to the sales pipeline as a completed task. You can also record and download calls as audio files.
As far as contact management is concerned, Pipedrive has a contact database. Contacts can be individuals or organizations, and they can be added manually or imported from another platform (like another CRM, or from Google or Microsoft contacts).
Calendar
The calendar is a useful feature for keeping your team organised. Sales team members can have their own calendars, setting their availability. This makes organising meetings much easier and allows the calendar to sync with the chatbot (more on that shortly).
The calendar syncs with Google, Outlook, and other calendar providers, making it easier to input information. Team members can set up email reminders too.
Automation
Having automation to save time is a really useful tool, and it allows your team to be much more productive.
A helpful feature of Pipedrive is the chatbot – this allows potential customers to book a meeting with you via your website. The chatbot can deal with the enquiry for you, checking your sales team's calendars to book them in automatically. You can also choose to capture this information via web forms if you prefer.
They also offer automation in other areas, including:
Creating new deals when a new contact is added
Transferring ownership to different sales reps
Sending emails when deals are created
Creating new activities when a deal moves down the pipeline
All of these are customizable, and you can set triggers and desired outcomes.
They also have a virtual sales assistant – this gives you tips based on the stage and health of your pipelines, with ideas on how to move forward and how you can work more efficiently using the platform.
Reporting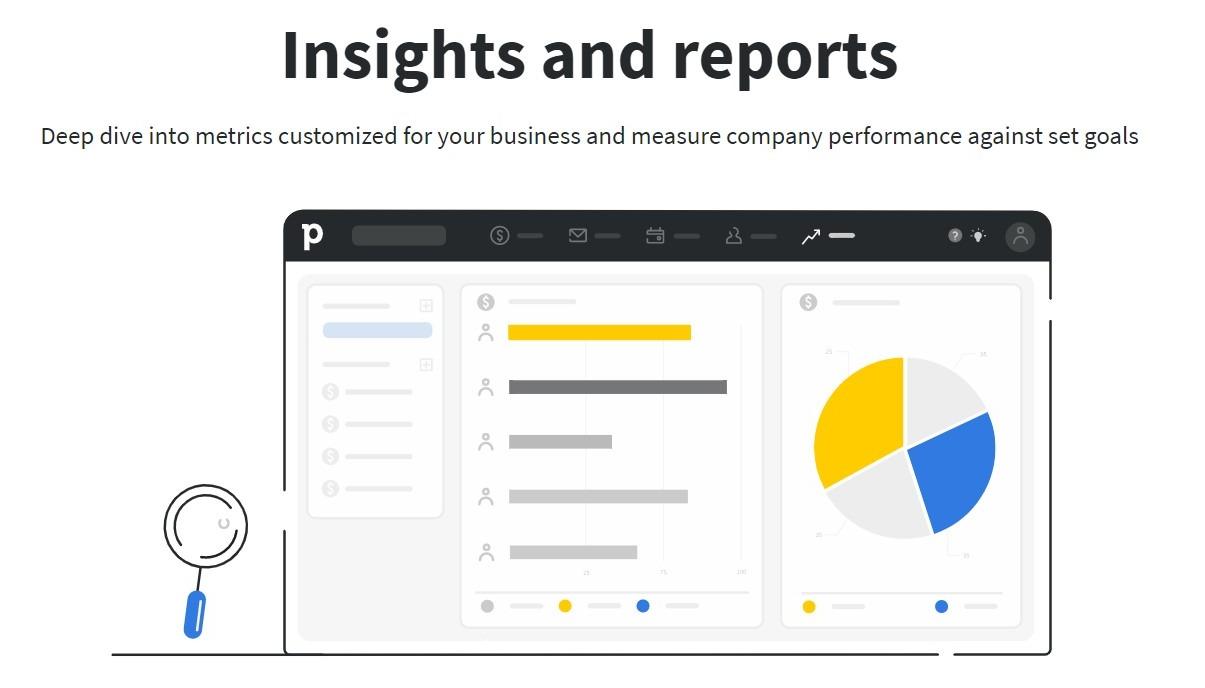 Pipedrive allows you to create attractive, detailed reports for sales growth and tracking goals. You can choose the information you want to include, and they can include activity and sales reports too. This is intuitive and simple to use, and you can easily share them with team members.
They also offer forecasting, based on the expected close date of deals and the probability of other deals, as well as other factors. This can enable you to shape your sales strategy, working on areas that need improvement or choosing to move in a new direction.
Mobile App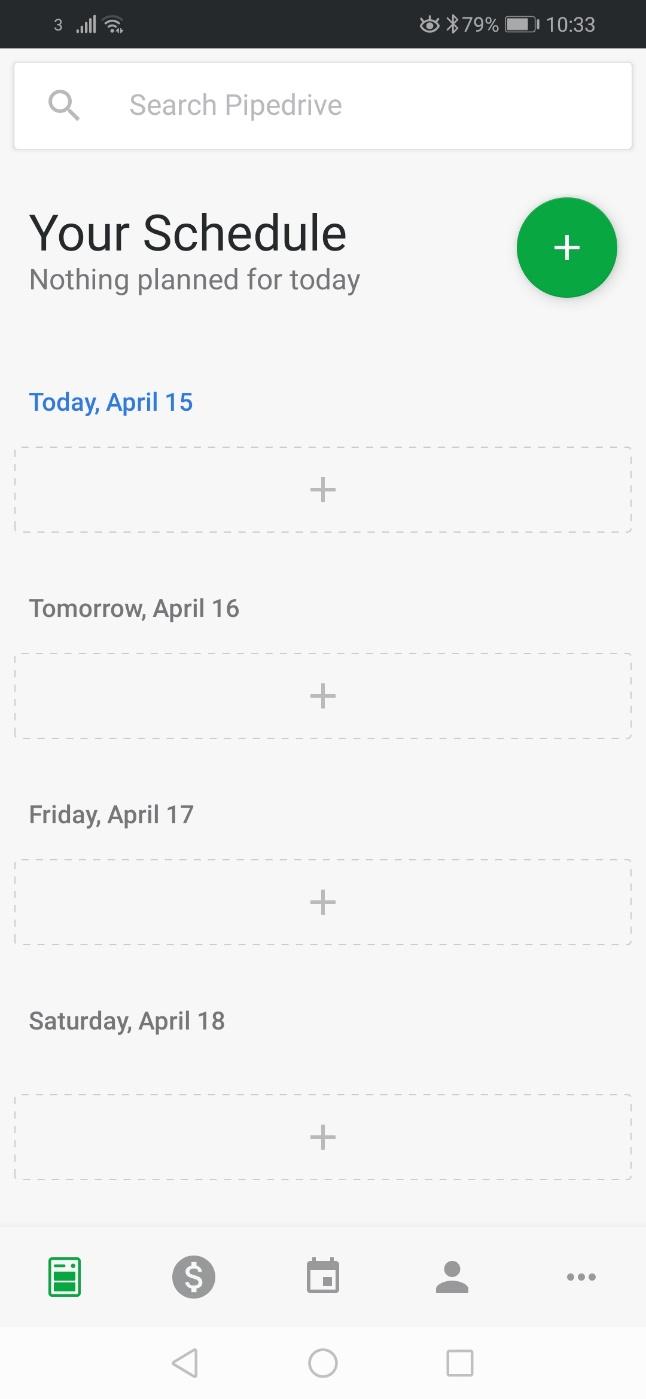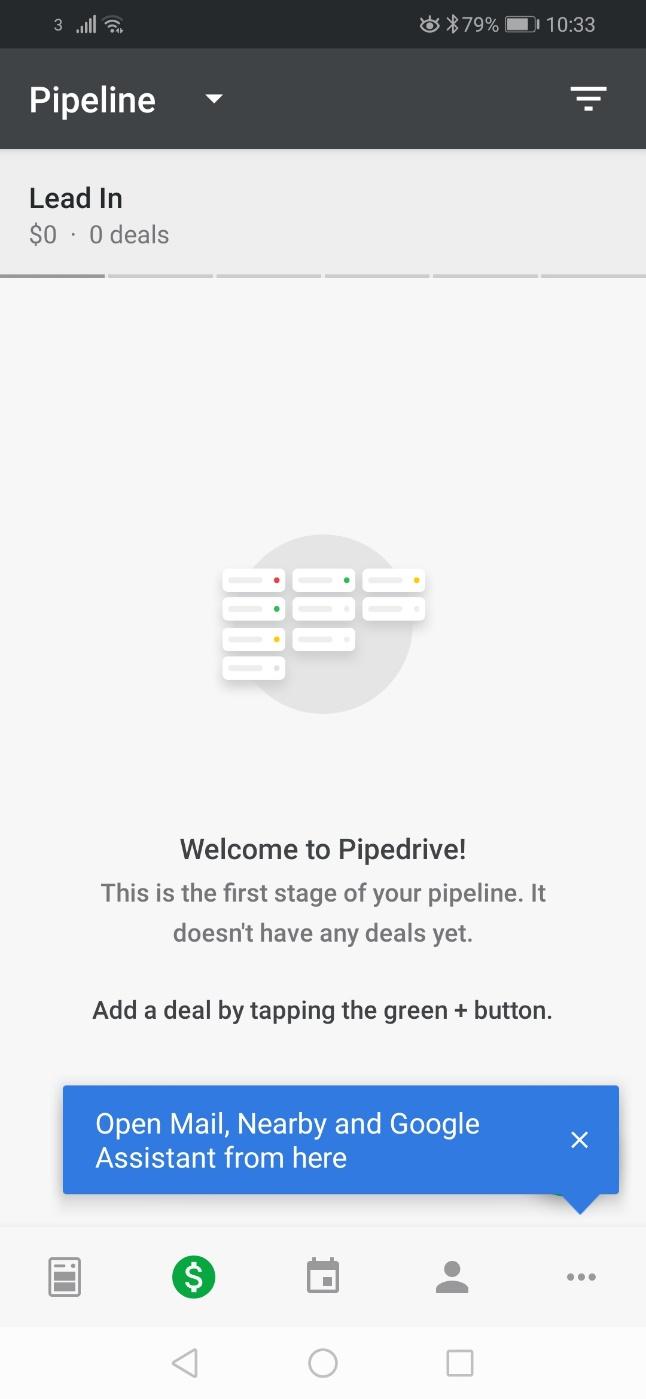 Pipedrive has a free app. You can use this (with your subscription plan) to have access to your inbox, contacts, schedule, and pipelines on the go. It's a clearly designed app with much of the same features as the desktop version and is pretty simple to use.
App Marketplace
Pipedrive has an app marketplace for various extension solution options. This allows you to install apps in a variety of categories, expanding the tools and features available to you. The categories include:
Accounting and Invoicing
Bots and Messaging
Contacts and Calendar Sync
Customer Support
Data Management
Integration Platforms
Lead Generation
Marketing Automation
Phone Solutions
Proposals and Contracts
Resource Management
Task Management
Web Forms and Surveys
Zoho CRM Main Features
Lead and Deal Management

Zoho has some great features for lead management.
You can capture lead information from a variety of places, including customizable web forms. You can scan business cards using their Card Scanner app, which allows you to immediately capture and store contact information from potential leads into the Zoho platform.
You can also follow what your potential clients are saying on Twitter in one handy place. This allows you to keep your finger on the pulse about the issues that matter most to your leads and to see what they might be saying about your business. You can even assign follow up actions to each incoming Twitter lead – saving you time and potentially bringing in new business.
You can also utilize integrations with LinkedIn and Facebook to maximize your chances of finding new clients or customers.
The Zoho CRM solution has made it easy to manage these new leads, too. Scoring rules automatically organize your clients based on the probability of their interest in your products or services. You can also choose to assign higher scores to clients from industries that you are particularly interested in.
Leads can be automatically distributed, again, saving you time. This also helps to prevent some team members from becoming overloaded whilst others go underused.
Meanwhile, in terms of keeping on top of deals, Zoho has a Blueprint editor. This works in a similar way to Pipedrive's pipeline builder, allowing you to create a blueprint for your sales using a drag-and-drop editor.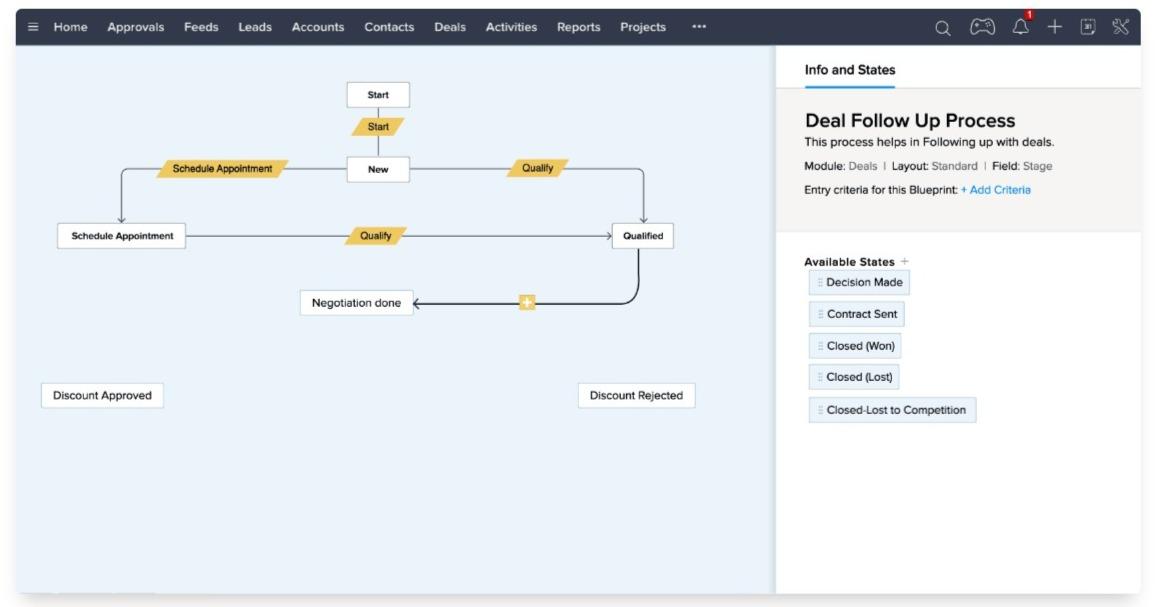 You can set rules for your seals team – this ensures that every deal works in the same way, with stage requiring action before your sales team members can move on to the next part. These conditions can include fixing a maximum discount or a certain length of time for negotiation.
Communication and Contact Management
Zoho CRM has a suite of communication tools known as the 'Omnichannel'. This includes email, telephone, social media, live chat, self-service portals, and web conferencing. Part of this is to capture lead information, as we mentioned earlier.
The email service is simple to use. You can send and receive emails from the email client of your choice (including Gmail, Yahoo, Outlook, and Zoho's own email service, Zoho Mail).
You will receive notifications if your emails have been opened, including what time they wee read. You can use filters to identify leads who haven't responded within a certain time frame or leads that are engaged and responding quickly. This allows you to save time otherwise wasted on leads that are unlikely to result in success.
Like Pipedrive, you can schedule emails, send emails in bulk, and use email templates or create your own). You can get reports from these emails detailing which had the best open rates.
The telephone feature works in the same way as Pipedrive's. You can schedule calls, call from the platform itself, and record and save calls to individual blueprints. Plus, call logs are automatically captured and compiled into a database of information that you can look at to figure out the best strategy for sales calls. They also have an app with caller ID, allowing you to make calls from Zoho whilst on the go.
In terms of managing contacts, they offer a lot of tools here, too. Zoho CRM draws information from all sources of communication, including emails, calls, and social media, so you can keep on top of when you have communicated with each potential client and what you may need to do next.
CRM System Automation
Zoho uses Zia, an AI program designed to automate lots of tasks and generally make your life a bit easier. Zia can create reports, notice trends, search through emails or reports more efficiently, suggest responses to customers or clients, proof-reads text for you (for example on your website or email newsletter), record notes, enter customer data automatically, and make predictions for you.
If you have a developer on your team, you can create new scripts for Zia, building new abilities to suit your team specifically.
Some of Zia's features are only available on higher price plans.
Calendar and Team Management
Zoho has a built-in calendar that works similarly to Pipedrive's. You can create recurring events, import events from other calendars, set up reminders for tasks, and accept invitations from other customers.
They also offer a lot of tools for team collaboration. This includes a Feeds forum, which allows you to post notices to other users (you can tag them in these notices, too). You can create feeds for certain team members – great if you want to group team members together to work on a project – and you can easily send files along with messages.
You can also add notes to deals, contacts, and leads – helping you and your team members not to forget vital information.
Gamification
Zoho offers an app called Gamescope, allowing you to give trophies and badges to team members. This could be a great incentive if you have a particularly competitive sales team.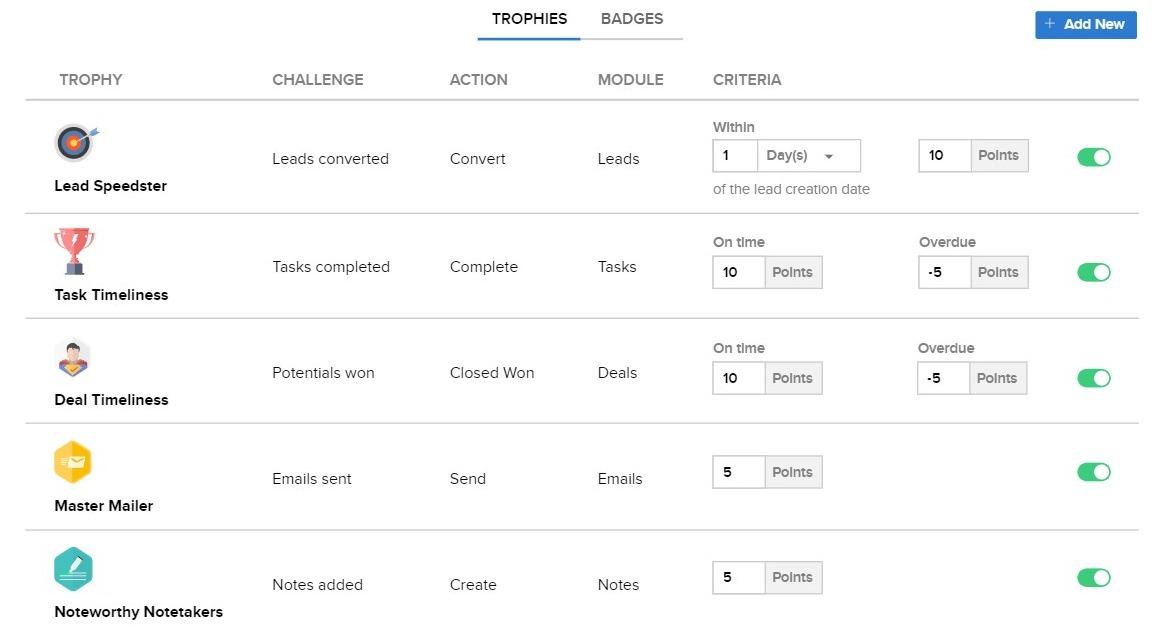 Reporting
When it comes to analytics and reporting, Zoho has a lot to offer.
You can build reports using a simple tool, sharing them with team members. You can also organise reports in folders, which is great if you have a lot of reports and you need to find them easily. Reports can include pop-out windows with charts and graphs.
They offer in-depth tracking of sales funnels – you can choose to track every stage of the process, from lead capturing, communications, negotiation, orders received, and payment.
Like Pipedrive, Zoho offers sales forecasting. You can break down these forecasts by sales rep, team, and territory, giving you deep insights into your sales performance. Forecasts draw from completed sales, targets, deals about to be closed, and more – giving you a pretty accurate idea of your predicted sales.
Mobile Apps
Zoho has a few apps to choose from. These include the Mobile CRM App, Business Card Scanner, and Analytics Mobile.
The CRM app gives you access to contacts, allowing you to call them directly from the platform wherever you are. It also has a clever feature that allows you to see local prospects wherever you are, showing their organization's location on the map with links to their website. This allows you to be efficient with your time, making the most of each trip. You can even check-in at that location, adding this to the sales blueprint. You can also use the in-platform team communication channels, and gain access to your calendar on the go.
Analytics Mobile allows you to view your reports wherever you are, which is a useful tool if you have to travel often.
Integrations
The Zoho app marketplace has a variety of apps and integrations with other platforms. The categories include:
Sales
Help Desk
Finance
People and Culture
Communication
Project Management
Marketing
Analytics
Pipedrive vs Zoho – Pricing
Pipedrive has four price plans to choose from.
They offer a free trial – you can find out more here.
Zoho has four price plans to choose from.
Free – this gives you access to the basic features of Zoho including lead management, contacts, accounts, deals, tasks, events, basic team collaboration tools, and basic customer support
Standard – $12 per month/1 user – this includes basic features plus sales forecasting, reports, webforms, and most of the team collaboration tools
Professional – $20 per month/1 user – this includes all the features in the previous plan plus more social media tools and inventory management
Enterprise – $35 per month/1 user – this includes everything that Zoho CRM has to offer
The prices are given for annual billing – if you want to pay monthly it is slightly more expensive. They have a free trial – you can find out more here.
Pipedrive vs Zoho – Support
Pipedrive Customer Relationship Management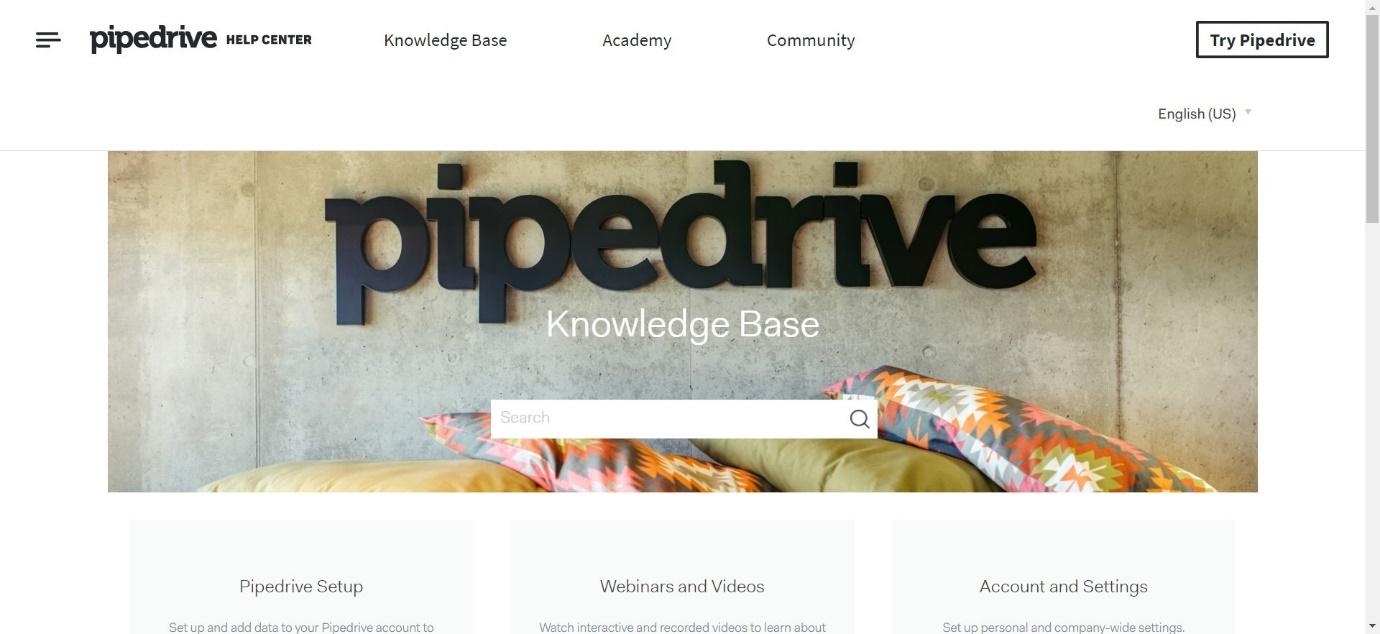 Pipedrive has a useful knowledge base with beginner's guides, webinars and videos, and articles. It has a busy forum of other users, too. They also host Pipedrive Academy, a series of courses aimed at people that are new to the platform – this is really useful to make sure you get the most out of Pipedrive.
They have a live chat function or an email address you can contact if you need support.
Zoho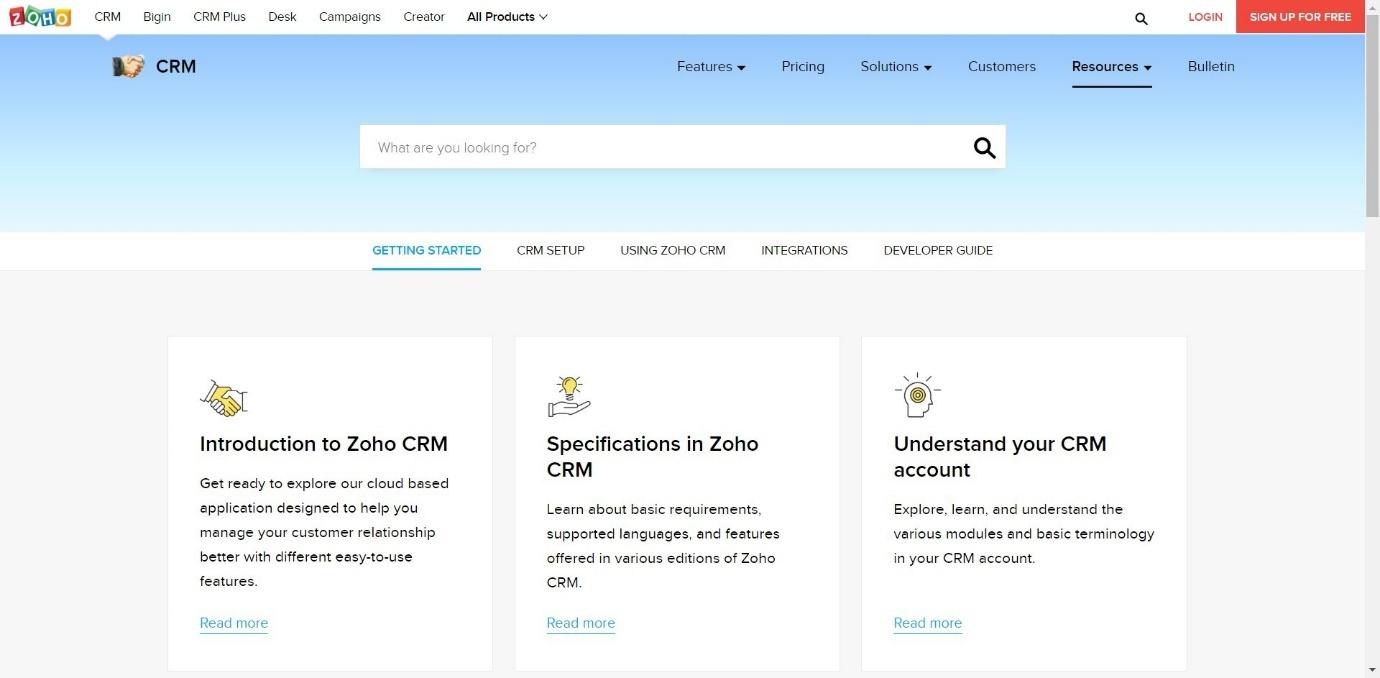 Zoho has a useful knowledge base with introductory articles and some videos. They have eBooks on a variety of topics, and a forum of users to connect with.
Zoho Academy teaches new users how to make the most out of the platform with useful tutorials and downloadable workbooks.
Their support depends on your price plan, but they offer a mixture of email support, live chat, and phone support. Users have suggested that it's not always easy to contact customer services, which is a shame.
Pipedrive vs Zoho – Pros and Cons
Pipedrive Pros
Very easy to navigate platform
Easy to use pipeline builder
The mobile app is simple to use
Knowledgebase and Pipedrive Academy are useful tools
Automation for certain tasks saves time
Pipedrive Cons
Not as many advances feature as Zoho when it comes to lead capture
Not as well suited to larger or more complex businesses (vs small business)
Zoho Pros
Great features for lead capturing and organization
The mobile app is packed with useful features
Zia automates lots of tasks for you
Gamification is a great way to encourage sales team members to push harder
Free plan is great for the basics
Zoho Cons
Platform is not as nice to look at as Pipedrive and can be a bit cluttered and confusing
Customer service is not always easy to get hold of

Our Pick

Why I Prefer Pipedrive

Pipedrive has mastered the art of a CLEAN INTERFACE while still having DEEP FUNCTIONALITY. For a pure CRM, I personally went with Pipedrive here.

Try Now

We earn a commission if you click this link and make a purchase at no additional cost to you.

Zoho Pipedrive Integration

Can you get the best of both worlds? Yes, yes you can.

Fortunately, both Pipedrive and Zoho support natively app integrations with each other:

This is relatively uncommon in the CRM space, but the truth is that Zoho and Pipedrive are different in enough ways to make someone integrating the two system feasible.

Zoho is such a massive ERP, Sales, and BI ecosystem that it's very conceivable that someone would want to use Pipedrive for the specific CRM features, while still using Zoho products for the rest of the business.
Pipedrive vs Zoho Frequently Asked Questions
Can I track social media accounts on Pipedrive?
What businesses use Pipedrive?
It's ideally suited for smaller businesses, but some big companies use it, including Sage and LinkedIn.
Can I log calls in the Pipedrive mobile app?
Yes, you can log calls on the go in the mobile app.
Can I customize my dashboard in Pipedrive?

Yes, you can customize your dashboard to show you the information you need the most.
Does Zoho integrate with Google Docs?
Yes, Zoho integrates with Google Docs, so you can view your documents.
Can I add personal contacts to my Zoho account?
You can but bear in mind that anyone with admin access can view these contacts.
Is Zoho easy to use?
It's got a slightly higher learning curve than Pipedrive, but they do offer a lot of tutorials to help you learn to navigate the platform.
Can I customize my dashboard in Zoho?
You can but bear in mind that anyone with admin access can view these contacts.
Conclusion – Pipedrive vs Zoho Which one is Best?
Obviously, there is an element of personal choice involved here.
Our Pick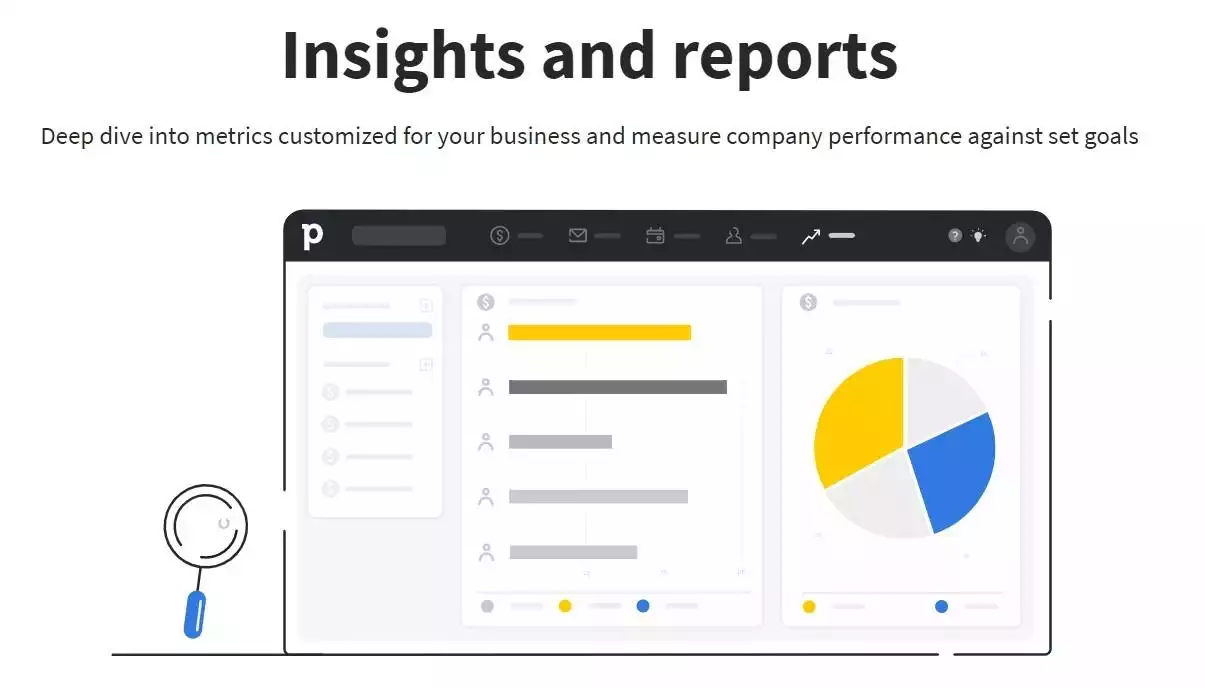 Why I Prefer Pipedrive
Pipedrive has mastered the art of a CLEAN INTERFACE while still having DEEP FUNCTIONALITY. For a pure CRM, I personally went with Pipedrive here.
Try Now
We earn a commission if you click this link and make a purchase at no additional cost to you.
Pipedrive is great if you want something simple to use. The platform is designed to be intuitive and fuss-free. If you're used to dealing with clunky or frustrating software, Pipedrive will feel like a breath of fresh air. It has plenty of features to get going, and the reporting is great – plus the customer service is better than Zoho's.
However, it's hard to ignore the features that Zoho offers. From advanced lead capturing through social media channels to their A.I, they have a lot to offer that Pipedrive doesn't have yet. Reporting is in-depth and clear, and having the option of gamification is great for competitive sales teams. If you want to capture a lot of leads and organize them efficiently, Zoho is a great choice.
Bottom Line: I would definitely lean towards Pipedrive here. It's easier to use, has a cleaner interface, and plays well with other software and systems.

The automation and lead capturing more than makes up for this in our opinion – but both offer free trials, so why not give them a go to see what you think?
We'd love to know your thoughts on Pipedrive and Zoho for sales management – let us know if you've had any experience with them in the comments!
Further Reading CRM Software & CRM Solutions for Pipeline Management
Still stuck? See how both of these popular CRM options compared to CRM features from other tools:
Zoho vs the Competition
Pipedrive vs the Competition