Last Updated on April 22, 2023 by Ewen Finser
Project management is a tough gig. You have many deadlines to manage, budgets to grapple with, and tasks assigned to different team members. So understandably, you may be looking for tools to streamline operations to help you stay on target.
However, you may be surprised to hear only a quarter of companies have project management software. Furthermore, of those that do, only 35% of the surveyed project managers were happy with their current software. Perhaps you're one such manager, or your organization is yet to adopt project management software, and you've been tasked with finding suitable options?
If that's the case, keep reading. We're looking at two popular contenders within that busy marketplace: Zoho Projects and monday.com. That's lots of information to get through, so let's dive in!
Bottom Line Upfront Summary: Zoho is a large enterprise suite, with modules for almost every business (CRMs, Projects, ITSM, etc…), so if you have many departments to serve (and 50+ employees), Zoho may be the best option here. That said, in terms of usability, versatility, and bleeding edge features, monday.com is the better solution for startups and digital natives.
Here's a little more detail…
Both offer a free trial and free plans with basic functionality and limited users.
Both are reasonably priced, but costs can become pricey if you add multiple users.
Zoho offers a lot of value with its many integrations. It also provides easy ways to communicate with colleagues and stakeholders.

The pricing for both platforms is pretty straightforward. However, monday's is slightly more confusing because prices change according to the number of users in each price plan.

Both platforms offer good levels of customization via their project templates.
Zoho Projects vs monday.com Projects: Key Differences
Naturally, there are notable differences between Zoho and monday.com, so if you're looking for the headlines, we've provided a quick list below:
Aside from its third-party integrations, Zoho also has the luxury of 40+ of its own integrations at your fingertips. Not all are suited to project management, but some, such as Zoho Analytics, Zoho Invoices, and Zoho Books, are. Whereas monday.com doesn't have its own integrations, it does integrate with external apps such as Google Calendar, Gmail, and MS Teams.

Zoho tracks project milestones with its Task Management feature, whereas monday.com doesn't.

Zoho provides three pricing plans, whereas monday.com offers five

Zoho only offers an email address and online self-help resources (see FAQs section for more info on this), whereas monday.com offers 24/7 customer support with a guaranteed response time of one hour.

Zoho's storage seems more generous, with 10MB included in its free plan, rising to 100BG and 120GB for its two paid plans. Whereas monday.com gives individual users on the free plan 500MB of storage, increasing to 5GB, 20GB, 100GB, and 1000 GB on its four paid plans.

Zoho Projects offers more features than monday.com, such as its own integrations, version control, and issue tracking.
Zoho Projects vs monday.com Projects: Key Similarities
Of course, there are a few similarities between the two platforms too:
Both tools are web-based

Both provide iOS and Android apps.

Both Zoho and monday.com are used by freelancers, and small, medium, and large businesses.

Both offer a free trial.

Both offer a free account.

Both offer Gantt charts for project building.

Zoho and monday.com offer similar third-party integrations – for instance, Slack, Microsoft Office, and Jira.

Both tools are customizable

Both come with project templates
About Zoho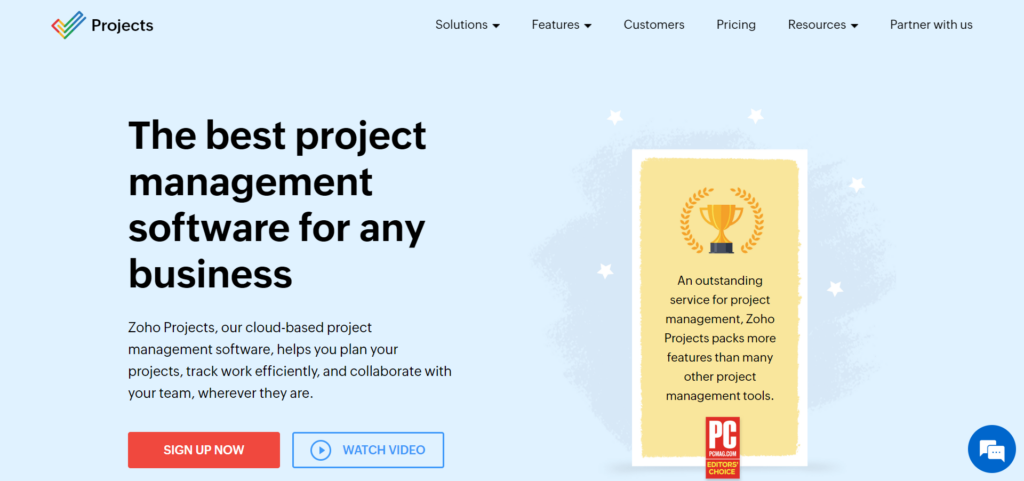 Zoho is used by 75 million users worldwide, including the likes of Netflix, KPMG, Amazon, and Facebook. Previously called AdventNet, founded in Chennai, India, in 1996. Fast forward to today, and this ever-growing business now employs 12,000+ employees.
On top of its project management software, Zoho has over 45 apps that you can add, each with its own pricing structure to help you run your entire business. This includes sales and marketing, finance, IT management, CRM, remote working tools, etc.
However, this review focuses specifically on one Zoho app: Projects. This cloud-based project management software helps you plan projects, track and assign workflows, and collaborate with team members, whatever their location. PC World is quoted as saying it is an 'outstanding service for project management. Zoho Projects packs more features than many other project management tools.' Impressive, right?
The platform has over 152,000 customers worldwide, including heavy hitters like Hulu, Coca-Cola, HubSpot, NBC Universal, and many others. Voted #1 Most Loved by G2 customers, it has glowing reviews online. Formerly known as daPulse. It became monday.com in 2017. Although the idea behind monday.com germinated in 2013, it officially launched in 2014 with its first six customers.
monday.com is another cloud-based visual team management tool. It allows you to oversee projects, assign and customize tasks, track workflows from start to finish, and add team members to each project. The result is that teams are better positioned to monitor project progress to ensure deadlines aren't missed from the convenience of one dashboard.
You can create workflows using one of the 200+ monday.com templates from its library. First, choose a template according to your project type. For example, there's a template for single one-off projects, project portfolio management, a content calendar – to name a few. Alternatively, you can choose from 30+ drag and drop columns to customize workflows from scratch.
You can group tasks together, put them into sub-groups, and sync everything in real-time so that everyone knows exactly where they're at with each aspect of the project. monday.com can be used via an iOS or Android app and integrates with Zapier, Trello, Slack, Google Drive, Dropbox, Google Calendar, Excel, and Integromat.
Editor's Choice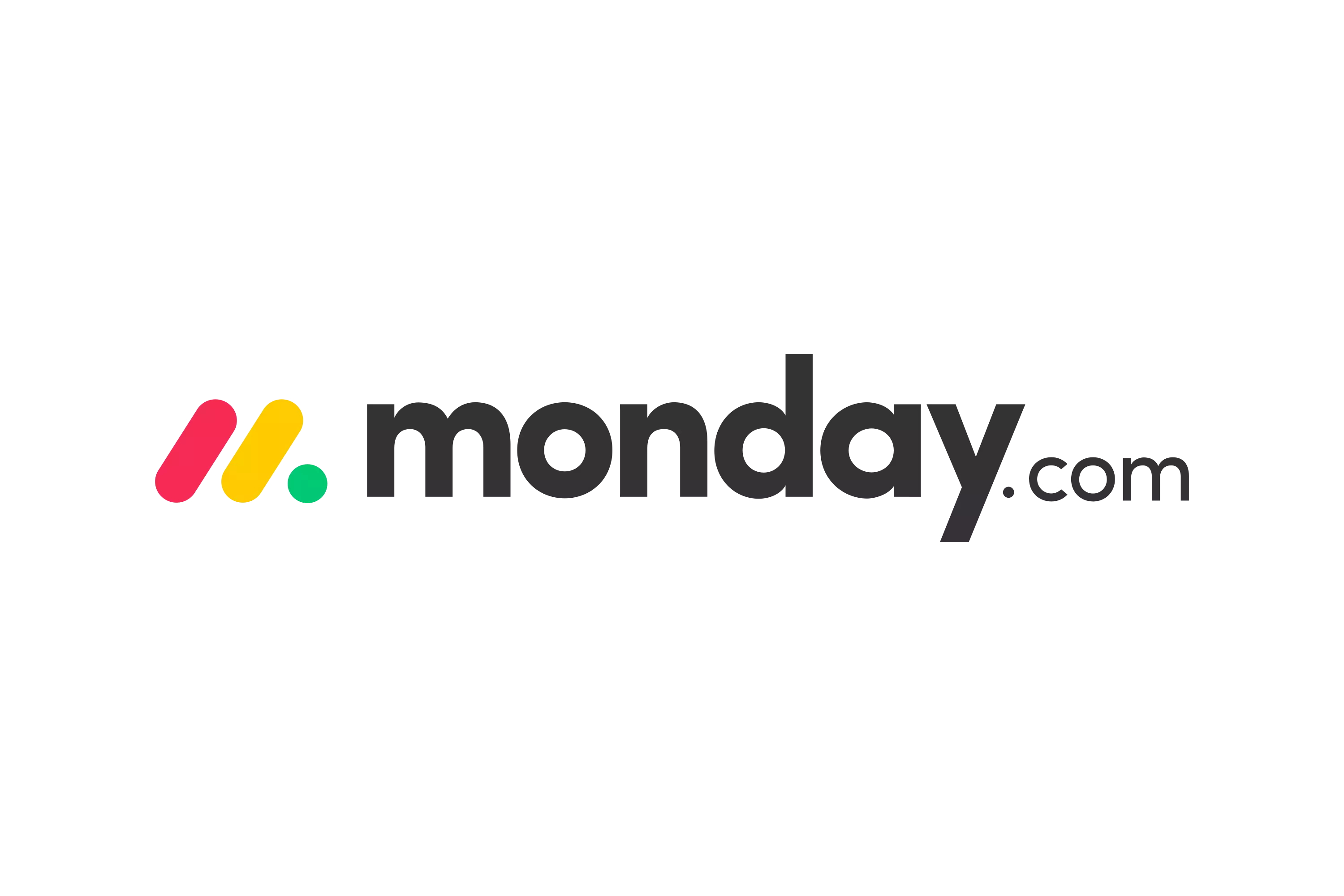 Why Go with monday.com?
Make tasks satisfying to finish! monday.com is quickly disrupting the old guard with a sleek interface, hundreds of integrations, and dozens of workviews for visually imagining and tracking your projects. More than just project management.
Start Managing Your Team Better
We earn a commission at no cost to you which helps keep this blog running!
Zoho Project's Key Features
Now that we've covered the basics, let's look at some of Zoho Project's most notable features:
Task Management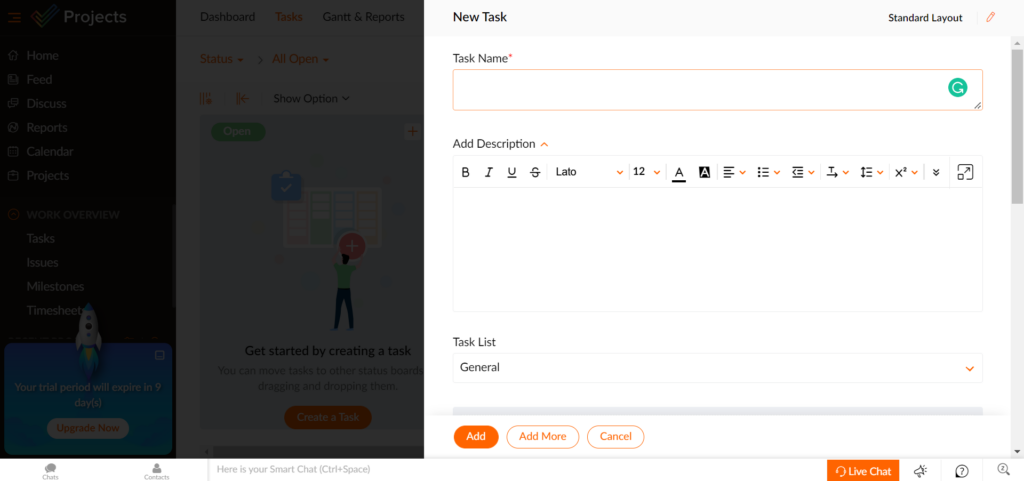 As you've probably already guessed, this enables you to break down projects into:
Tasks

Milestones

To-do lists

Sub-tasks
…Etc., to help you organize your work more efficiently.
Not only that, but this feature is also helpful for troubleshooting project-related issues that arise. You can single out problems and assign team members to fix them. Then you can track their progress to ensure any difficulties are ironed out.
Other notable task management features include what Zoho Projects calls the Different Task Views. Essentially, this enables you to change the layout of your task list. For example, you'll receive a detailed list of tasks with the Classic View, whereas the Plain View is just a simple list of tasks.
You can also plan your projects, track progress, rearrange tasks, and so on with Gannt charts, and set up 'dependencies' that concern related tasks, and order their priority.
Lastly, it's worth noting you can create baselines for your project to compare when tasks are completed vs. your planned goals.
Customizations
You can create custom layouts for projects and tasks to meet your exact needs and then save these layouts for future use. Further customization options include adding custom fields such as dates, emails, phone, etc., to your project boards. You can also toggle between views. This makes it easy to prioritize work by displaying high-priority tasks with just a click.
Lastly, you can map your company's domain to your Zoho Projects portal. It means you and all the users in your company can easily access your projects from your domain name itself. To do this, head to the Zoho Help Center and follow its instructions. It's somewhat technical, but Zoho walks you through each step.
Team Collaboration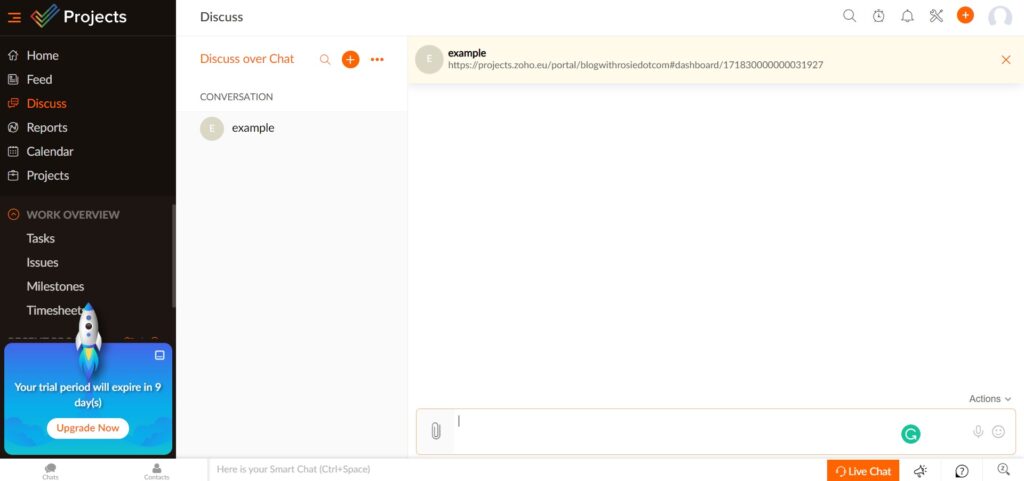 Users receive fast updates about project progress through an interactive feed within Zoho's collaboration tool. Here you can post comments, tag team members, and add attachments.
You can also use personal or group chat rooms to start conversations, give feedback, and discuss ideas and topics. Again, any important information can be saved in a central space.
You can also create, organize, share and store project files with your team. Thanks to Zoho's version control system, no one will access the wrong file version.
Lastly, an email alias function enables you to manage projects from your email inbox. For example, you can add notes or documents to tasks, attach files to the aforementioned group chats, etc.
Automation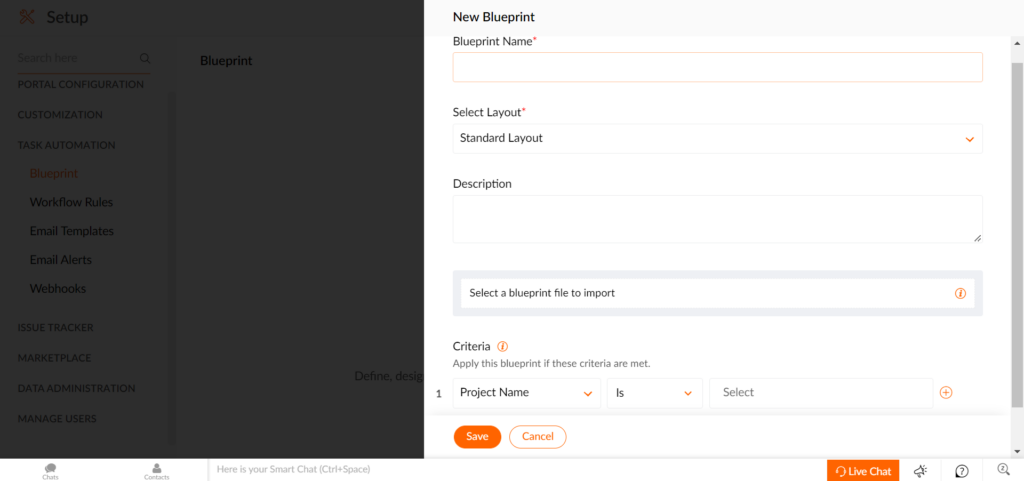 You can use Zoho's drag and drop automation builder to design automated workflows. For instance, assigning people to tasks, updating tasks fields, alerting team members when the status of a task changes, etc.
You can also use automations to design task escalation processes. Simply define the criteria for an issue that would need escalating, and Zoho will alert the relevant colleagues and clients.
Time Management
You can enable task timers to track when you start and end working on tasks and automatically record working hours as a timesheet entry. Alternatively, you can manually enter the amount of time you've spent on tasks.
If you're a project admin, you can approve timesheets or reject them and use them for payroll and client billing purposes.
Within this feature, you can also plan and run your project budget to help you stay on top of costs. You can also see planned vs. actual costs in real-time and generate budget status reports. Lastly, this feature has a calendar where you can see all your project activities in one place and organize meetings and events.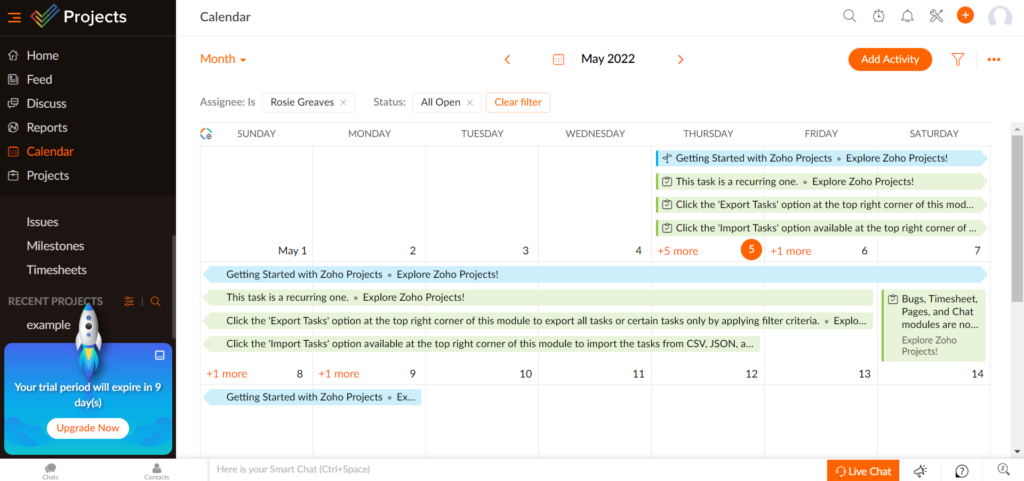 Aside from the above features, Zoho Projects also offers the following:
Charts and reports:

you can generate timesheet reports, budget reports, reports on any project difficulties or issues, such as missed deadlines or budget overspends, etc.

User administration:

define permissions for all project colleagues and clients.

Zoho integrations

: 10 of Zoho's own integrations integrate with Zoho Projects

Add-ons:

external integrations such as Google Calendar, MS Teams, Google Tasks, and Google Drive work with Zoho Project.

Import data

: from platforms such as Microsoft Projects and JIRA cloud; this comes in handy if you have been using such platforms before Zoho.

Apps and devices:

you can use Zoho Projects via your Android or iOS mobile device or a desktop.
Click here for more info on these and other Zoho Projects features.
Monday Projects Key Features
Editor's Choice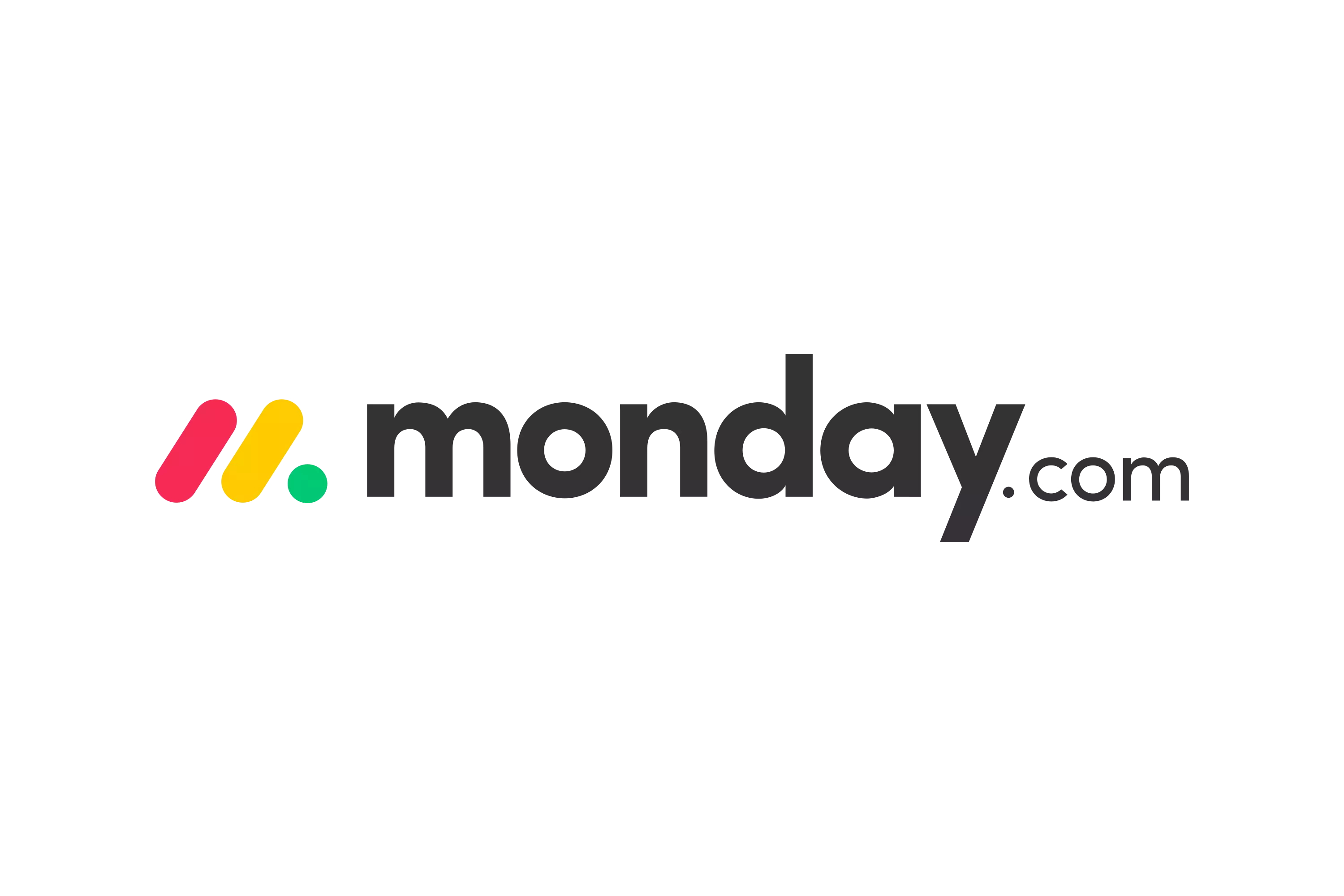 Why Go with monday.com?
Make tasks satisfying to finish! monday.com is quickly disrupting the old guard with a sleek interface, hundreds of integrations, and dozens of workviews for visually imagining and tracking your projects. More than just project management.
Start Managing Your Team Better
We earn a commission at no cost to you which helps keep this blog running!
Although monday.com doesn't have as many features as Zoho Projects, let's take a look at the most notable ones below:
Gantt Chart
From a Gnatt chart, you can plan, schedule, and monitor all the metrics, tasks, schedules, milestones, task dependencies, and so on within your project.
Gantt charts can be used in projects of all sizes, visually representing projects at any stage. You can also see, at a glance, high-level project requirements, success criteria, budget, risk assessments, and much more.
Project Dashboard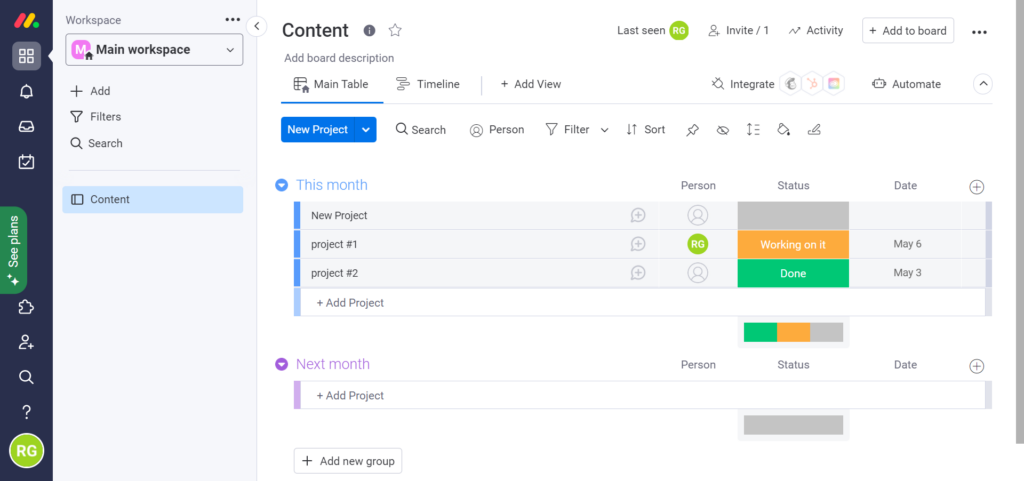 You view real-time data concerning your project goals, schedules, budgets, resources, etc. Having this info at your fingertips enables you to make better-informed decisions quickly.
For example, you can see your team's progress, which is color-coded into red, amber, and green, and see a breakdown of which tasks have been completed and are still in progress.
Green means the project is on track, amber indicates the project has issues currently being dealt with, and red means the project needs some management intervention.
Workload View
Aptly named, here's where you manage your team's workload. It's a valuable tool because you can break individual team member tasks down in any given week.
You can also see:
Work assigned to each team member

The number of completed tasks

The number of tasks still in progress

Staff overload
With this info to hand, you can reassign work to other colleagues as necessary.
You can assess how much work someone has with color-coded bubbles/circles. For example, the blue bubble indicates a team member isn't working to the weekly capacity you've set them and, therefore, can be assigned more work. In contrast, the red bubble highlights a team member who has exceeded their weekly capacity.
Milestones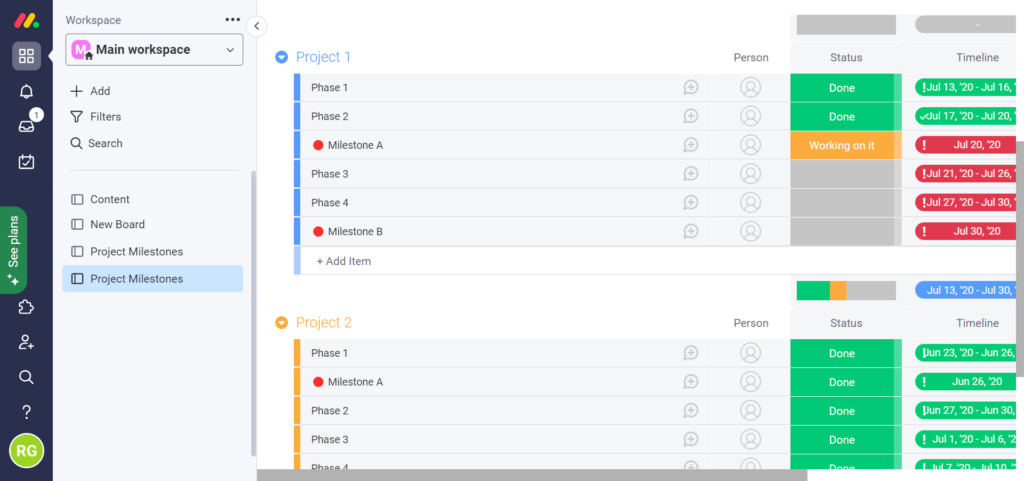 Your milestones calendar allows you to set project milestones, giving you an at-a-glance view of all milestone dates that you can share with team members.
Milestones can include:
Important dates, like the start and end of a project

The completion of specific project tasks that affect the project's overall outcome

Key deliverables such as website design, stakeholder or senior management approvals, etc.
Project Templates
There are over 200 pre-built templates you can access and customize to serve your project's needs. There are templates designed to suit every industry. Templates fall into these categories:
Project management

Marketing

Sales and CRM

HR

Design

Software development
Where project management templates are concerned, there are three specific ones to choose from:
Single project template: Plan any project flow from one workspace and track its progress

Project portfolio management: Manage all kinds of projects across several departments and teams

Project requests and approvals: Streamline project requests and approvals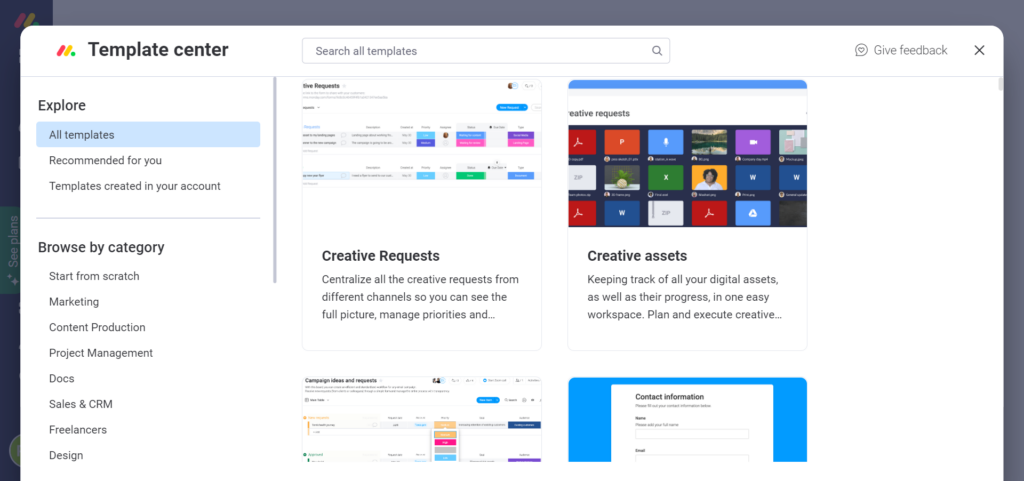 Apart from the above notable features, Monday Projects also offers these features:
Baseline:

Set your baseline to compare your project plans vs. actual schedules, so no deadlines are missed.

Advanced integrations:

including Slack, MS Teams, Gmail, Outlook, and Google Calendar

Dependencies:

Keep everyone informed of when they're due to perform their part of the project to ensure inter-related tasks are completed promptly
Check here for more information on Monday Projects features.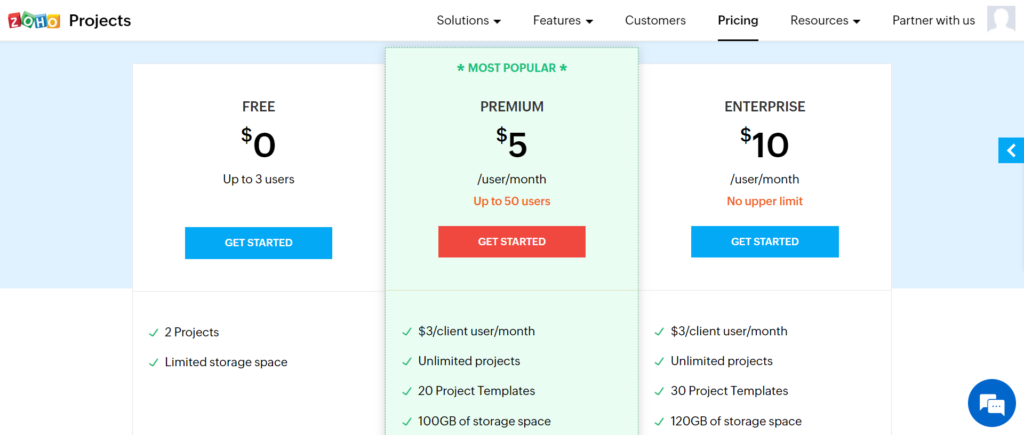 There are three pricing plans:
There's a free 10-day trial for the paid plans, requiring no credit card. After that, pricing plans are either billed monthly or paid annually. You'll receive a 20% discount if you opt for the latter. The prices below are based on annual payments.
This plan is free, and for this, you get:
Three users

Up to two projects

Limited storage space (it's unspecified what this is)

You can set custom statuses for projects, milestones, and tasks.

Access to task management tools

Read-only Gantt Chart view

Project feed: This is an automated system that populates activities in your project. You'll also receive updates when a user performs a project-related activity.

A shared calendar and forums for your team

Basic task and issue reports

Mobile apps (Android, iOS, iPad OS)
This costs $5 per user per month. For this, you receive all the features above and:
Up to 50 users

Unlimited projects

Pay $3 per client user per month.

Access to 20 project templates

100GB storage

Project resource utilization: You can see how each team member's time is spent without calculating it manually

The project planned vs. actual (a comparison)

Project Gantt Chart (not read-only)

Custom views

You can set subtasks, reminders, and timers.

Automate tasks with a blueprint

Advanced task and issue reports

You can define your project's business hours, holidays, and weekends.

Project Budget and EVM

Business rules for issues. This is a filter you can apply to project issues to organize them in order of severity, status, classification, etc.
This costs $10 per user per month. For this, you receive all the features above and:
Unlimited users

30 project templates

120 GB storage

A portfolio dashboard

Global Gantt chart. This is also called a milestone Gantt chart that allows you to see a detailed view of projects and their associated milestones within a Gantt chart.

A critical path and baseline are built into Gantt chart reports to help you compare your actual and planned timelines.

Global resource utilization lets you view workloads and allocate resources accordingly.

From timesheets, you can see all the hours you have planned for your project vs. the actual hours spent on the project.

Inter-project dependencies

You can create custom roles, profiles, and domains.

You can create custom fields to fully customize timesheets, tasks, and projects.

Task workflow rules

You can customize task layouts according to the needs of the project.

SSO, TFA & IP restrictions

SLAs for issues
For more information, check out Zoho Projects pricing here.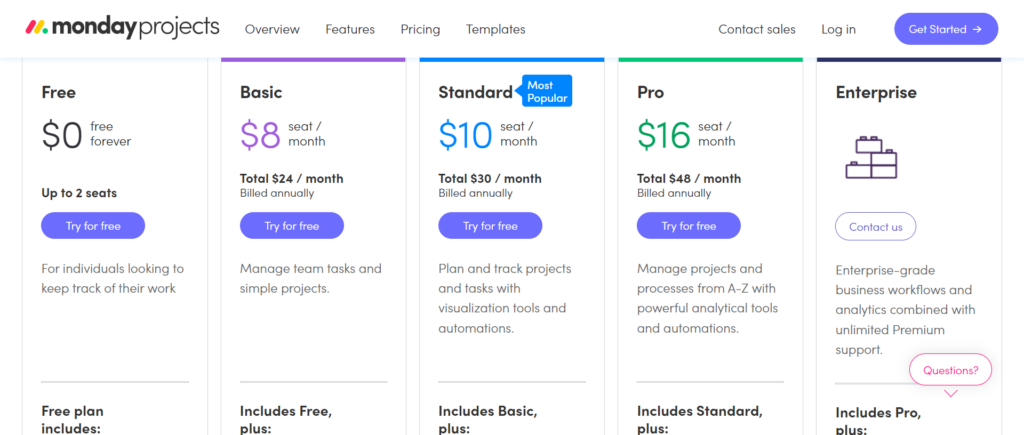 monday.com offers a free 14-day trial without a credit card for all its plans, except the Enterprise plan, for which you need to speak to Sales in the first instance. Prices are based on the number of users you opt for per plan.
There's a minimum of three users, then 5, subsequently rising to 10, 15, 20, 25, 30, 40, 50, 100, and 200+. Of course, the more users you add, the more you pay.
There are five plans:
Individual

Basic

Standard

Pro

Enterprise
Let's take a look at each:
This plan is free forever and aimed at individuals wanting to manage their work. It offers you:
Unlimited boards

Unlimited docs

200+ templates

Over 20 column types

Up to two team members

iOS and Android apps
When billed annually, this plan costs $33 per month for three "seats"/team members. It's aimed at those looking to manage simple projects and team tasks. You receive all the above features and:
Unlimited projects, items, and subitems

Unlimited free viewers

Unlimited shareable forms

File management

Full API access

Kanban view
When billed annually, this plan costs $41 per month for three "seats"/team members. It's aimed at companies wanting to plan and track projects and tasks with visualization and automation tools.
You receive all the above features and:
Gantt charts

Calendar view

Guest access for outside users so you can collaborate with them on your project without giving them access to your full account

Custom notifications and reminders

You can filter items relevant to you right now and save those filters as Views to quickly return to them later.

Simple project portfolio management

2-way email integration with Gmail or Outlook

Calendar sync (Google & Outlook)

Basic analytics and reporting dashboards

Automations (250 actions per month)

Integrations (250 actions per month)
This plan costs $65 per month for three "seats" when billed annually. This is the most popular plan and is aimed at anyone wanting to manage projects and processes from start to finish using powerful analytics and automations.
You receive all the above features and:
Tasks and project dependencies

Milestone management

Advanced permissions

Resource allocation and management tools

Powerful reporting and analytics dashboards

Time tracking

Unlimited private boards

Advanced formula capabilities

Integrations for Slack, Microsoft Teams and Todoist

Advanced project portfolio management
This plan is aimed at large organizations looking to manage vast projects, teams, and stakeholders using advanced analytics. Unlimited Premium Support is offered on this plan. Unfortunately, prices aren't available at the time of writing. You need to speak to Monday directly to get a custom quote.
However, features included are that above, plus:
Enterprise-scale automations and integrations

Enterprise-grade security and governance

Tailored onboarding

Work performance insights

Premium support

Multi-level permissions

Advanced reporting & analytics

Advanced integrations with Jira server, Salesforce, and more
Check here for on monday.com's pricing plans.
Editor's Choice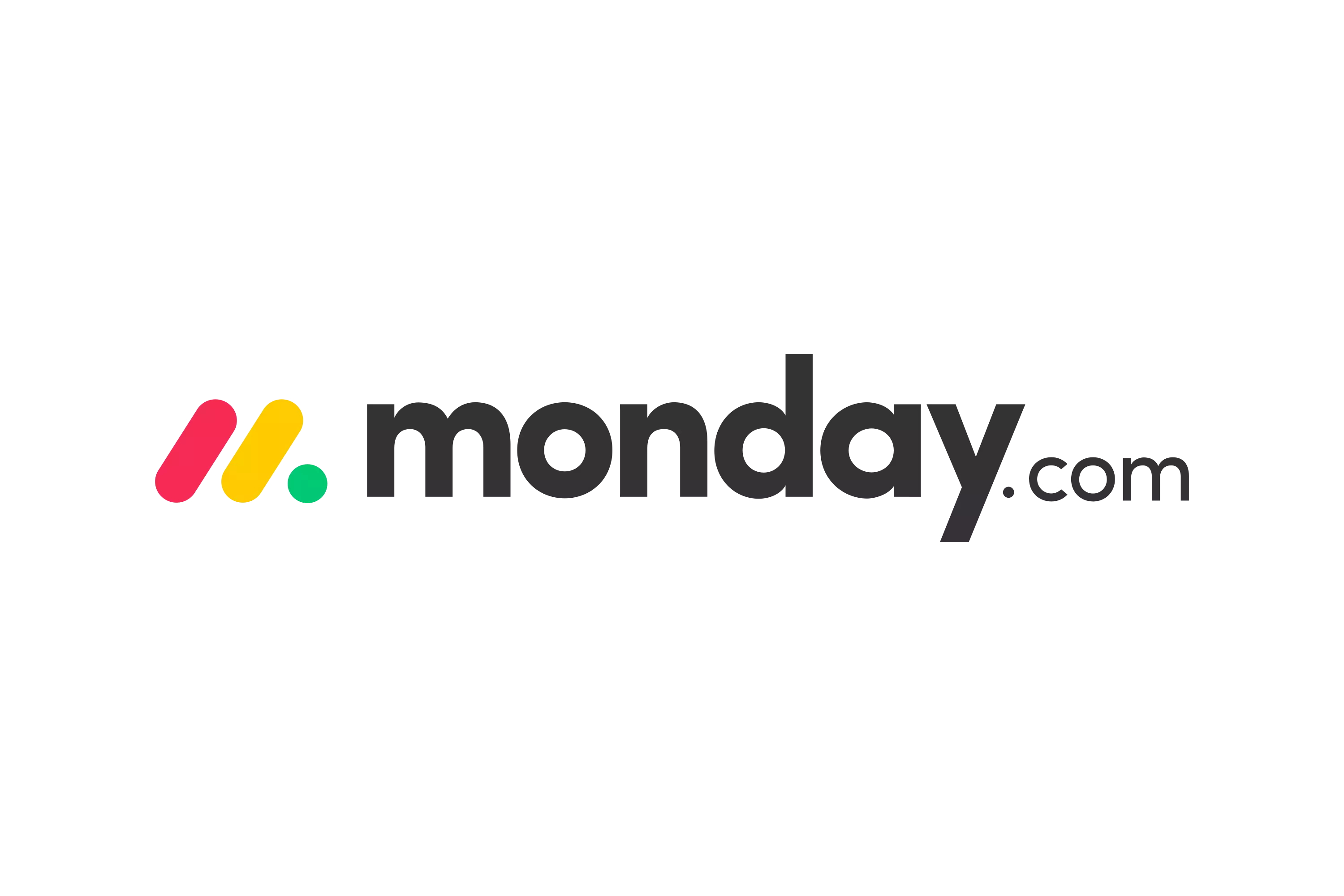 Why Go with monday.com?
Make tasks satisfying to finish! monday.com is quickly disrupting the old guard with a sleek interface, hundreds of integrations, and dozens of workviews for visually imagining and tracking your projects. More than just project management.
Start Managing Your Team Better
We earn a commission at no cost to you which helps keep this blog running!
FAQs
Question: What if I Change my Mind About Zoho Projects or Monday.com?
Answer: As far as Zoho Projects are concerned, there are no contracts, so you can cancel at any time.
For Monday.com, if you've paid for a yearly subscription and change your mind within the first 30 days, you can get a prorated refund. Just cancel the account. There's no mention of what happens if you want to cancel after the initial 30-day period, but you can email [email protected] for help.
Question: What About Resources and Support?
Answer: Zoho Project's website has a lot of self-help resources in the form of videos, how-to guides, webinars, tips and tricks, a quick start guide, and an FAQ knowledge base. There's also a support email address [email protected].
Monday's unlimited premium support is offered to its Enterprise customers, meaning they have access to a dedicated customer success manager and 24/7 support.
For other customers, there's an email form you can complete and send, which is available 24/7. There are also online resources, including a Help Center, a blog, webinars, and an online community forum. That's as well as 'Startup for Startups', a platform for knowledge sharing from one startup to another.
Question: Are these Platforms Available in Other Languages?
Answer: Yes. Zoho is available in 17 languages: English (US), Chech, Danish, French, Dutch, Italian, German, Polish, Japanese, Portuguese, Portuguese (Brazil), Russian, Spanish, Swedish, Chinese, Korean, and Turkish.
Monday Projects is available in 13 languages: English, Spanish, French, German, Japanese, Portuguese (Brazil), Russian, Dutch, Italian, Korean, Swedish, Traditional Chinese, and Turkish.
Zoho Project vs monday.com: Our Final Verdict
Now you've read our review on Zoho Projects and Monday Projects, you're hopefully entirely up to speed on what both platforms offer.
However, whichever you go for, you must choose a platform that can grow with your business while meeting its current needs. So be sure to bear that in mind before parting with your hard-earned cash.
Overall, both platforms appear to perform well, and prices are pretty similar, although they'll cost a lot the more with, the more team members you add.
Zoho has more features than Monday, and its website goes into more detail about what they do. Still, both platforms look attractive, easy to view, and easy to use. Zoho's other main advantage is that it is part of a much bigger proposition and, as such, comes with 45+ of its own integrated apps.
Personally, I think Zoho is the better option for large enterprises!
That said, you have nothing to lose by trying out both their free plans and forming your own conclusions about which best suits your needs.
Bottom Line Summary: Zoho is a large enterprise suite, with modules for almost every business (CRMs, Projects, ITSM, etc…), so if you have many departments to serve (and 50+ employees), Zoho may be the best option here. That said, in terms of usability, versatility, and bleeding edge features, monday.com is the better solution for startups and digital natives.
Are you ready to start using Zoho Projects or Monday Projects? Let us know which (if either) one you go for and why in the comments box below. Speak soon!
Other Software for the Modern Project Manager
If you still aren't sure which solution is best for your digital project management needs, we've also compared both Zoho and monday.com to a variety of other platforms.
Other Zoho Platforms Compared