Last Updated on August 27, 2023 by Ewen Finser
Finding the best project management software that fits your needs can be challenging.
With new tools emerging every day, it is hard to keep up with all choices and decide which one will work for your business. There are also various factors to consider, such as user experience, features, and integrations.
As a project manager, you will need tools that support all aspects of your job, from managing tasks and collaborating with team members to reporting on project performance and communicating with management.
This post will look at two of the best project management software – monday.com vs Smartsheet – to help you decide which one is right for you.
Main Differences Between Smartsheet vs monday.com
The main differences between Smartsheet vs monday.com are:
Monday.com only has email and push notifications, whereas Smartsheet is more customizable for notifications, as users can receive messages via email, mobile push, approval requests, and messaging apps

Monday.com allows users to set the roles and permission levels for invited team members, whereas with Smartsheet, they can only modify account permissions after the new user has joined.

Monday.com's

Time Tracking Column

allows you to track how much time you spend on individual tasks, whereas Smartsheet lacks an integrated time-tracking feature making you rely on third-party integrations to implement this functionality.

Monday.com only accommodates an unlimited number of guests who can only view but not edit sheets, whereas Smartsheet features a model, which allows unlimited users to edit sheets and access dashboards and reports

Monday.com has a panic mode that can be activated in an account security breach, whereas Smartsheet does not have this feature.
Editor's Choice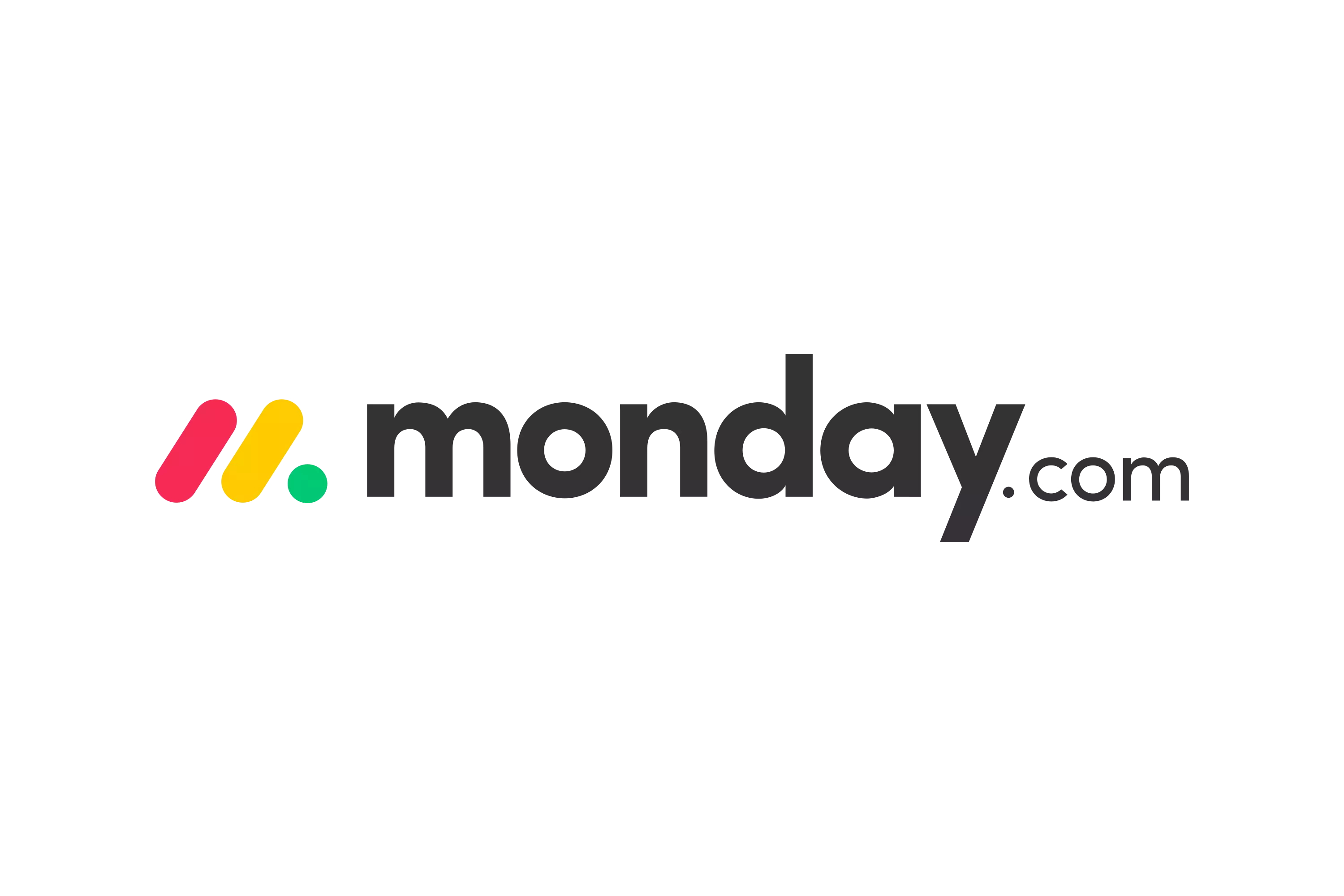 Why Go with monday.com?
Make tasks satisfying to finish! monday.com is quickly disrupting the old guard with a sleek interface, hundreds of integrations, and dozens of workviews for visually imagining and tracking your projects. More than just project management.
Start Managing Your Team Better
We earn a commission at no cost to you which helps keep this blog running!
What is Monday.com? – A Brief Overview

Monday.com is a cloud-based project management software that focuses on project management, teamwork, and analytics.
The tool syncs with your calendar and tasks and allows you to create schedules for your team.
The software seeks to help teams work smarter, faster, and more efficiently by providing a streamlined, unified platform where they can manage every part of their workflow seamlessly. It also helps enterprises organize projects and track progress.
Features of Monday.com
Simple and Intuitive User Interface
Monday.com streamlines your communication and project management experience on an intuitive multi-portal platform. It provides an intuitive user interface (UI) that allows you to update your team on progress instantly, deliver feedback, and delegate tasks.
Customizable Column Types
In addition to the templates, the software comes with over thirty column types that help you customize the project in any way you like. You can sync items, sub-items, and updates to keep everything you need in one place. Status buttons show your team's actual work so that team members can stay up-to-date on their projects. You can also add files and link boards together, making it easier to streamline processes and tasks.
Different Data Visualizations
Monday.com has eight different visualizations that help you see your data in various formats. You can use either Calendar, Kanban, Gantt, Timeline, Map, Form, Workload, or Main to view the data.
With Timeline and Gantt views, you can track your projects to ensure you meet your deadlines. With Calendar view, you can see the progress of an entire project and all initiatives throughout the year.
The Kanban view is an excellent way for teams to map out tasks and sprints. Managers can also see who is busy with what in the Workload view.
Compatibility With Different Devices and Operating Systems
Monday.com lets you communicate with your team from anywhere. With a custom experience for desktop, laptop, and mobile devices, it is easy to stay on top of things while at home or on the go. The app lets you share files, images, updates, and feedback with your team in real-time.
Monday Workdocs
Monday.com's Workdocs is the best way to create seamless workflows, share updates instantly, and collaborate with your team on any device. Being integrated into Monday.com's Work OS allows work teams to stay on top of their tasks by connecting all its aspects in one place.
Automation
Monday.com automates many of the most tedious and time-consuming tasks. It also streamlines workflows by allowing users to automate recurring tasks and track their progress in real-time. You can also focus on the work that matters instead of wasting your time by constantly checking if something is updated or not.
The software offers various default automation recipes to ensure a customized workflow. You can create a workflow that best suits your needs by changing triggers and actions. Some of the default recipes include:
Status change – happens when the status of a particular task changes

Notifications – to create reminders and alerts

Recurring tasks – to automate repetitive assignments
monday.com Integrations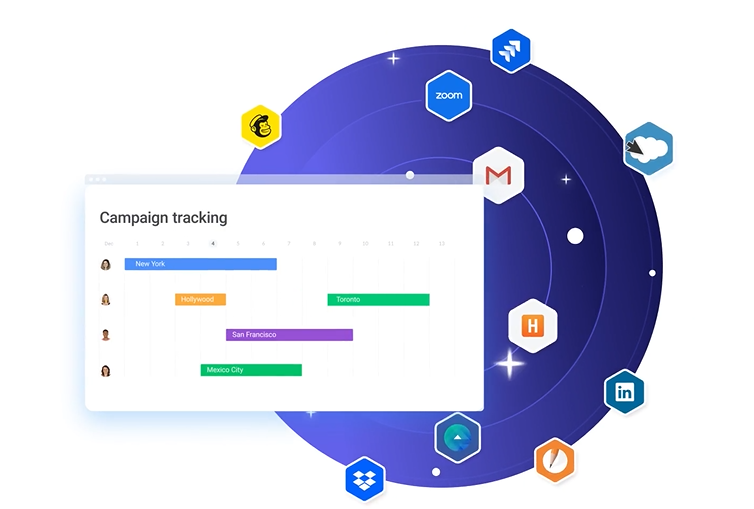 Monday.com integrates with most tools to ensure that all your data is updated and in one place. With the use of 40+ integrations, your team will have instantaneous access to information across departments.
Any changes made in one tool will magically appear everywhere else, saving your team time and confusion. You can also import and export data quickly, allowing your team to focus on strategic work rather than wasting time switching between tools.
Search, Share and File Storage
Monday.com takes care of all the tedious file management tasks — find, store, organize, and share files. With this software, you can search for old updates, upload files, and share feedback all in one place.
The software integrates seamlessly with your favorite storage tools, such as Dropbox, Box, Amazon Drive, and Google Drive. Monday.com has a fully searchable archive of your work, so you will never lose anything, and your team stays organized.
24/7 Live Support
You can get assistance from the Monday.com technical team no matter the time of the day. Using the platform's live support ensures that you do not get stuck, and you can run your projects without any hitches.
Monday.com's Pricing

Monday.com offers monthly pricing plans with varying features.
Individual – $0

– The package is suitable for individuals who want to keep track of their work and comes with two user seats. The package offers many features, including unlimited boards, unlimited docs, 20+ column types, and over 200 templates.

Basic

–

$8 per seat per month

– The plan includes all the features in the individual plan, including unlimited items, unlimited free viewers, 5GB of storage, and prioritized customer support.

A good option for project management option freelancers or independent consultants.
Standard – $10 per seat per month

– This plan helps you collaborate and optimize your team's processes. In this plan, you will get all the features in the basic package plus calendar view, timeline and Gantt views, guest access, automation, and integrations. You can also create a dashboard that will combine up to 5 different boards.

Pro – $16 per seat per month

– in this plan, you get all the features in the standard plan plus others such as chart view, time tracking, private boards and docs, formula and dependency columns, integrations, and automation. The plan helps you streamline your team's complex workflows and create a dashboard to combine up to 10 boards.

Enterprise

– Monday.com offers this plan on demand. It is custom-made for organizations that seek enterprise-grade features. In addition to all the features in the pro plan, you also get advanced reporting and analytics, multi-level permissions, tailored onboarding, premium support, enterprise-grade security and governance, and so on.
Pros of Monday.com
More than one user can edit the same list simultaneously, which is a significant convenience for people working in teams.

It efficiently tracks issues and tasks, which is crucial for effective project management.

Visual boards and a straightforward user interface make it easy to see what information you need at a glance.

It offers different timeline views so that you can easily track your progress.

You can use it as the primary communication tool between your team members, which helps centralize all engagements in one place.
Cons of Monday.com
It can be difficult for a user to track costs against each task and all the related functions for a client.

It has limited reporting capabilities.

Its mode of pricing is expensive, especially for large teams.

It is impossible to track or see everything that you are responsible for.

Too much information tends to slow the system down.
Editor's Choice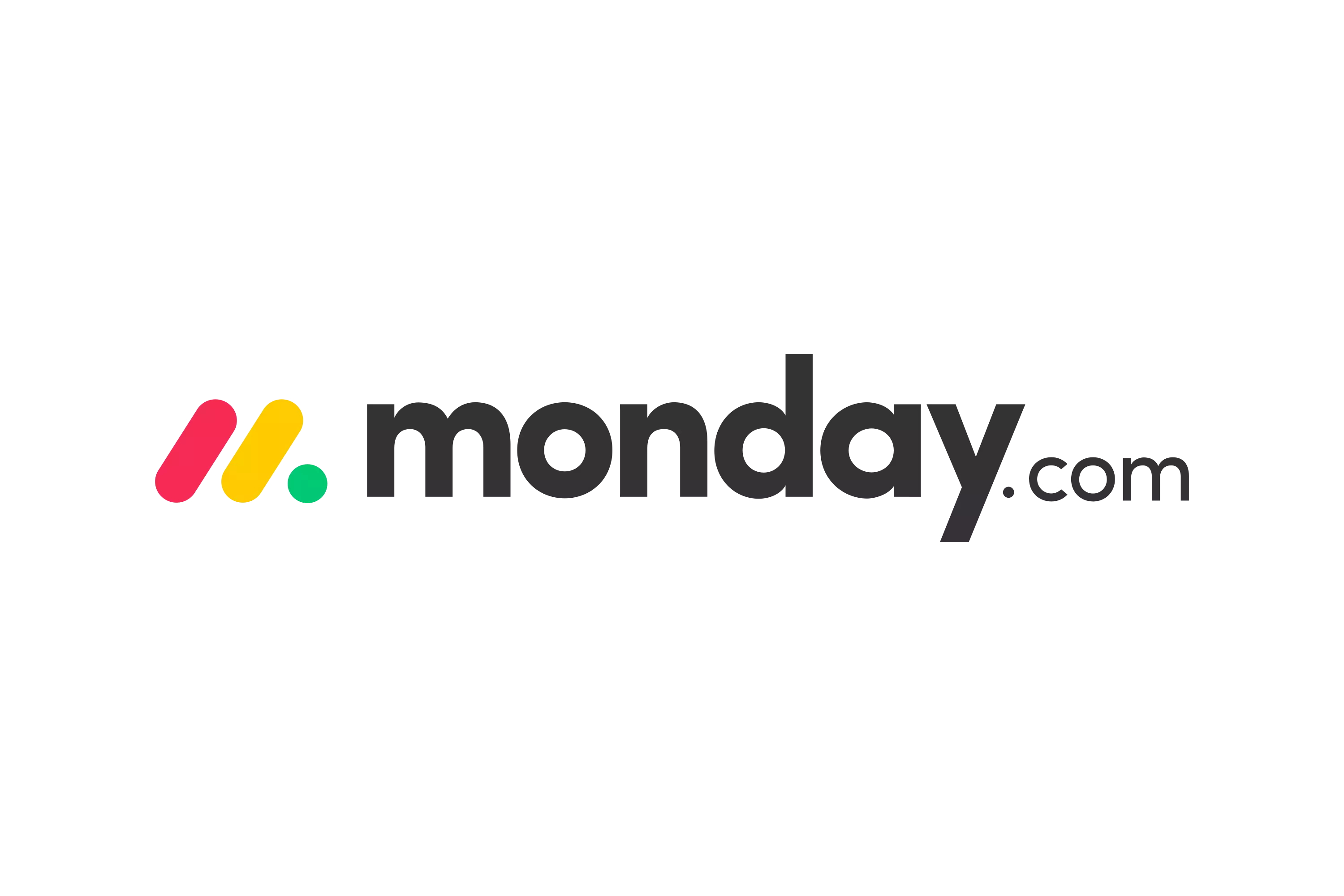 Why Go with monday.com?
Make tasks satisfying to finish! monday.com is quickly disrupting the old guard with a sleek interface, hundreds of integrations, and dozens of workviews for visually imagining and tracking your projects. More than just project management.
Start Managing Your Team Better
We earn a commission at no cost to you which helps keep this blog running!
What is Smartsheet? – A Brief Overview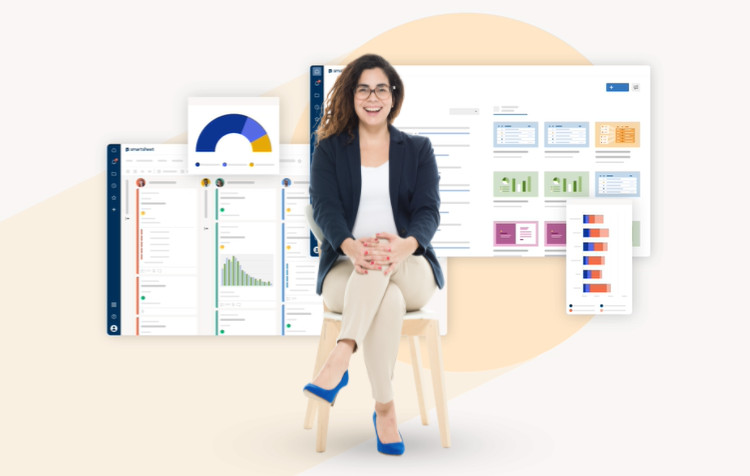 Smartsheet is a dynamic project management tool that makes it easy to manage, track and analyze your projects in one place. It is easy to use and can be used across organizations because it offers flexible sharing, meaning team members can view the same data from their computers.
With Smartsheet, businesses can create a "worksheet"-like project management tool that combines the flexibility of a spreadsheet with the conveniences of an online platform. It makes collaboration across distributed teams easier and more seamless, which means you can build solutions fast and effectively.
Through Smartsheet, employees can easily and quickly organize their days, streamline their work processes, and create plans. They can also track resources, share information quickly, and focus on their work without relying on long emails and unnecessary meetings.
Features of Smartsheet
Content Management
Smartsheet is an ideal content management app for bloggers, YouTubers, designers, and photographers due to its ease of use and affordability. If you are a content creator, you don't need to hire any more staff because this tool makes content management effortless.
Document Storage
Smartsheet lets you attach files to tasks in each spreadsheet. It is a great way to document everything in a job – including images and documents – while keeping the files organized.
Team Collaboration
Smartsheet helps you and your team communicate fully with clients and organization members. You can share one item, multiple items, or an entire workspace. Moreover, Smartsheet lets you collect anonymous feedback and comments through easy-to-create forms.
Task Automation
You can save time by automating repetitive or manual tasks through Smartsheet's workflow automation. An automated workflow is a visual tool, so you do not need any coding skills to create one.
The three components of automated workflows are actions, triggers, and conditions. Actions take place when the user performs a specific task. Triggers set off the action. Conditions specify if and when the trigger should be active.
Integrations and Add-ons
The software lets you easily collaborate with anyone, regardless of what tools they use. It integrates with almost every communication and project management app. Therefore, you don't have to switch to or pay for other apps.
Advanced Reports
Smartsheet reports help you quickly see where things stand by generating reports across sheets and workspaces. You can generate them from multiple sheets, making project management more efficient.
Shared Sheets
Smartsheet helps you organize and share any work with unlimited users. The tool allows you to invite multiple users to view and edit your workbooks and publish them on the web.
Alerts and Reminders
Smartsheet notifications feature ensures you receive immediate updates when important dates approach or changes to your account. You can choose to send notifications immediately an action happens or daily.
Smartsheet's Pricing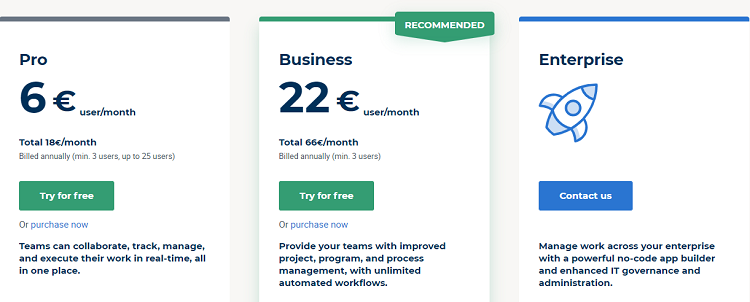 Smartsheet offers three pricing plans, although you can take advantage of the free trial to see whether the software would fit your needs. Below are the price packages you can choose from.
Pro – $7 per user per month

– this plan provides for a minimum of three users and a maximum of twenty-five users. It allows teams to collaborate, manage, track and execute their work in real-time.

Business – $25 per user per month

– This plan makes managing your projects, programs, and processes easier with unlimited automated workflows.

Enterprise

– Smartsheet offers this plan as a custom-made package according to your needs. The enterprise plan is for large enterprises. With a powerful no-code app builder, IT governance and administration, and enhanced security and management, it helps you manage work across your enterprise.
Pros of Smartsheet
Smartsheet is easy to learn, especially if familiar with Microsoft Excel. The design is also clean and professional.

You get multiple ways to view data, including a calendar view (great for marketing and sales teams who operate around scheduling), Kanban, and more.

Smartsheet has tools for tracking the most significant trends in your industry and helps you keep tabs on how a business operates by sharing files, managing teams, and recording data.

It is easily customizable.

Highly scalable.
Cons of Smartsheet
High monthly costs.

Smartsheet is not integrated with the time tracking feature.

It has a limited activity log compared to Monday.com.

It does not fit into specific project management methodologies.
monday.com vs Smartsheet at a Glance Summary
So here's how I see the overall tradeoffs between Smartsheet and monday.com for work management:
| Features | monday.com | Smartsheet |
| --- | --- | --- |
| User Interface | monday.com has a visually pleasing and intuitive design. It's easy to use and navigate, even for non-tech savvy users. | Smartsheet has a more traditional spreadsheet-like interface. It's familiar for those used to Excel, but might be less intuitive for others. |
| Automation | monday.com offers powerful automation features to streamline workflows and reduce manual tasks. | Smartsheet offers automation, but it's often described as less robust and intuitive compared to monday.com. |
| Collaboration | monday.com excels in collaboration, providing real-time updates, tagging, and communication tools directly within the platform. | Smartsheet also supports collaboration, but lacks the immediacy and integration of communication tools found in monday.com. |
| Templates | monday.com has a wide variety of pre-built templates for different industries and use cases. | Smartsheet also offers templates, but they are more general and less diverse than those offered by monday.com. |
| Integrations | monday.com supports a large number of integrations with other popular tools, enhancing its flexibility. | Smartsheet also has a good number of integrations but lacks some key ones that monday.com supports. |
| Reporting | monday.com offers robust reporting features, including visual dashboards and custom reporting. | Smartsheet's reporting is more basic and less customizable compared to monday.com. |
| Pricing | monday.com's pricing is generally viewed as more flexible and affordable, with a range of plans to suit different needs. | Smartsheet's pricing can be higher, especially for larger teams or more complex use cases. |
| Customer Support | monday.com is known for its excellent customer service, including 24/7 support. | Smartsheet's customer service is good but not as highly rated as monday.com's. |
Other Smartsheet Alternatives
Here are some of the top Smartsheet alternatives I also considered, many of which I have tried, tested, or actively used in our business over the years:
Other monday.com Alternatives
Similarly, here's how I see the top monday.com alternatives stacking up:
FAQs
Question: Can monday.com Send Emails?
Answer: Anyone can send an email to boards or items you post to monday.com, whether they are inside your account or not. Account members can email any board they are members of, whether private, shared, or mainboard.
Question: Can I Use Excel Formulas in Smartsheet?
Answer: A powerful feature of Smartsheet is its ability to use spreadsheet formulas to calculate data automatically. You can use simple functions like adding or multiplying numbers or more complex processes, such as computing averages.
Question: Can I Import Contacts Into Monday.com?
Answer: Monday.com allows you to import and automatically sync your contact list from Excel. You can also embed a form on your website that helps potential customers to fill in their details for you to import into Monday.com.
Question: How do I Add Contacts on Smartsheet?
Answer: To add a new contact in Smartsheet, go to the menu bar and click Account > My Contacts. Then, click Add in the My Contacts form to open the Contact screen. On the screen, enter the name and email address of the contact, and then click OK.
Monday.com vs Smartsheet: Conclusion
Monday.com and Smartsheet are popular project management software apps that allow teams to create task boards and share tasks and data. Both apps offer tried-and-true project management features in one location, and they each offer varying levels of customization.
If you are looking for a project management tool that's easy to use but still comprehensive, Monday.com may be the right fit for you. The focus on mobile makes it ideal for teams distributed throughout the world.
You can also integrate your website and marketing campaigns straight into the system to track progress and stay connected to clients.
Editor's Choice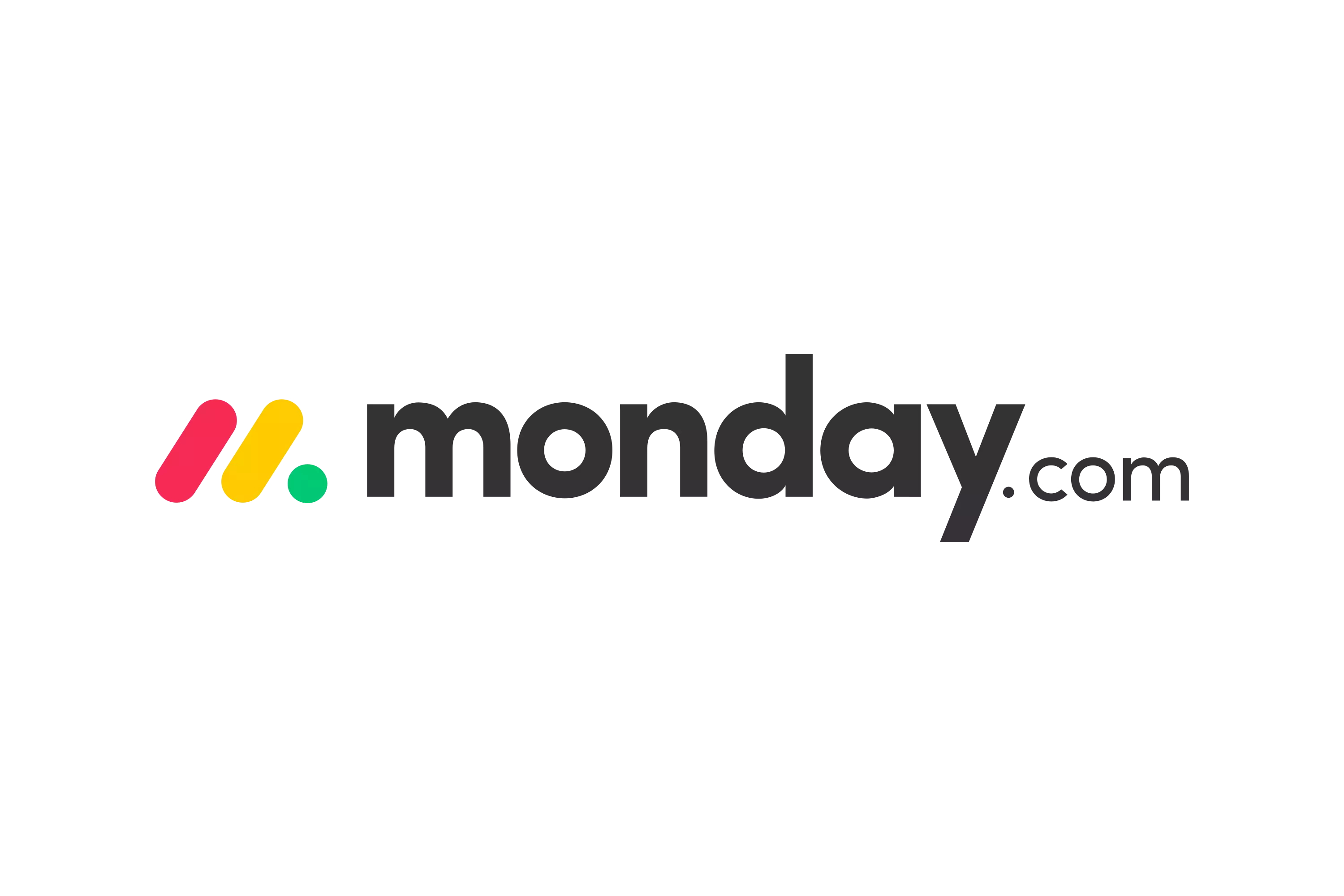 Why Go with monday.com?
Make tasks satisfying to finish! monday.com is quickly disrupting the old guard with a sleek interface, hundreds of integrations, and dozens of workviews for visually imagining and tracking your projects. More than just project management.
Start Managing Your Team Better
We earn a commission at no cost to you which helps keep this blog running!