Last Updated on September 20, 2023 by Ewen Finser
I've personally used both monday.com and Pipedrive at various times for our brand outreach (ad sales) campaigns within our media company.
I actually really like them BOTH, but for slightly different orientations. At various stages in our growth, one was better than the other.
In this article I'll delve deep into the features, user experiences, and pricing of these two platforms, providing a comprehensive comparison to help you make an informed decision.
monday.com vs Pipedrive at a Glance Summary
Here's a table that summarizes by core views on the relative strengths of these two platforms:
| Features | monday.com CRM | Pipedrive |
| --- | --- | --- |
| CRM type | Project-based CRM | Sales-focused CRM |
| Sales Pipeline Visualization | Powerful and customizable | Intuitive and robust |
| Integration | Hundreds of integrations with third-party apps | Fewer integrations but provides essential ones |
| AI-Powered Features | AI features are not as strong | Has robust AI features for sales |
| User Interface | Modern and intuitive | Simple and easy to use |
| Team Communication | Strong communication and collaboration features | Communication features are not as strong |
| Interlinking Boards | Available | Not available |
| Customization | Highly customizable | Less customizable |
| Automation | Robust automation capabilities | Automation capabilities are not as strong |
| User Experience | User-friendly but might require a learning curve | Very user-friendly and easy to learn |
| Pricing | More expensive | More affordable |
Understanding the Contenders: Monday.com and Pipedrive
Before we delve into the comparison, let's understand what each platform brings to the table.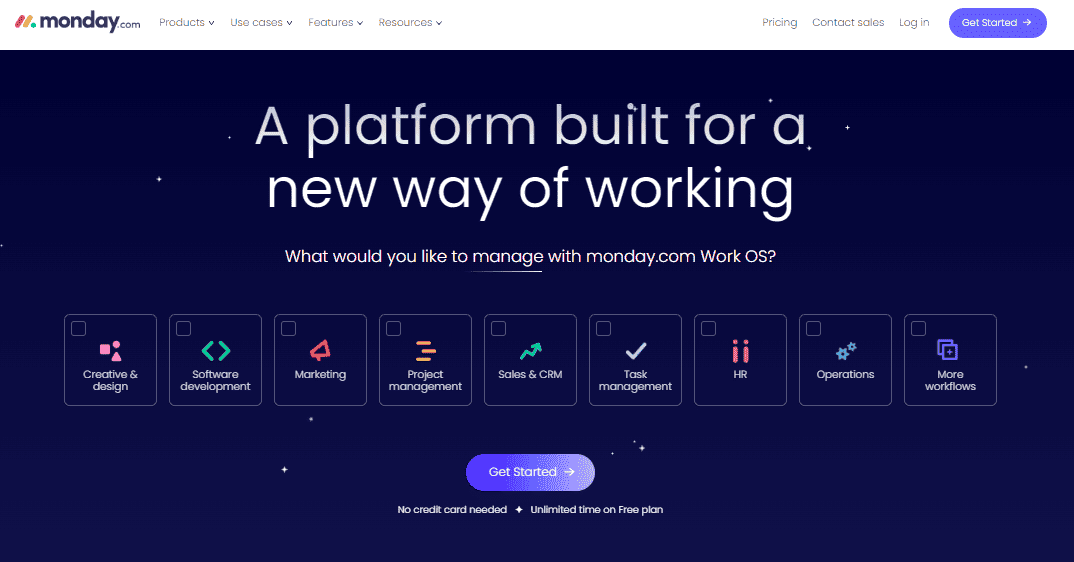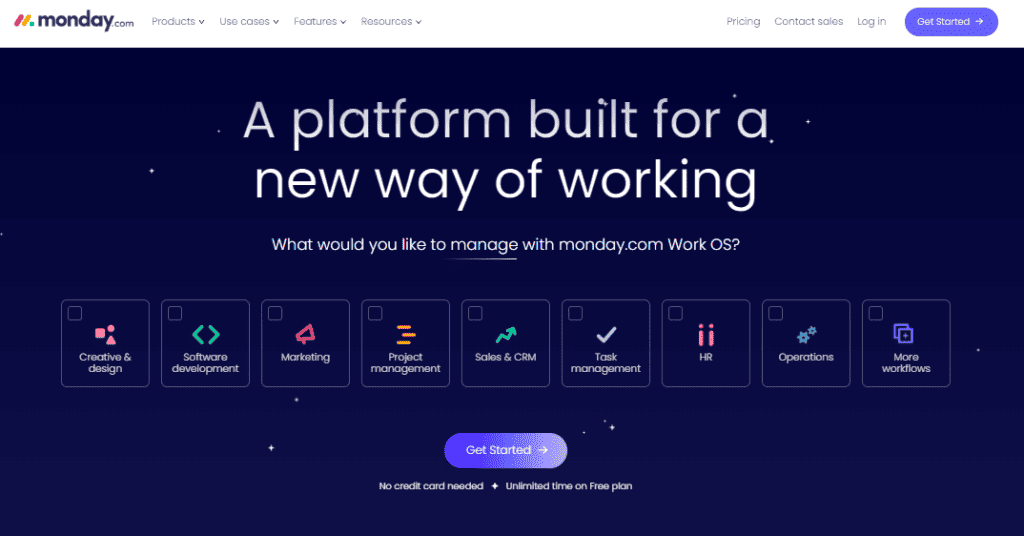 Monday.com: The Customizable Contender
Monday.com is a relatively new entrant in the CRM arena. It's seen mixed reactions from users, with some referring to it as a 'glorified spreadsheet', while others laud its ability to manage entire sales pipelines and automate workflows.
Although not tailored for every business type, it is a simple CRM platform that allows key functions like contact management, basic automations, and pipeline management.
Monday.com prides itself on its flexible, no-code framework. This platform is not a dedicated sales CRM like Pipedrive but offers the flexibility to construct a monday.com CRM dashboard from scratch or using pre-built templates.
Its core functions include lead management, contact management, and deal management.
Pipedrive: The Sales-centric Solution
On the other hand, Pipedrive has a 12-year tenure in the CRM market, positioning itself as a fully-fledged, sales-centric CRM. It provides key features needed to kickstart your sales activities.
Pipedrive's primary vision is to aid sales representatives in managing their sales pipeline without being overwhelmed by customer data.
The platform is optimized to enhance sales performance by providing a clear visualization of the sales process. Pipedrive aims to cover the entire customer journey, from lead discovery to deal closure and relationship building.
Key Factors To Consider
When deciding between the two, several factors come into play. These include:
Ease of Use
A platform that is intuitive and easy to navigate will significantly cut down onboarding time, increasing productivity and efficiency.
Pricing
The cost of the platforms will depend on your budget, the features you need, and the number of users.
Customization & Pipeline Management
Both platforms offer pipeline management and are customizable. However, their functionalities and user interfaces differ.
Marketing & Campaign Management
Marketing automation helps nurture leads and target prospects based on multiple attributes.
Integrations
The ability for a CRM platform to integrate with the software you currently use can either enhance or limit your team's functionality.
Sales Automation
Sales automation in a CRM helps to automate manual tasks like activity logging, lead research, and data entry, allowing sales reps to focus more on relationship-building and closing deals.
Reporting
CRM reporting helps you understand what's happening across your sales process and how each team member is performing.
Lead Management
Both Pipedrive and Monday offer lead management features. However, each platform provides unique add-ons.
Customer Support
Last but not least, how well each platform actively supports it's userbase is a key consideration for me. This is one of the key "extra mile" factors that can make me look past small software faults AND conversely unlock features I had no idea how to use.
In other words, good customer support is a value unlock!
Comparing monday.com and Pipedrive
Let's dive deeper into the comparison of monday.com and Pipedrive based on the factors mentioned above.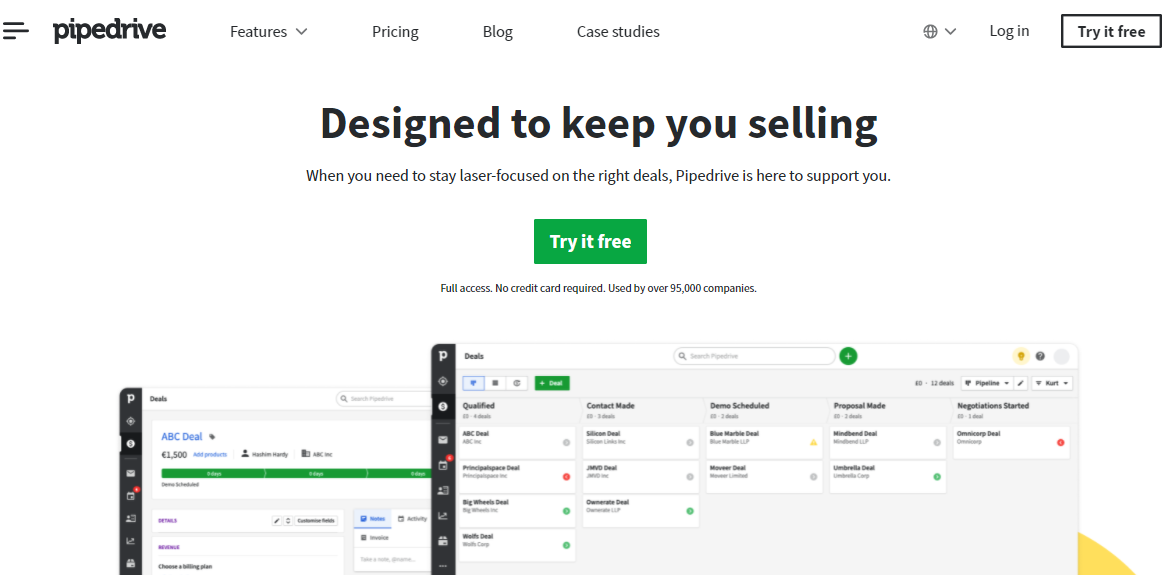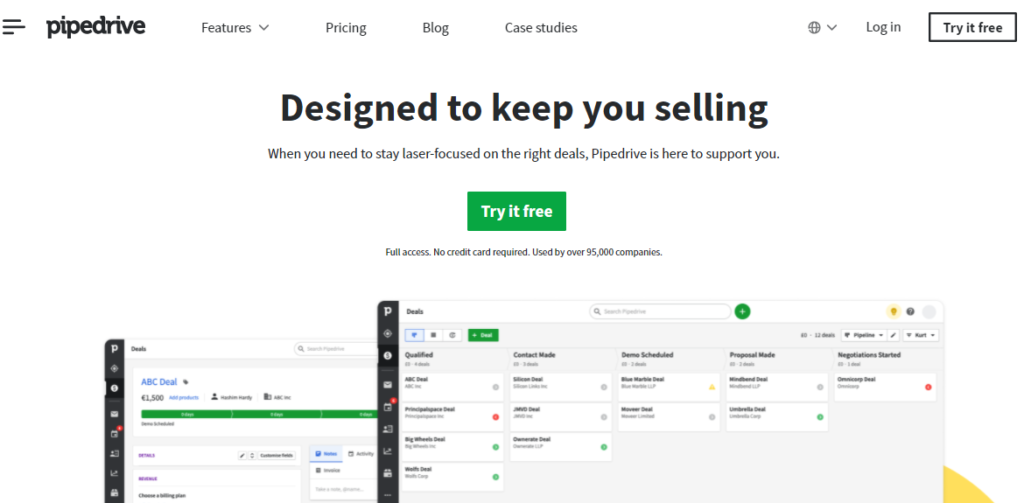 Ease of Use
monday.com
monday.com's user-friendly interface is built on a no-code architecture, making it easy to customize the platform according to your business needs.
Put simply, the building block framework with the monday sales CRM preset makes it the easiest CRM solution I've found to MODIFY to custom business use cases (particularly useful for non traditional sales roles or cycles).
Pipedrive
Pipedrive, on the other hand, is designed with the sales team's perspective in mind. The platform is organized, straightforward, and easy to set up.
Pricing

monday.com
Monday.com's pricing is based on the featured plan you choose and the number of users. However, their pricing tiers can quickly become expensive, especially for smaller businesses.
Pipedrive

Pipedrive offers four pricing plans, each catering to different business needs and budgets.
Customization & Pipeline Management
monday.com
Monday uses status columns to represent each step of your sales process. This differs from Pipedrive's drag-and-drop layout, but the concept remains the same – managing your sales pipeline by changing the status of the stage column in the monday sales CRM.
Pipedrive
Pipedrive's user interface and app layout make it easy to manage your sales pipeline. The main Pipedrive dashboard visualizes your sales pipeline, which is fully customizable, catering to your unique sales process.
Marketing & Campaign Management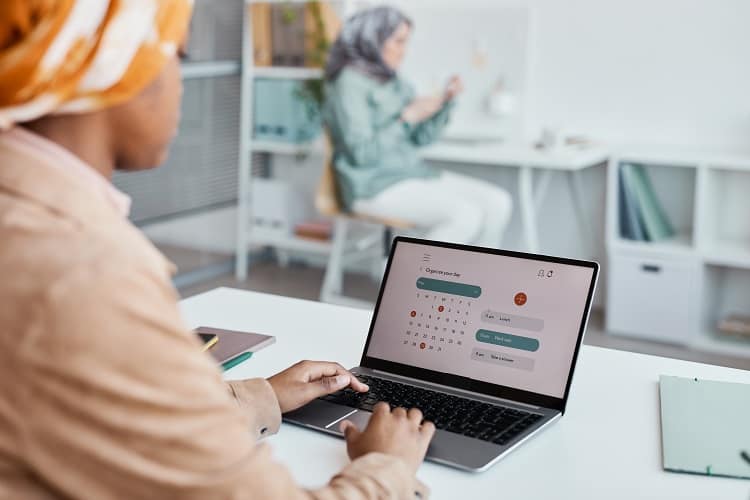 monday.com
monday.com offers basic email functionality. You can send emails and run automations by opening the details of your contacts and navigating to the email and activities dashboard.
Pipedrive
Pipedrive allows you to manage all your sales and marketing data in one place. You can create email campaigns and engage with your customers directly in Pipedrive.
Integrations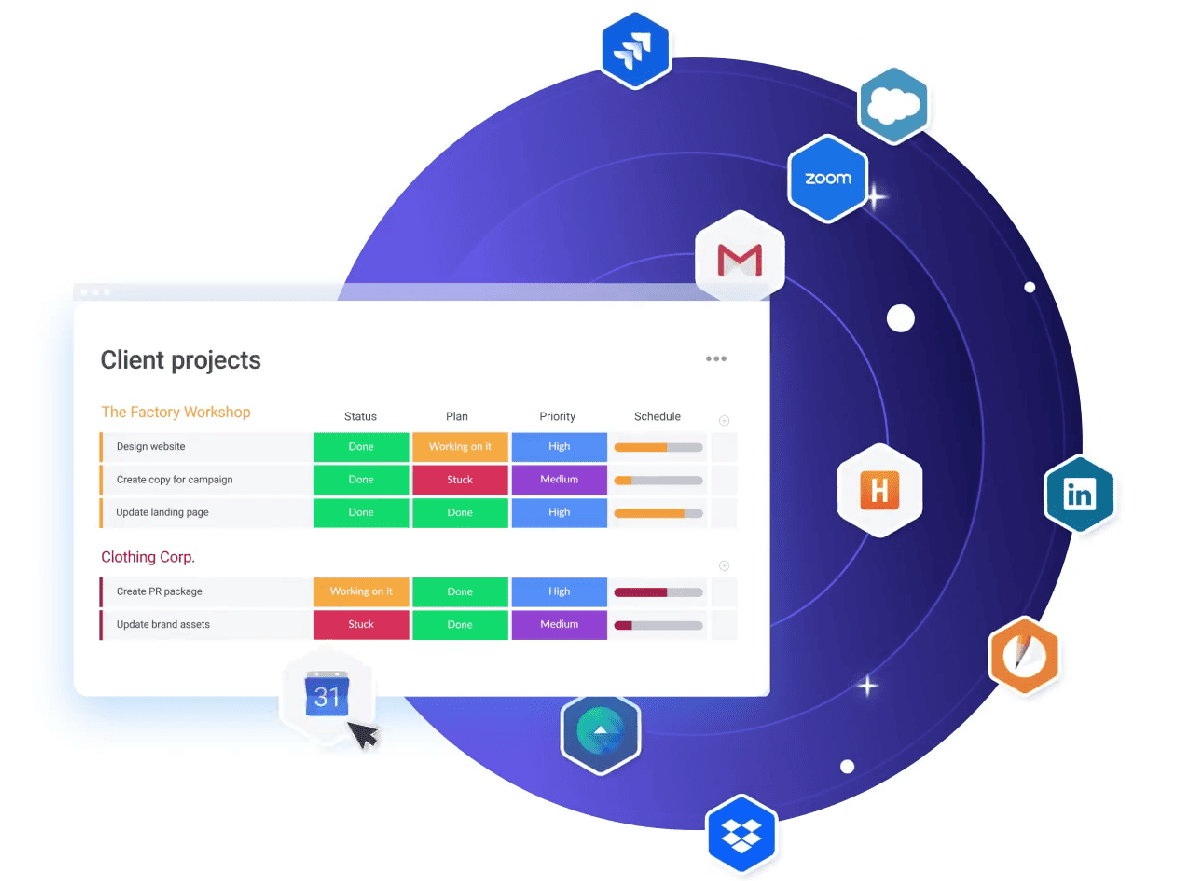 Both platforms offer a vast selection of integrations. They have out-of-the-box integration but can also connect through integration software like Zapier.
Read more on monday.com's integrations here.
Sales Automation
monday.com
monday.com's automation is customizable, depending on the items in the columns. Based on how you've customized your pipeline dashboard, you can pick a templated automation or create your own.
Pipedrive
Pipedrive has a dedicated workflow automation widget where you can automate any repetitive sales task.
Reporting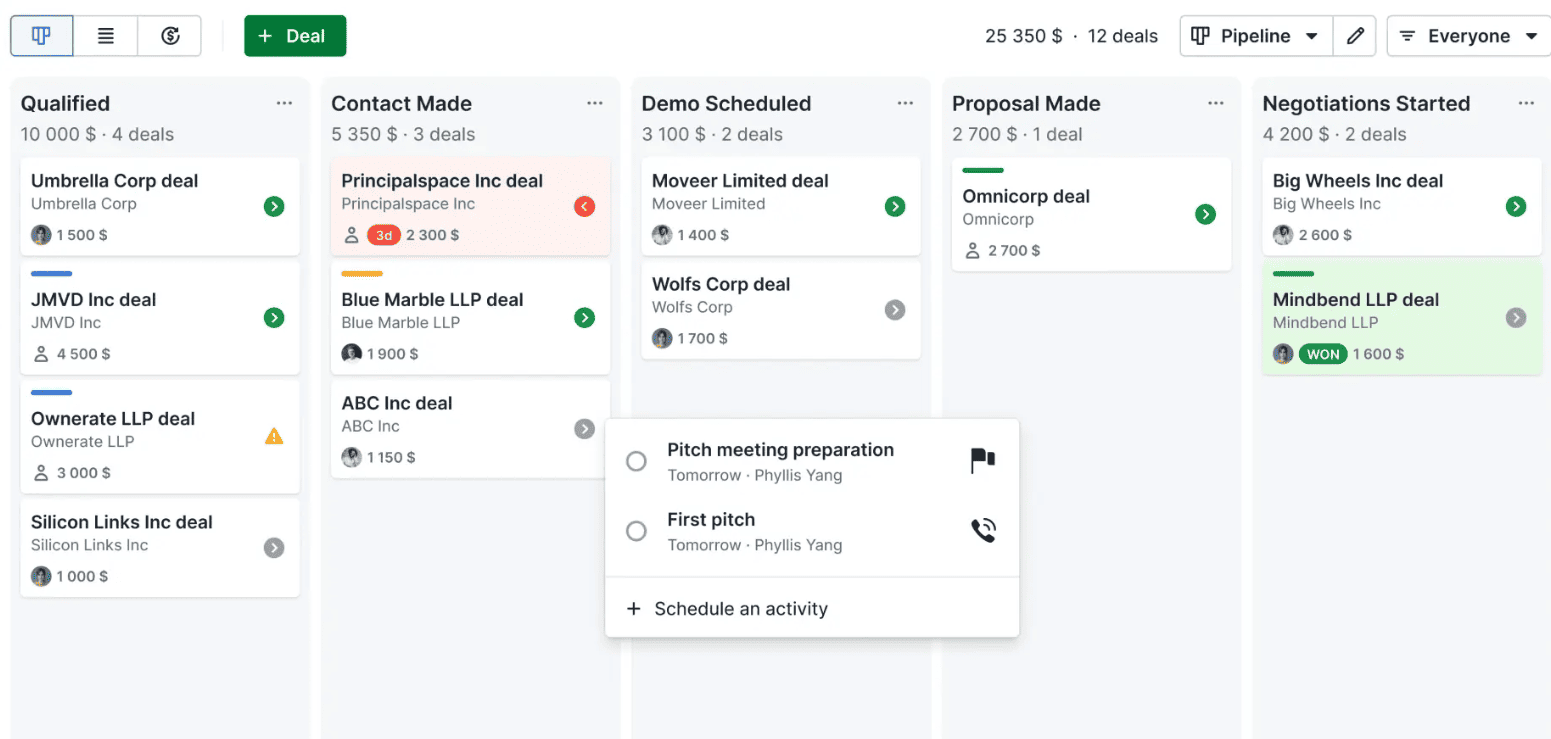 monday.com
monday.com reporting function is powerful. You can view basic reports such as the performance of individual reps, the average value of won deals, revenue forecasting, and an overview of your sales pipeline.
Pipedrive
Pipedrive has a powerful reporting dashboard. You can easily identify your top performers and understand key details through beautiful charts and graphs.
Lead Management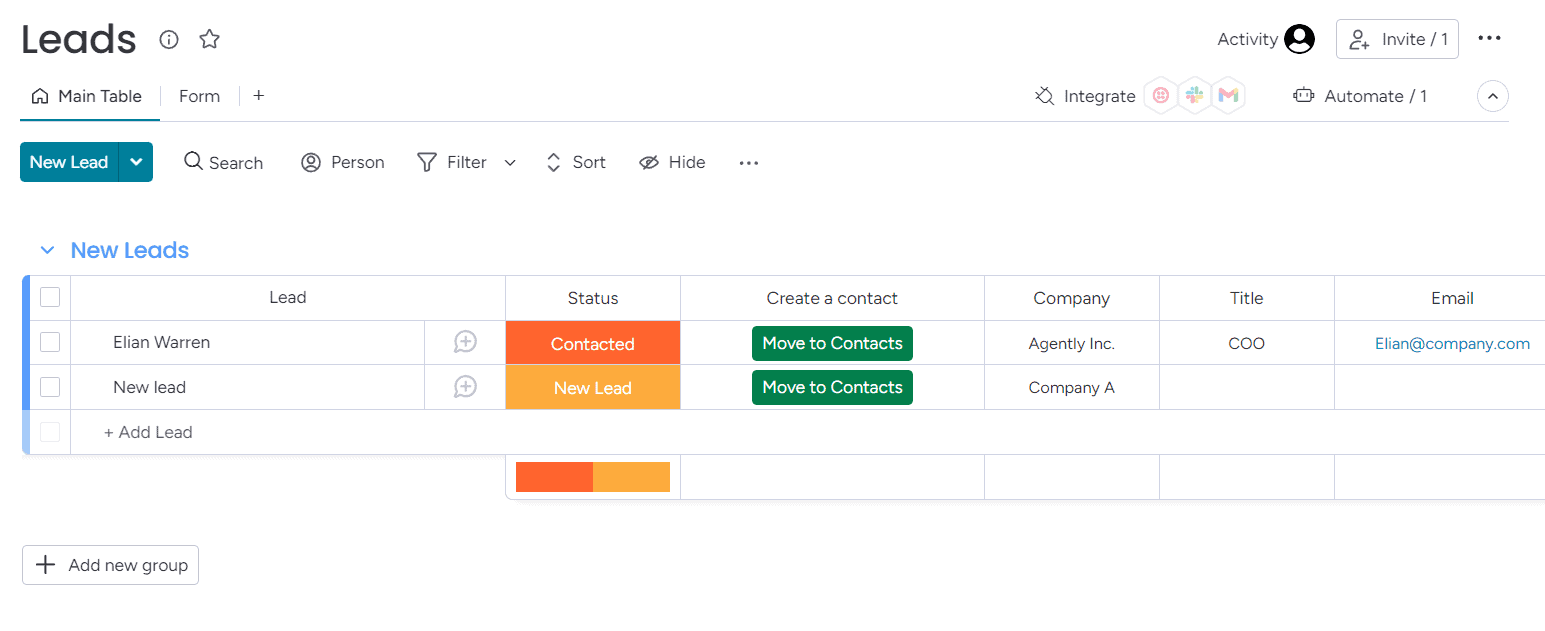 monday.com
monday.com has some lead management features. You get a dedicated layout where you can manually add your leads, move them to contacts, and engage with them through email.
Pipedrive
Pipedrive's lead management feature helps capture leads, qualify them, and prioritize based on your needs.
The Verdict: Pipedrive vs monday.com
Deciding between Monday.com and Pipedrive ultimately depends on your business needs.
If you're looking for a sales-centric CRM that will scale with your business, Pipedrive is a great choice. However, if you prefer a general CRM that is highly customizable to your needs, monday.com is the better option.
monday.com also has the benefit of being part of a fully extensible "Work OS" system for project, product, team, and sales management (Pipedrive is a great CRM, but that's all you get without integrations to third party platforms).
Competitive Landscape Compared
Pipedrive and monday.com aren't the only sales automation platforms. I've tested many others alongside our editorial team, and here's some worth evaluating directly.
Pipedrive Alternatives Compared
monday.com vs Pipedrive: Wrapping Up
Choosing the right CRM software is crucial for any business. Both Monday.com and Pipedrive offer unique features and benefits.
However, understanding your business needs and aligning them with the features offered by these platforms will help you make the right choice.
Whether you choose monday.com or Pipedrive, the key is to select a CRM platform that fits your business needs and supports your growth.
Further Reading on CRMs by Business Type: